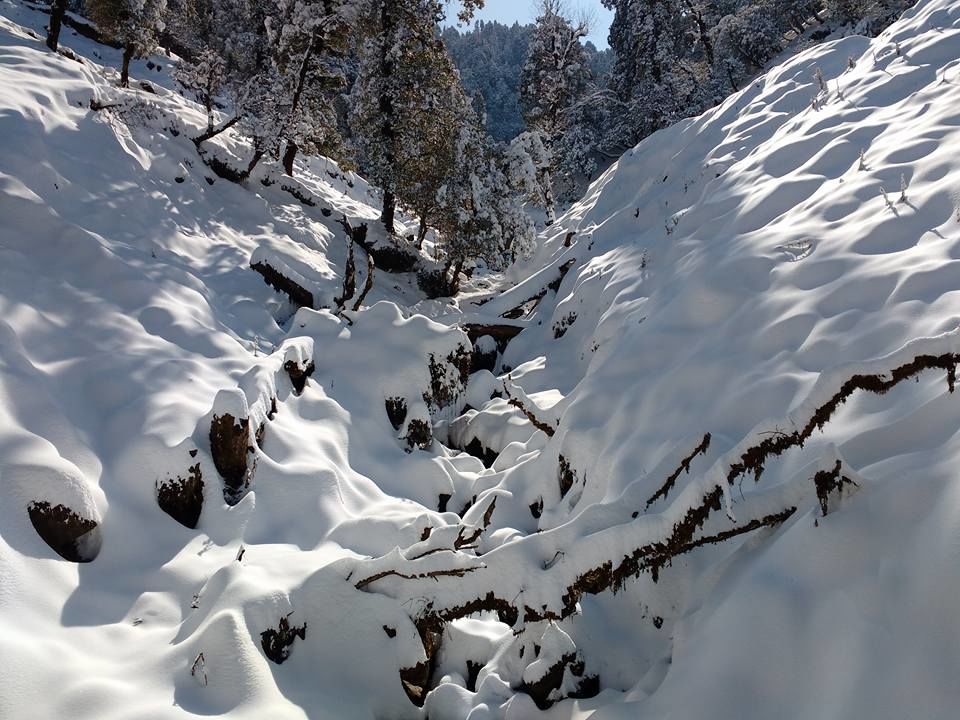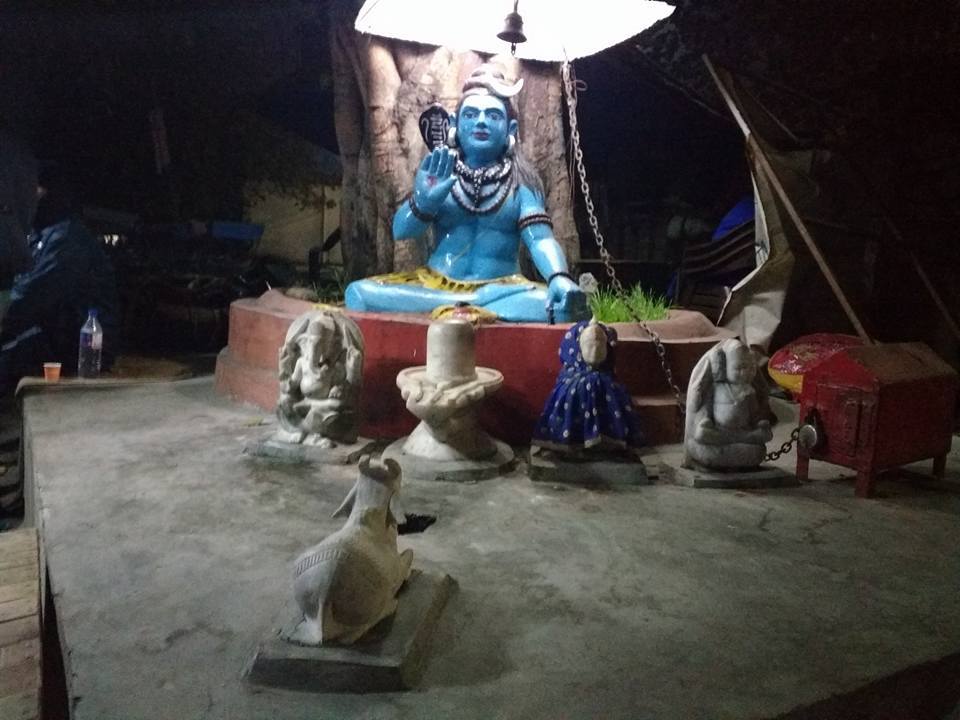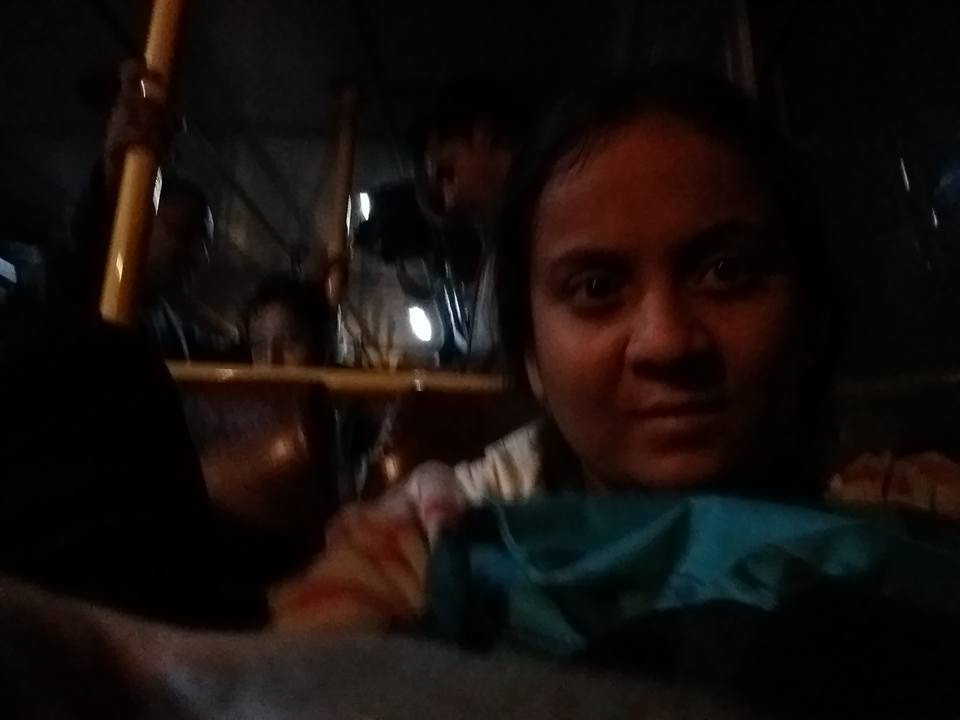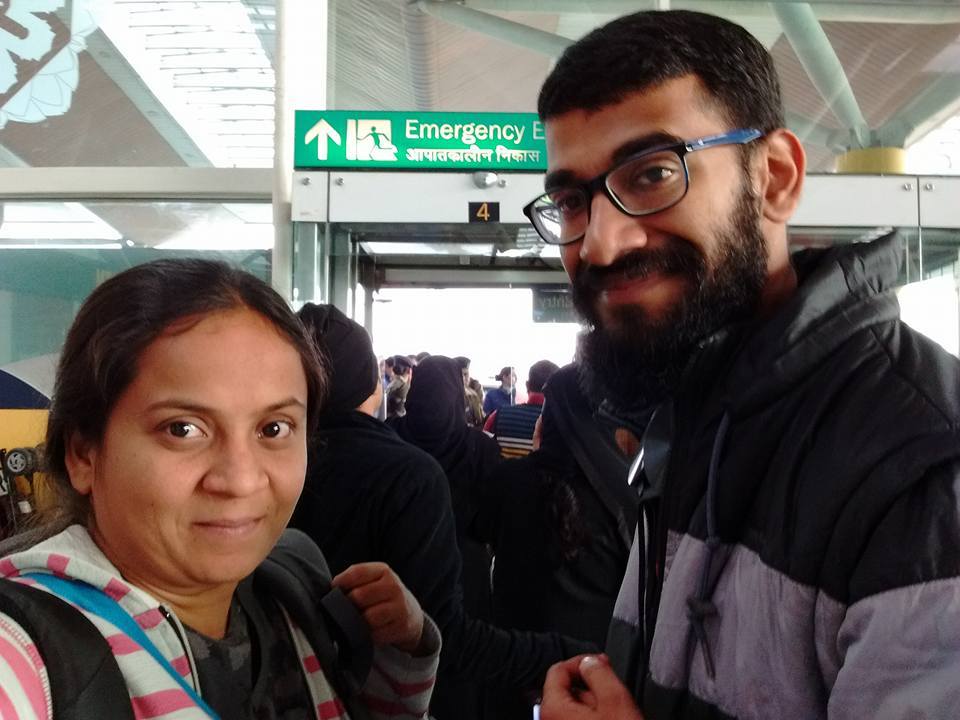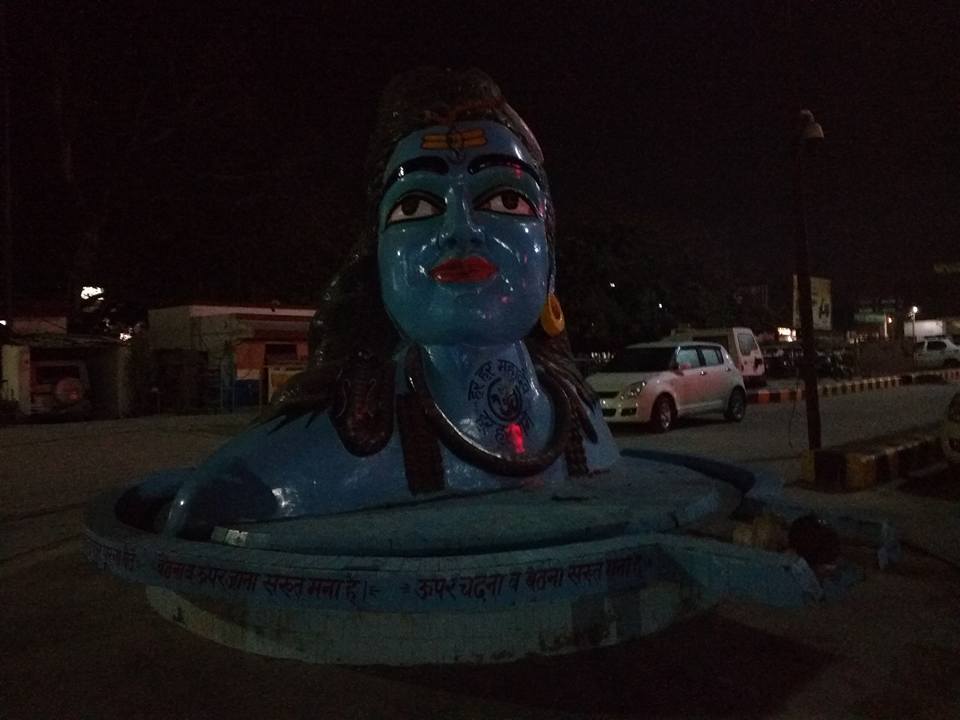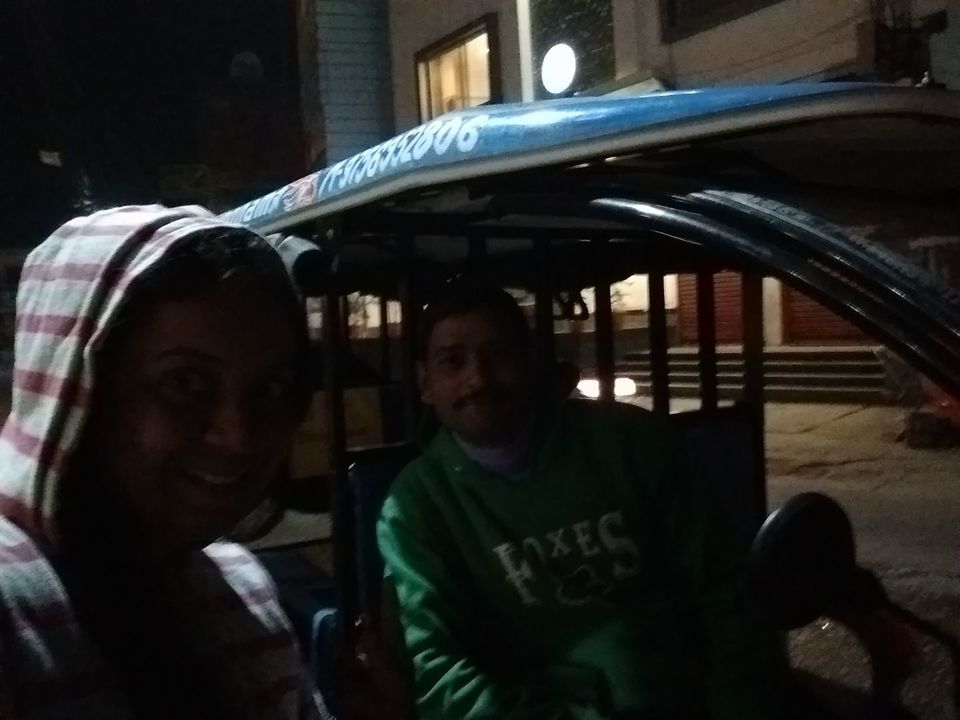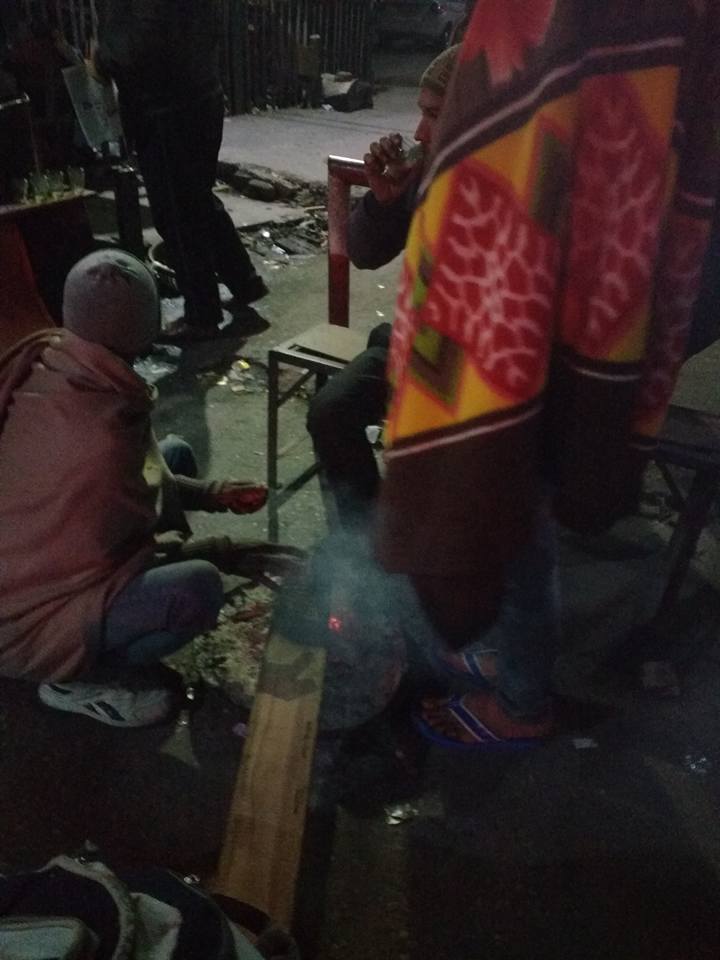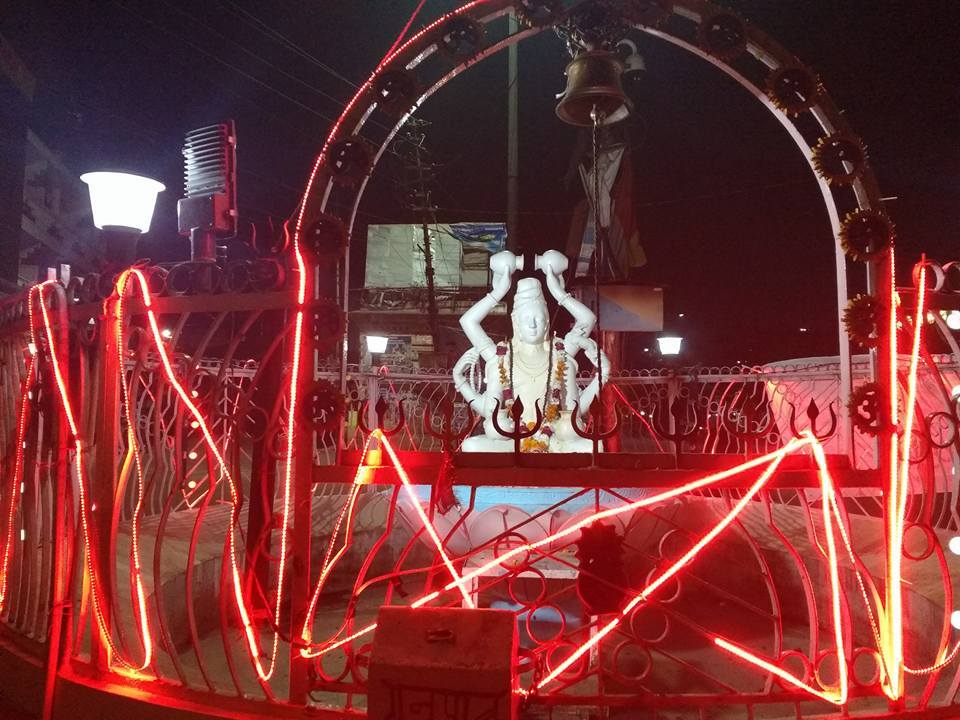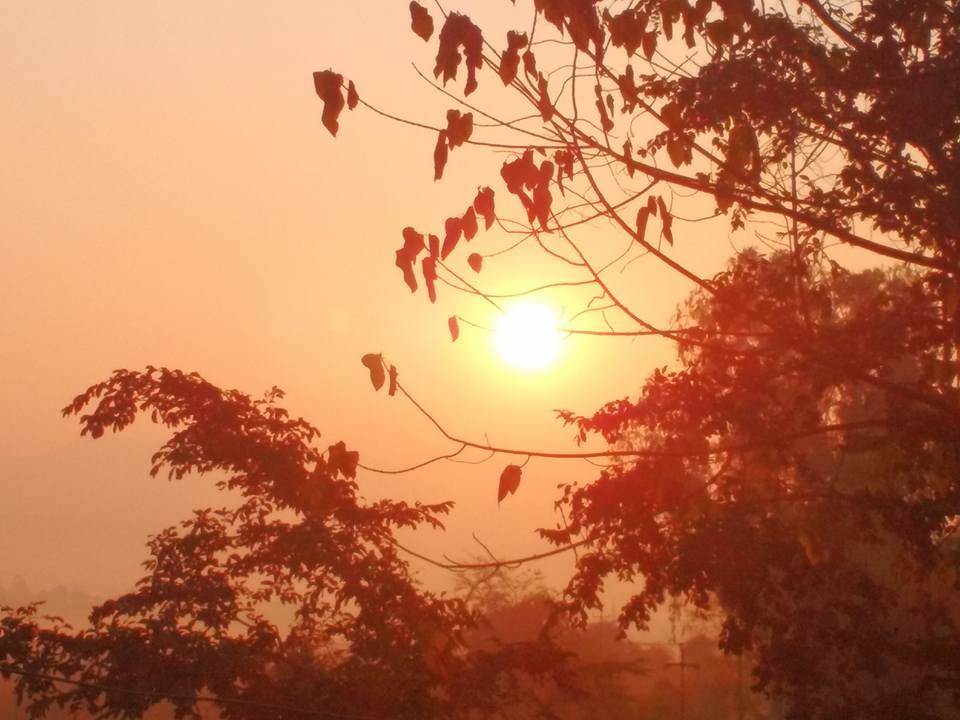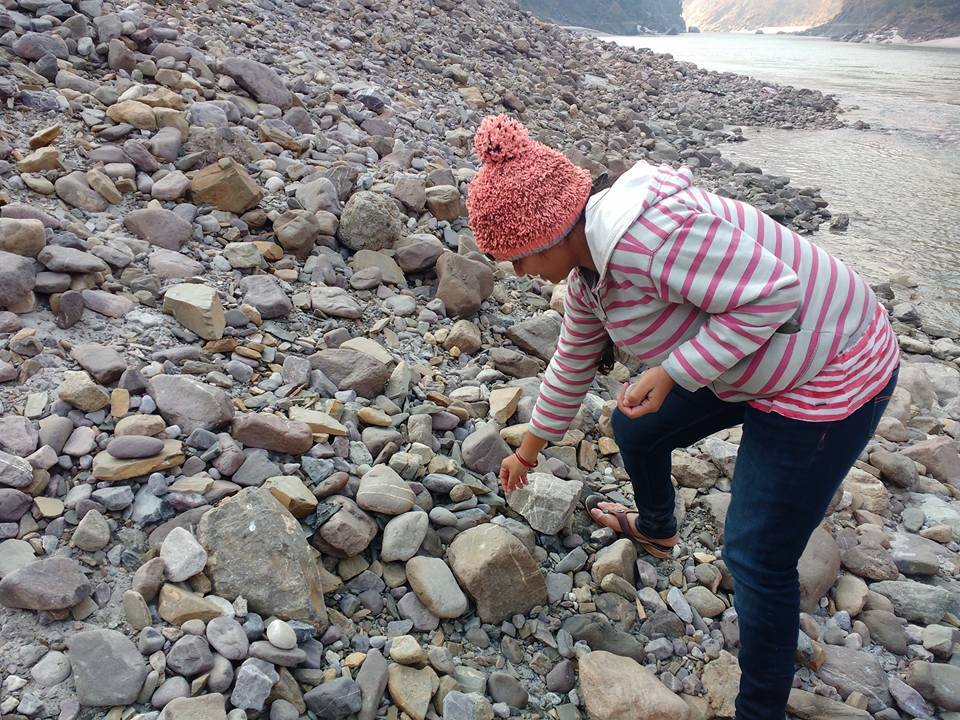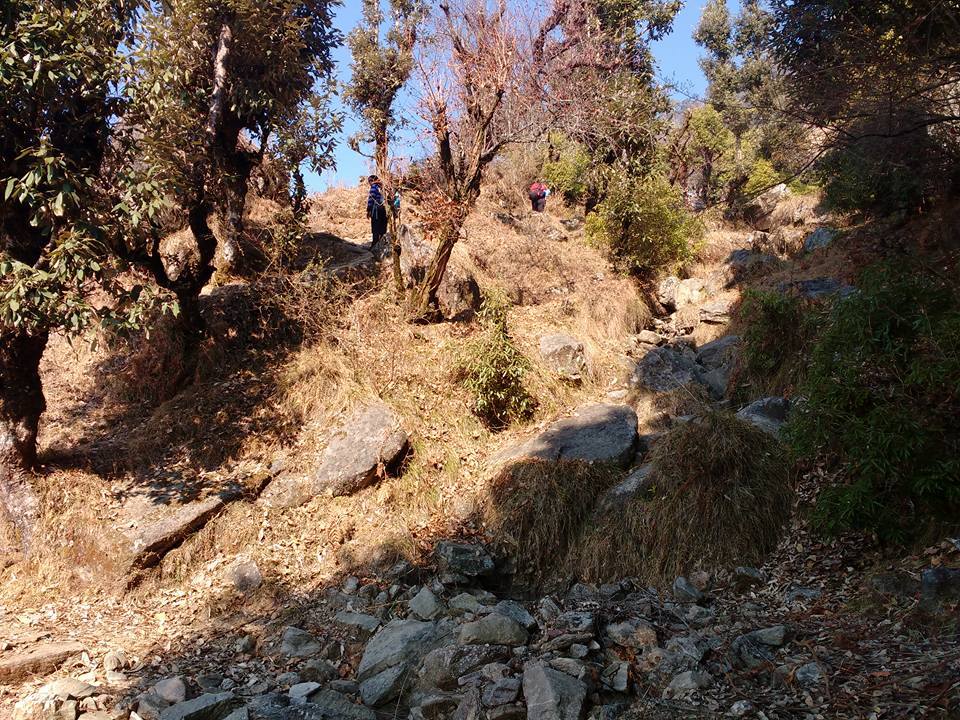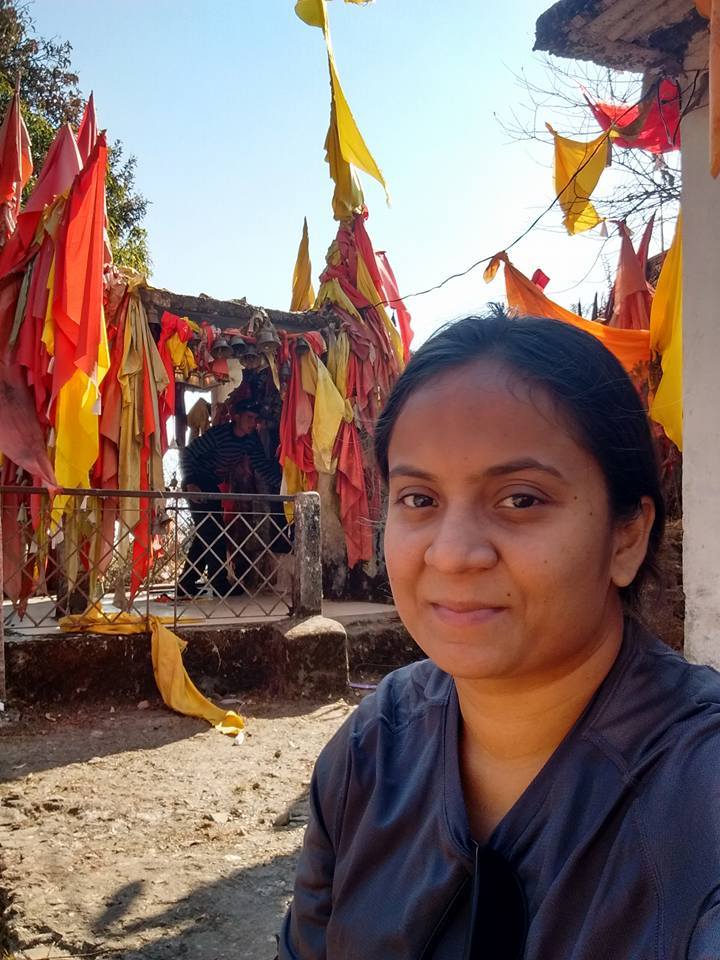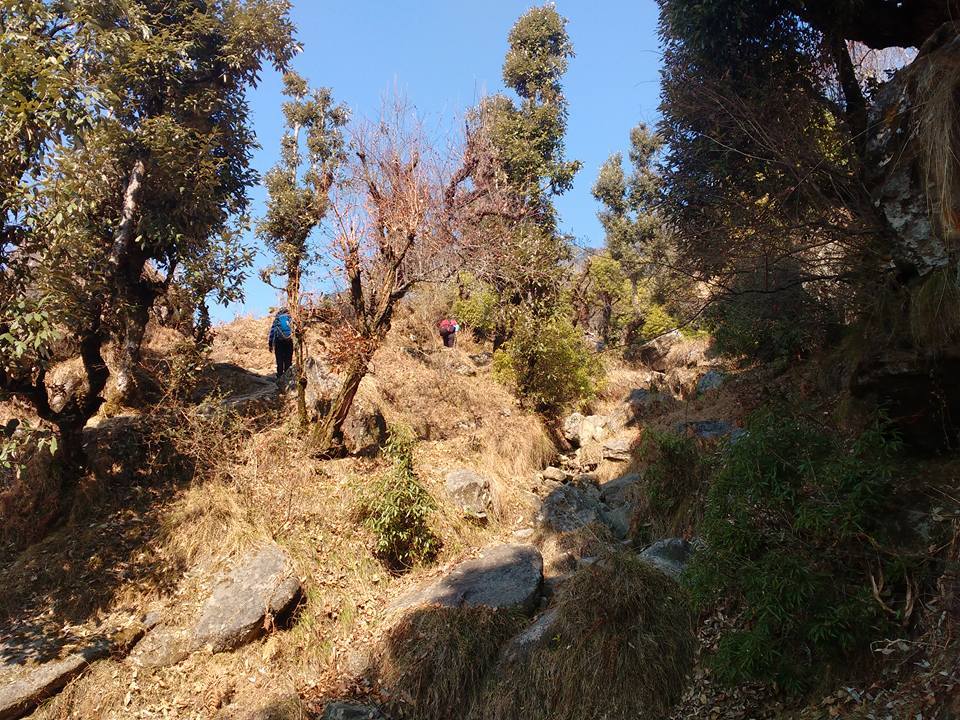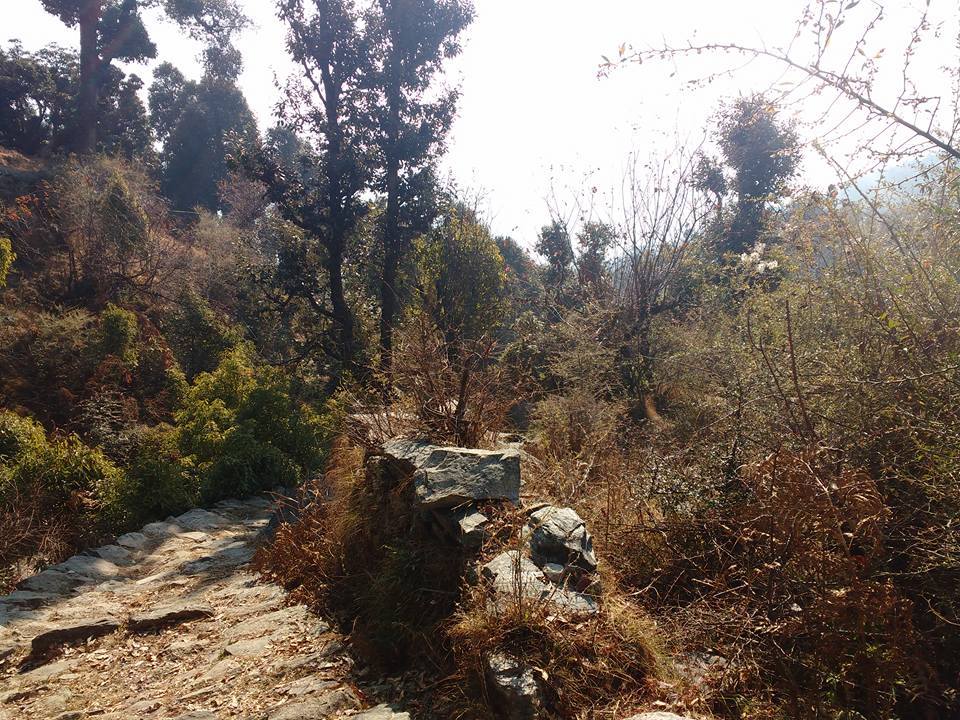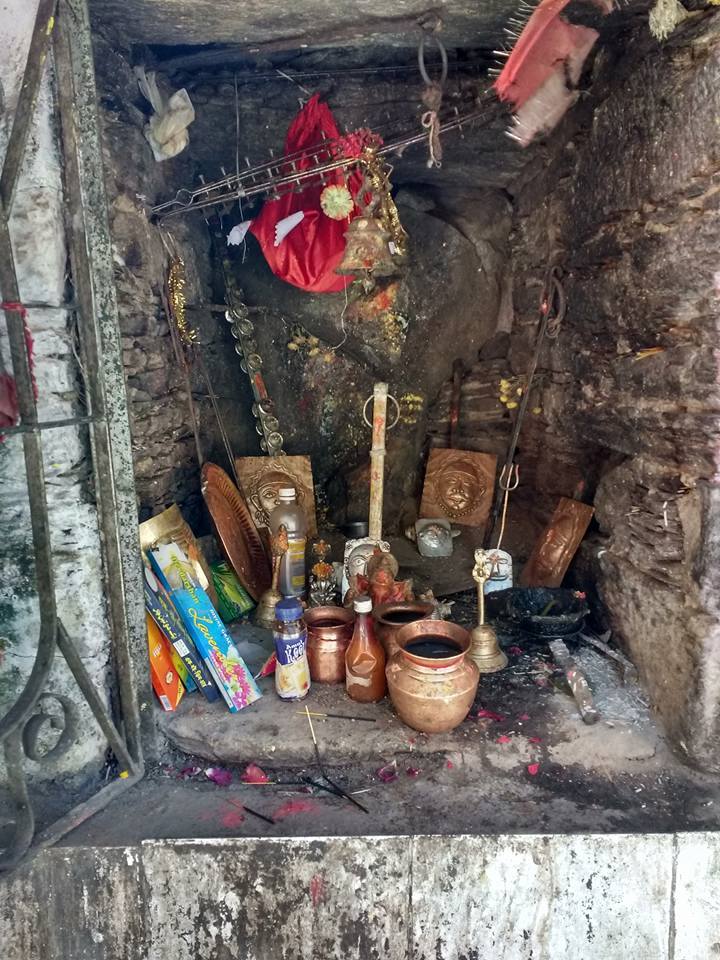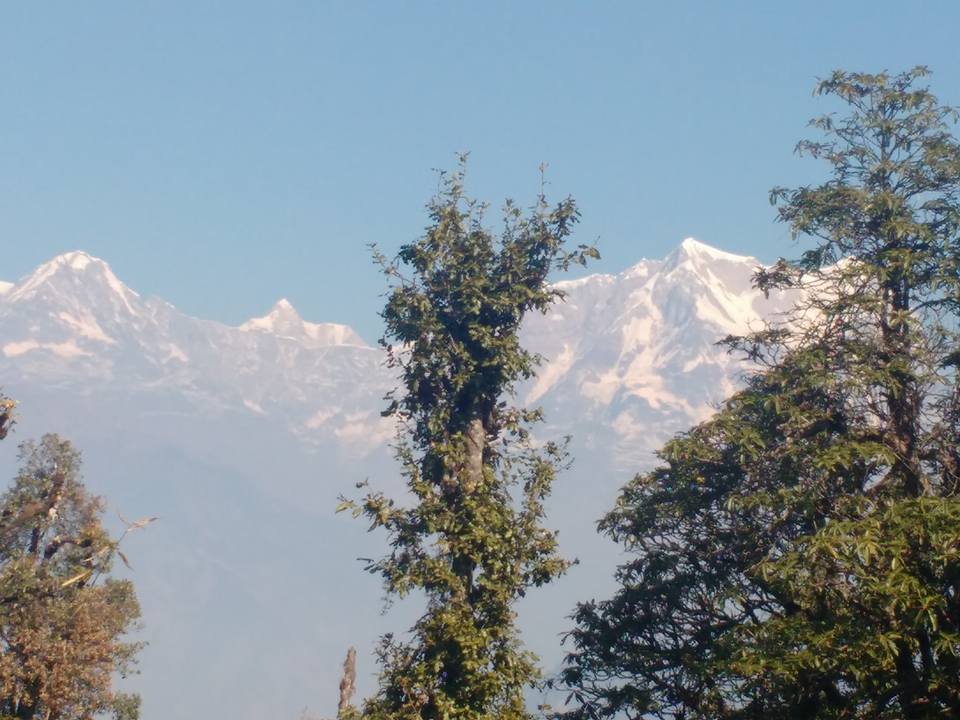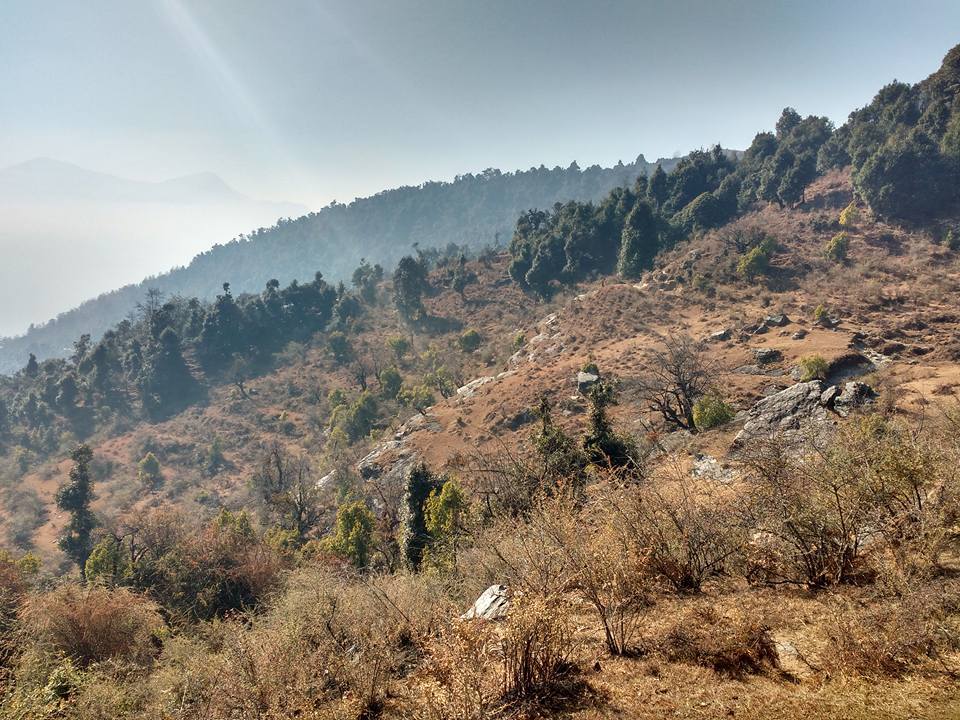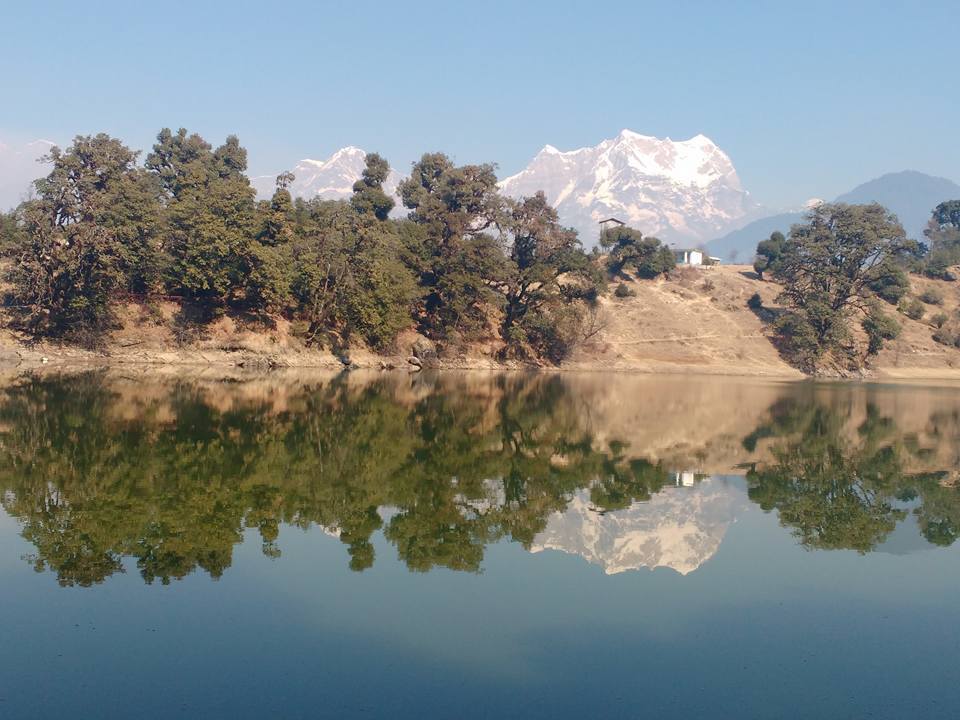 It has always been a dream for people to travel solo around the world. But how many could accomplish it remains meagre. Every fulfilled dream has a push factor behind it and it could be anything. One of those is heartbreak. There are so many ways to escape it and travelling holds a special space.
I am no way different and it was my turn to encounter one. Solo travelling came along the way to fix those broken pieces. At first, I was roaming to keep myself busy and it became an addiction in no due time. Despite being out for more than a couple of years, I have attempted to write it for the first time. This is my story around the world.
It was new year and time for a new resolution. Mine remained the same and I was planning for my next Himalayan trip. I just googled trek the Himalayas and after searching for a while, I finally decided to trek the Chopta-Chandrashila. As I travel alone, all my plans work as planned.
Day1: Delhi
Bid a bye to my family and left to airport in my friend's car. Embarked my flight to Delhi from Chennai. Realized that I had more than 3 hours to my next flight, I started roaming aimlessly around the Delhi airport. When it was just half hour left for my boarding time, I casually intended to gaze at the display board. A shock was awaiting me already, my flight to Dehradun from Delhi got cancelled.
Having roamed so much had already taught me how not to panic. Responding to a given situation is more vital than reacting to it. Few scenarios neither demands a response nor a reaction. I, cool like a cucumber, reached the airline's office with my boarding pass. The women at the counter came up with a sorry and informed that the cancellation message to my mobile failed as I was on board already. Is there a point beating around the bush? So, what next? I was taken to another counter from where I could collect my checked-in baggage. I was given 2 choices, either claim a full refund or wait until tomorrow noon for the next flight. I should be there at Haridwar the next day at 6.00am at any cost.
Accepted the first choice and was reluctantly waiting for my ruck sack. There came a voice, "Hello, are you waiting to collect your baggage from Dehradun flight"? That was Prirat's who was a fellow passenger waiting for the same. Absolutely now knowing the local language, befriending him gave me a clear idea of my next plan of action. I collected all my bags, I really did not want to carry those on my back, but I had no choice. I left the Delhi airport along with him to ISBT. I am already used to such scenarios and I consider these as adventures of solo travelling. We agreed to split the taxi charge but he left as his bus to Dehradun was already about to start. Since he confirmed with his friend that Haridwar is safe at any time, I decided to leave as early as I could. Boarded the next immediate bus to Haridwar. It was a tiring 6-hour journey and it was midnight when I reached my destination. It was freezing cold and I was breathing fog. Took a local tuk-tuk to my hotel.
Day 2: Haridwar - Sari
The next day after 5 hours of the most needed sleep, I woke up and got ready to start the most awaited trip. That was a giant Lord Siva's statue in the railway station, where the cab was waiting with few fellow trekkers. Learning that one more is yet to come as his train got delayed, I walked out with my phone and wallet. It was 7 in the morning but sun could not find a way out of the mist. It was dark and cold. There was camp fire set every here and there to beat the cold. I just sat beside one with a tea. The world is full of good people and everyone around the fire were strangers. But the new entries always got a place.
We were 7 in number and the 190km journey to Sari base camp was alongside the Ganges valley. The vehicle stopped at a motel for breakfast. I wasn't starving and hence made my way down the road towards the Ganges. I was accompanied by my acquaintances in due time. "The collectibles are not the one we buy but the one we collect while traveling". Collected some pebbles and mud from the beach and preserved it with atmost care. It always induces some excitement to see something in our name. My name is after a river and was so excited to see how violently she was flowing as might Ganges along with another river.
We finally made it to Sari in the evening and all I wanted to do was to get some sleep. It was a quick gathering before dinner briefing the trek. Satendr, the trek lead and Manish, the local guide were explaining. But I had no idea what they spoke. Got it subtitled from other mates and handed over all the documents. Next was to rest with bigger expectations about the expedition.
Day 3: Sari – Deoriatal
The day began with a lot of dreams about the next few days on mountains. It was a pure bliss to spot peaks just upon opening the door. We started packing our rucksacks. Tents, sleeping bags, food and some utensils for cooking. Nature always has a different definition for everything, we started walking towards the trek base to see what it is upto this time.
Our trek for that day was to reach Deoriatal lake which is at 4kms from Sari village at an altitude of 7800ft above sea level. Like every other natural resource, this lake also has its own history. The deoriatal was dug by seshnag by burying its head under the mud and it dug the lake with its tail. No one knows the depth of the lake and whoever tried never returned. The locals celebrate Krishna Janmashtami by the lake by following some rituals.
It was through steep rocks, it wasn't too risky to climb rocky terrain, but it did demand a lot of energy. The trek was on 2 different terrains, first half was through rocks and the second half was through trees and bushes. There was a temple separating the terrains, Bairavnath. It stood still and simple proving nature is God. And it was the only rest point in the first half, we can still sit on rocks elsewhere.
Walking through the second terrain throws glimpse of Mount Chaukumba, the second highest peak in Uttarakhand after Nanda Devi. We encountered natives every now and then with their mules along the way. The terrain ends at a meadow by the divine lake. The water was so pristine that it could mirror Mount Chaukumba. We got our tents setup and it was time for lunch. Who else could offer Biriyani at such an altitude other than "Trek the Himalayas". The team had a decent introduction about each other, but I still decided to know more about other's idea towards life. We had fun playing team games until acclimatization walk.
We must acclimatize well on mountains to sleep well at night and to boost the oxygen level. Improper hydration and lesser levels of oxygen will lead to acute mountain sickness which at times may become chronic. It was a km walk around the lake. Though it was around the lake, it wasn't over flat land, we were again on mountain terrain. There were commercial tents setup here and there and there was a round table setup at the highest point of that location. We all sat around for a quick discussion about the history of Deoriatal. Manish and Satendr were speaking for quite a long time and I understood not even a word. At the end of discussion, I got it subtitled. That is when they disclosed about Seshnag. Satendr was sharing his experience about mountaineering certification and about procedure for summiting Mount Everest, the highest peak in the Himalayas.
To summit Mount Everest, one must be certified for summiting a 7000m peak. There are so many peaks in India which are 7000m and above, Mount Nanda Devi, Mount Bhagirathi 3 among the Bhagirathi sisters to name a few. Post that we made our way back to tents and it was so cold already. The next is to eat and sleep as the next day is going to be a 14km walk and we will be walking for the whole day.
Day 4: Deoriatal to Chopta via Jandidhar
I was just yet another early bird. Woke up even before sun rays started to spot on the Chaukumba summit. Few yoga stretches at such an early morning will hoard all needed oxygen in the body. We were supposed to leave the camp site at 8.00am. Punctuality is an asset and not everyone is that privileged. We were late by an hour, but we still managed to fold our tents. Our 14km walk started with so much energy.
The first 4kms was to climb a steep ridge, Jandidhar. "Jandi" means flag and "Dhar" means ridge. On top of the rocky terrain, there was a yellow flag hoisted and that was our first rest point. It was a steep climb that even eagles were flying below us. The aerial view of the trek path defined it all. From there it was a steep descend through forest. Every bark had thick layer of algae deposited. In just sometime, I noticed my left palm swollen. Swelling is one of the symptoms of mountain sickness and it should be immediately reported to the trek lead. I was asked to drink a lot of water. In a while, I remembered that I leaned over a tree with my left hand after which it swell. By that time my palm was back to normal, could be an allergic reaction. Point to remember, don't touch anything in forest unless we are sure about what it is.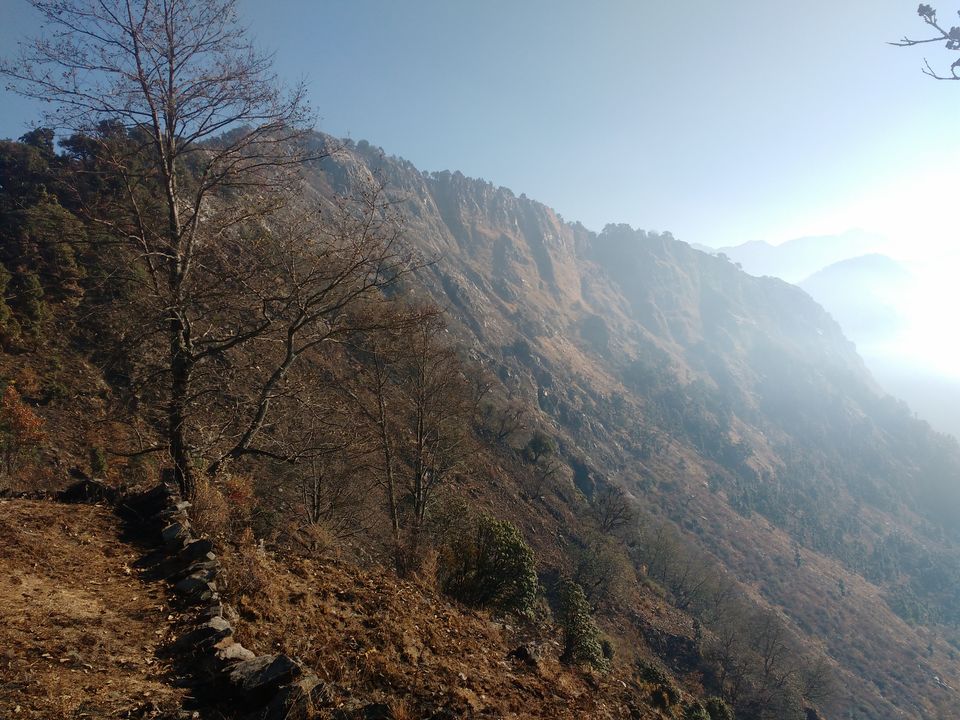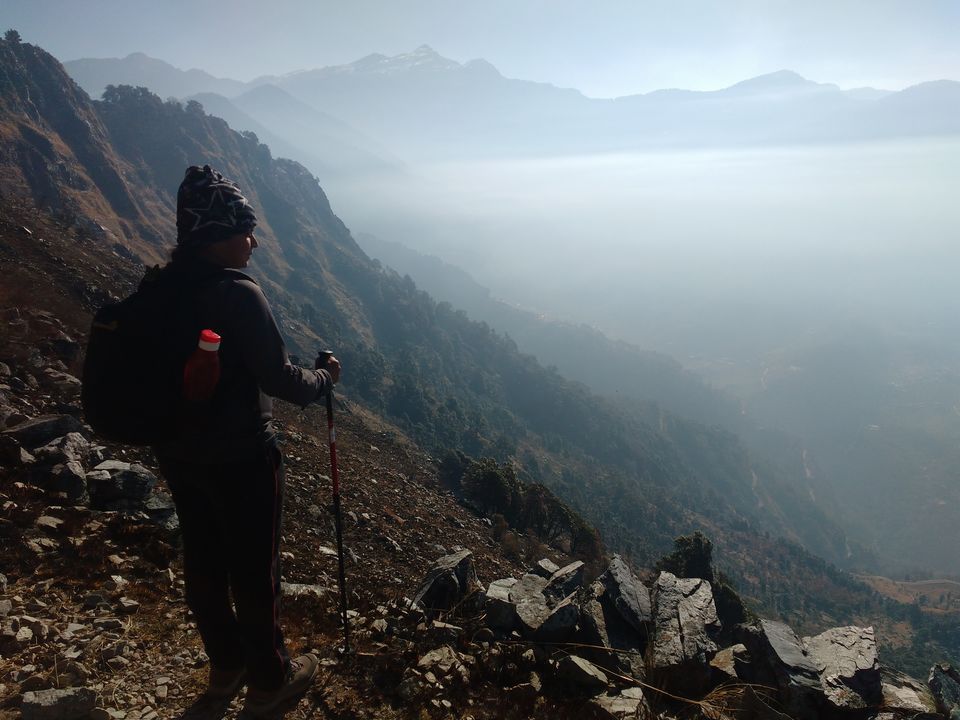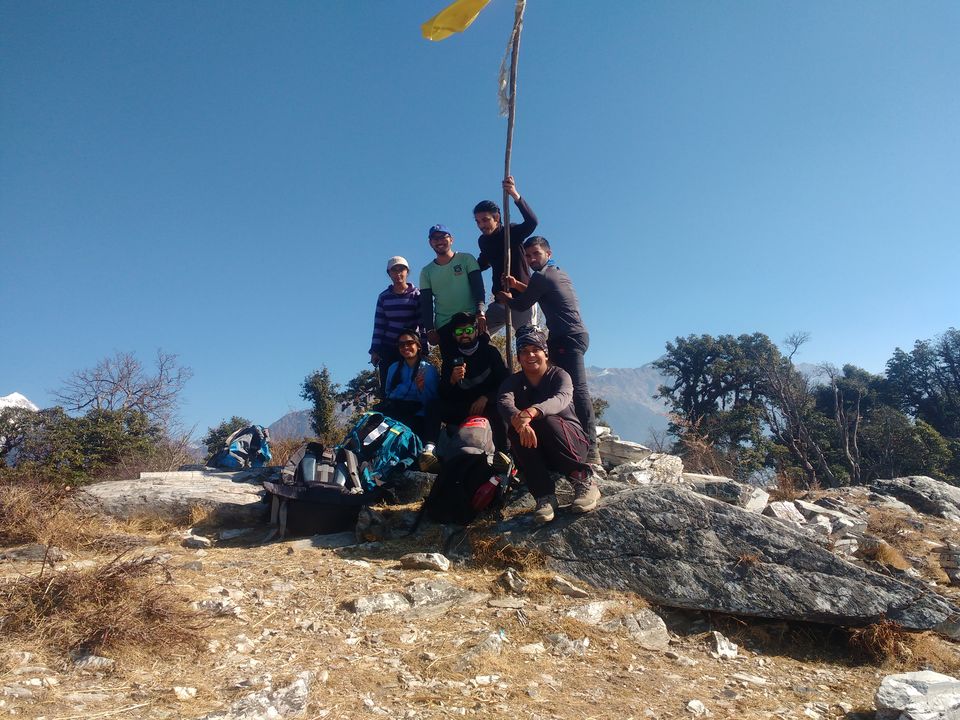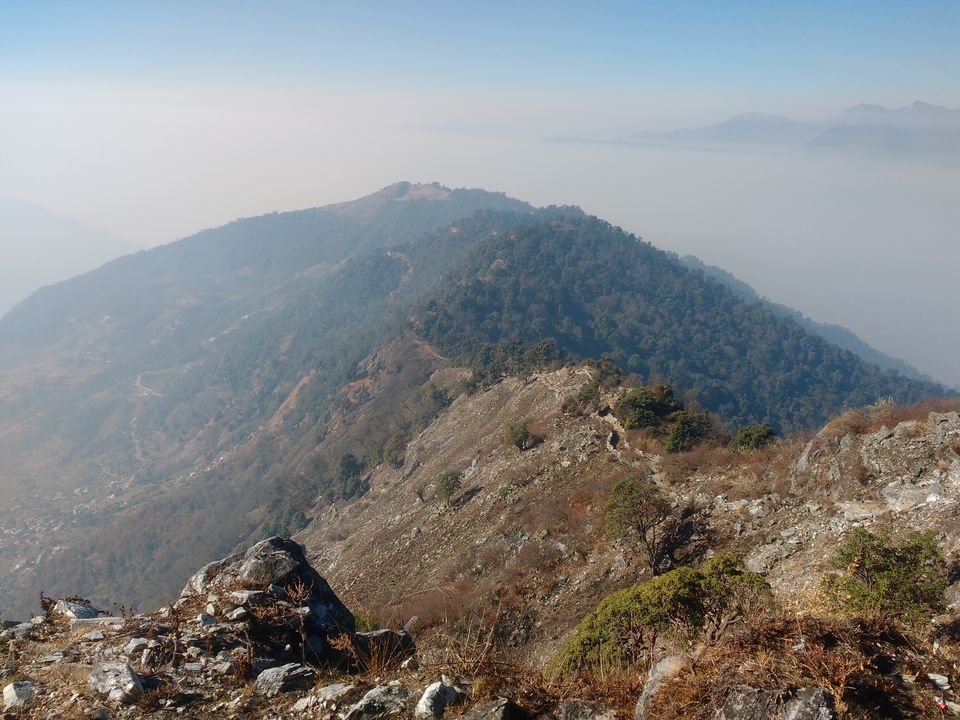 Everyone else were faster than me. It was just me and Satendr walking together in deep silence. I could smell green all around. We also spotted Oak and Deodar trees on our way. These trees grow only above 8000ft altitude and Deodar is called God's own tree. Took one leaf off Green Oak and Deodar trees. A meadow, Rohini Bugiyal, separating 2 forest cover was where we first spotted ice. Everyone else had their lunch there. I rushed for a quick nap as I did not feel like eating, neither did I carry lunch.
6kms left for Chopta, 2kms straight, 2kms down and 2 kms uphill. The flat straight terrain wasn't really flat, the second part wasn't just down, it was a steep descend. The path was looking literally like a slide that we had to run to keep us from falling. One of the trekkers even fell while walking through the slide. There was a waterfall before the last 2km climb. There was a jawbone of some animal alongside the water. I really wanted to take it with me but Satendr flashed a strong no. the last 2kms was again a steep climb through rocks. I was lagging behind as usual. The sun was also ready to fall behind the mighty mountains. The place was so silent that I could hear my breath. I could listen to forest and it was silently draining all the pre-consumed thoughts. I felt like an empty pot being filled with fresh water. The system felt so refreshing and the reddish orange sunset behind the forest cover gave all the most needed energy. Nature truly heals with no scars left behind. This time it taught me that true luxury cannot be bought. Soul was so cleaned and I was walking with a whole new perception towards life.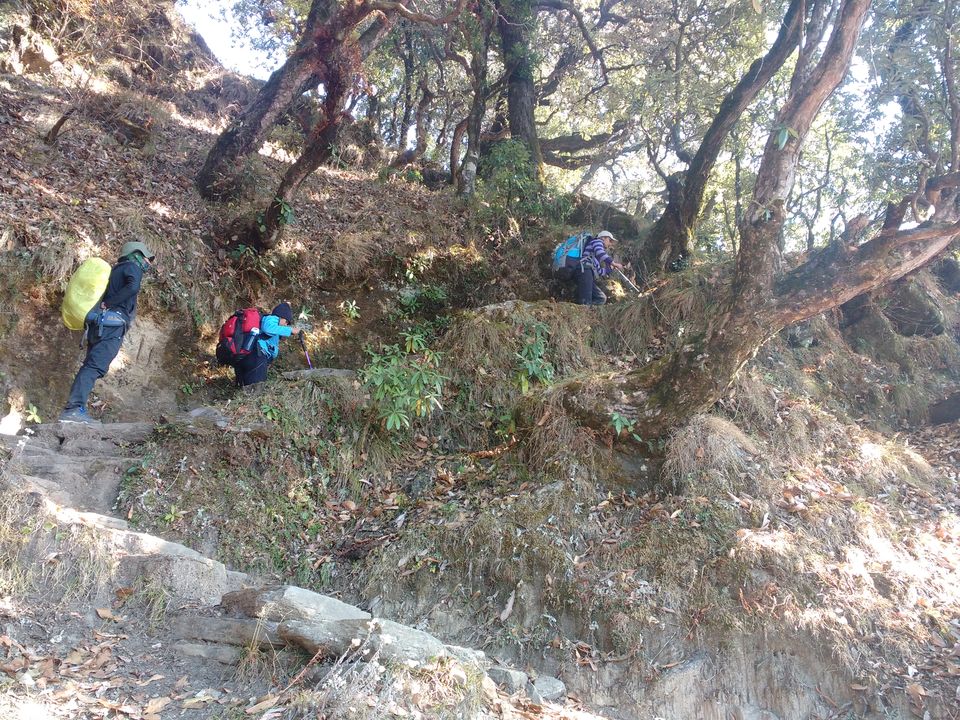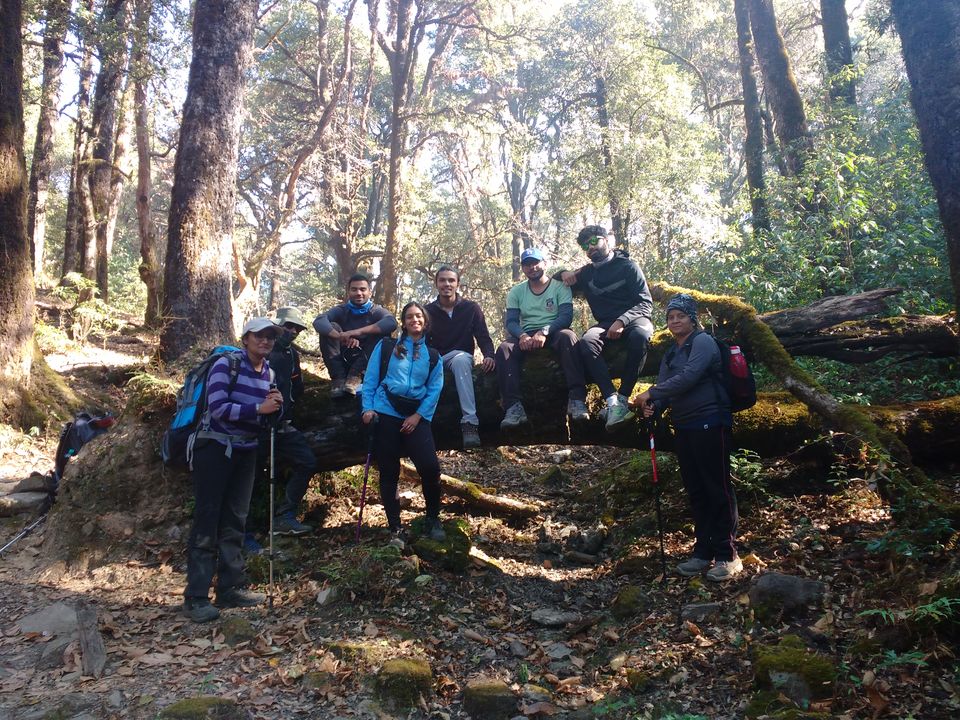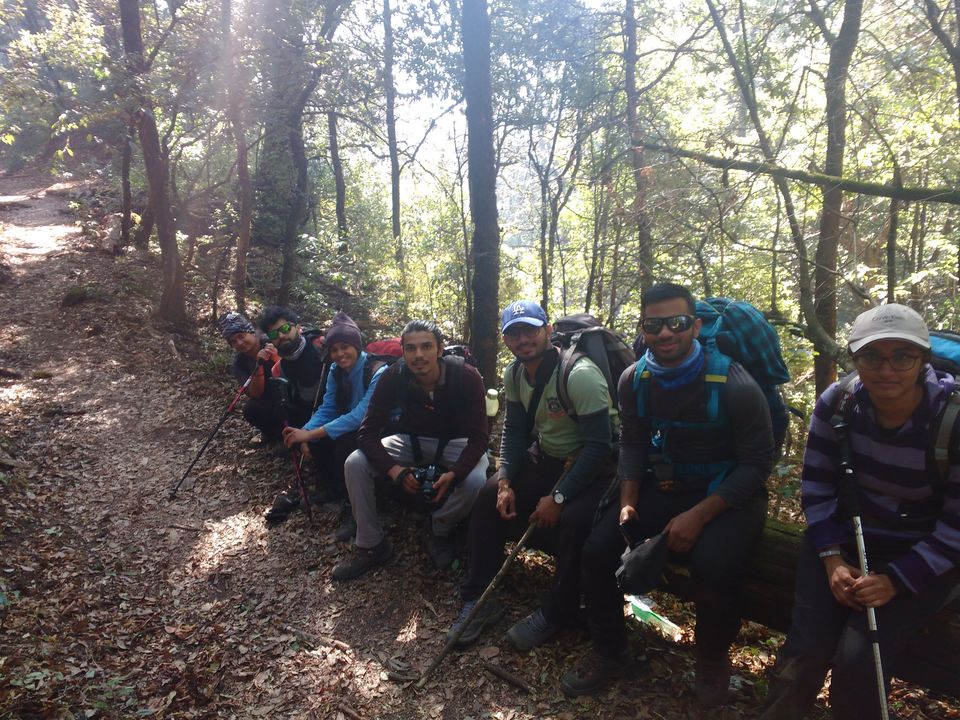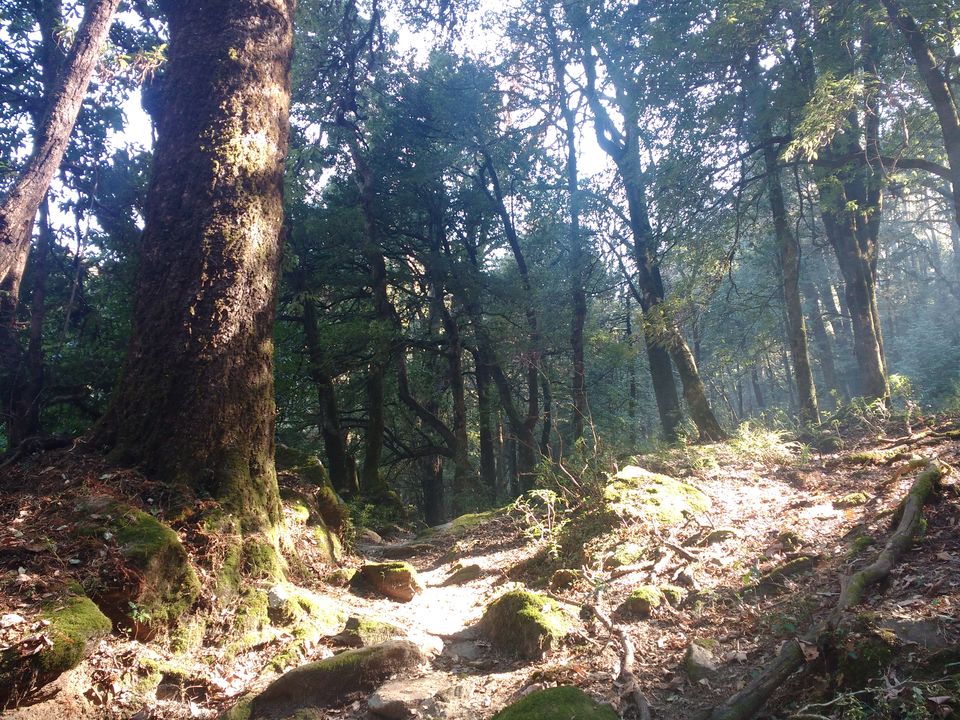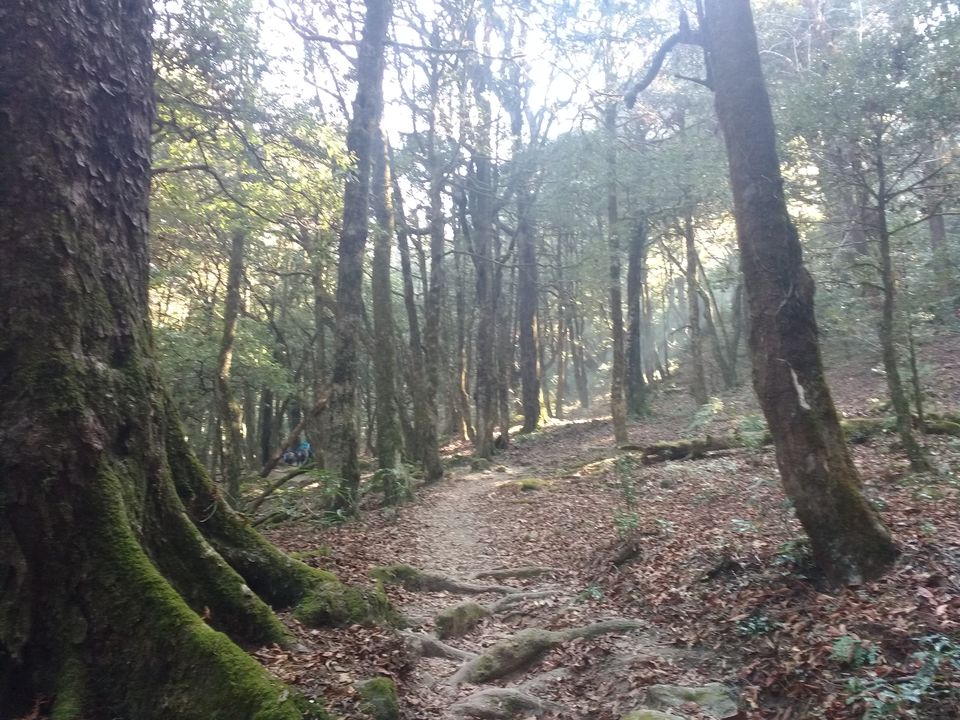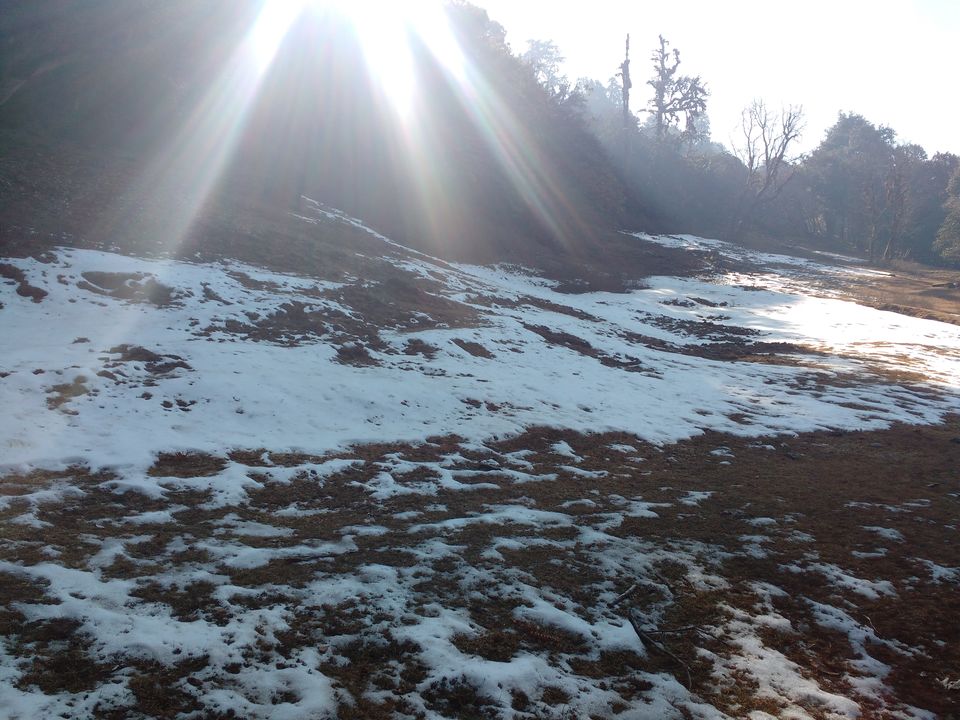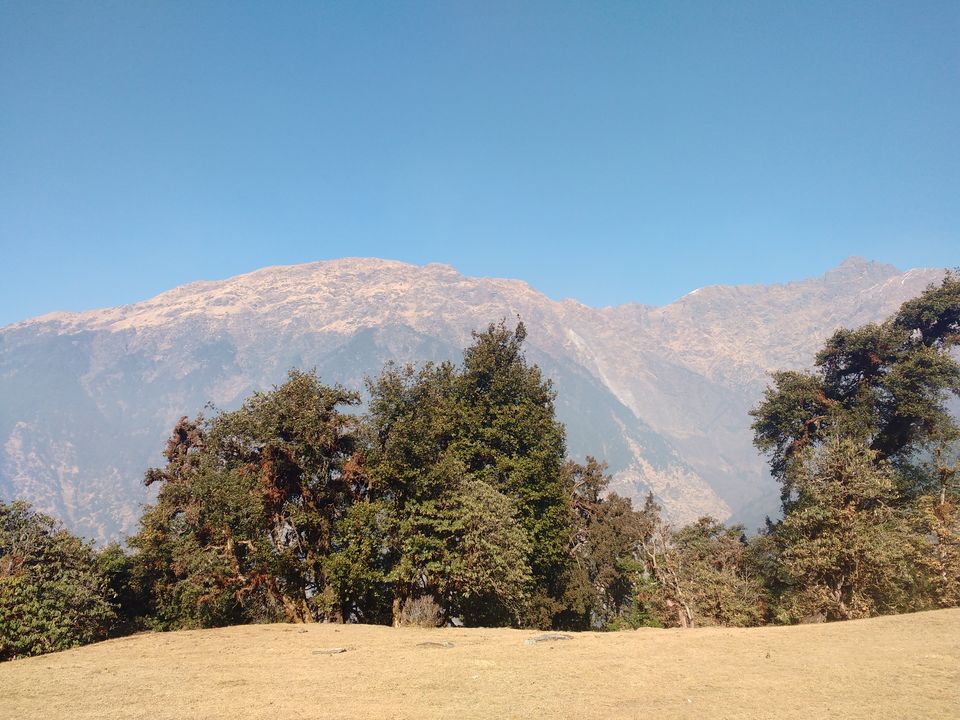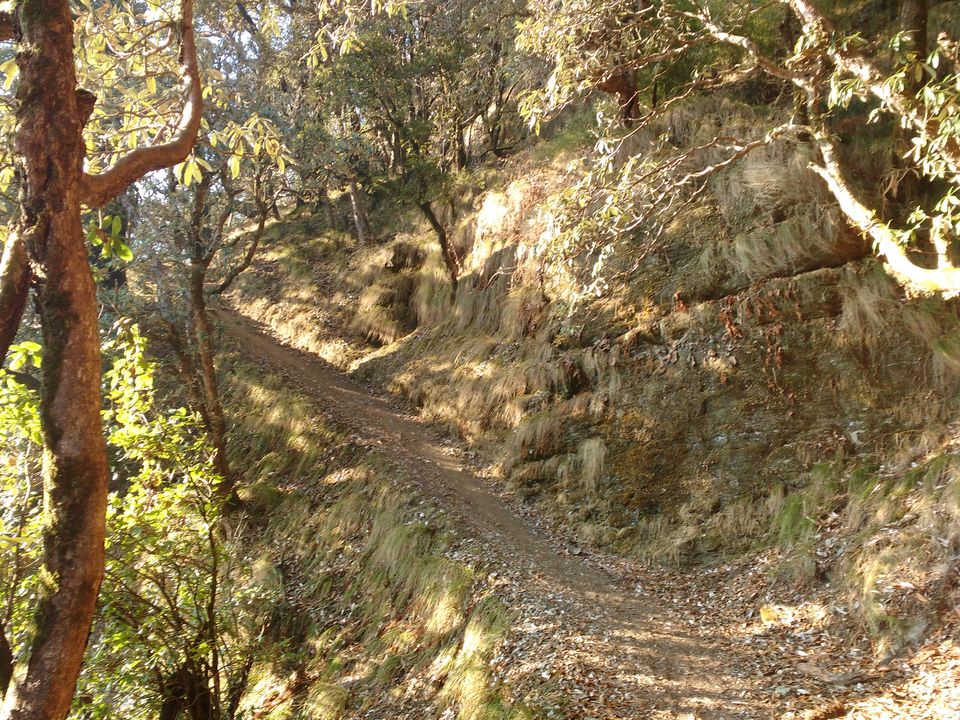 Last 1km left and it was dark already. We spotted a couple of half decomposed animal bodies on our way, Satendr added to the fright saying Leopards would have hunted those animals. I felt like I was walking for a long time but the last 1km was not over yet. I was the happiest when I saw the road after a long day through forest. Then we reached the campsite, what next, just rest.
Day 5: Around Chopta circuit
That day was supposed to be rest day. But did we really rest? Nature had different plans for us. We were acclimatizing in the morning. We climbed all way through the mountains just to have a plate of maggi. But on the way back we had so much fun with snow and ice. Next was lunch at campsite and some chit chatting. The conversation became more interesting when we were sharing our first impression about each other. My fellow mates were younger to me and I felt I was going to trek with kids. The best was Nihal's. This was how he explained, "just few days before trek I watched "Yeh jawani hai deewani" movie. I was like I am going to have so much fun with girls. The main reason behind selecting an easy trek was, there will be so many girls. The moment the spreadsheet came, I was eagerly looking for people. There were 3 girls and 4 boys. A girl and a boy from Mumbai, a couple so unselected, a girl and a boy from Rajkot, gone again and a girl from Chennai. If she is of my age, I said to myself that I will be with her throughout the trek and especially on summit day. Things will work out since we both are south Indian. The team created a whatsapp group, I pinged Hi but no one even bothered to reply. I told myself that I will be spending my trek days with a weird team. My train was delayed and I again pinged in the group that I will be late with no response. While boarding the cab, I saw Harshad, the guy from Delhi. The moment I saw him, I realized Chennai girl would have already met him and my chances are becoming narrow. I looked at the Chennai girl and flashed a nice cute smile but she turned around. I felt really bad and went to my seat". Post this he added that his ideology towards the team has changed already.
It was soup time and Satendr came with his oximeter to check oxygen level for everyone. When it was my turn, I clocked just 70. It is supposed to be 80 and above, else we don't ascend further. The next day was the most awaited summit day. At the background "channa mereya" song was sung in a sarcastic note by none other than Harshad, the Delhi Wala. I checked it again on index finger and it clocked 84, a sigh of relief. The dinner was more exciting with gulab jamuns.
It was already snowing and we had planned to leave around 2.00am to summit the next day. But Satendr informed we might have to wait for weather clearance. It snowed for the whole night and we had to stay awake to clear the snow off the tent. It stopped snowing around early morning and we slept only for a couple of hours.
Day 6: Chopta to Pothibasa via Tungnath
This was supposed to be our summit day but time had different plans for us. After a long sleepless night, I opened my tent to see the entire landscape painted in white. It was knee level snow outside, the region had its first snowfall for the season. For us, it was mixed emotion, we were so excited to have encountered so much snow and summiting got cancelled for the same reason. We were instructed to pack everything and find our way back. We had no choice as the weather cannot be predicted and the situation would worsen if it snows again. The only thing that hit my mind by then was, "I just want to meet my mom". When I said the same to Divya, with whom I shared my tent, she replied, "I recently lost my mom". A moment of silence broke both of us into tears. The value of something will be best understood only when it is lost.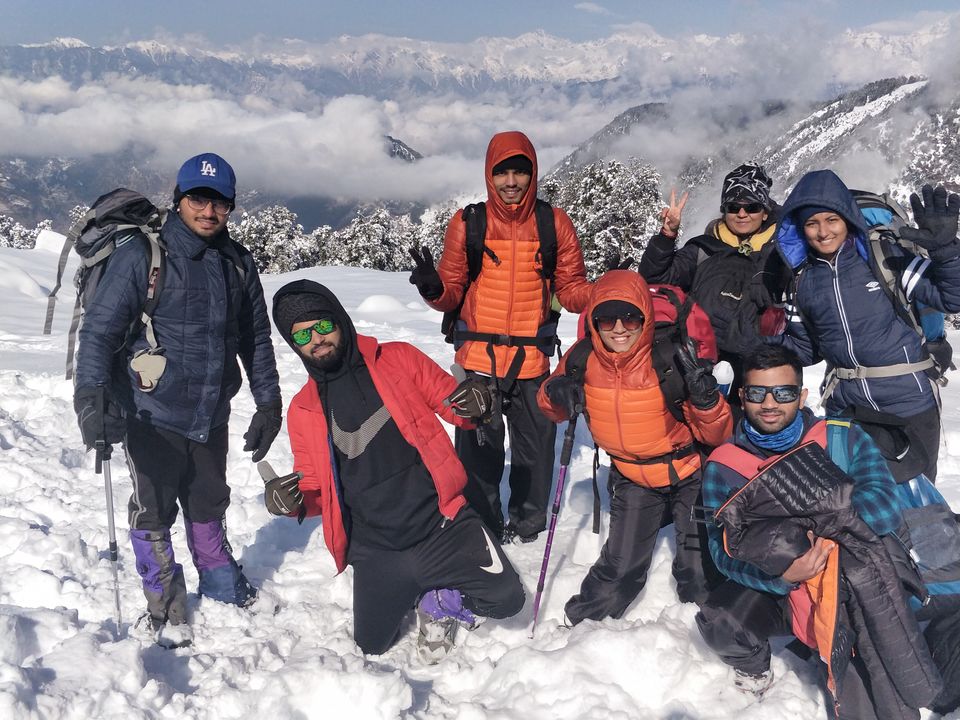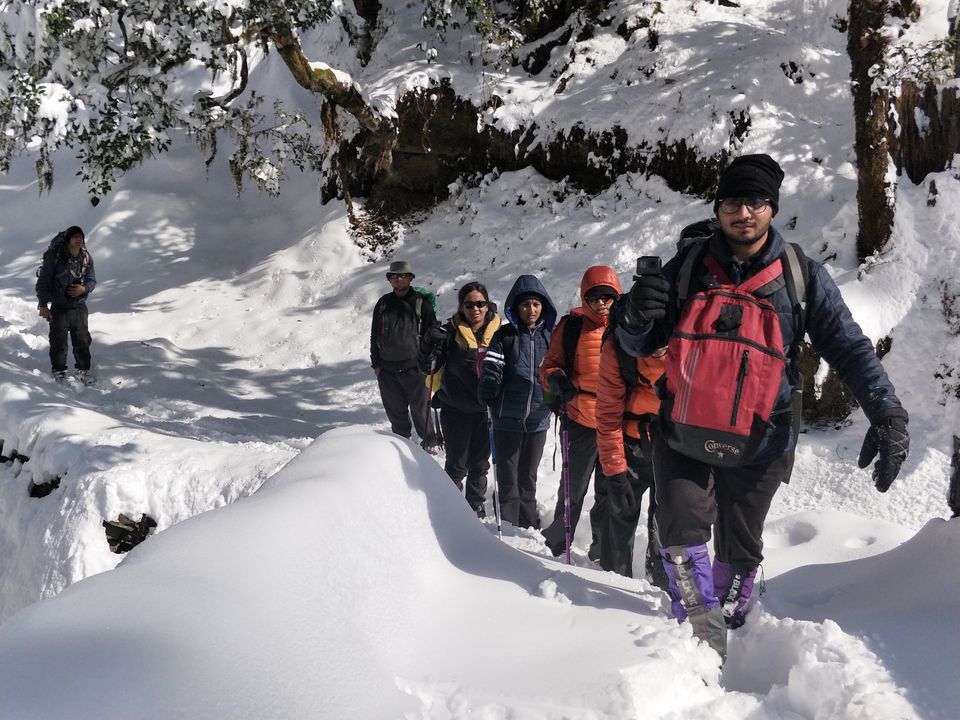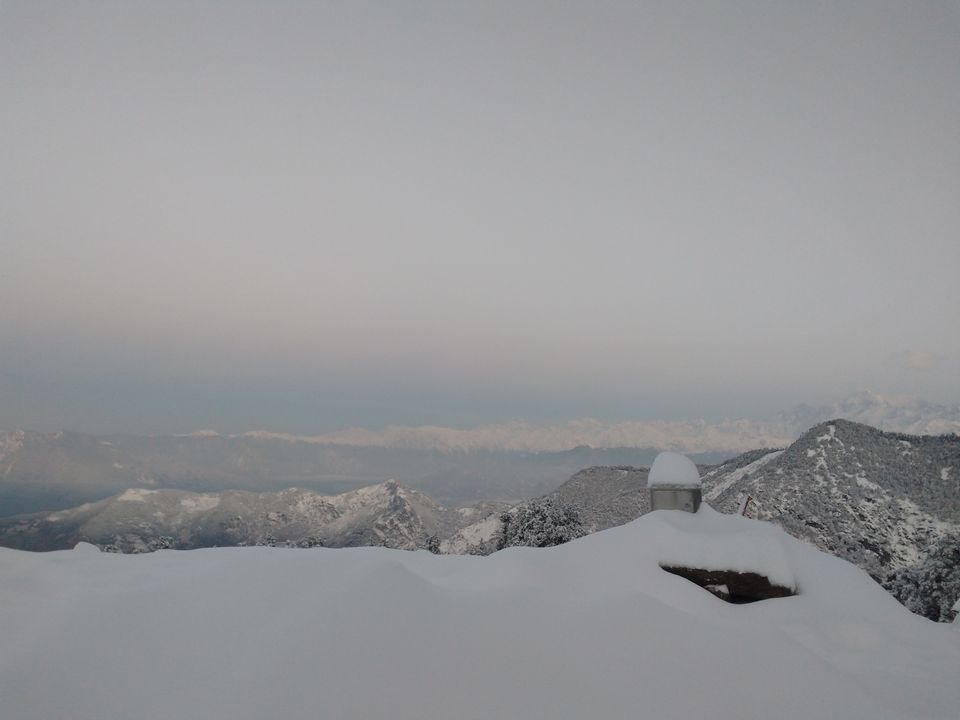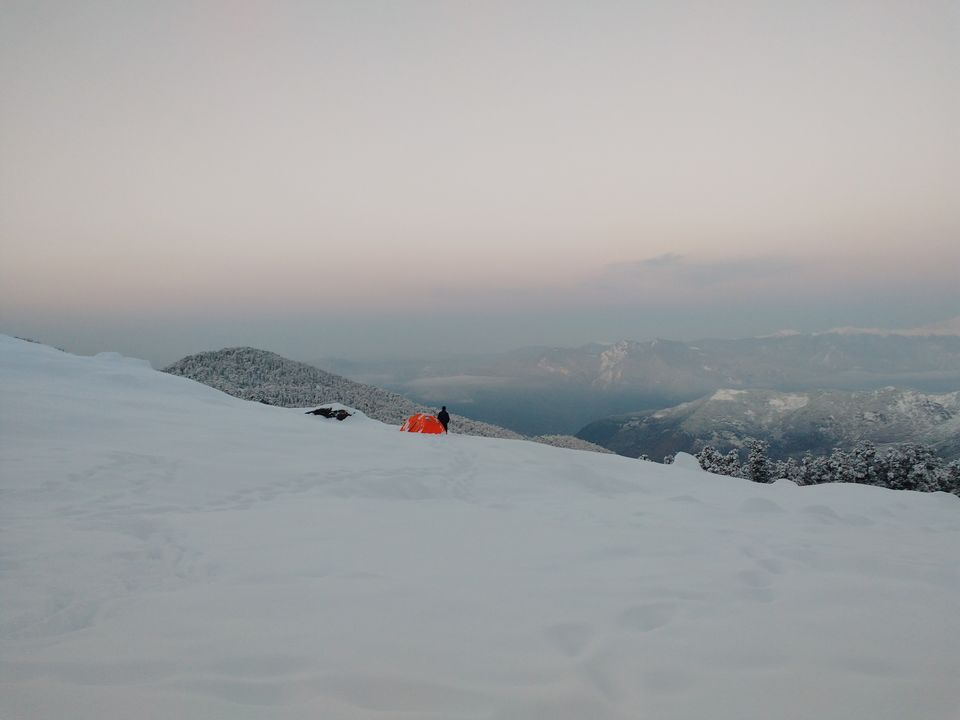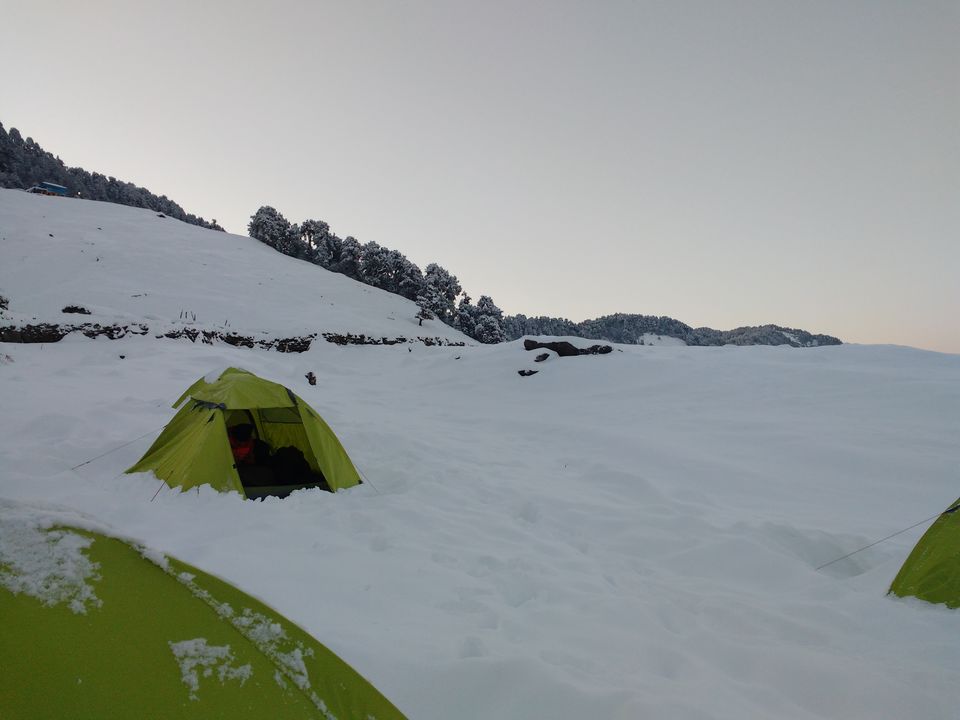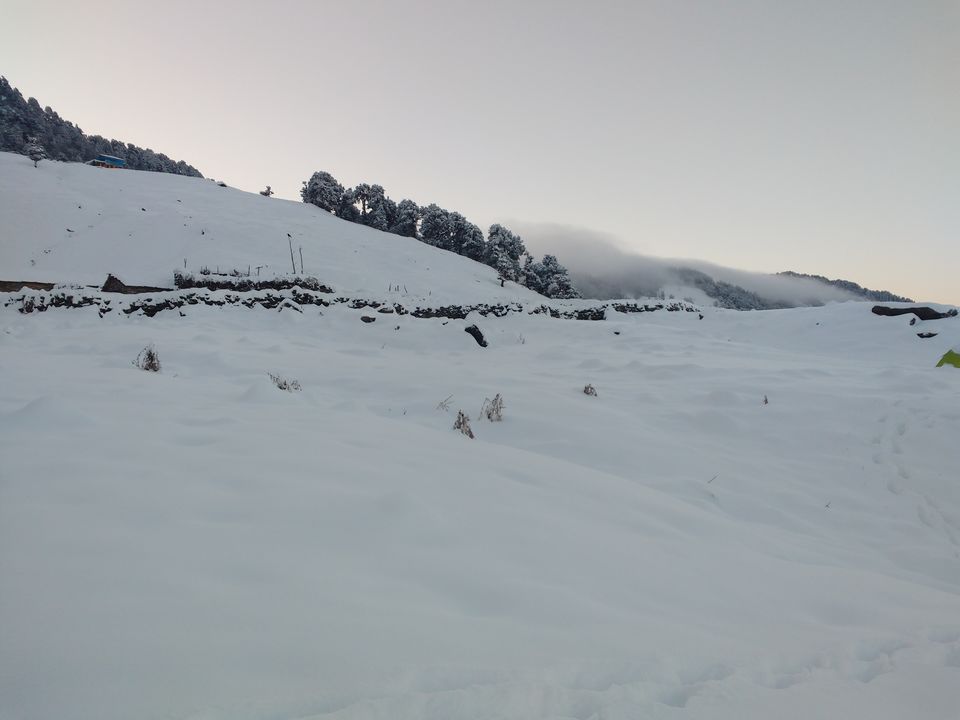 The plan for the day was to reach Pothibasa via Tungnath. The rest was bliss. I have no words to explain the beauty of nature we encountered that day. I don't want to lessen its intensity with mere words. When something good does not happen, it means something better is on its way. What happened to us was something best and it left all of us speechless. Pictures attached, try to figure out from those. Some best moments are better felt in silence.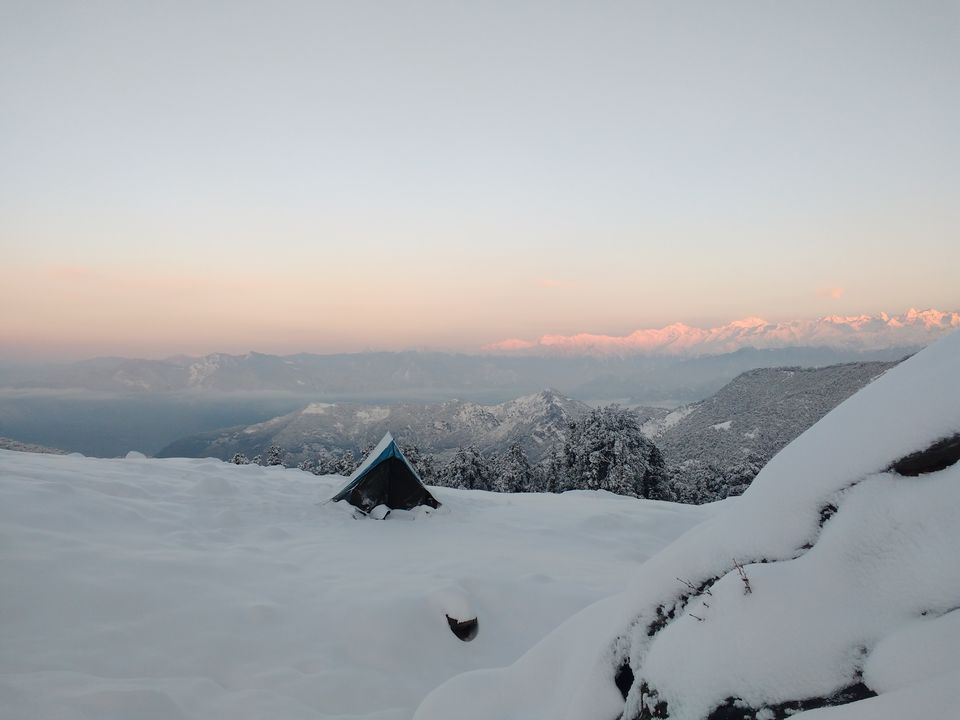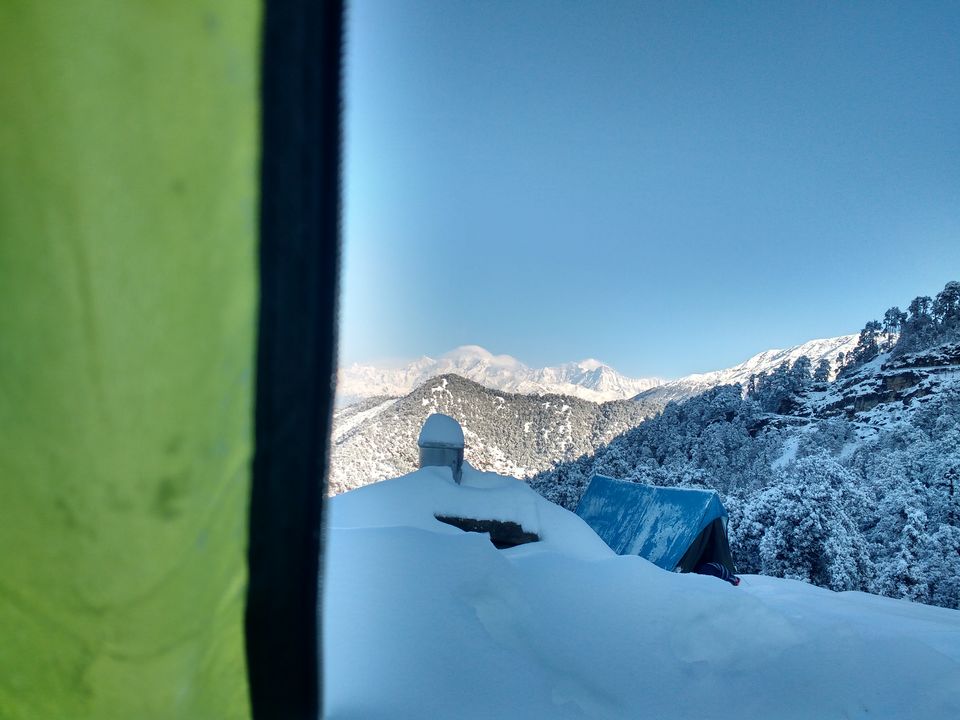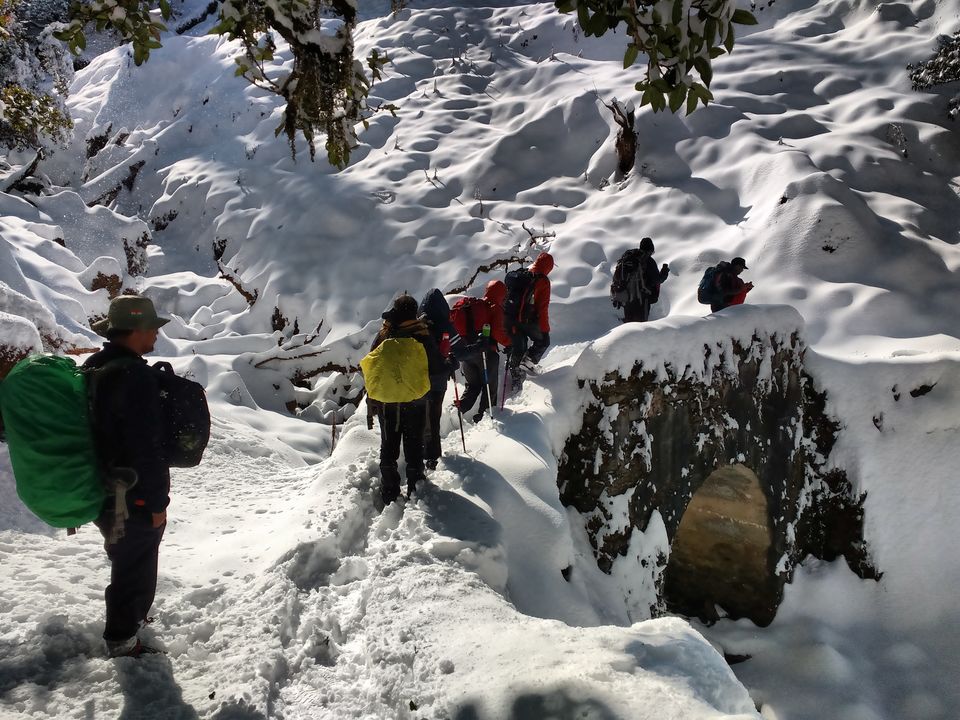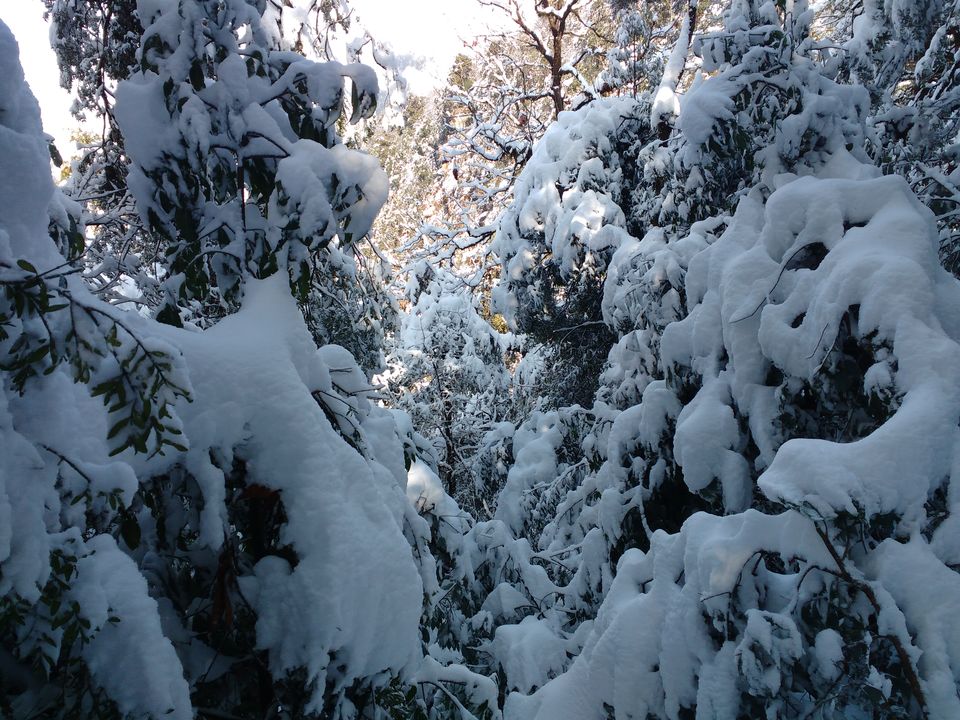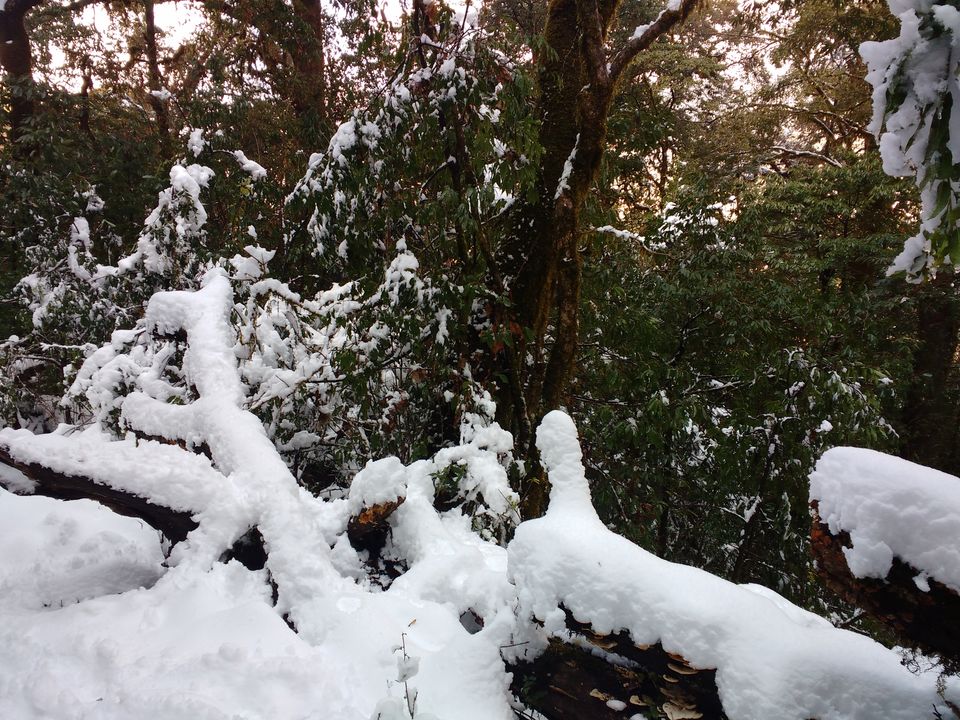 We made our way back a day ahead. Everyone else got down at Rishikesh, while I went to Haridwar. We always share some best memories of life with people whom we travel for a short while. These people are added to my list. Whenever I think about Chandrashila, with no doubt, I will get reminded of them, Devangi and Kunj from Mumbai, Kevin and Divya from Rajkot, Harshad from Delhi, Nihal from Hyderabad and me from Chennai.
Day 7 & Day 8: Haridwar
After bidding bye to trek and the team, it was time for the most needed sleep again at Haridwar. Post a day long sleep, I made up my mind to watch Ganga Aarti at Har Ki Pauri. It was a 2km walk from my hotel via market. Despite everything else, it was food that excited me so much. Haridwar streets had so much food to offer, I did not know which one to eat and which one to leave. I still dumped a lot, the best were Malai Dhoodh, Aloo tikki and Golgappa.
I reached the banks of river Ganges way too early. An hour was left for Aarti. Hence, I started walking towards the mighty Shiva statue. The sun sets behind the statue and the view would cause goosebumps to anyone watching it. I again made my way back to the banks and was waiting for the moment. There were hardly few people around me by then but people flooded in no due time.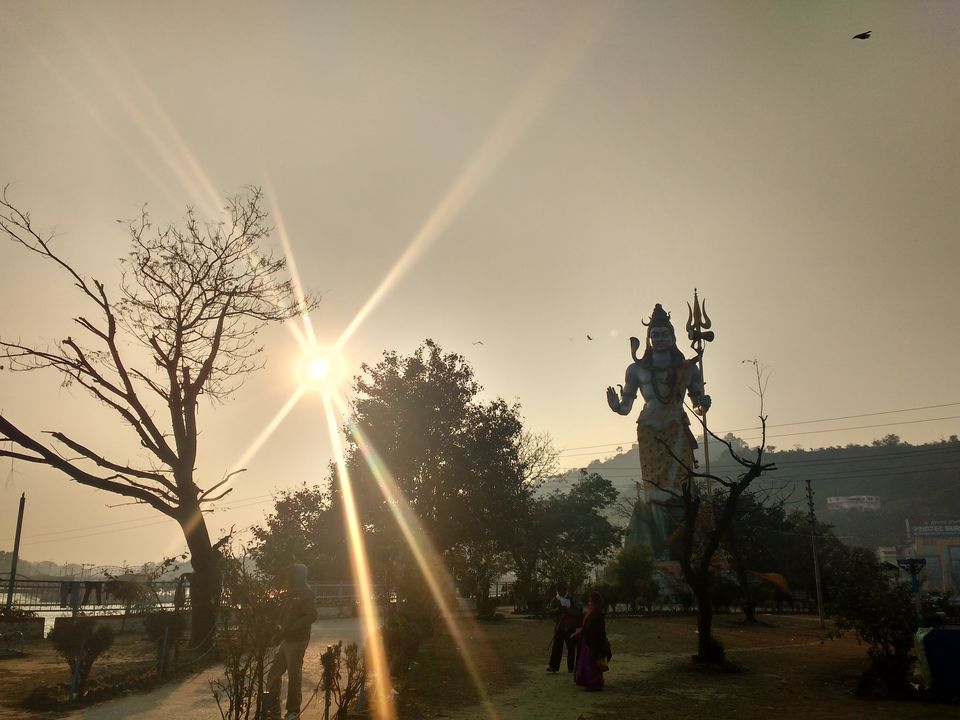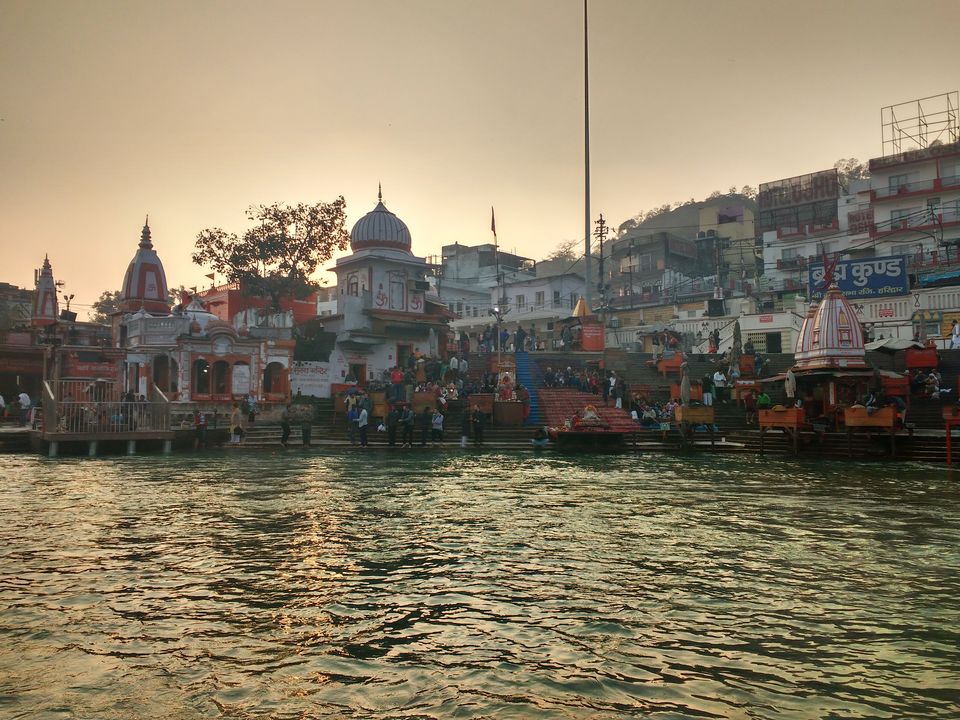 Aarti to the mighty Ganges almost began. I am someone who believes love is God. But the chants and the sound from conch shell definitely did something at the sub-conscious level that I feel a shock bottoms up every time I think about it. The next immediate person I met was atleast 100 years old and she was selling bags for 10 rupees. Even at such an age she chose to live out of earning. Inspiration comes from anywhere and all I could do for her was to buy a bag. The day ended really well, Haridwar filled my soul and my tummy.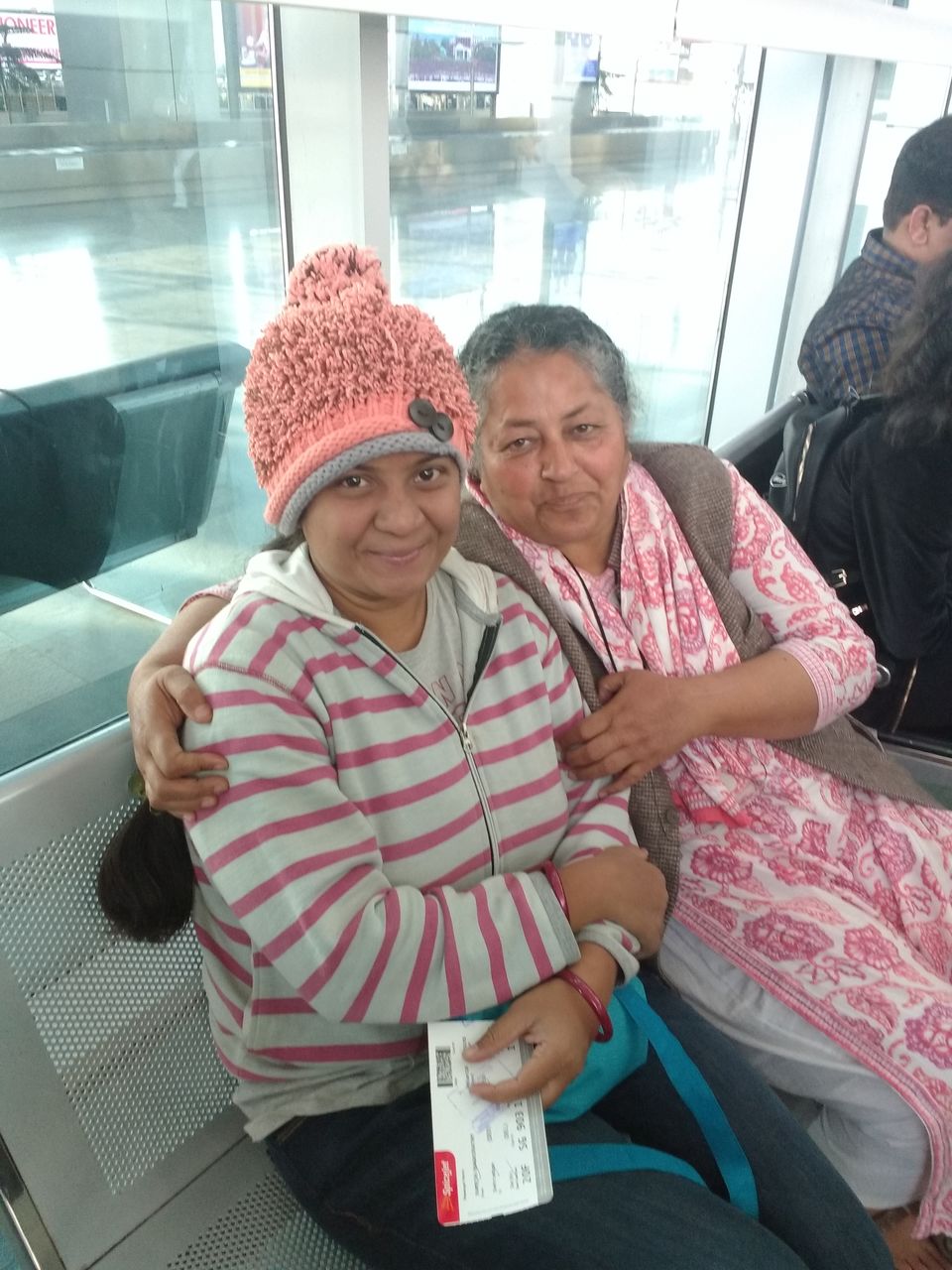 The next day, I just packed my things and left to the airport. I met Kevin and Divya there waiting to check-in. I had 3 hours left for my flight and I just took a seat. An old woman who was sitting next to me was kind enough to initiate the conversation. I was wondering why she was wearing most of her shawls, it wasn't even that cold. Then she explained me that she was running more on check-in baggage, which she later got sorted. Time until flight was with her. We tend to be so truthful to a person whom we will never meet again and I confessed to her that I was seriously looking at a guy in the same lobby. We both had so much fun ogling together at the same guy. It was time, we bid bye to each other, with good memories again and my trip came to an end too. This is not going to be the last though.