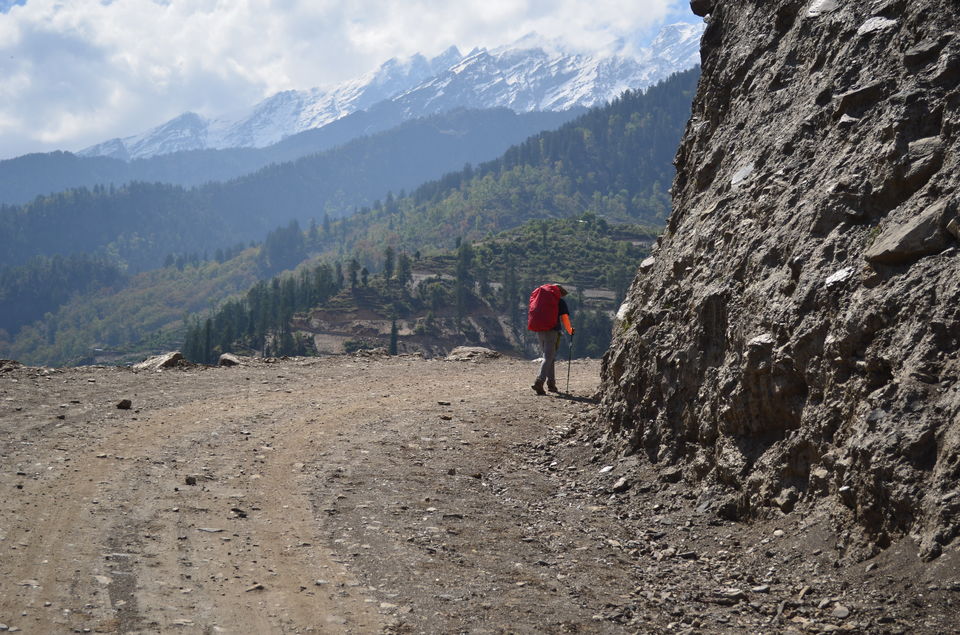 A college student with high aspirations and only one high-altitude experience under the belt and inexhaustible enthusiasm, I decided to book another trek in the Himalayas because once you get the hang of it you will get addicted! Always fascinated by the altitude I booked the Pangarchulla Trek i.e. 15069ft.(My first trek was Kedarkantha(12500ft)).
My wanderlust brought me to Delhi Railway Station where I was waiting for my "trek-mate", a term used by amateur trekkers because they usually have one or two, but mine was a special case because I met this bro on my previous trek and within a year he became one of my bestfriends and the perfect travel buddy, one of the amazing things mountains has given me was this buddy. Feeling proud to make it to this trek without cancelling any plans, we caught our train to Haridwar which apparently was our pick-up point for the drive to base-camp,that was Joshimath, a city in the Chamoli District of Uttarakhand.
A beautiful road and 'lucky Ali' songs playing in the background made me believe that I am living the best life possible and i will never be out of stories in any conversations.As we were nearing the base camp there was a transition easily visible, from slant low hills to steep and huge mountains with roads susceptible to land-slides.There were times when huge boulder like rocks fell just like that on the road and it was a bit scary. With no mishaps taking place we were able to reach the base-camp by 9pm. We were welcomed with a hot-served dinner followed by few medical checkups and introduction to the trek leader, then we had a introductory session where people tell about there past-experiences and trek-leader gives a little insight about the trek and the itinerary.
The third day was when the trek had actually started , a small drive till Dhak village which was the last himalayan village in that region and we were good to go. Our first camp was at Gulling, a lovely campsite amidst the forest, the glare of the sun rays fell on mighty mountain providing the perfect photo opportunity. I got to know a lot of new people , there were four youngsters from Decathalon and a few engineers like me (they are everywhere :p).
Our trek leader who was a great teacher too taught us how to pitch a tent and gave instructions on how to use a sleeping bag , which were really helpful , you know the sleeping bag actually helps a lot in sub-zero temperatures, it completely blocks the cold air from outside and learning how to use it properly can help you in taking a sufficient sleep during a trek , most of the people really don't know how to properly use a sleeping bag and therefore suffer from sleeplessness.
4th day of the trek starts with a wonderful morning and all are charged up to start hiking , we had to reach the khullara campsite today. The most interesting thing about this trail being the landscape never remained the same for more than 5 kilometers , we crossed the forest with water streams and reached a slightly bouldered section , after crossing it we reached the huge open ground with amazing view of mountains , this was the best campsite ever , with such a beautiful view directly visible from our tents and a really huge open ground(if you know what i mean by open ground "views") where we played cricket for the next two days which was the most amazing part of the whole trek as we won all the matches there. Believe me , even playing cricket in the mountains is a challenge in itself because you get breathless very easily .
After getting acclimatized for two days came the summit day and due to water shortage at the next campsite we had to start our climb to summit from Khullara itself , we started our summit climb at about 2:00 am and by 6 the peak became clearly visible to us ,the funny part is it appeared to be very close but who knew it was still 4 to 4 1/2 hours away with rough snowy patches, huge boulder sections. While the struggle never stopped,not even for a second,there came best part of every trek , the sunrise and the sunrays kissing the snowy peaks, simply heaven!
The last part of the ascend was very long and taxing, breathlessness,head ache and running nose was making it more difficult, the feeling of giving up was intermittently coming in my mind and every time I stopped to take few breaths, a voice came from behind saying , "bass thora aur (little more)" and i thought you are about to make it to the top , so just don't give up ,take time but reach the peak. Every time i looked up it seemed like i was about to reach but after reaching that point i saw another such point, the mountain was really testing my patience , with fast winds blowing and ever increasing steepness it was becoming more difficult. People were already irritated trying to overtake each other and loosing patience , the stress could be seen on there faces.
Then i finally saw the red flag on the summit and just ran up to the peak and it was the time when I forgot all my pain, did not even think about how tired i was , that was like living in the moment , you have accomplished something great and all the world's prizes seem to be worthless when you are at the top.It felt like an unrealistic sense of accomplishment because such kind of a feeling is rare to come , tears rolled through my eyes and i laughed, it was from some of the most happiest moments of my life , really amazing . After getting our photos clicked we started the descend and believe me a descend is more difficult than an ascend most of the times and this descend was really horrifying , it was really very steep i saw people slipping falling and sometimes the leg got stuck in loose snow , although in some parts the snow was tight and we could easily glisade(sliding in snow) through huge patches of snow and it helped a lot! After 16 hours of vigorous grinding we reached back to Khullara , it was like every strand of my muscles had reached it's extent.
In the night we celebrated our success had dinner and went back to sleep, the next day we descended down from khullara to Auli, this trail is really beautiful but equally adventurous too. My favorite part was the Tali Lake which came in between ,it was unbelievably beautiful. We stayed in Auli for a night and the next day we took a bus to Haridwar , it was a kind of mixed feeling with which I was dealing with at that time , happy because i was going home but sad too after realizing that this beautiful experience was over.