A visit to the local fishmarket on a Sunday and an warm invitation from our Kolin (fisherwoman) from whom we buy fish regularly to visit the Holi celebrations at Mahim Koliwada where she resides seemed like a exciting prospect. I had heard that Holiis the most important festival of the The Koli ( Fisherfolk) community in Maharastra,India however after I visited it and seeing the festivities and grandeur it was confirmed .
As it is known Holi is the festival of colours and heralds the end of winter and the beginning of spring and harvest. All over India especially in North India and West India the festival is celebrated with a lot of gusto.
Holi celebrations at Koliwada start days before the actual festival . The night before Rang Panchami or Dhulivandan (the festival of colours ) the fisherfolk light a bonfire gather and circumbulate (pradakshina ) performing religious rituals in front of the bonfire
The next morning is celebrated as Rangpanchami or Dhulivandan ( festival of colours)where people smear each other with colours like gulal and drench each other with water
A tall bonfire is erected between two chawls standing opposite each other . Every chawl has a different decoration and rangoli themes . The bonfire is decorated with flowers, garlands and an image of a Goddess complete with green bangles, saree is erected atop the big pole. A lot of creativity ,love and devotion is displayed when decorating the Goddess.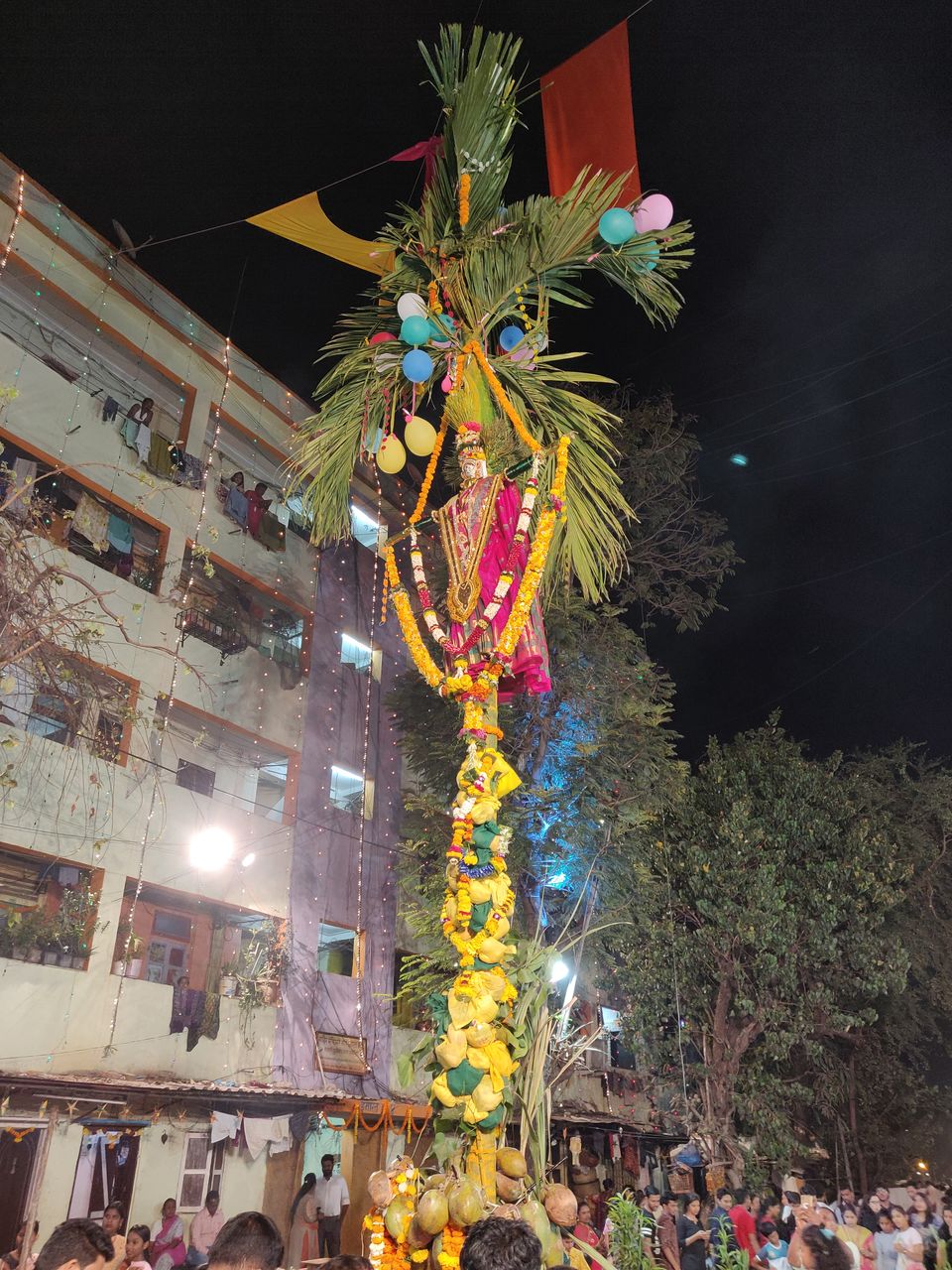 The image of the Goddess atop a decorated pole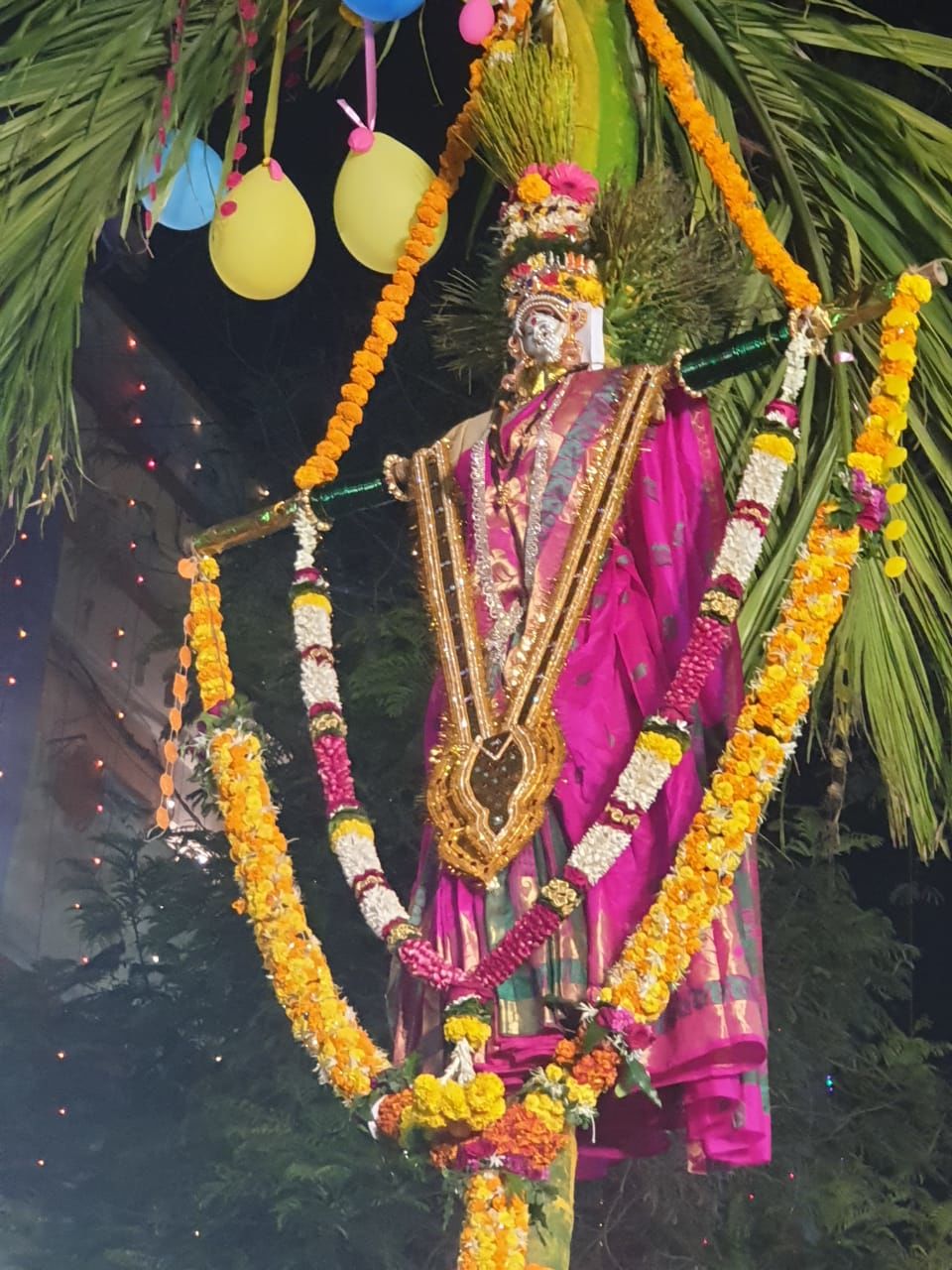 A close up of the Goddess atop the pole. Note the beautiful Devi Mukh (face) ,green bangles and saree draped and adorned with garlands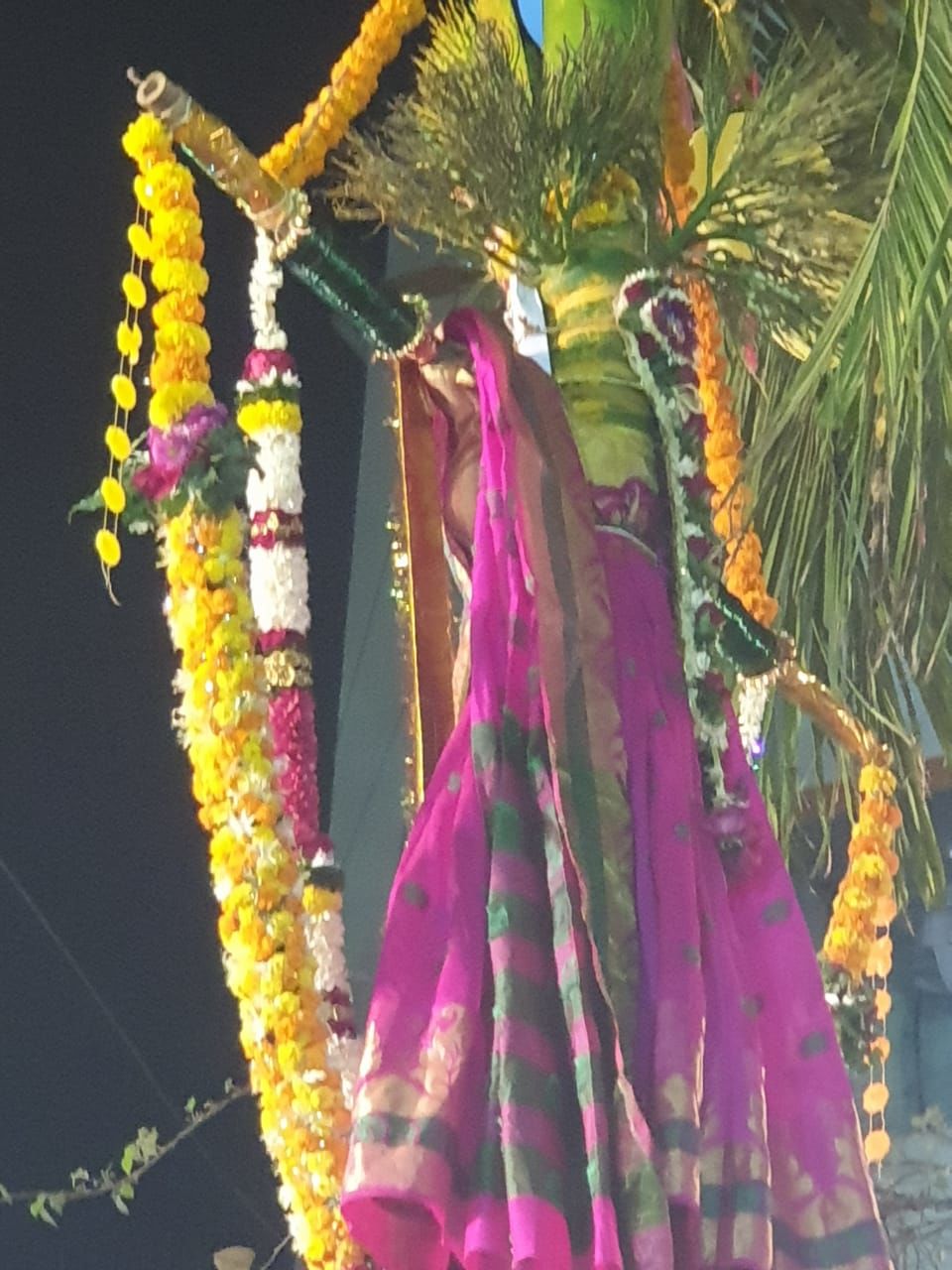 Notice the braid decorated with flowers on the Goddess erected atop the pole
There is a Small idol of a Goddess Ekveera also installed beneath the decorated pole near the Bonfire . Ladies offer coconuts,betel leaves, haldi kumkum and perform pooja of the idol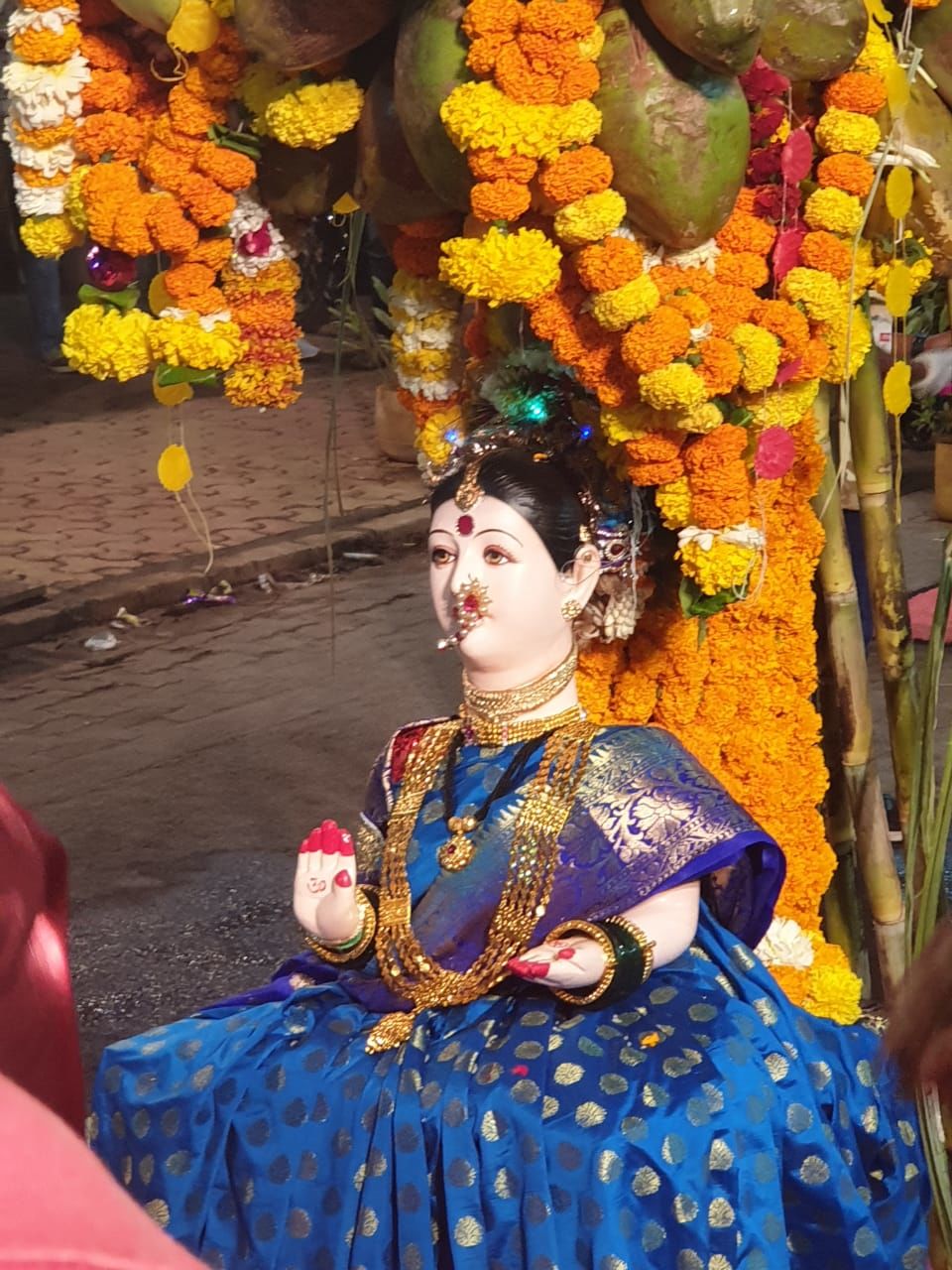 A beautiful idol of Goddess Ekveera at the base of the Pole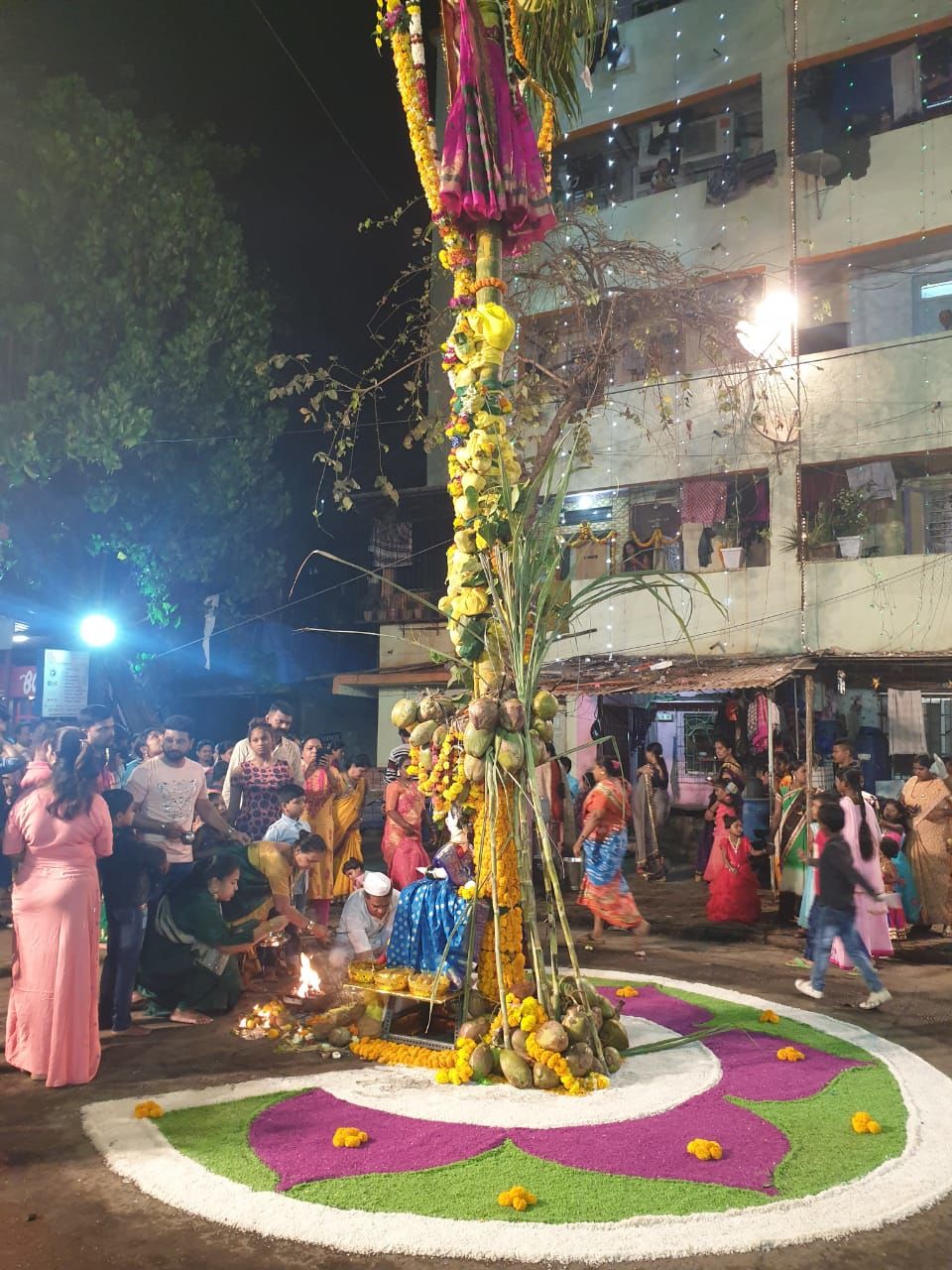 Pooja being performed of the Ekveera Goddess
Rangolis with sea salt or Rangoli Powder are created around the bonfires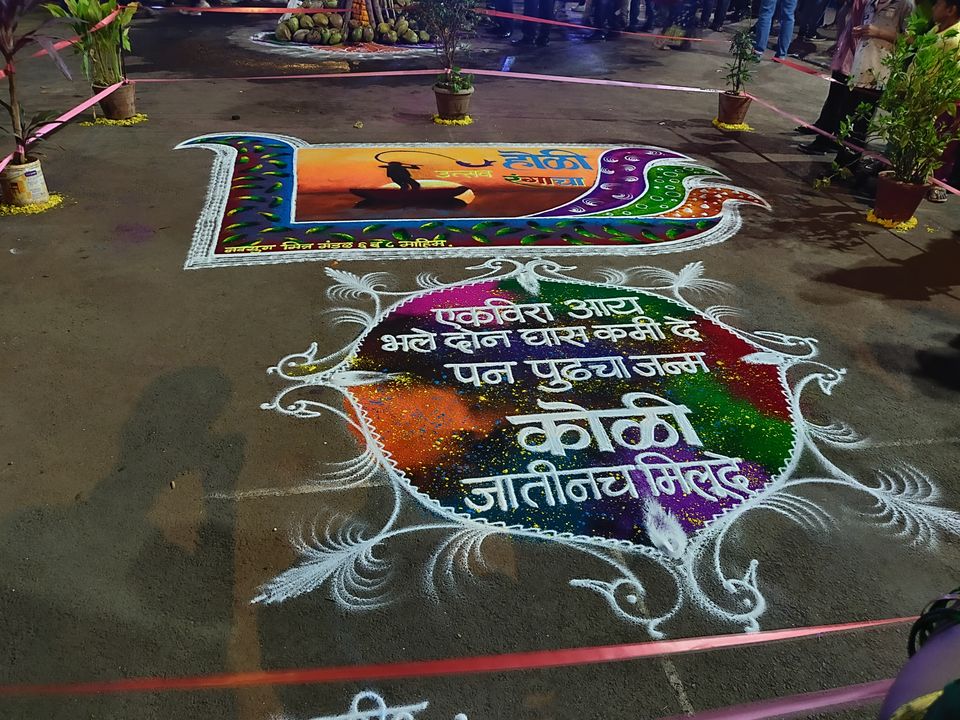 A beautiful Rangoli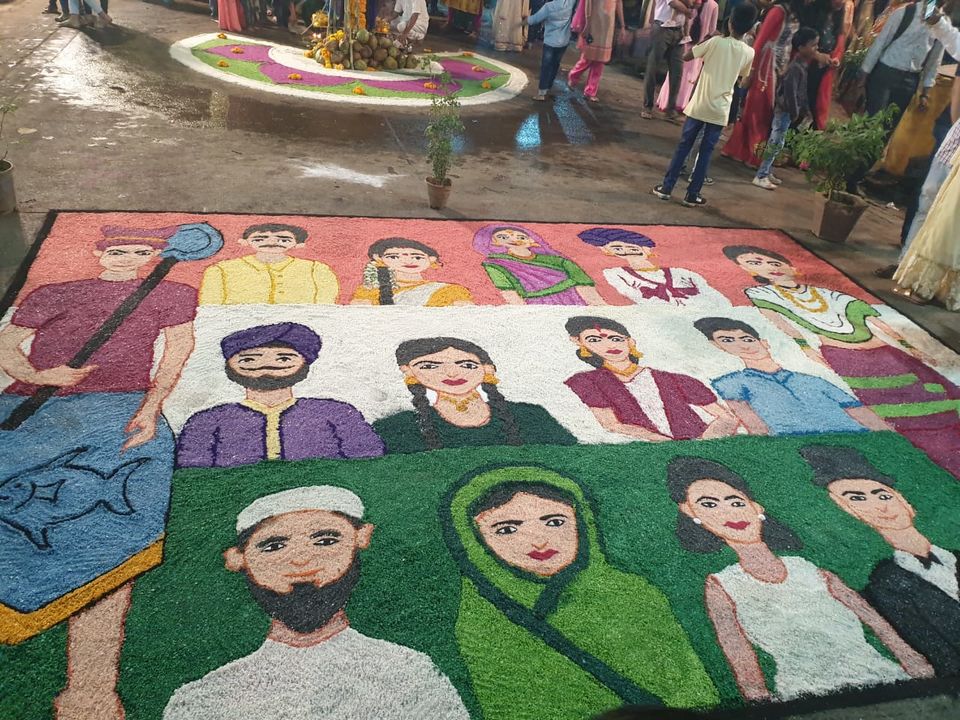 A Rangoli made with Sea Salt and displaying a very strong Social message of National Integration
The Koli men,women & children are dressed in their finery. Music is played at every nook and corner of the buildings and the Koli folk can be seen dancing with gay abandon to the catchy Koli music.
Every building is lit with strings of coloured lights and different decorations .There is a festive mood mixed with joy ,tradition and happiness.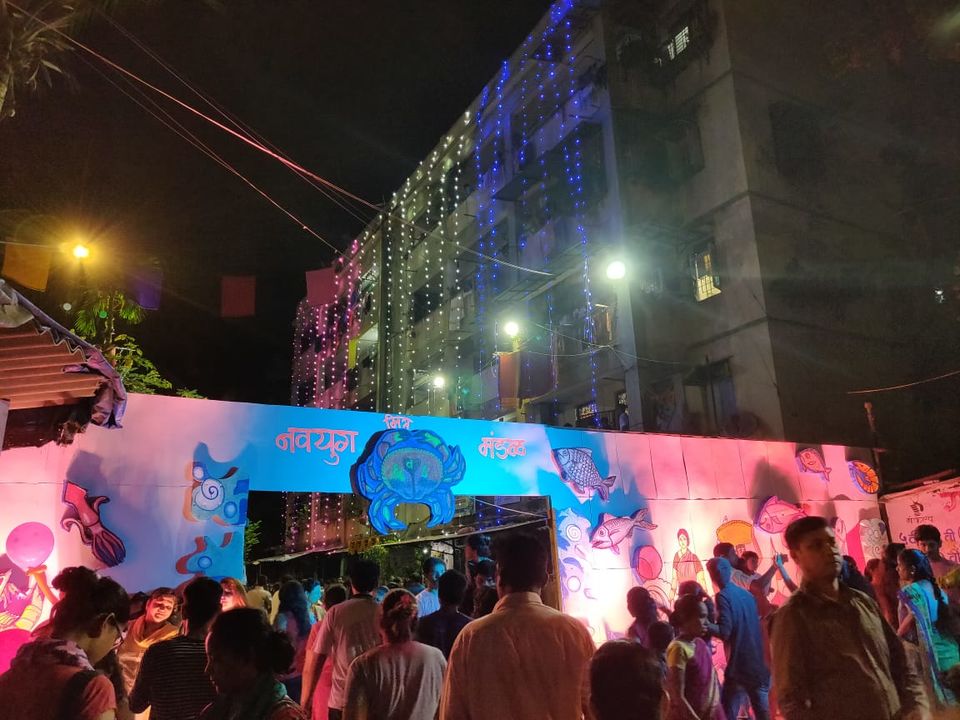 A attractive gateway at the entrance of a Building
Celebrations continue through the night with dancing & feasting. Next morning the bonfire is lit amidst fanfare and devotion .
How about connecting with your fisherwoman and paying a visit to her home next Holi by joining her in her celebrations. I bet this will make her happy and bring a smile to her face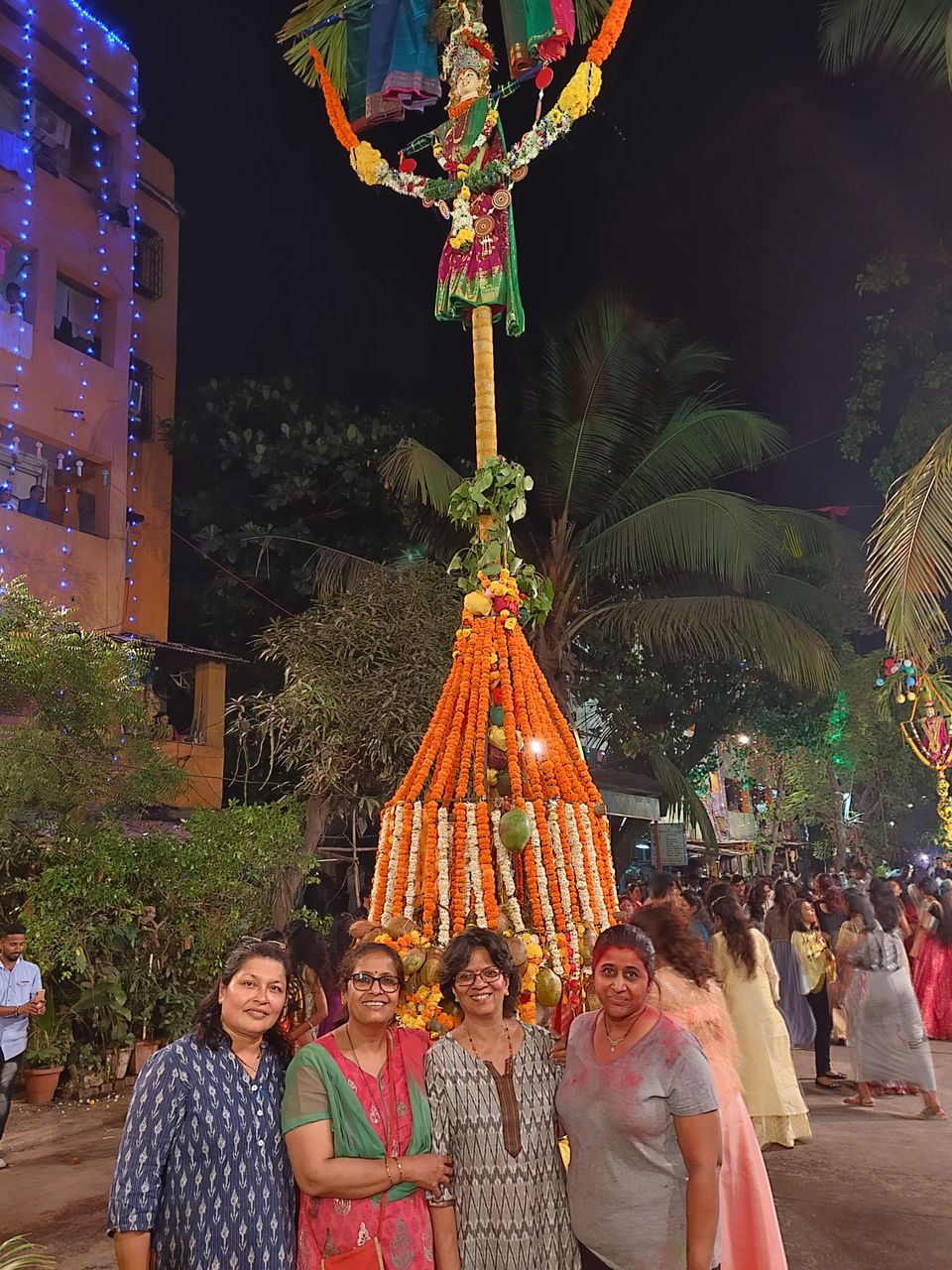 Hi, I am Vidya Rao ,Was working in a bank for 24 years and happily quit to discover myself . With a partner who equally loves travelling and two supportive children who encourage me to travel, I am discovering how fascinating the world is. The travel bucket list is long , ticking off a destination along with a stamp on my passport gives me a thrill beyond compare. I love travelling to places with a lot of history , heritage and natural beauty . Being a total foodie ready to experiment with any food , tasting the local cuisine of the place is an bonus. Not a fan of tourist packages, I love exploring the place I am visiting, interacting with the locals and eating the local food . 'When in Rome,Do as the Romans do' is a motto I judiciously follow I have travelled to many international destinations like Vietnam, Cambodia,Thailand Dubai Tanzania ,Parts of Italy, Austria, Switzerland, Amsterdam, Brussels ,France , Singapore ,Malaysia and have covered almost all parts of India right from Kashmir,Ladakh to Kanyakumari and North East to Rajasthan I believe travel broadens your outlook, gives you information no Geography or History textbook can ever teach you and most importantly gives you memorable moments to last a lifetime I am writing this blog with the intention of encouraging people to come out of their comfort zone and explore this extremely beautiful world View all posts by libranv69gmailcom
Published