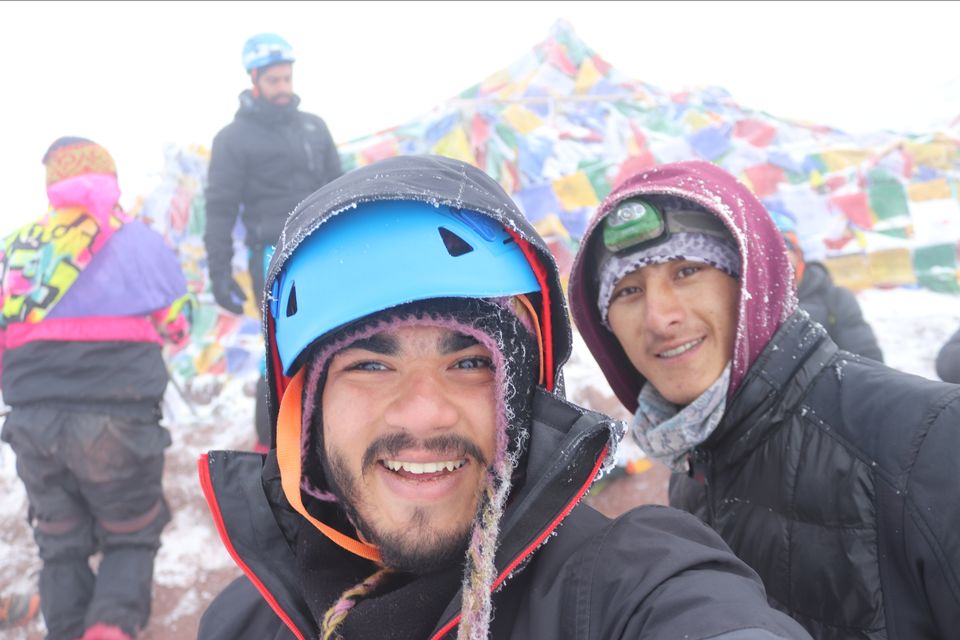 Today I had to catch an easy flight to Leh. Departure time - 6:20am . I reached the airport terminal T2 at 4:10 am. PS terminal t2 is really small airport. Met a bodybuilder there who was going for selection for Iffbb pro competition. This guy was huge. Got on the flight. Flight duration was 1 hr 35minutes. As flight reached the leh region, and as I saw out of the window, I was amazed at the scenery. It was the cold desert of India. Damn. So beautiful. It seemed like it was animated or something like that. As I landed in Leh and got down from the plane, the weather was so amazing. It was beautiful. The cool breeze. Ummhmm. Then I went to the hostel Lavie. Checked in and made some friends. I met these two girls from Taiwan; Lihen and Liwen. They were really happy girls. Then I went to sleep for like 2 hours. Woke up, became friends with kapil and suraj. The Taiwan girls , me and suraj played Jenga and I lost. Had lunch at the hostel, had daal chapati , paneer and rice. We went to the market for shopping and kapil needed the permit. I bought the rain cover , and the socks and some stuff. And some food. Came back to hostel at 7 30pm. Had dinner at the hostel. Talked with some biker guys at the hostel. They came from Delhi to manali to leh on bike. Talked with Natalia (a girl from Spain ). She was really beautiful person. Her eyes especially were very beautiful. Played scrabble with some other girl. Talked to a lot of people. Then at around 12 midnight. I went to sleep.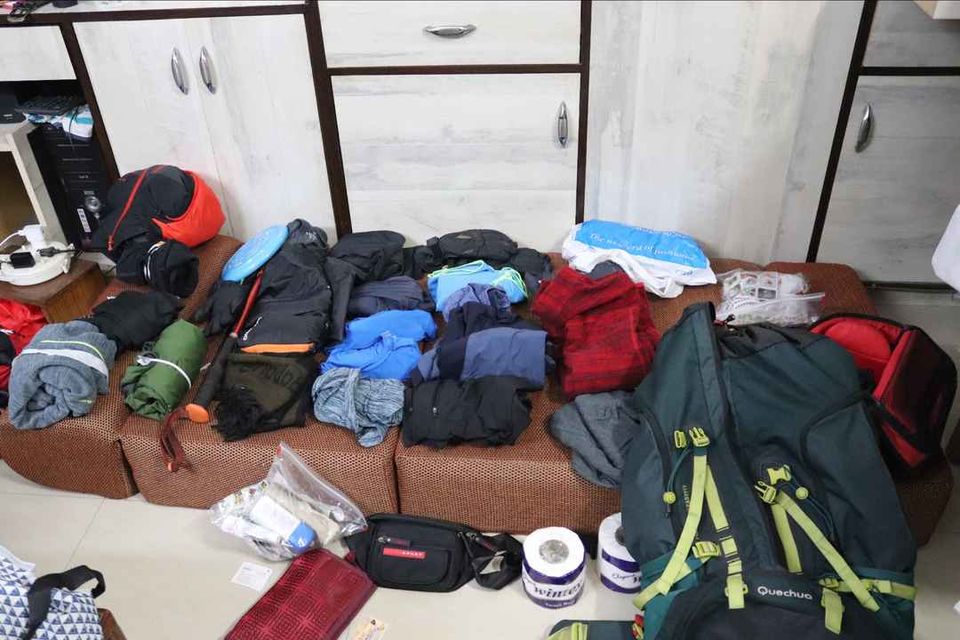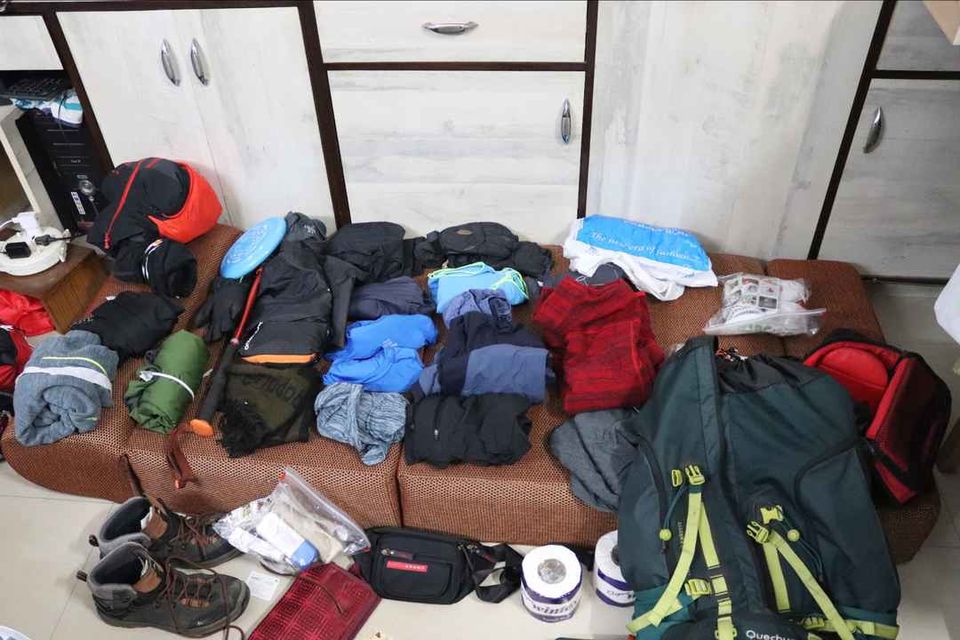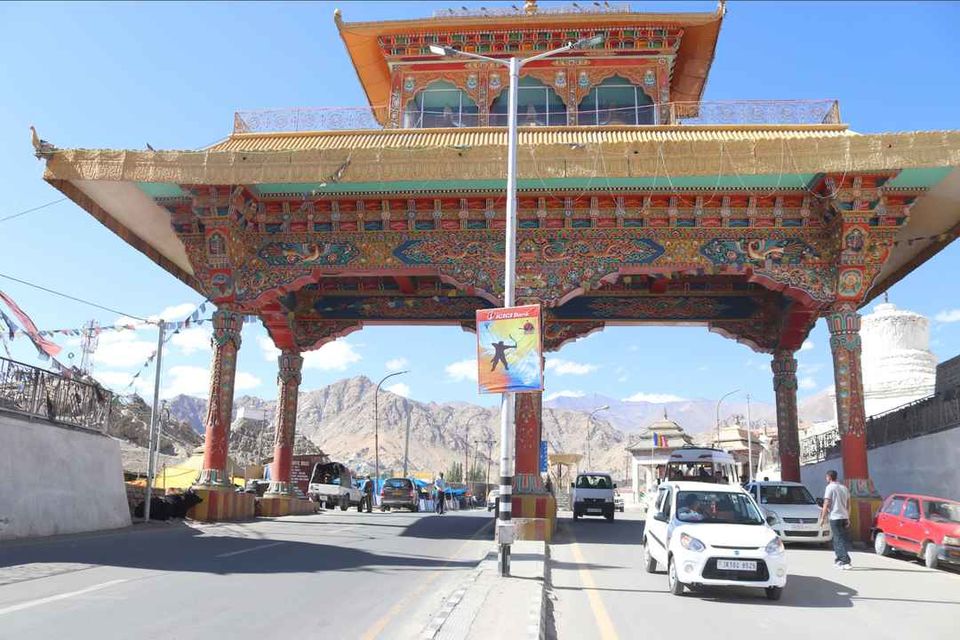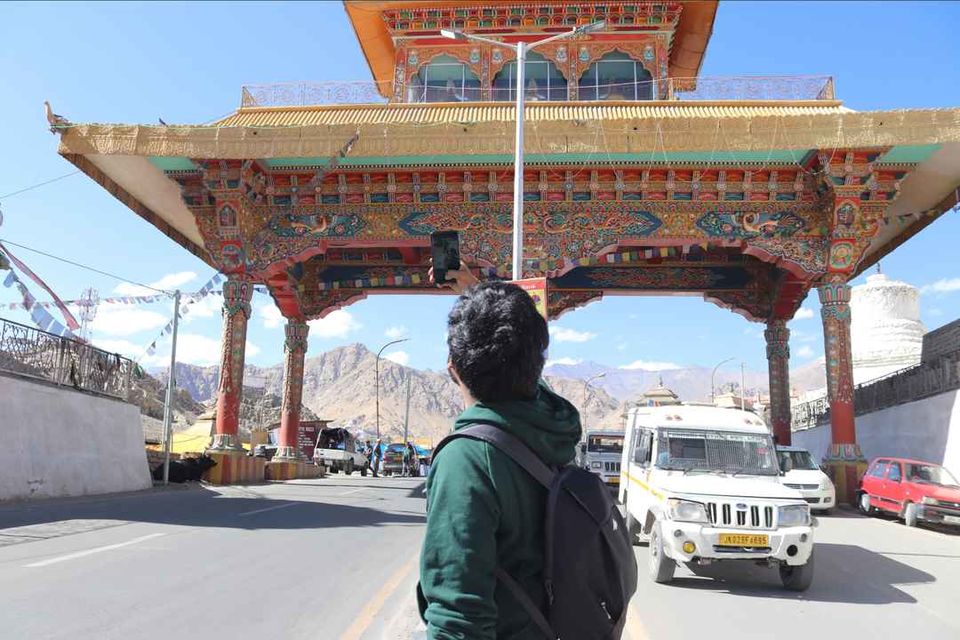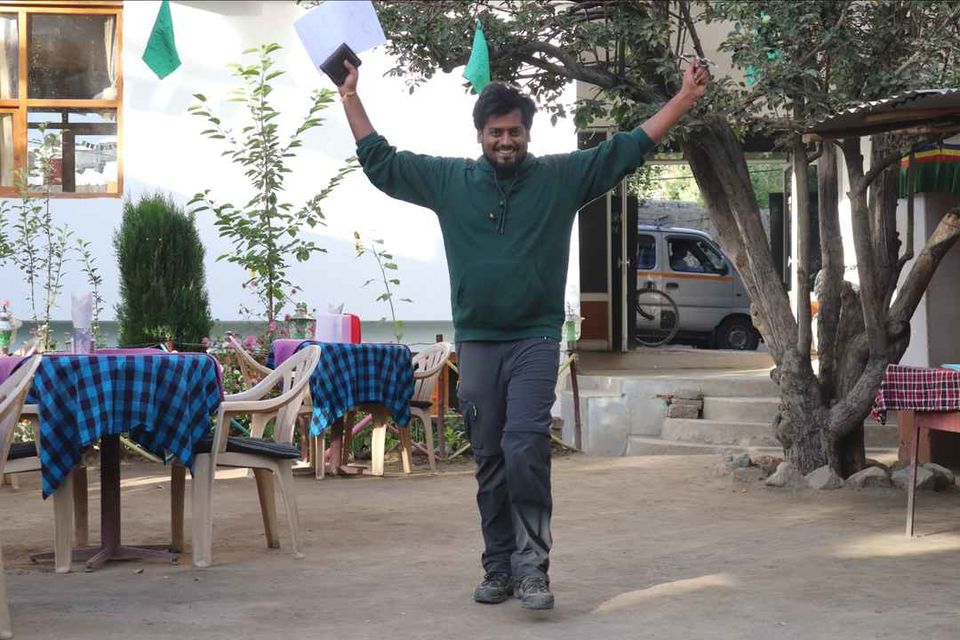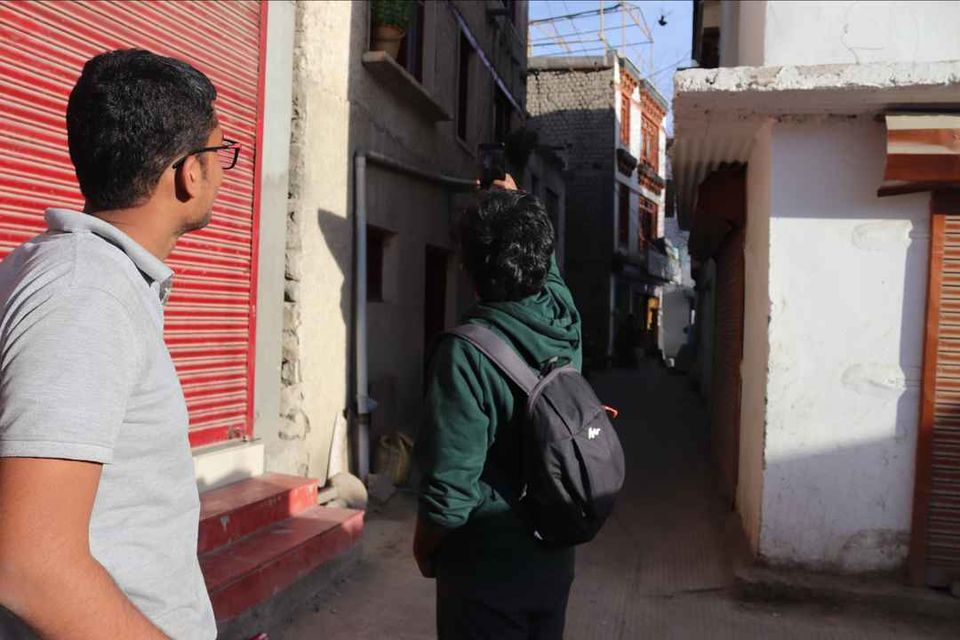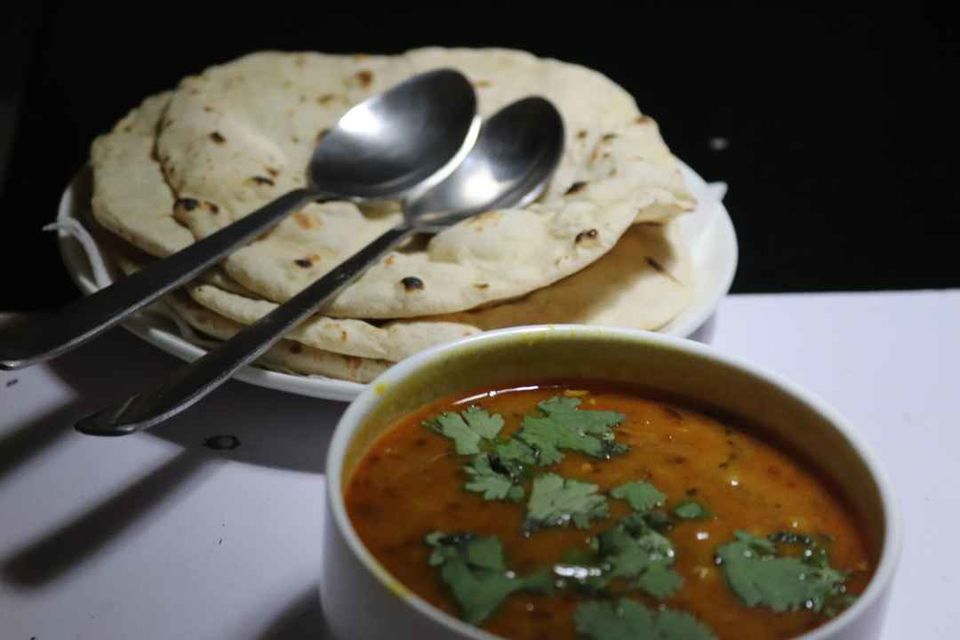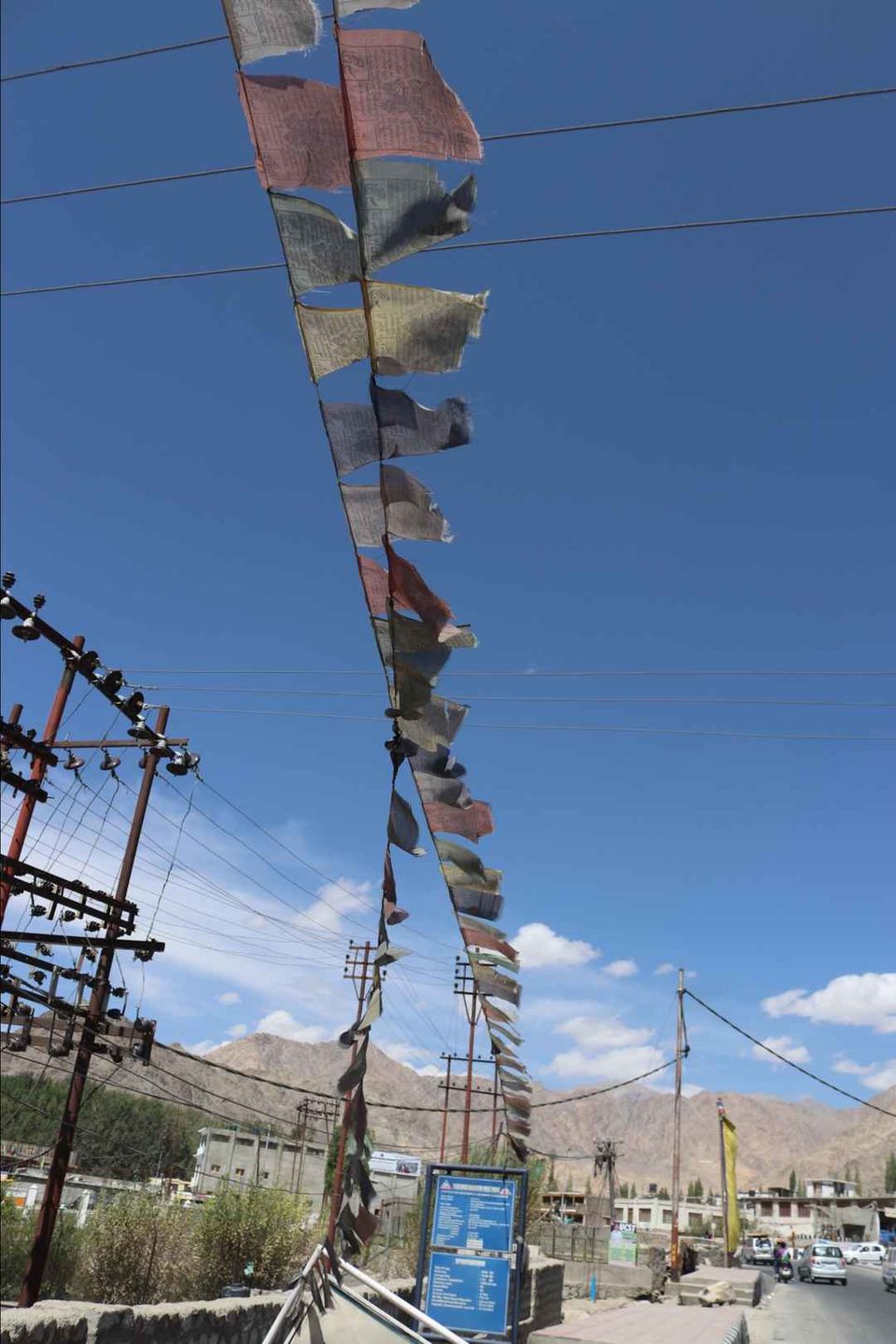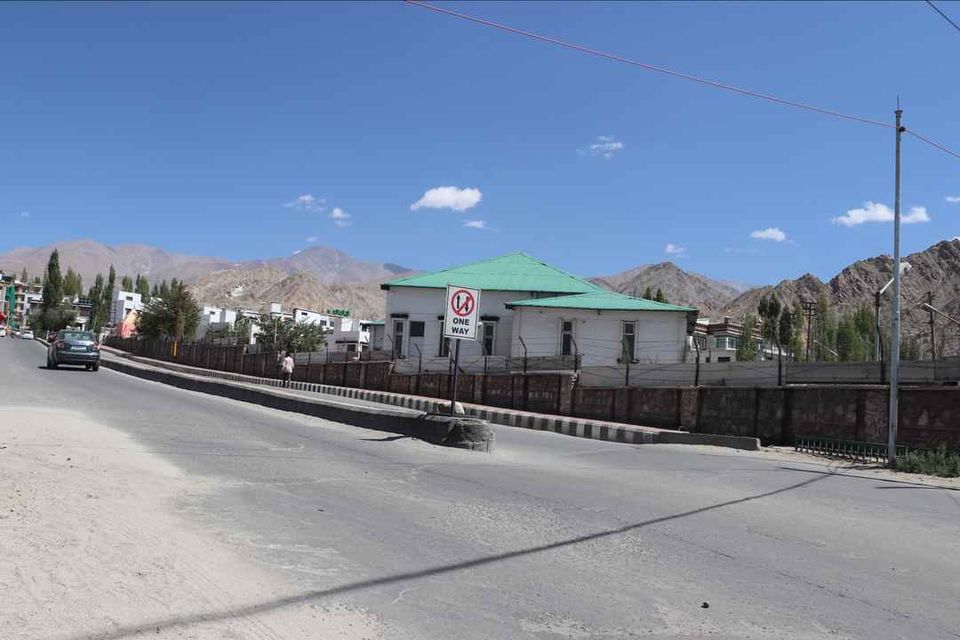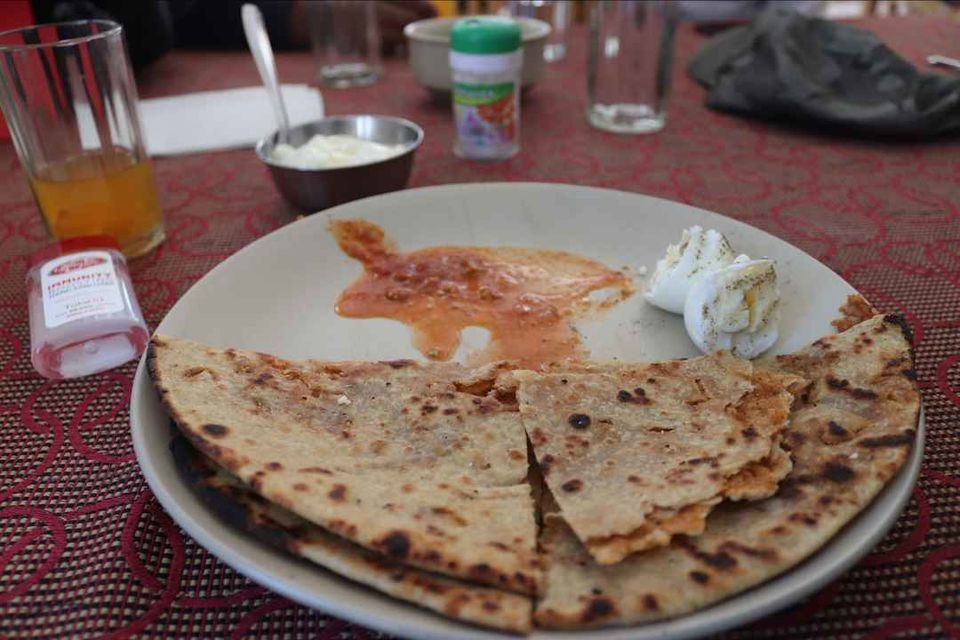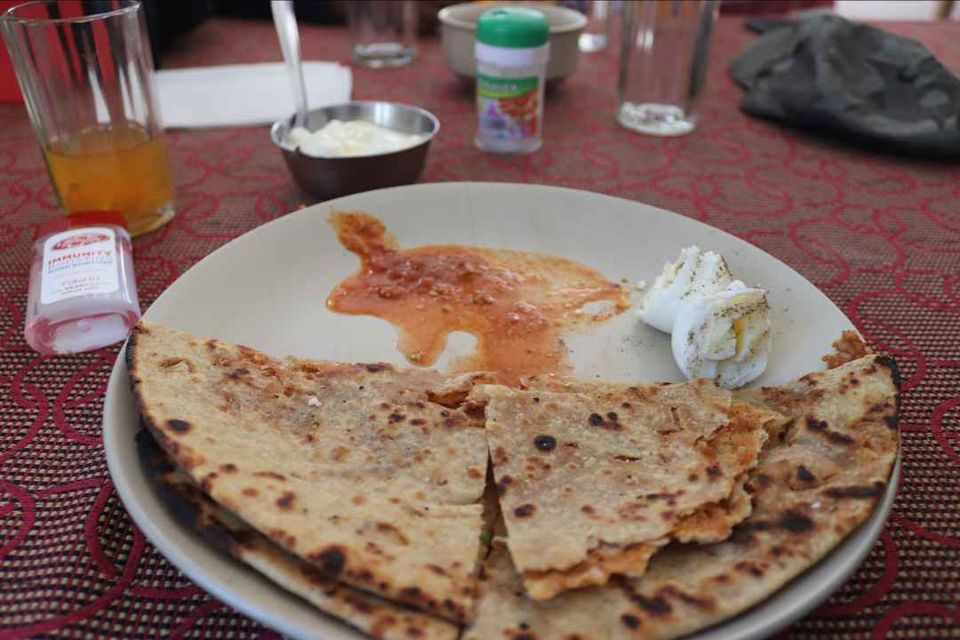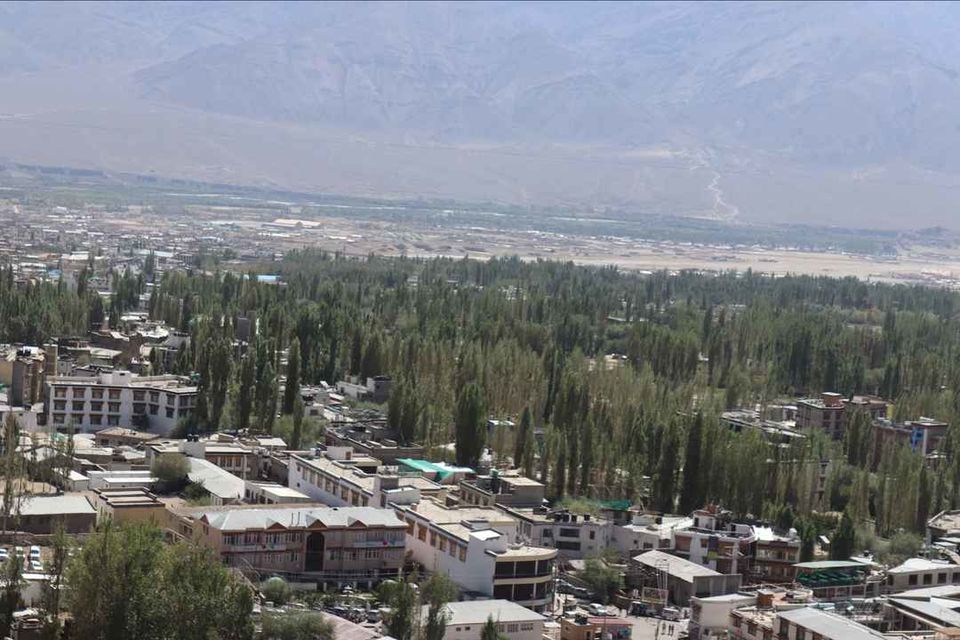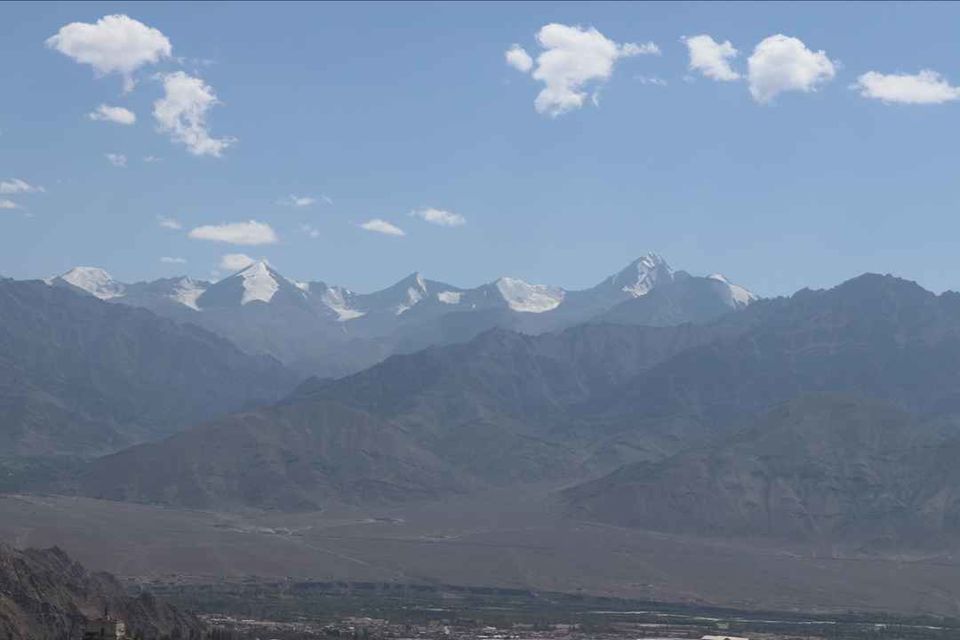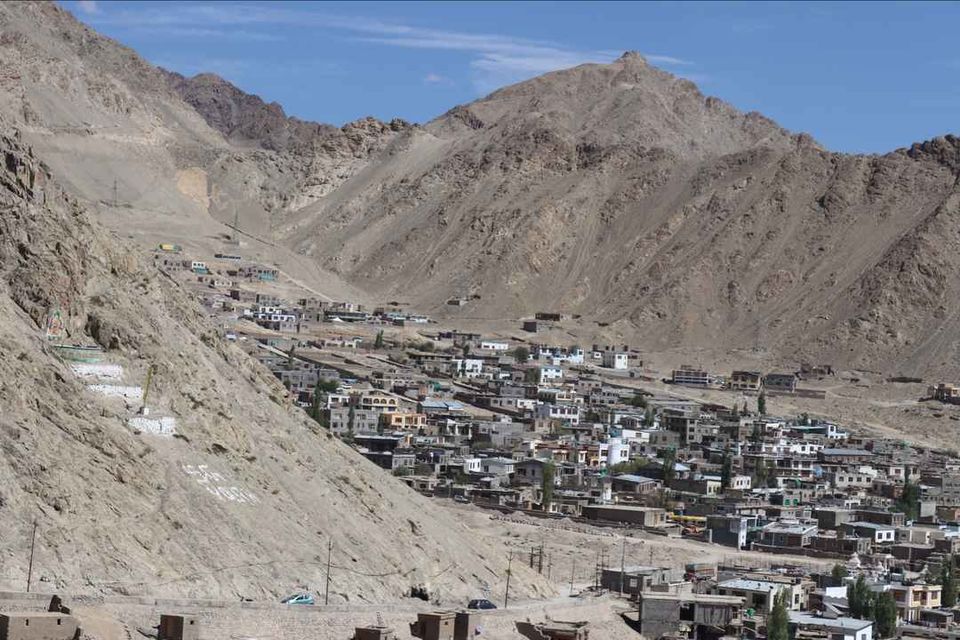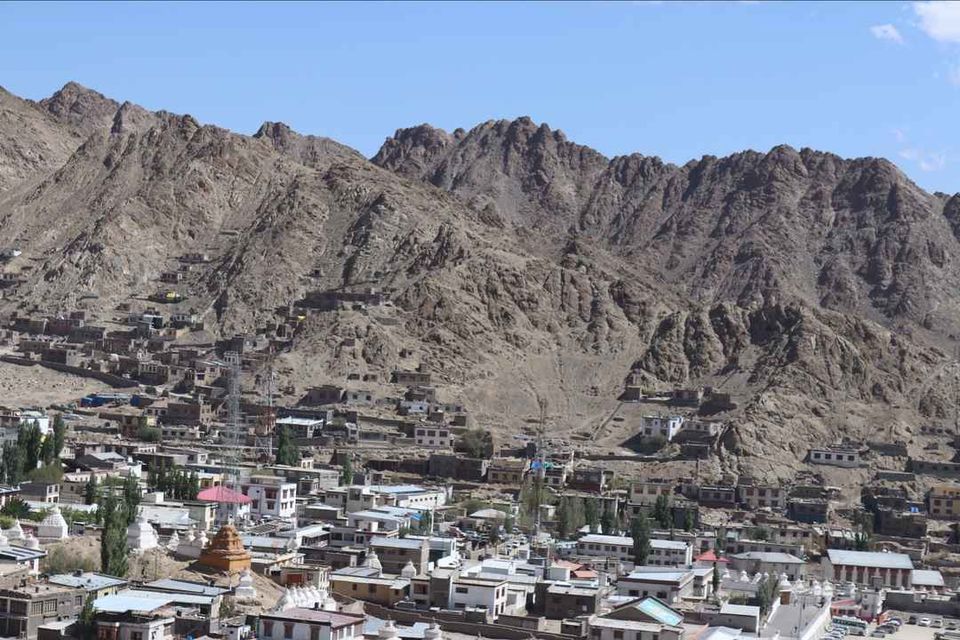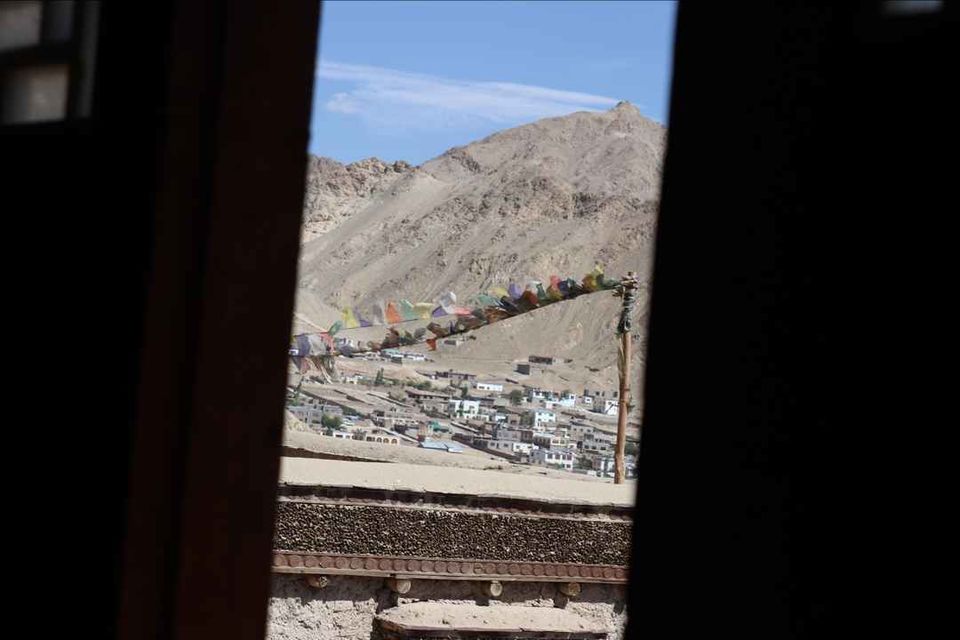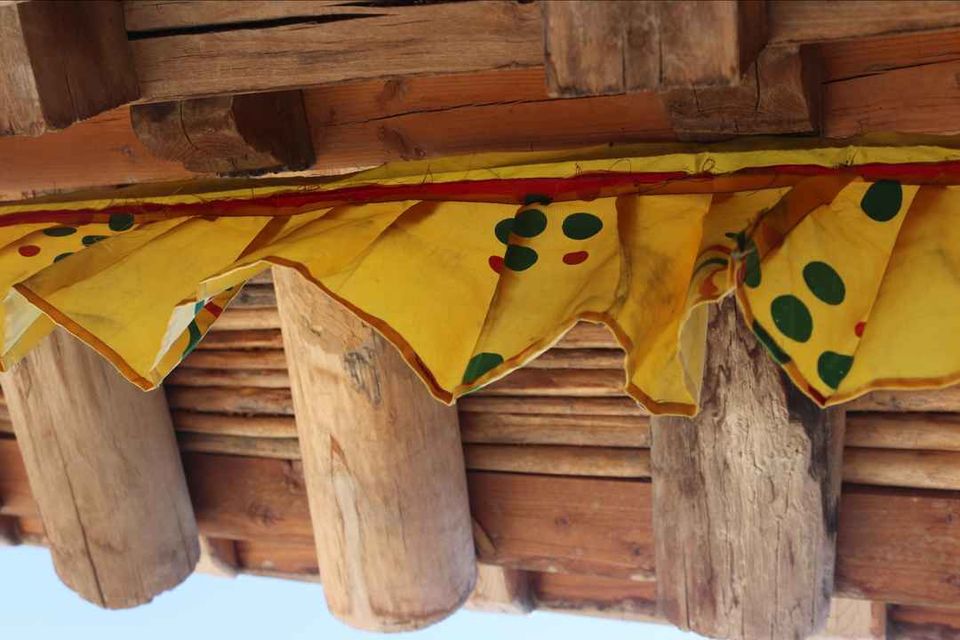 1st September 2018: I couldn't sleep properly at night cause it was hot and also had this headache. Woke up at 8am , freshened up, did some stretching, took a shower and meditated and then had breakfast. While having breakfast, talked to some new people. They were talking about the marathon. Met this girl named Ashwini. She was super fit. Then some biker guys. They had fever and conjunctivitis. I treated them. Gave them some medicines and medical advice. Then I checked out from Lavie hostel at around 11am. Now I needed to go to the Hotel Mount Castle. I started walking and I thought I'd walk all the way to hotel but I got lost on the way, ended up taking a cab to the hotel. . It's a pretty decent hotel. Met the fellow trekkers who are also doing the Stok Kangri. Had booked eggs and aaloo parantha as I reached here. Also met the trek leader. It was delicious. . Then I decided to do some parkour at the hotel. In the process , I broke a window. Dammit. Then met Rishi , a fellow trekker. We planned on going to leh palace . We left around 1pm. Reached the palace, got some really good pics there. Then we went farther up to the nearby hill top. . It was amazing. Came back at around 330pm and then went to the bazaar. Had some really delicious food at this terrace restaurant. Then came back to hostel. I went to get the print out of the undertaking form. Came back, met some other fellow trekkers. At 8 went for dinner with rishi and bultu. Had some really amazing street food . Including good chicken and mutton. The. Went to a cafe for some tea and cake. Came back to the hostel at around 9 30 pm. Talked and planned out what to do tomorrow. Now gonna sleep. Buenos Noches.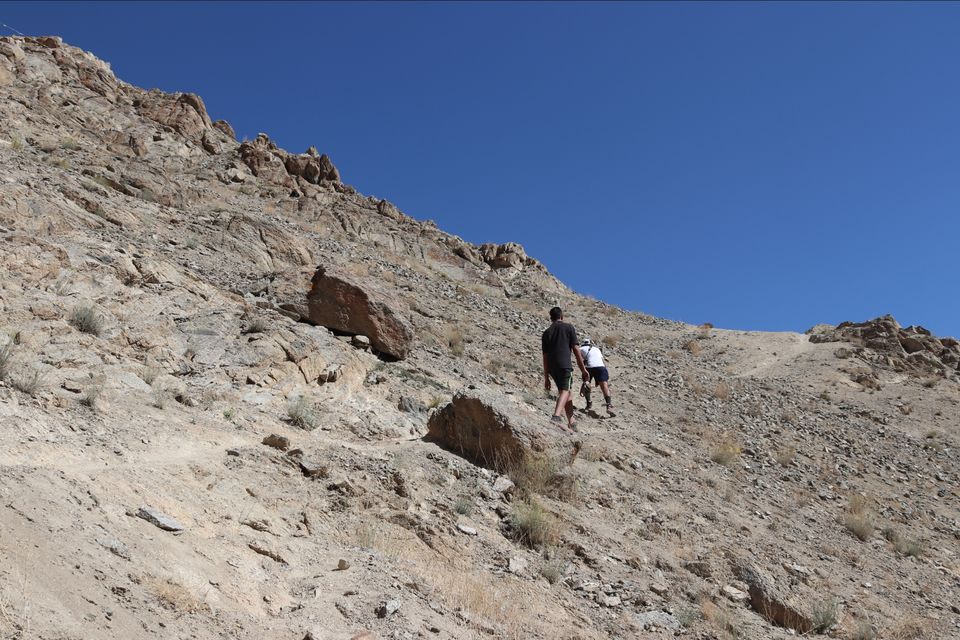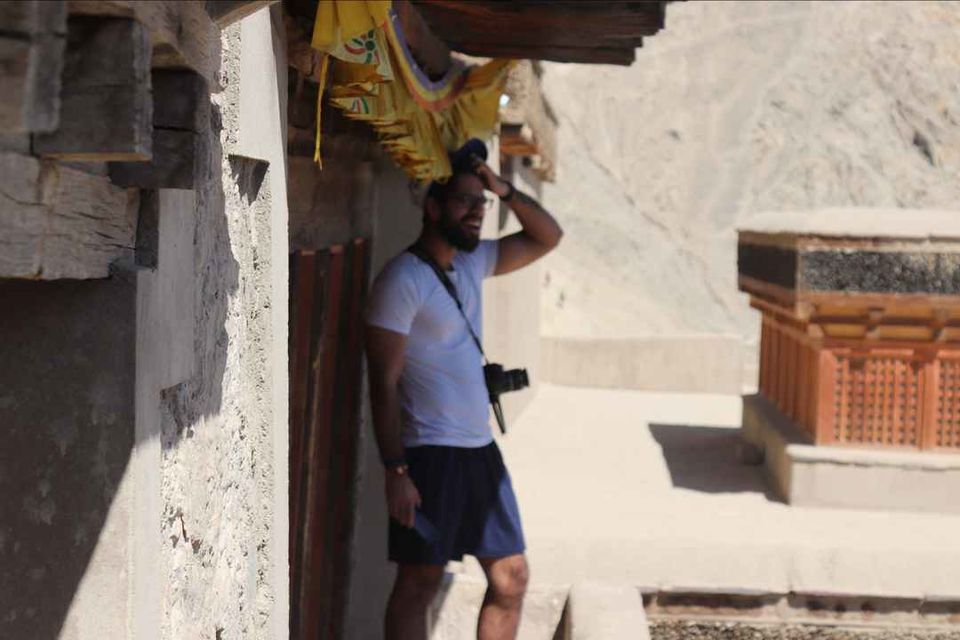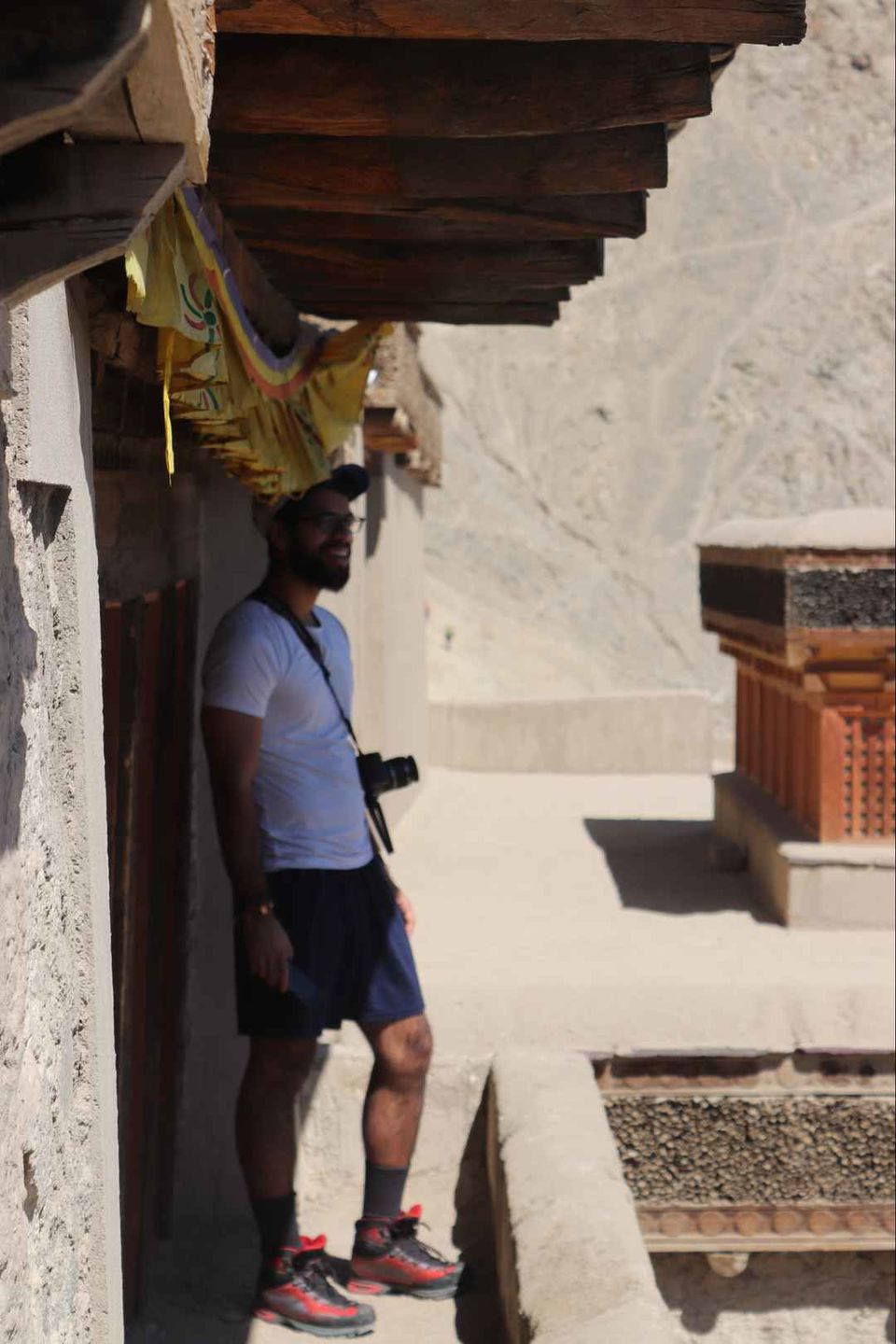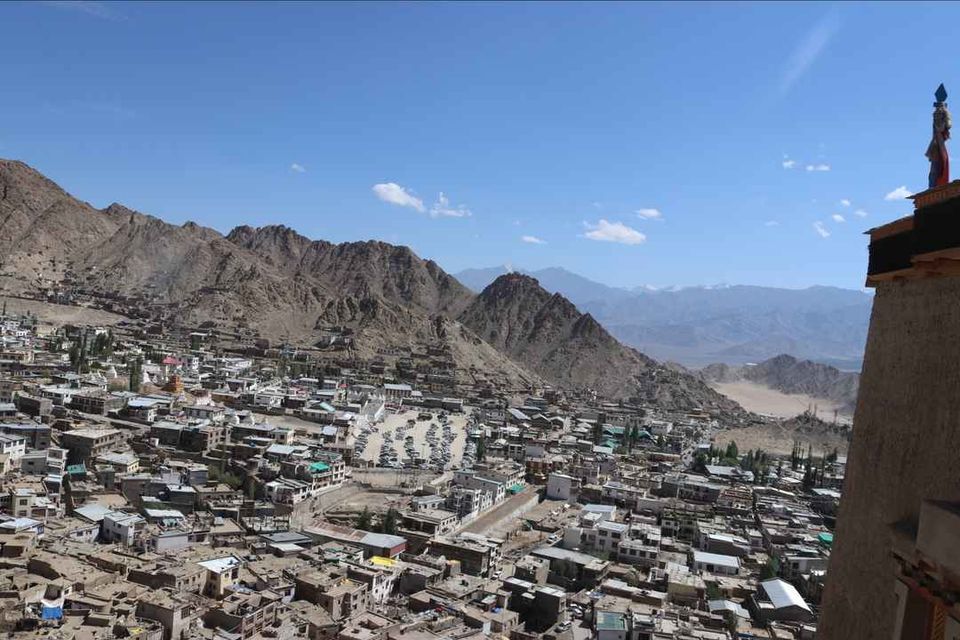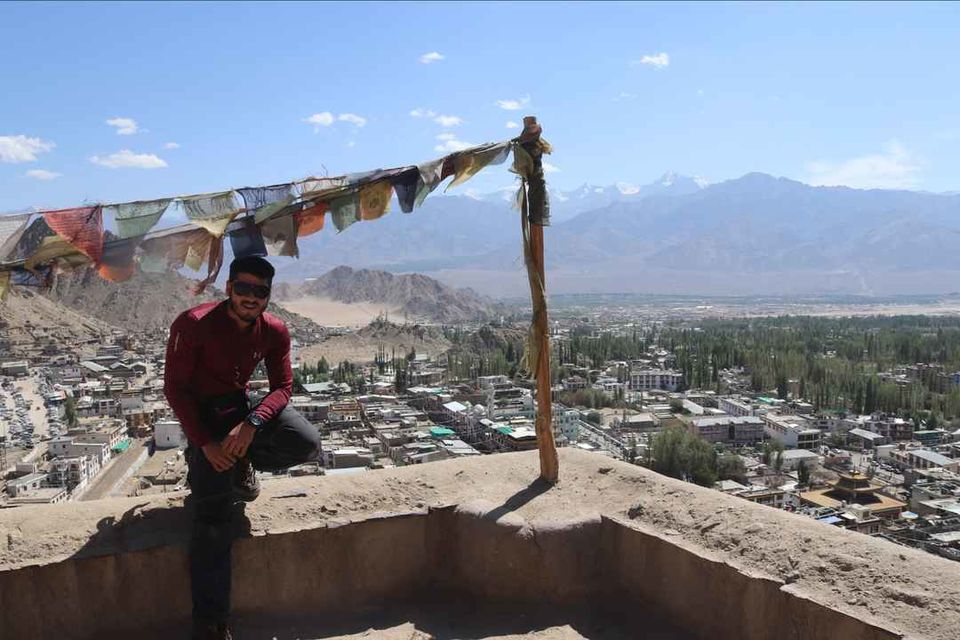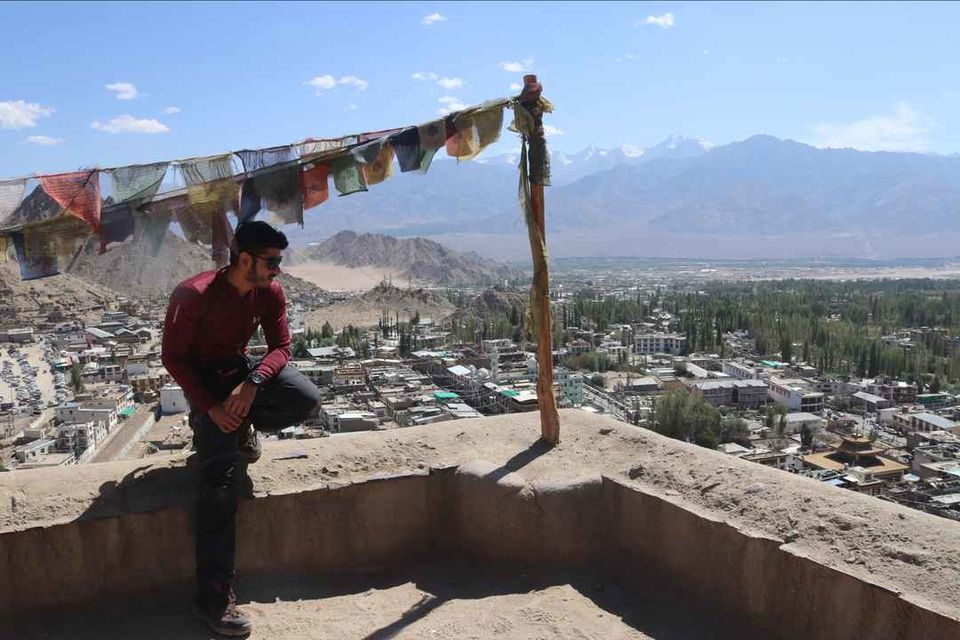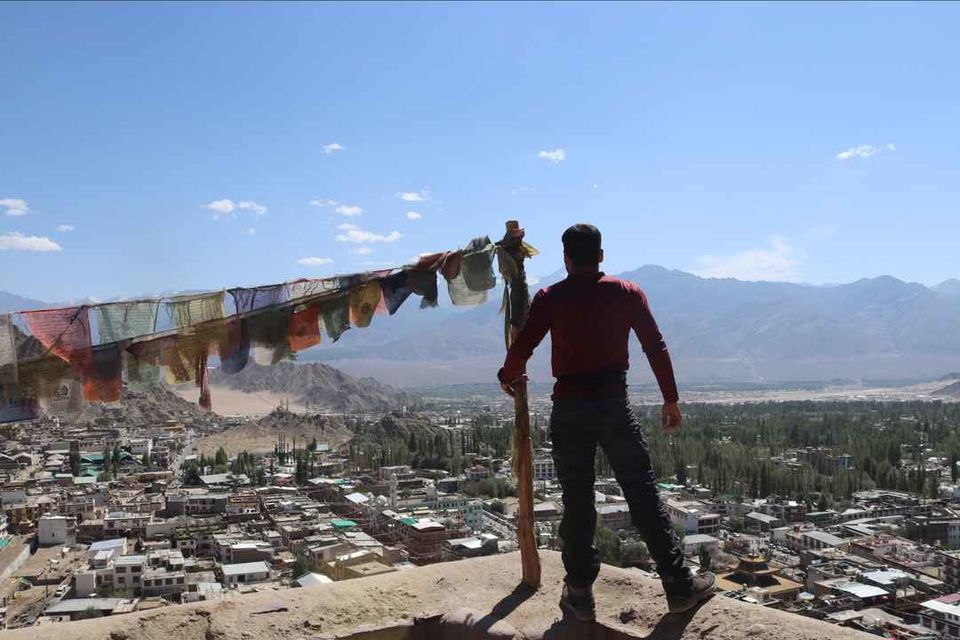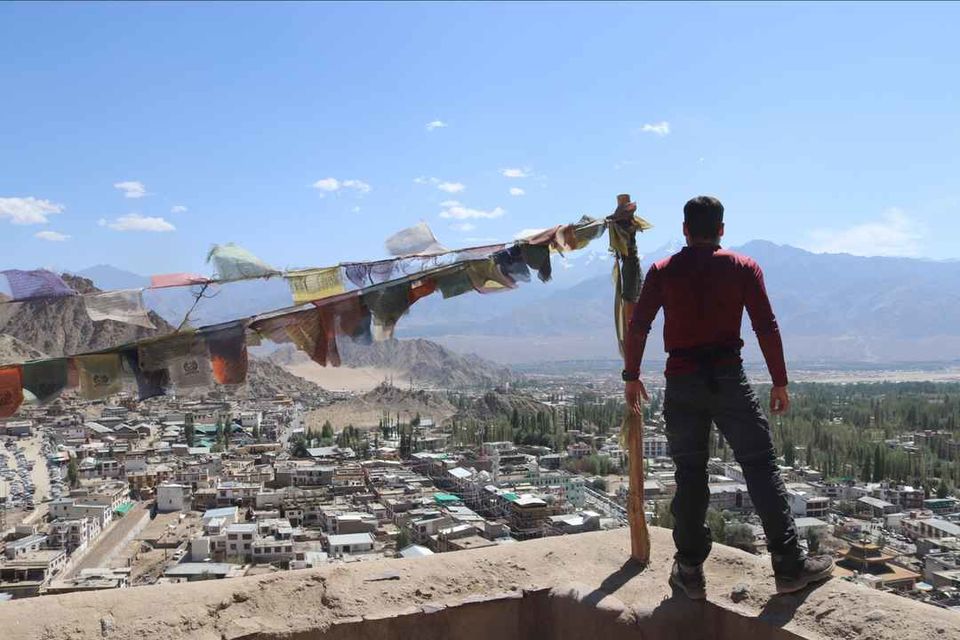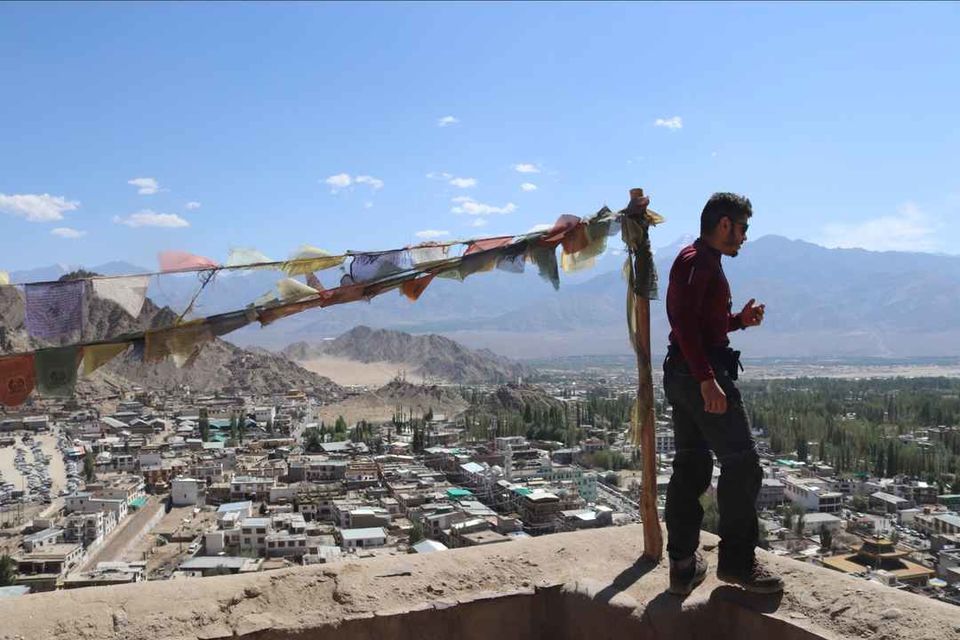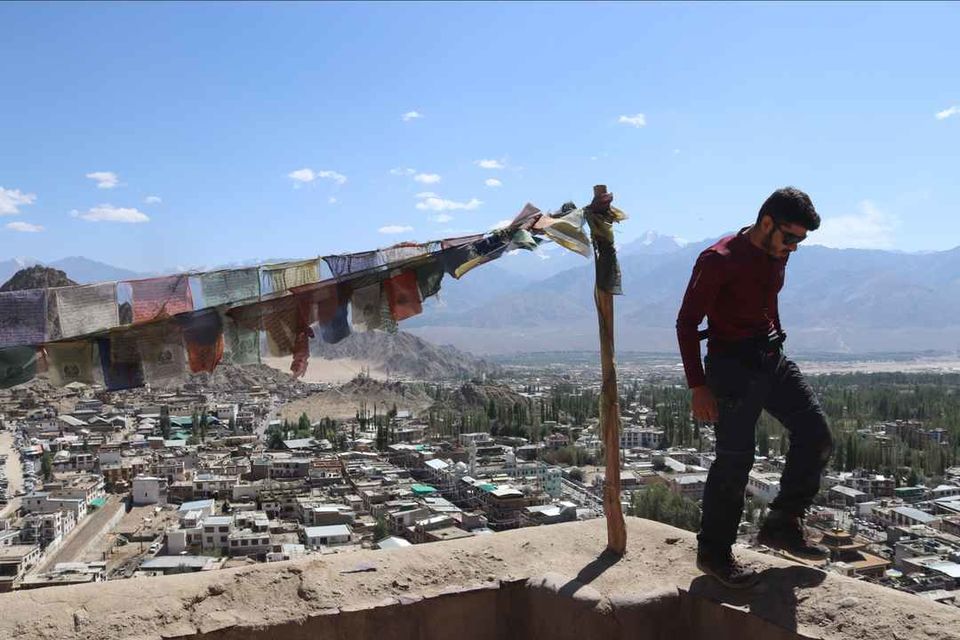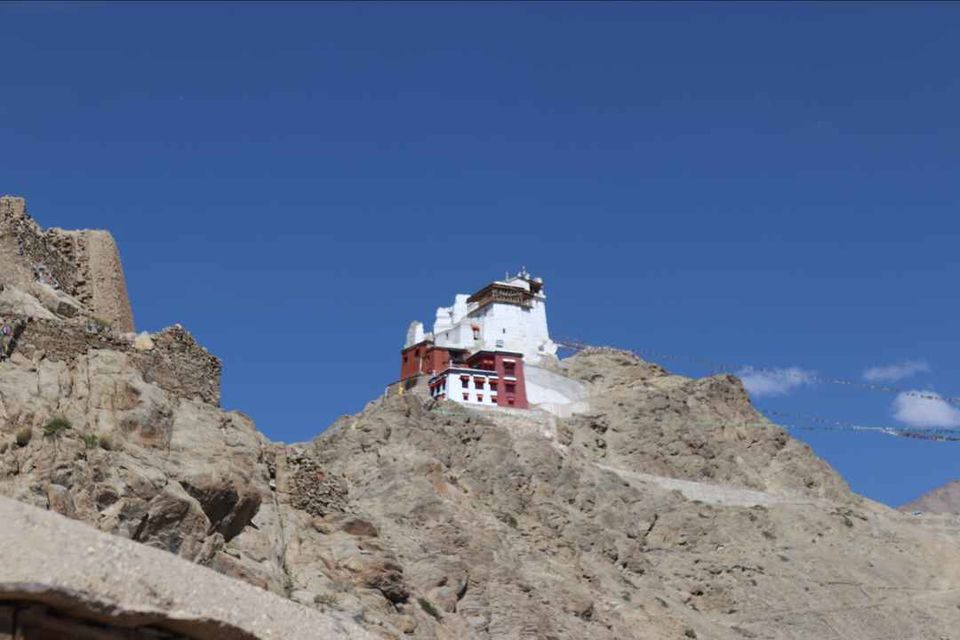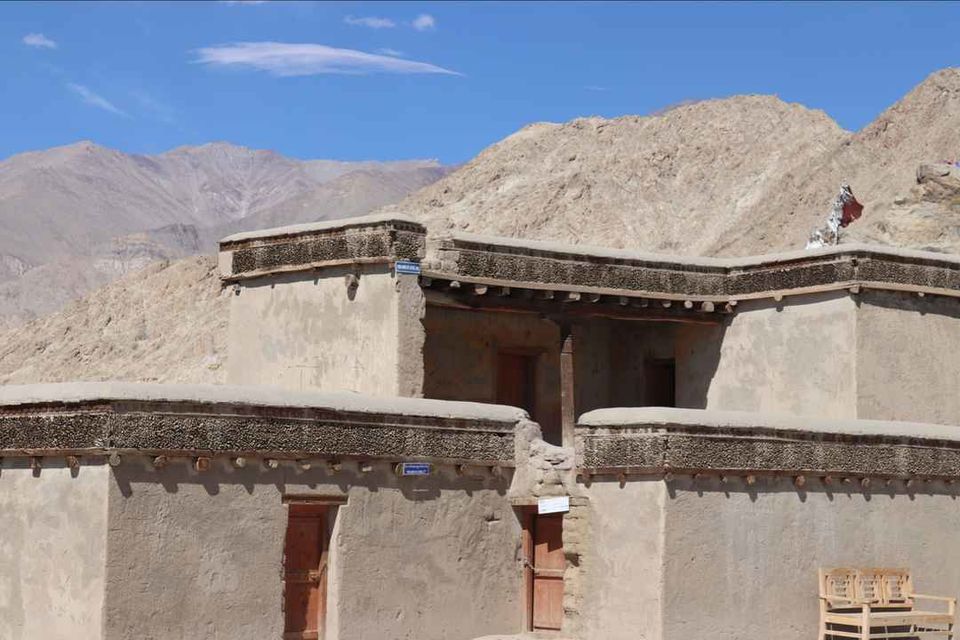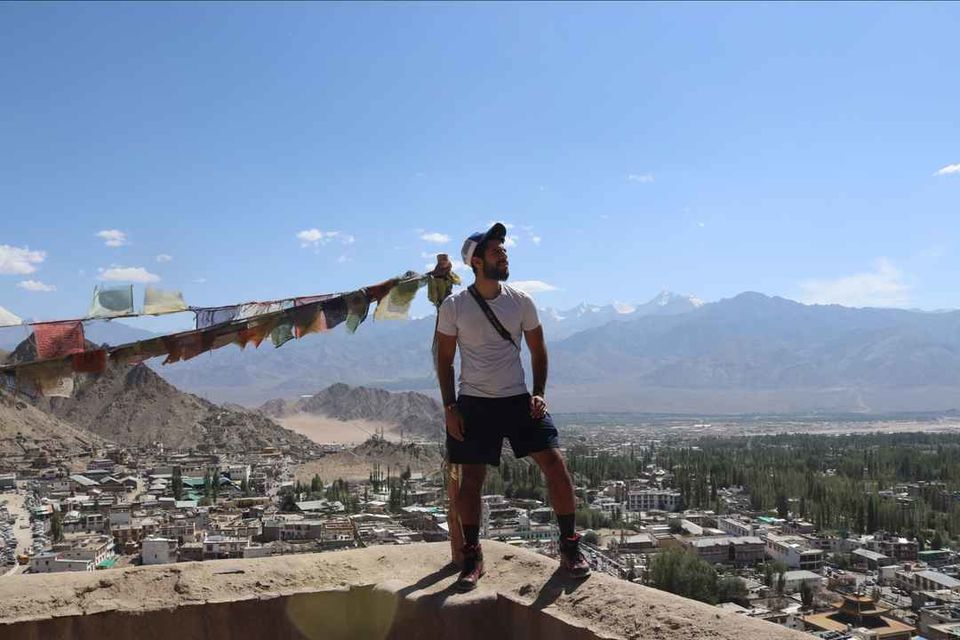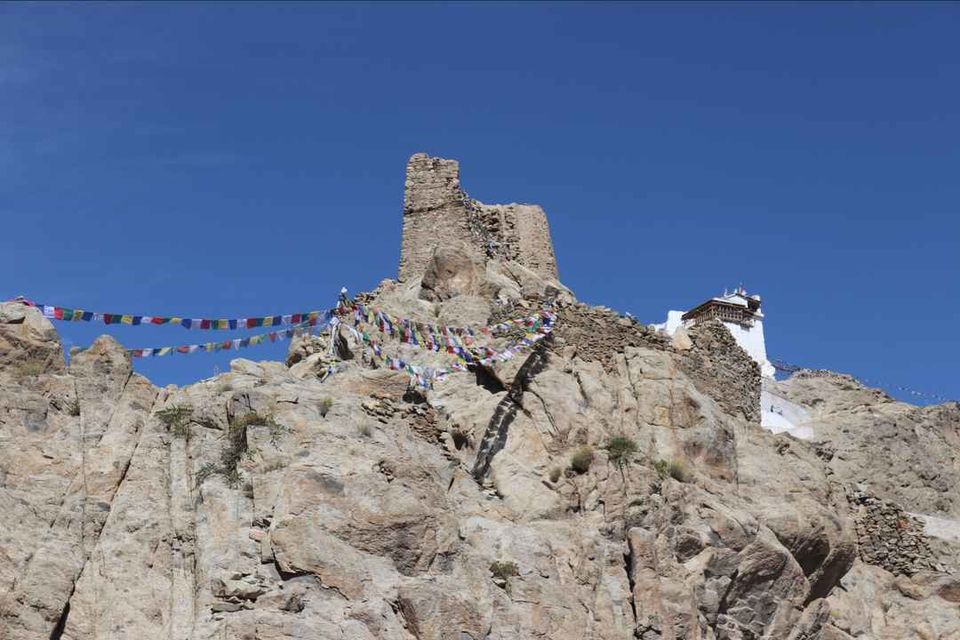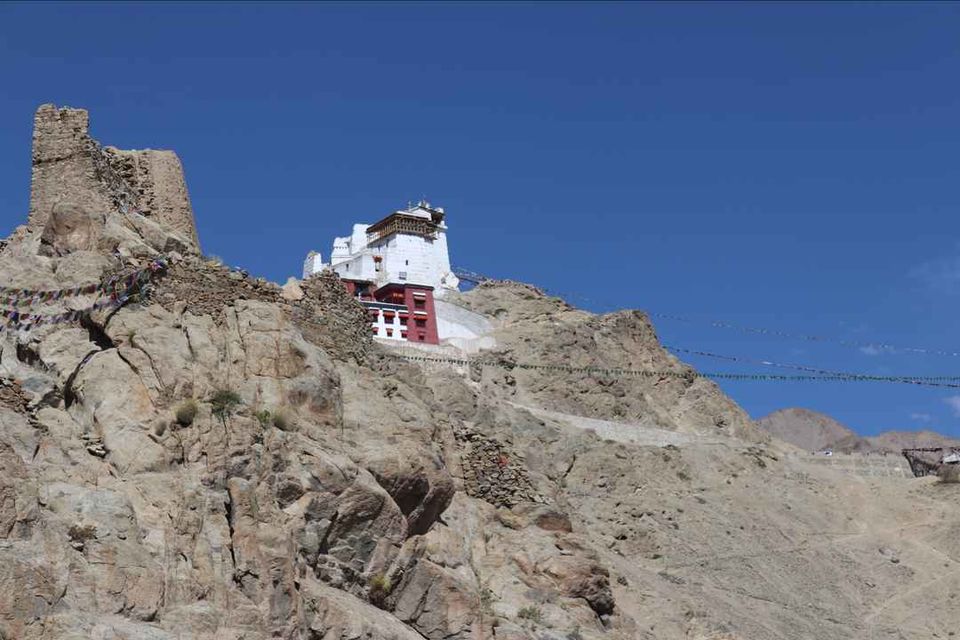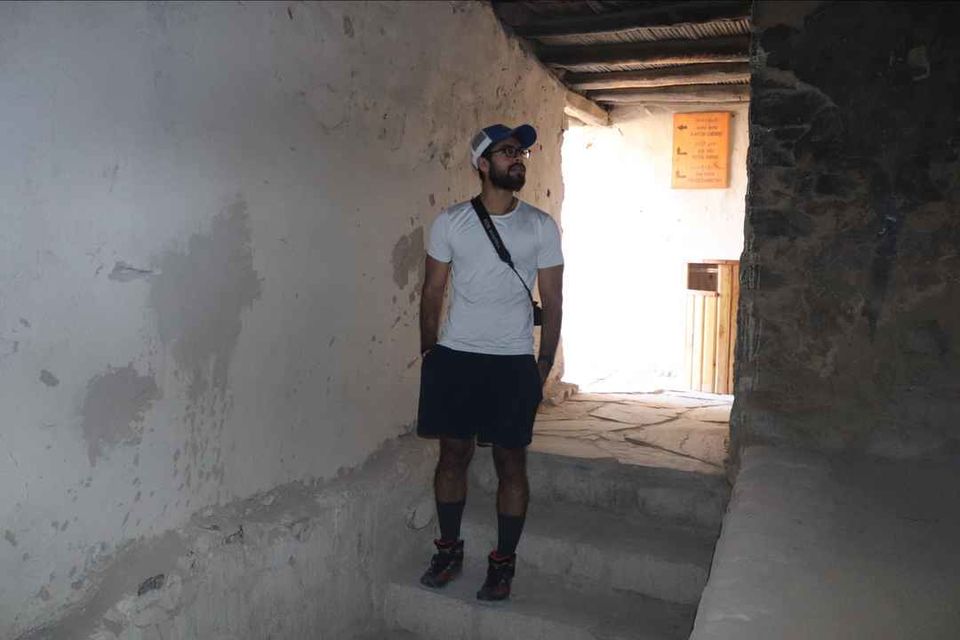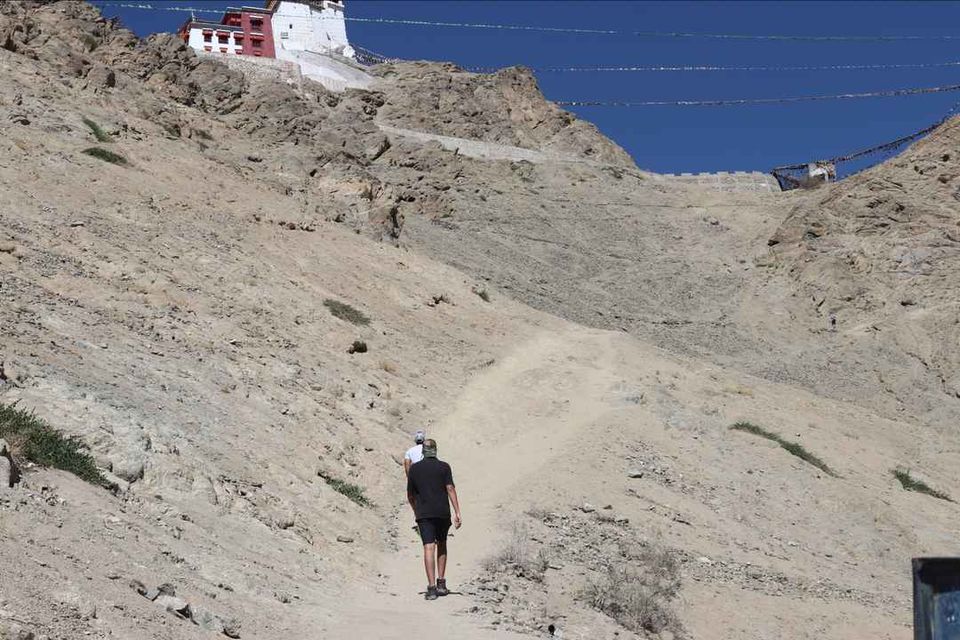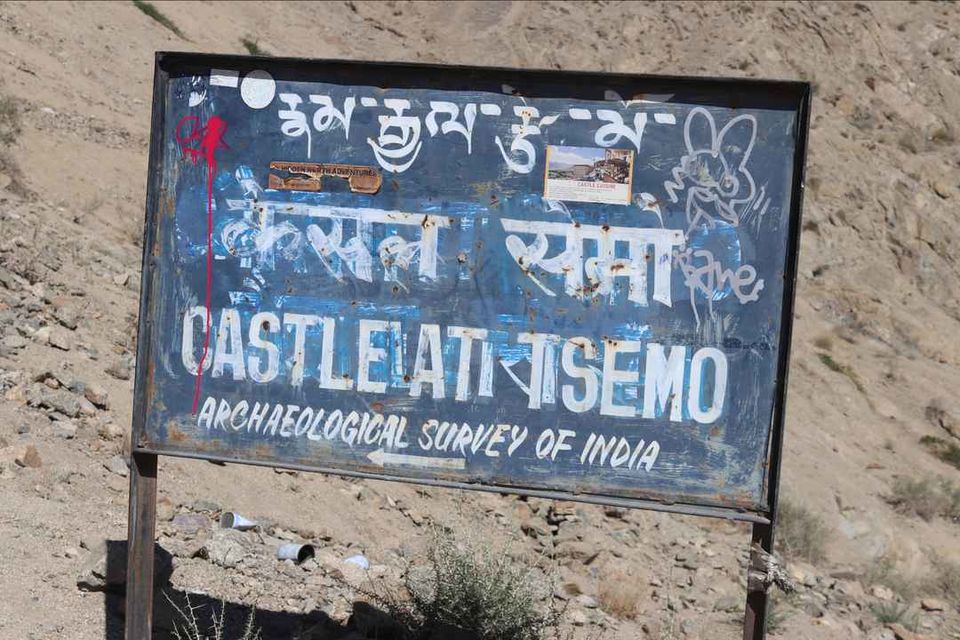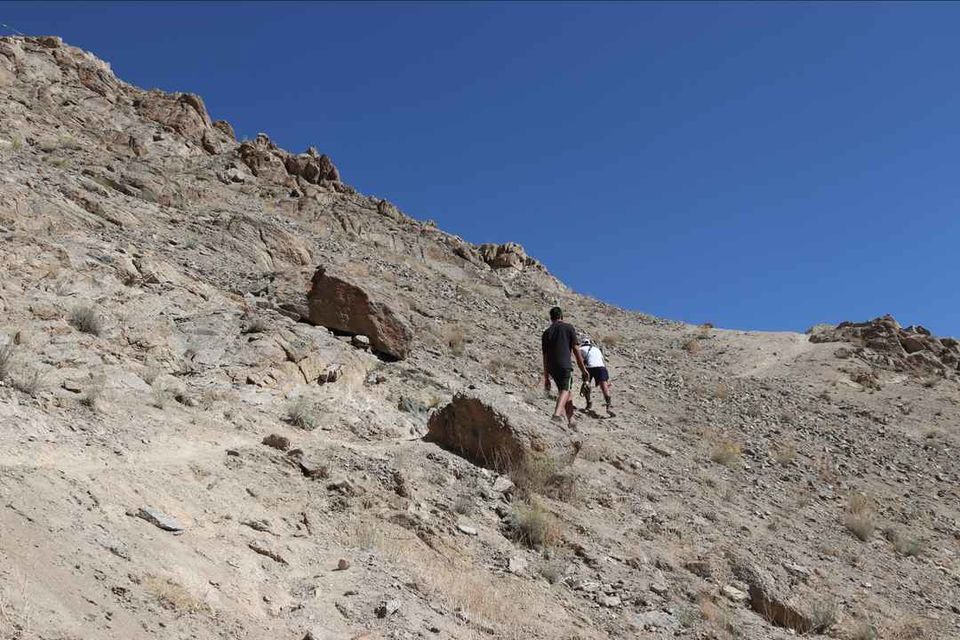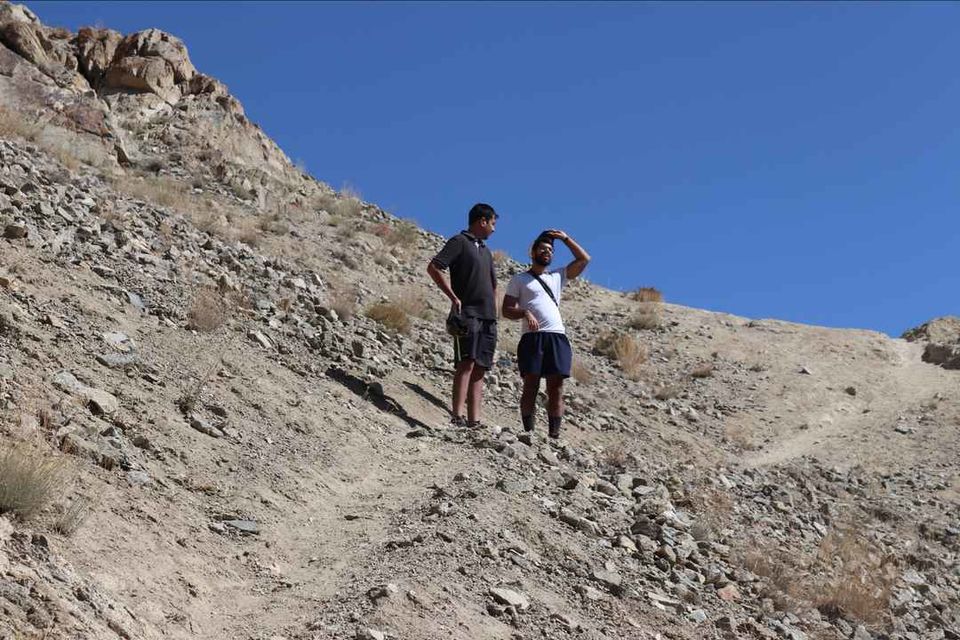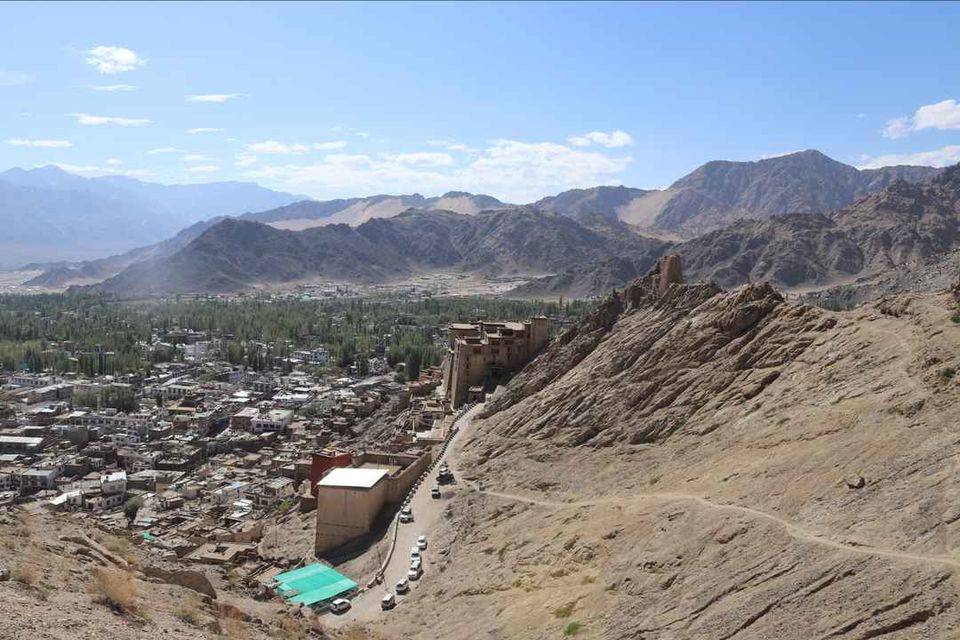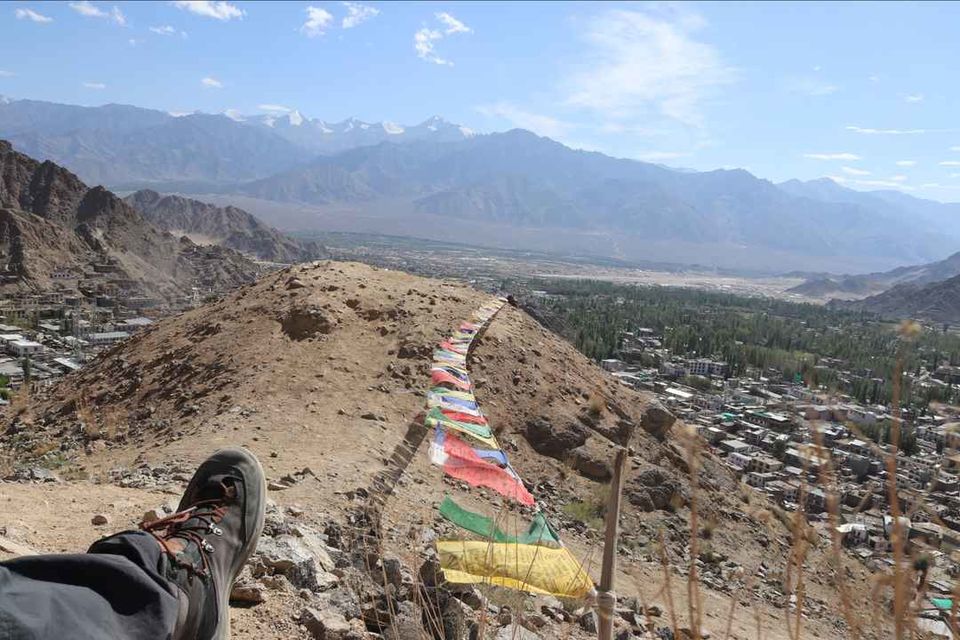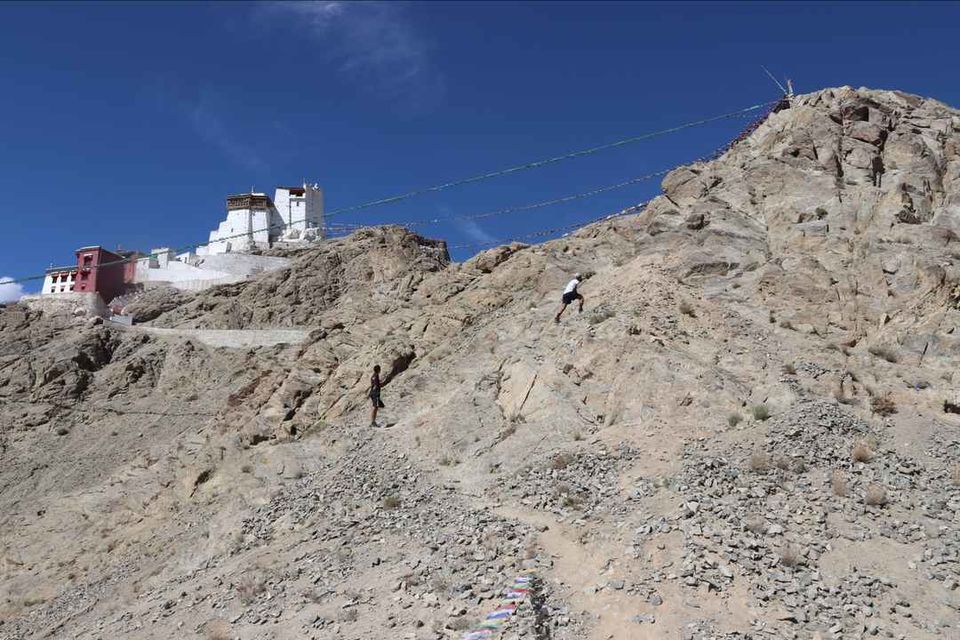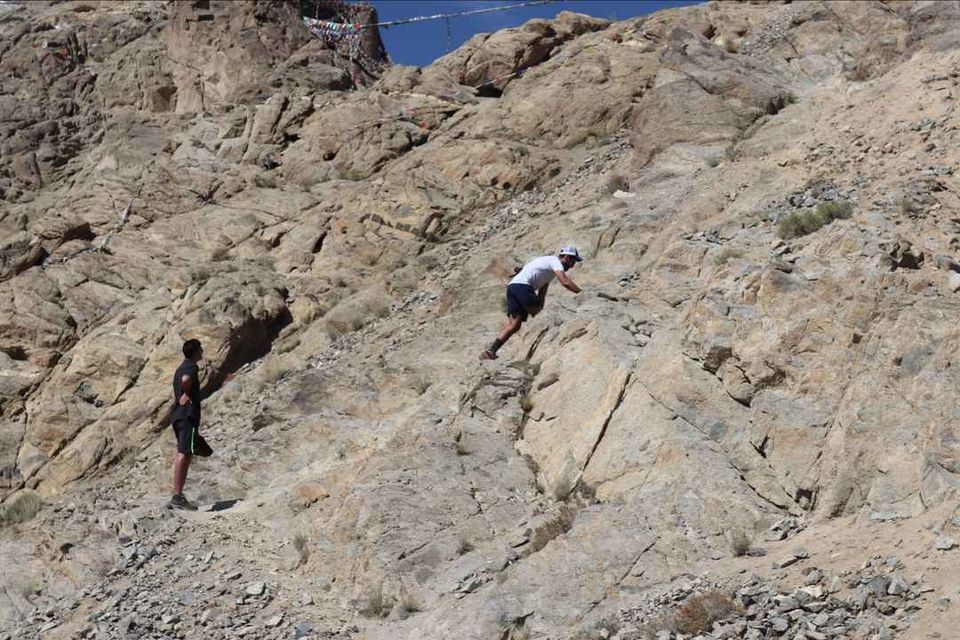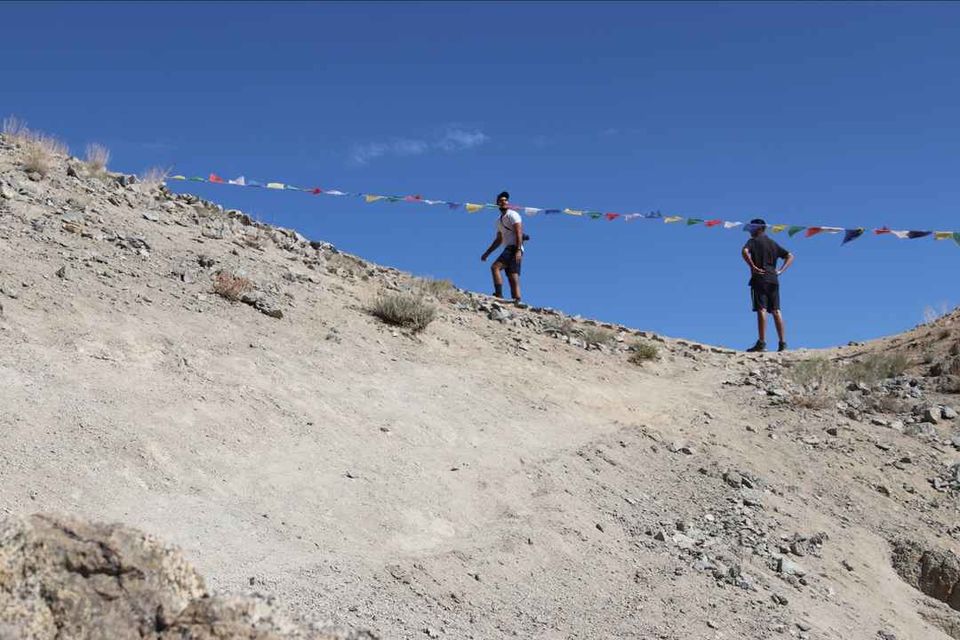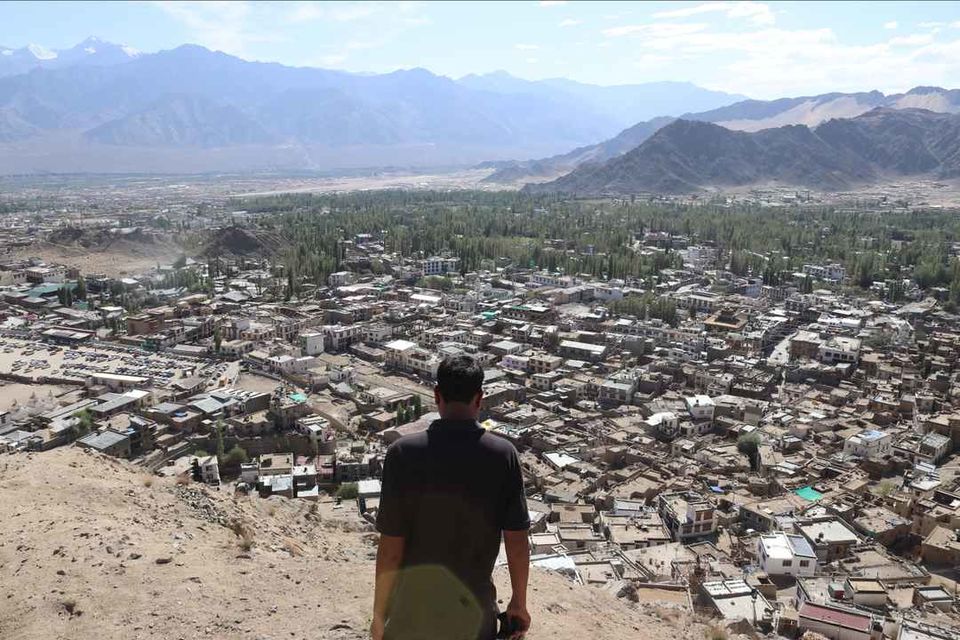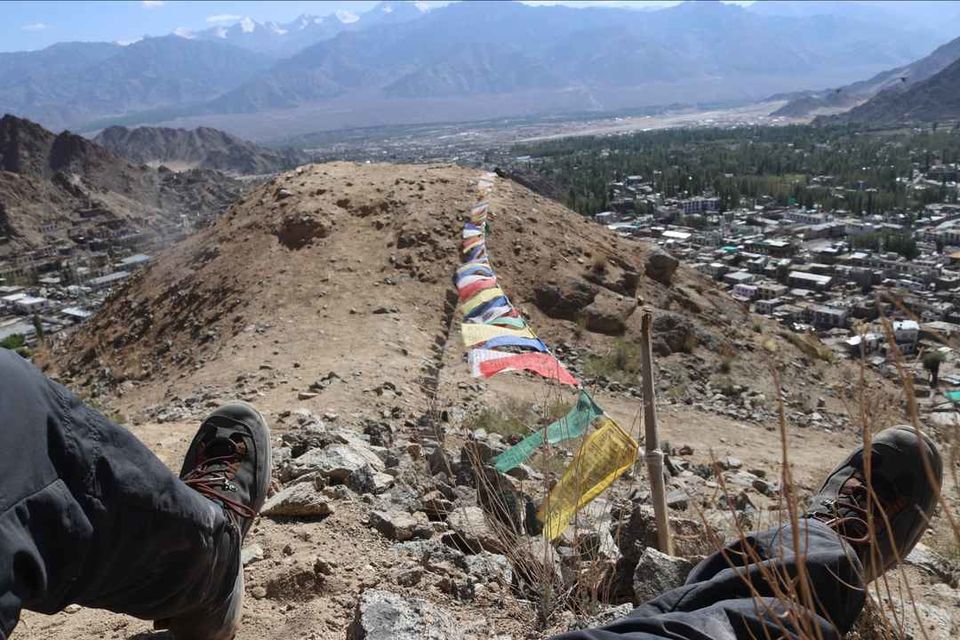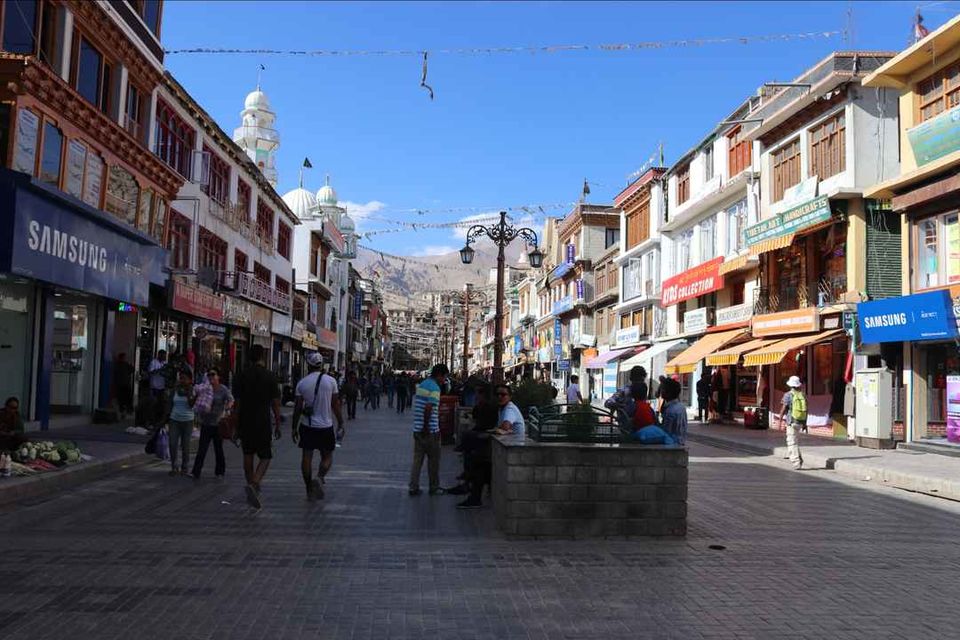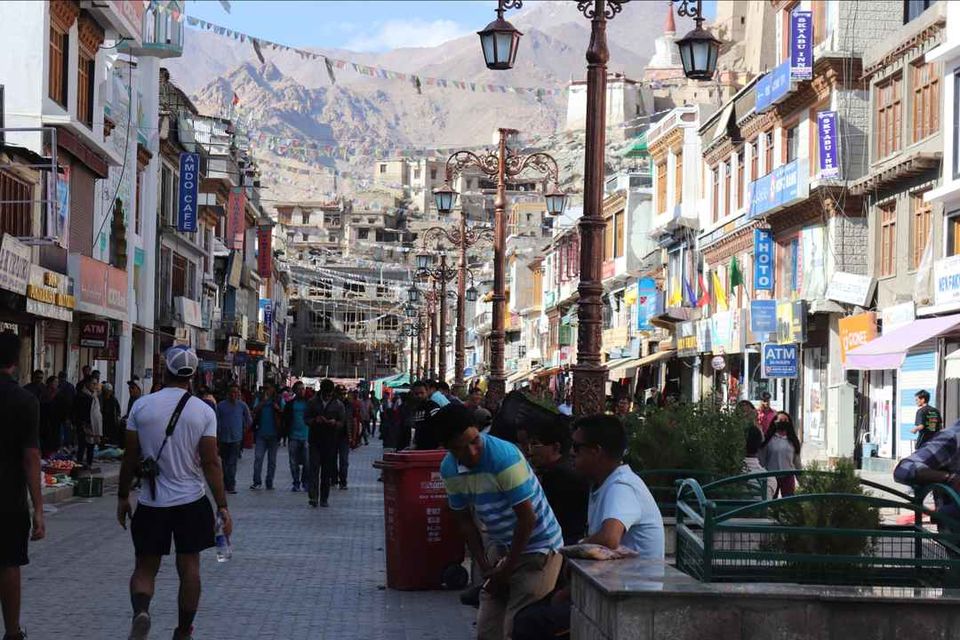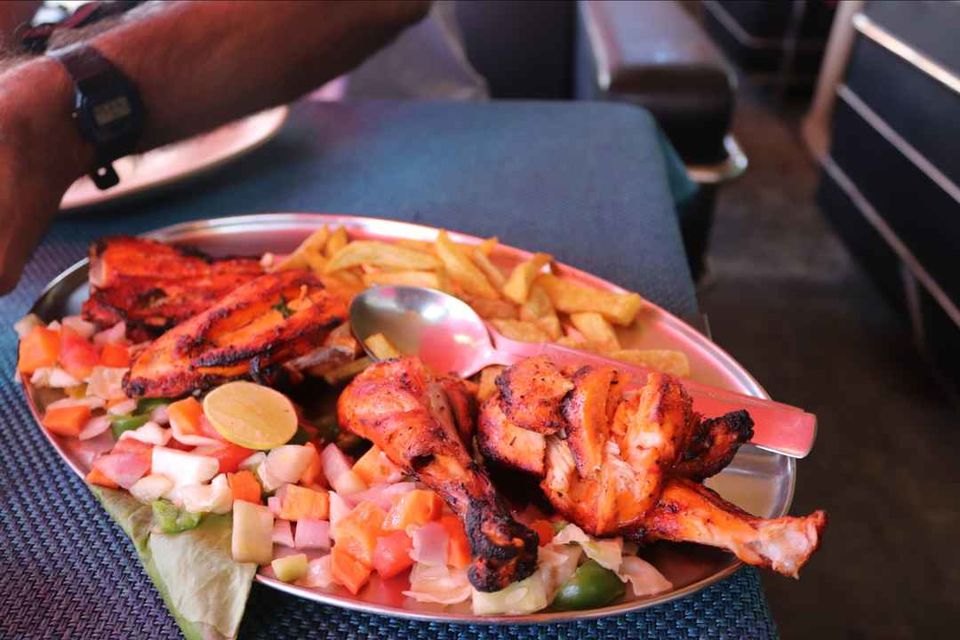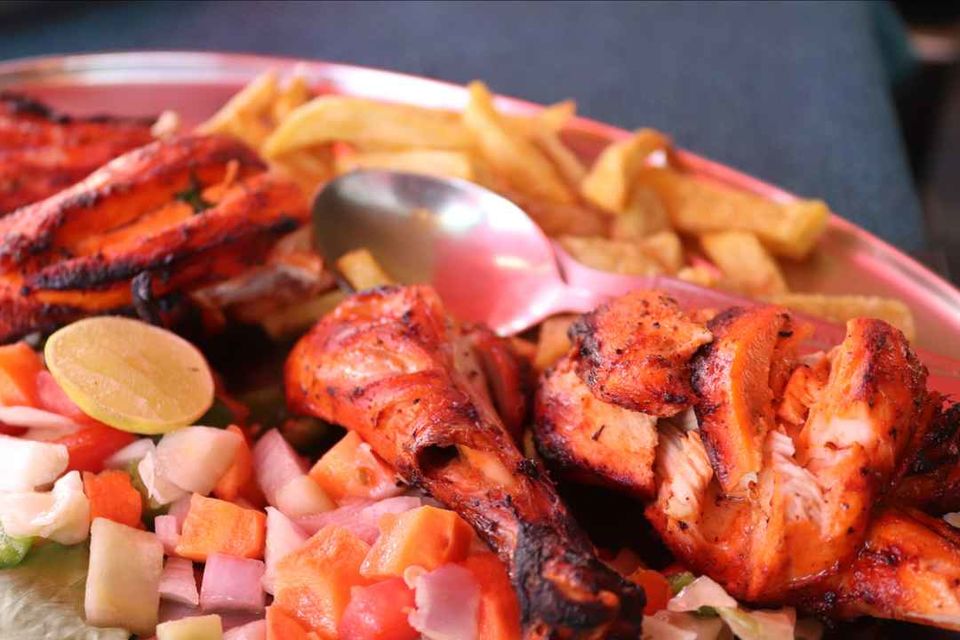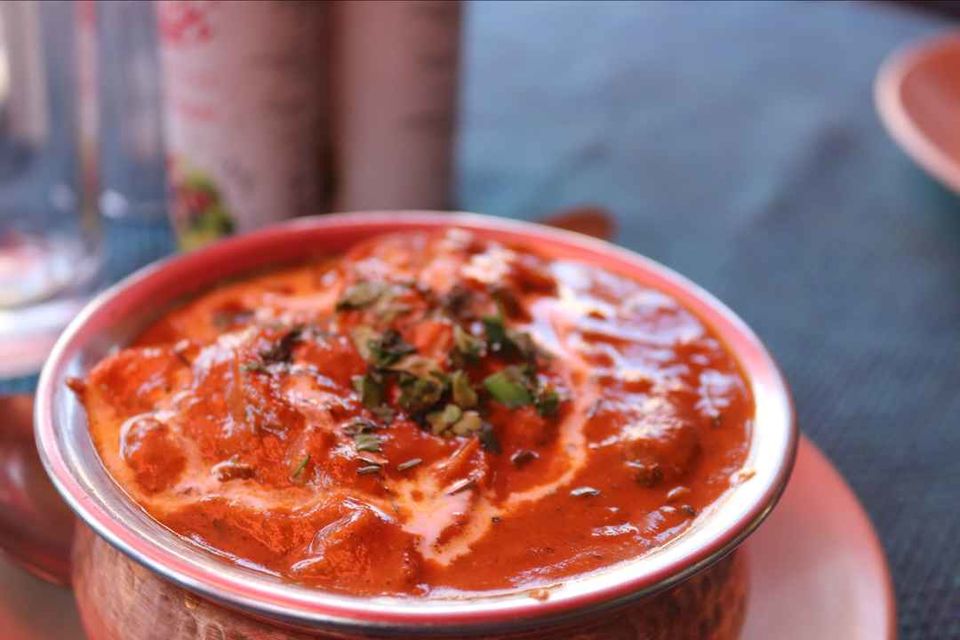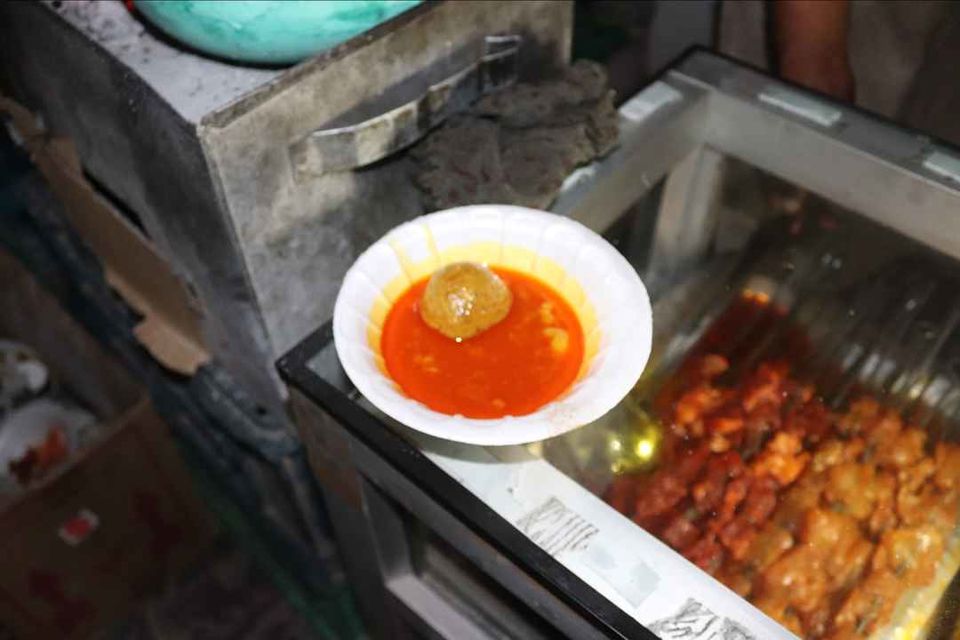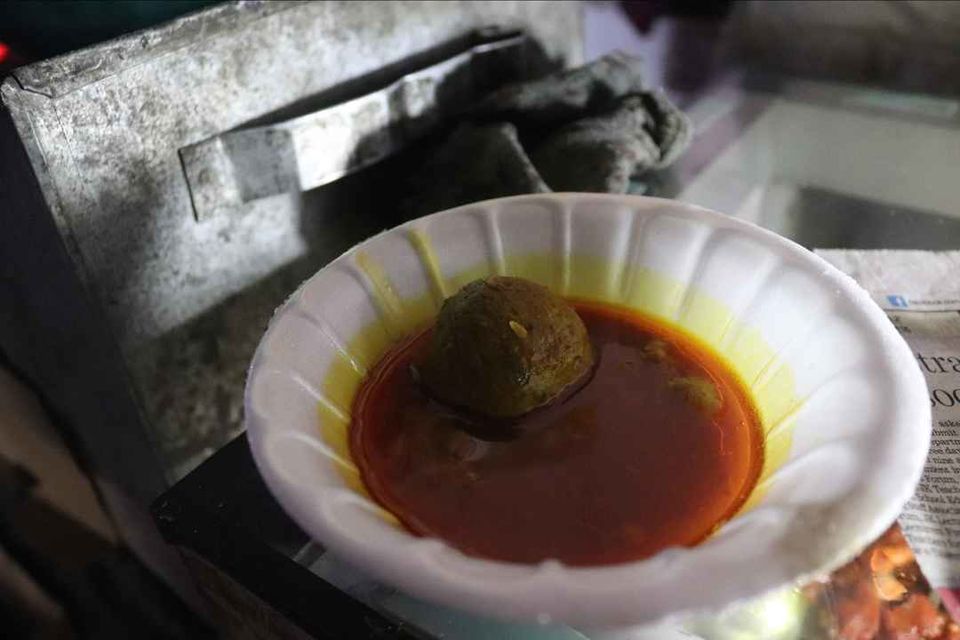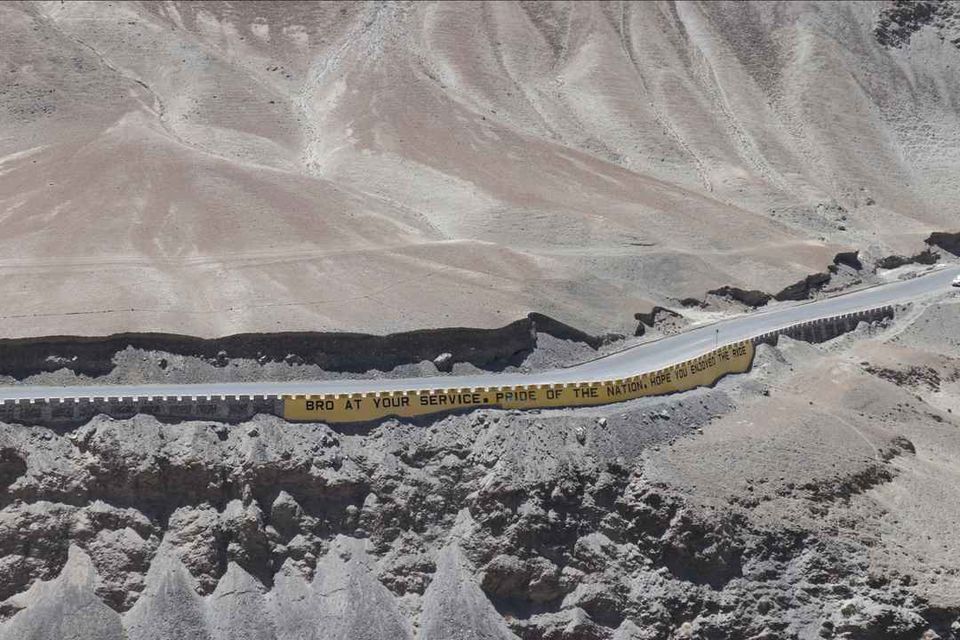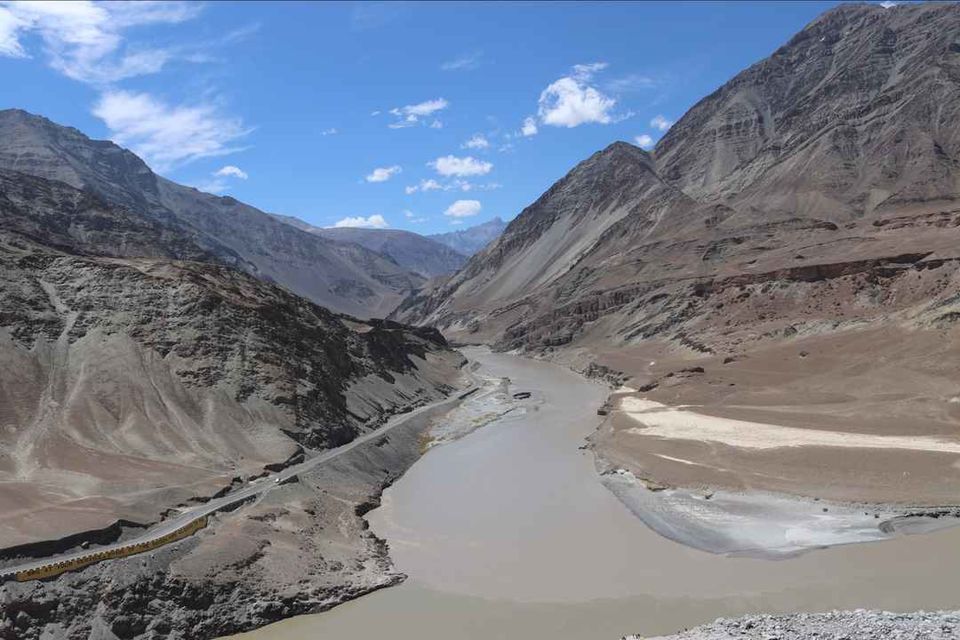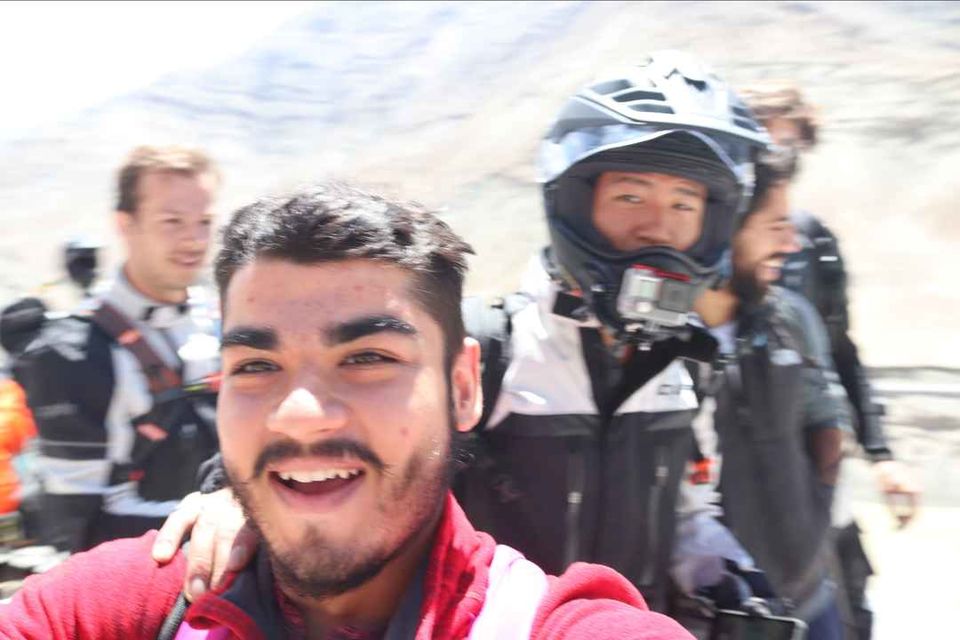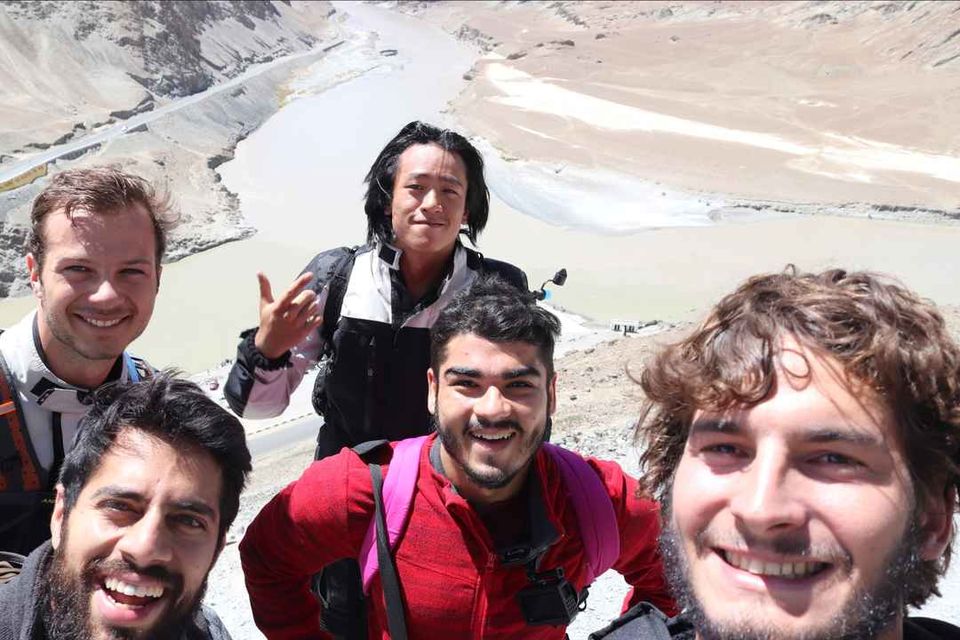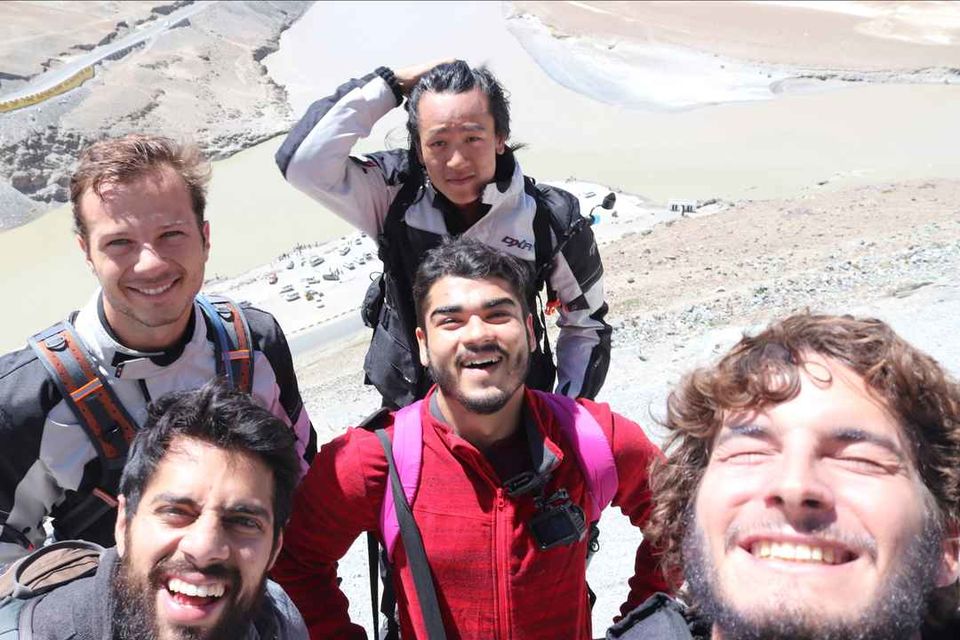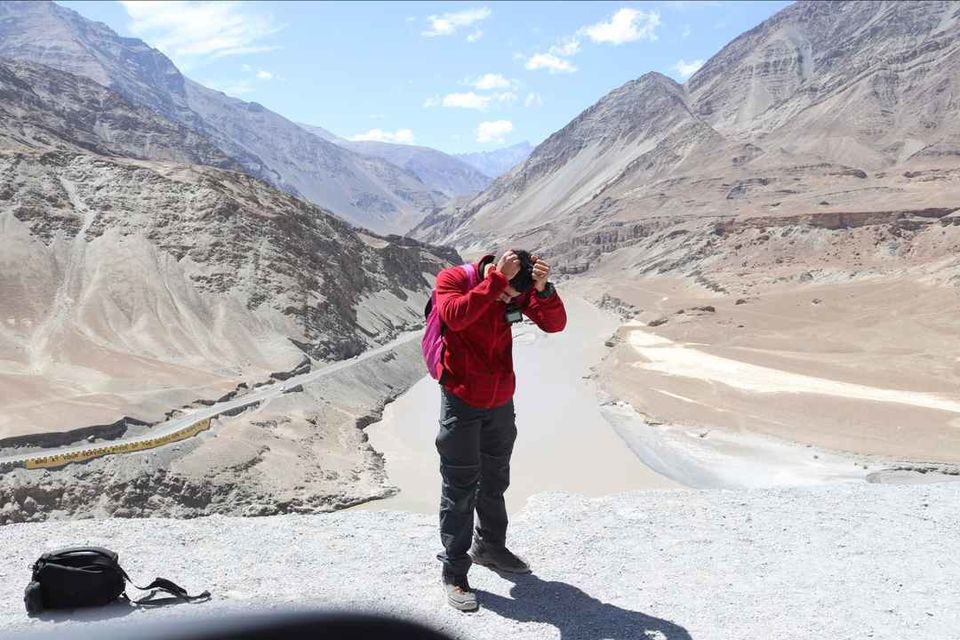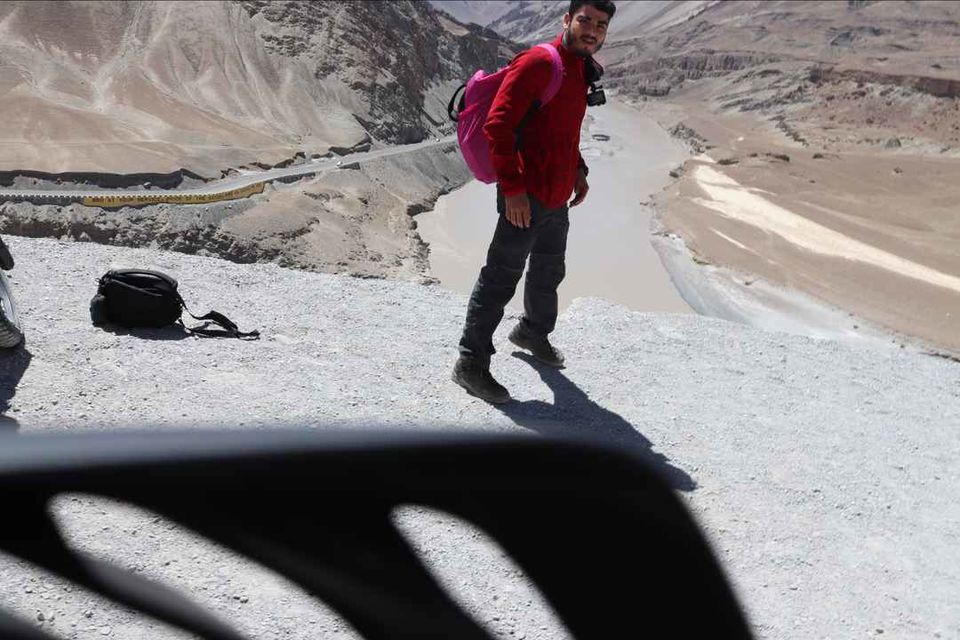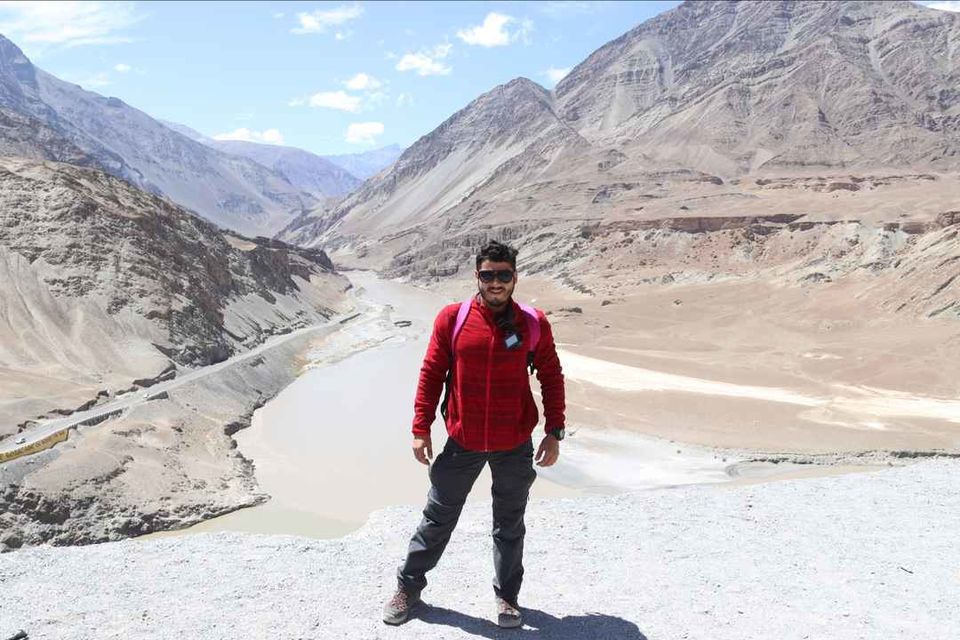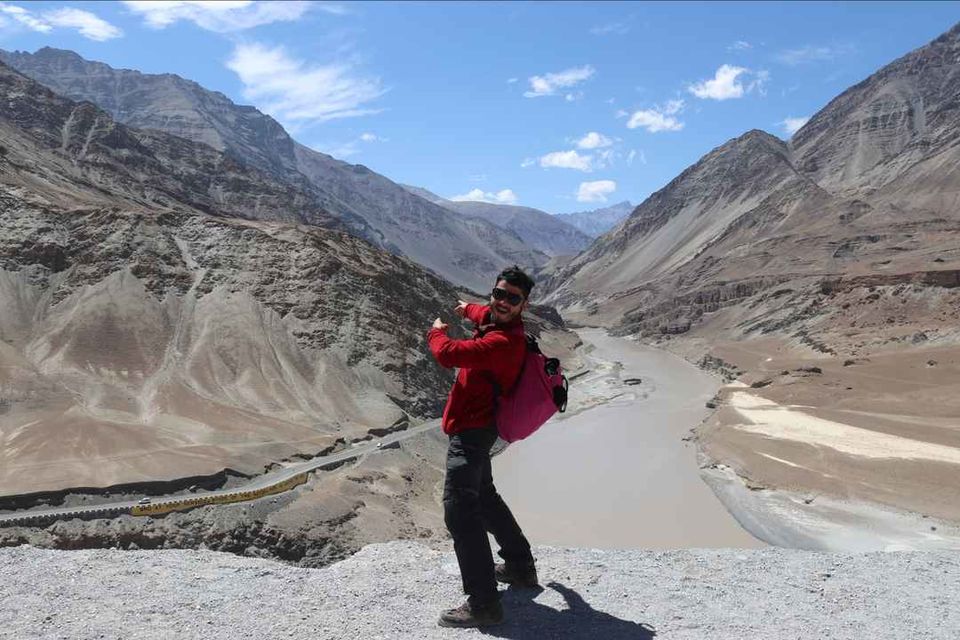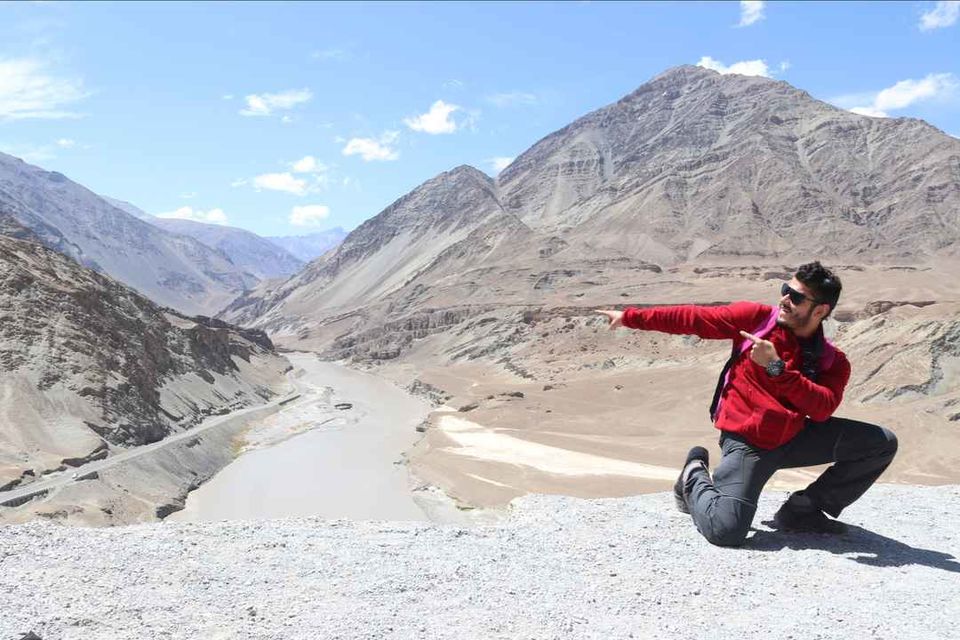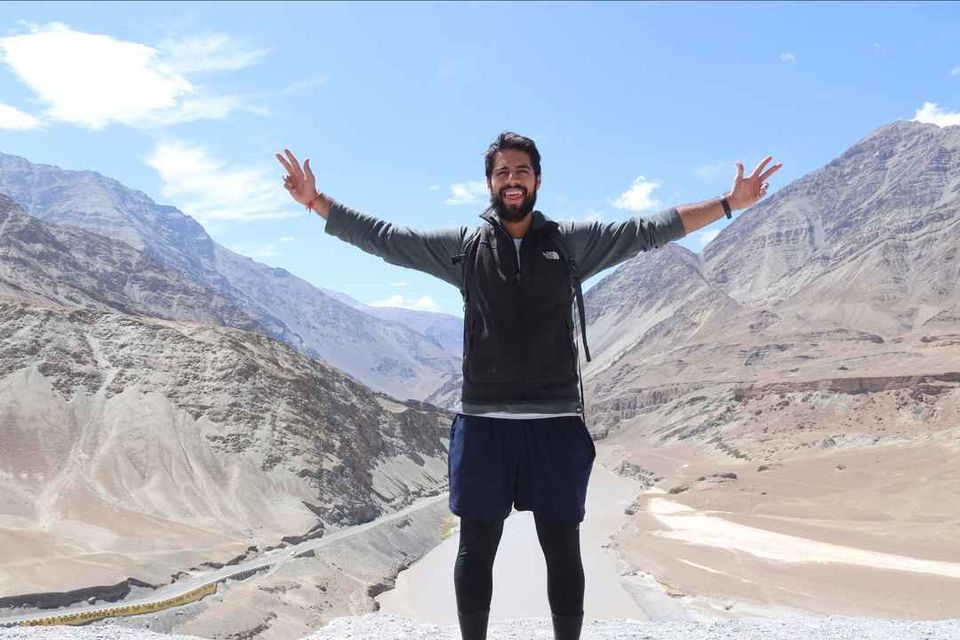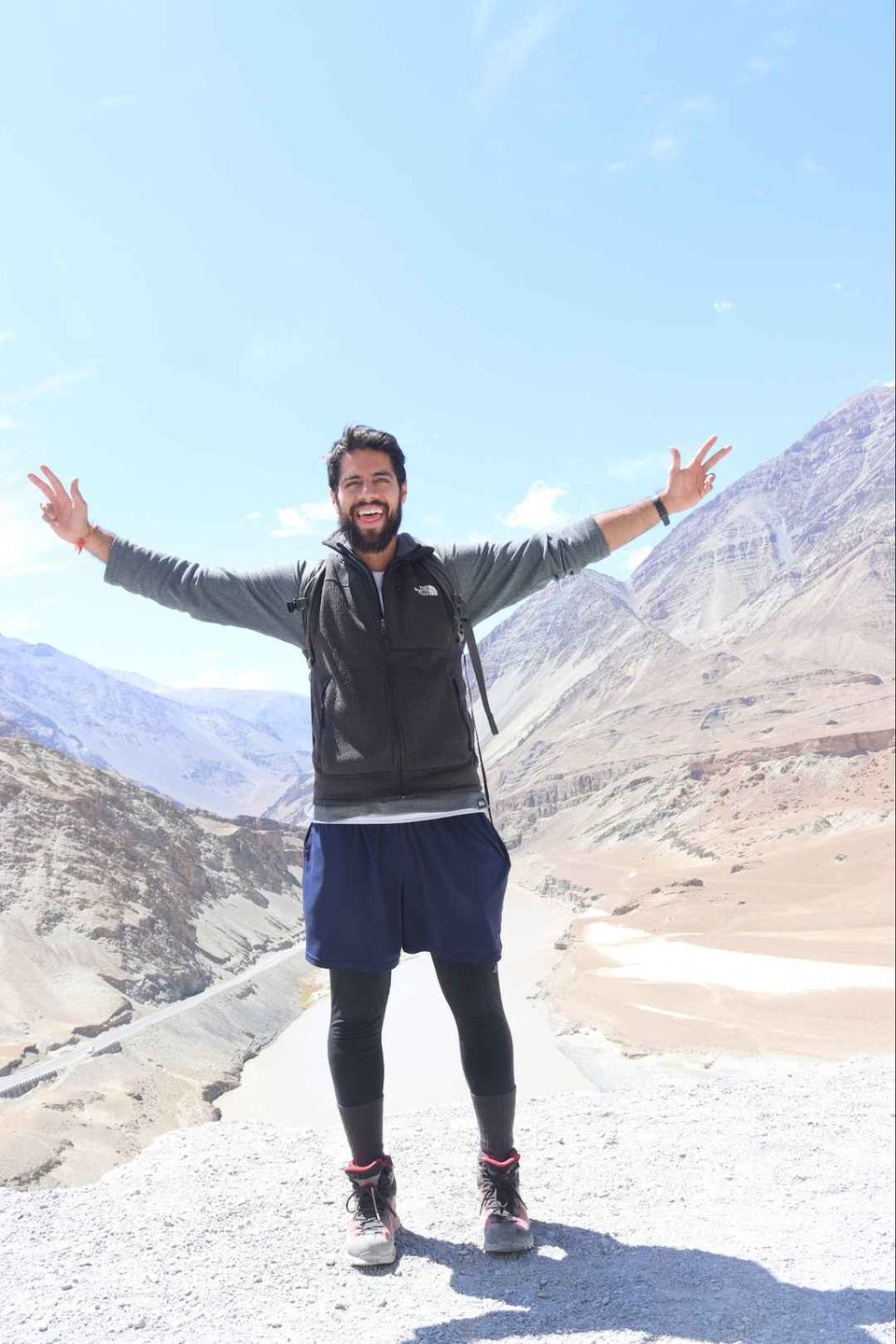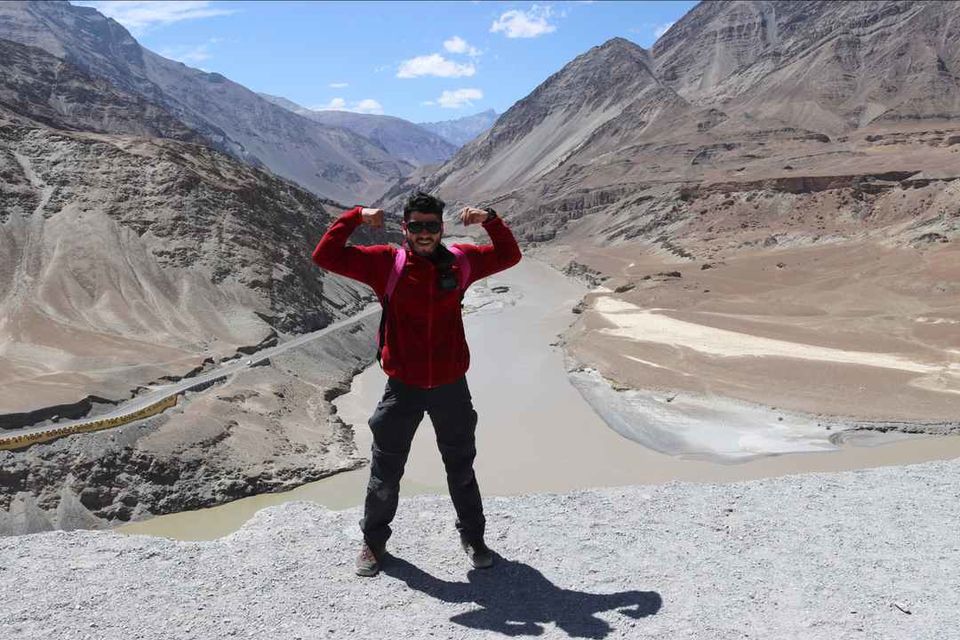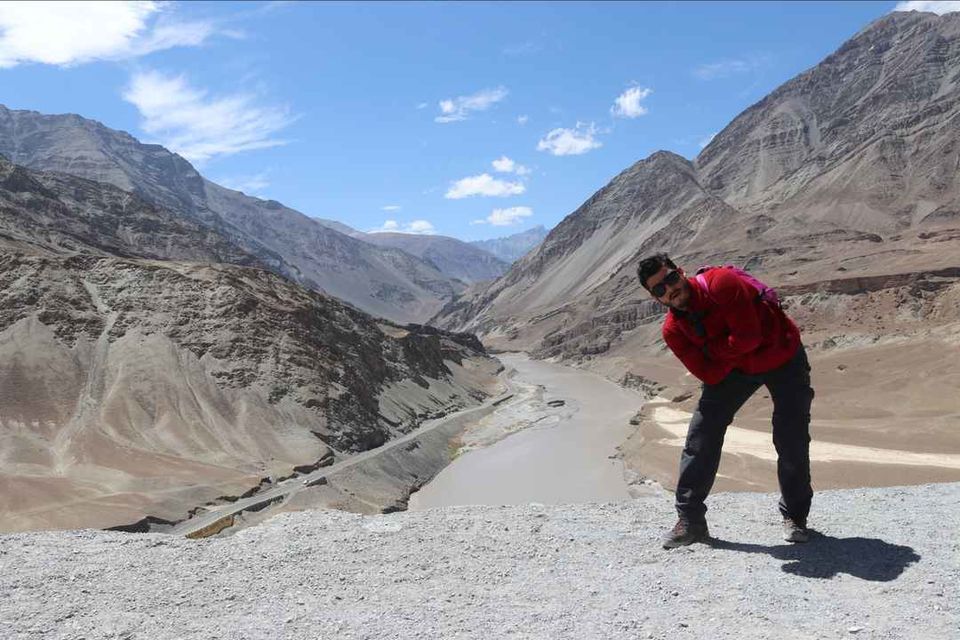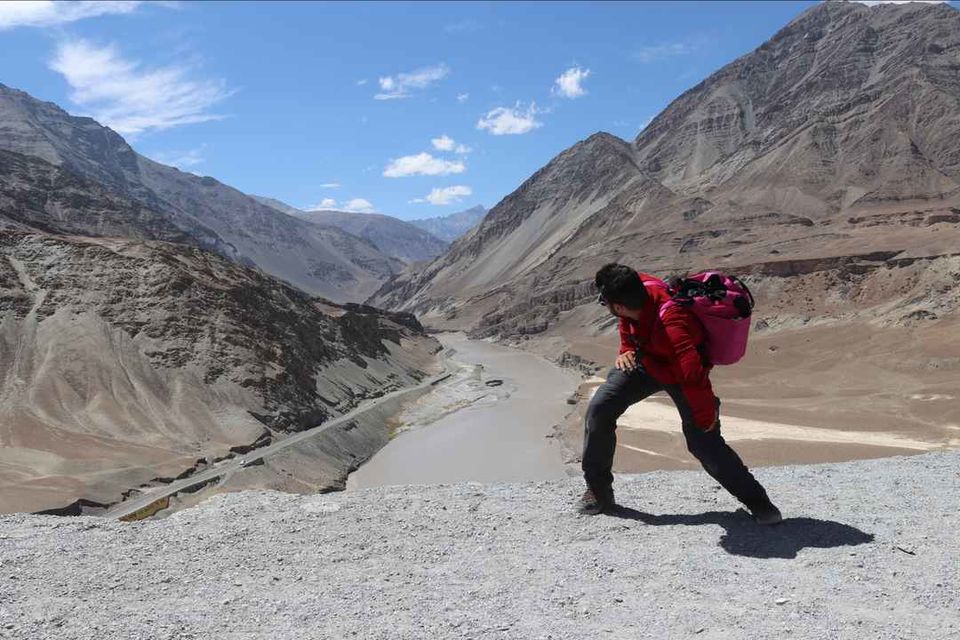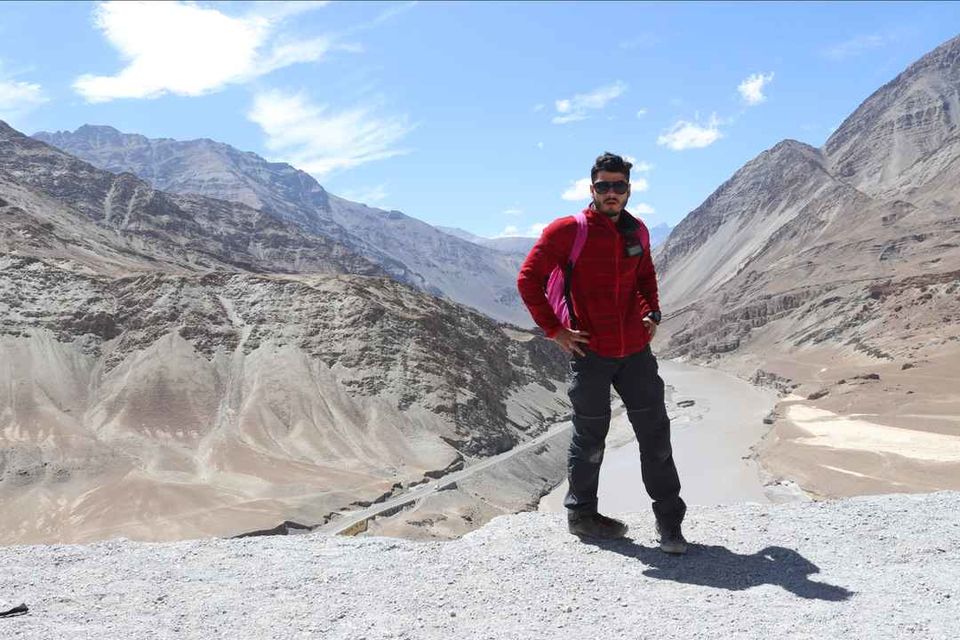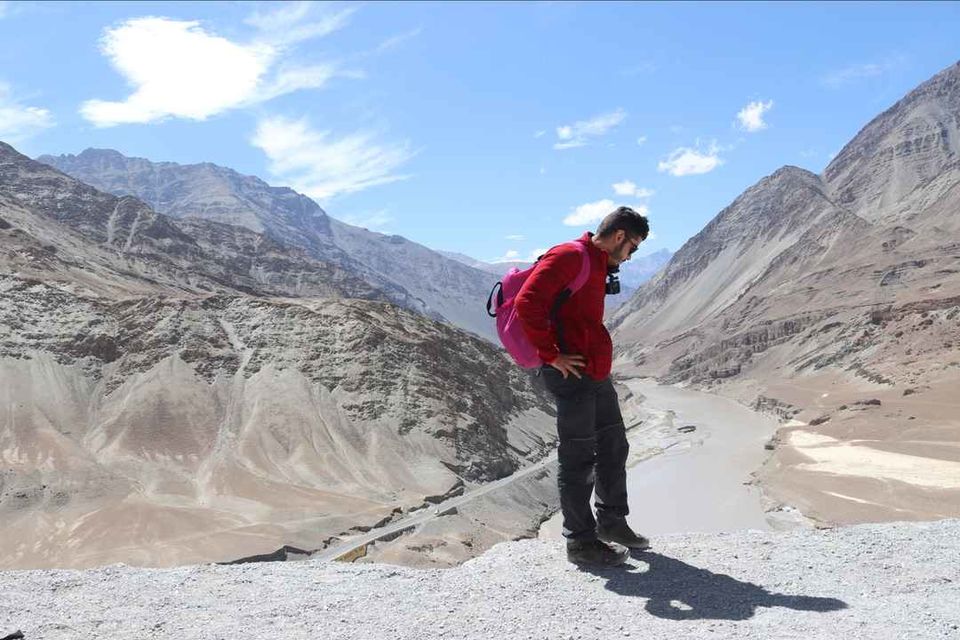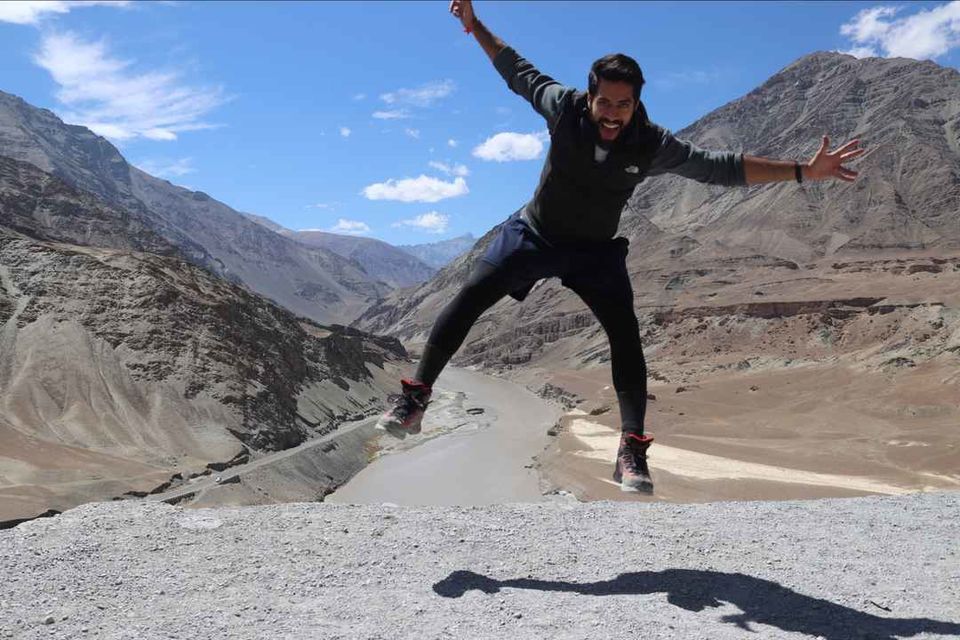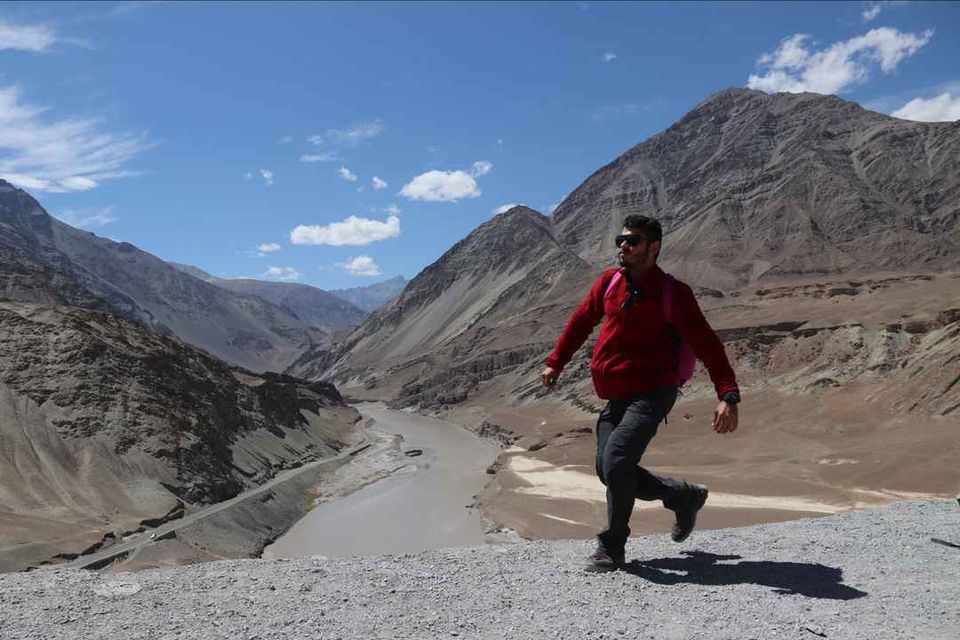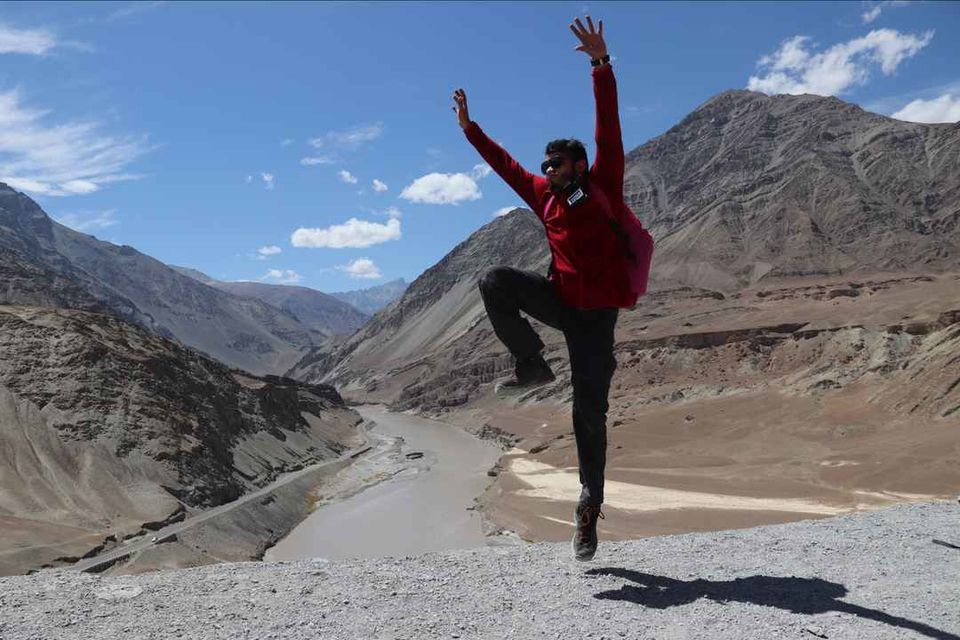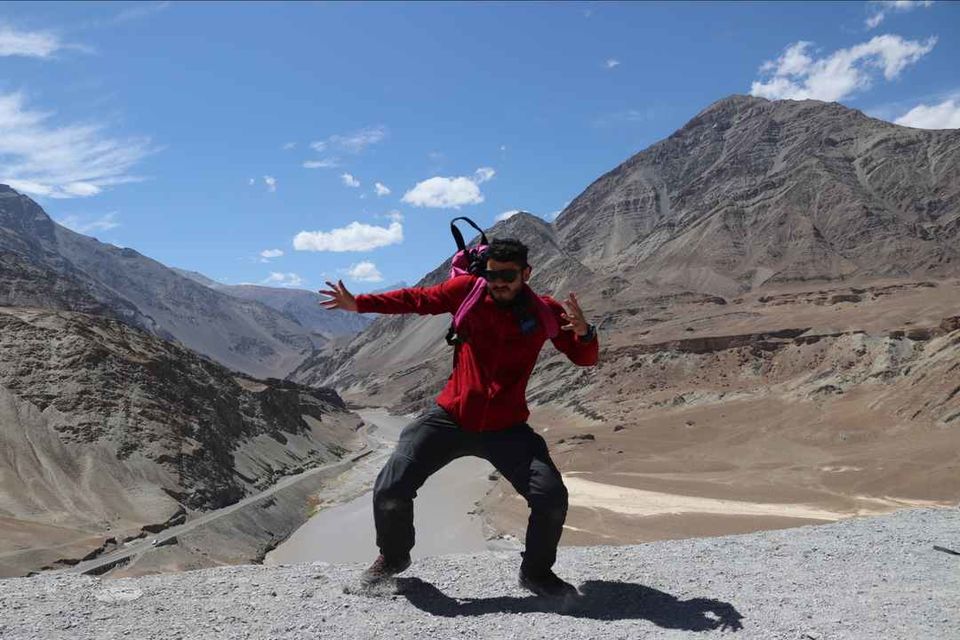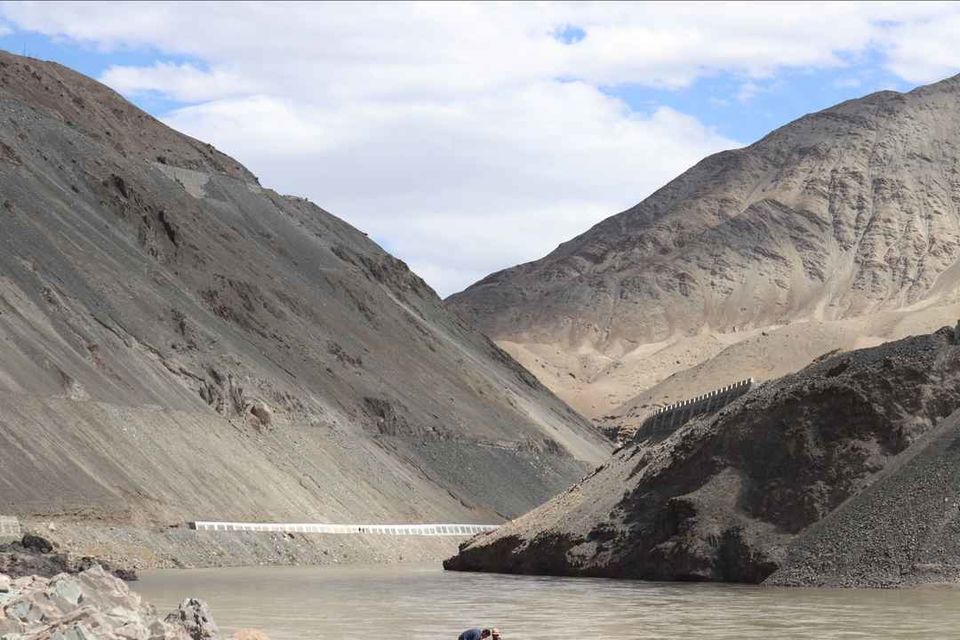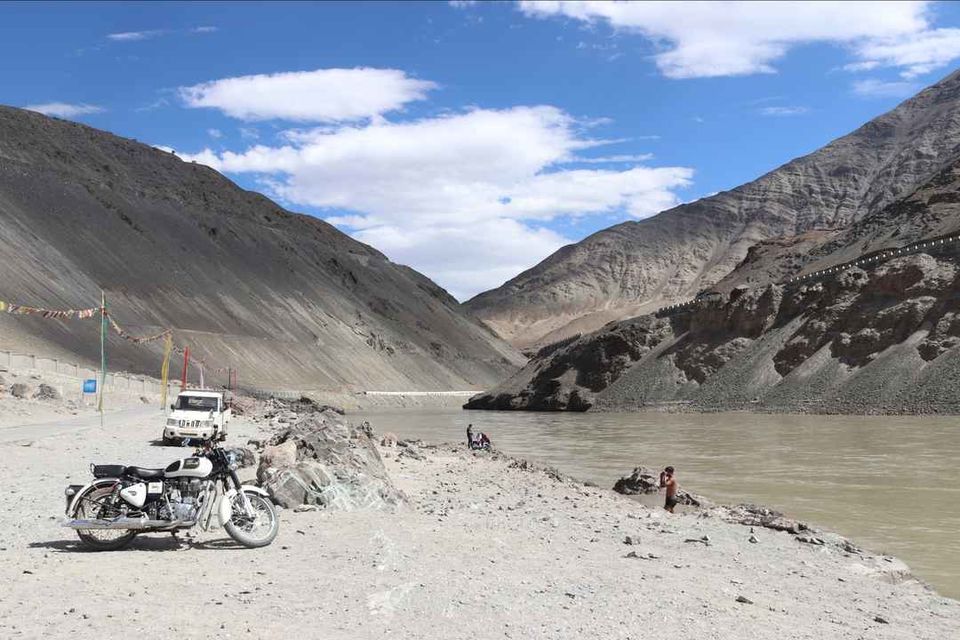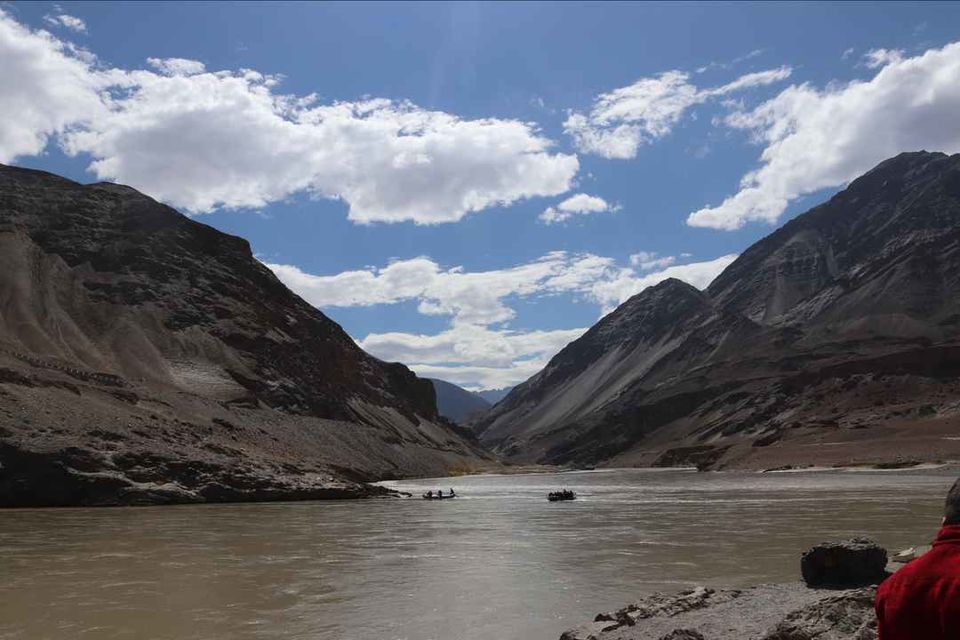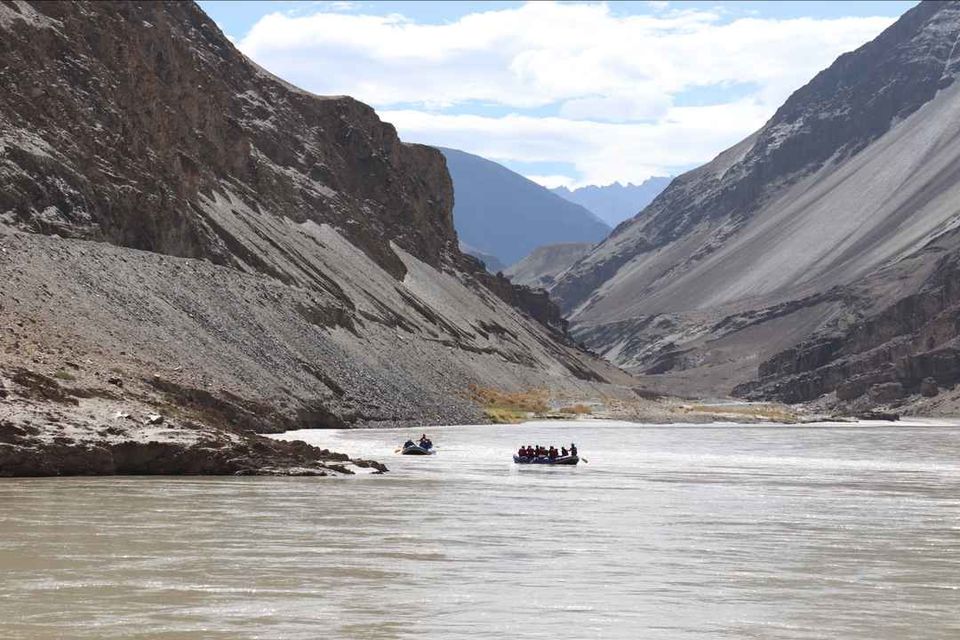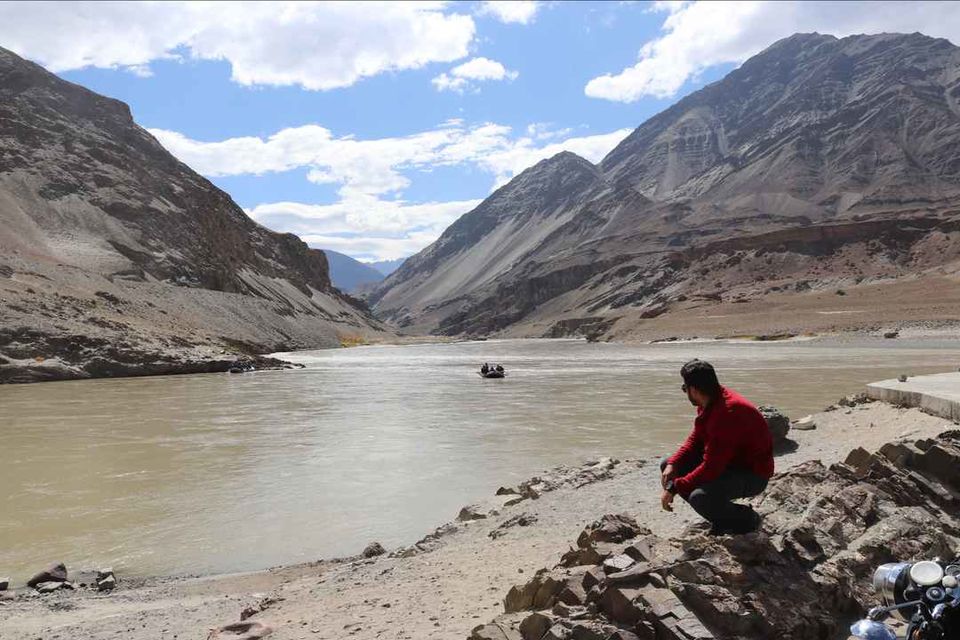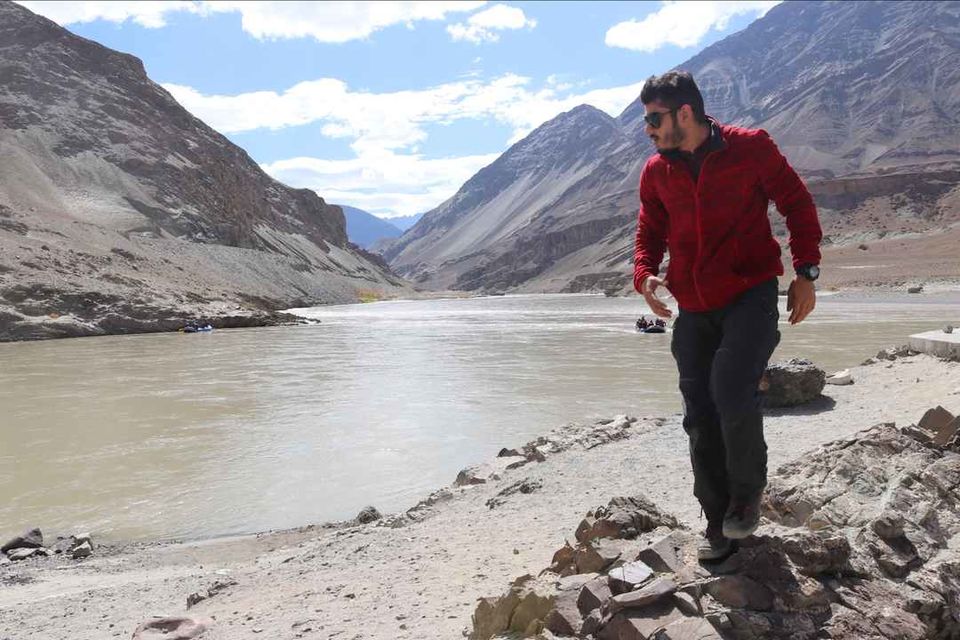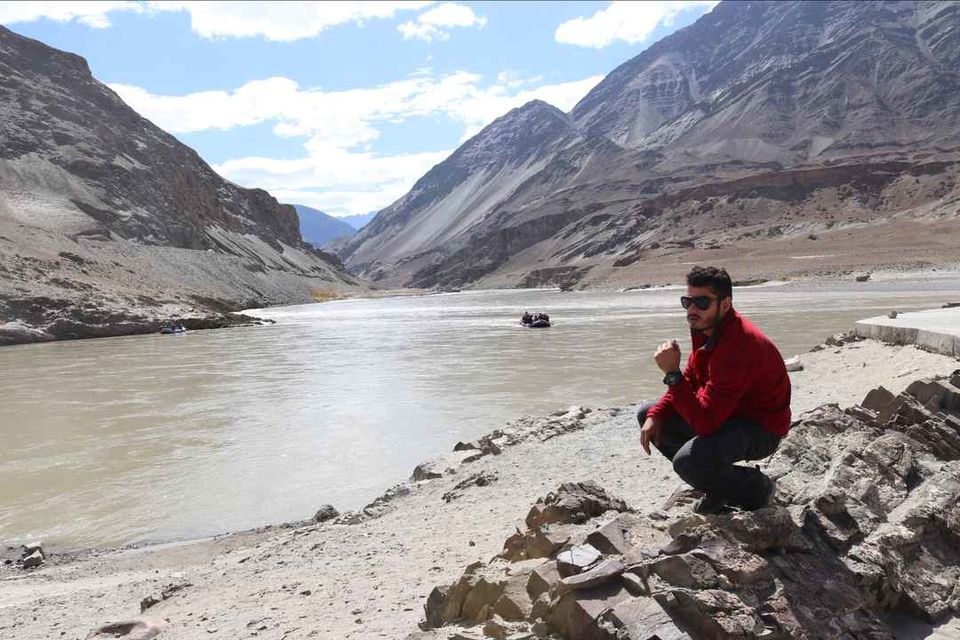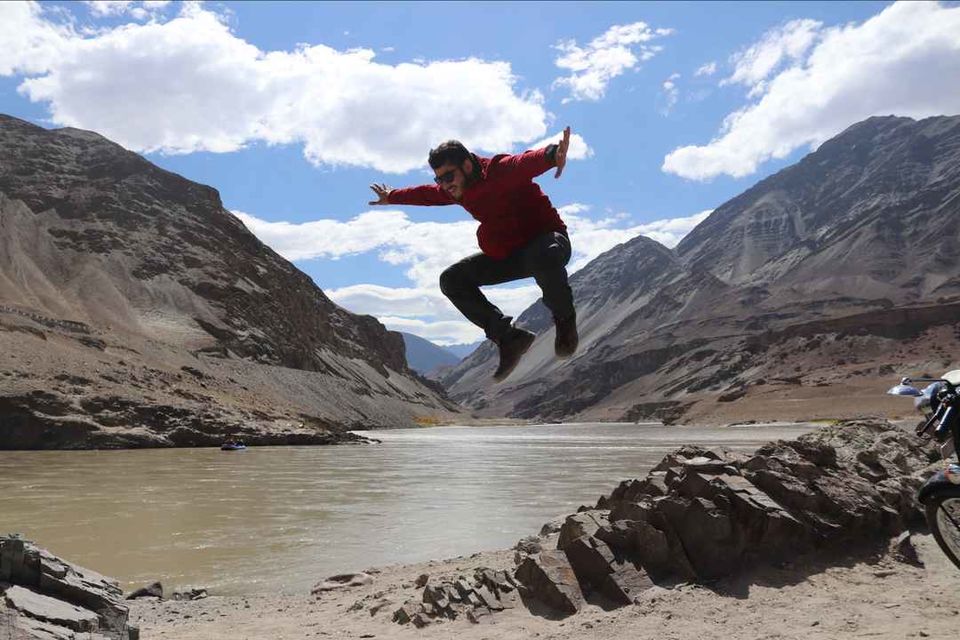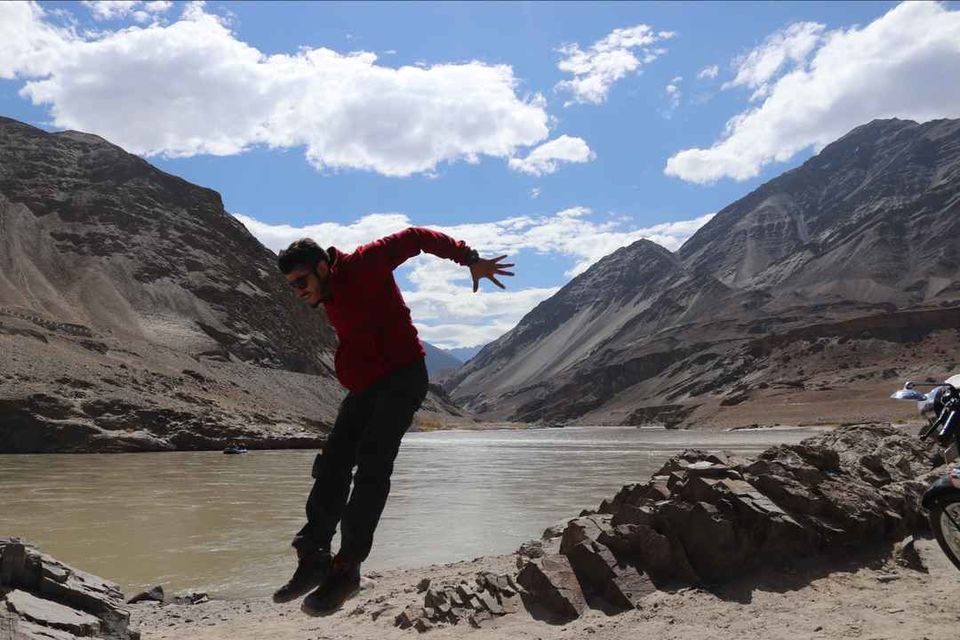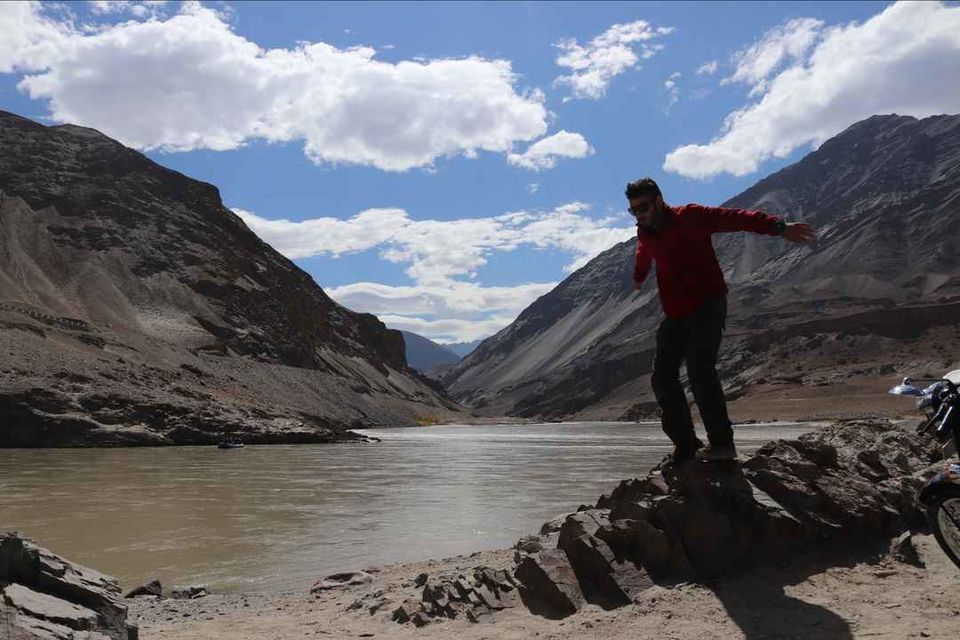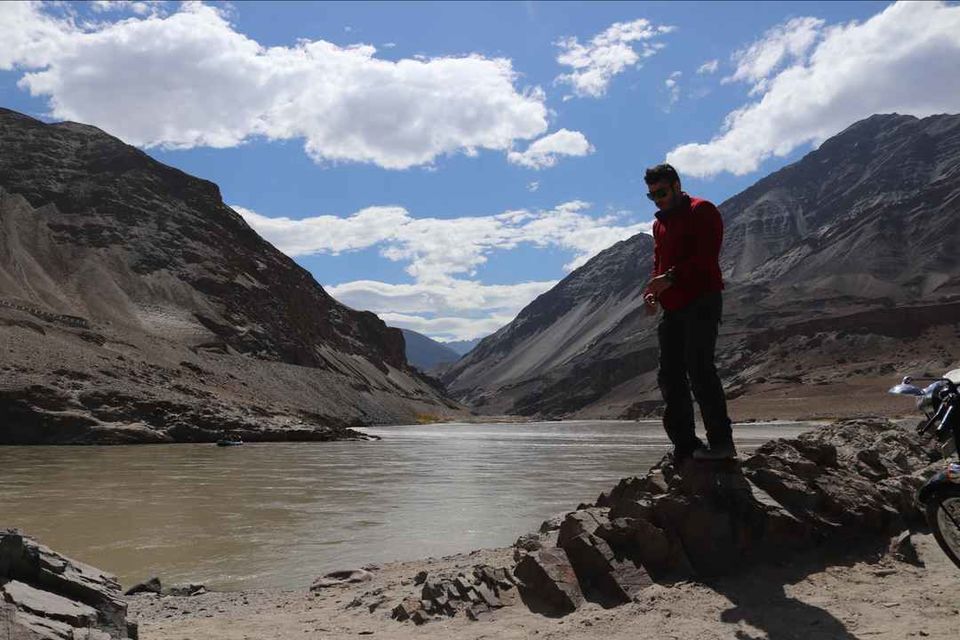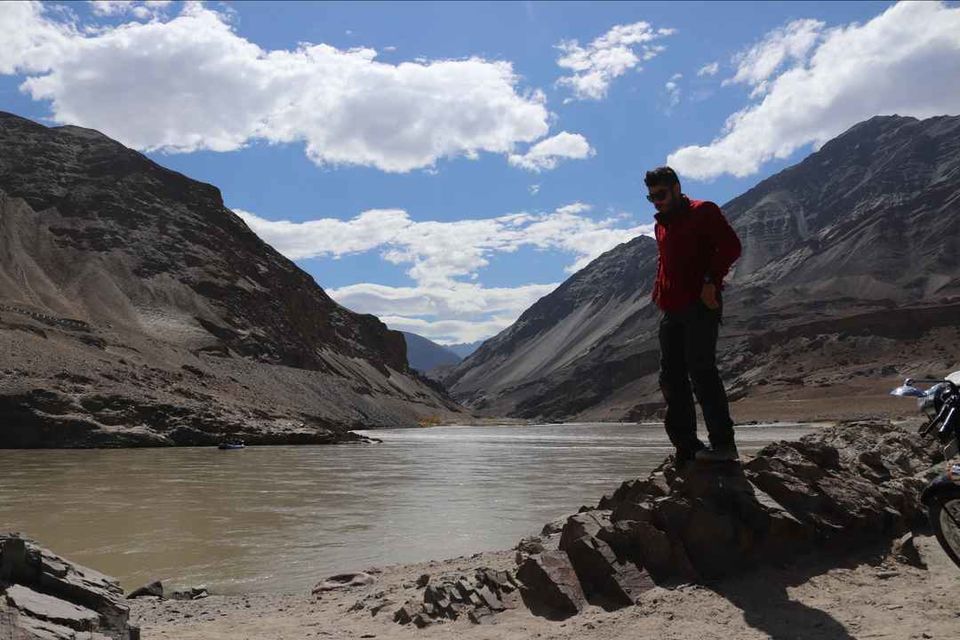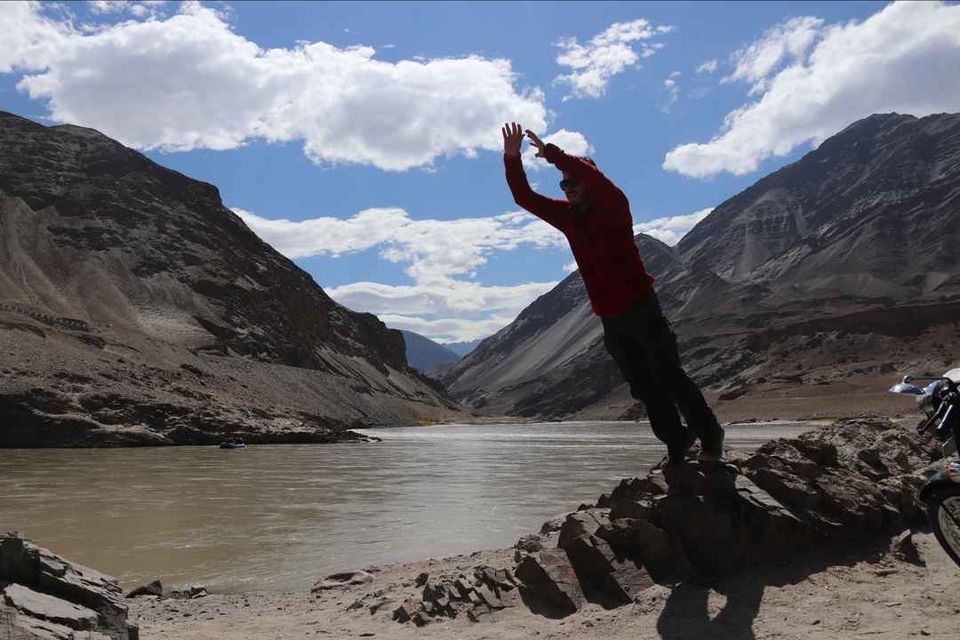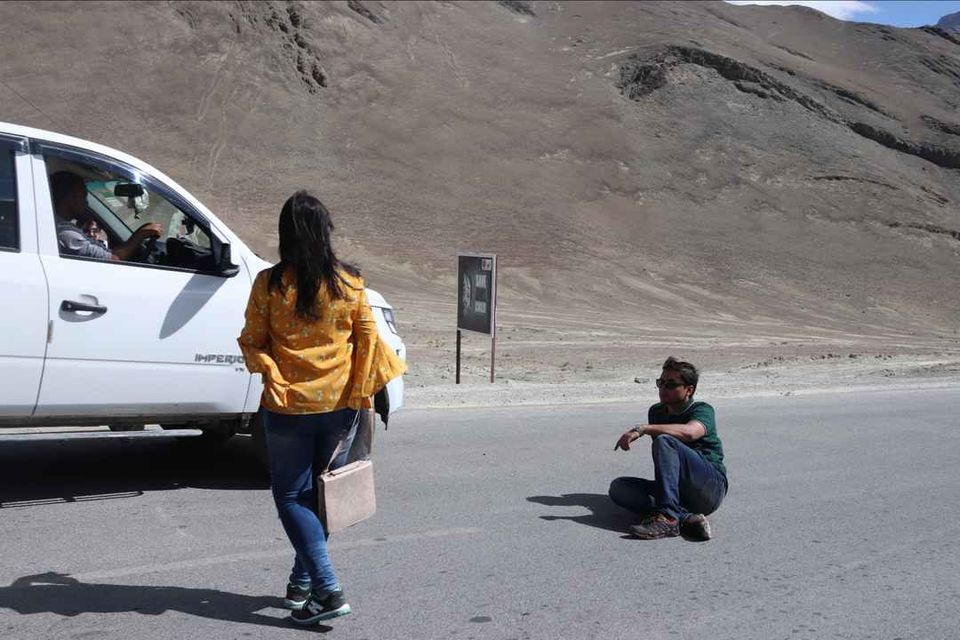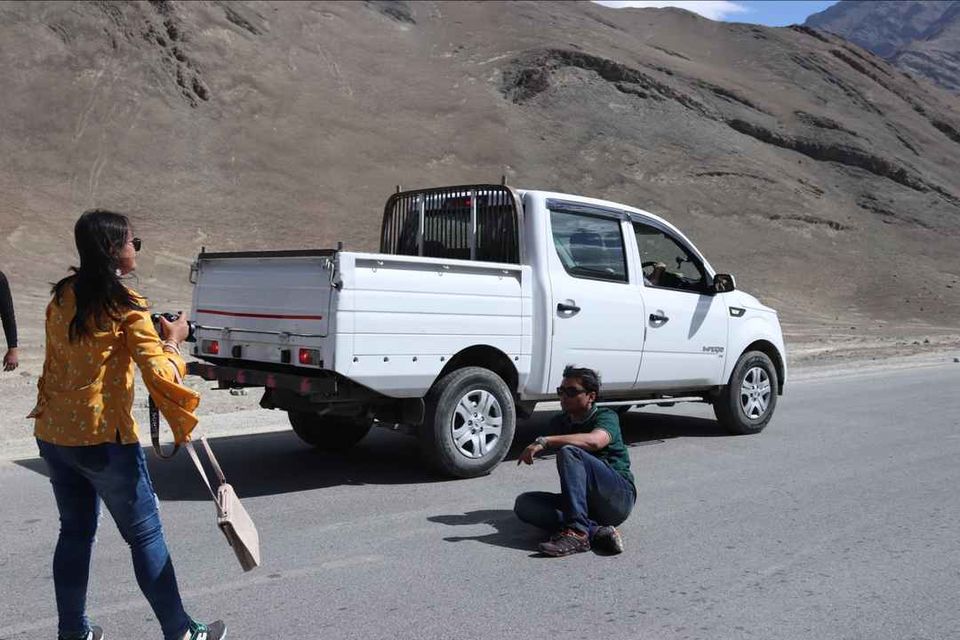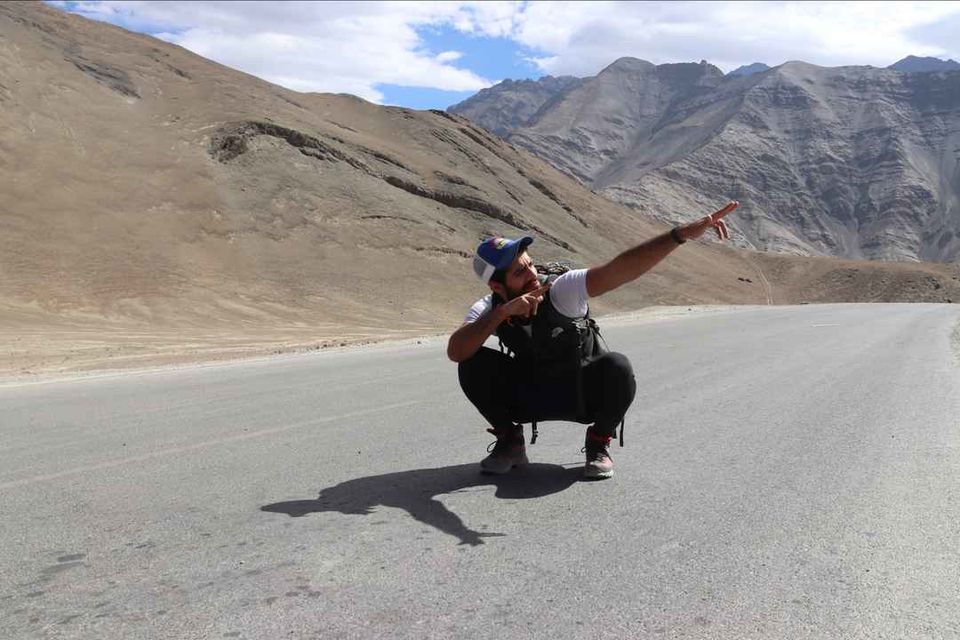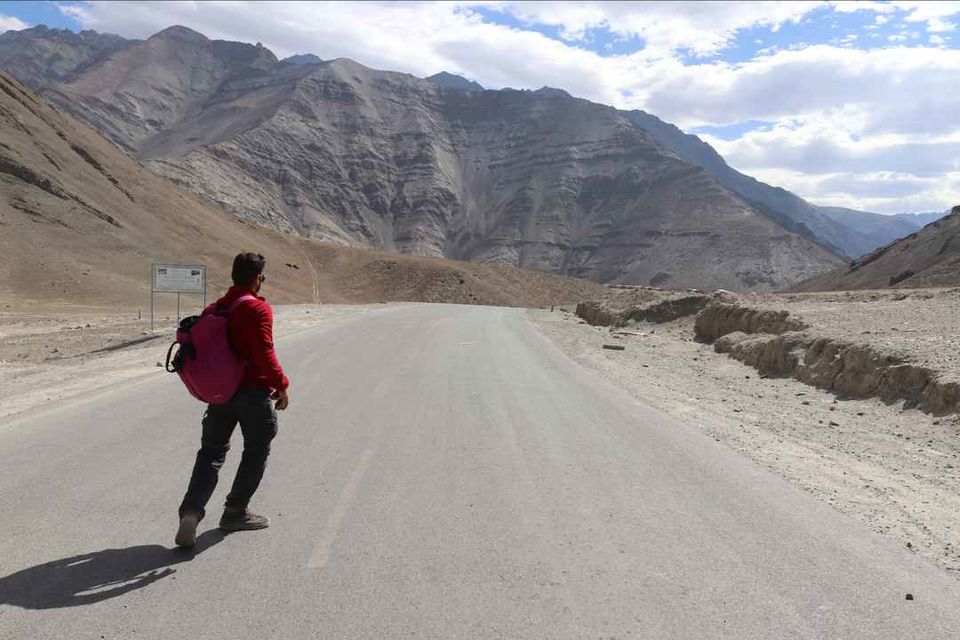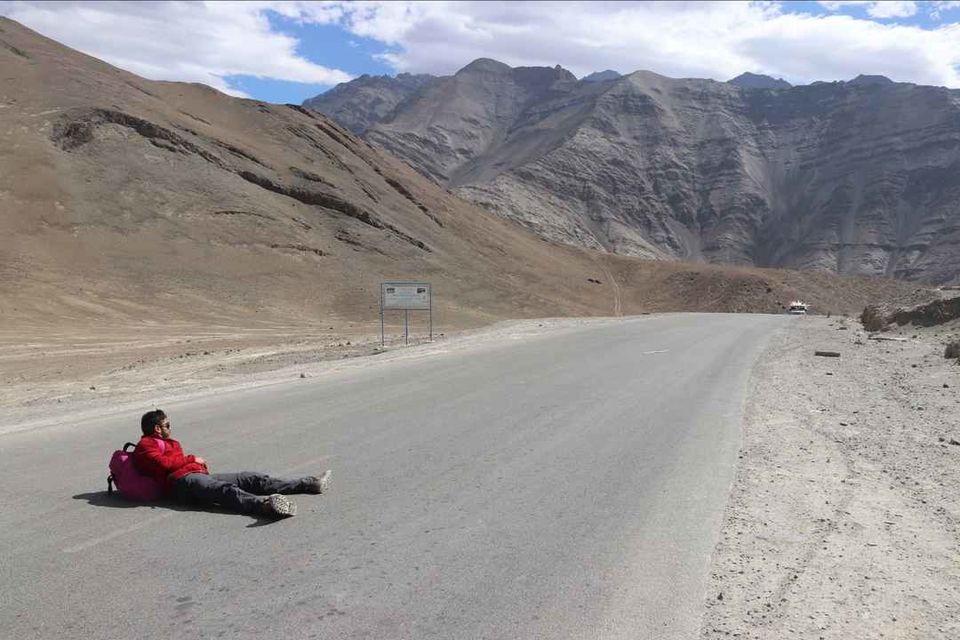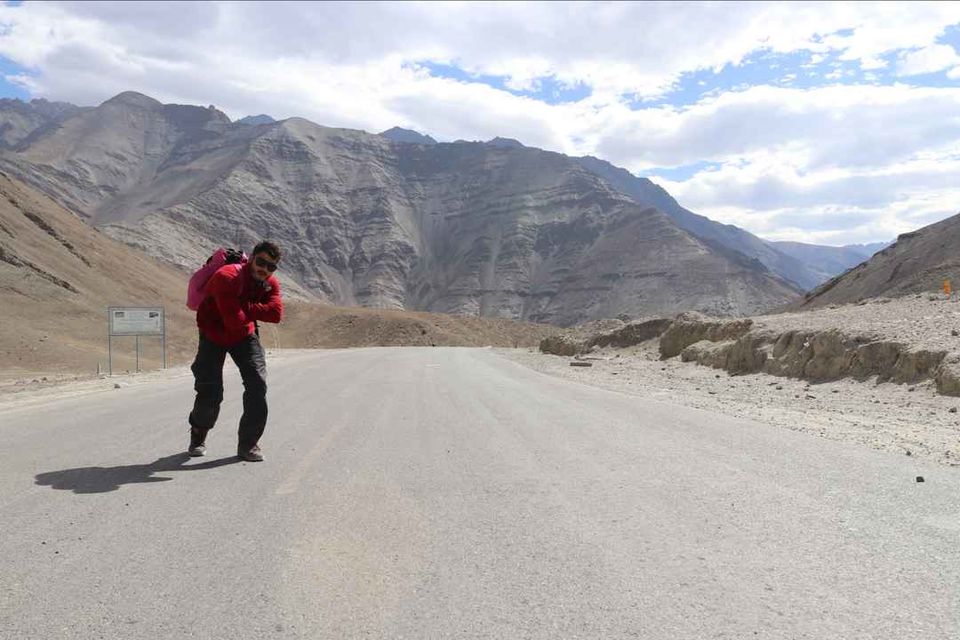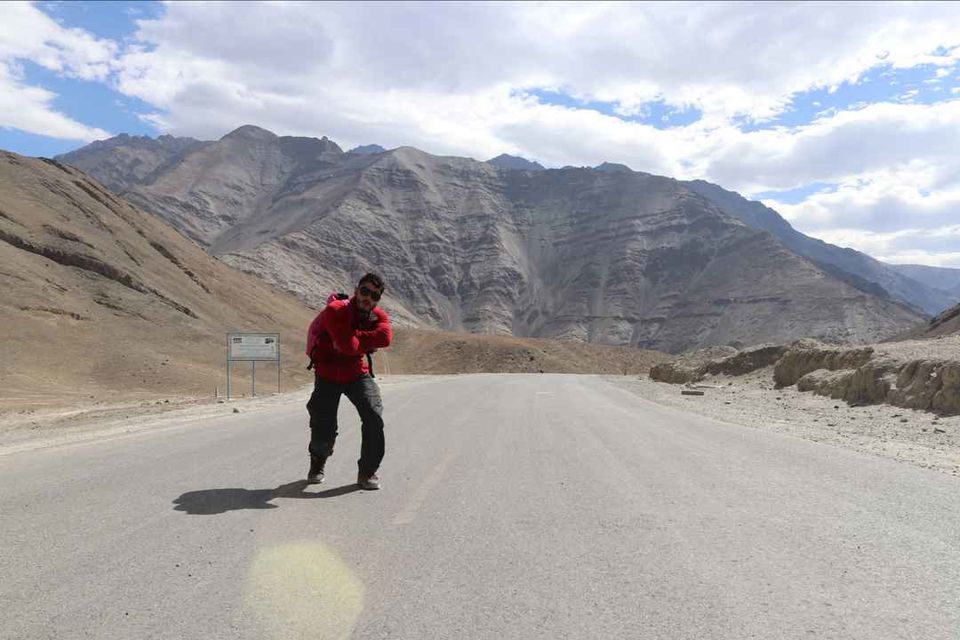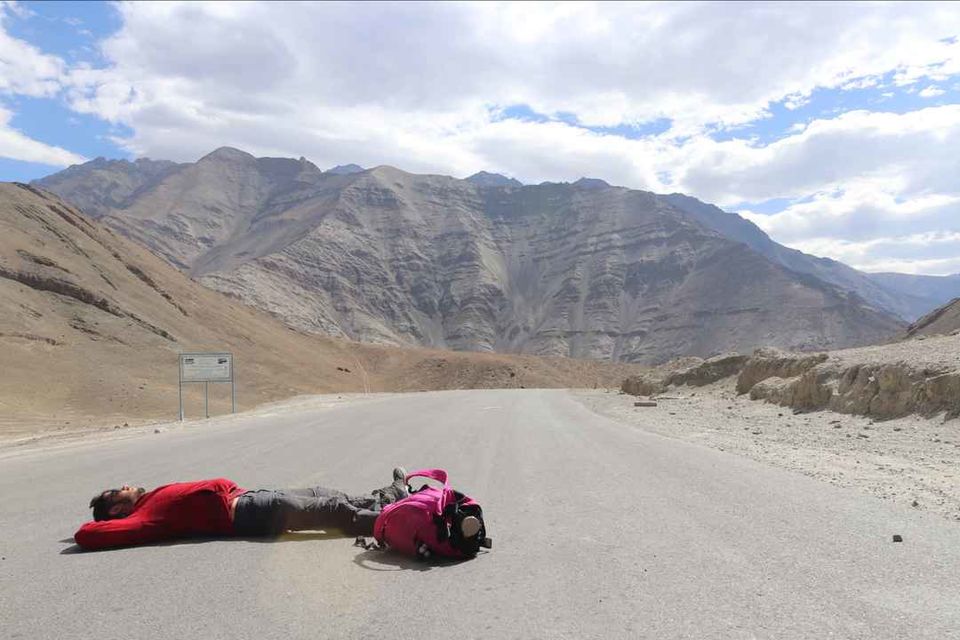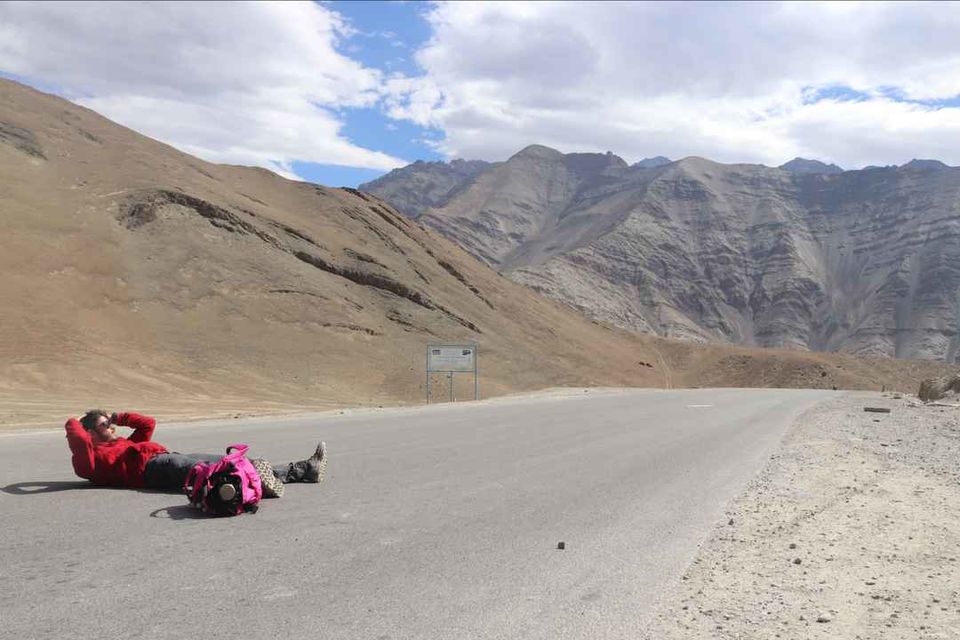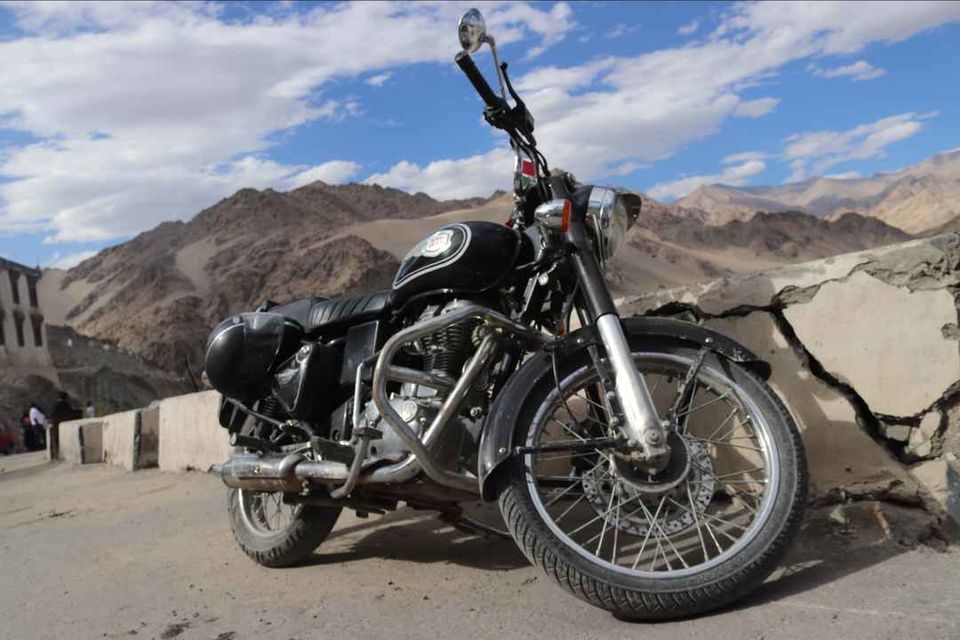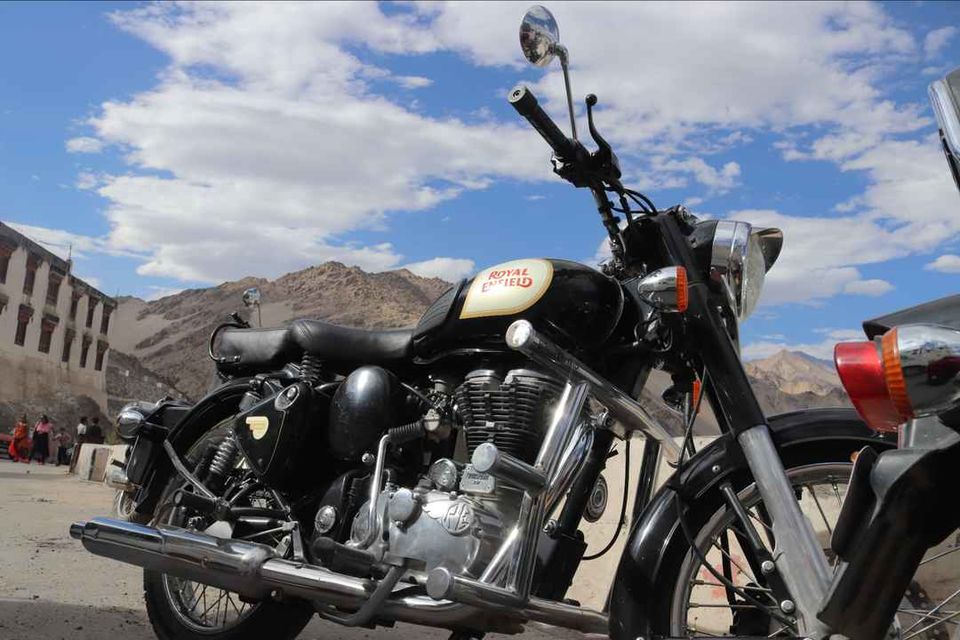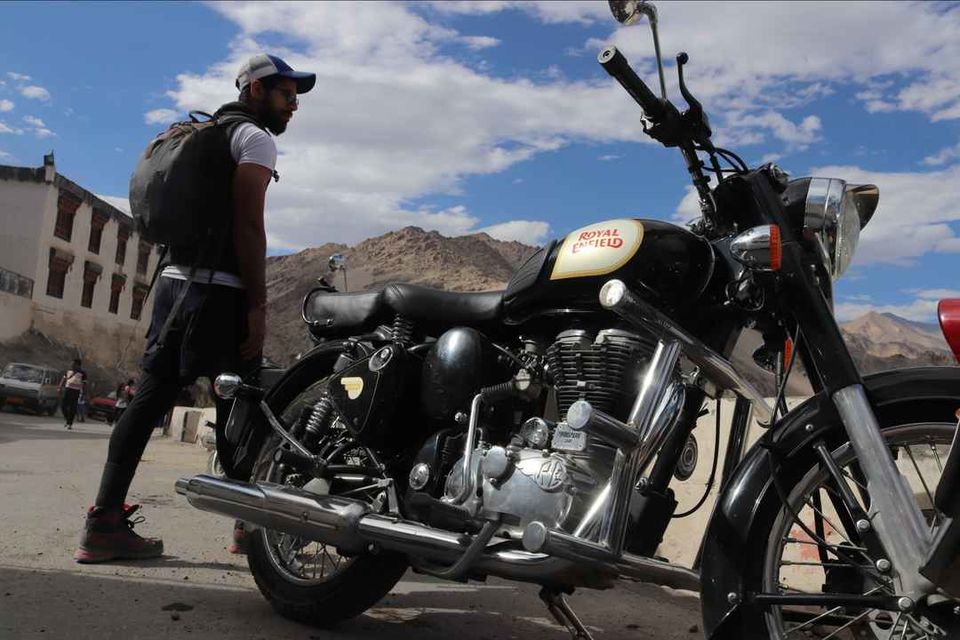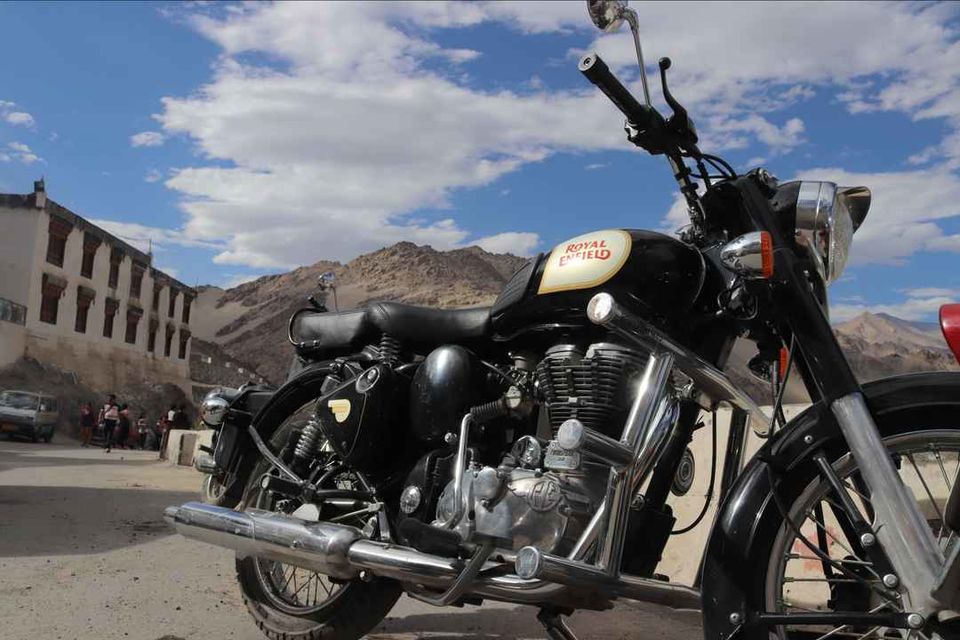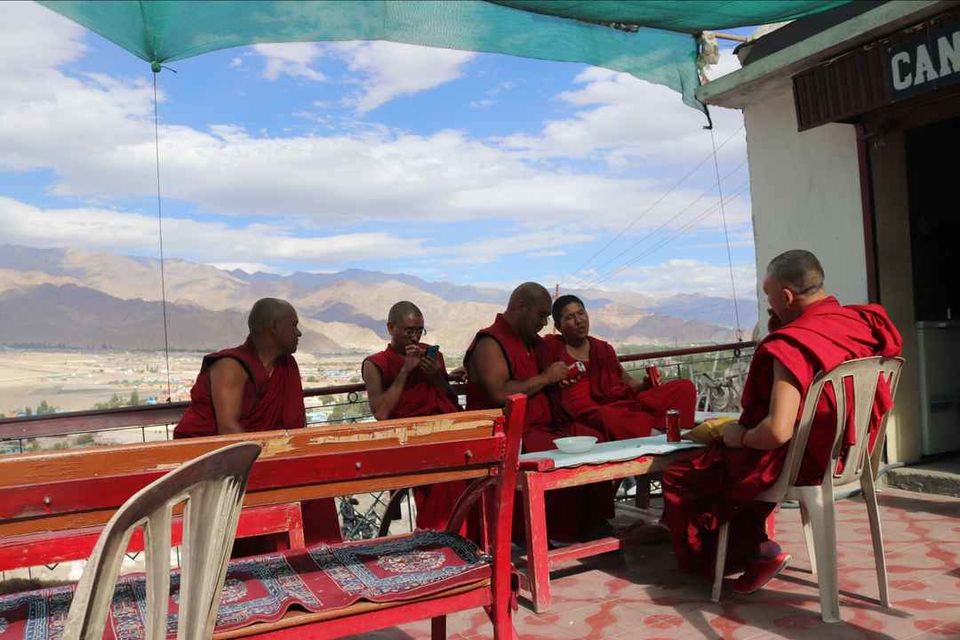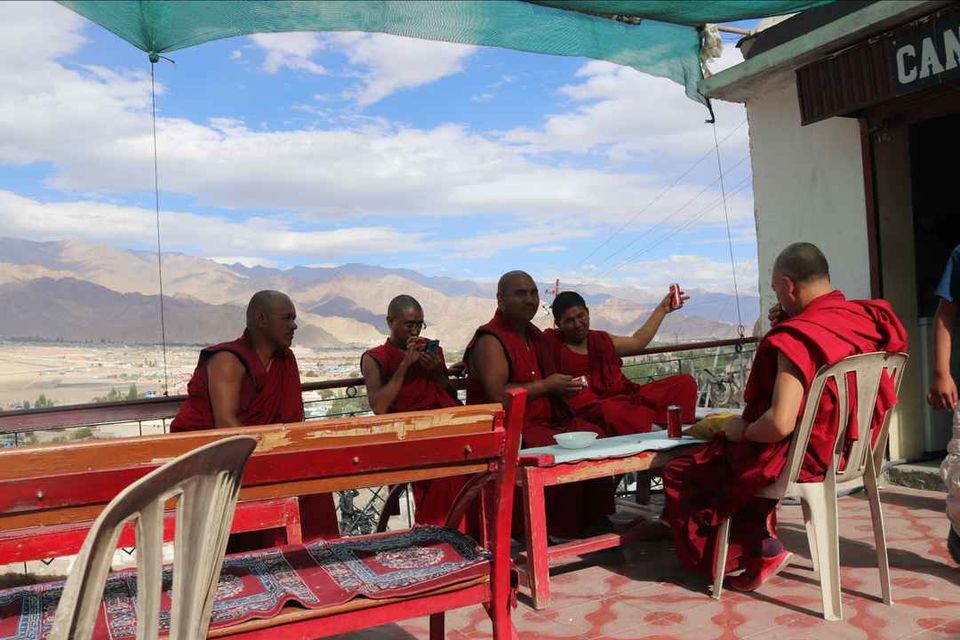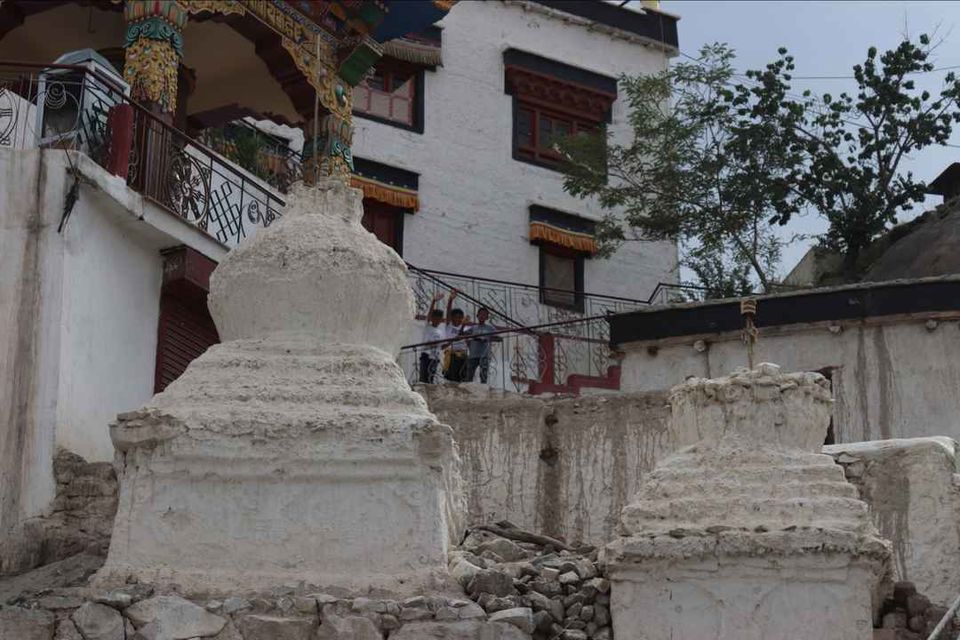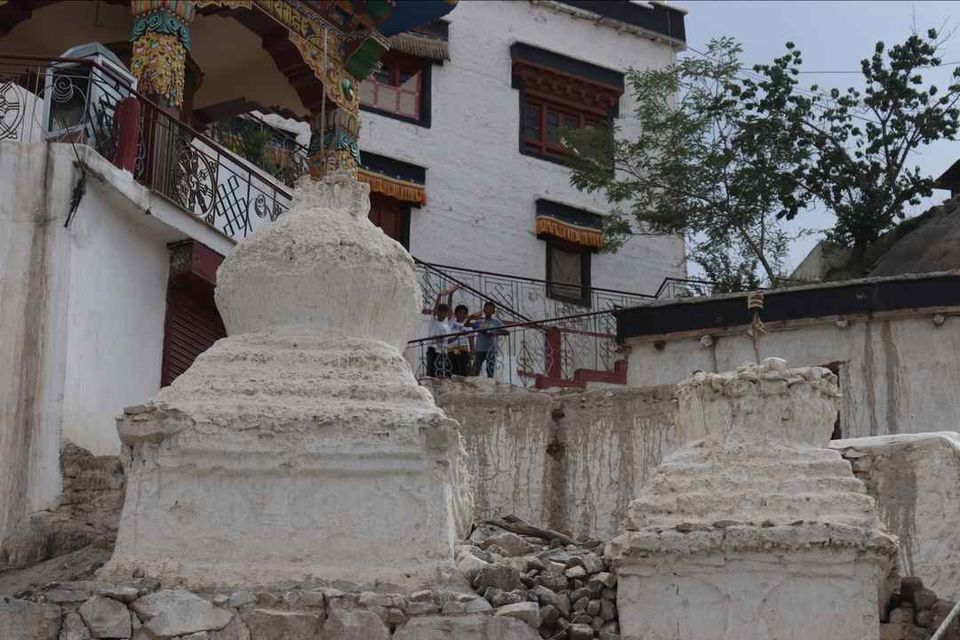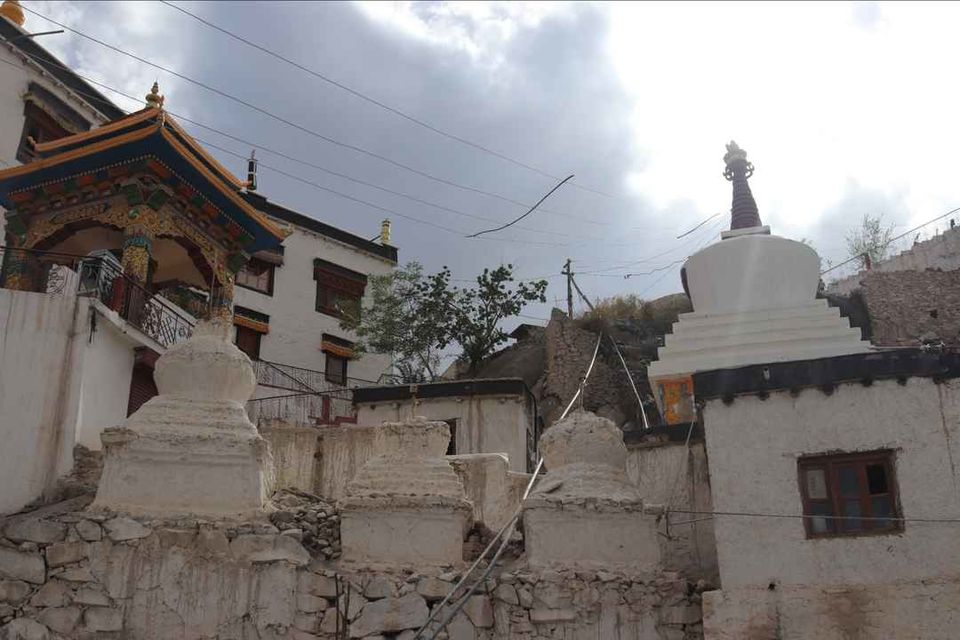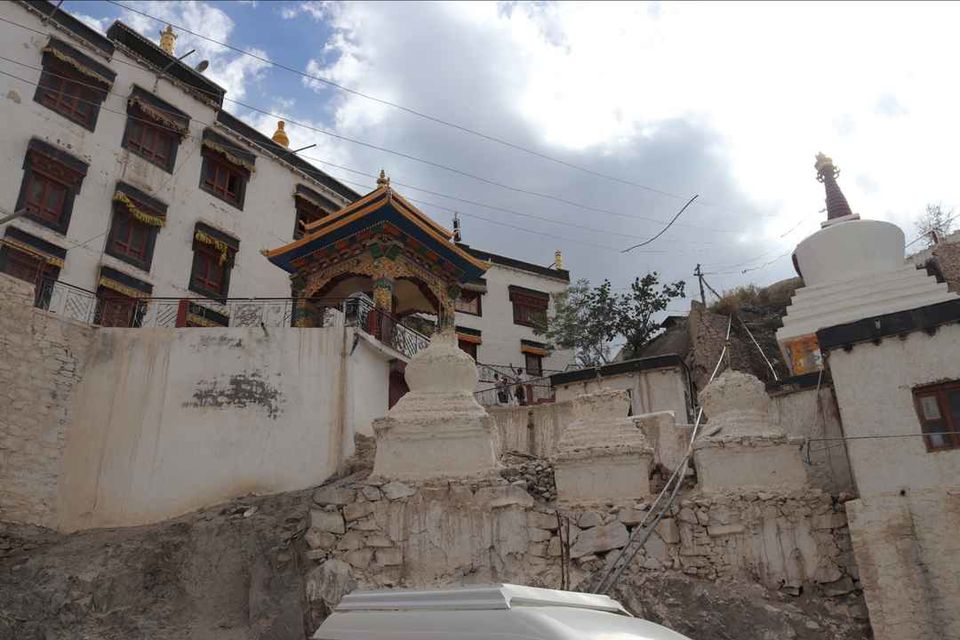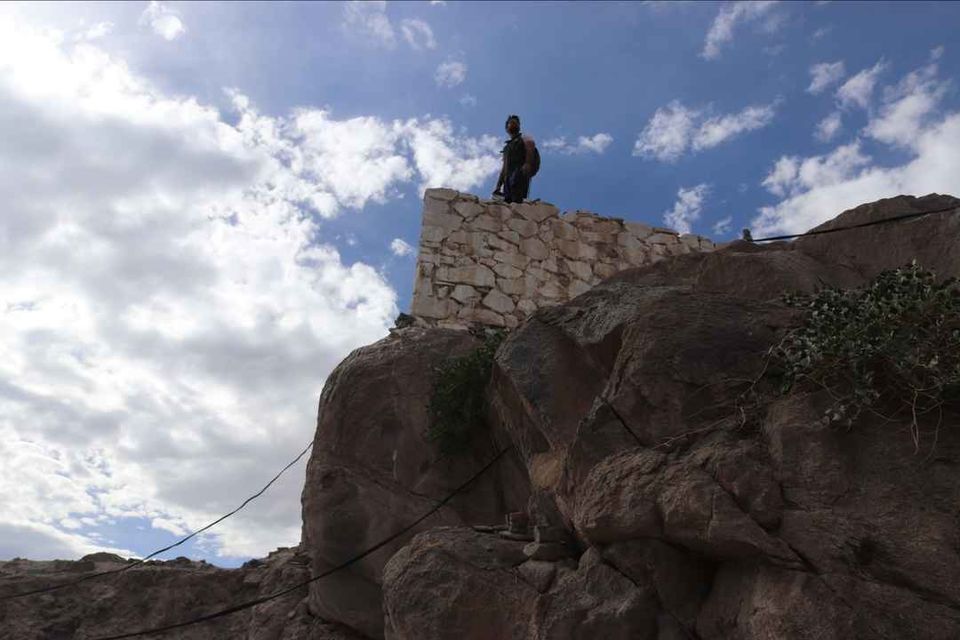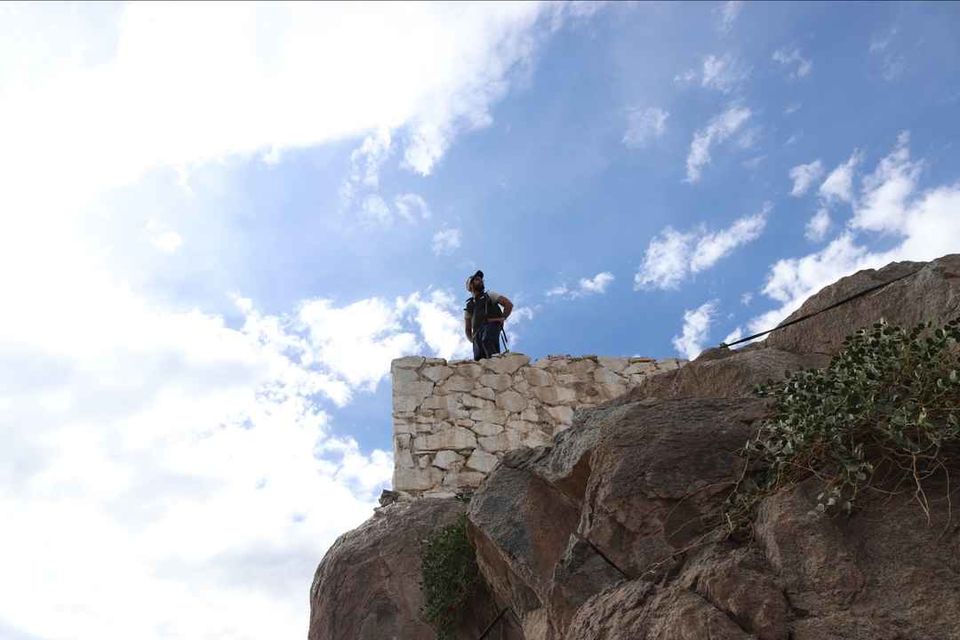 Today, I woke up at around 8: 30 and went downstairs for breakfast. Had a chicken thukpa which was totally delicious. Me and rushing had planned to go to Khardung La pass today but unfortunately there was a problem with the permit since he was a foreigner. We decided to ditch the pass and just hire a bike and go wherever we can workout a permit. With some help from the hotel staff we planned out our trip.
We decided to go to Indus-Zanskar confluence. On the way there were Shanti Stupa, Magnetic Hill, War Memorial , a monastery and a gurudwara. We hired a Royal Enfield 350 and got on it to start the ride. Since I only knew how to drive a bike I was the one to ride it. As soon as I started driving it, I felt this rush of happiness. We both were woooing like hell. The wind felt sooo good against my cheeks. We decided to fuel up and went to an oil station.
As we reached the oil station, we met 3 more riders who were fueling up. We talked to them. Turns out they were from London , riding from Leh to Kargil. These were serious bikers with all the professional gear and all. They were also headed to the Indus zanskar confluence. They asked us to join them and we said yes. Now we started the ride with 4 bikes - one RS350, and three Himalayan , and 5 guys. The road was totally amazing , I saw views that I never thought I would. I was driving on a road at either side of which were mountains.
Then came desert. The trail kept surprising me and I kept enjoying it thoroughly. Soon we were in between of desert. In between my bike would slow down, wouldn't go above 60 and sometimes would hit 100. Roads were amazing and I was out of my mind. Soon we reached the Indus-Zanskar confluence after like a 1hr ride. I enjoyed every second of it. And the confluence was just beautiful. Clicked some pics an the decided to continue the ride to a nearby village to have lunch which was like15 minutes away.
Went there and decided to stop at this garden restaurant. Sat there , had lunch, with fresh apples and fresh apple juice. Talked and got to know each other and had so much fun. After lunch the 3 beers went their way and rishi and I went out way. We decide to ride back to leh, which was like 50km away. In between we stopped at the confluence again going all the way down to it. The roads and the scenery was just out of this world and ravishing.
And then rode back and stopped at the Magnetic Hill , clicked some pics there , then got back on bike and rode to the gurudwara , there was a hill nearby gurudwara which people are supposed to climb but we decided to skip it cause we were tired. Then finally we stopped this monastery which was pretty interesting. We did some sightseeing and clicked some pics and then headed back to the hotel. On the way we stopped at this NM hospital to get the medical certificate for the trek.
Now since I'm a doctor myself, it was pretty easy to get in front of the line and straight away go into the casualty department. Got two forms for 10 rs and got mine and Rishi's vital checked. Now the person who was treating the patients wasn't a physician herself so she couldn't sign or stamp the form. It was a Sunday and every other doctor was on holiday.
She somehow called one doc. When he came he denied to sign the form since he said one had to acclimatise for at least 3 to 5 days before the Stok Kangri trek. So we had two medical forms with our vitals written but unsigned. Haha that was enough actually. Went to the hotel and submitted the unsigned medical form. And they didn't ask any questions. At 5 pm there was an introduction and briefing of all the trek members. And then at 6 an acclimatising walk to a nearby hill. Came back to hotel at 7:30 and then went for dinner. I went for dinner with Divya, Sehas, Rakesh, Rohit. Went to summer harvest restaurant And the food was amazing. Came back to hotel at 10pm and slept at 11.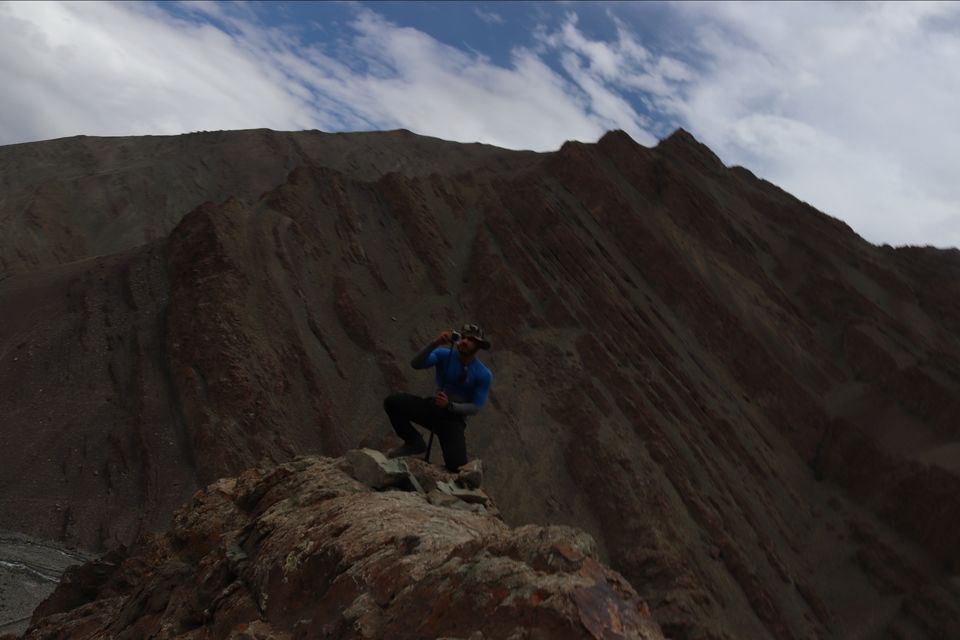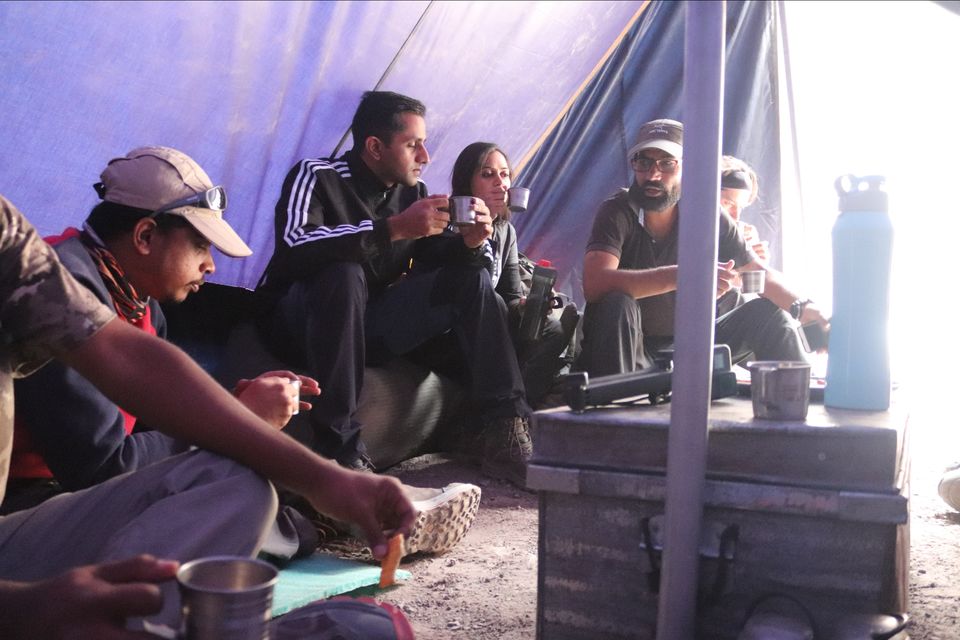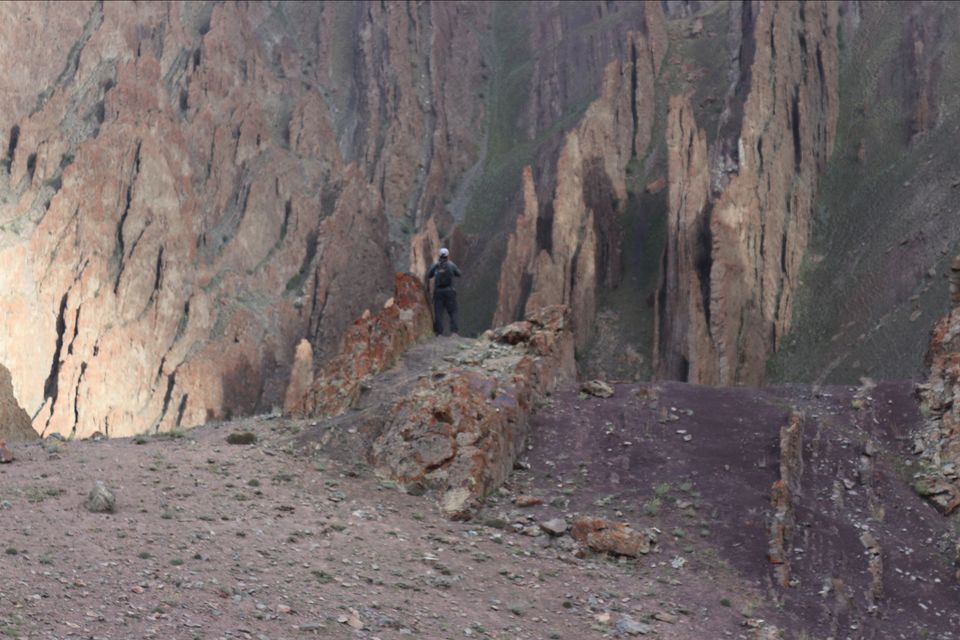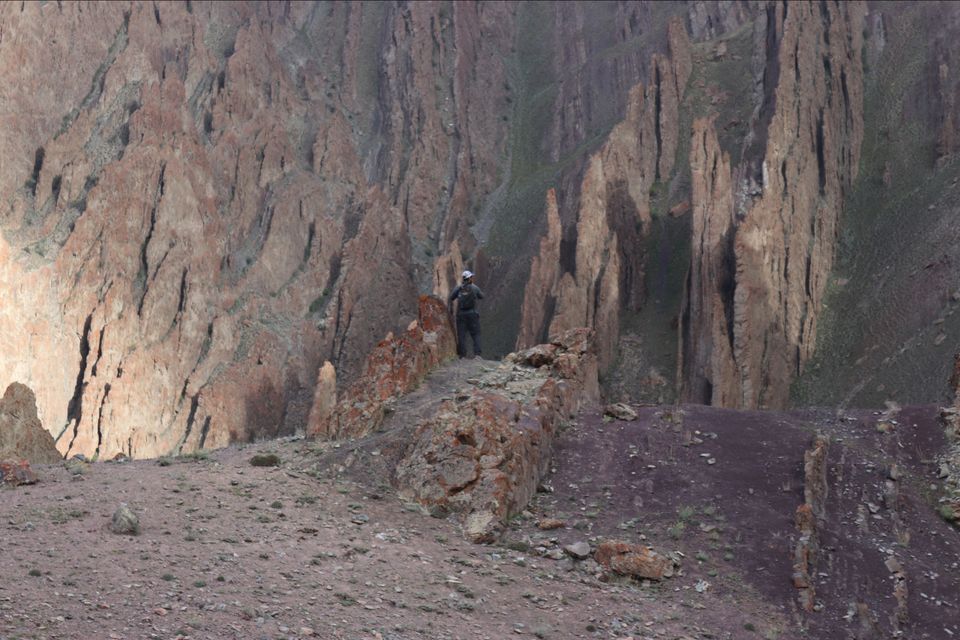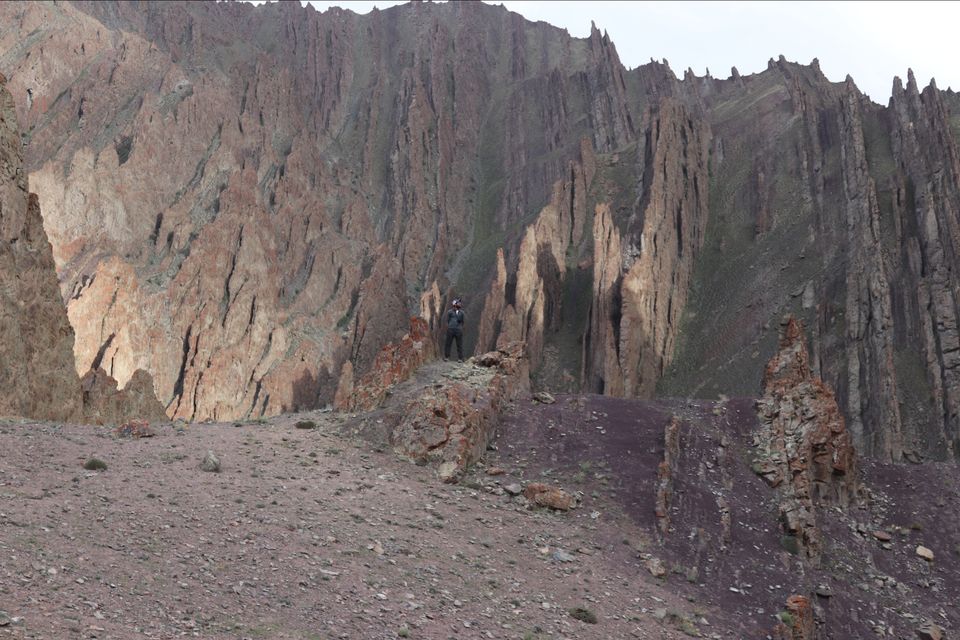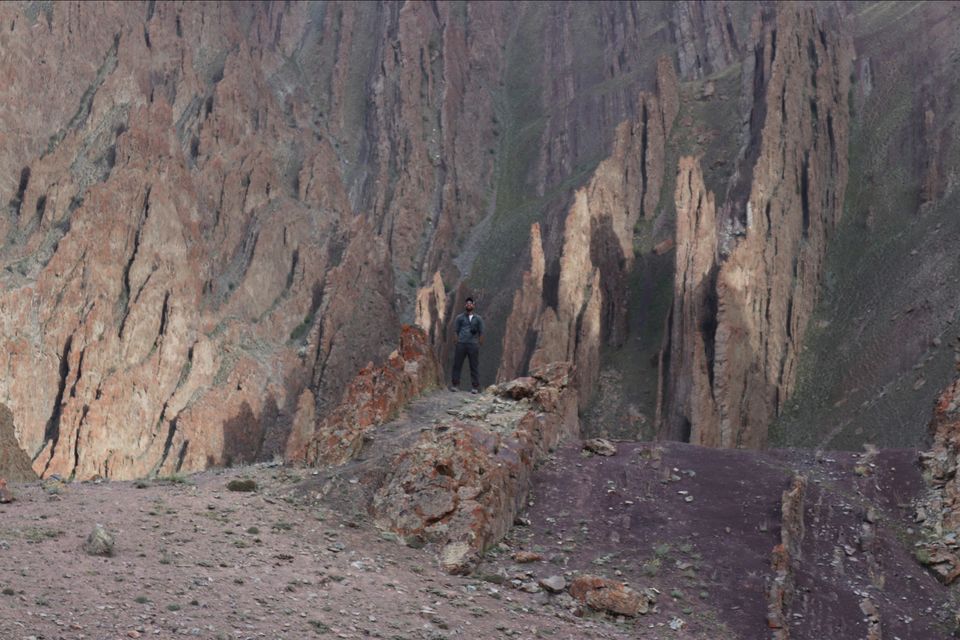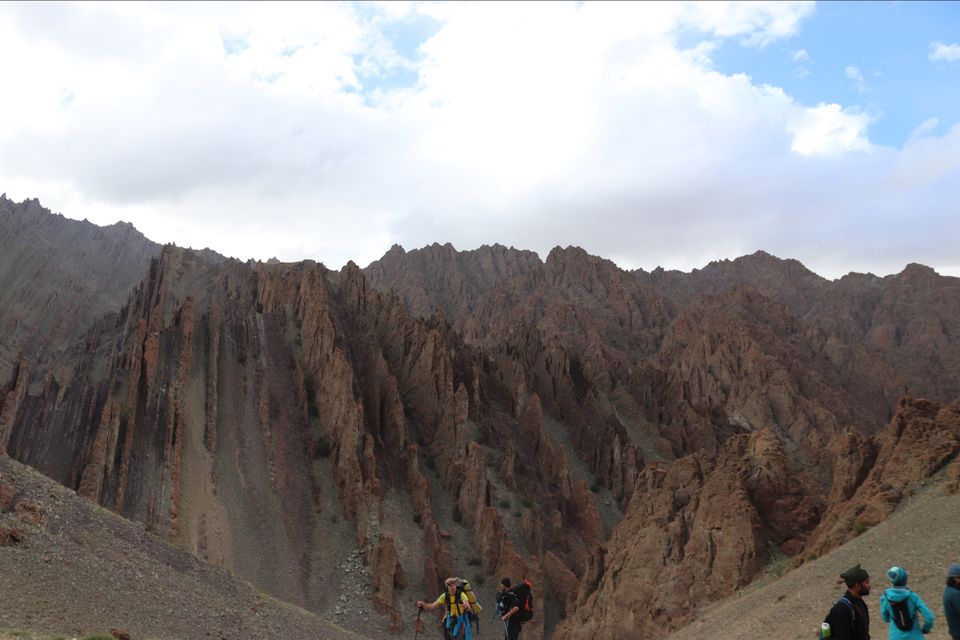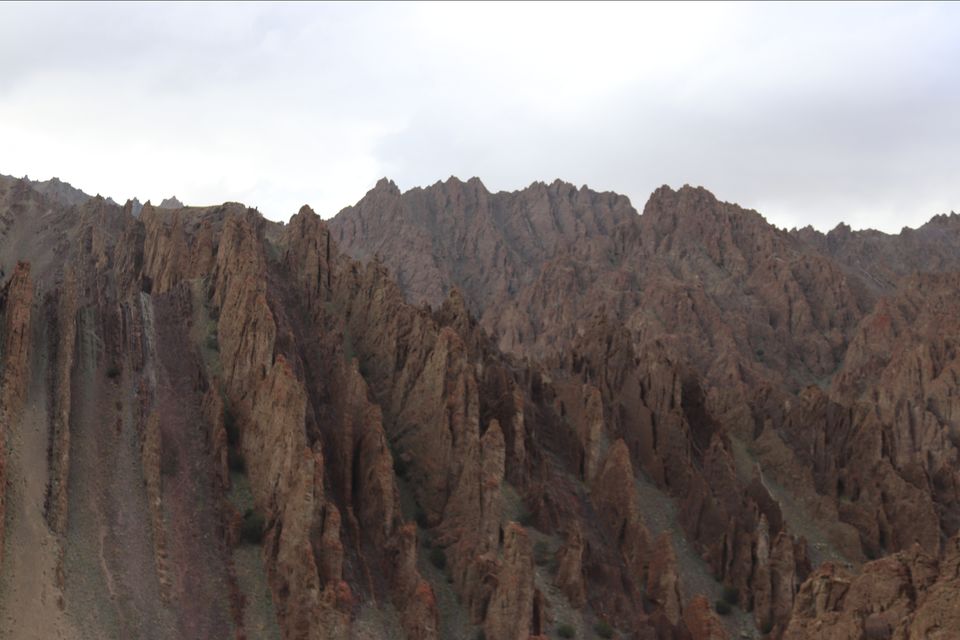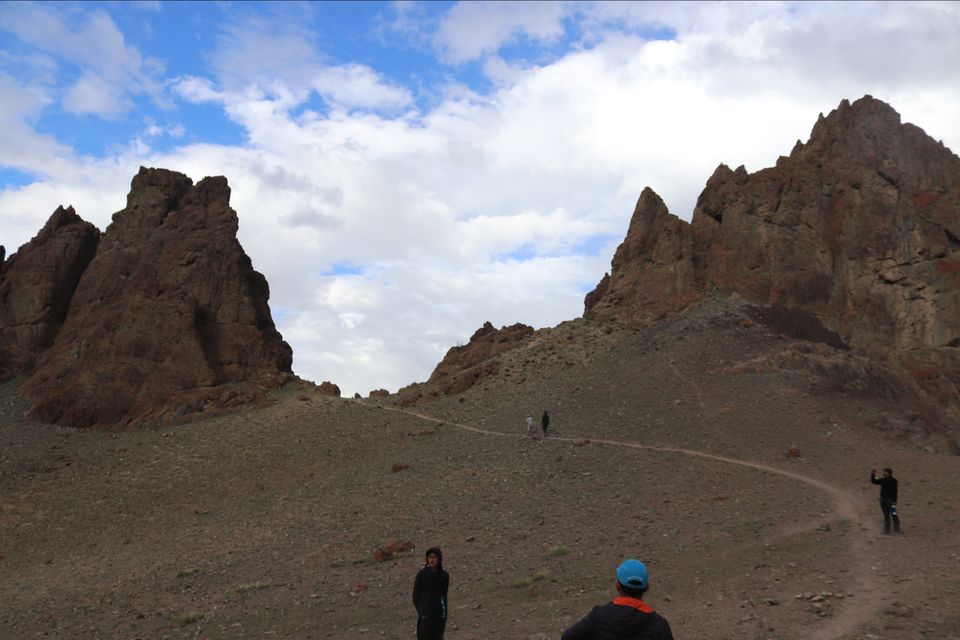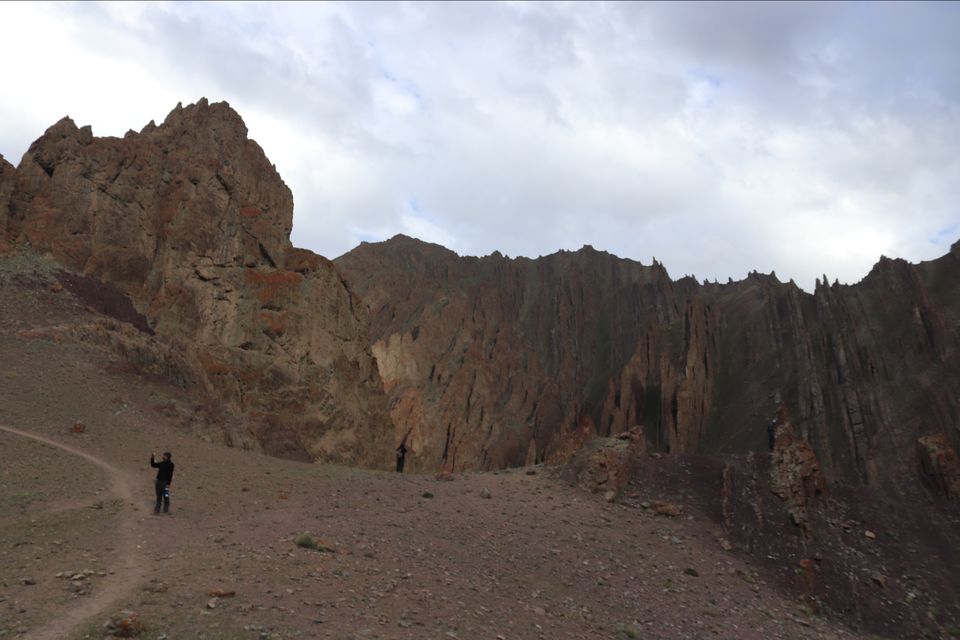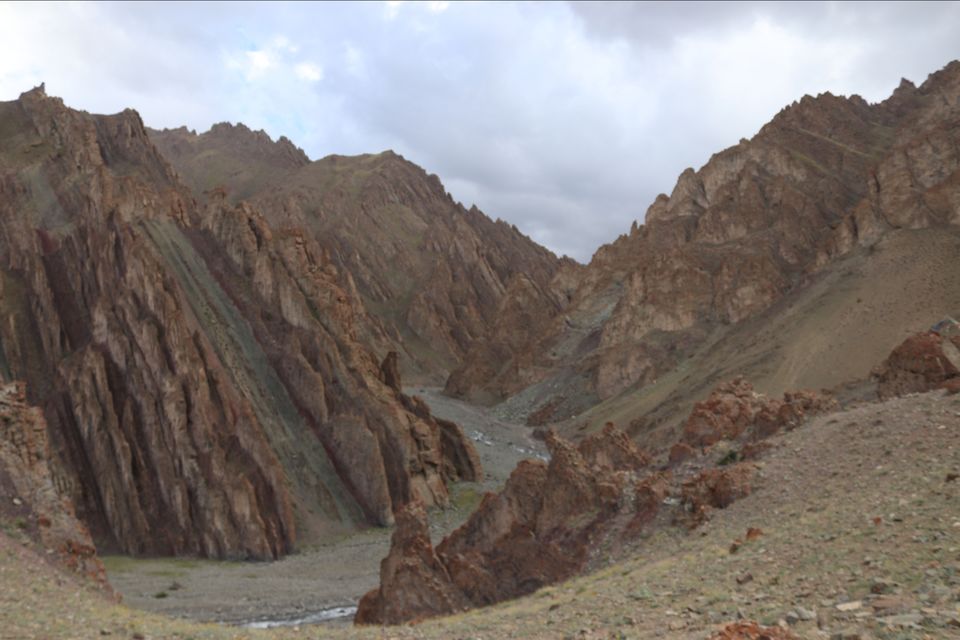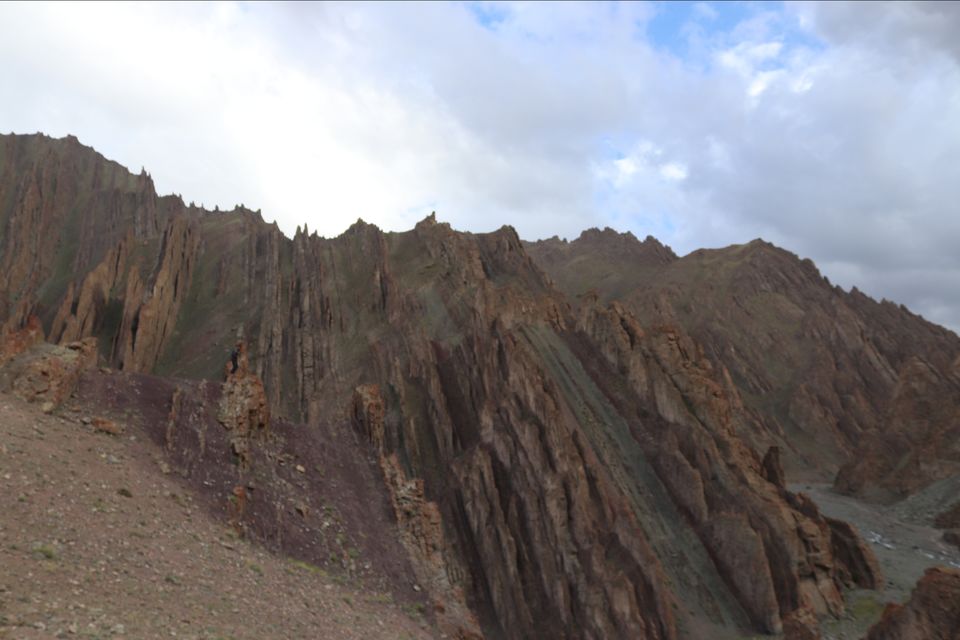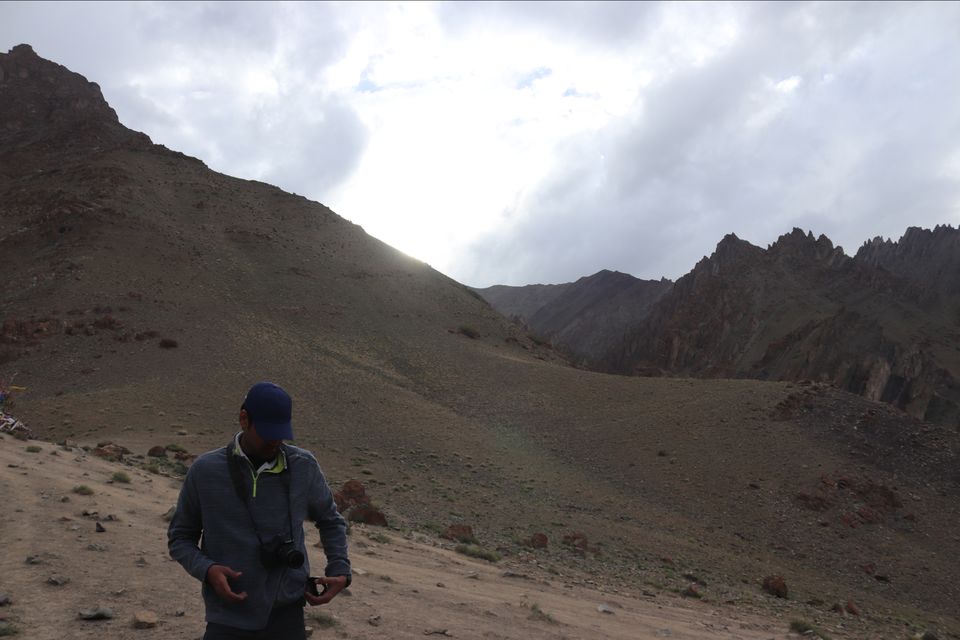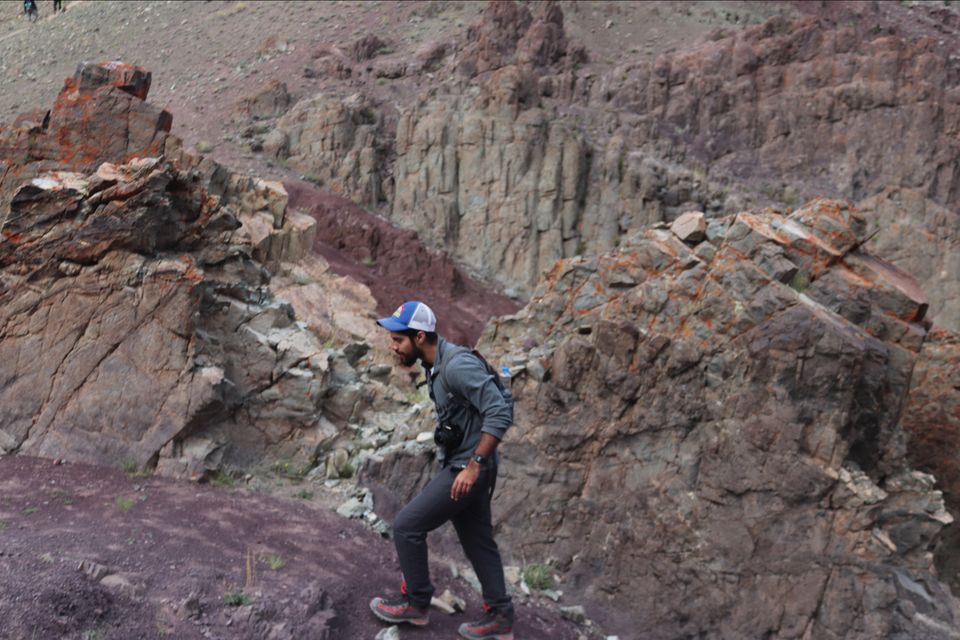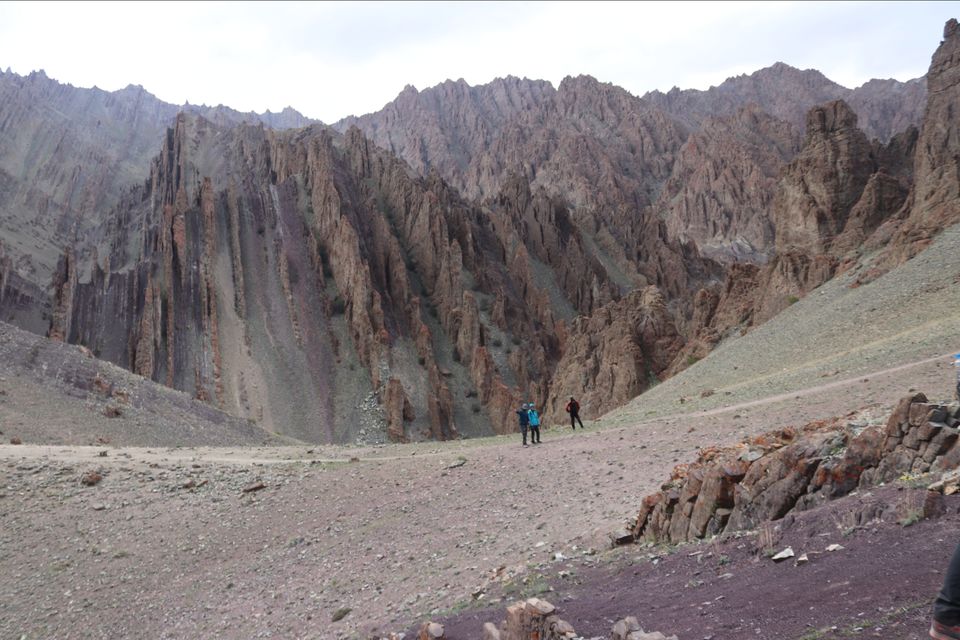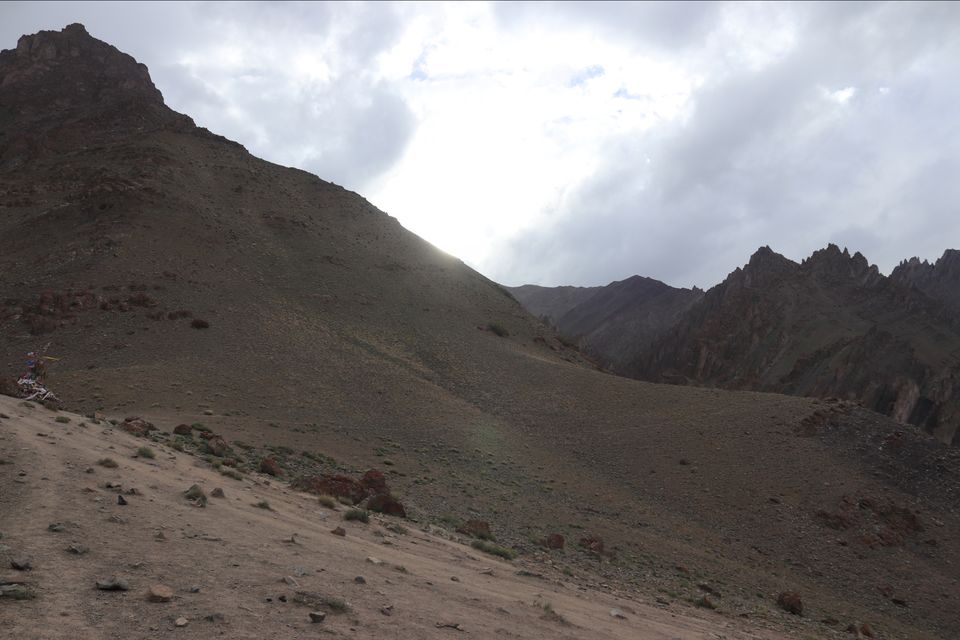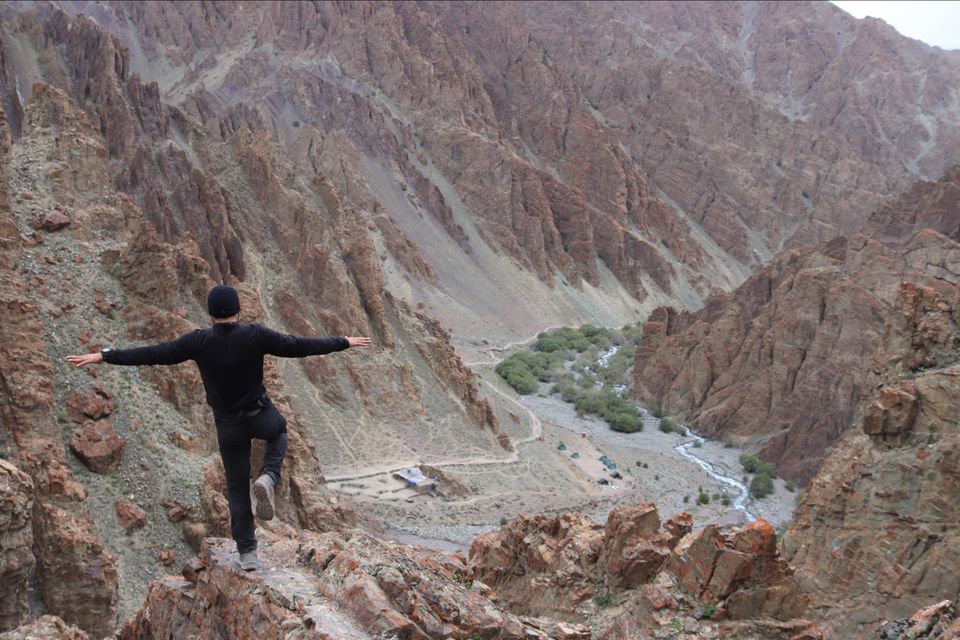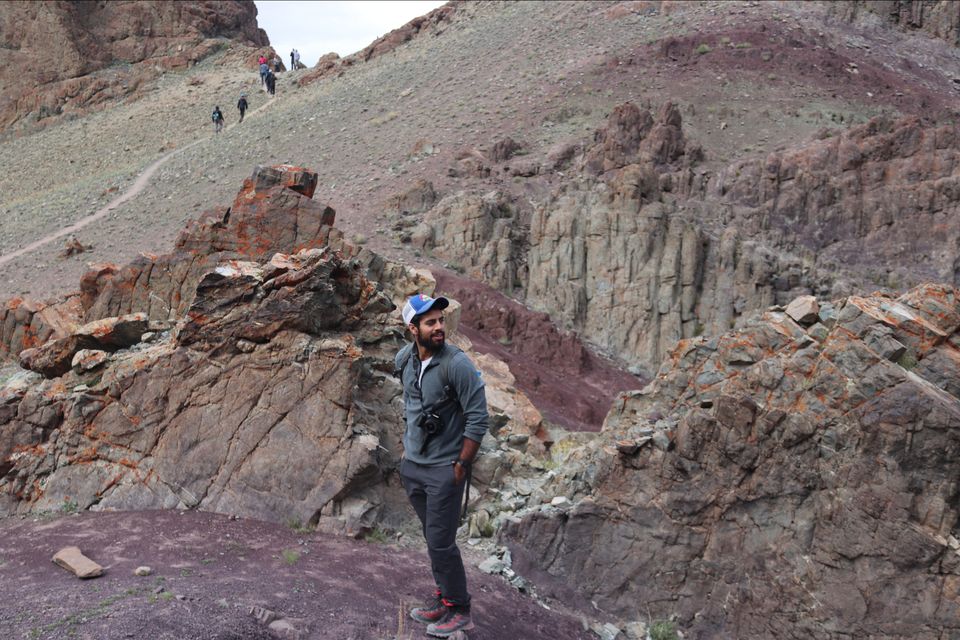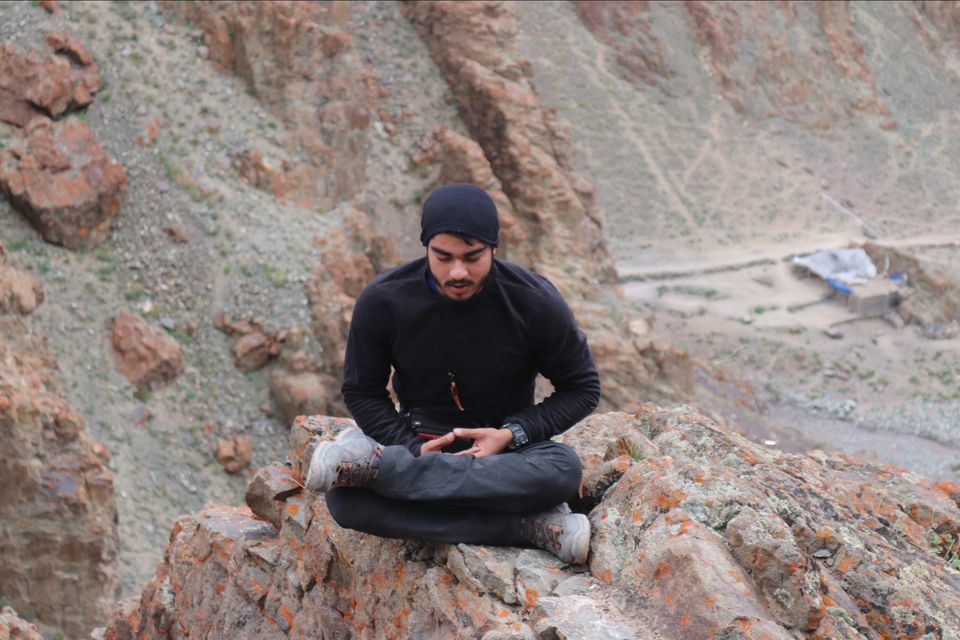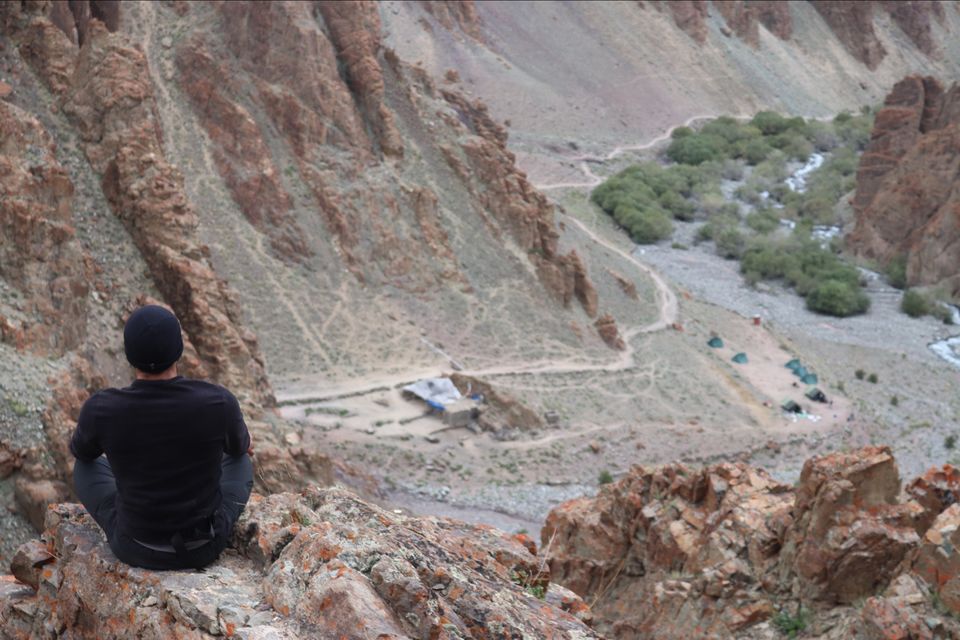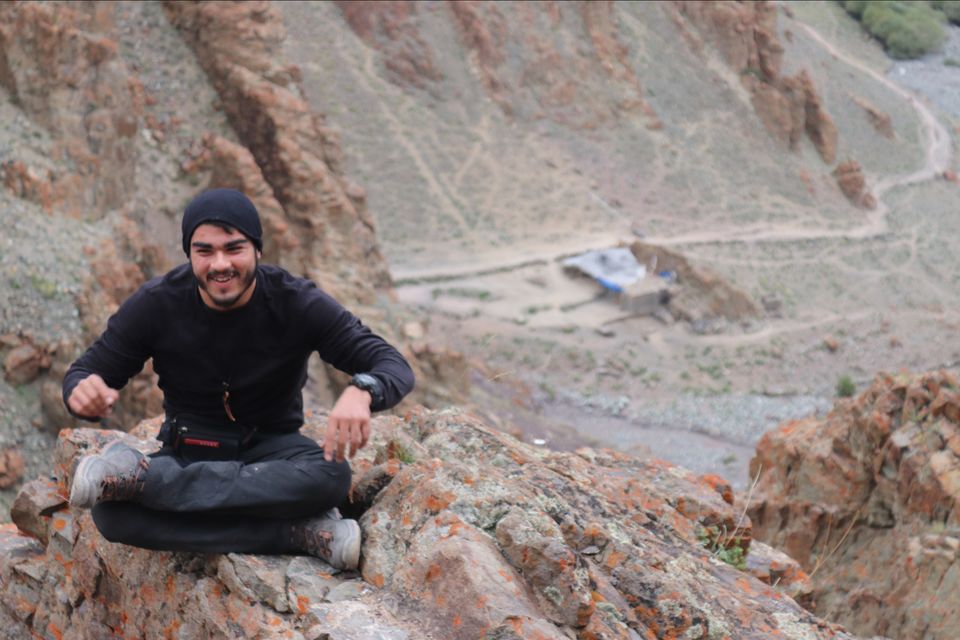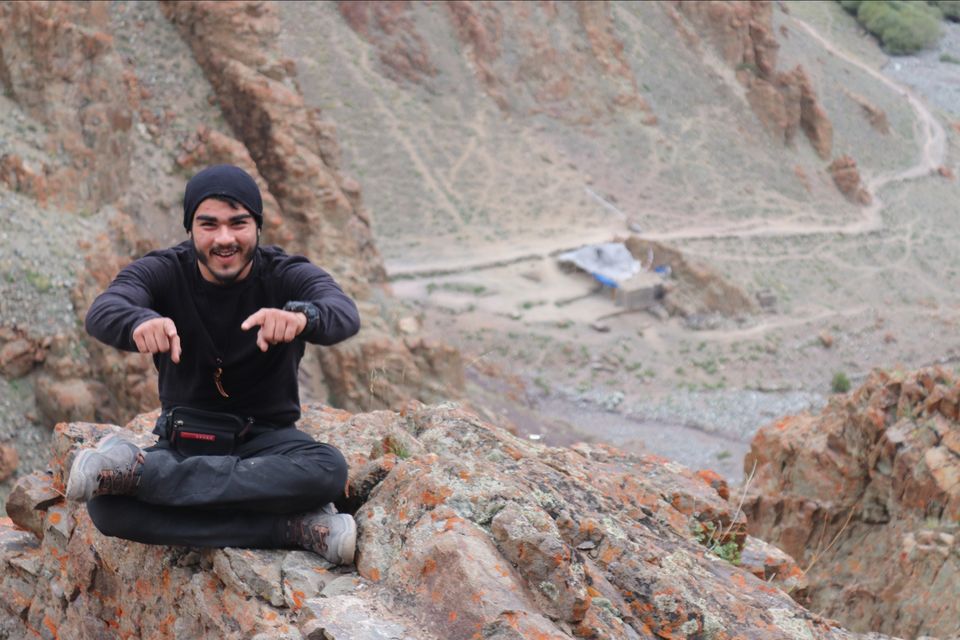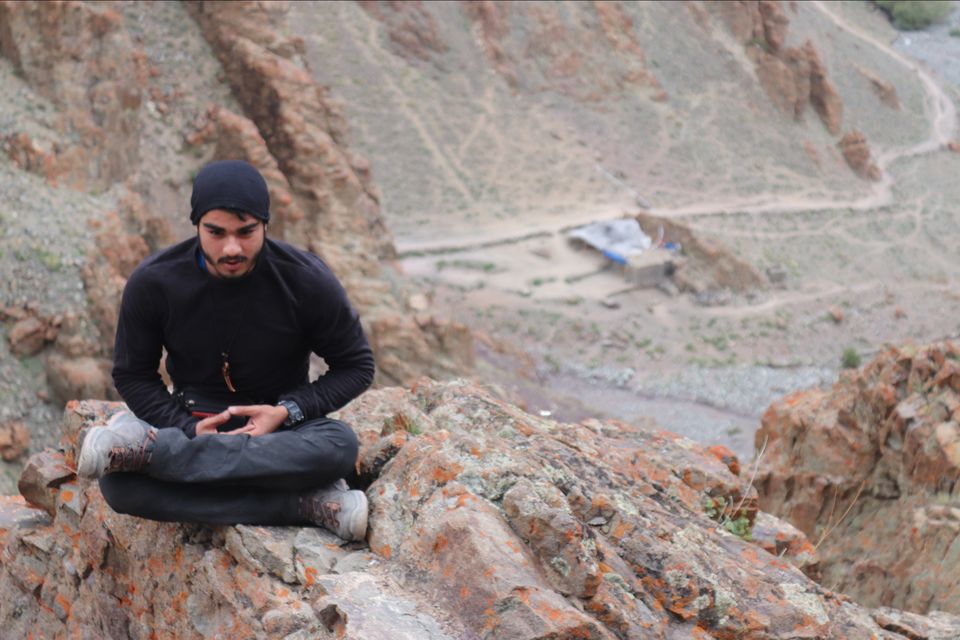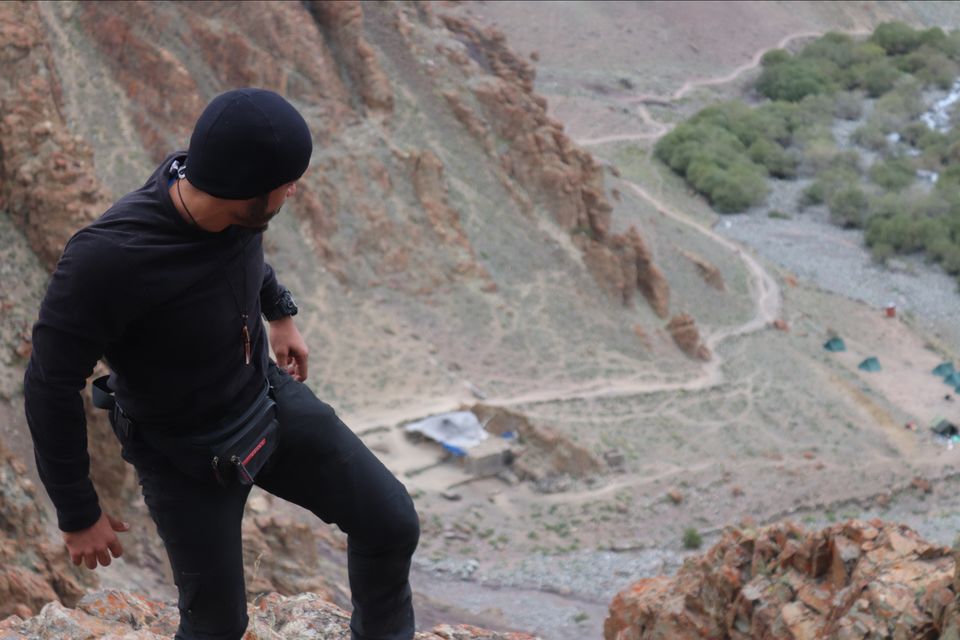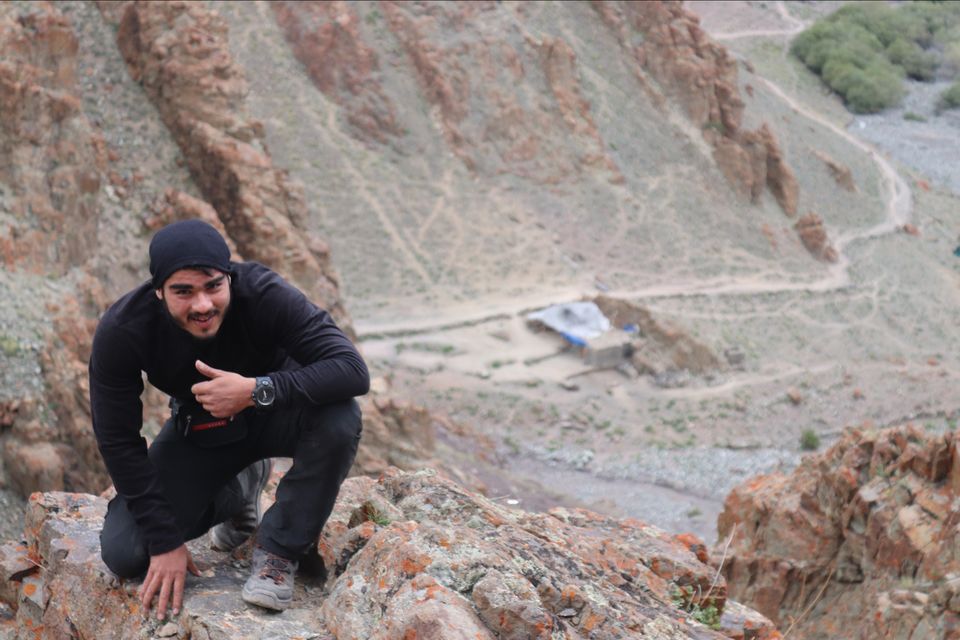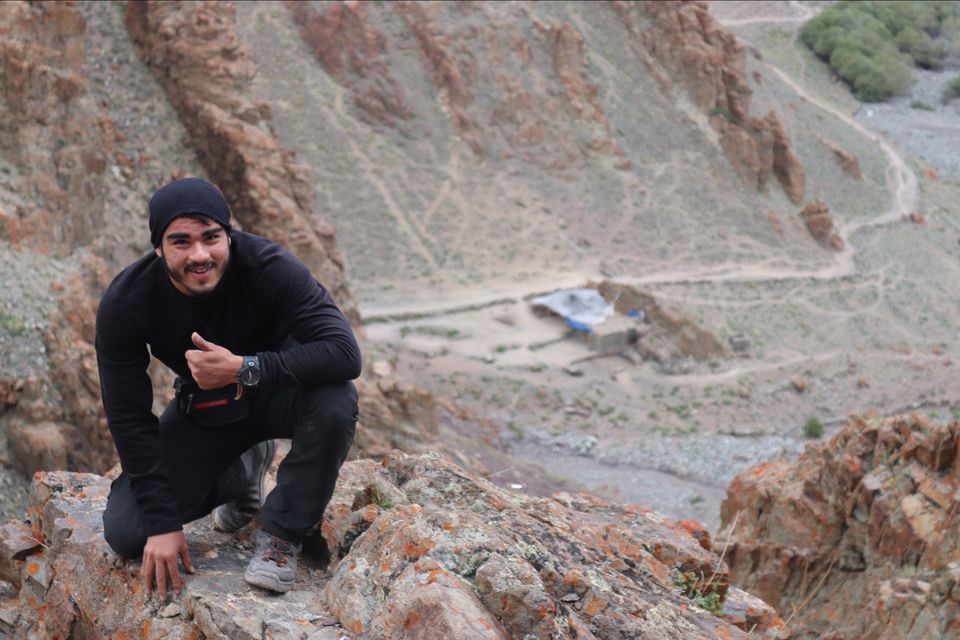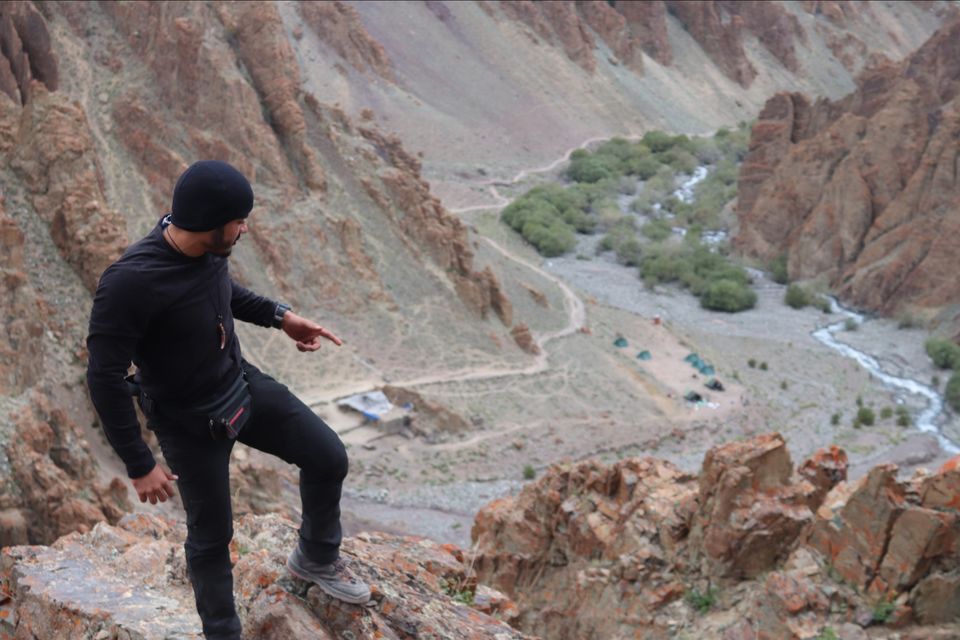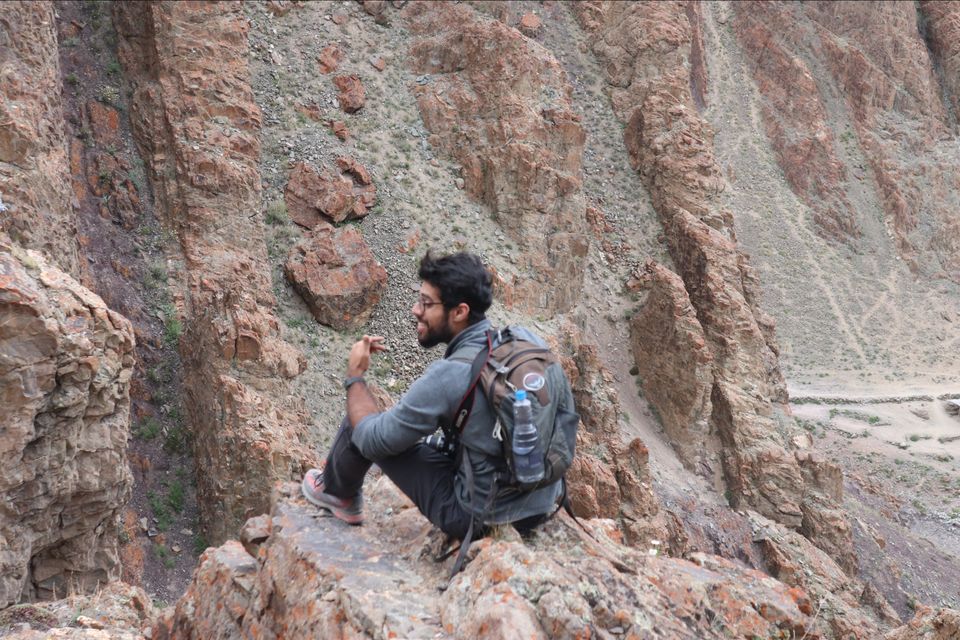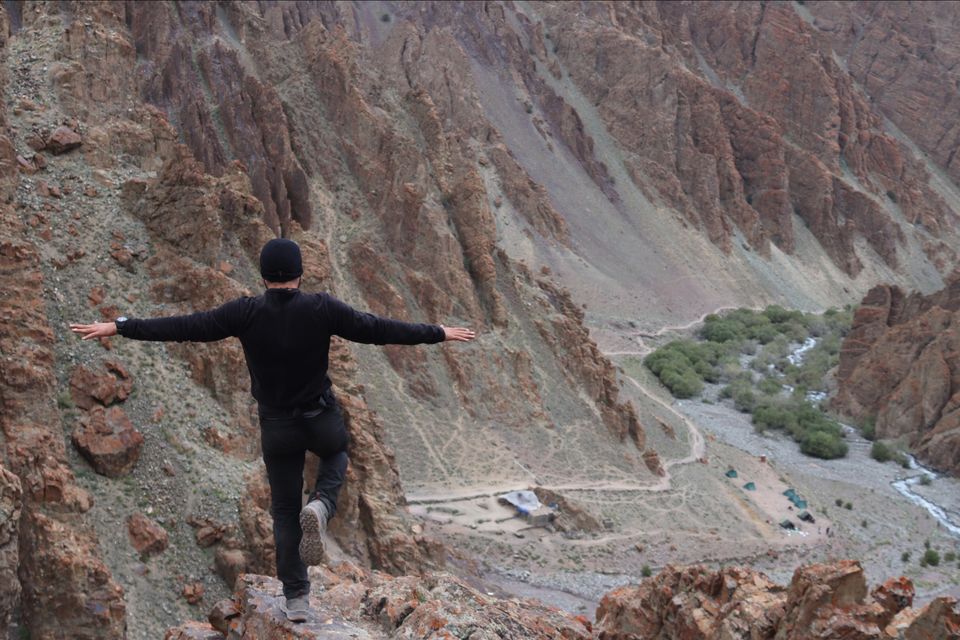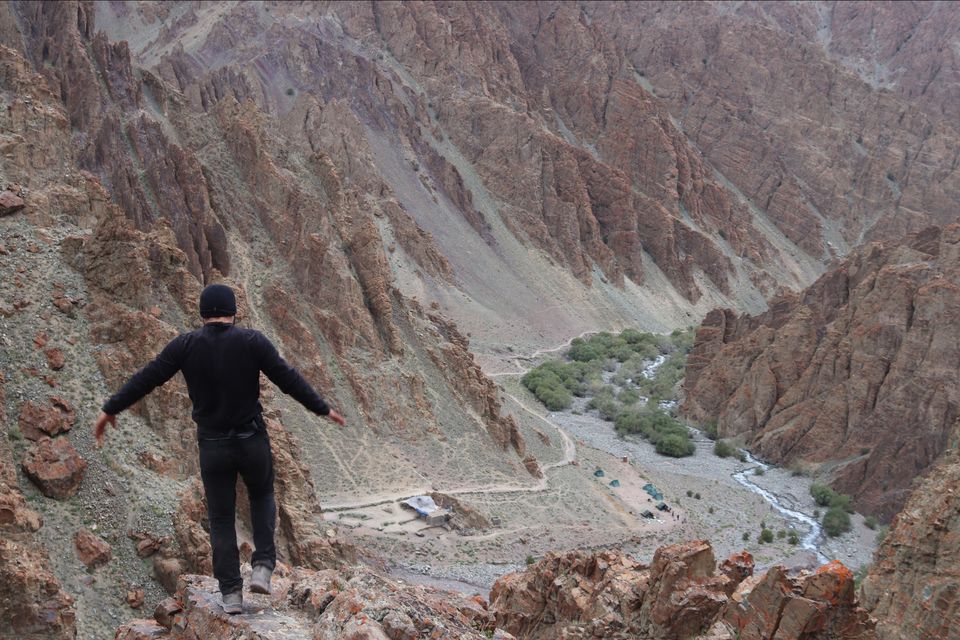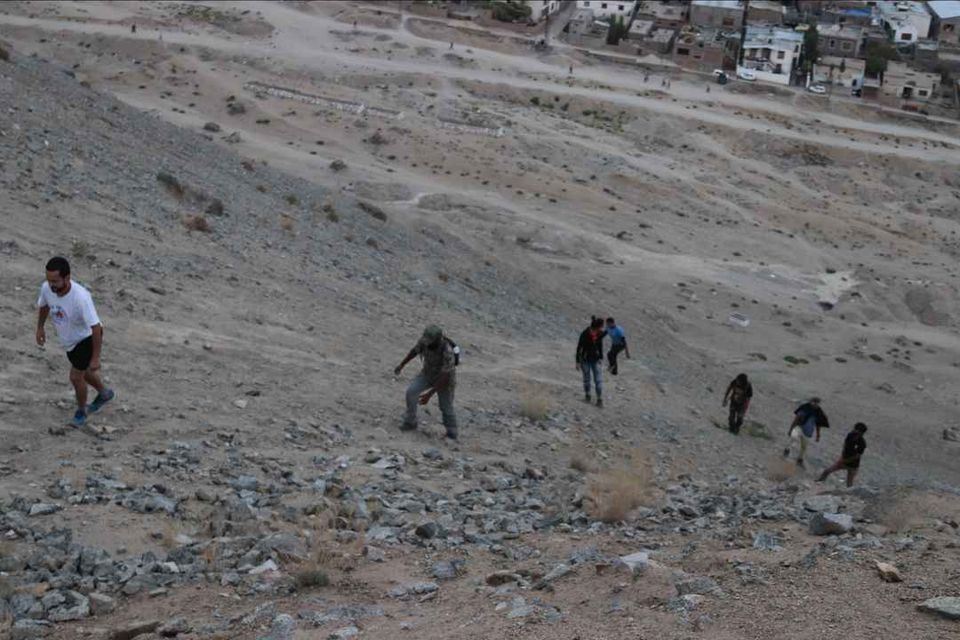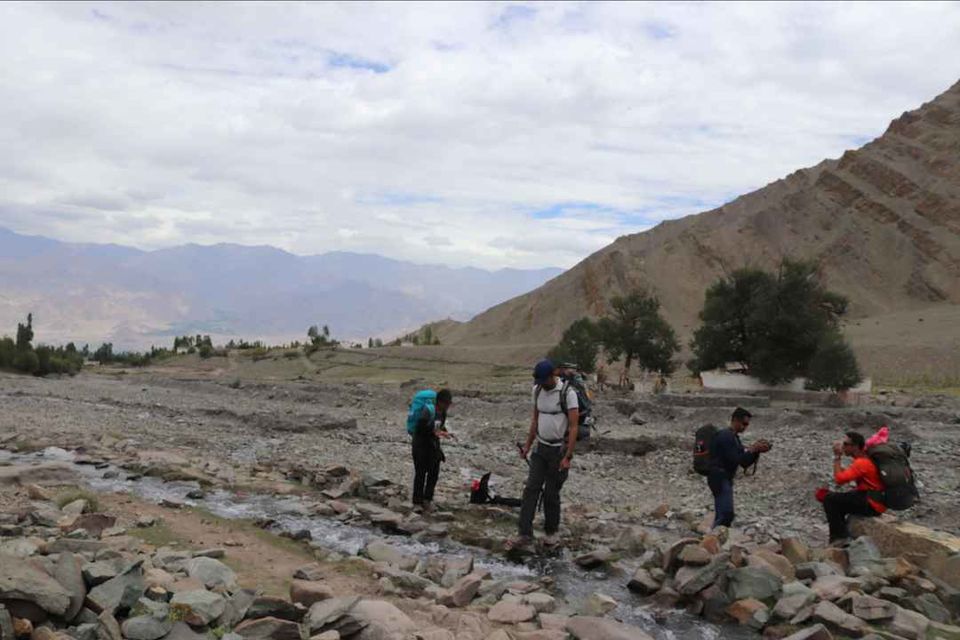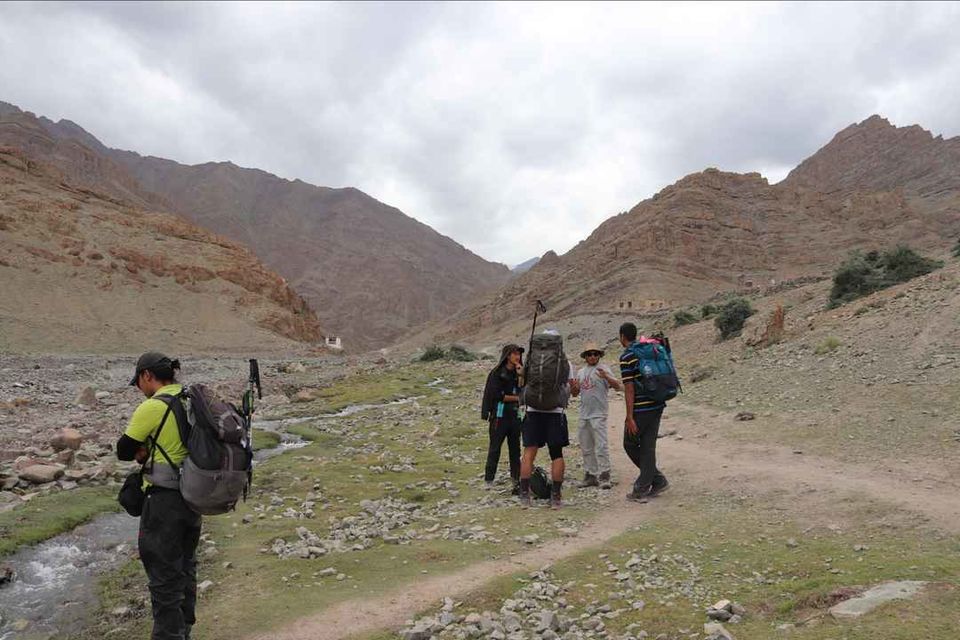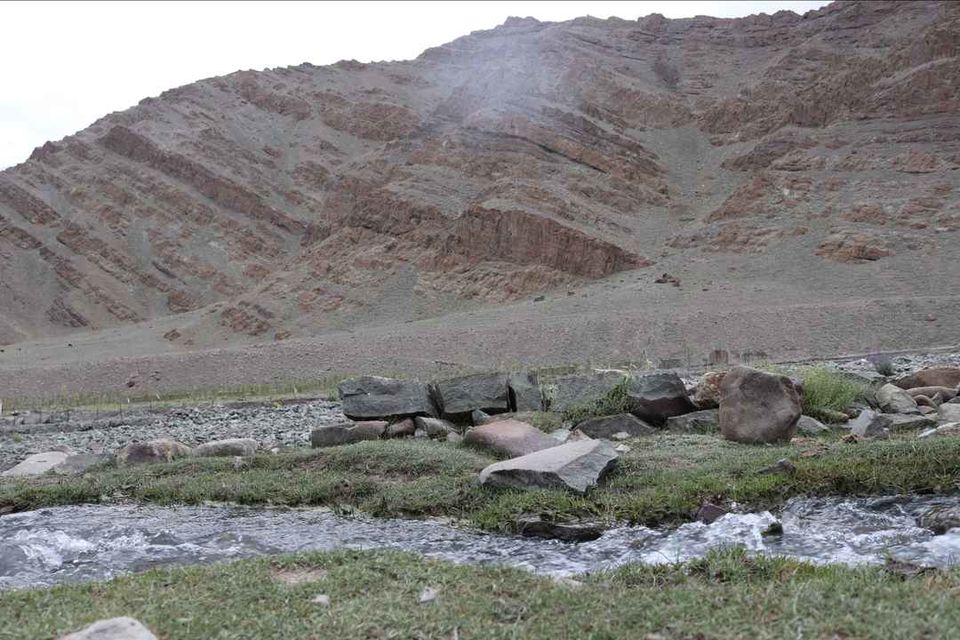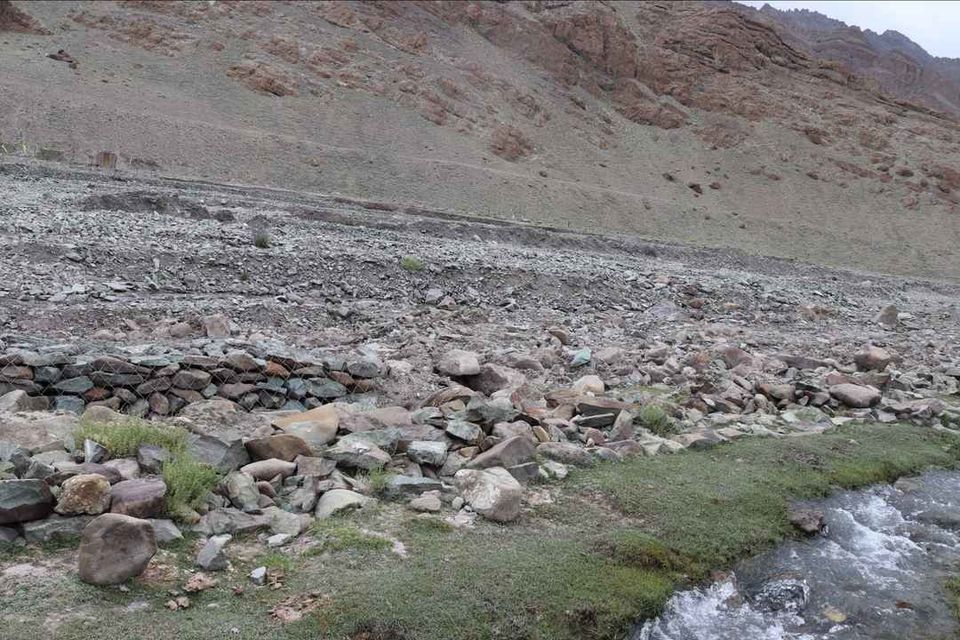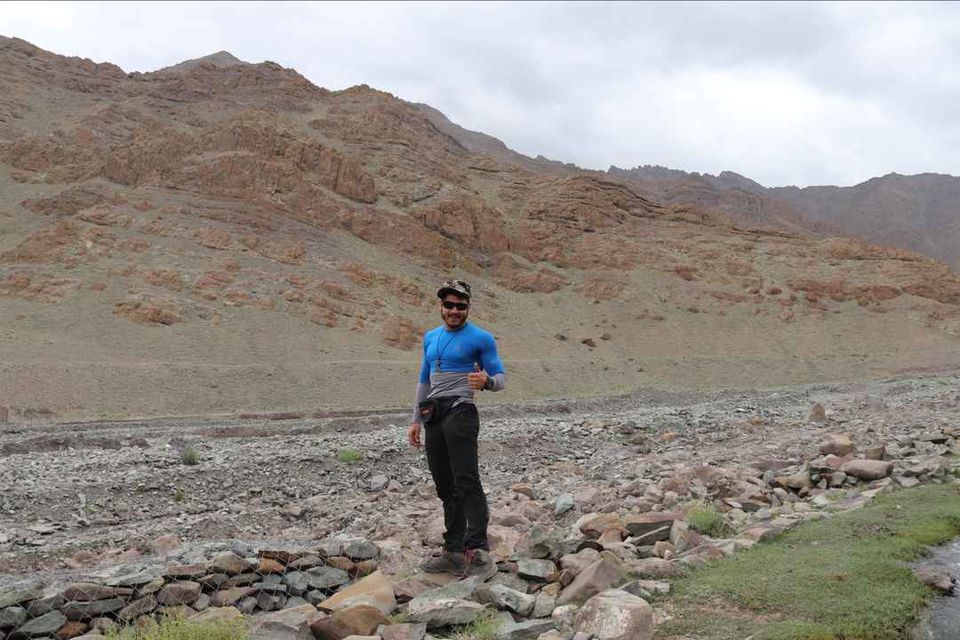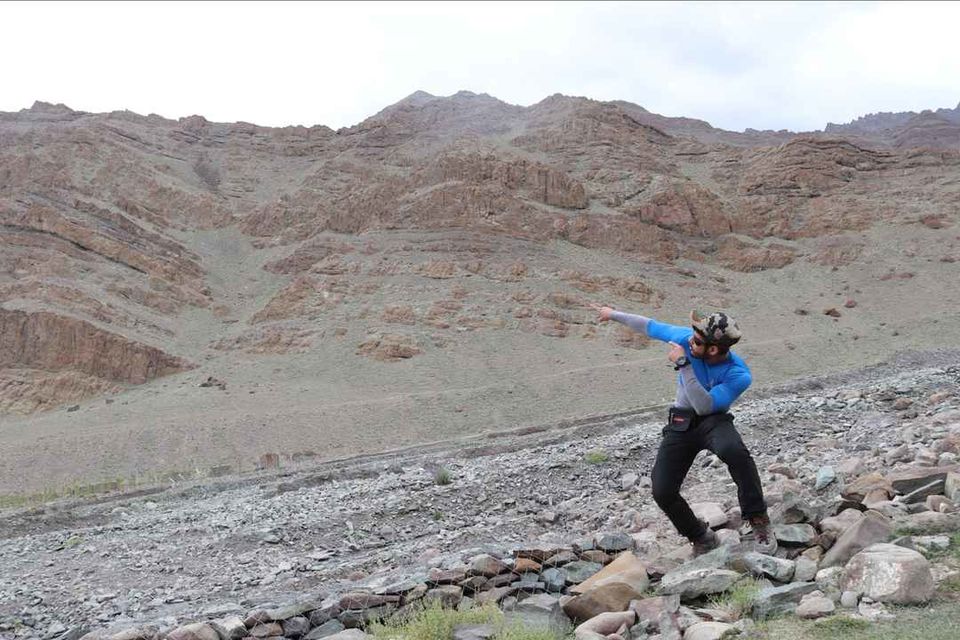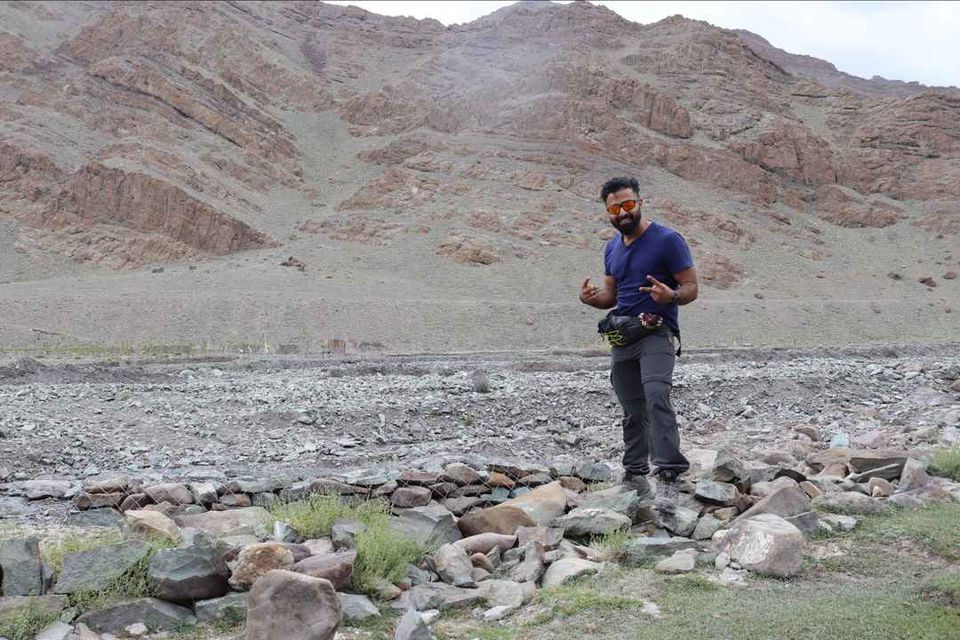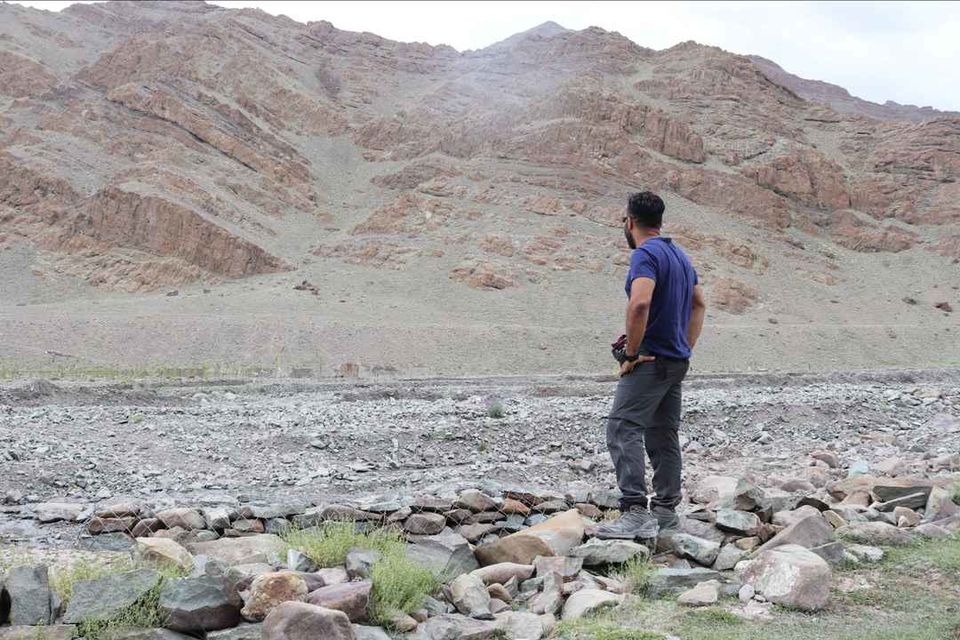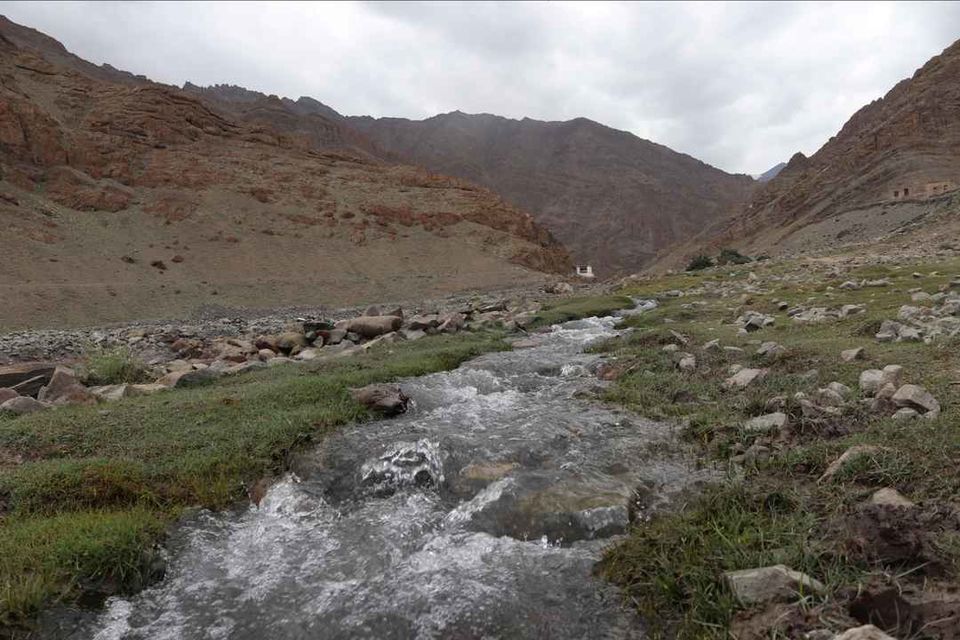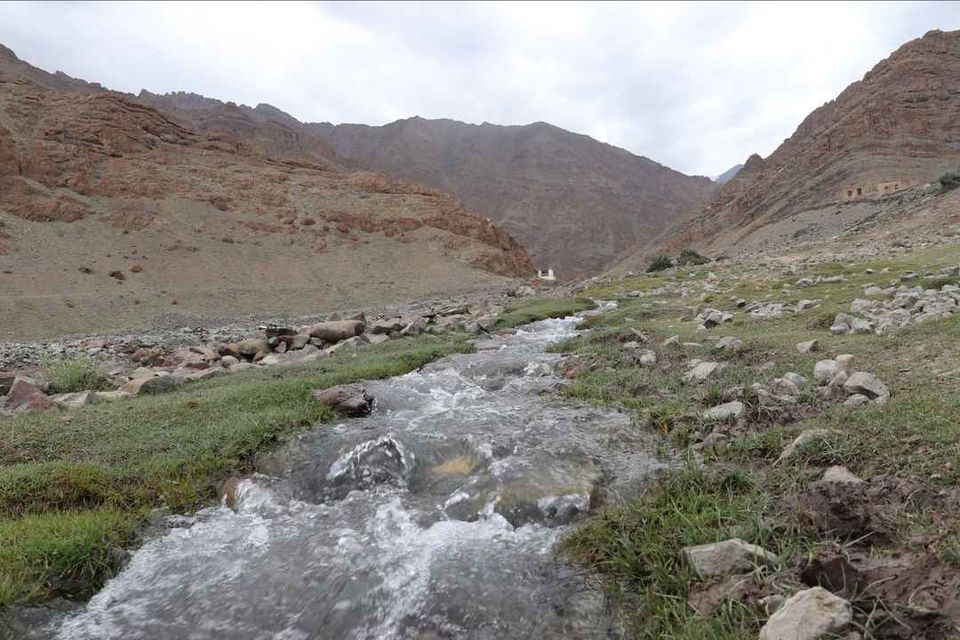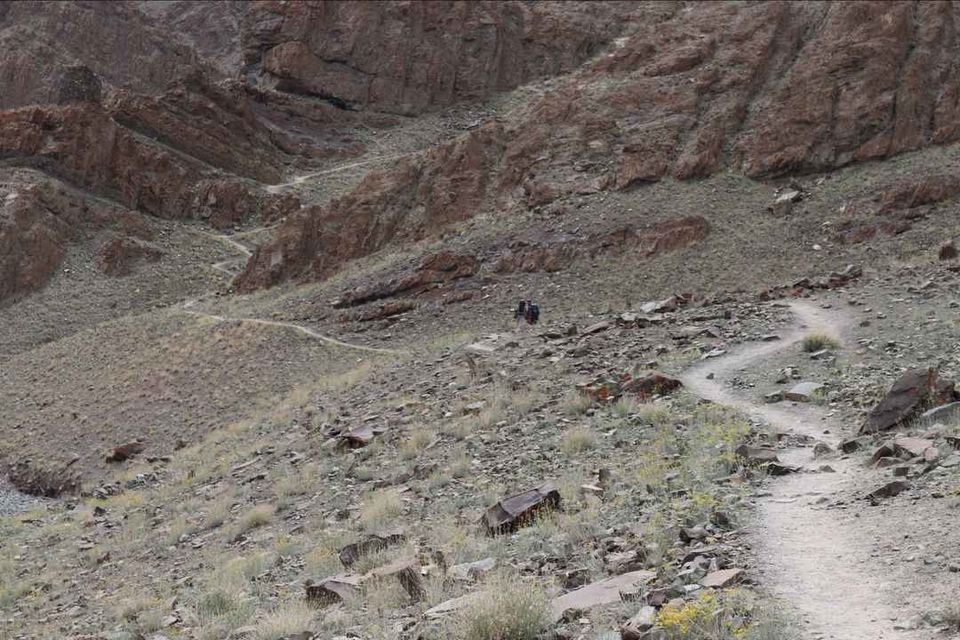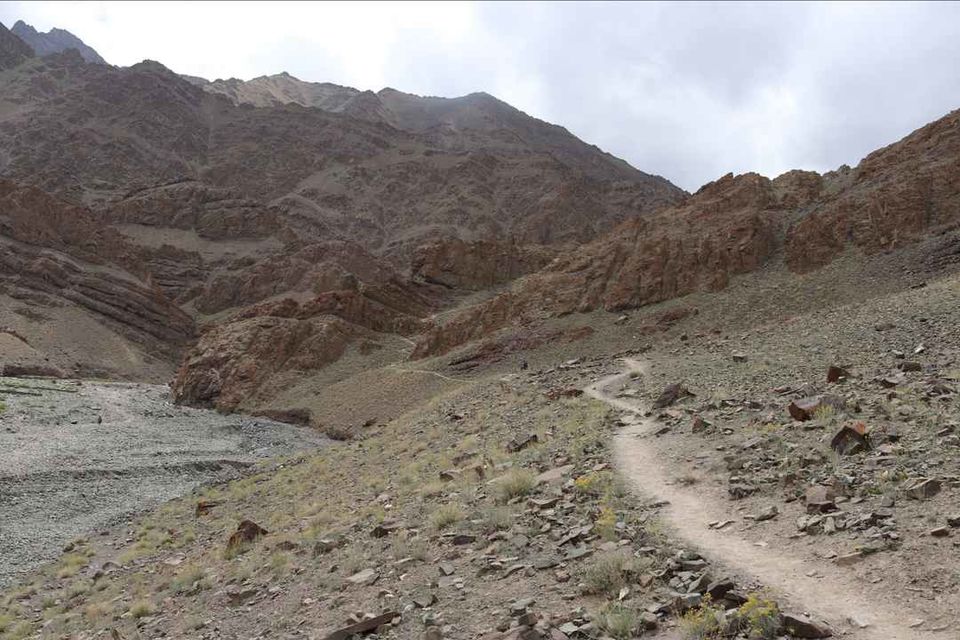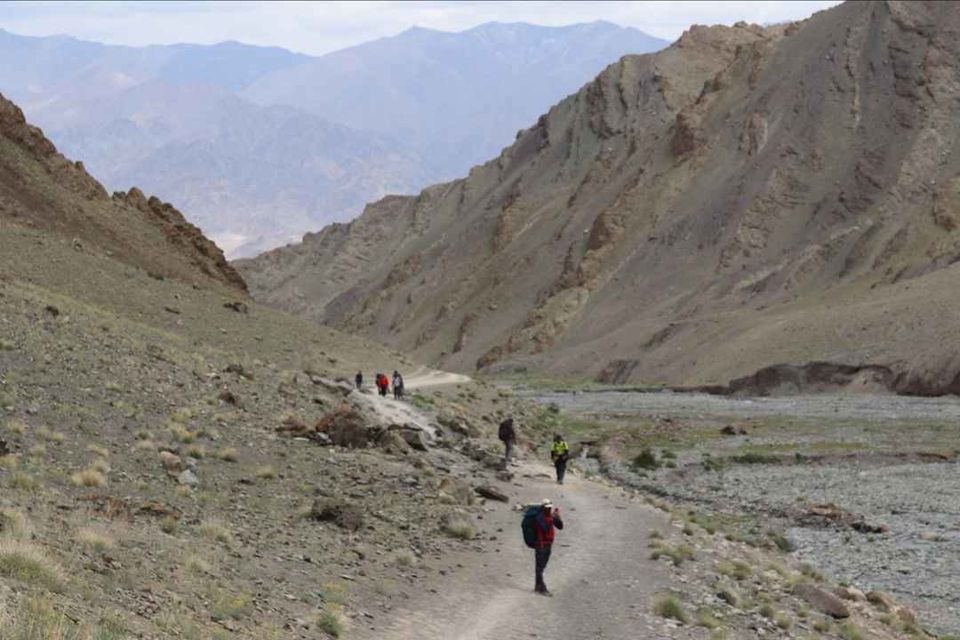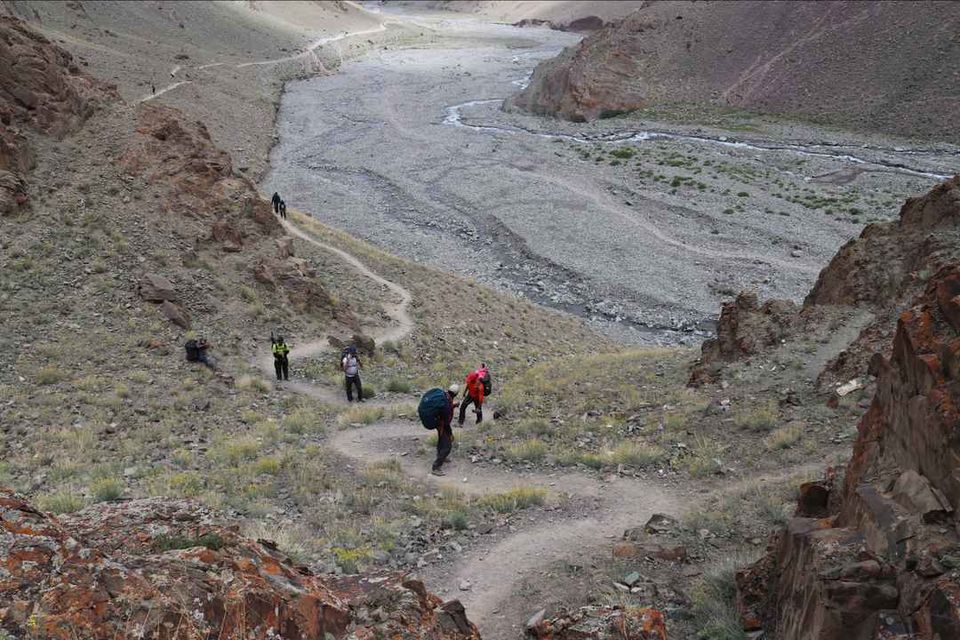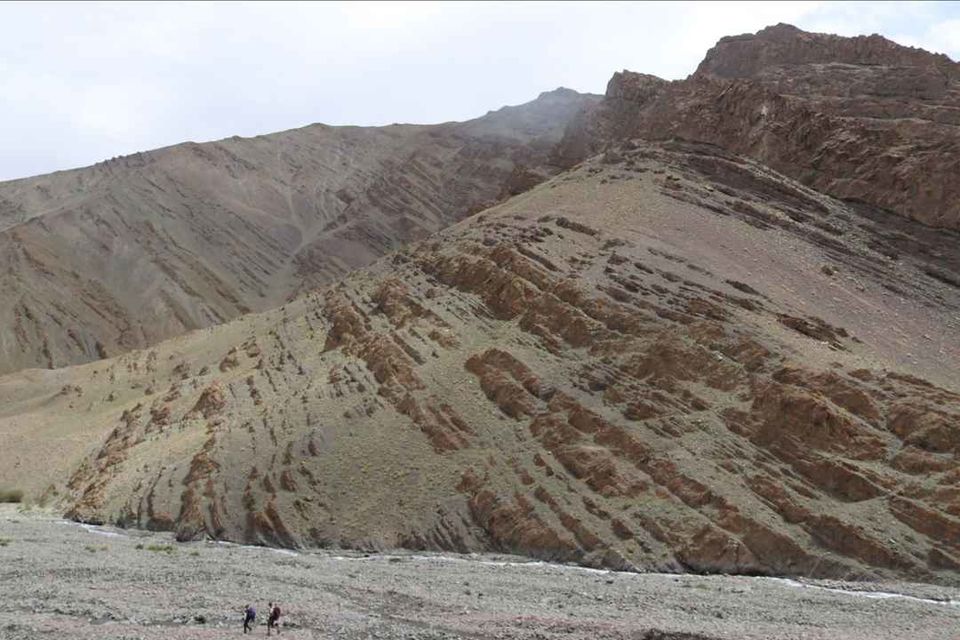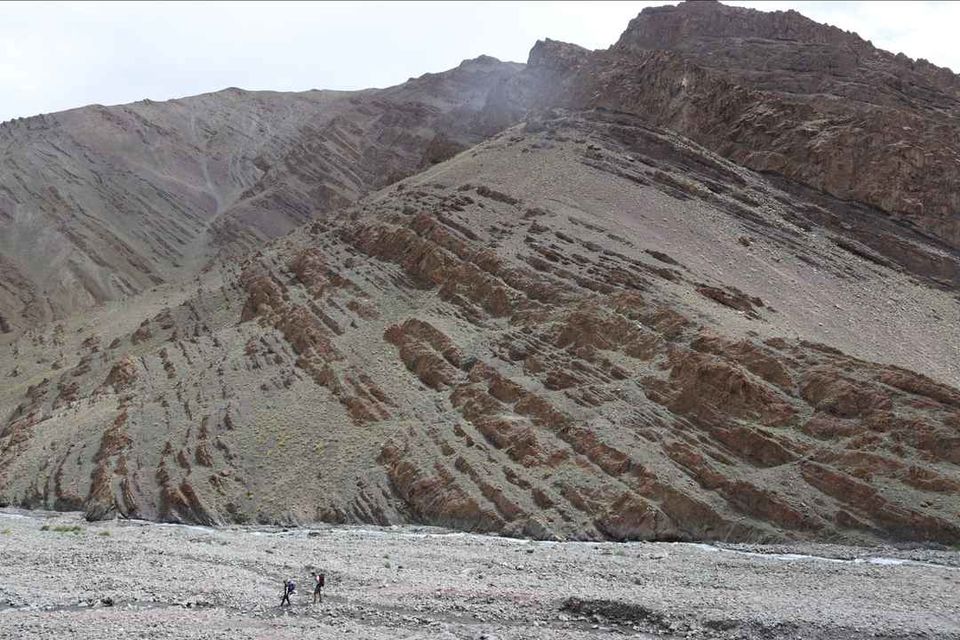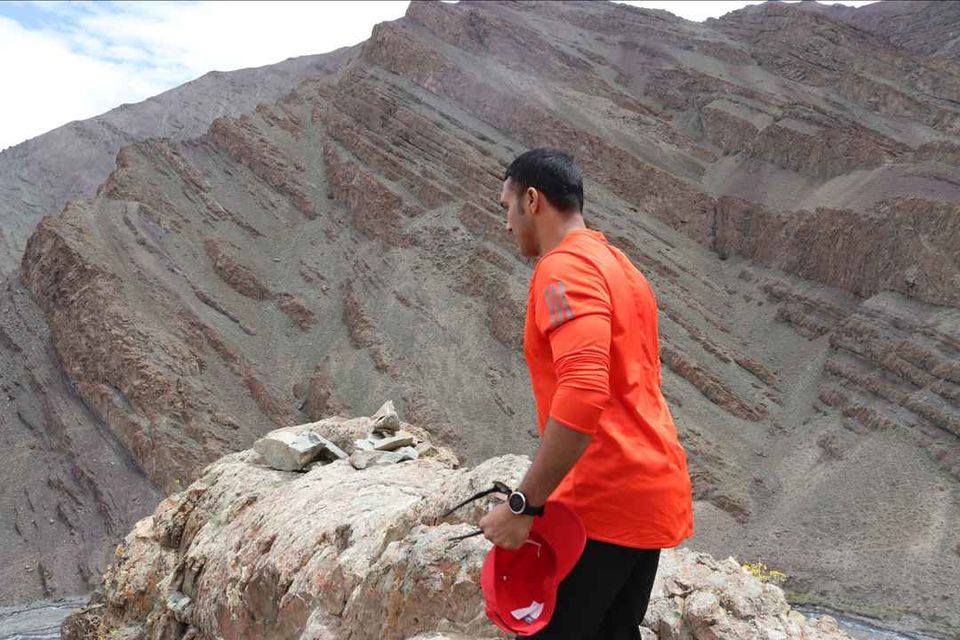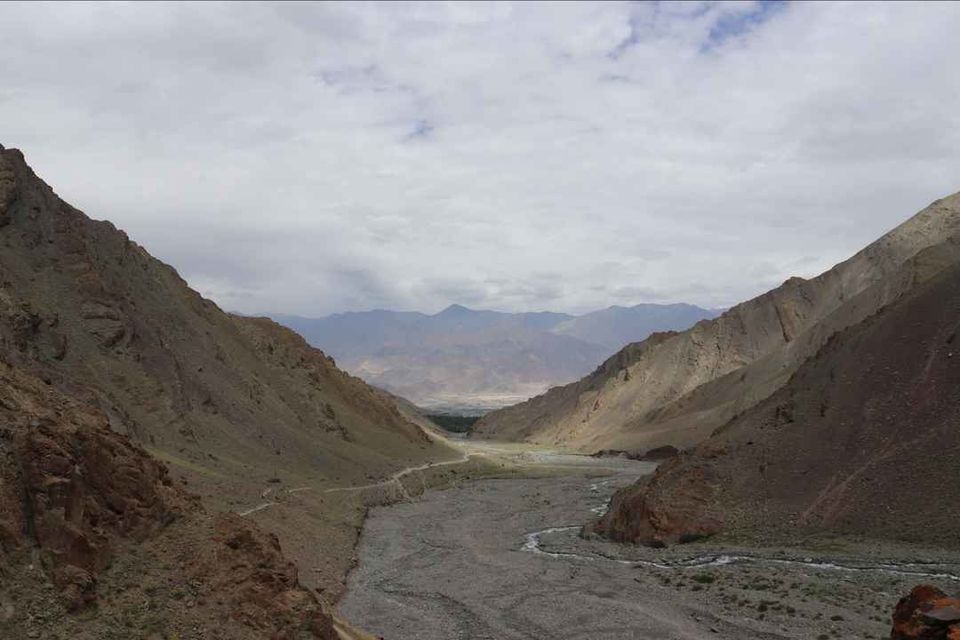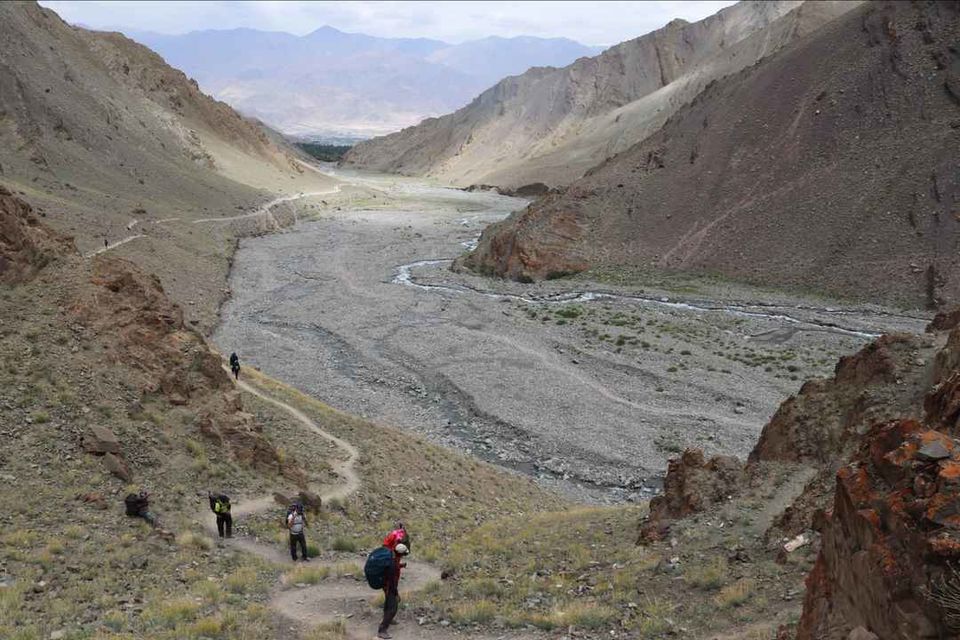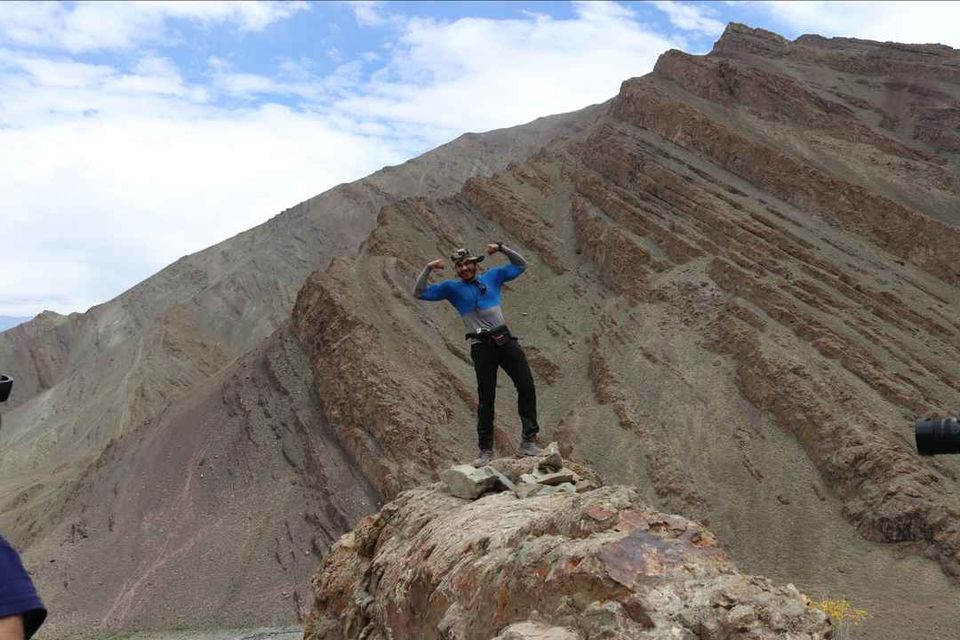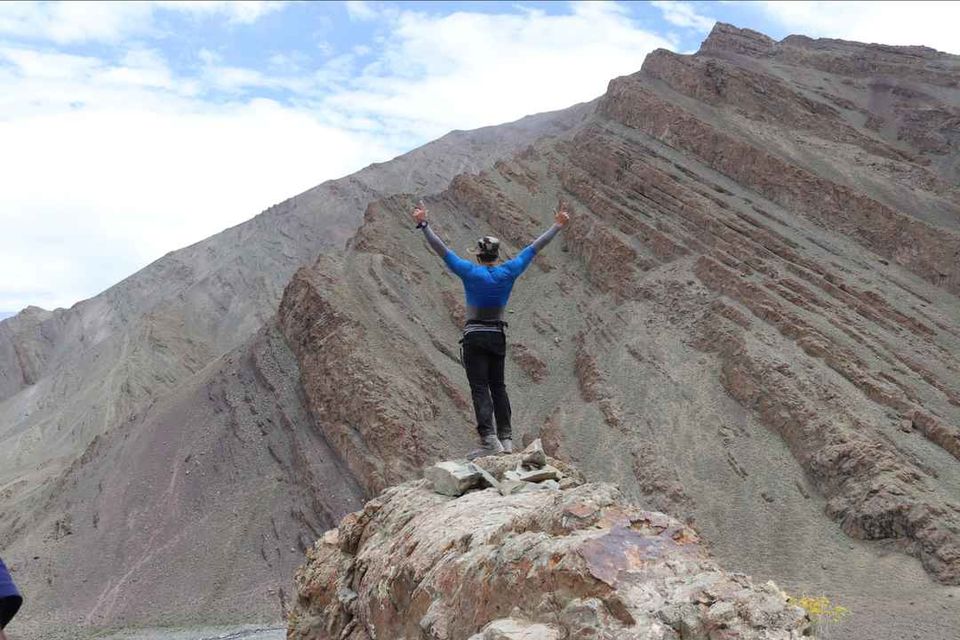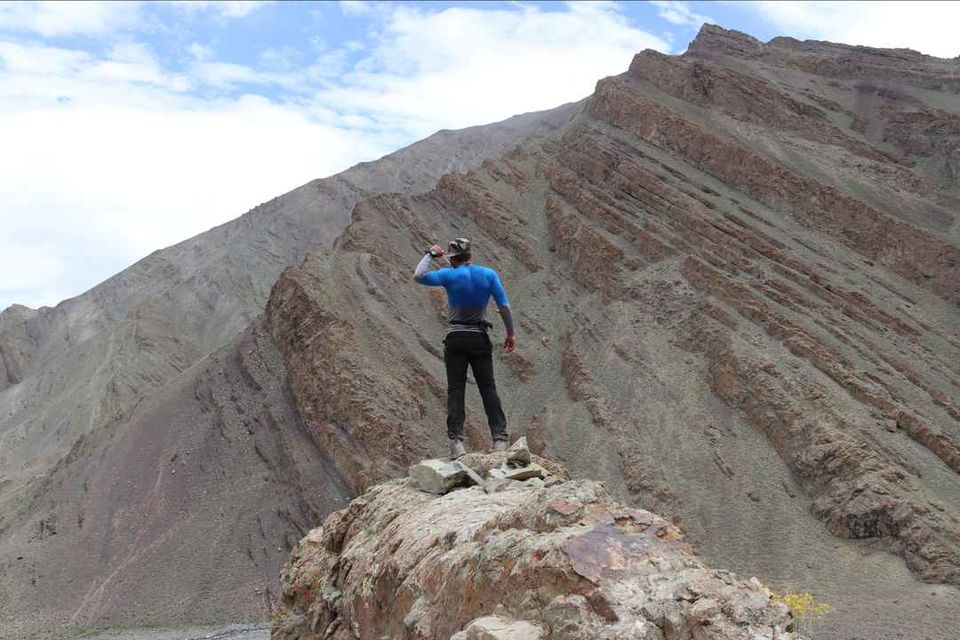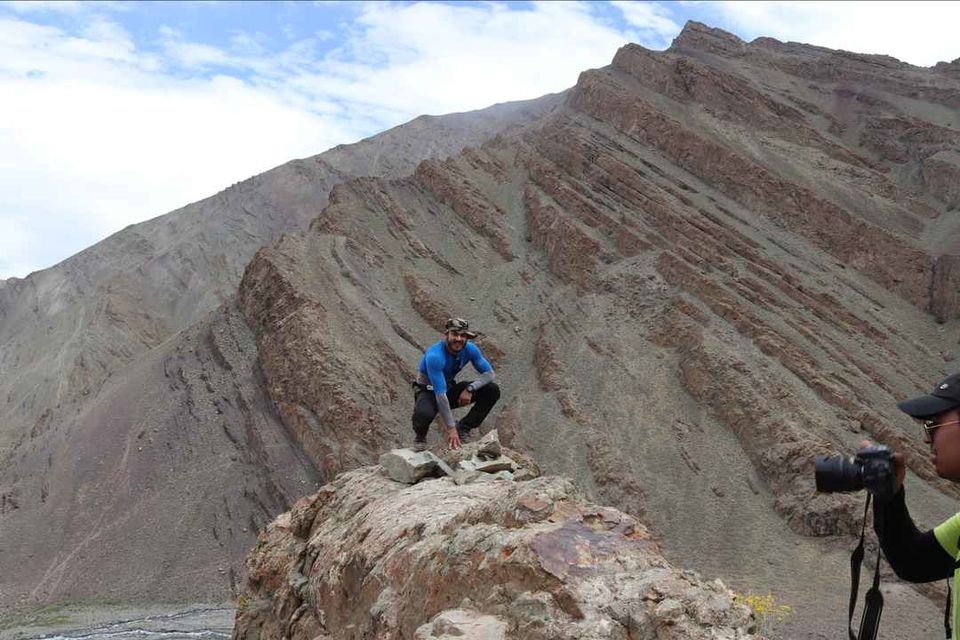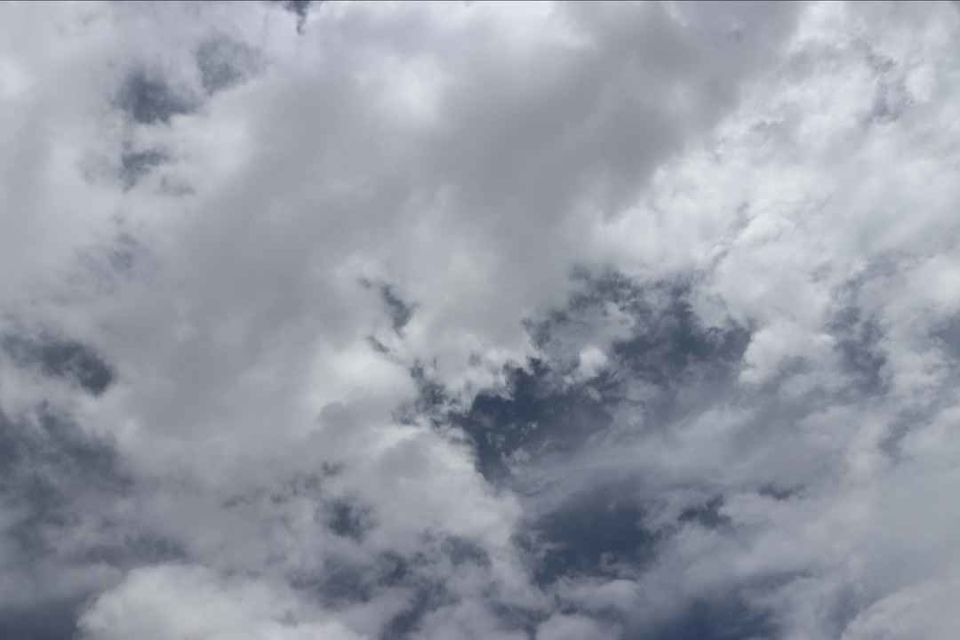 Today was the first day of the trek. I was staying in a twin-sharing room with Shwatadri. He snores so much. For the 2 days I couldn't sleep properly. Woke up at 6 and took a shower and meditated for like 10 minutes. And then went downstairs. Had parathas and tea. At 9 we were supposed to move. It was planned that we would go in car to the Stok village from where the actual trek would start. Stok village was like 45min to 1 hour drive from the hotel. We reached the stok village and then I realised that I have lost my sunglasses.
Thankfully, Prashant had an extra pair of sunglasses which he let me borrow for the trek. Then the team gathered and we were introduced to our guides - Norbu and Nigamya. We were briefed about today's trek which was to Chang Ma. It was supposed to be a 4 to 5-hour trek. We got packed lunch to carry with us. We started the trek at 10:20am with positive vibes. The starting trail was green.
With stream of water going down and Rocky trail besides. There was grass on the ground. We stopped for a water break. Then we continued. I was playing music all way long. The incline wasn't that much , it was fine. We had a few stops on the way. For like 20 minutes there was a straight incline. We had to hike in a zip zag manner to get to the top of that. I ate a snickers there. At one water stop I ate the packed lunch we were given. In lunch there was - a sandwich , 2 biscuits , one chocolate , one juice pack 200ml, one boiled egg and one boiled potato.
After eating all that I felt replenished with energy. Soon there was a lunch stop where everybody would eat lunch. We stopped nearby a waterfalls , Sat on rocks and ate packed lunch. This place was covered with dwarf broad trees and bushes. . So it was shadowed and cold. But we played coldplay there and chilled for a bit. I really enjoyed that moment. Now it was more of like 1 and half hour to 2 hour trek to Chang Ma.
As we reached Chang Ma altitude : 13000ft our trek leader Lalit made us do stretching. He was strict about that and that's good. Then after that we had tea. Then we were taught by Lalit our trek leader and other staff how to pitch a tent. We pitched our own tents. There was toast and jam and butter and daliya. At 4 pm, we went for an acclimitisation walk to a nearby hill and clicked some really really really awesome pictures. . Came down at around 6:30 pm and then had some tea. Talked and had fun. Soon it was dinner time. At 7 30 pm dinner was served. At night it was quite chilly but bearable. After dinner most of the team members went to sleep. . Me , Anupam and Shashwat were talking outside the cooking tent. They both are well travelled and were sharing their travel experiences . I just listened. Whenever I am around people elder than me I know that they have more experience than me so I just shut up and try to learn about their story. Soon I got bored of the chit chat. Then at 9 I went into the tent. But I couldn't sleep until 12:50 am. Maybe it was the altitude or Shakher's snoring in the next tent. At 12:50 I took Zolpidem 5mg and then I slept.
Today, I woke up at 6 30. I could only sleep properly for like 5 and half hours.
I freshen up, had tea at 7 breakfast at 8 and at 9 we had to move. So at around 830 am we were taking down our tents and packed our bags.
Today's trek was to Mankorma.
Our trek leader Lallit did a little breafing regarding today's trek.
We set out at 9 am. First we climbed up a nearby hill, the one we climbed yesterday for acclimitisation and we had to go across that. Then the trail was pretty much plain , without any elevation.
But we were surrounded by these huge mountains and and the shape of those mountains was just fascinating. Their size was unbelievable. I was astonished that how small we are as compared to mother earth. I realised that travel is the essence of life.
It was all pointy , rocky an sharp. Trail was mainly rocky and muddy. We stopped on the way for water break and I took out the frisbee and then everyone was playing. Haha , it was so so much fun. I loved playing frisbee in the mountains.
Then we started walking again. After like 1hr and 15min we reached the Mankormo campsite. Altitude - 14000ft: we reached there at around 11 30 am. Then we stretched and pitched our tents and then had lunch. After lunch , I slept for like an hour and half. It was refreshing nap. Then had tea. We played frisbee at the campsite also. It was so much fun.
It was time to go for acclimitisation walk. At this time , I couldn't find my camera and I was just worried about it. Then I finally found it under the mattress in my tent. Hahaha. And we went to climb a nearby hill.
It was the steepest climb till now in the whole trek but the views were just amazing, and our mobile phones were also catching signals up there. It was amazing. We clicked some amazing pictures and chatted. After like half hour we started to descend back to the campsite. Soon we reached the campsite.
So at around 6 pm, snacks and soup was served. Then at 7:40 pm or so, dinner was served. Had dinner and then around 9 pm I went to my tent, took a Zolpidem and slept like a baby.
Good night!
Today I slept very good. Just like a baby. I was completely replenished with energy. Woke up at 5:30 am and then freshen up. Then at 6:00 am it was tea time and then at 7 am breakfast was served. From the Manokarma campsite, Stok Kangri peak was visible. It was just majestic.
Then after breakfast, taking down our tents and packing up our bags we set out for the Stok Kangri base camp at 8 20am. Today was supposed to be a 6 hour trek. The trail was supposed to be plain at first and then incline and then steep incline and then plain. So today it was a variation.
Started out as plain incline. Like 30 degree incline for like 1 hour. Then a water break . We took atleast 2 to 3 water breaks in between the trek. At the first water break, Namgyal (our guide) brought us kharbuja (muskmelon). I was just surprised at the gesture and kind of felt like spoiled brat haha. He served us the muskmelon cut into slices and I ate 2 slices. It was yummy.
At another water break where I ran out of water I filled my water bottle with water from a nearby stream. The water was so fresh and amazing. I was very happy. Then I played songs while trekking. The views were just so amazing. I loved every second of it. Soon there was a hill across which was the base camp Stok Kangri. At like 12:30 pm, we reached the base camp. Quite earlier than expected.
As soon as we reached there we were served with hot ginger water tea. It was quite chilly there. Stok Kangri base camp 16, 000ft. Soon after we reached, there was this group of 30 people from London who also reached the campsite. Now we pitched our tents and rested.
Had lunch and then played Uno at the dinning tent. It was so much fun. Base camp was like a little village. So many people were there. As I was roaming around, I wandered into the medical tent. And there I met Dr.Bhushan ,an orthosurgeon from Nasikh.
He was up here since past 20 days and was volunteering as a doctor. I played frisbee with guides there and Sherpas. There was this one guide who was juggling 3 balls. It was amazing. It was all very exhausting and my saturation fell to 73 from 87 after playing frisbee for long time. Then I just rested and drank more water. Then I was fine.
Now soon it was time for the acclimitisation walk. So at 4 pm We went up a nearby hill to acclimitise. It was a steep climb but so worth it. Amazing views.
Took pictures, chatted there and had fun. And then we came down to the base camp. There I chatted with Dr Bhushan for a while. We even made fun of Rashmi and Manas for being a dentist and claiming to be doctors. Haha. So much fun.
Then what I saw was just amazing. There was this girl Jhanavi , she was being interviewed by someone at the medical tent regarding the explorer grand slam. She was just 16 yr old and she had already climbed 4 peaks out of the 7 around the world. It was so amazing. She wanted to break the record of the youngest person to do the explorer grand slam.
Now I saw the guides and Sherpas playing cricket there. The made a ball out of cello tape and were playing cricket. At. 16000ft above the sea level. That was just impressive. Then it was soon night time and dinner was served at 7: 30 pm. At around 8: 30 pm everyone went to their tents to sleep.
I wasn't feeling sleepy so I went to socialize with the group from London. I went to their tents and I saw everyone sat around a dinning table on chairs and dishes were kept on another table and it was kind of a buffet system. They were really, really, really, really spoiled brats.
Haha.
As I entered the tent, everyone gave me this blank weird look and I was like, " Hey guys, I am Kshitij from Delhi and I was getting bored so I came here to socialize". Haha yes I said it out loud. Then they welcomed me and offered me dinner but I had already eaten. Now that I think about it, I should have eaten the free food. Haha.
Then Pankaj , their group manager came and we went out of the dinning tent and talked. He was also from Delhi. He told me about the earthbound expeditions and how these filthy rich people paid 5 lakh rupees per person to do the Stok Kangri trek. Hahaha. I was laughing so hard from inside.
He also said that whenever I feel like I can come to eat with them.
Around 9:30 pm I went to my tent and slept.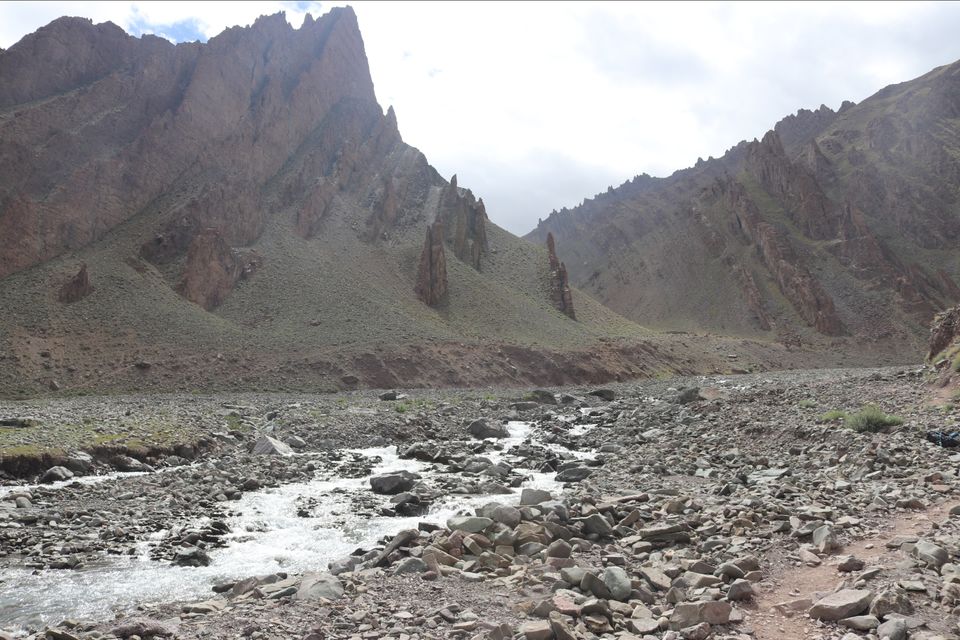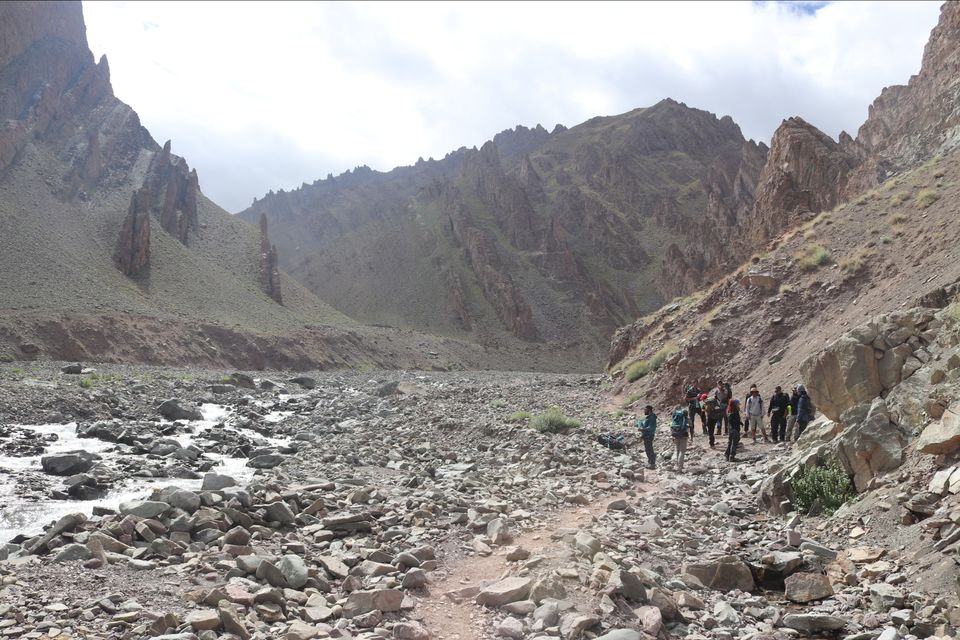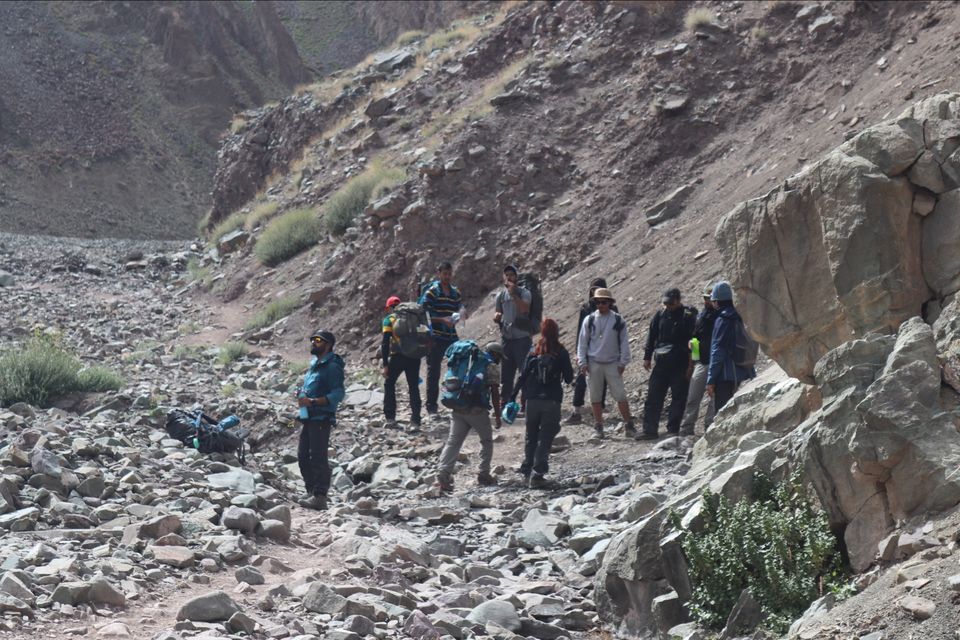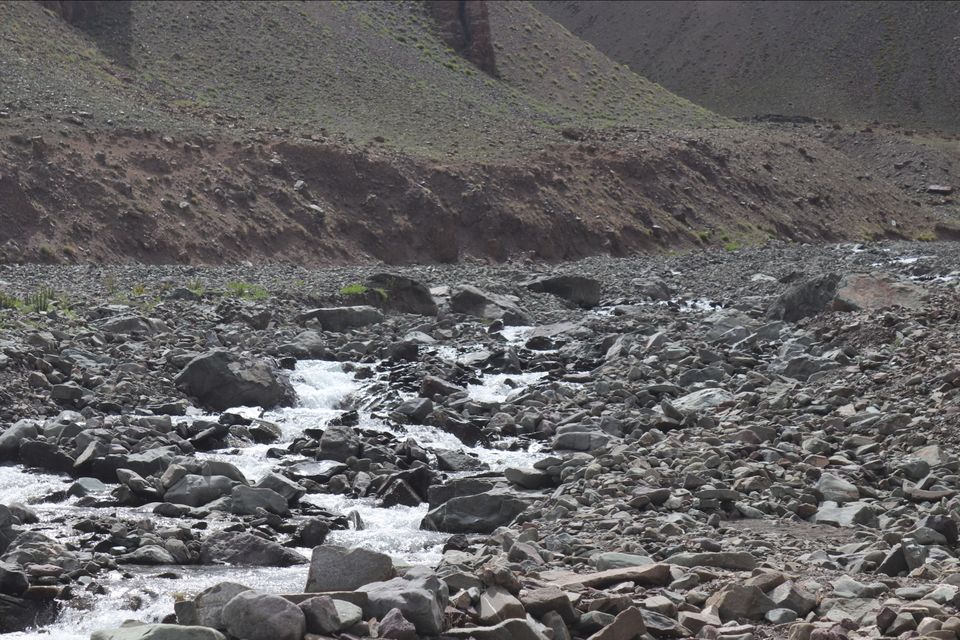 Today was acclimitisation day at the stok kangri base camp 16000ft. I woke up at 6:30-ish. Freshen up. Sat on a rock and meditated for like 30 this s meditation session was so amazing and refreshing. I reflected on myself and realised that I have meditated in a lot of different places. And that's amazing.
I realised that yes, it is cold here at base camp but it's my choice how j react to it. There is a difference between feeling cold and acting on it. Though my nose was dripping and my hands were cold. It was totally my choice whether to act on it or not.
After that had tea. Breakfast was at 9:30am so I had time to kill. I sat with a local guide who was really good person and funny, the same Sherpa who was juggling 3 balls the previous day. He shared his stories about how he used to sleep during the treks when client took too long to walk.
Talked with fellow trekkers (very good friends) and just went around the campsite. Then at 9 30 breakfast was served . Had aaloo parathas with butter and cornflakes with milk. Then Rishi had to go to the doc for ors because he was dehydrated and a little sick , so after breakfast we went to the medical tent looking for Dr Bhushan, as I entered the medical tent, Dr Bhushan shouted - ," Where were you, you just missed an interesting case". Jhanavi was also there assisting Dr Bhushan treat the patient.
The patient was none other than the Sherpa with whom I talked for like 30minutes. He had a laceration in his right palm and an elbow fracture. Dr Bhushan had sutured the lacerated wound and applied plaster on his right arm. It was actually an interesting case which I missed.
The Sherpa tripped over a camp wire and fell. That's how he got injured. Dr Bhushan advised him to descend down asap.I got Rishi a packet of ORS from the medical tent.
After that I went and talked with Jhanavi for few minutes, the girl who was trying to do the 7 summits . She had just climbed a nearby virgin peak. She was really amazing but at the same time she was uneducated. She didn't go to school since she started the explorer grand slam when she was 12 yrs old.
Then me and Rishi went inside the Mitra tent and made some new friends. We talked and had a lot of fun. There was this girl from Australia- Briaya and this girl from Mumbai- Akansha and 3 more guys Michael , Dave and I don't remember the name of the last one. We played bluff. We played cards for hours and it was so much fun. After that me and Rishi headed back to out Bikat Adventure group. Had lunch at 2pm.
Since tonight was the summit attempt, there was going to be drill to prepare us for tonight. At around 4 pm We were shown the equipments we were supposed to carry and wear and the formation we had to be in .
9 people out of 15 were attempting the summit tonight. So for the formation we were split into 2 groups of 4 and 5 people. We wore helmets, waist braces and everyone was tied to each other by a rope.
We were taught how to trek as a team and not individually. It was really fun to learn all of this. Soon it was sunset time . At around 5:45 pm I went back in the tent for getting a sleep cause we had to trek all night. The plan was to assemble in the dining tent with all the gear at 8pm and have light dinner. And by 10 pm we were supposed to head out for the stok kangri summit.
At 6 pm I dressed up for the trek and packed my stuff. Then I listened to music in my tent for like 1 and half hour. I tried to sleep but could only lie down and relax but I couldn't sleep.
Got up at 8 pm and did my final packing for the summit attempt and by 8:20 pm, I was in the dinning tent all set. Everyone was there. Ready to roll and rumble. We had some light dinner. Porridge was served and we got packed lunch also to carry with us since we were about to trek for next 14 hours straight.
We got chocolates, toffees , apple, boiled potato and juice packs. Soon it was 9: 50 pm and we assembled outside the tent, all set to conquer Stok Kangri summit.
It was an amazing moment. We were about to climb the highest mountain of the stok range in Ladakh. We said our goodbyes to the rest of the team who were staying back at the base camp. It was really nice of them to come out in the cold and give us some emotional support.Especially Rahul. He was really supportive and gave his best wishes.
As soon as it hit 10 20 pm, a line of 13 trekkers, one trek leader (Lallit), one co-trek leader(Abhishek) and 2 guides (Norbu and Namgyal) and 9 of us with lights strapped to our head and trekking poles in our hand could be seen going up the mountains.
I was at the 4th position from the front. At the front was Norbu (our guide) behind him was Anupam and then Hemant and then me. After 40 minutes we reached the point till where we went the previous day for acclimitisation walk.
Everything was going good. Took a brief 2 minute water break and then started again. I was chewing toffees all the way. Soon we reached the advanced base camp and took another water break. Soon it hit 12 am. While trekking me and Hemant were talking about eating butter chicken and garlic naan as soon as we reach Leh. Haha. That in itself gave me an energy boost.
The trail at advanced base camp was all rocky and narrow. We were actually walking on the slant of a mountain. Soon the trail became a little icy and muddy with rocks. It was fun walking there. I was put in front position cause Anupam was not feeling like walking at the front.
I was happy to be in the front. Norbu was in front of me since he was leading the group. I was just observing and mimicking his footsteps. I knew I could trust his footsteps after all he was our Sherpa. I kept my foot exactly where he kept his foot, just following his trail.
Soon we were walking on a trail covered with ice. And Norbu said that we have entered the glacier. I was stoked to be walking on a glacier , it was the first time for me.
PS: it was all darkness around us. 1am in the mountains with no source of light other than the headlamps.
Soon we had our water break and as soon as I stopped , I saw below my feet was SNOW, in front of me were these giant boulders of snow covered rocks, they were cylindrical in shape and I felt like i am on a whole different planet. Since it was all covered in snow, our Sherpas Norbu and Namgyal were having a hard time finding the way.
So they made us stop and wait till they went further to find the trail. At that moment I realised that Mother Earth is a huge place. And I am born on this planet to explore my mother earth.
Everytime we stopped for a water break , our trek leader Lallit would ask everyone how are they feeling , and wether they are feeling tired , sick or anything like that.
Till this point some people of our group were suffering from headache including me. It is pretty much normal to suffer from headache since we were gaining altitude very quickly.
I saw Rishi sitting on a rock , feeling cold with his arms wrapped around himself. I asked him wether he was feeling fine, he said that he's okay and it just the headache.
So far I felt amazing about our journey and I thought to myself , damn I am gonna be on the top of stok kangri in a few hours.
Soon our guides returned with good news that they found thy trail.
We continued our trek into the unknown darkness by follothe footsteps of Norbu.
Soon we reached a point where there was this deep crevice in the snow.
This was the serious shit. If we fall down, we fall down for good.
.
As we reached it Norbu said that we had to cross it. I said what ? He said, " jump across".
And that's what he did. He jumped across the crevice like it was just a puddle of water on a street and held out his hand to me to do the same.
What did I do ? I got excited and jumped like I am jumping for my life. Haha. It was so much fun. As I jumped, I looked down into it and I saw sharp ice edges hanging down into complete darkness. That was just pure thrill.
I jumped across it and so did the other 11 of us.
Now we continued to trek on thick sheet of snow. And the clocked ticked to 1 30 am.
After half an hour more of trekking we reached the zig zag trail which would lead us to the shoulder of the mount stok kangri. Norbu said that this is supposed to be the hardest part of the expidition. Since we had to go up a steep 75 to 80 degree incline.
As I looked back, I could see the headlamps of other trekkers in the dark. I could only see a the headlamps in complete darkness. It seemed like stars were on the ground walking towards us.
We continued the trek and stopped for a few water breaks on the way.
At one water break , i saw my watch and it said 2 am. Beside me was Anupam struggling for breath and asking Norbu how much longer ? Norbu replied 4 hours more. Anupam seemed shocked to hear that.
I said to him that Anupam do you realise that this only means we have already trekked for 4 hours and we are half way through and it's only downhill from here.
He agreed and we continued climbing our stok kangri.
Now it was snowing also. At this time I was losing consciousness. I was having brief black outs and loss of motor control. As soon as we hit a water break i sat down and drank hot water and ate Snickers chocolate.
Sugar helped me get through this.
Now we trekked again going in a zig zag manner up the mountain. At the next water break point which we took only after 15 min of trekking , I sat on a rock there and soon came Braiya , Akansha and 2 other trekkers including a Sherpa.
I was surprised to see them and I said hi. They also greeted me. I offered them almonds and they were thankful for that.
They were going really fast and
I also ate dry fruits at this point and that Gave me energy.
At this point we had to rope up. Cause now the trail was dangerous and deadly. In front of me was shasvat and behind me was Hemant. And overall I was at the 4th Position from the front.
We continued trekking and we would shout "HALUT" to stop and "MOVE" to continue trekking. Since all of us were tied by ropes split into 2 groups so if one stopped all had to stop.
As we trekked toward to shoulder the snowfall turned into a blizzard and we were just struggling to keep moving no matter what.
We would halt and then we would move again and again. Soon it ticked 4: 20 am and we reached the shoulder of the mount Stok Kangri. I did not know what the shoulder of a mountain looked like until I reached it.
As we reached it , I walked up to the edge and looked down. And what I saw was unreal. I and only seen it in movies. It was this steep 80 degree decline down into darkness. I screamed wooooooohoooooo on the top of my voice out of excitement.
A voice said to me don't look down. I replied to that - are you crazy ?? Look down! It's mother nature in all her might !!
We continued trekking. It was 2 hours more to the summit of Stok Kangri.
Soon we were walking in places I could only dream of. I felt like a real explorer.
This was like a dream come true. Though I was completely exhausted, it was so worth the pain.
Something was happening in our surroundings, light was falling on us. The sun was coming up. From total black , our surroundings turned into dark purple and then soon into light purple. Time was 4: 45am.
Now we were going up this steep incline covered with snow and rocks.
Soon we reached another water break point and we sat there to put on our crampons.
Then Norbu said something which I hated to hear. He said, " The weather is really bad , I don't think we can continue". To this I replied, I don't care about the weather, just take me to the summit and if anyone wants out they can go back to the base camp. I was being arrogant and rude. But I think that's how you survive the mountains.
So we all continued the trek. With crampons under our feet, and spirit of fire in our hearts we went all in.
Now after another hour or so of trekking and climbing, shasvat and Hemant were stopping a lot , and since I was in between them I had to stop too. I hated that and at times I lashed at them for being slow. I am really sorry for that. Truly.
But then I just kept encouraging them , that they can do it. Just move no matter what.
Soon it clicked 6am and we are still walking.
Now I was exhausted and just wanted to see the summit. It wasn't even visible.
Soon Norbu said 10 more minutes and that started a fire in me. I was maxing out.
Then after 10 more minutes, Norbu again said 10 more minutes.
And i was like okay. It must have been a mistake the last time.
Then after 10 minutes Norbu again said 10 more minutes, ! At this point Anupam lost it and lashed at Norbu for lying.
Then Norbu became frustrated and shouted that he cannot take this anymore and asked all of us to turn back.
Now I lost it and shouted again, " I don't care for anyone, take me alone to the summit Norbu!" He said okay.
I really didn't care if it took 10 more hours to summit.
I had a mission and I had to complete it.
Then Anupam apologised and we all continued the trek.
At 6:59 am we reached the summit of stok kangri mountain. 6053m / 20000ft.
This was the happiest I had ever been. I hugged Rohit and Rishi and we shouted and celebrated at the top.
This was huge accomplishment.
Since our group was divided into 2 groups , our group consisting of Norbu, Anupam, Rohit, Shasvat , me , Hemant and Rishi and Abhishek reached first.
We clicked some rad pics and videos at the top.
And then we did what we planned to do at the summit.
THE KIKI CHALLENGE. hahaha. Yes we danced to In my feelings by Drake at the Stok Kangri summit. The summit was covered with snow and clouds. We couldn't see anything else. That was disappointing but I was fine with it.
What mattered to me was that I had just summited STOK KANGRI.
Soon Divya , Shreyas ,Lallit , Rakesh and Namgyal also reached the summit.
We stayed at the summit for like half an hour more and then started to descend.
Stared the descend at 8 am. Norbu said we would reach the base camp in like 4 hours. So 12pm.
Now when we started our descend , it was harder than I thought it would be.
At this time I was completely exhausted. My legs and my hands in fact my whole body was in autopilot mode.
That is I was just mimicking the person in front of me. Just descending down not knowing when and wether I would be able to reach back home from here.
While coming down it felt like magic. It really really felt like I'm in a dream .
The scene was like this : I was climbing down a steep descent and most of the times I was sitting on the rocks and just crawling my way down.
I remember as I was standing I was moving like a pendulum Bob. From one side to other and then whenever I heard MOVE , I would move and whenever I heard Halt, I would HALUT.
I would sit on rocks in between and eat Snickers bar. As I would sit, my eyeslids would shut my eyes automatically but somehow I prevented that from happening by shaking my head or something like that.
I even slipped and fell down a couple of times but thank God I was tied to Hemant by a rope.
I felt completely spent. I just wanted some sleep.
Climbing down from the summit till the shoulder was the hardest but it was so beautiful that even at this time I was smiling and feeling happy. Cause damn I had just climbed stok kangri.
The trail was covered with snow and rocks and the snow also started to melt a little bit so we would slip more often.
Soon we reached the shoulder of the mountain and then came the zig zag.
As we were descending down the zig zag I got to see the glacier that we crossed at night from that height.
That glacier was called the pyramid glacier and it was so huge, vast and magestic. That as I saw it I shouted - " YE KYAA HAI B**NC**D" . It literally occupied most of my visual field.
By this time we had roped down. Finally there was no bondage. Hahaha.
Me, Norbu and shasvat sat there and clicked some pics. It was amazing. Just amazing.
It started from the bottom and took up the whole sky. It was magestic and beautiful that I couldn't even capture it's beauty in my DSLR.
All my tiredness and sleep was gone.
It felt like I'm on another planet completely.
And the good news was that we were walking towards it and we literally had to cross it again.
That was the best.
Soon we reached at the start of the glacier and it started snowing heavily there
.
As we reached the glacier and started walking , I slipped and fell down on my butt.
I asked Norbu the Sherpa what happened to me.
The floor was ice and very less snow.
He said that we have to walk like penguins here without lifting the feet.
And if you wanna lift and walk then you can only do that in the rocks which are not covered with rocks.
I was on the front with Norbu . Rest of the group was behind us.
Norbu would jump from one rock to another and I would copy his each and every step.
So we were literally jumping from one rock to another.
Sometimes my feet would fall on ice and I would slip and fall down.
Soon we reached the crevice we had jumped over at night and Norbu again helped everyone of us cross the crevice.
I was out of water and I was dehydrated. Then I saw a stream of water flowing down.
I asked people around me that if I could drink this water. They said it is the PUREST WATER you'll ever drink.
I filled up my bottle. And as I poured some water into my mouth it was freezing cold.
But damn it was yummy.
This might sound strange but that glacier water was the tastiest and purest water I have ever drank in my life.
It was around 2 hours more from here till the base camp. I was tired of this shit. I kind of knew the way back from here.
So I said to Norbu I am gonna trek fast and reach early. He said go ahead.
Now I got up to speed. The time was 10 am. And I thought I would reach by 12 pm.
After the glacier came the really rocky trail. I was just walking , following the trail and Crossed Rishi and 2 others who were at the front and I didn't know that.
Then I reached the advanced base camp. I knew I was going the right way.
Then I crossed Lallit and Anupam who were also at front.
Then finally at 1130 am I reached the acclimitisation point. The point where we went for acclimitisation walk the other day.
Now I just sat down. Checked for signal but no luck.
Soon Anupam and Lallit arrived. Lallit said we should wait for whole group and then descend down to the campsite which was right in front of us.
Anupam said he's too tired and started the descent to base camp.
I also said fuck it I have too poop , eat and sleep. So Tata.
I aslo started descent.
Then I crossed Anupam again and reached the base camp at 12 30 pm.
I was welcomed by Shwatadari . He gave me water and took care of me. I sat down and then I met Rashmi and then Rahul. They all were very happy to hear that all of the 9 trekkers had reached the summit.
It was an amazing experience in overall.
Then I freshen up , changed my clothes I was covered in sweat and dirt and then I ate some food.
I remember they had prepared Rajma chawal for us. I ate a lot of rajma chawal.
And then I drank a lot of water. Forgot to mention I had a 6 out of 10 grade headache the whole way back and it was just getting worse. .
I knew what I had to do. Sleep.
At around 2 30 pm I went to sleep.
Then I woke up at around 4 30. I went to walk around a little bit.
I bumped into Briaya once again. Haha they did the summit before us. She invited me into the Mitra tent. They we just about to begin a group meditation.
I also joined them.
So it was me, Briaya , Michael , Akansha , Dave and 1 one more guy. And we all meditated. This was a guided meditation and the guide was Dave. It was really amazing and relaxing the way he led the meditation.
I remember being lost in his voice. This was a body scan meditation.
When it ended , it was already 6 30pm. It was a long session. .
Then I just talked with my new friends and had a lot of fun. Soon it was their dinner time and dinner was served. I wanted to eat Maggie so I ordered it at the Mitra tent. Then I remembered that my group hs slow cooked dinner. Haha. I tried cancelling the Maggie. But they said it was already on the stove. I said fuck it. I'll ear double haha. I had burned so much calories that day, I could eat an elephant. Hahaha.
Now after eating Maggie and talking and having good fun with my friends Akansha and Braiya , I went back to my tent. Ate dinner and talked with my bikat group friends.
Today dinner was amazing. Especially the sweet dish. They gave us gulab jamun. Amazing.
Everything else was the usual , daal chawal chapati and sabzi.
After this it started to snow. It snowed heavily at the base camp. This reminded me of the brhamatal trek.
It was beautiful. But at the same time I also wished this wouldn't have happened Cause I knew that heavy snowfall could mean that we stay up all night. Since anything can happen at that time.
But fortunately nothing happened. I went into my tent after dusting off the collected snow on the tent. And then I took a clonazepam so that I could sleep like a baby.
And then a voice came from Lallit that said, " don't fall asleep , keep dusting off the snow."
I was like fuck. I could stay up even if I wanted to. I had just taken a sleeping pill and I was feeling drowsy already.
I stayed up dusting the snow for like 20 mins more and then at 9 30 pm I fell asleep.
Tata goodnight fuck the snowfall. I said to myself. And slept. Hahaha see ya tomorrow.
Today I woke up refreshed at 6 30 am and then as I woke up, I saw that the tent was wet from the sides and some of my stuff was also wet. Now as I got up and unzipped the tent, I saw that everything was just white.
The whole place was covered with with snow.
It was beautiful.
As I woke up, I was threatened by a snowball aimed right me held by Norbu to come out of the tent asap and play.
I quickly grabbed. My camera gear and then shout some rad videos of the base camp covered with snow.
I peed in the snow and saw green grass coming out..hahaha.
Then we all clicked some amazing pictures of eachother
and then took our tents down and packed our bags to get ready for last trek day back to Leh.
Soon breakfast was served and it was MAGGIE.
We devoured the Maggie, packed some refreshments and lifted our rucksacks and started to descend the snowy base camp by
8 30 am.
It was supposed to be a 4 hour trek back to stok village , tracing the same path from which we came up.
Now we formed a line and started our journey downwards from the beautiful and majestic mountains.
We were walking on muddy snow.
After like half an hour into the trek the snow was left behind.
We were back on sandy, rocky terrain of Ladakh.
Today I was purposefully walking at the last position, so that I can soak all of the feels of these mountains as much as I can.
I knew that now for a long Time I won't be able to hear, feel or smell this magical stimulus.
We went through the same trail we came from.
I was walking with Rashmi and Anupam.
Soon we reached the campsite manokarma and I was still amazed at my surroundings
Which were sharp and huge mountains.
Then after another 1 hour trek we reached Chang ma campsite.
Talking , chatting , laughing, singing we reached the stok village at 12 30 pm.
Hoped into the van which took us back to Leh and our hotel.
Reached the hotel at 1 30pm and rested, took a shower after so many days. Hahaha. Ate the rest of protein bars.
And then went to the market. Had lunch.