Let me start by admitting that I am not the source of this information entirely. My husband who belongs to Srinagar has helped me make this post what it is. Living in Delhi since the last 6 years, he still craves for the warmth and the peace home offers him. The beautiful sights of any other place fall short in front of memories of his beautiful childhood town. Nothing compares to Srinagar and for him, perhaps nothing will. 
I hope for all of you who will visit Srinagar in the future, this will help you see this mesmerising city the way its people do. 
Day 1
The airport in Srinagar is about 1 to 1 and half hours away from the city depending on where you need to go. You will be slightly tired on this day and if you are arriving in the evening, it's best to keep the evening free. If you land here in the morning, you can spend your first day exploring the numerous markets in Srinagar. 
The Polo View market has all sorts of Kashmiri handicrafts and paper machie items that we've all loved since kids. There is tons to take home from this market, but remember to bargain and also to take a look at a substantial number of shops before making your purchases. Sometimes there are better bargains available two doors down!
For those of you who enjoy shopping for clothes, you can head to Lal Chowk (Ghanta Ghar) market. Considered to be the center of the city, Lal Chowk tends to get a little crowded. You'll need a lot of patience to make your way around this busy market! For the sake of variety and for the love of shopping, Abi Guzar, Lambert Lane and Forest Lane are also wonderful places to shop at for clothes, especially the very famous Kashmiri tila shawls. 
All this running around is bound to make you very hungry! All I wanted after 2 hours of shopping was a place to sit and some yummy food! Some of the places you can try our GN Sons and Aadhos, known especially for its bakery delicacies. For the non-vegetarians there are options at almost every market - street food here is exceptionally yummy!
Must visit for food in Srinagar: One of the best vegetarian joints in town is the Krishna Dhabba, at Durga Nag, opposite Burn Hall school. Also do not miss the 'Food Street' near Aukaf Building, Maisuma.
Cafés for the coffee soul: In the recent past, few amazing coffee shops have opened up in the valley. Cafe Arabica and Cafe Robusta are two of the best local coffee shops!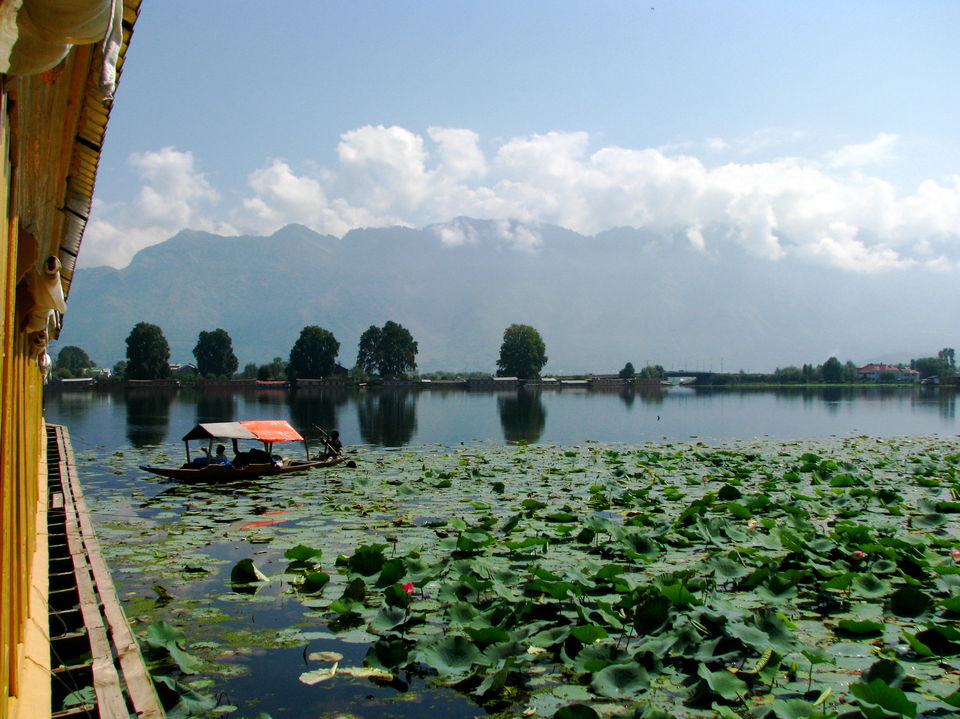 Day 2
Day 2 in any place is usually action-packed. With so many things to tick off the list, it's sometimes chaotic! But if you don't mind action-packed days and knee-breaking sightseeing tours, Day 2 for you in Srinagar can be exciting. The Mughal gardens, Nishat, Shalimar and Chasmeshahi are places that are definitely on everyone's must visit.
But if you are in the mood to try something new, take Gupkar Road to the Mughal Gardens rather than Boulevard Road (which by the way is perfect for an evening walk). The Gupkar road runs along beautiful mountains and crosses in front of the famous Lalit Grand Palace hotel. The same road goes to The Royal Springs Golf course and the ancient temple of 'Jestha Devi'.
If you enjoy long drives, you can also take the Four Shore road along the Dal lake, towards Hazratbal Daragh or University of Kashmir.
Another magnificent experience is a visit to Harvan. A garden cum water reservoir, Harvan definitely is a must visit for its calming aura and surprising beauty. The lack of tourists here is another advantage since one can enjoy mesmerising views without the constant chatter of excited tourists. There is a Bhuddist Stupa just before Harvan garden - it is not marked properly and can be easily missed so you'll have to keep an eye out for it.
Pari Mahal, also another gem is a must visit. Though most people are well aware of Pari Mahal, it's not recommended as much for tourists. The Mahal is almost in shambles but the view of the city from here is breathtaking! So though there is a shikara ride to enjoy, there is also history to explore!
Day 3
Hazratbal Daragah, Chatti Padshahi Gurudwara and Shankracharya temple should definitely be part of your itinerary on Day 3! Though it may sound like a spiritual tour, it is unlike any you would have experienced in India. All three sites are starkly different yet will make sure you have a memorable experience.
The rest of the day can be spent at Nageen lake where you'd truly feel as if time didn't matter. The breathtaking sights take you into a world that is so different and untouched, you'd never want to leave! Perhaps at this moment, you will realise why Srinagar is called the paradise it is!
In the heart of the city, near Residency road, lies a small man made island known as the Peer Zoo. Nestling near the banks of River Jehlum, it houses a well-known J&K tourism's restaurant. The place is definitely worth a visit since it promises yummy Kashmiri food and a sight of the River Jehlum that is rare! Recently, a river cruise has also started running in the Jhelum, it is an amazing experience for those who are interested in a little bit of adventure. The cruise is comfortable and quite an experience, it is however best to get a reservation in advance for the cruise. 
Day 4
If you are here for more than 3 days, it's best to head outside the city. First on my list is Dachigam National Park! Very few tourists make the effort of visiting this absolutely delightful park so you will be away from the usual touristy crowds. Spread over acres of lush forests, the park is not only an eye-opening experience but one that stays with you for a long time to come. The managers in the park are knowledgeable and the information they offer during the tour makes one realise yet again how we have manipulated nature for our own needs. The rare and endangered species of deer called 'Hangul' is the main attraction there (which were once seen in hundreds but today only 38 remain). The park also houses rare birds and it's actually wonderful to watch the managers recognise the birds through the chirpings!
Other places you can visit on your last day are Gulmarg, Sonmarg (though it might be slightly tiring) and Pahalgam. 
Srinagar is a beautiful place and instantly accepts you as one of its own! Whether or not you go with your bundle of expectations, this charming city will win your heart with its hospitality, warmth and sheer beauty.