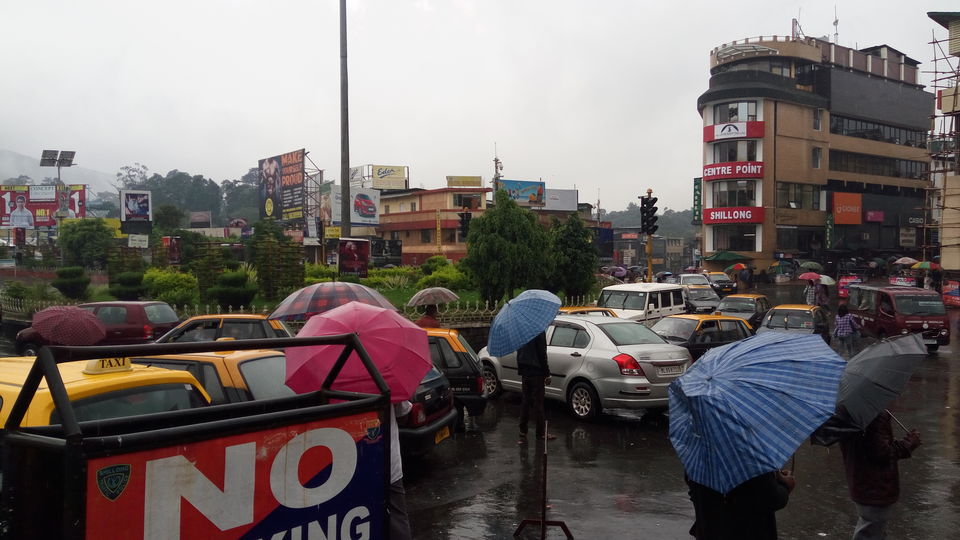 You don't have to spend a lot to visit the abode of clouds. A trip to Shillong, the beautiful capital of Meghalaya can be hacked for around 1000Rs (15USD) per day. If you have been procrastinating your trip to the rainy town, its time to take a Friday off and set out for a wonderful trip.
Reaching Shillong
The easiest first step is 'via air'. From anywhere in India, you can fly to Gauhati. The Lokpriya Gopinath Bordoloi is an interesting aiport which gives a stunning view during your descent. I reached Gauhati airport on a Friday morning (Aug 11, 2017) and the land of tea welcomed me with drizzles and cool breeze.

From Airport, you have a lot of choices to reach Shillong
1. Take a AC bus to Gauhati Paltan Bazar (Rs.130) and then take a shared Sumo (Rs.170) or a shared sedan (Rs.300)
2. Book a Prepaid taxi from airport to shillong (Rs.2000 - 2500) Rate card here
3. Come out of the Airport and take a private taxi (Rs.2500 - 3000)
4. Take a chopper from Gauhati to Shillong (20 minutes - Rs.15oo)

I went with the first option and reached Shillong in 4 hours. The first one hour bus ride took me into the city of Gauhati and I had a great view of Brahmaputra. After a scrumptious Assamese breakfast, I took a shared cab to Shillong. Warning: The road to Shillong from Gauhati can be dangerously mind-blowing

Accommodation options
The cab will drop mostly in Police Bazar and the place has got plenty of options to stay. You can get a room for less than 350Rs in jail road or you can get a very decent budget rooms for around 1.5K at the White Orchid. I managed to get a single room for 300Rs/day at a place which is so close to CCD, The room was pretty decent with a table fan and a tv. Score!
Eating out

The best thing about Shillong cuisine is the Chinese/Bhutanese influence. Staple food here is steamed rice (surprise) followed by Chow Mein. There are nice eat outs next to the MTC bus depot. Bengali restaurants dominate this area but you have options to try south Indian and Assamese food. If smaller hotels are not your thing, move towards the Gold Cinema and you can find Kfc, Dominoes and other restaurants that accept cards/paytm. A plate of momos can cost between Rs.40 to Rs.100 depending upon the restaurants. A road side shop can offer you a decent chow for Rs.40. I mostly hunted the road side shops and satisfied my taste buds for cheaper but delicious street foods
Moving Around
The easiest way is to book packages from Meghalaya Tourism. To book the Cherapunji bus you have to do it in advance by a day. They also offer cheap packages in Sedans/Innovas if you are moving as a group. If you dont have that option then go with private Taxi. The place to go is obviously PB (police bazar). Negotiate with the drivers, negotiate hard. A trip to Cherrapunji will be Rs.2000 for a sedan and can be shared between 5 people. If you are a solo traveller, tell the taxi guy that you are looking to share. He will group the other solo travellers and fix you a deal.
Not to be places will be Cherrapunji, Ward Lake, Botanical Garden, Shillong view point.
Expense Check
I reached Shillong on Aug 11,2017 and stayed two nights and three days. On the third day I took a Swift Desire and shared with 3 other people to come back to Gauhati.
Transit to Shillong: 170+130 = Rs.300
Accommodation: Rs.700
Lunch/Snacks: Rs.800
Trip to Cherapunji and View point: Rs.700
Total Essential Expense: Rs. 2500
Entry for a DJ night at on stupid hotel: Rs.300
Shopping at Police Bazar, Polo Bazar: Rs.600
Total expense for the 3 day trip: Rs. Rs.3400
Roughly Per day expense: Rs.1114
So what are you waiting for, pack your bags and book your flights. Happy Shillonging!