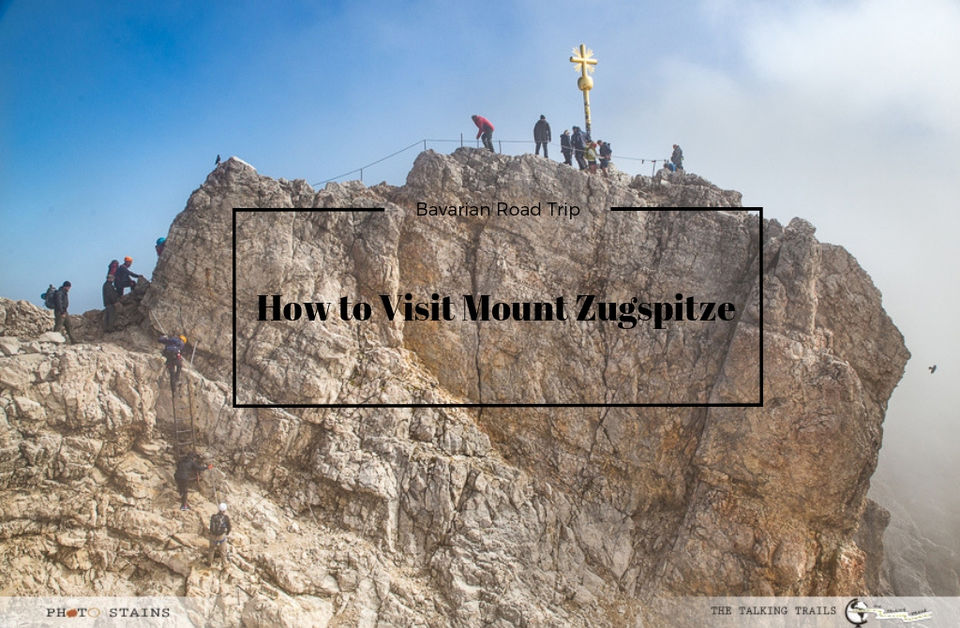 Visiting Bavaria and not going to Mount Zugspitze is like being in Germany and not tasting the Beer. Hahahhahah I think I am still not over Octoberfest , well in my defense can you?? Before leaving for Germany as I was planning my itinerary , I had so many questions regarding visiting Mount Zugspitze that no amount of information on internet really helped. Things like - Best time to visit , when to visit , should I visit it from German side or Austrian side - I mean really , I had lot of questions. People say any trip is as good as you plan - so I am happy to report that everything worked out perfectly and in fact visiting Mount Zugspitze is one of my most fond memories of the trip. So lets get to the point - How to Visit Mount Zugspitze.
What is Mount Zugspitze :
Mount Zugspitze is - Top of Germany. Being on top of this mountain literally makes you feel like to have Germany at your feet. At about 2,962 metres above sea level, the Zugspitze is the highest mountain in the country and home to three glaciers and Germany's highest ski resort. Mount Zugspitze is a year round attraction - in winters it is Meccah for the skiers and in summer it provides an impressive 360° panorama which opens up to reveal extensive views over 400 mountain peaks in four countries. Once you reach on the top , you will enjoy unparallel scenic views , Germany's highest church, an igloo village and excellent mountain restaurants that will definitely leave you warm and smiling :).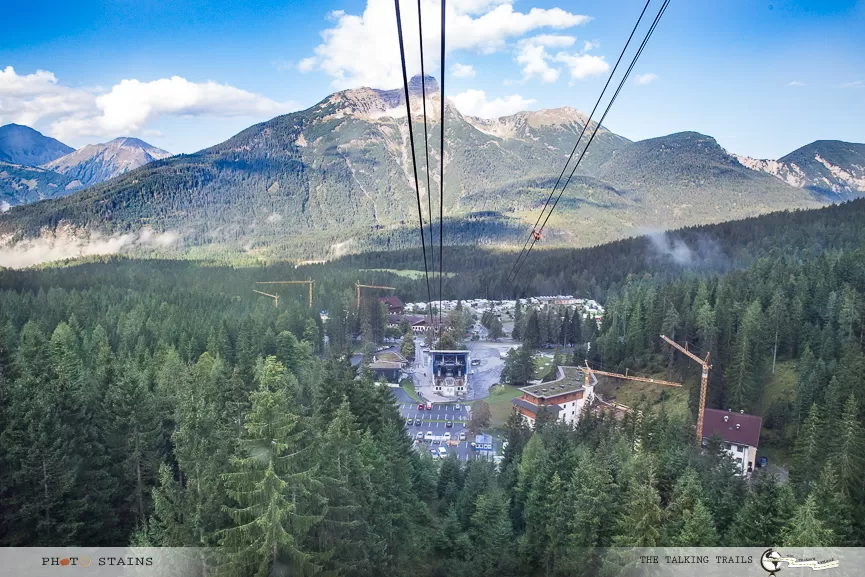 Things to know before you go:
1) I will not recommend pre-booking for this trip as weather is the key factor to decide. It might look all sunny and warm at the bottom , but it might be totally different on the mountain top. I will highly suggest to check weather the day you plan to visit the mountain top.
2) I cannot stress more on the fact that start your day early specially if you are visiting from German side.
3) Dress in layers as it gets incredibly windy on the mountain top even in summers. We carried jacket , gloves and a beanie and trust me it was all worth it. It was very cold and i can't even imagine how would it be in winters.
4) Carry cash with you.
5) Cable cars do allow dogs but with a nominal fee.
6) Parking is free and is included in the ticket but if you reach late both on Austrian and German side , finding parking might get a little problematic.
7) Trip to Zugspitze is easily takes about half a day. There are restaurants on the mountain but needless to say are a bit expensive. To save some money , carry snacks with you.
8) If you plan to hike the German side to touch the Golden Cross - do it the first thing as you reach the top. As the day progresses , there can be a traffic jam of people awaiting their turn to make it to the top.
Germany or Austria , from where can you visit Mount Zugspitze :
Since the mountain is located right at the border of Austria and Germany , you can visit it from either of the two countries. But I will give you 2 reasons which makes Austria a clear winner to be the starting point:
1) The cable car prices are cheaper in Austria than Germany. I think it is about 45 Euro in Austria and about 56 Euro in Germany.
2) And most importantly , Austrian side is comparatively less crowded. You will not have to wait in queues for hours.
From German side here are your options :
1) Cable car from Eibsee : Zugspitze is in the South-East of Germany and the closest town on the German side is Garmisch-Partenkirchen. From here you can drive to Lake Eibsee which will take you about 25 mins and right at the lake you can take the cable car to the top of the mountain which will take another 10 mins. The only catch is - if you are not early enough to reach , there are huge lines and wait time can be in hours.
2) Cog Rail from Garmisch-Partenkirchen : Looking at how high you need to go to reach the mountain top , I have so much respect for this cog rail - truly impressive. This is a train which somehow magically climbs up a ridiculously steep mountain and takes about 35 minutes to do so ;) . The entire trip is about 1.5 hrs one way. You will have to board the train all the way from Garmisch and this train will take you through Grainau and Eibsee, then will finally make an ascend Zugspitze by cogwheel power.
Note : The railway route is pretty only at the start of the journey. As it makes it way through the mountains , you will find yourself in tunnel for good 20 minutes. It's not the most scenic route but if the cable car isn't running or you don't like them, it's a good alternative.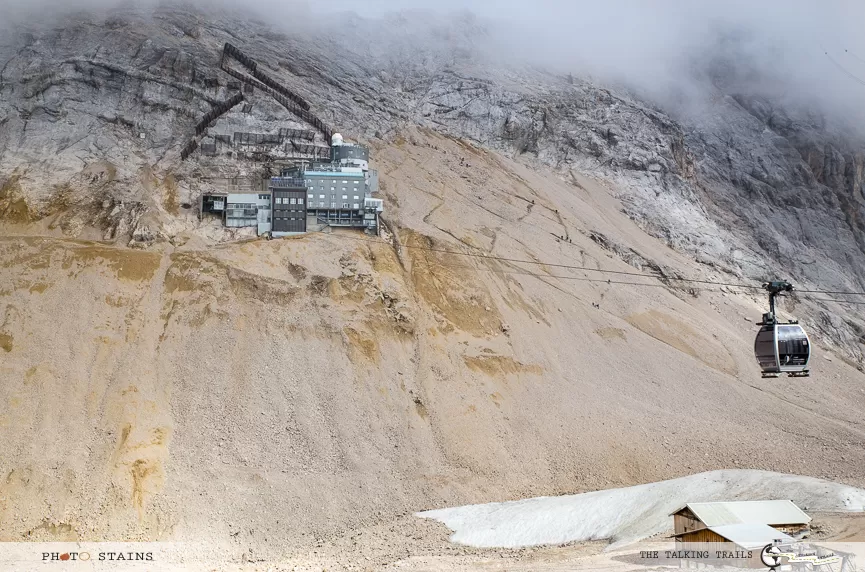 3) Combination of Cable car and cogwheel : If you want to combine the best of two worlds , you can take a combo ticket by going up in the cable car and descending by the cog-wheel train. For this option drive from Garmisch-Partenkirchen and park your car at Lake Eibsee. From here take the cable car to the top and later descend by the cog rail to Lake Eibsee.
Find more details of pricing from German side here .
4) Hiking : There are many hiking trails to reach the top of the Zugspitze each varying in the time and difficulty level. But on an average it takes about 8 - 10 hrs ( one way) to reach the mountain top and the journey must be broken in 2 days with a stop at an alpine hut. Obviously I did not attempt this option , but being summers I could see many people from my cable car hiking up the mountain top ( God bless them :) ).
From Austria , here are your options :
1) Cable car from Ehrwald : Even if you are staying at Garmisch-Partenkirchen , you can drive to the town of Ehrwald in Austria. It should take you about 35 mins to reach to the parking area of Tiroler Zugspitzbahn. From here take the cable car and you will have 2 options :
a) Peak Ticket - This will just take you to the mountain top with free access to museum and will cost about 45 Euros.
b) Glacier Round Trip Ticket - This ticket includes up and downhill ride with the Tiroler Zugspitzbahn and also down- and uphill ride with Bavarian glacier cable car to "Zugspitzplatt" where you will find Germany's highest church.
Note : find more details about pricing from Austrian side here.
2) Hiking: There are hiking trails from Austrian side too. There are as time consuming as from the German side and needless to say takes about 2 days.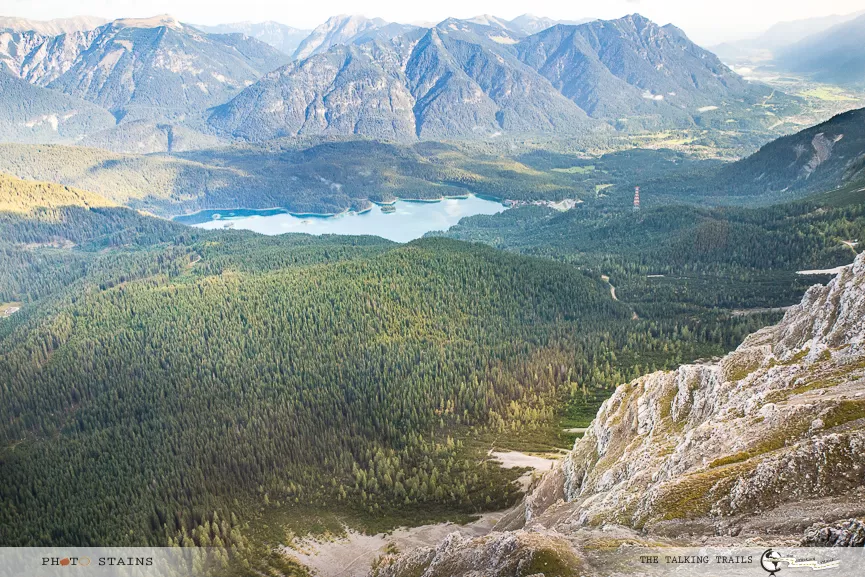 When to go :
As i said , this is one place where I will really not suggest to pre-book. Make sure that you have wiggle room in your plans because its really not worth spending money if you do not get good visibility on the top. If you are coming to Mount Zugspitze you are expecting a spectacular view of the Alps , which can only happen if its not cloudy or rainy.
What to expect at the summit:
The beauty of visiting Mount Zugspitze is that it does not matter from which side (Germany or Austria) you reach the top , you can go to the terrace of both the countries without any hassle. Each country has a covered resting area complete with museums , restaurants , restrooms , gift-shops and they all are connected by a narrow walkway. So you can literally walk in few steps from country to country right at the mountain peak without even realizing the border crossing - isn't that coool ?? German side has a Golden cross that marks the top of Mount Zugspitze. You can hike to the golden cross but I must warn you that final accent to the top is very dangerous. Its only chains and ladders that assist hikers to climb to the top and if attempted in bad weather or with wrong shoes or without focus can prove fatal.
What did we do:
We were staying at Garmisch-Partenkirchen area the day we planned to visit mount Zugspitze . Even though cable car from Eibsee would have been nearer , we drove to Ehrwald in Austria. It took us about 35 minutes from our hotel to reach the parking area of Tiroler Zugspitzbahn. We reached there at about 9: 30 am and we were literally 5th in line so there was absolutely no wait time. Also the cable car was less crowded so it was easy for us to move around and take pictures. Once we reached at the top , it got really cloudy and the visibility faded. I did attempt hiking up the Golden cross and yes it was slippery and I nearly slipped. Hence I will highly request not to dare attempt it if you are not 100% sure. This was too narrow of an escape. Since we had taken the "Glacier Round Trip Ticket" , we enjoyed our time at Bavarian glacier named "Zugspitzplatt". It was beautiful.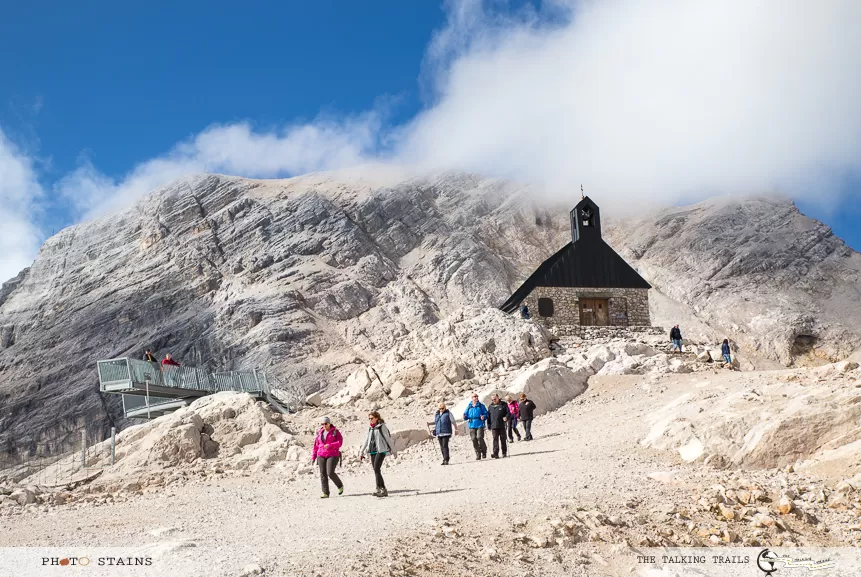 I hope this blog post helps you to plan this one of a kind experience in Bavaria. Since we started our day early , we got free by noon and we headed to Innsbruck which was a total surprise for me. This colorful city had so much to offer that I literally got bonkers as I visited this town. But more about Innsbruck - ofcourse in my upcoming blog post. If you are in Bavaria and looking for perfect itinerary , you can catch my road trip itinerary here . If you want any other suggestions for your trip in Germany , leave me a comment and I will be happy to help. Thank you so much for stopping by ... But before you go ..
Would you visit Zugspitze ? Have you already been? How was your experience?
Let me know in the comments below.
More travel inspiration : TheTalkingTrails