Germany is a phenomenal country to visit and experience their culture! After living there for over 3 years, I grew to love all it had to offer and still go back as often as I can. It's also where I met Linn so that's also kind of important to me.
Contents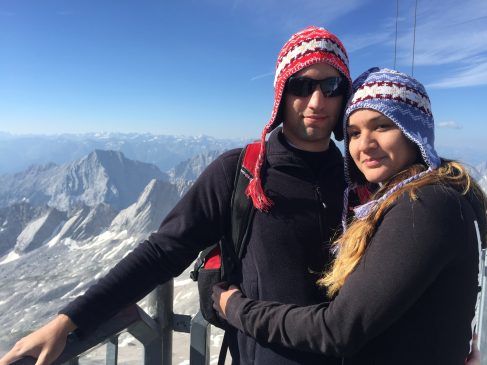 Intro to Visiting Zugspitze Garmisch-Partenkirchen
I loved every minute of being in Germany (well unless I was working). The whole country is beautiful and a great place to go siteseeing, Zugspitze is no exception. Nestled in the southern part of Bavaria and the highest mountain in Germany, Zugspitze is a towering mountain of awesomeness. Coming in at 2,962m (9,718ft), Zugspitze is not the easiest (but also not the hardest) mountain to climb. No worries though, if you don't want to climb there's a cable car that can take you right to the top! We'll cover that in a bit though, first lets talk about how to even get to a spot to prepare ascending this beast.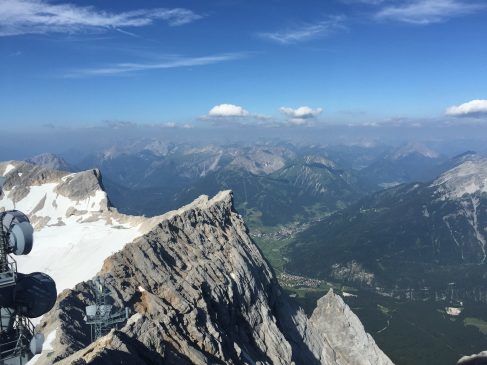 Transportation
Getting to Zugspitze can be done from Germany or Austria as the mountain slices right through both countries. While I recommend driving as it was simple and easier to get around, there are other options depending on the side you choose. But if you can, I strongly recommend renting a vehicle or taking some form of local transportation to get around.
Zugspitze From Germany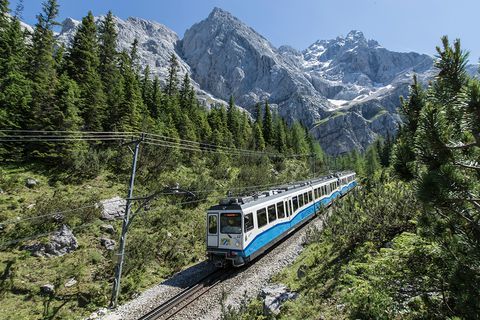 Train (Choo choo!)
If you're coming from the German side, it's best to reach Garmisch-Partenkirchen to start your journey, as the Zahnradbahn (cogwheel train) connects the city to the mountain and gives a direct train to Zugspitze. NOTE: There is still a short distance to either hike or take a very short cable car ride to get all the way to the top. For more info on ticket prices, check here.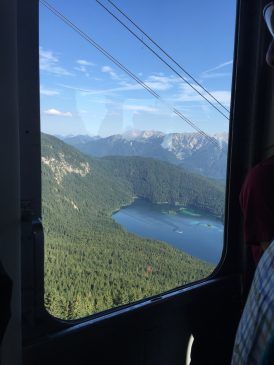 Cable Car From Eibsee To Zugspitze
An alternative to getting to the top is to take the same train mentioned before, but stop at Eibsee (the lake below the mountain), and then take the longer Eibsee cable car all the way to the top of Germany's highest peak! I recommend this route as it offers the best view and you get a wonderful site of Lake Eibsee below.
Hiking Zugspitze
There are also 5 main hiking trails you can take that are usually split over two days. These hikes take time and while this mountain isn't the hardest, I highly recommend you be fit and trained for climbing. I chose the cable car personally, so if you want more information on the trails, check this out.
Zugspitze From Austria
Cable Car Again!
In addition to the hiking trails listed previously, there is another cable car on the Austrian side that will get you to Zugspitze. The Tiroler Zugspitzbahn in Ehrwald, Austria offers rides up the mountain in short time and to compare prices, you can check their website.
What's On Zugspitze To See?

Siteseeing
Once you get to the top of Zugspitze, you can finally relax and take in the view. Look towards Germany and see Lake Eibsee far below, then do a 180 and see the beauty of Austria! There are multiple viewing areas to get to feel the Alps with your eyes, and if you're feeling adventurous, there is a slight climb (can be dangerous!) to get to the very tip top of the peak.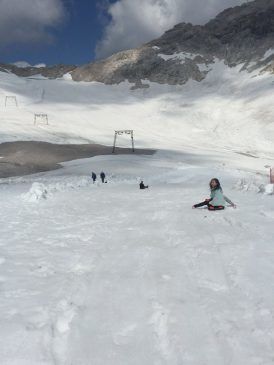 Skiing/Snowboarding
Thankfully, due to Zugspitze's altitude, it is covered in snow for over half the year! This is great news if you're into skiing or snowboarding as they have awesome trails that are commonly covered in fresh powder. Additionally, if you're not into skiing or snowboarding, there is a sledding area below the summit (same altitude as where the cog train comes to) for some family fun. The slopes weren't open at the time we went due to maintenance, so we decided to enjoy some sledding ????.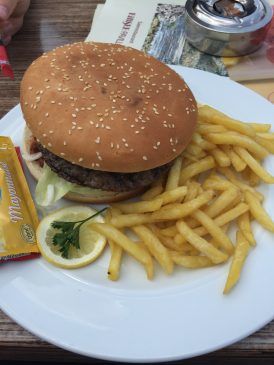 Food & Drinks
It takes time to go up the mountain and time to go down. If it weren't for the restaurants at the top, I would have been hangry about 80% of the time. There are a few options for restaurants once you get there and it's fantastic German cuisine! To get more info, ! Even if you are traveling on a budget, you don't need to have a sit down meal while you're up there. Scattered around Zugspitze are smaller eateries and food truck sized stands for snacks and refreshments!
Gifts
If you're anything like us, mementos and gifts for family are a must to grab on any of our travels. We always visit these places rich in culture that have unique aspects we may never see again, so we always try to take a small piece back with us. If that's you too, then rejoice since there's plenty of shops to grab presents from at the top!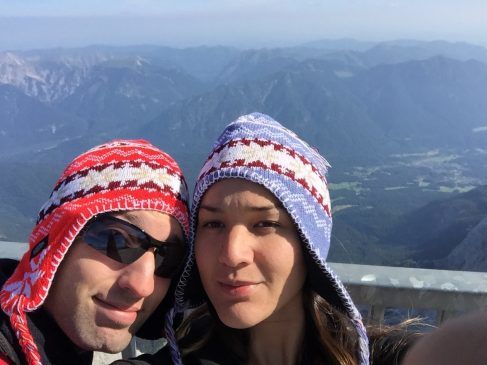 Overall
So is the trip worth it? Should you take the time to travel to Gramisch-Partenkirchen and ascend Zugspitze? Absolutely! I spent 3 years in Germany and loved this place so much I actually ended up going twice. It's a perfect getaway and will be a place to create memories and enjoy the beauty of Germany!
Want to share this post?
Feel free to use one of the images below!