Before I give you an insight about this trip, I would like to thanks Tripoto for sponsoring this trip, which has been life changing for me. Since it was a tripoto sponsored trip, my trip was half-planned and to be truthful, I have enjoyed every bit. I have reached Delhi on 7th of february on my own from
Kolkata and stayed at a hotel Mapple Express in greater Kailash. I will put the review of the hotel in another blog post, if any one traveling to delhi, wishes to stay there. So on 8th february, I was scheduled to board my bus from Majnu Ka Tila, Delhi around 9.30pm and which means I had the whole day of 8th february to me. I have been to Delhi many times and have hardly any attractions to visit, as per my taste of travel. I have googled a bit on 7th night and planned to pay a visit to Humayun's Tomb and Railway Museum at Delhi, the other day. I didnot want to pay for another night in delhi, so checked out of my hotel around 12:30 and headed for lunch to Joey's Sizzler at defence Colony. Yes I have weakness towards steaks and sizzlers. After a hearty meal, I ventured out to visit Humayun's Tomb which turned out to be way too beautiful than I have imagined. Next stop was Railway Museum, this is not a place everyone would love to visit but if you have children or you are a museum-buff then do pay a visit as it stores all kinds of trains and engines since the British era in India.
It was almost evening around 5pm and I had planned to go to my bus boarding point around 8pm so I still had 3 hours in hand. Yes it was getting tough to spend time leisurely now. But Zomato came to rescue, I searched for instagrammable cafe in the city and found out about The Diggin cafe opposite Gargi College in Delhi. It was one of the prettiest cafes, I did visit in recent times. I had a book in my bag, could not resist but bought it since it garnered much good reviews ie Pyjamas are Forgiving By Twinkle khanna, took it out, got myself a corner seat and ordered a smoothie and blueberry cheesecake and indulged into my book of the hour. Around 8 pm, I reached the bus boarding point at Majnu Ka Tilla, my bus was already booked by tripoto directed travel company through Pal Travels and thus I awaited my bus at the Pal travels office there. At 9.45pm, I have boarded my bus and it took me more than 12 hours to reach kasol, the very next day. If you are living a bit out of the city in kasol, don't worry!! almost all buses pass the outskirts of the city limits and will stop the bus at your designated resorts or homestays. Like we dropped down at Bricks and Woods Cottages, Kasol where we were pre-booked by our travel agency. Since it was a tripoto sponsored trip, I was supposed to be sharing my cottage with another female traveller (Mariya) so we got one cottage to ourselves. I would put the reviews of my stay in another post and share my itinerary here. Once we entered the cottages, we could snow here everywhere as it snowed last night only while we were travelling from delhi-kasol by bus. I was a mountain hater (truth be told) and this trip through tripoto has completely reversed my views.
Seeing snowfall for the first time in my life, I was spellbound. But the happiness did not last long as I was getting frozen within 5 minutes. Yes it was 1 degree C at kasol then, so we rushed to our cottage, asking them to get us coffee as soon as possible. We unpacked our luggages, got our wallet and water bottle and left for Kasol which was 3 kms away from our stay location. The car was provided by tripoto only throughout. We changed the car at Kasol market area and left for manikaran for hot spring water experience. Yes natural hot spring water is there at manikaran and given this temperature, one would love to spend hours in it. I did not though as I did not have extra pair of clothes for this trip. There are separate zones for boys and girls for hot water dip and also a common bath area. You can choose as per your preference. There is a gurudwara too attached with the hot spring water zone and we did pay a visit to it and they serve you food too at the Langar. We opted for the same as part of experience. The food is no extravagant, but if you are looking real indian experience or low on budget, you can have your lunch here. We had plain rice, daal and subzi there.
Post this we came back from manikaran to kasol only around 5pm and indulged in shopping for an hour, I guess.
Kasol is a hilly area and so you know what to buy here, you get plenty of woolen wears here and beautiful woolen caps. Do buy some but post bargaining. They almost go half the prices from what they initially quote.
Post shopping, we were hungry as hell and quickly headed towards some local food joints. The temperature already started dipping vigorously to 2 C and we found a small open food joint, lesser decorated than dhaba even. Maddened by hunger attack, ordered veg and non-veg momos and veg maggie and masala maggie and tea and coffee. And guess what, all these came for only Rs300/-. You can easily make an idea of how cheap these food joints at kasol can go upto and thats why they are extremely popular with solo travellers or Should I say backpackers.
We then headed to Bricks and Cottages where we stayed for the night, the temperature by now went to -2C and we were all enjoying the bon fire thoroughly. It was like the bon fire was a new way of life,here.
The hotel offered us with a delicious meal with chicken curry, rice, daal and salad and we could not thank them more. when the temperature is -2c and cooking such a storm for your guests is quite an herculean task.
We went to bed by 11pm as we could not bear the chill in the air anymore. Yes it was unbearable for me and others being city dwellers we are not accustomed with such extreme cold that also in the month of february where in cities, the winter tends to fade away and temperatures slowly rise up, hugging spring in nature's most predicted way.
I hold in my memories the beautiful starry night that I have witnessed that night during bonfire, the unlimited free meal at manikaran gurudwara, the magical hot spring waters, a gift of nature, the snow on the gorgeous parvati river at the backyard of bricks and cottages and the courtesy and heart winning guest service in that extreme climate. I wish few years down the line, I will head back again to the most hyped yet beautiful Kasol.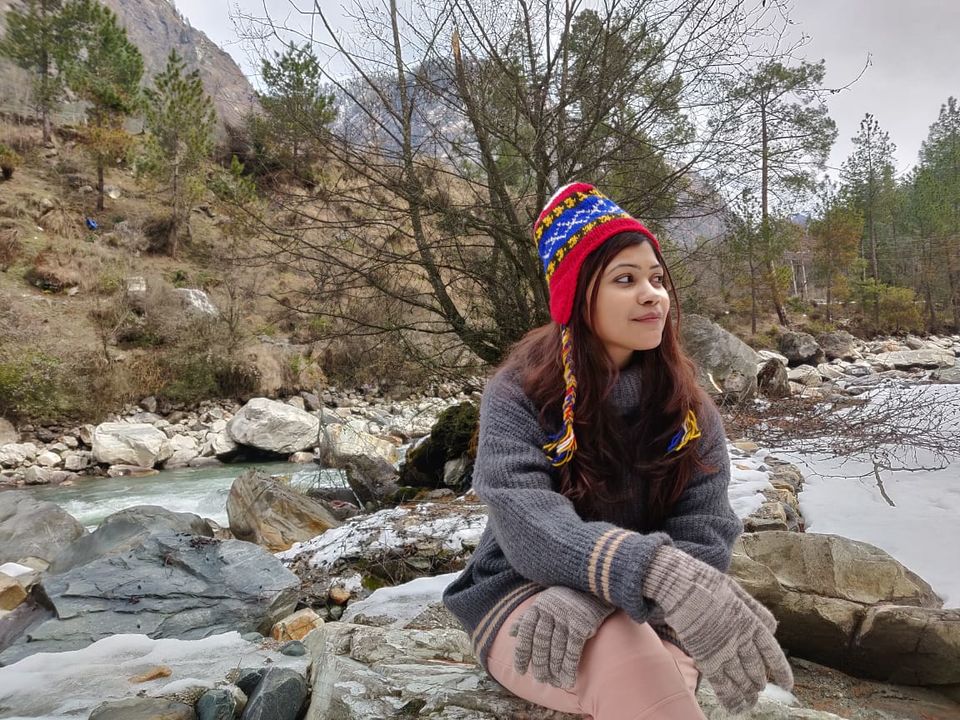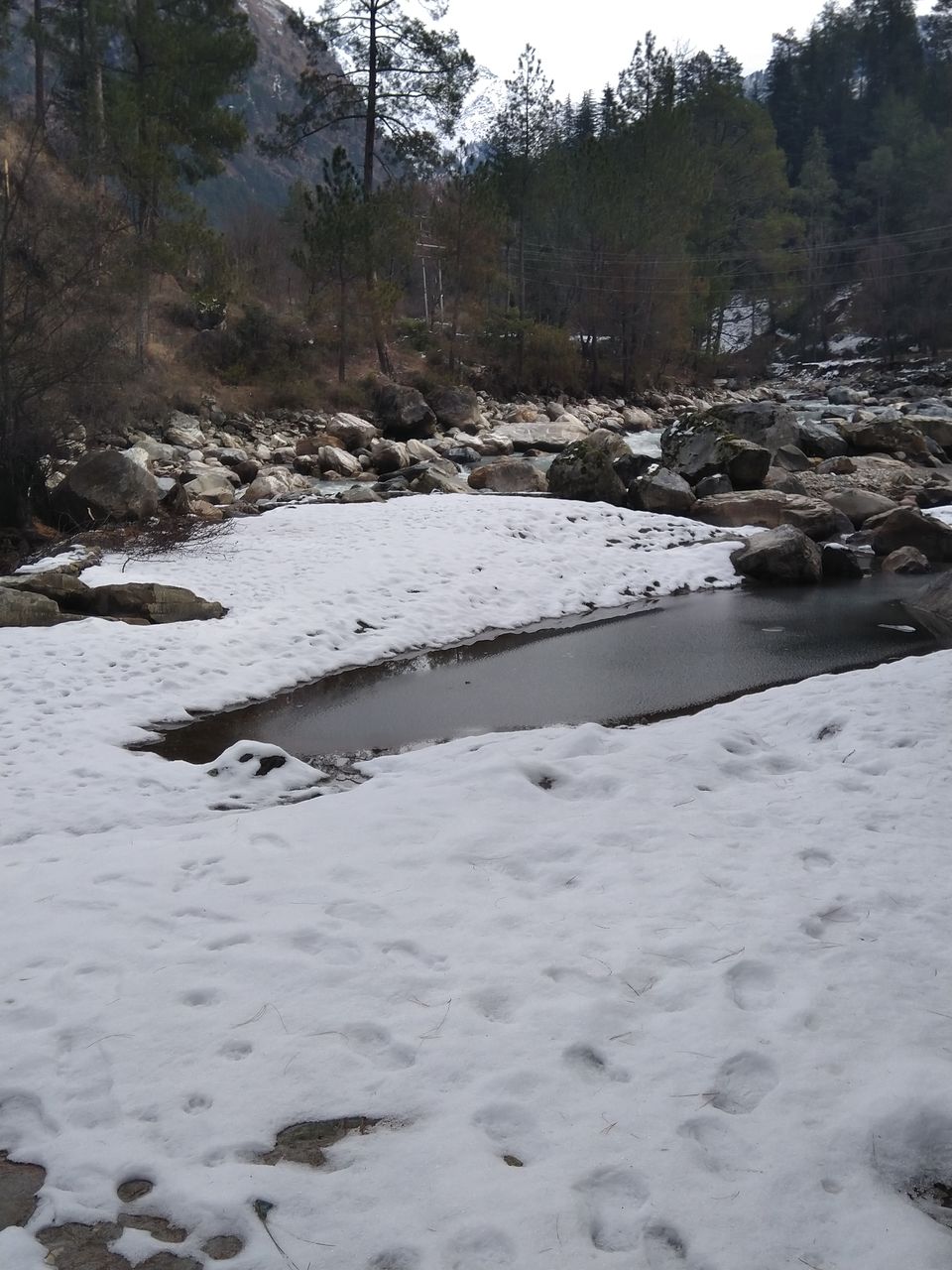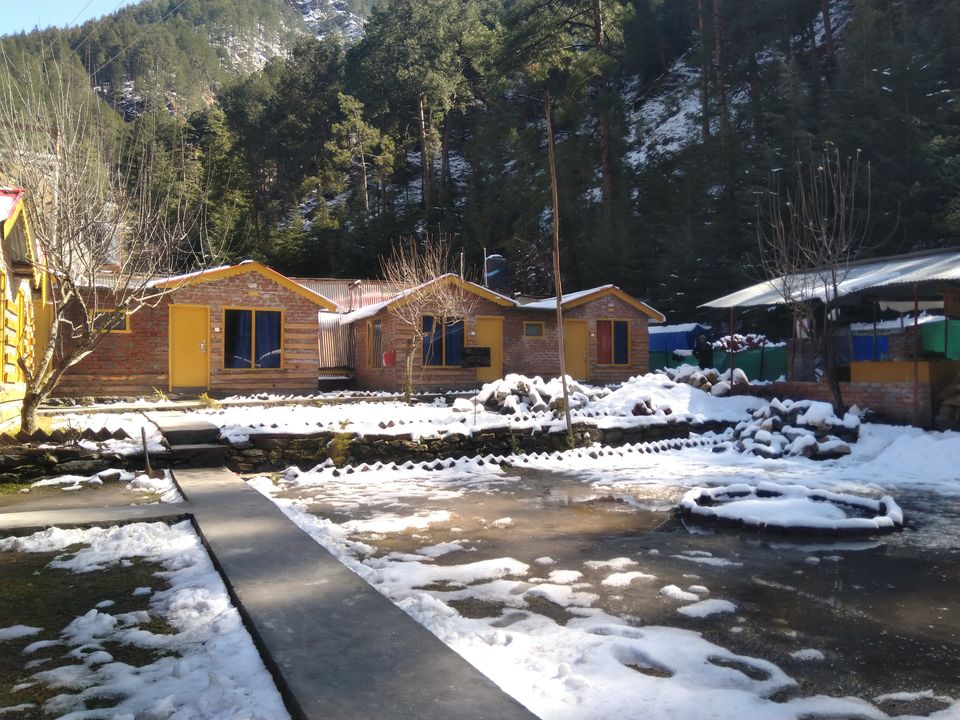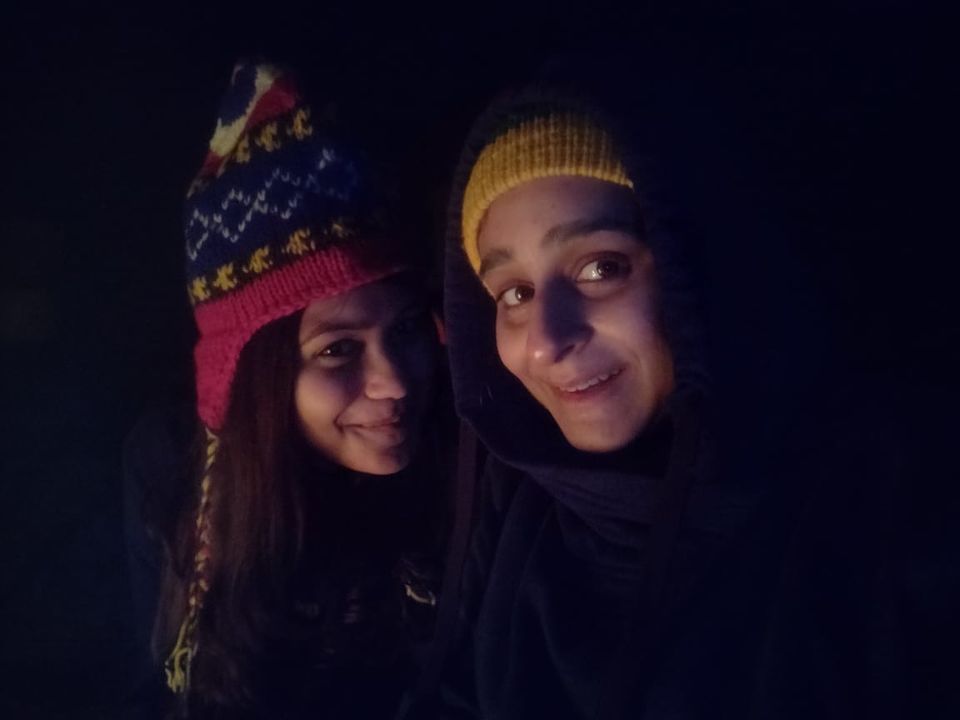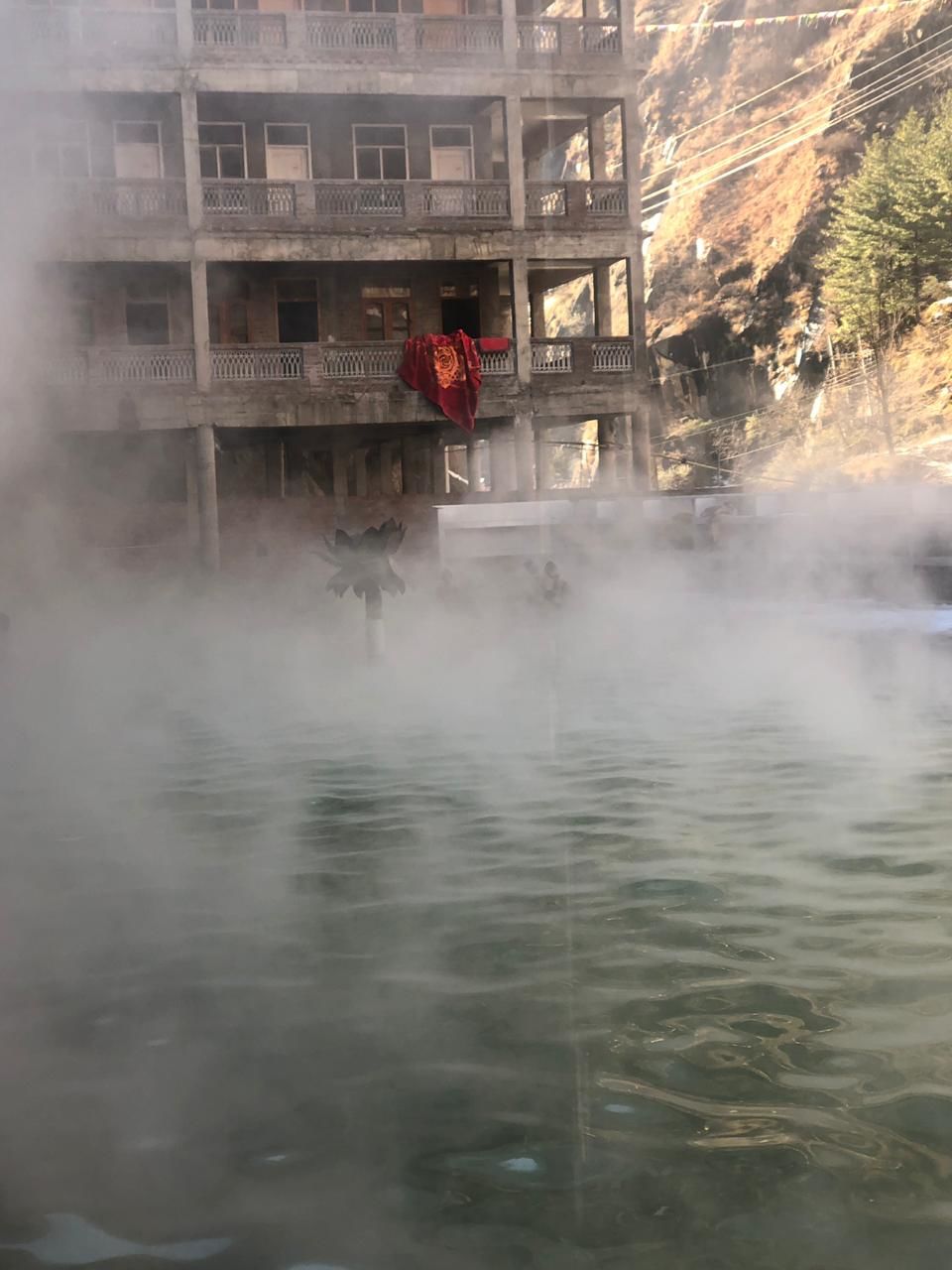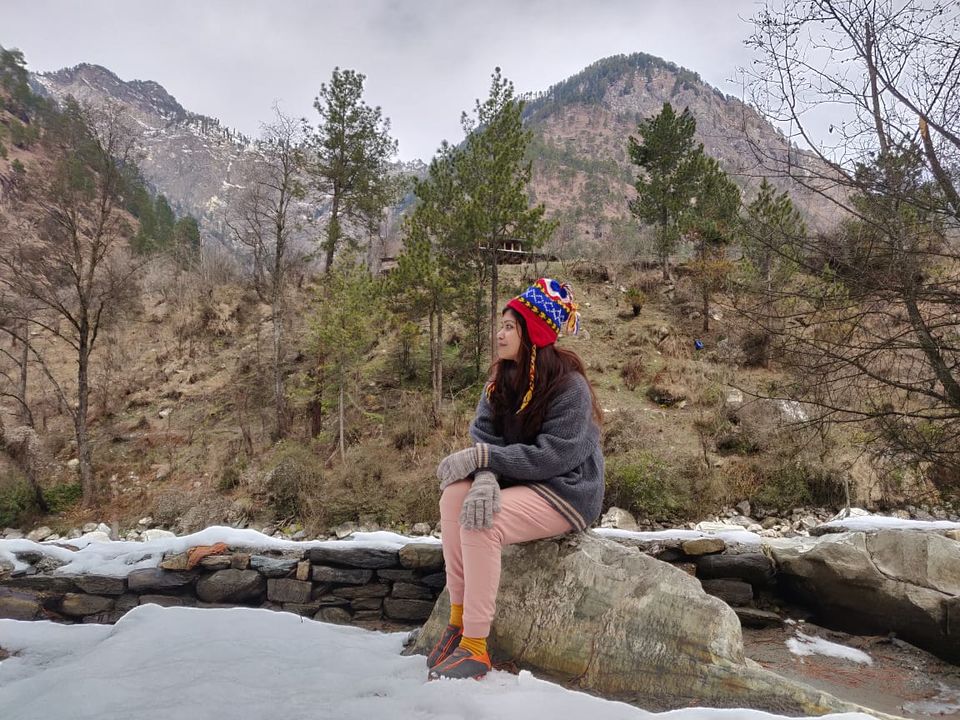 For more updates, follow me in instagram @ritusree.andshedressesup