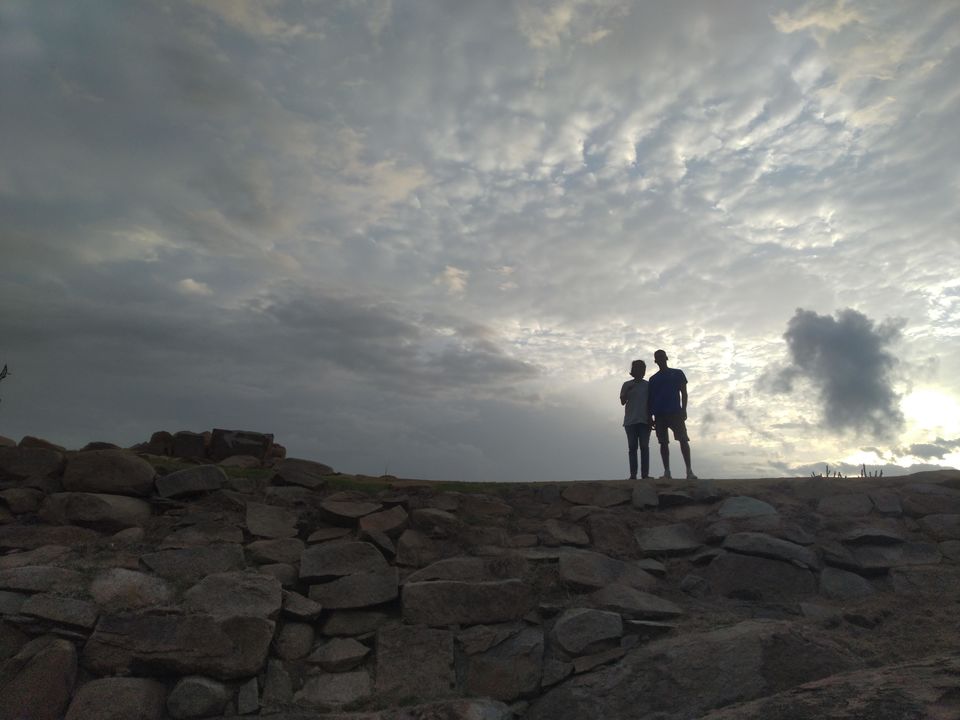 I was wandering about all alone in a new city when I bumped into a stranger who turned into a friend.
Well, not really, I was wondering around collecting garbage and making the villagers of a remote village understand its problems and impacts. I was working for a cause I believed in, in a village called Lohajung in Uttrakhand. I was working alone for a month as the other friends of mine had finished their term and September it was just me in the village, the only non local who had made it to their hearts as a local.
I used to spend my days walking to the 4 different villages around Lohajung, teaching at schools, gossiping with tailors and ladies of the villages, working with the women in their fields during the evening and having an amazing time. Well that is what I though, until. .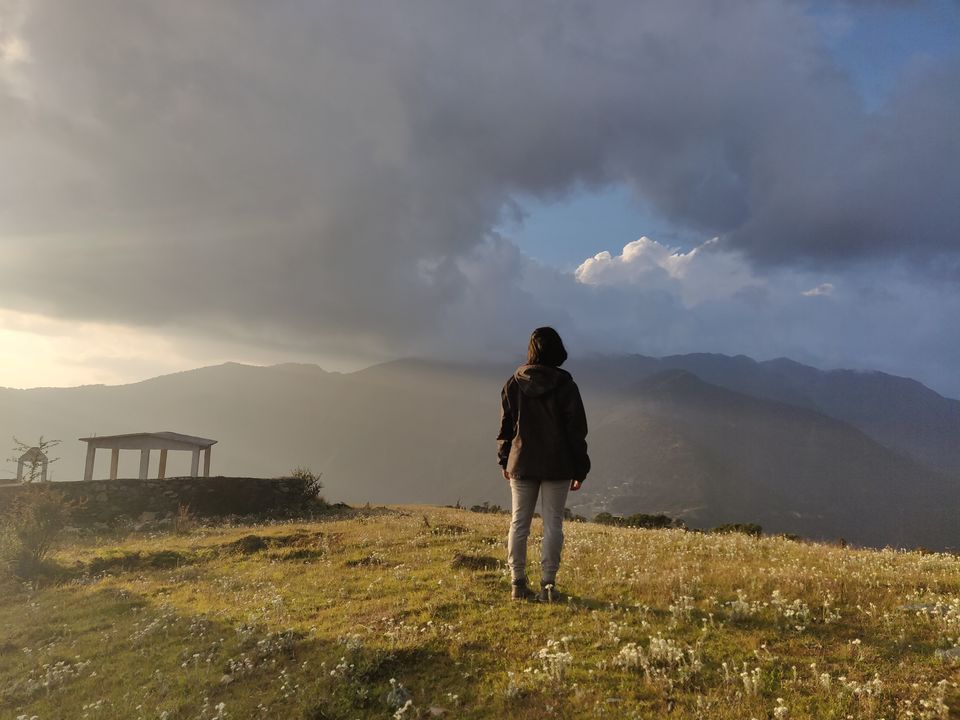 One fine morning the base where I stayed in was all abuzz. A new batch of trekkers was coming. A set of 80 kids from IIM were coming for their outbound program and along with them were 10 staff/ volunteers. And I had been living as a villager since three months by now, and the last one month of just hindi that I had forgotten how to talk to people in English and such a huge batch . I was dumbstruck
The day they came, I tried to talk to them, but I had nothing to say. I said my hellos and vanished to the village. My safety net. The locals staff who were the guides and the kitchen team were the only ones I could talk to easily. So if I had to be at the base I would be with them. But the next morning I couldn't escape it. I had to mingle and help serve breakfast for 40 students. I was after all not a villagers in reality.
And so I stood with these 2 guys who were a part of the company I worked with serving. I well, wasn't a pro at serving breakfast so after this guy next to me put three pieces of idli on a trekkers plate along with shambar, I somehow put the chutney I was serving on the sambhar instead of beside it. The innocent trekker looked up to me and asked, 'Are you coming to the trek with us?" And then came one of the deepest laughter I had ever heard from beside me. The guy who was serving idlis with me was laughing at my face, for the skill I possessed of putting chutney on shambar and being asked if I would come with him to serve everywhere!
I laughed along, and thought hey maybe the trek wont be so bad, I might have a friend who gets sarcasm as well. The first day I went up with the local kitchen staff to help set up their tents and the toilet tents before the trekkers reached so the friend was behind with the trekkers. He did come eventually and we spoke a little. I wasn't that alone anymore. And I was getting better at serving food.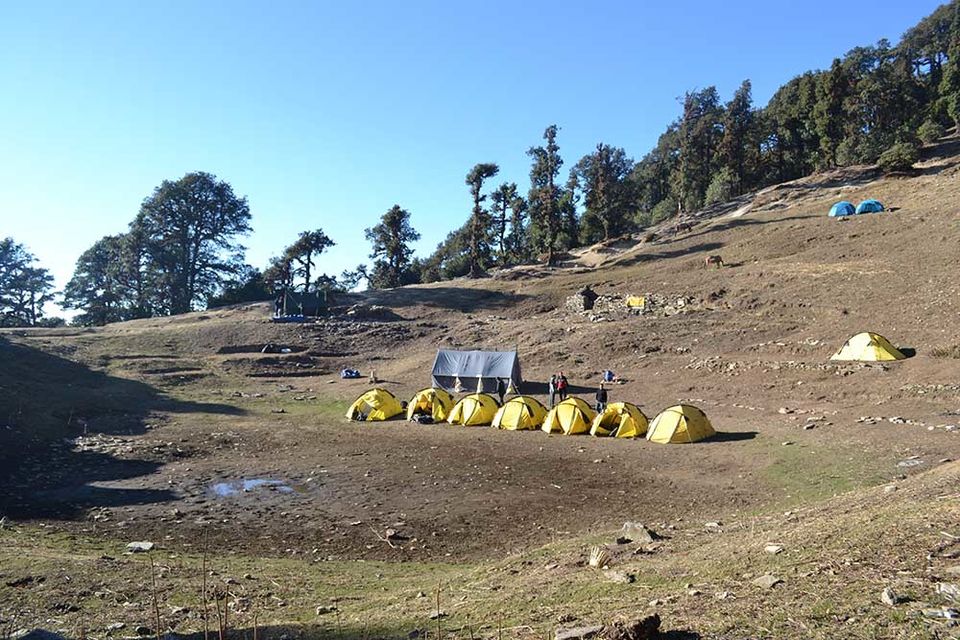 This day I was asked to give a briefing about the work I was doing and since I had no idea what to say and especially in front of 40 people I spoke for hardly 40 seconds and was done. The friend later laughed at my face, saying that was the shortest GT briefing done by any human till date. Well hey I didn't know what to talk and so helped me with what was usually said during these briefings. He seemed to actually care?
The next morning the IIM trekkers were asked to fold up their tents within a given amount of time and the staff had to time it. Since each set of trekkers already had a volunteer with them, I was standing jobless when this friend called me saying "Hey, why don't you help me time it,in case my timer doesn't work". In my mind I was smiling, thinking haha yes of course pressing one button can go wrong. But I went along and timed it with him. It was fun. Included.
Then we had to start the trek higher up to the other base camp. And here I didn't start early, I left with the trekkers. The friend I had made left before me with his batch of trekkers, I was one of the last ones to leave as I was trying to keep the base clean and free of plastic. My job, the briefing which I had given so well the previous day. But I did eventually catch up with him. And we spent the next one hour trekking and talking. About everything from designing, treks, to life. And then I went ahead thinking how would the toilet tent get fixed if I wasn't there. (the local staff was waiting for me to help pitch it, they liked calling me for every simple thing in this trek, they were my friends after all)
That evening the friend I made and I were sitting and talking as all the trekkers were resting/cooking/ chilling. Then suddenly we decided to go hike to the lake on the hill close by. It was 9 in the night maybe. The stars were out and we were the only two out of their tents in the cold. We found the location on the map, put our head lamps on and went.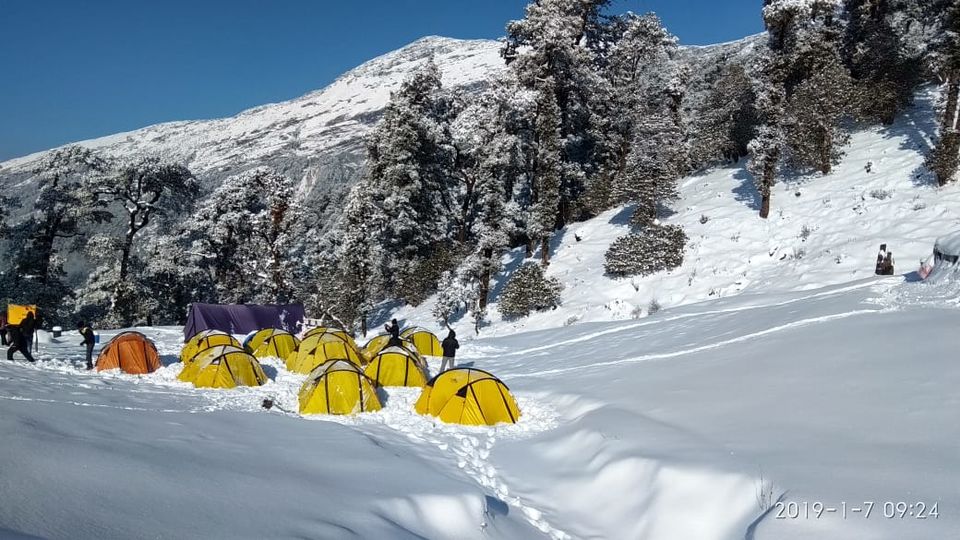 It was an interesting hike up to the lake for around 20 minutes after which we came to the lake. We sat by a rock, staring at the lake filled with star refection, the sky filled with actual stars and spoke. It was beautiful. After talking for maybe 30 minutes, we decided to head back to our tents. I went to sleep in my sleeping bag smiling that night, thinking about my new friend. And the little adventure we went on in the night, and how refreshing this night walk was.
The next morning he went ahead with his batch of trekkers and all of us had to stop behind before crossing a cliff. So while his batch waited for one hour on the other side, I was waiting here on the other side for the same time with other people. But all I wanted to do was go to the other side, continue our talks. Well, it didn't really work because when we finally did reach to the spot he was, in fifteen minutes he decided to go ahead. So until that evening I didn't really get to talk much to the friend that day.
But in the night, we again went for one of out little hikes, though there was no lake close by this time. We just walked ahead and sat under the stars. Talking about people, love, hatred and of course superman vs batman. I was hooked to him by now. I wanted to talk to him more.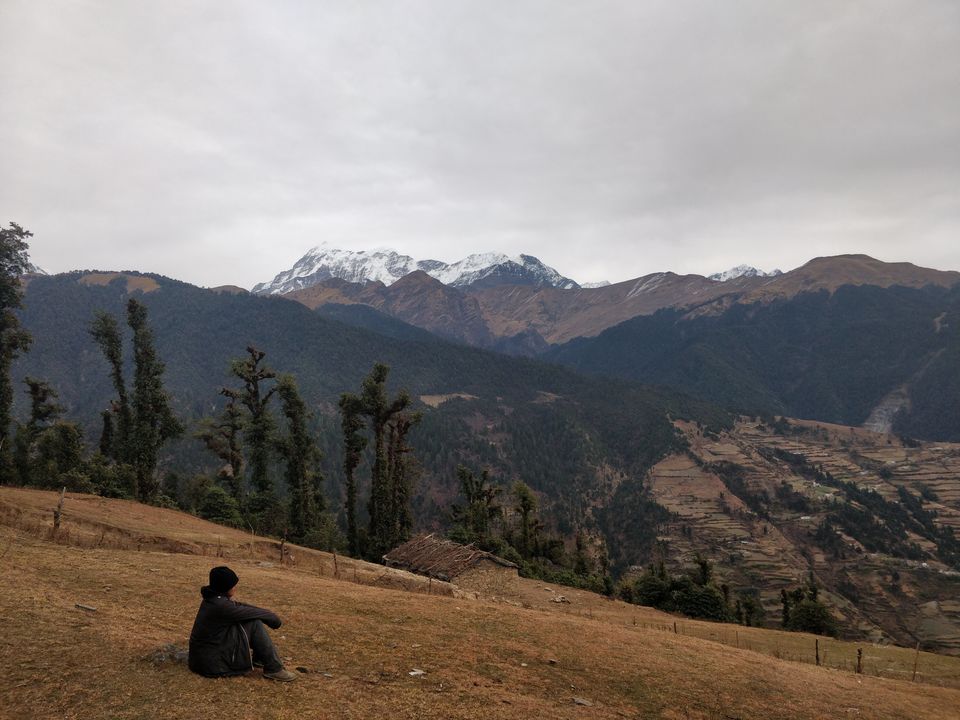 The next day he asked me to wait when I was heading down saying he would come down with me. We hiked together, talking about random things and sharing peanuts he had in his bag. I did act like peanuts were my most favorite snacks in the whole world now that I think about it.
We were talking for the 2 hours of the hike back and then we finally came back to the base camp. He came to borrow my shampoo and gave me a sachet instead when I said I wouldn't have any if he took mine. I don't understand why he did it, but it gave us a reason to meet and say goodbye when he left later that night.
In the evening we had a staff meeting. I caught glimpses of him now and then. Him maybe looking at me? Or maybe me looking at him. I decided hey he is leaving anyway so started talking to the others. I was getting my city mojo back and was able to converse in English by now. But he somehow came and sat next to me while I was talking to others too. And that made it hard to talk to others!
After dinner, we decided not to give up on our late night walks and at 12 or so I led him to a little field which I knew to get to. He was happy to be following someone for a change instead of leading them. We sat under the stars for one last time, taking it all in. He showed me the stars, named them and we were making up our own constellations by the end of it.Time flew, we then decided to leave to maybe get an hours sleep before he left for good.
We said good byes and I went to sleep in my room only to be woken up by his rough voice calling my name. He was leaving and he was giving me my shampoo bottle back. I smile. Another friend comes with her bags saying hey lets take a photo, she takes it and leaves with a good bye hug.
He leaves too. He doesn't take my mobile number, he doesn't ask for a photo, he doesn't give me a goodbye hug. He leaves. The only photo of us is with that girl I dont have a number of.
And now after almost one year after this trek, I got the photo.
I made him get it for me ;)