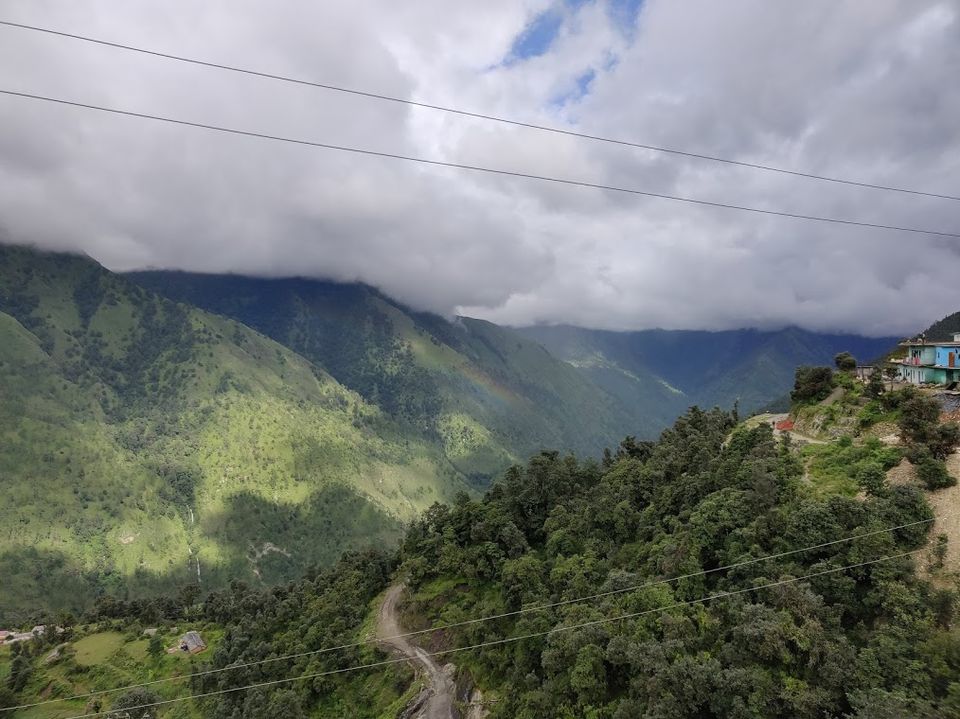 Lohajung. A remote village in the hills of the mighty Himalayas. Where it is, even I had no idea when I gave the interview for my next job.
She said you will be going to Loahjung after the interview, to which I replied: "Okay, is it in Himachal?". She replied with a "no, it is in Uttrakhand". And within a month I was there as a fellow to help in this project of Green Trails.
One flight to Delhi, one train to Kathgodam, one taxi to Dewal and finally one more sumo with 21 people to Lohajung. Here I was, my home for at least the next 4 months. I was there in a rainy cold town, surrounded by so many clouds that no one could tell there is a mountain beyond. I got down the building which everybody said belonged to IndiaHikes. And I met the two other fellows who were working there. 4 Gulab jamuns and introductions later, I was in my room sleeping for the night.
That was five months ago, and here I am back in Banglore now thinking about the days, how the last 5 months were by far the best 5 months amongst all my travels. I found so many homes in this village, so much love, so much food, and so much simplicity. I found a home away from home.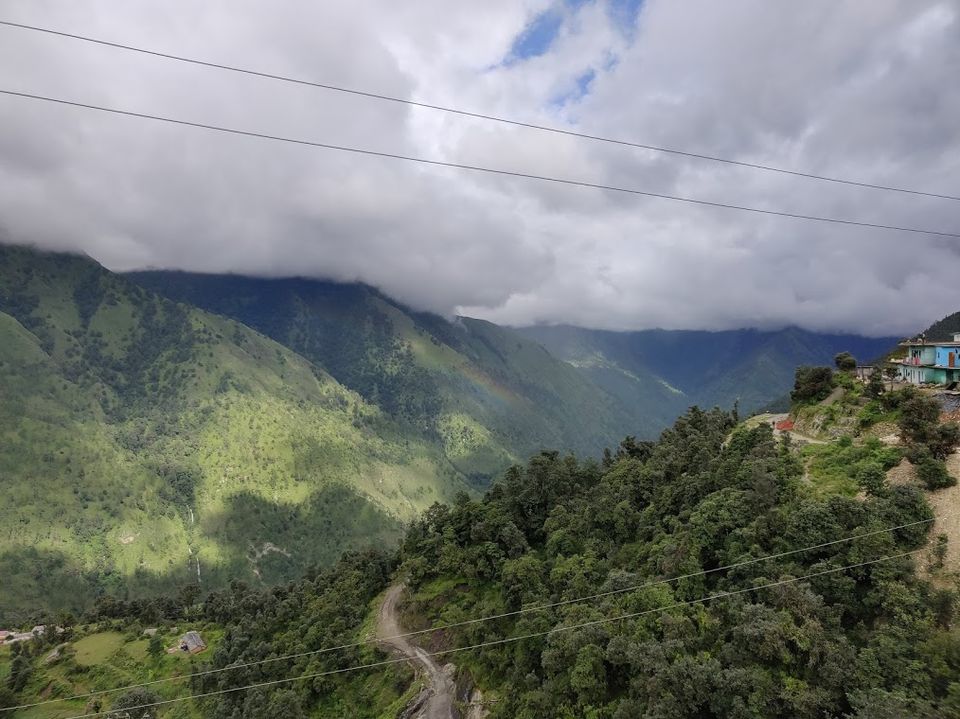 View from my room
First Month:
I was given an introduction of what I will be doing in the coming months, which was
1. Climb mountains to reach the 4 different villages
2. Climb mountains to teach in a school in the four different villages in Hindi
3. Climb mountains to go collect waste from each village and usually carry them back to the base
4. Climb mountains to conduct a workshop with local women to teach them to upcycle products
5. Climb mountains to get back to the base with the products made during our workshop.
6. Walk straight (phew) to go eat at the dabbas near the base after a good long day of climbing mountains
7. Climb the mountain if you are angry and frustrated with work to go to the quiet happy hilltop where you can scream your lungs out.
8. Sit and go throw the garbage of the town and segregate it so that we can recycle and help in the sustainable development of the villages!
And within a week I had done 1,2,4,5,6 and 7 and 8!
This was going to be an exciting journey! And a very physically challenging one as when compared to my two other friends there who had been there for 3 months already and were experts in trekking, I was just a lazy bum who now had to climb up and downhill for work.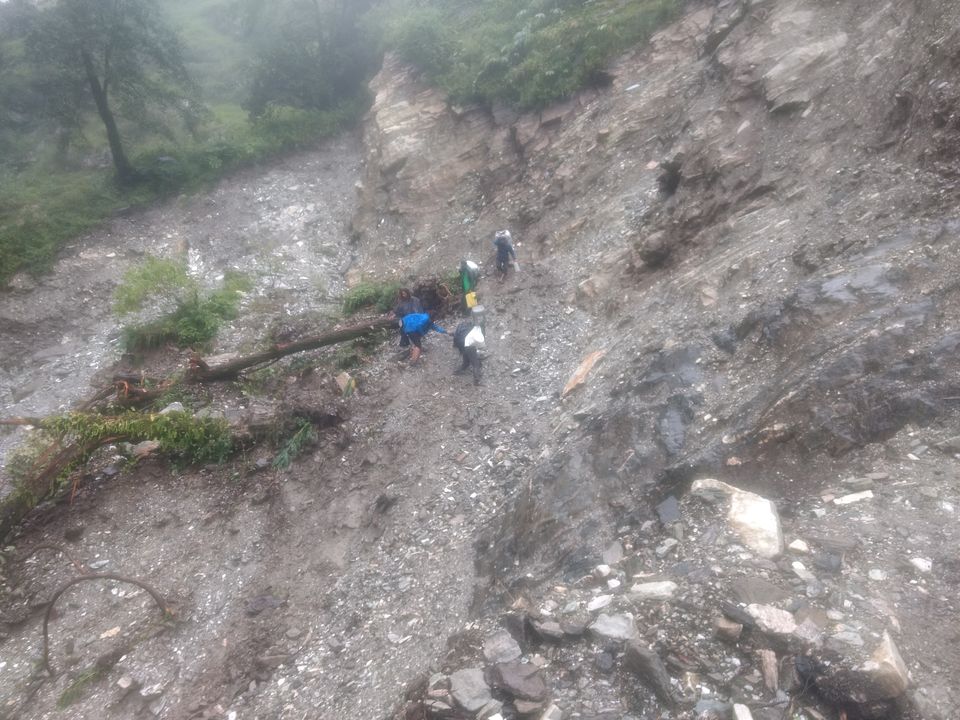 Luck, Payal and me!
Somehow this one other fellow Payal and I were blessed with incredibly "good luck". We never happened to get a vehicle for any of the villages be it 3km away or 14! We had to walk through it all. So that is how my bonding with her began.
Every other day we were on our foot, walking a minimum of 5kms, to some village or the other, to teach, to conduct a workshop, to get garbage. To work. We might have been tired, we might have been exhausted but one round of country roads, and reggae shark ( we knew each others playlist by the end of it) and we were out braying at the top of our voices and never giving up through rain, sun, and dangerous landslides all alone.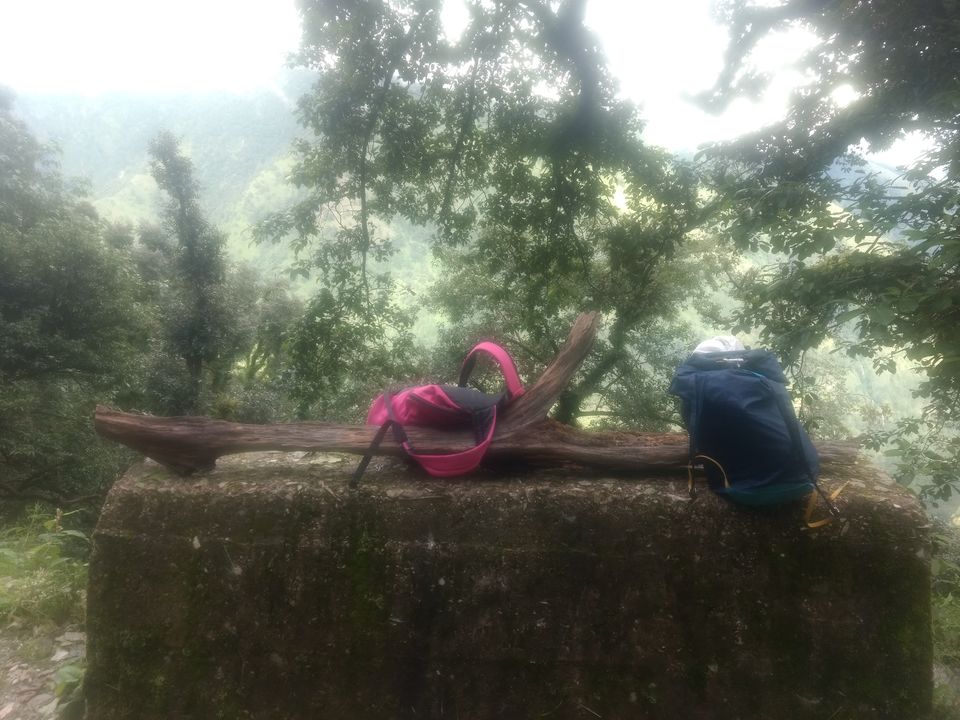 Things we did for Wan!
I remember this one instance where to avoid one particular bad landslide we walked 3 hours down the hill and then all the way back up to reach our favorite village of Wan. All we had was a dog for company and we followed him when we came at a forking and we somehow managed to reach the village we were heading to and not the opposite one! To make matters better/worse on our way back we were shoved into some other path with no path!
We had to fight grass and weed-grown till our waist and find a route back. I was almost in tears that day. But now we sit and laugh at it, an incredible adventure where we sat and ate the sweets we got for our hosts thinking this might be our last journey might as well eat sweets and ...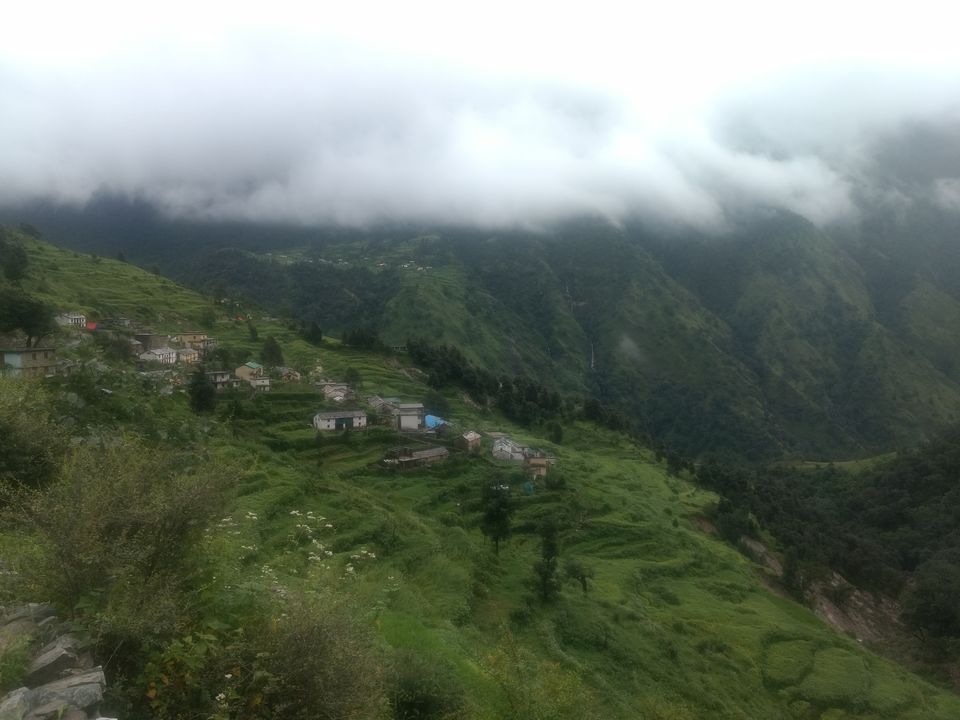 Our beloved Kitchen
Well, the other thing about the first month was that there was no staff other than the 3 of us and we had to cook. And boy was the kitchen a mess. The other fellow and I seemed to hit off at this front and we could cook/ clean vessels better than I did with the others. And we spent a lot of time bonding in the kitchen! There were many experiments, many burnt/undercooked daal, pasta, some amazing Spanish omelets and many visits to our favorite dabba for many meals of the day and time flew.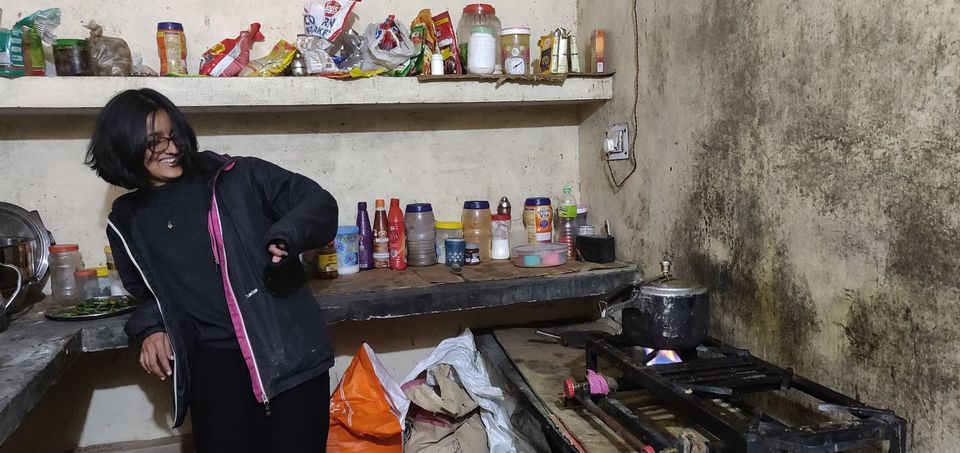 Month Two
These two fellows left, new fellows came and I was left with without anyone who knew how to cook well! But we were surviving.
This was when we were a part of the famous Nanda Devi Yatra which happens every once a year. We were to put up sacks to collect garbage all the way from the lowest village of Mundoli to the high altitude meadow at Bedni. And what a trek that was. That too carrying our own sleeping bags and a tent. It sure is a memory etched in my brain. And the confidence the locals had on me was overwhelming.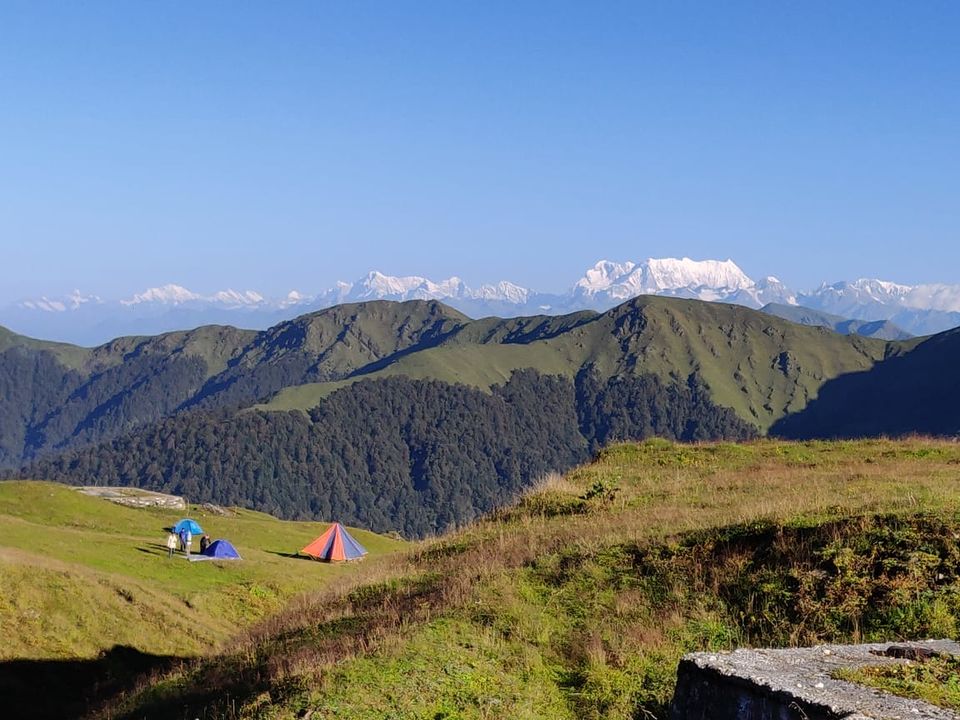 We had to dig up compost pits in the village, put sacks near the Devi place and the route and had to walk around ensuring it was followed for a week. Walking back at midnight through those starry skies and creepy tree branches overhead, falling sick due to overeating at those prayer places, walking around the village asking for sacks to put up at places and mentioning about it in school asking the kids to get us sacks and help. It was an eventful and fulfilling week.
Some school sessions where I learnt Hindi and hopefully they learnt EVS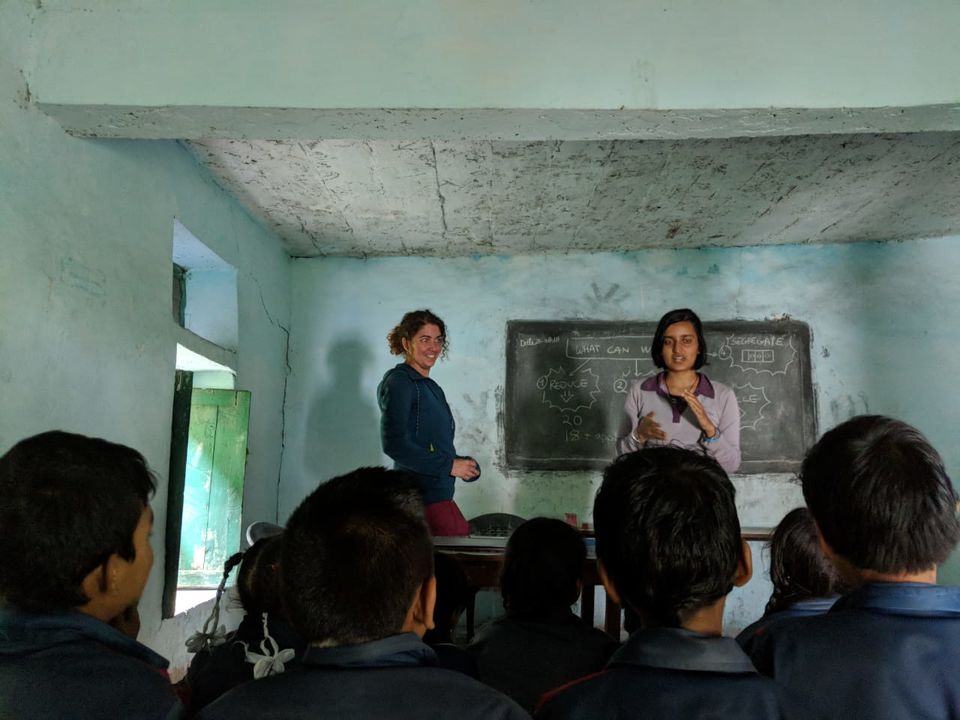 Month Three
This was the month where I was left alone with two local staff. I was literally the only one in the entire area who couldn't talk in Gadwali that month. It was something. I stayed at the local's house whose hospitality was obviously top notch. But I did start missing talking in English or Kannada. The things I did this month were
1. Worked on the fields with the villagers cutting their grass for a cucumber in return.
2. Walked with them while they carried heaps of grass on their back while I tried filling my small bag with plastic waste from the path.
3. Nobody had time to conduct workshops so I would just go home to talk to them in the evenings, so village gossip I suppose?
4. Thinking of standing for local elections and become the pradhan of Mundoli. Locals were enthusiastic about it and said they would vote for me.
Once when a few trekkers came to Lohajung and they saw me, one guy came talking to me saying you don't look local but you are talking to all the locals like this is home. And my ears, after listening to English and someone who could understand me went into this state of uber happiness.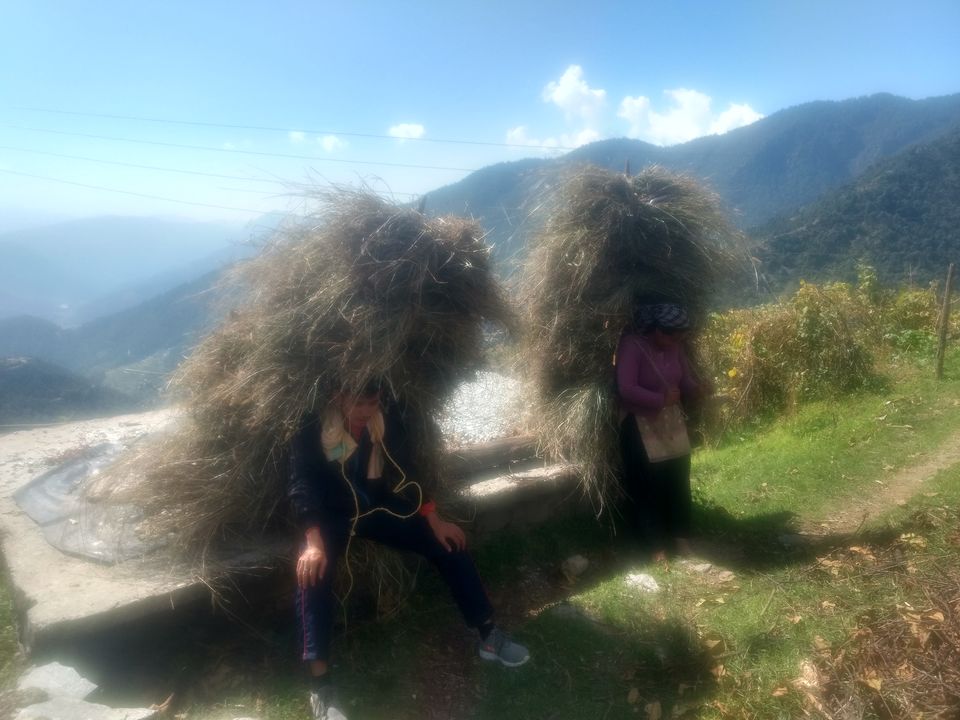 The boss
And then it so happened that by the end of the month, the first trekking batch was to arrive. And that too it happened to be a batch of 45 IIM students. And along with them our bosses from Banglore. And I was so used to being the only one in the big huge lodge we stayed in, seeing all these people was tongue-tied. I literally couldn't get a word out and I was running away to talk to other familiar faces.
Brahmatal Trek
And so it began. my first trek as staff with IndiaHikes. It was with a group of 45 trekkers and 5 volunteers, none of whom I knew before. They all had their groups, and here I was awkward as I could be, having no clue how to socialize but just smiling and trying to fit in. Oh, what a mess it was.
The first day when they all arrived, I did talk to them about how the work on the slope was and after a little conversation I went off to meet my friend leaving all these people to themselves as they knew each other from before.
Soon we were on the trek, and by day 3 I was getting my city vibes back, being able to talk to the trekkers are the staff with more ease than the awkward first days. I had even started bonding well with a few of the staff.
By the time they were all ready to leave I was talking like before, I now remembered how to socialize with city folks too, and now just in my Hindi/Gadwali village gossip talks.
November- the start of the trekking season
And finally, after 3 months of hibernations, we had 3 batches of trekkers in November. There were 3 of us fellows too so we all got a chance to go up on the trek with each batch. Work involved the usual
1. picking up garbage from the route and making sure the others did too
2. ensuring our waste food was getting composted
3. making sure our toilet pits were free from wet wipes and filled with sawdust and mud!
4. Fight with the local staff about how we are important and everybody is needed to help keep our environment cleaner and how you can make a difference.
Early morning coffees and breakfast, good days of teaching at schools and this was the month we officially became kabadiwalis and went to each house ina village asking them to give us their garbage. Walking up and down mountains carrying three sacks of segregated waste was not an easy task but to see the villagers actually listen and collect their waste and not throw them was heartwarming.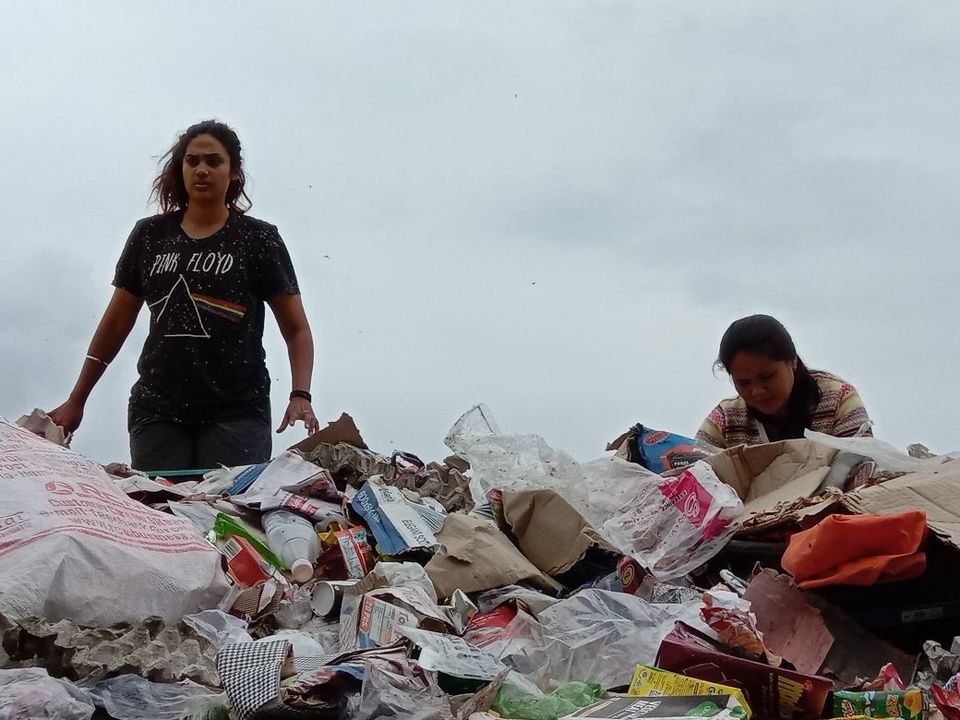 Snowfall December
I decided to get my fellowship extended for one more month to see snowfall. And what a good decision it was. I had a jolly good time with the local staff, the trekkers and everyone. I had now not only become a good kabadiwali, but I was also getting good at selling stuff made by the villagers to the trekkers.
We had to give a debriefing to all the trekkers after they came down from the trek and try to get them to buy our recycled products so that the villagers feel encouraged to not burn their garbage. And I for the first time in my life was gaining the confidence to speak in front of 25 people!
And the snowfall, I didn't get it in full force but even the small flakes falling from the sky, landing so lightly was magical. It is a feeling I will always cherish.
After spending almost 5 months in this remote village and making so many new families, it was time to leave. It felt like I did make a little impact, that people knew better now and that I especially had learned so much about village life and how simplicity is the best. I wouldn't have exchanged those 5 months for anything.
And also the day I was to leave, there was snowfall in the morning. The whole road was white, and I had my perfect little farewell.