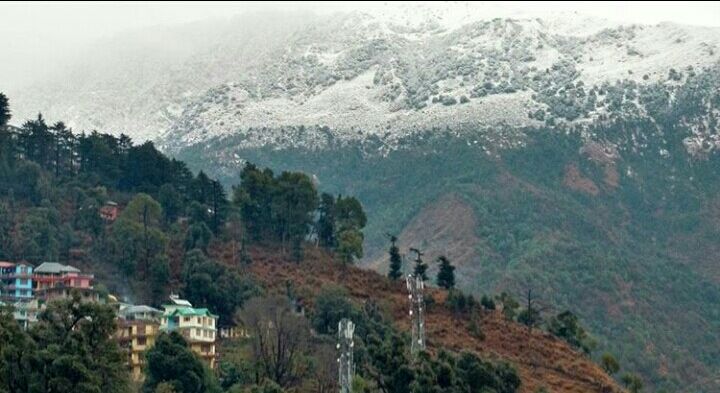 #SwipeRightToTravel
Boarded the bus. Finally, it's going to happen. The most needed break from life, moreover the most needed break from myself was just a night away. Adjusting my luggage my eyes met those of a stranger. An awkward eye contact and we both looked away. I took my seat by the aisle only to find him sitting beside me on the other side of the aisle. All of my friends decided upon watching a show, I also joined them and then, something unimaginable happened. The guy called me and mumbled something about the show, I assumed he was getting disturbed so I asked my friends to tone it down a bit only to find he wanted to watch the show too. Embarassed, I immediately turned up the volume and put the speakers beside him. All of my friends giggled and gave me sheepish smiles during the show. He asked if I liked the show to which I lied that I do. I kept collecting information about the show from my friends to discuss it with him.
Soon the show ended and so were our chances of interacting. I closed my eyes and wondered what just happened. Woke up by the stoppage taken by the bus. Everyone went out to fill up their stomachs, my friends went out to smoke, I didn't smoke so I decided to stay back and have a moment to myself. He entered the bus with a water bottle and sat, only to take out his home made dinner. I smiled to myself. He being a nice soul offered me his dinner. I was hesistant at first but eventually had a share of his dinner. We got into talking about where each one of us were from. He was travelling solo and I had just reunited with my school friends after years. I was intrigued by the fact that he was travelling alone. The bus started and all of my friends saw both of us sharing a meal together. Their sheepish smiles could have made anyone uncomfortable but thankfully one of them asked everyone to just stop it. Bro/Sis/Every code honored. So, we talked a bit more. He had just quit his job, he was in quest of himself. We continued talking, about his family, about mine, about his education, about everything. There were moments where silence overtook the conversations but that too didn't seem awkward. Everyone in the bus drifted into heavy sleep but both of us had lost track of time. He had a kaleidoscopic light pen. It casted a starry night illusion at the top of the bus. For few minutes he used to cast that light at the roof and both of us would just blankly stare at it, saying nothing; like watching stars. Conversations, Silences, Starry illusions and the night went on. It was 5 in the morning. We started seeing the mountains; scattered sunlight entered through the window, the chilly morning came along with a drizzle. The weather, the mountains and there was I happily watching them. He didn't know where he'd get off for he had just begun his journey without any agenda or itinerary. I didn't push to know further, just asked him to wake me up before leaving, in case I drift off which eventually I did. The bus was standing at my station when I woke up, only to find him staring out of his window. He smiled at me and wished me morning. I woke up everyone. Everyone took their luggage and deboarded the bus. As we waited for our cab, he told me that he too had decided to explore Mcleodganj. His friend would just send a cab to pick him up. I was glad, it meant maybe we could meet again, maybe. He hadn't slept at all, he wanted his alone time and maybe, he got it. Maybe in those moments he decided his destination. I introduced him to everyone, he greeted them with a wide smile. Few moments later we stood facing each other in utter silence. I didn't know what to say, maybe he too didn't know what to say. Finally I broke the silence and said, "Hey, we should stay in touch since you are travelling alone, in case you needed company''. He smiled, "I think so too, let me have your number". I gave him my number. We both exchanged smiles and clicked a picture together to always remember the good times.
Then his cab came and he left. As soon as we reached our hotel, I got a call from an unknown number. It was his number. He had called to know what we were upto. So, we decided to have dinner together later that night. At night we all had dinner together at Mcllo Restaurant. The music was good, the ambience was great. The place was magical. We sang songs, we danced like crazy. Everyone in the restaurant had a good time. It was like everyone there knew each other. It was a moment of perfect harmony. He then came to drop us off to our hotels because we were wasted. I had forgot my bag back at the restaurant. I was adamant to go back and fetch it. It was raining cats and dogs. He persistently told me that he would go and fetch it but there I was, hammered, arguing over going back. He then fooled me and guided me to my hotel and went back to fetch my bag. It was a very nice gesture and I think we both will cherish these memories forever. I was glad to meet him for he was a very genuine person.
Next day we decided to go to Bir whilst he decided to stay in Mcleodganj. I went to his hotel, took my bag and bade him goodbye. He then gifted us a pack of cards. The night before while we were wasted, I told him how I forgot to bring a pack of cards for the trip. I think it was very thoughtful of him to gift us that. Well, that was the last we met, though we are still in touch. He and I are now good friends and I am glad he took a solo trip for I met a great guy!