How far can you go for food? Well, for good food, not that far. Indonesia is just hours away, waiting for you with open arms and a wide range of scrumptious food ready to have you falling head over heels. One of the big reasons I travel is my love for food, and good old Indo didn't disappoint me. It was magical being in the island of Gods, and I returned with a lifetime of memories and a chunk of holiday weight.
Here's my food experience in Bali that every traveller must have:
Pisang Goreng
Banana and coconut are a staple in Indonesia, much like rice. So, they have a lot of dishes around these fruits. Pisang Goreng means fried banana, and as weird as it sounds, I was so curious to try it the first time I heard about it, and it simply went beyond all my expectations. It is like a small piece of sweet heaven in your mouth, which just melts into pure joy. You must eat it to believe it!
Mie Goreng
Fried noodles is another Indonesian classic that has become popular among the travellers flocking to Indonesia. It is served with lots of vegetables, chicken, pork, eggs, prawn crackers and shrimps. Mie Goreng is a must-try when in Indonesia– you'll see locals eating either this or Nasi Goreng all day every day! They love it there, so did I and so will you!
Sate Ayam
Chunks of chicken on a stick, marinated in soy sauce and roasted with peanut sauce and spices! It is succulent, healthy and delicious. It is easy to prepare as well, and is, by far, the most popular satay in Indonesia. You can find it at street stalls, vans, in five-star restaurants, shacks and hostels, you get the idea. It was the first thing I had in Indonesia and in that moment I knew I was going to love my time there.
Babi Guling
The suckling pig – Indonesia's most popular, most savoured, indulgent and almost controversial dish! This is a pig roast where a piglet is traditionally cooked whole and roasted, and sometimes served whole as well. It is slathered with turmeric and a strong spice paste and roasted on a spit of coconut husks. Let me tell you it is proper nose-to-tail dining, so you know what to expect.
Nasi Goreng
Moist chicken, sweet and spicy sauces, and lots of vegetables – and you have yourself an Indonesian plate of authentic fried rice.With a wash of soy sauce, this filling and sumptuous dish is perfect vacation food. I had it every day during my stay in Bali. It is available everywhere, and the best part is, it is quite cheap!
Balinese Green Pancakes
Again, I was curious when I saw the bright green roll sort of a thing on the menu. I was not even sure if it was a dessert or part of the main course. I was surprised to find out that it was a banana crepe, and almost desperate to have it right away. With palm sugar syrup and a dash of coconut, it was the perfect little piece of delight, and I am not even a sweet tooth, but I fell in love almost instantly.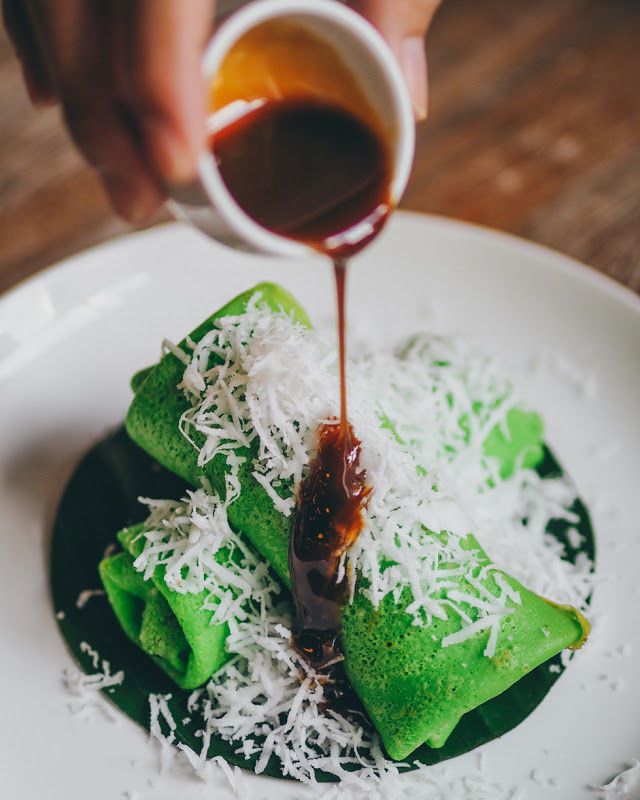 The Warungs
The best thing about Indonesia, other than its natural beauty, is the concept of warungs – tiny little buffet-like local restaurants that you'll find in every corner. They serve everything from eggplant to juicy chicken to pork to seafood to beans. I had all my lunches during my stay at different warungs and paid as little as Rs 50 for a dish. That's how cheap they are!
The fact that all the ingredients are sourced locally, ensures that the food is fresh, and because these are so popular, the food gets over in a couple of hours, and never goes stale.
The vegan scene
Most people presume that it is difficult to find vegetarian food in Southeast Asian countries as they are predominantly non-vegetarian and their diet mostly consists of seafood, pork and bacon. But that is so not the case in Indonesia, especially in Bali, which has seen a boom in expats from all around the world in the last decade. So, to serve the need, Bali has gradually become a flagbearer of organic, gluten-free, vegan cuisine. And as vapid as this may sound, I was elated, almost surprised with how delicious and amazing the dishes were with just with coconut milk and soy!
People say when you travel abroad you start missing your desi dal-chawal. But, Indonesian cuisine took me by surprise and I fell in love so hard, that for my entire time there I saw so many Indian restaurants around, but never bothered to get into one. That's the magic of good food!
Think we missed out on something? Tell us about it in the comments below. Or write about it here on Tripoto and earn Tripoto Credits!
Get travel inspiration from us daily! Save our number and send a Whatsapp message on 9599147110 to begin!