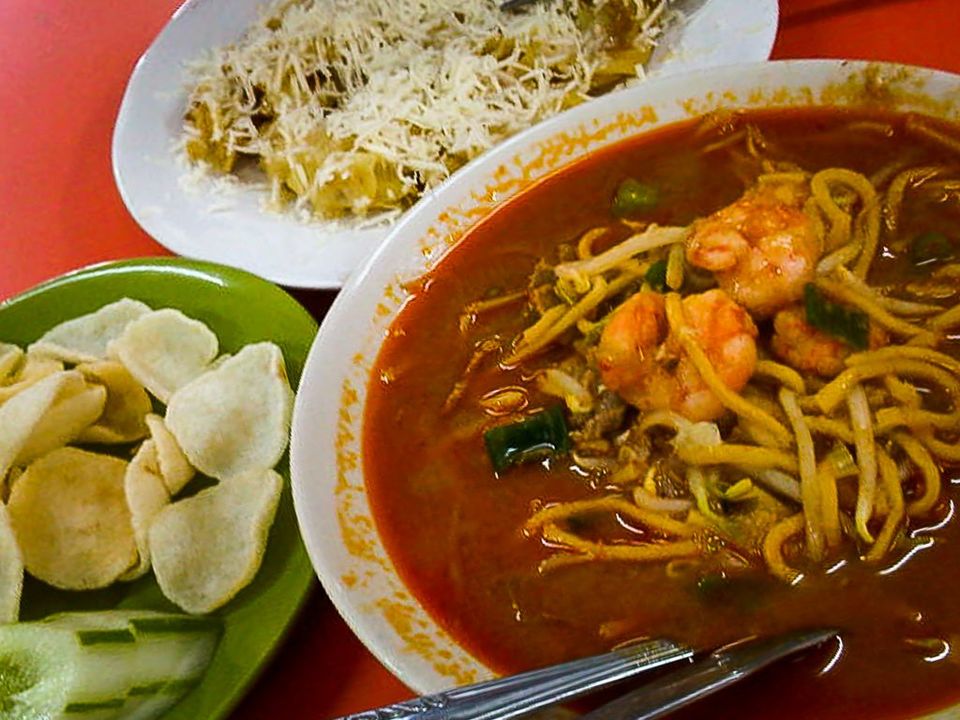 Aceh, an Indonesian province, on the northwest tip of Sumatra island, has long been associated with few things, such as : the mighty Tsunami, the Islamic law of Sharia, grand mosques, multiple diving opportunities at the volcanic Weh island and richness of Gayo coffee. But the real trump card of the province, lies in its cuisines and one cannot bid goodbye to this place without indulging in it's culinary delights.
Aceh, a special region in the western tip of Sumatra island, is always indistinguishable with these following things – tsunami, sharia law, the incredible diving spot of We island, mosques, and Gayo coffee. Still, the gem is home to a wide array of rich-flavored and lip-smacking culinary delights. Once you step in Aceh, don't forget to try these 11 incredible local foods to get the blend of savory, spicy, and sweet taste.
1. Sie Kameng

Sie Kameng (mutton curry) or more famously known as 'Gulai Kambing' by the locals in the archipelago, is a typical food of Aceh, that tastes savory. Often cooked in a traditional cauldron, the meat in this dish is very tender and is guided by rich and strong spices along with the goodness of Temurui leaves and star anise, and is indeed very popular among the locals and the tourists.
Sie Kameng famously known as Gulai Kambing (in Indonesian) or mutton curry has very clear-cut flavor and pungency. Compared to other typical curry-dishes in all over Asia, the top-rated Aceh's specialty clearly accentuates the meat texture and bright sauce. Additionally, the unique cooking process using a cauldron over big fire and the seasonings like star anise and temurui leaf are what make it so spectacular.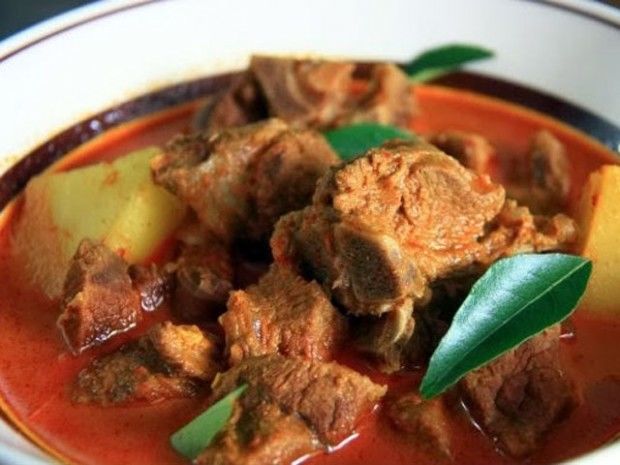 Best place to eat: Gulai Kambing Pak, Ahmad.
Address: Lam Ara Cut, Kuta Malaka, Aceh Besar Regency, Aceh.
Opening Hours: 8 am to 3:20 am
2. Mie Aceh
A visit to Aceh would be incomplete without the traditional main course, 'Mie Aceh', a spicy noodle dish which is a speciality of Acehnese people. The thick yellow authentic homemade noodles, mixed with bumbu spice mixture of black pepper, cumin, cardamom, turmeric etc, is served with the slices of beef, lamb or seafood and is sprinkled with fried onions, lime and sliced cucumber. You can choose from 2 types of variations, Mie Goreng (fried and dry) or Mie Aceh Kuah (soupy). But whatever you choose, you won't regret your choice in either of them.
Craving for traditional noodles? Don't miss slurping the tasty Mie Aceh. The heavy yellow noodles perfectly match with beef broth, sliced lamb, and bean sprout. There are two types of serving – the fried and soupy style. The strong flavor is gained from turmeric, cardamon, cumin, and pepper. The dish is always accompanied by fried onion, chips, lime, and sliced cucumber.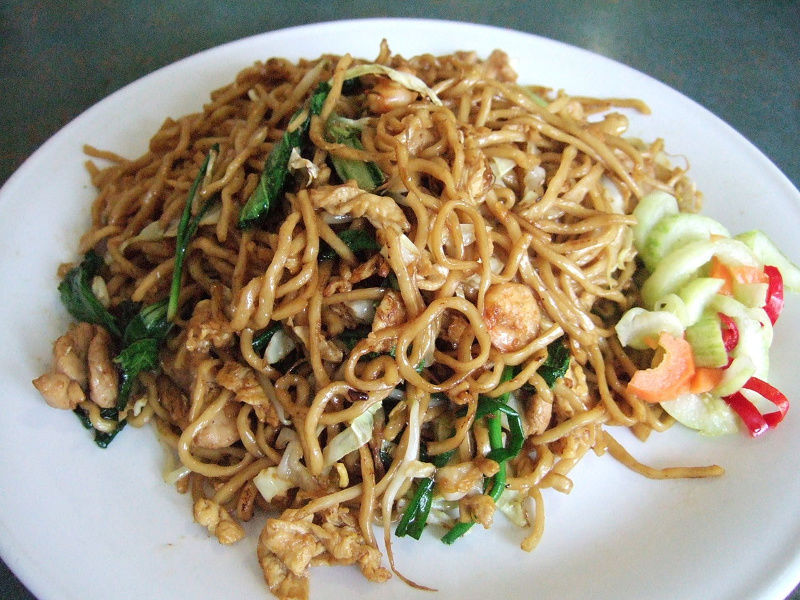 Best place to eat: Mie Razali
Address: Jl. Panglima Polem No. 83-85, Peunayong, Kuta Alam, Kota Banda Aceh, Aceh
Opening Hours: 11 am to 11 pm
3. Sate Matang
Satay, or sate (a way an Indonesian would call it) is a dish of seasoned, skewered and grilled meat, served with a sauce, and Aceh is believed to have it's own kind of Satay, more famously known as 'Sate Matang'. Grilled in hot charcoal, it has a sweet taste when eaten, all thanks to the extra peanut sauce and the soup broth. Undoubtedly, it is the most hunted among the culinary enthusiasts.
Aceh also has its own satay – the locals call it sate matang. The diced goat meat is marinated with a lot of spices such as coriander, candle nut, and lemon grass. Then, it's grilled over the hot charcoal. The sweet sauce made of peanut, garlic, bay leaves, cinnamon, coconut milk, soy sauce, and dried chilies is also added.
Best place to eat: Sate Matang
Address: Jl. Sri Ratu Syafiatuddin No.86, Peunayong, Kuta Alam, Kota Banda Aceh, Aceh
4. Roti Jala and Kari Ayam
What is Romeo without Juliet and Roti Jala without Kari Ayam! One is surely to fall in love with this fairy-tale like dish. Made of flour and coconut milk, Roti Jala is a spiral net-shaped fresh bread which is served with a piquant thick textured, tangerine coloured chicken curry, known as Kari Ayam. The curry is flavored with profusion of spices like cinnamon, cardamom, star anise, curry leaves and galangal. And it will surely make you asking for more! Roti Jala and Kari Ayam are like two inseparable things. Roti Jala is a type of net-shaped bread made of flour and coconut milk. Meanwhile, Kari Ayam or Aceh chicken curry has very thick texture and bright tangerine color. The chicken is simmered with an abundance of spices such as star anise, cardamon, cinnamon, curry leaves, and galangal.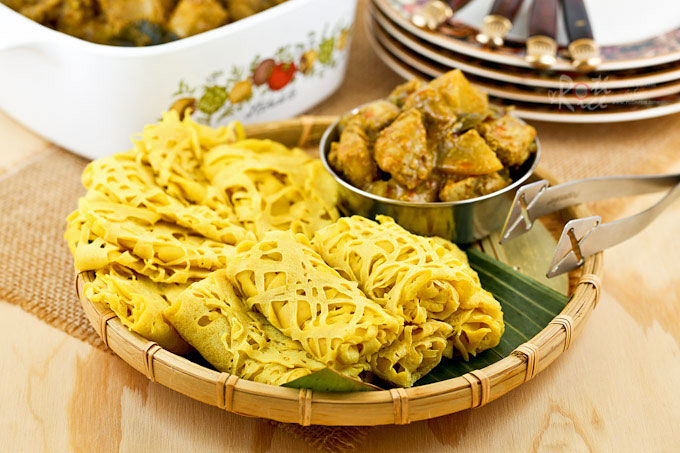 Best place to eat: Canai Mamak KL
Address: Jalan Teuku Umar, Seutui, Baiturrahman, Seutui, Banda Aceh, Kota Banda Aceh, Aceh
Opening Hours: 10 am to 11 pm
5. Ayam Tangkap Aceh.
If you are an ardent Chicken lover, then Aceh has something very special for you - a delectable 'Ayam Tangkap'. The verdant appearance of the dish is derived from the aromatic curry and pandan leaves, and beneath it, lies the treasure of lip-smacking and crispy diced chicken that is cooked with turmeric, shallot, ginger, garlic and tamarind water.
If you can't leave the chicken dish wherever you travel in Aceh, the delicious Ayam Tangkap (caught chicken) would be the great alternative. The fried local fowl has a unique presentation laded with aromatic fried greenery such as curry and pandan leaves. The diced chicken is cooked with turmeric, shallot, ginger, garlic, and tamarind water then deep-fried into crisp.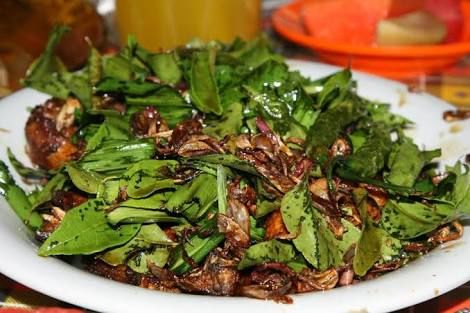 Best place to eat: Warung Makan Hasan 3, Cabang Kreung Cut
Address: Jl T.P. Nyak Makam, Pango Raya | Jembatan Layang Pango Raya, Banda Aceh, Indonesia
Contact Number: +62 812-6979-965
6. Pliek U.
If you are a vegetarian, then Aceh will warmly welcome you with it's legendary dish of 'Pliek U'. The locals take pride in making and serving this dish, as it is believed to be inherited by the ancestors and also symbolizes kinship and diversity of the Acehnese people. The dominant ingredient, though, is the solid waste obtained from the coconut oil which is accompanied with vegetables, unripe jackfruit, eggplant and prawns, and boiled in coconut oil mixed with ground spices.
The vegetarians should not skip the Pliek U, a legendary cuisine inherited by the ancestors. The main ingredient is basically the solid waste obtained from the coconut oil. Then, it's added with some veggies like melinjo leaves, string bean, unripe jack-fruit, eggplant, and prawn. All of them are boiled with light coconut milk and ground spices.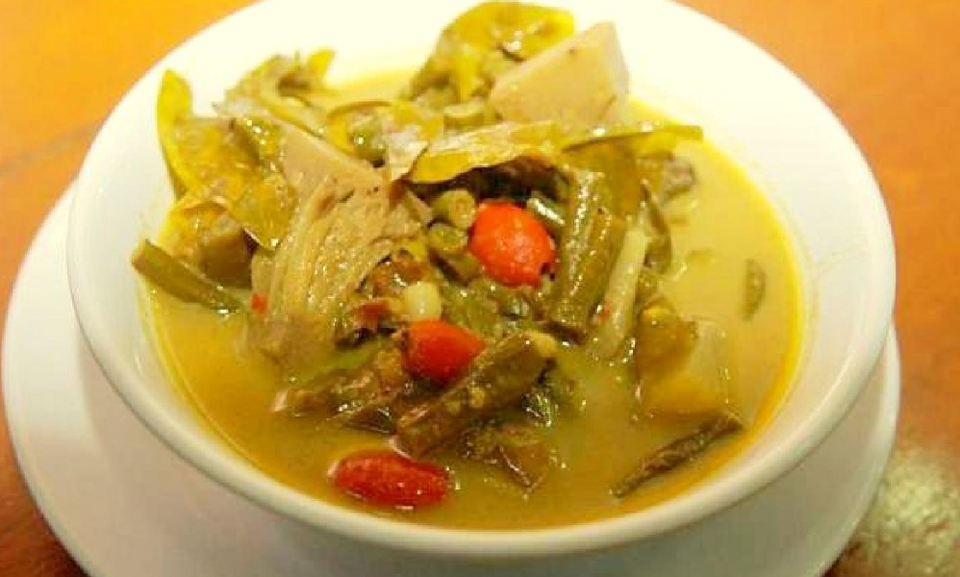 Best place to eat: RM. Ayah (Pliek U & Kuah Beulangong)
Address: Jl. Sultan Iskandar Muda, Punge Jurong, Meuraxa, Kota Banda Aceh, Aceh
Opening Hours: 9 am to 9 pm
7. Asam Keueng.
Unable to decide between spicy or sour? Put an end to the confusion and have the best of both worlds in one experience, by treating yourself with 'Asam Keueng'. A fresh seafood dish, it is usually made by sauteing sea fish with some shallot, garlic, green tomatoes, lime, Belimbing Wuluh and a dash of ground spices like turmeric, chilies and Kaffir lime leaves.
If you're seeking a mixed sensation between spiciness and sourness, Asam Keueng would stop your quest. The sea fish sauteed with shallot and garlic then water is added along with fresh green tomatoes, lime, blimbing wuluh (a starfruit-like spice with high level of acidity), and ground spices comprising of turmeric, chilies, and kaffir lime leaves.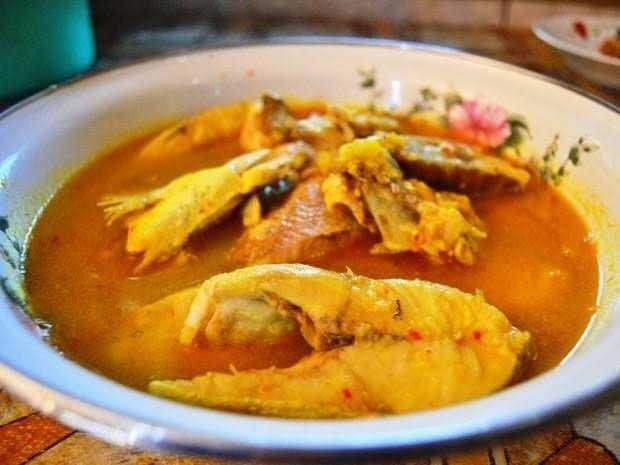 Best place to eat: Restoran Bunda
Address: Jl. Pantai Perak No.789, Kuta Alam, Kota Banda Aceh, Aceh
Opening Hours: 8 am to 10 pm
8. Martabak Aceh
Unlike the mainstream Indonesian martabak, which has a floury covering with an egg filling, Aceh offers an exceptional martabak, where one first encounters the egg followed by the crunchiness.The egg mixture comprises of onion and spring onions, prawn, chicken, celery and is served with green chilies and pickled onions, as a complimentary flavor. Indonesian martabak normally has a floury skin with egg filling. On the contrary, martabak Aceh is differently presented – you will taste the egg then the crunchy part. The egg mixture consists of onion, prawn, chicken flesh, chicken egg, celery, and spring onion. To take the bite, you should add some green chili and shallot pickles.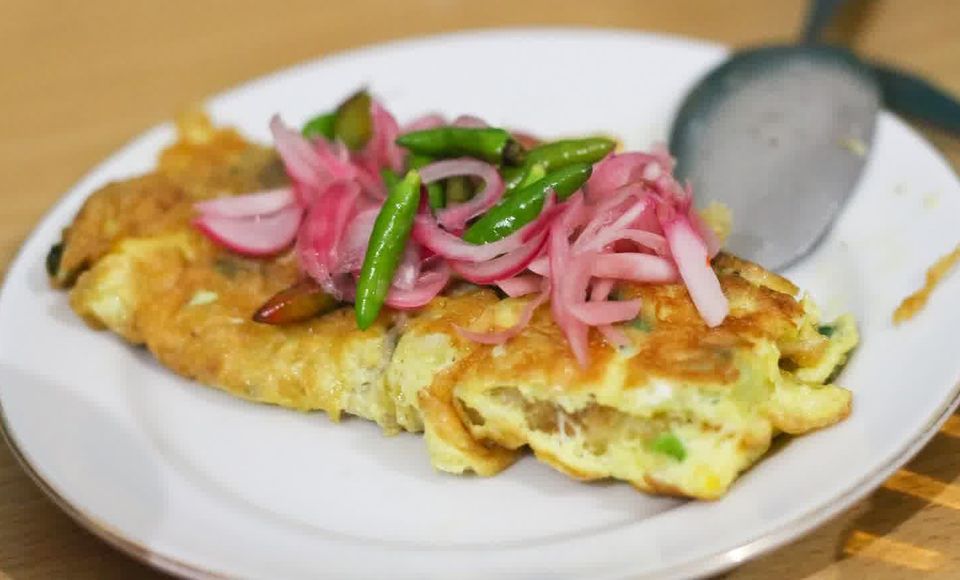 Best place to eat: Martabak Ayah
Address: Muhammad Daudsyah, Jl. Tgk Diblang, Peulanggahan, Kuta Raja, Kota Banda Aceh, Aceh
Opening Hours: Dine all night at night
9. Kue Timphan
Fulfill your 'sweet tooth' cravings with Aceh's most popular dessert called 'Kue Timphan'. Wrapped in Banana leaves, it is made up of steamed sticky rice with some rice flour, coconut milk, banana, grated coconut and also has a local flavour added to it, obtained from the fruit of Srikaya.
Kue Timphan could be one of the nicest Aceh dessert after heaving the spicy and heavy lamb curry. The lovely snack is made of steamed sticky rice, coconut milk, rice flour, and banana with various fillings from srikaya (the local fruit) to grated coconut. All of the ingredients are then wrapped with the banana leaves. The delicate and sticky textures are hard to be forgotten.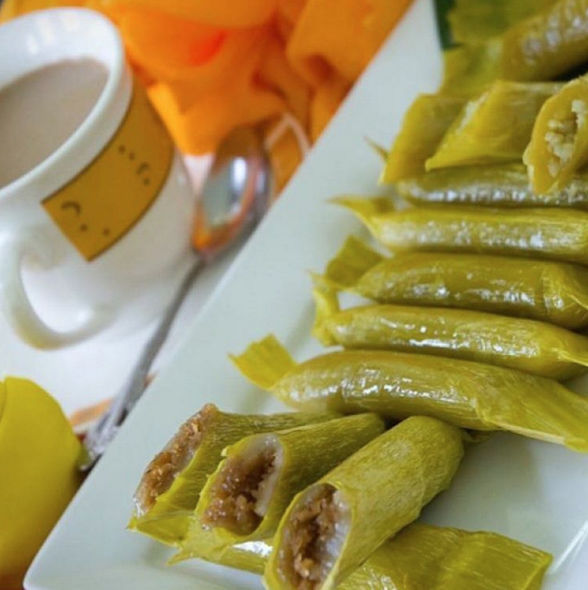 Best place to eat: All Warung Kopi in Banda Aceh
Address: Banda Aceh, Nangroe Aceh Darussalam
Opening Hours: at night
10. Rujak Aceh
The tropical climate of Aceh calls for something exotic and if you are wondering what it is, it is none other than a refreshing 'Rujak Aceh'! A traditional dessert made from fresh tropical fruits such as Bengkuang, unripe Mango, some kweni mango, cucumber with watery rose apple and is drenched in a spicy sauce of chillies, brown sugar, tamarind and fried peanuts, which instantly adds the climax to the flavour! To perfect your culinary adventure, delight in a glass of refreshing Rujak Aceh is totally great. To make this traditional dessert, you just need an amount of fresh tropical fruits such as bengkuang, unripe mango, cucumber, rose apple, and kweni mango. The spicy sauce consists of chilies, brown sugar, tamarind, and fried peanut.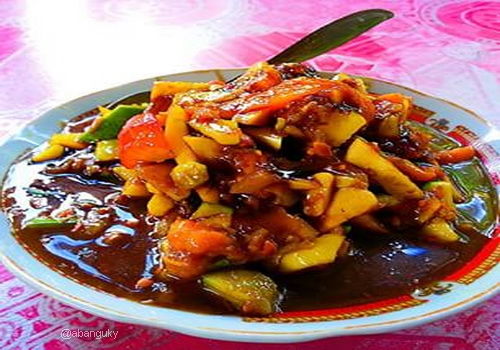 Best place to eat: Rujak Aceh Garuda
Address JL. Tengku Pulo Dibaroh, No. 15, kp. baru, Kp. Baru, Baiturrahman, Kota Banda Aceh, Aceha
Contact Number: +62 0852-6081-7297
11. Sie Itek.
Saving the best for the last! 'Bu Sie Itek' or the 'Duck rice' is the most famous and favorite dish of Aceh. As the name suggests, it is made from duck flesh and is garnished with the blend of magical herbs like Temurui and Koja leaves. And as the aroma fills the air, your joy will know no bound when the vermilion coloured gravy is served with hot steamed rice.Sie Itek is highly recommended for those loving duck dish. It can be easily found at almost of the restaurants in Aceh. What makes it so aromatic is the blend of herbs like temurui and koja leaves. The reddish orange curry is great to be devoured with the hot steamed rice.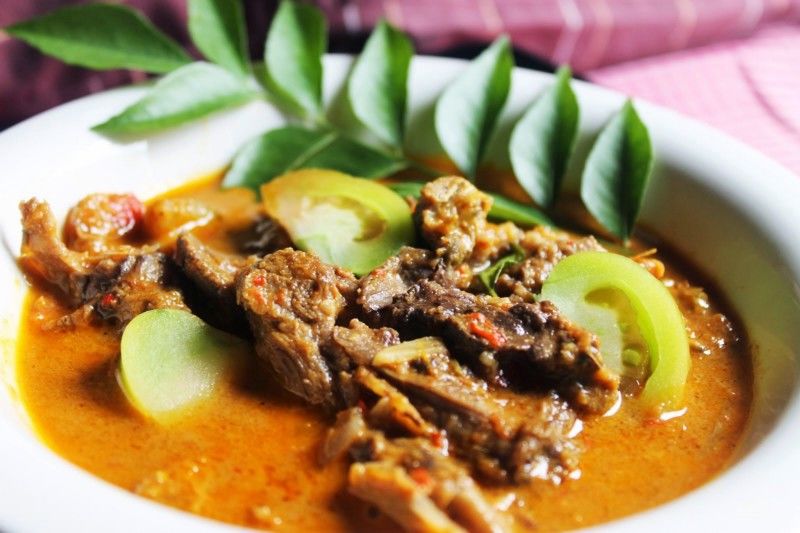 Best place to eat: Bu Si Itek Bireuen
Address: Jalan Teuku Umar, Setui, Banda Aceh.
Opening Hours: 7 pm to midnight
Aceh, will happily spoil you with its bewildering diversity of food and hospitality. Unsurprisingly, the cuisine of 'Veranda of Mecca' (aka Ache) is indeed 'Mangat that' that means very delicious. Aceh truly offers a wide variety of amazing foods from the delectable mutton curry to tender duck dish.The culinary mainly highlights the pungent aroma and spice richness. Enjoy the food paradise in the veranda of Mecca!