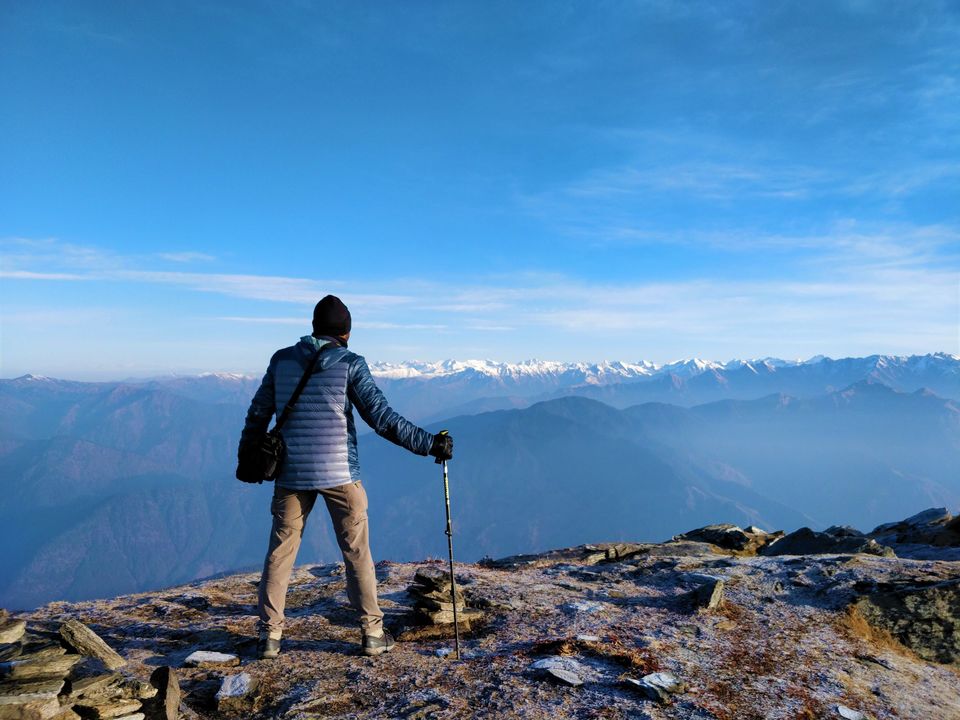 From scrolling the photo blogs to watching the movies of Himalayas, we always wonder whether we would be able to live and stay deep in those mountains. The discussion started 4-5 months before our first Himalayan trek. We started exploring the feasibility like how we can reach there, how many days, transportations, foods and all. After doing all the research we came across a trek organizing company who organizes Himalayan treks for 6-7 days and they do take care of all the transportation, food, accommodations and safety. So, we decided to book the tickets through that company. We then started asking a few of our friends who could trek with us because it is always good to have a large group of people for this type of long treks. Three of our friends agreed and we booked our tickets 2 months prior to our trek date.
We were so excited that we started imagining ourselves there in the mountains of Himalayas. We then started listing out the stuff that we need to take with us, from padded jacket to lip balm, thread and needle, we listed every item that is useful.
One day before the trip, we packed our bags with all the listed items. We took our flights, one from Hyderabad, one from Bengaluru, from Vizag and from Ahmedabad, the meeting point was New Delhi. Our train to Dehradun was at 11:35 PM from NDLS Railway station. Our flight was delayed due to storm and arrived at Delhi Airport at 10:30 PM. After having an adrenalin rush from Delhi Airport to NDLS railway station, we finally able to catch the train. The feeling of happiness and excitement in everyone's face when we finally reached the Dehradun. We have our cab ready in Dehradun Railways station. After freshening up there in the waiting hall, we started our journey to our Base Camp. It was 8 hours journey with hairpin and bumpy roads. Some of us got motion sickness on the way because of hairpin roads.
Finally, we reached the base camp (Gaichwan Gaon - 5600ft) by evening. The organizer arranged routine medical checkups for all the trekkers there. They explained to us how the next 5 days was going to be, the trek route, food and tent accommodation. We had a short introduction about ourselves.
The next day, starting day of the trek, we woke up at 6 Am, had some warmup exercise and breakfast and started the trek at around 7 AM. We followed the trail, up the valley and through the villages where kids were playing cricket, rolling tyres with sticks. We came across an old Dhaba where we had some refreshments. Our trek leader guided us the trail for our second camp (Julota - 8950ft). Crossing the beautiful forest laden with pine trees and rhododendron flowers, we finally reached our 2nd Camp after 4-5 hours of trekking. It was a wonderful campsite, surrounded by pine trees and snow-capped mountains. We got to know each other, played many team games and yeah not to forget, Music retreat by Maratha gang, it was all a great day for us.
The next day we all woke up at around 6 AM. Our trek leader explained to us the itinerary for Day 2 trekking. After having the warmup exercises and breakfast, we stared at around 7 AM. The trail was scenic, surrounded by mountains, water streams, green covered valley. After 4-5 hours of tiresome trekking, we finally reached our 3rd camp (Pukhrola - 10800ft), and what a View it was! We all were awestruck looking the surrounding. We spent the whole evening lazing around, taking photographs and exploring the valleys. After having our dinner, we all slept early because the next day we had to wake up early to witness the sunrise.
It was the 3rd Day of trekking, we all woke up at around 2:30 AM. We had some refreshment and started our ascent to the peak at around 3 Am. It was completely dark around, covering the snowy path, we finally reached the summit. And what a view! I couldn't speak for some time. It is rightly said, the Himalayan beauty cannot be expressed in words, rather it's a feeling that needs to be experienced for life time. After clicking photographs, we started our descent. The Descent was equally challenging like the Ascent. We all had snow slide at one place. We reached our camps, packed our bags and started our trek for the 4th Camp (Dabukarai - 10135ft). It was a return journey, through the waterfalls, moss covered rocks and through the long woods. It was evening, we all reached our camp. Everyone was totally exhausted. After taking some rest, we all gathered at dining tent and started sharing our experiences about the journey. Our trek leader explained to us about "Do's and Don'ts" of trekking.
The next day we started our descent back to the base camp. As we were returning, a part of my heart and soul stayed back in those mountains, wanting me to come back in search for it.