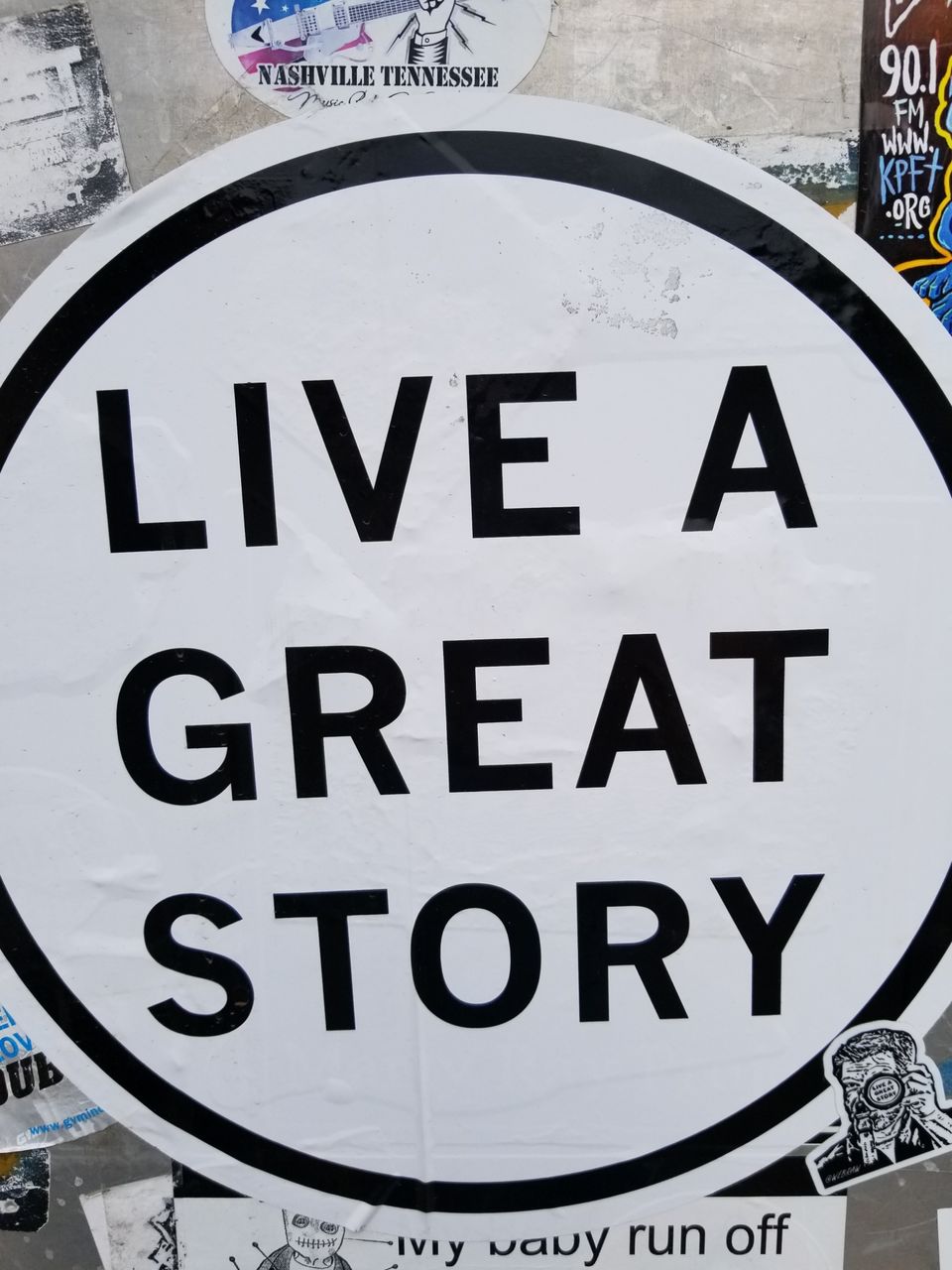 Wednesday May 23, 2018 pulled out of the driveway at 6:56 a.m. First stop Krispy Kreme on Cassat for Hot Donuts now! It's going to be a long drive today to NOLA but some yummy oysters await us at Mr. Ed's and a visit with Tommy and Krista.
We made it to NOLA by 4:00 just as planned. Visited with Tommy and Krista then we all went to Mr. Ed's for gumbo, oysters and po boys. Came home and I organized the RV and then we watched the season finale of Survivor. A great day to begin our mid-west adventure.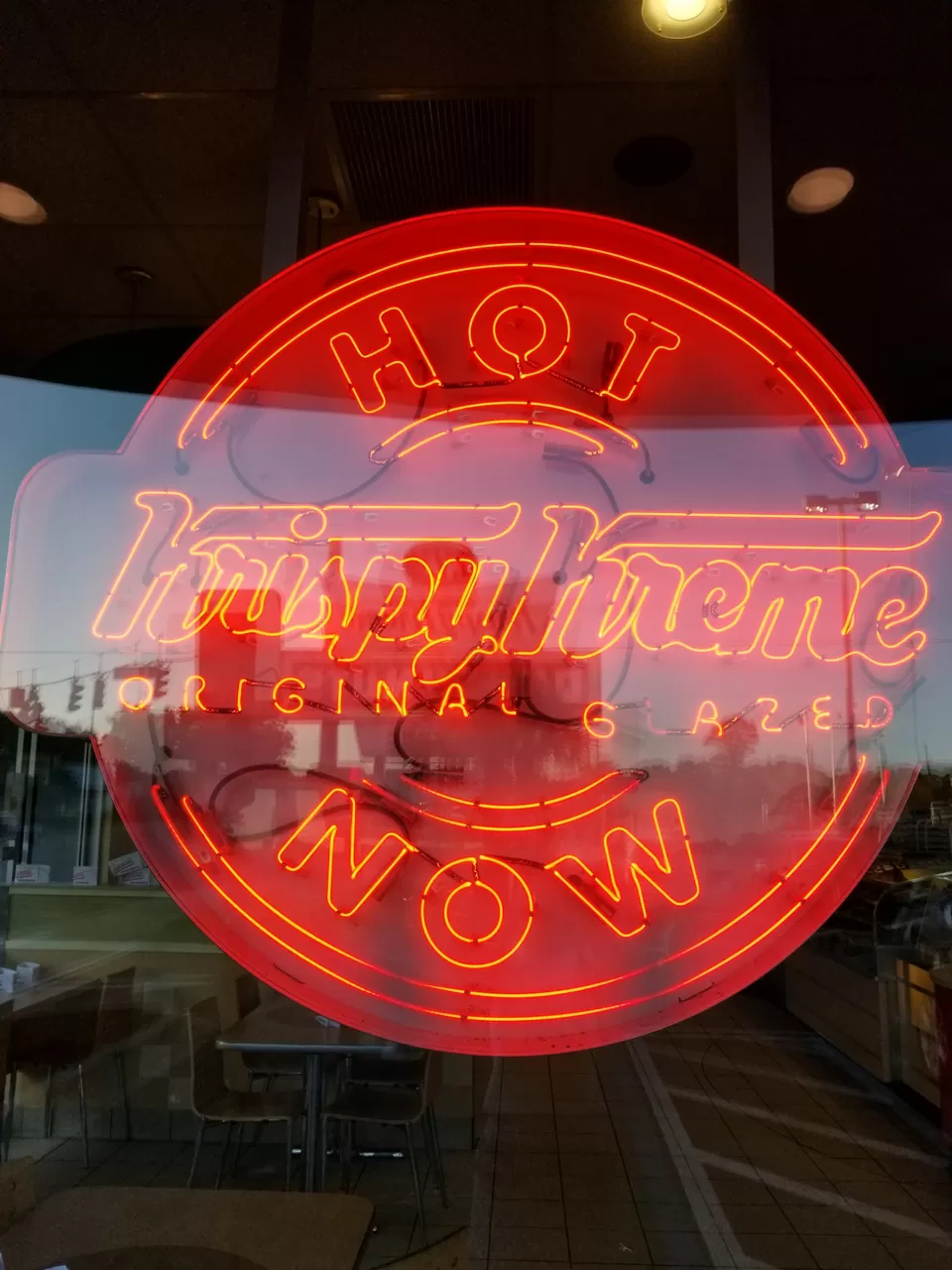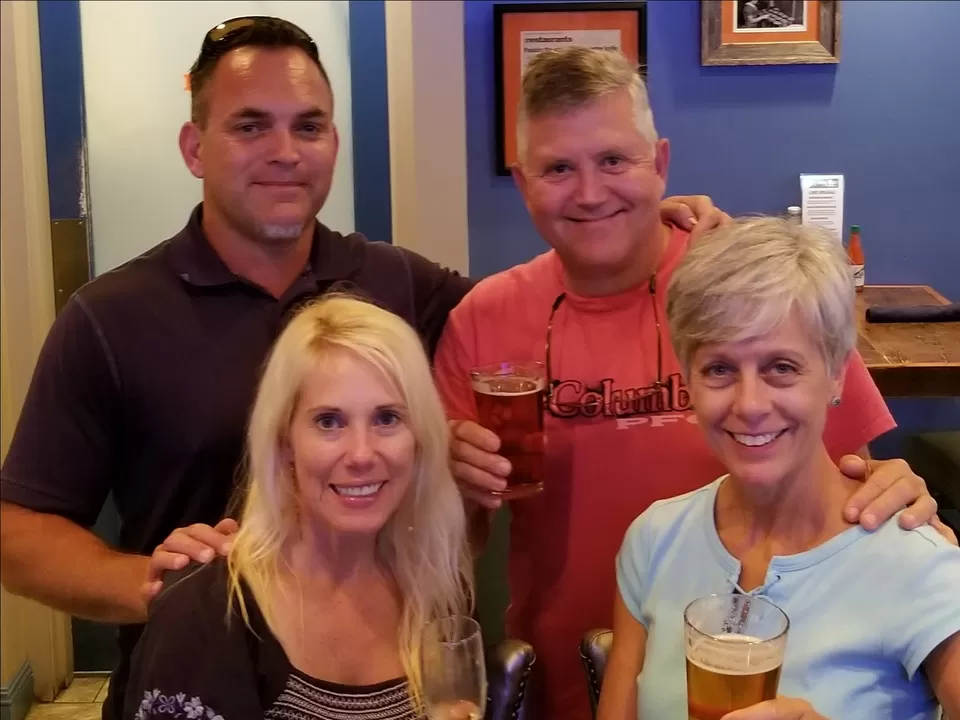 Thursday May 24th, 2018
We rode our bikes to Parkway for lunch today. While waiting for Parkway to open we looked around a mardi gras supply store. I've never seen so many beads in my life. Wow. Parkway bakery was founded in 1911. In 1929 they added the new "poor boy" created by Benny and Clovis Martin of the Martin brothers coffee stand and restaurant. Benny and Clovis said "what are we going to feed these poor boys" and thus the new "poor boy " sandwich was invented to help feed the striking street car conductors. The original "poor boy" sandwich consisted of potatoes and maybe a drizzle of roast beef gravy. We were going to ride the Lafiette Greenway but a bad thunderstorm was coming so we went back to the RV. Took a nap and I read while John watched old movies. Not a bad way to spend an afternoon. Once Tommy and Krista came home from work we decided to go to Rosedale for dinner. Not only was the food good and the service personal but the venue was interesting. This restaurant is in an old sheriff's office complete with a cell. The four of us had guacamole, shrimp puppies, merliton stuffed with crawfish, turtle soup, grits with cochen de lait, lamb meatballs and shrimp Creole. After a visit with Tommy and Krista we called it a night.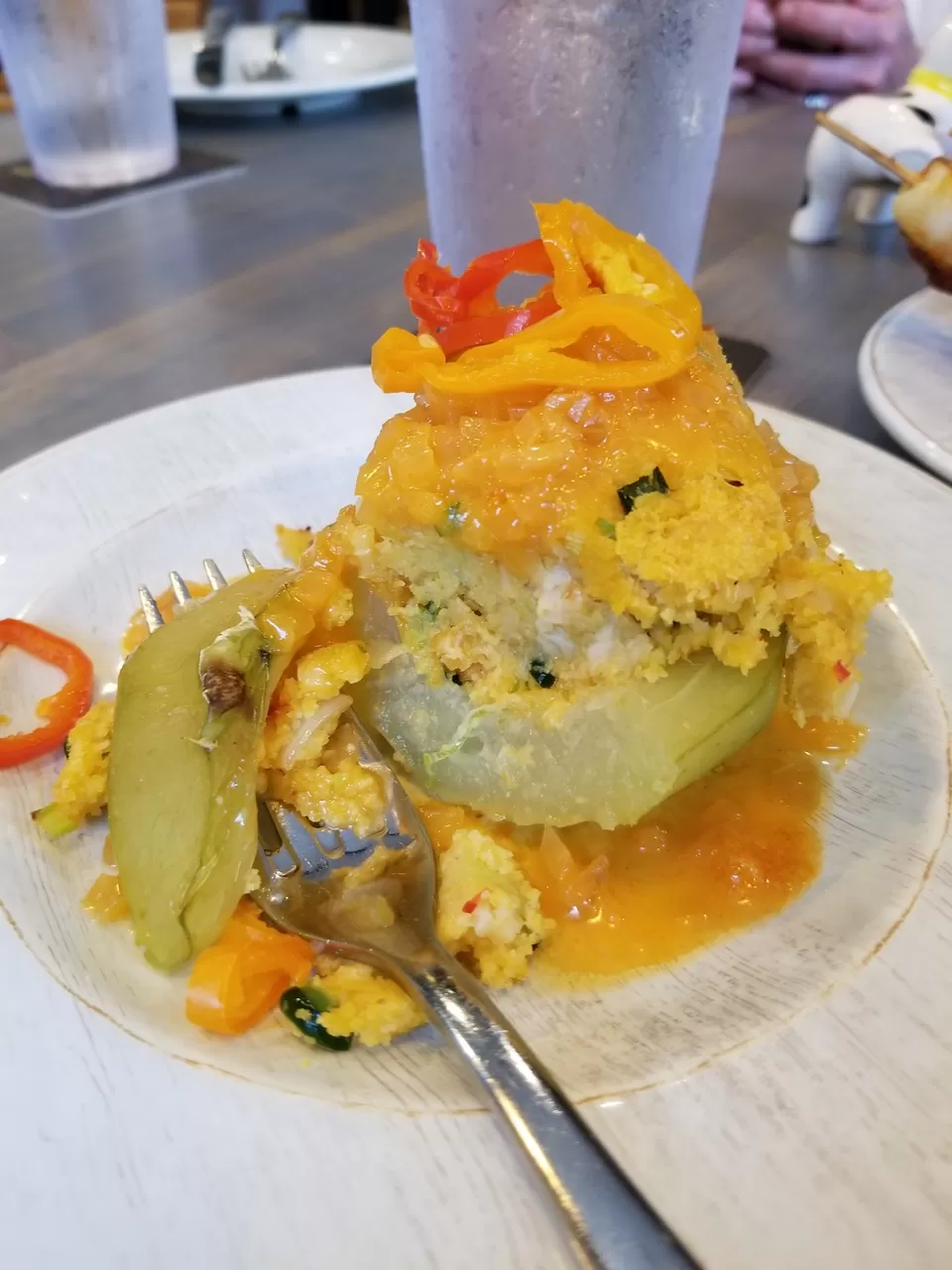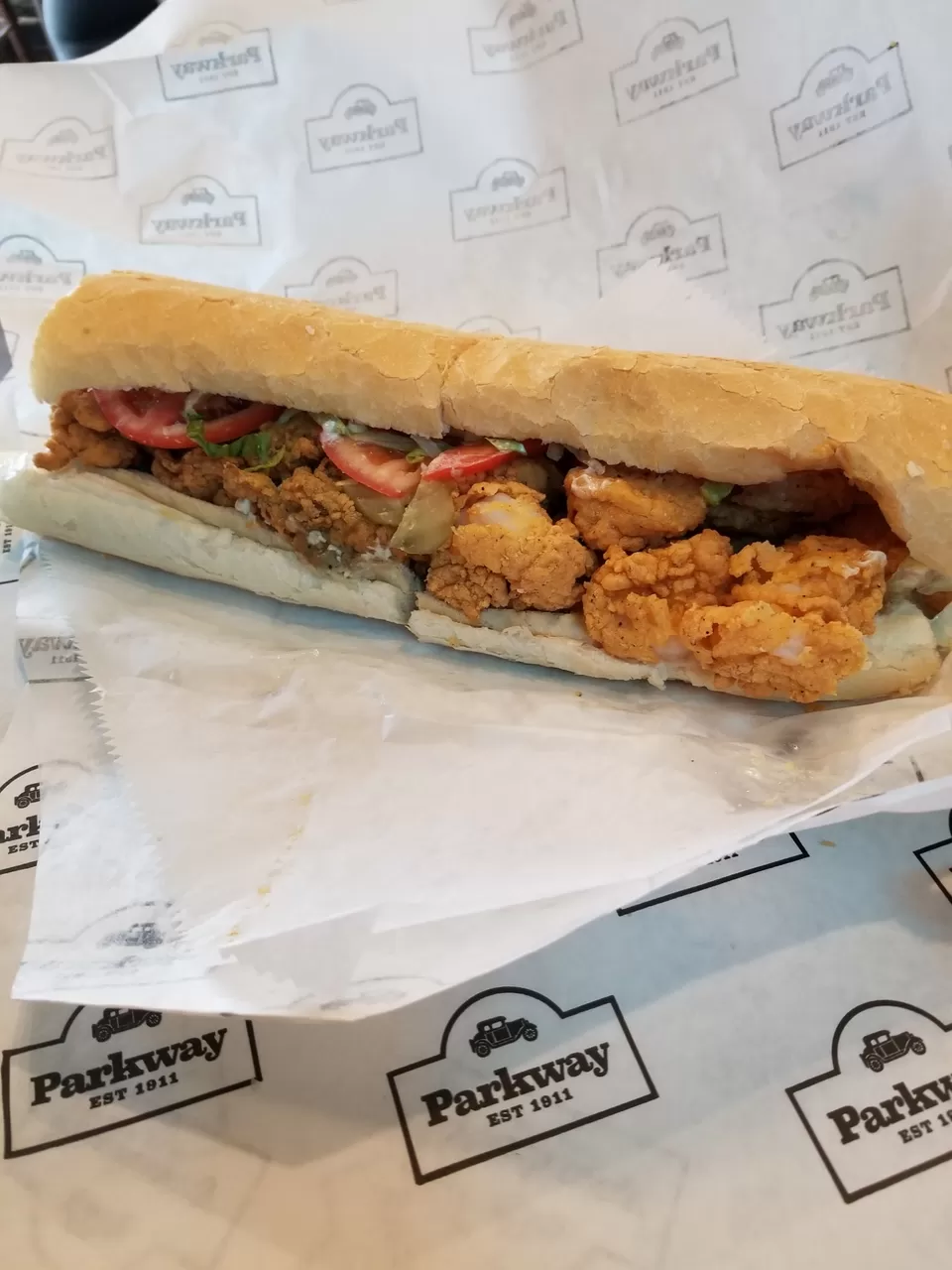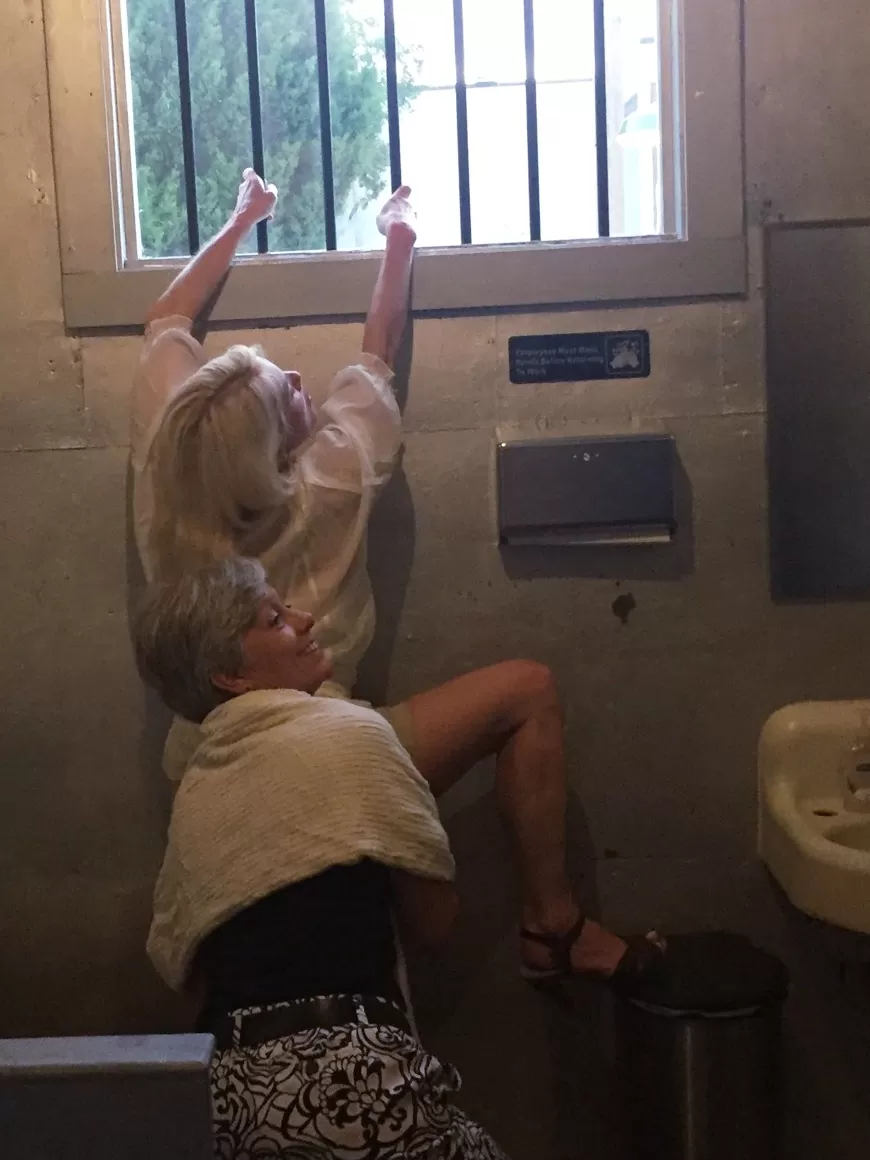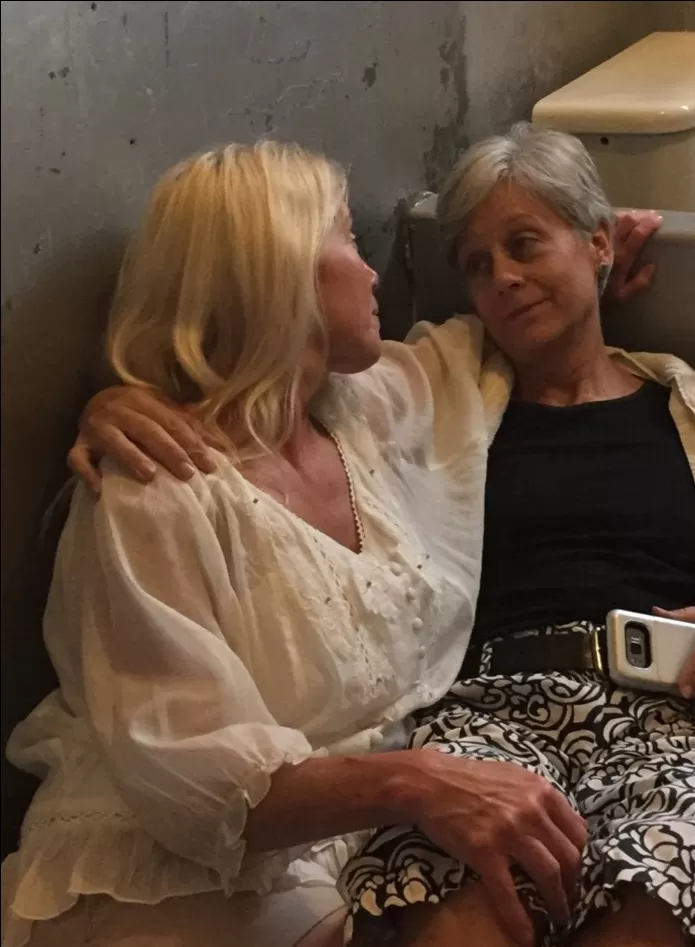 Friday May 25th, 2018
We left NOLA at 9 o'clock and headed to Natchez Mississippi. Once we got through Baton Rouge we got on the Great River Road, highway 61. We will take the GRR south later in our trip through Wisconsin, Iowa, Illinois, Missouri and Tennessee. We passed the Port Hudson State Historic Site. The siege of Port Hudson was the longest lasting in American military history, with the Union army taking control on July 9th 1863. We drove past beautiful old oak trees and Plantation homes. The landscape is beautiful; lush rolling hills, horses, cows, pecan groves, magnolias in full bloom, farm supply stores, pine forests, blooming mimosas, and cornfields. Natchez Mississippi is a city rich in history. The Natchez Indians lived here for centuries before French explorers established the state's 1st European settlement, Fort Rosalie, in 1716. We stopped in the visitor center to get information about what to do and watched a short informative video on the history of Natchez. We then walked toward the historic downtown but it started raining so we stopped into Fat Mommas Tamales and had boudin and tamales. The rain stopped and we were able to complete the walking tour through the St. Catherine street trail, the North trail, the bluff trail and Natchez under the hill. We walked back to the RV and drove across the Mississippi river to River View RV park and checked in. We are right on the river with a great view of Natchez.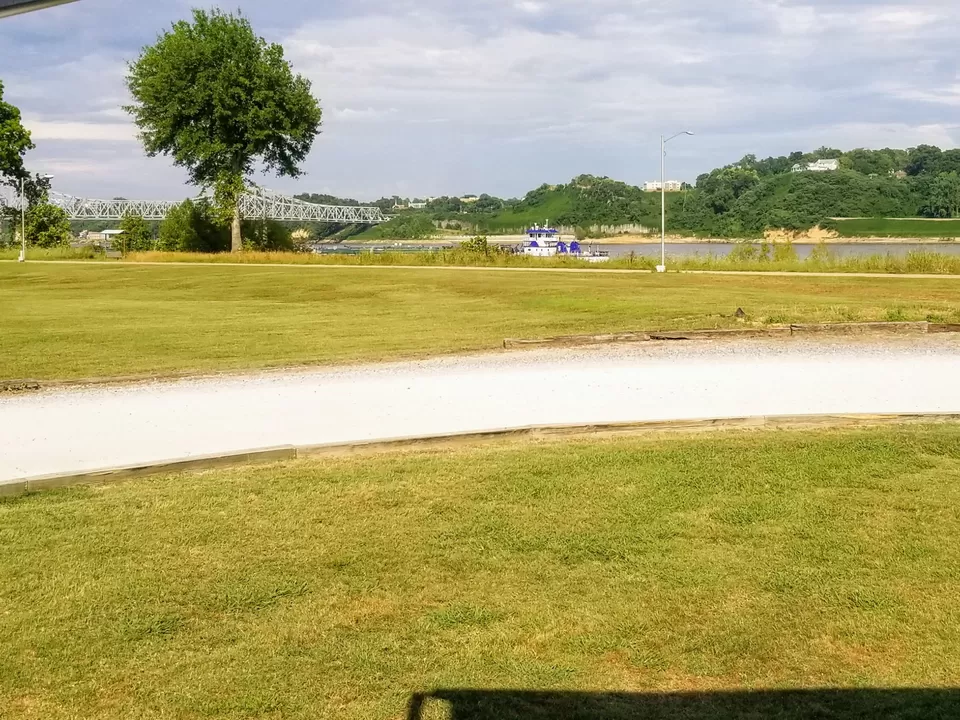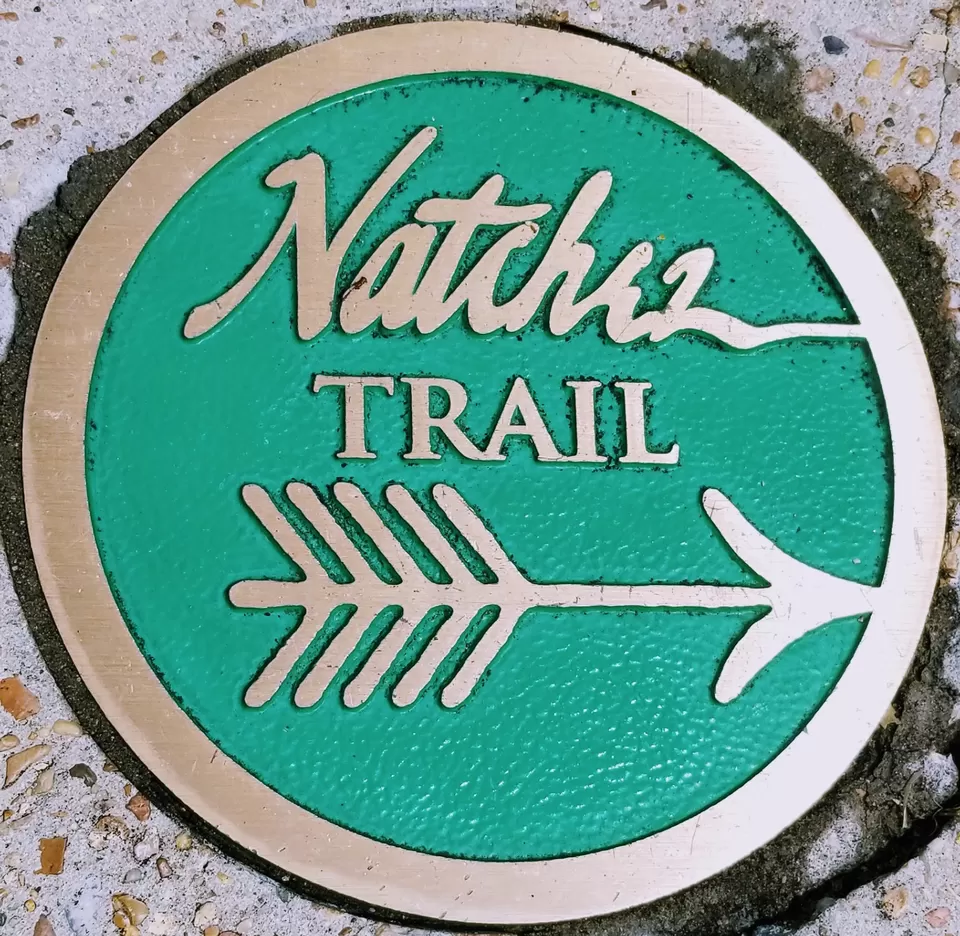 Saturday May 26, 2018
What a great day. We started the Natchez Trace Parkway at mile marker 0. Over the course of the next few days we will travel 444 miles and over 1250 years of history. First stop was mile marker 5.1, the Elizabeth Female Academy site, founded in 1818, first school for women chartered by the state of Mississippi. The parkway is a nice drive. Lush green, two lane, 50 mph max roadway. Very enjoyable to drive. Next stop, mile marker 10.3 Emerald mound, an eight acre ceremonial mound built between 1200 and 1730. On to mount locust, a restored plantation and historic stand (inn), for travelers to stop along the trace. After this we left the parkway and visited Windsor ruins. This plantation home survived the Civil War only to burn down due to an accidental fire, after the war. All that remains are the columns and metalwork. This brought us out at Port Gibson which has seen better days. Once back in Natchez we toured Longwood, an unfinished 30,000 ft² plantation home. The home was finished on the outside and the 1st floor but when the war started and the family lost their fortune and the man of the family died they couldn't afford to finish it and lived in the one completed floor for another 50 years. We stopped for gas and groceries and returned to River View RV park in time to hear the band before the rain started. Since we have been here I've been amazed to see how many barges go by on the Mississippi. It is definitely a working river.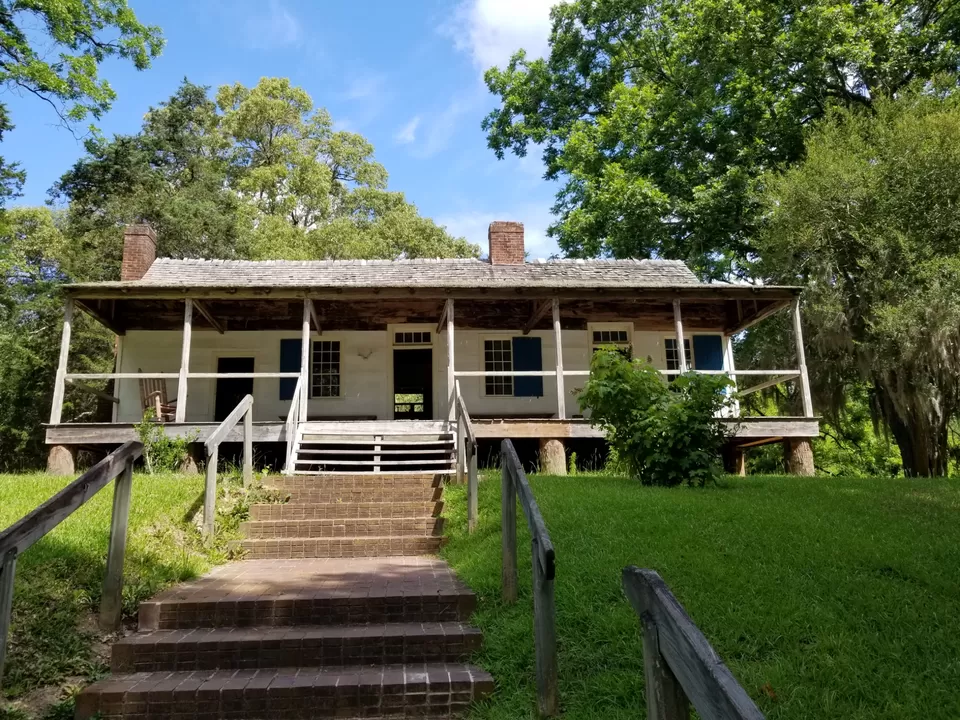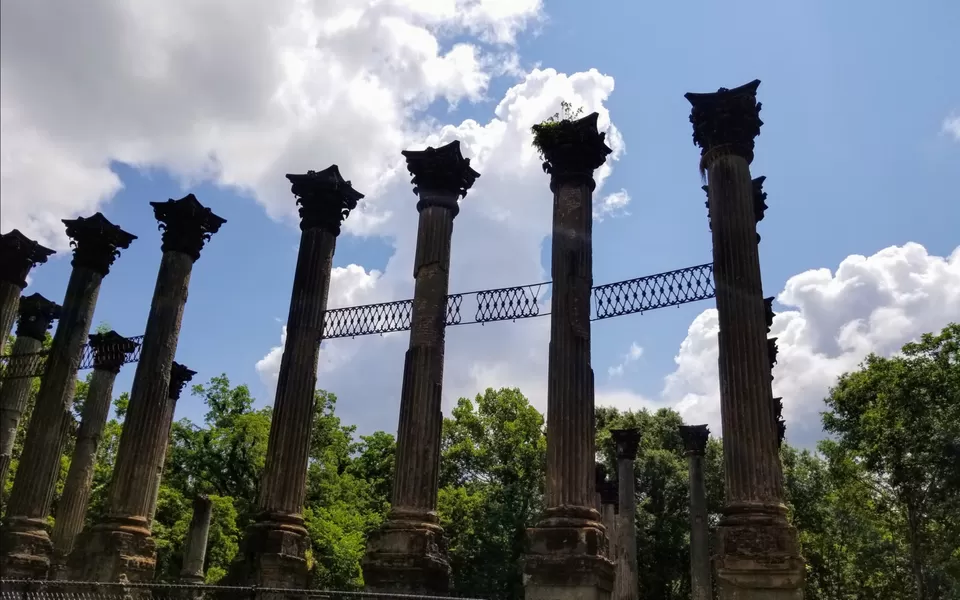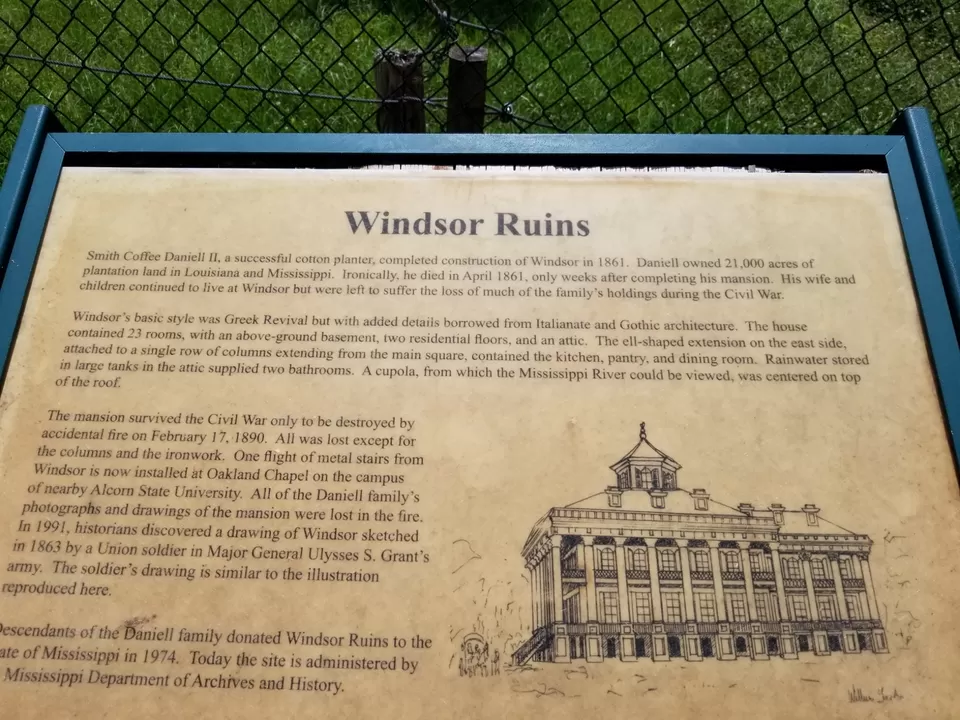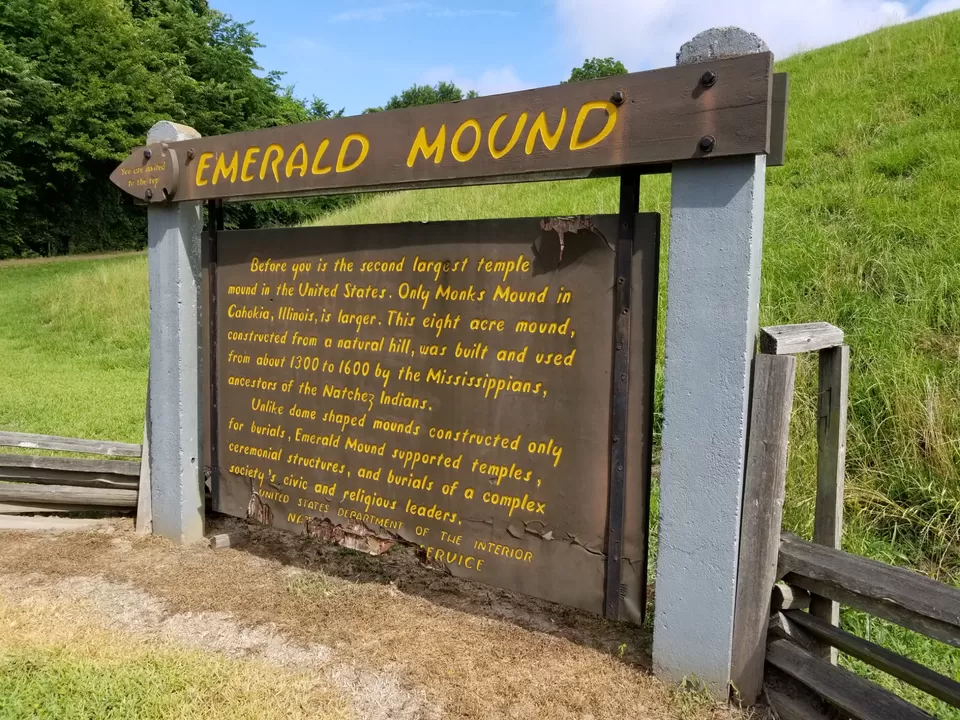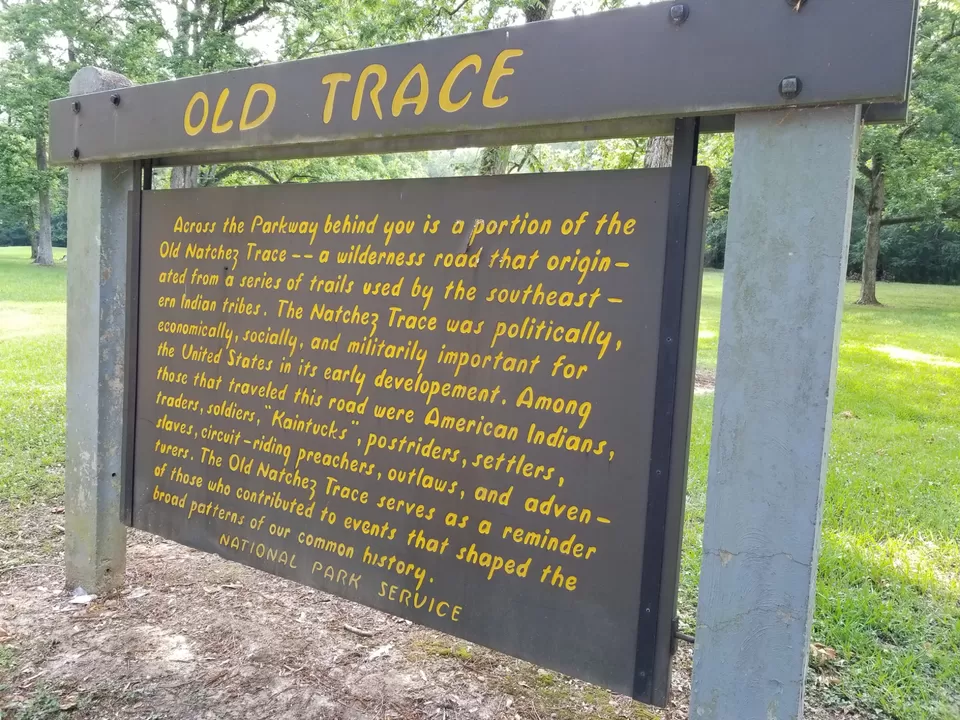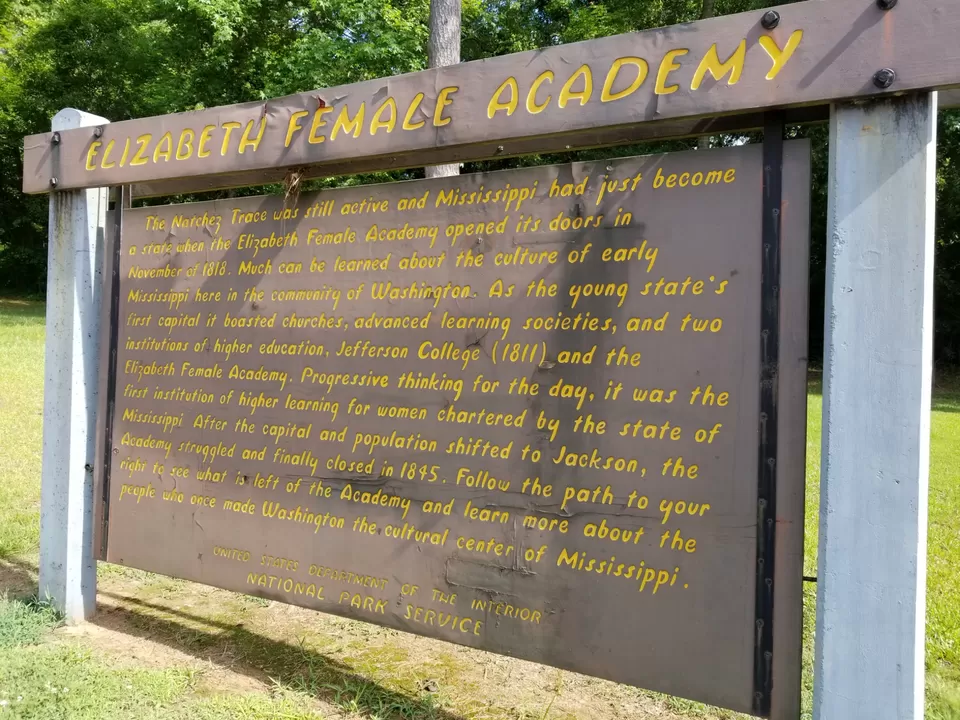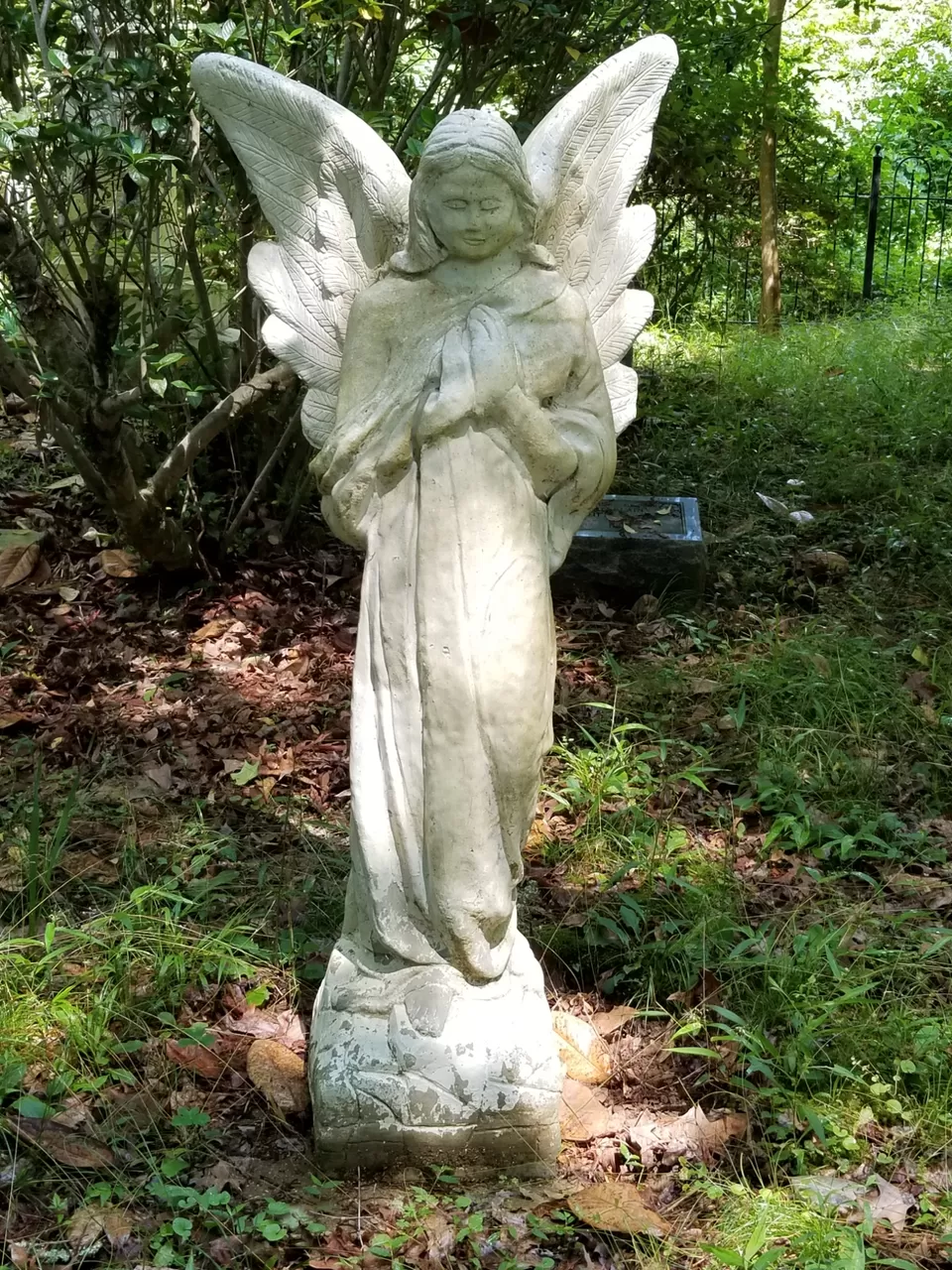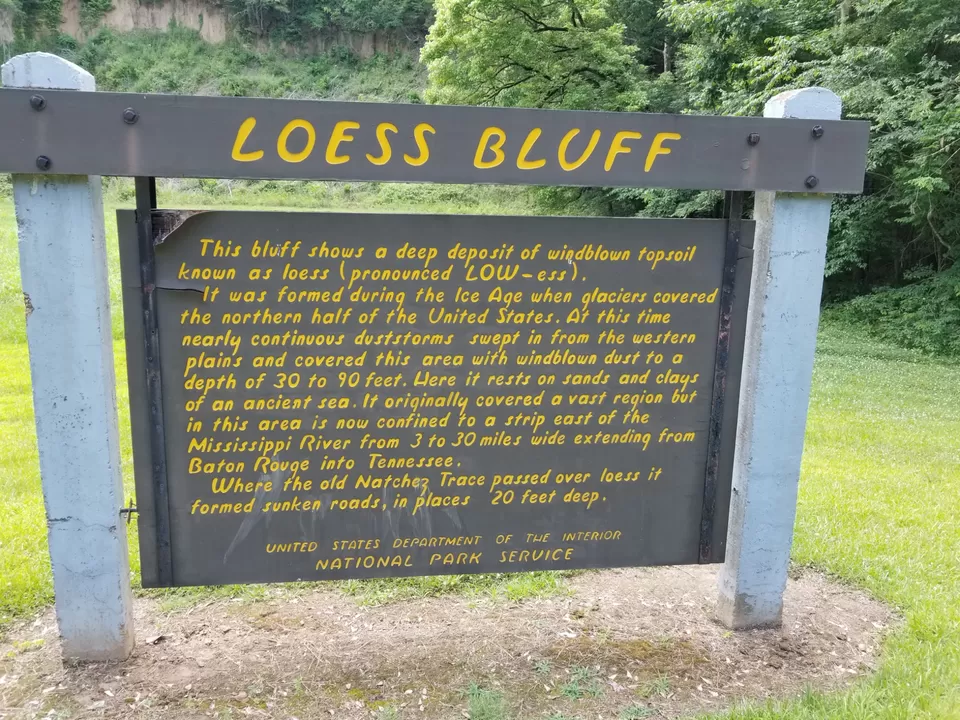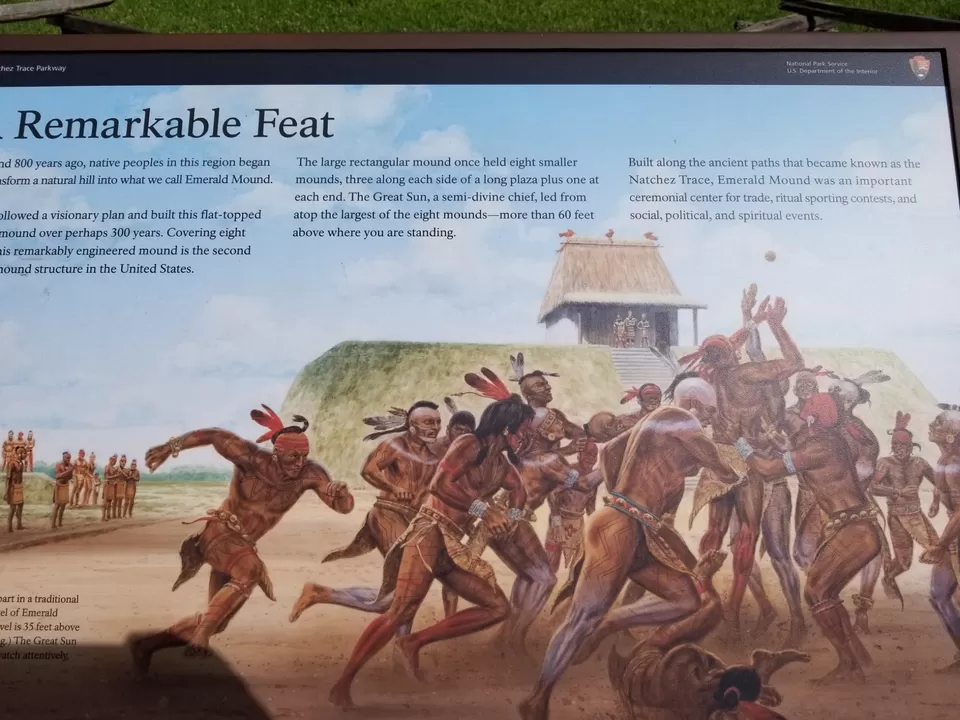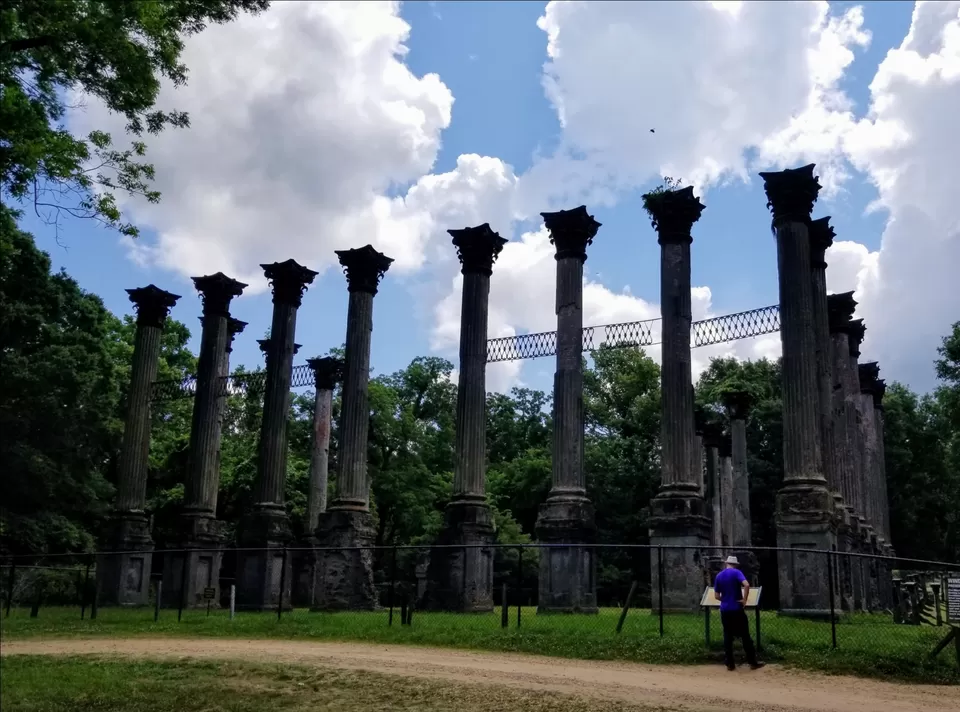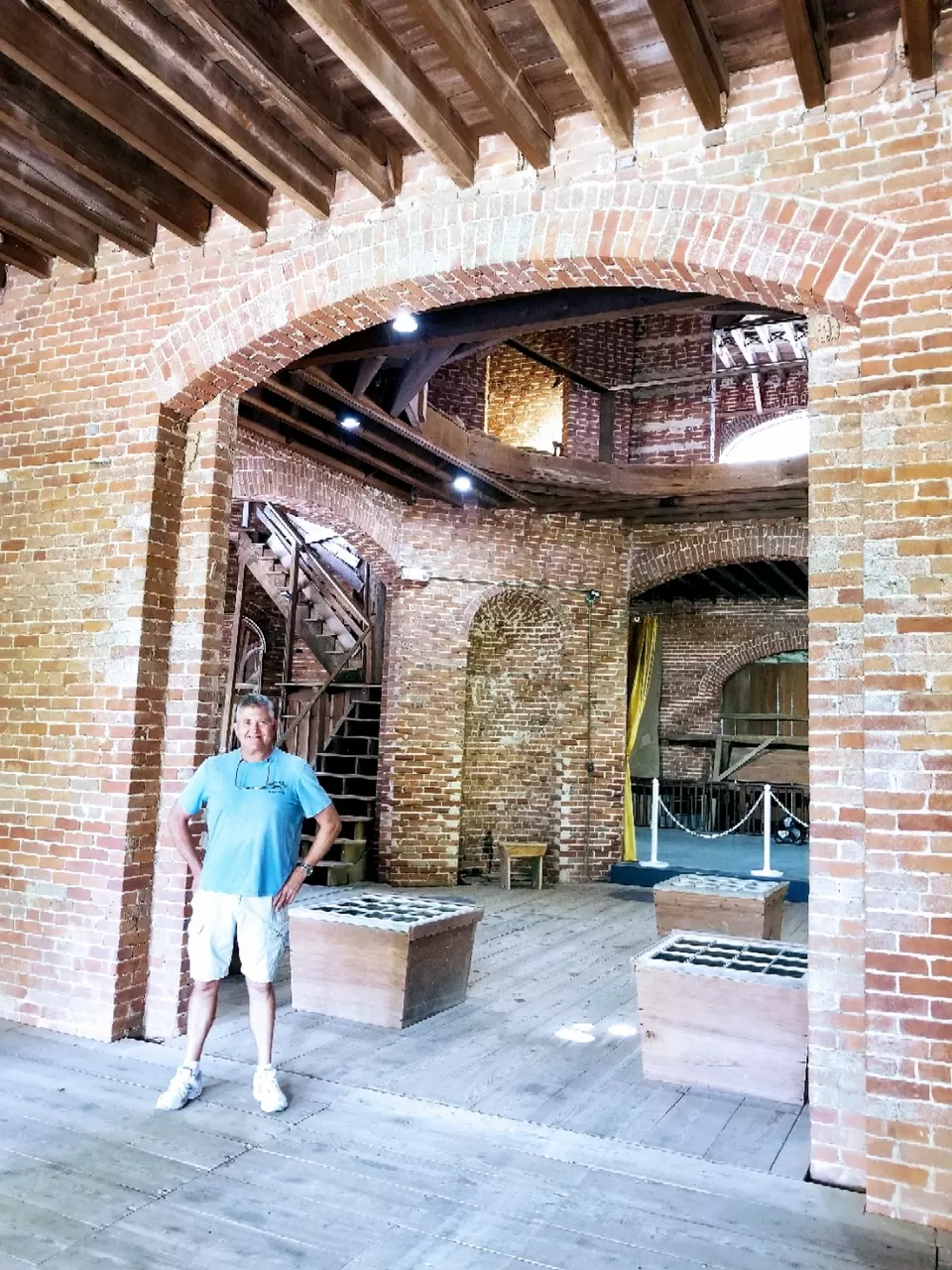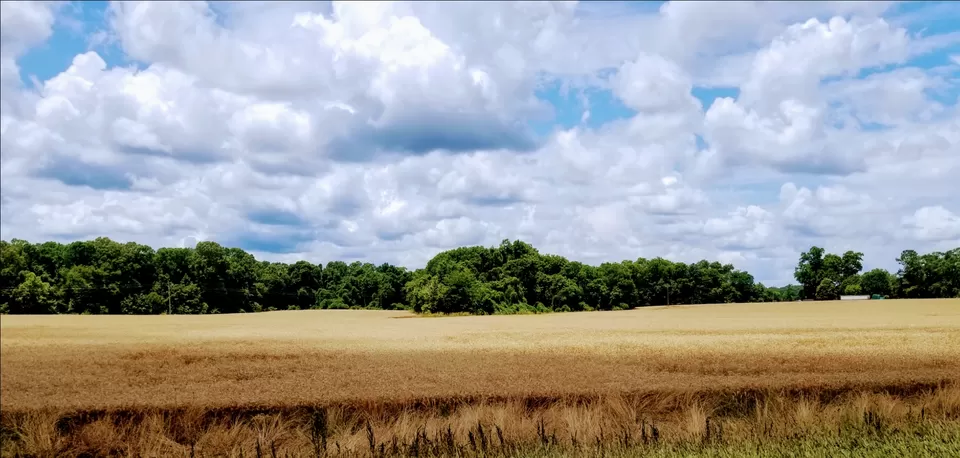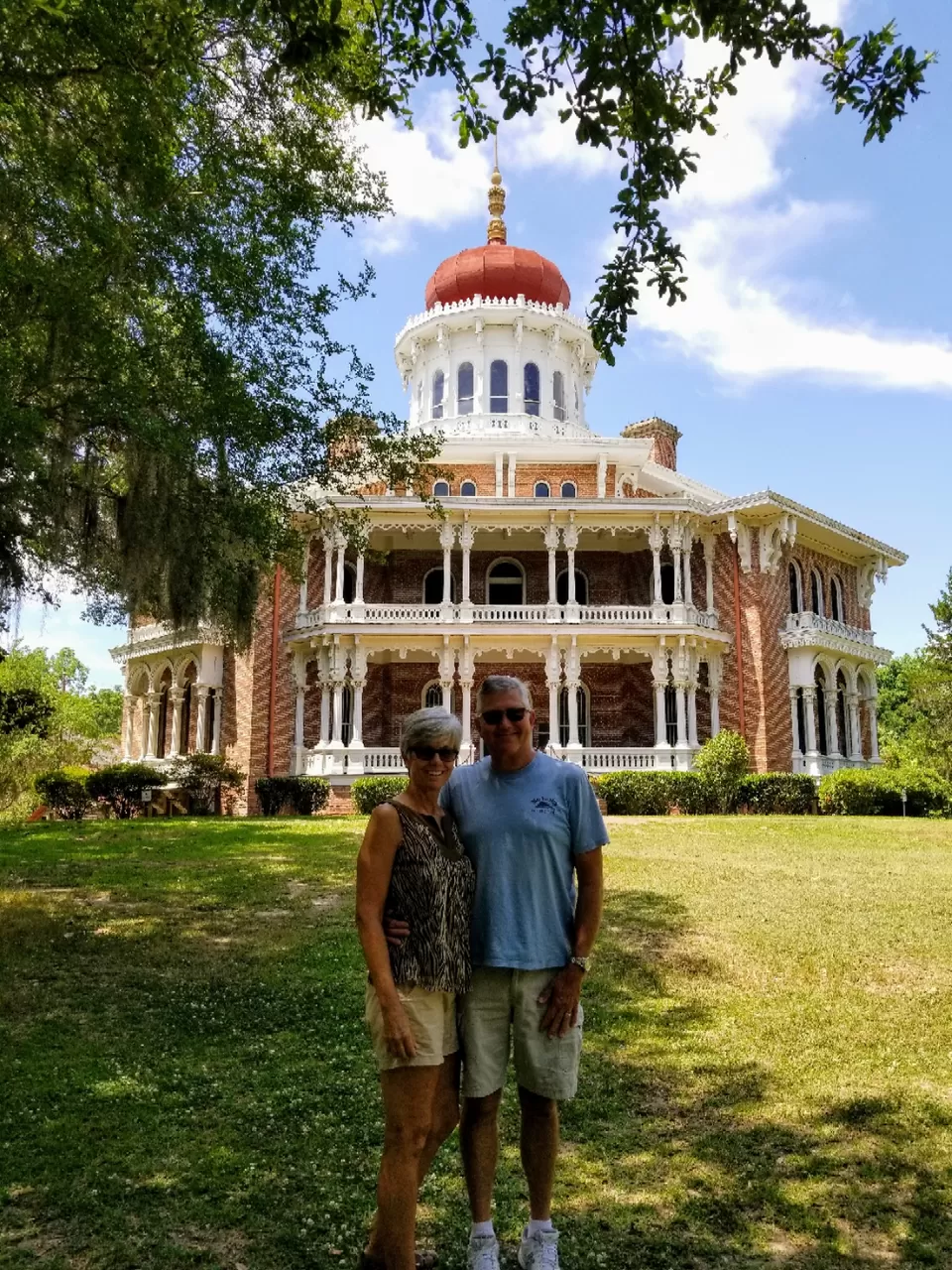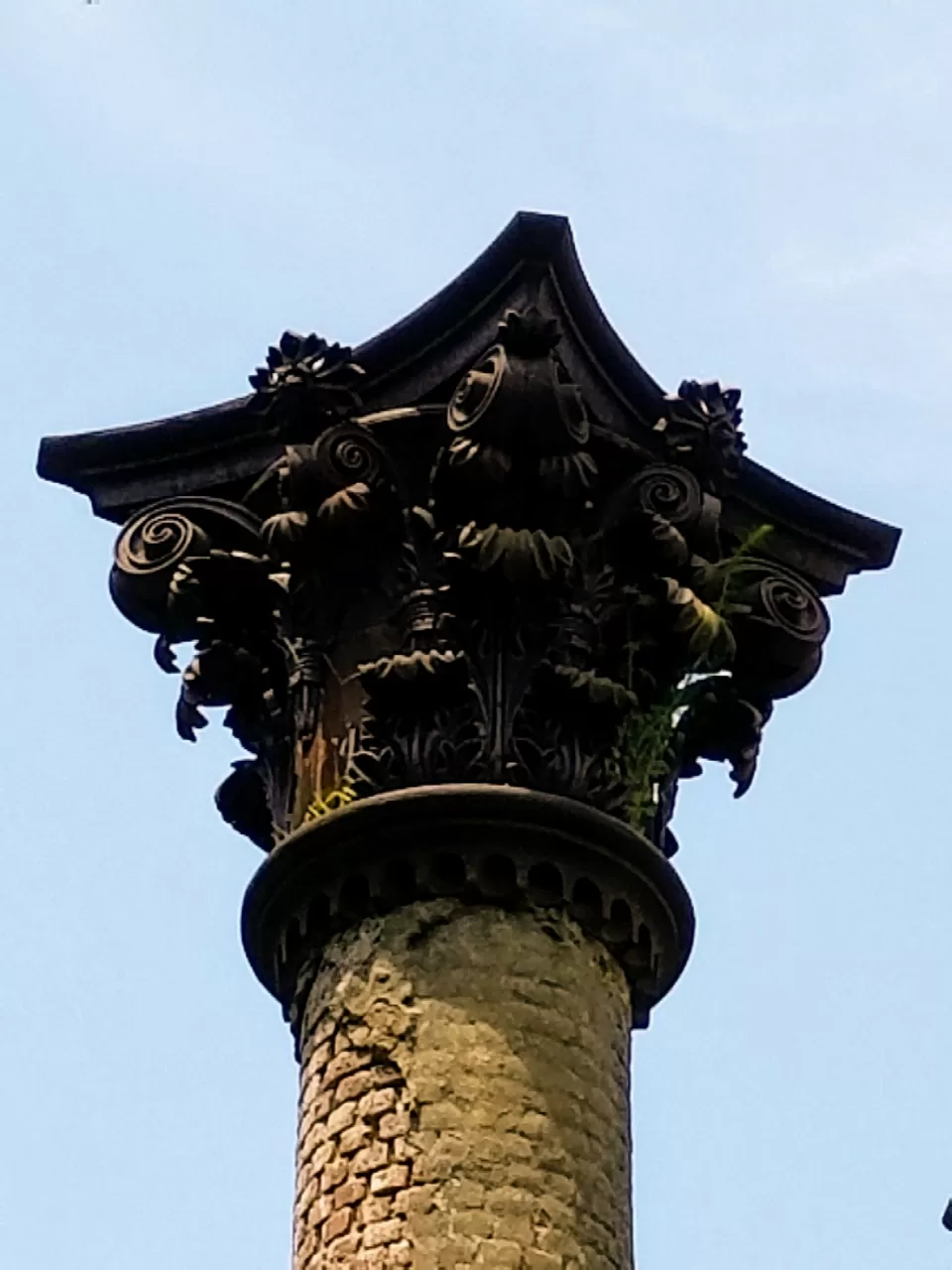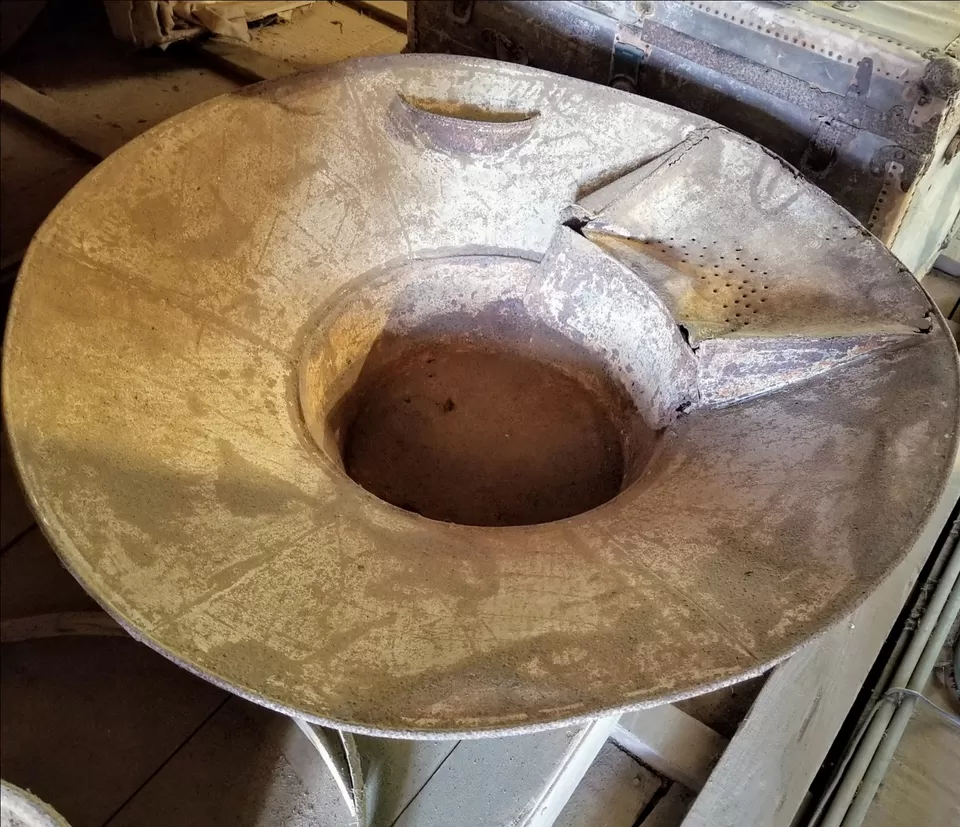 Sunday May 27th, 2018
Another great day on the Natchez Trace Parkway. We had a relaxing morning at Riverview before hitting the parkway. Our first stop was Sunken Trace, a portion of the deeply eroded or "sunken" old trace. The short walk took us back to the early 1800's when people walking 500 miles had to put up with the discomforts of heat, mosquitoes, poor food, hard beds (if any), disease, swollen rivers, and sucking swamps. Where a broken leg or arm could spell death for the traveler. Our next stop was the ghost town of Rocky Springs. Once a thriving rural community, first settled in the late 1790's, the town grew from a watering place along the Natchez trace, and took its name from the water, Rocky Spring. In 1860, a total of 2,616 people lived in this area covering about 25 square miles. The population included 3 merchants, 4 physicians, 4 teachers, 3 clergy and 13 artisans; while the surrounding farming community included 54 planters, 28 overseers, and over 2,000 slaves who nurtured the crop that made the town possible, cotton. Next stop was Cowles Meade cemetery. Last stop of the day was in Ridgeland where we biked about 15 miles of the Richland bike trail. We saw a wild turkey (hen) and two dear. We are spending the next two nights at Timber Lake RV park on the Ross R. Barnett reservoir. We have a very nice, shaded and level spot with a view of the water.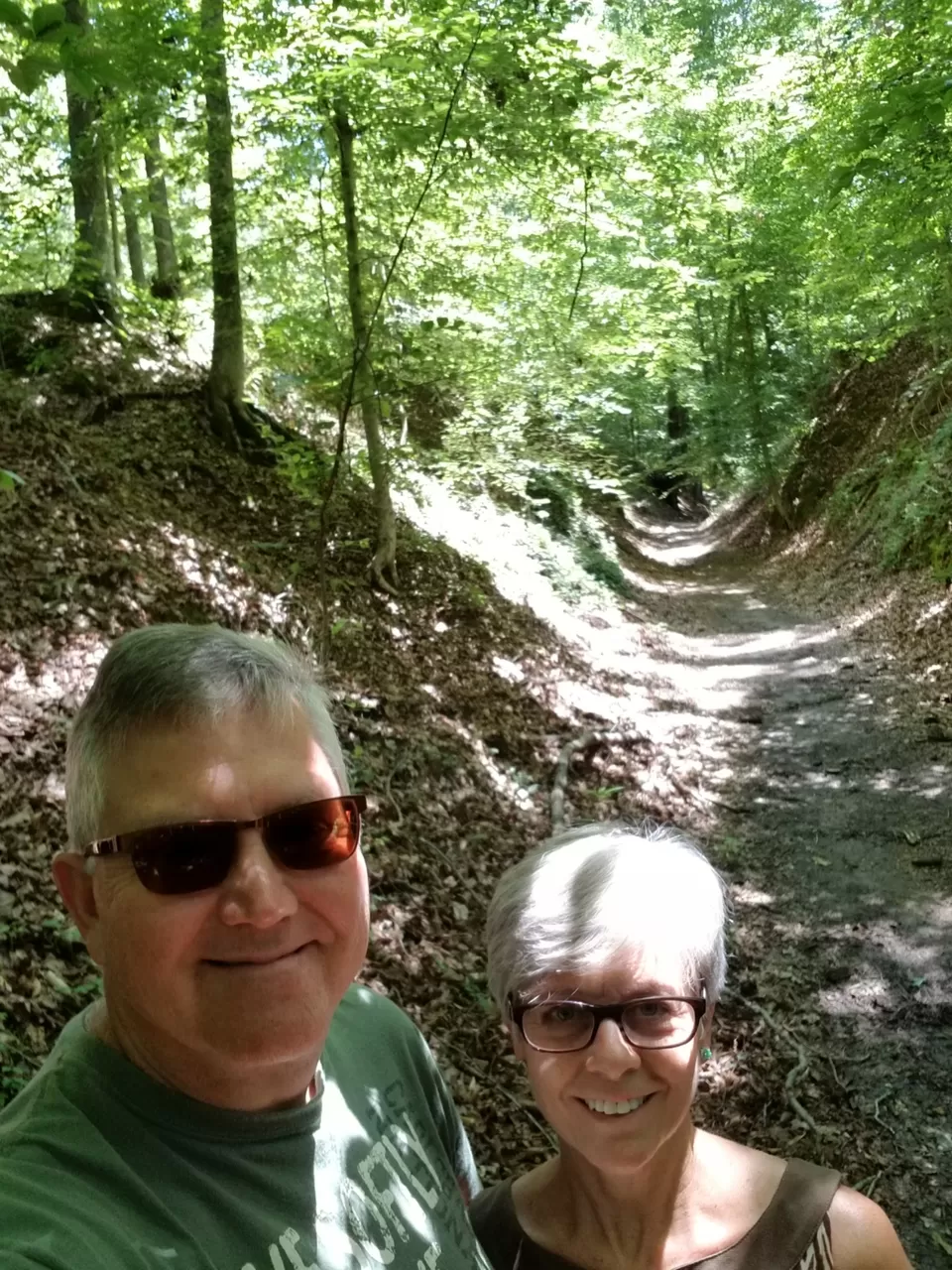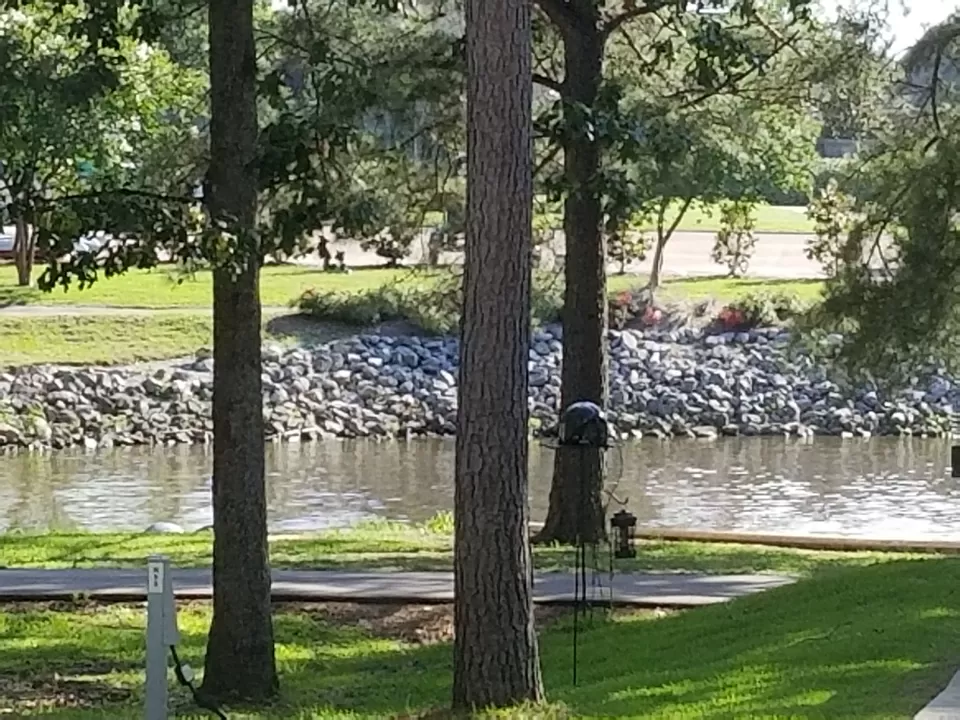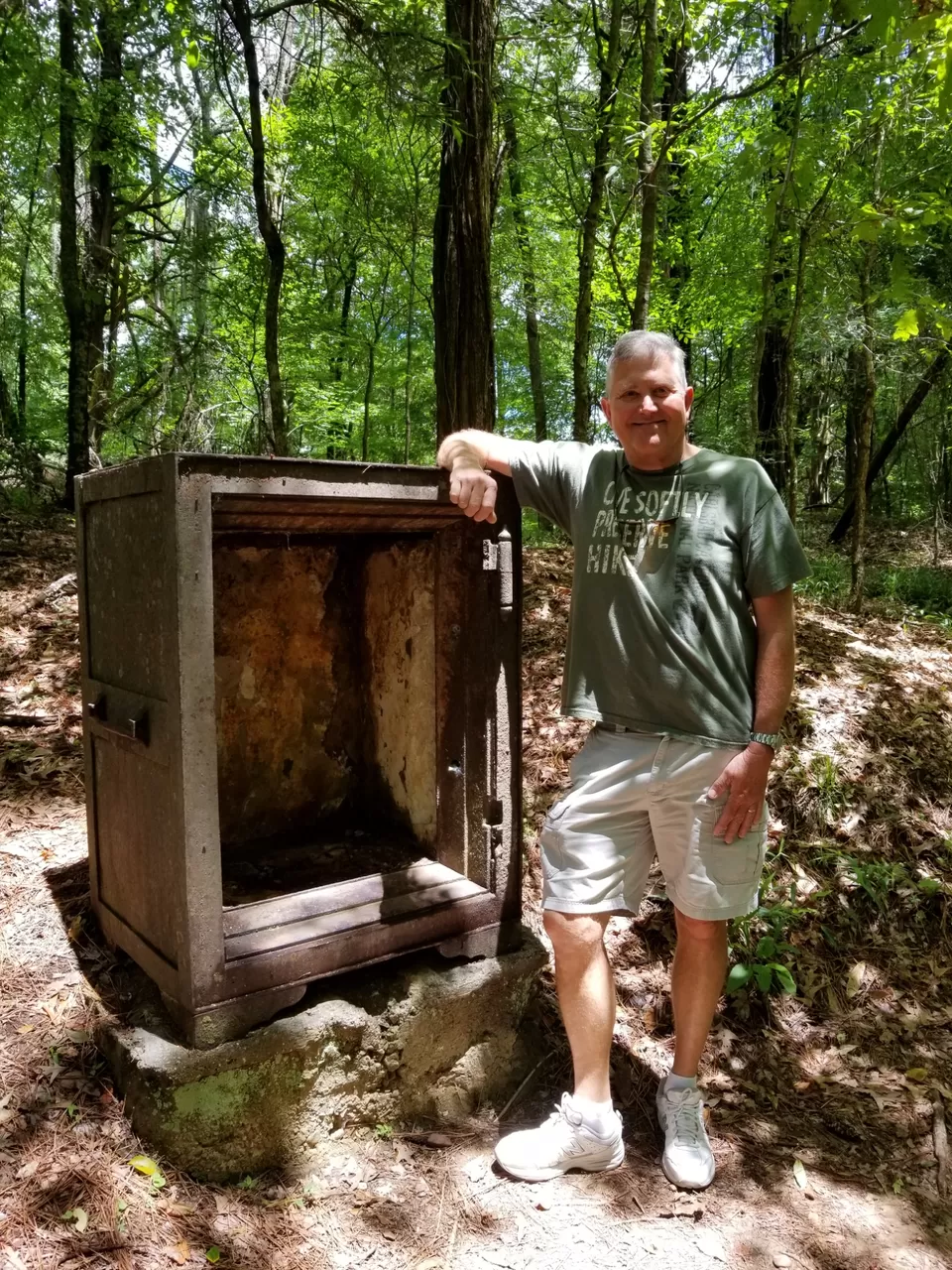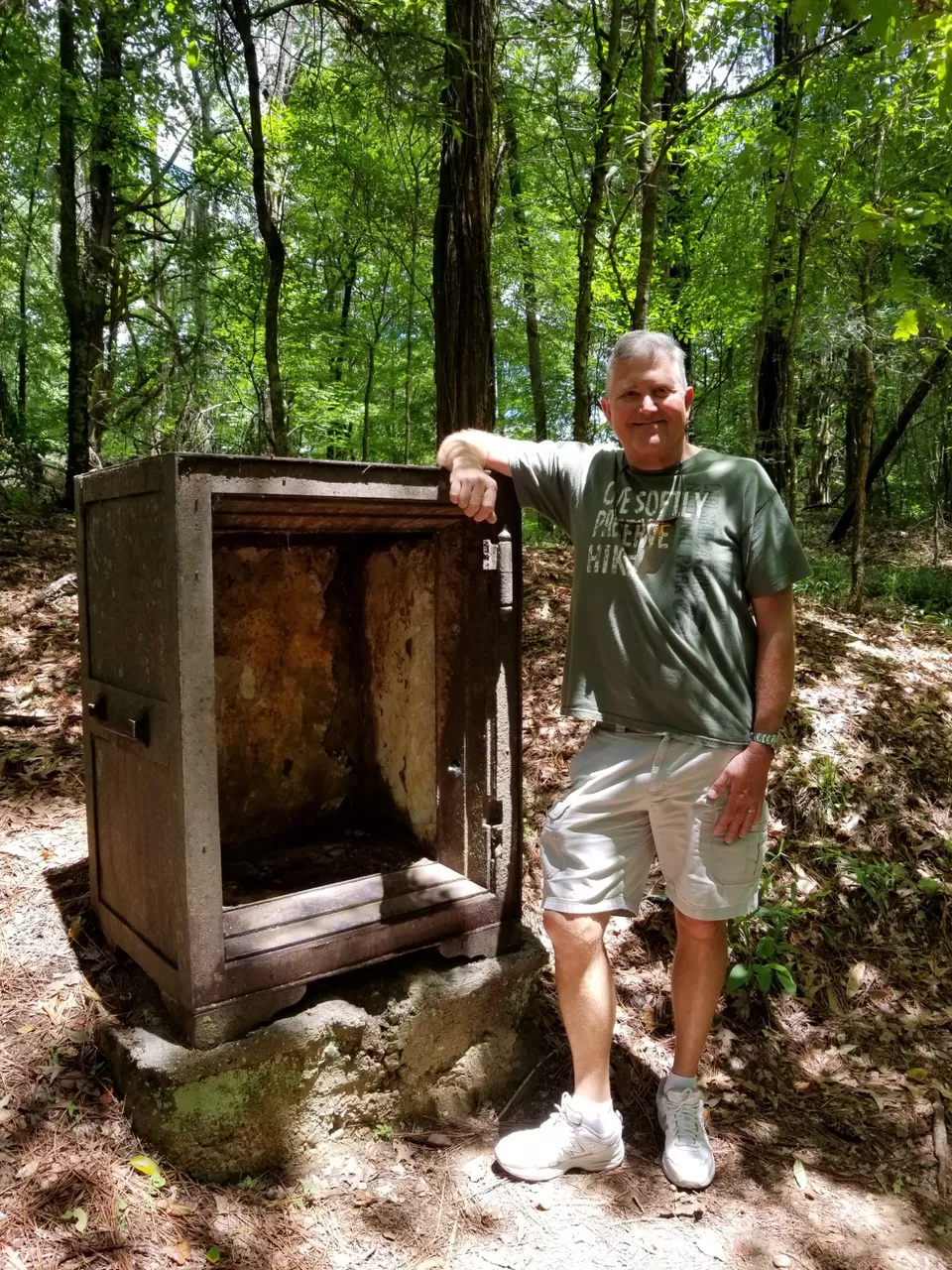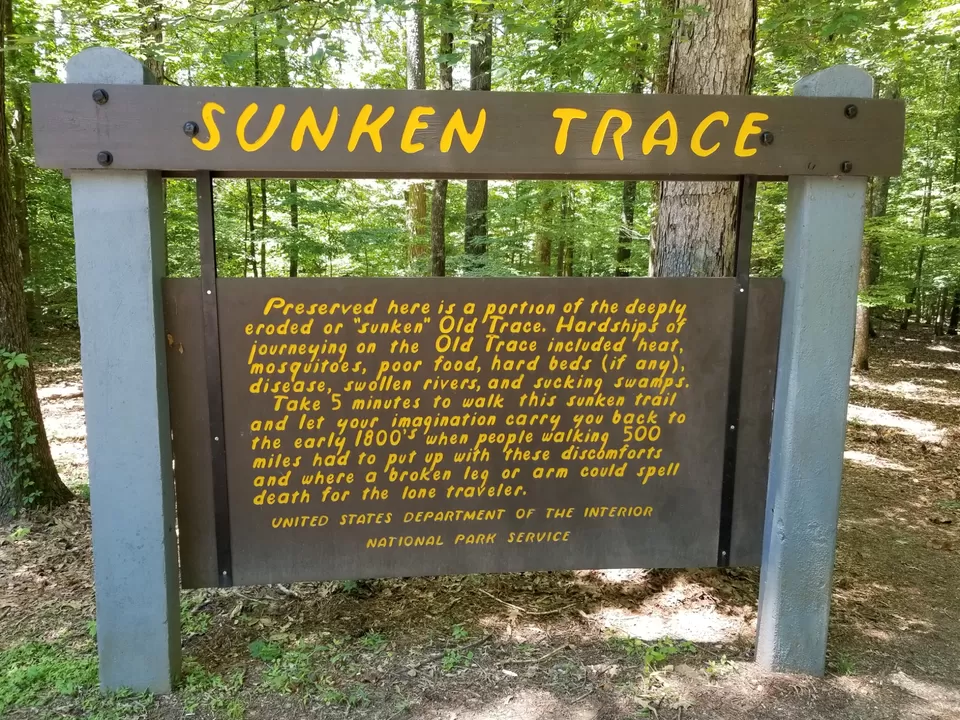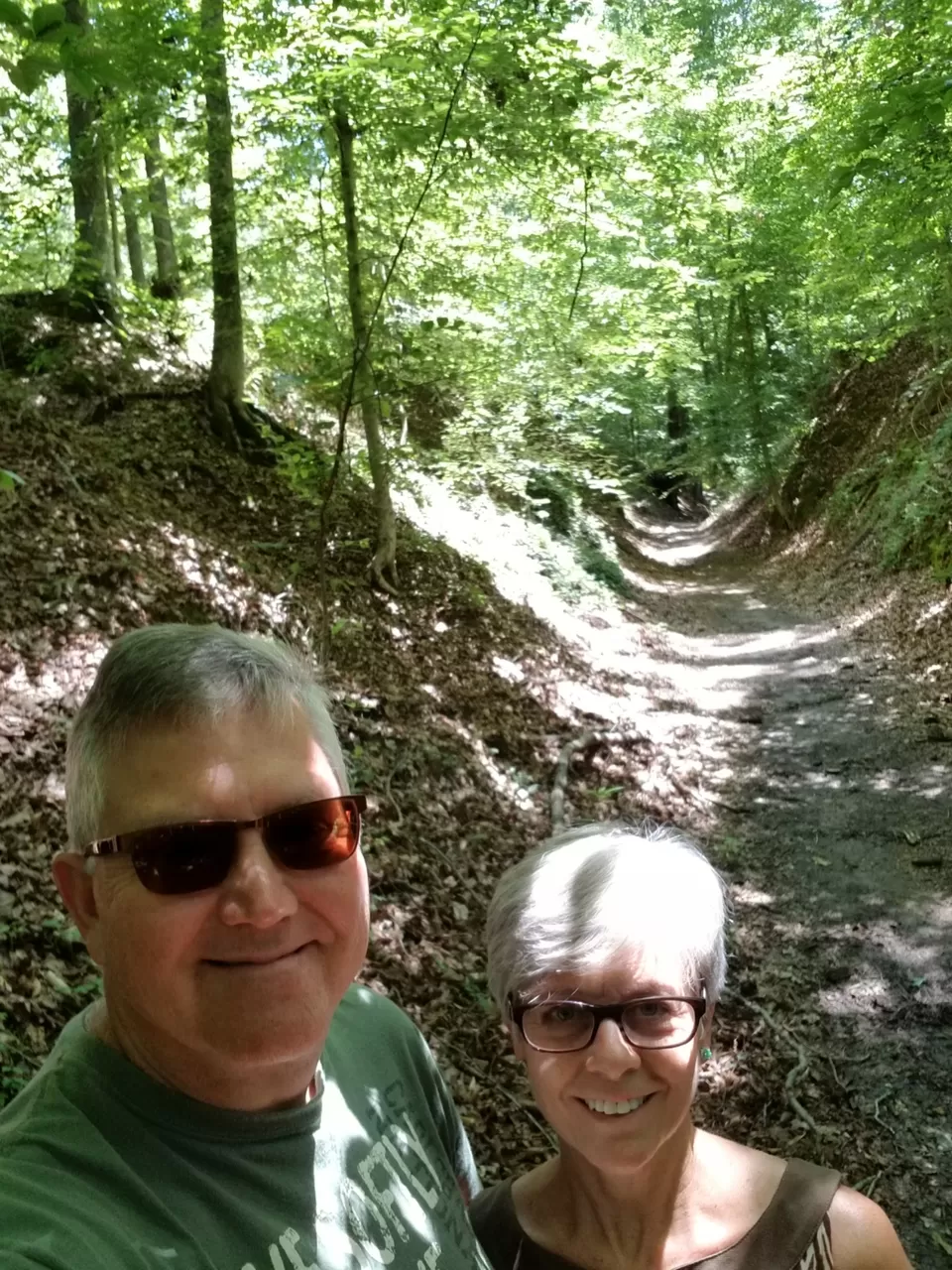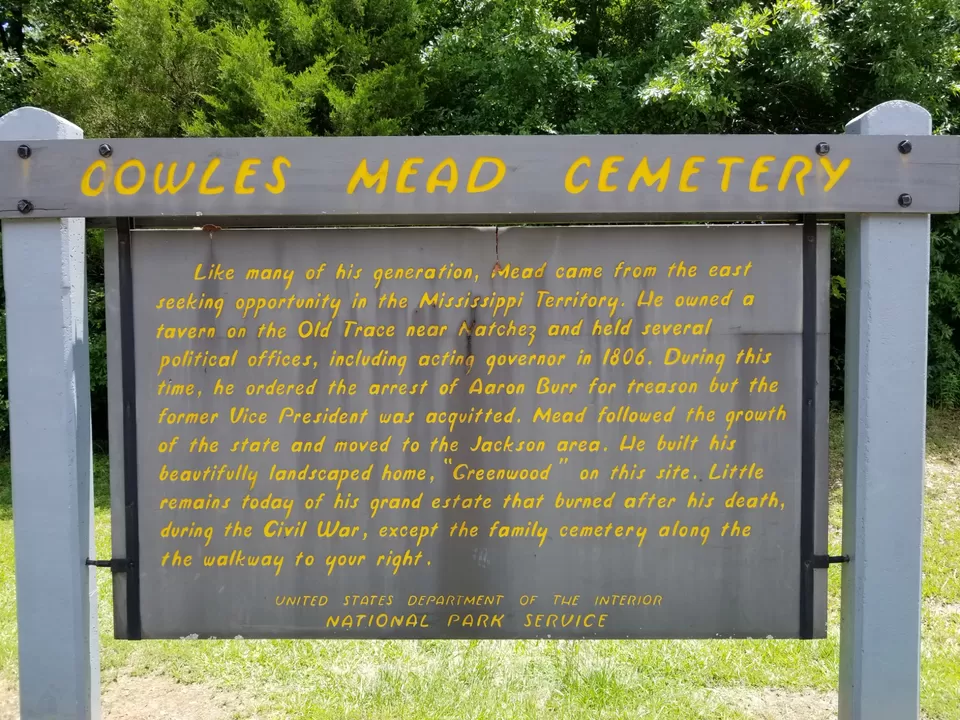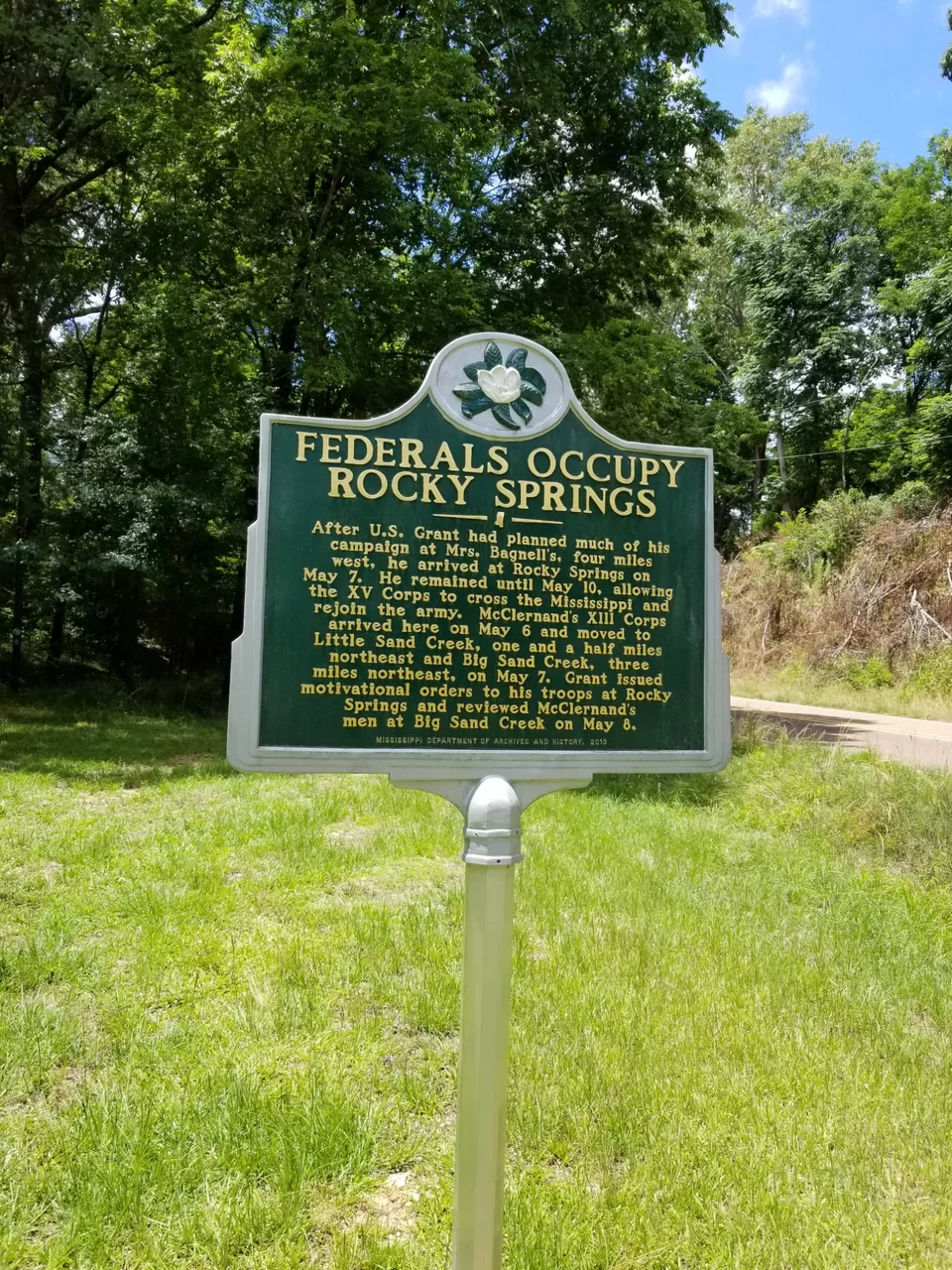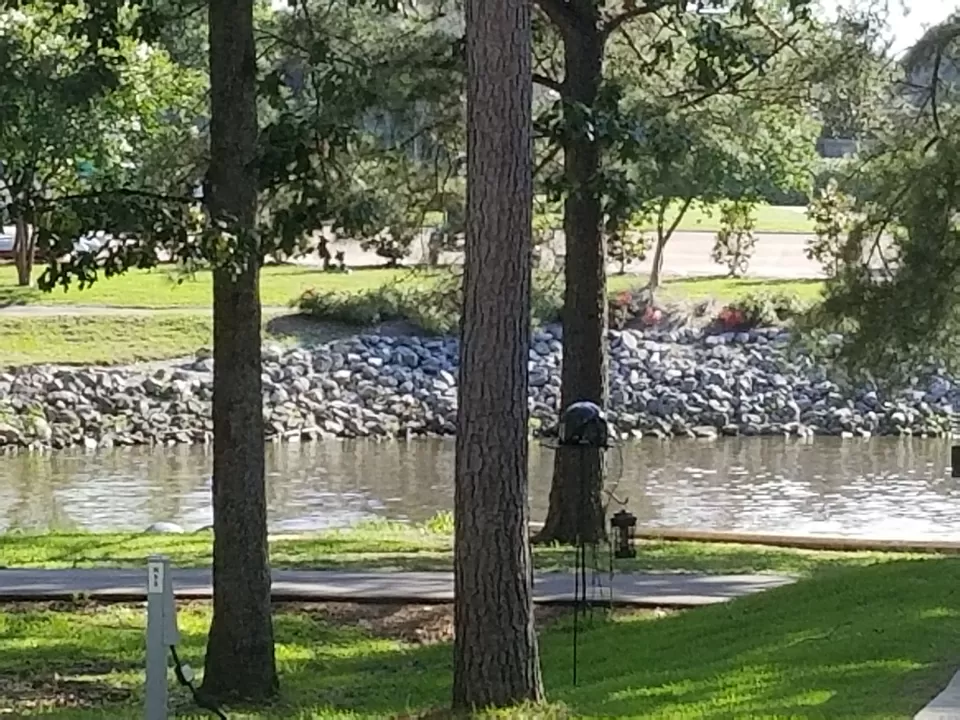 Monday May 28, 2018
Happy Memorial Day. Today we enjoyed the campsite at Timber Lake then headed out to take a bike ride. This area has a very nice bike trail along the reservoir. We rode about 6 miles then turned around and came back for lunch. After lunch we rode the opposite direction for about 5 miles then came back to the campsite. We did our laundry and enjoyed the water. We are really impressed with the bike trails in Mississippi and how bike-friendly the area is. It would be wonderful if Jacksonville had something like this around the St. John's river. Today was sunny and hot. Tropical storm Alberto has missed us so far.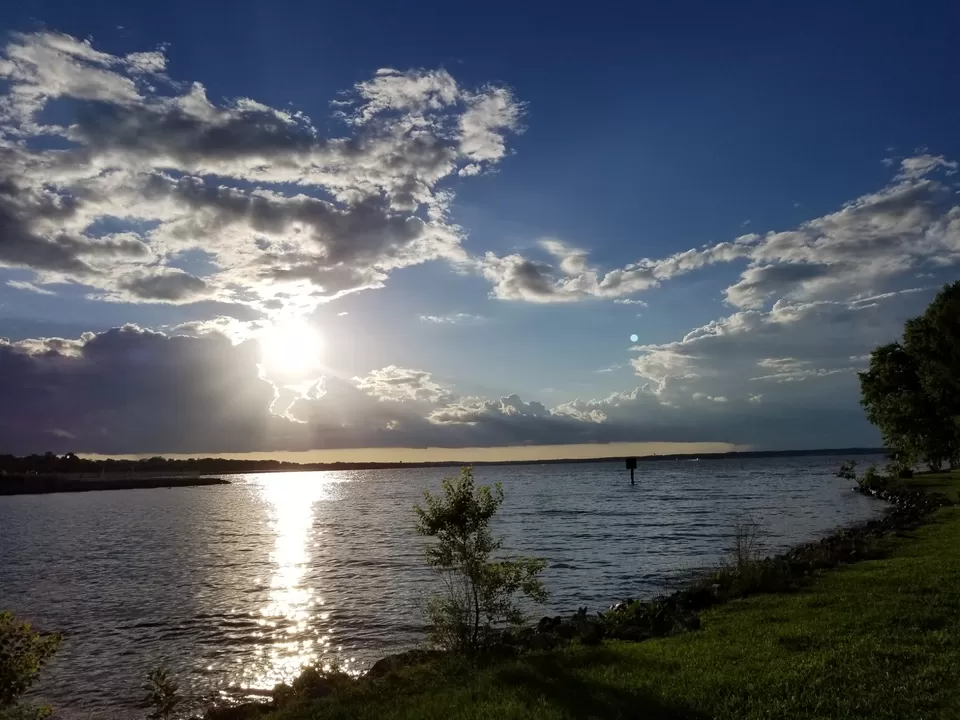 Tuesday May 29, 2018
We broke camp and started back on the Trace for the day. Our 1st stop was the Boyd site. Archeologists believe there was a house on this site around 500 A.D. and that the pottery found in the mounds was made before 700 A.D. As we drove on we passed what had at one time been the West Florida boundary at the confluence of the Yazoo and Mississippi rivers to the Chattahoochee river. A few miles later we stopped and took the nature trail through a tupelo and cypress swamp. The water tupelo is similar to the bald cypress in that it can live in deep water for long periods of time. It was a beautiful walk and very quiet except for the birds and other sounds of nature. Our next stop was Jeff Busby picnic area and campground. We had wanted to camp here but they don't make reservations. Now that we are here, I'm sure we could have gotten a spot as it isn't busy at all. We took a short loop hike from the high point (603 feet) through the woods. The only wildlife we saw was a beautiful swallowtail butterfly. We also saw small waterfalls and just a very peaceful woods. We crossed Line Creek which is the historic boundary between Chickasaw and Choctaw lands. Our next stop was Bynum Mounds which were Indian mounds built approximately 2000 years ago. Next was Tockshish which is a Chickasaw word meaning "tree root". Tockshish was a community of Indians and white men just to the north west of where John McIntosh, British agent to the Choctaws settled. In 1801, McIntosh's was made the second post office between Nashville and Natchez, and a relay station where post riders exchanged weary horses for fresh ones. Mail bags that left Nashville five days before and were due in Natchez seven days later were exchanged here. Next we diverted from the Trace into Tupelo Mississippi to visit the birthplace of Elvis Presley. He was a twin, the other baby died, and his home was a two room house. After this short stop we were back on the Trace and made one last stop at Pharr Mounds before heading to camp. Pharr Mounds are eight burial mounds built 1,800 - 2,000 years ago. They are the largest and most important archeological site in northern Mississippi. Eight large, dome-shaped burial mounds are scattered over an area of 90 acres. These mounds were built and used about 100 - 200 A.D. by a tribe of nomadic Indian hunters and gatherers who returned to this site at times to bury the dead with their possessions. At this point the rain started and didn't stop for the rest of the afternoon and evening. But a little rain didn't deter us! We checked in to Tishomingo State Park and have a great spot right on the water. Hopefully the rain will stop by morning so we can explore the park. John had a great time fishing (in the rain) and even caught a small black bass (had to throw it back). Tishomingo appears to be a beautiful park with plenty of hiking and exploring to be done.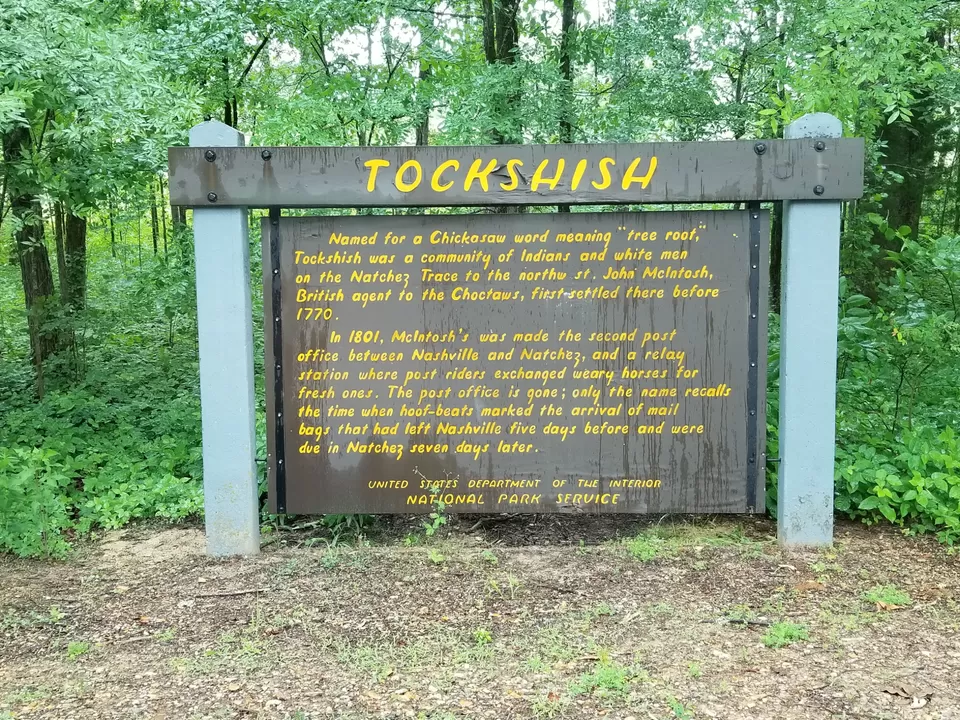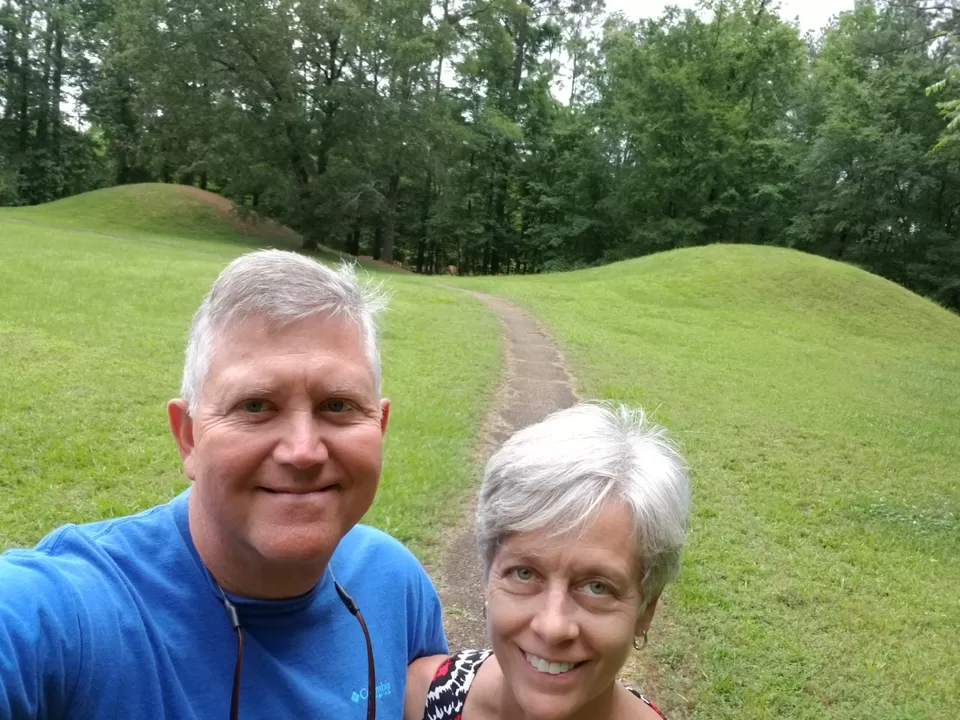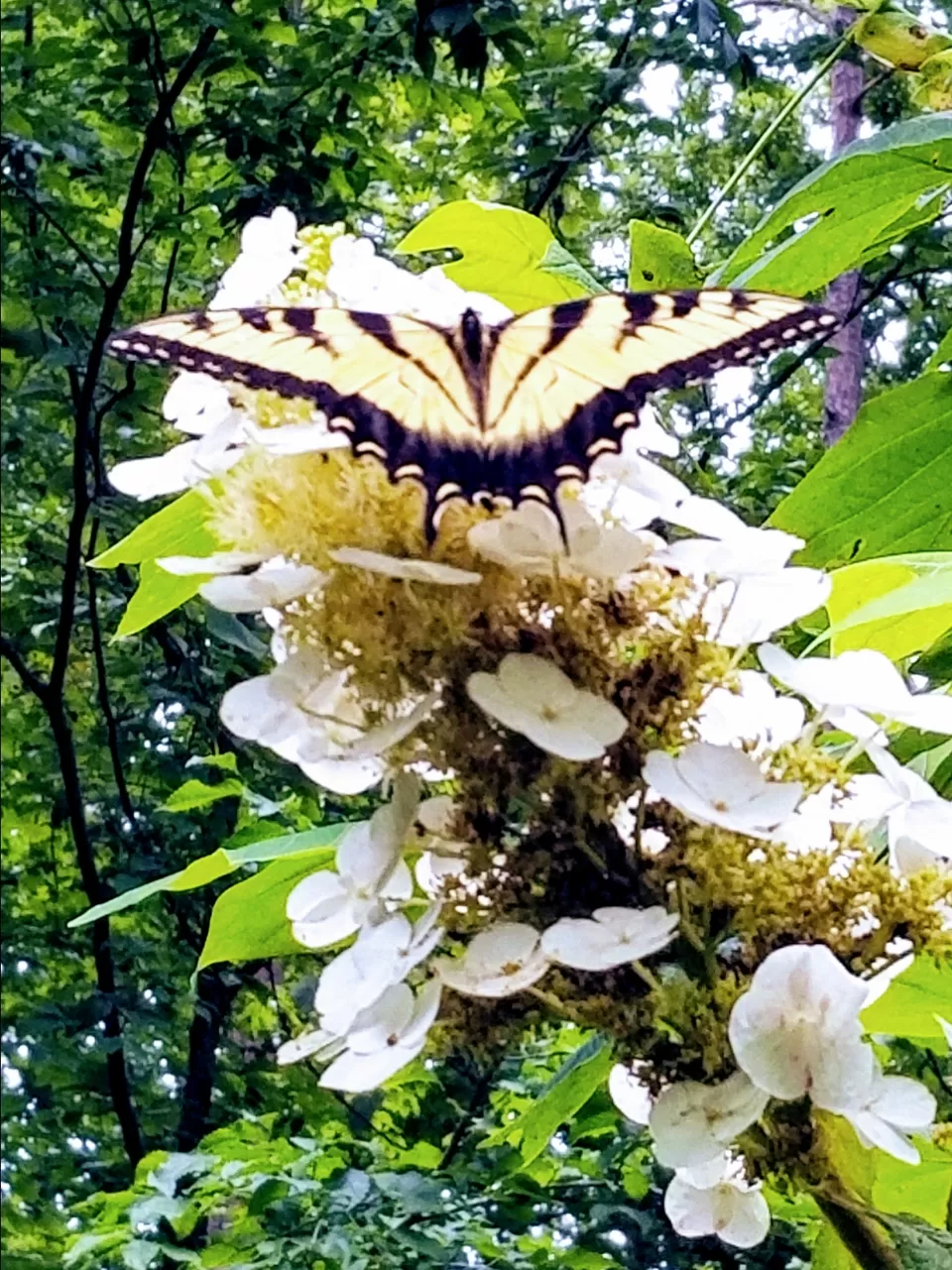 Wednesday May 30, 2018
We awoke to a sunny morning with birds chirping and the camp a different view then the rain of last night. We took some time to explore Tishomingo state park and were thoroughly impressed. This is a large park with primitive camping as well as 62 RV camp sites, 6 cabins, 1 cottage and a group camp facility. There are 13 miles of nature trails with 7 separate trails. We stopped at the well house and waterfall then the hanging bridge. We hiked a short hike over the bridge to a series of small waterfalls and drank from an artesian spring. The water was cold and tasted like pure fresh water. On the way out of the park we stopped and helped a large colorful land turtle out of the road. I would love to have spent more time here but we needed to get back to the Trace because we had reservations for the next few nights in Nashville. Back on the Trace we crossed into Alabama and stopped at Colbert Ferry. Chickasaw George Colbert operated a stand and ferry here in the 1800's. We then crossed into Tennessee and stopped at the gravesite of Meriwether Lewis, who died here in 1809. Our last stop before completing the 444 mile Trace was Birdsong Hollow which is a double arch bridge over TN Hwy. 96. Over the course of the past few days we have seen over 25 turkeys, a beaver, several red tailed hawks, over a dozen deer, and multiple turtles and snakes. Before heading to Nashville we took a side trip to Carnton, a plantation, Civil War field hospital, Confederate cemetery and battlefield during the Battle of Franklin, November 30, 1864. After the battle, five deceased Confederate Generals were laid out on the back veranda. We were here 30 years ago and the house was unattended, free and open to anyone stopping by. It now charges admission, has beautiful gardens and has been furnished. Still a worthwhile stop but it doesn't have the same feel as before. The cemetery contains nearly 1,500 men killed during the battle. The dead were originally buried on the battlefield and their graves crudely marked. Eighteen months later they were exhumed and moved to Carnton, where they were buried and the graves were marked, some with names (if known), others as unknown. As we were driving to Nashville for the night we drove into a very bad storm but we arrived safely and are set up for the next few days and are ready to explore Nashville.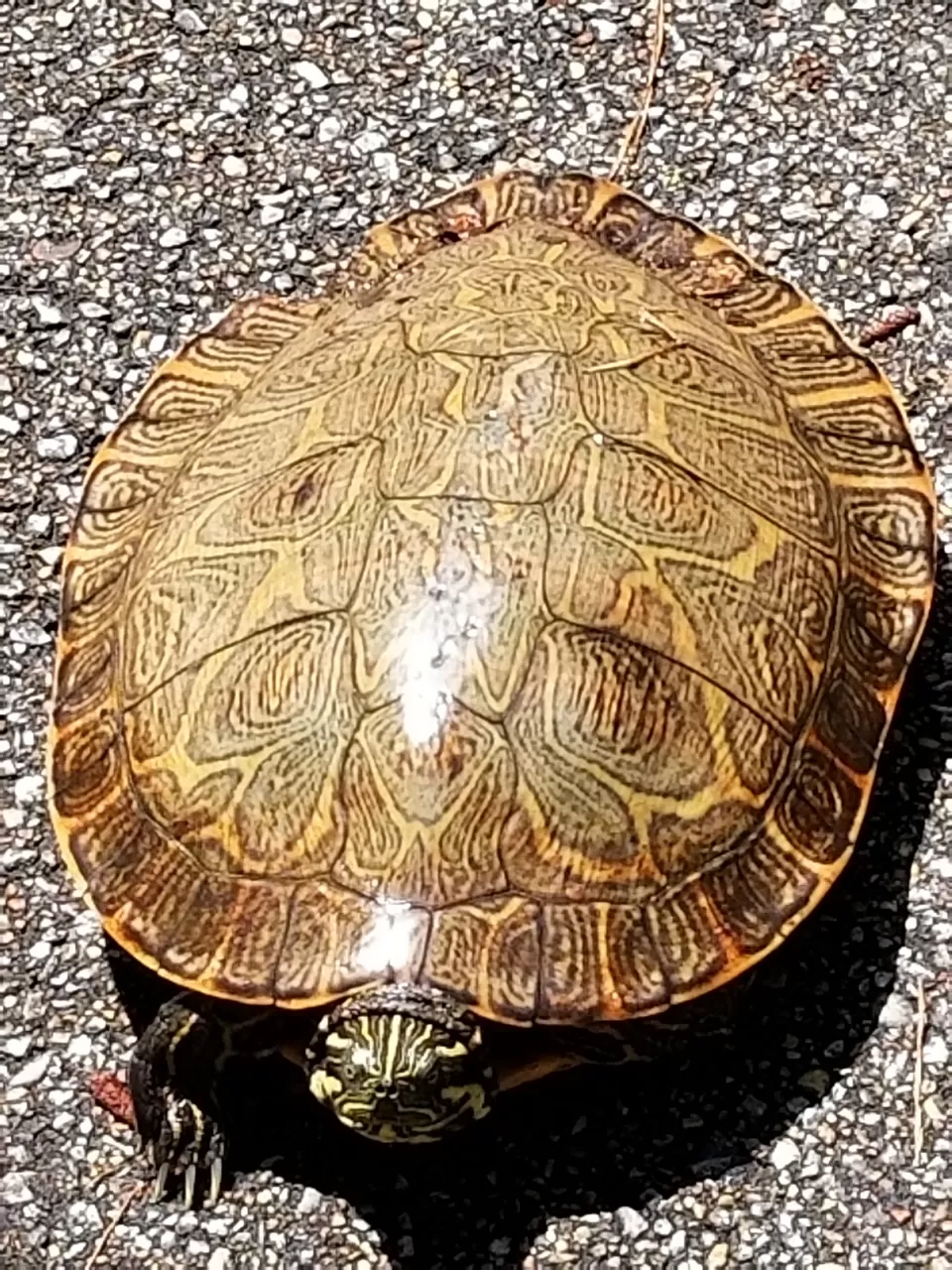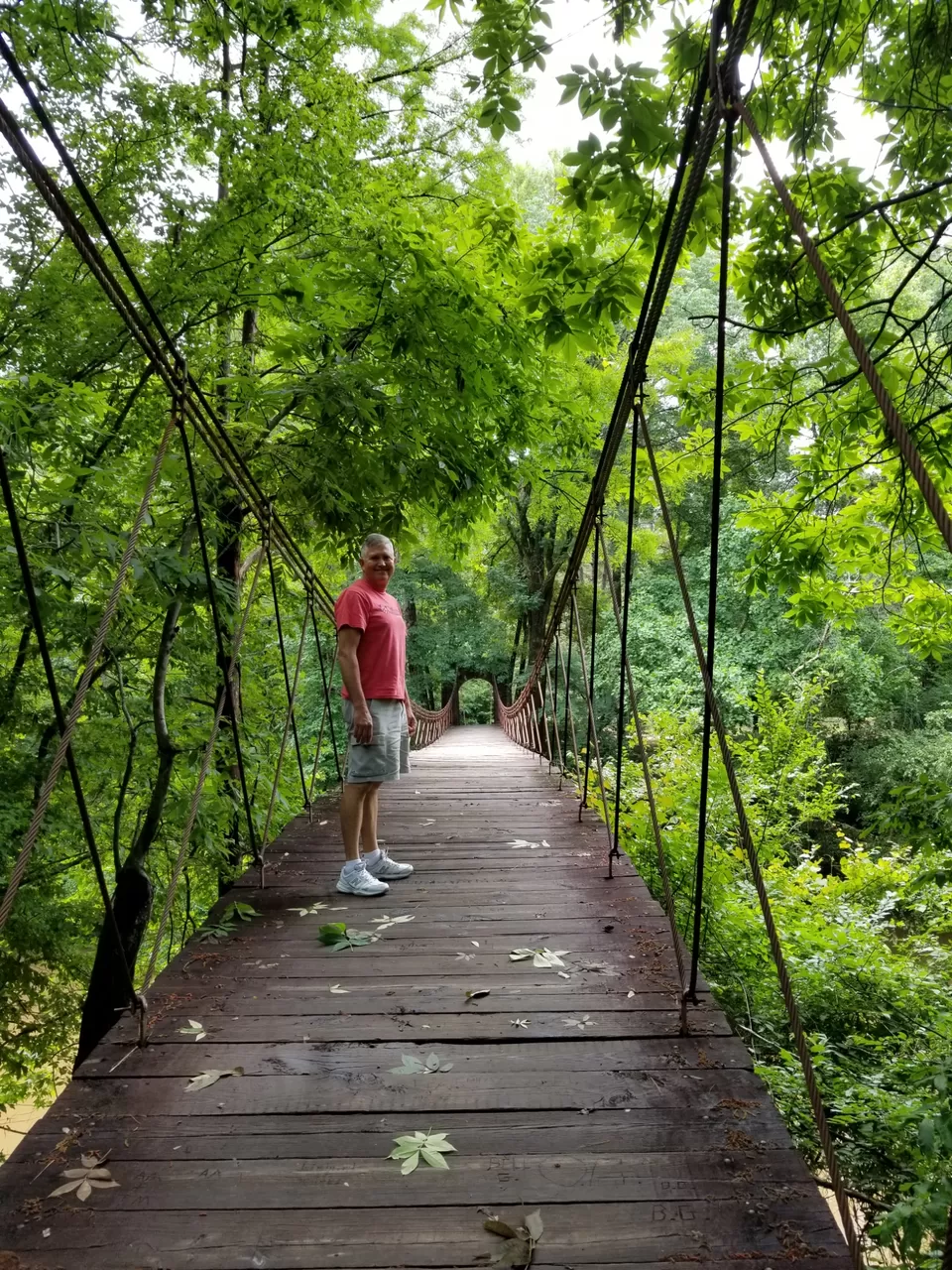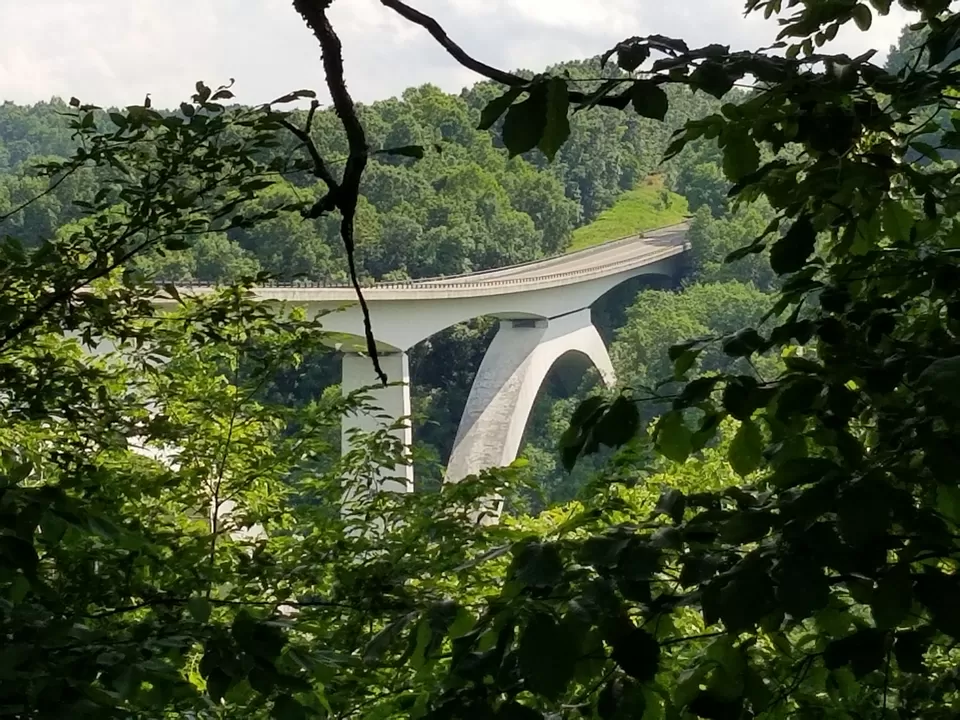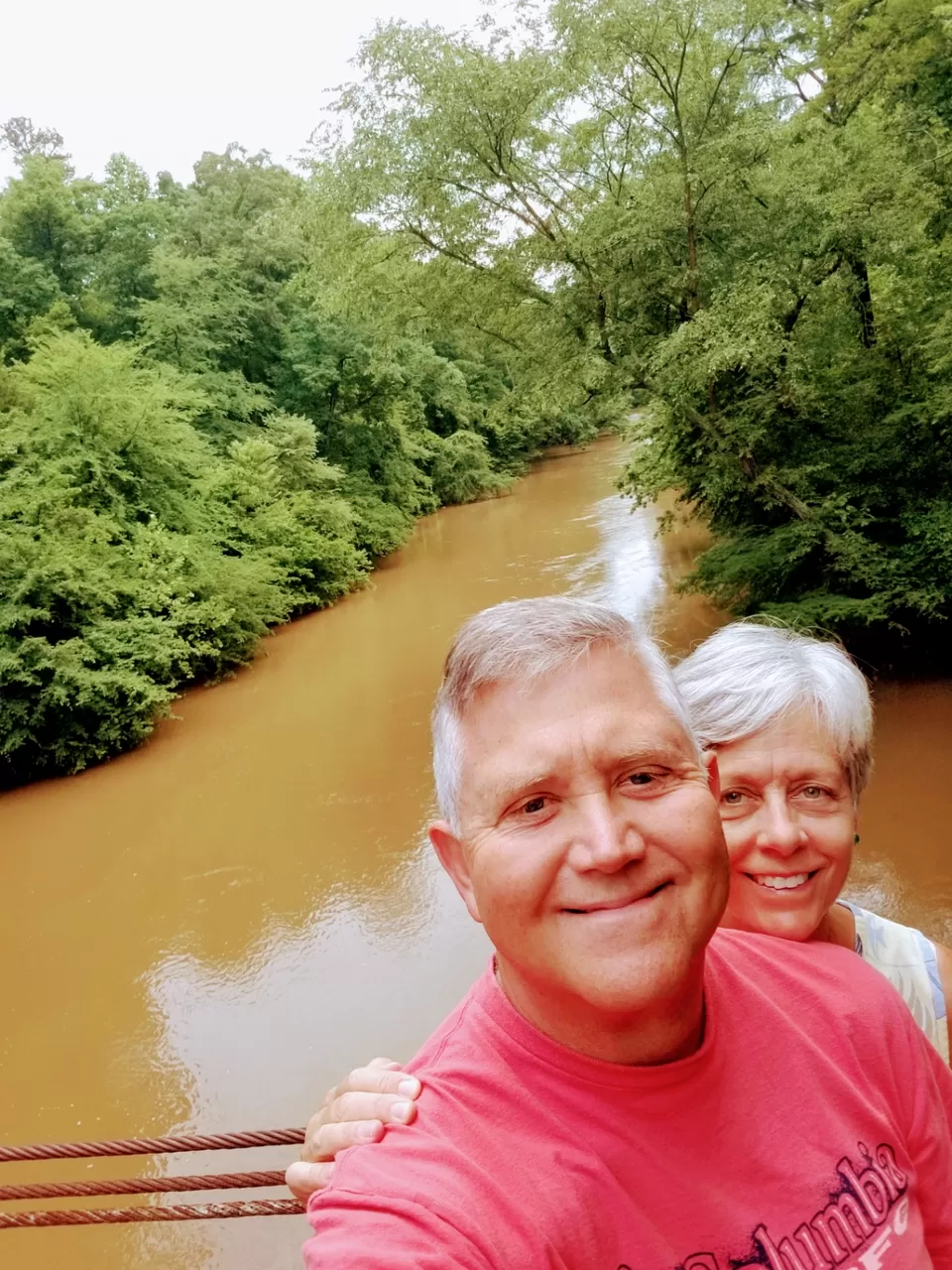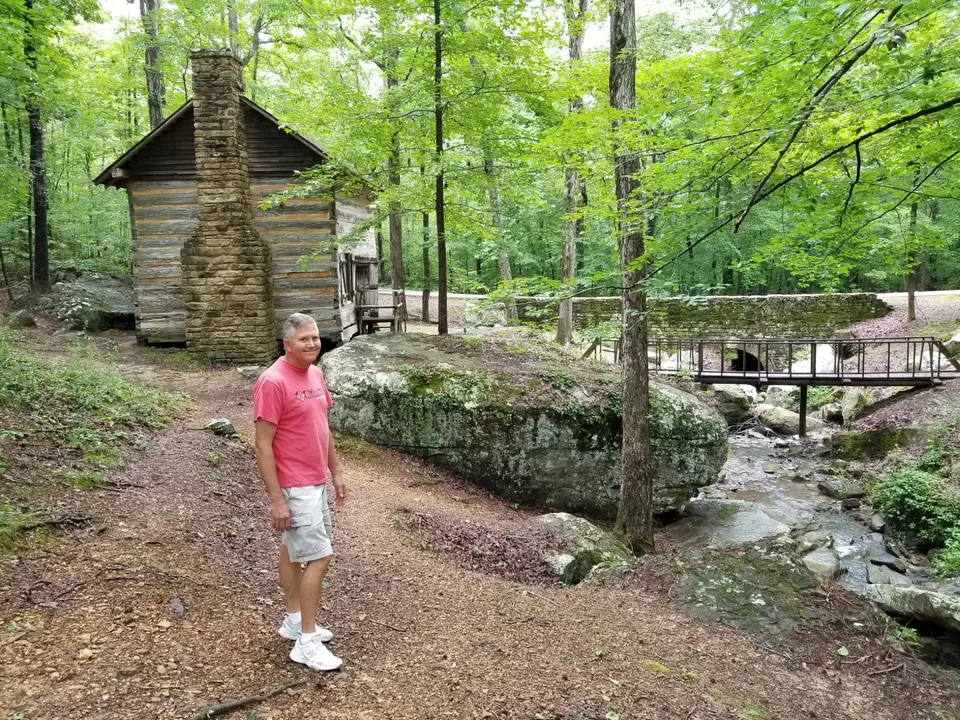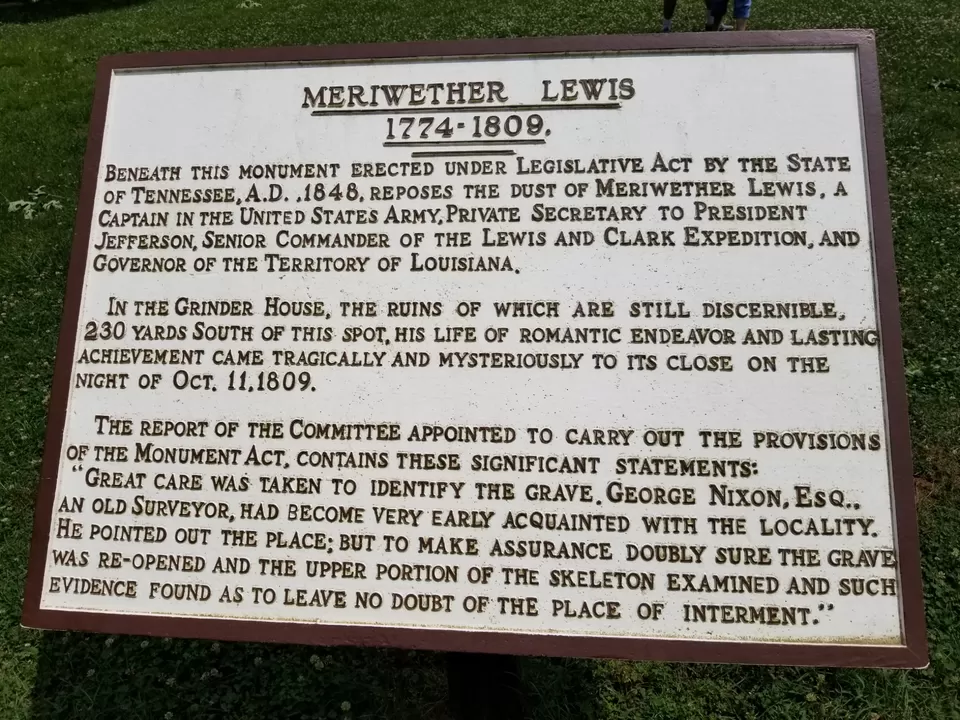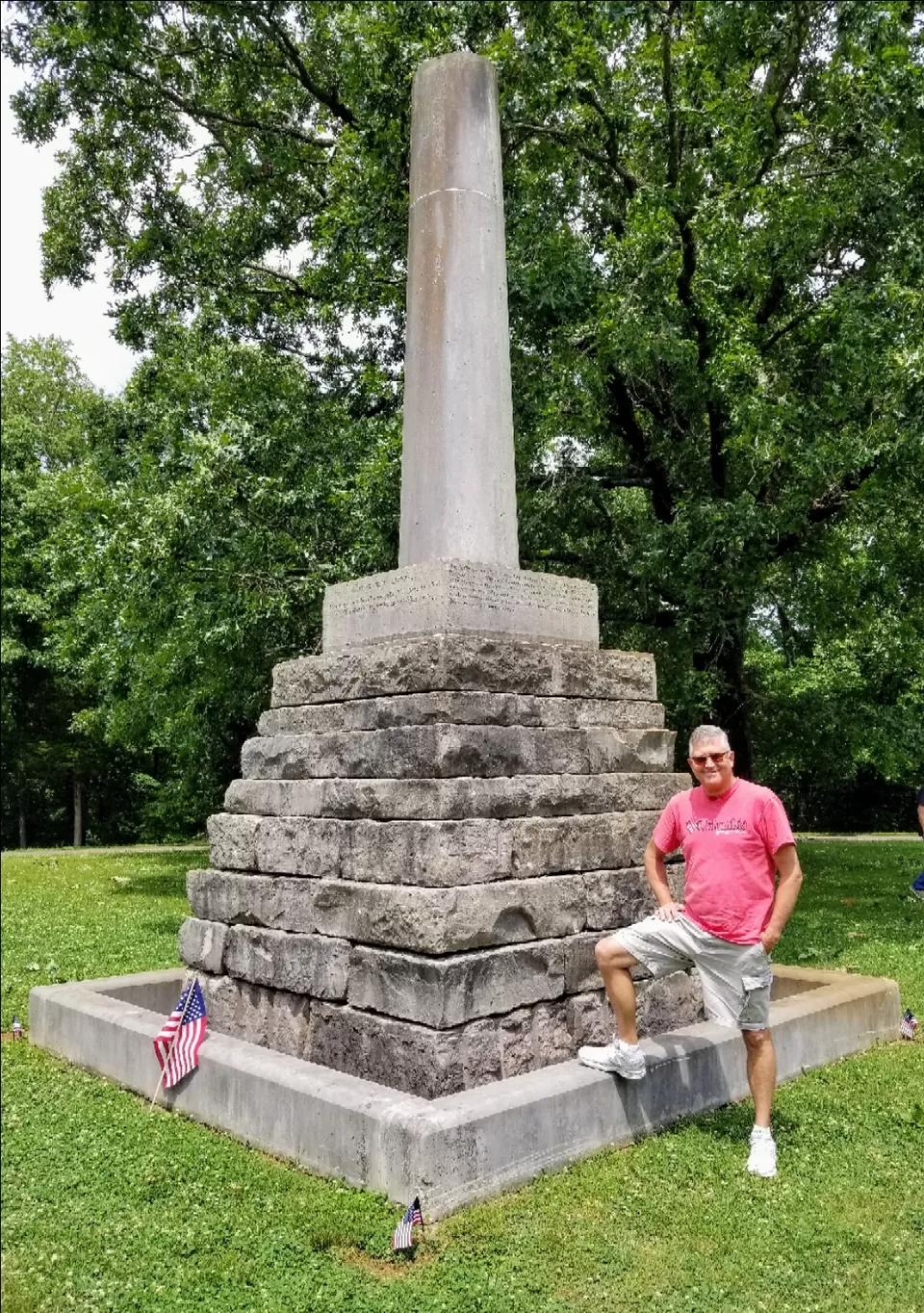 Thursday May, 2018
We took the shuttle from the KOA to downtown Nashville where we took the hop on hop off bus tour. The driver gave us a great overview of the city. We got off the bus at the old Marathon Motor Company building which now houses multiple shops and historic displays. One business is Antique Archeology, from the show American Pickers. It was fun to walk around the shop and see items we remember Frank and Mike buying on the show. We caught the bus again for more stories and stopped for lunch to get hot chicken. This was the spiciest chicken we've ever had, almost too hot to enjoy. But, we can now say we ate hot chicken at Hattie B's's. The line was almost a block long and we waited about an hour to order. The bar across the street advertised bushwhackers so we went there for a couple before catching the bus again. After a few more stories we stopped at music row and went into Bobby's Idle Hour. We listened to several different singers musicians and chatted with a guy at the bar. Next thing we know he is up on stage performing, and he was great. His name is Doug Lawler. I know a ton of people come to Nashville to make it big but this guy just might do it. Anyway, it was a fun experience. We caught the bus and stayed on until the end. We walked around a bit and across the bridge for a view of the city then stopped in Acme Seed and Feed for some sushi before catching the KOA shuttle back to camp. Ut was a great full day in Nashville.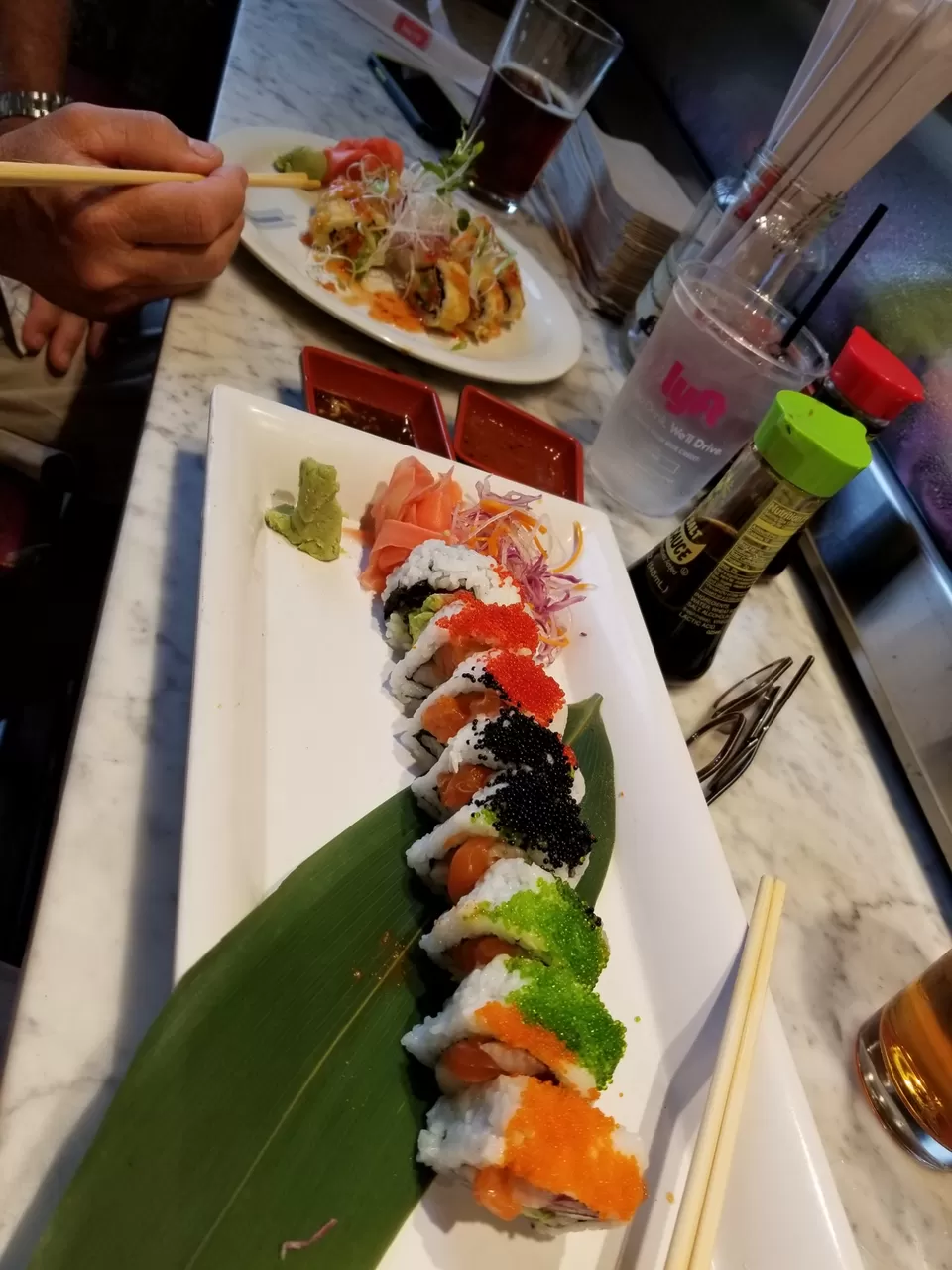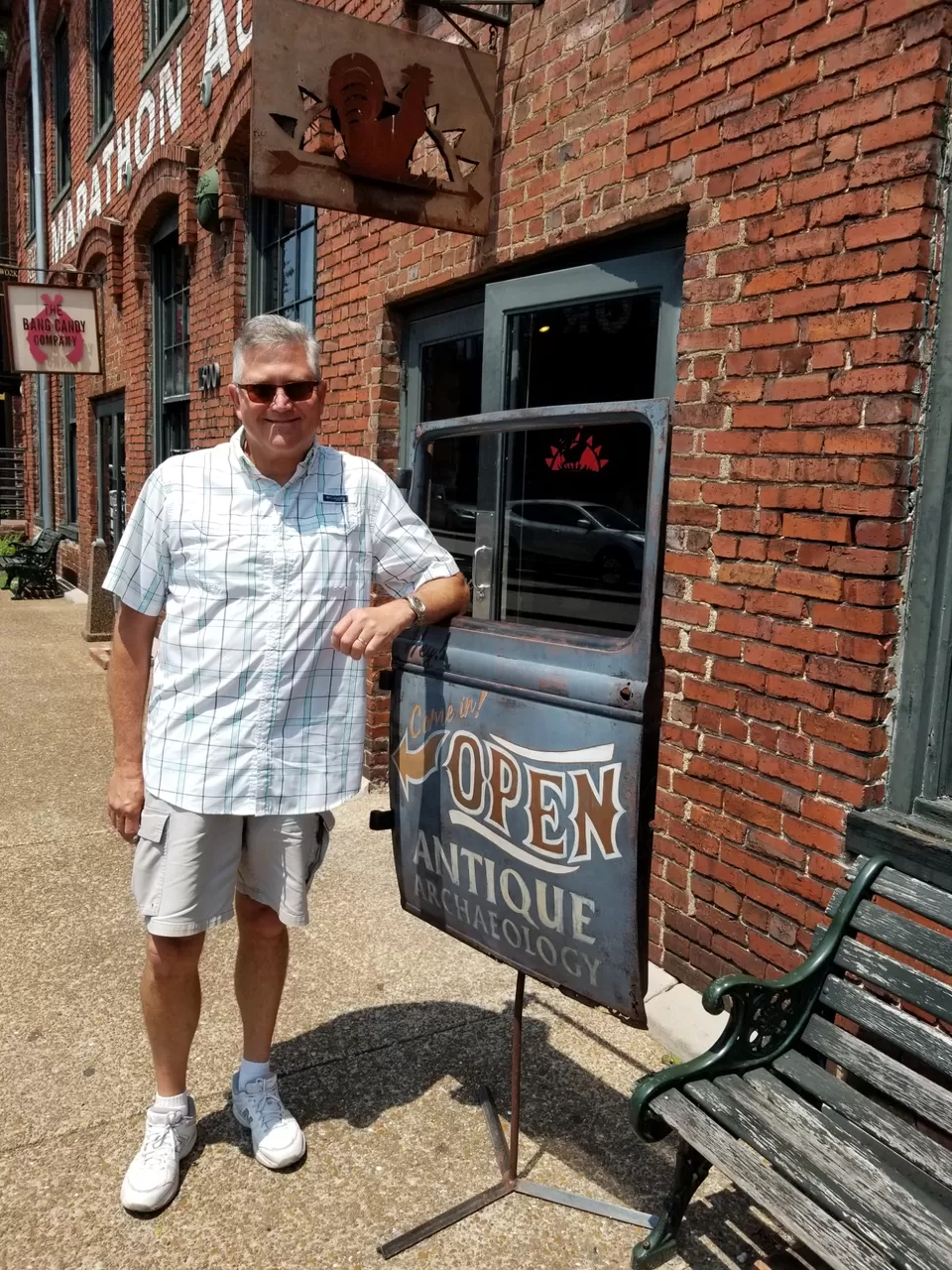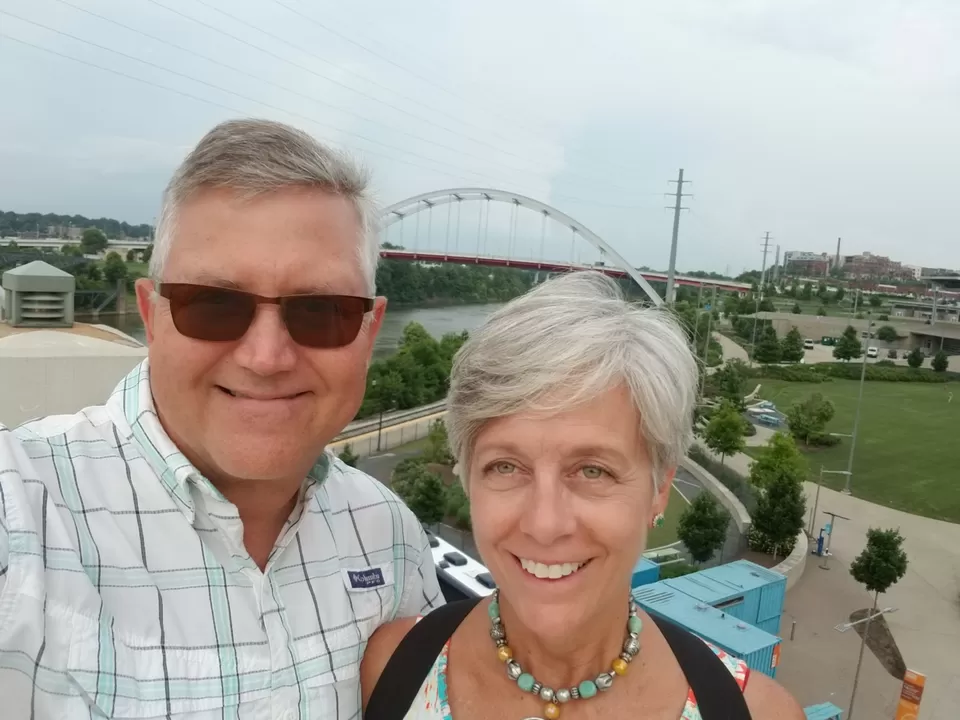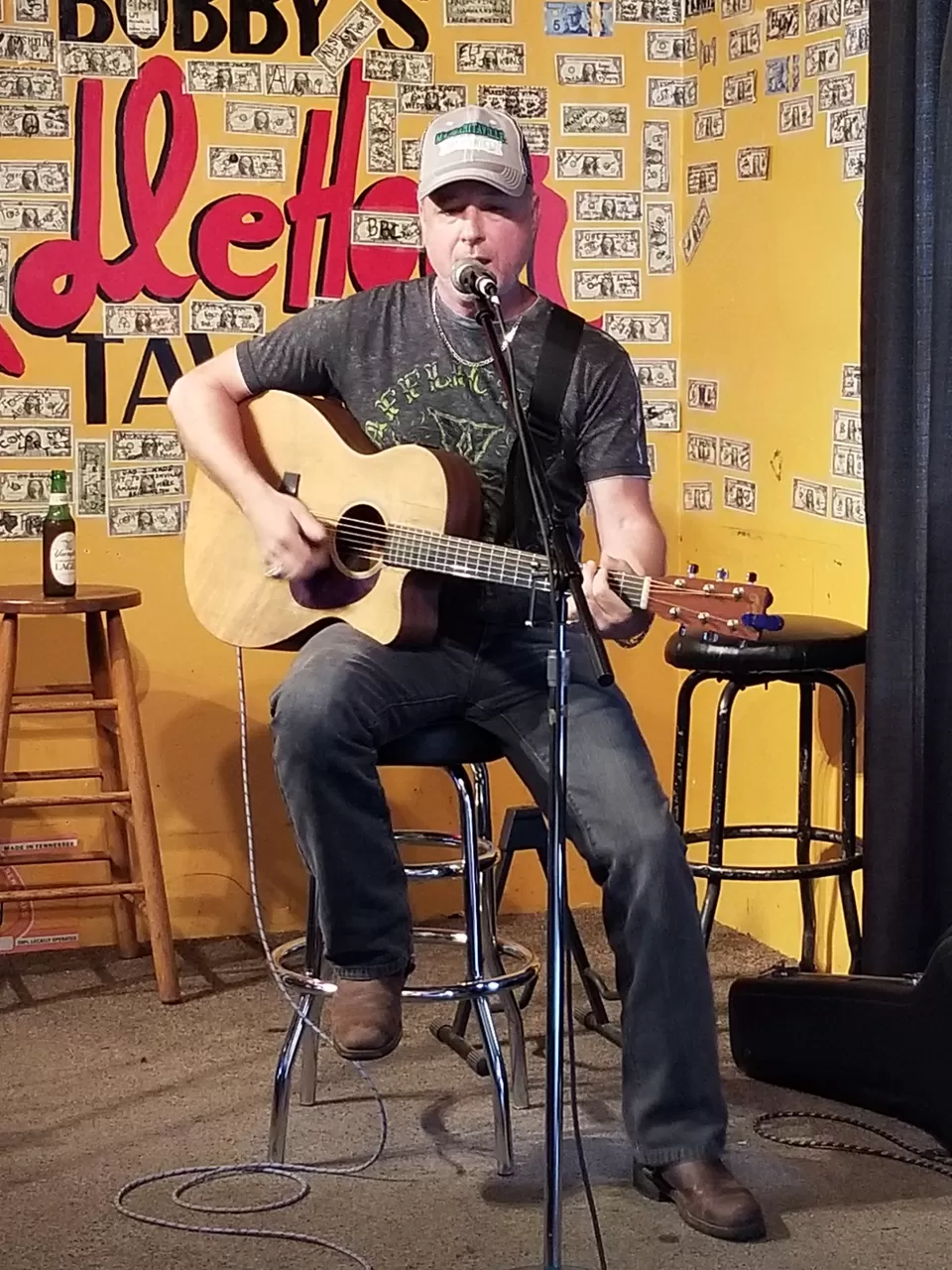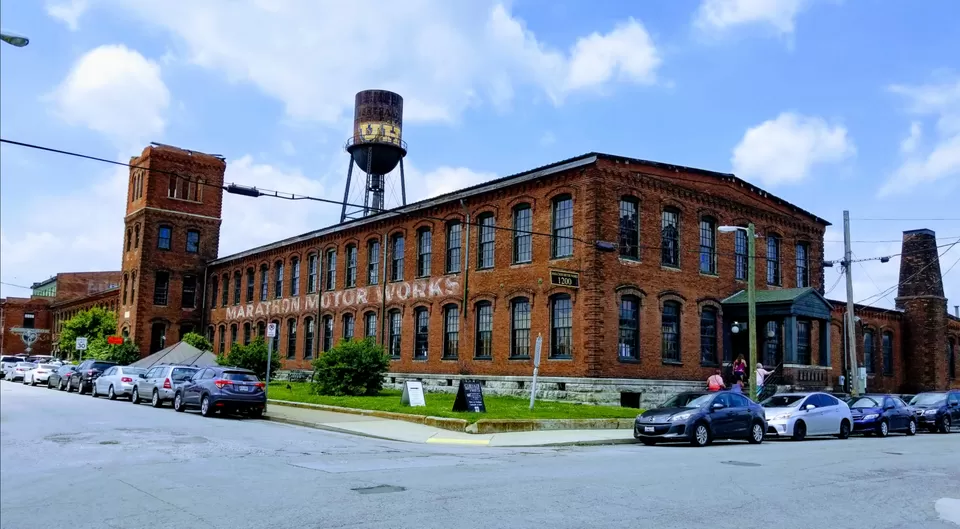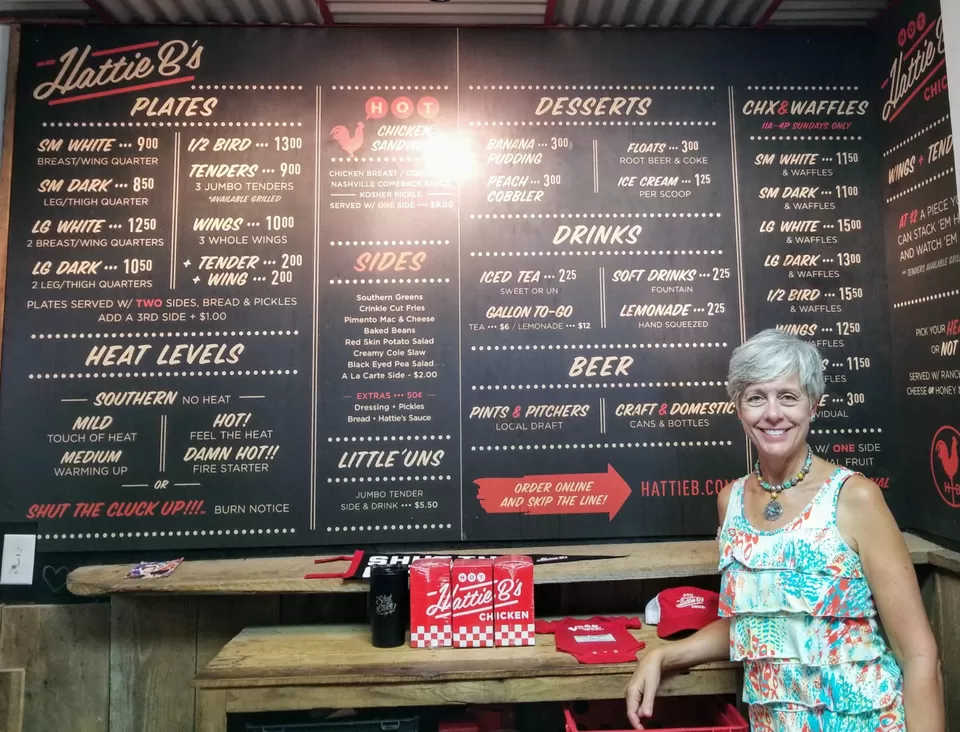 Friday June 1, 2018
We took the KOA shuttle to downtown again and just walked around, stopping in a few bars to listen to whomever was playing. After a lunch of wings and pizza we caught the bus back and spent the afternoon relaxing. We had hoped to have lunch with my State Farm friend Tina, but she wasn't able to get away from work.
Saturday June 2 2018
Today we left Nashville and drove about an hour North to Bowling Green Kentucky. As we drove we both realized we've never been to Kentucky. It's one of the States that leaving Florida we never drive through. What we've seen so far though is beautiful. Lots of open spaces, family owned farms, trees, and robins. We stopped at the Corvette museum to see the corvettes on display. There is a section that fell into a sinkhole in 2014 and several of the corvette's fell in and were destroyed. It was caught on the security cameras and we watched the footage. It looked like a movie but unfortunately it was real. Afterwards we drove to Horse Cave. We will be here two nights before going to Mammoth Cave National Park. John got to go fishing again, he caught three black bass and one brim. All catch and release. We had a relaxing afternoon enjoying the breeze and shade from the surrounding trees.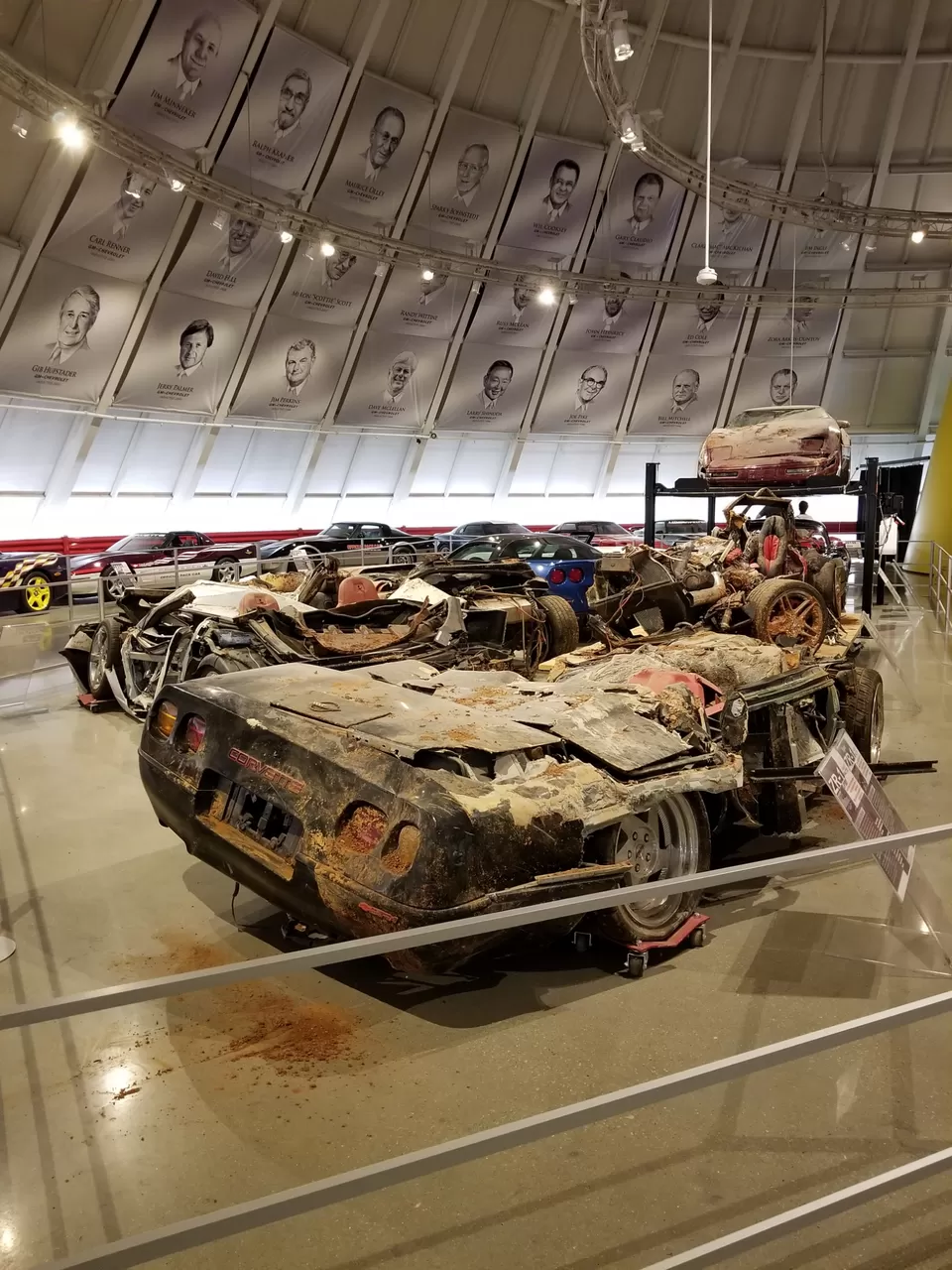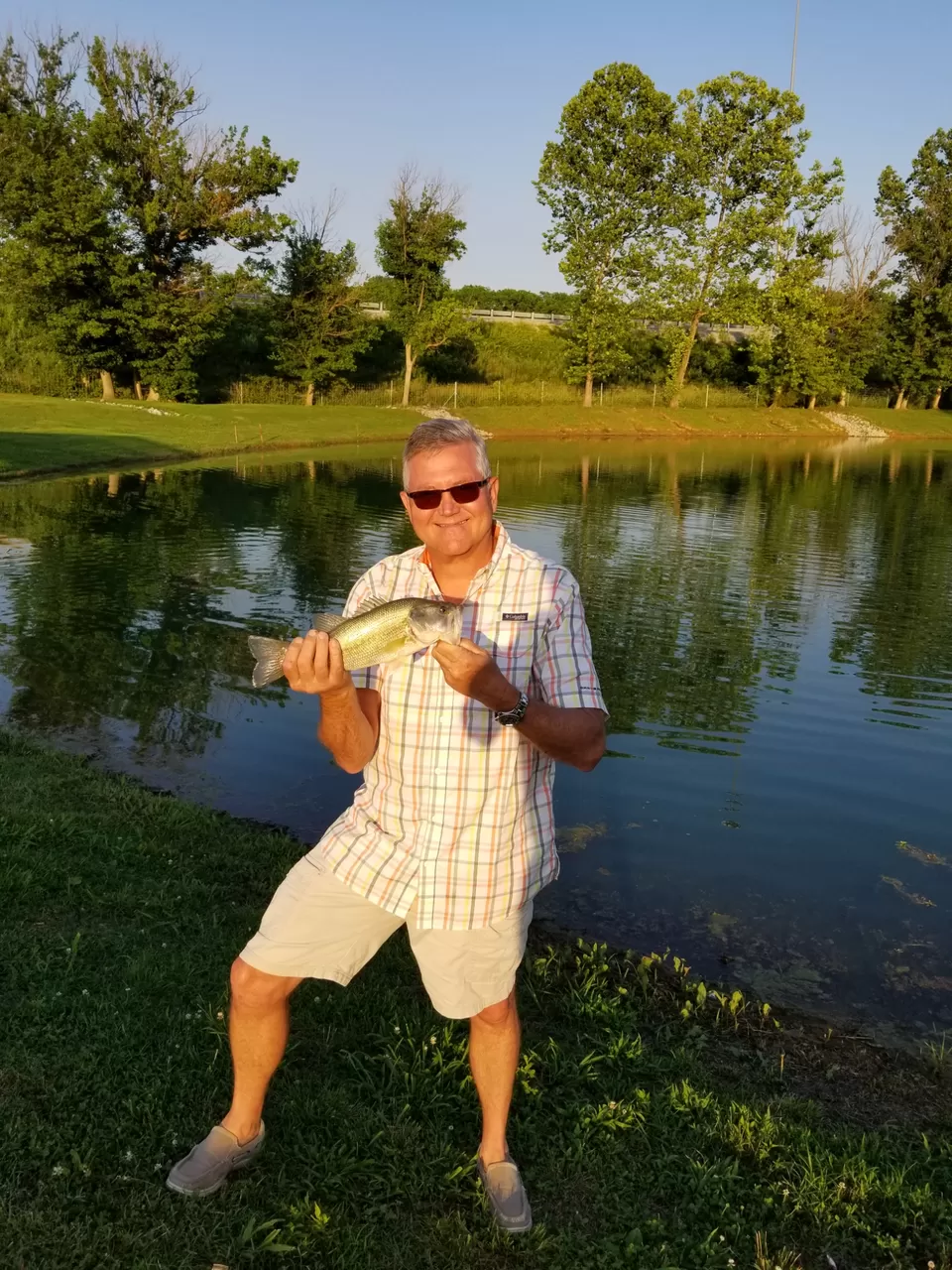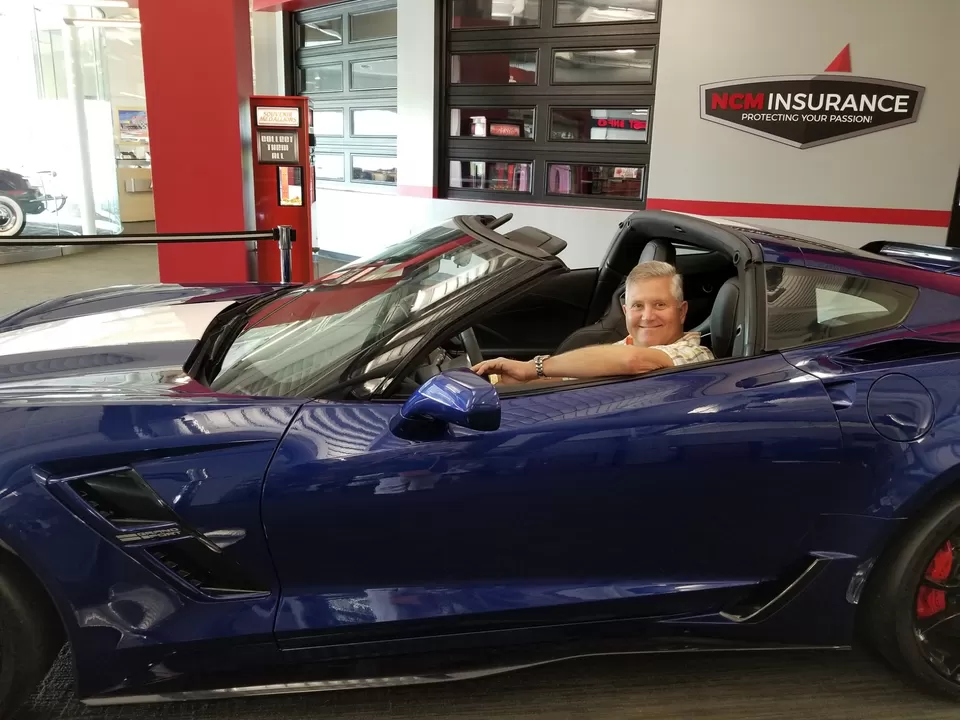 Sunday June 3, 2018
We rode our bikes into the town of Horse Cave today. This town is built on top of a cave and looks like it was a prosperous town at one time. The town has really done a great job of trying to get visitors to tour the cave and the town. Unfortunately it doesn't look like they get too many visitors. Most of the businesses in the town and at the exit off of I-65 have closed. It looks like now the people depend on a few processing plants for employment. If you are near I'd recommend a stop to walk through the cave, poke around in the antique store, bookstore and have a meal at the cafe. It's worth a short stop. This afternoon John checked and cleaned the water pump and did a few other routine maintenance items. This evening he got to go fishing again but the fish weren't biting tonight.
Monday June 4, 2018
We moved campsites from Horse Cave to Mammoth Cave National Park. At the visitor center we learned about the history of Mammoth Cave, which is a very long and a dry cave. Over 2,000 years ago, Late Achaic and Early Woodland Indians explored the caves and mined minerals from Mammoth and other caves in the area. European-American settlers came to the area in the late 1790's. The cave served as a mine for saltpeter which is used to make gunpowder. Around 1816 people began to visit the cave as tourists. Over the years more and more miles of cave continue to be discovered. Currently there are 412 miles of discovered cave. We went on the Violet lantern tour, a three mile tour, illuminated only by lantern. The stories were intriguing. I am glad I made advance reservations as all tours were sold out when we arrived and the only way to see the cave is by taking one of the tours. In addition to the cave, the park has many hiking and biking trails to enjoy. We took a short hike to the Green River before our tour then walked back to our campsite and enjoyed the campfire for the evening. It was a beautiful night and our first night of this trip not needing A/C.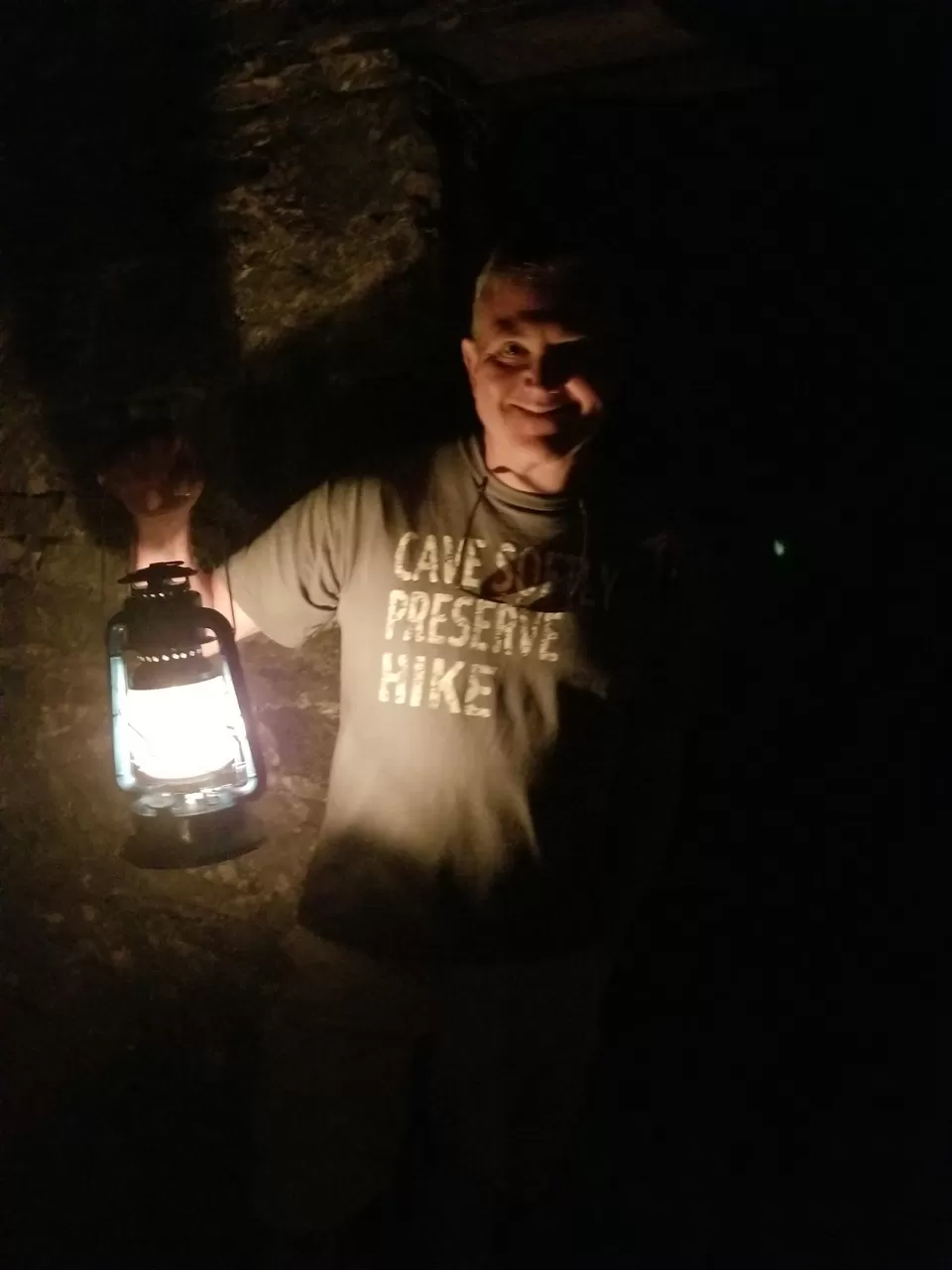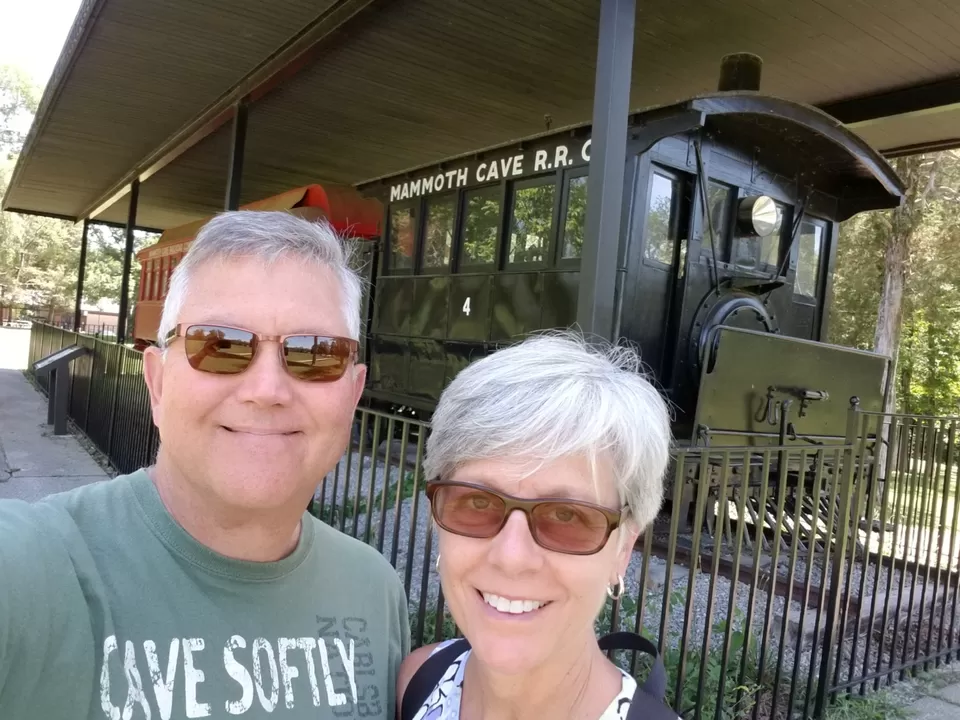 Tuesday June 5, 2018
Today we traveled from Mammoth Cave Kentucky to Middleton Indiana, over 400 miles. As we crossed into Indiana we changed back to Eastern time zone. We've been in the central time zone since our 1st day as we traveled from Jacksonville Florida to New Orleans Louisiana. Driving through Indiana we saw: corn, cows, a goat on the shoulder at an overpass, Indianapolis, corn, quilt murals on barns, an air museum, lots of barns, advertisements for wineries and cheese, horses, Amish buggies for sale, Amish horse-and-buggies on the road, oh and did I mention corn! We checked into the Elkhart County Middlebury KOA and will spend the next four nights here. We made reservations to ride the shuttle to the Shipshrwana flea market tomorrow. There are over 900 vendors, many of which are Amish. The high tomorrow is going to be 72 and we are looking forward to a great day. The low tonight will be in the upper 40's. Great sleeping weather.
Wednesday June 6, 2018
Today we went to the Midwest's largest flea market in Shipshewana Indiana. The first building we walked into was an auction building. It was a warehouse packed with antiques of every type and each vendor was auctioning their wares. It was overwhelmingly noisy and crowded so we walked on through to the outdoor non auction flea market. At the end of our time there we walked back into the auction building and were shocked to see that over 90% of the items being auctioned earlier were gone! The flea market itself was huge, with well over 900 vendors. We enjoyed looking at everything but didn't buy much since we are in the RV and don't have room for extra things. Afterwards we walked through the shopping area of town and had an Amish meal of chicken and noodles with mashed potatoes. It was so good we bought some noodles to bring home with us. We saw many more Amish horse-and-buggies, also a store selling meats and cheese. We didn't buy any today because tomorrow we are going to drive the Heritage Trail and most likely will have more opportunities to buy homemade meats and cheeses. It was a beautiful sunny day with a high of 70 and extremely low humidity. So nice.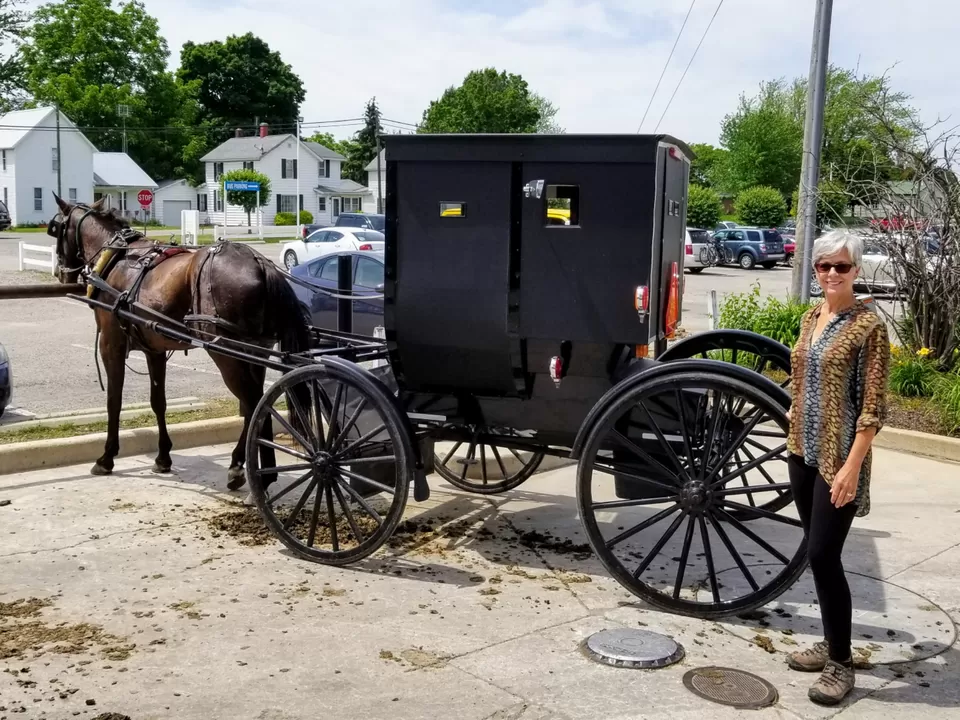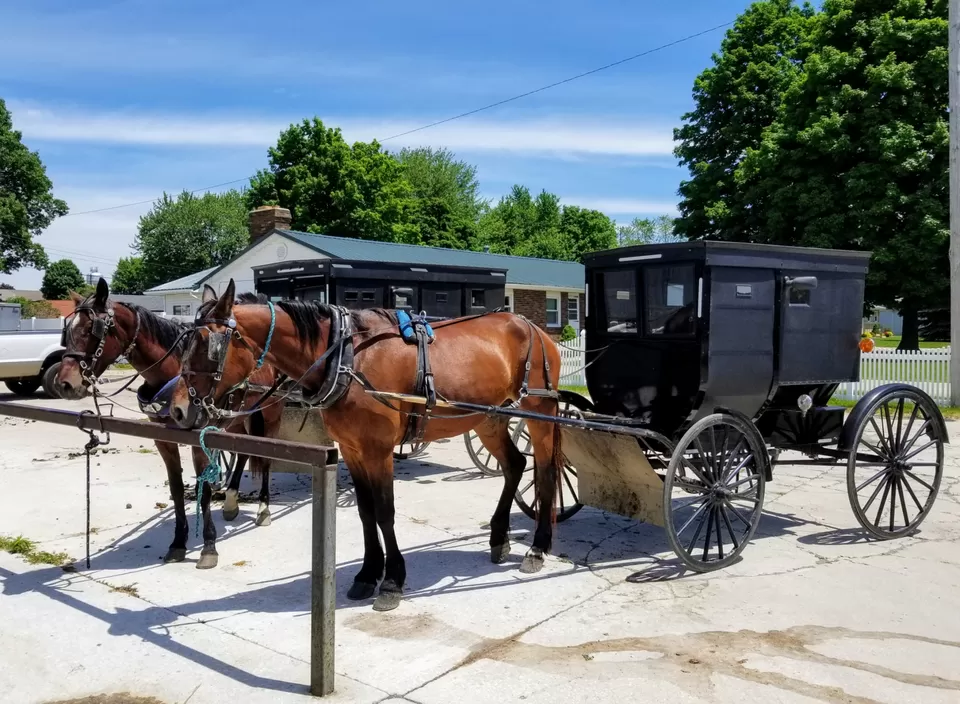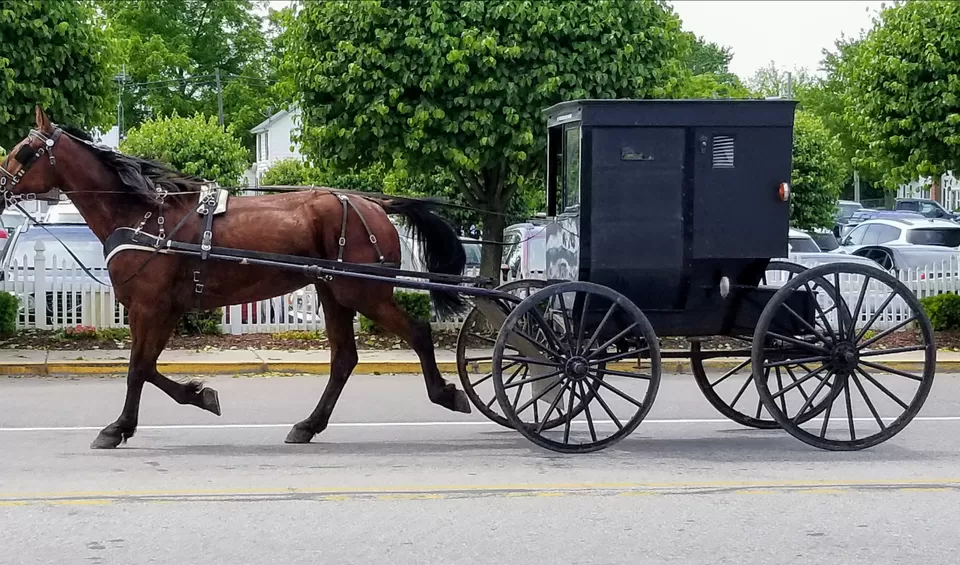 Thursday June 7, 2018
Today we started on the Quilt Trail and Heritage Trail. This driving trail goes through several of the towns in the area with various stops to see historic sites, quilt murals, quilt gardens, and other interesting areas such as museums and gardens. There is an audio CD to listen to as we drive but we didn't have one for the first half of the day. Even without the audio CD we saw several interesting sites. One of the first stops was at Krider Garden. In 1933 - 1934, Krider Nurseries created a display at the Chicago World's Fair. Within 10 years Krider employed over 100 people and was the largest mail order nursery business in the US. The 2.4 acre nursery is beautiful with blooming flowers, a mill house with waterfalls, a koi pond, gazebo, rose garden and ornaments from the World's Fair. Our next stop was Bonneyville Mill County Park. This is a continuously operating grist mill since 1832, Indiana's oldest. We walked through the three floors of the mill and enjoyed chatting with the two employees who were grinding corn into corn meal and grits. We bought some of the grits and some rye flour. This was a very interesting stop that John especially enjoyed. Our next stop was the Elkhart County Historical museum housed in an old high school built in 1903. We wandered through 12 exhibits learning the history of the area. The exhibits were well done and enjoyable to walk through and read. Another nice stop. Next we stopped at the Elkhart Visitor Center and finally got the audio CD. By this time the day was almost over so we retraced our drive back to the RV but with the benefit of the CD. We stopped in Elkhart and walked the Riverwalk to the old downtown area then back along Main St. The St. Joseph river runs through Elkhart and was one of the early reasons for the development of the city. The Riverwalk was very nice. We drove back to the RV listening to the audio CD. Only made about a third of the Heritage Trail today so we will drive some more of it tomorrow. Another great day on our mid-west adventure.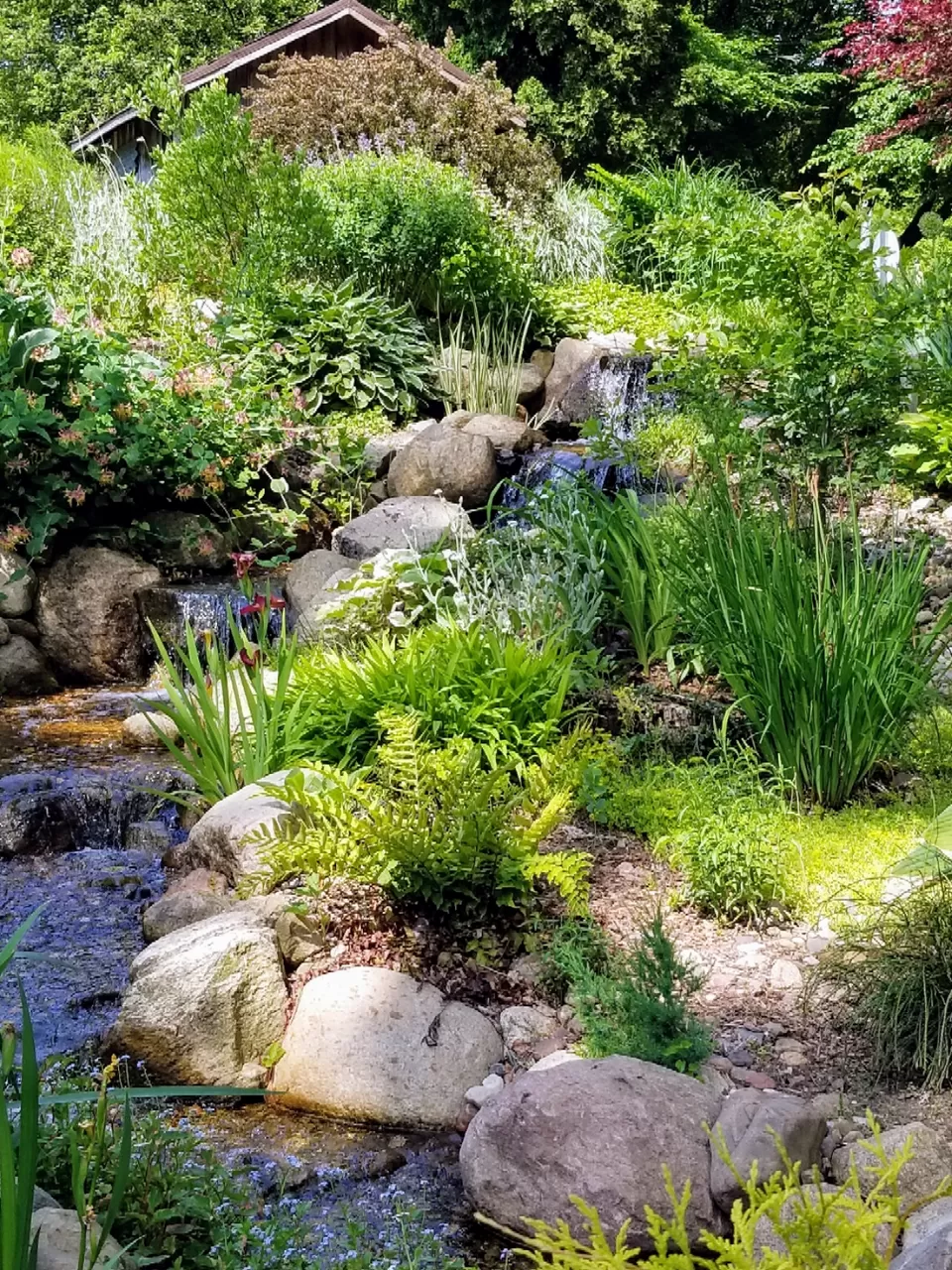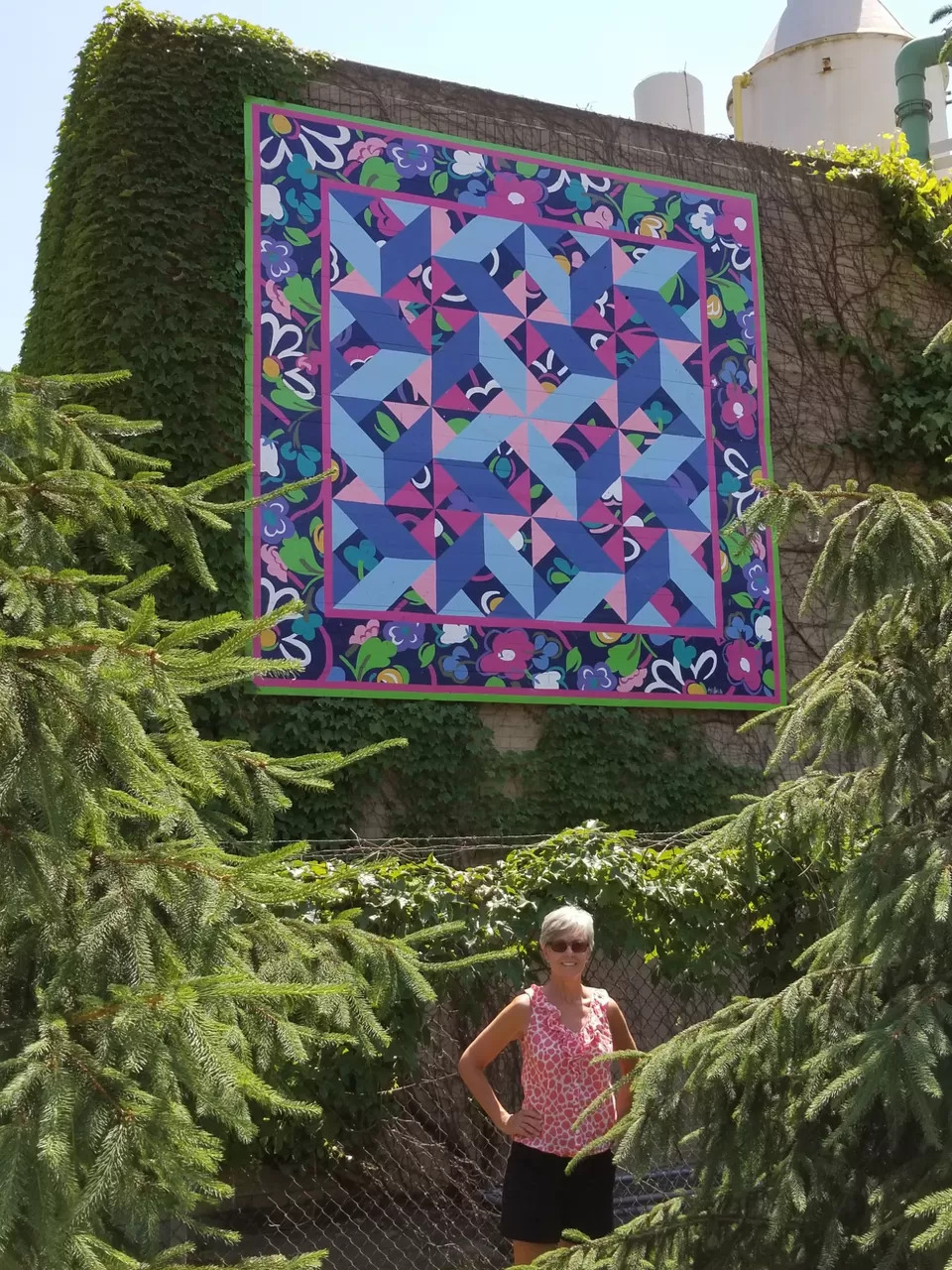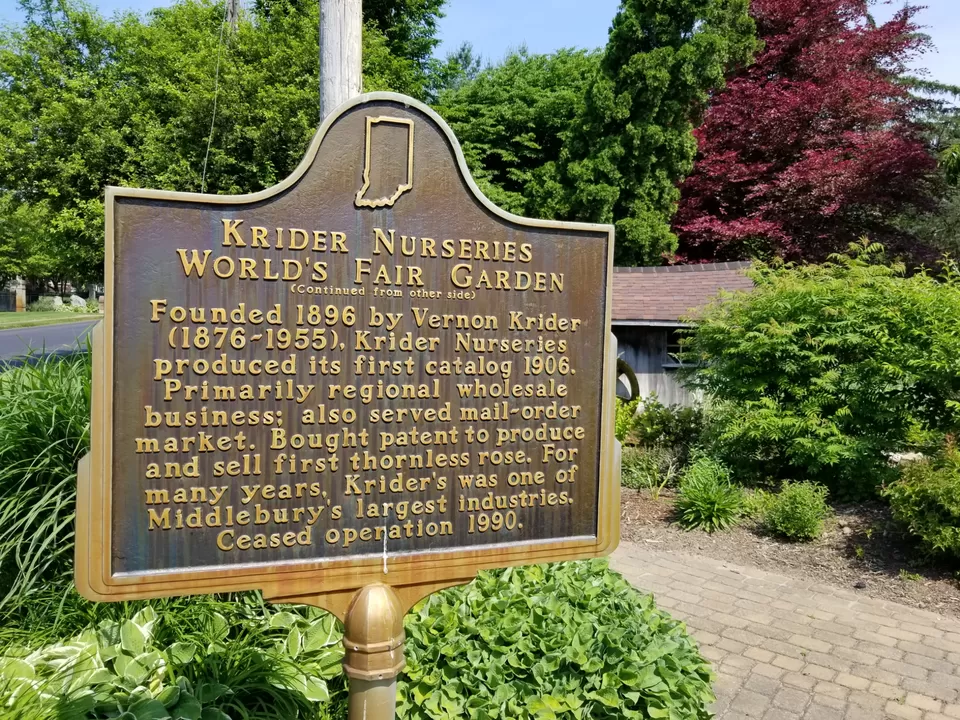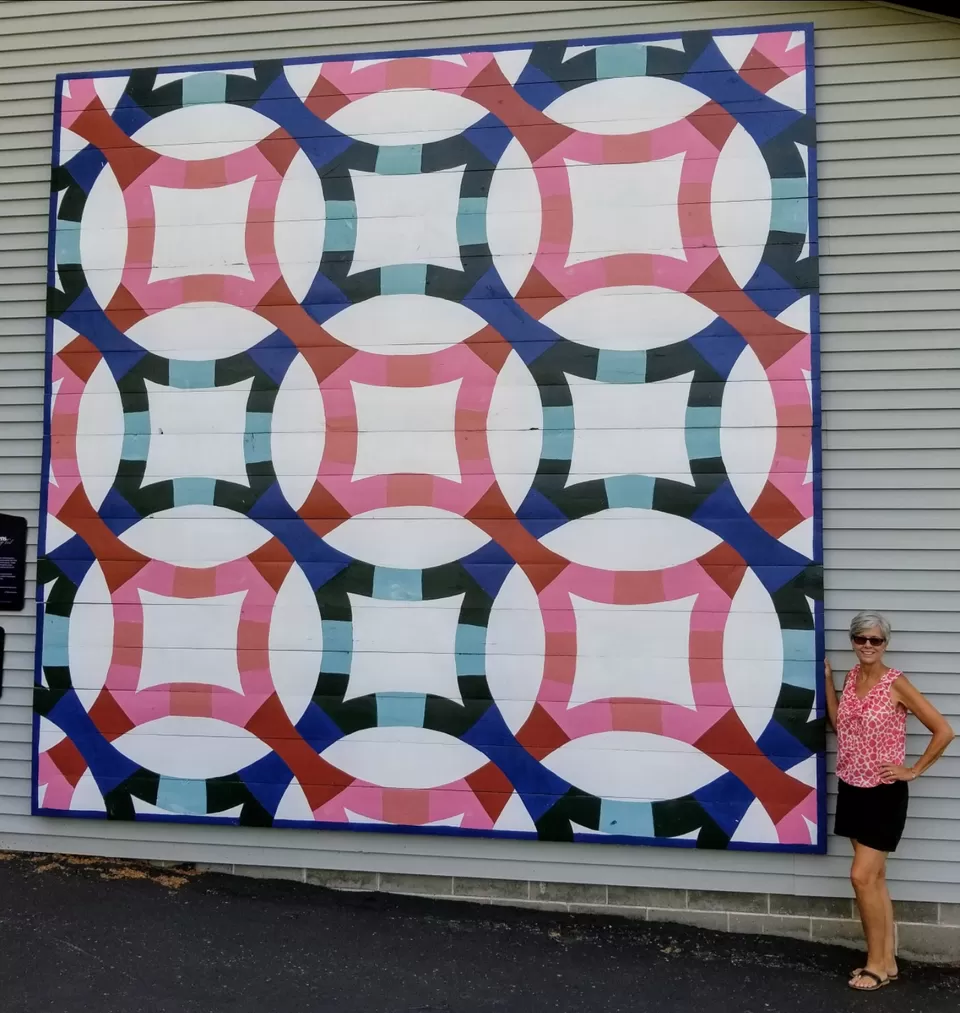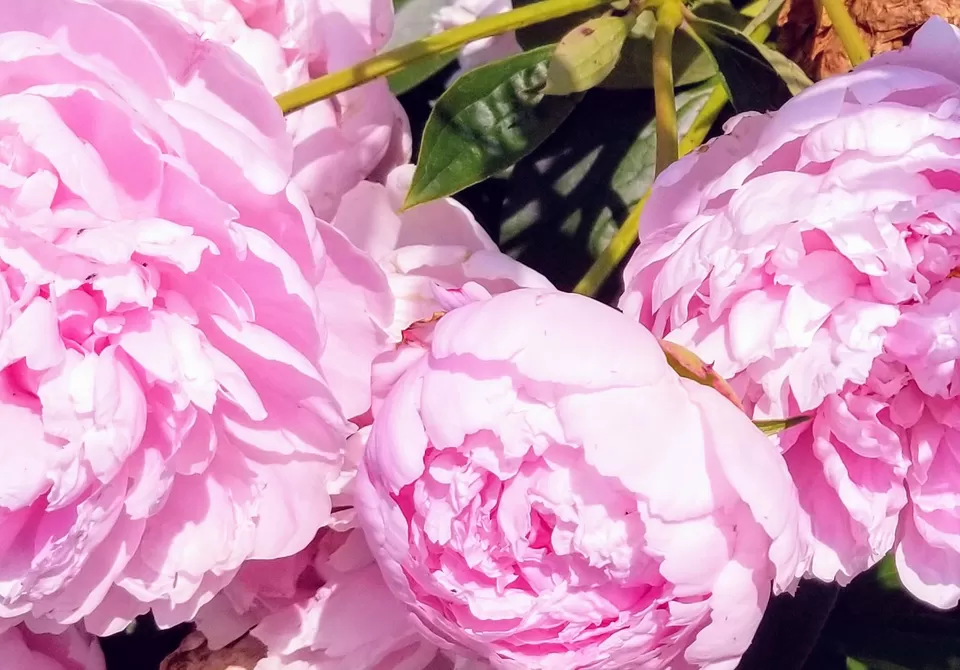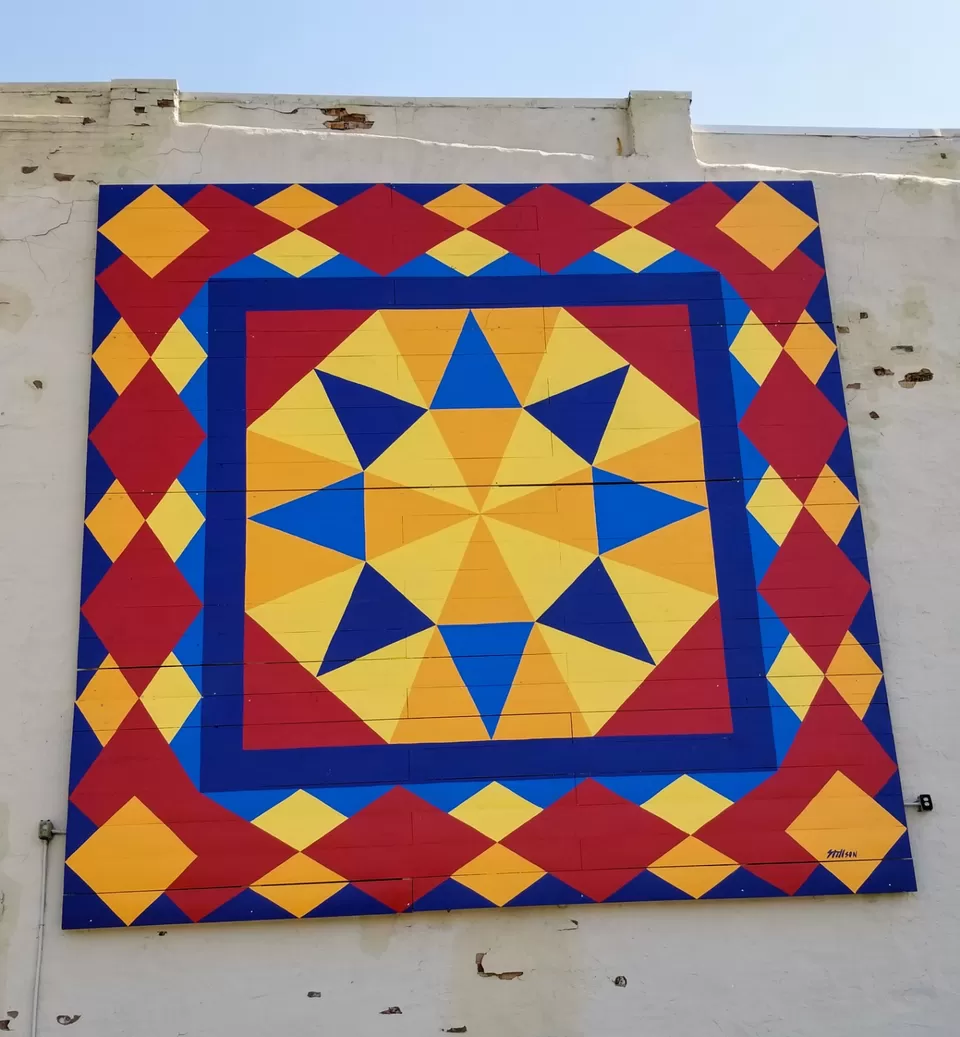 Friday June 8, 2018
Our first stop today was Bontrager's Surplus, an RV parts family owned superstore in White Pigeon Michigan. The parts are located in three warehouses plus the yard. We found the items on our list and walked through everything just marveling at everything they had. This stop is a must for they RV owner. Wow. Next we finished the rest of the audio CD stopping at several Amish meat and cheese shops before the rain started. We had a sandwich from Yoder's and a blueberry hand pie. The pie was perfect. It's a good thing we don't have these at home. The rain came down hard so we cut the drive short but continued to listen to the rest of the audio CD. Our next stop was the Coachman factory where we had pre arranged a factory tour. The tour took us from the frame to the finished product. The workers had left for the day so we got to walk right up to the RV's and even go through the final one. By now the rain stopped so we took a short hike on the nature trail at the KOA after a dinner of cheese and salami from Yoder's.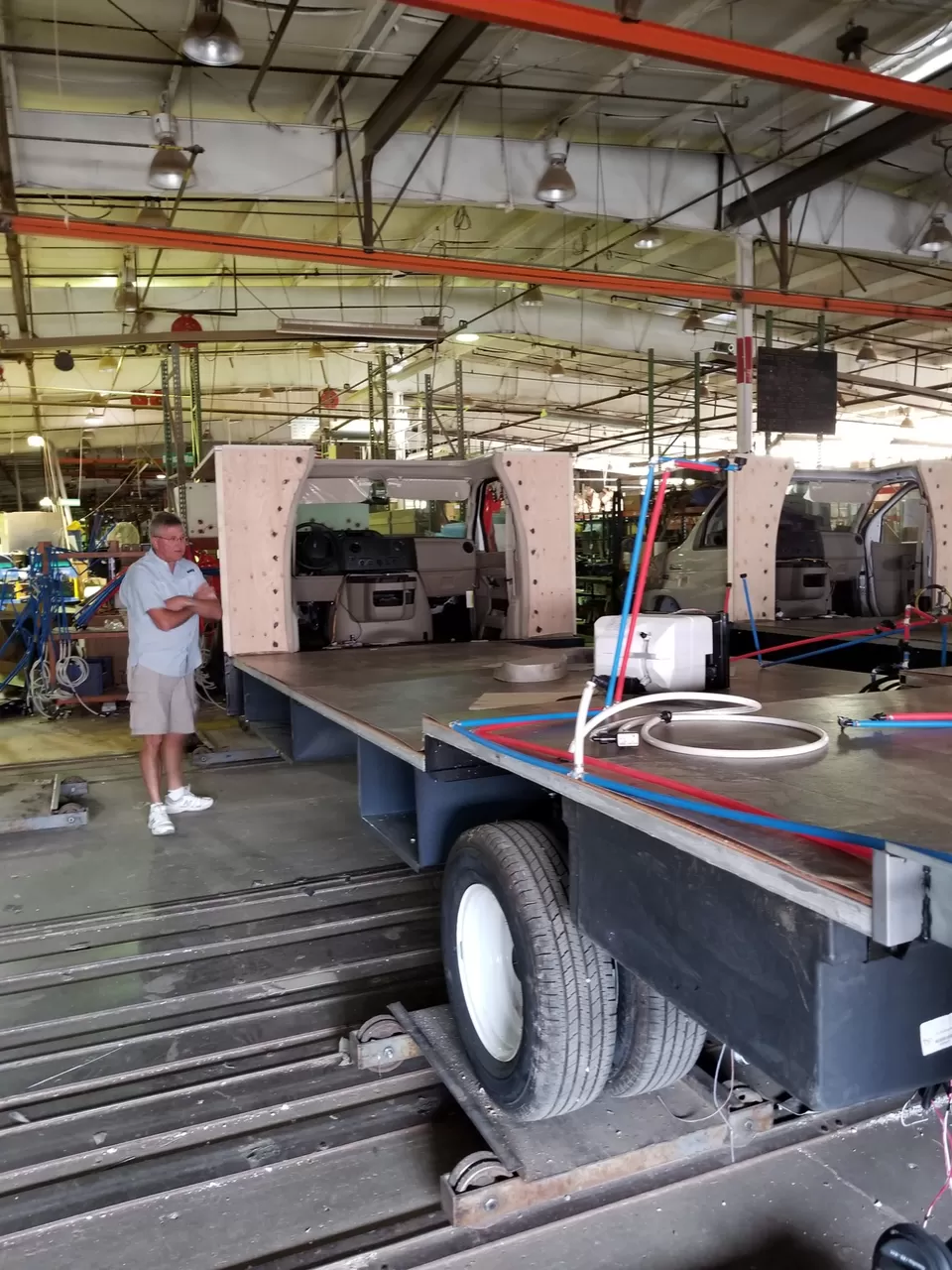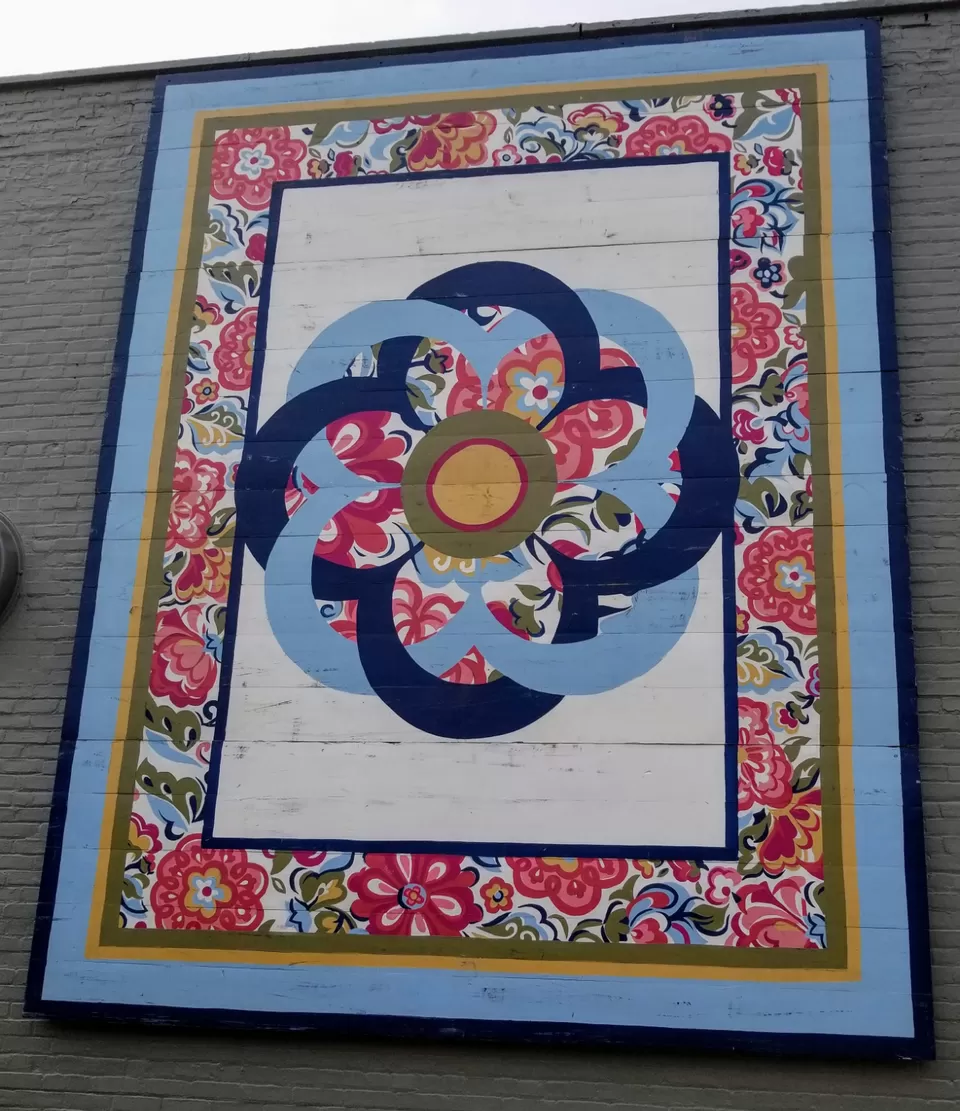 Saturday June 9, 2018
We rearranged our plans today because it rained all day and we really didn't want to walk around in the rain. We left Indiana and Amish country and drove to Holland Michigan. On the way we stopped at Campers World to get vent cushions. These fit in the ceiling vents and insulate from the cold and heat. Mainly we got them to keep the cold out since the nights are still chilly up here and also for our trip out West and Northwest next year. The rain let up once we checked in so we walked around the park admiring the plants and flowers that we can't grow in Florida. This campground has a couple of goats and their two kids. They are cute and there is goat feed which they love. Oak Grove campground is nice and located less than two miles from lake Michigan.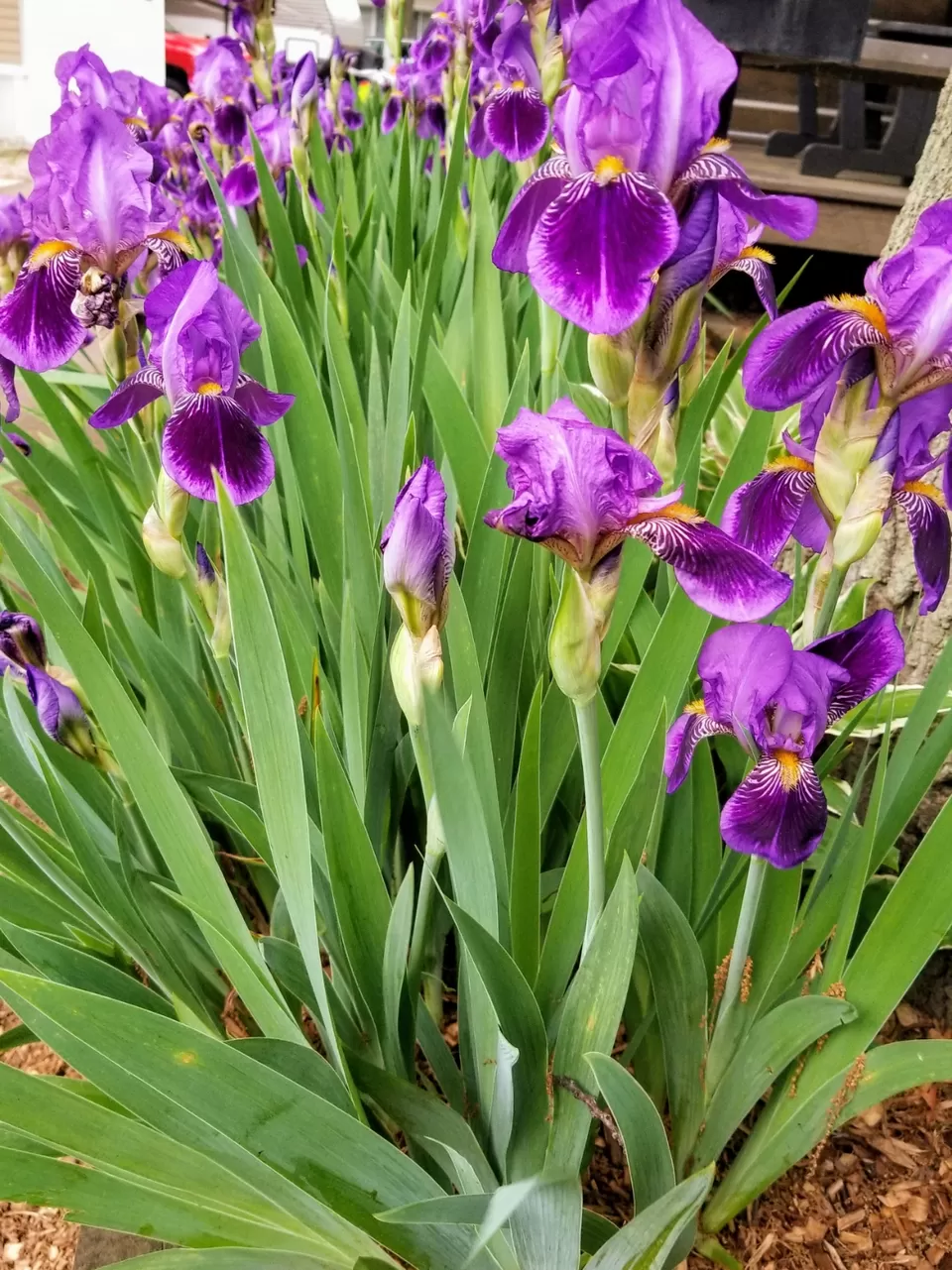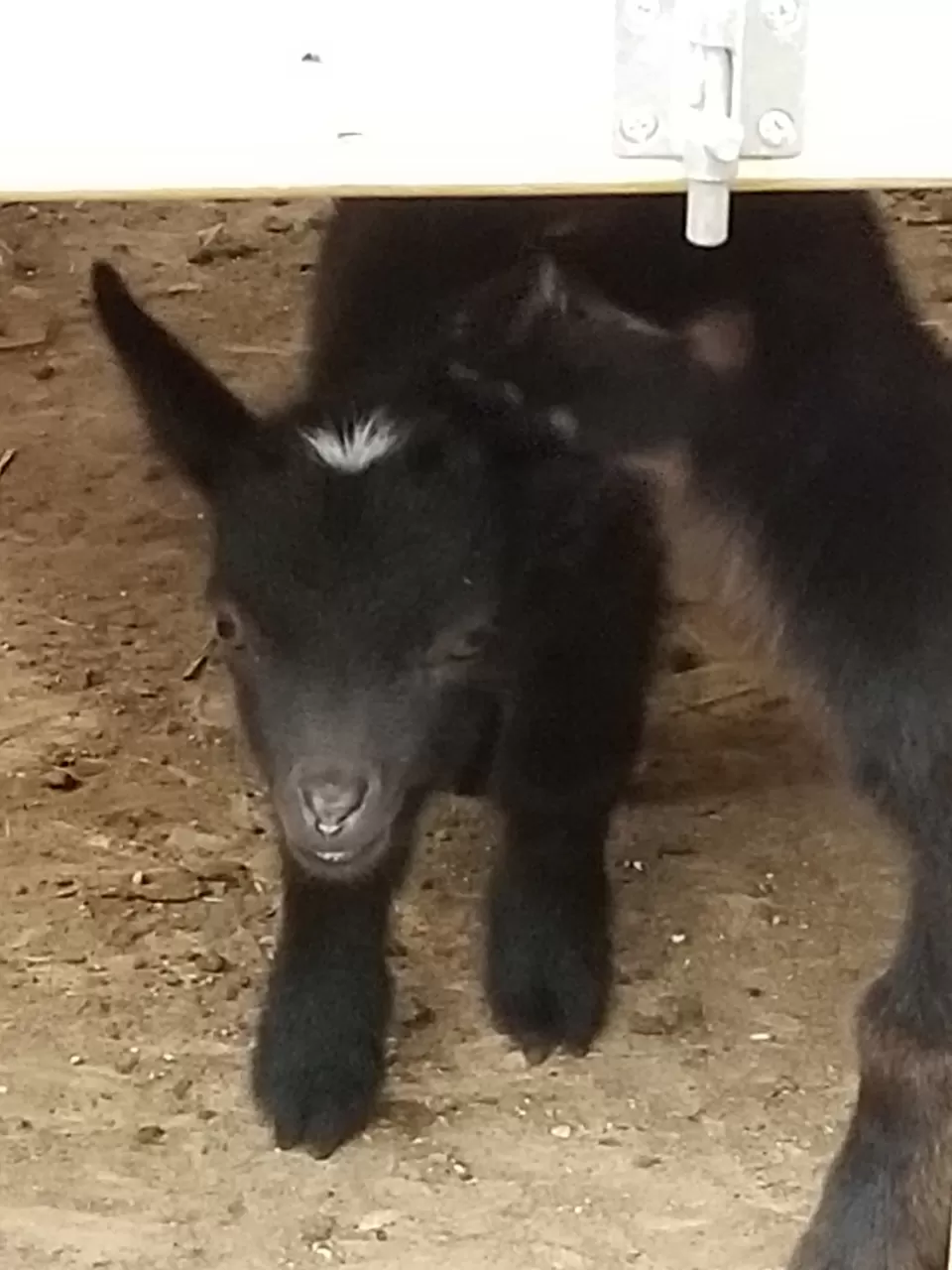 Sunday June 10, 2018
Today was another rain day so we spent the morning catching up on personal correspondence, etc. The rain stopped mid day so we biked into downtown historic Holland. This area has been renovated and has many shops, restaurants and breweries. We had a late lunch at New Holland Brewery, which just celebrated 21 years of business. I had the make your own Bloody Mary bar, John had one of their signature beers, and we split a brat and kraut sandwich. Afterwards we walked a few blocks before the rain started again. We rode our bikes back to the campground in the rain. Thank goodness we had our rain jackets to keep us partially dry. We made BLT's for dinner with a tomato we bought from an Amish store. It was the best tomato we've had in years.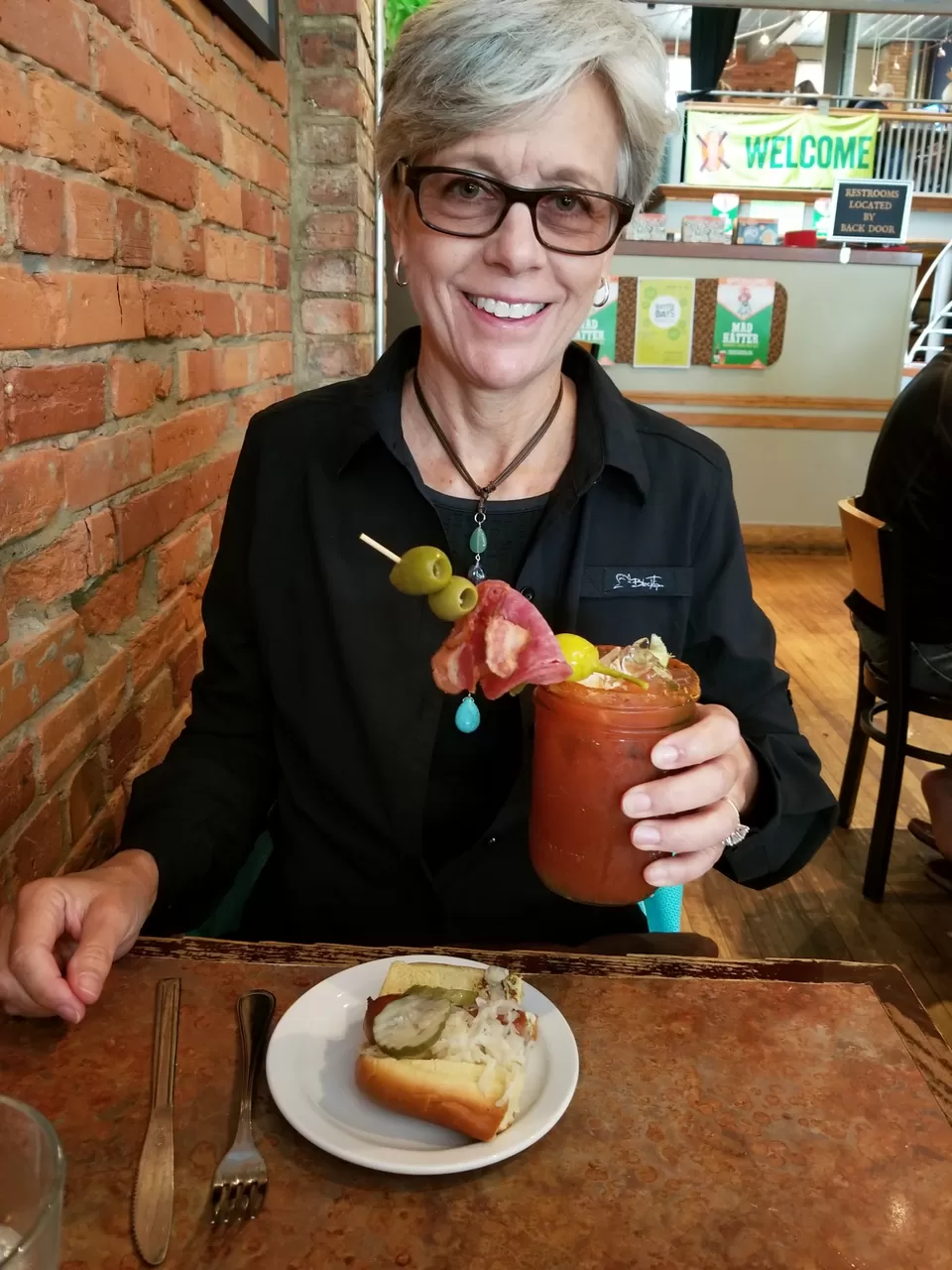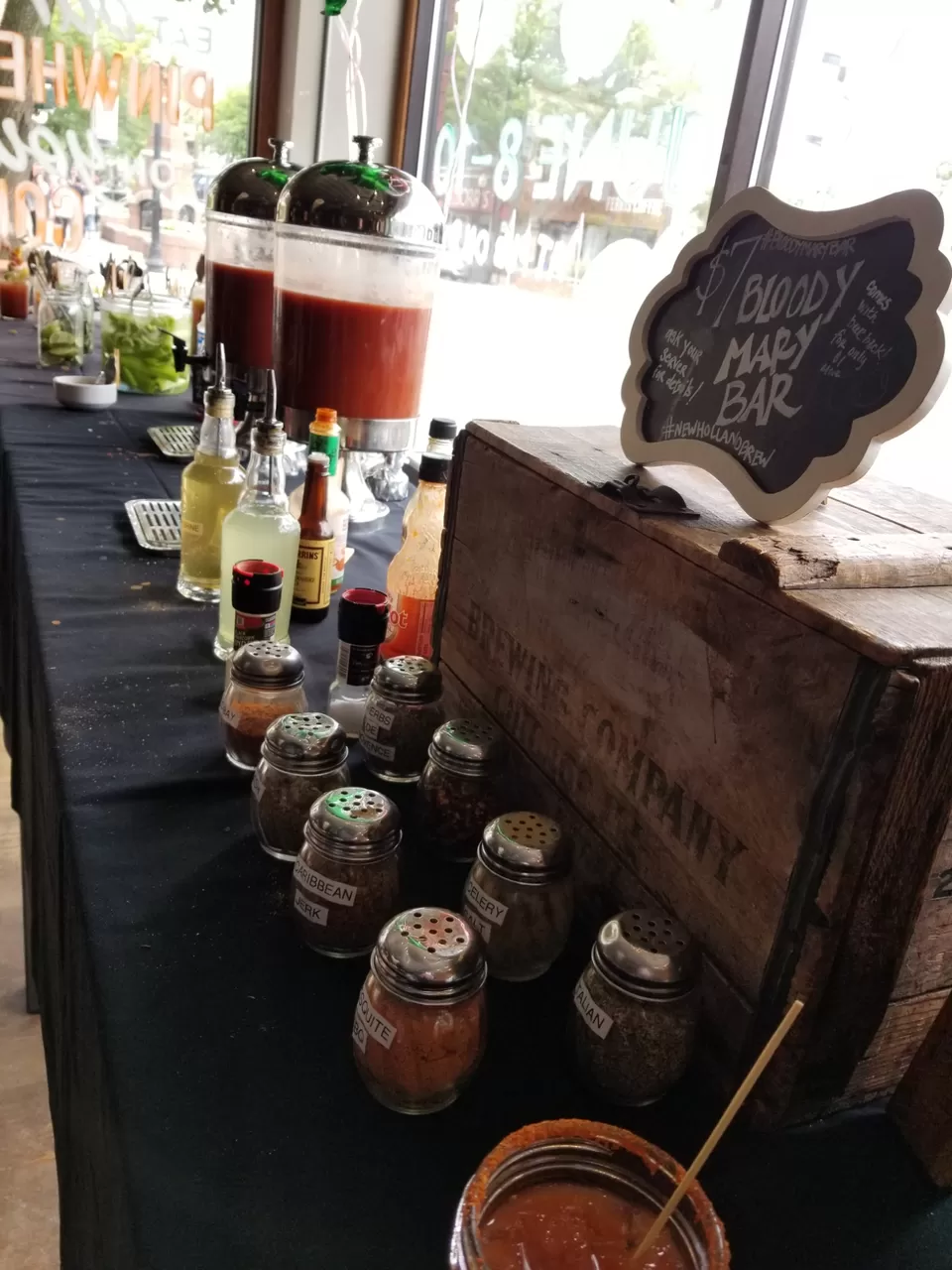 Monday June 11, 2018
What a difference a day makes. Today is sunny and dry so we are ready to explore. We headed out on the bikes, wearing jackets and long pants, to Saugatuck, a distance of 19 miles. The good thing is there is a bike path for most of the way. Thank goodness we have our Pedego electric assist bikes. It was an enjoyable trip through Holland, farms, lakefront mansions, and countryside. Once in Saugatuck we took the Saugatuck Ferry over to Mount Baldhead park. The ferry is the only operating chain ferry in the US and has operated since 1838. John pulled the chains for a bit on the return trip. Once across we went to the park and climbed the 303 steps up to the top. The view of the surrounding area was wonderful and the walk down was much easier. We looked around the town, it is a nice clean cute green town with shops and homes in the historic section. We ate lunch at Butler's on the deck. By lunch we were able to remove our jackets but throughout the rest of the day we were comfortable in our jeans, on the 11th of June! It was 86 in Jacksonville today so this weather is great. After leaving Saugatuck we rode back to Holland and stopped at Our Brewery for a beer. Our Brewery is a nano brewery in the heart of downtown Holland since 2012. If we lived here this would be one of our favorites. We rode back and went to Nount Pisgah outside Holland state park. Another set of stairs, only 260 this time, to the top for a great view of lake Michigan and Big Red a light house. We continued on to the park and walked to the end of the pier then rode back to the RV. It was a fun full day. The beech wood trees are blooming and have a white fuzzy seed pod that blows through the air. In places it looks like a snowbank and as we were riding it looked as if it were snowing.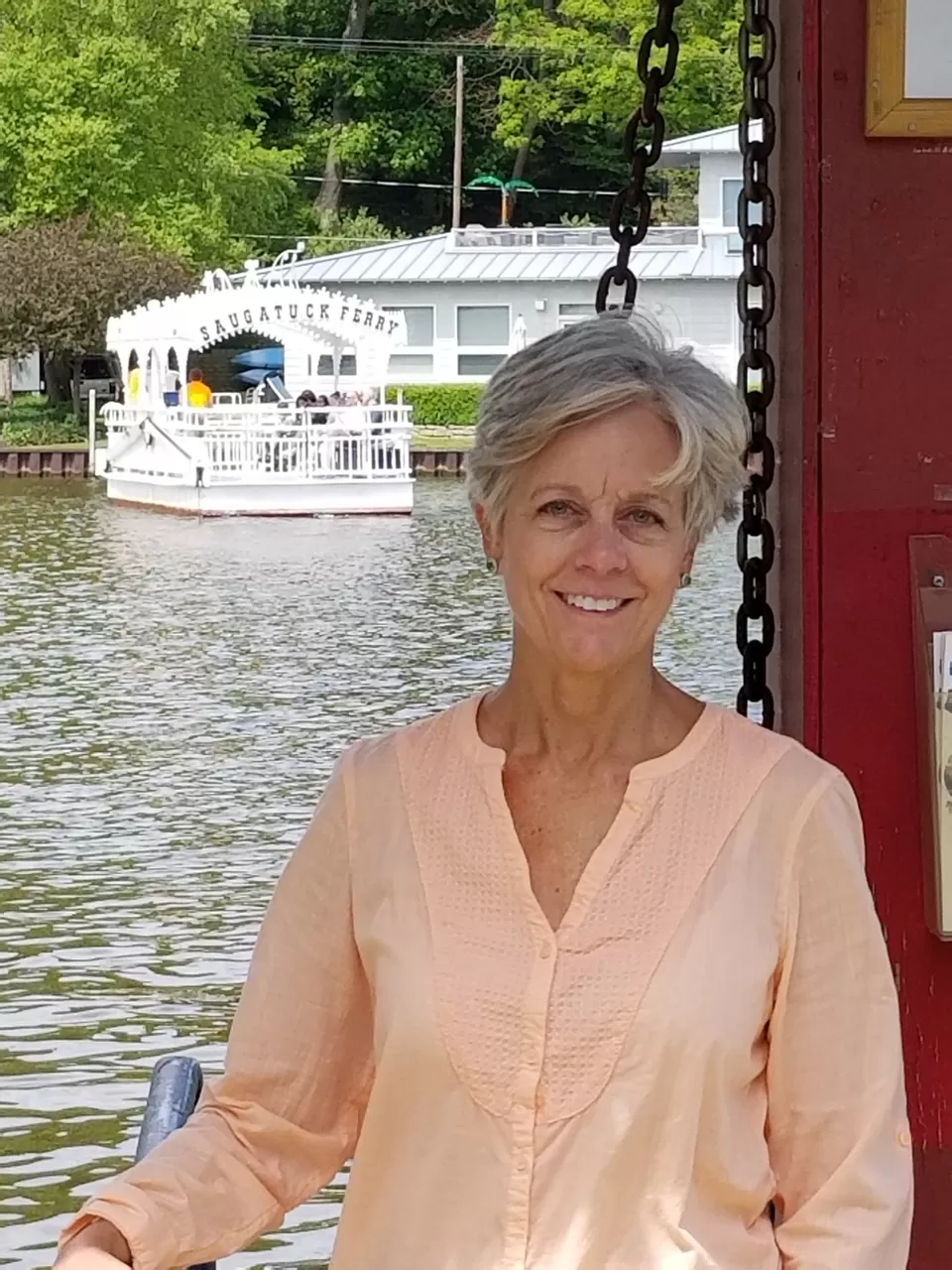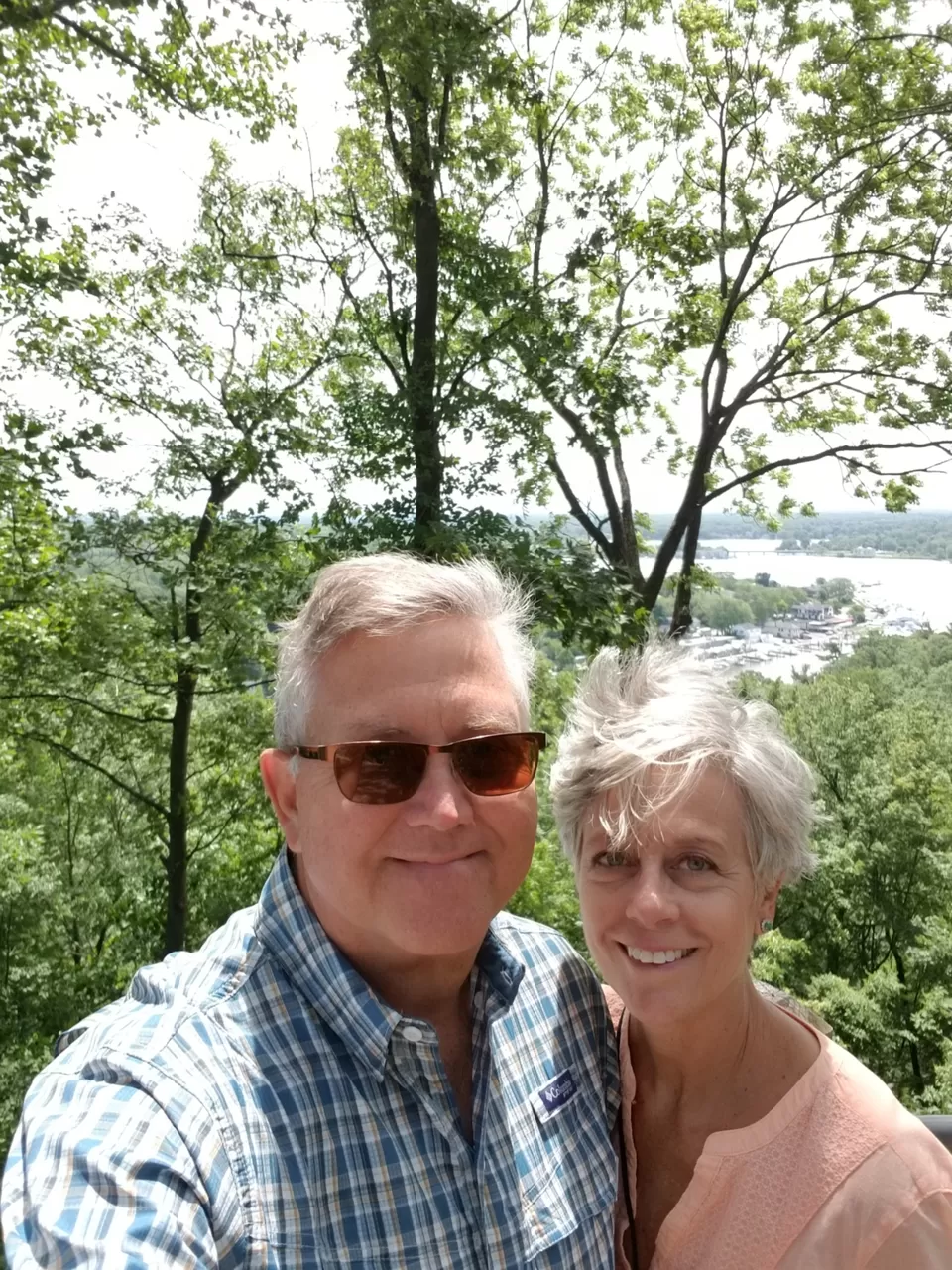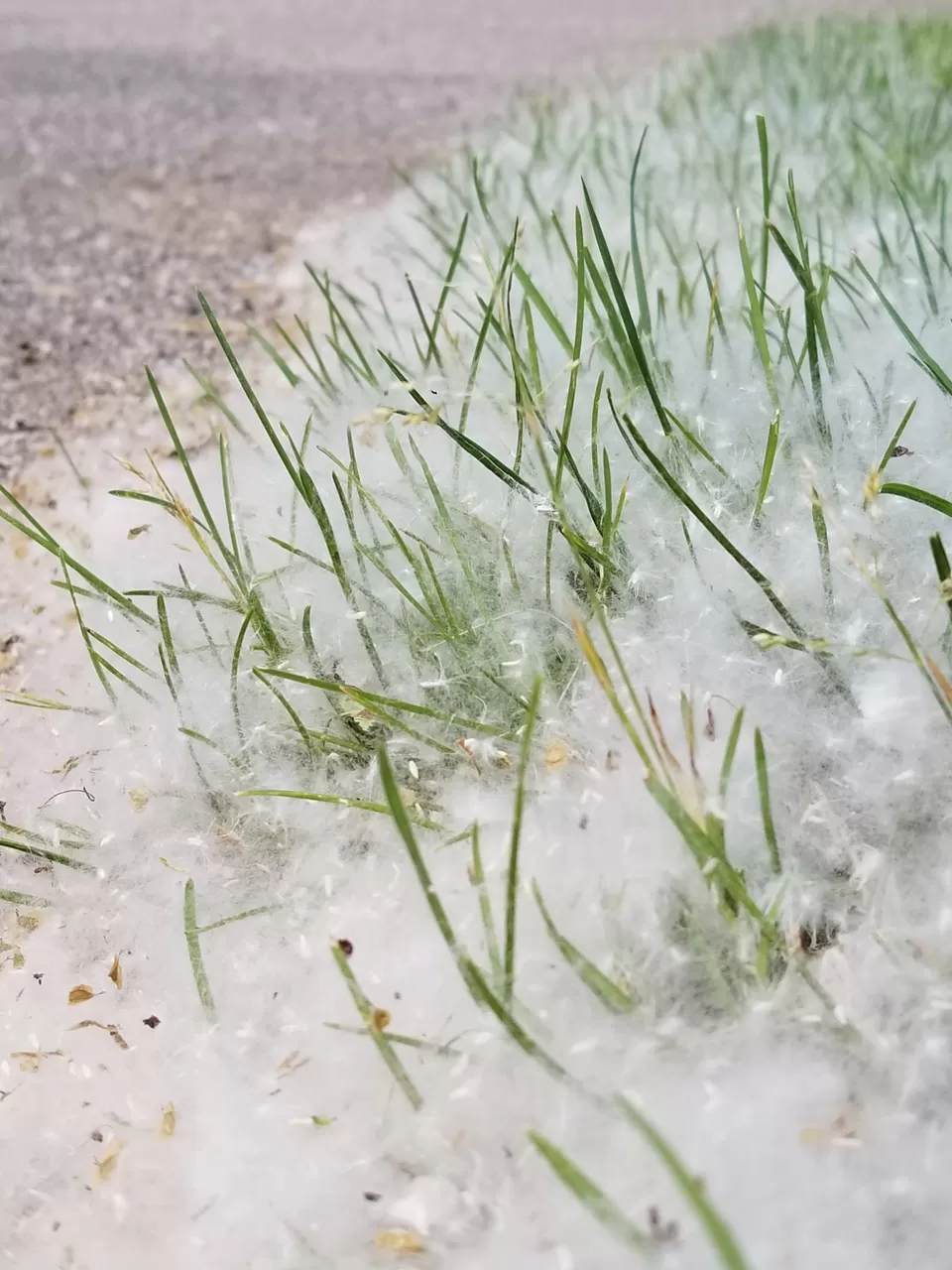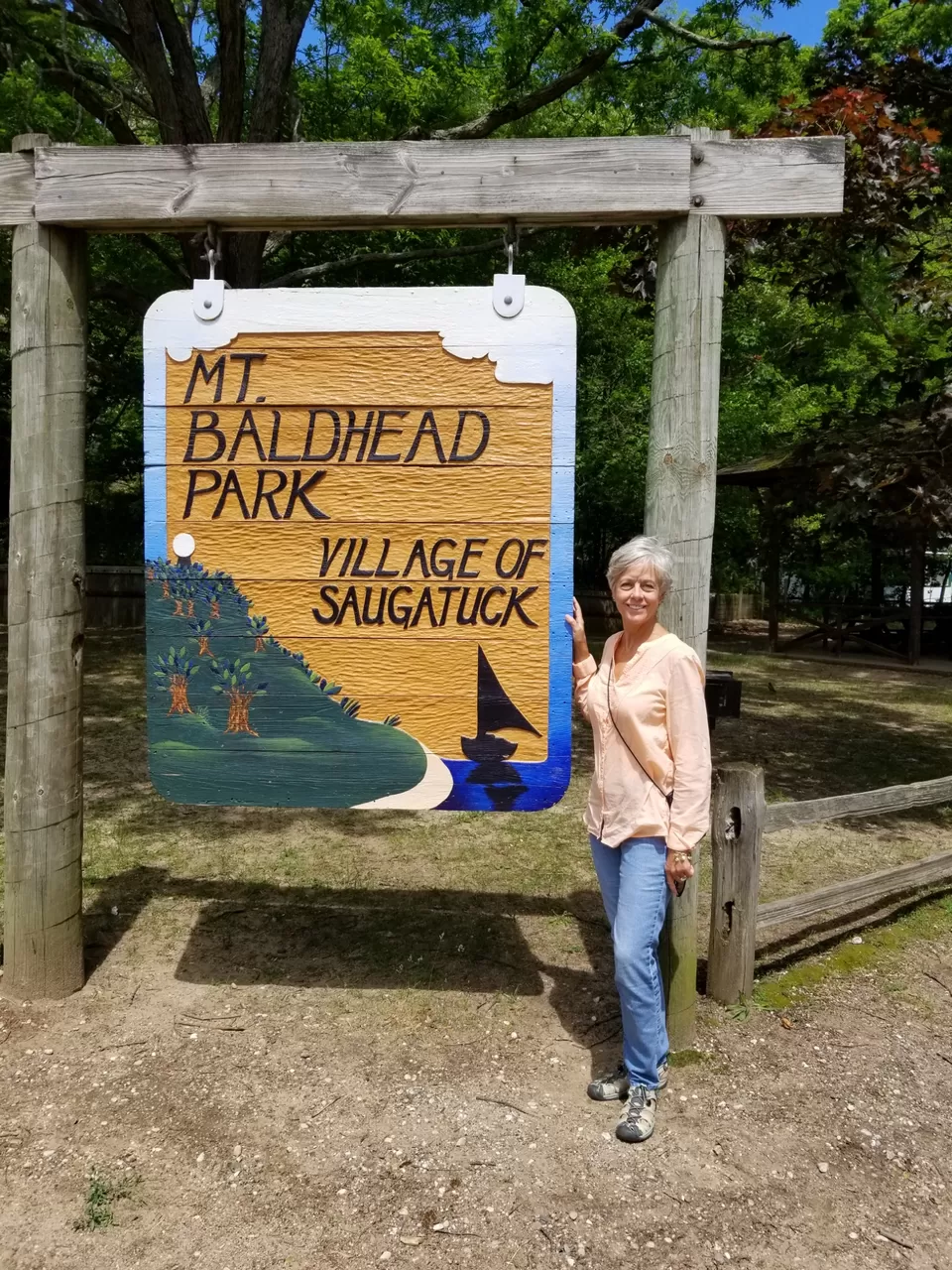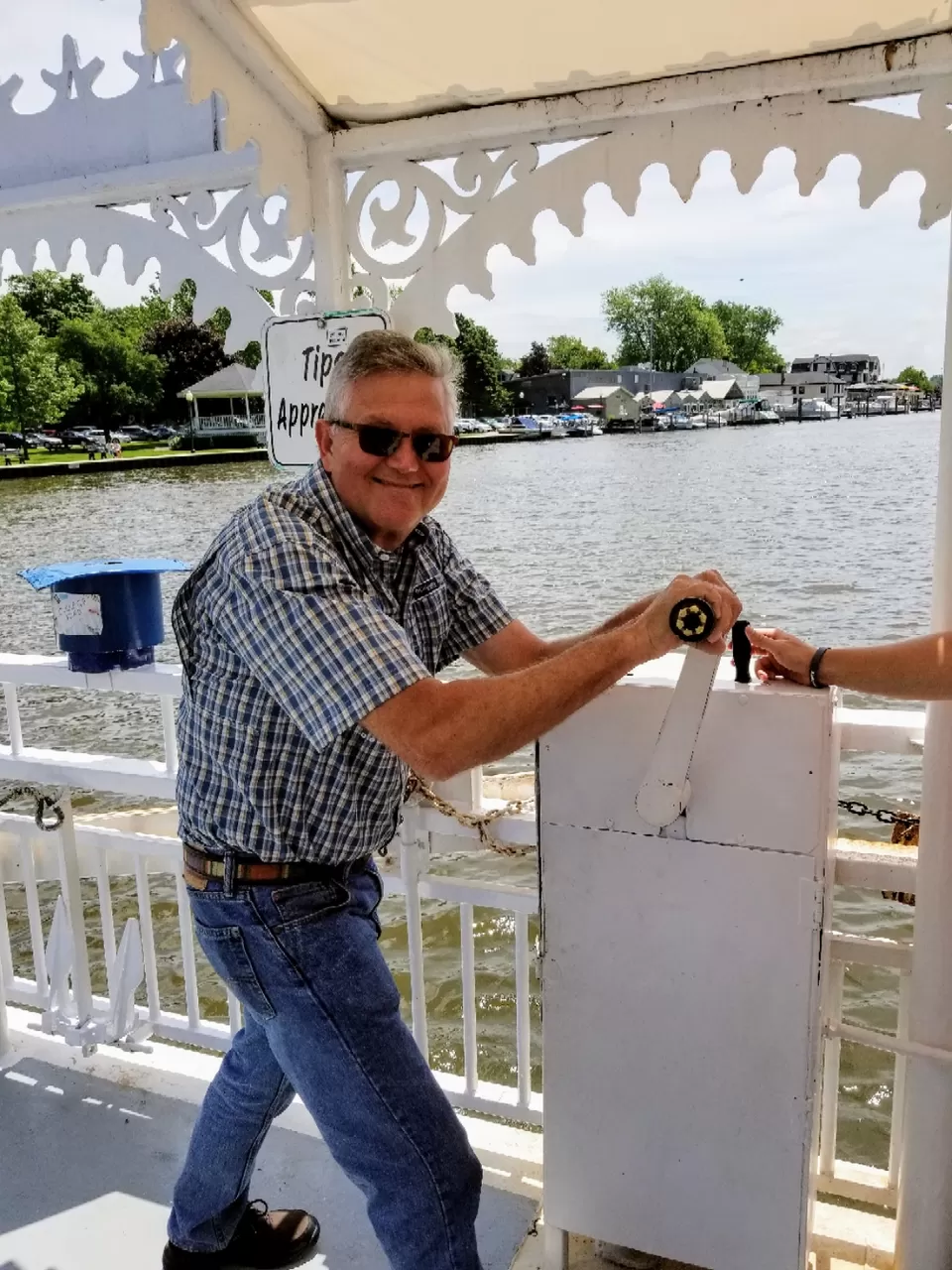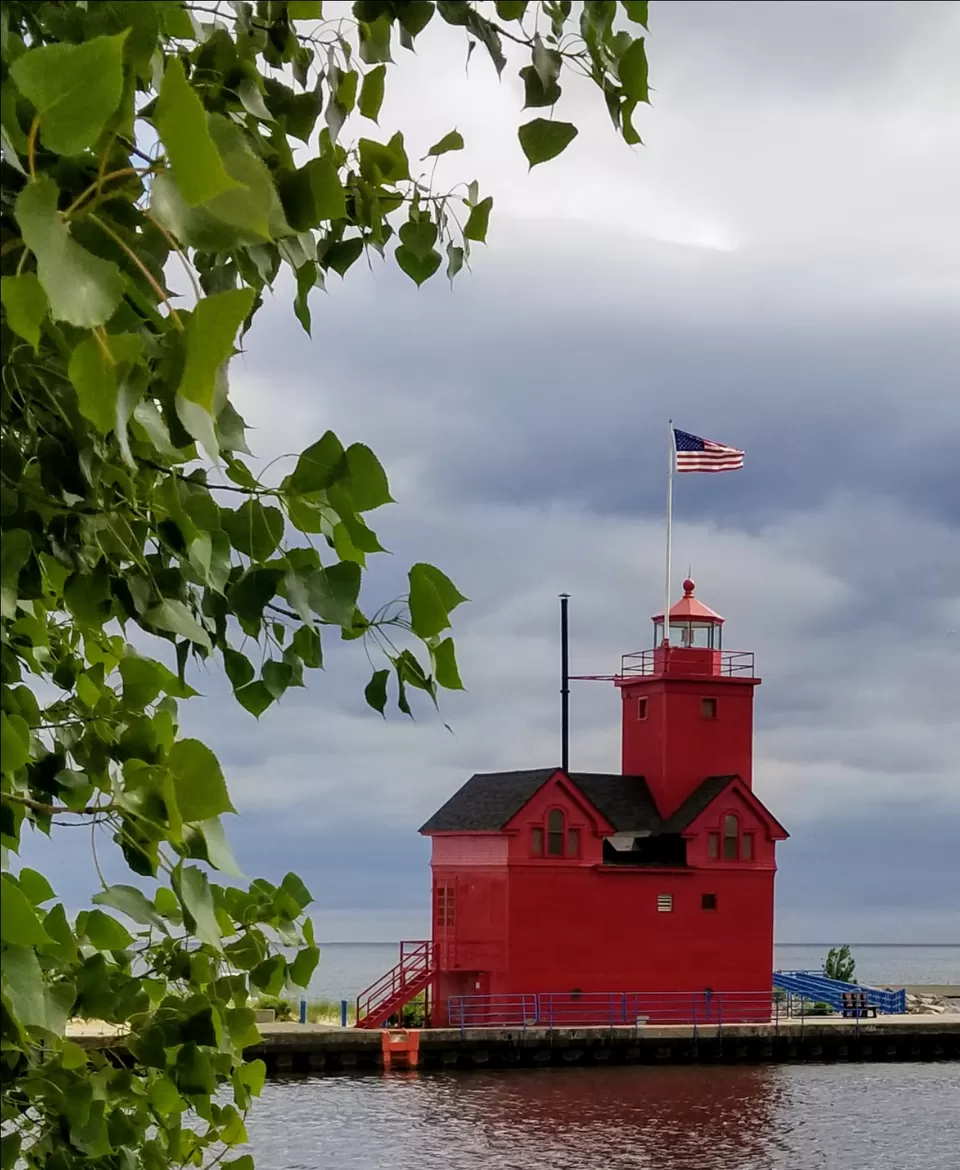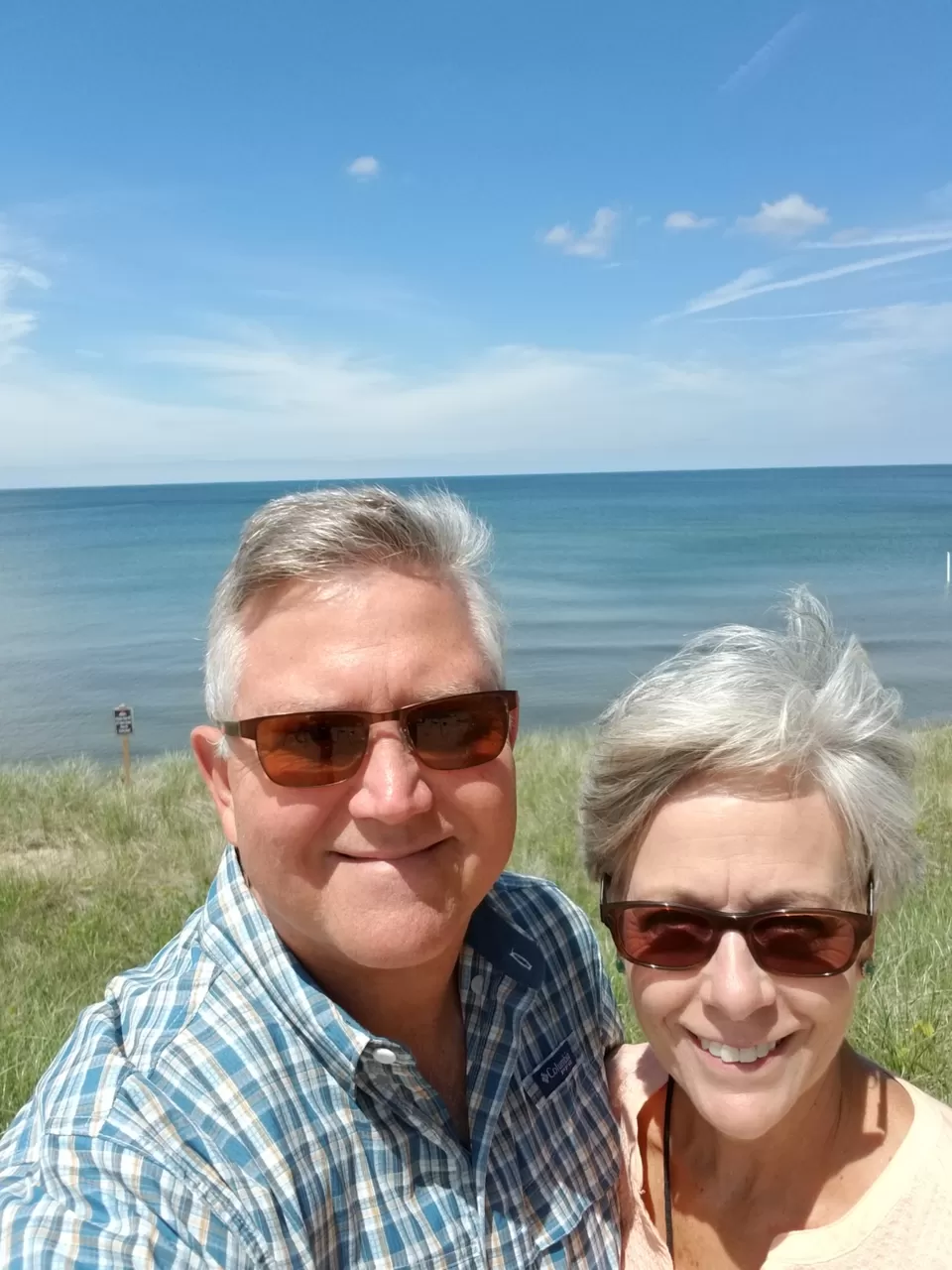 Tuesday June 12, 2018
On our way out of Holland today we passed many fields of blueberries. Too bad they won't be ripe until August. We drove to Muskegon on Lake Shore Drive, through tall green trees and beautiful blooming flowers. Even though it is summer it feels like spring to us, including the pollen. In Muskegon we went to the USS Silversides Submarine museum. The USS Silversides submarine was used in WWII. She sunk more than 30 Japanese vessels and damaged 14, taking down more tonnage than any other surviving WWII submarine. Every Memorial Day veterans start the engines during a ceremony. Afterwards we drove to mears Michigan through apple and cherry orchards and fields of asparagus. Asparagus is in season so we will be sure to get some. We will spend the next few days with Trudy and Jeff Fleming Tucker at the family's Twin Anchors cottages on Silver Lake . We arrived around 6:00 p.m. and got settled in then had dinner at the cottage. Afterwards we walked across the street to the beach then drove around the area. We stopped at some dunes that are devouring homes. Little by little the homes in that area will be overtaken by the sand. There are already several that are no longer visible under the huge dunes. The sand is finer than sugar and wonderful to walk in barefoot. John and I walked up the dune and ran down like a bunch of kids. It was so fun. Back at the cottage we talked about the history of Twin Anchors and looked at pictures until midnight, which comes quickly since the sun doesn't set until 9:45 p.m.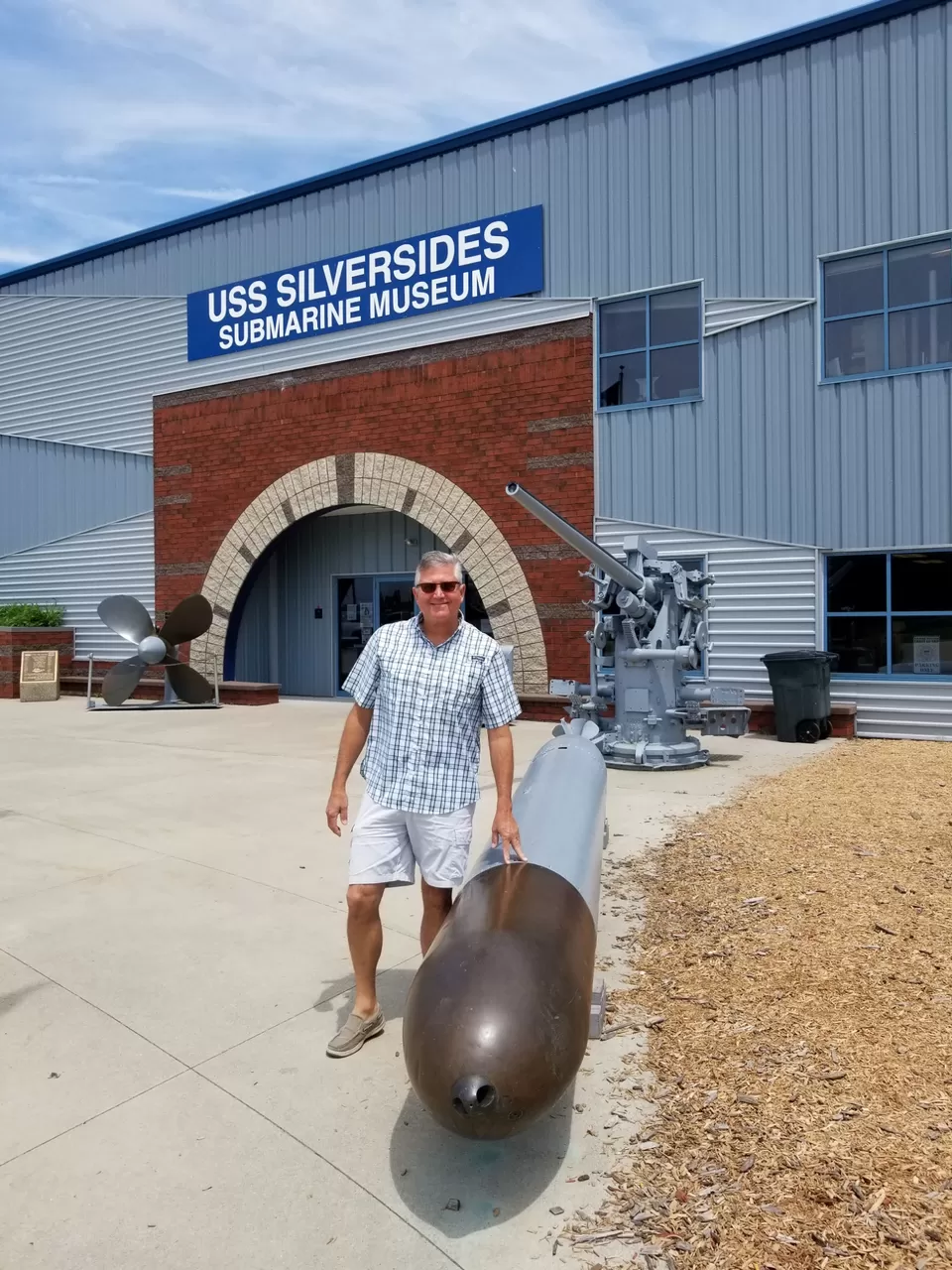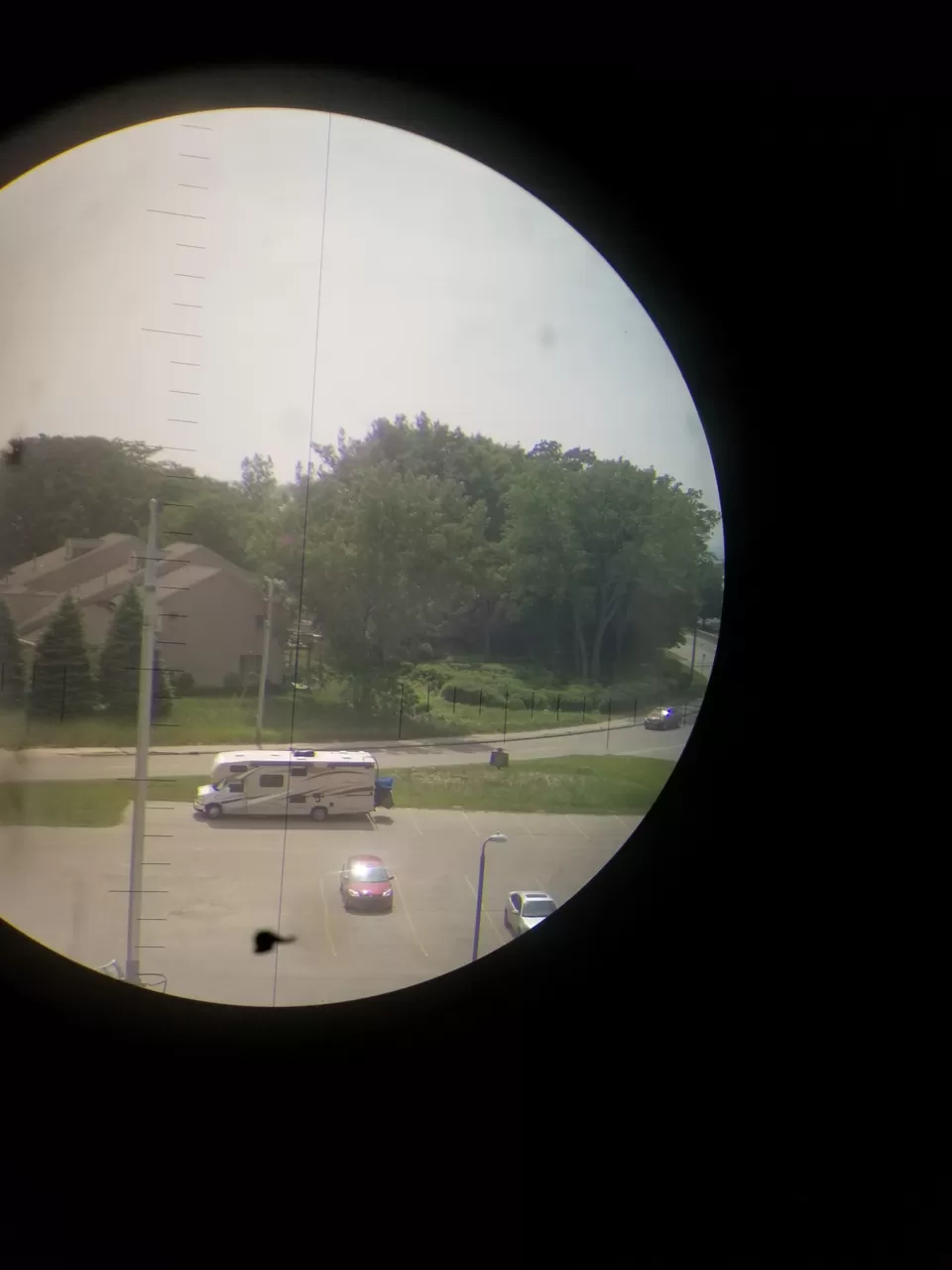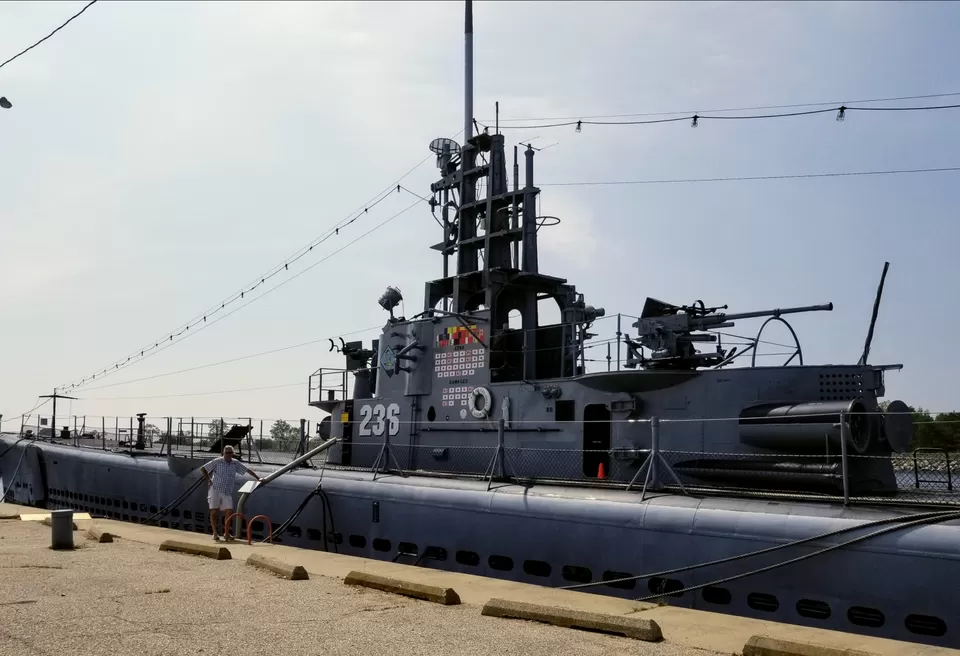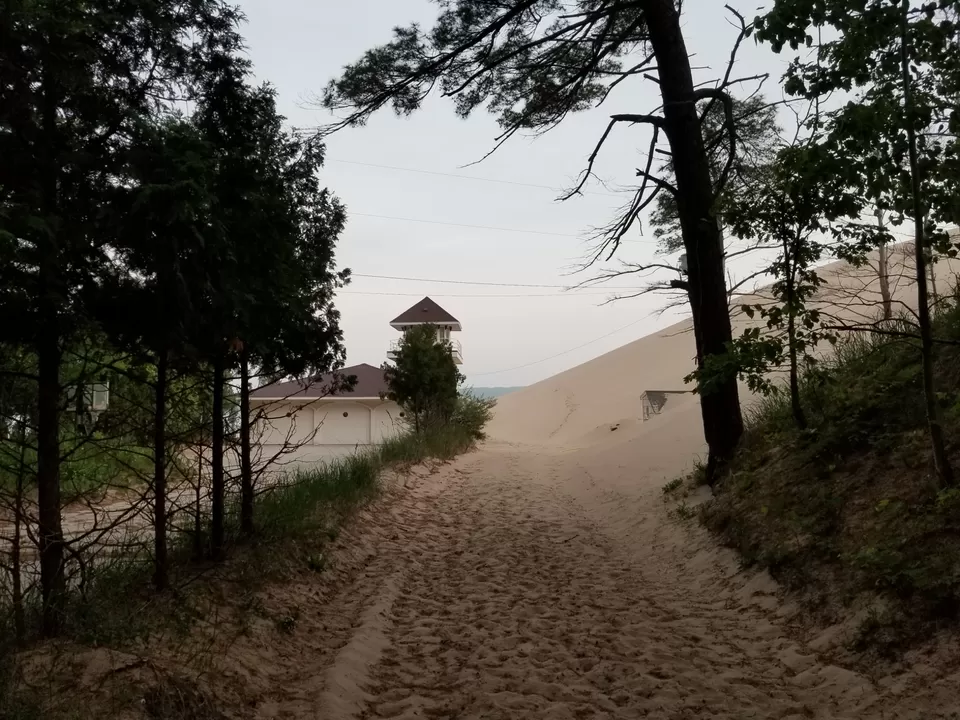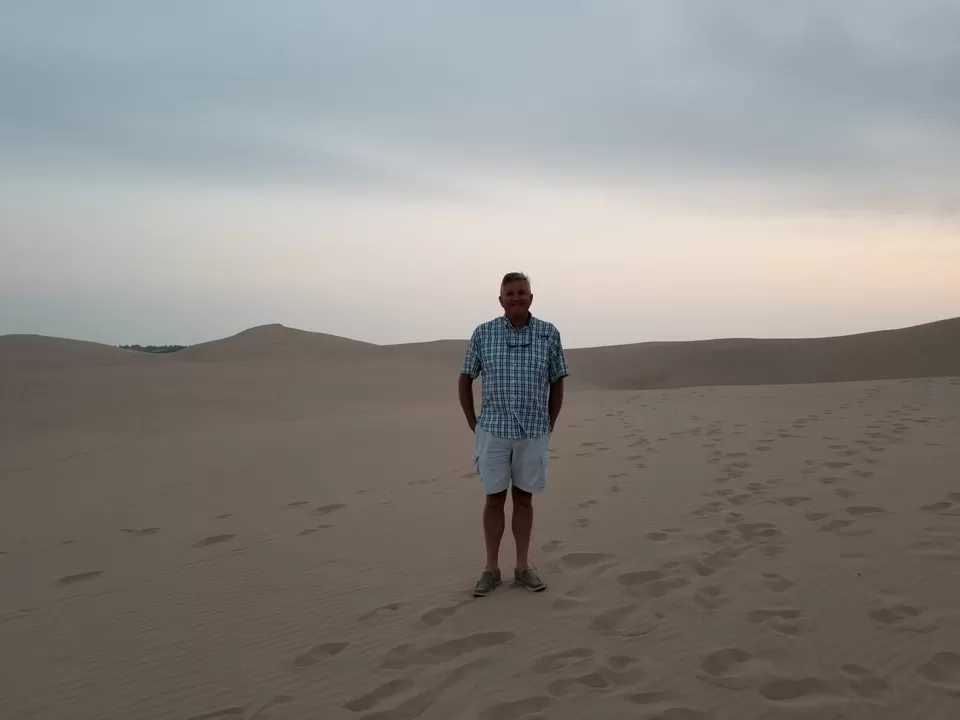 Wednesday June 13, 2018
After a leisurely morning we drove to a cute town to the North, Pentwater, and browsed in the shops and had a late lunch. This 20 mile stretch along lake Michigan, from Nears to Pentwater, is known as the graveyard of ships. Beginning with the loss of the Neptune in 1848 through the Armistice Day storm of 1940 nearly seventy vessels sunk in this area. To aid in navigation around the hazard near Mears, the Petite Pointe au Sable lighthiuse was built and completed in 1874. Charles mears founded the village of Pentwater as a shipping port for his lumber business. The village grew into a manufacturing, food processing, and fishing center. With the coming of the railroad Pentwater soon became a destination for vacationing families and generations later many of those families still live in or come to Pentwater. We had dinner at home of seafood and chicken paella, then went to the lighthouse for sunset. Seeing the sunset over lake Michigan is like being at the ocean, water for as far as the eye can see. It's hard to believe that this is a lake. Another wonderful day at Twin Anchors on Silver Lake.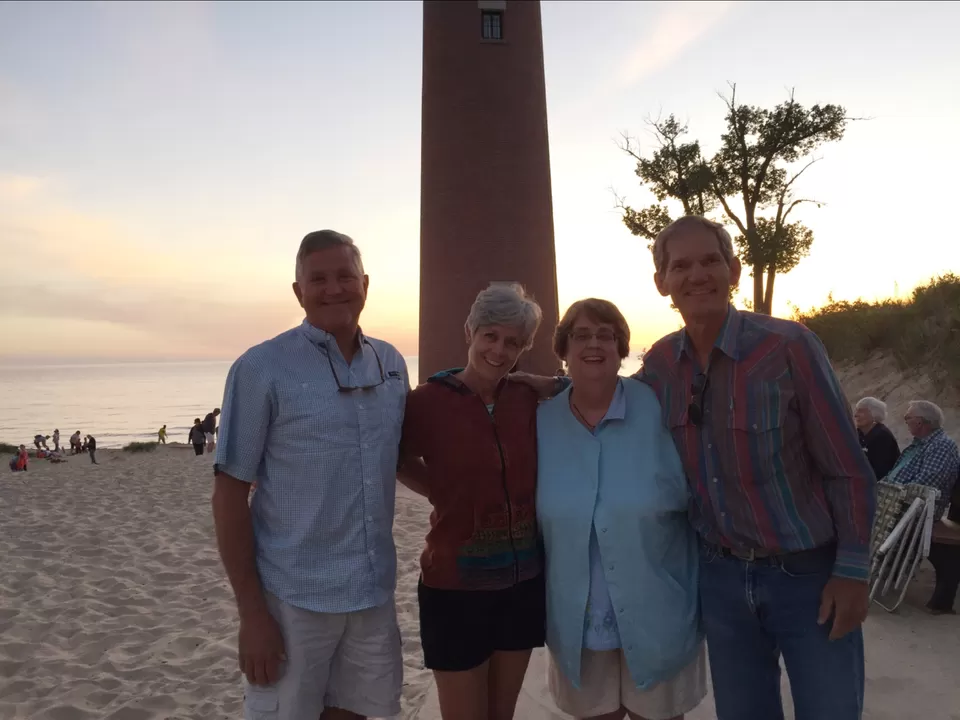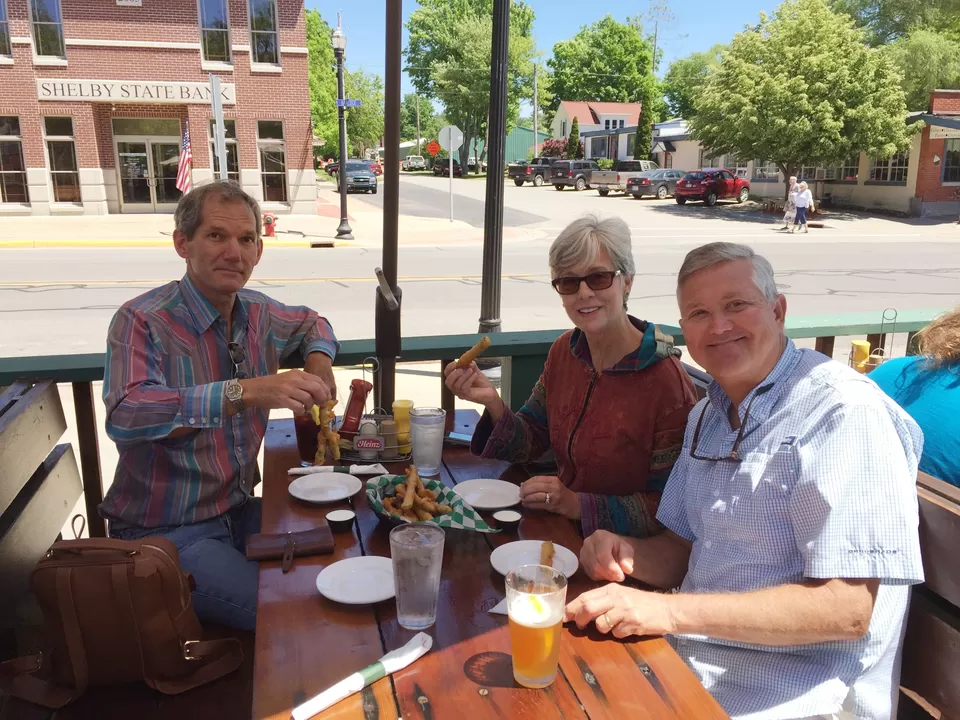 Thursday June 14, 2018
Happy 15 year anniversary to Trudy and Jeff Tucker. We had another leisurely morning at the cottage before heading out. Twin anchors is a magical place. Two cottages built side-by-side in the thirties or forties for the family to enjoy summer after summer. Much of the cottage is just as it was when it was built. Modern conveniences such as a washer and dryer, a microwave, and updated appliances have been added, the porch converted to an indoor room, and some storage sheds along with a suite at the back have made it more comfortable through the years, but the basic cottage walls and windows have stayed the same. Time doesn't matter here. I definitely want to come back. Today we visited the church were Trudy and Jeff were married 15 years ago and wandered around the premises. Jeff showed me what sassafras looks like when it is growing and how to make tea from the roots. He picked enough for us to take with us when we leave. Next stop was Cherry Point, a farm and herb labyrinth. Cherry Point grows asparagus, rhubarb, strawberries, cherries, lots of lavender and all sorts of other herbs. They also have what I'll call a rock garden where there are rocks with words on them laying around for visitors to arrange as desired. Sort of fun. The best part of Cherry Point is the labyrinth of herbs that is absolutely amazing. There's a guide of the plantings to assist identifying the herbs as you wander through. If I lived here or visited for the summer I would volunteer to work with the garden just for the experience. After Cherry Point we took a dune ride. This was a fun and informative ride through the dunes. Finally we had lunch at Whippy Dip. Hot dogs, onion rings, and ice cream! Tradition is to do the Whippy Dip in front of the sign. We had a leisurely evening at the cottage then walked across the street for the sunset. Back home we had a bonfire and made somemores. A great way to end the day at Twin Anchors.
Friday June 15th 2018 we left Trudy and Jeff and twin anchors mid day and drove to Traverse City. 1st we stopped at cherry point for some rye bread though. It rained most of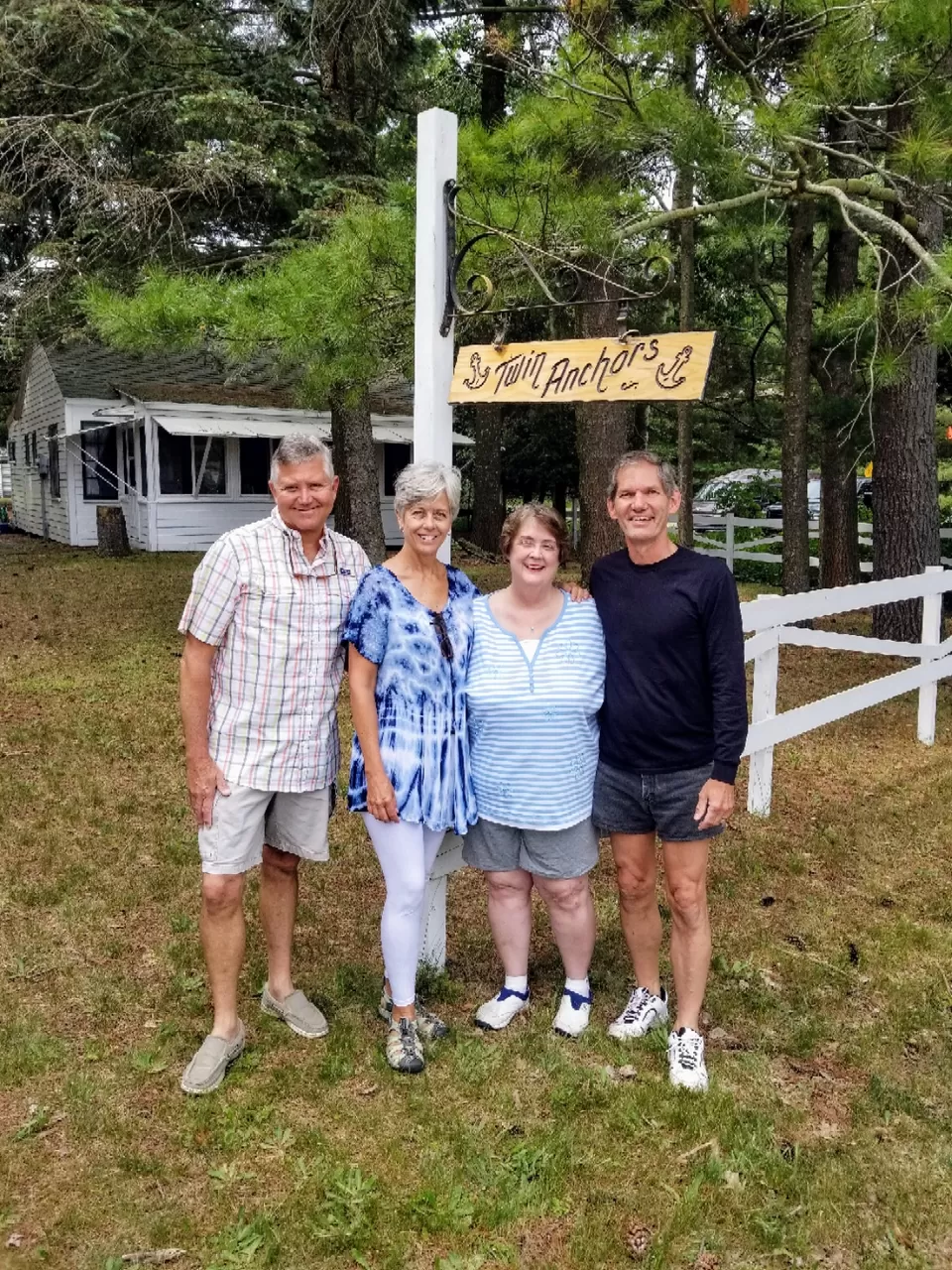 Saturday June 16, 2018
We stopped at the dumpsters to drop off our recyclables and found a painted rock. The rock has an RV on the front and a note on the back to go to Northeast Ohio Rocks on Facebook, post a picture and rehide. We'll find a good place in the next few days. Next we headed out on the bikes to tour Traverse City and their bike trails. The trails are very nice, wide, smooth, well marked, well used and accessible to businesses. We wish we had something like this in Jacksonville. As we were riding we passed a bike shop and commented how nice it was to have such a convenient shop along the path. Not two blocks later I got a flat tire and we walked back to Brick Wheels to have it fixed. While we waited we went to The Filling Station, a brewery and restaurant. Traverse City has a lot of breweries and outdoor activities like kayaking and biking. After my tire was fixed we rode along Boardman Lake and planned to go into town but the rain started so we rode back to the RV, wet again. When the rain broke we walked down the street from the park and got some ice cream. Not the day we had planned but still a nice day in TC.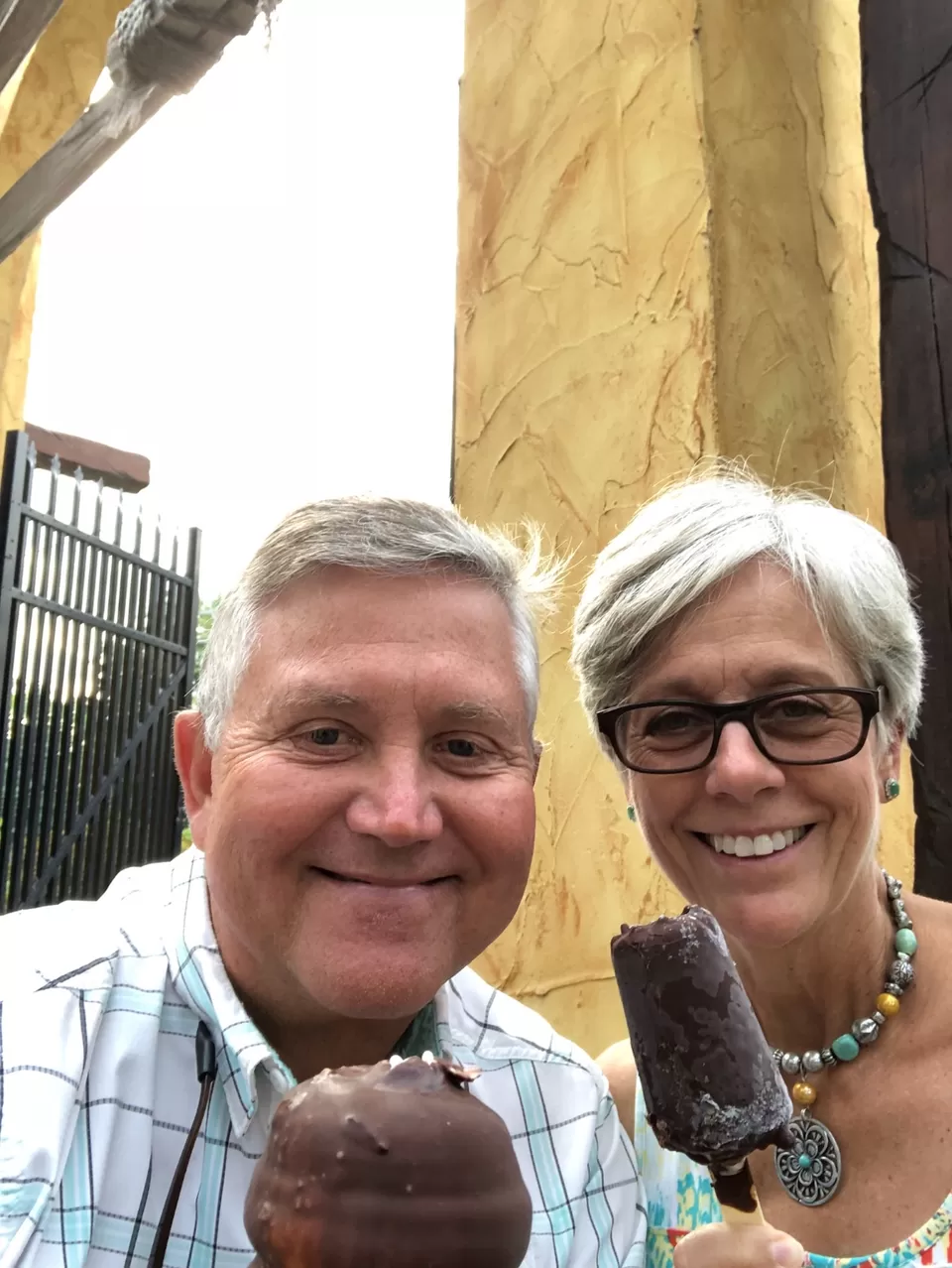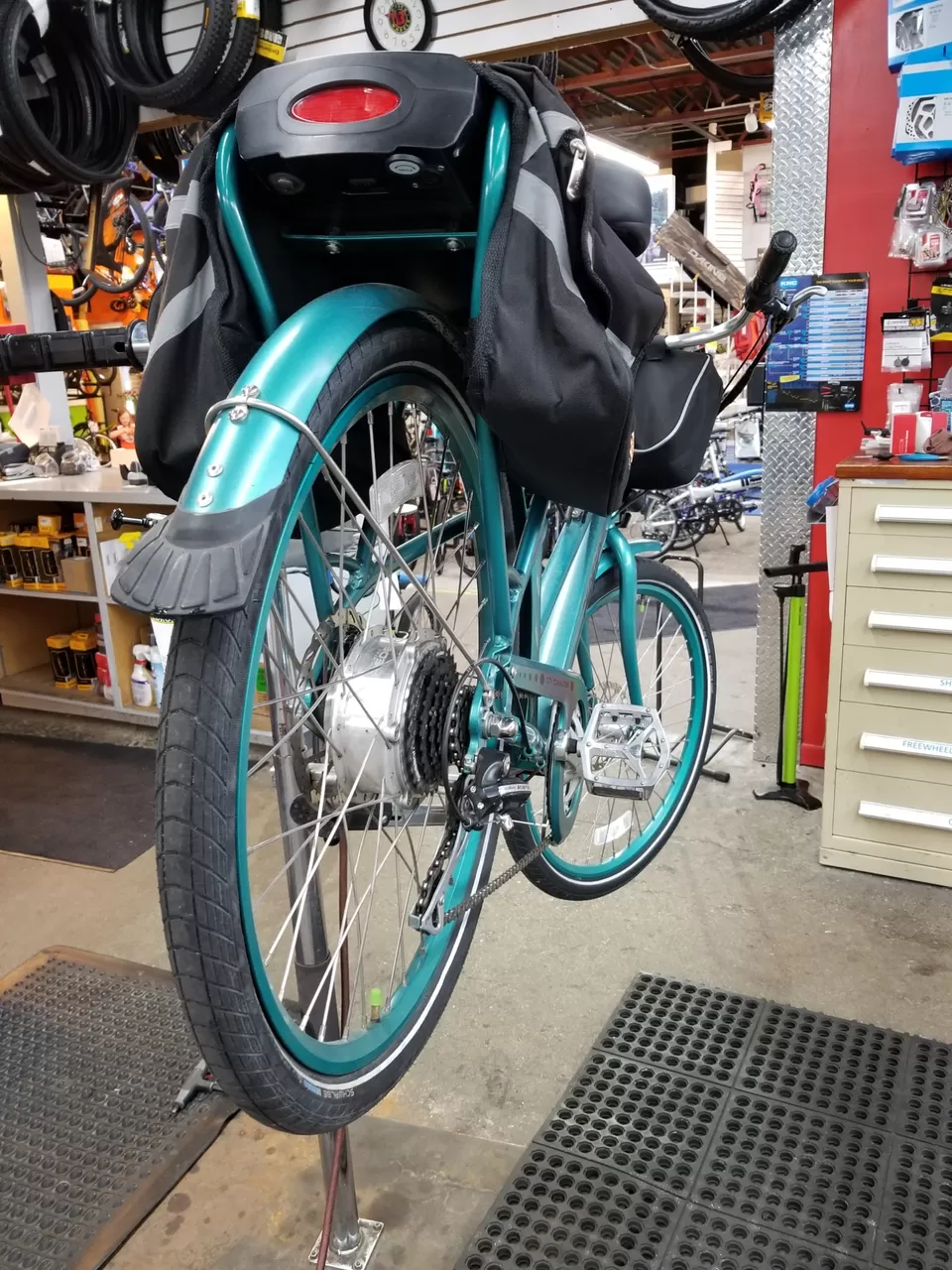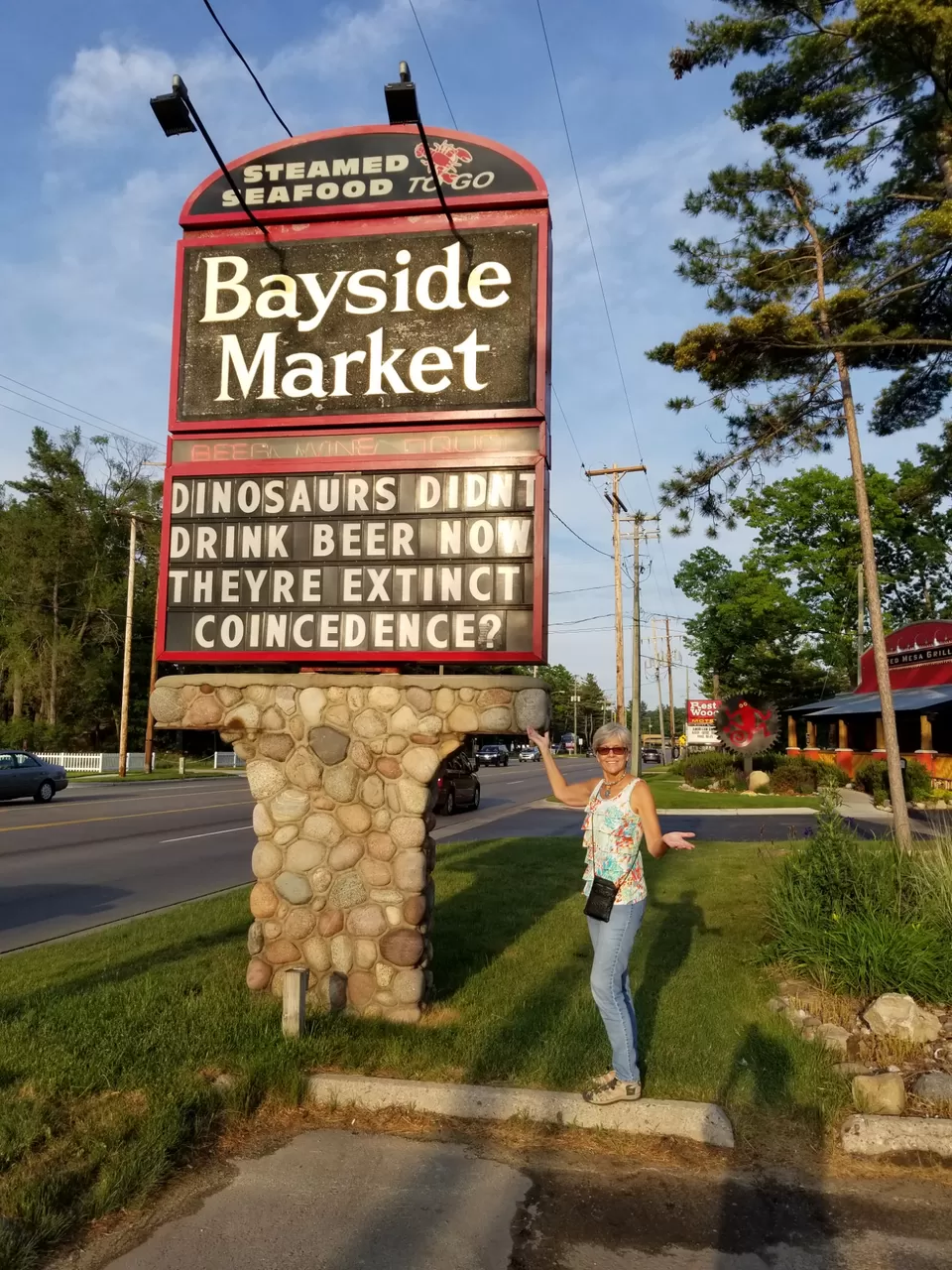 Sunday June 17, 2018
When we took the trash out today John found a painted rock from Ohio Rocks. We took a picture of it and posted it on Facebook #alleyrocks. The concept is now we take it somewhere on our journey and leave it for someone else to find. We drove to Mackinaw City today. The ride was nice along 31. 31 is a scenic road passing through small towns. One of the nicest towns we drove through was Harbor Springs, MI on Little Traverse Bay. This area reminded us of the drive along Hwy. 90 on Mississippi's gulf coast before hurricane Katrina. Large two story homes from the early 1900's overlooking the bay. The KOA in Mackinaw City is located right next to one of the many bike trails so we set off exploring on our bikes right away. Downtown Mackinaw City is mainly for tourists with fudge shops, gift shops, restaurants and hotels but it is very pretty with views of both Lake Michigan and Lake Huron and the Mackinac bridge. The bike trails are great and we will be able to use them to get everywhere we want to go during our stay here. We got information on the ferry to Mackinac Island and the lumberjack show.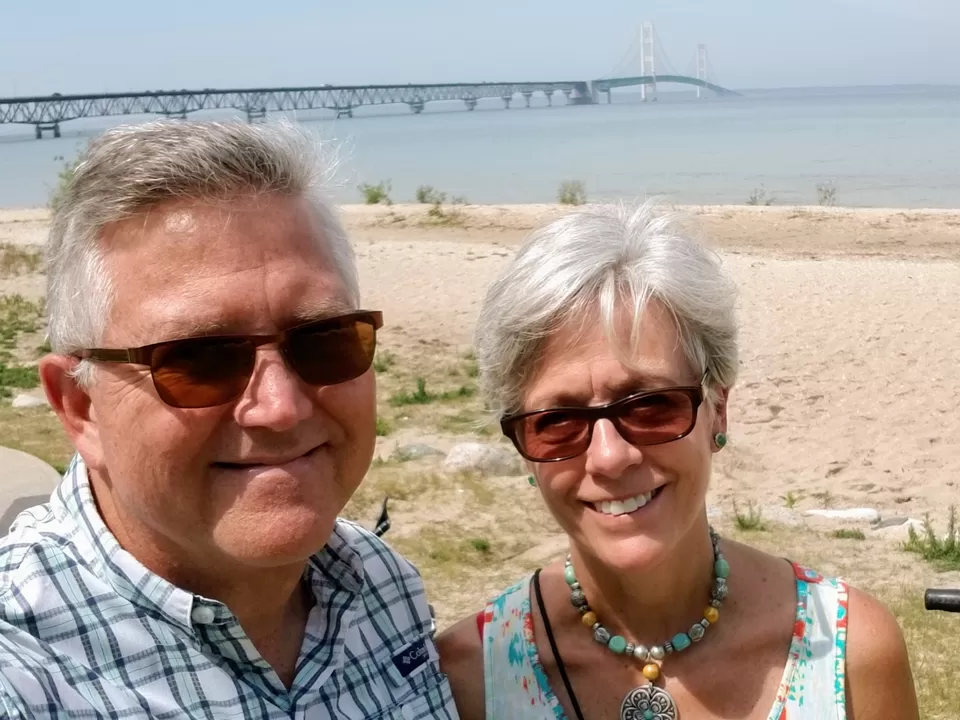 Monday June 18, 2018
Today was a rain day but fortunately the rain stopped by the late afternoon so we were able to ride our bikes to the Jack Pine Lumberjack show. It was a fun contest between two lumberjacks, sawing a leg, chopping a log, running across logs floating in the water, doing the log roll and climbing a tree.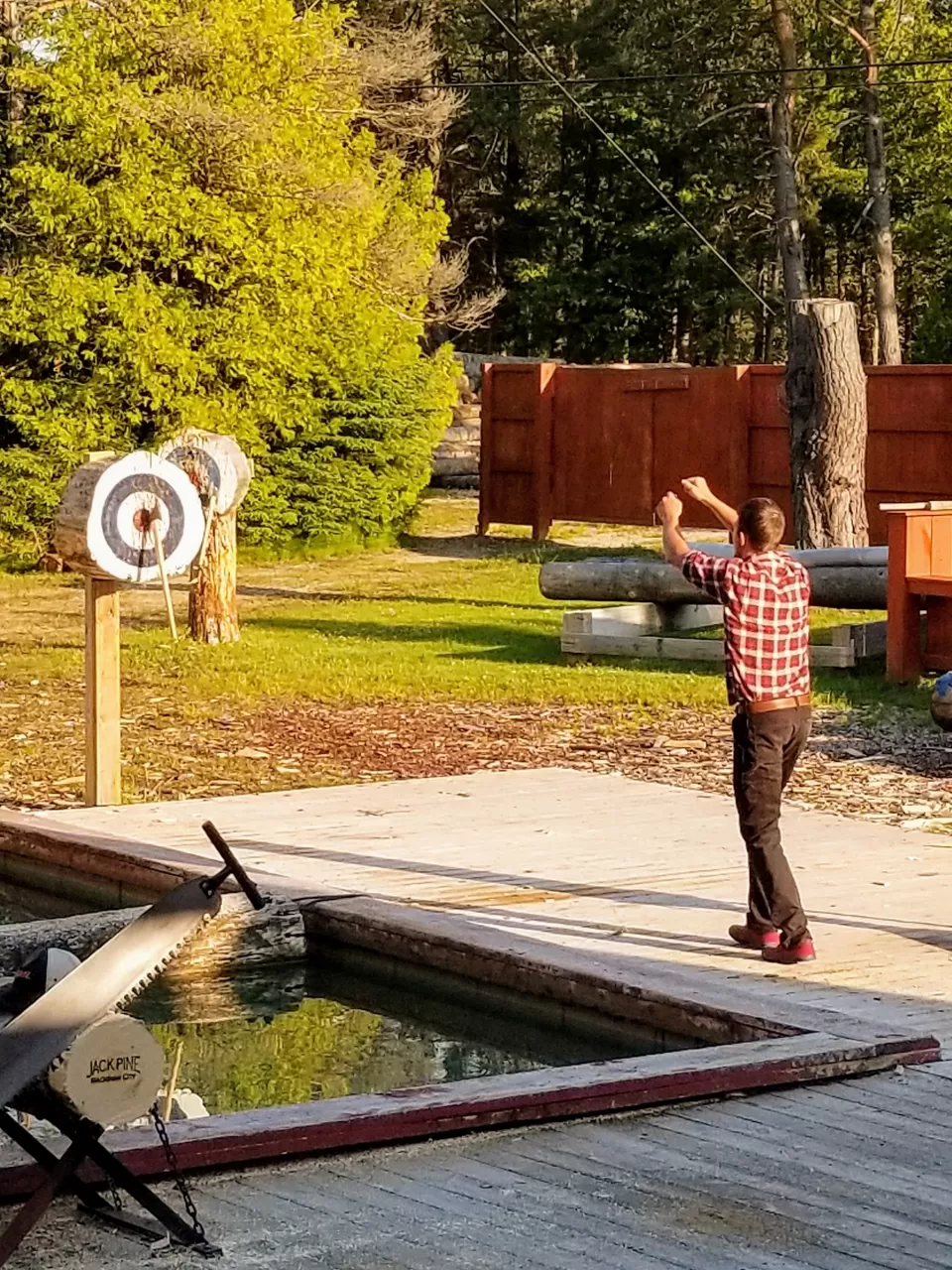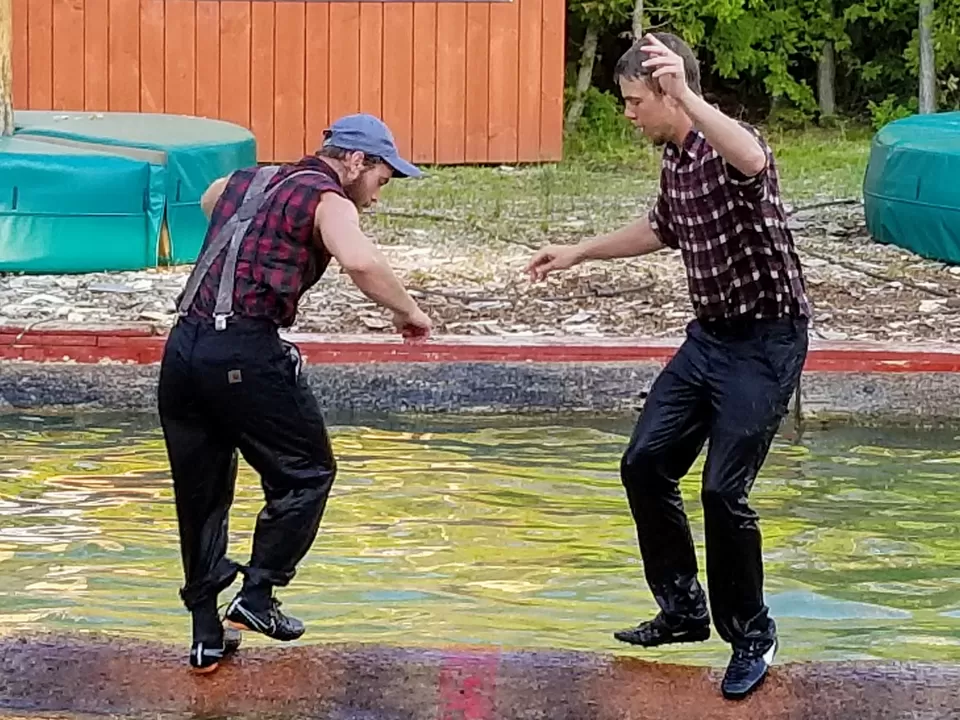 Tuesday June 19, 2018
We rode our bikes to Mackinaw City to catch the ferry to Mackinac Island. The island doesn't allow motorized vehicles so there are only pedestrians, bikes, and horses available for transportation. We were glad we had our bikes to tour the island. Our first stop was Fort Mackinac. The fort was founded during the American Revolution by the British in 1780. Americans took control in 1796 but then in July 1812 the British captured the fort during the war of 1812. It was returned to the United States after the war and remained an active fort until 1895. After touring the fort we visited numerous sites around the island: Arch Rock, the Episcopal church, Fort Holmes which is the highest point on the island, Skull Cave, cemeteries, Sugar Loaf rock, the 1814 battlefield, the carriage museum and the Grand Hotel. Mackinac Island became a summer vacation spot for the extremely wealthy in the 1800's. Today, the summer homes are still there but there is now an influx of tourists. One day here was perfect and there were plenty of beautiful sites and historical locations to visit. The self guided cellphone tour. 1-231-486-0003 or myoncell.mobi/12314860003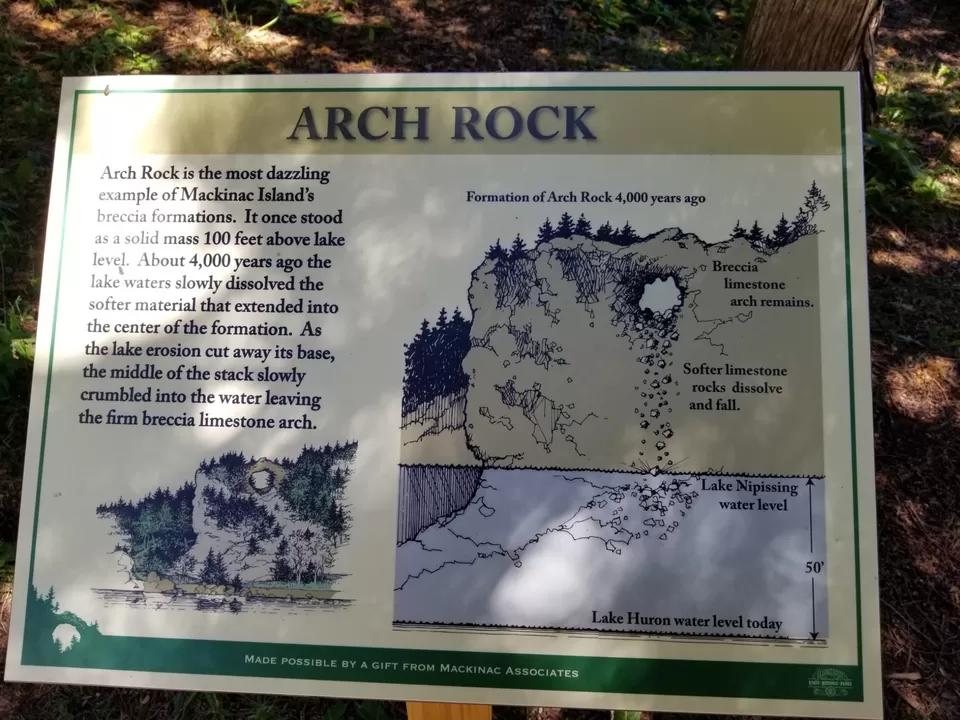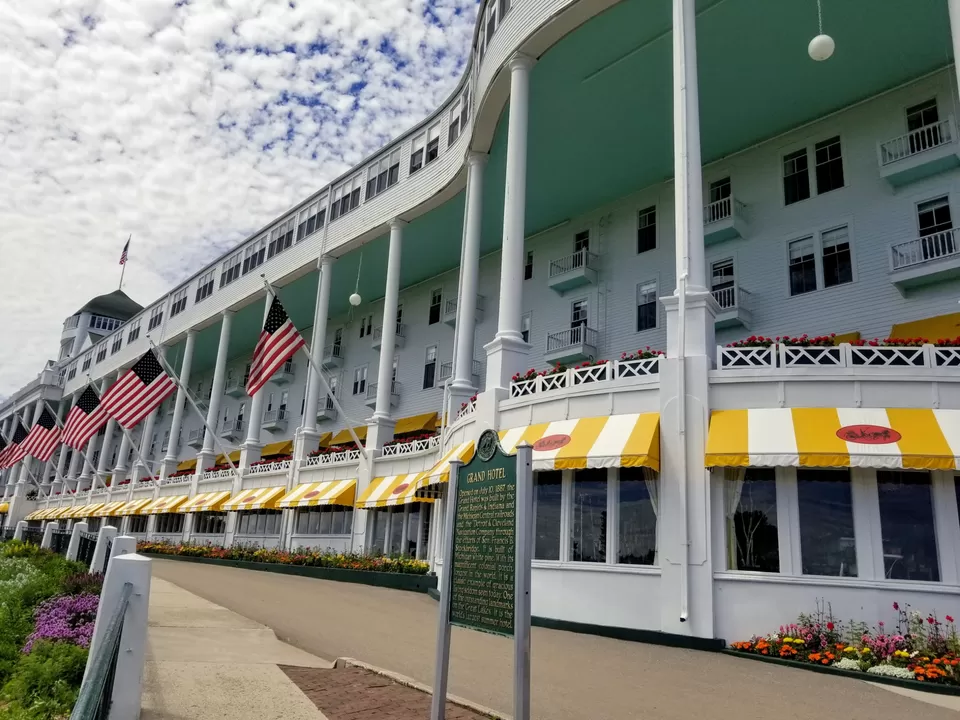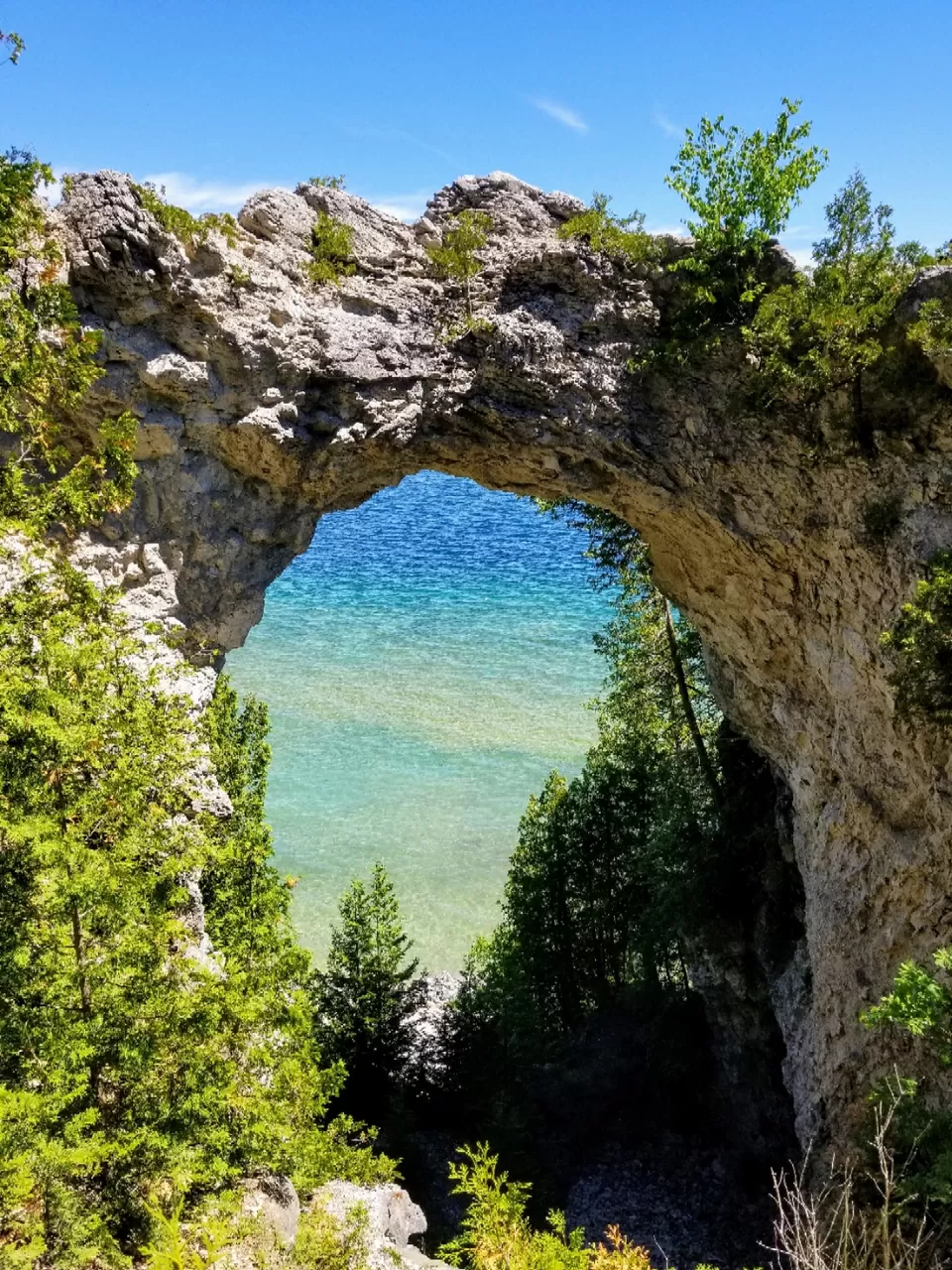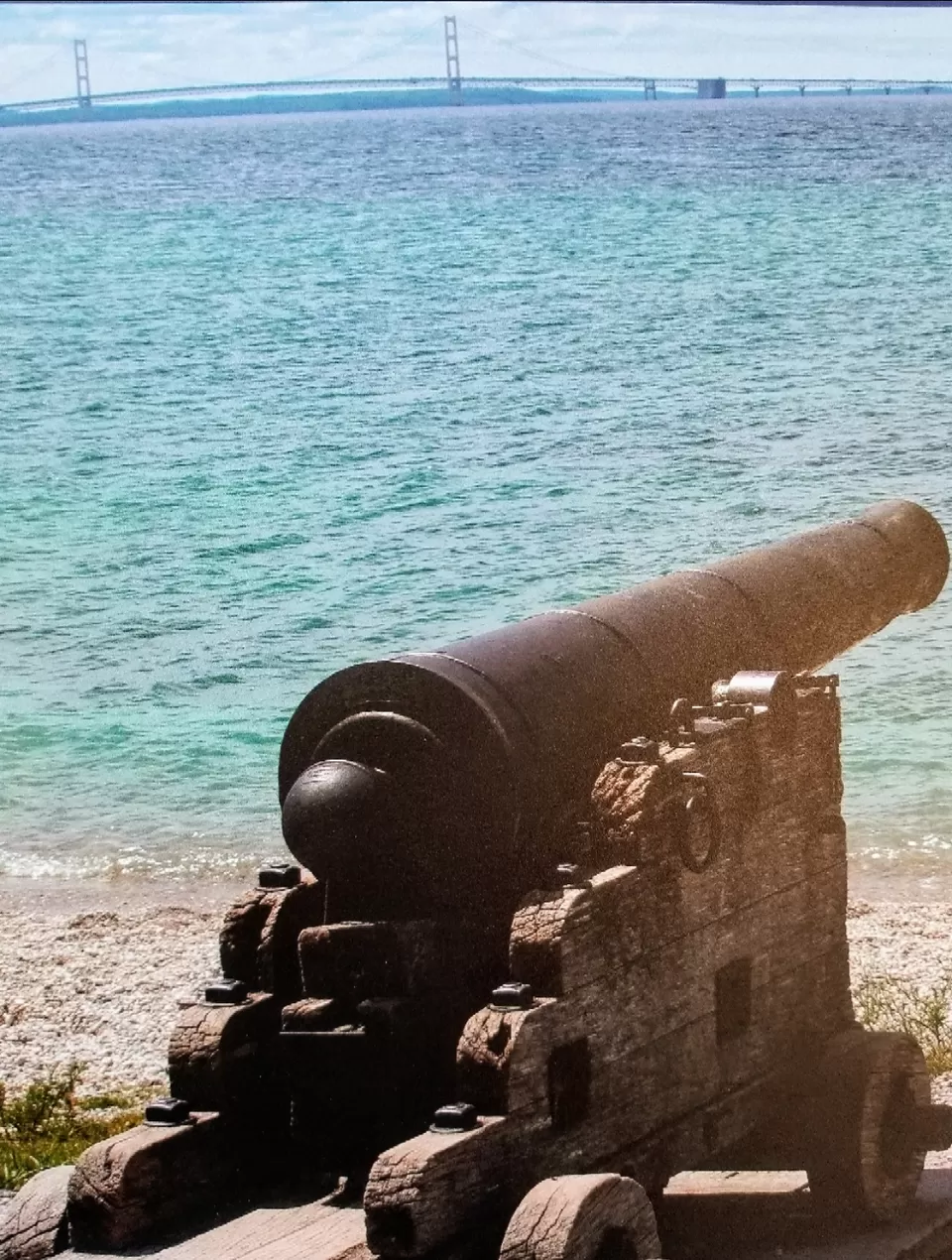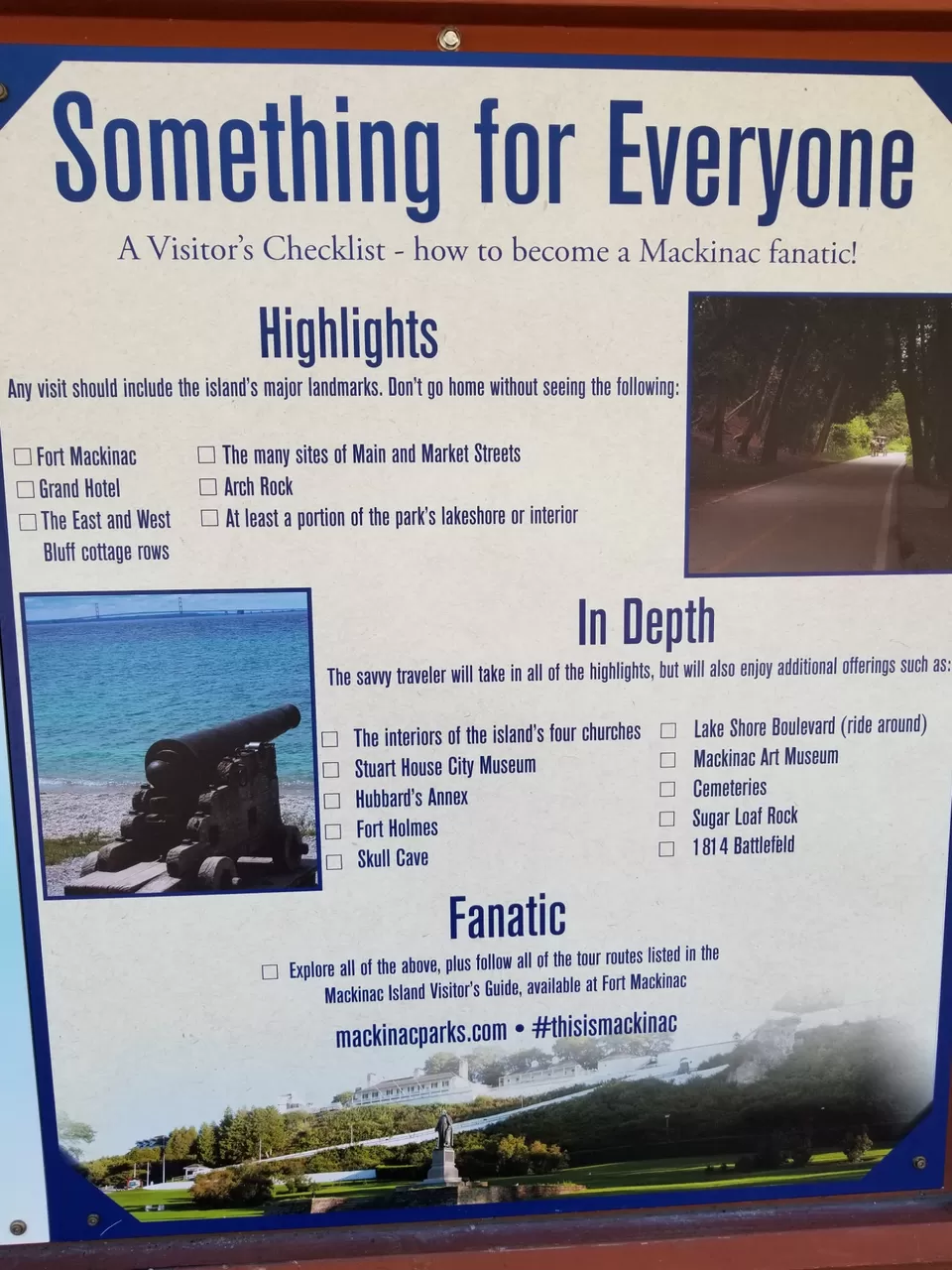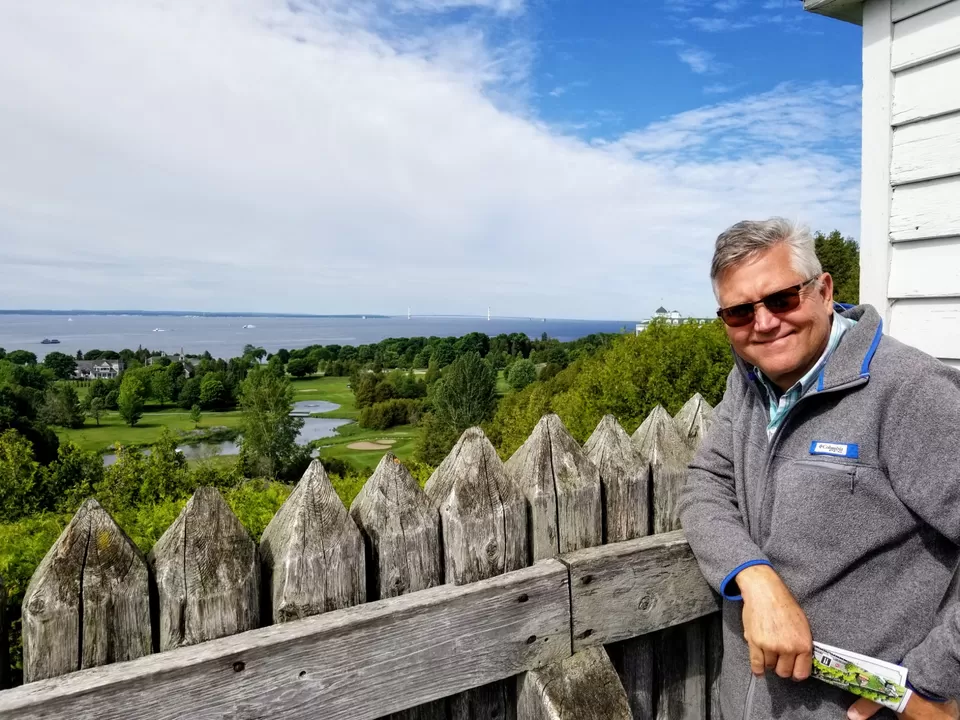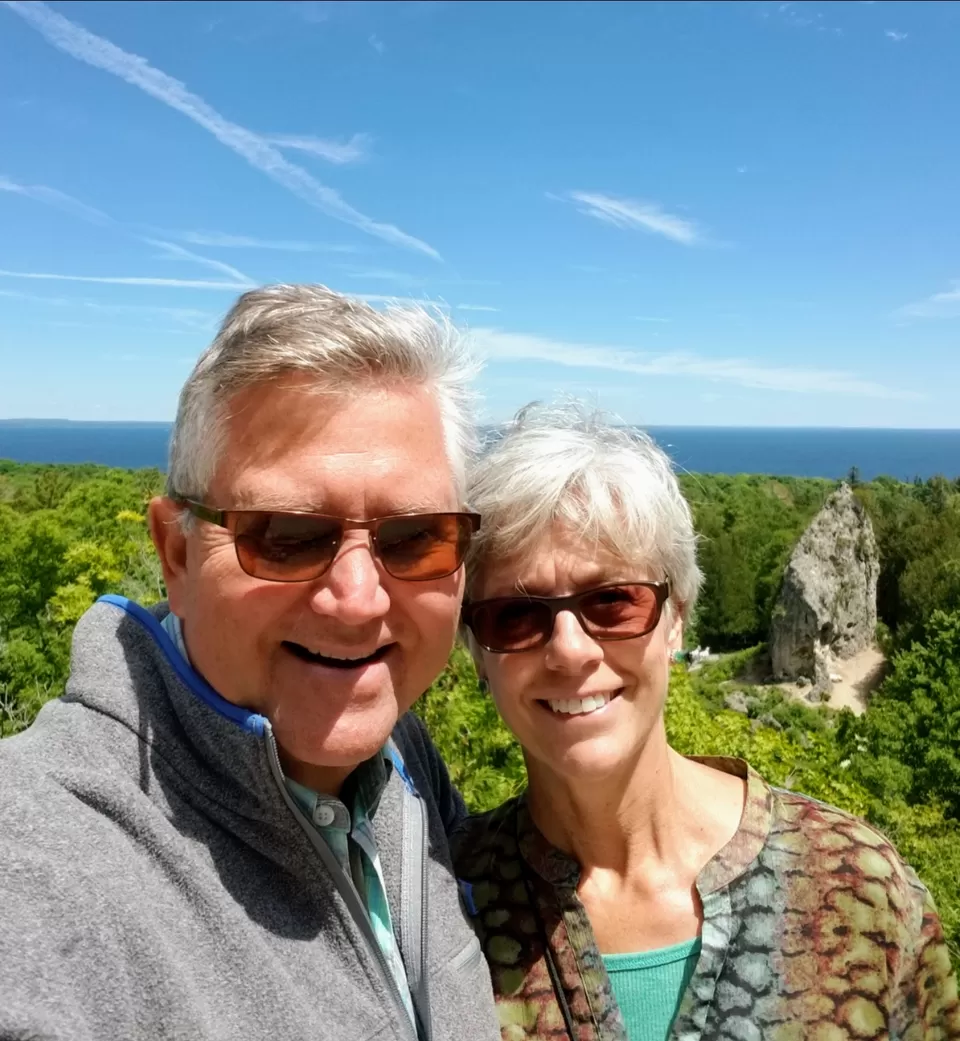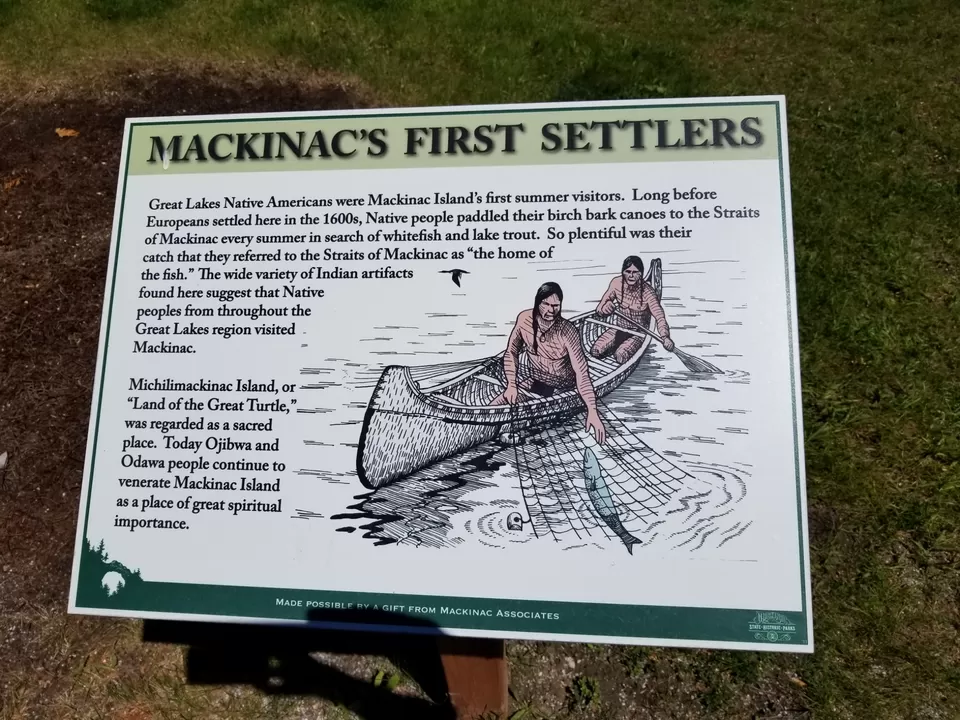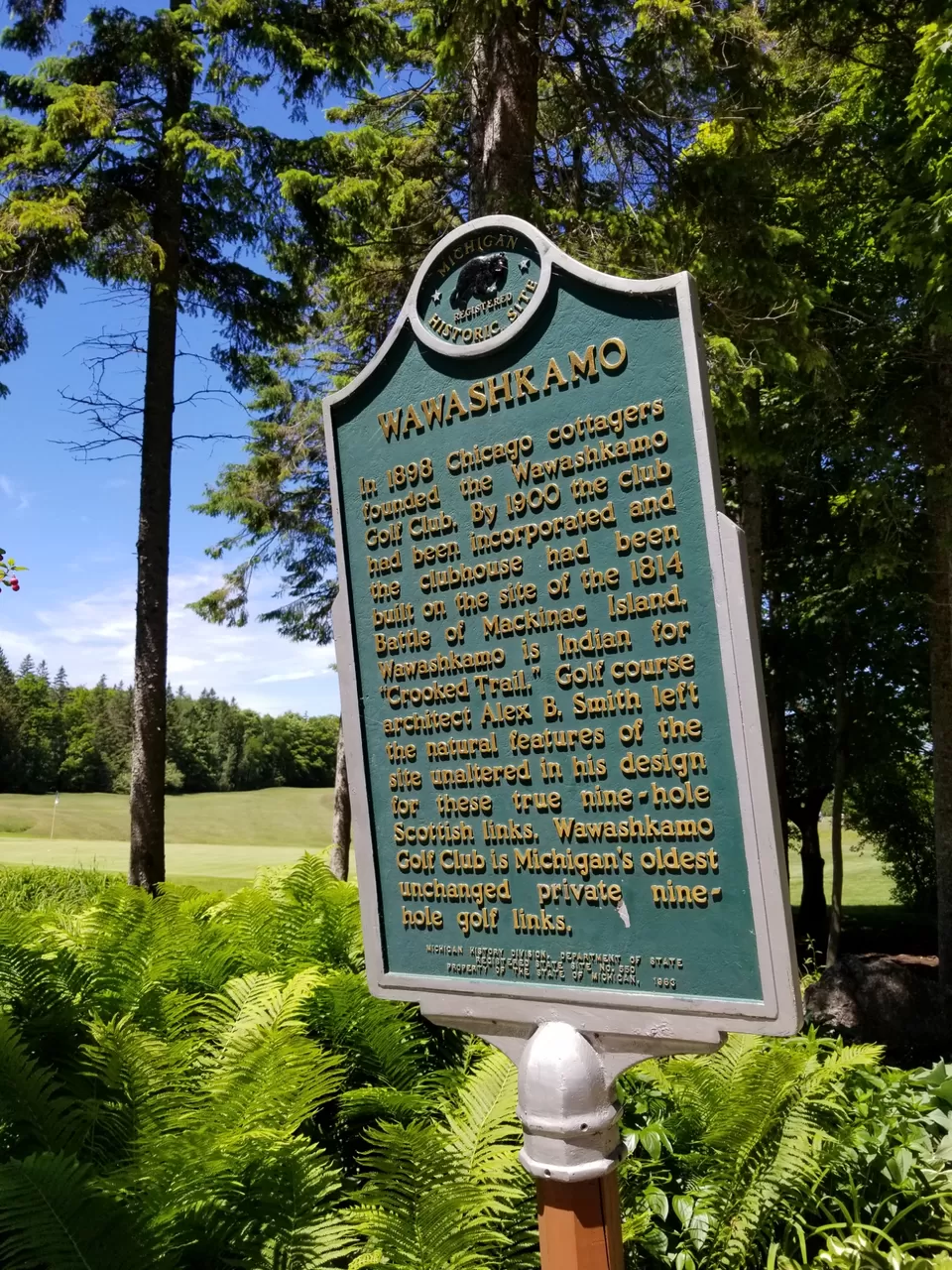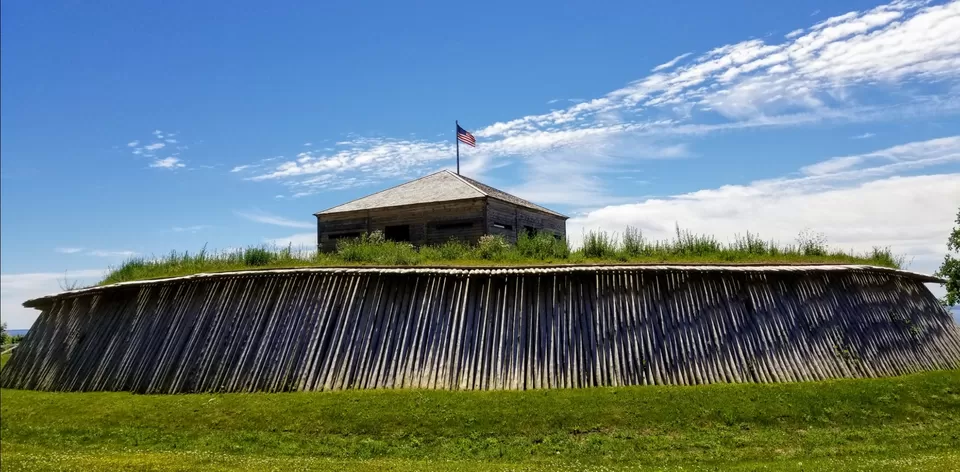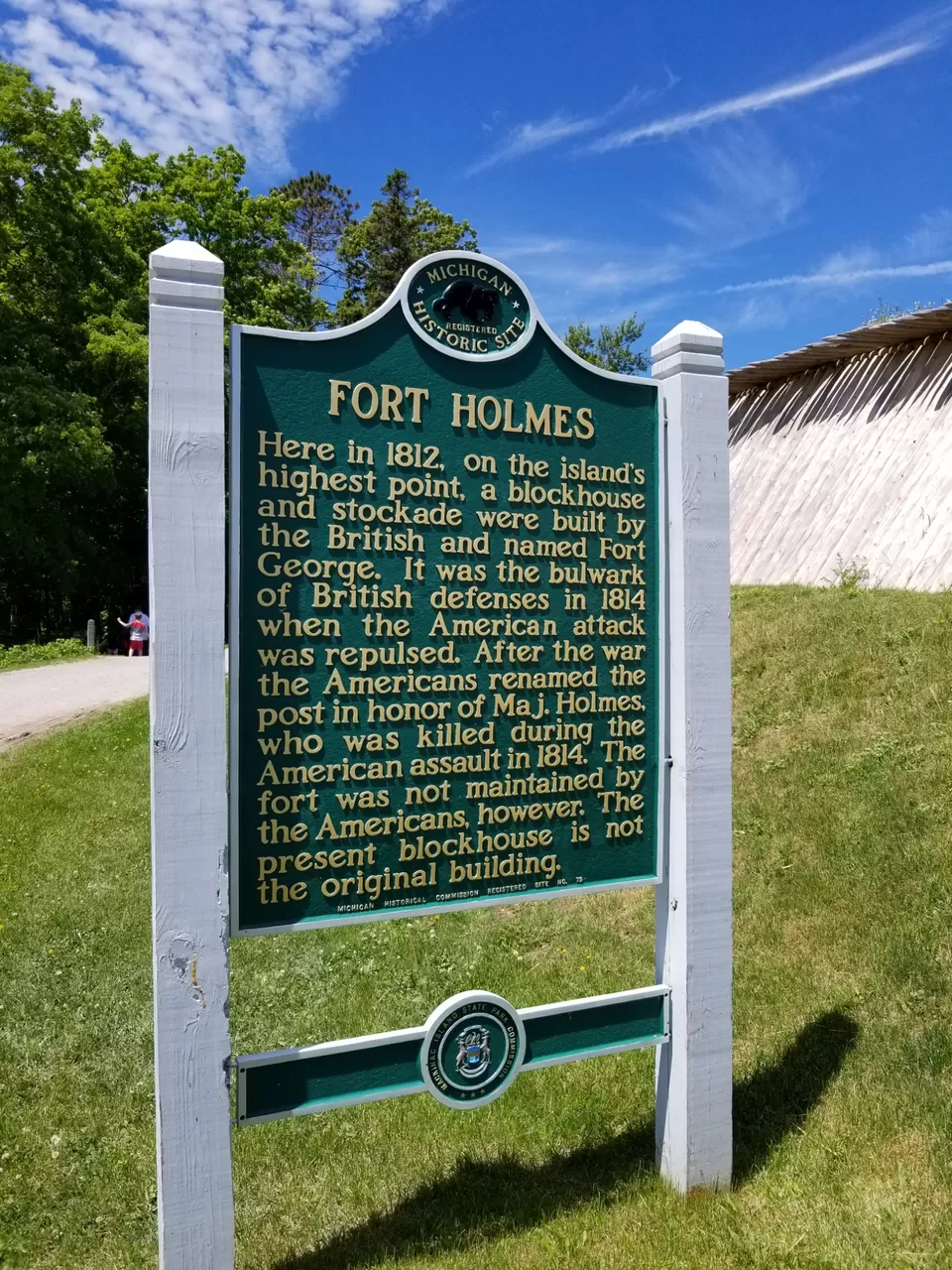 Wednesday June 20, 2018
On the road today we saw a deer standing in the middle of the road trying to decide which way to run. Fortunately we and the people coming the other direction slowed down until the deer decided where to go. This is just one example of things we see while driving. Today we drove to Tahquamenon (rhymes with phenomenon) Falls State Park. We drove to the Upper Falls. While not Niagara they are impressive, dropping something like 50,000 gallons per second. The water is brownish, like the St. John's river, but it is from the tannins from the cedar trees rather than the cypress trees in Florida. The weather was absolutely perfect, sunny and dry yet cool enough not to break a sweat. We are enjoying the Michigan weather. After dinner as we were walking around the park we left the #alleyrocks we found in Traverse City. I will continue to check Facebook to see who found it and where they leave it. I hope they play. While walking we also saw an old Bluebird school bus now used as an RV. I took a picture because it had a name, Les Stupbnbuz, and website, steampunksteve.tv. I will pull it up once we have service again. We love State and National parks for their locations and beauty but the sacrifice is cell service and TV. I know many people think that is the beauty of camping but we really like the combination of scenic with amenities. After we set up camp we walked over to the Lower Falls and then took a short hike through the woods. Somehow my backside ended up on the ground! Good thing no one saw me and I wasn't hurt. This is a beautiful spot and if you are looking for tranquility and a getaway I highly recommend this park. Here's a tip, if you are going to visit and/or stay at multiple Michigan state parks, of which there are a lot, buy an annual permit, even if you are only going to be in Michigan for a few weeks. It coats $9 per day. An annual permit is $32. We were two days in Traverse City and will be three days in McLain State Park and three days in Fort Wilkens State Park before leaving Michigan. That would be $90 but with the $32 permit we saved $58. Well worth it.
Thursday June 21, 2018
We met the man from the Les Stupbnbuz at the dump station this morning. He is traveling the US until his children take his keys away. Check out his channel and watch his videos. Today we drove to Munising Michigan to see the Pictured Rocks. Pictured Rocks is a National Lakeshore and the best way to see them is by boat. The Pictured Rocks are the vertical rock formations where Lake Superior meets the land. While hiking through the National Lakeshore is beautiful and the view of Lake Superior is immense, another beautiful view is from the water, looking at the cliffs and caves caused by erosion and the colors from water seepage. We took Pictured Rocks cruise which is a 32 mile round trip cruise and viewed colored cliffs, sea caves, and pristine beaches. We saw Lover's Leap, Indian Head, Miners Castle and Chapel Rock. This is a very enjoyable way to see the Pictured Rocks. Afterwards we tried a pastie (pass tee) at Muldoon's. This is a meat pie with cubed potatoes, beef, carrots and rutabaga encased in a pastry. It was originally made for the miners as it could be baked in the morning and eaten warm at lunch. Ut was introduced by the Cornish from Cornwall who came to work in the mines. We've traveled through logging country and are now in Copper Country. In this part of Michigan locals are referred to as yuppers. Unfortunately there were recent floods and landslides in the area we are going to tomorrow but we've heard where we are headed next is fine.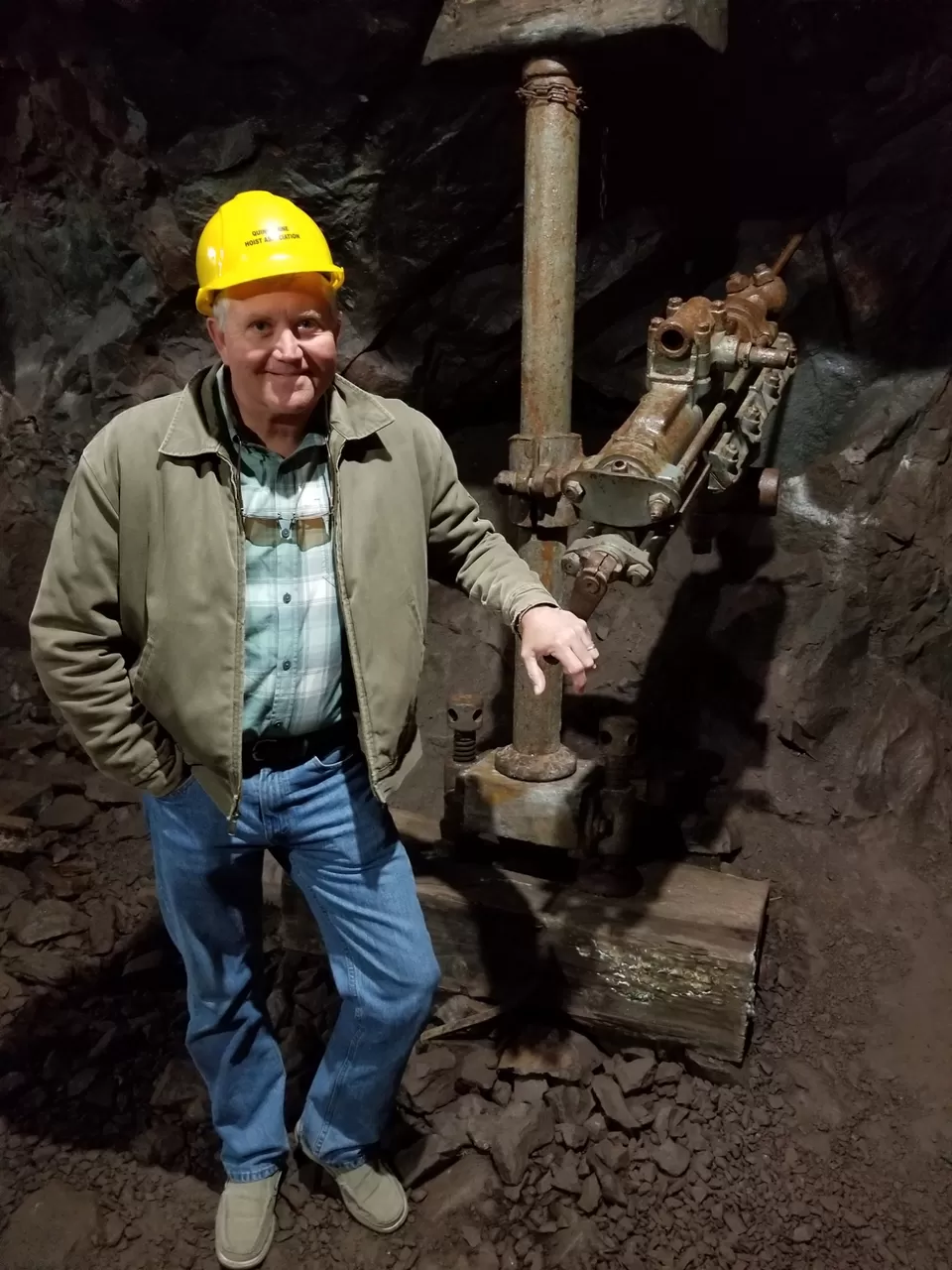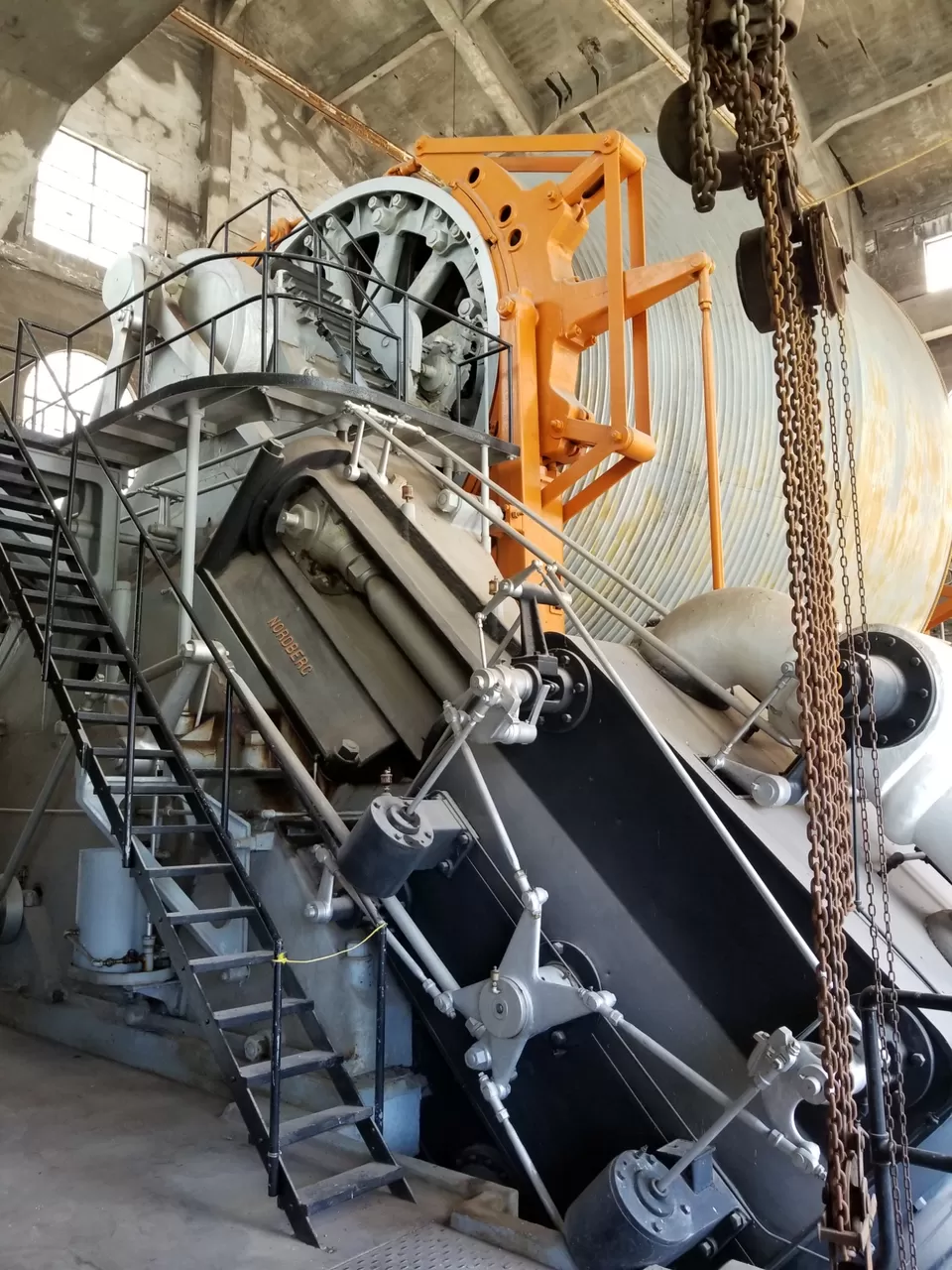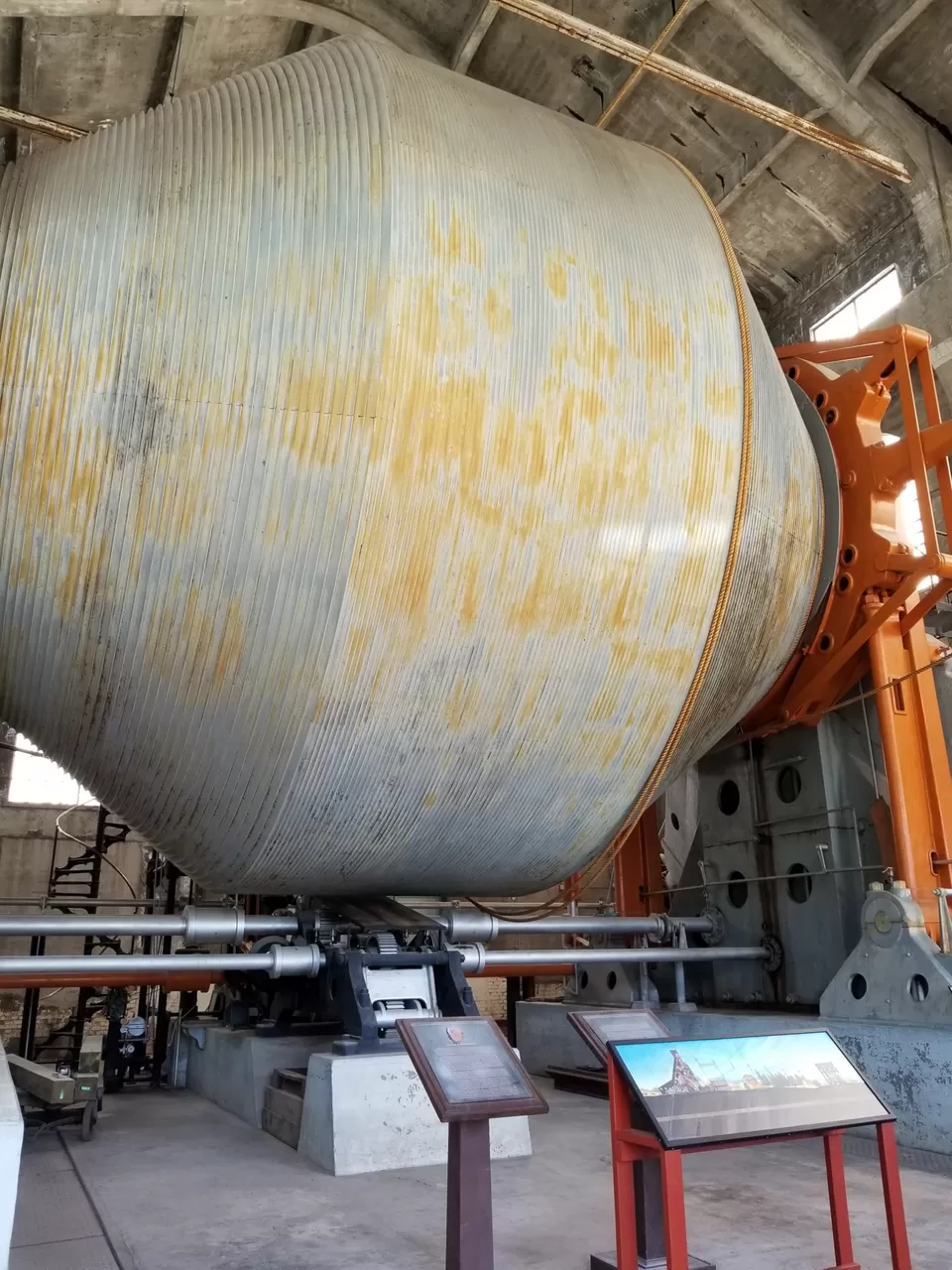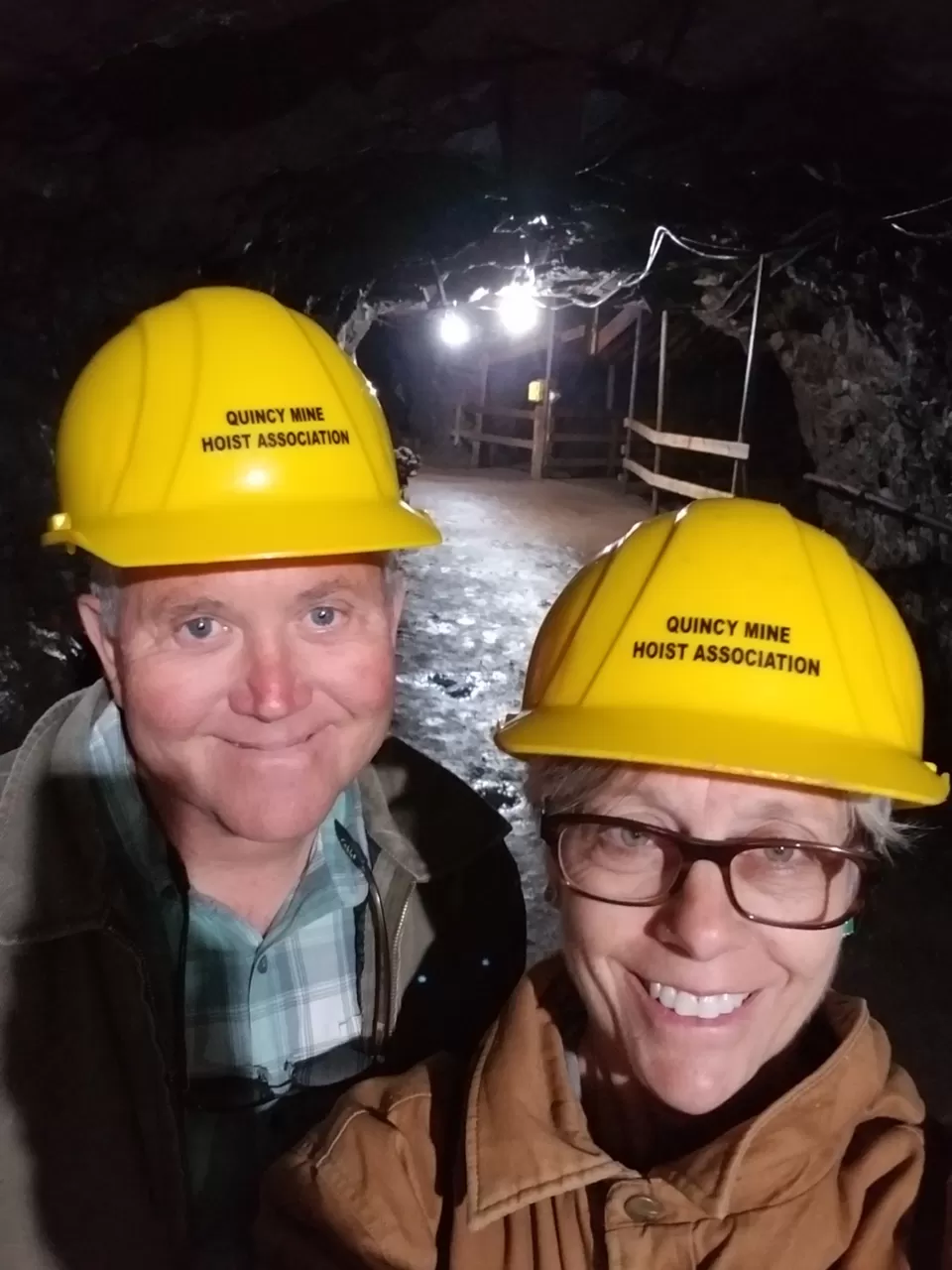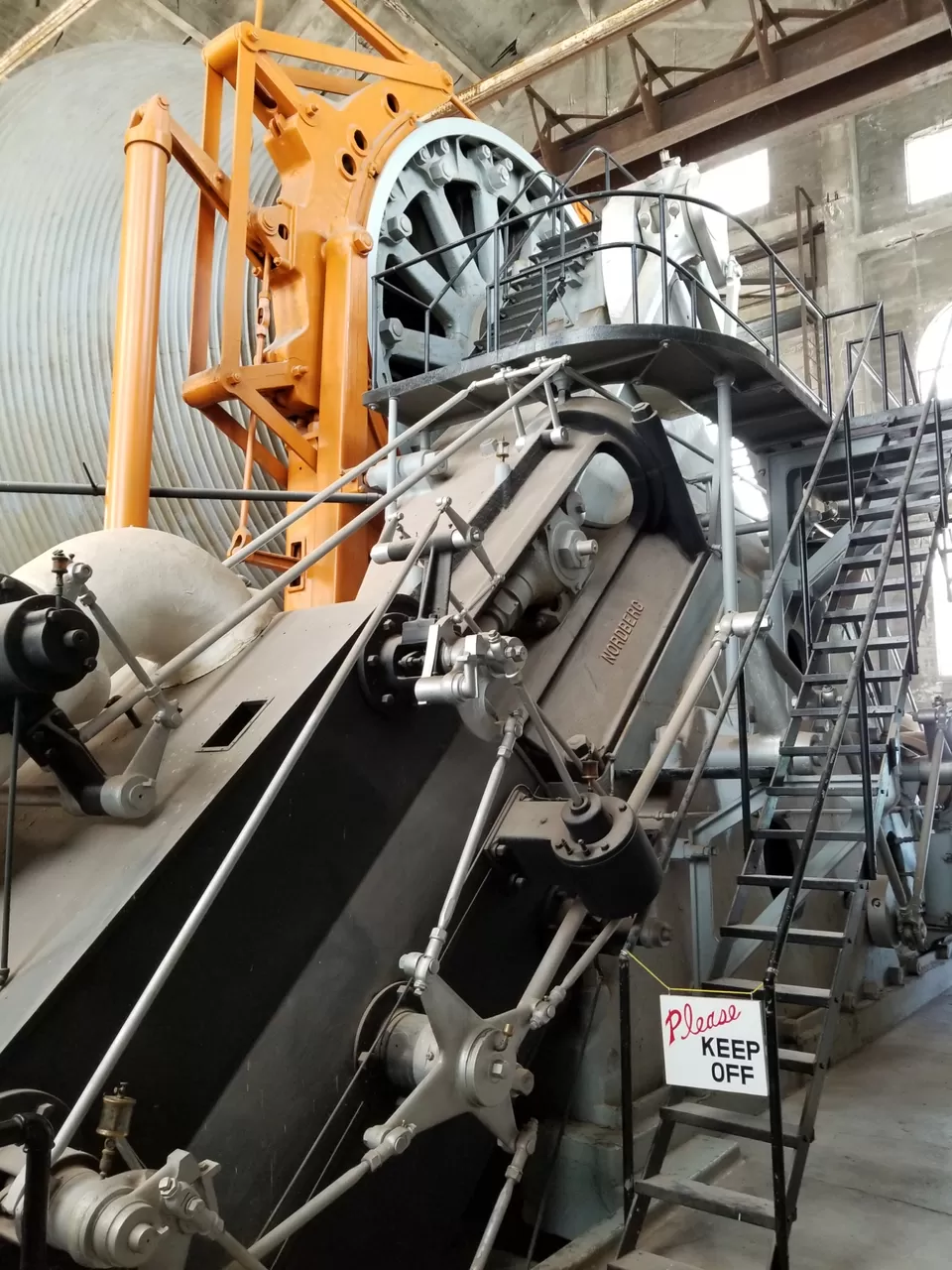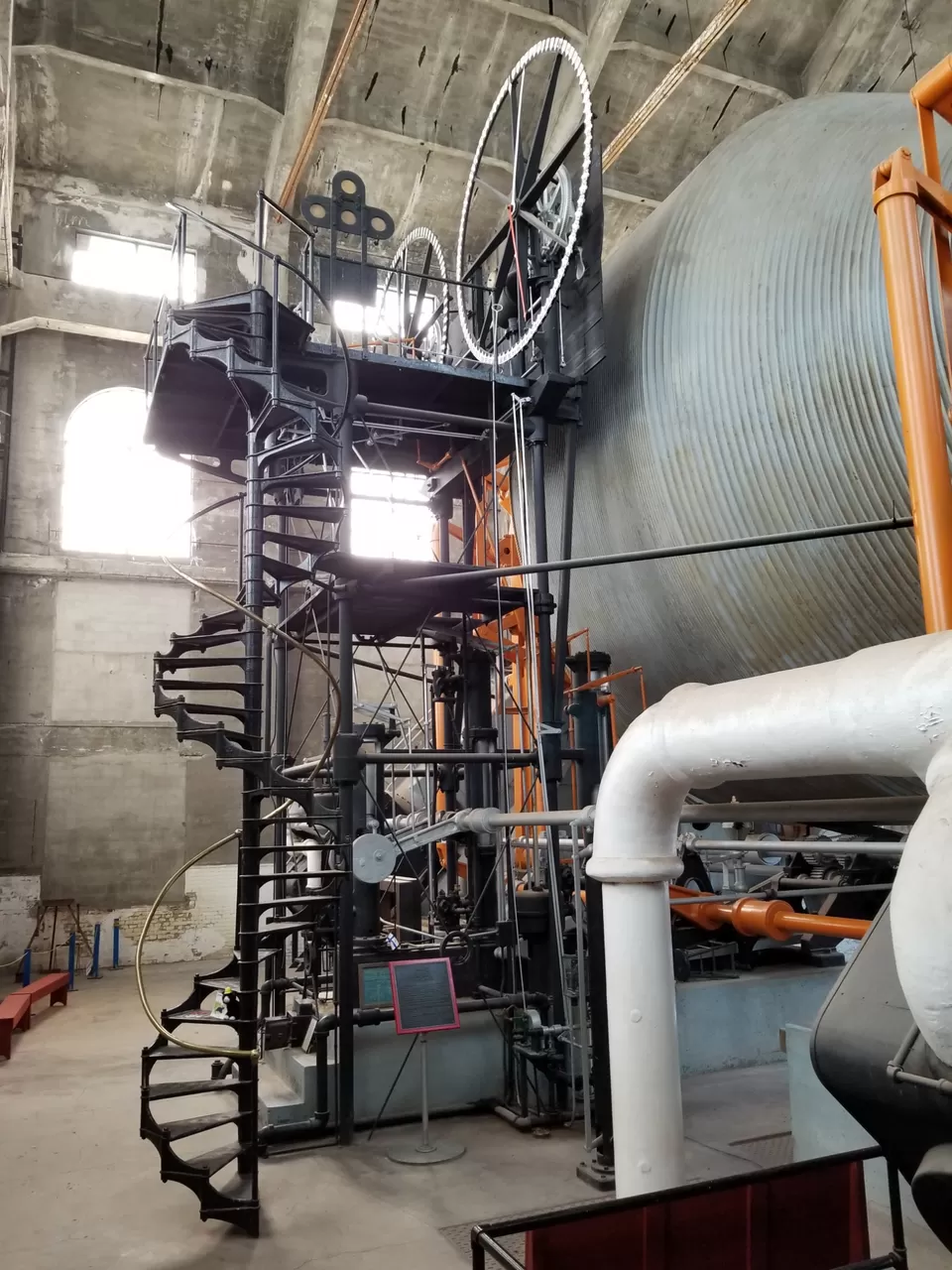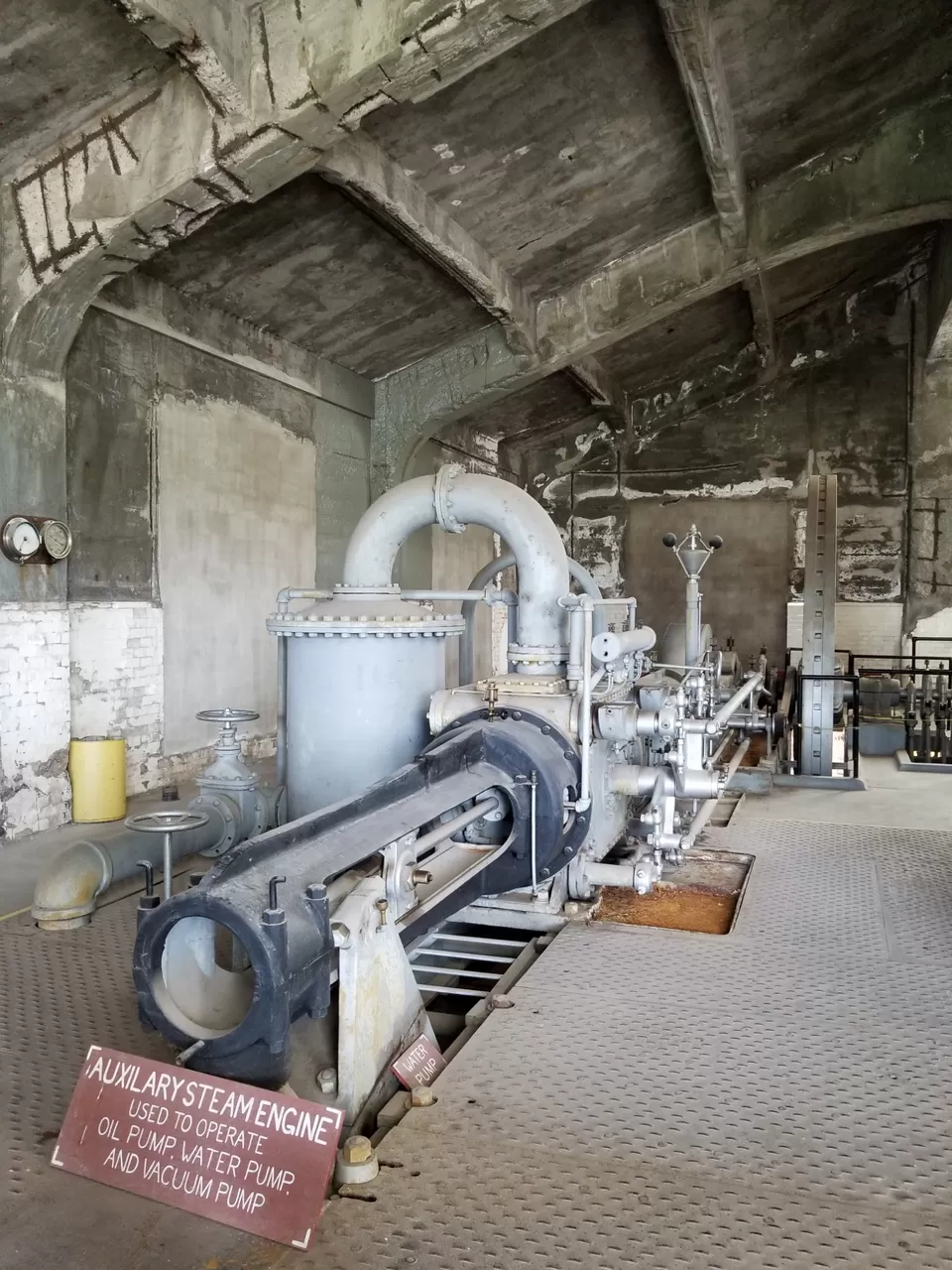 Friday June 22, 2018
Today we left Munising and headed to Hancock, Michigan. On the way we drove through Christmas, MI. Didn't see Santa but we did see his workshop. Earlier this week we were in Paradise. The UP is beautiful with large fir trees and lakes everywhere. We've seen several Sandhill cranes. They resemble blue herons but they are brown with red around the eyes and facial area. Lots of wildflowers and cattails up here too. We've learned that locals are referred to as "yuppers". Earlier this week Copper Country (where we are headed) had over 18" of rain in a very short time. Several roads and bridges were washed out and the governor declared a state of emergency. We've heard that where we are going is passable and open for business. The cost of gasoline has been going up in this area and is as high as $3.29 per gallon. We just stopped to top off because it is $2.85 per gallon. We drove through an area that flooded just outside Houghton (birthplace of professional hockey). We only encountered a few of miles where the road was washed out and the road narrowed to one lane while crews repaired the damage. We stopped in Hancock, MI on our way to F.J.McLain State Park and toured the Quincy Mine. In 1843, six years before the California gold rush, one of the nation's first mineral rushes occurred here. Prospectors came to the Keweenaw for copper. Established in 1848, Quincy Mining Company became the second largest mine in the Lake Superior region by the late 1880's. Miners from Cornwall England came for the jobs since they had previously mined copper in Cornwall. The pasty was actually what they ate in Cornwall and they brought this to America where it is now sold everywhere in the area. The tour took us through the hoist house, the shaft-rock house and into the mine, down to the 7th level (out of 92 levels). We were 360 feet below the highway we drove to get here. We learned a lot about the mining process. Check out www.quincymine.com for more information. We have a great spot at Mclain State Park for the next two nights. We are on the shore of Lake Superior. The campground is not busy or crowded and is beautiful. While taking a walk we saw a fox and a doe. Sunset wasn't until 9:45 pm. Another wonderful day in the United States.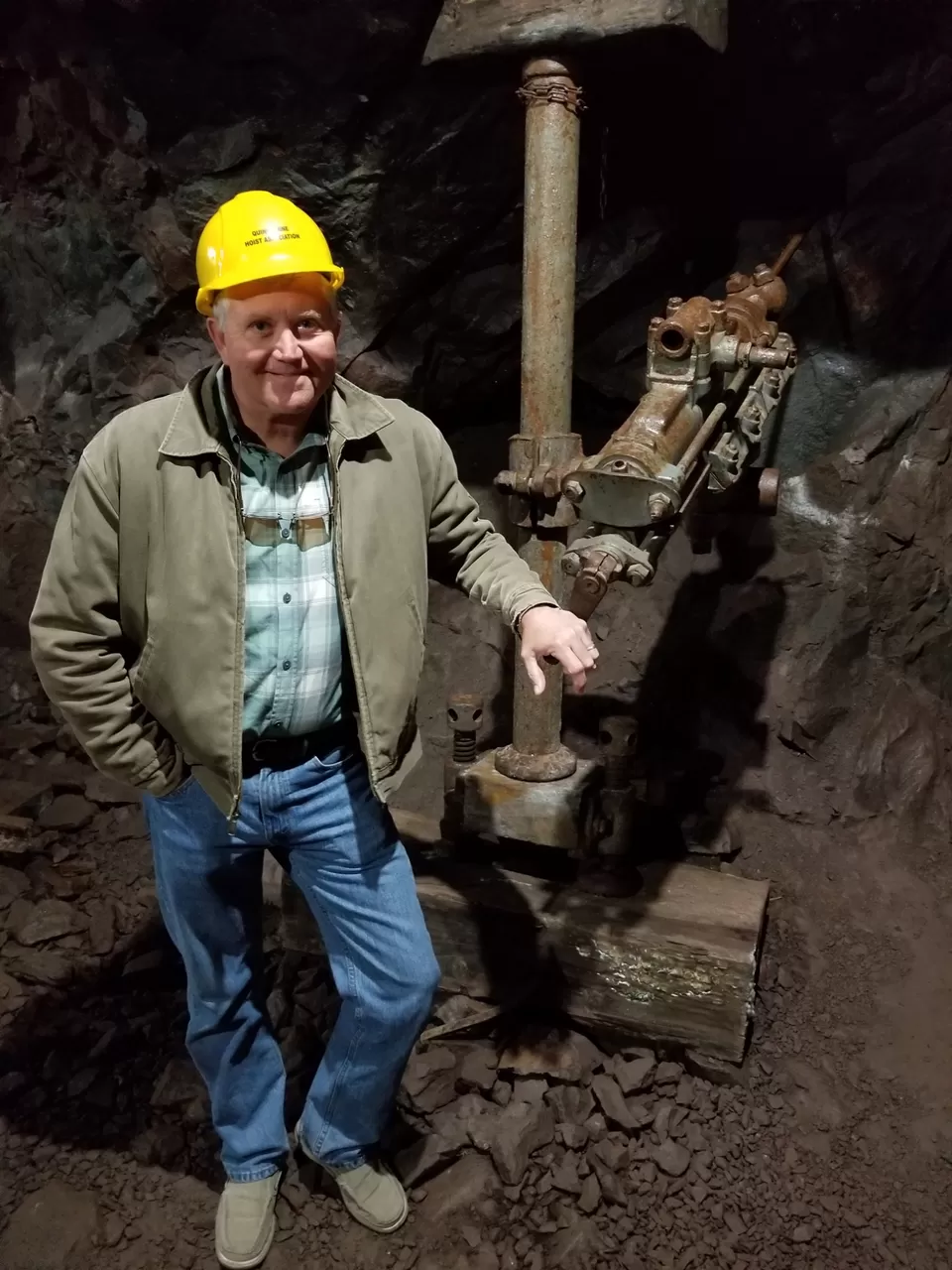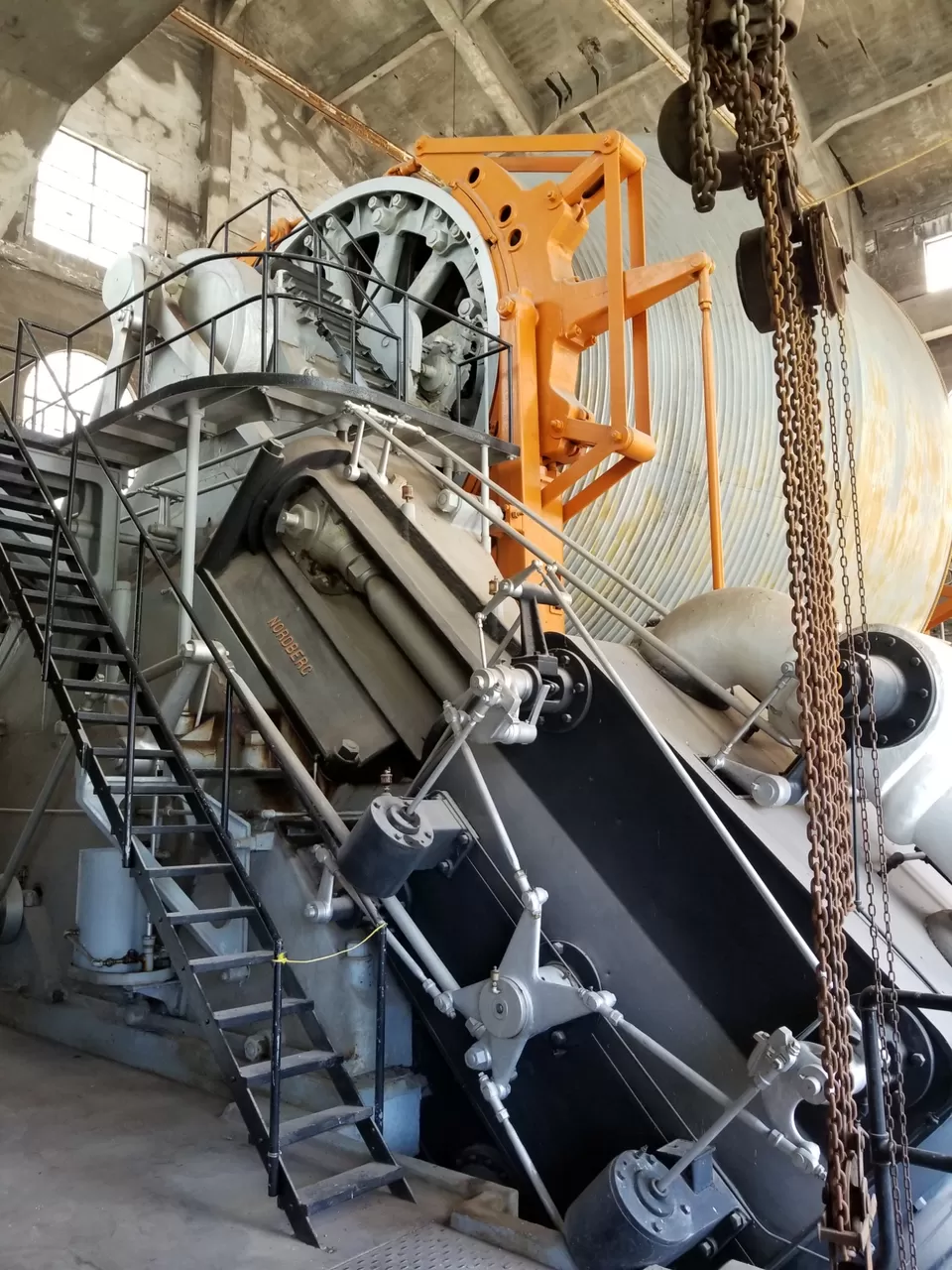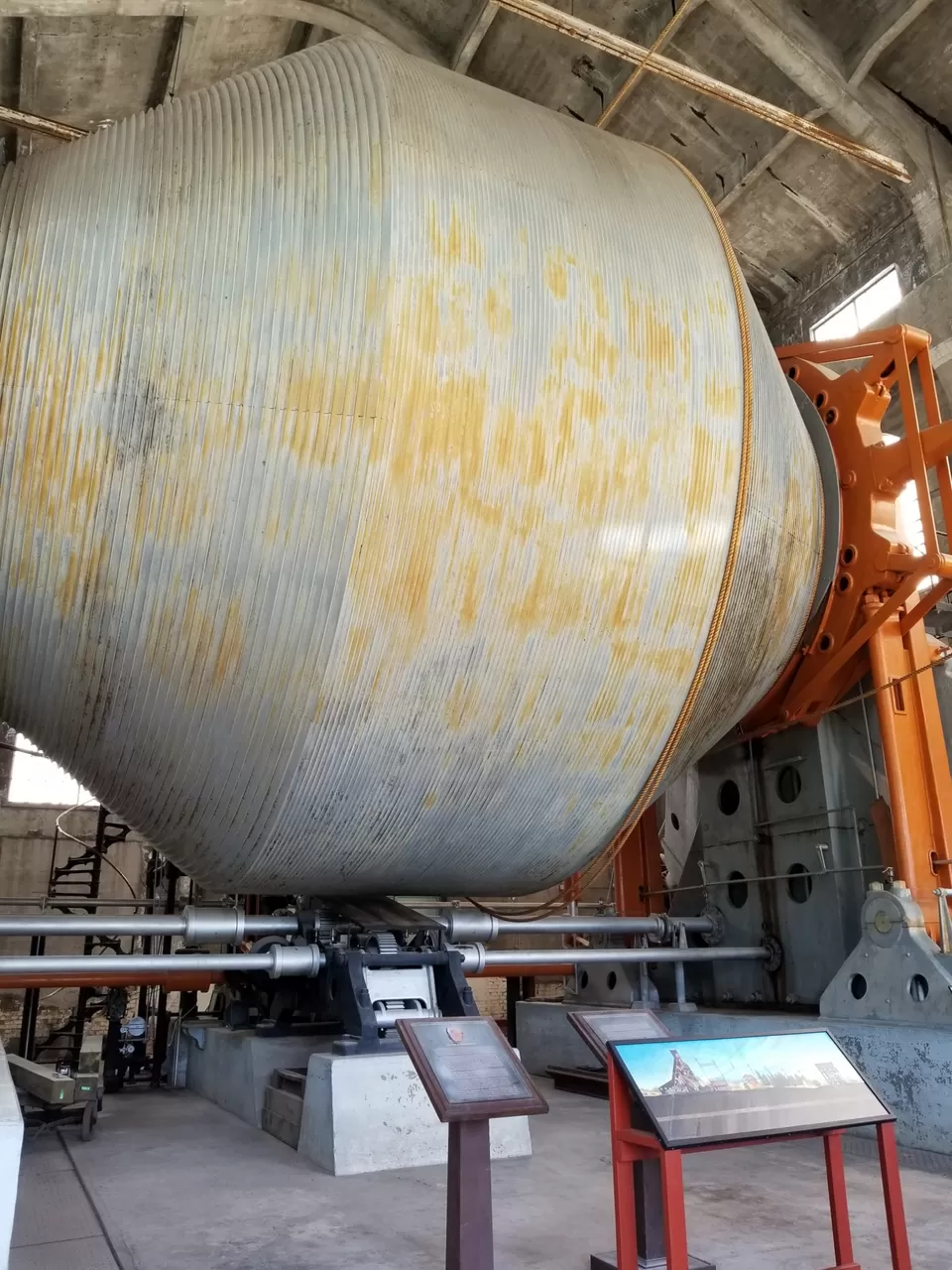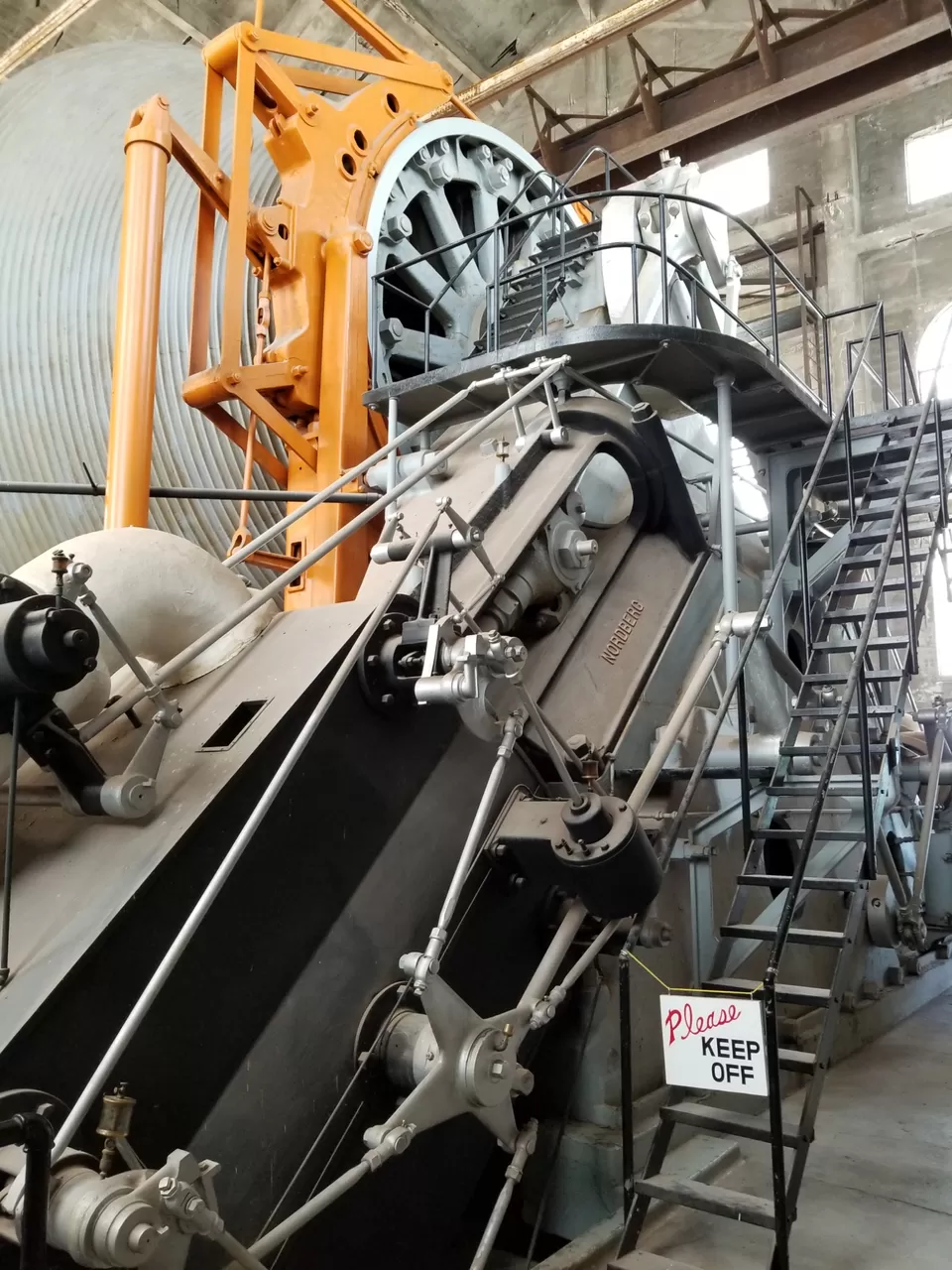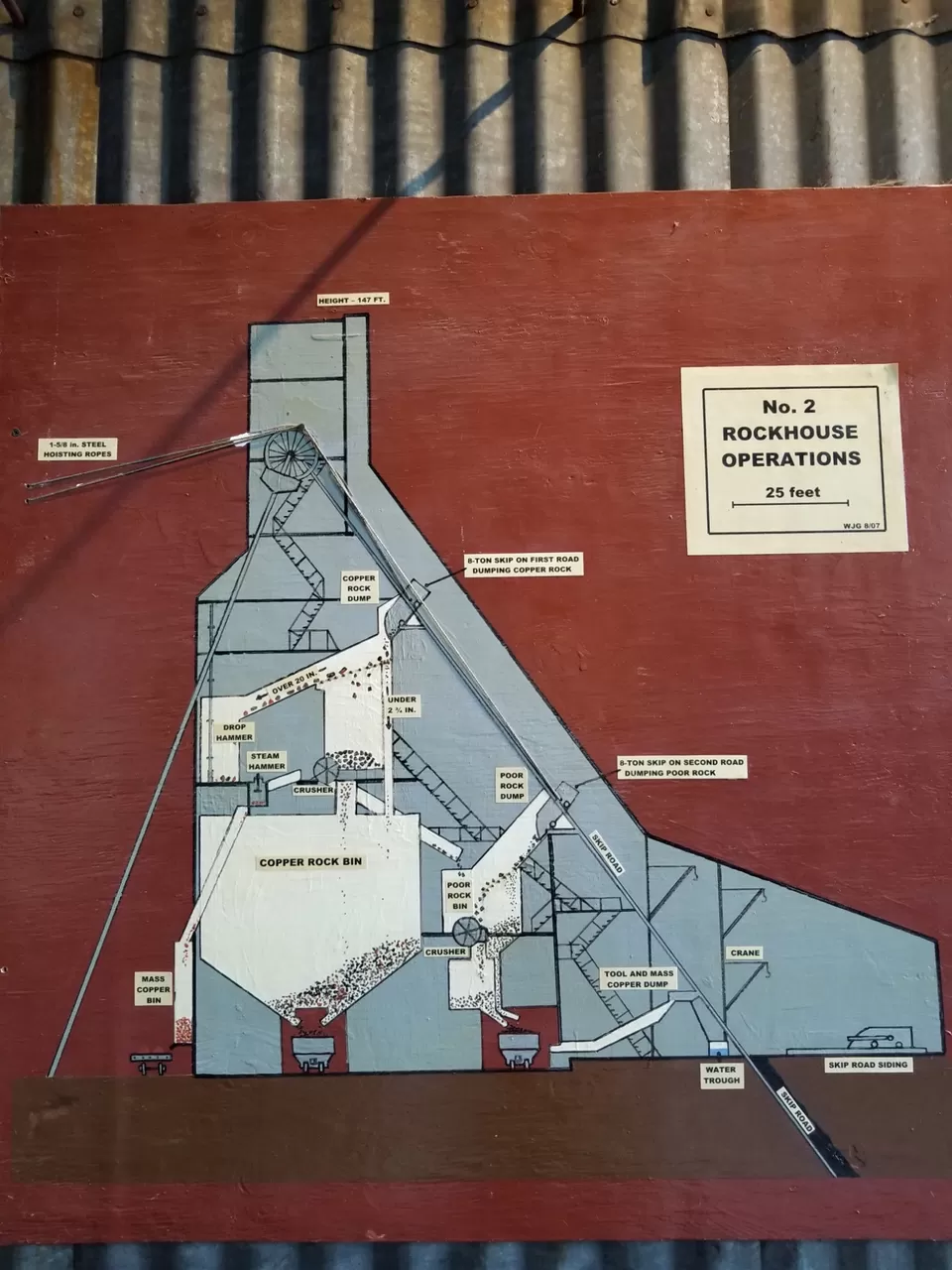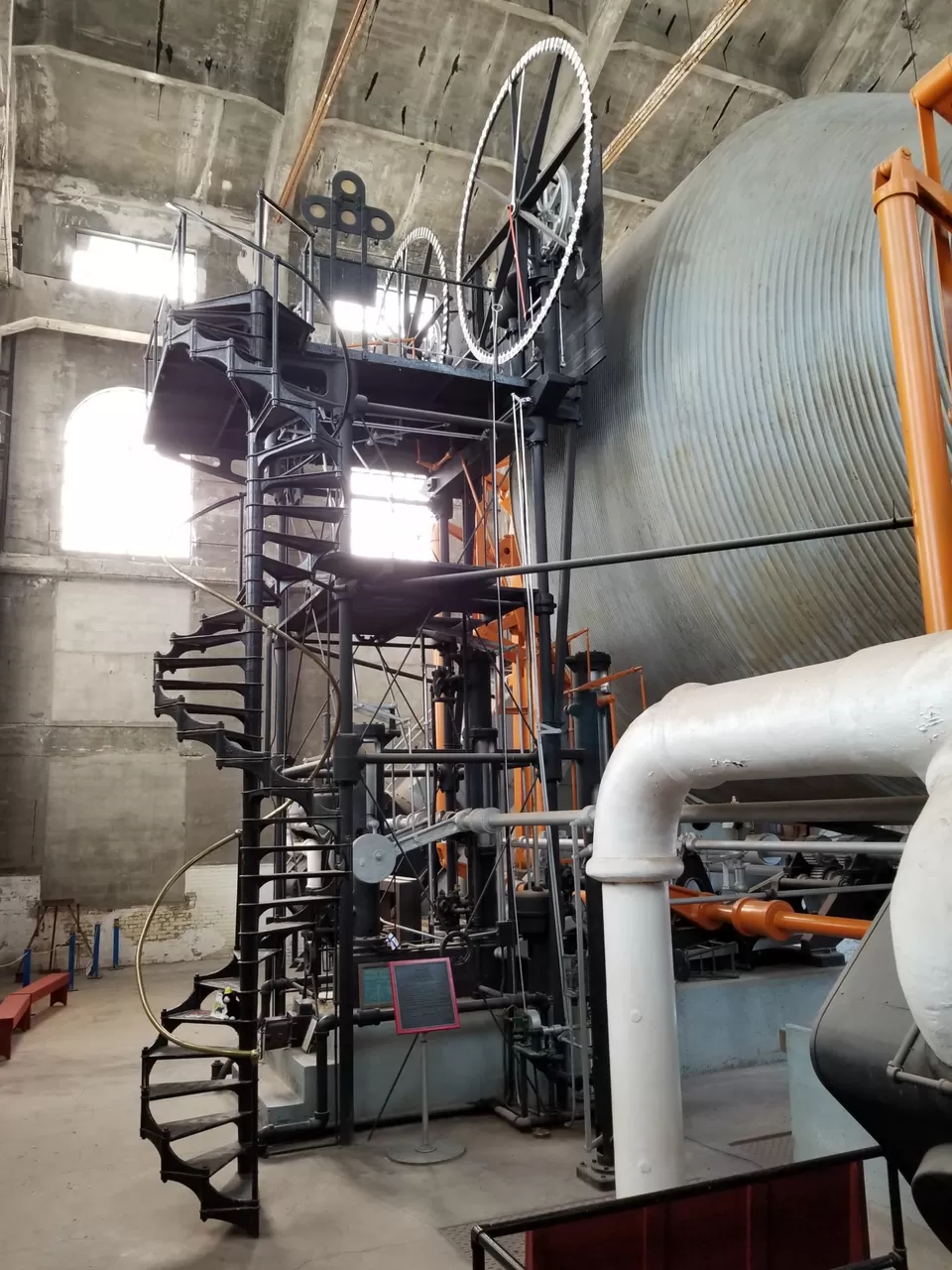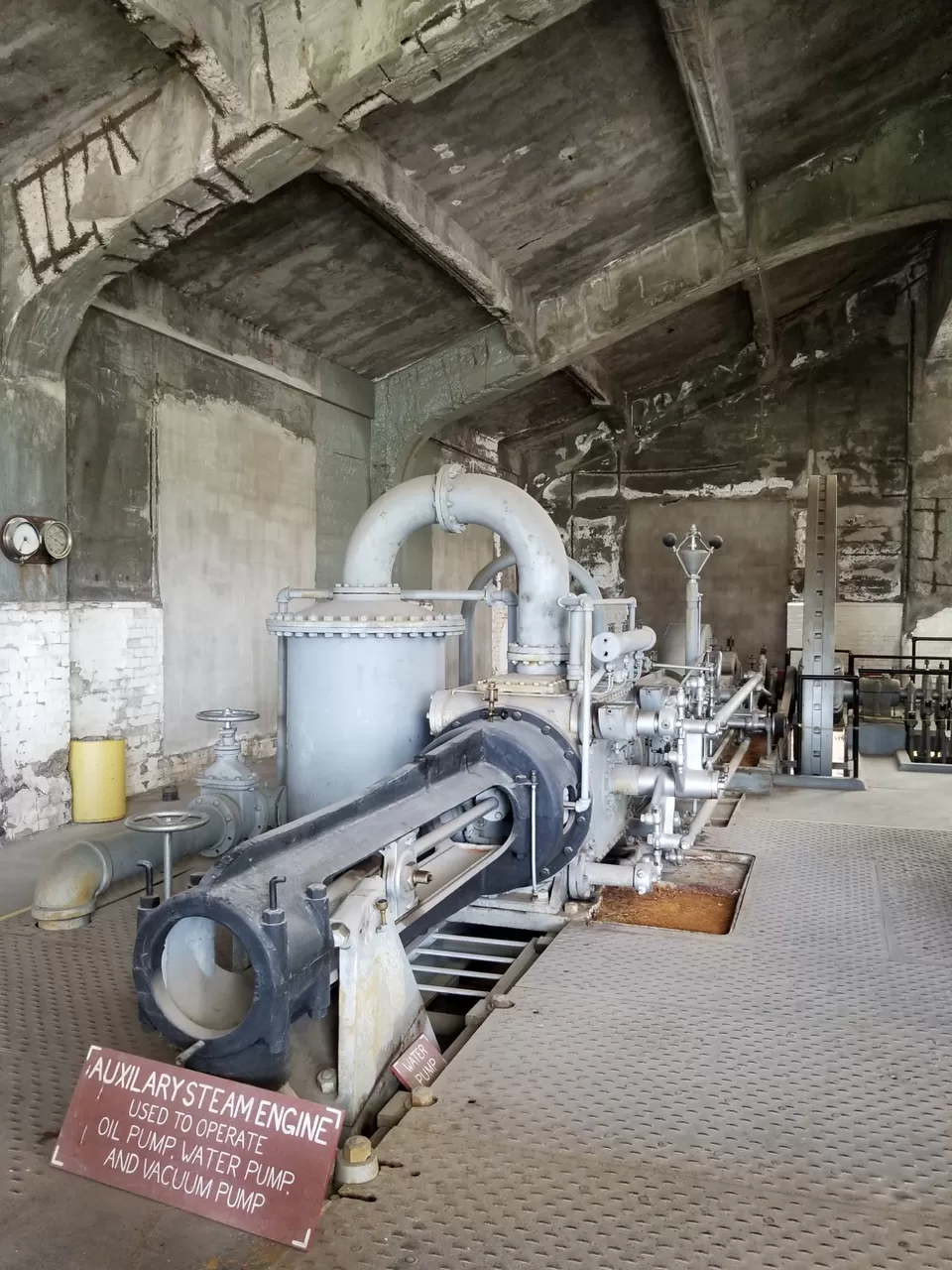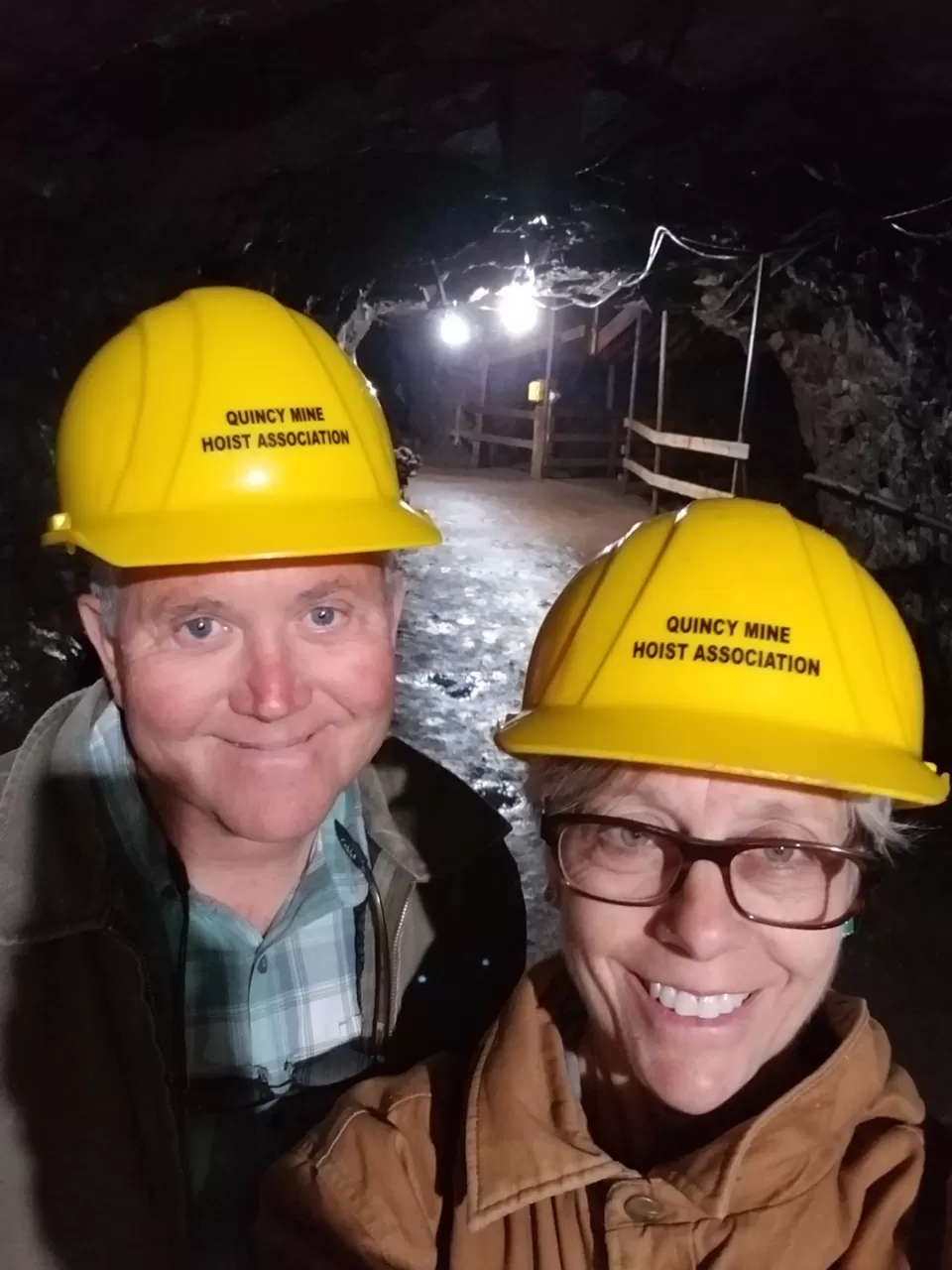 Saturday June 23, 2018
We had a great lazy day today at McLain State Park. We walked on the beach, built a fire, chatted with some locals, sat by the fire, did a bit of biking and walking and all in all had a relaxing day.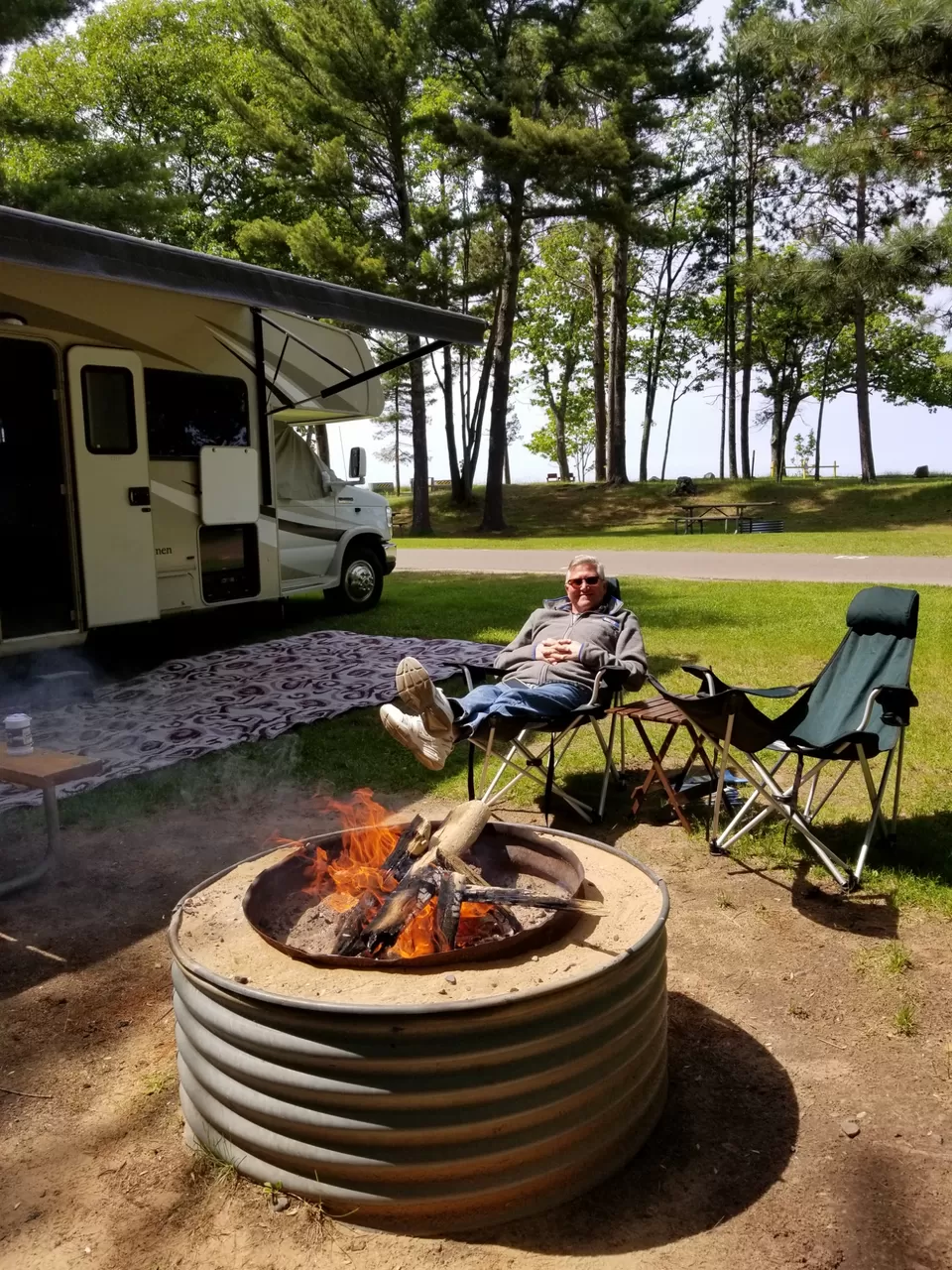 Sunday June 24, 2018
Today we took the Copper Country Trail National Scenic Byway to Eagle River then 26 through Eagle Harbor onto Copper Harbor. We stopped to read about the annual snowfall and met two couples geocaching. They were friendly and invited us to go on a cache with them. We learned a lot about geocaching. I'd like to get a GPS and do this on our next trip. Along the way we stopped at a scenic pullout and took the stairs down above 10 flights to the beach. The beach is solid pebbles. I have never seen so many stones in one place. It was fun to find flat ones to skim in Lake Superior and also just to look at all the different colors and sizes. It was called Great Sand Bay, yet there was no sand. We stopped for lunch at Eagle Harbor Inn and had grilled whitefish since it is from Lake Superior. It was good, similar to fresh water trout. We checked in to Fort Wilkens Historic State Park and set up camp. We took the bikes out to explore the area and went to Fort Wilkens. The fort has been rebuilt using the old foundations and archeological finds. It was originally built in 1844 and was an active fort until the early 1900's. After the fort visit we rode to the Copper Harbor lighthouse viewing point. We read about the ship, the John J. Astor, a ship that hit the rocky outcrop and couldn't be salvaged. The Astor was owned by a fur trader who had a summer cottage on Mackinac Island. The ship brought supplies from Sault Ste. Marie but wrecked after only 9 years in service. After this we rode back to our campsite and enjoyed an early evening campfire. Then we went across the street to Lake Fanny Hooe where John did some catch and release fishing. We watched a movie and are trying to have an early evening since we are planning a full day exploring tomorrow.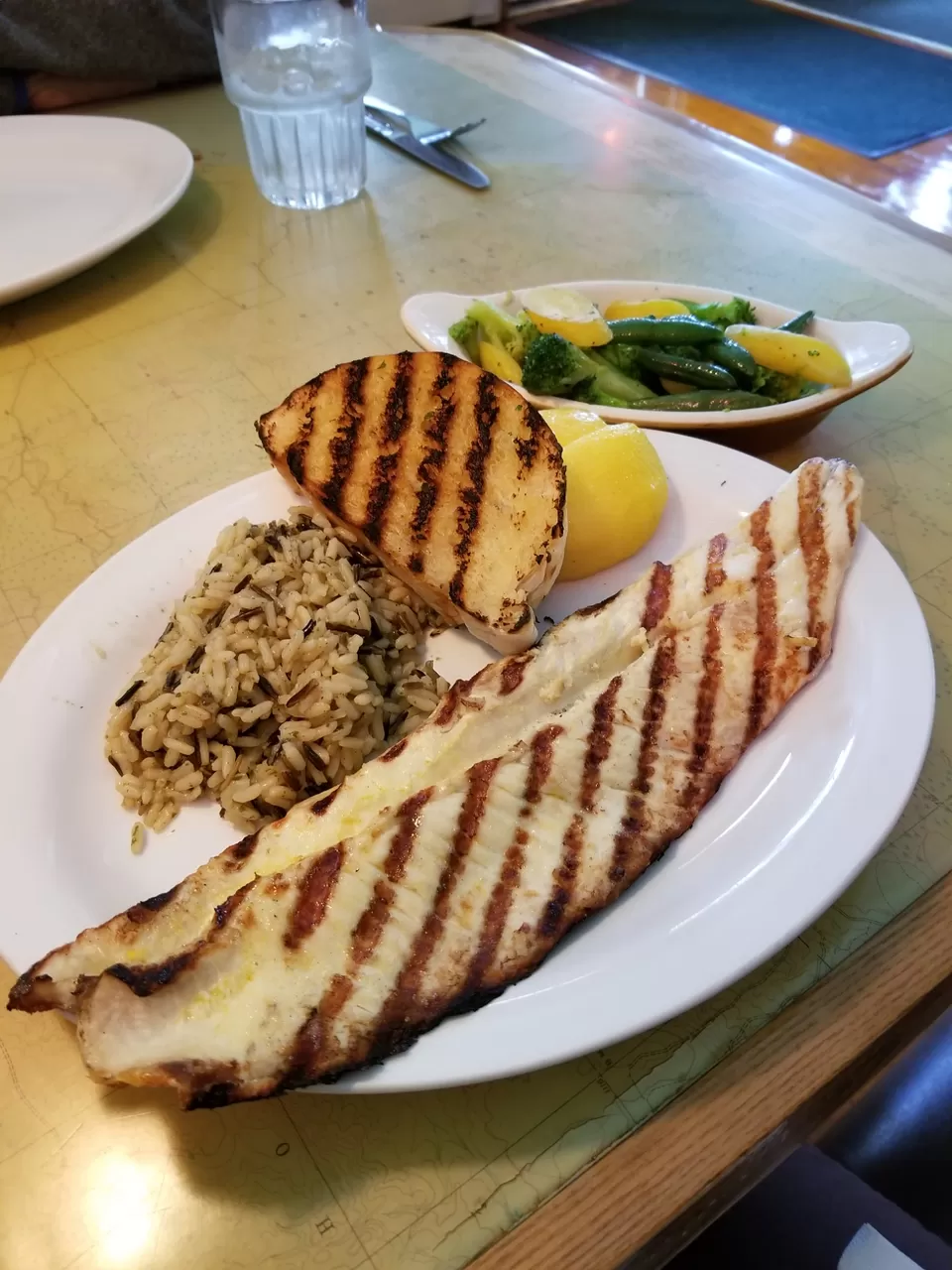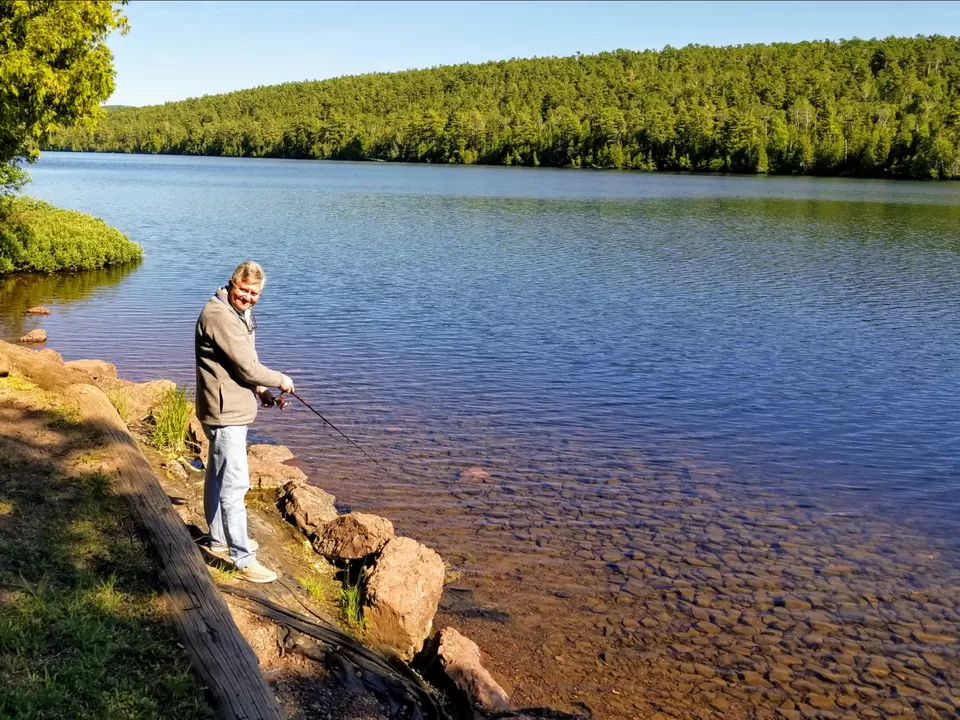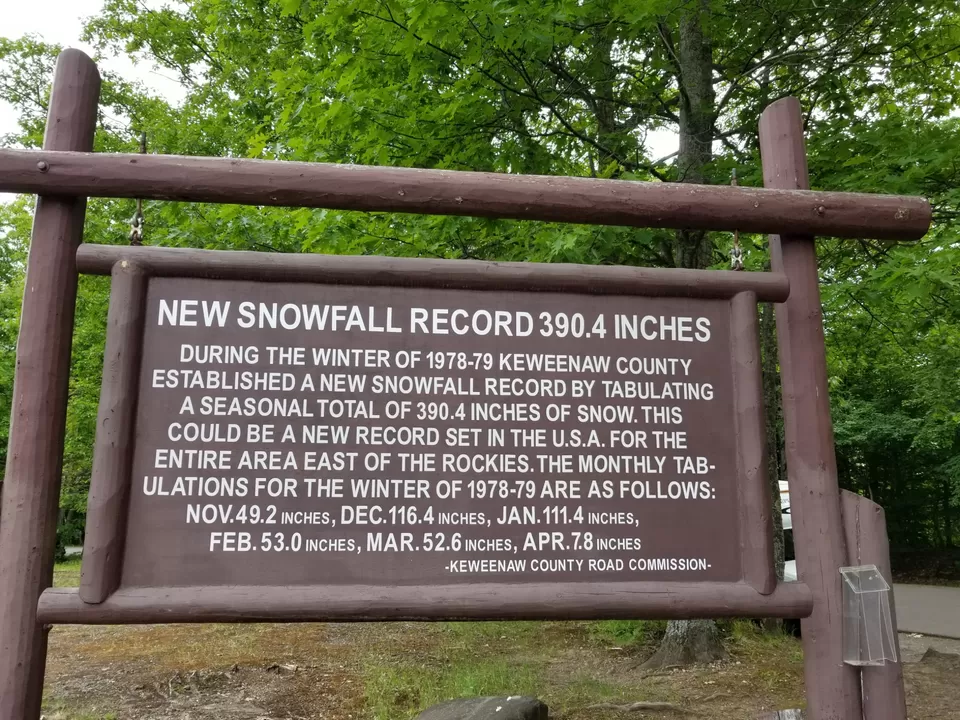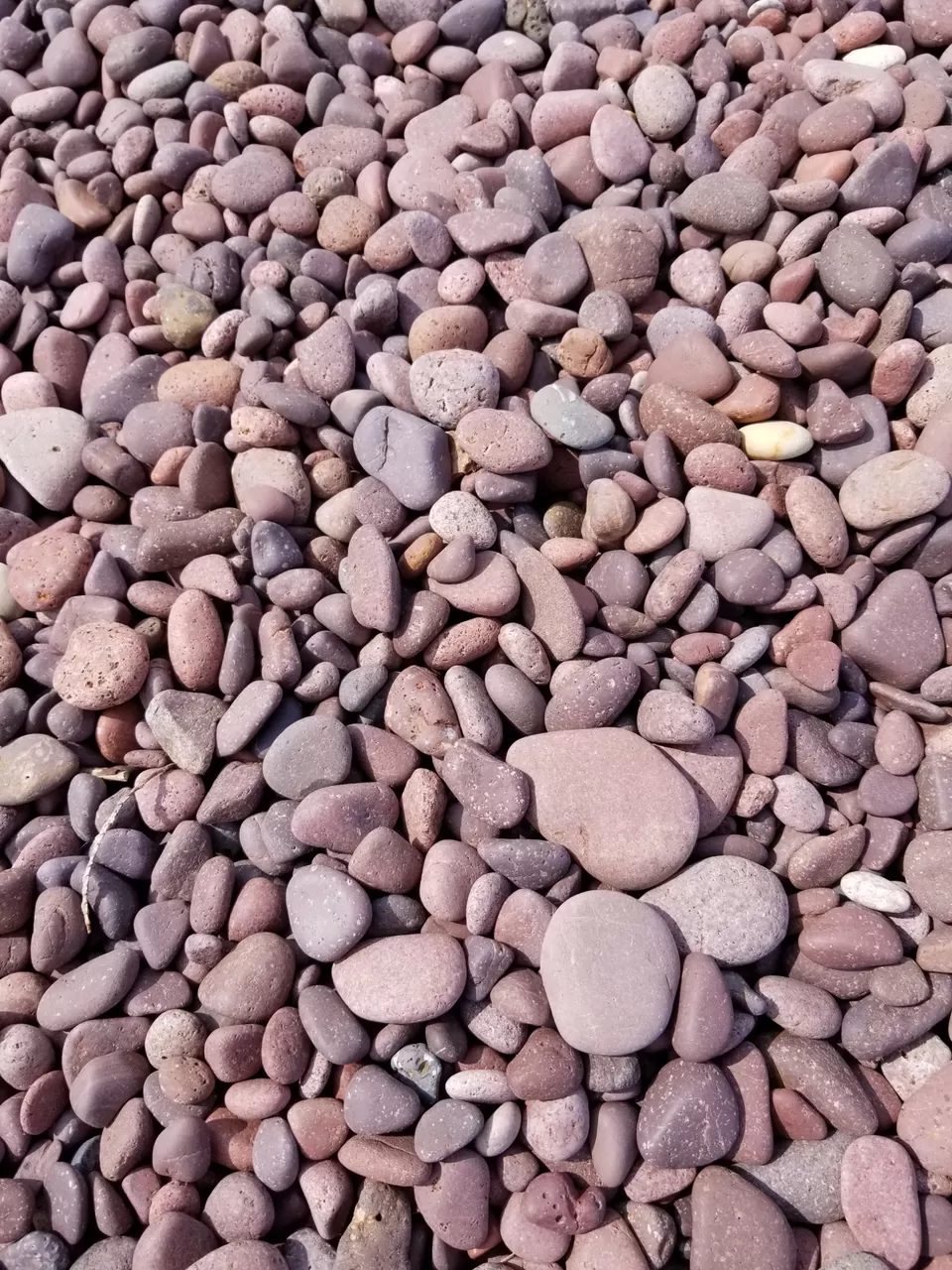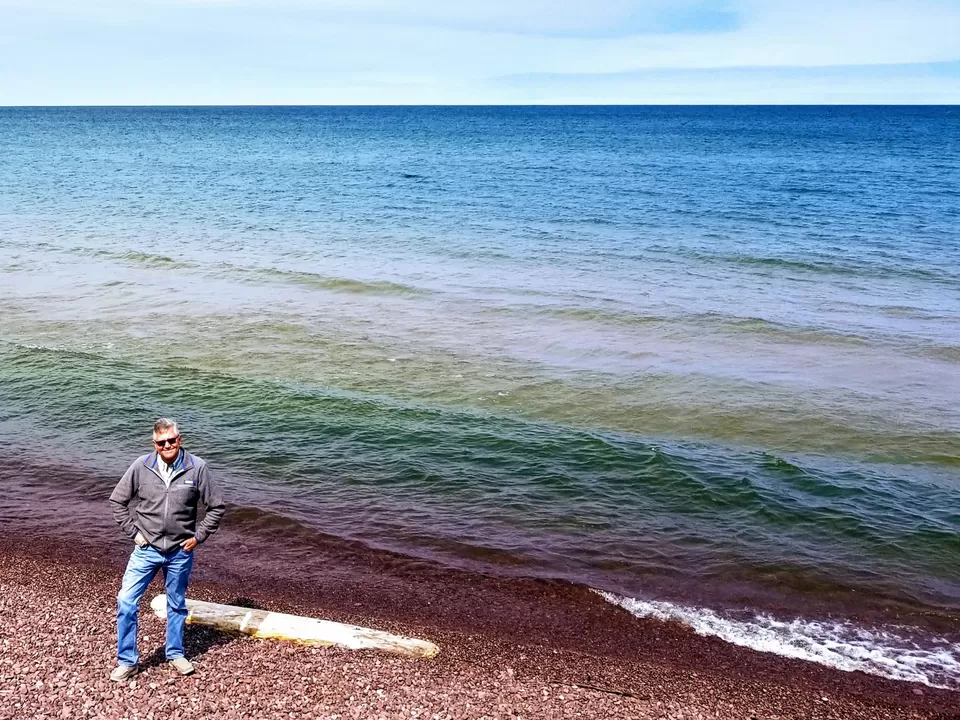 Monday June 25, 2018
We explored Copper Harbor today by bike starting with pastry and coffee and wifi and newspaper at Jamsons, sitting outside enjoying the sun and cool weather. We poked around a few shops and artist studios then rode our bikes to Manganese Falls. We learned about some of the local berries growing at the State Park and just about everywhere. Thimbleberry has a fairly large leaf and white flower. The flower develops into the berry which tastes similar to a raspberry but with softer seeds. I bought some Thimbleberry jam to enjoy later in our trip. There is also a berry similar to a blueberry and it was described to me as a blueberry on steroids. They won't be ripe for a while so I guess I'll never know. Back at camp we enjoyed a campfire for the evening.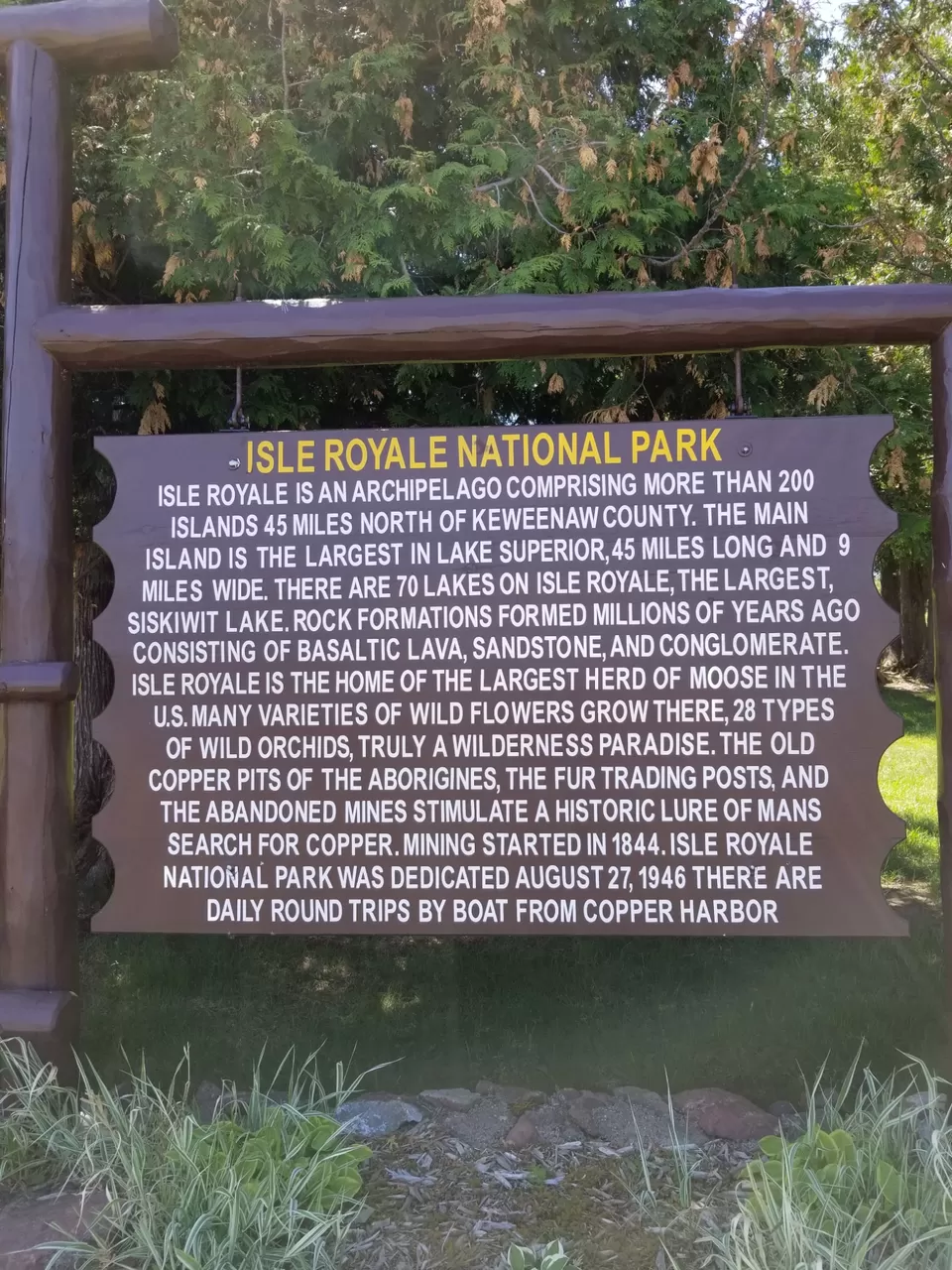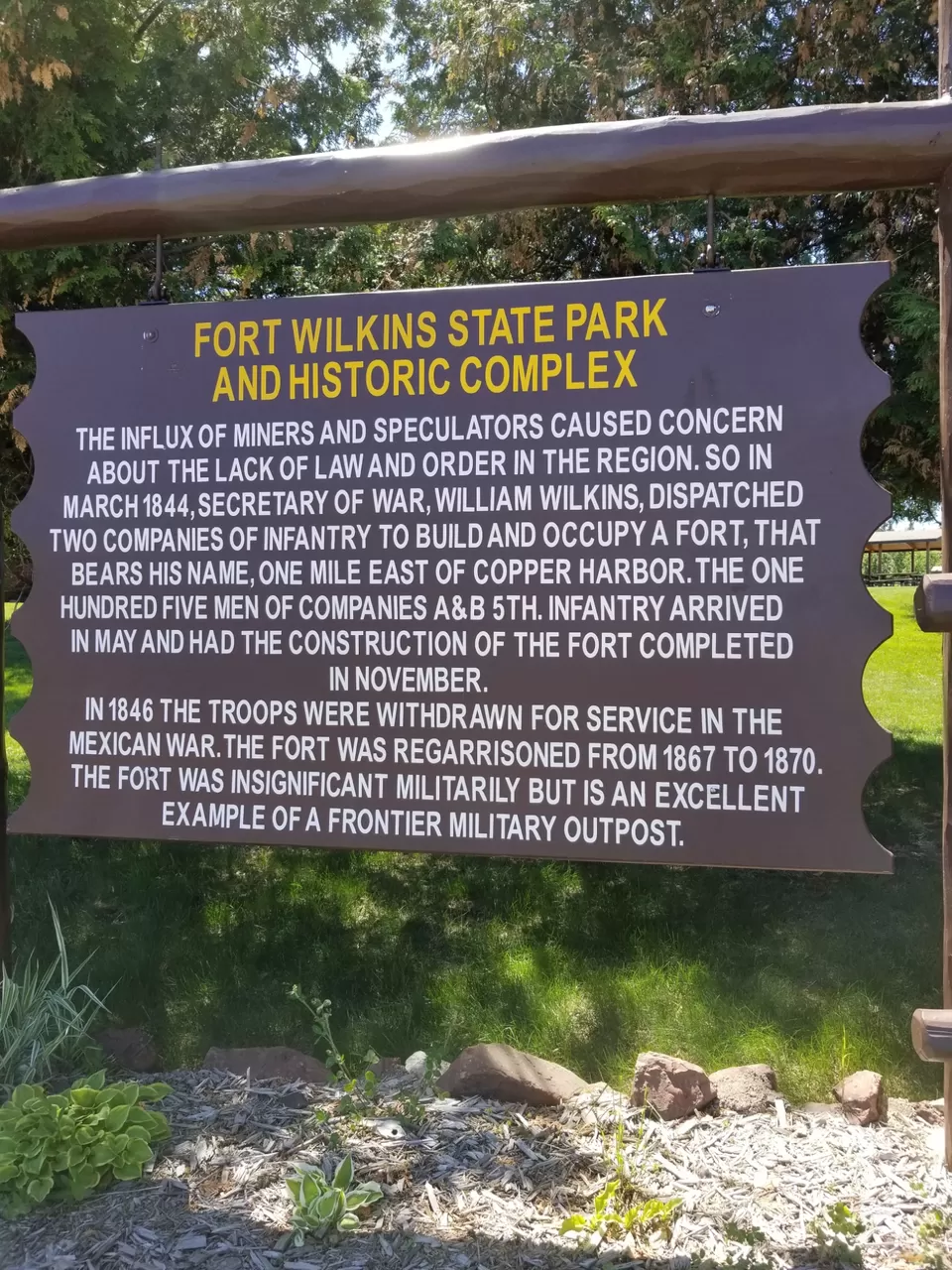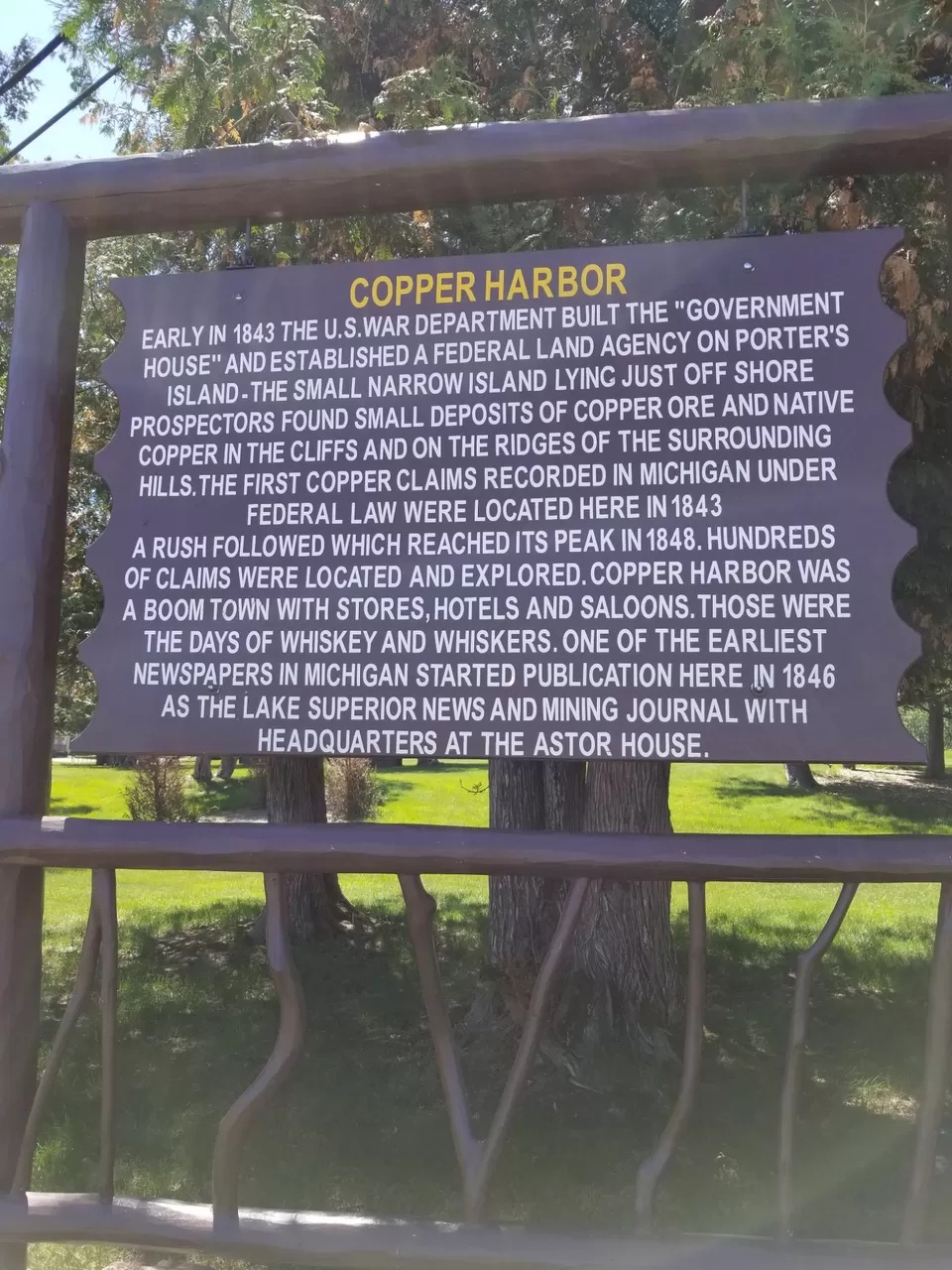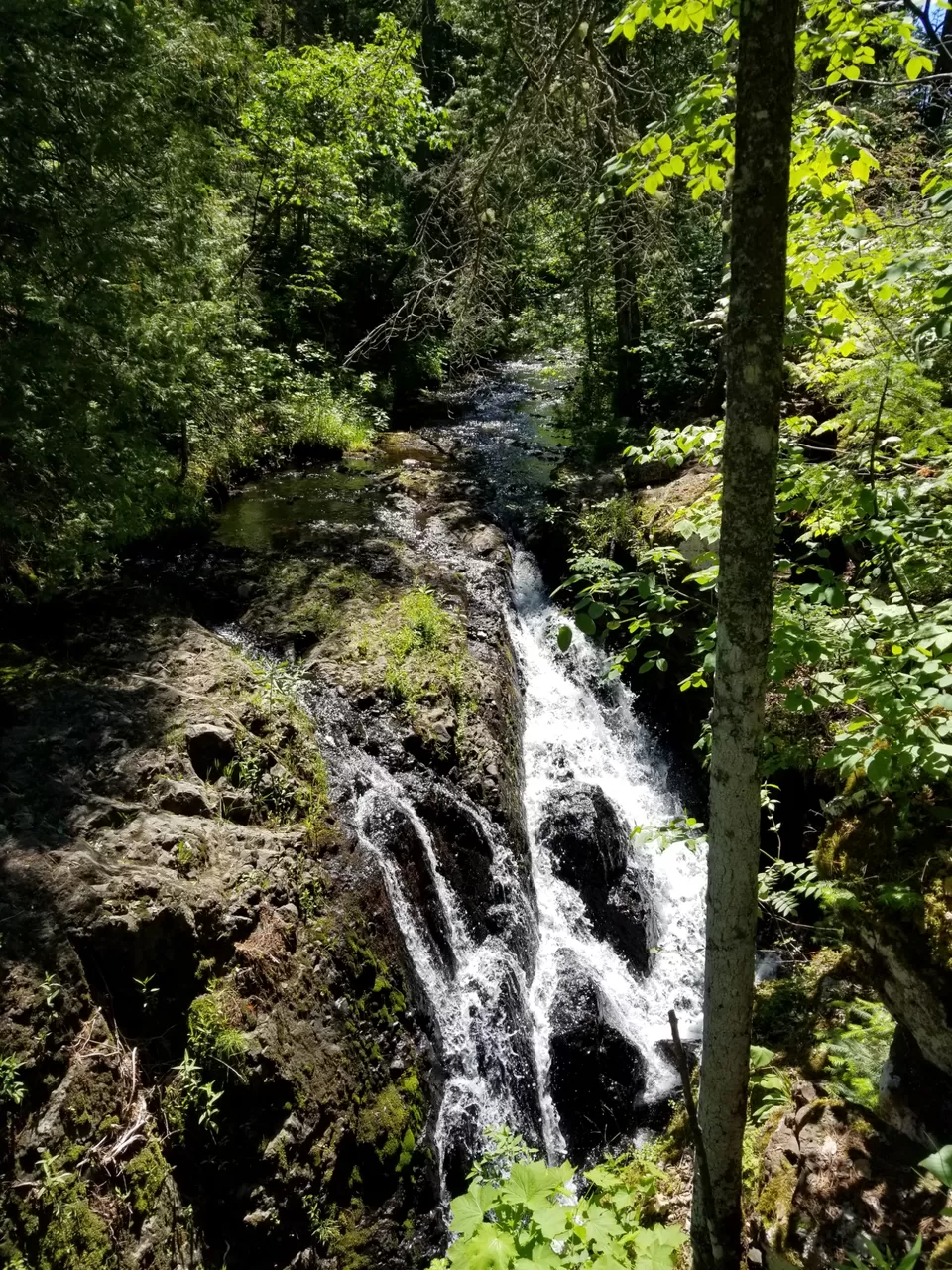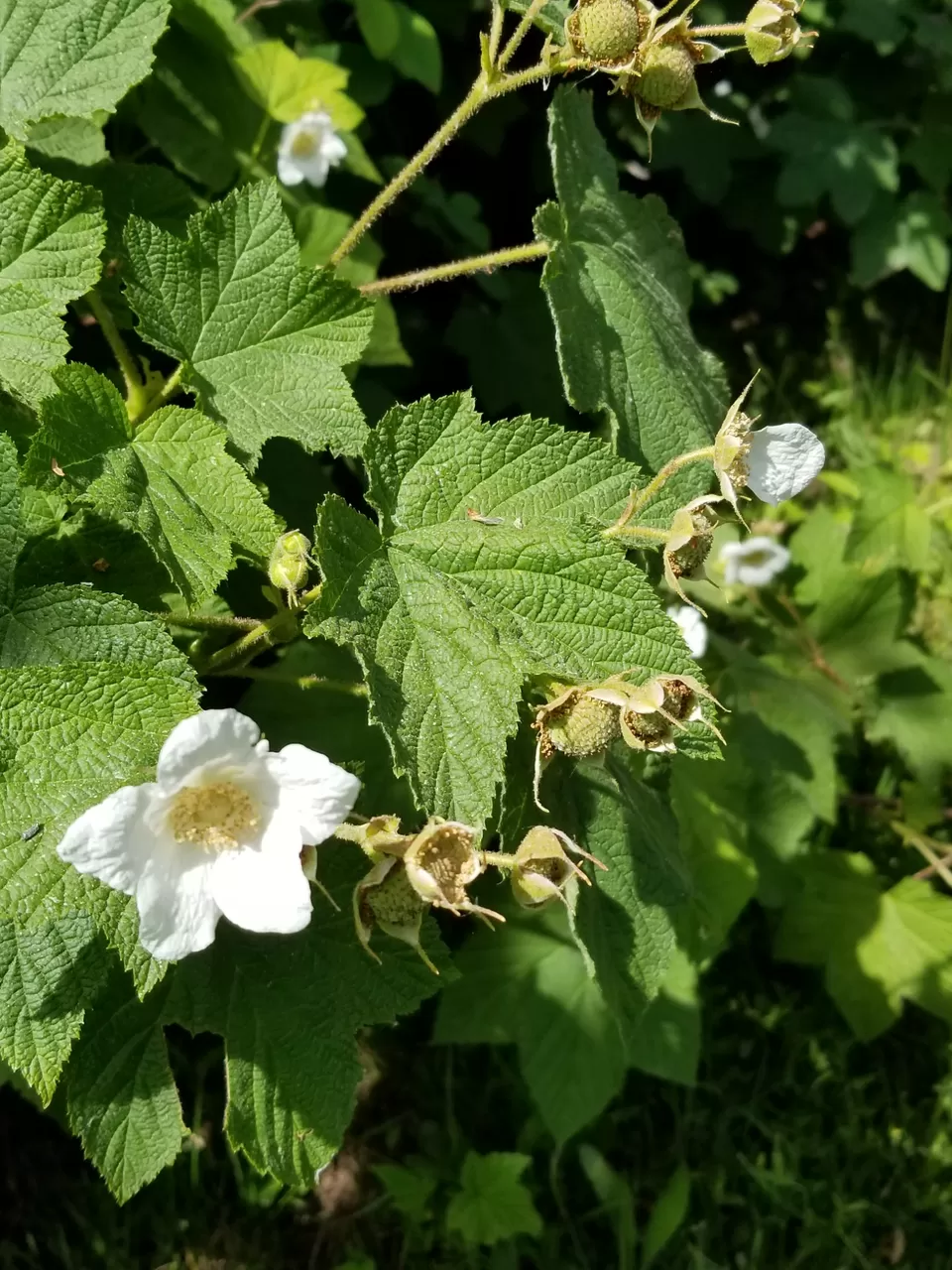 Tuesday June 26, 2018
Today we left Michigan and are now in Wisconsin. Mostly a travel day but we saw deer, eagles and farms along the way. We stopped at the Wisconsin welcome center on 2 outside Ashland and got a Wisconsin state map and lots of information about the Apostle Islands.
Wednesday June 27, 2018
We left Hayward and headed to Delta to eat at the Delta Diner. This diner was on Diners, Drive Ins and Dives and has great reviews. The drive was twisty, hilly and scenic with deer and many white, yellow and red wildflowers. Our breakfast at Delta Diner was beyond wonderful. I had Pedro's Mex Bennie and John had Norwegian pancakes with jalapenos and we shared a side of hashbrowns. The flavors were scrumptious. We can see why this was featured on triple D. On the way to Bayfield we were once again on twisting roads passing lakes and scenic side roads. We saw our first black bear. He ran into the woods as soon as he saw us. We have a nice campsite for the next two nights only one mile from the town of Bayfield. We rode our bikes into town and got tickets for a boat ride to the Apostle Islands tomorrow, then rode around town to get the lay of the land. Bayfield is a cute little town with shops, restaurants, B&B's and lots of apple orchards. While at the Apostle Island Cruise desk I found another rock! This one is from Sheboygan Ricks. I will post it on their Facebook page and rehide it somewhere along our journey.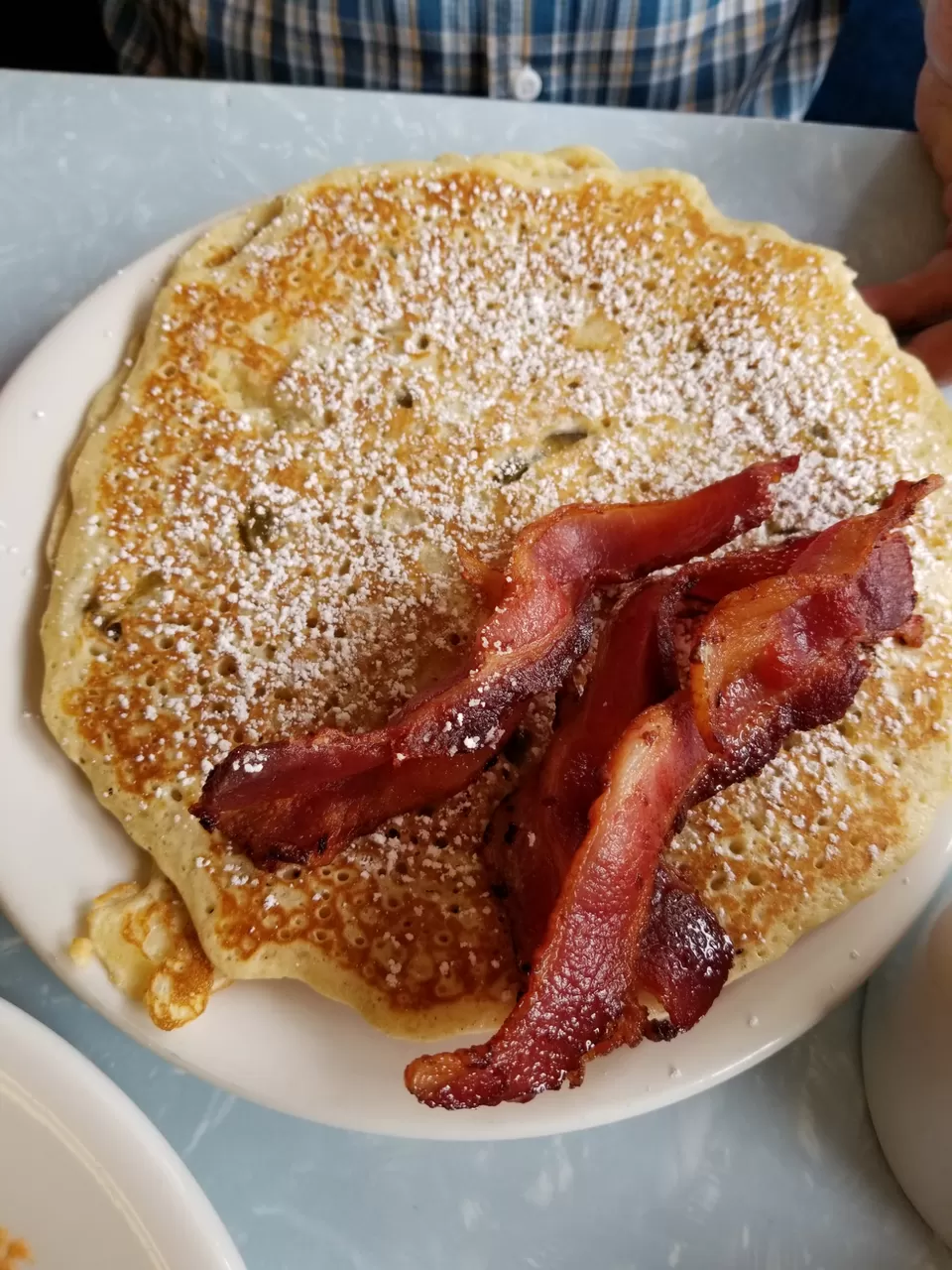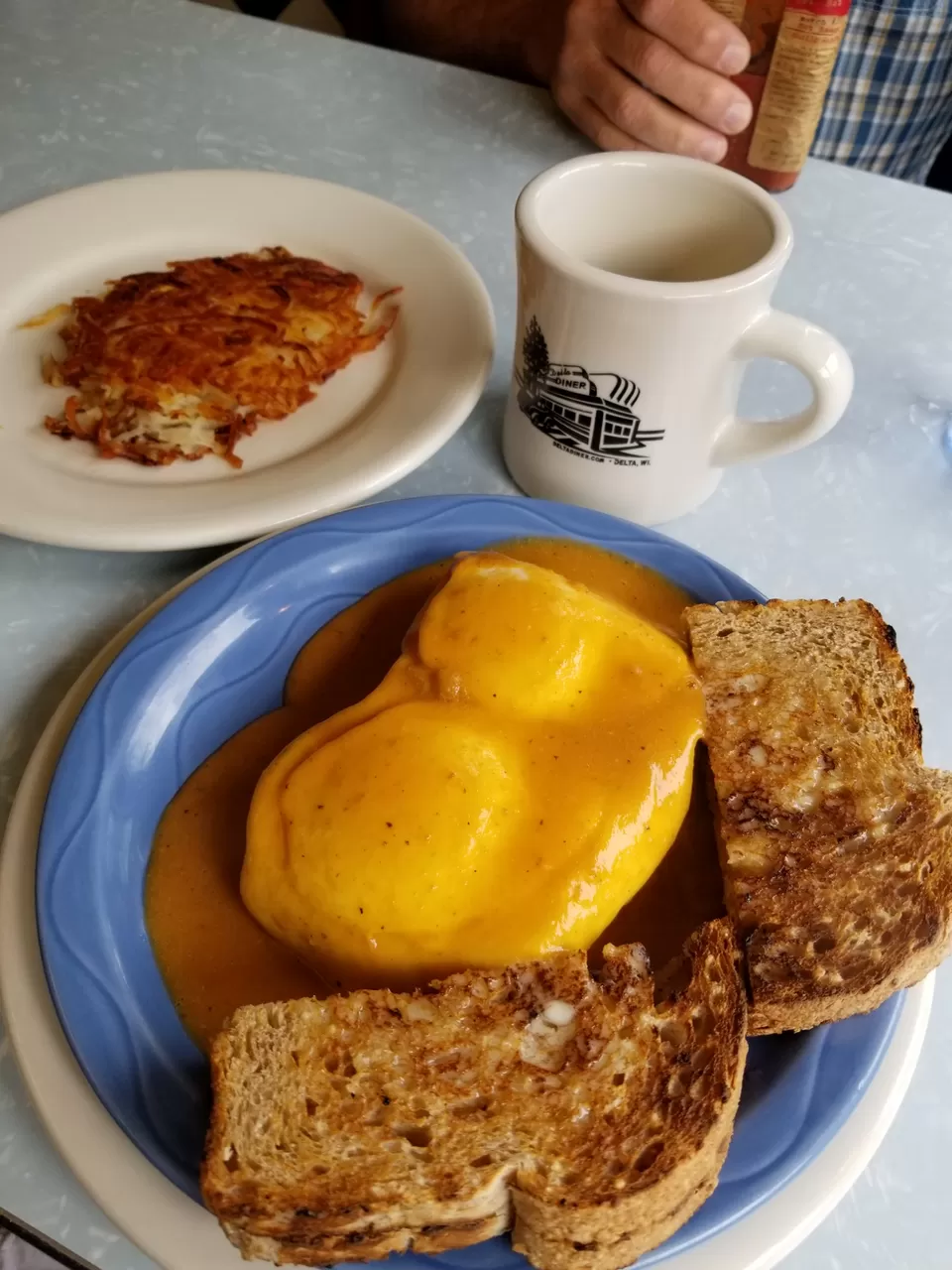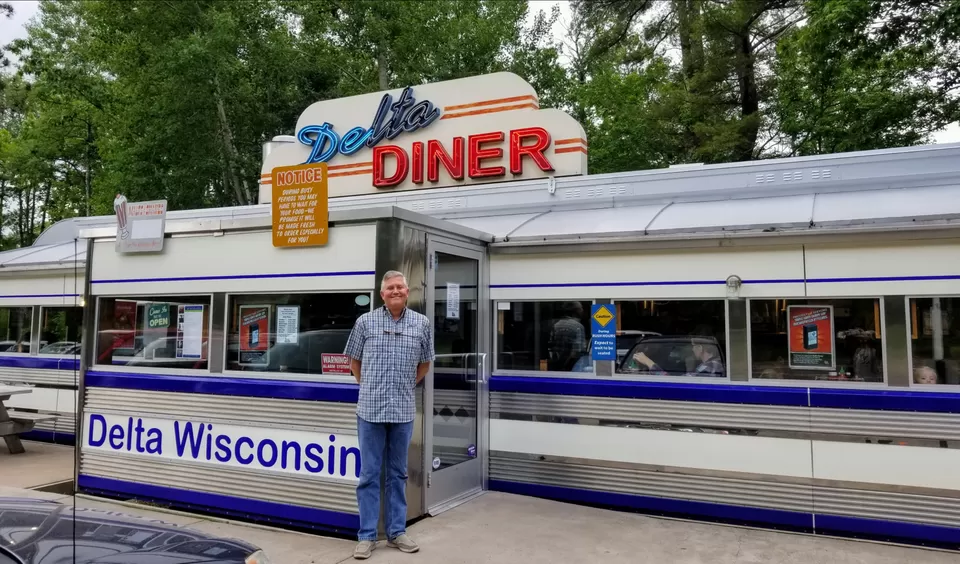 Thursday June 28, 2018
We took the Apostle Islands cruise today. It was a nice boat ride and beautiful weather. We learned about and saw 18 of the islands with the high point being Devil's Island. Devil's Island is the northern most point of land in Wisconsin. Most notable about the island, other than its remoteness, are sea caves which undercut the shoreline. It is beautiful. I would recommend taking a boat to Devil's Island then kayaking into and around the sea caves. Afterwards we ate lunch at Maggie's and had a great German hamburger. The rain was coming so we headed back to the RV and arrived just as the rain started.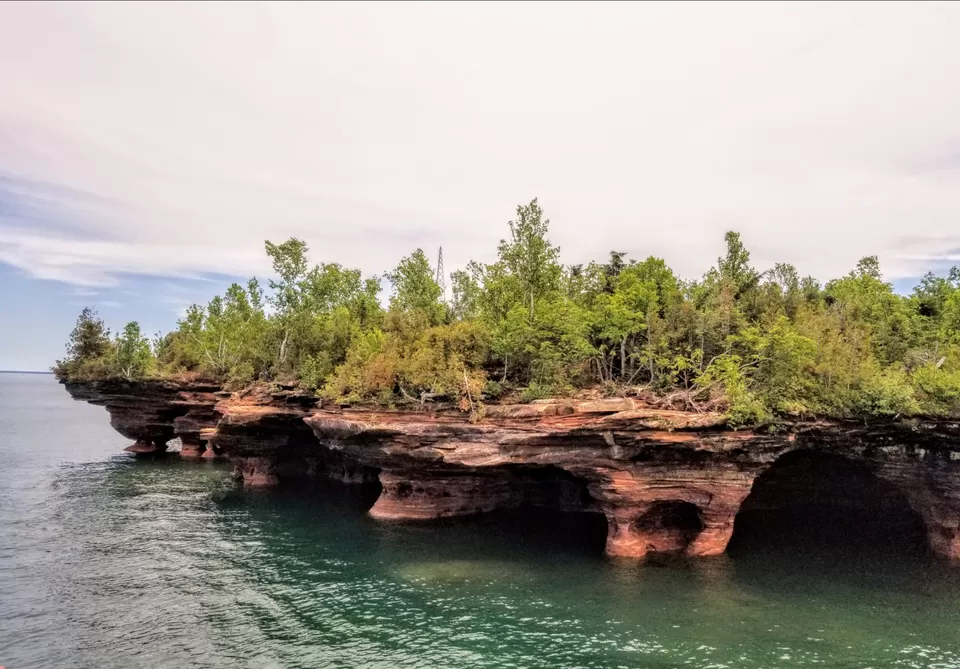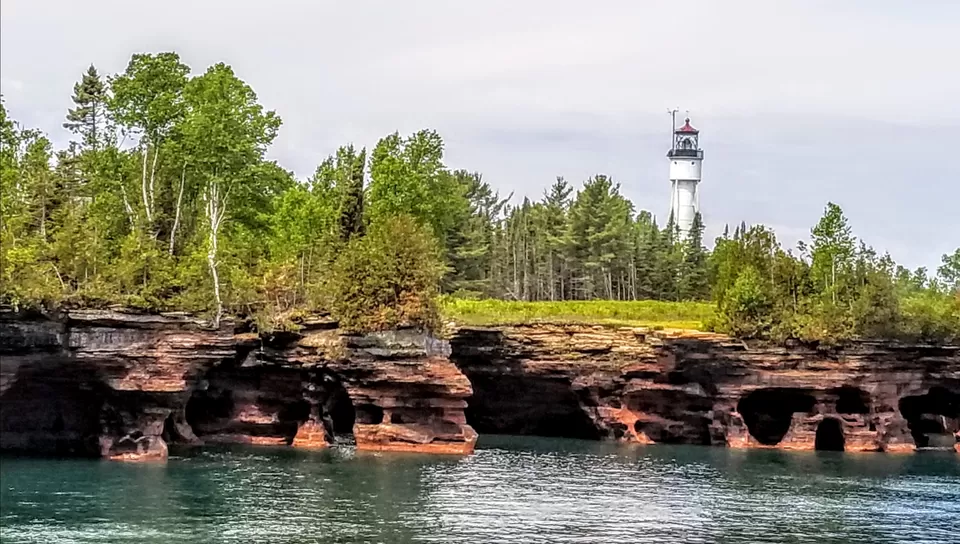 Friday June 29, 2018
Today we traveled west to Minnesota. Our first time in this state. We drove through Superior and Duluth all the way to Voyageures National Park. We are staying at The Pines, an RV resort on Lake Kabetogama. Voyageures NP is different than any other NP we've visited. Most of the park is water. We rented a boat for tomorrow to go explore. After a dinner of rigatoni and sausage that I cooked in the slow cooker while we were traveling we enjoyed the community campfire next to the docks. A wonderful end to a travel day.
Saturday June 30, 2018
We rented a 16' 40hp Lund boat for the day and explored Lake Kabetogama. It is hard to describe this National Park because it is made up of water. Most NPs are land based but this one is water based. There are 500-plus islands and 655 miles of shoreline and really the only way to see it is by boat. We had a chart and were able to navigate the waters of Lake Kabetogama. We saw a fawn swimming to an island, an eagle being chased by a seagull, and several white pelicans. After exploring random islands we went to Ellsworth Rock Gardens built by Jack Ellsworth between 1944 and 1965. Mr. Ellsworth became ill in 1965 and never returned to the gardens. Structures fell into disrepair and some were removed. The National Park system acquired the property in the 1970's and is slowly rehabilitating and caring for the garden. After this stop we went through the narrows and explored some more of the lake. Tomorrow we are taking a National Park, ranger lead, boat tour to Hoist Bay and Kettle Falls.
Sunday July 1, 2018
We walked to the NP visitor center then took the boat tour to Kettle Falls. On the ride there we learned more about the park and kept our eyes open for eagles. They did not disappoint us. We saw an adult and a juvenile in a nest. The life cycle is egg, eaglet, juvenile, adult. The juveniles are as large as an adult but their head feathers are black. Once they mature their head feathers turn white. The adult females are larger than the males. We saw several more eagles throughout the day. Kettle Falls was originally a logging camp and brothel. A dam was built to create force to float the logs to an area to transport them to a sawmill. When logging ceased, the lodge became vacant and fell into disrepair. When it was renovated in the 1980's the floor of the bar was left unlevel and wavy, with a 4+ foot drop from one side to the other. Also known as the "tilten hilton". We had lunch of walleye and cream of wild rice soup. Both were very good. Walleye is a very moist non-fishy tasting fish. We also stopped at Hoist Bay and I.W. Stevens island. Hoist Bay was an area used to corral logs and hoist them to land. I.W. Stevens lodge was built and operated by Mr. Stevens in the early to mid 1900's. Mr. Stevens lived on property full time and did all the work himself. Impressive considering what the winters are like and that the only way to his property at the time was by boat, or snowshoe in the winter. His hard work paid off, he lived until he was 104. Even though we had a rainy day today the trip was enjoyable.
Monday July 2, 2018
Today was a travel day but a fun one nonetheless. We drove from Lake Kabetogama to Itasca State Park. We stopped at Gordon's General Store which has been in business since the 1800's. Bought some wild rice from the little food store next door. Next stop was Bemidji to see Paul Bunyan and Babe the Blue Ox. Then we picked up a few things at a grocery store, got some Culver's frozen custard, and got our haircut before arriving at Itasca State Park. At over 32,500 acres, Itasca SP includes not only the beginning of the Mississippi River, but large tracts of Minnesota's remaining old-growth red and white pine forest. Established in 1891, Itasca is Minnesota's oldest SP and was created to protect the forest and waters surrounding the headwaters of the Mississippi River. We have a nice spot for the next two nights.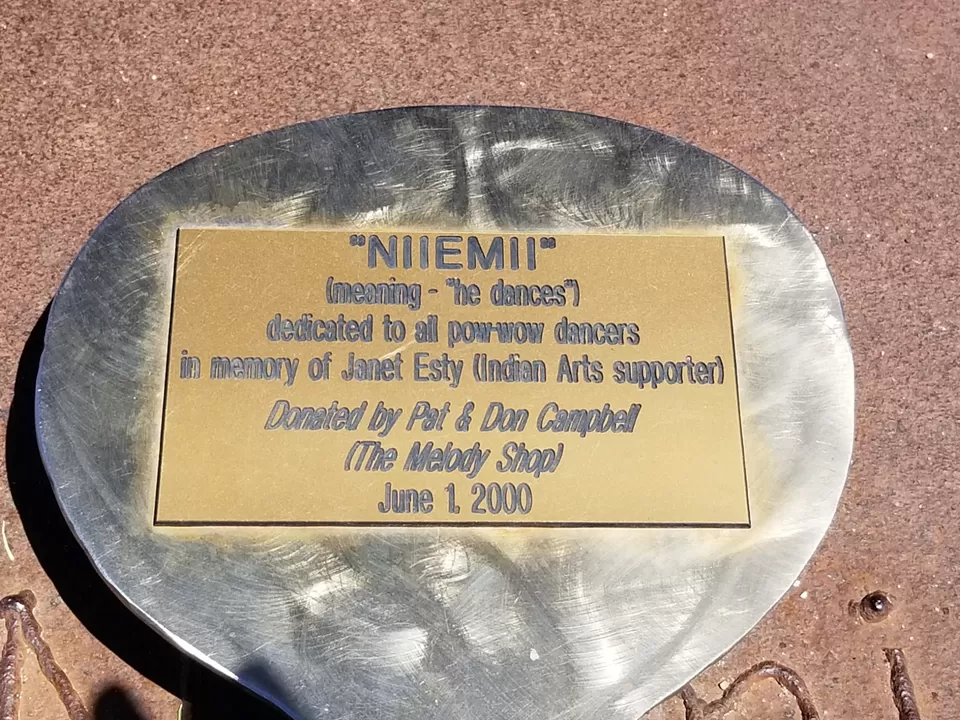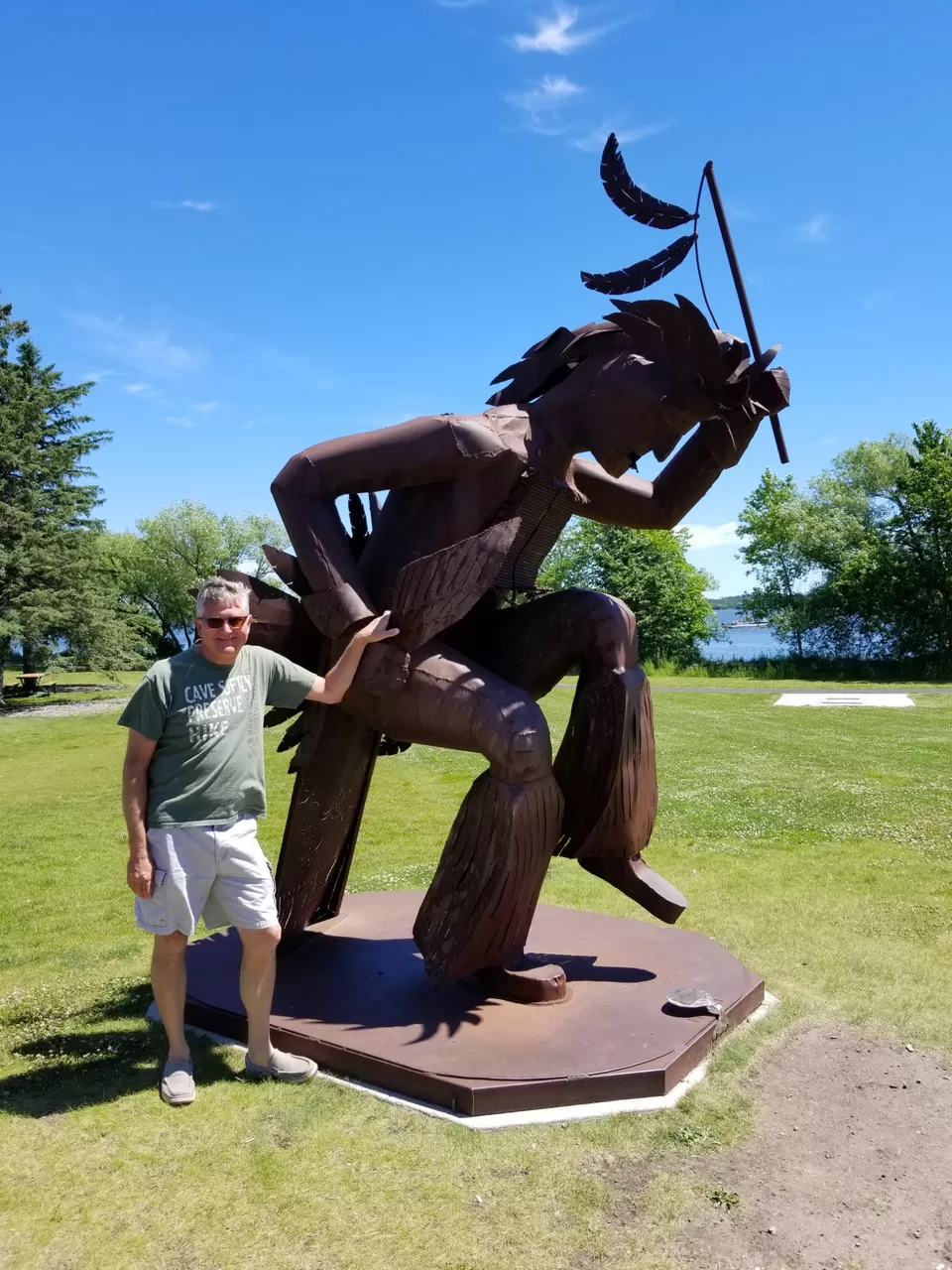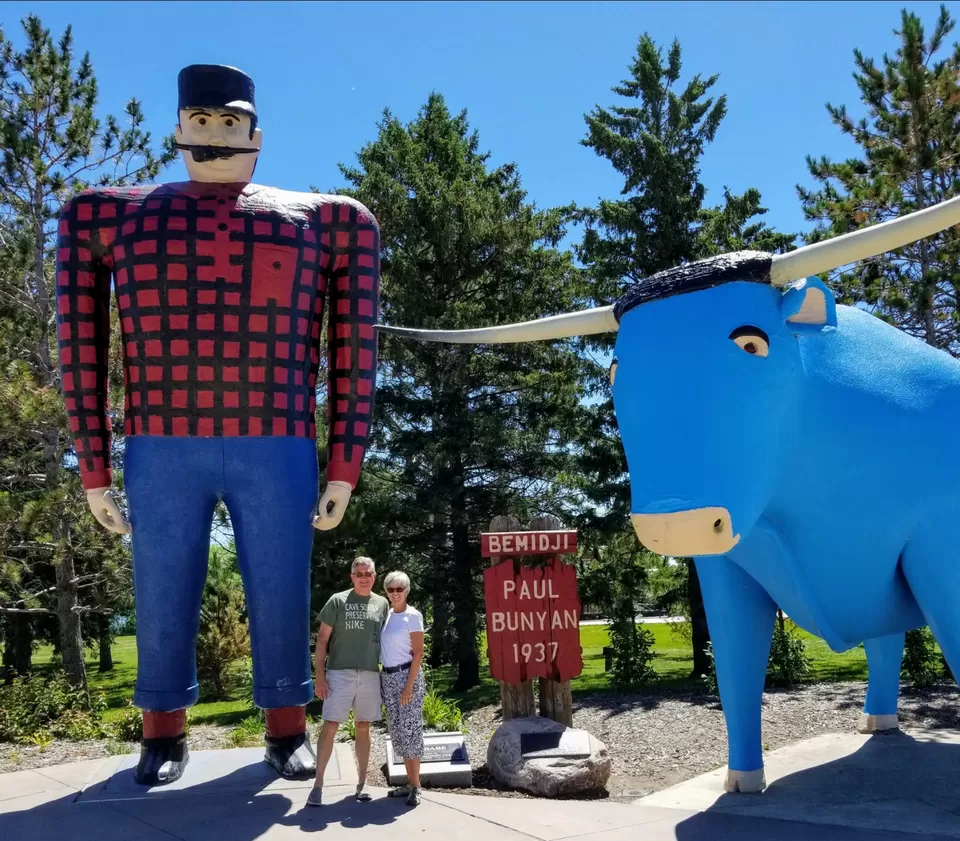 Tuesday July 3, 2018
It was raining when we went to bed last night and around midnight a park ranger banged on our door telling us to prepare for a bad storm with lightning and 60+ mph winds. There really wasn't anything we could do in our RV though. The storm ended up not being as bad as the ranger indicated. It was still raining when we got up this morning so I made the jambalaya I was planning to make for dinner and we had it for lunch. By then the rain stopped and the sun came out so we took the bikes out to explore the park. We stopped to read about and look at the replica 1890's pioneer Wegmann's Store, the Indian Mounds of the Woodland Indians from 500 to 1,000 years ago, then finally got to the headwaters of the Mississippi River. Of course we walked across the river via the rocks but took the easy way back across a solid wide tree. I left the Sheboygan Rocks rock. I hope someone finds it and plays along. Then we took the rest of the 6-mile bicycle trail and stopped at several look outs. While exploring we saw a pine tree that got hit by lightning last night. It had exploded and threw pieces over 300 feet. The entire tree was destroyed. I guess the storm was worse than we had thought!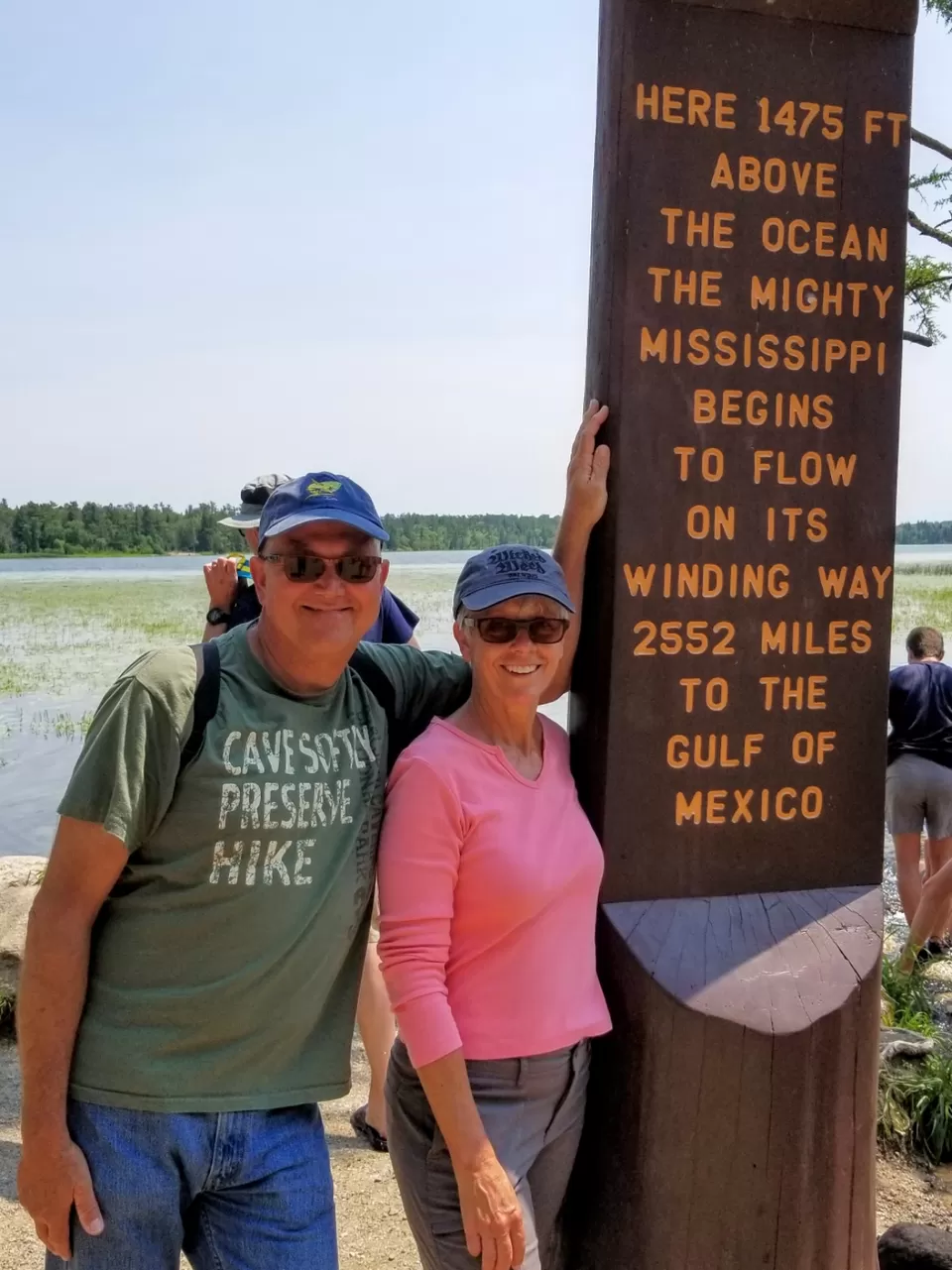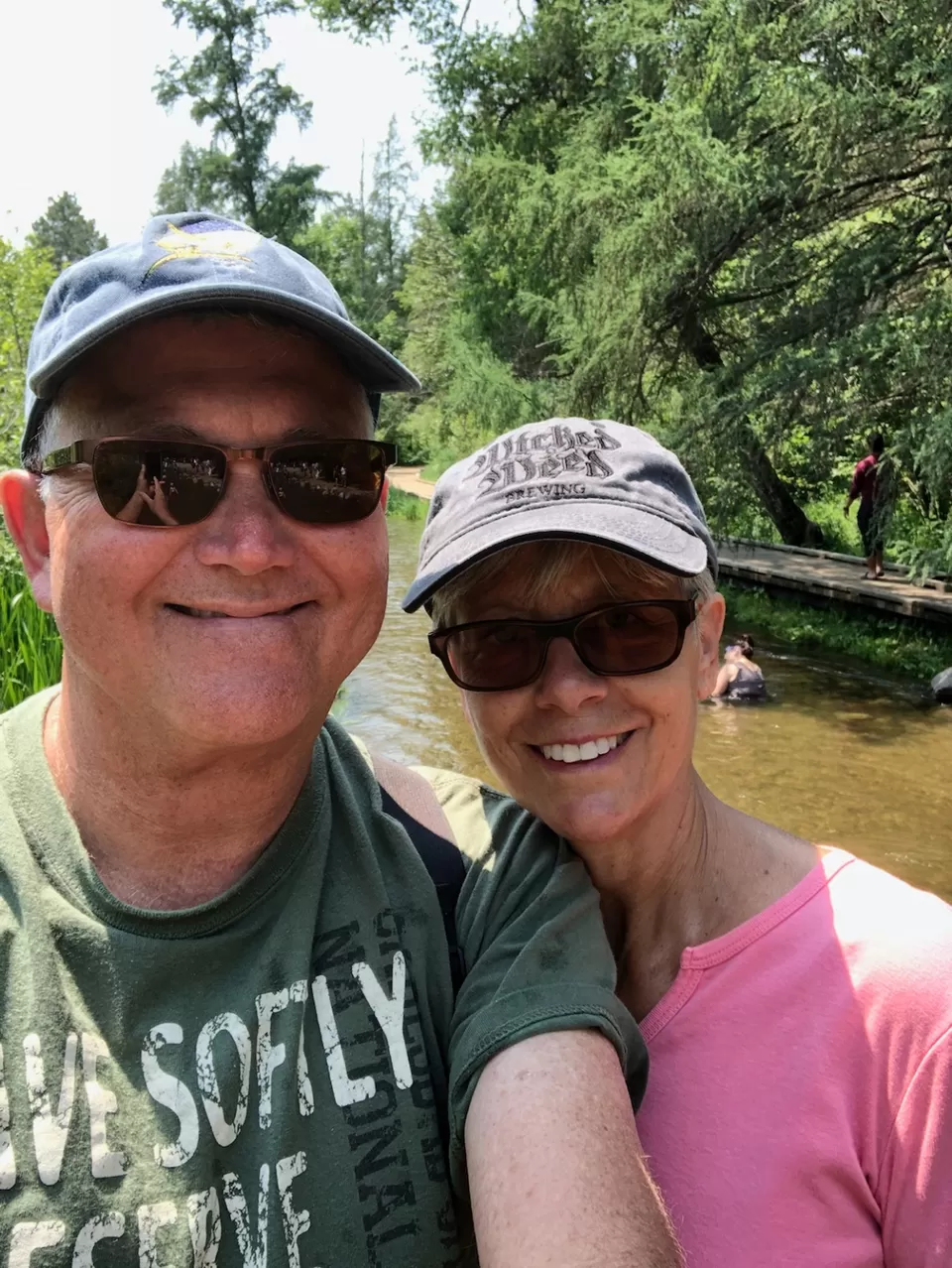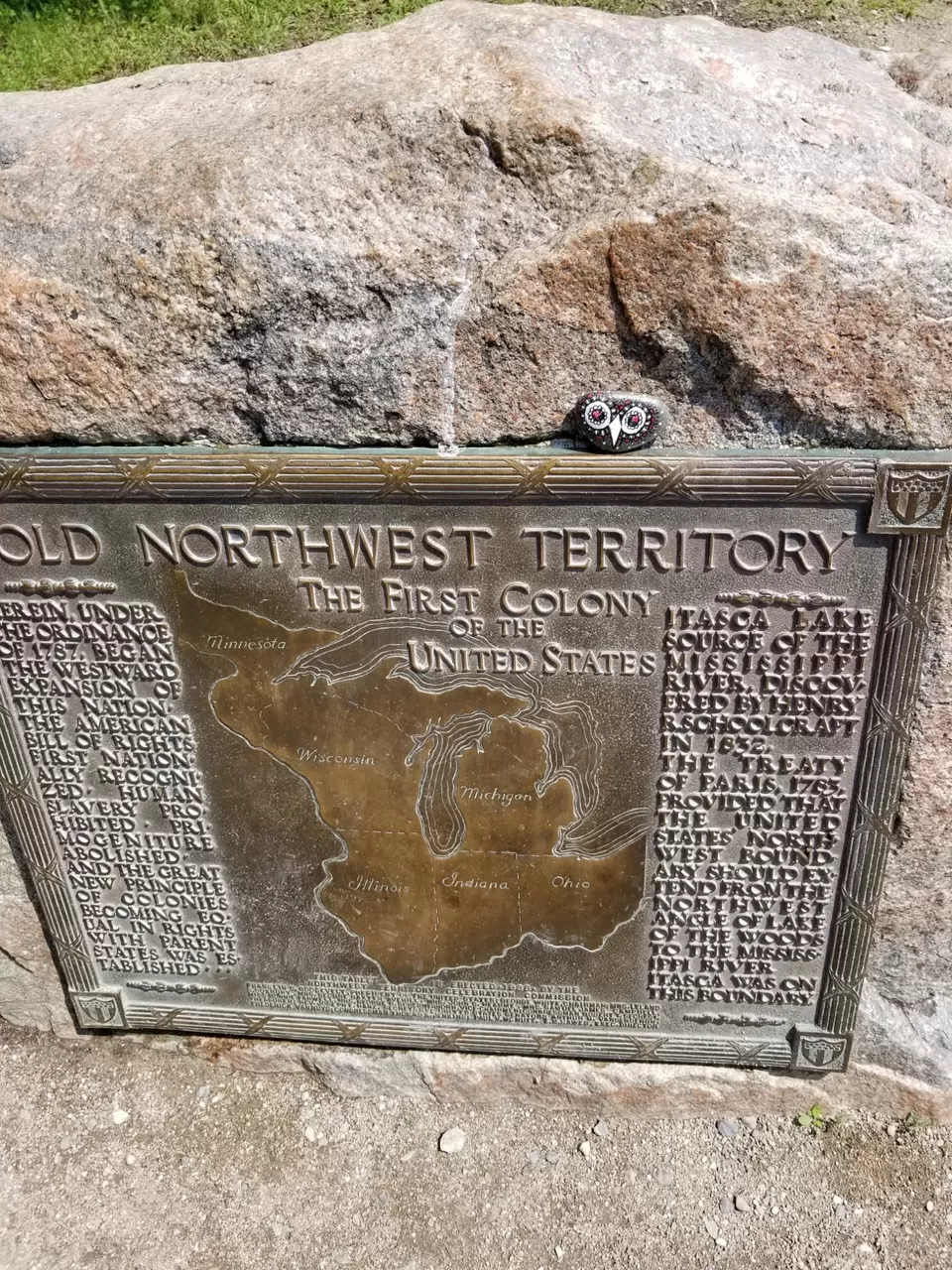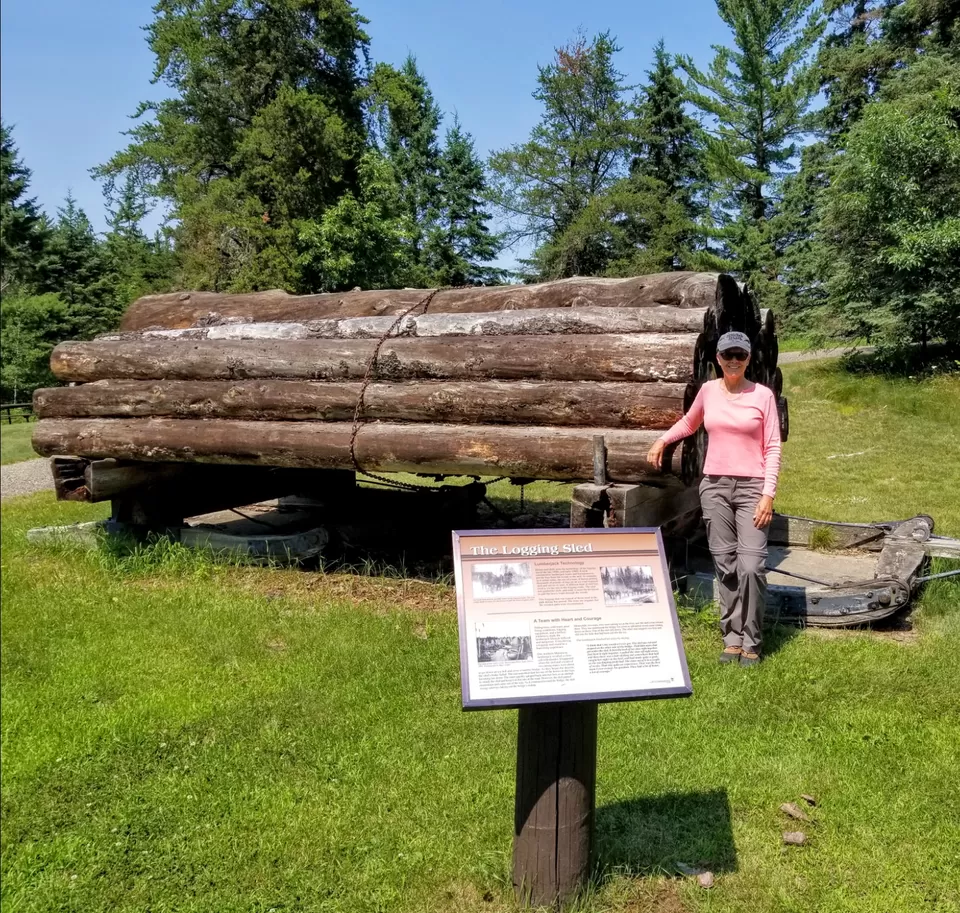 Wednesday July 4, 2018
We left by Itasca today and drove to a campground just north of St. Cloud. It rained all day so we watched three movies and had our traditional 4th of July hotdogs. A nice peaceful day.
Thursday July 5, 2018
Today we drove to Saint John's College in Collegeville Minnesota to see the Saint John's Bible. This is the first illuminated, hand written Bible of monumental size to be commissioned by a Benedictine monastery in 500 years. This Bible is made of vellum, ancient inks, gold and silver leaf and platinum and was written with quill pens fashioned from goose, turkey, and swan feathers. This was an amazing exhibit. Not to be missed if you are anywhere nearby. Also to be seen during the visit was the Saint John's Abbey Church designed by the renowned Hungarian architect Marcel Breuer. This cast in place concrete marvel is a stepping stone in modern design of religious architecture in the US. Breuer also designed the library using the same concept. Inside the library are two cast in place concrete structures referred to as the trees of knowledge. Words and pictures don't do this justice. This is a must see. Afterwards we drove to Lebanon Hills campground in Apple Valley Minnesota. This is a nice campground and we will enjoy it for the next three nights.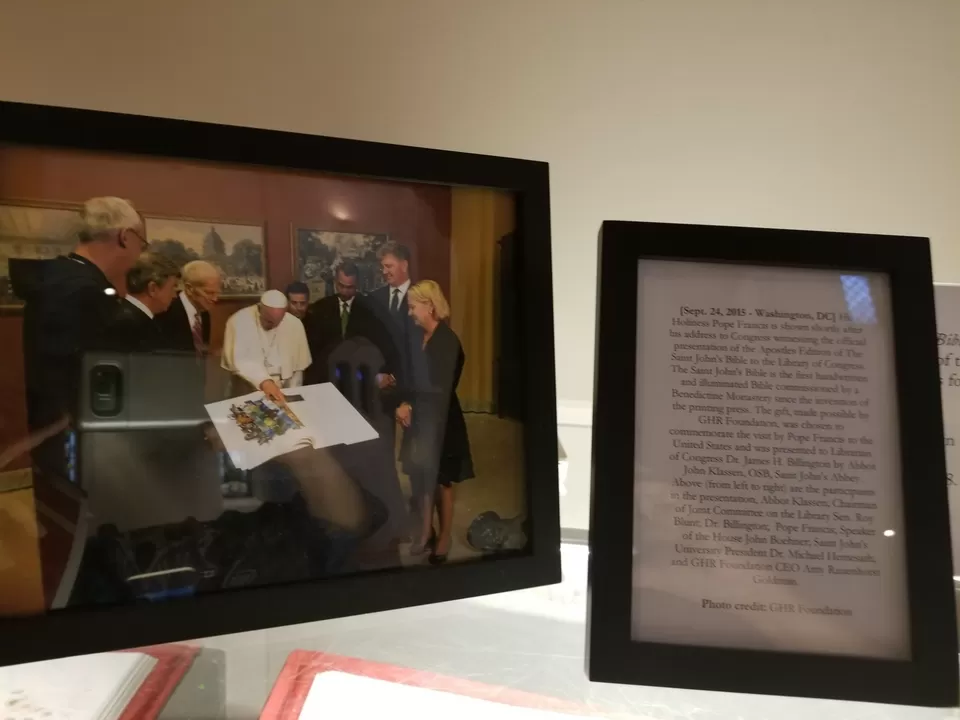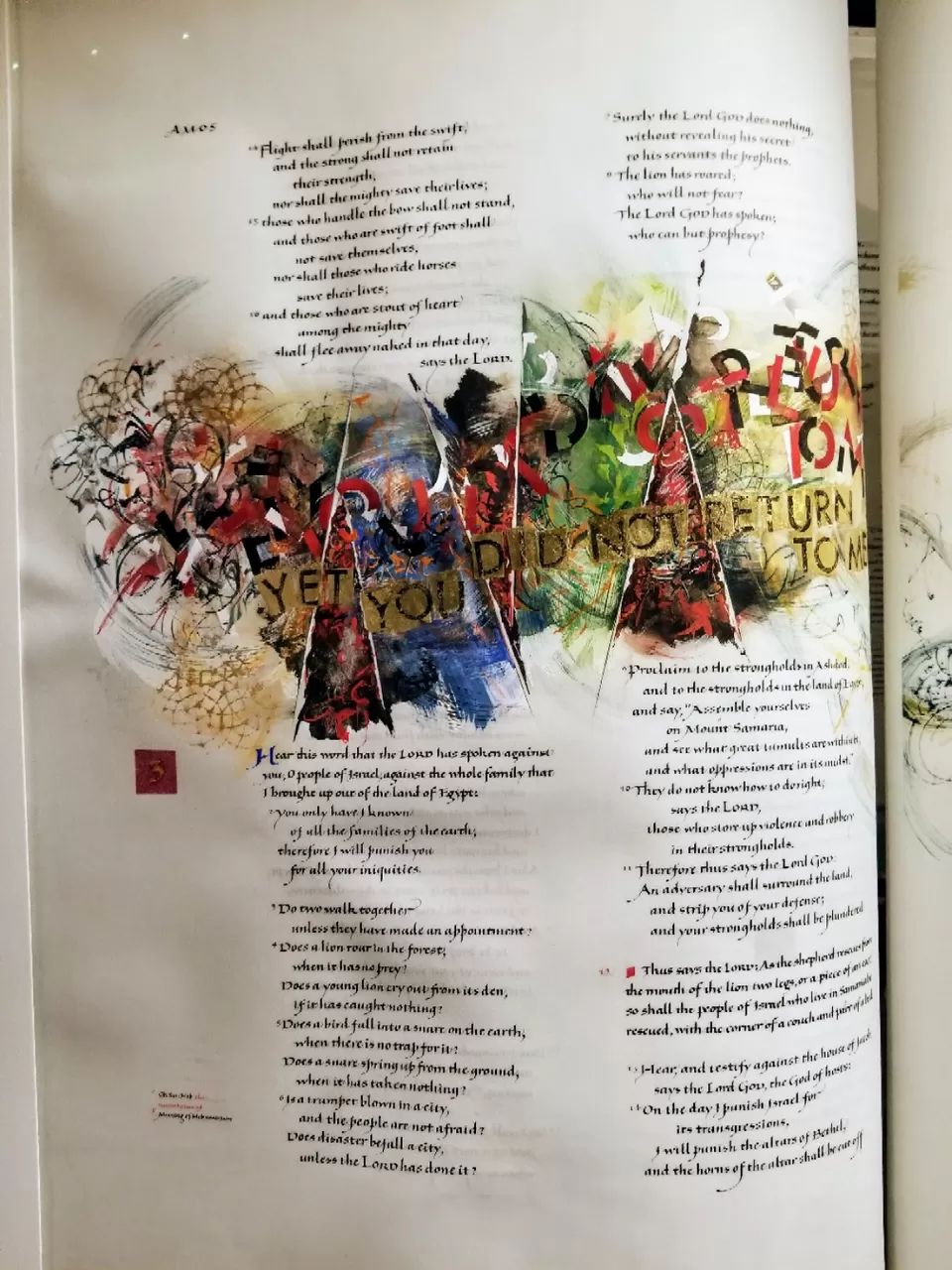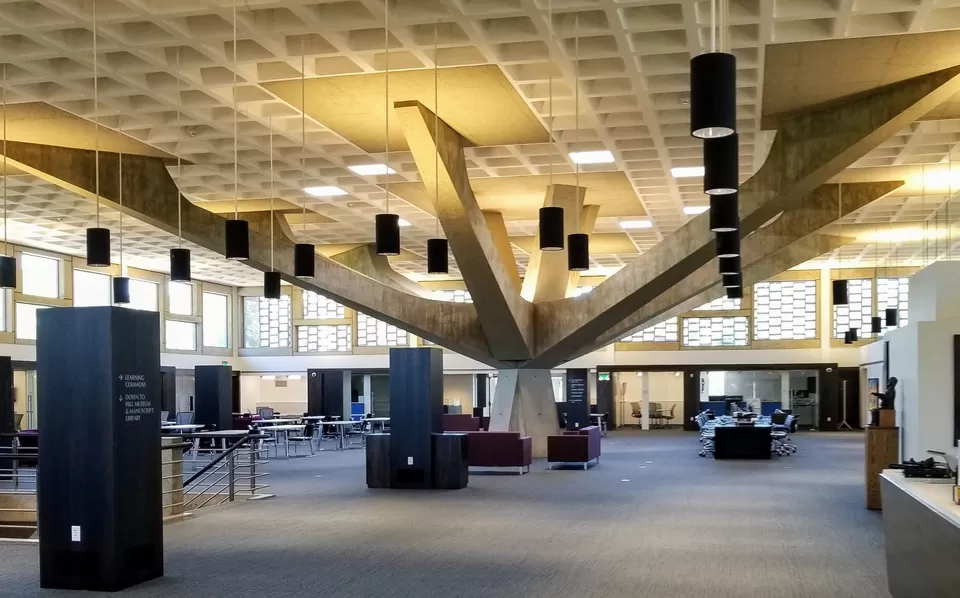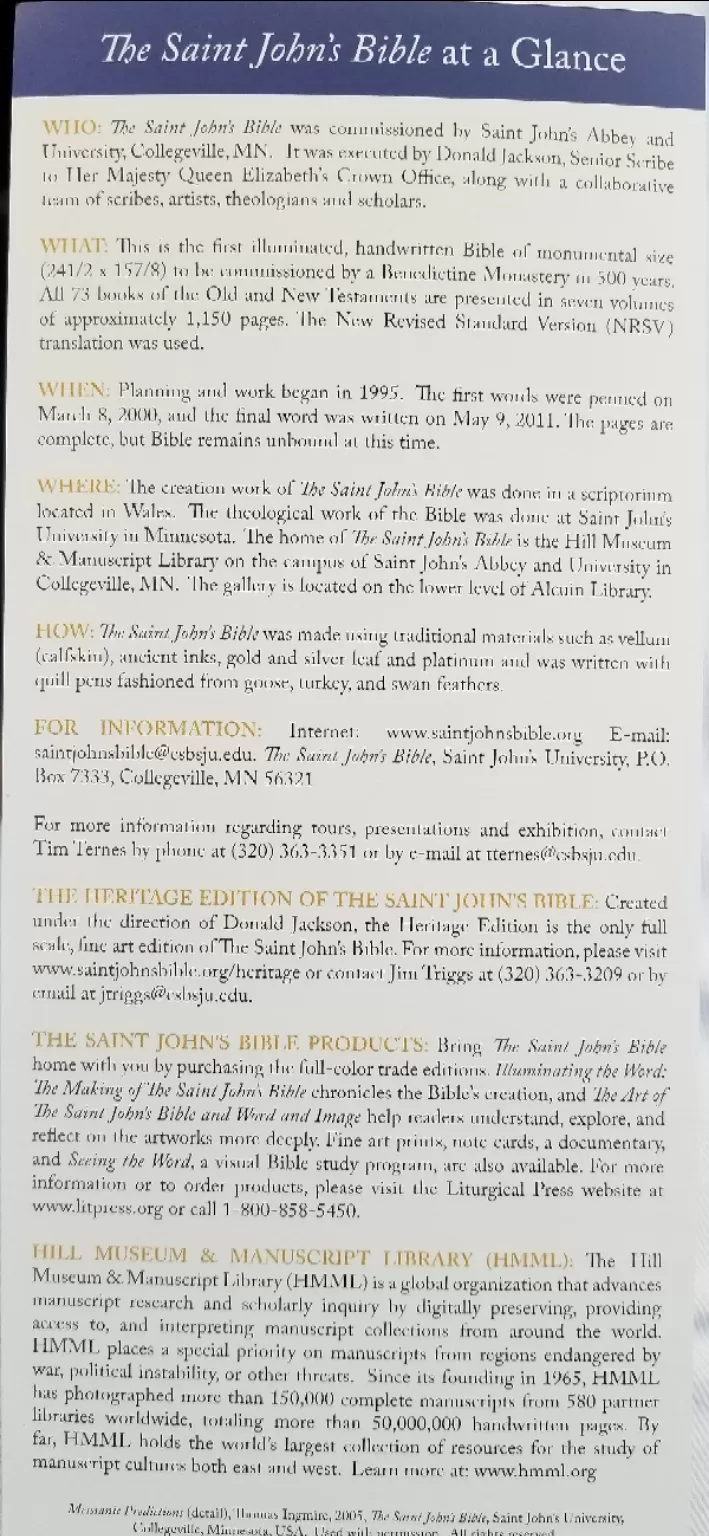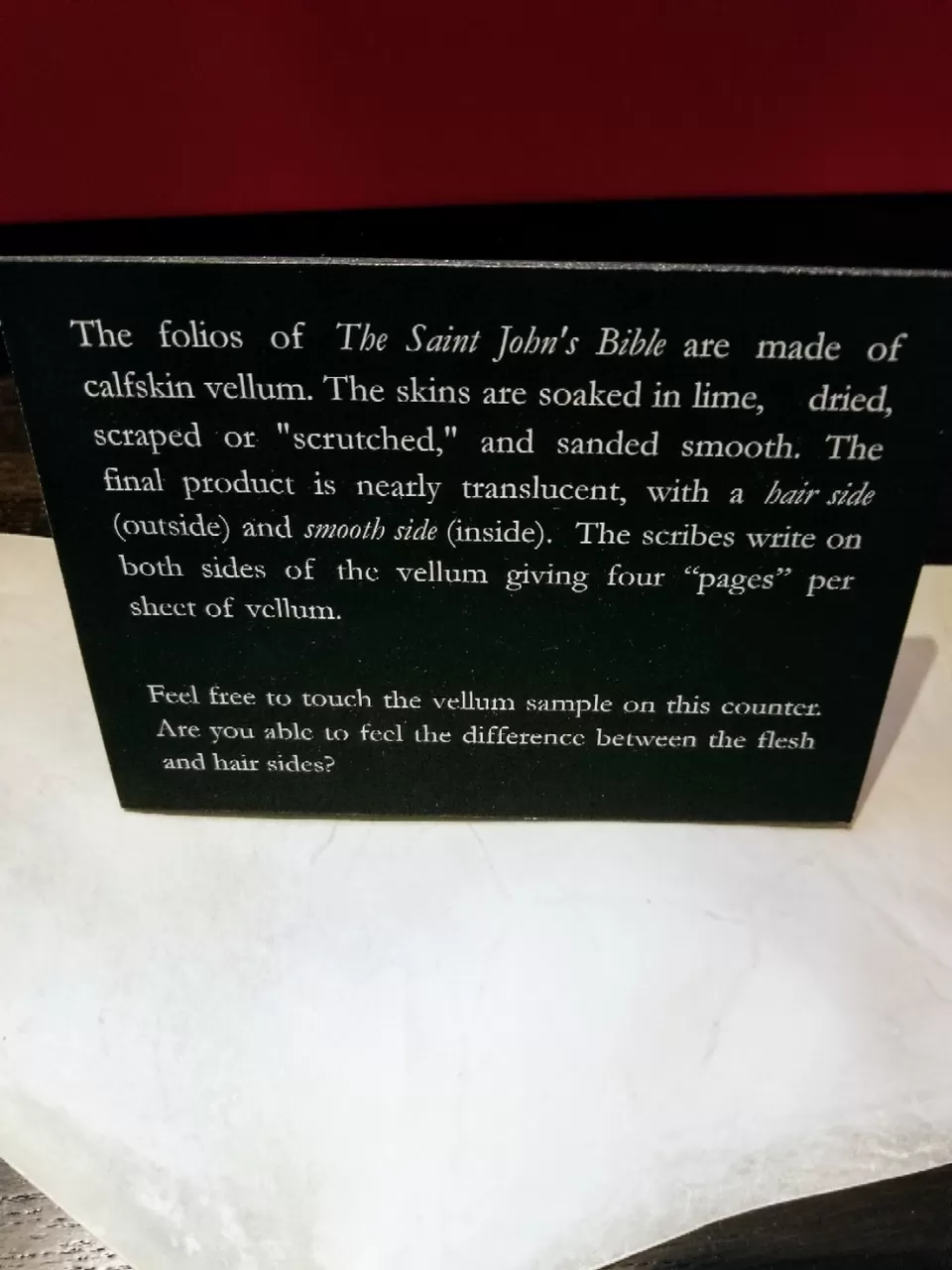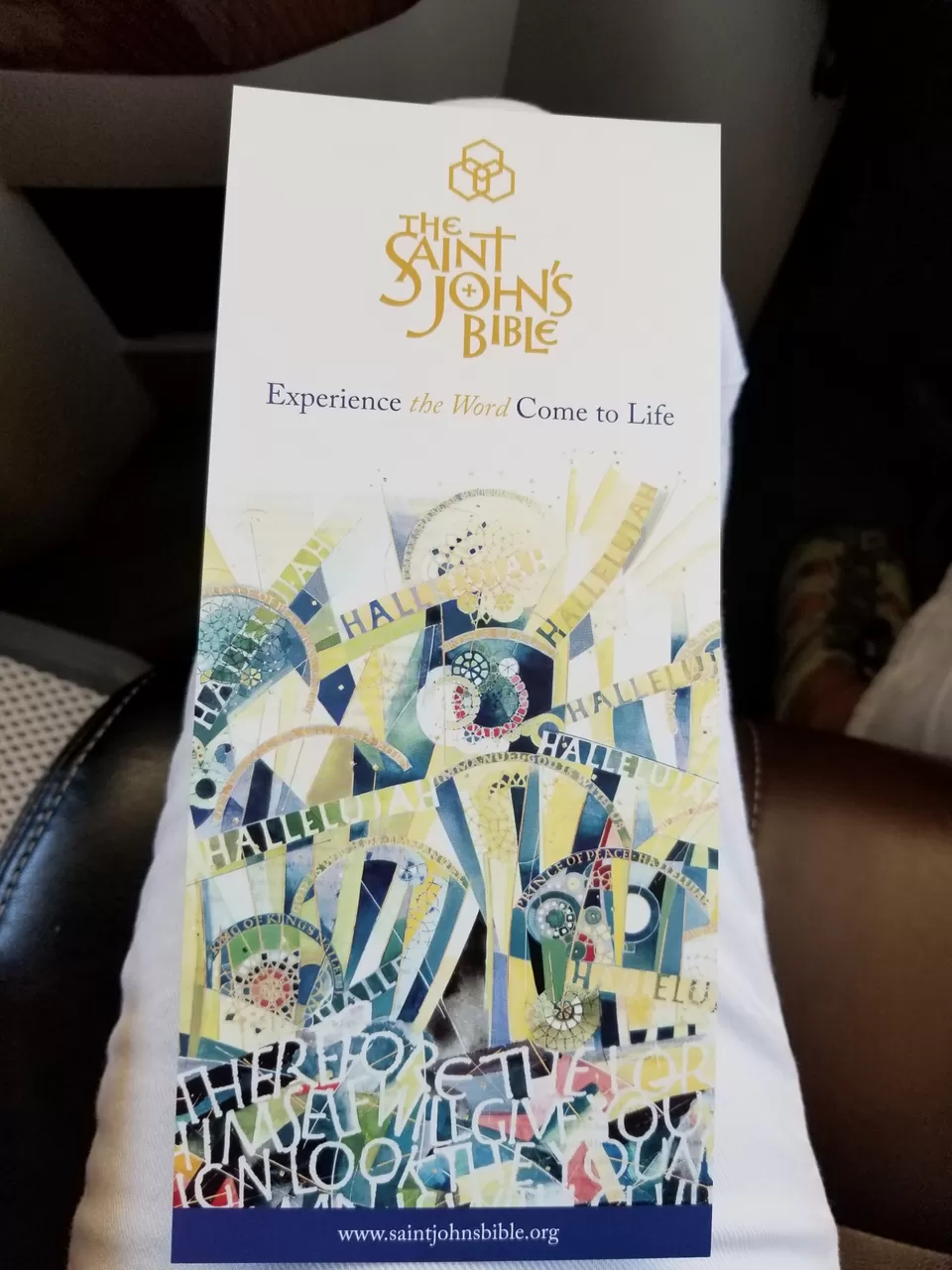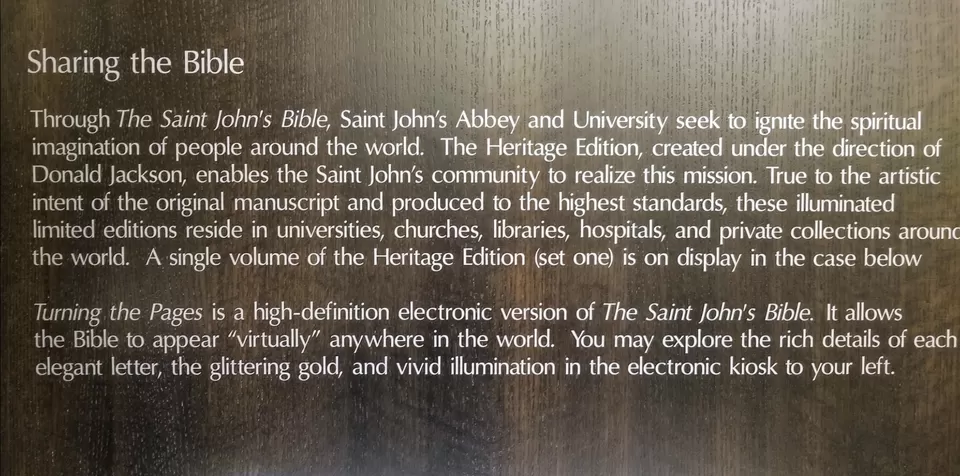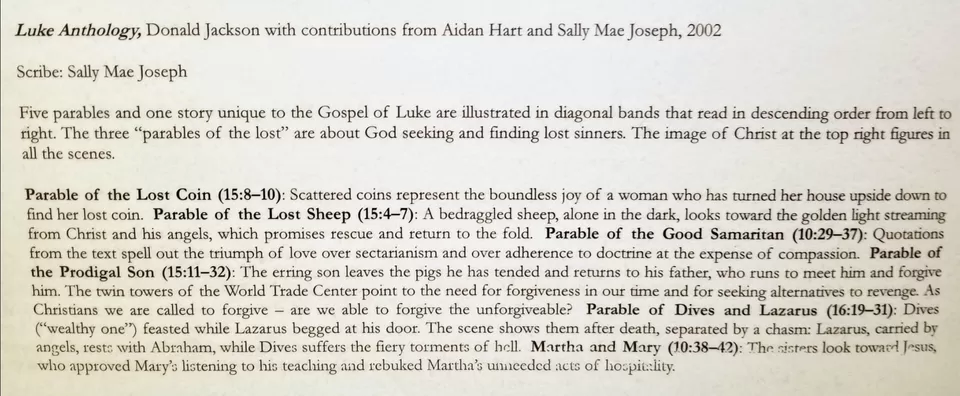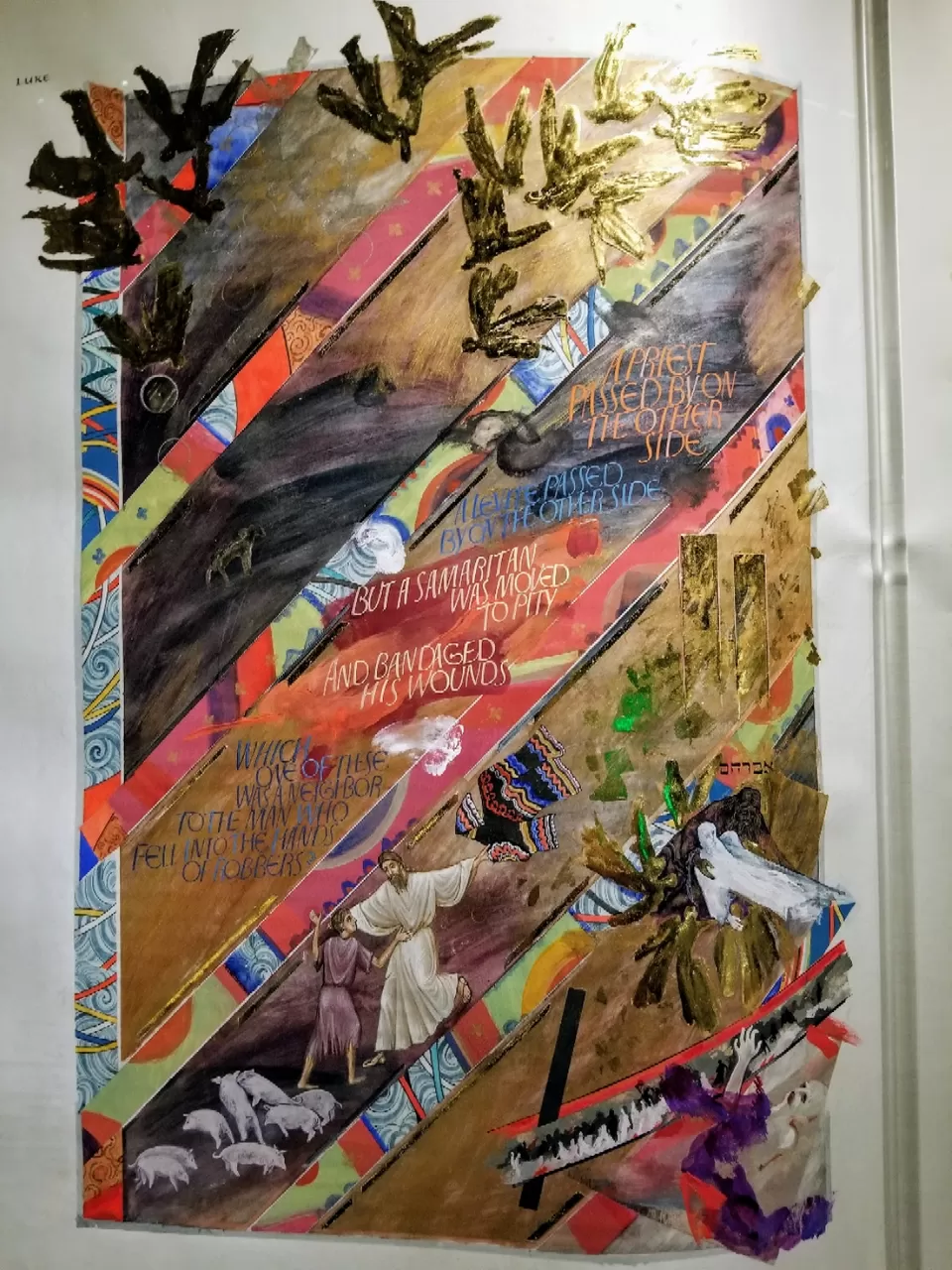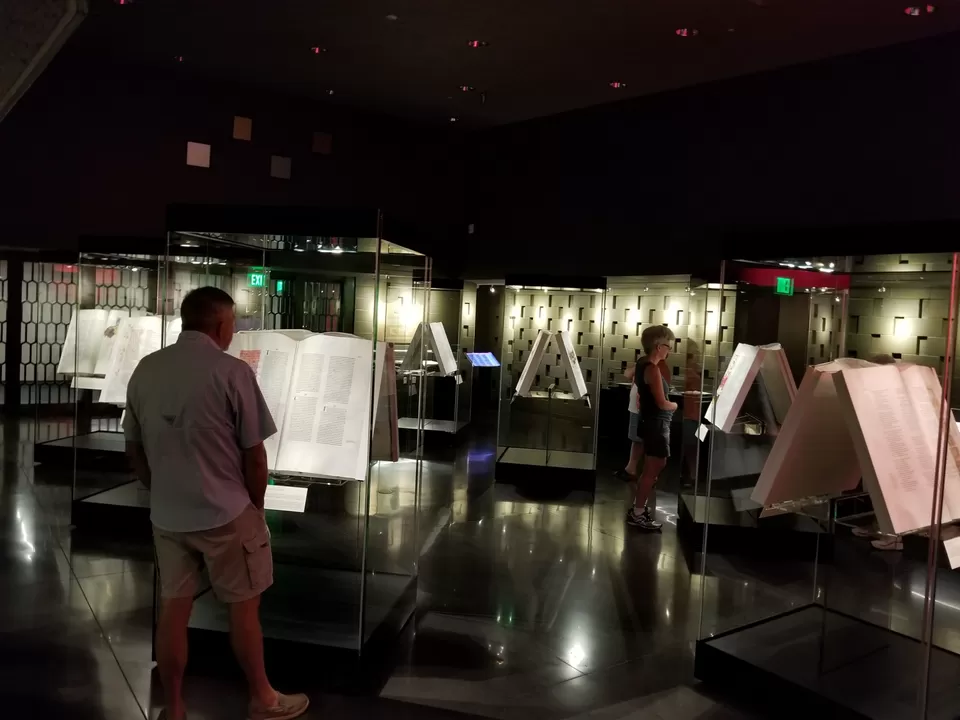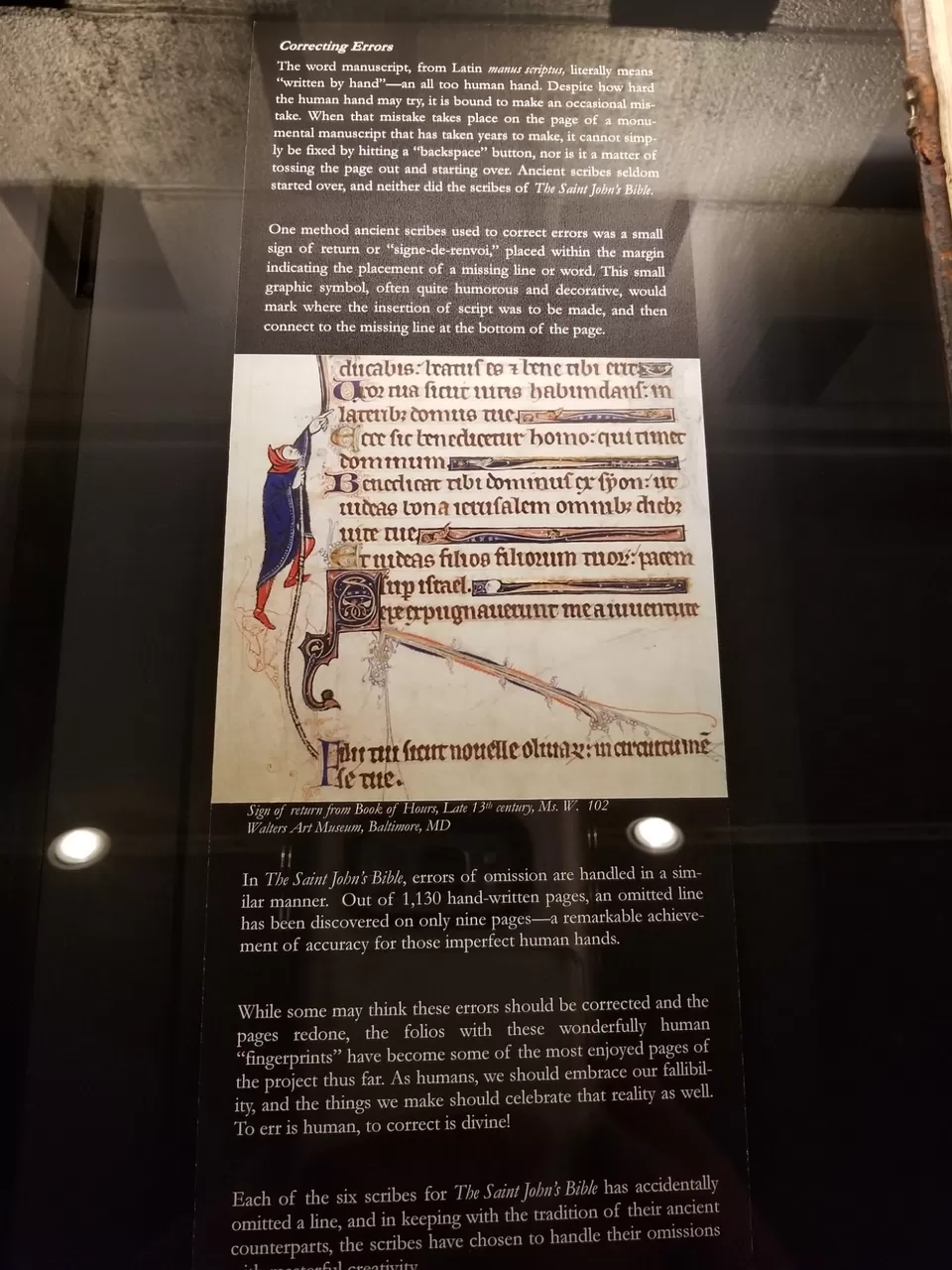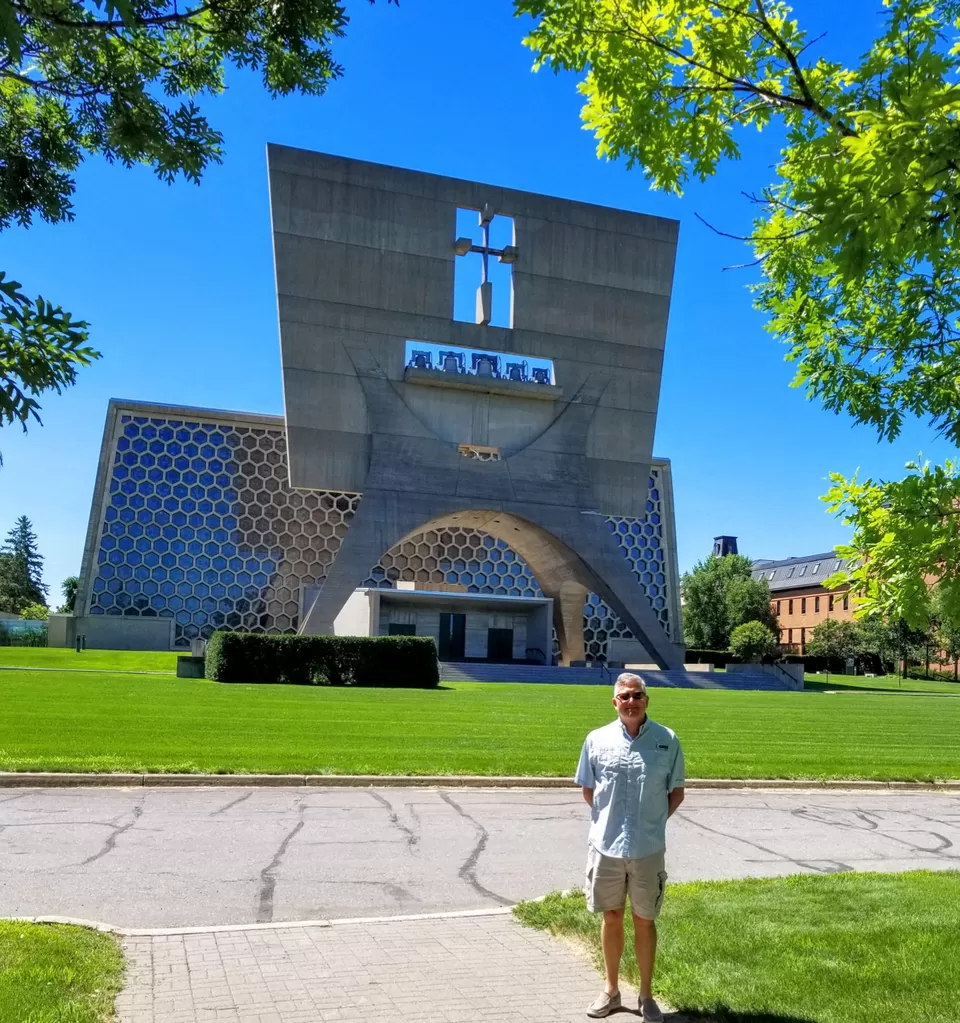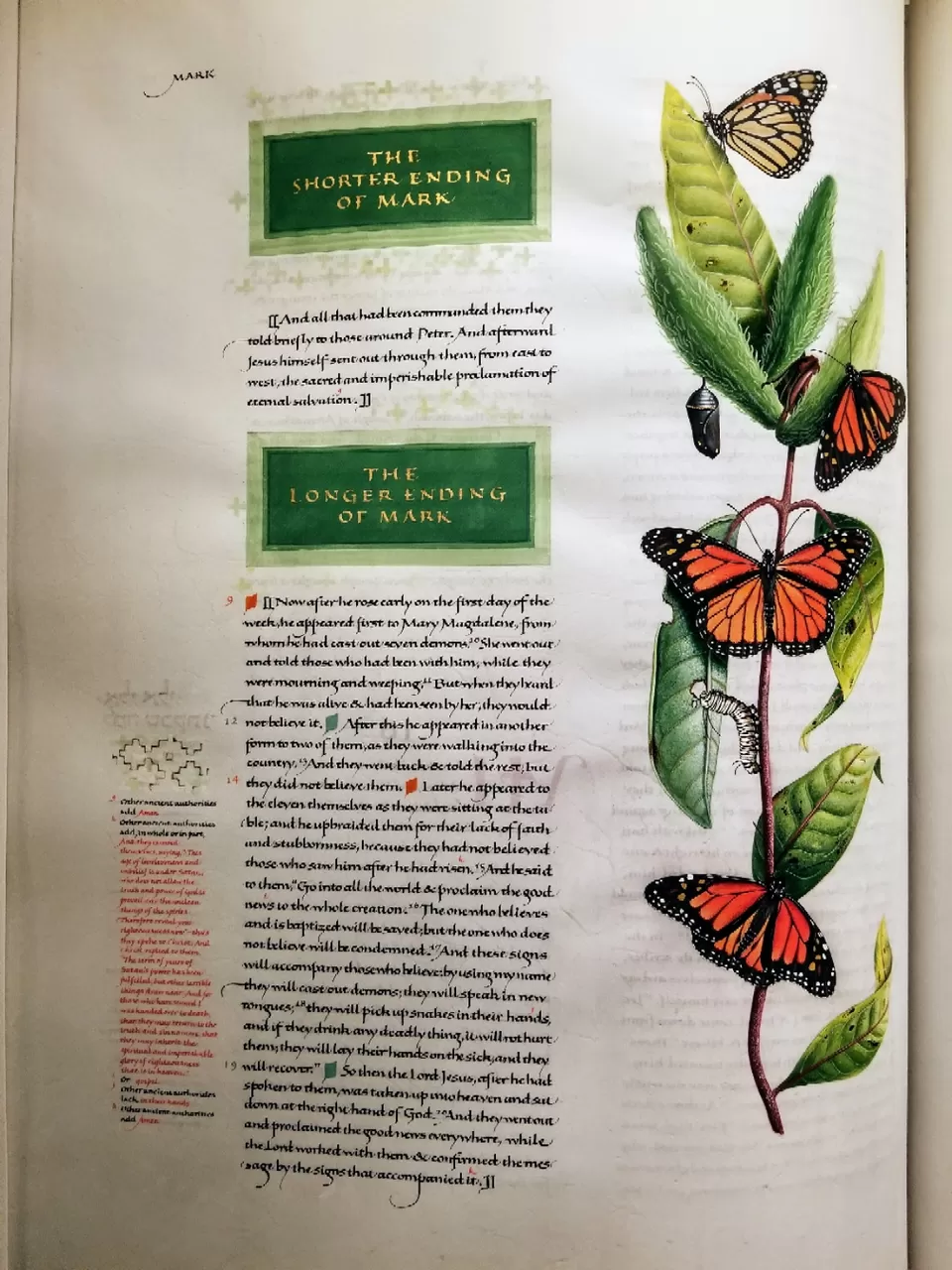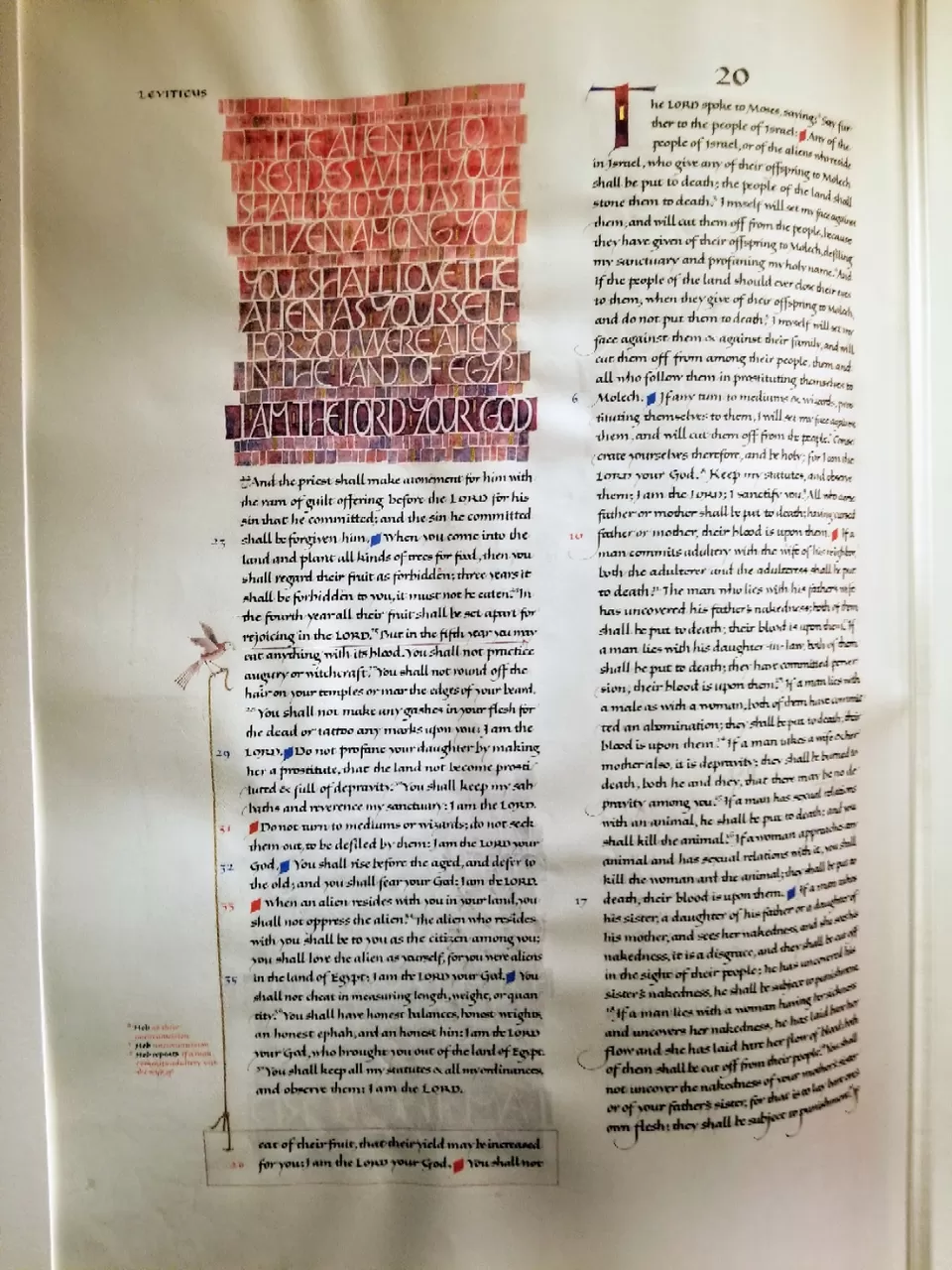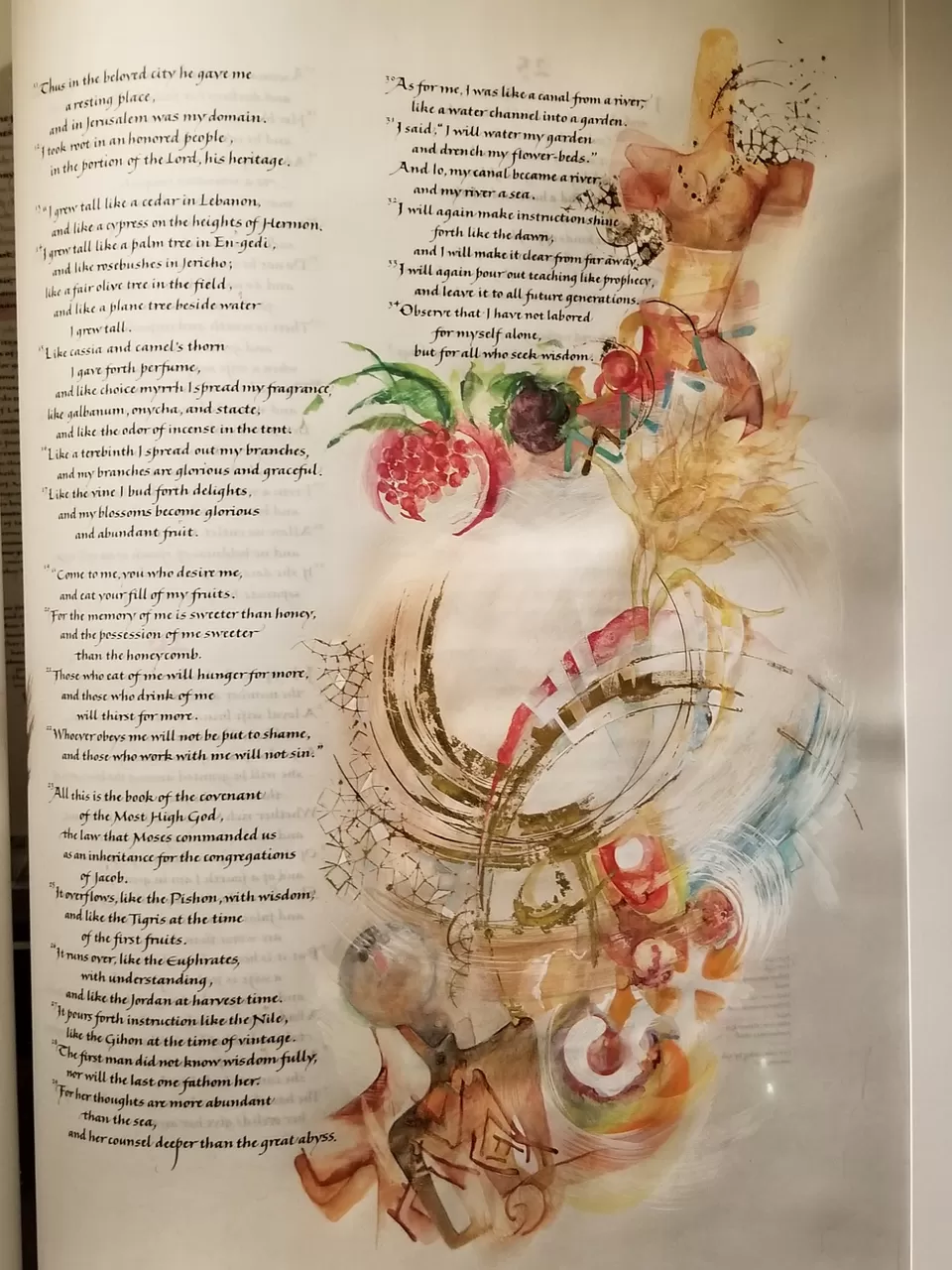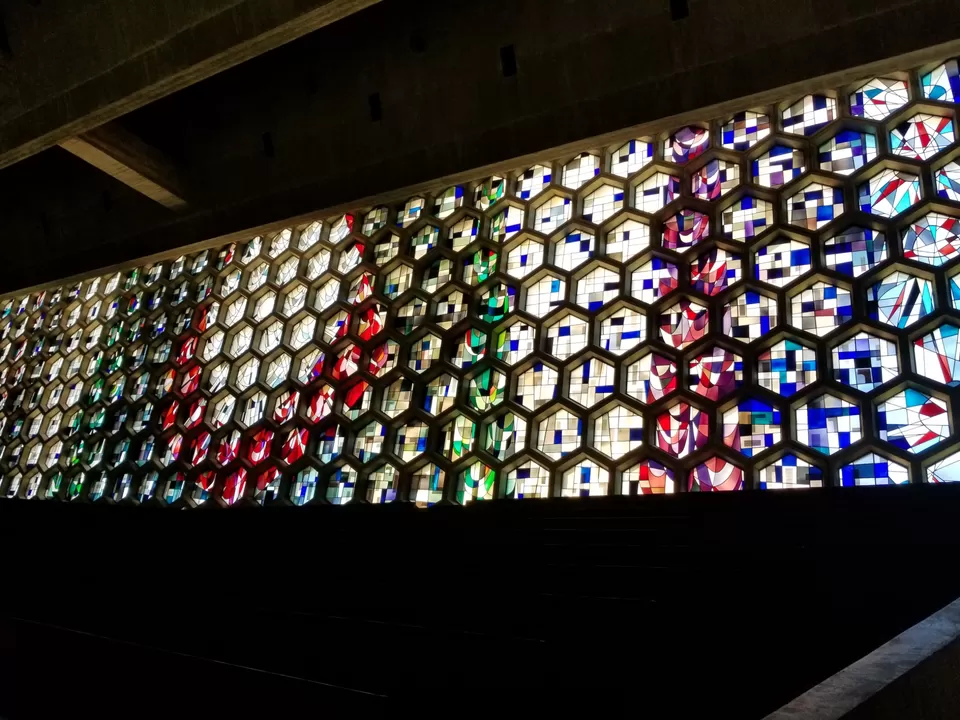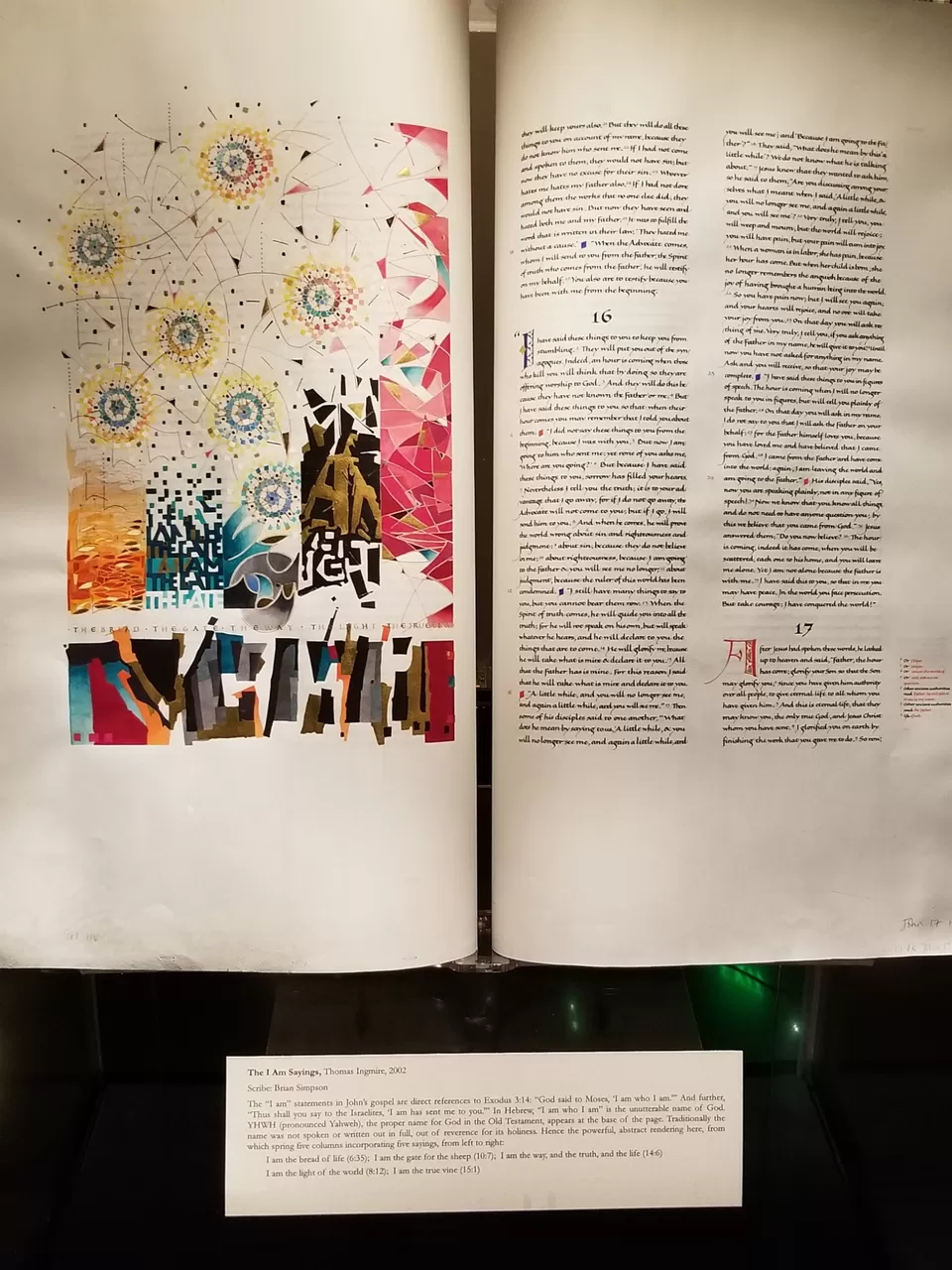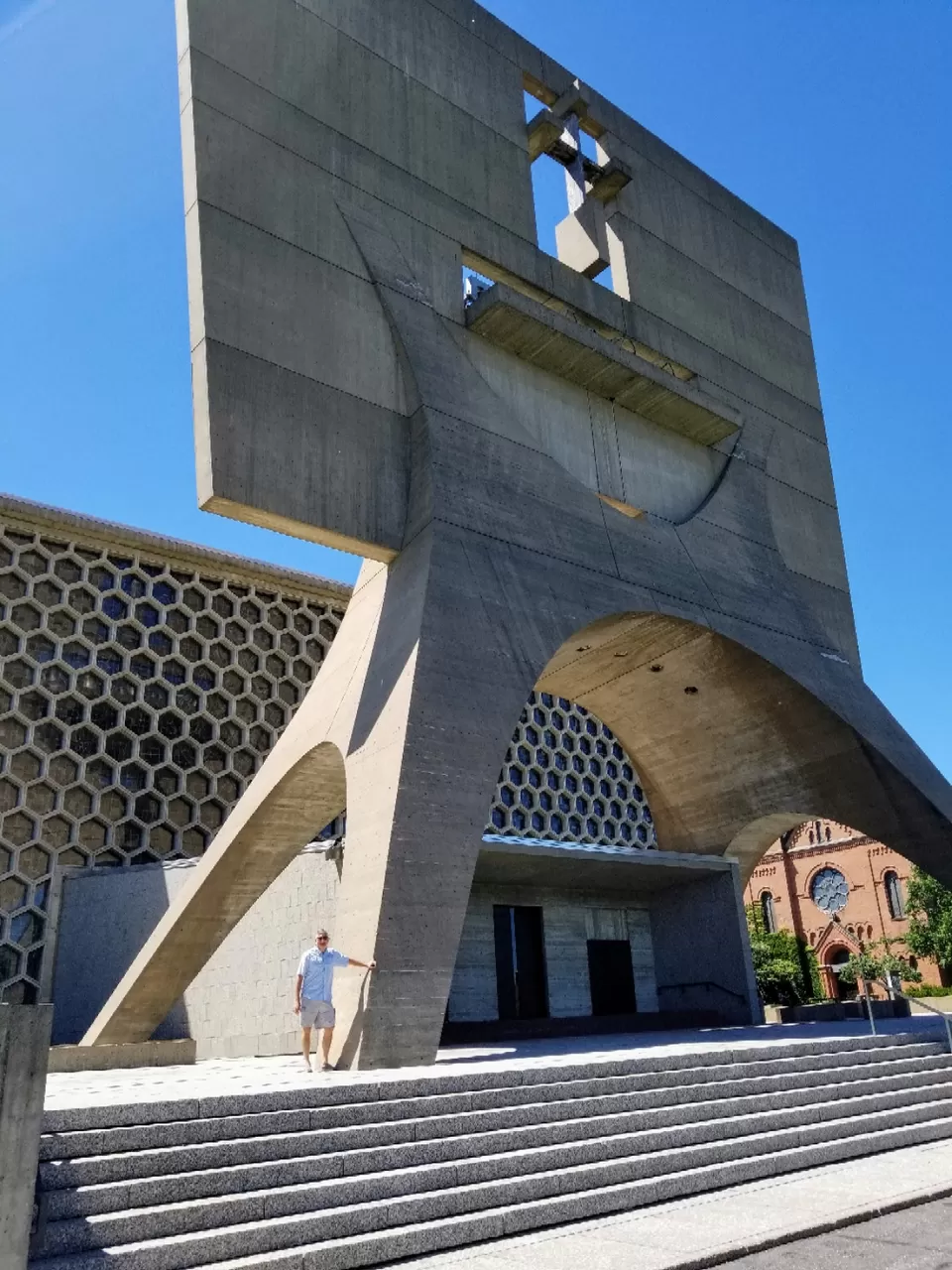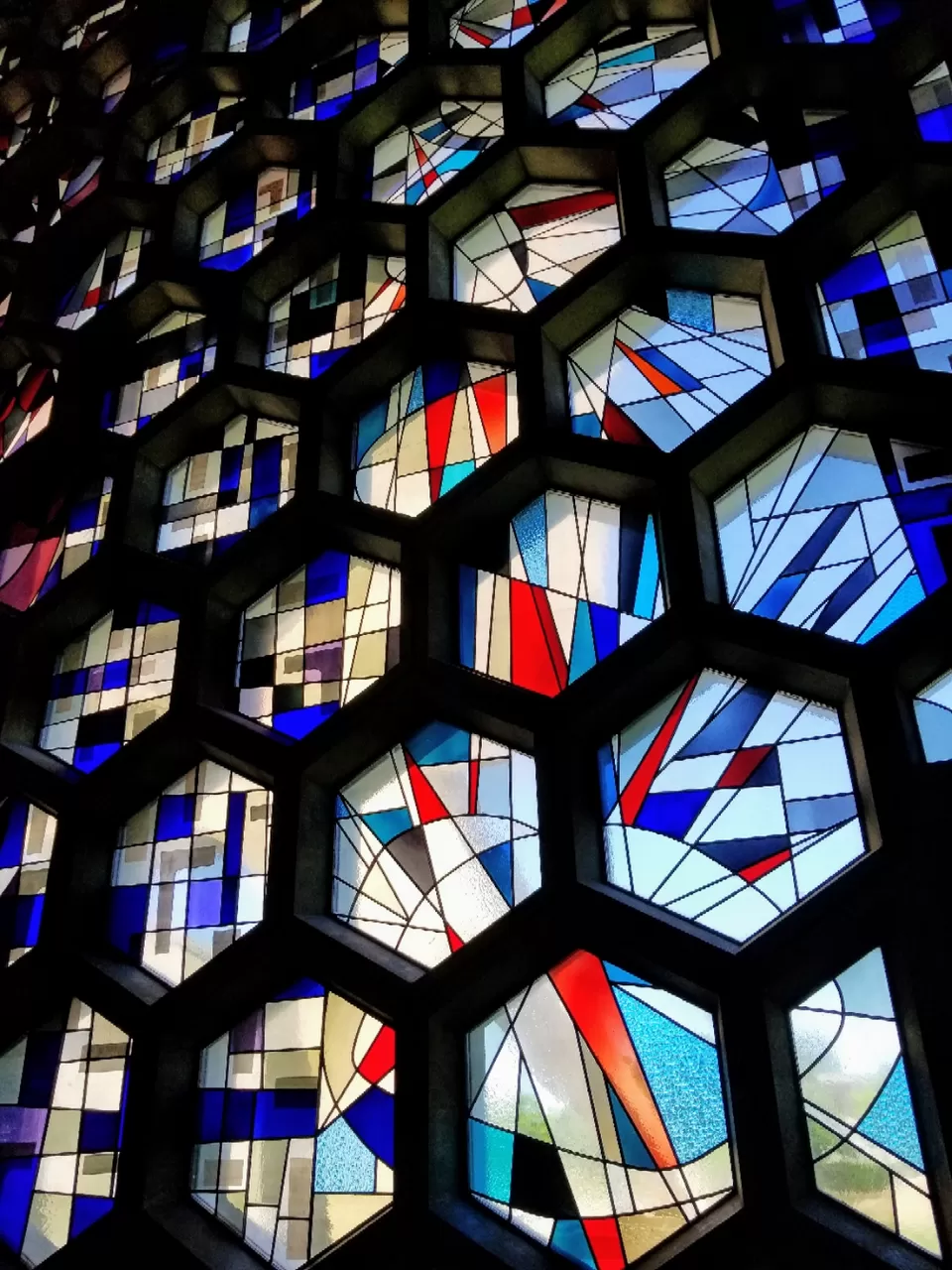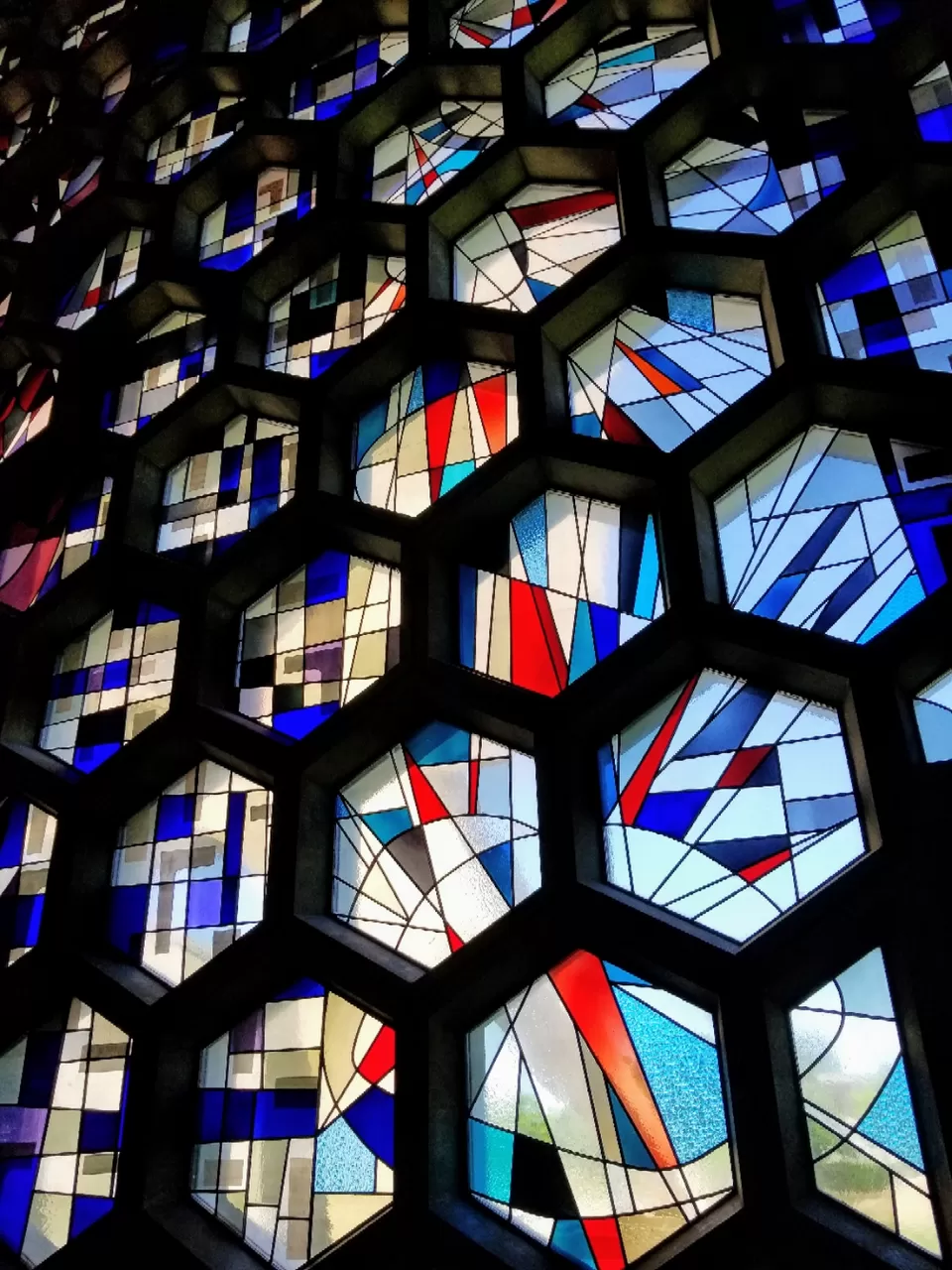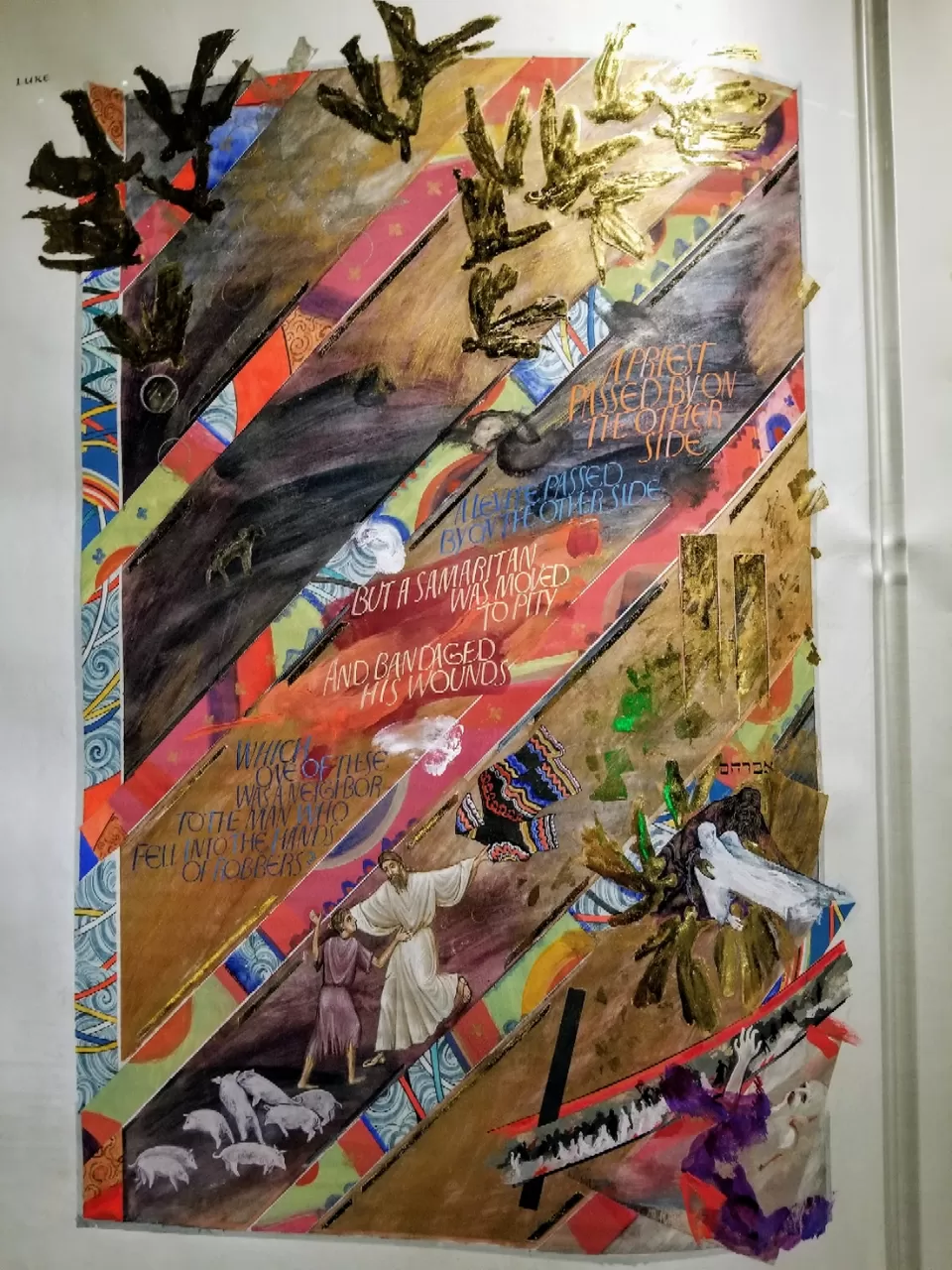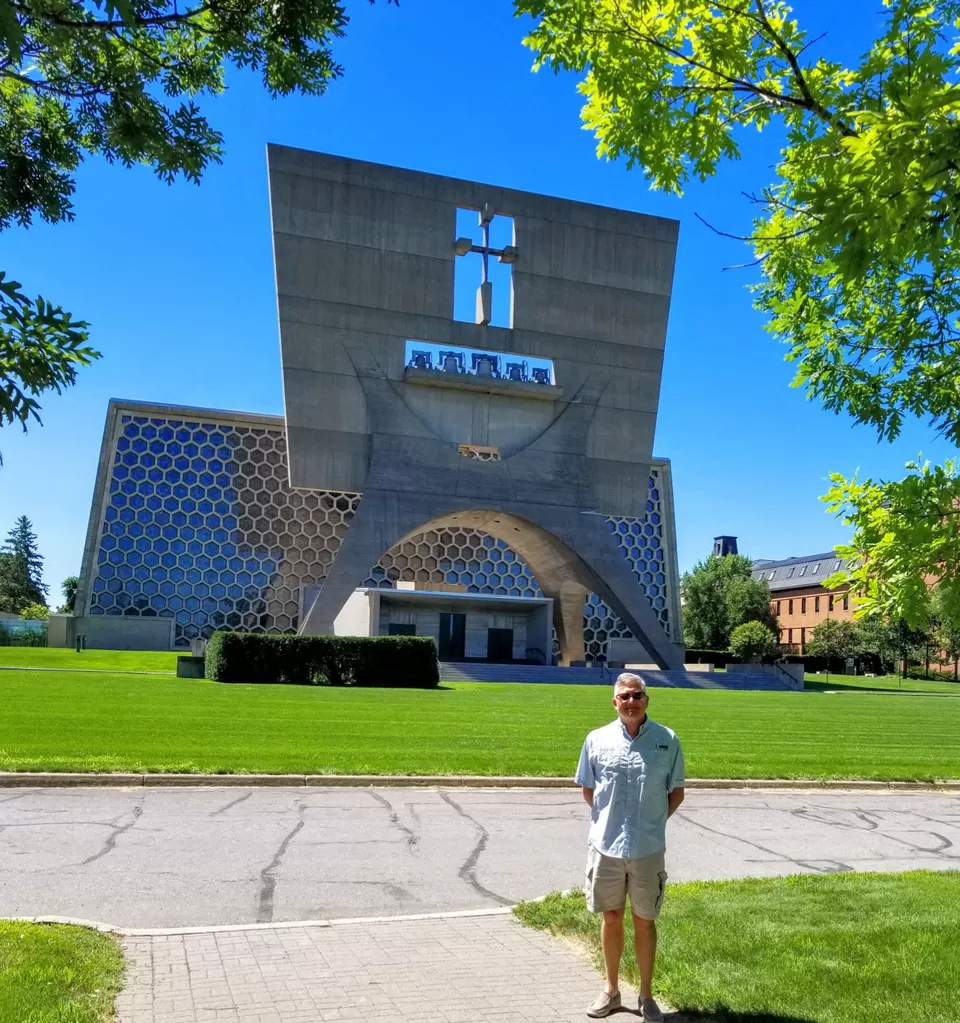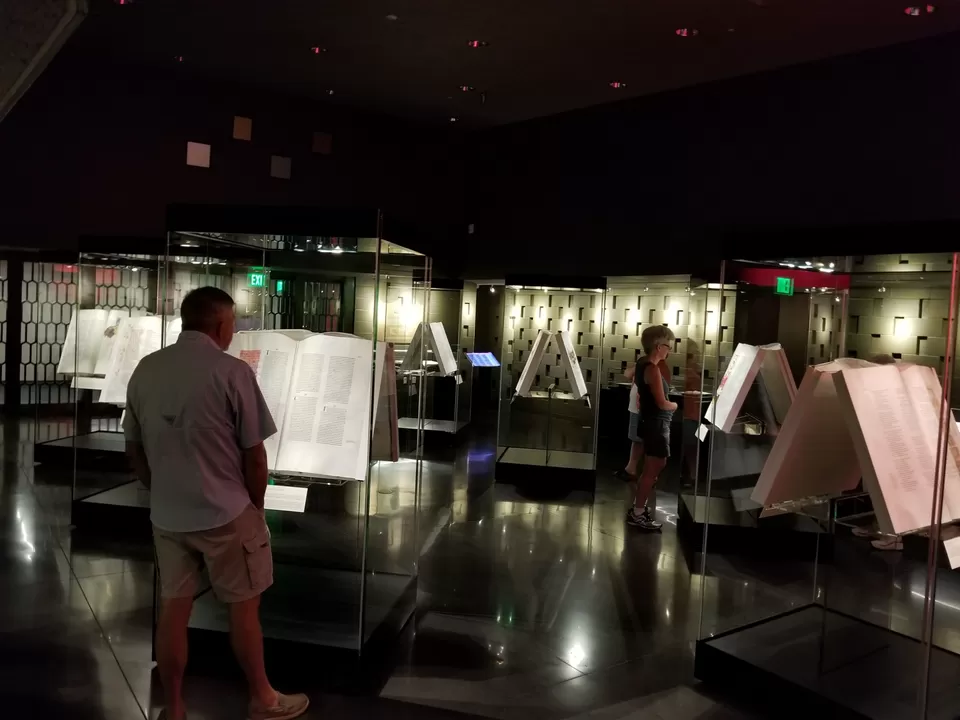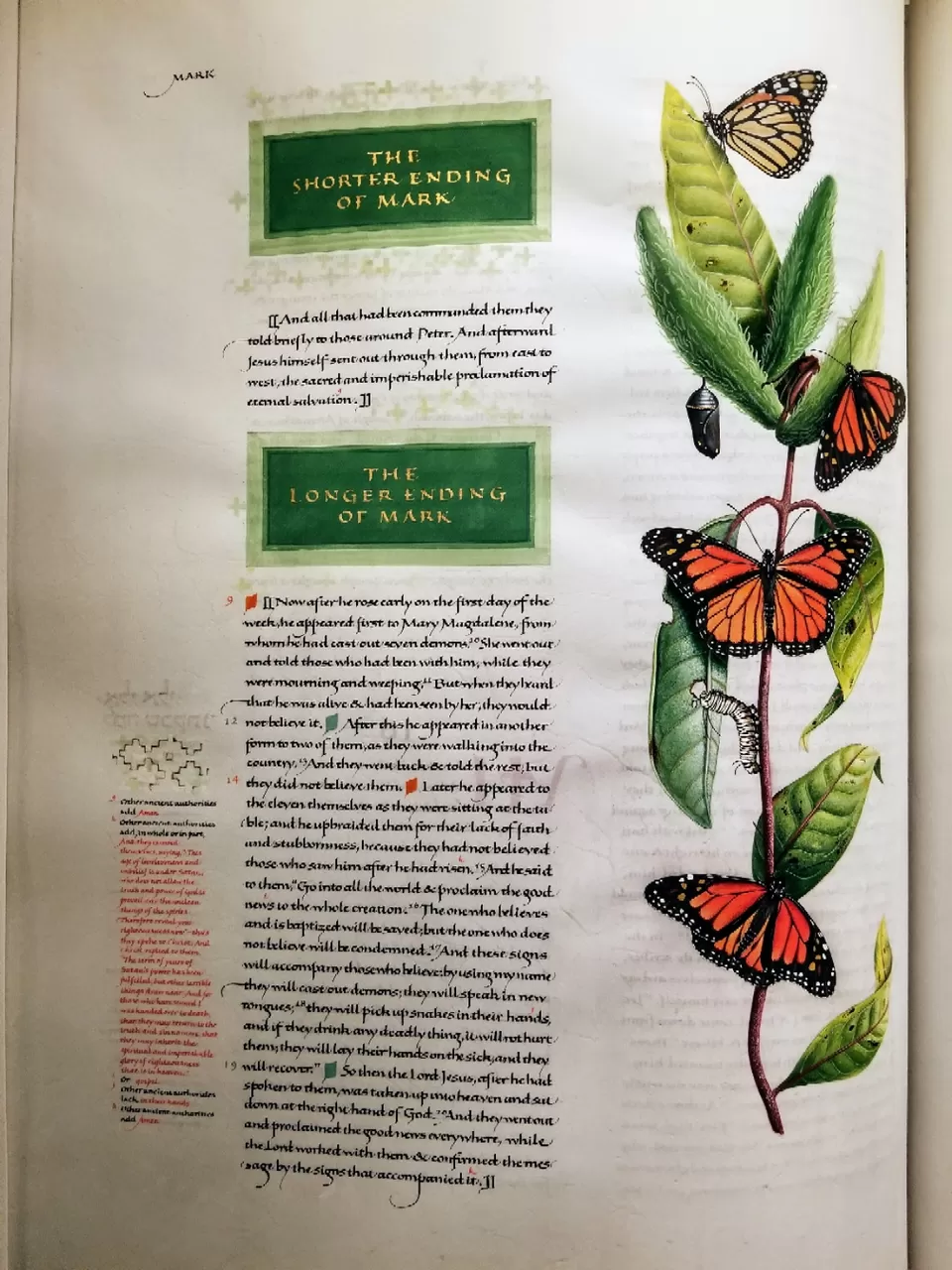 Friday July 06, 2018 we rupard to the Mall of America to day. This is the largest mall in the US in terms of total floor area. It even has an amusement park. This mall has over 42 million visitors a year and employs over 11,000 workers. We walked over 15,000 steps today. Definitely worth visiting once.
Saturday July 7, 2018
No pictures today but a great day. We rode our bikes on the wonderful bike trails that are everywhere here in Apple Valley Minnesota. We had lunch at Noodles & Company then checked out Menard's, a home improvement hardware store similar in size to Home Depot or Lowes but set up differently. We even found a few things we needed. On our way home we saw a bald eagle and a fawn while on the bike trail in the woods. The temperature was in the low eighties but there was a wonderful breeze and low humidity so we were able to sit outside and enjoy the evening. Another wonderful day seeing the Mid-west of the United States of America.
Sunday 8, 2018
We left Minnesota today and started the Wisconsin Great River Road following the Mississippi River south. The scenery was beautiful with rolling hills and scenic views from the bluffs above the Mississippi and we passed through multiple small villages, all trying to attract the tourist with eating and shopping opportunities. We passed many farms and cornfields and noticed beautiful orange day lillies growing wild along the side of the road. At Maiden Rock we watched a hang glider soar above the cliff. The town of Pepin would make a nice overnight stop. It had a vineyard and winery, a Laura Ingles Wilder exhibit and museum and RV park along with several attractive looking restaurants as well as an active farmers market. There are many tributaries in this area, reminding us of the bayous of Mississippi and Louisiana. The town of Alma would be another place to stop in for the night. Alma has a large designated national historic district, a natural balcony overlook (Buena Vista), a lock and dam, and Japanese cannons along with many local artists and shops and a museum. Plenty to do for a day-and-night. We stopped at the Burlington Hotel Bar and Quilt Shop. The hotel was established in 1894. We enjoyed chatting with Debbie the owner. Next stop Wingdam Saloon in Fountain City. Hole in the wall biker bar with great bar food. Met a man who suggested an alternative route crossing back into Minnesota for a more scenic drive. Driving through Winona Minnesota we saw old buildings reminiscent of New England. We also saw a large pinnacle which we learned is called Sugar Loaf and was created by quarrying in the 19th century. We over nighted at Goose Island Campground in La Crosse Wisconsin after stopping for a photo op at the world's largest six pack. We were shocked driving through the campground at how many sites are flooded and unrentable. Thankfully our site is level and dry.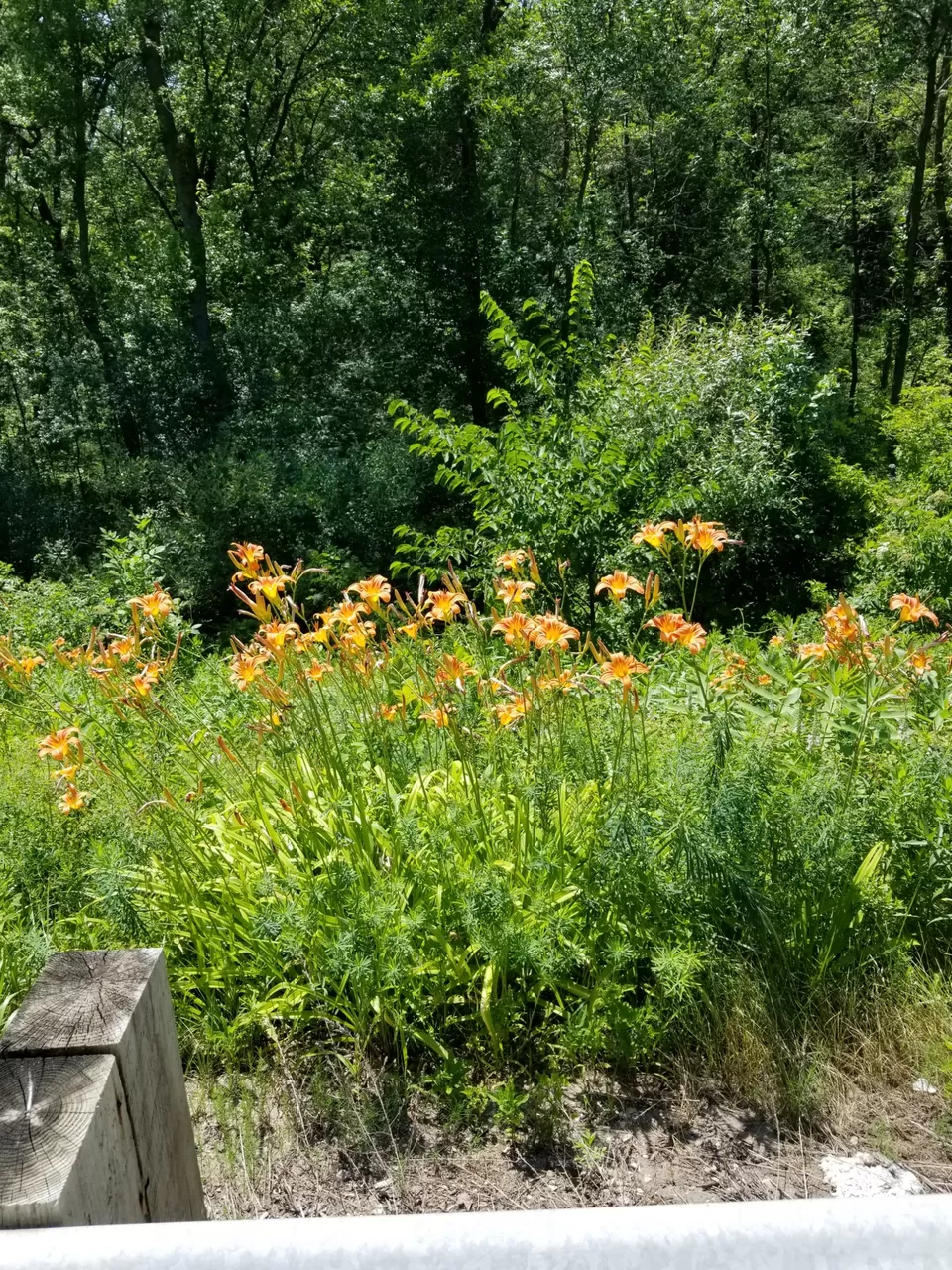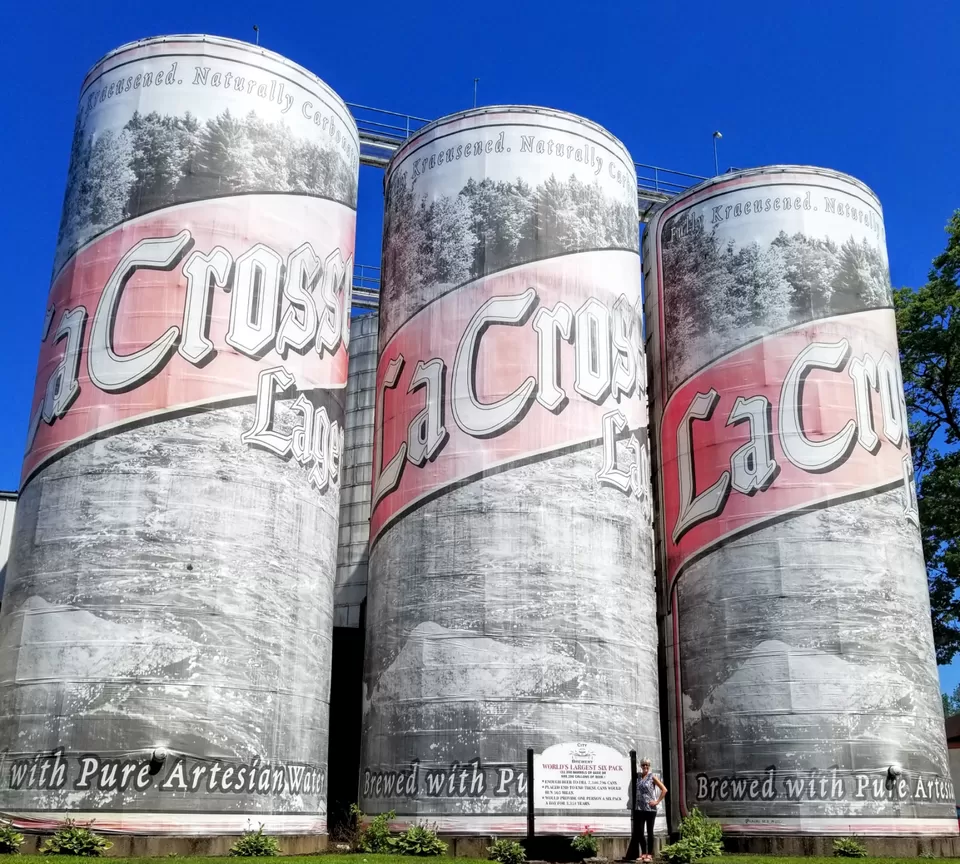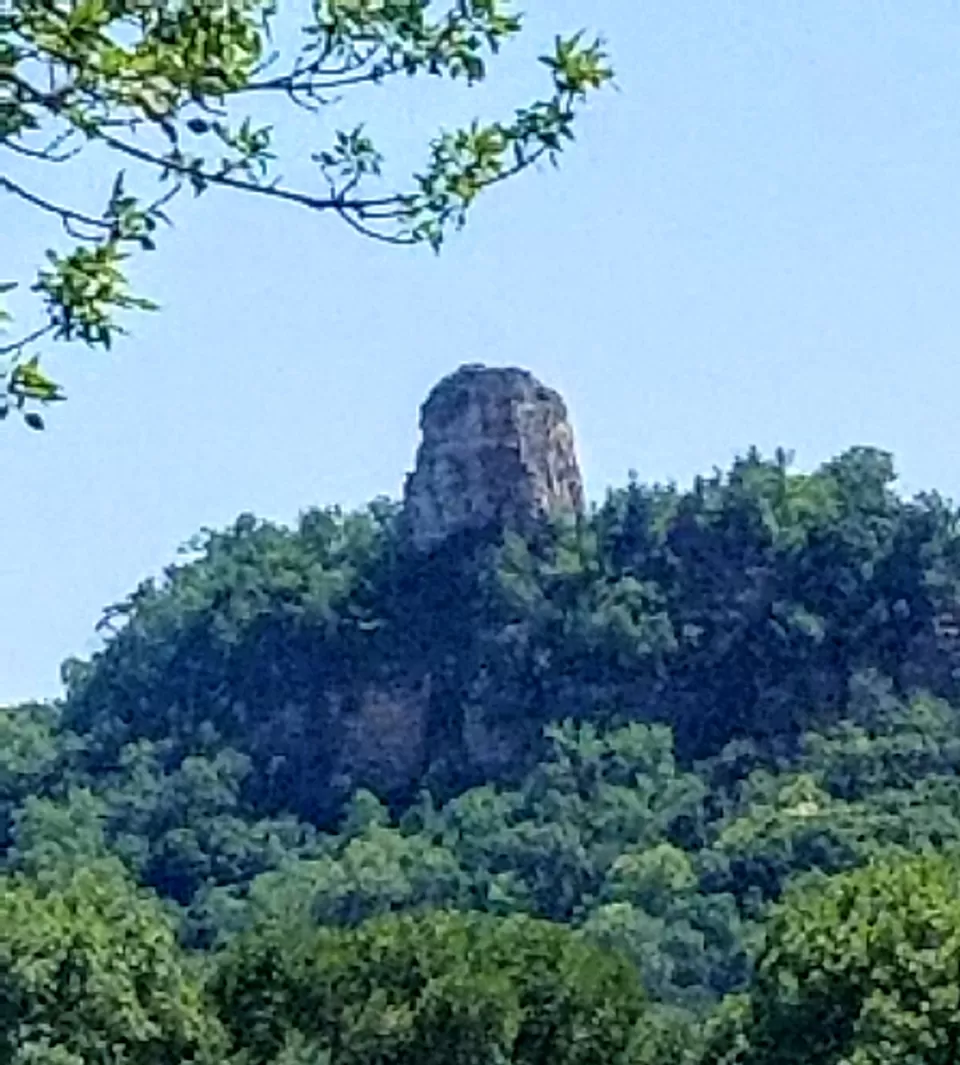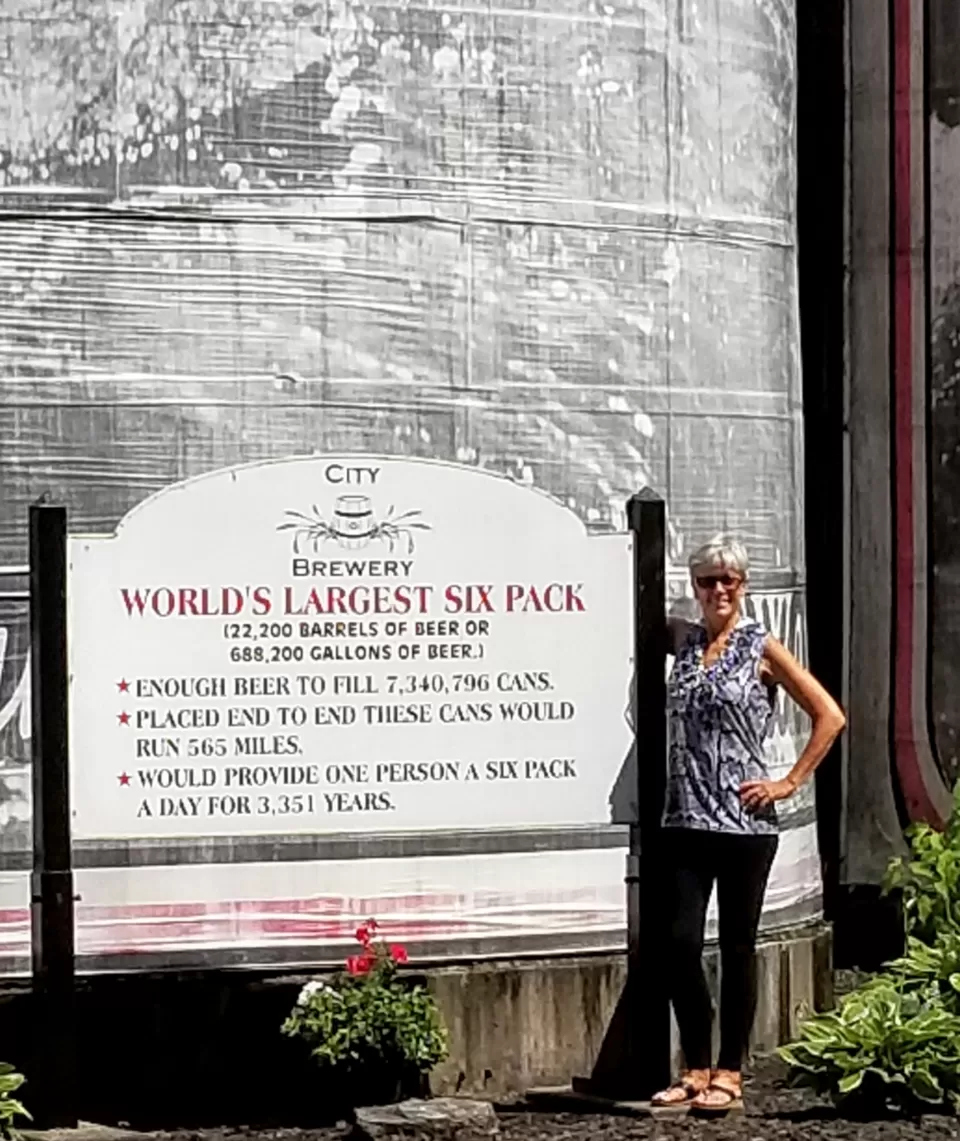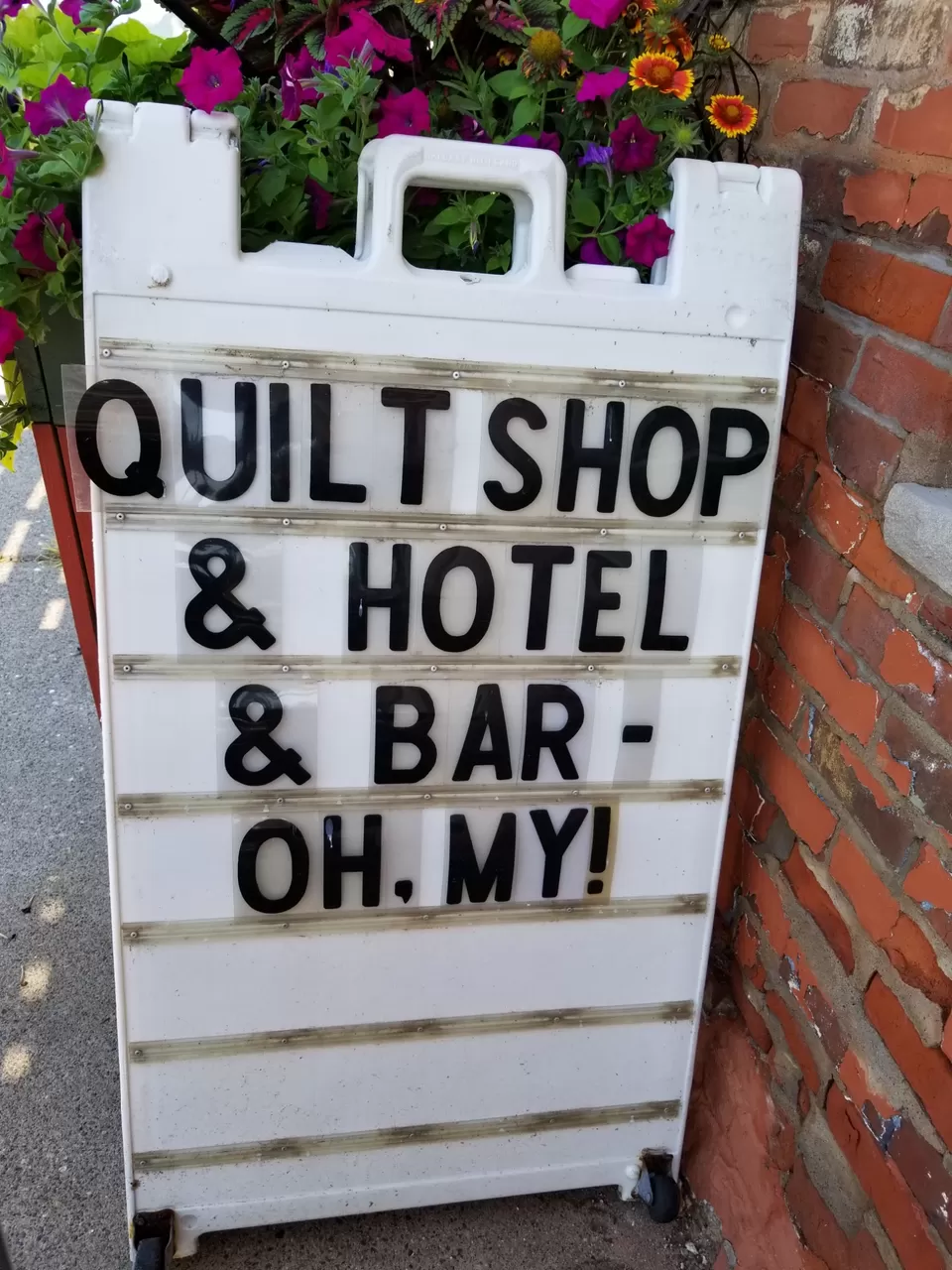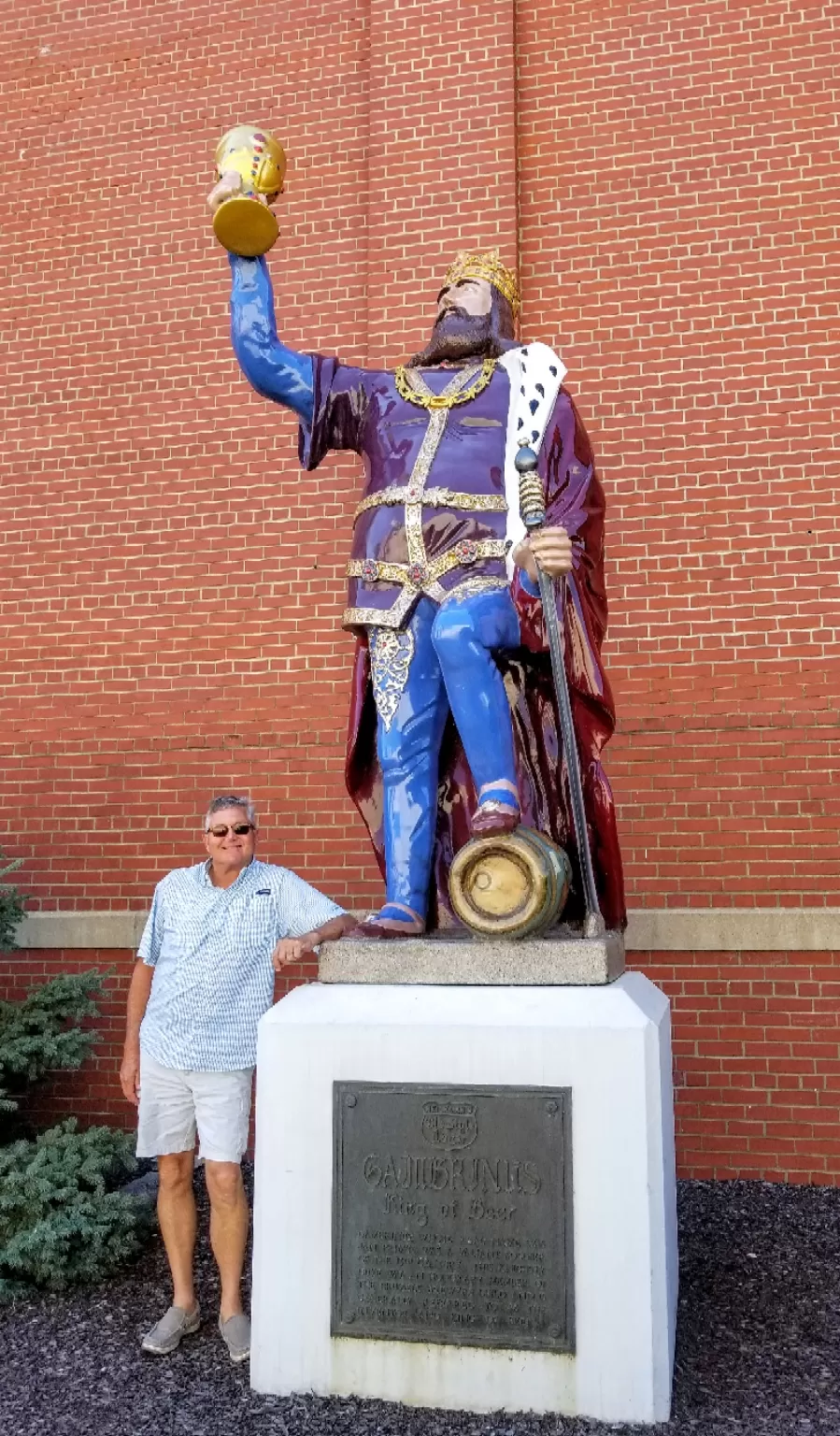 Monday July 9, 2018
We went to the top of Grandad Bluff today for a spectacular view of La Crosse and learned about the history of La Crosse. The earliest people to occupy this area were the Paleoindian big game hunters, some 13,500 years ago. With the confluence of the Mississippi, Black, and La Crosse rivers the area offered an important network for transportation and communication. When the early Europeans settled here their focus was on the fur trade and the rivers provided the critical means of transportation from northern sources to markets on the Eastern seaboard. Over the years the railroad arrived, providing a much needed link to Eastern regions and spurred a significant increase in population. Following the Civil War, the community continued to expand as logging, milling and steamboat traffic flourished. The local brewing industry, largely driven by the city's significant German population helped La Crosse absorb the shock of the late 19th century lumber business decline. Brewing became so prosperous that by the 1980's La Crosse became home to the nation's fourth largest brewery, City Brewery. John changed the oil in the RV so we are good to go for the rest of the trip.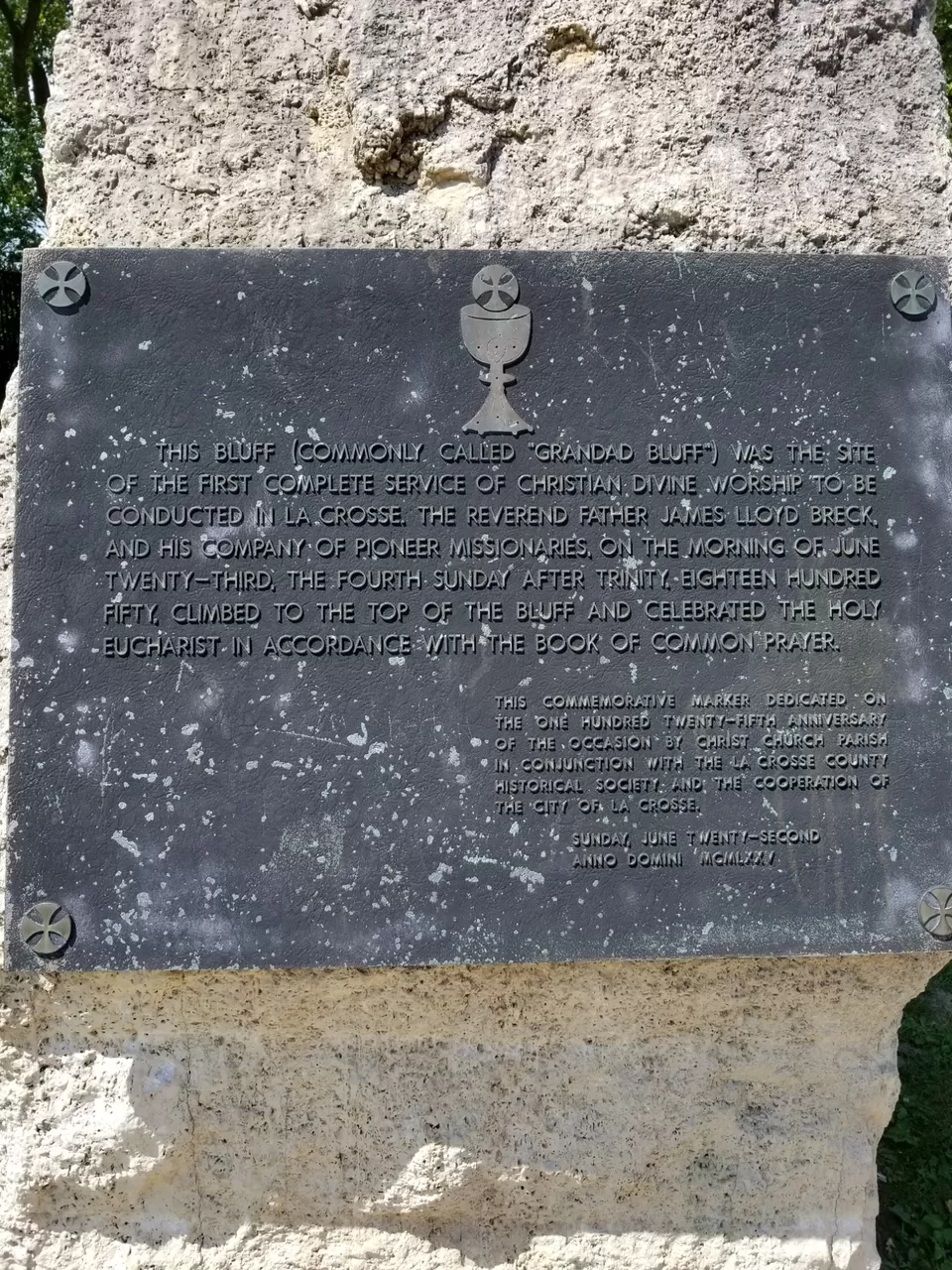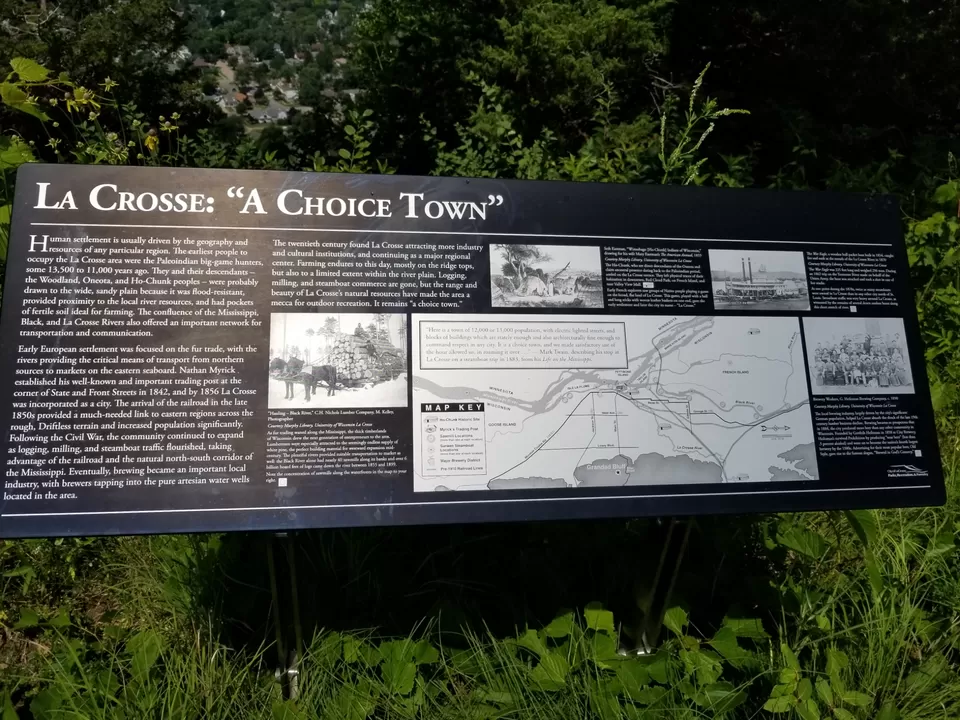 Tuesday July 10, 2018
Our main attraction today was the Norskedalen Nature and Heritage Center. This is a true hidden gem, located 15 miles southeast of La Crosse. The center allows the visitor to take a step back in time and experience the lifestyles of the Norwegian immigrants in the mid 19th century. We watched a short video and learned of their reasons for leaving Norway, why they stopped here, and how agriculture and industry developed as a result. We were able to walk through the historic Bekkum Homestead. Set in a 'Tun', or horseshoe, the Homestead is an example of a typical Norwegian farm in the late 19th century. There are miles of hiking trails too. Visit www.norskedalen.org for info. We drove through back roads today seeing a fox and a deer, more corn fields, rolling hills, monument stone, farms, wild flowers and orchards. We also took part of the Black Hawk driving tour, what a sad story, yet it is history and as we know all history is not pretty. For more info read Black Hawk and the Warriors Path by Roger L Nichols or www.vernoncountyhistory.org. We had reservations for Mississippi Bend RV park and were a bit concerned upon arrival. However, it turned out to be a great stop. The owner, Mark, is very personable and we thoroughly enjoyed visiting with him and his friend Ron. They ended up taking us 4-wheeling up the mountain and down to the wetlands. We asked Mark how he ended up owning a campground and he told us it all started when he stopped in a bar for a rootbeer! He talked to a guy that asked him if he wanted to buy a campground and he said "well, I didn't wake up this morning and think I want to buy a campground today". Long story short he bought it. Funny thing is the seller had two offers for more money than Mark bought it for but he didn't like the people that made the offers, one was a banker and one was a realtor and they both would have developed this beautiful property. This is truly a wildlife preserve right next to the Great River Road and the Mississippi River. Back to Mark and Ron. Mark's wife runs the local hot dog saloon and Ron's wife has a job in a nearby city and Mark and Ron work and play at the campground. We met Mark's dog, a rescue from Miami, she is a Catahoula Cur hound dog. Long story, she arrived at a no kill shelter and he saved her. This is a beautiful location and we are happy to be here for the night. Fisherman would love it here because there is no size limit on Crappie and Walleye. Later this evening we noticed the refrigerator and freezer were not working. John checked what he could in the dark but was unable to diagnose the problem. We made ice and packed the freezer with it.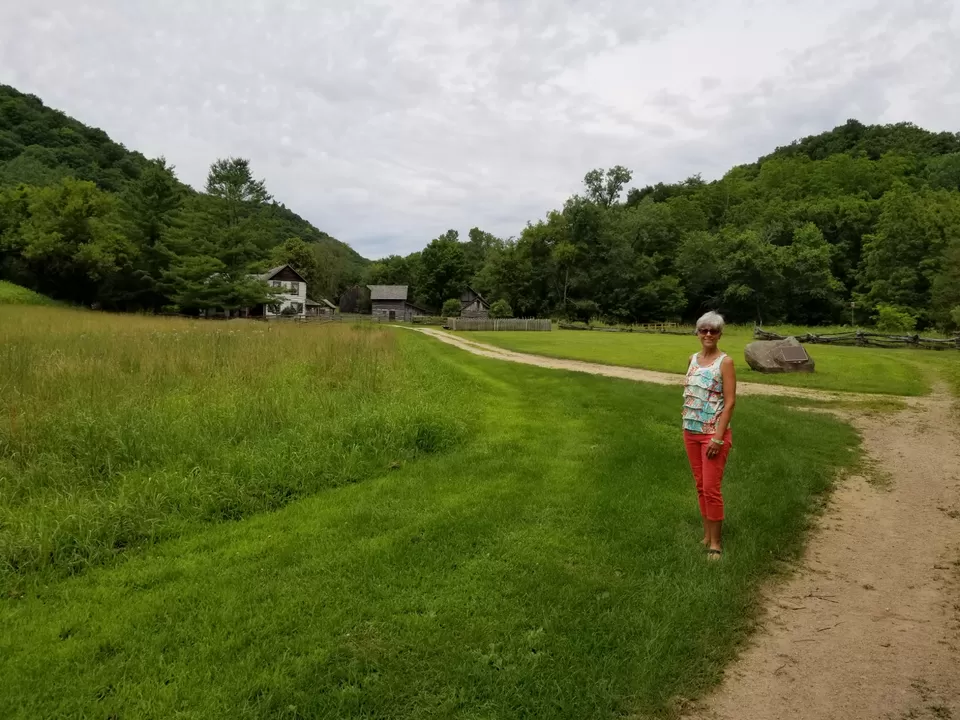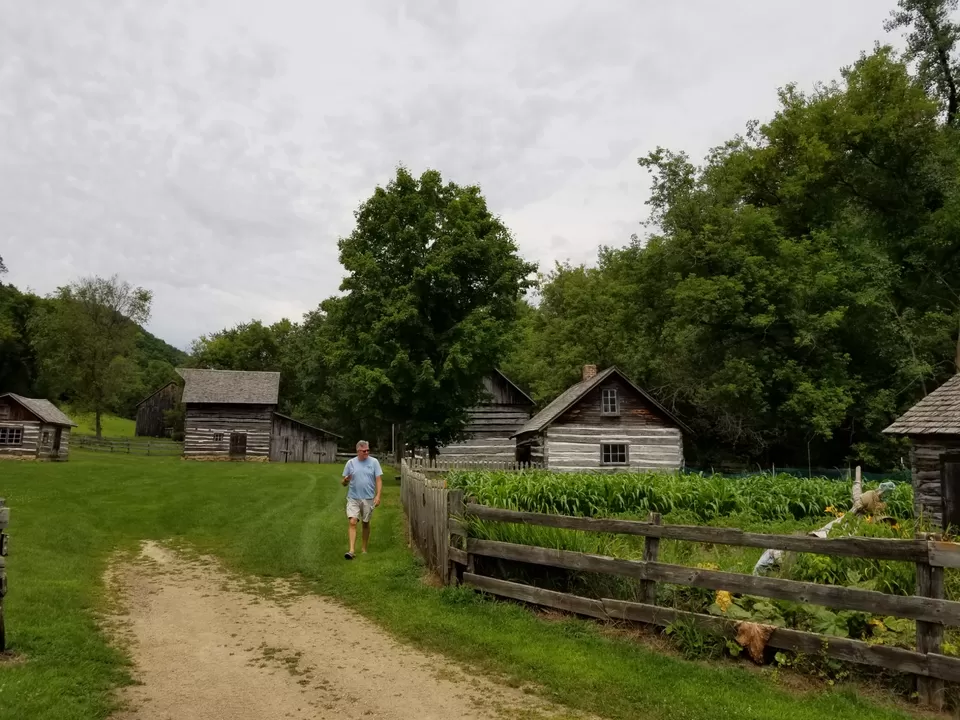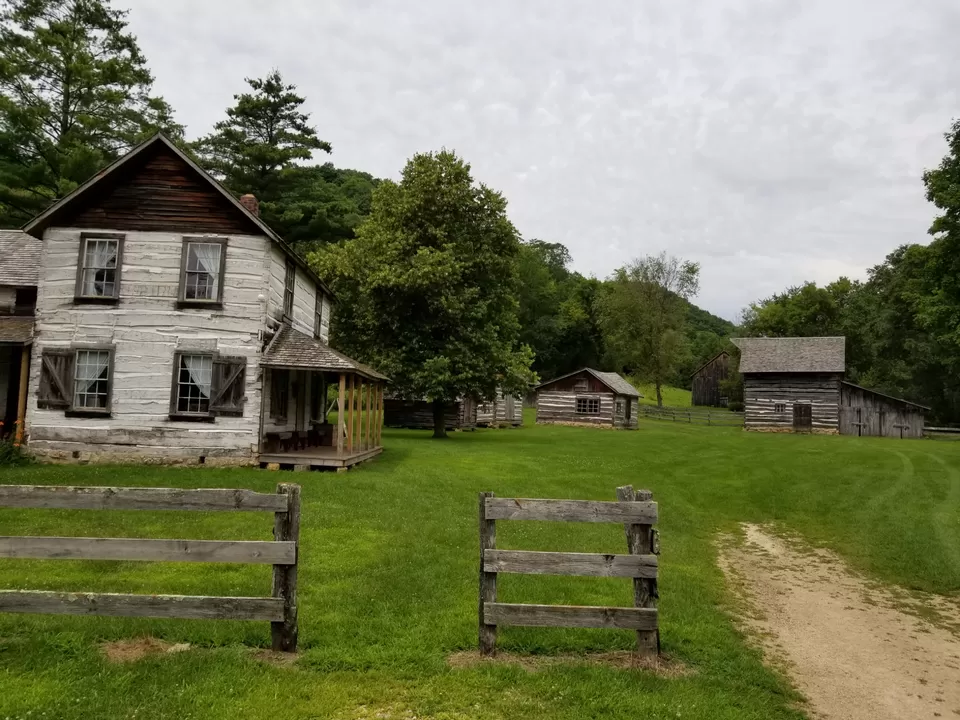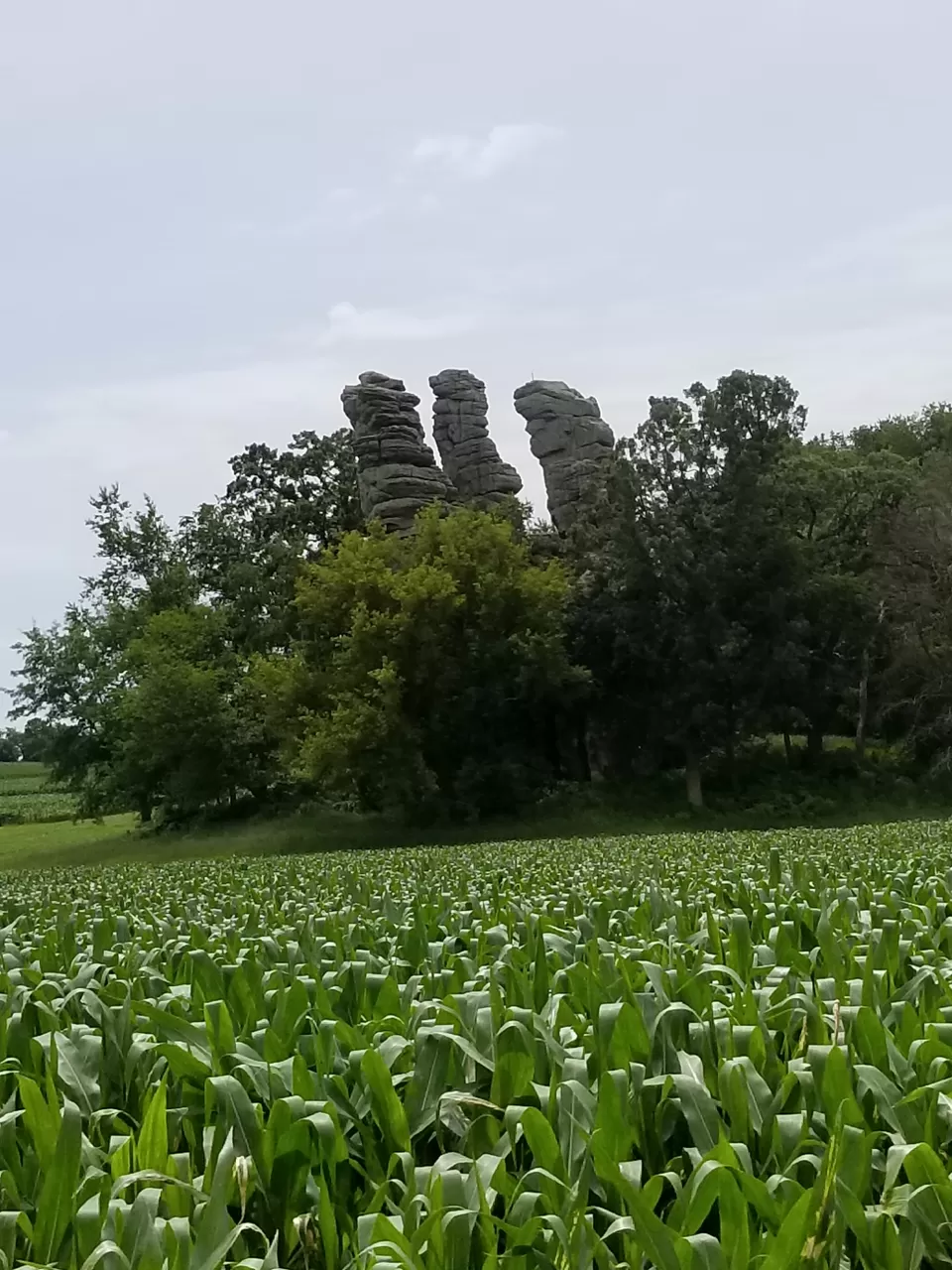 Wednesday July 11, 2018
We cooked the chicken and sausage and boiled at the eggs to keep them from spoiling this morning. Will work on the fridge again once we get to Kara's in Moline. On our way to Frank's in Savanna, Illinois we passed cows, horses, corn and soybean fields, and rolling landscapes where the farmers used the strip planting farming method. Then the scenery changed to a wooded tree lined canopy for a while then changed once again to farming, but flatter and drier than earlier today. Frank Fritz's Finds, from the American Pickers, was an antique store accessed via a bar. Fun to look but nothing waved at us to buy. Next stop Antique Archeology, Mike's stuff. The store is similar to the one in Nashville. We went to a Camping World on the way to Kara's to see if they could fix the fridge tomorrow. They told us it would take a couple of weeks to get parts so we'll wait until we get home. We made it to Kara's and had a nice visit with Kara and Sam. Tom got home late so we didn't get much of a visit with him. We took things from our fridge and put them in Kara's. Tomorrow we'll research the problem some more.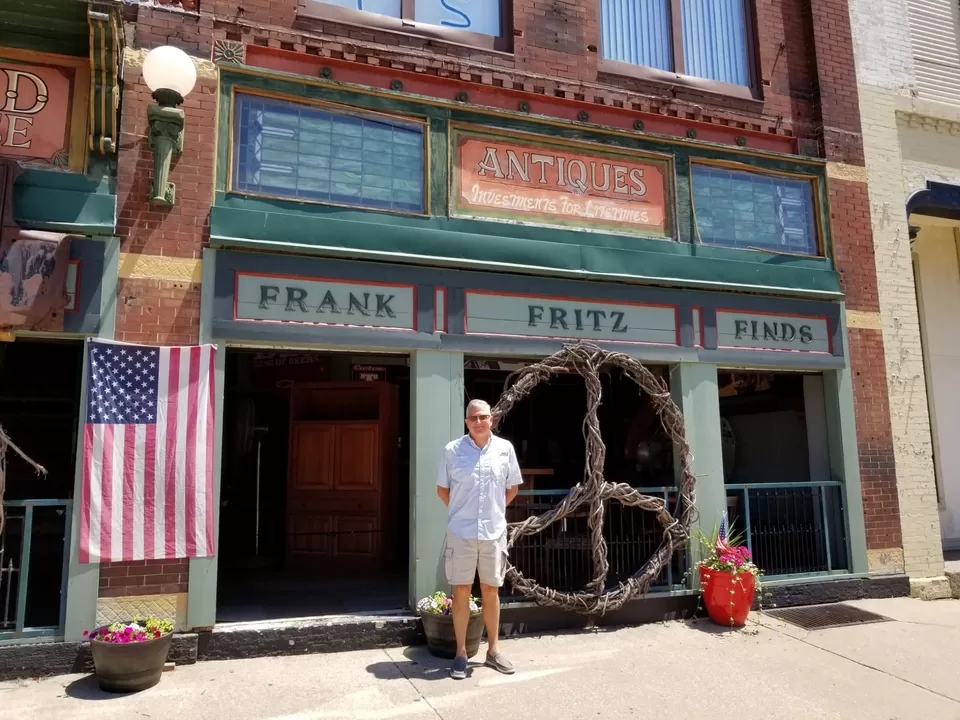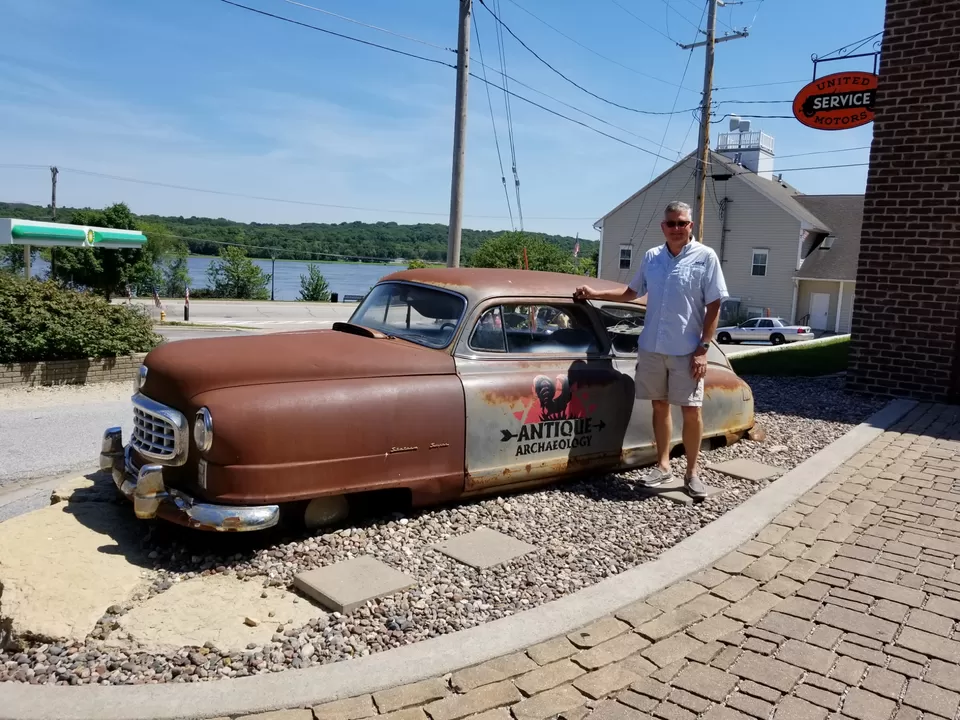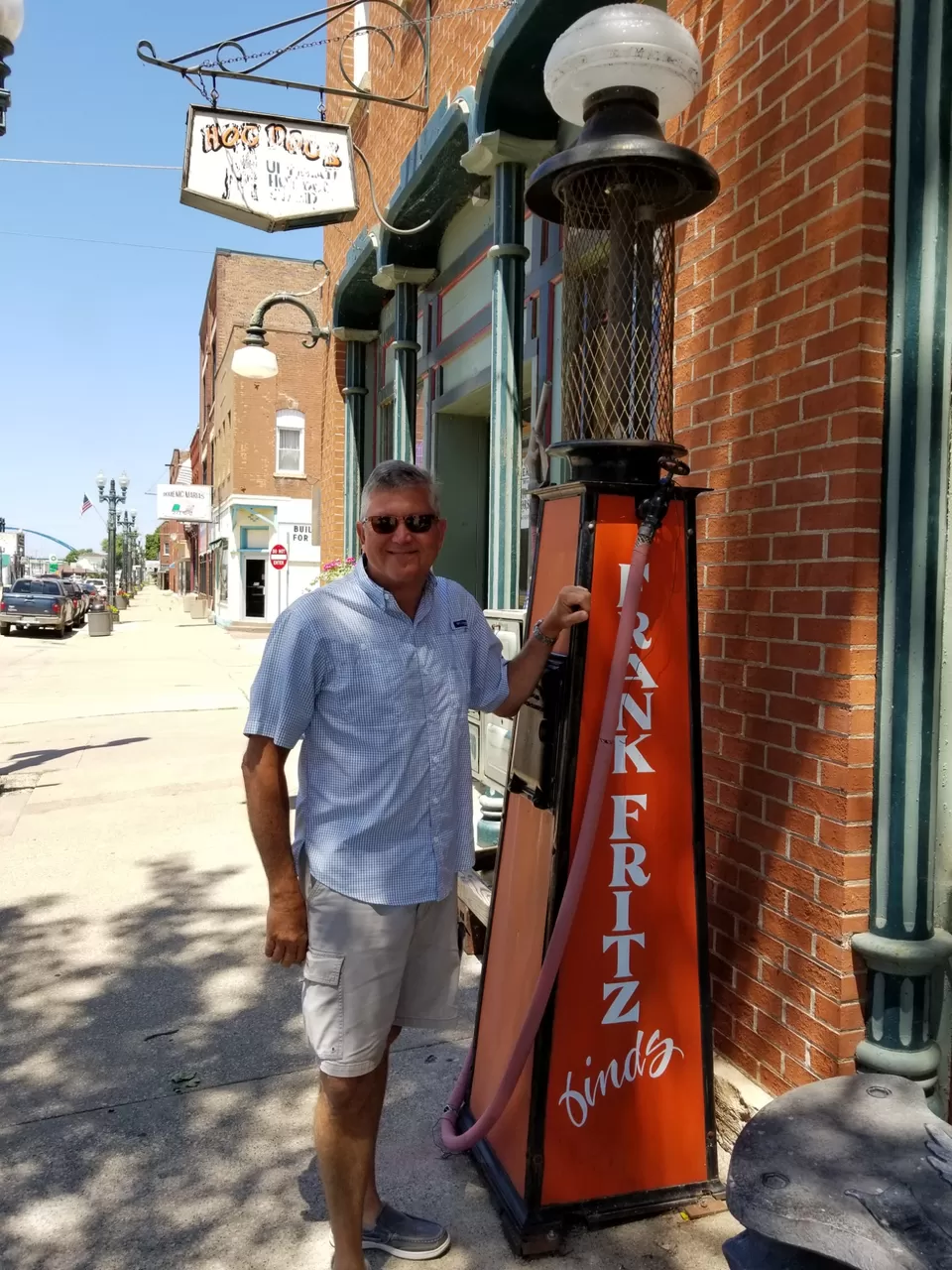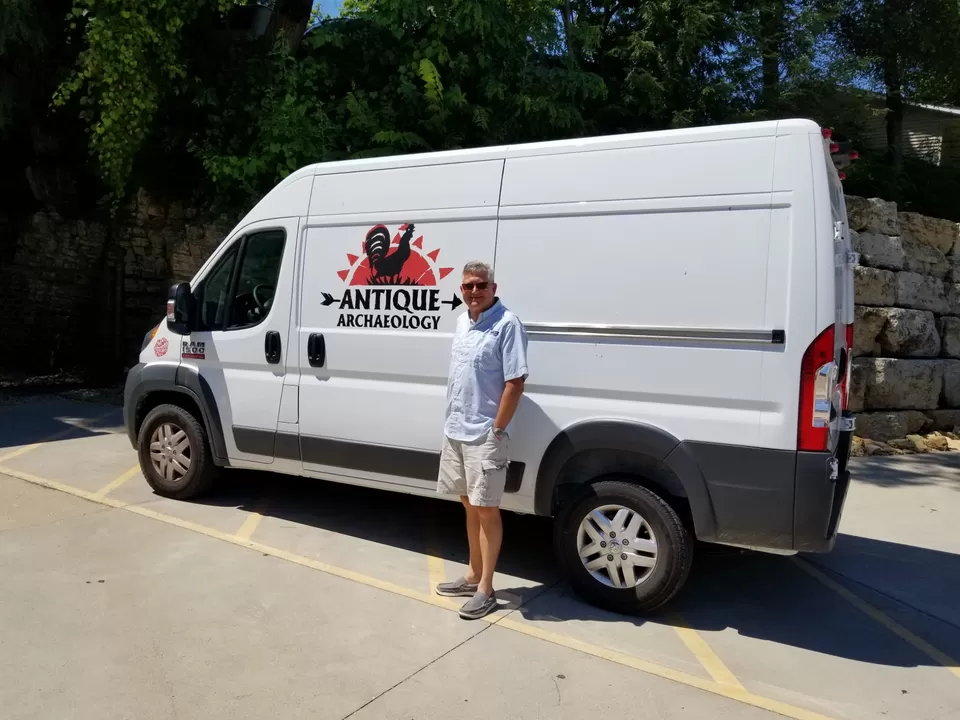 Thursday July 12, 2018
We had a nice relaxing day at Kara's in Molene, Illinois. Chatted and visited all day then went to downtown Moline to an outdoor summer concert. Really nice to catch up. Found out what's wrong with the refrigerator and we will definitely have to wait until we get home to order the parts and then John will be able to fix it.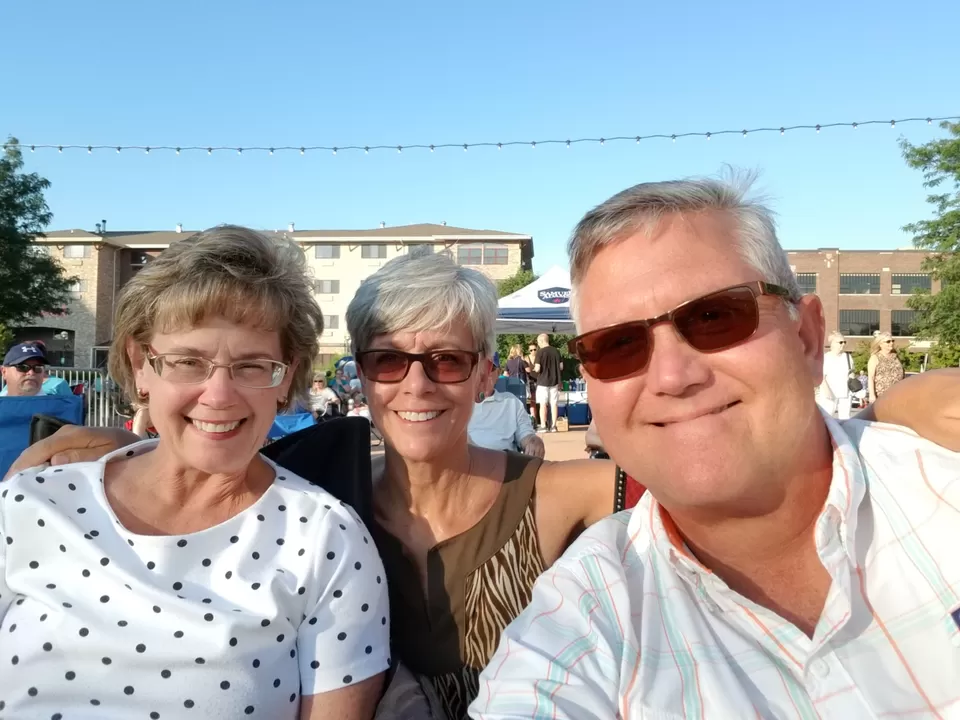 Friday July 13, 2018
When we saw the route from Moline to St. Charles went through Chatham we contacted Carolyn to see if she was available for a quick lunch. She was! We stopped at a Cracker Barrel and had a wonderful visit. We are now driving through flat farmland. Lots of cornfields and farms. Another great day seeing the United States.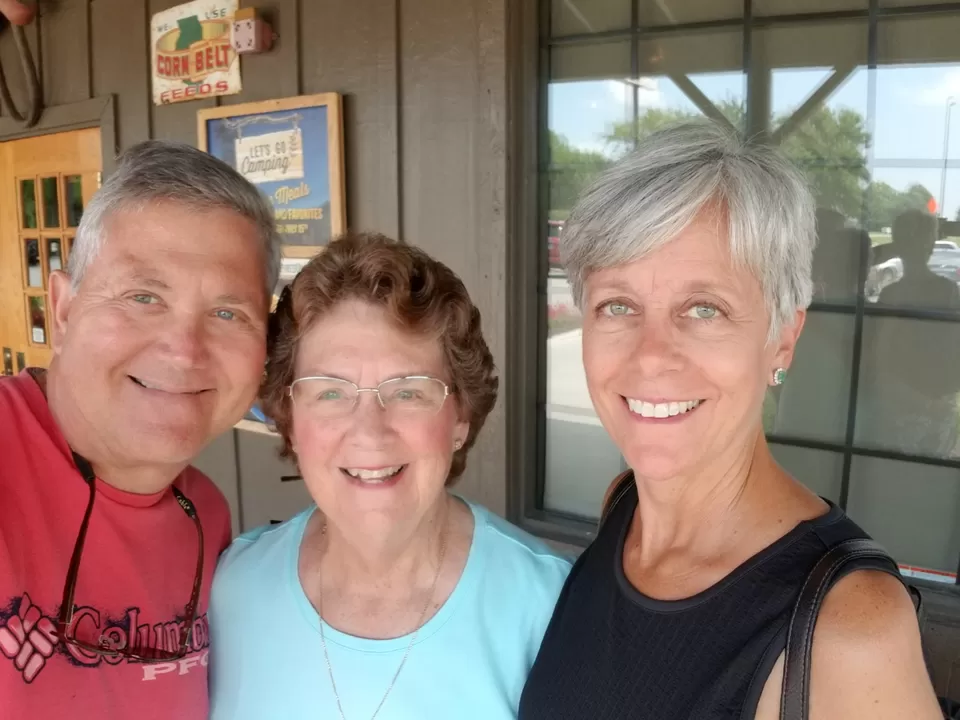 Saturday July 14, 2018
Lisa, Randy, Tallie, Macie and Dylan Neary picked us up and took us to Judy and Bob's house where Brian, Janice, Ben and Will joined us. It was great visiting with so many relatives that we don't see very often. It makes me wish we were closer. After lunch we played several rounds of Solo and continued to visit until Judy took us back to our RV. Yes another great day.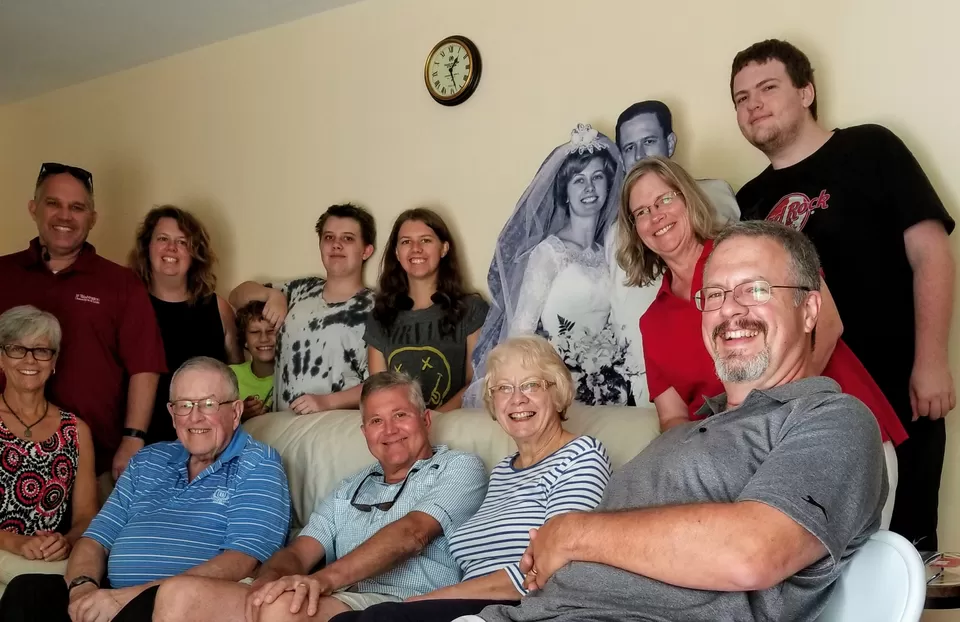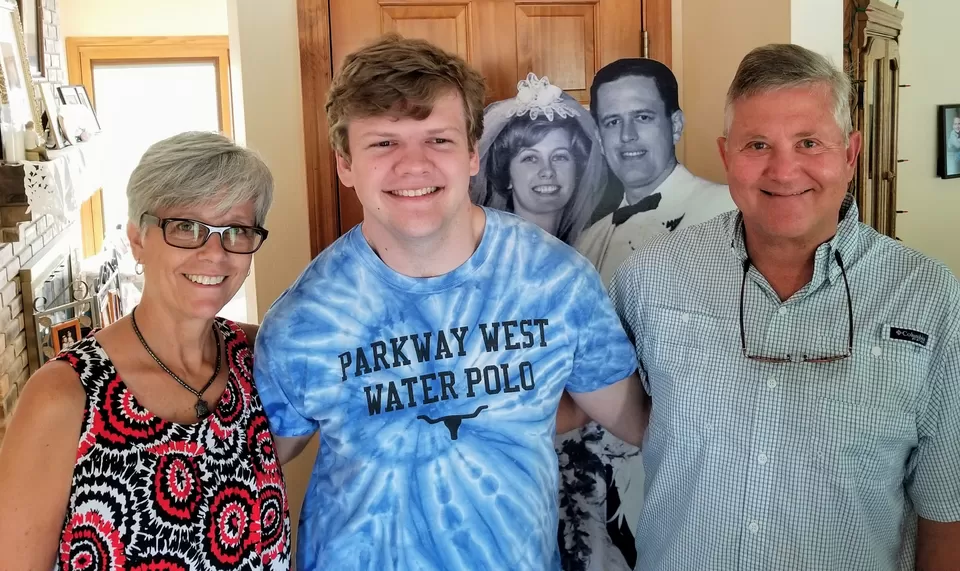 Sunday July 15, 2018
We had an easy drive today from St. Charles Missouri to Memphis Tennessee. All checked in and have our plans made for Monday and Tuesday in Memphis. Can't wait to start exploring.
Monday July 16, 2018
We Ubered to Mud Island this morning and walked along an exact scaled five block model of the lower Mississippi River from the confluence of the Ohio and the Mississippi Rivers to the Gulf of Mexico. This is a very nice exhibit with plaques and maps to read along the way. Only thing that would make it better is if it were the entire Mississippi River beginning in Itasca Minnesota. We had barbecue ribs for lunch at Central Barbecue then walked across the street to the National Civil Rights Museum. This is an exceptionally well presented museum located at the Lorraine Motel, the assassination site of Doctor Martin Luther King, Jr. It chronicles key episodes of the American Civil Rights movement and examines today's global civil and human rights issues. I highly recommend this museum. Afterwards we walked towards Beale street and stopped at Pearl's Oyster house. We had the sampler plate that included the barbecue charbroiled oysters, oysters Rockefeller and Bienville. All were excellent. Beale street was interesting with its shops, bars and bands.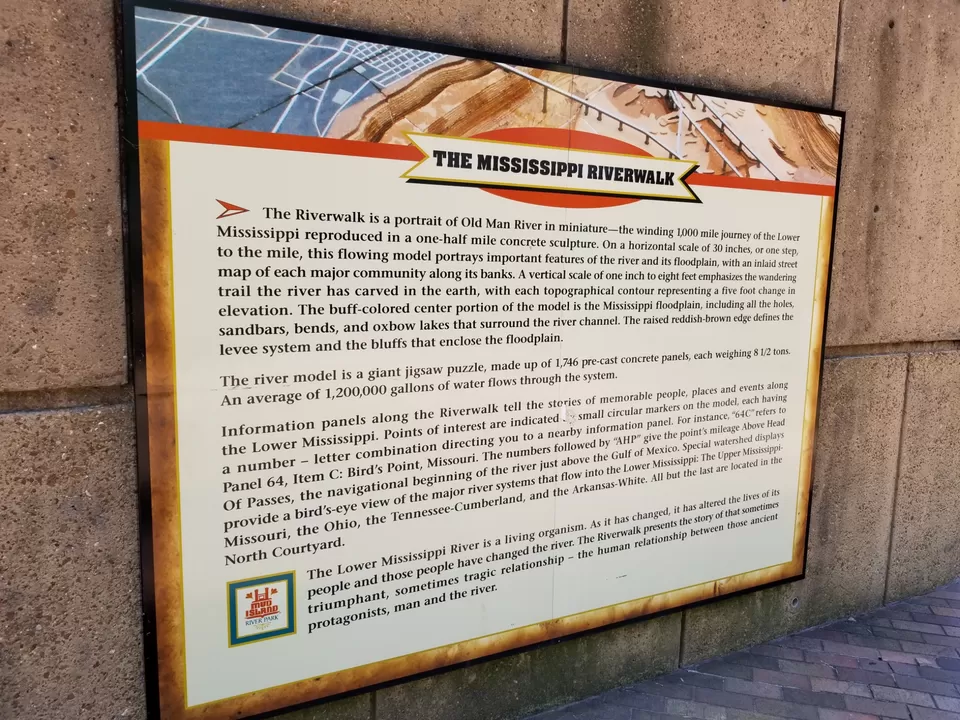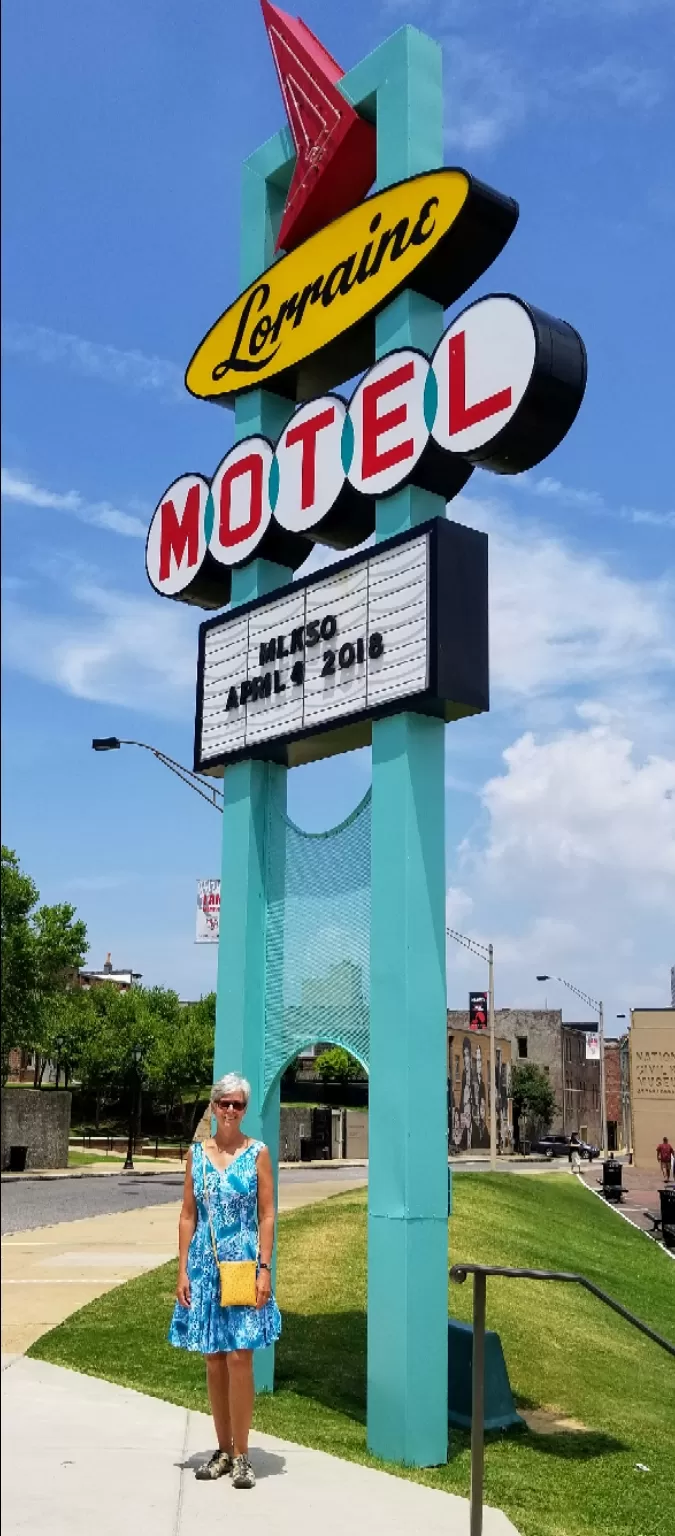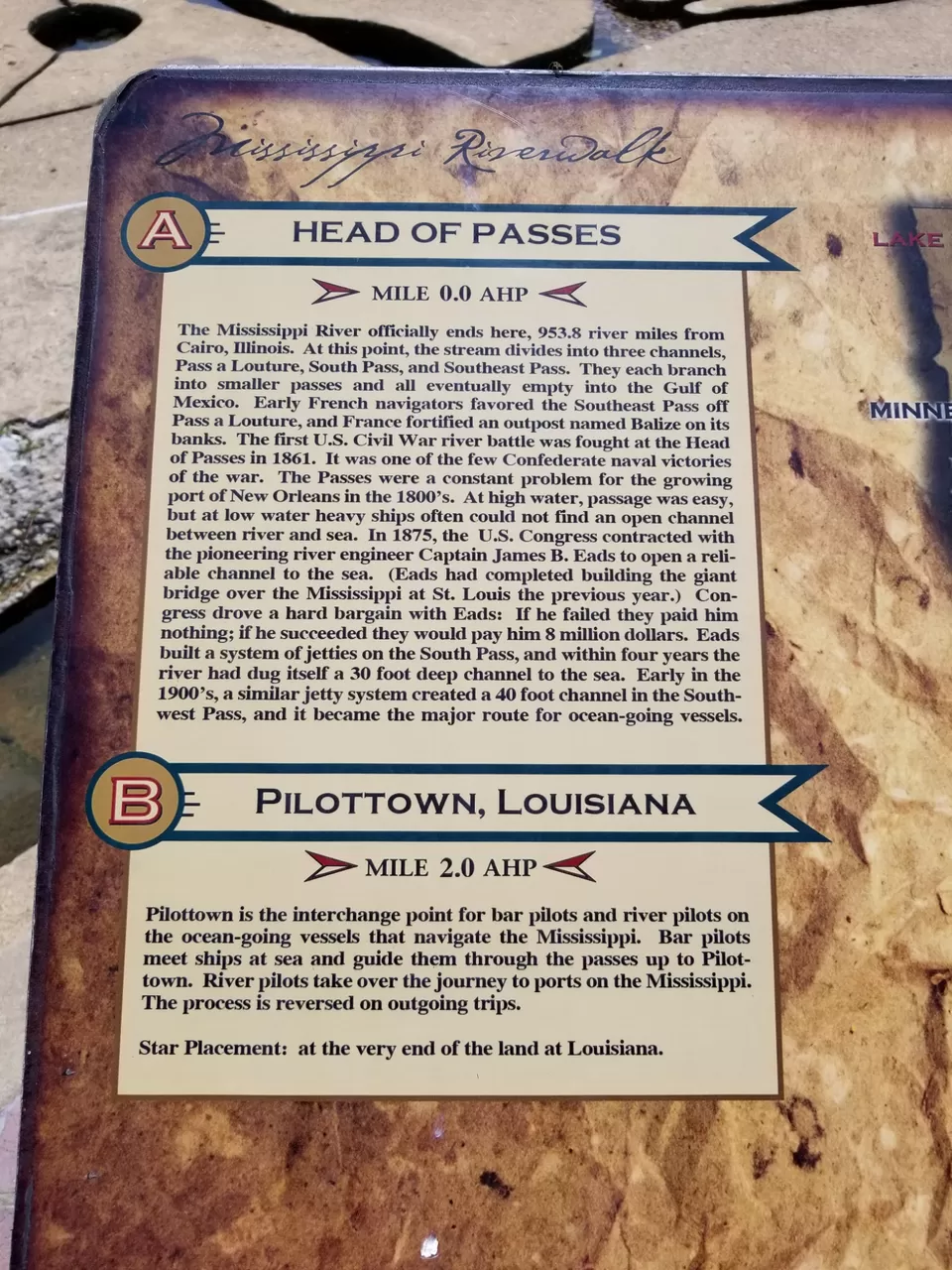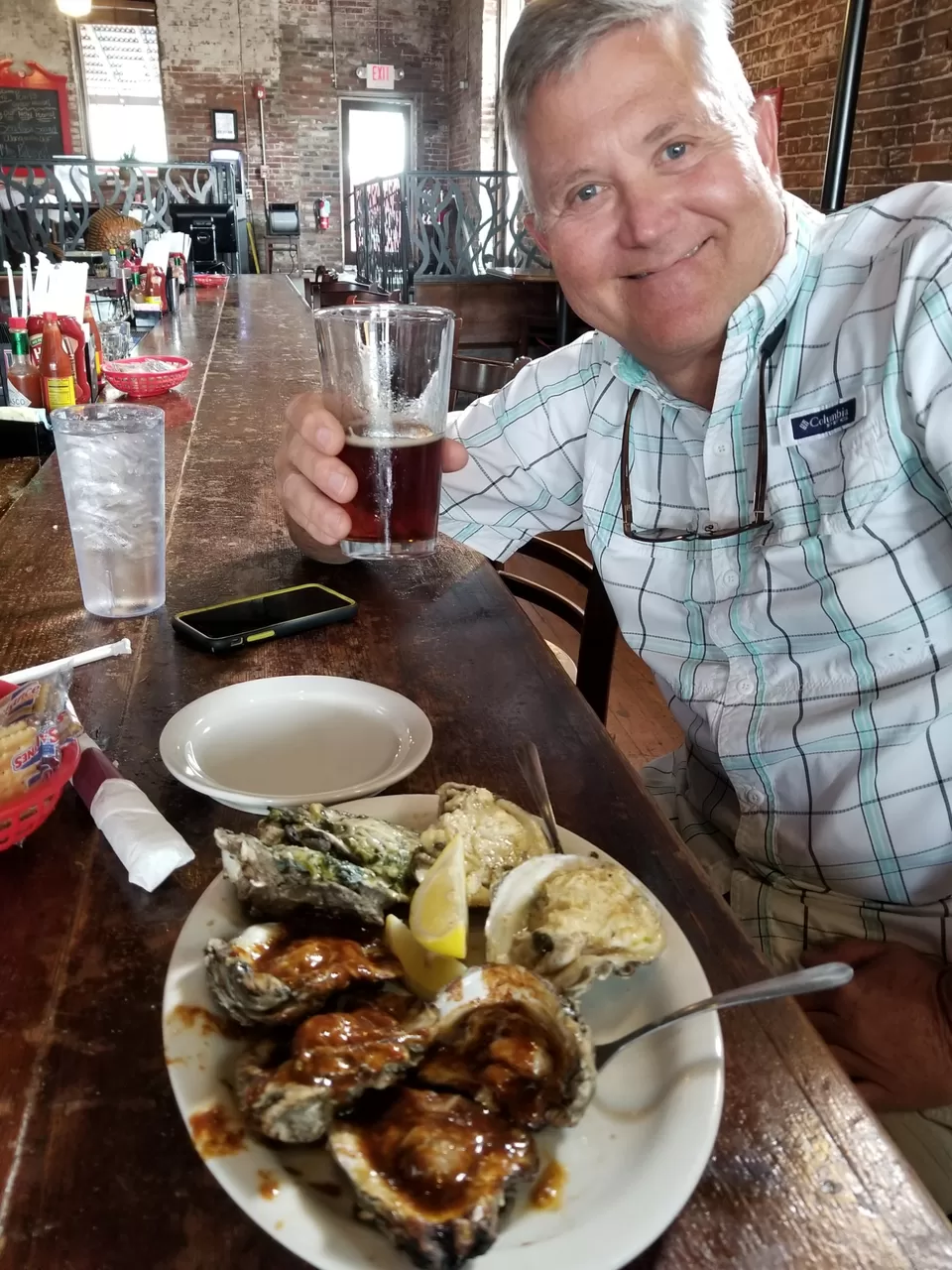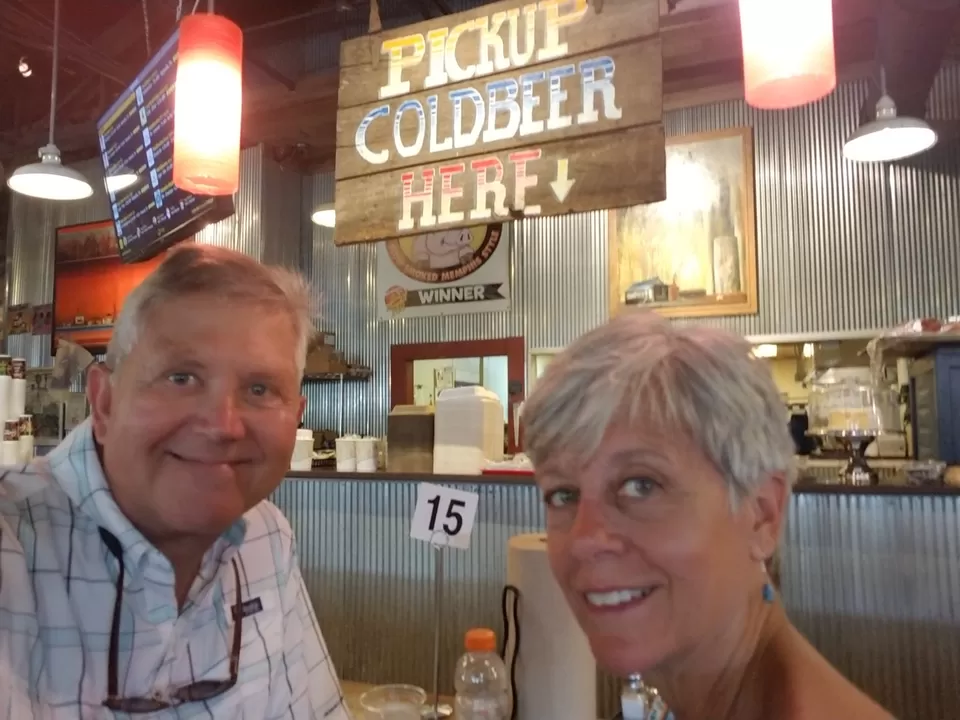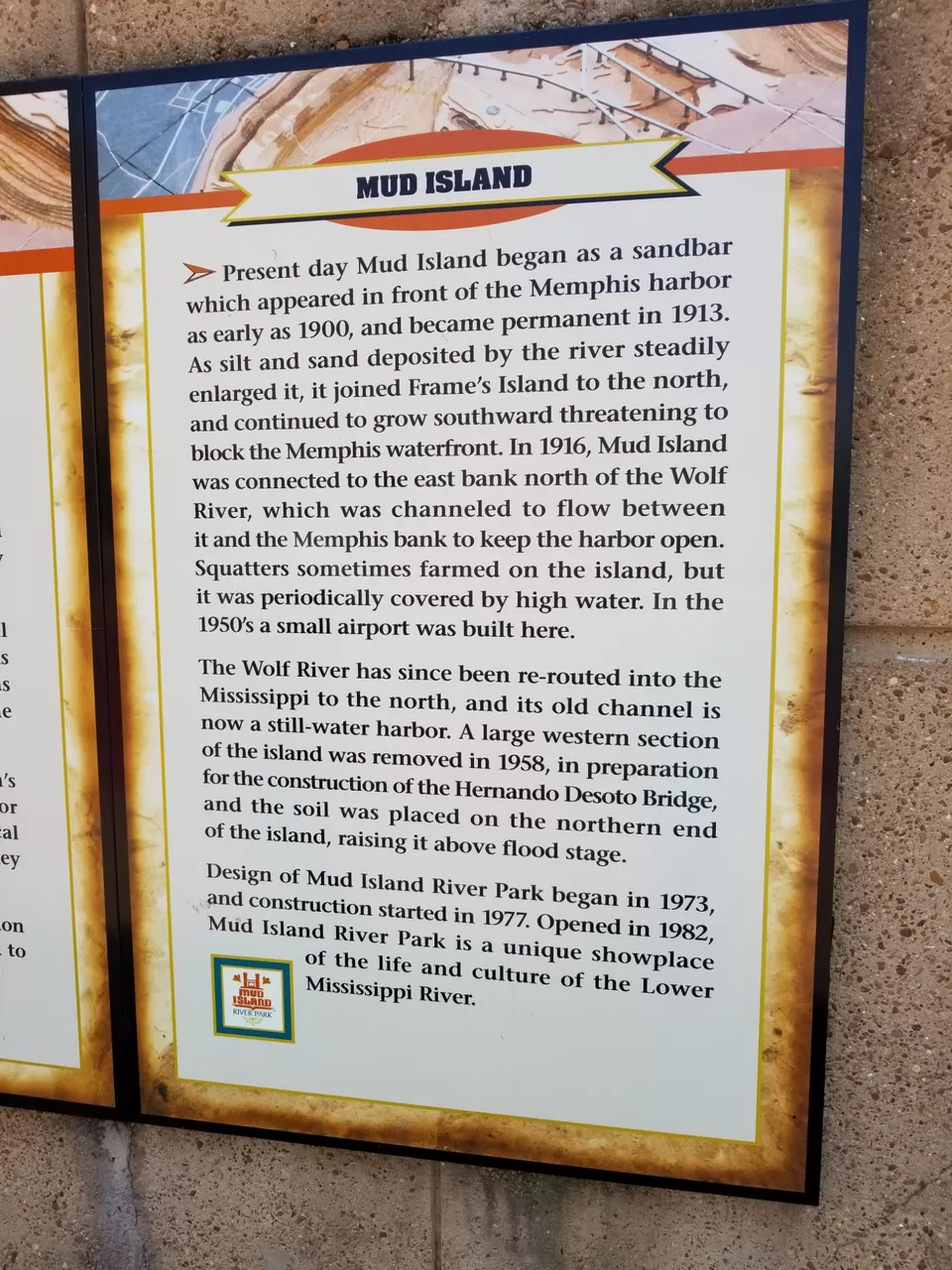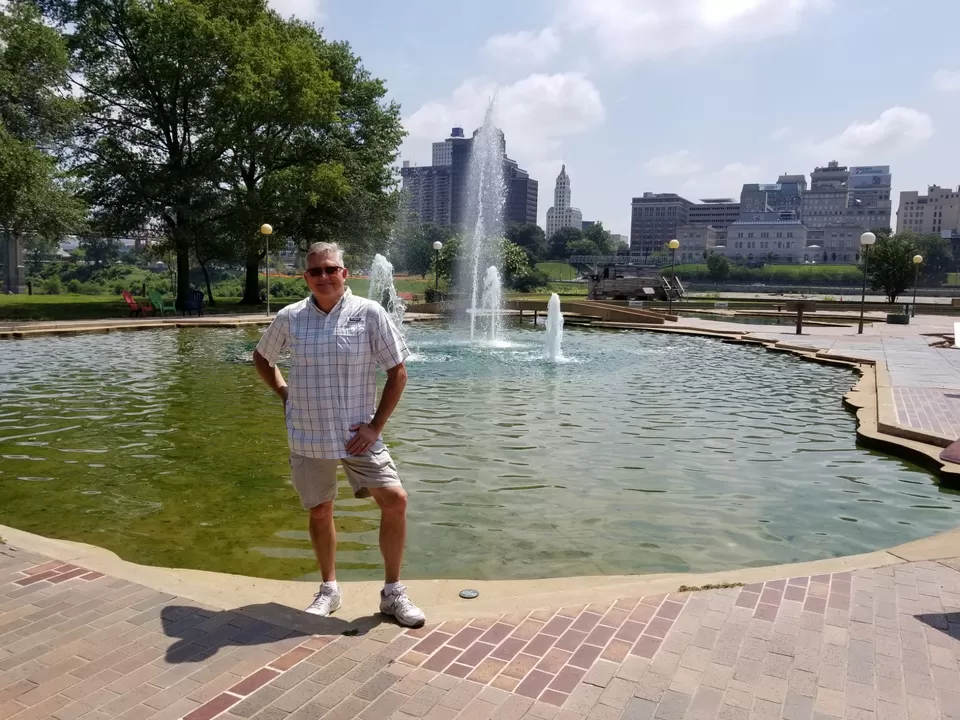 Tuesday July 17, 2018
Today we took a tour of Graceland, Elvis Presley's home and grounds. This is a nice tour, especially if you are an Elvis fan. Afterwards we had barbecue at Marlow's. Todays barbecue was better than yesterday's. We spent the afternoon relaxing and catching up on various chores.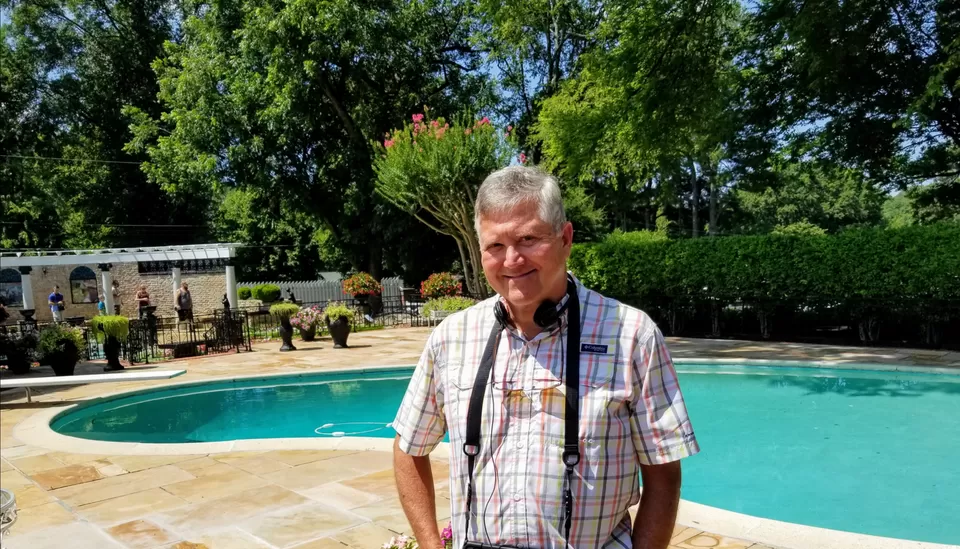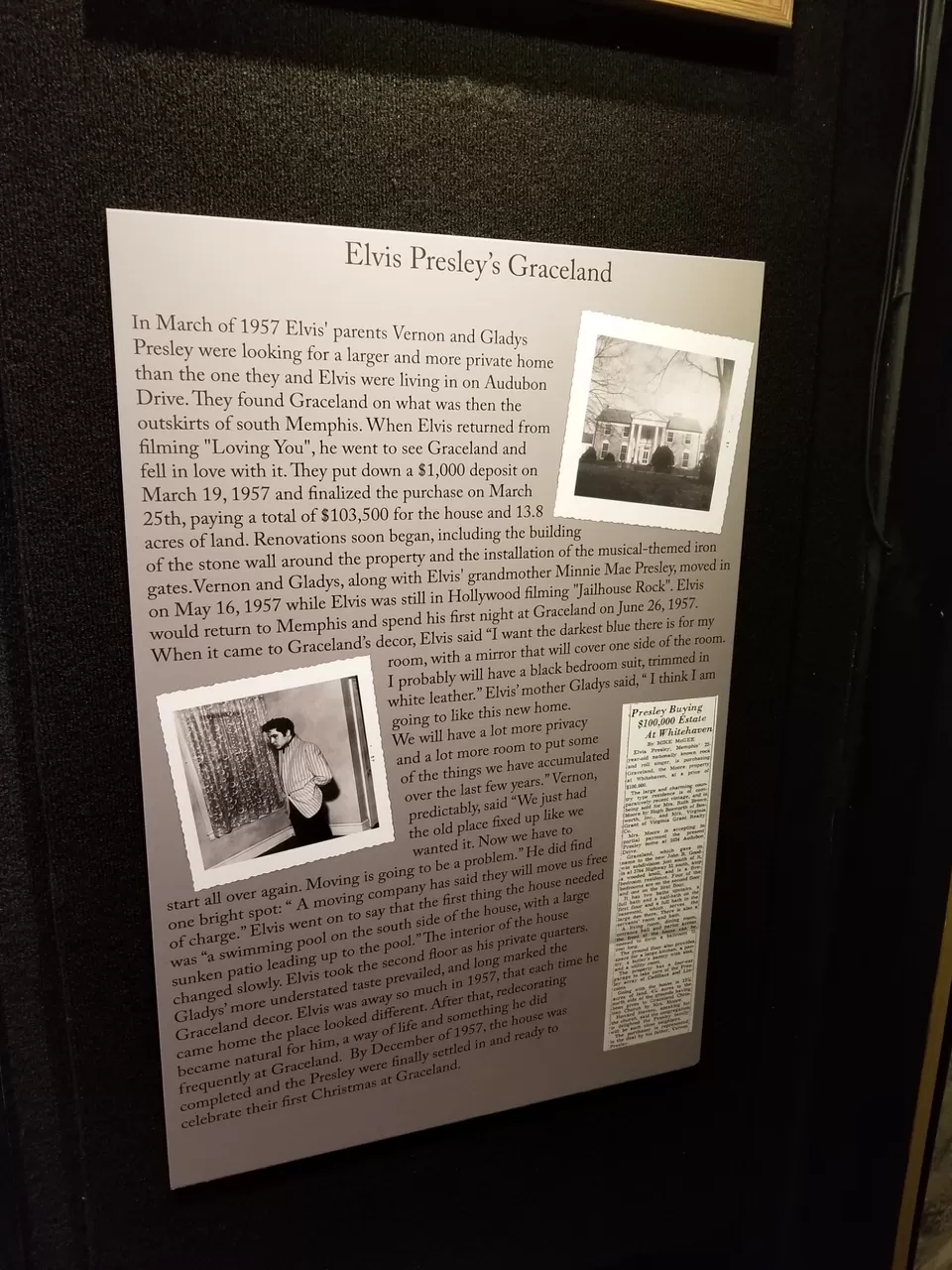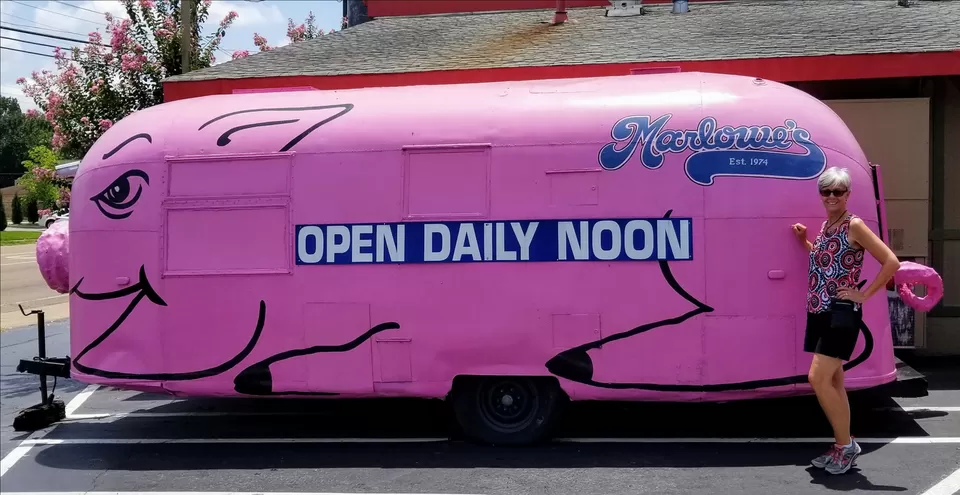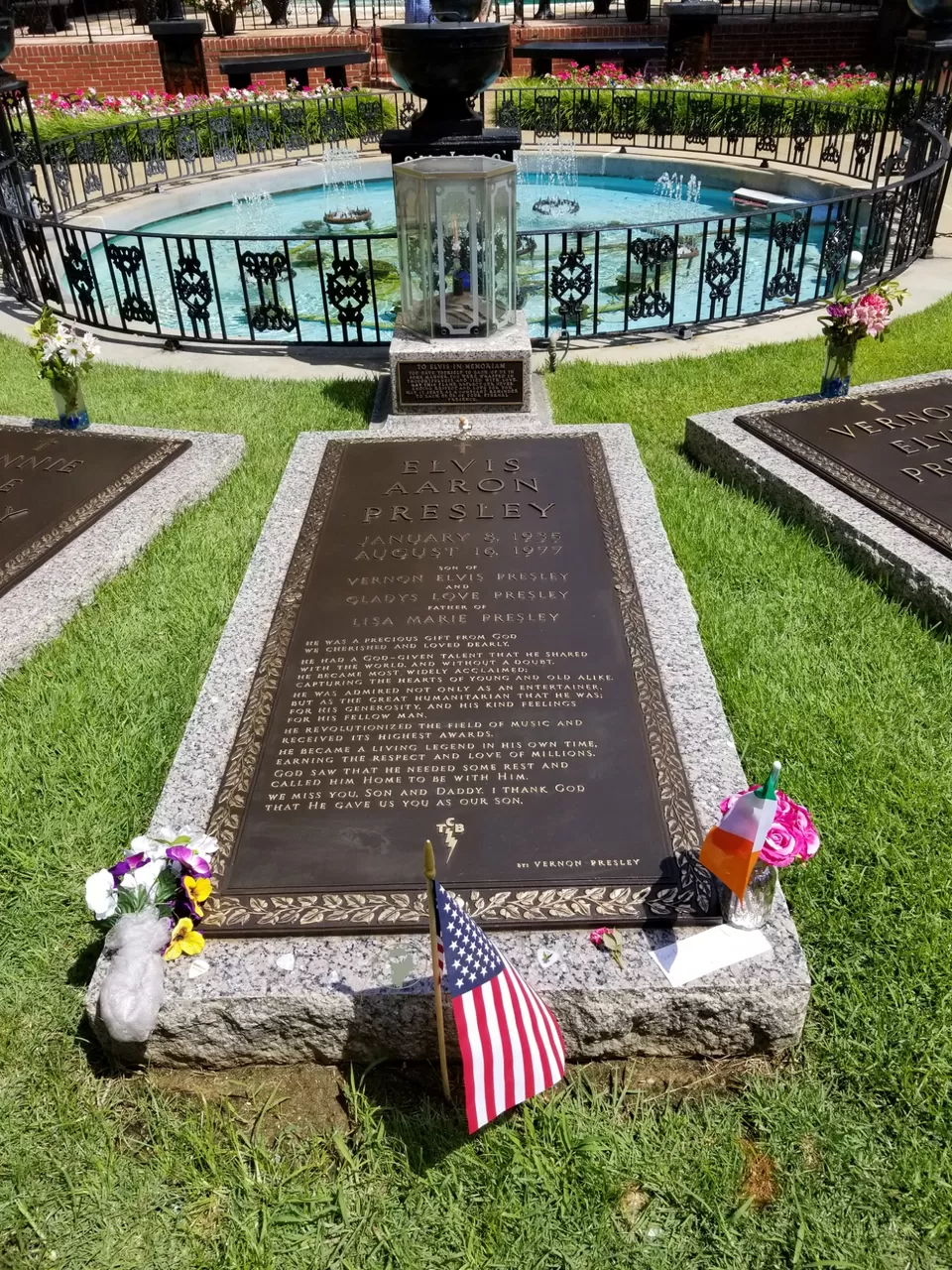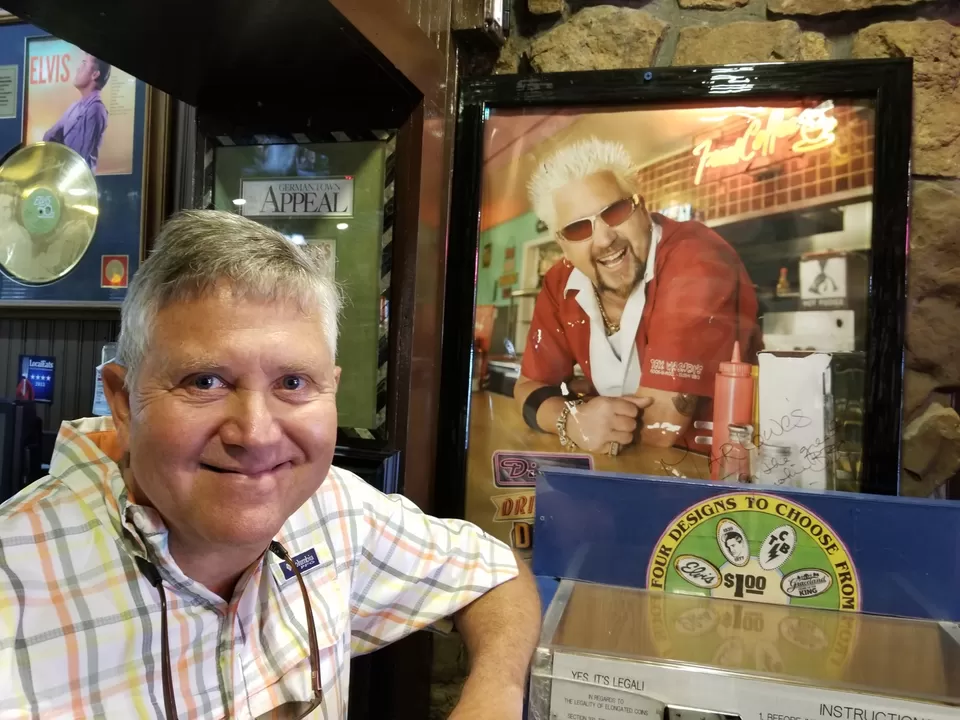 Wednesday July 18, 2018
We drove to Huntsville, Alabama today. Funny thing is, we passed the Natchez Trace Parkway and Tishomingo state park, exactly where we were on May 29th! We made a complete circle! The drive to Huntsville was pleasant and we stopped at a Mexican restaurant midway. The Campground in Huntsville is at the Space & Rocket Center. We look out our RV to a large field where the space camp kids launch their rockets. The kids build these rockets in class then walk to the field to launch them. Some of the rockets launch, explode in the air as planned, and slowly return to the ground via a deployed parachute. Some don't function as planned. The children are so excited to see their rockets launch and can't wait to run out to the field to reclaim them. This goes on all day long. Fun to watch. It's a great space and we are lucky to have gotten it. We walked around and were able to see a few of the rockets and planes on display. We will get to see more, up close tomorrow when we go into the center.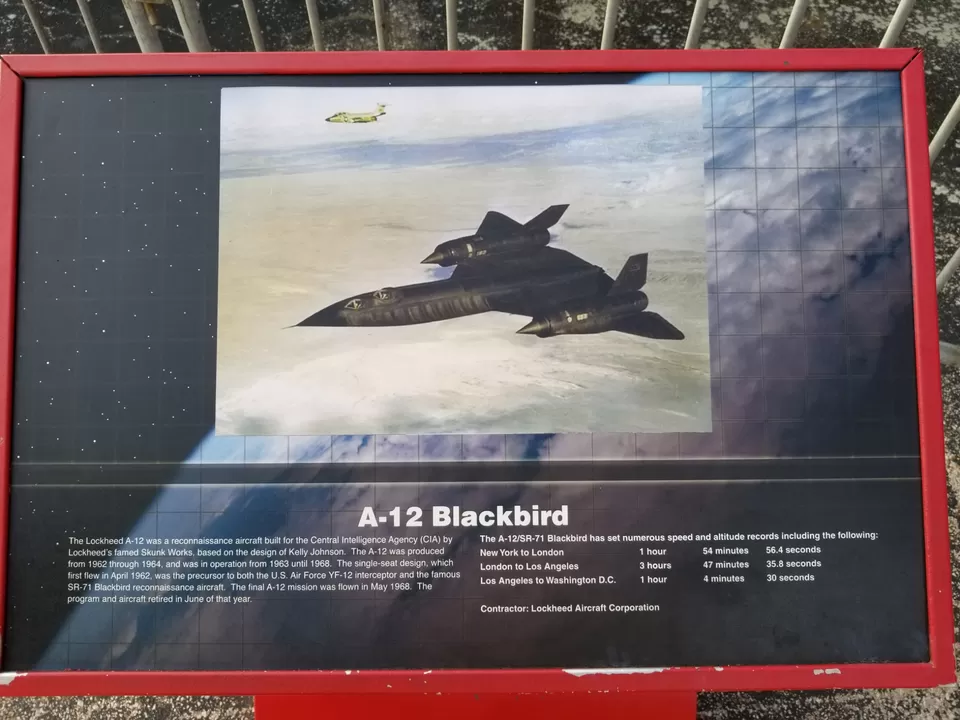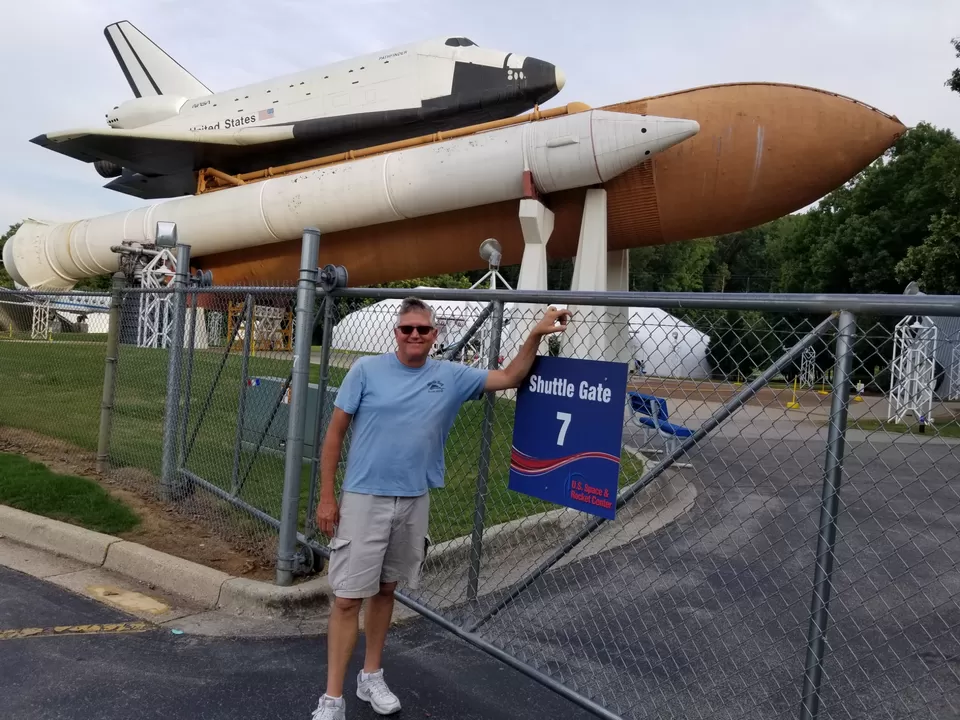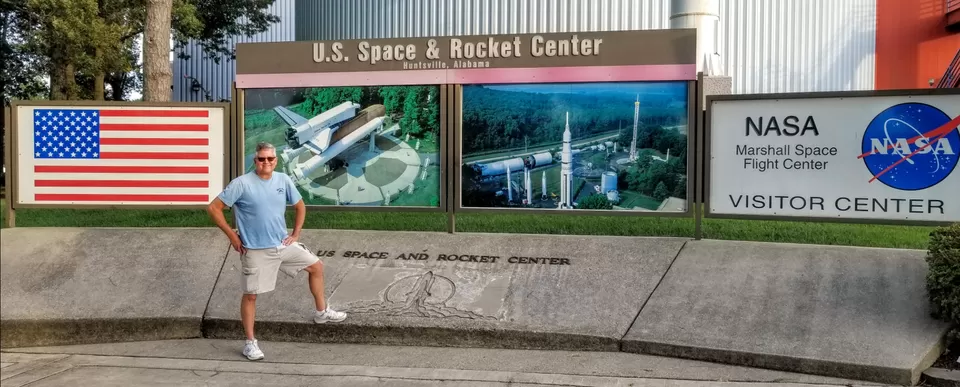 Thursday July 19, 2018
We toured the Space & Rocket Center today where we enjoyed exhibits on the early space programs including: Mercury, Gemini and Apollo. Afterwards we walked to a late lunch at Landry's then packed up for our last two nights at Randy and Kathy's house in Big Canoe, Georgia.