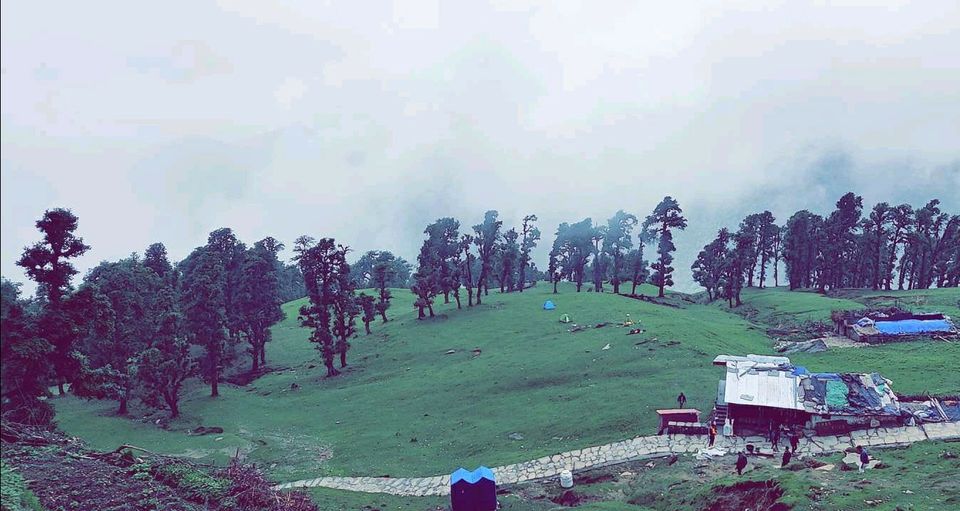 A 4 day trip over 4 different treks with 4 most crazy people of my life. Let's start with the experience part over an amazing yet backbreaking trip to Chopta, Uttrakhand.
After a lot of planning over weeks, numerous cancellation of plans, and at last, me and my cousins packed our bags and we left from Delhi to Chopta via car. Driving for about 11 hrs (approx 400 kms) and that too over a "you will fall now" kind of road. The whole trip was just like passing the hurdles that grew bigger as we move further, start of the trip was accompanied by a car issue which almost cancelled the trip, but as Spartans never back out and neither of us too, we continued over another cab we booked. Even after a non-stop 12 hr drive, we weren't able to reach Chopta, and the road was getting even more messy as we move further, and after an hour, as per the Google Maps, we reached our destination, but here's a twist and we came to know that there are actually 2 villages with same name Chopta, and even same temple of Tungnath.Quite interesting, right.
Just think of our feeling of being in the middle of some village and that too on a full moon night, all alone the whole night, in an area where you can't even see a single person, no hotels, and all you need to do is survive the night and wait for the sun to rise, just same as the part we use to see in the scary movies, one wrong turn and the whole story ends, but none of us didn't gave a fuck to any ghost😂, And all of a sudden hooka was out, songs were loud, and everything went amazing, even one of the villager who was from the army offered us some biscuits, really nice of him and we don't know exactly when the time passed.
Next day as we don't want to waste the precious efforts of Google Maps, we walked about 2 km down over the Tungnath mandir. The route via village was damm adorable. This was our first unexpected trek, and don't take this as just a 2km trek, it was way of more efforts than just 2 kms and the trip has just started.
Next, we moved to the so called real Chopta, taking a turn back, now with the help of Google, but just by asking people, we reached...
Freshened up ourselves, filled in our empty bellies, and got ourselves prepared for the real fun.
Chopta is basically all meadows and forest area, being a part of Kedarnath Wildlife Sanctuary and about the trek part- Chopta is the base location of the trek to Tungnath mandir (about 3.5 km)- the third temple of Panch Kedar, and above that about 1.5km lies the edge- Chandrashilla- the place where the 'last sacrifice'- antim sanskar of Ravan was done by Shri Ram. Chopta is still unexplored and that's why have a beauty of its own.
There are normally two types of paths to complete the trek- one is the normal one at the sides of hill, and other's straight upwards. And how can we leave the trip to be less adventurous in any aspect, so two of us took the normal path, being a little fat😅, and the other two including me went for the top in search of some thrill and believe me that experience was just great but try that at your own risk🙄 and just one thing, in case you are not comfortable to travel by foot, you can also go for a ride to the top and there are numerous shops to help you out with water and food but they are really costly.
At reaching at the top has a feeling of its own which can't be expressed in words, but wait the trek doesn't ends here, remember after Tungnath, next part was Chandrashilla about 1.5km up. Normally when people visits Chopta, they usually see ice all around, but this time, it was all raining, but loosing the chance to be at the peak wasn't our way. All we did was wrapped ourselves with raincoat, which was rather just polybags😅, and straight away started to move to the top. Travelling, and travelling, and travelling and not able to see the peak, kept on irritating us, but at last reached at the top without any casualties 😂. This was the end of the 2nd day and even the end of third trek.
Got down from over there, went to a sasta hotel, bottle were opened, chakna was arranged and the memories were made that night. Next day the plan was for Sarri Village, to see the beautiful Deoriatal Lake, Ukhimat. Even a small trek, but still difficult for beginners. We had a tight schedule but in case you get a chance over there, do try camping too as still lot of area was unexplored jungle part.
Spent a few hours over there, lovely movements and great view, and just back down to reach before dark.
But what's adventurous in all this?, so instead coming down from the path that was meant to be, we prefer to go from the village, vacuous step..right? so we found out, it actually was, as on our way down, we don't know how but we came to a dead end, and we found out to be on the wrong hill😥, but as everything ends well somehow in real life, maybe😜, we found a path back to the road. Not even once we all have discussed this part to anyone🤐.
On the way back down, there was a mountain carved in the face of Shivji and his whole family. And back down how can we actually miss the rafting and camping at Rishikesh, so ended up with the peaceful camping part and somehow each part of the trip got to be the one we can't forget😶.