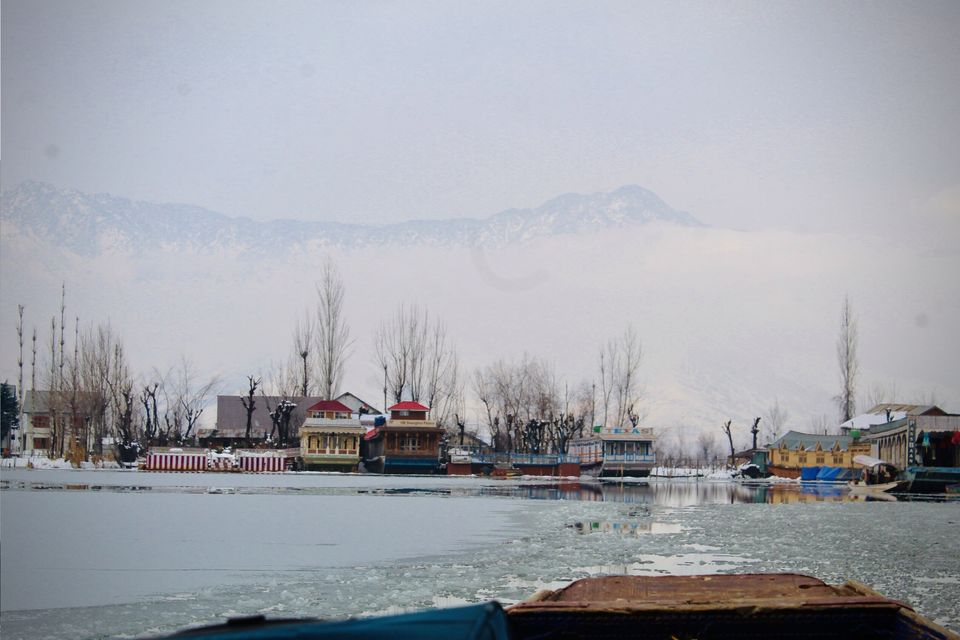 5Th Jan we rushed from our homes to airport to catch our flight to srinagar we were very desperate to see the beauty of kashmir as we had heard in our lives although i have been there earlier also but this time it was winters, so excitement level was on cloud nine.
As of now we were excited to go for travel after a long lockdown due to covid-19 we reached airport 2hours prior to our departure time which is quite obvious. But,after 15min. the announcement was made that the flights to srinagar has been delayed for 3 hours due to heavy snowfall, we were shocked and was thinking what to do about the hotels booking we have done incase the flights get cancelled and after waiting for one hour in airport another announcement was made that the flights to srinagar is been CANCELLED. we were looking at each other's faces and started to contact at hotels for postponement of our stay due to cancellation. Thank God the hotels were best in class and understood our problem and cooperated,then we rushed to our airlines office to get our flights rescheduled for 7th Jan.
Day-2, same goes with day-2 we woke up early and rushed to airport same as on day-1, 2 hours prior to our departure. Whole day of 6th Jan we were all busy in watching the weather report of srinagar and it seems good for flight on 7th and hence we were relaxed, as of now we were waiting for boarding gates to get open for our flights so that we can check in our baggage and, the time arrives the announcement was made for our flights to check in you baggage and here there was adrenaline rush in our body,we start dreaming kashmir covered with snow and we collected our PPE kits and boarded the flight safely thanks to our Airport Authority for maintaining such discipline in the premises. And after 1hour 5min. we touched srinagar and the view from top was so mesmerizing that you cant imagine of, lets have a look-
we landed at Srinagar Airport, as airport is under the defence surveillance so you are not allowed to take pictures in the airport premises,as there are also strict restriction against camera usage in airport premises.
Now, while exiting the srinagar airport you have go through Covid RTPCR test.
As trip was fully organised so we had our taxi waiting for us outside the airport. From airport we left for Dal Lake we have booked our HOUSEBOAT....this was first time i am staying in houseboat and it was a great experience there.
The whole Lake was frozen and this was after 12-15 years that lake has frozen in winters so thats also add up a good point in our trip that we are the one who saw dal lake frozen.
the view from our house boat was so glittery that you cant imagine so now lets have a look on it
in afternoon we went for the SHIKARA ride through frozen waters of dal lake..... the boat(shikara) was breaking through the ice and the sound it was creating was so fresh and cool,it was like aaahaan".
Day-3, Next morning we left for Gulmarg which was about 3 hours from srinagar. Gulmarg is the must visit tourist destination in kashmir, it is said that - if you been to kashmir you should must go and visit gulmarg, because without gulmarg in your itinerary the trip is incomplete. and the beauty there- "AmAzInG"
you can imagine by looking at the background of my photo above the beauty of gulmarg. and it was fully LOADED with the snow. we also went for skiing in gulmarg which was also my first experience of skiing which was tremendous. we also went for worlds highest gondola ride(ropeway) which is about 14000ft above sea level and at 1st phase we experienced snow mobile which was also new to me lets have a look on it-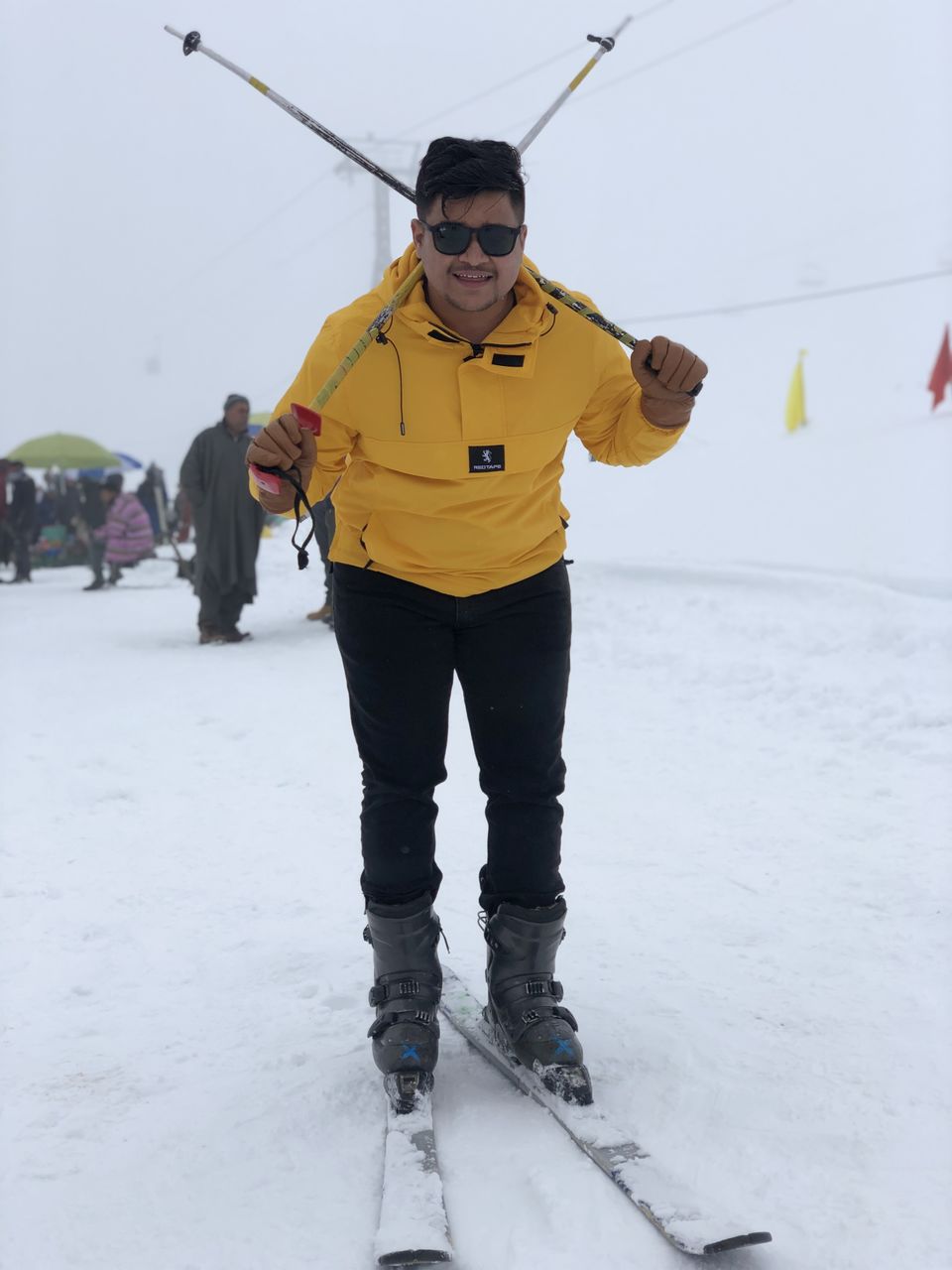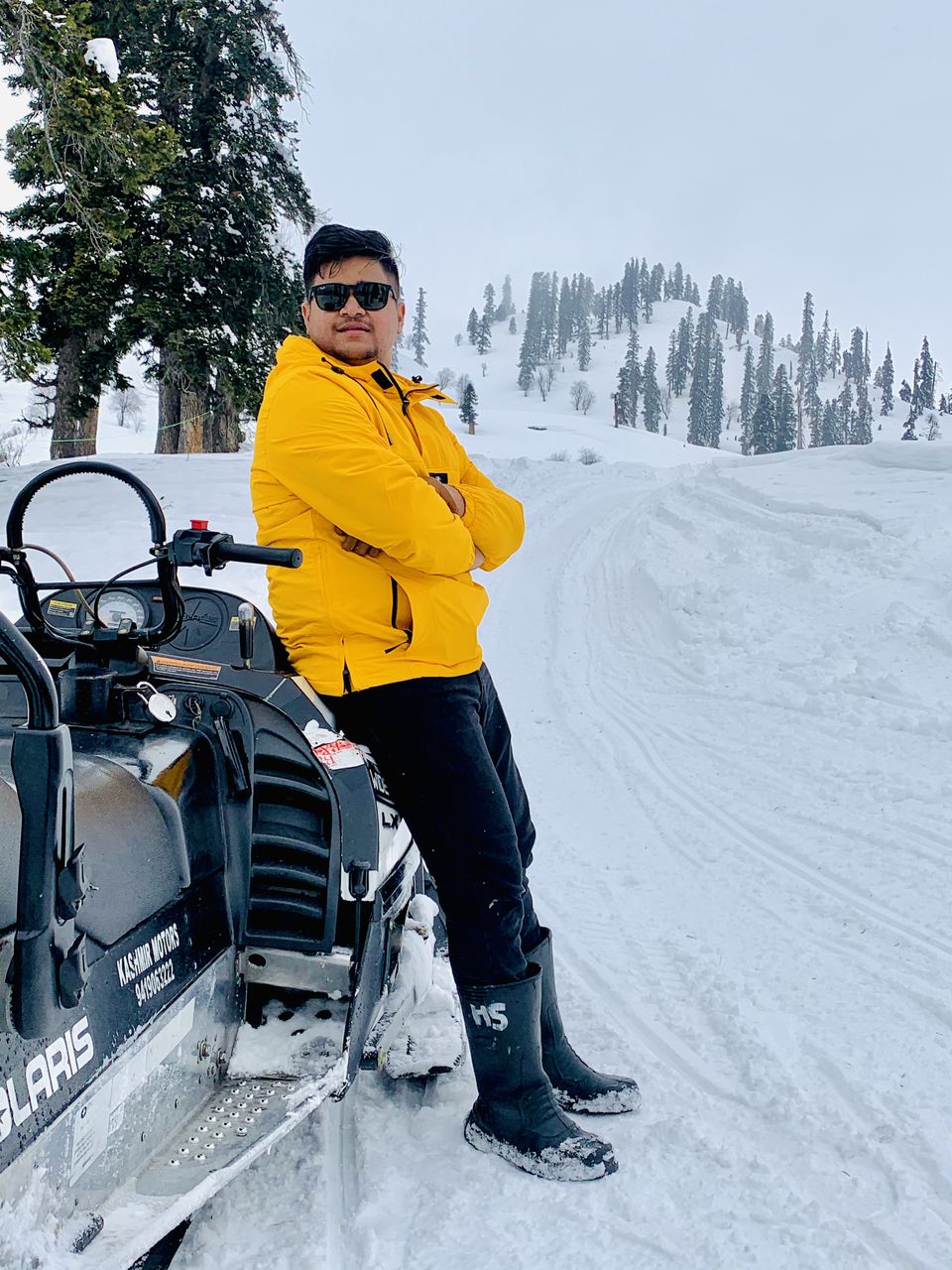 we stayed 2nights in gulmarg and these were the activites or adventures that we experienced there and it was a fun out there.
Day 5, on our way back to srinagar we went to see a waterfall in a village called Drung near Tunmarg and the waves there were so called that froze there while staring at the beauty of nature.
after spending half an hour there we moved our ass back to srinagar at the boat house we were staying, in dal lake.
At last i would like to say that it was best trip for me so far.
i would also suggest everyone that one should visit to kashmir oce in the lifetime as it is said- "kashmir is paradise (heaven) on earth"