This was my most memorable trip. We were in Srinagar by night. We took a houseboat stay and it was awesome. We shared a house boat with other couple. This houseboat which named Khybar was so awesome. Food was delicious. Next day morning, we woke up with pleasant Dal lake before us. We didnot care to go into Srinagar city as we were at peace in Dal lake. We were seeing pretty shikaras all over Dal lake. There were water sports on Dal lake . We too tried our hands in one of them. Just stand on a plank with rope in hand and speedboat takes you around Dal lake. It was fun. Then at sunset, we did a Shikara ride and it was magical. We were om shikara with mountains and pine trees all around. It called it a day, had our dinner and hit the bed.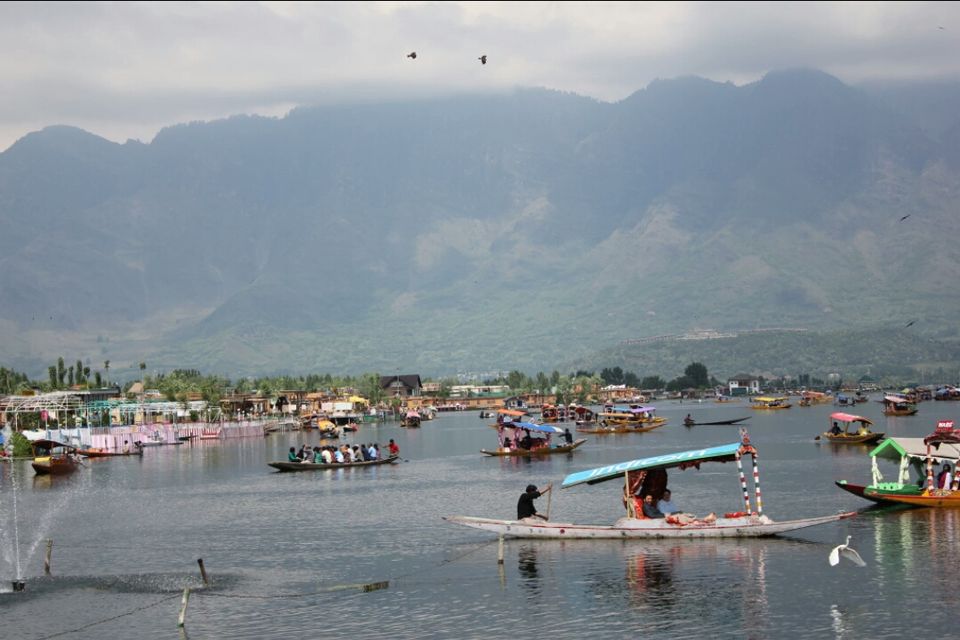 This day we started off early and headed to Gulmarg. It was a day trip to Gulmarg and we went to Sonmarg for stay from there. Gulmarg was one beautiful place with lot of pine trees and valleys. Way to Gulmarg was fabulous.W e saw a valley flowing  by road and stopped there for a while. After we reached Gulmarg , we had two options : Afarwat peak through gondola and khilanmarg through horse with several stops. We chose Khilanmarg as we experienced Gondola and snow a lot. And this was our best decision. We rented out jackets and we were on horses the next moment. In these places , the guide you get is as important as place. We got a very good guide here. The horses soon went into pine trees. We were seeing nature at its best. Our horse even crossed small water bodies and we felt like kings and queens. Then we were at a point where there were all snow capped mountains and the view was perfect. Next stop was view Reshi baba mandir/mosque from a mountain top. Then we headed to a childrens' park and this was magical. Park was green and there was water flowing through it with a small bridge across water. We were into water the next moment not even caring about how cold the water is. We spent a lot of time there. Then we headed to Khilanmarg. Khilanmarg had very murky ice. It was long time it snowed there as it was summer. We didnot do much there except for sledging in ice. Then we came down and started for Sonmarg.
Our Sonmarg hotel was right in front of the mountain. We checked in to hotel, had dinner and relaxed for our next exciting day.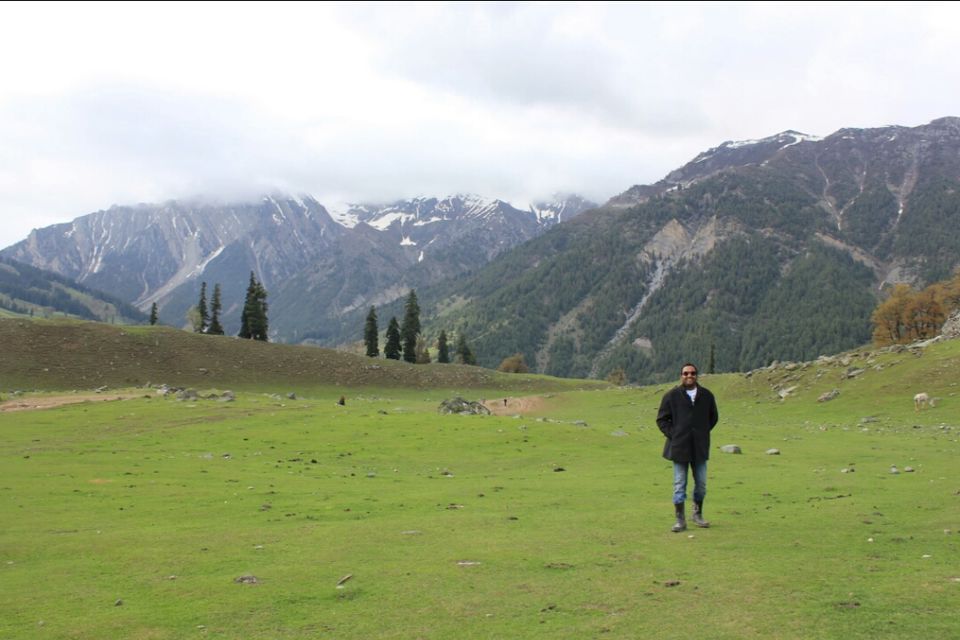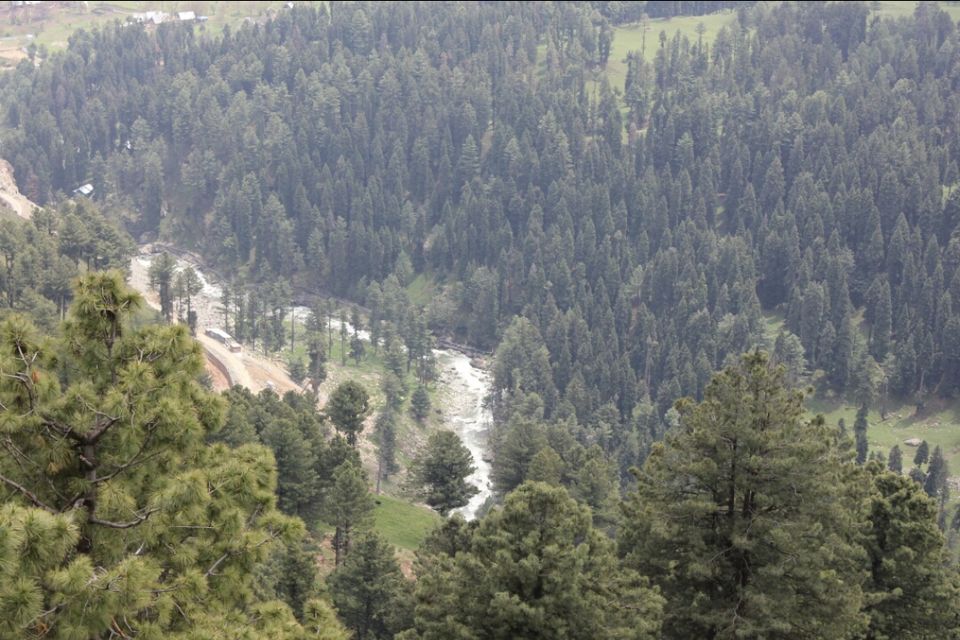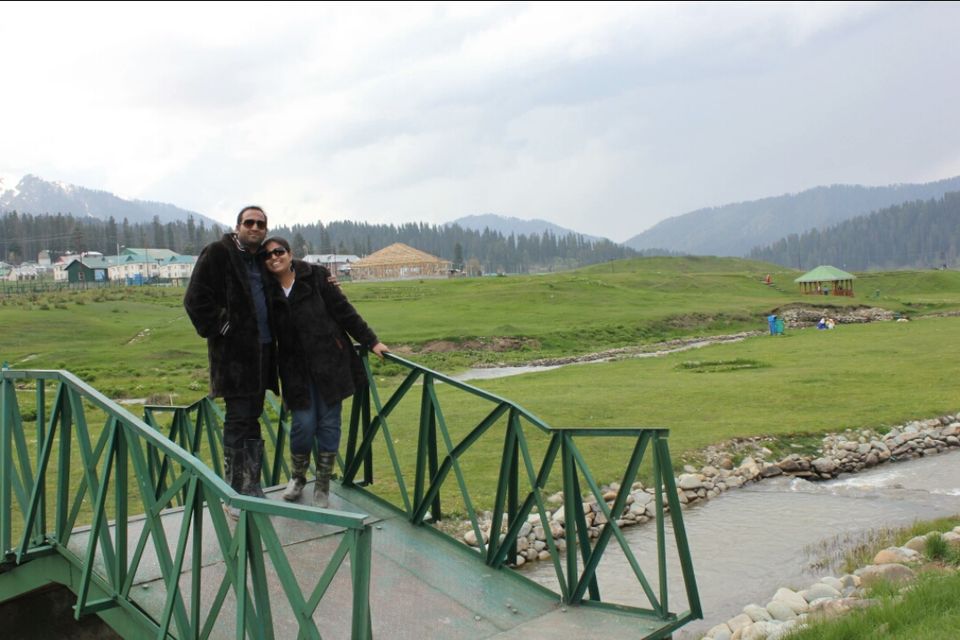 This day , we took a horse ride to Thajiwas glacier in Sonamarg. Almost everything in Sonamarg will be closed for 6 months because of snow. As I said guide is important for us to enjoy, this time we were not at all lucky. We got a very cranky horse which I first sat on, got panicked and made my husband sit on it. Scenery was perfect but because of our horses and guide we were not enjoying anything. We asked guide why the horse was cranky and the answer we got was these two horses donot get along well. We were ascending a mountain. Route was very scary too! And at a point there was only one way for horses and other way horses were standing beside a huge valley. My horse almost slipped its leg into valley and my head was spinning with fear. We reached Glacier and it was murky ice too and didnot seem like a glacier. And yeah it was a bit irritating seeing guides following us. This happened because our guide was not good else you will truly enjoy. While return , we got down of horse after sometime and started walking and that was when we started enjoying the beauty of Sonamarg. We were so tired after all this and were sleeping the next moment.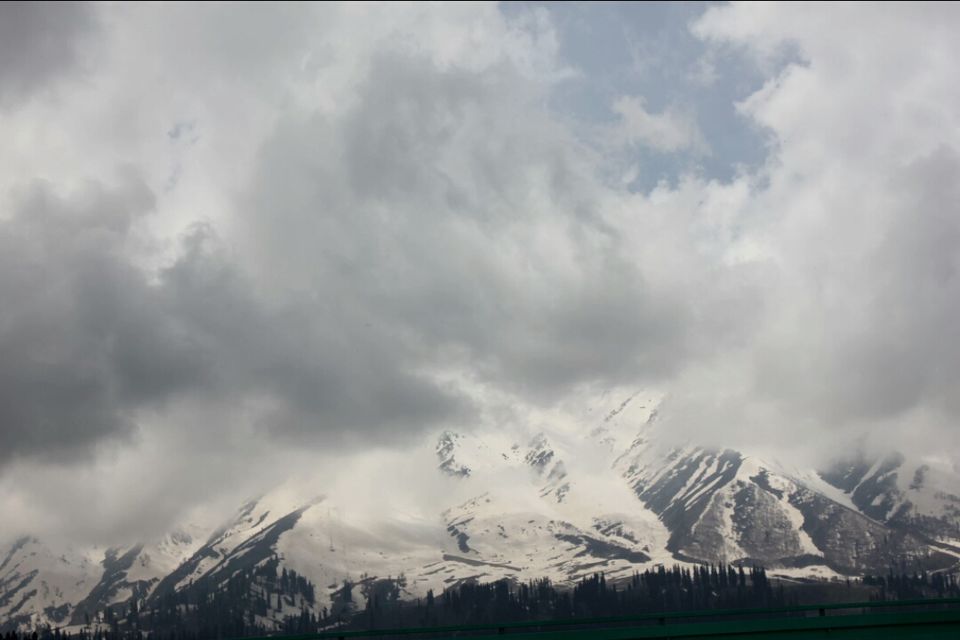 We started our journey to Kargil through Zojila at 6 am. This route will be open for travellers only from may to november because of snow and land slidings. This way will be closed in the night for army vehicles. Only after all the army vehicles are cleared, they opened the gate for us. We started our journey towards Zojila. It was one dangerous road with deep valley on one side, a very small road and mountain on the other side. It was very scenic though. We halted at a place due to some land sliding and it took a whole hour to clear all that land sliding. Deep down the valley was a chopper mark and there was another mountain beside that with a way. We were told it was helocopter point for people going to Amarnath and the mountain way was to Amarnath. Then we started going only after an hour. Then came the much awaited part of our journey, ZOJILA. It was literally a road between two ice walls. I was so excited. Vehicle was very slow and I was touching ice on either sides of road. We even saw some houses between snow. Right after Zojila, we saw a board "Welcome to Ladakh". From this point, we didnot see much of greenery. Land was full of brown mountains and it was a different experience.
We reached Kargil shortly and first visited Kargil memorial. My husband was wearing a shawl and behaving like he worked in army. It was Kargil diwas few days later and all preparations were going on. We were happy to see whole army preparing for the event. We saw Vijay path, we were shown tiger hill where attack took place. Then a shop for souvenirs where we picked two. There was a museum which displayed all things used in war and all paper cuttings after victory. Then we came to our hotel.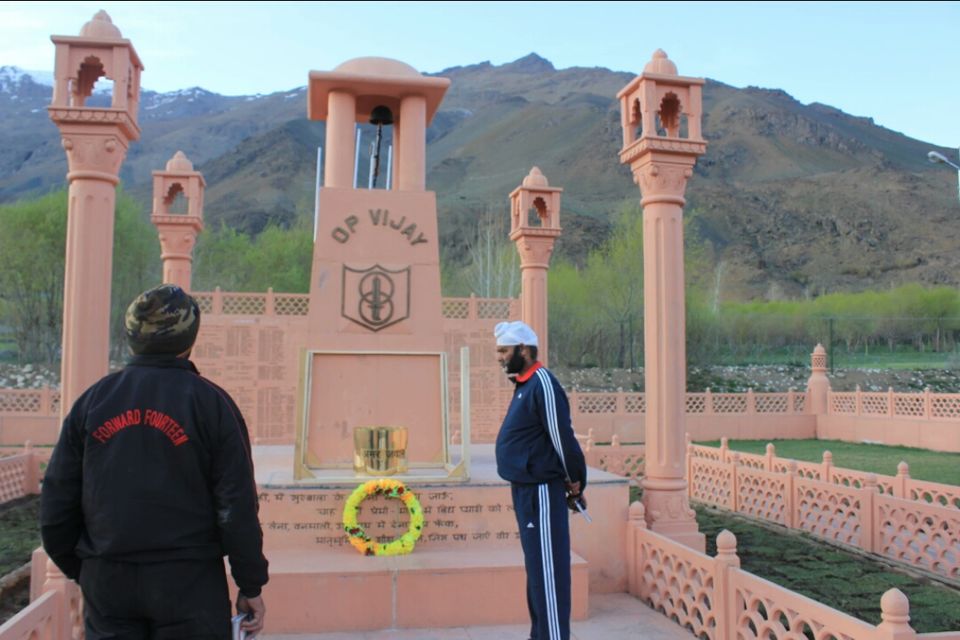 We started from Kargil towards Ladakh. One should cross Fotula pass, which is one of two high passes between Kargil and Leh , to get to Ladakh. All the grenary was far gone by this time. Ladakh was land of mountains, very dry brown mountains. It was very beautiful in its own way. We stopped at Fotula for some time, enjoyed the scenery and continued our journey. After Fotula was a small town named Lamayuru. It had a famous monastery and this was our start of visiting monastries. Lamayuru monastery was on a hill top, beautifully designed. On the way, we saw local brother and sister, brother carrying sister's bag which was cute. Then we headed to monastery. It was very peaceful. We saw Buddha and saw some view points inside and headed for lunch.
After some time of our journey , we were seeing a blue river flowing through our travel. Enquired, we got to know it was river INDUS/SINDH. We studied a lot about Indus Valley civilization when kids and I was extremely thrilled to see it flow with all the glory.
As we decided to camp in Ladakh region, we booked for "WEST LADAKH CAMPS". This camp is set just above Indus river. We could hear hush bush sound of water all through. River, tent and stars made our night. This was a perfect place for star gazing. It was very cold even in summer. We were in our chairs on bank of Indus river star gazing for a very long time. It was very cold that each of us needed three blankets to sustain. We were lucky The camp was very empty the day we came and so full the very next day.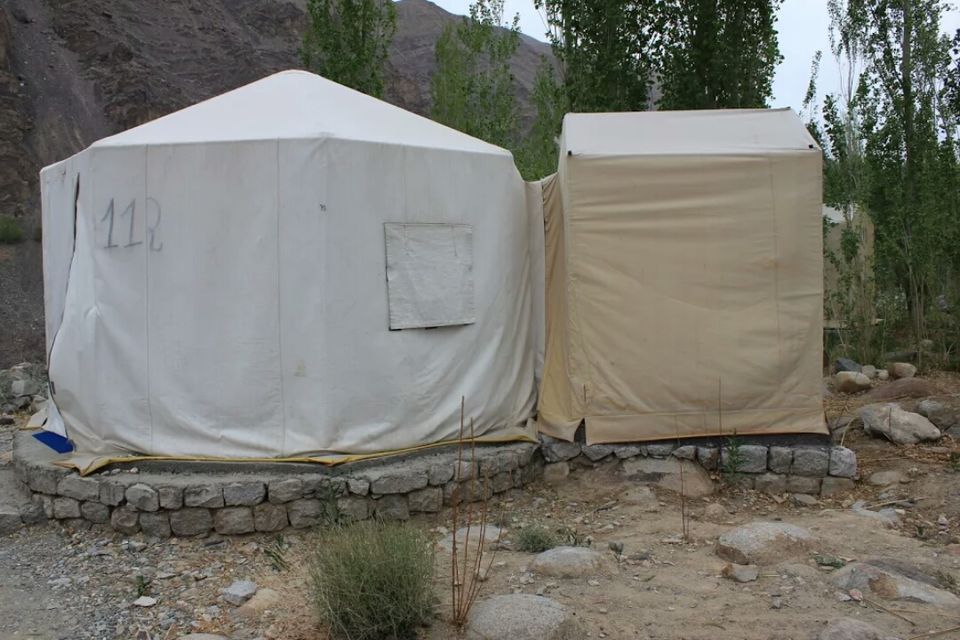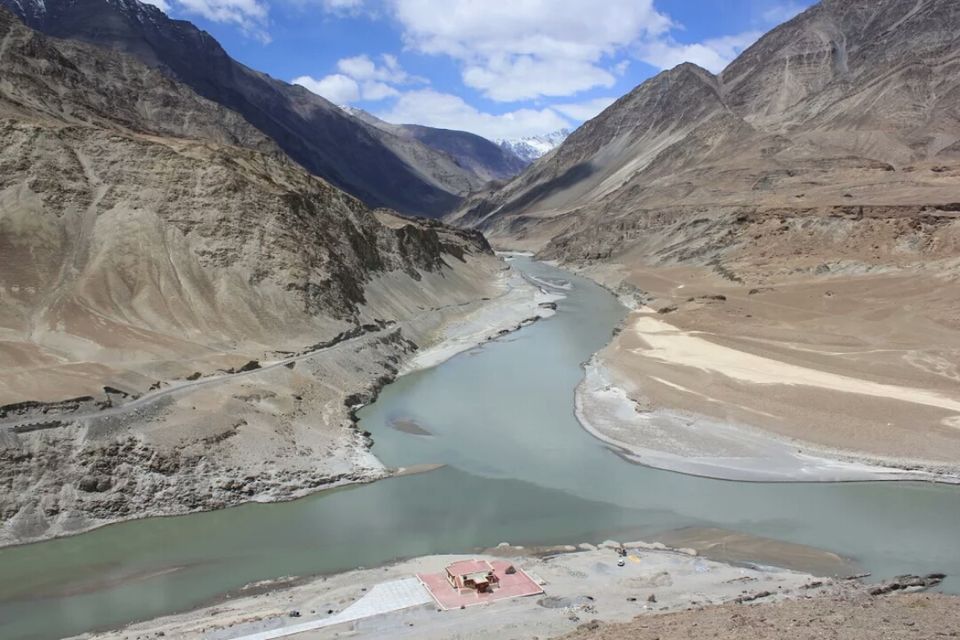 We started from Uleytokpo towards Leh. We heard there is a magnetic hill and a kargil memorial before we reach Leh. After some time , we reached magnetic hill . Our driver tried to show magmetic property of this hill how vehicles go by themselves but in vain. May be there is a procedure for it to work or may be because of latest changes, it is not. Then we headed to Kargil war memorial which displayed all the things, weapons and stories happened in Kargil. We headed to our hotel checked-in, had our lunch and started to Leh palace.
In Ladakh , taxis from outside are not allowed to drive. They just drop us and go. Local guides here will be through Ladakh with us. There was one guy, Stenzen , who was very knowledgeable about Ladakh. So we went to Leh palace. It was not that huge but ok. I was a little afraid in palace because of the habit I have to read everything about a place before going. It was in scary houses lists of India. I managed to be with my husband and crowd all through , had a look at palace, had a look at Leh city from there. Then was our travrl to Shanti stupa during sunset. Shanti stupa was a very peaceful place . Very huge and there were awesome views of Leh. We enjoyed our sunset there and headed to our hotel.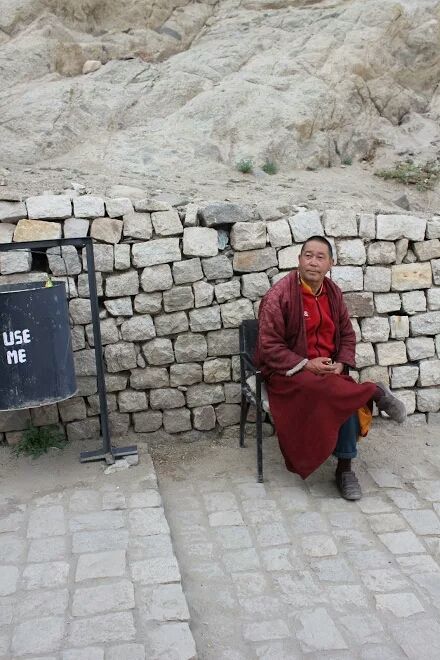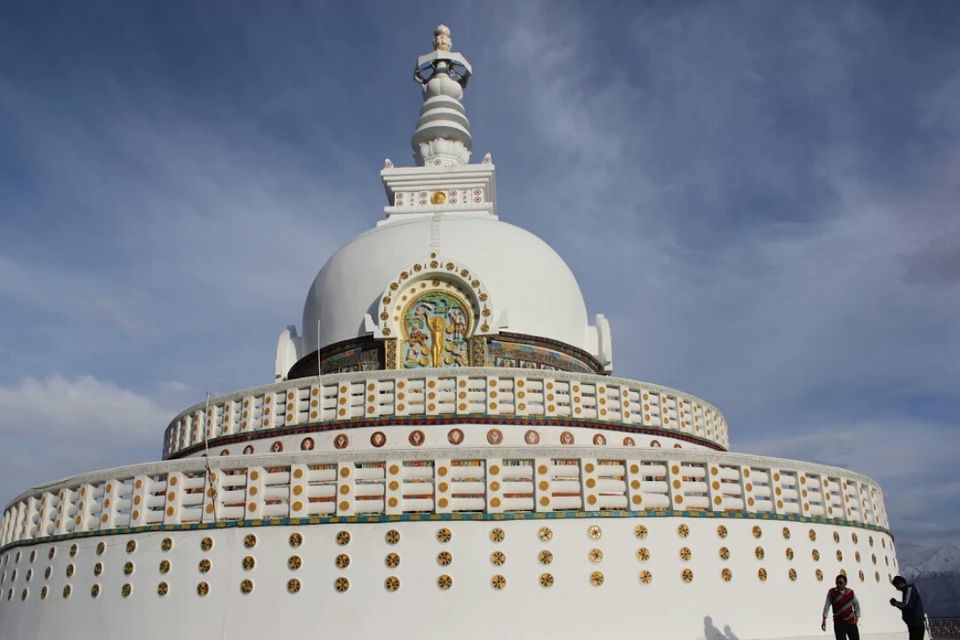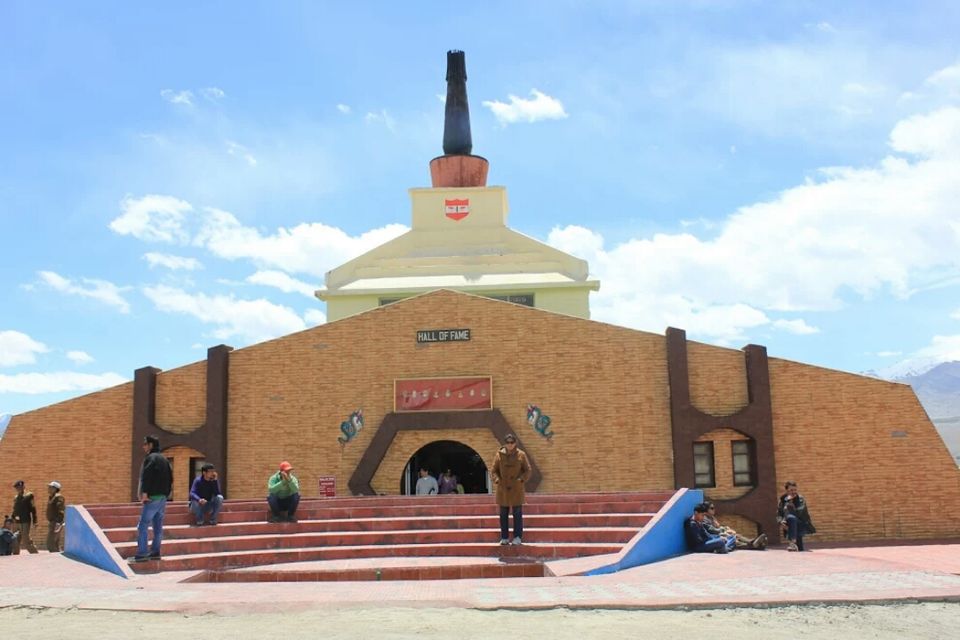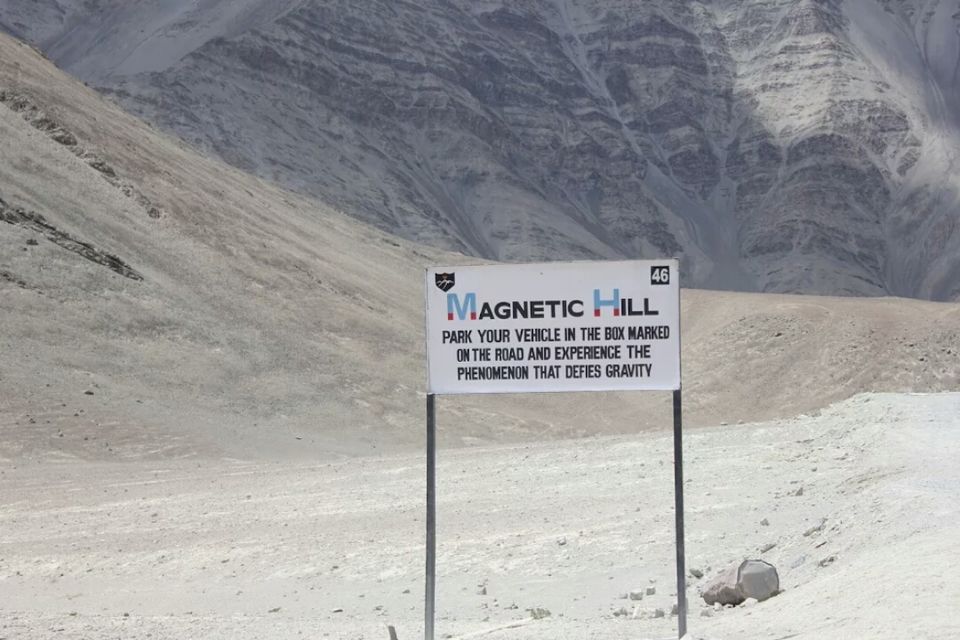 This day, we our on our wheels to Hemis monastery. This was where I experienced my first snow fall. Hemis monastery is one of the richest monasteries. All of them were silver coated and Buddha here was gold coated . We talked to many monks there. They were telling they cannot bath for 5 months. They only bath in summer . They cannot even take their clothes off. Yes , it was unbearable in May. We were talking to monks , looking at monastery , Buddha statue and a small shop there and suddenly it started snowing. It was all magical. I came out and jumped like a small child out of excitement. I enjoyed a lot of time in snowfall. Then after snow stopped, we went to our hotel and relaxed for next big day ahead.
This day was our journey to Pangong Tso through Changla. Many misthink that Khardungla is the highest motorable road but according to GPS, Changla is highest motorable road. Back then in 2012 we needed to take permission to visit Pangong. But now I hear, Indians donot take permissions any more. We started, took permission at a place and headed. There was fresh snow on either side of road. Ladakh receives arguably more snowfall than Kashmir. But due to lack of skiing places, it is infamous. At Changla, there was an army checkpost in which there was a small eatery. We grabbed maggi and played for quite some time in snow and rushed to Pangong.
It was a very tedious and tiresome journey of 5 hours and we were almost exhausted. But by first look of Pangong, all my energy came back. Between two big mountains was a small blue water very far away. I was excited to touch water. When we got to Pangong , we had a very few vehicles . No crowd at all.And only two eateries and there were no bathrooms too. Pangong was so perfect. Blue water, light brown mountains, blue sky and white clouds. We tried to touch water but in vain as it was very cold. We stayed there for 4 hours walked along Pangong, sat on the bank for a lot of time . We wanted to stay more but because of cold , we couldnot. I refused to wear my jacket as I dreamt of roaming in skirt around Pangong because of which I had a severe ear ache. It was okay after I put ear drops. I just feel bad now by seeing posts about how crowded Pangong has become and how they put lot of eateries all along the lake.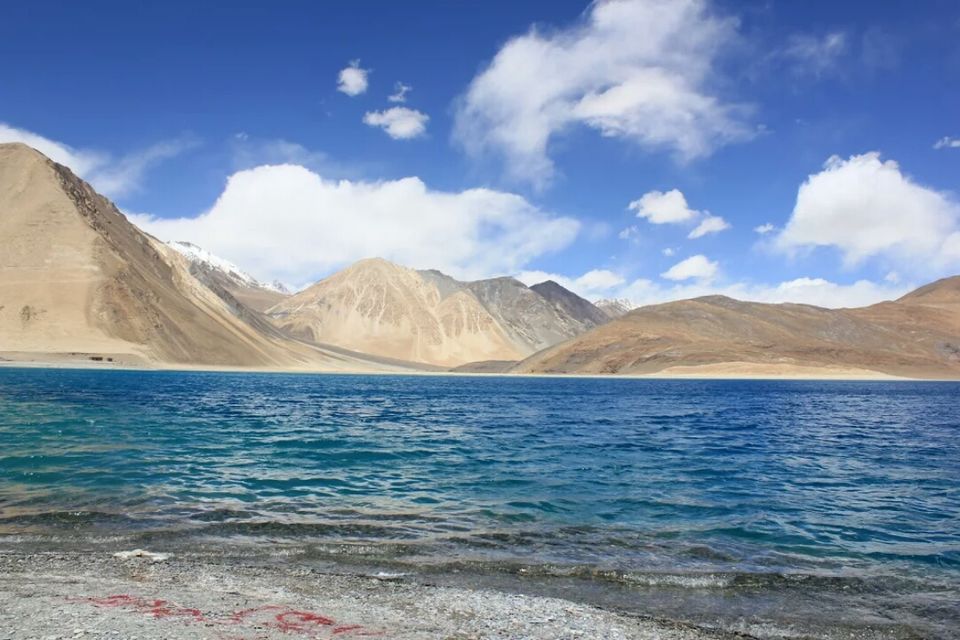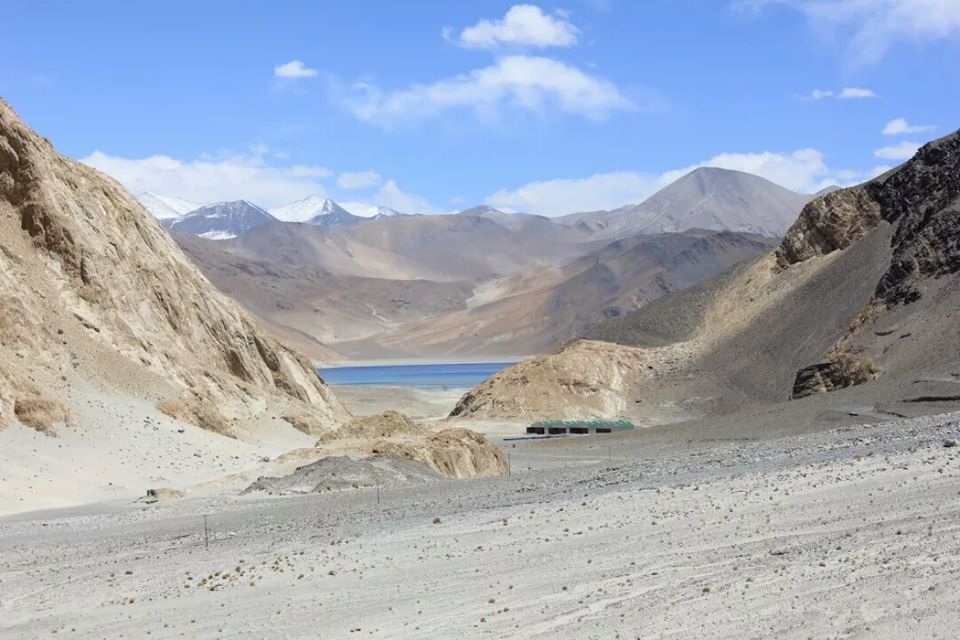 We thought of staying for one night at this ice desert. So we started our journey to Nubra valley. We visited the school where 3 idiots shooting took place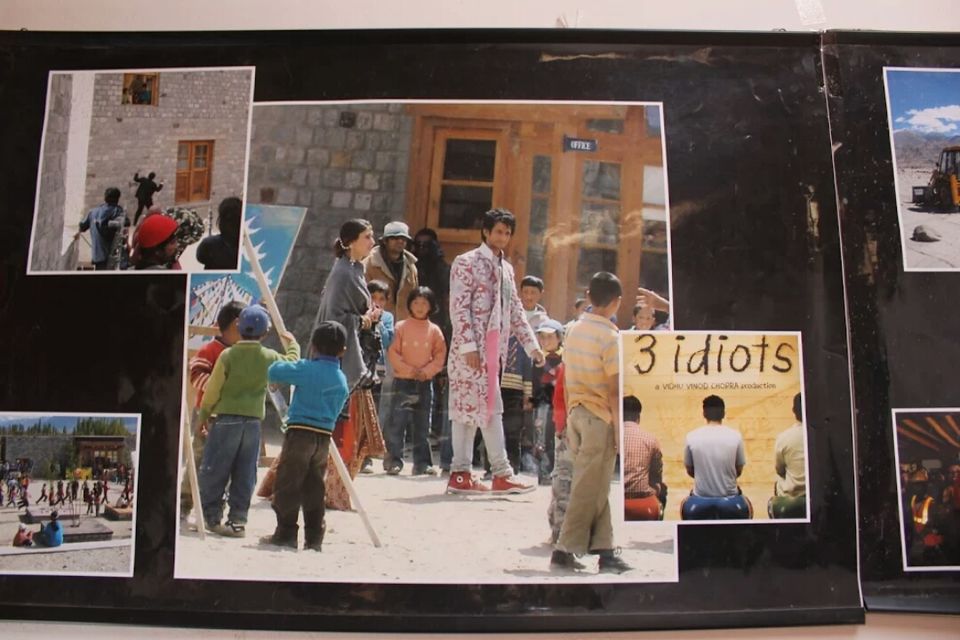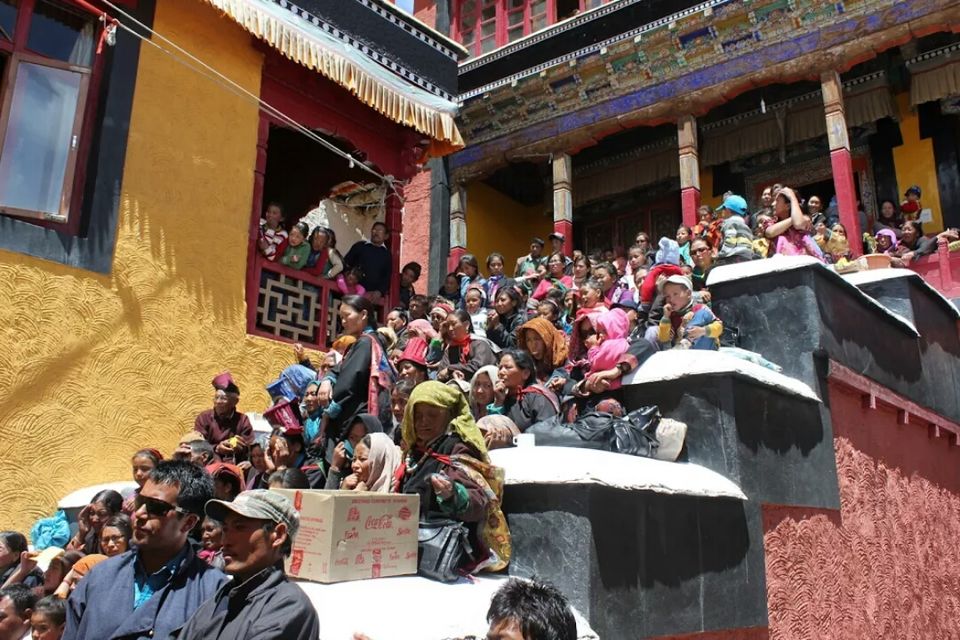 It was a peaceful journey to Nubra Valley via Khardungla. Before we turned towards Nubra turn, We saw a board to Siachen glacier which is the highest border glacier. Then along a small valley , we reached Nubra. We stayed in tents here. Our camp was a very beautiful place to stay with a small valley flowing in between tents. We were enjoying the sound of water flow through the night. Then evening , we headed to dunes. These sand dunes were veey special in such a cold place. Double humped camels attracted us more. Normal camels cannot survive here because of cold and these double humped camels cannot survive else where because of heat. We enjoyed camel safari and stayed there till sun set. Then headed back to our tents. I recommend this camp "Royal hunder camps" in Nubra valley.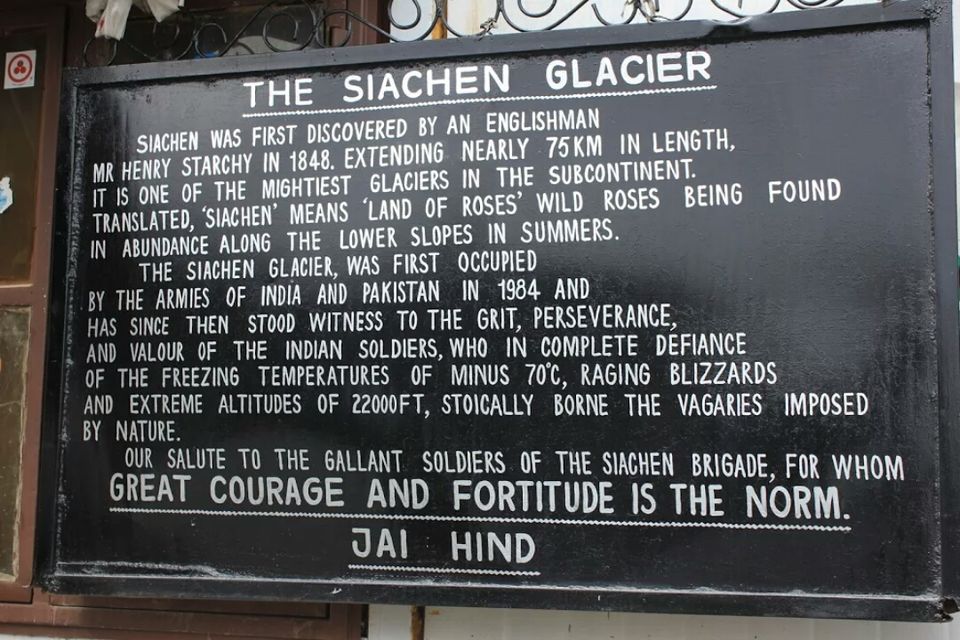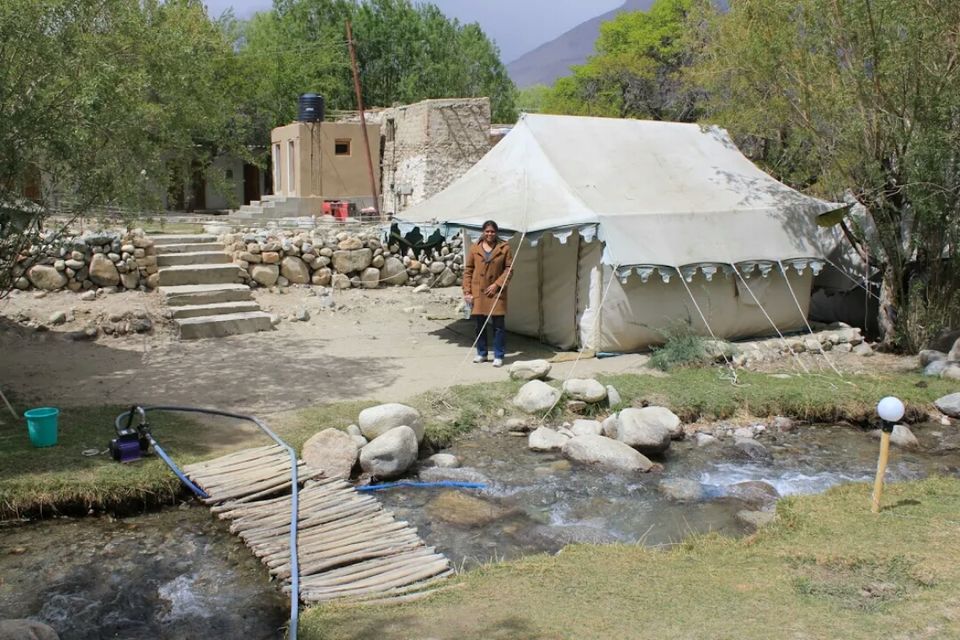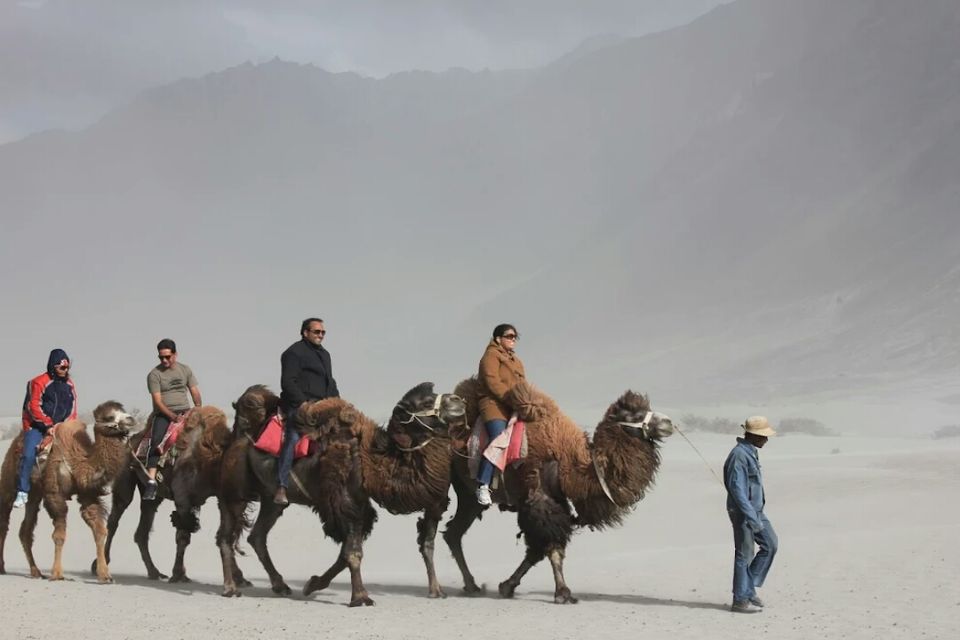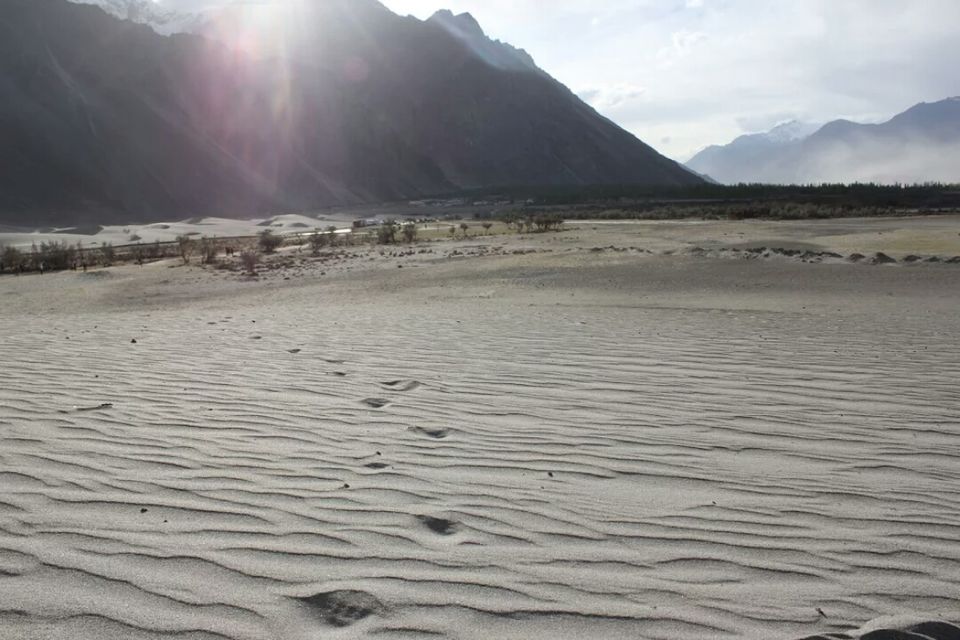 This was a quite adventurous day for us. We started to reach Leh through Khardungla. 2 kms before Khardungla, all vehicles were halted because of snow fall. YES THERE WAS A HUGE SNOW FALL and we were struck in between for almost an hour. I searched for two ice swords and was playing with them. I made a small snow man. Me and my husband were playing in snowfall crazily. But after some time, my husband felt a bit of breathlessness because of less oxygen levels. Luckily vehicles started moving and we went ahead. And after an hour or so he felt better. No need to be afraid in such case because every vehicle in Ladakh carries a oxygen cylinder. It is a rule for them. We reached Leh and started packing to leave for next day.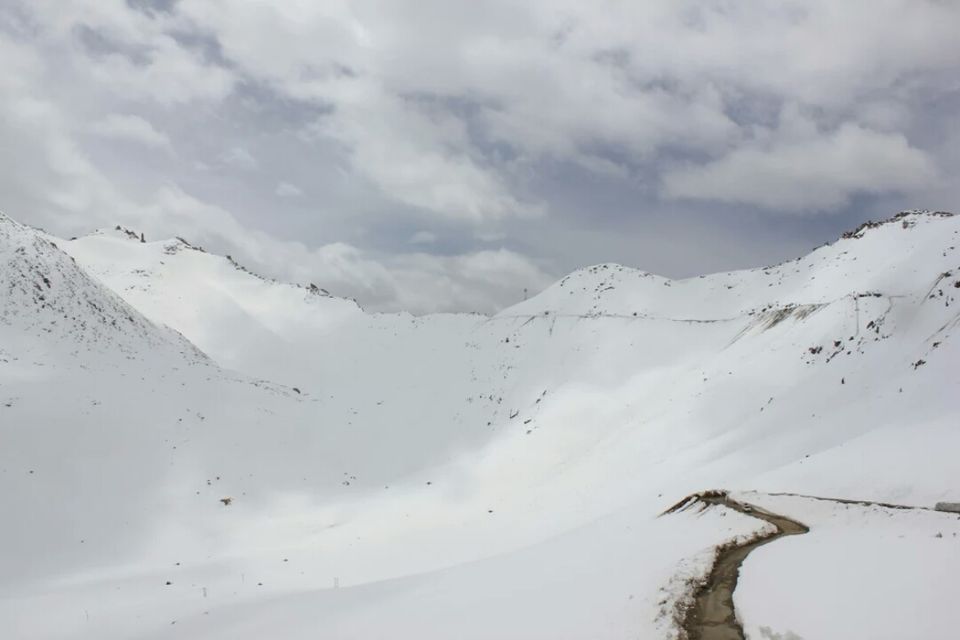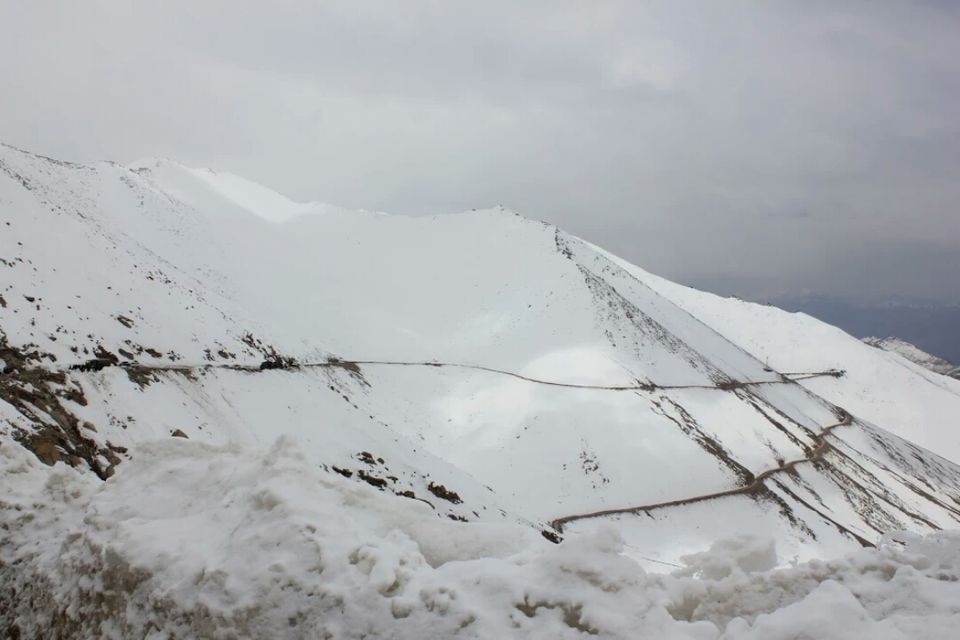 This day was a journey day from Leh to Hyderabad enroute Delhi.