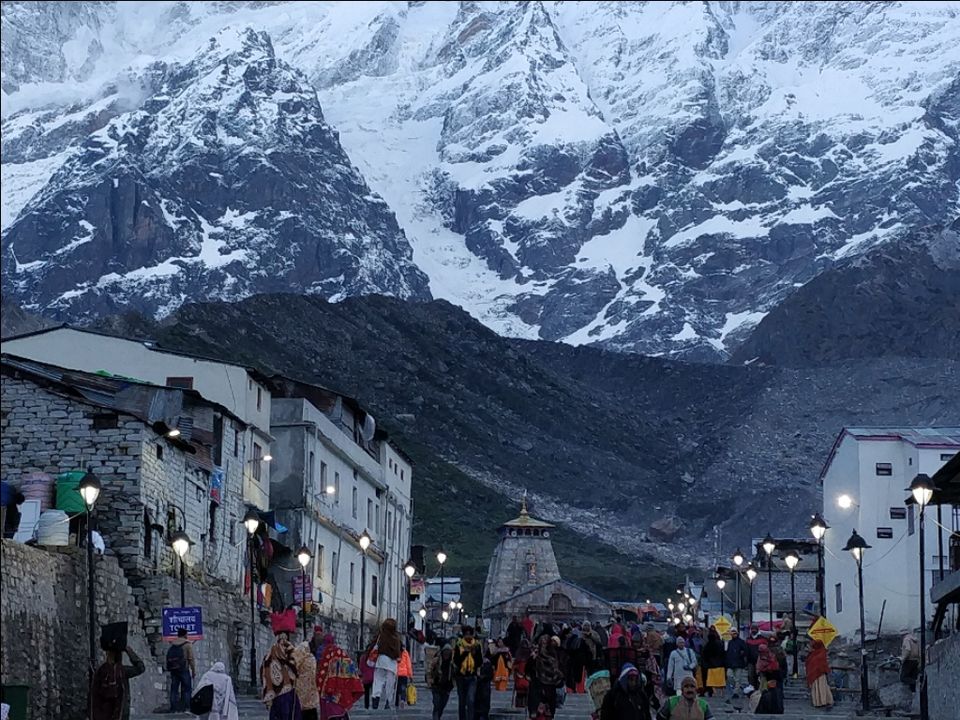 This trip is the fragment from the whole chota char dham trip (Yamunotri, Gangotri, Kedarnath and Badrinath). I'll be writing about each one separately. Here I'm writing about Kedarnath which is also one of the 12 jyotirlinga.
Uttarkashi to Badsu
So after completing the visit to Gangotri we left for our next destination i.e. Kedarnath. Our night stay was at the hotel in Badsu village which is 4 kms from Sonprayag. Badsu is 210kms from Uttarkashi. To reach Badsu we went through Tehri lake. It's a reservoir where Tehri dam is made on river Bhagirathi. We didn't stay there. We continued our journey and took a halt at Srinagar. There we had lunch at Rajhans restaurant. Then we continued and halted at Rudraprayag one of the Panchprayag. Panchprayag are 5 confluences of river Alaknanda. Rudraprayag comes at 2nd no. in chronology and here Alaknanda meets Mandakini. Then we drove continuosly till we reached Gupt Kashi. Gupt Kashi is the worshipping place of Lord Shiva. Legend is that when Pandavas were searching for Lord Shiva to obtain penance for their sins, Lord Shiva hid here. Later Pandavas built Kashi Vishwanath temple her which later got famous as Gupt Kashi. The village is 5000 years old. The architecture of temple is similar to other Shiva temples in Uttarakhand. Beside Shiva temple lies a temple of goddess Parvati. In front of the temple there is a kund called Manikarnika kund and it's saying the in streams of river Ganga and river Yamuna meet here.
After offering prayers we continued our journey and reached out hotel at Badsu at around 6:45pm. We had dinner in hotel only and then slept early as we had to wake up quite early next morning to reach Kedarnath.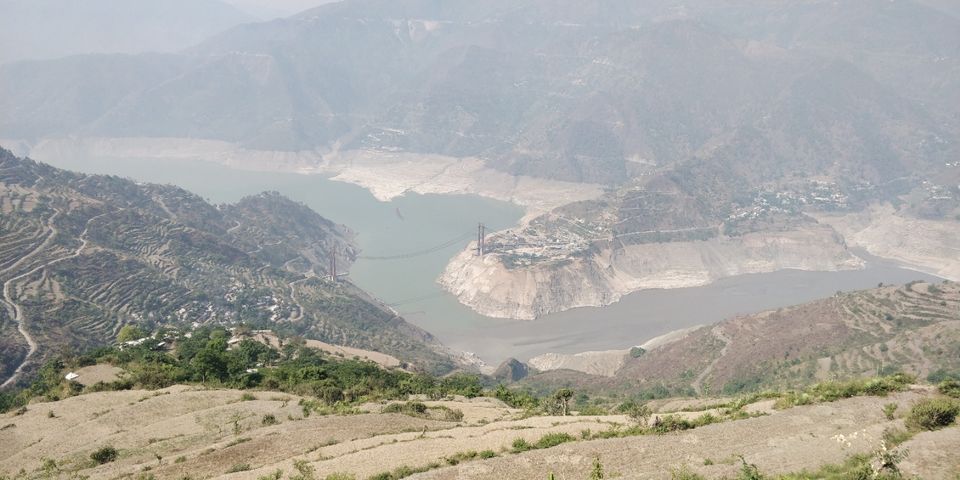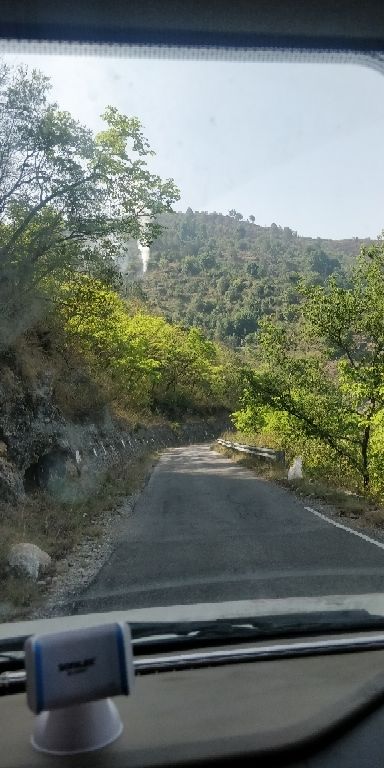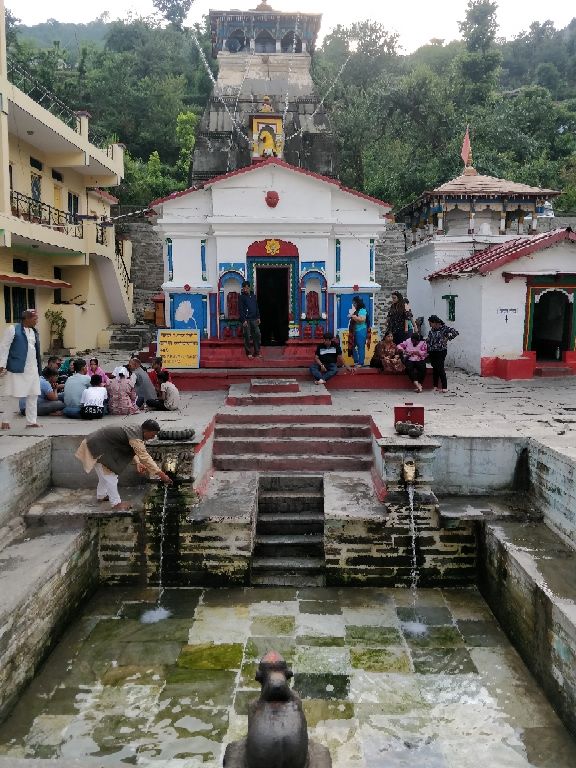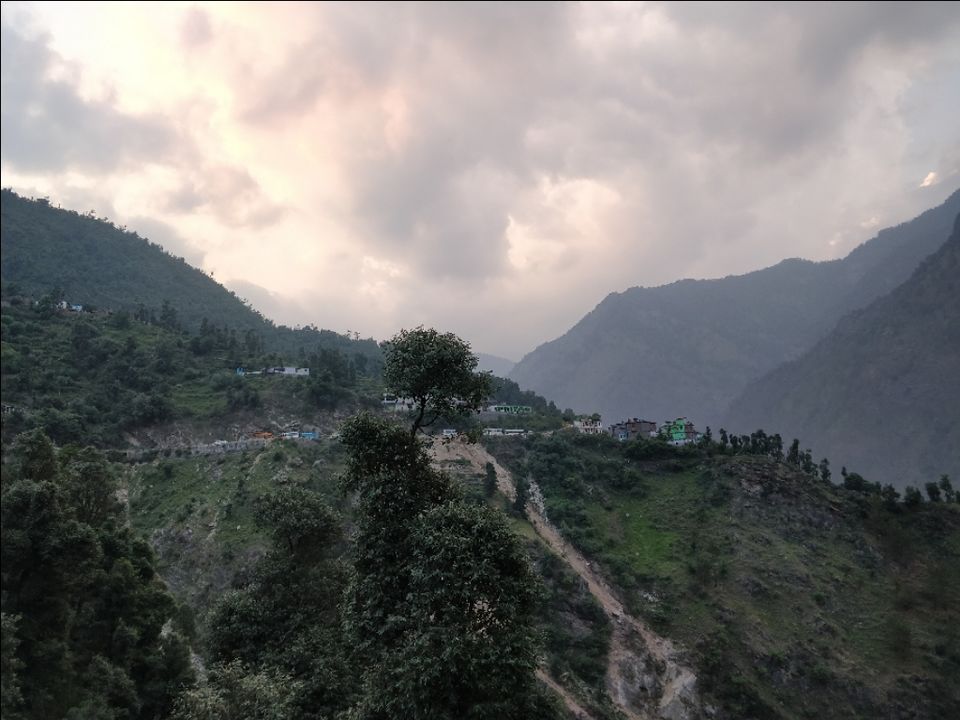 Trek to Kedarnath
Next morning we woke at 2:30am and left for Sonprayag. On the way our driver siad there is a big traffic jam and suggested us to walk from Sitapur so reach early.  We listened to him and walked 2.5km to reach Sonprayag. To brief you about the place Sonprayag is where Basuki and Mandakini rivers meet. Here one has to get themselve register to commence to journey to the Kedarnath temple. Here pvt. SUVs run to take pilgrims to Gaurikund which is the last place which is accessible by road. They charge 50inr per person. Gaurikund is at 5kms from Sonprayag. We got off a km from Gaurikund in 20mins and walked till the Kund. So, Gaurikund is a natural hot water spring. It used to be in a very good shape but the 2013 disaster destroyed it. Legend is that  goddes Parvati lived here while she was doing penance to get the Shiva as her husband. So we took bath here and changed clothes. After that we moved on to the Pony station to get ponies for my parents, elder borther and his wife. I decided to do the trekking by my own. One way cost of pony ride was 2300inr per person. The other mode of transportations were pitthu (cost is related to the weight of the passenger), palki (same as pitthu) and helicopter ( we had a plan to send my parents by helicopter but there was no seats left, the cost of two way helicopter ride is between 8000 to 10000inr). As I was going to walk so I left alone and my family was coming riding ponies. Here comes the best thing, the whole trek was just majestic. Kedarnath is situated at a distance of 16kms from Gaurikund. I started trekking at around 7am. This trek goes alongside of the beautiful river Mandakini and the sound of its flow was ear soothing. The treak is laid out of concrete at some places while with stones at other places.The trek goes through different halting places which are located at distances ranging from 1.5 to 3.5 kms from one another. First halt is Jangalchatti which is at 4kms from Gaurikund. It is the animal resting place and also has a police station. It used to be big but after the disaster it incurred heavy damage and not is not as big as it used to be.To tell you at every 200m-400m there small eateries selling tea, packaged products, parathas, samosas, water bottles etc. The whole trek has toilets at every 1km. Trek has other facilities like drinking water dispensers, resting benches.
After 2kms came another halting place called Bhimbali.  Legend is that Pandavas were having difficulty in finding the route to Kedarnath due to presence of heavy rocks on the path. Then Bheem the powerful among the Pandavas used his strength to remove the rocks and hence the place got its name.
Then after 1km came Rambhara. It's again a place with lots of eateries and resting spots for pilgrims.
Kedarnath trek goes through concrete paths, iron bridge, small beautiful waterfalls, lush green forests, mud routes due to melting snow specially during early summers and some shortcuts. You will know you have completed half of the trek when you pass through an iron bridge made over river Mandakini.
After 4kms came Lincholi. This halting place was created after the 2013 disaster. It has a police station and a helipad.
Then after walking 3kms came Rudra point, this is at the distance  14kms from Gaurikund. Ponies aren't allowed to go beyond this point. People can walk or can use pitthu. From here temple is just 2kms away.
I used some shortcuts and reached up in just 4&hlaf hrs. I reached there before my family. After that we walked together reached Mandir Marg. We had a plan to stay here overnight. Our tour operator suggested us to stay at Himachal bhawan. To tell you that near Temple especially Mandir Marg there are different lodges set up by people of different states like Gujarati bhawan, himachal bhawan, Bhopal bhawan,etc. So as suggested we went to himachal bhawan, the caretaker of that lodge was asking 5000inr for night for small room with a double bed. He would have asked less if we were from himachal but we are from Madhya Pradesh. Later we found out a lodge named Bhopal bhawa and as we're are also from Bhopal we went in there get a room at discounted rate. The thing about these lodges that they don't take money as price of room instead they ask for donations for the development of the lodge. We did some negotiation and got a room enough for 5people at 2000inr. We kept whatever things we were carrying there and left for having a lunch. There aren't many restaurants up there. Restaurants serve simple food their either as a thali system or per dish system. We chose thali one and got it for 200inr per plate. Then we went to join the line of pilgrims to worship the lod Kedareshwar. The line was quite long. It was moving very slow and the weather started to become cloudy and chilly. In a few moments it started to rain there we all get wet but didn't got out of the line. I found there queue system quite dysfunctional. Alse there were no sheds upon our head to get saved from the rain. We stood in line for 2hrs atleast then only we were able to get inside the temple.
Now I'm gonna tell you about the temple and it's surrounding area. Temple is located at an elevation of 3583m. It was first made by Pandavas who came here in search of Lord Shiva to get a penance for their sins. Sage Vyasa adviced them to do so. Shiva decided not forgive them and took a form of bull and joined the herd. Bhim the mighty among Pandavas took his huge form and herd started to pass through between his legs but lord Shiva refused to do so. At that moment Bhima took a grip on the bull but he started to disappear into the ground. Lord Shiva got impressed with Bhima and forgave Pandavas. When lord Shiva disappeared into the ground his portions appeared in 4 more places ( tungnath, madhyamaheshwara, rudranath, kalpeshwara) other than Kedarnath. Five places together are called as Panch Kedar. So that was the story behind Kedarnath temple.
Now I'll tell you about the surrounding area of the temple. Temple is covered with different mountains  from three sides. Behind the temple, stands the majestic Kedarnath peak and Kedarnath dome while other two sides have Kharch Kund and Bharat kund respectively. The temple is located near the Chorabari glaciers from where river Mandakini originates. Legend is that total 5 rivers flow near Kedarnath temple namely Mandakini, madhu ganga, sheer ganga, saraswati and swarna gauri. Other than Mandakini and Saraswati other rivers aren't existed in today's period. Behind the temple lies the Divya Bheem Shila, a giant rock which fall right behind the temple during 2013 floods and hence saved the temple complex. All these mountain peaks, clouds, river and greenery add to the beauty of the place and temple. The whole place is marvelous, majestic or I should call in Hindi सुंदर.  All these words aren't enough to explain the scenery.
Now coming to temple the current temple was built by Adi Shankaracharya and it's supposed to 1200yrs old. Kedarnath is one of the 12 jyotirlinga. The temple was made using inter locking technology and was made of gray hunk stones.
Inside the temple lies the Lingam of Shiva. Garb graha of the temple is very ancient and is believed to be from 8th century. In front of Lingam there is a pillars hall and on the walls of that hall there were idols of Shiva family i.e. Goddess Parvati, lord Ganesha and lord Kartikeya. Also there are idols of Pandavas. Right in front of the temple an idol of Nandi is present in a waiting position. At around 1-1.5km from the temple lies a temple of Bhairav. We couldn't go there because of the rainy weather.
So this was all about the temple structure. Temple open at 4am and geta closed at 9pm after the evening aarti. At 4pm it gets closed for one hour to do the preparation for the evening prayer. After offering prayers we had dinner watch already crossed 7pm. We went back to the lodge and called it a day.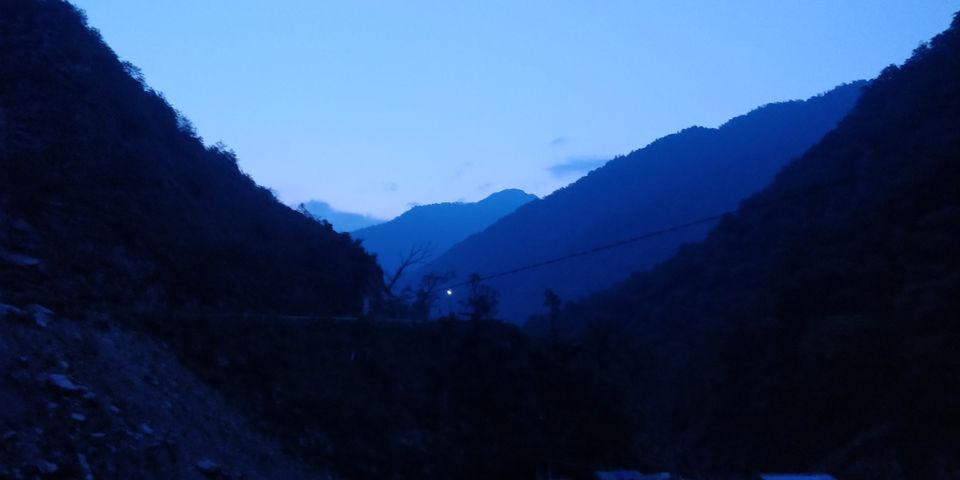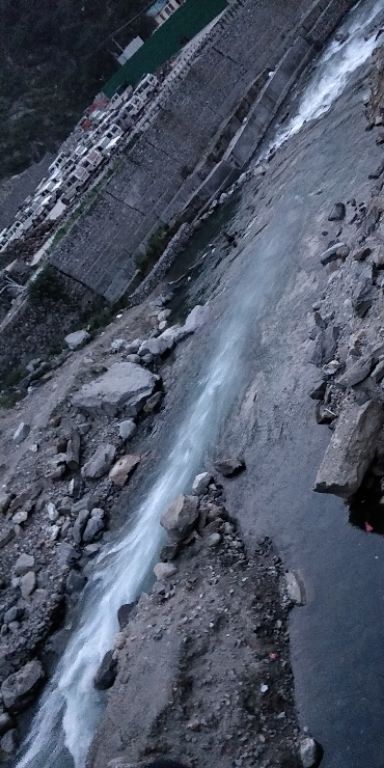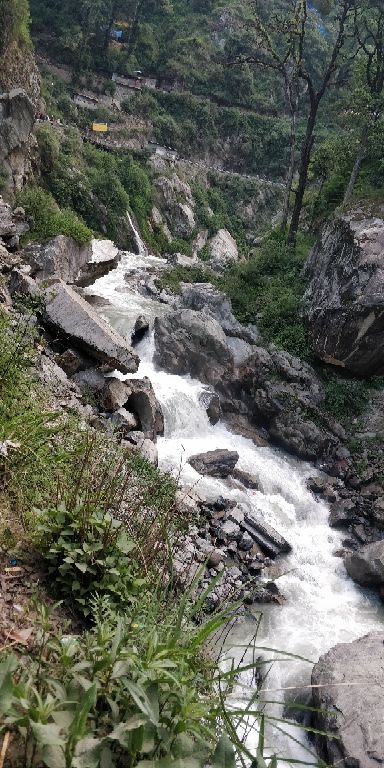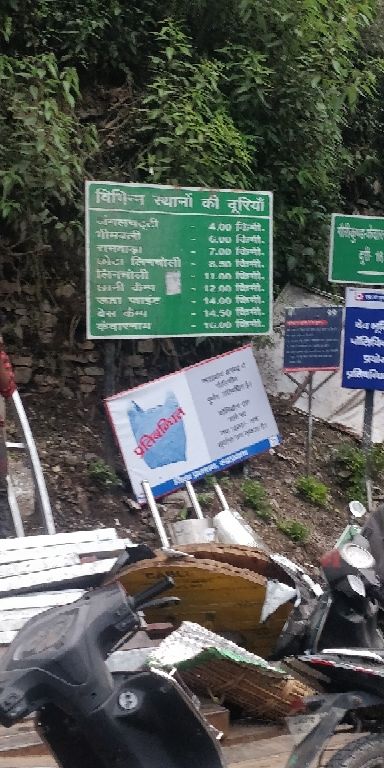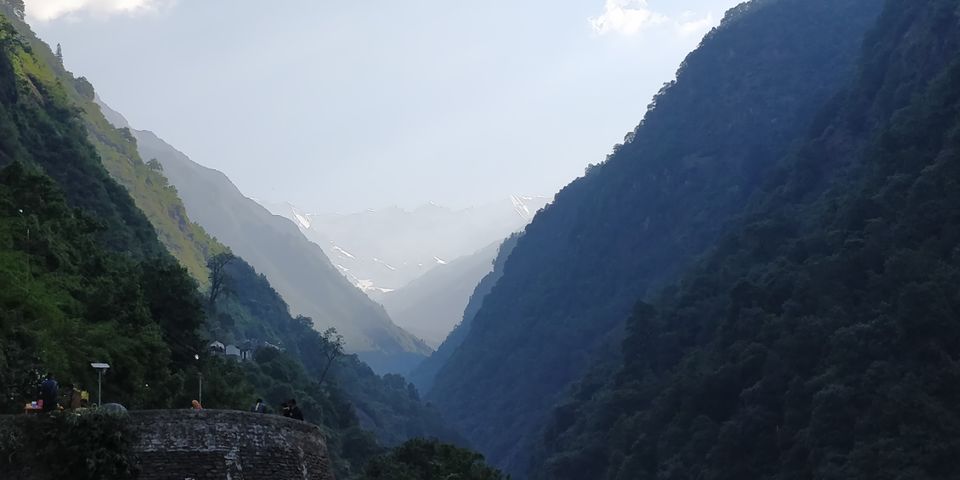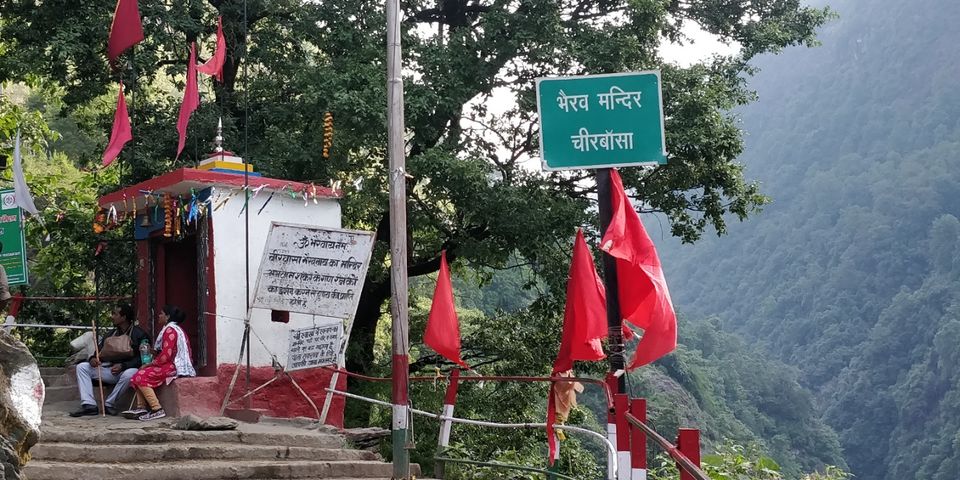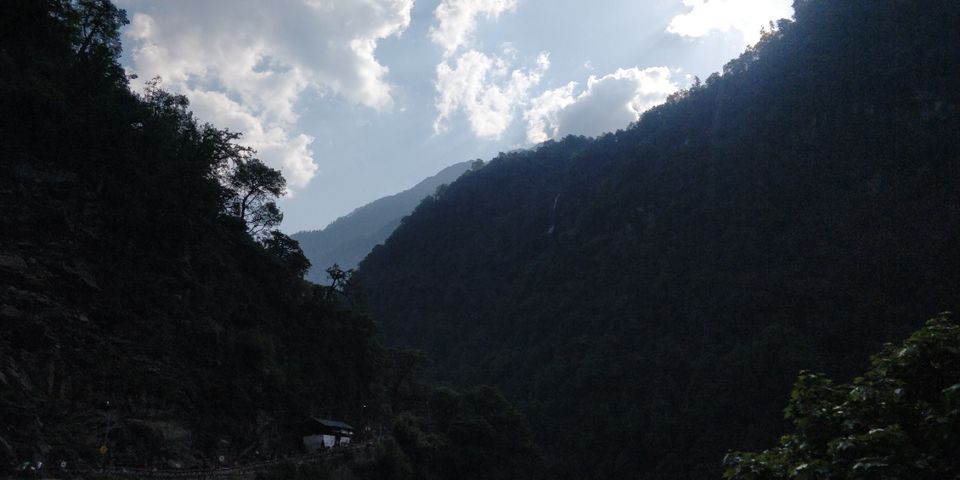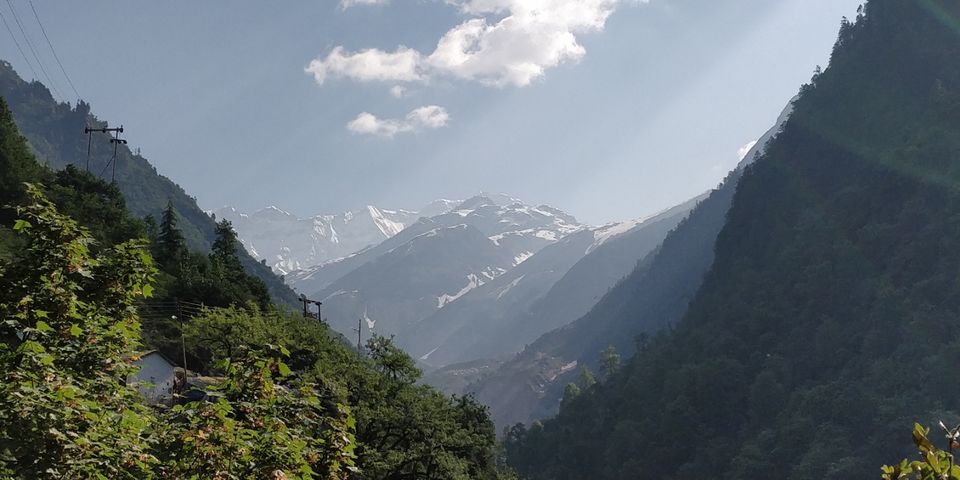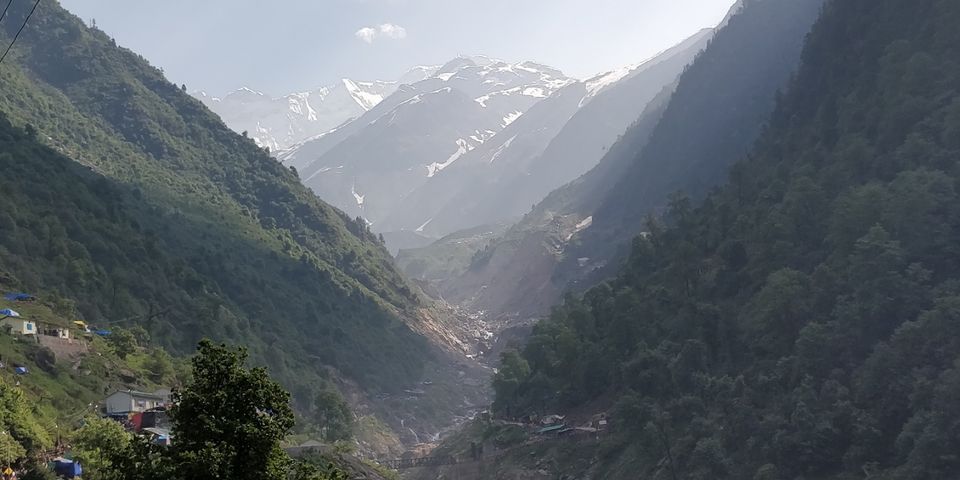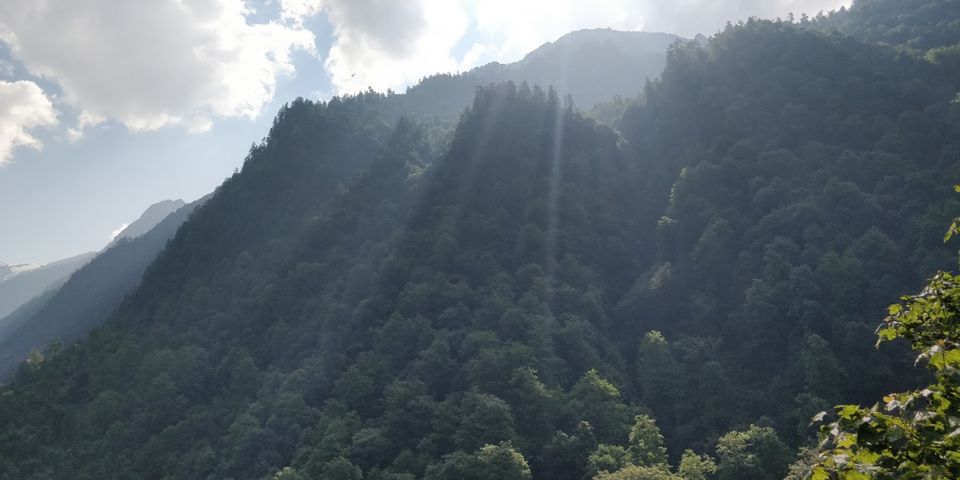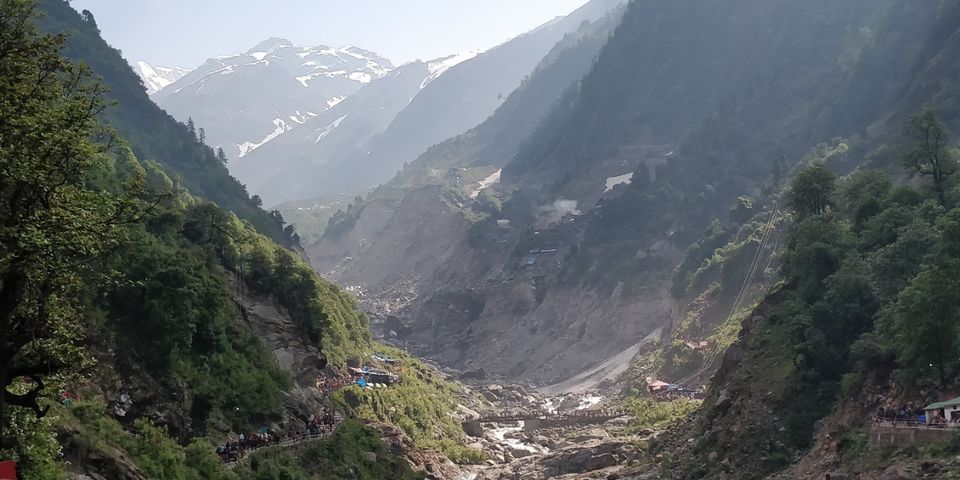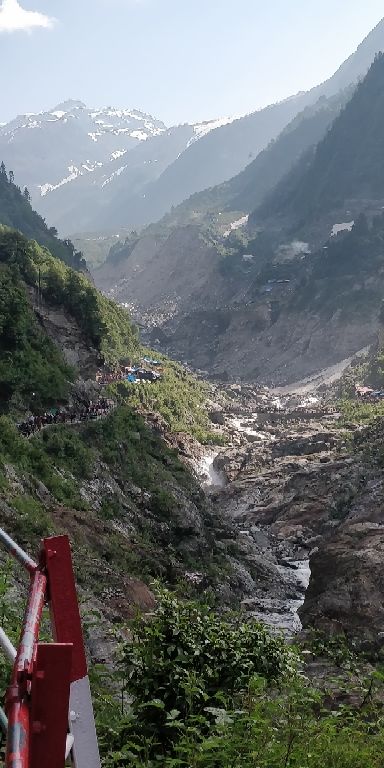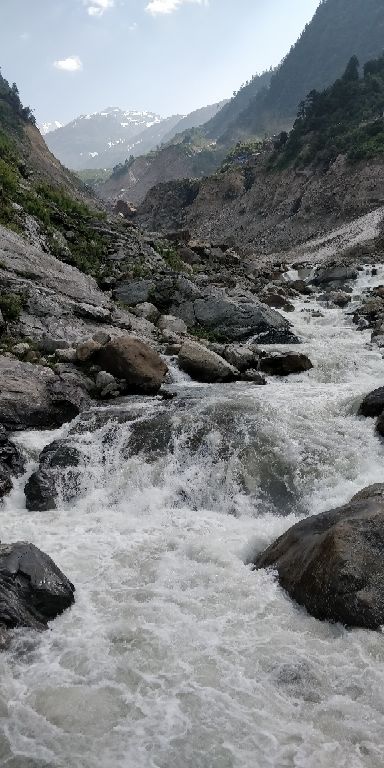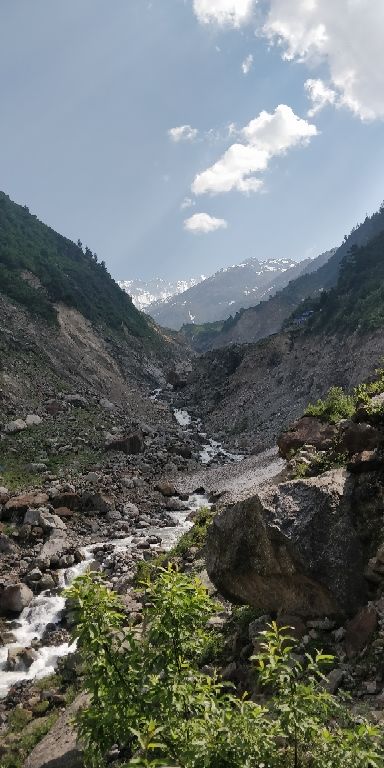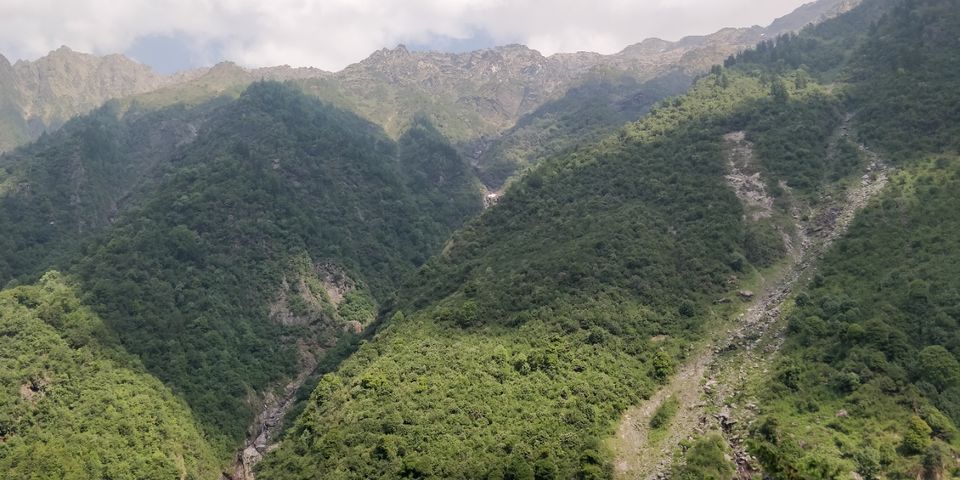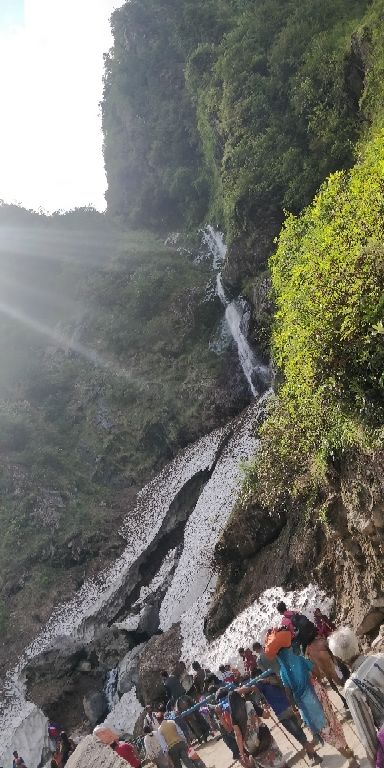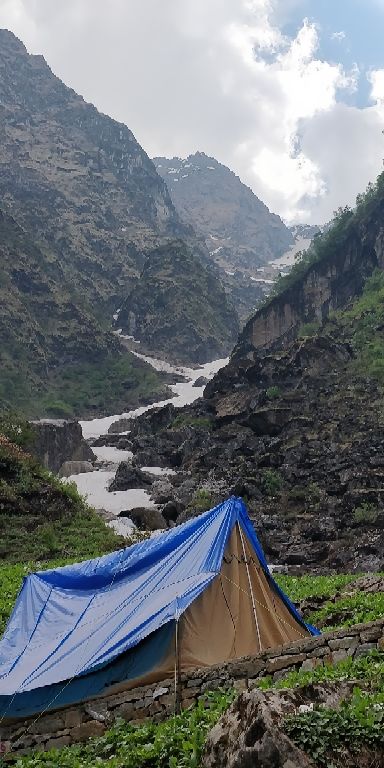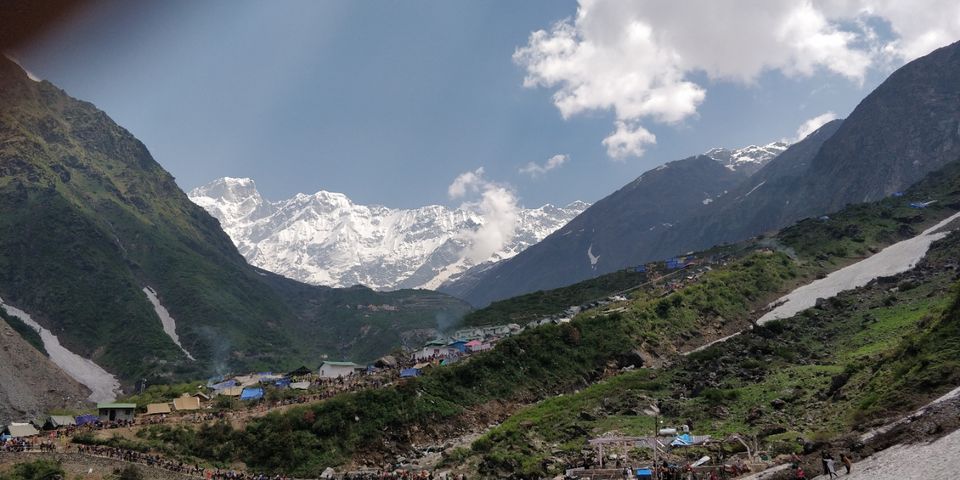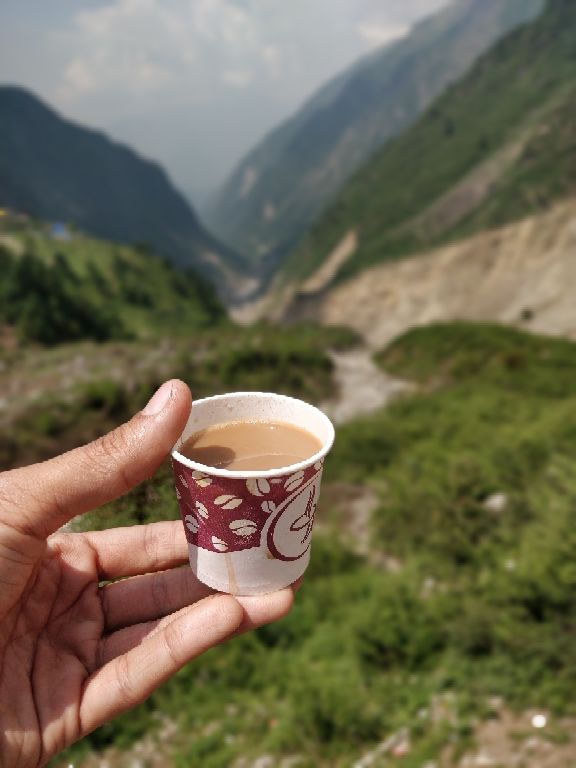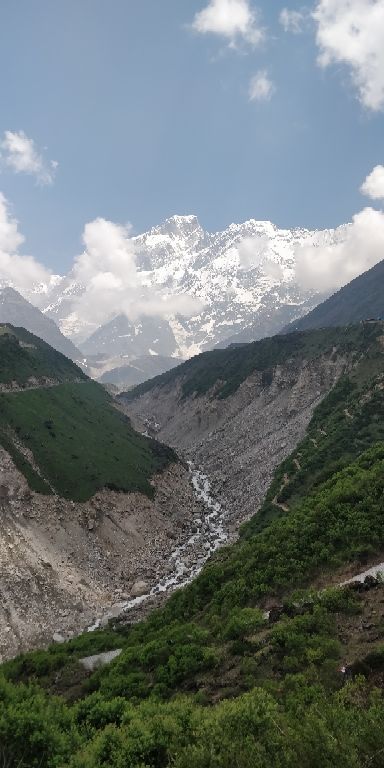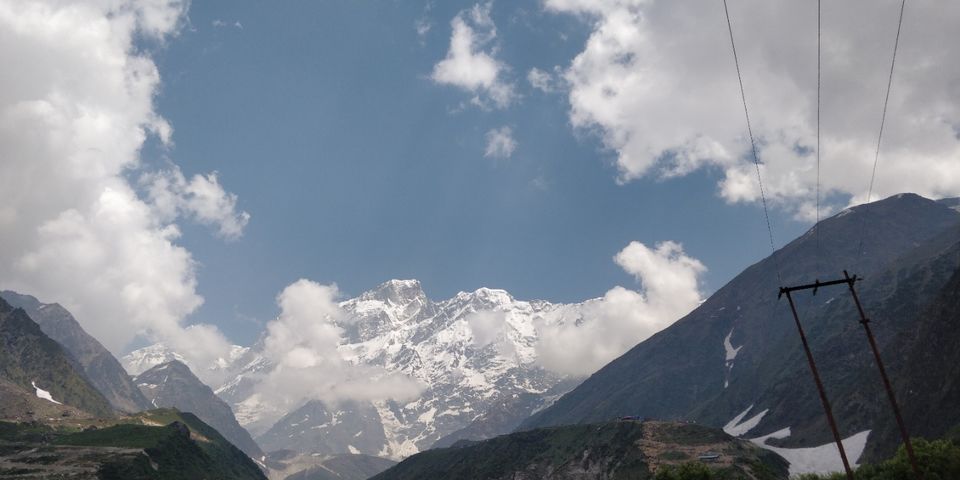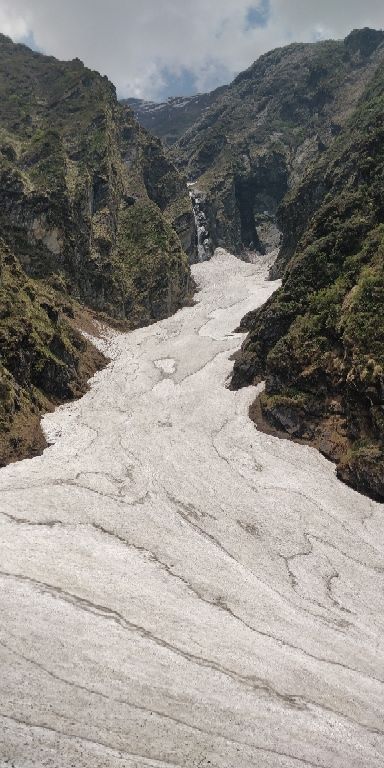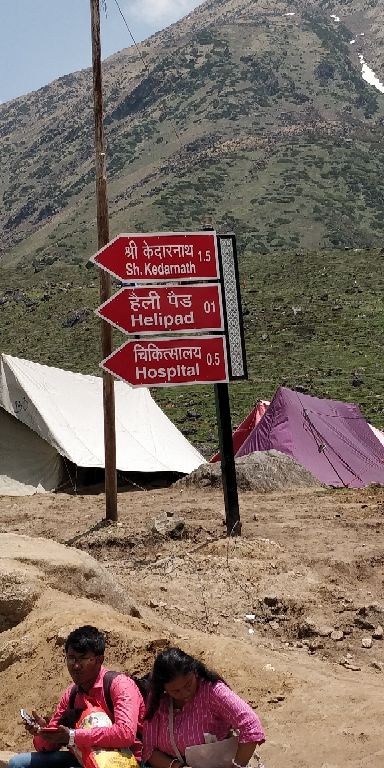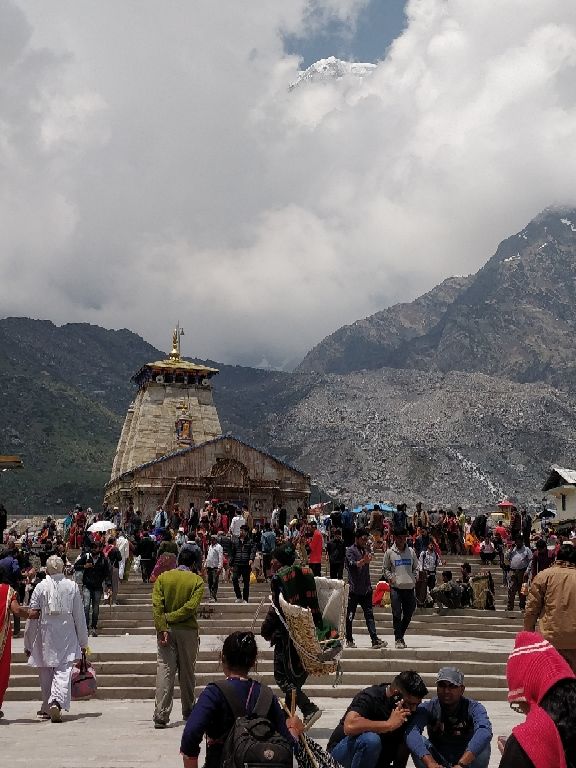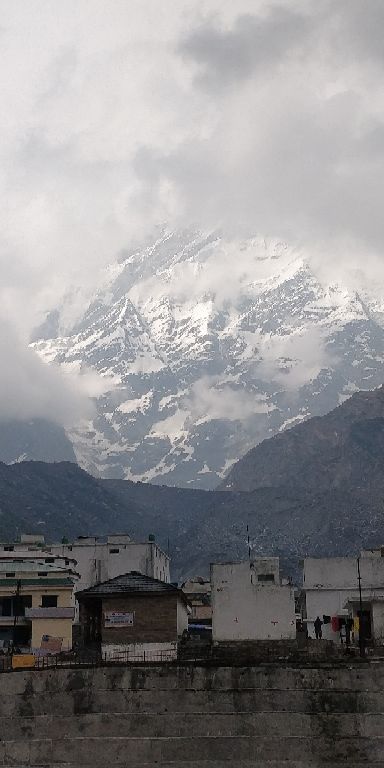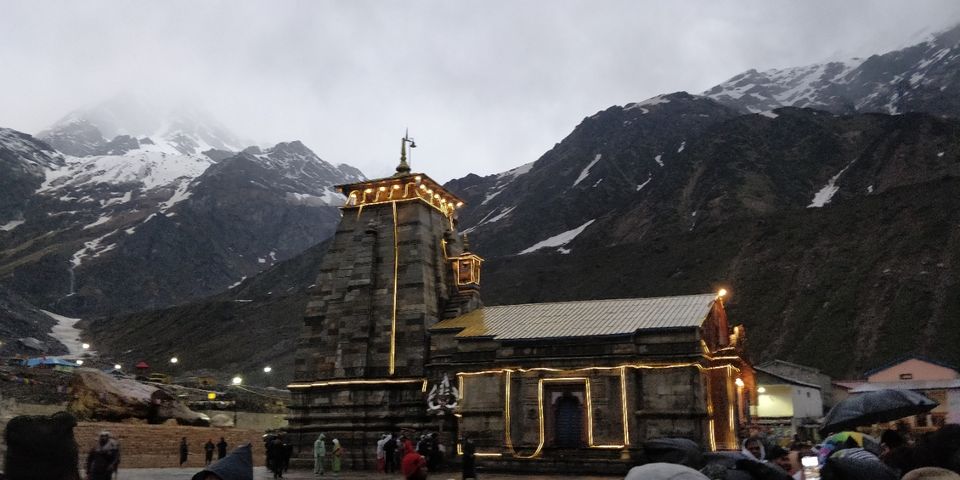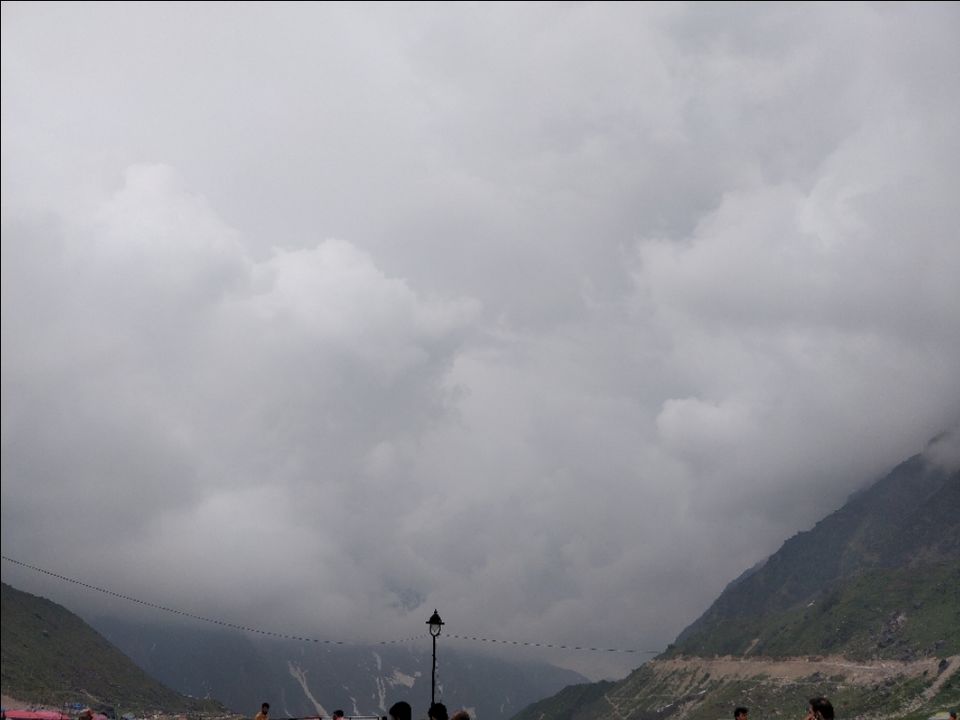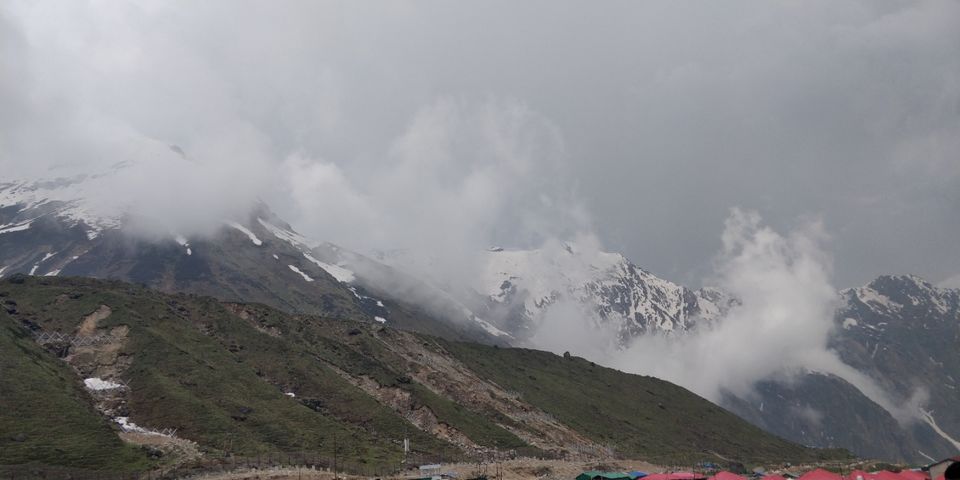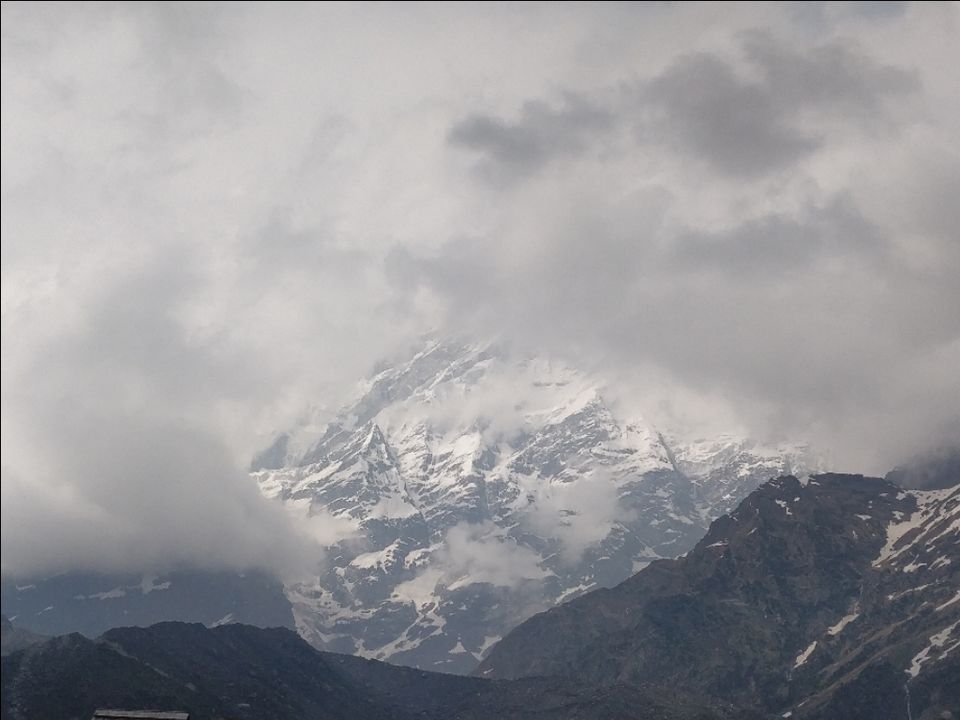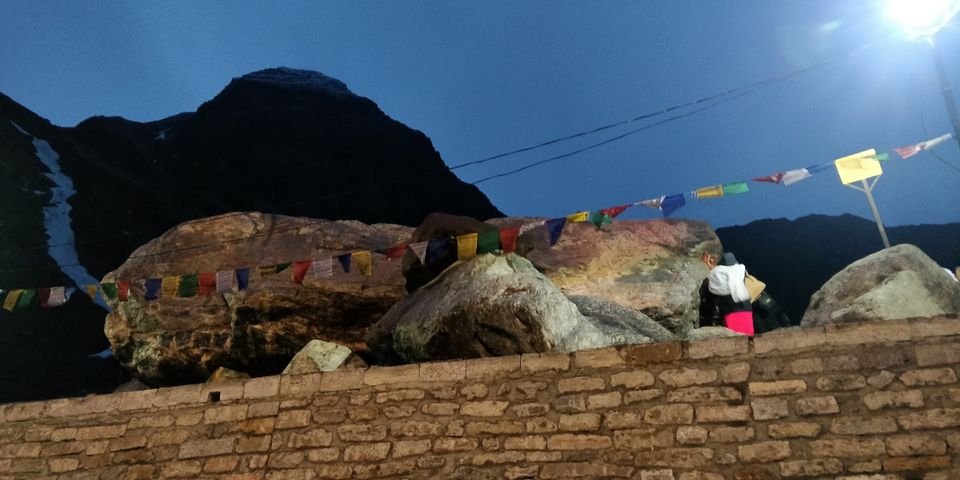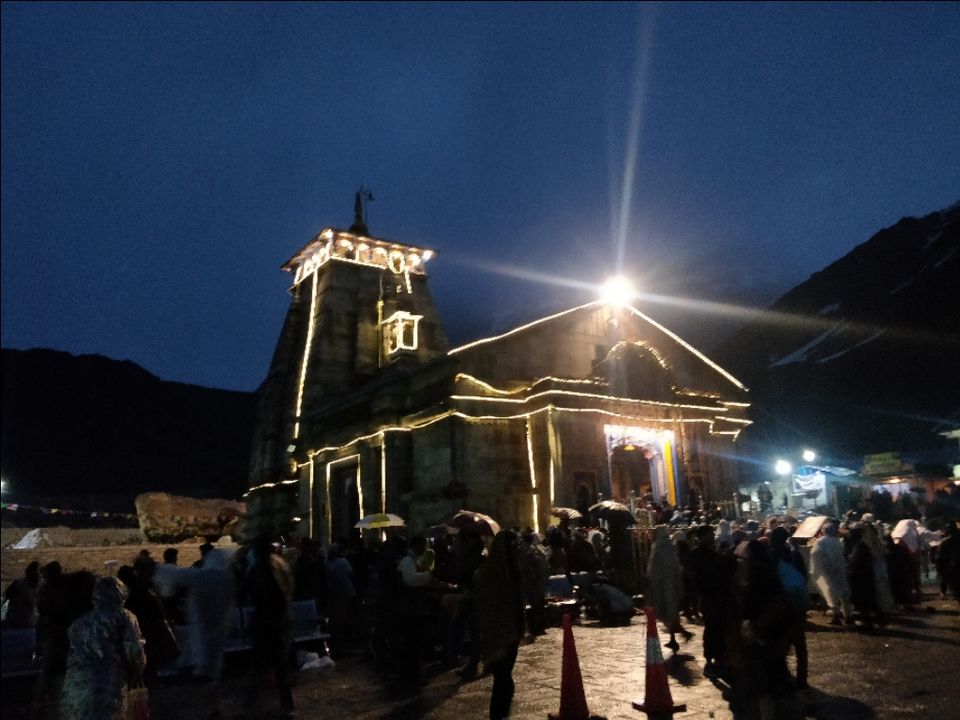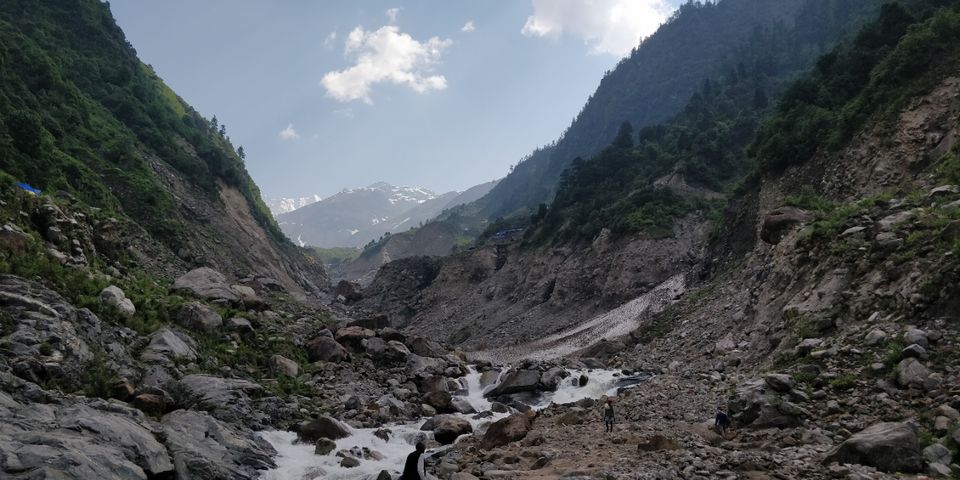 We woke up early in the morning at 5am. The climate was so cold that we didn't take bath. We checked out of the lodge. We near the temple, offered our last prayers before we started to descend. Morning view was exquisite as there were no clouds. The view was very clear. Magnificent mountains behind the temple, sound of the river flowing and first sunrays was making the view like a beautiful dream. We begun to descend at 5:40 am maybe. We all decided to walk. My family didn't take pony ride. It took us more time to reach down because my mother were heaving breathing problem. As we were running out of time, when only 5kms of trek was left, hired a pitthu for my mother. We took really a long time to reach Gaurikund around 6-7hrs I guess. We wouldn't have if my mother used the pony to come back. Later we found our driver and started our journey to Peepalkoti (our halting place before the commencement of journey to Badrinath). We reached Peepalkoti at around 11pm.
Anyway, so this was all about the trek to Kedarnath. It was an adventurous and beautiful journey. Some tips for you: 1) the always carry winter wear no matter at what time you go there. 2) Weather is very unpredictable so carry a raincoat or an umbrella with you. 3) if you have breathing problem then don't choose walking the whole trek. 4) try to start trek as early as possible because when it starts to get crowded they stop the entry for the whole day.
5) Kedarnath temple opens at the time of Akshay Tritiya (last week of April or first week of May) and closes at the time of Bhaiya Duj (Kartik Maas October or November)