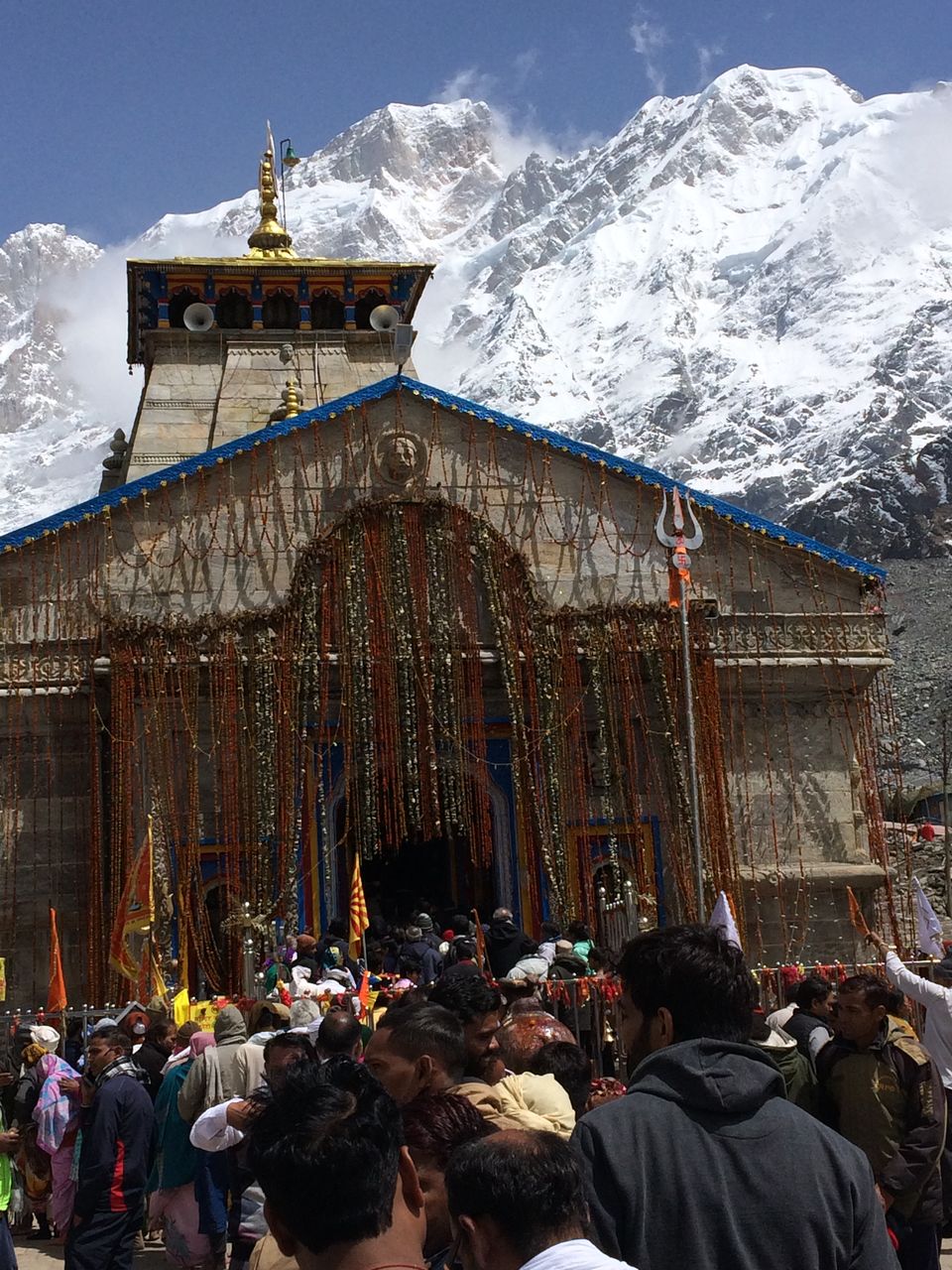 Kedarnath Temple is a Hindu Temple dedicated to Lord Shiva.Here Lord Shiva worshiped as Kedarnath.It is on the Garhwal Himalayan range near the Mandakini River in KedarNath in India. Due to extreme weather conditions, the temple is open only between the end of April (Akshaya Tritiya) to November (Kartik Purnima – the autumn full moon). During the winters, the vigrahas (deities) from Kedarnath temple are brought to Ukhimath and worshipped there for six months. Lord Shiva is worshipped as Kedarnath, the 'Lord of Kedar Khand', the historical name of the region.
Our Journey:-We started journey from New Delhi ISBT Kashmere Gate.We took a direct (ordinary)bus to Guptkashi. Fare for New delhi to Guptkashi was 605 INR dated 11-05-2018.
if you want to confirm seat than you have to make early bookings through utc.uk.gov.in.You can make booking same day also.There is another option, you can book ac coaches and deluxe buses from New Delhi ISBT to Haridwar or Rishikesh.
New Delhi ISBT
ISBT KASHMERE GATE,NEW DELHI
Distance-New Delhi ISBT Kashmere Gate to Guptkashi is around 419 km.
we took a bus at 9 clock at night and departed at 9.30 in the night from ISBT and it took 12 hours to reach Guptkashi.
Stay:- There are lots of budget Hotels and lodges at Gupakshi No need to worry for rooms even in peak season.We booked a room @ 500 per person and rested that night and we decided to trek for kedarnath next morning.There is also a Famous Temple at Guptkashi Named Kashi Vishwnath Temple, Explore it also before starting trek.We left for kedarnath early morning from Guptkashi to Gaurikund.Personal vehicals and public vehicals are only allowed to Sonprayag. In Sonprayag Pilgrims Have to register their selves for Char Dham Yatra registration.The registration process is very easy and hassle free.All Pilgirms have to give their information and after that he can get a char dham pass and start their journey.
Guptkashi
Sonprayag to Gaurikund:- Sonprayag is the place where Pilgrims Park their Vehicle.Govt has made a new parking space at Sonprayag for all the vehicles and new parking is very specious. The distance between Sonprayag to Gauri kund is 5 Km.There are sharing jeeps or shuttles operate between Sonprayag to Gaurikund.There is no mobile Network Connectivity after Sonprayag, so its better to inform your family and friends before trekking from Gaurikund to Kedarnath
Gaurikund
Trekking Starts from Gaurikund:-Before starting your trekking make sure that you have Raincot, woolen cloths,woollen cap,muffler,umbrella and a good trekking boots with you. Beacause weather in kedarnath changes every hours.those who can not trek can hire a mules @2300 one sided
Palkis, baskets are also available at Gaurikund.There are lots of halts for eating and drinking.Kedarnath is very strict for vegetarian food.It takes 7 hours to reach kedarnath Temple.finally we reached at Temple,the air was thin,less oxygen.i was having trouble in breathing but manage to normal breathe in 1 hour
Temple:-Finally We reached kedarnath temple, fully tired and exhausted and kapat(door) was closed so we decided to stay overnight at Keadrnath and will do the pooja and archna (prayer)next morning.It was very pleasant and sunny day Next morning. it took an hour in queue to enter the Temple Premises.The Temple opens at 5 am in the morning and temple is closed from 3 PM to 5 PM so plan to be at temple before 3 PM. Before 3 PM, visitors can touch the idol and do Abhishek with Ghee. After 5 PM, no one can touch the idol but can get Darshan from a distance. At this time, the idol is in an Emperor's costume. If you get late beyond 5 PM, don't try to get back to Gaurikund on the same day. The path is very risky and many a times, light system fails. Weather also changes frequently. There are many dharmshalas to stay at night. After that, you can attend the morning Aarti, participate in Abhishek and then start the descend.
Thank you so much
Best time to Visit:- May to November
Don't forget to Take:-Raincoat,woollen clothes,woolen cap,mufflers and a good trekking boots.
How to reach:- Bus from New Delhi-haridwar-rishikesh-guptkashi-sonprayag-Gaurikund-kedarnath
anyone can take a bus from New delhi to Haridwar or rishikesh and than rishikesh to Guptkashi(Services of buses are frequent between Haridwar to Guptkashi)
Attractions:-