On 31st October 21 in the morning we didn't go anywhere, just rest. In the evening at 5.00 went to chaturbhuj Temple, Khajuraho to view sunset. Chaturbhuj Temple is a Hindu Temple dedicated to God Vishnu. Idol is south facing four armed Lord Vishnu. This temple is also known as Jatakari Temple as it is situated in the village Jatakari. The temple was built by Yasovarman of the Chandella Dynasty in c. 1100 CE. This is the only temple in Khajuraho which lacks erotic sculptures. It is grouped under southern group of temples, due to its location in southern area of Khajuraho. The architecture of the temple is so great that in morning the sun rays hits directly at the head of the lord vishnu and in evening at the feets. It is great piece of art. Visit this temple by the end of the day, so that you can observe best scenic sunset. After viewing shades of sunset we went to see light and sound show at the western group of temples. Ticket is Rs.250/- but in my opinion it should be less. It Is in English 6.30 - 7.30 PM and in Hindi 7.30-8.30 PM. If you don't have time you may skip it.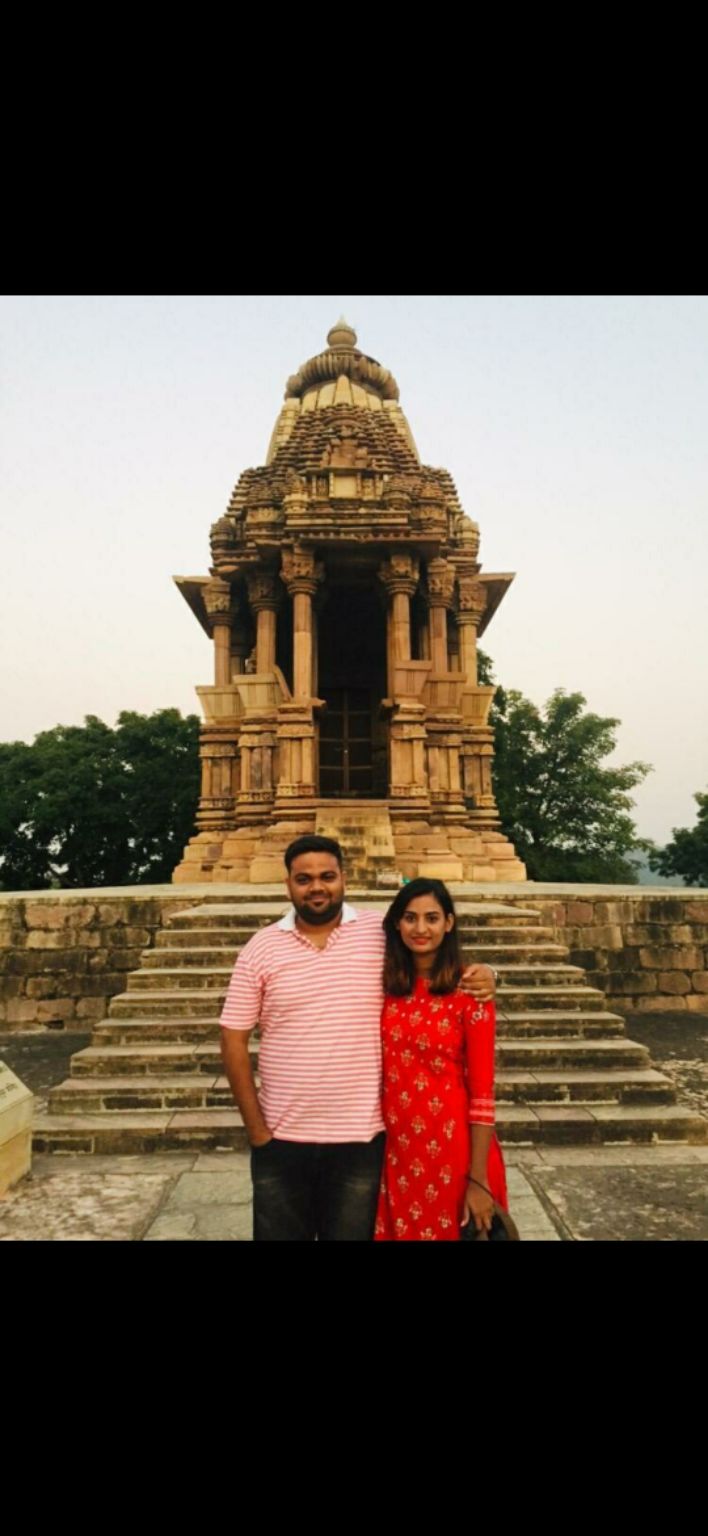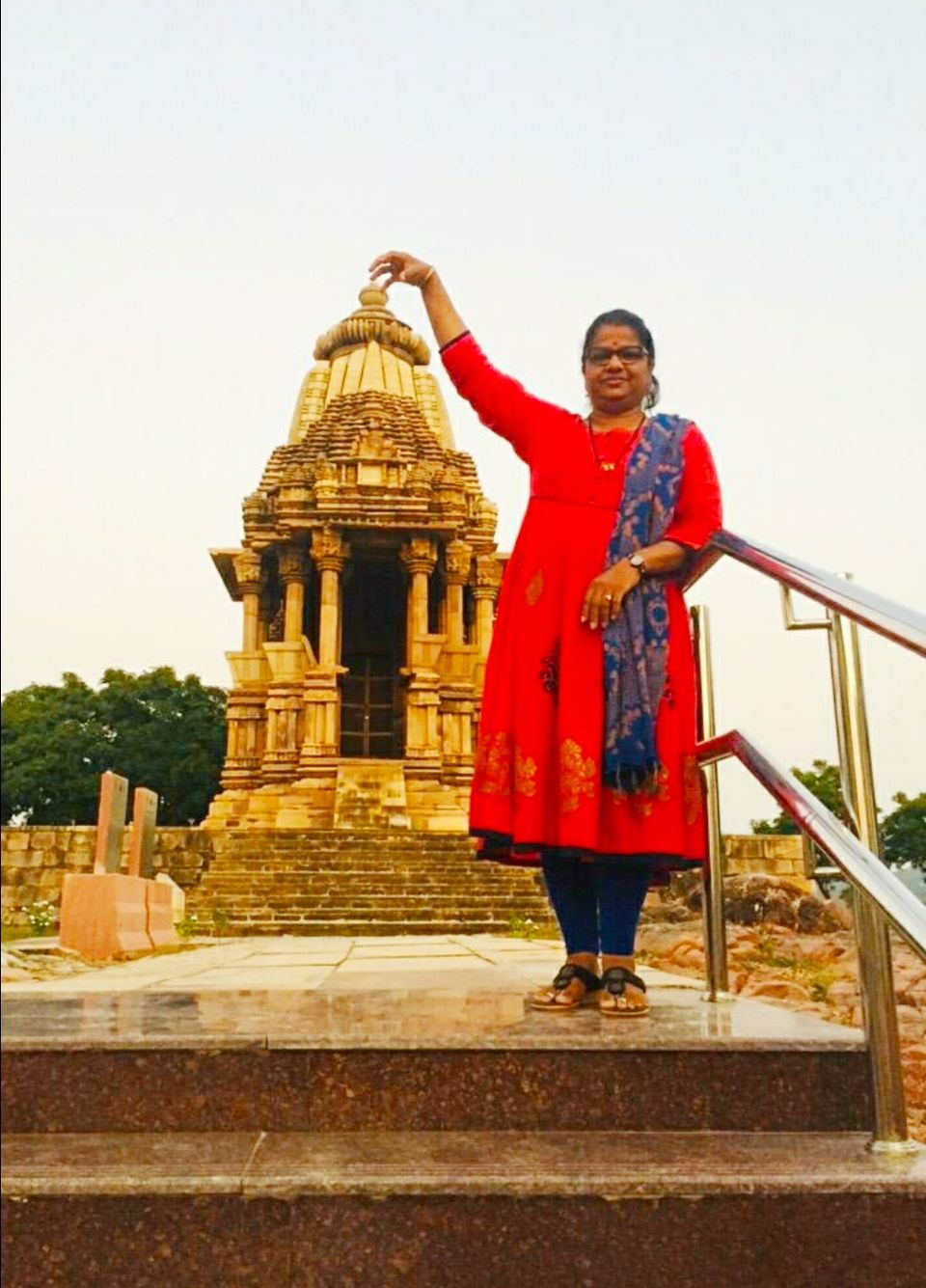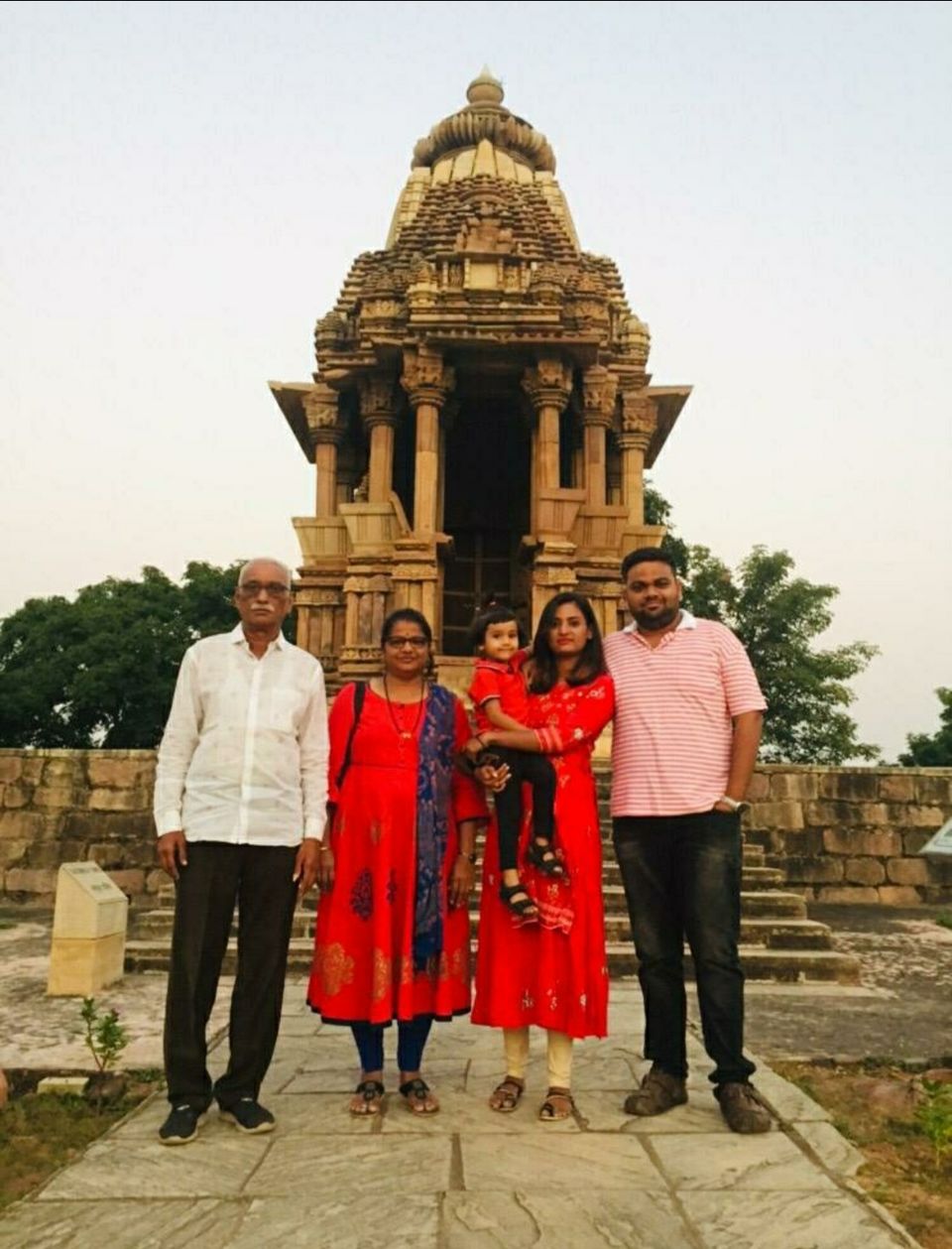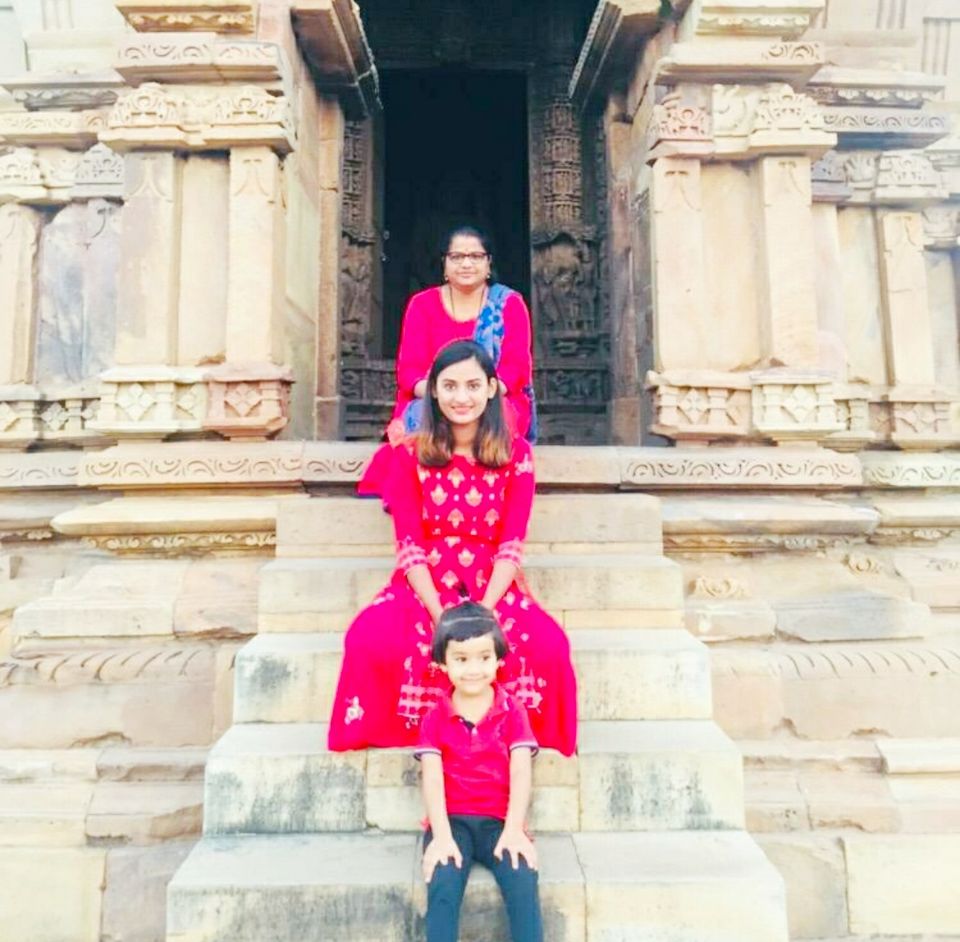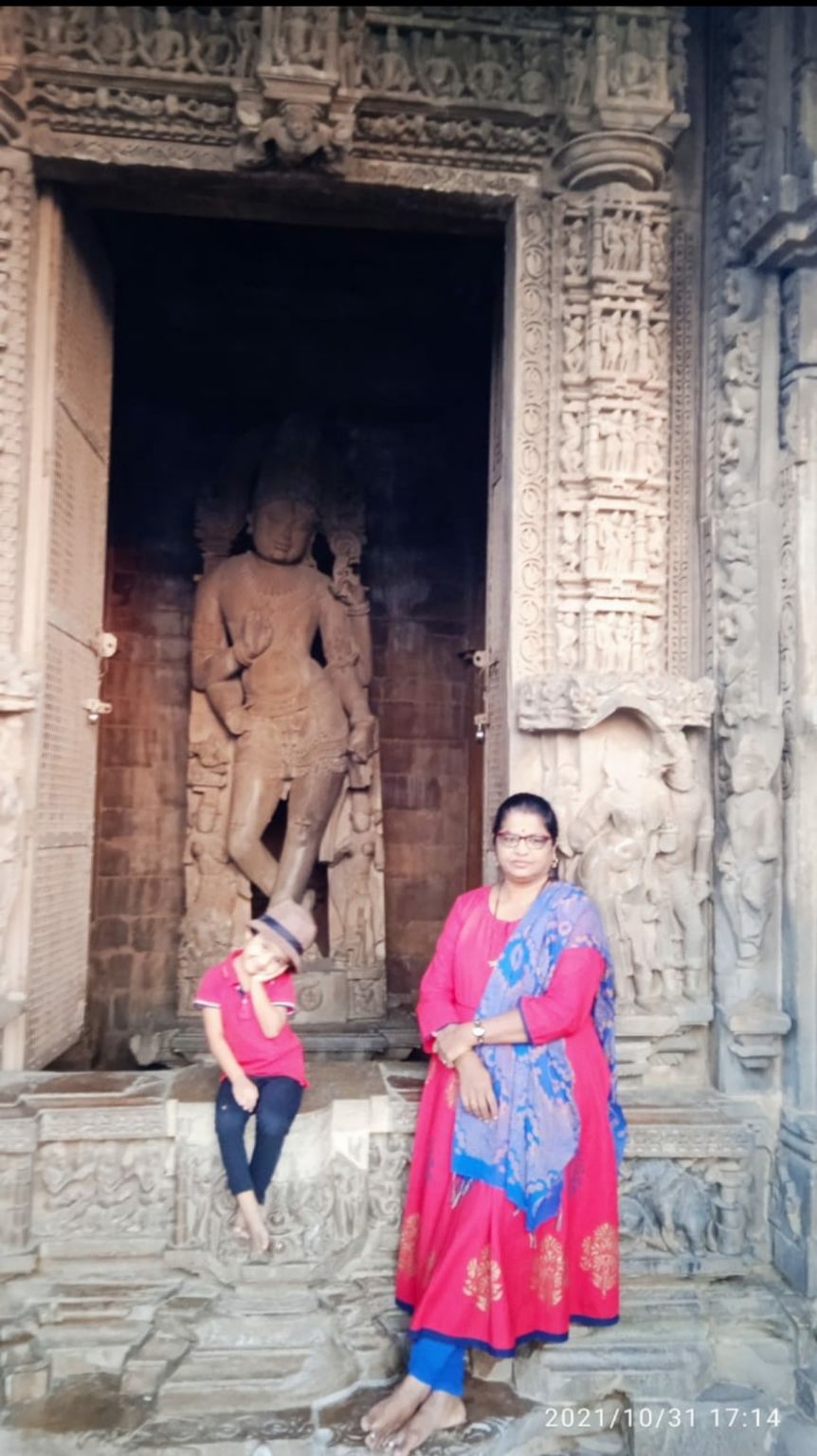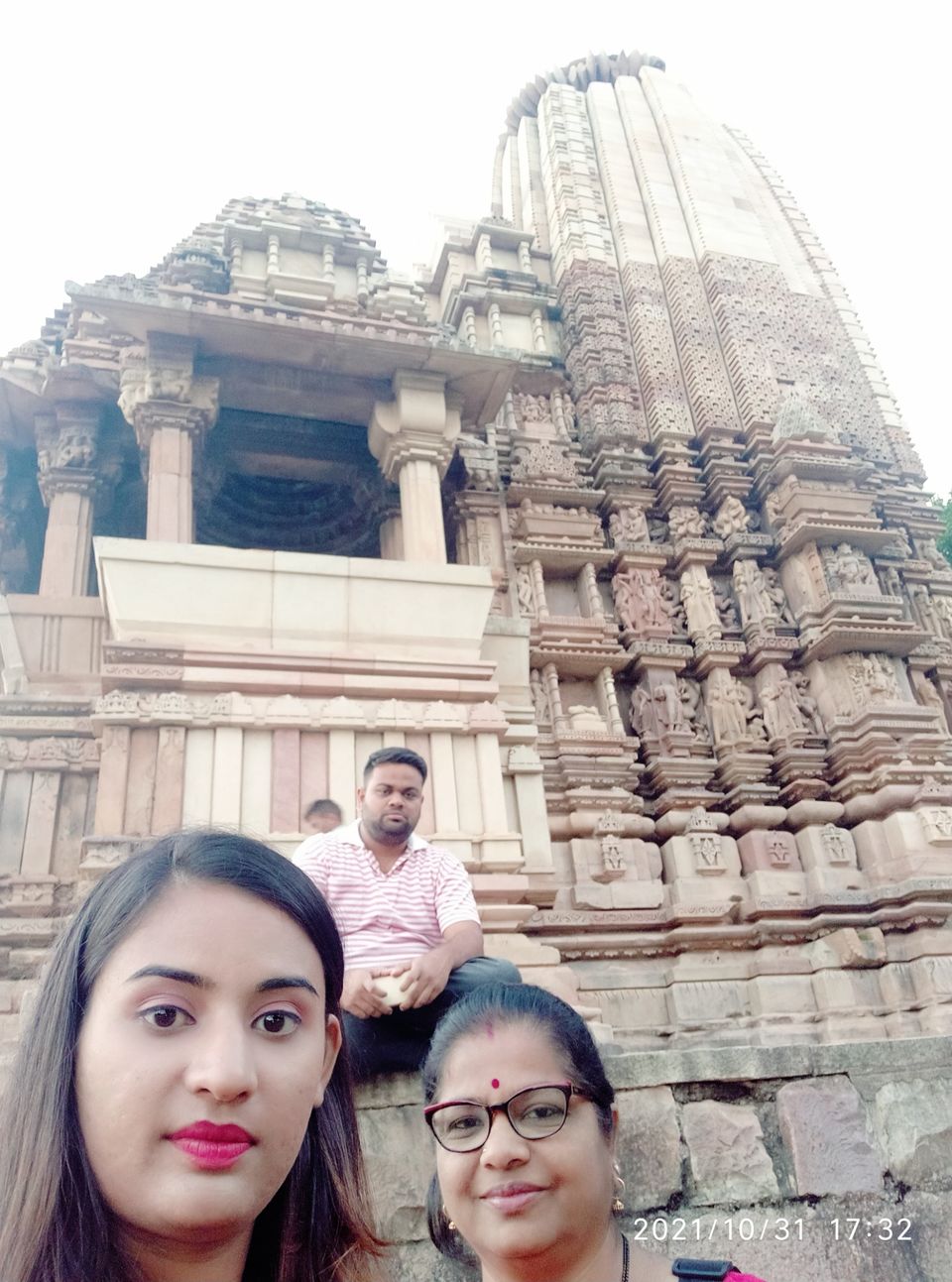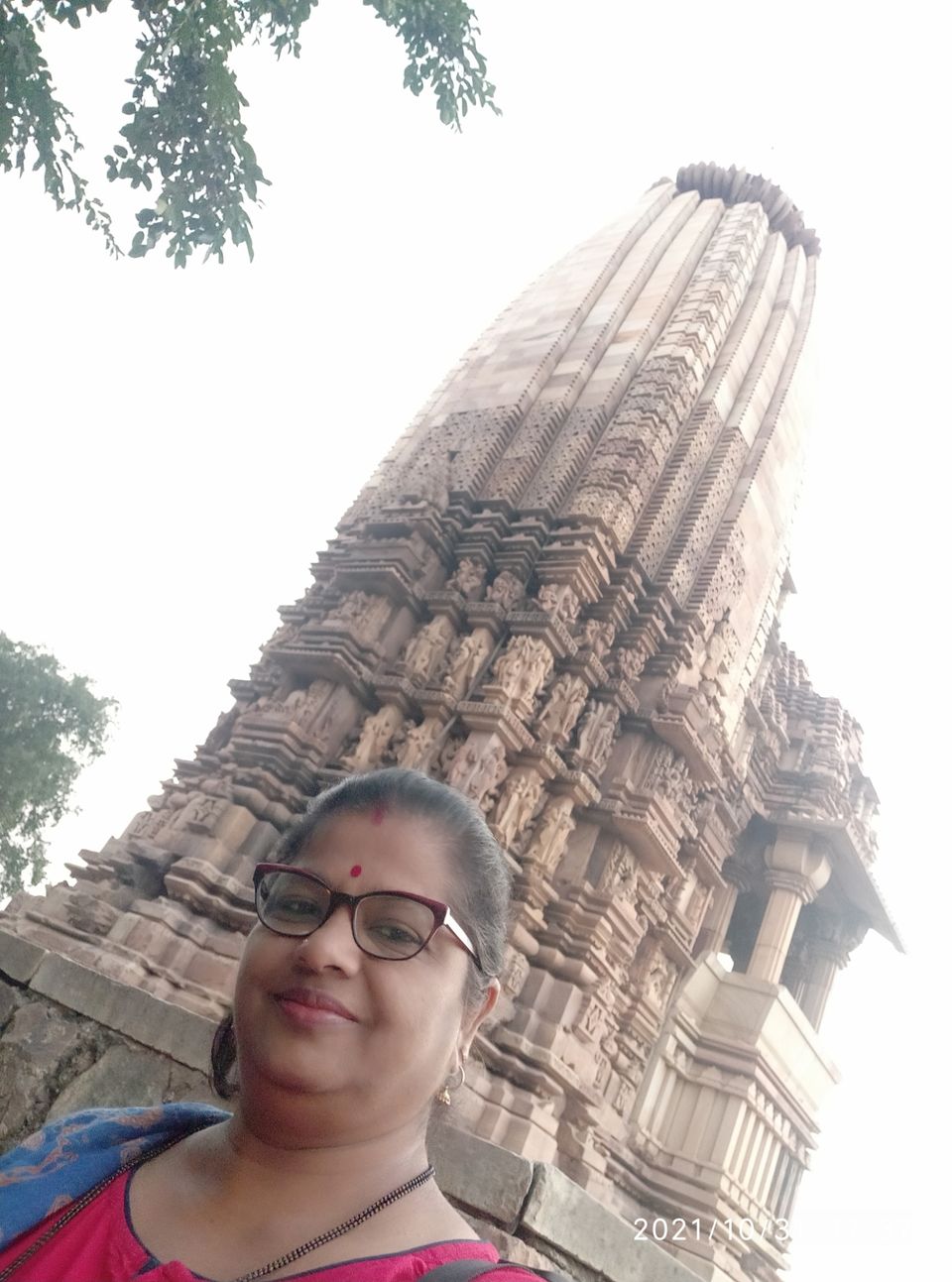 On 1st of Nov 2021 we did one day tour to Chitrakoot, which is posted seperately.
On 2nd Nov 2021 at 3 PM we went to visit Western group of temples' complex, Khajuraho. It is declared as World Heritage Site by UNESCO. Western group of temples include Chausath Yogini Temple, Lalguan Mahadev Temple, Matangeshwara Temple, Varaha Temple, Laxmana Temple, Kandariya Mahadev Temple, Jagdamba Temple, chitragupta Temple, Vishwanath Temple, Entrance ticket is 35/- per head. We hired a guide at Rs. 500/- He first took us to Varaha Temple. enshrines a colossal monolithic image of Varaha, the boar incarnation of Lord Vishnu. This temple depicts Varaha in a purely animal form. It is a third avtar of Lord Vishnu. Inside the temple complex, Varaha Temple is located next to Lakshmi Temple and opposite to Lakshman Temple. The shrine is built entirely of sandstone. The sculpture is carved with numerous figures on its entire body. The sculpture carved between nose and mouth, depicts goddess Saraswati carrying Veena in her arms.
Then guide took us to Laxmana Temple. By the name we thought that it must be temple of Laxmana but no, it is a temple of Vishnu. The sanctum contains four-armed sculpture of Vishnu in three headed form known as Vaikuntha Vishnu. The central head is of human, and two sides of boar (depicting Varaha) and lion (depicting Narsimha). Outer wall contains sculptures of dancing Ganesha (never seen before) including divine figures, couples and erotic scenes.
Must visit temple complex with astonishing sculptures and carvings. Temple complex opens at sunrise and shuts at sunset. No electricity inside the temple. You can click beautiful photos and videos. Management and cleanliness is good. Totally masterpiece. Guide is must so that you can get each and every details. After Laxmana Temple we went to Kandariya Mahadev Temple. It is dedicated to Lord Shiva and deity is in the form of marble Lingam. It is tallest and biggest and most ornate temple of the temple complex. There is art work at every nooks and corners. Around 900 sculptures are carved into this sandstone temple built with granite foundation. The temple is known for its exquisite carvings on the walls, ceiling and pillars. The carvings depicts all the four pursuits of life i.e. dharms, artha, kama, moksha. These temples must be visited for wonderful stone carvings. All sculptures, their facial expressions are awesome. Devi Jagdamba temple is just beside it. Devi Jagadambika temple, is one of the most finely decorated temples at Khajuraho. Named after Jagadambika, Hindu goddess Devi. Three bands of carvings encircle the body of the temple. In the sanctum is an enormous image of the Devi Parvati. It features intricately carved sculptures showcasing brilliant craftsmanship. This piece of architecture is one-of-its-kind in the world. The temple showcases the typical triple panel of sculptures, wherein the topmost has some of the most erotic carvings.
Eastern group of temples are Vaman Temple, Javari Temple, Ghantai Temple, Brahma Temple, Adinath Temple, Parshwanath Temple, Shantinath Temple.
Southern group of temples include- Dulhadev Temple, Chaturbhuj Temple.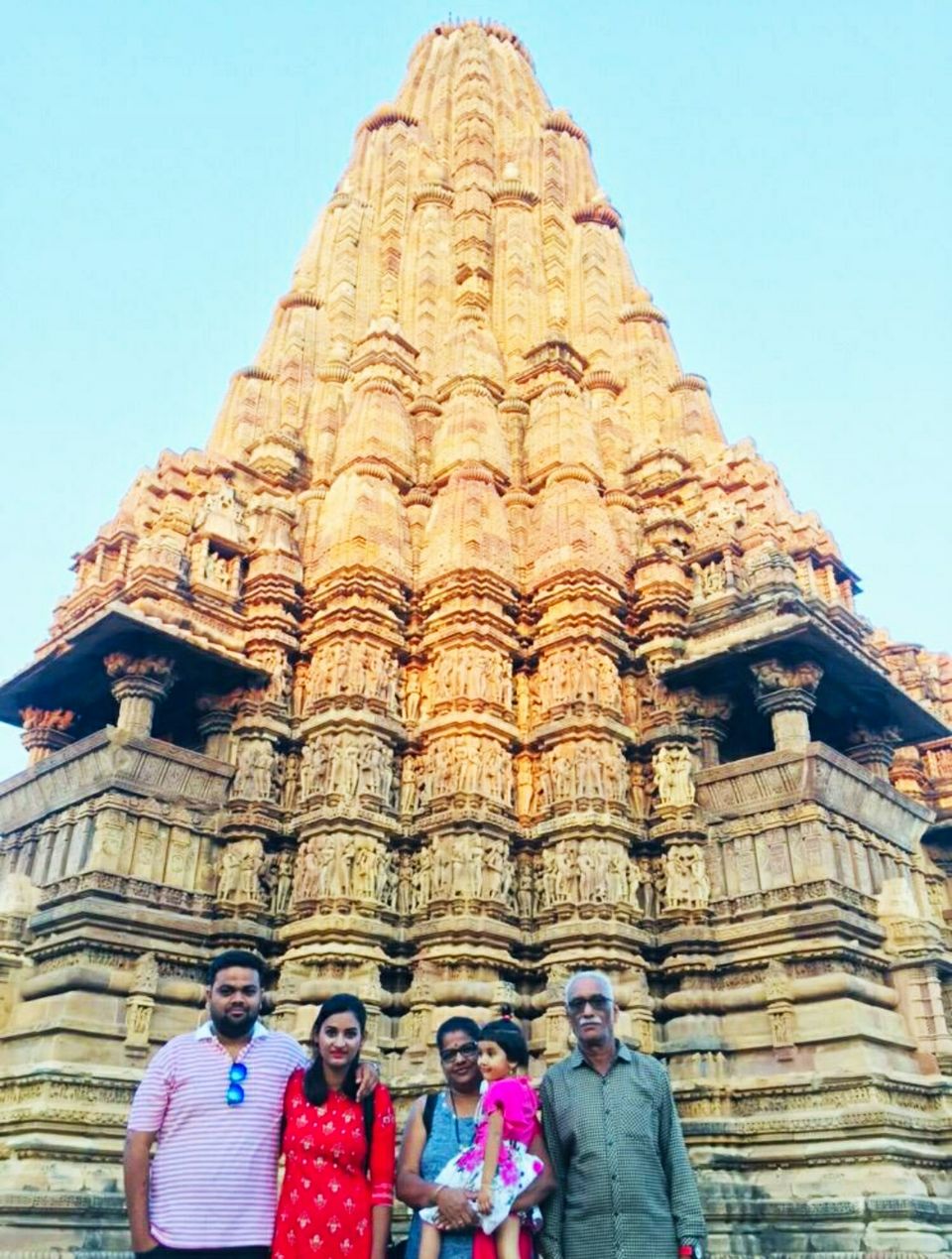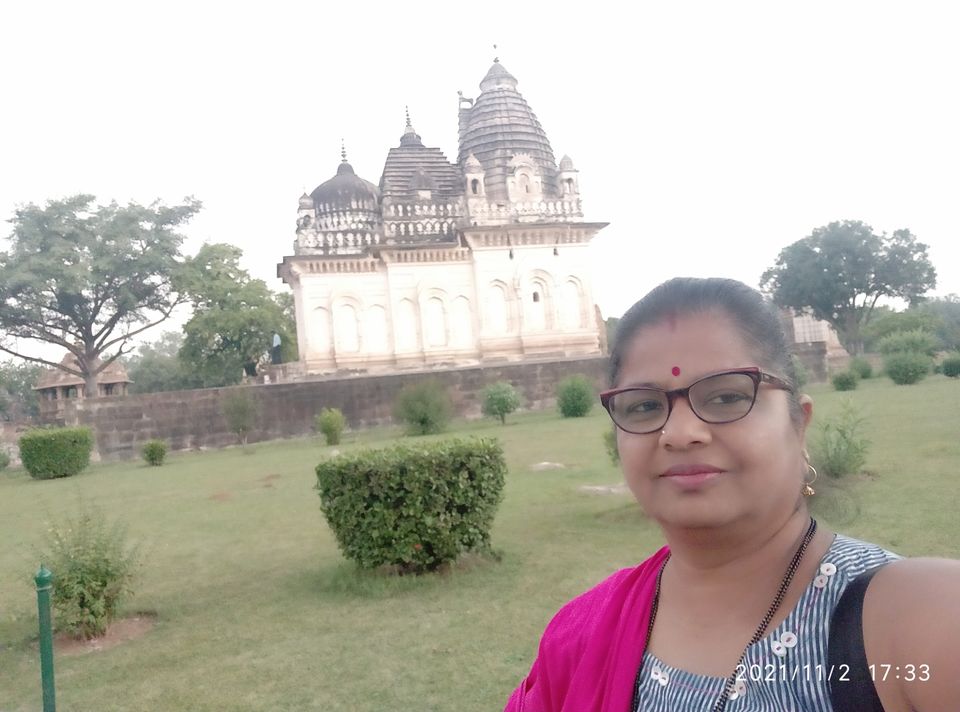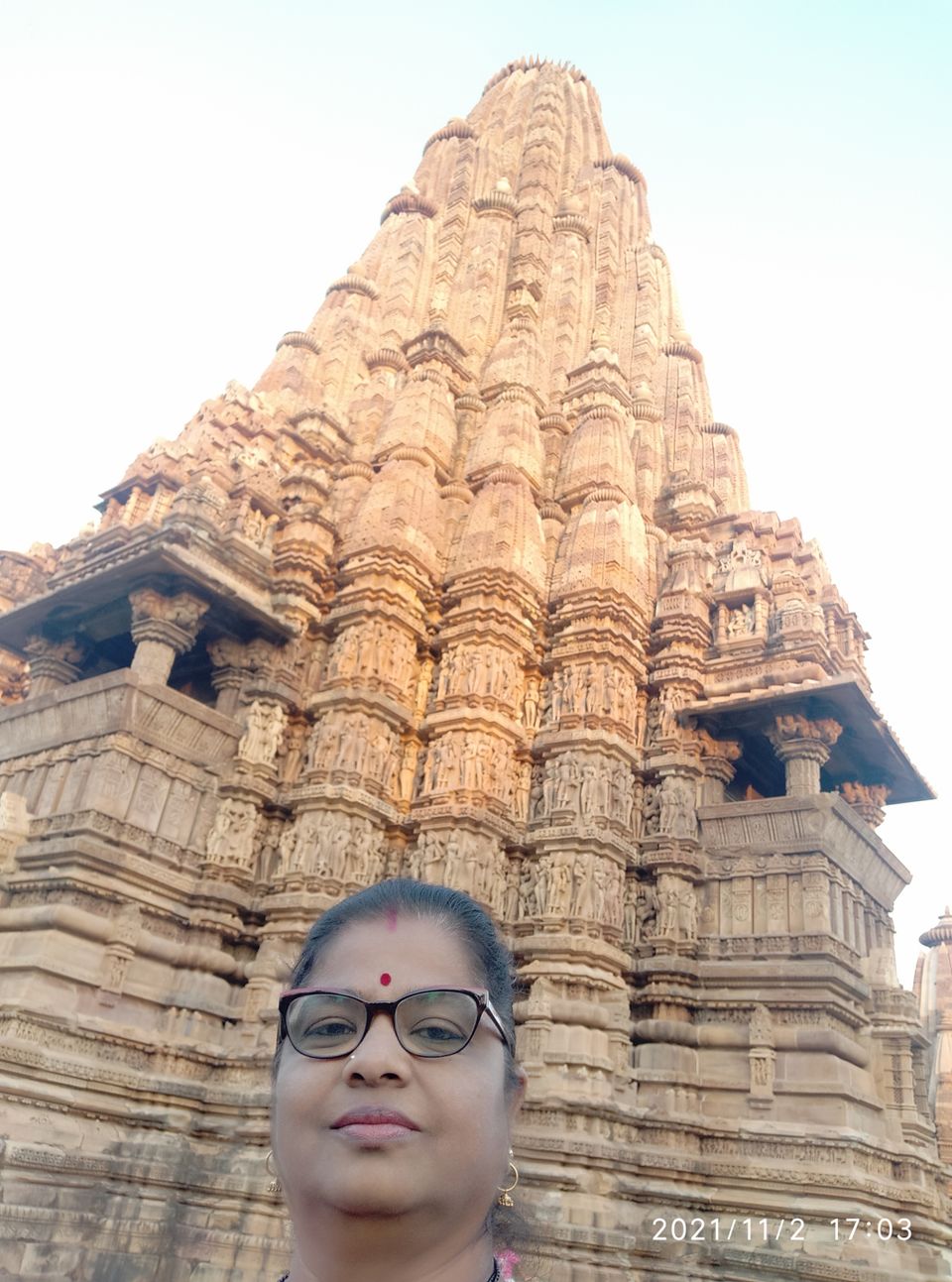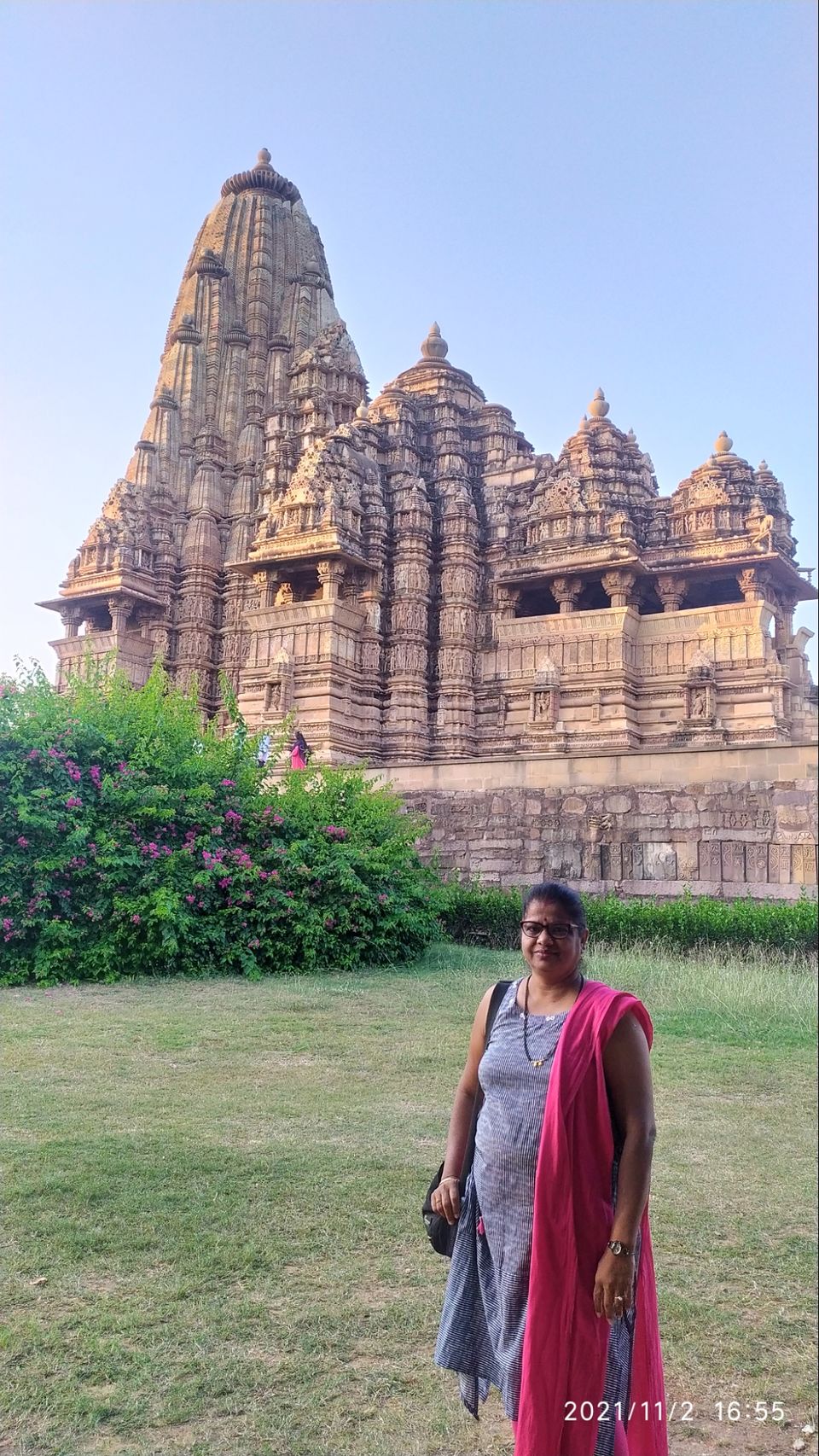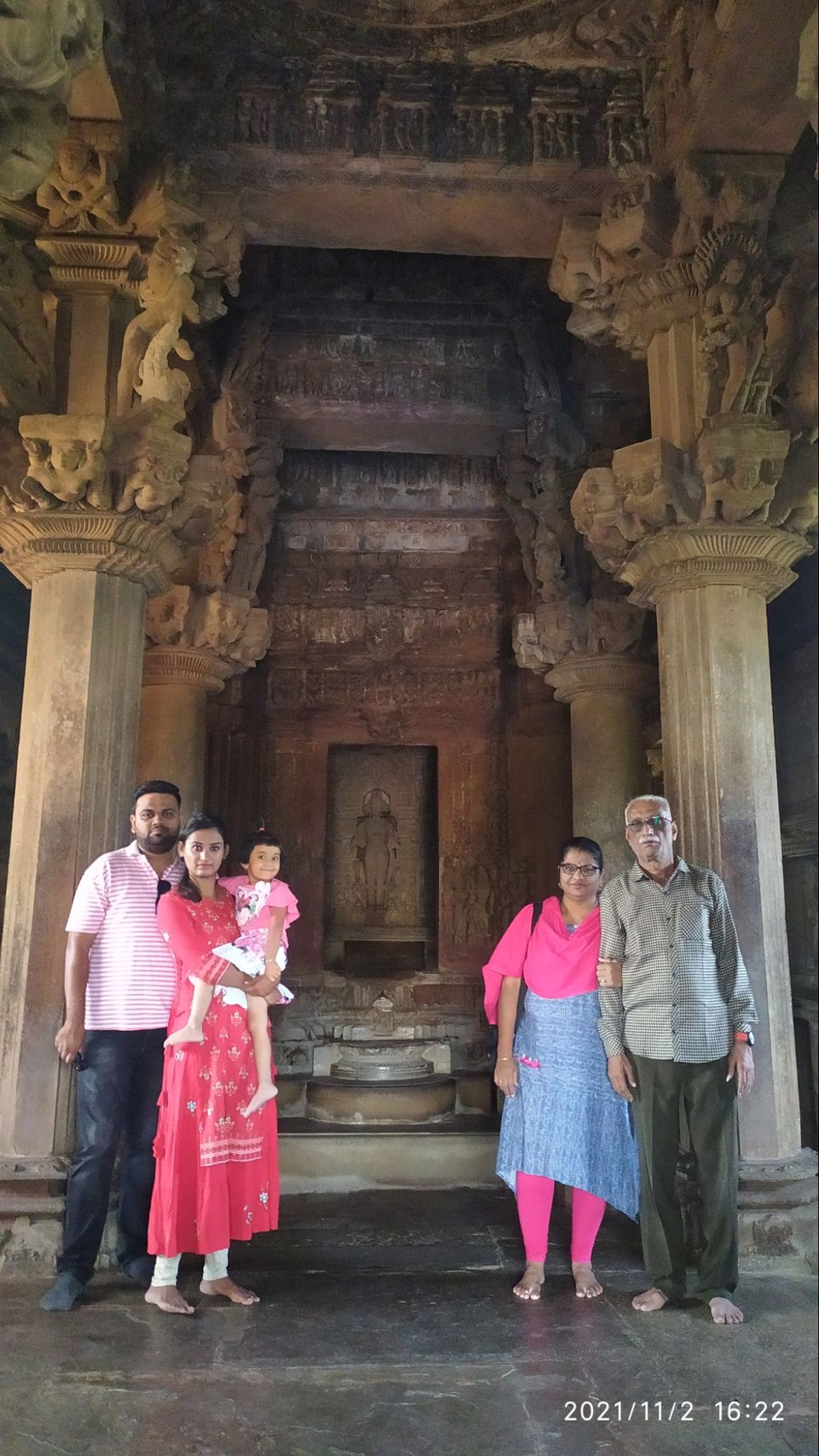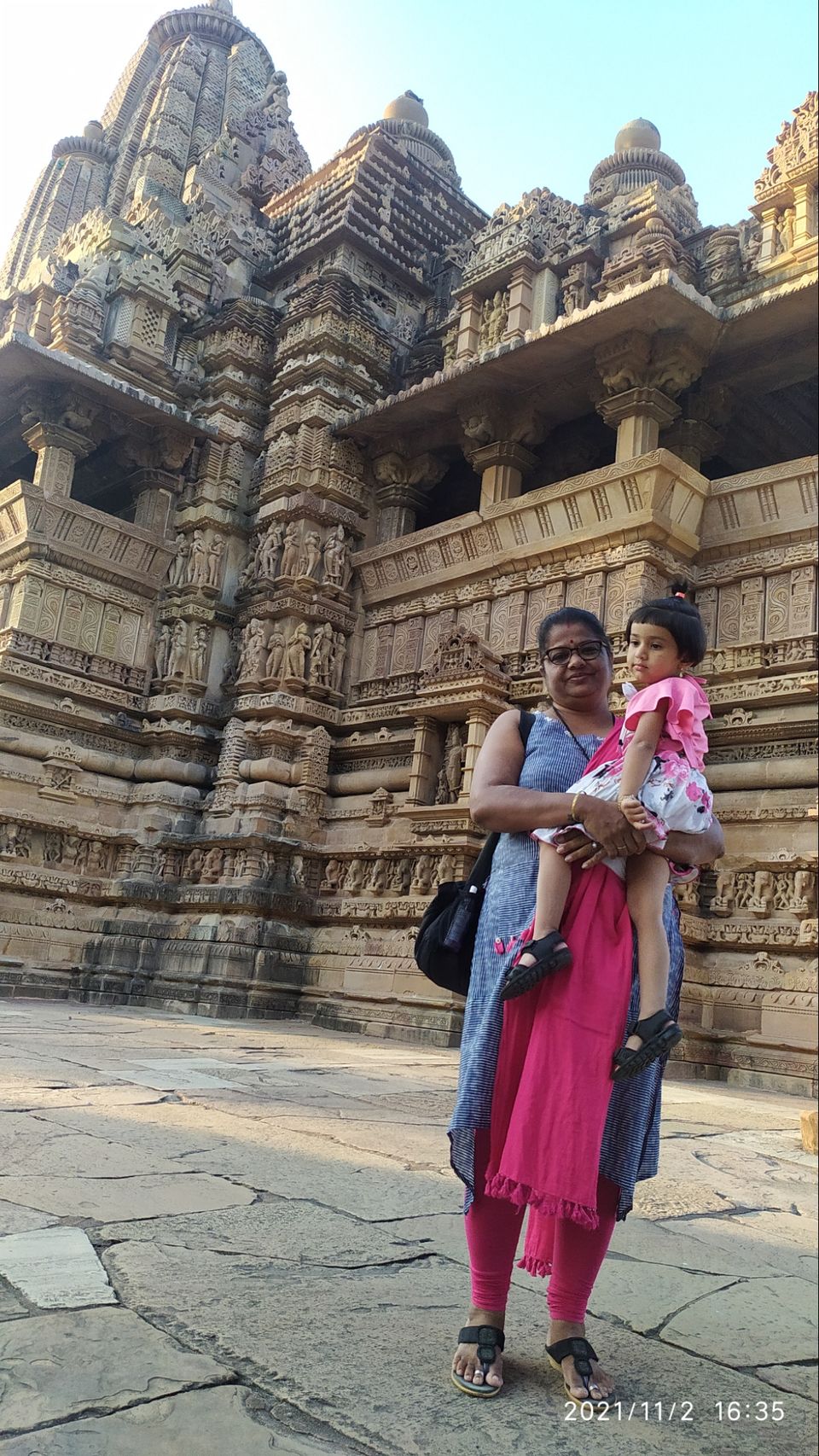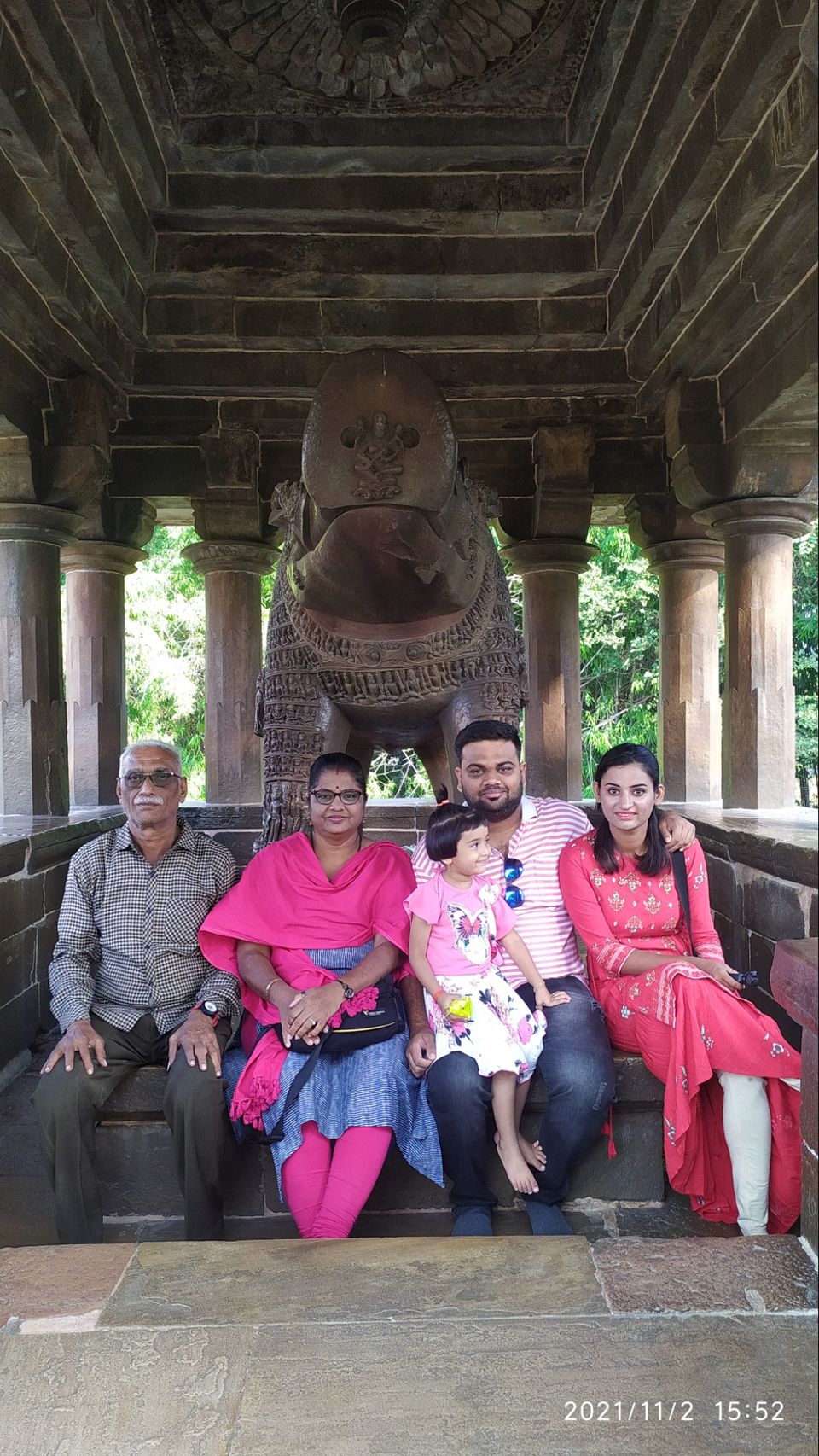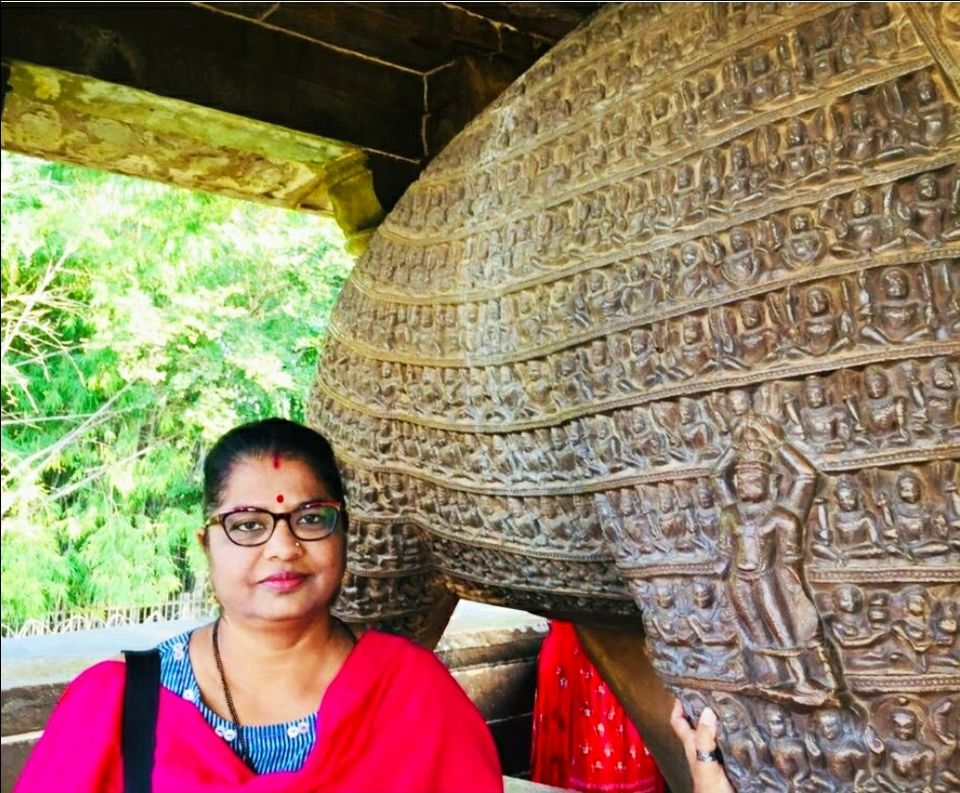 On 3rd Nov we again went to visit Western group of temples.
On 4th November 21 morning at 8 AM we went to visit eastern group of temples.
1) Vamana Temple- The temple is dedicated to Vamana avtaar of Lord Vishnu. The sanctum enshrines image of four armed Vamana flanked by chakrapursha on the left and shankhpursha on the right. The outer walls of the temple have two bands of sculptures which includes graceful figures of Sura Sundaries and the sculptures of Varaha, Narsimha and Vamana adorn in the niches of sanctum. Then we went to 2) Javari Temple - The temple is dedicated to Lord Shiva. It has remarkable makara- torana (double OM in devnagri) and beautiful shikara. It is decorated with three bands of beautifully carved sculptures on its outer walls. Temple is without pradakshina path. The temple has close resemblance to Chaturbhuj Temple. We felt very very bad that the main idol is broken and headless. Then we went to visit Brahma Temple - It is very small temple on the way to Vamana and Jawari Temple. Unlike most of the other temples in Khajuraho which are made of grainstone, this temple is made of granite. Although titled after the Hindu god Bramha, the temple is dedicated to Shiva. This temple, along with many others form the UNESCO World Heritage site of Khajuraho Group of Monuments.
Road to these three temples is rough and single.
Then we went to Jain temples - Two of the large temples still stand in a good state of preservation in the original form. The portico of the Adinath temple is a later addition. The enclosed Shantinath temple houses a massive monolithic 15 feet idol of Lord Shantinath. There is Adinath temple and parshvanath temple along with other jain temples in the temple complex.
There is a museum called Sahu Shanti Prasad Jain Sangrahalaya right outside the main compound constructed in 1984 to house sculptures of historical and artistic merit. There is a dharmashala to the south for the pilgrims.
All temples in Khajuraho have beautiful, graceful and attractive sculptures.