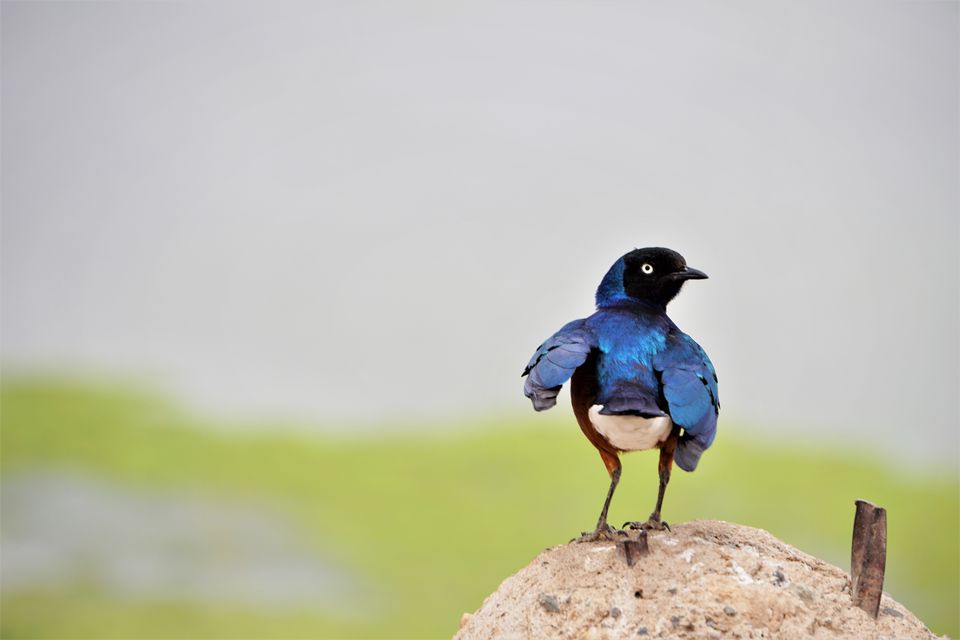 Day 1
Karibu! Karibu! Karibu!
These were the first words we heard stepping out of the airplane. It was bright and clear outside, with the exact balance of a cold breeze and sunshine. It still hadn't sunk in that we were in Africa. Our trip had finally begun!!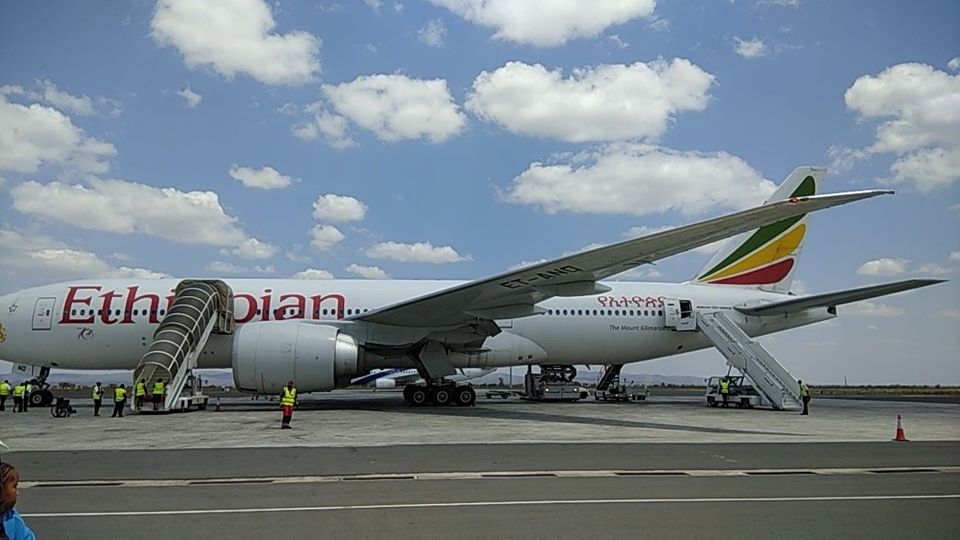 After a series of flight transfers from Chennai, we had reached the Kilimanjaro airport. Our guide, Mwalla was waiting for us patiently at the entrance to pick us up. After another round of Karibu s and Jambo s ( Welcomes and Hellos in Swahili ), we were buckled into the Land Cruiser our vehicle in Tanzania, and were all set for our African adventure!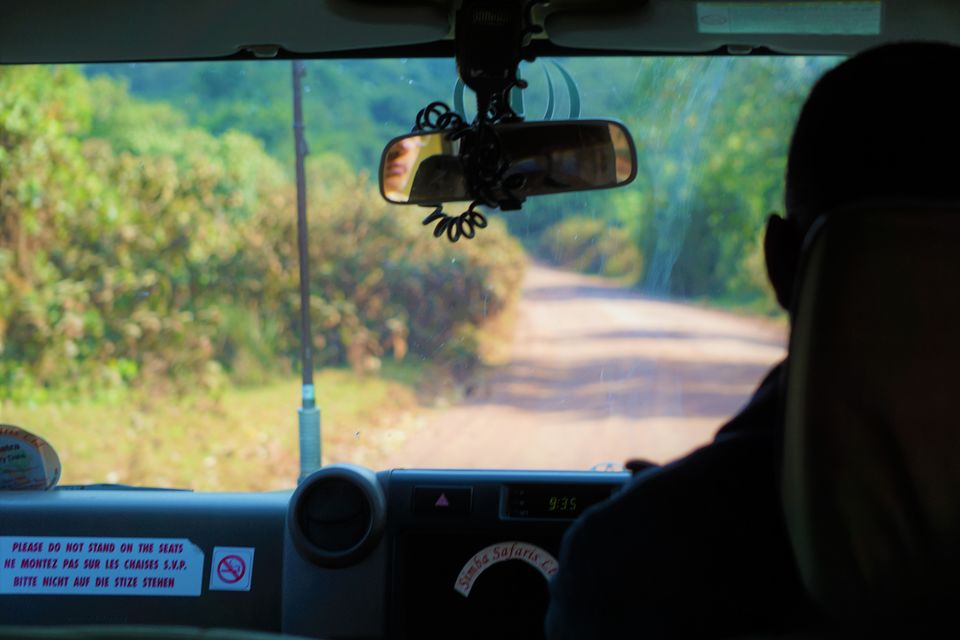 It was a 3 hour drive from the airport to our first place of stay, the Ngorongoro Farm House. Our drive was quite eventful. We had a glimpse of Mt Kilimanjaro, peeking through the clouds. We kept our fingers crossed for a better view of the mighty mountain from Amboseli national Park, which was one of our destinations. The drive gave us ample time to get acquainted with Mwalla. We learnt a lot about Tanzania from the proud Tanzanian. Even though we were not on safari yet, we saw a couple of giraffes munching away lazily at the edge of the road.
We finally reached Ngorongoro Farm House. It was quite dark when we reached, and we didn't get to look around.

However, I did have a good feeling that we were going to be pleasantly surprised the next morning. After a healthy dinner filled with vegetables and fruits from right from their own gardens, we drifted off to a blissful sleep, dreaming about our journey the next day.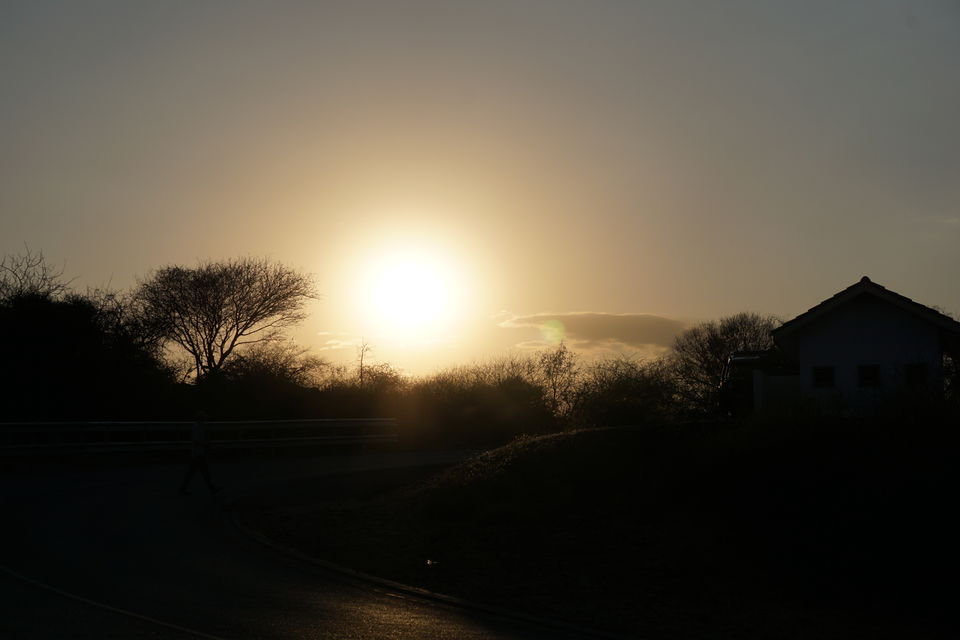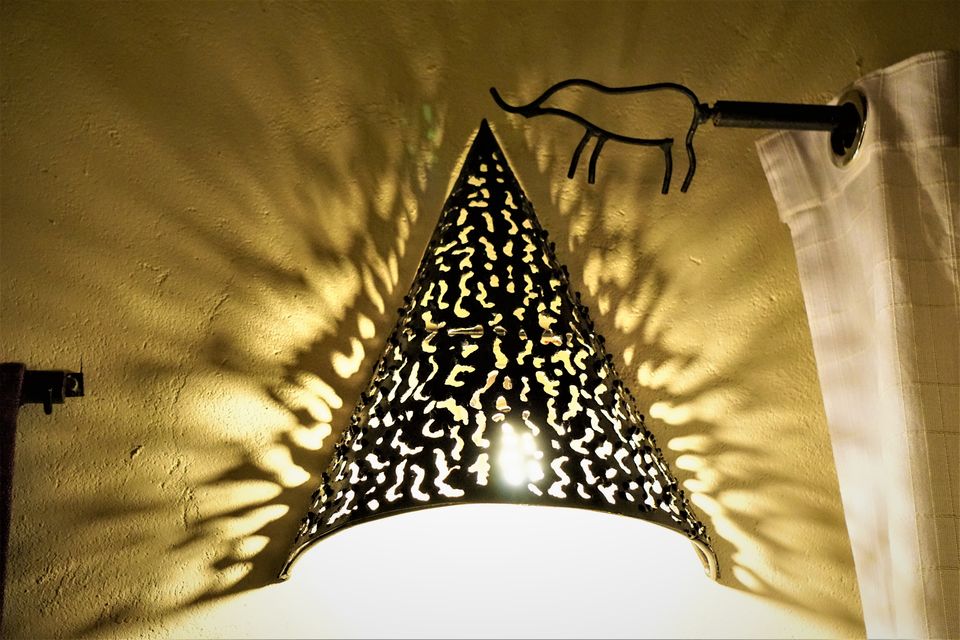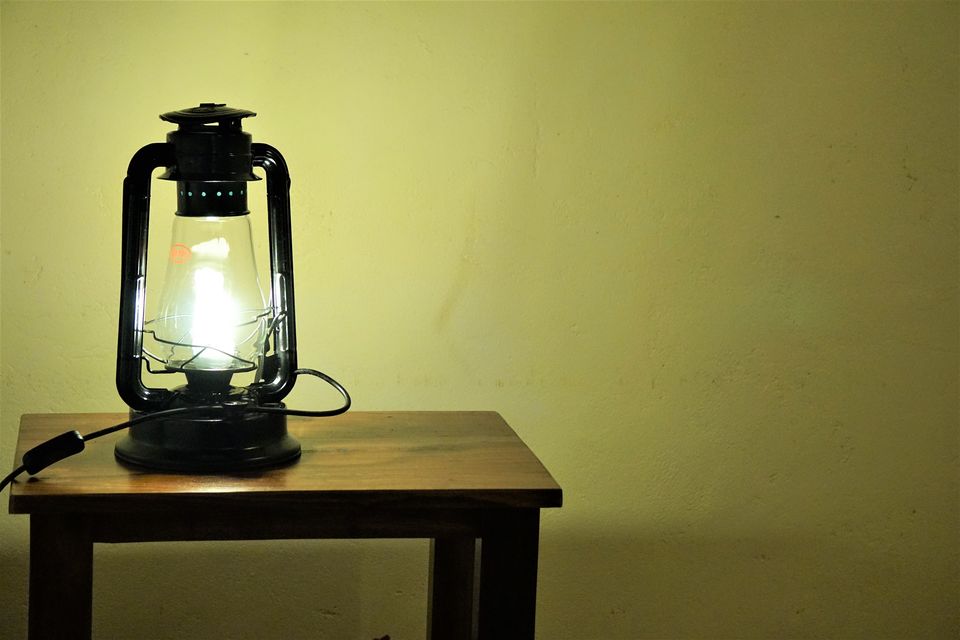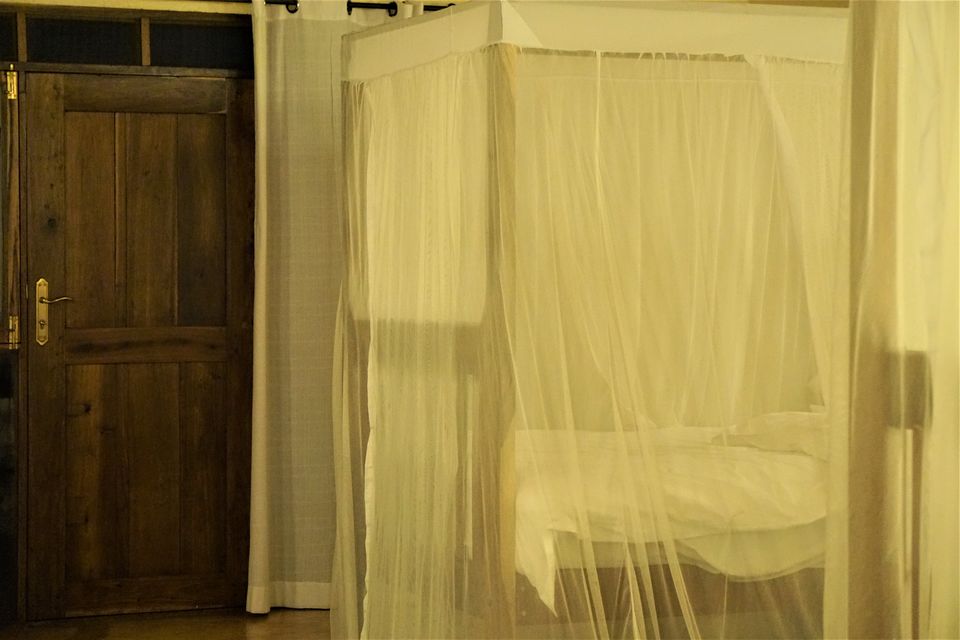 Day 2
Imagine crickets chirping, owls hooting and a huge number of birds all singing in harmony. This is what we woke up to in the morning. Put together a wonderful view from the back door, it was like we were in heaven.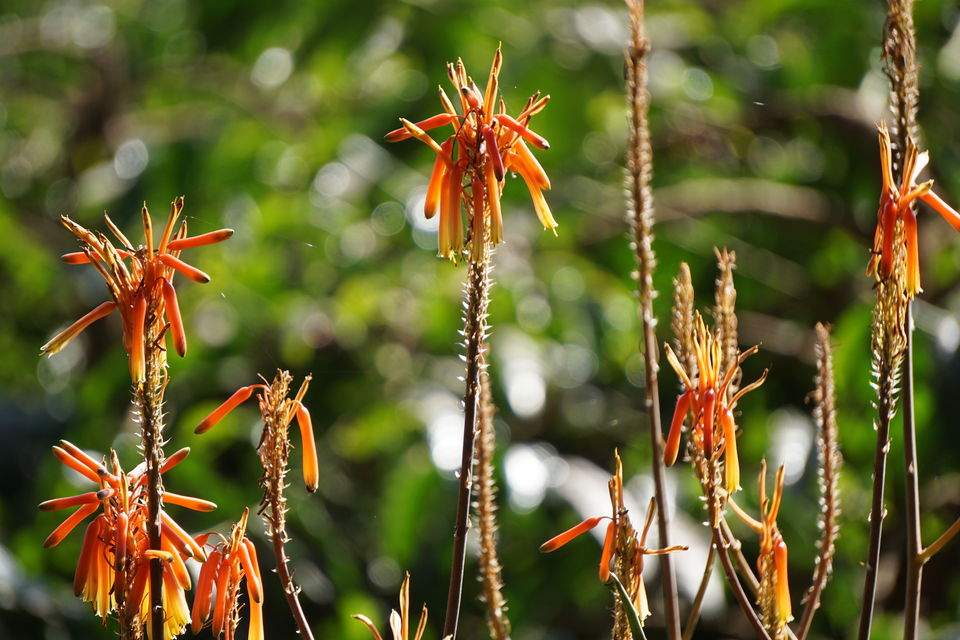 After breakfast we started to what is deemed as the 8th wonder of the world. It was one indeed, the Ngorongoro Crater, formed by eruptions was home to a myriad of animals. Mwalla got our permits and opened up the top of the Land Cruiser as soon as we passed the gate. We were all set for our first safari in Africa.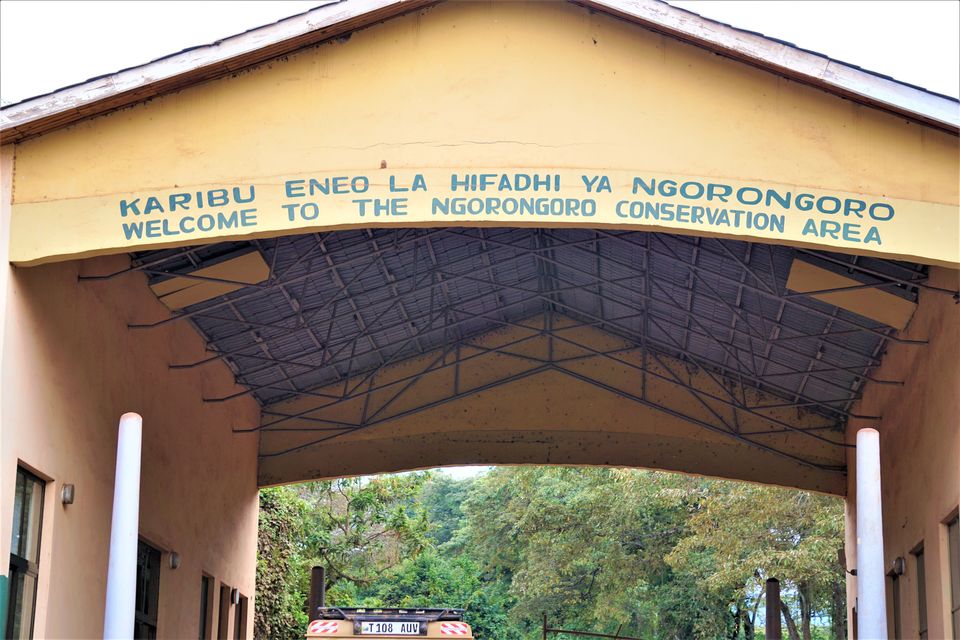 We first got a sense of the sheer size of the crater, by stopping at a view point. After marveling at it, and hearing some history about it from Mwalla, we were on our way descending to the crater floor.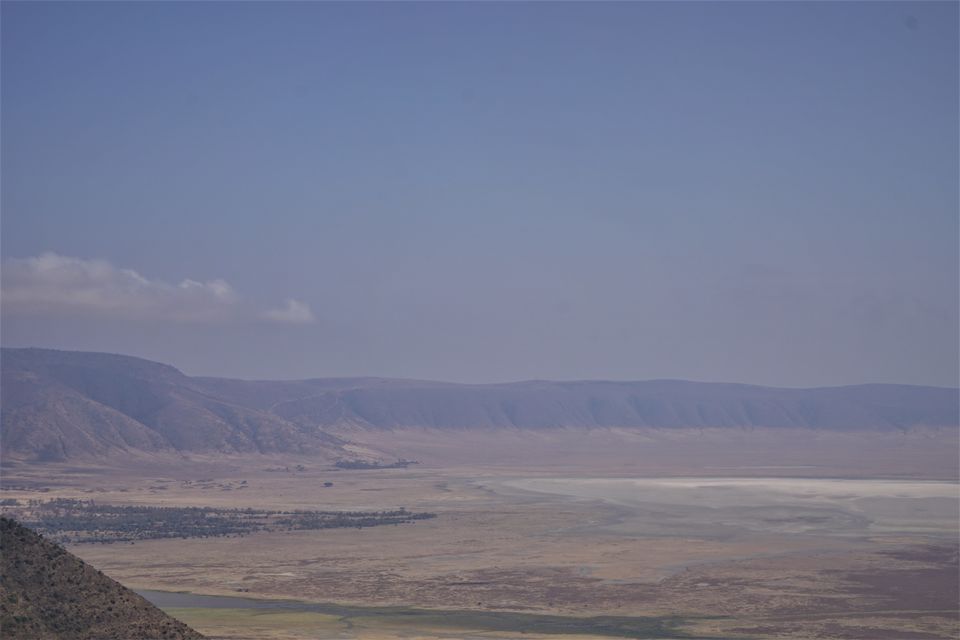 We kept our eyes peeled, searching for the animals. As soon as we reached the crater floor, we realized there was no need for it. They were all chilling right where we could see them. We were mind blown by the sights. Never had we seen animals in their natural habitat at such close proximity.
We saw lions, buffaloes, warthogs, zebras, elephants, wildebeests, jackals, hyenas, hippos and a lot of birds. We even saw lions getting ready to hunt a couple of warthogs. However, the warthogs escaped and the lions were left hungry. The landscape was surreal as well. Dotted with the animals and the crater wall in the backdrop, it felt out of the world.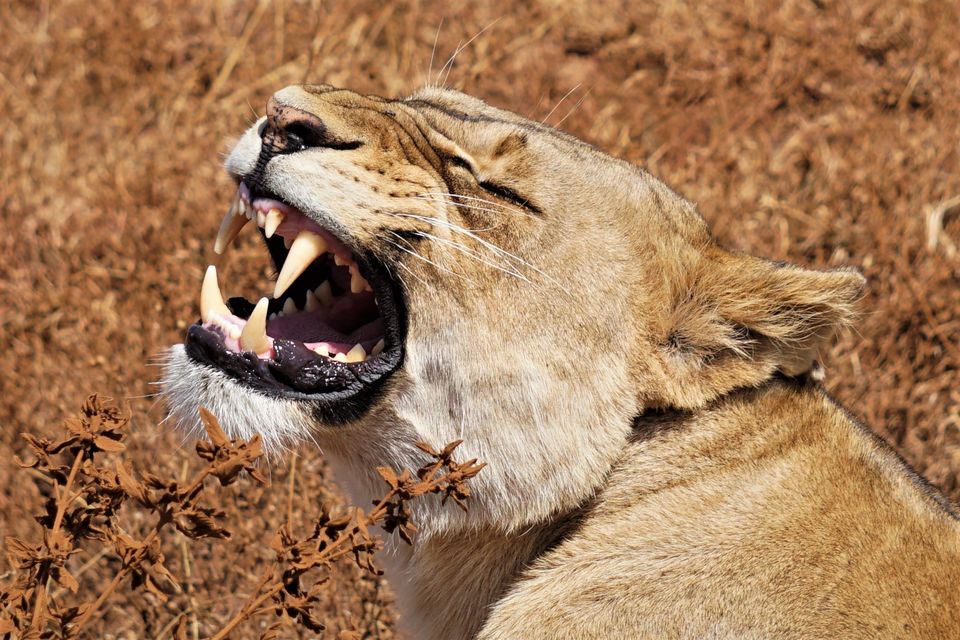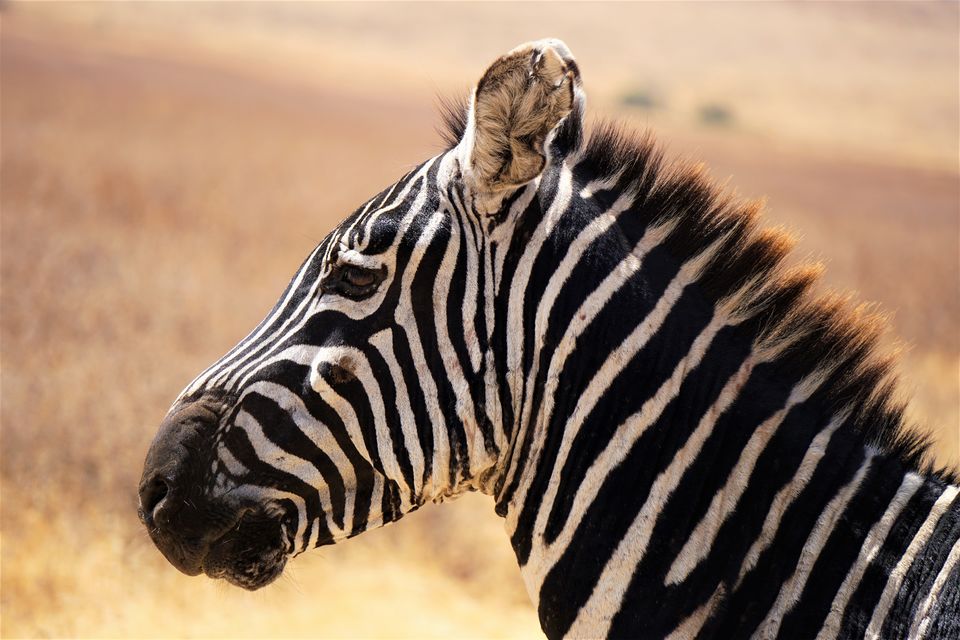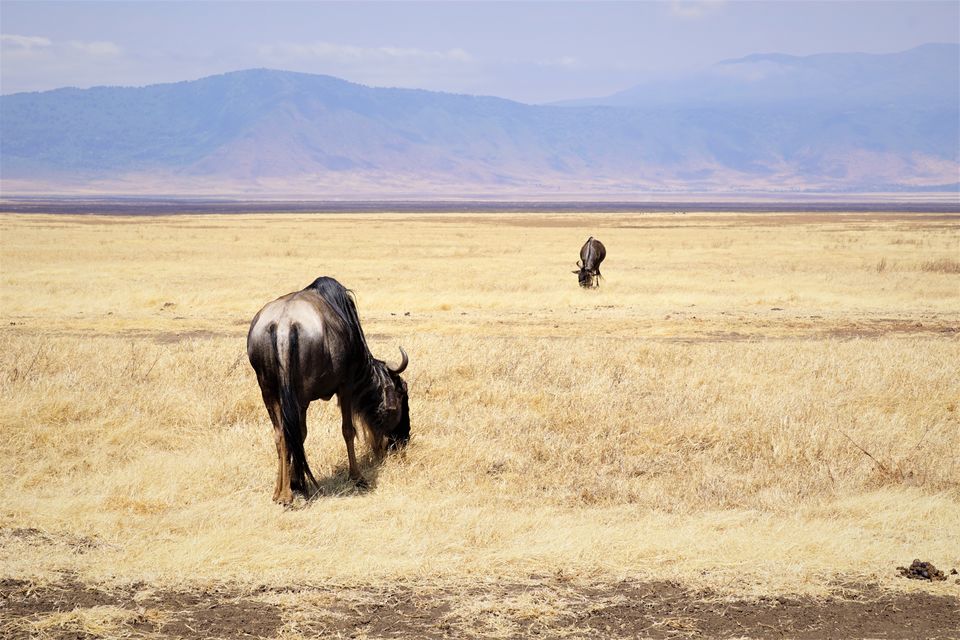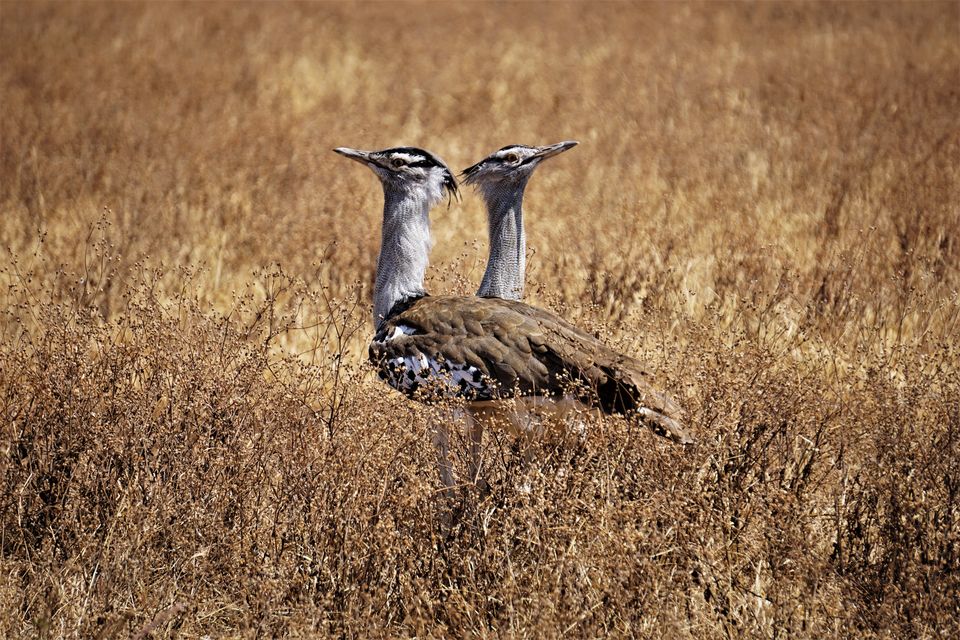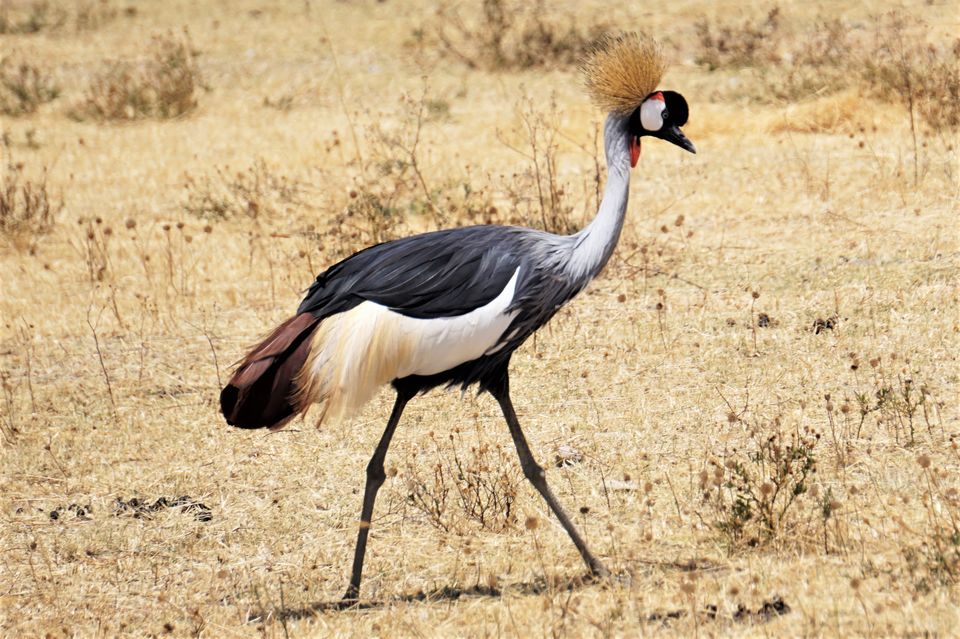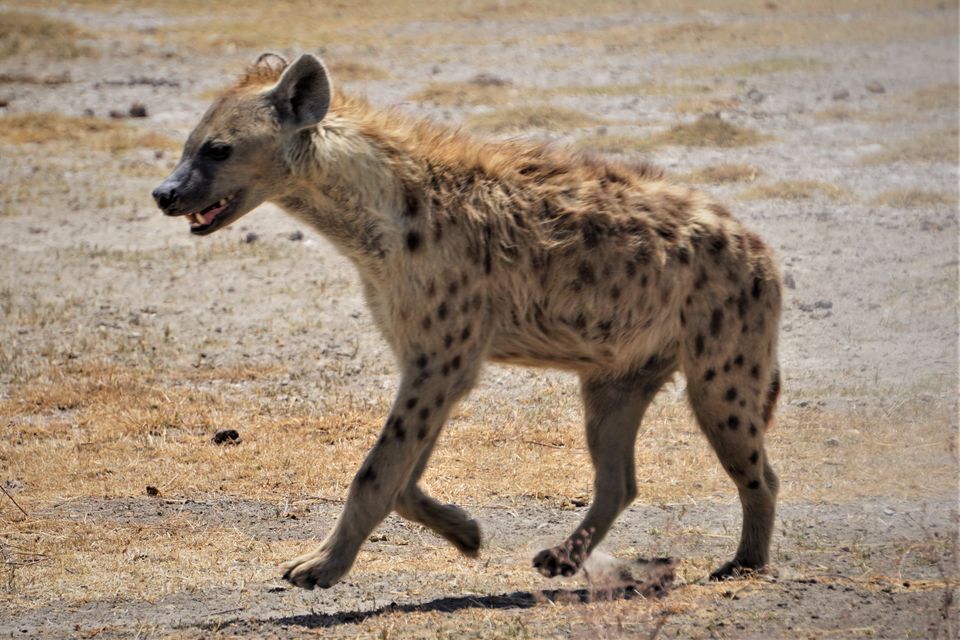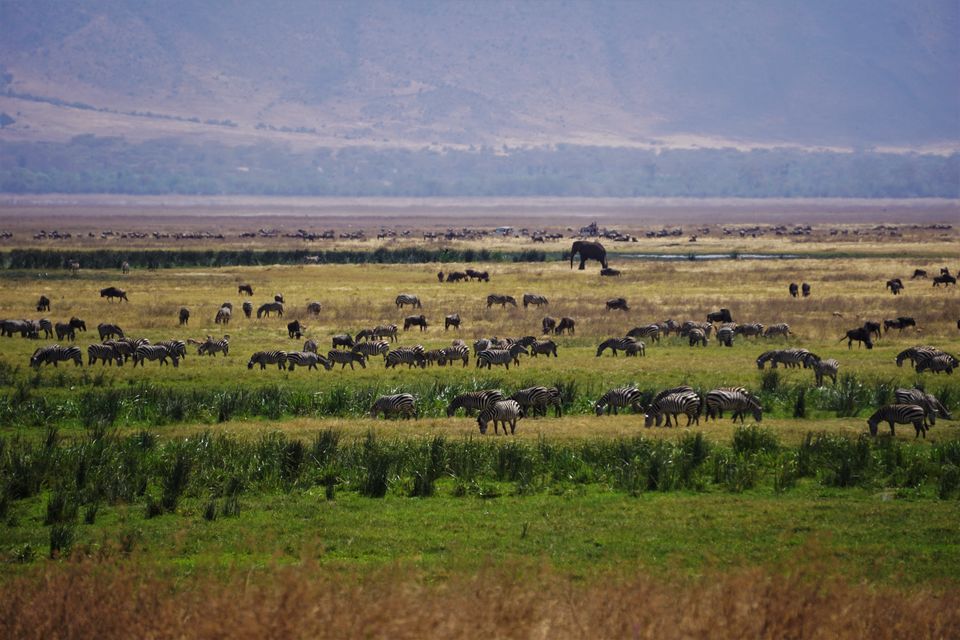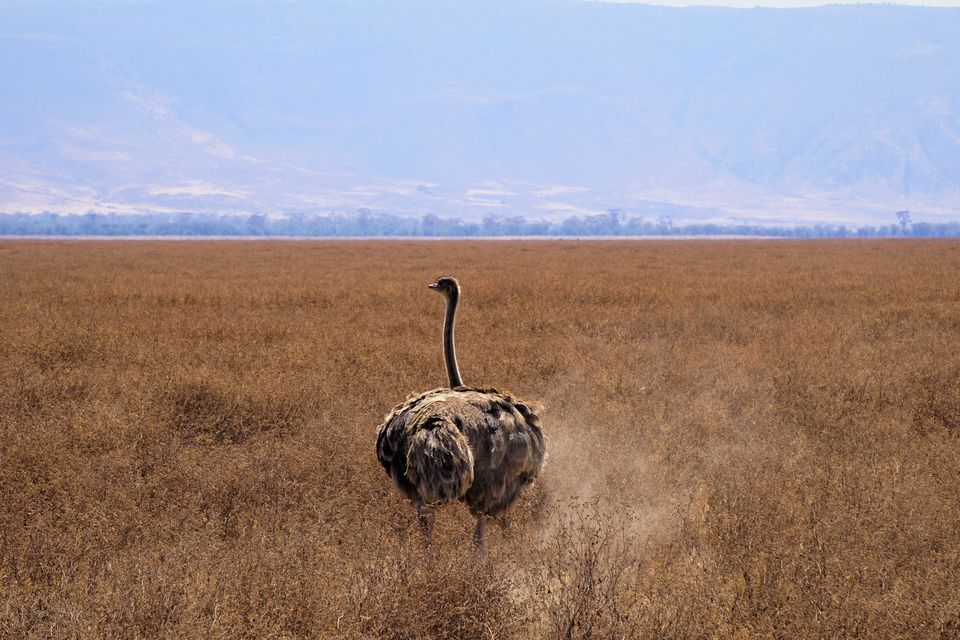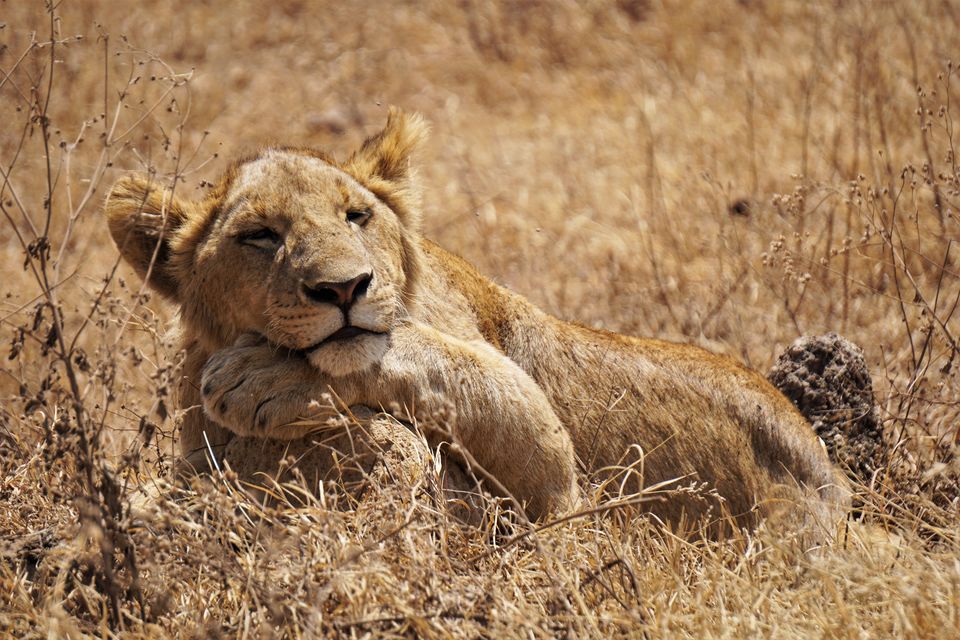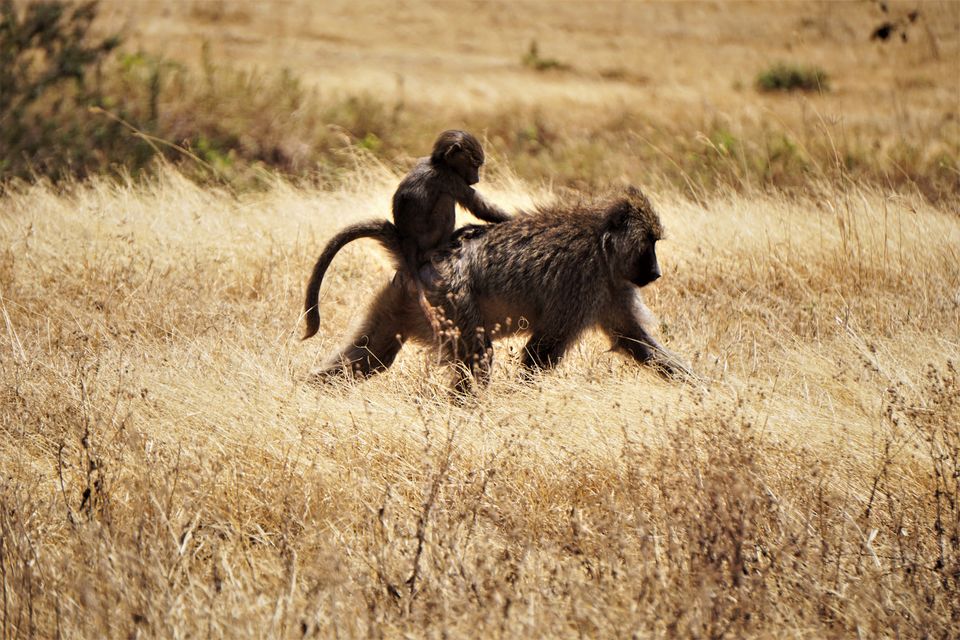 After the Safari we had signed up for a Nature Trail at the Farm House. It was a small tour of the Farm House Gardens. The guide for this was Baba Dingi, who walked for 7 kms to the Farm House every day. He was a funny little man and like everyone, very sweet.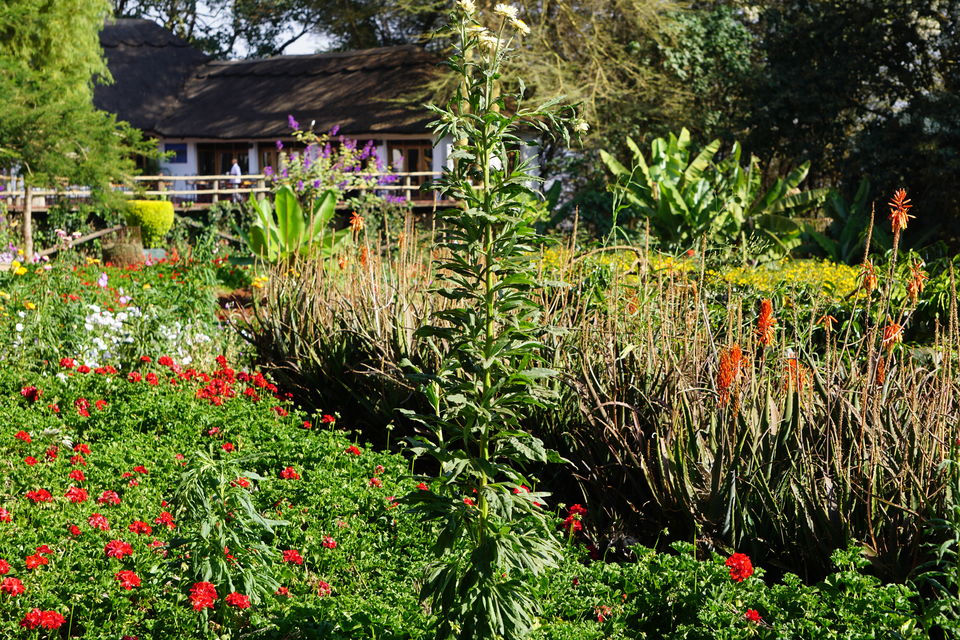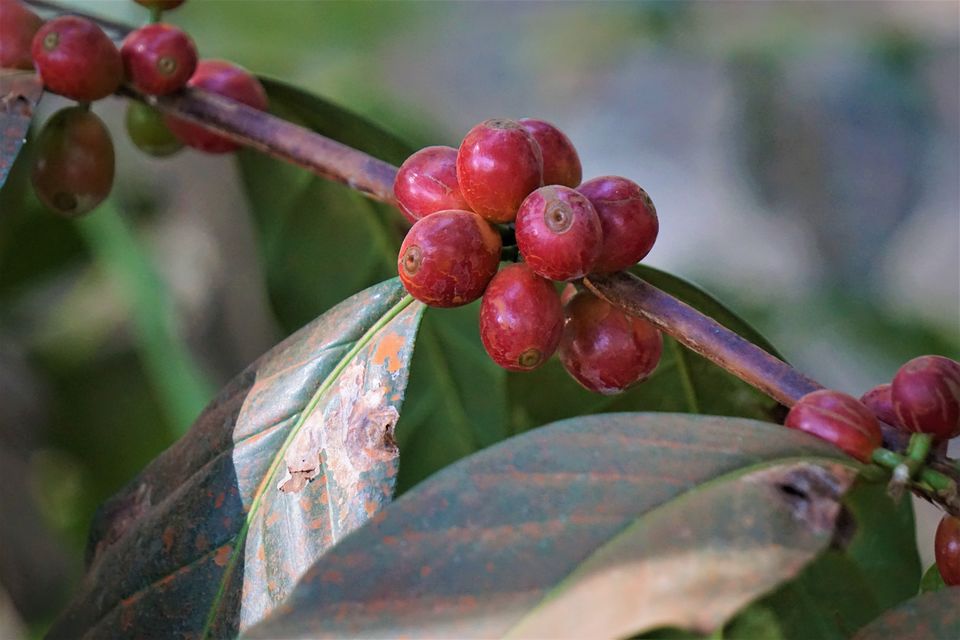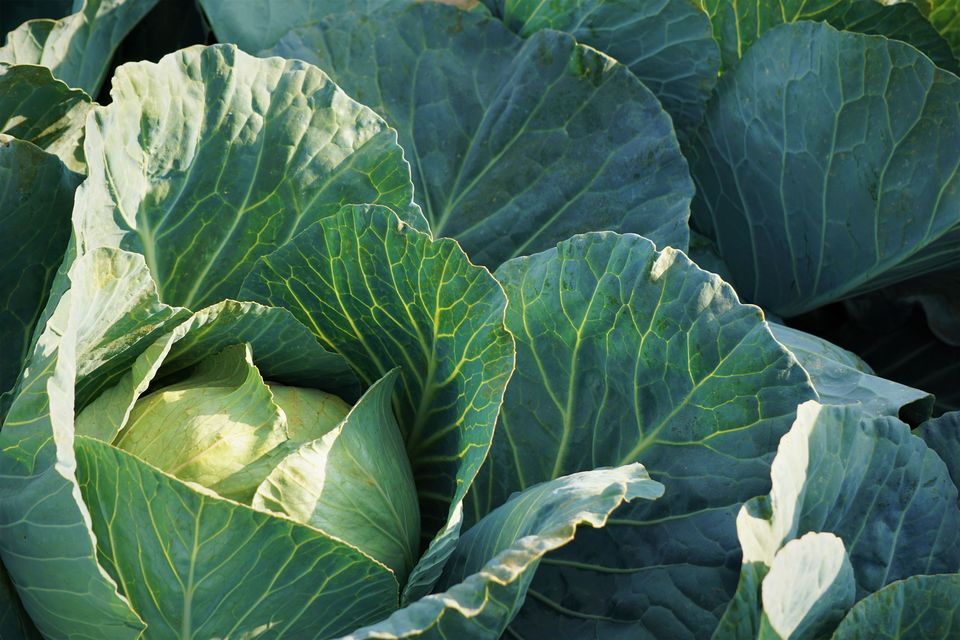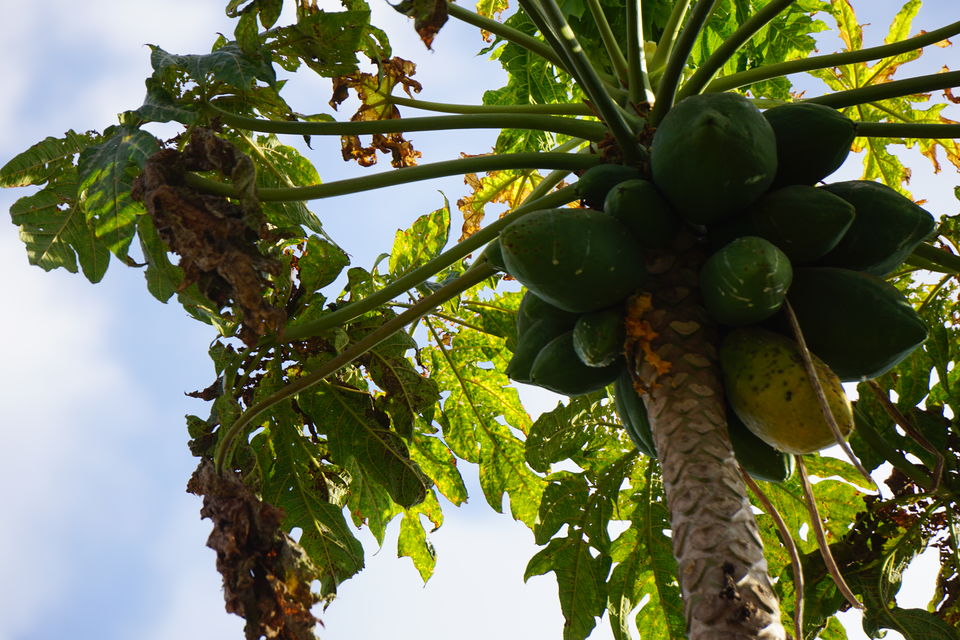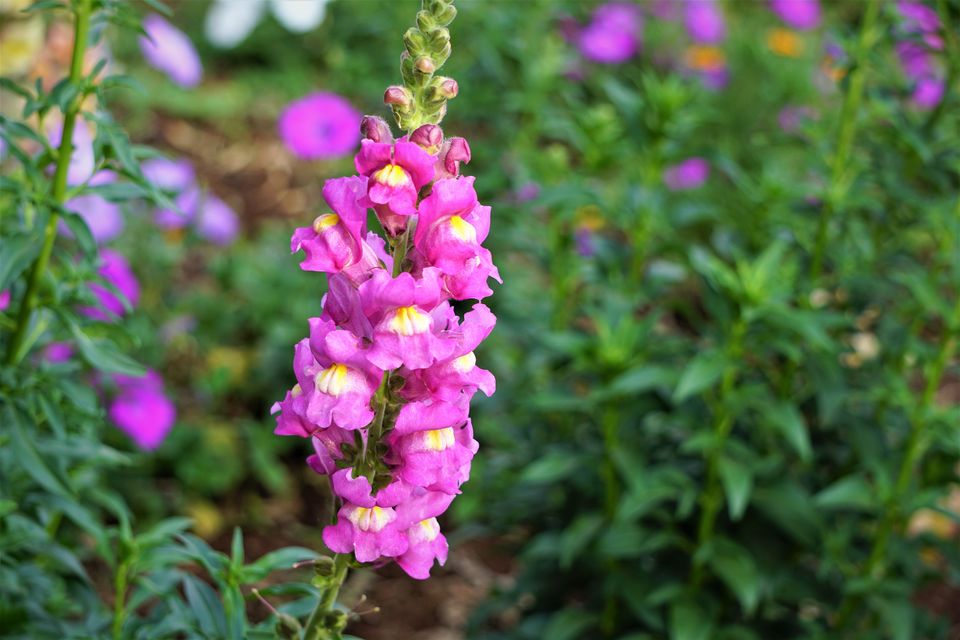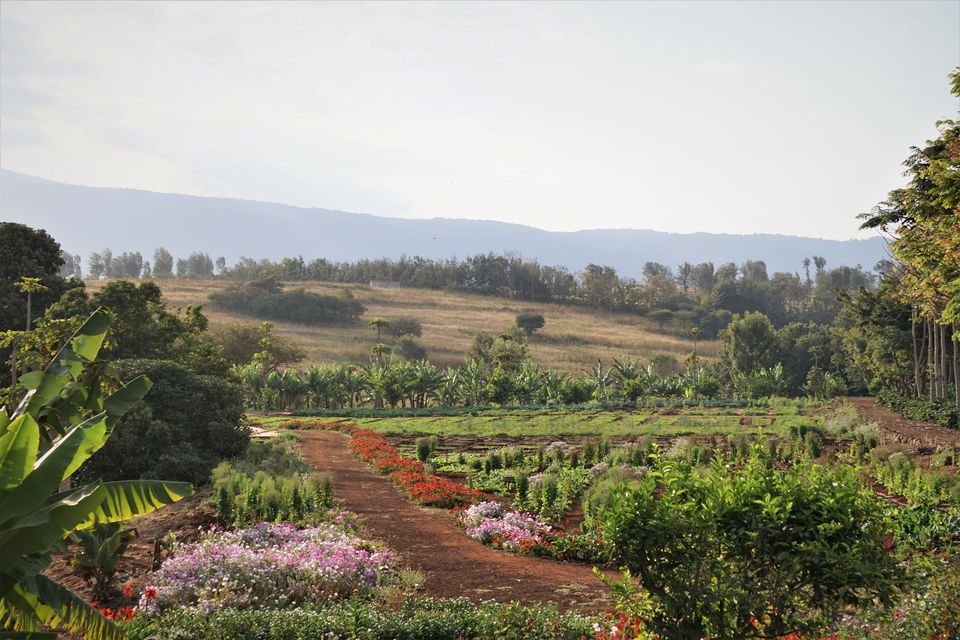 Following this, there was a music and dance performance by the staff, where they even pulled in the guests to dance along with them. Dinner was served and we retired to bed.
Day 3
We had an early breakfast and checked out. We wished we could have stayed longer. We were going to miss the hospitality and smiles of the staff. We had to bid farewell to not only the Farm House, but also to Tanzania as well.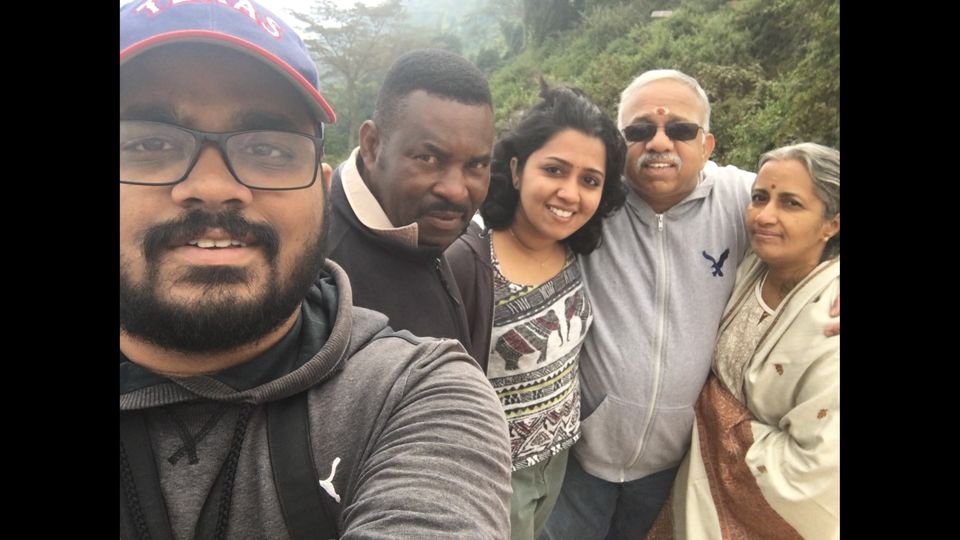 After showering Mwalla with our thanks, we crossed over to Kenya via the Namanga check point. We were stamped out of Tanzania and into Kenya with a visa on arrival. Here we were picked up by our guide Sammy. He was a tall, lean and polite gentleman. Unlike in Tanzania, we were driving through a bumpy road, when we found out that one of the wheels had been punctured. We had just seen giraffes and ostriches nearby and standing in the middle of the road felt slightly exhilarating.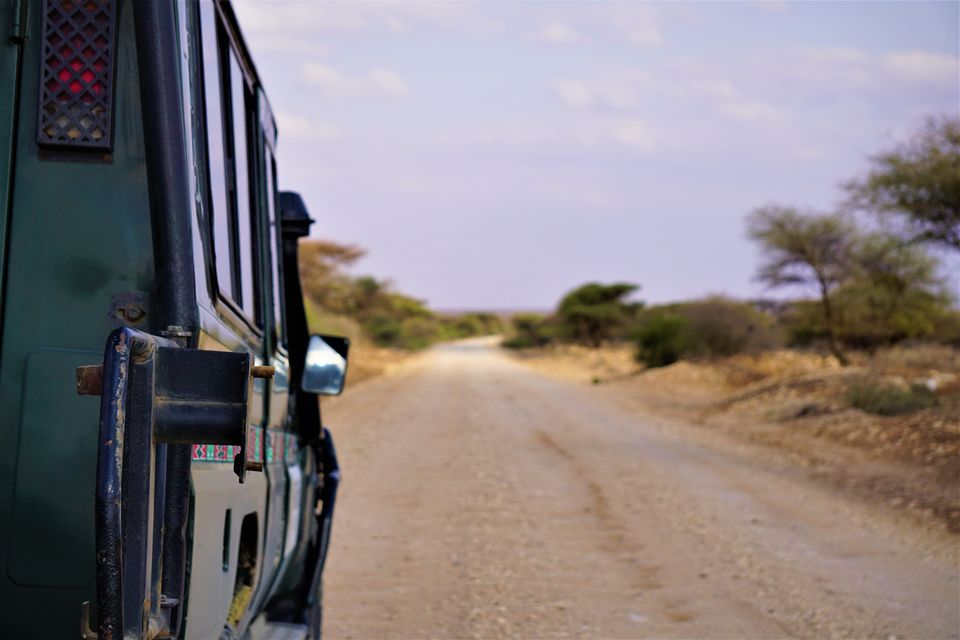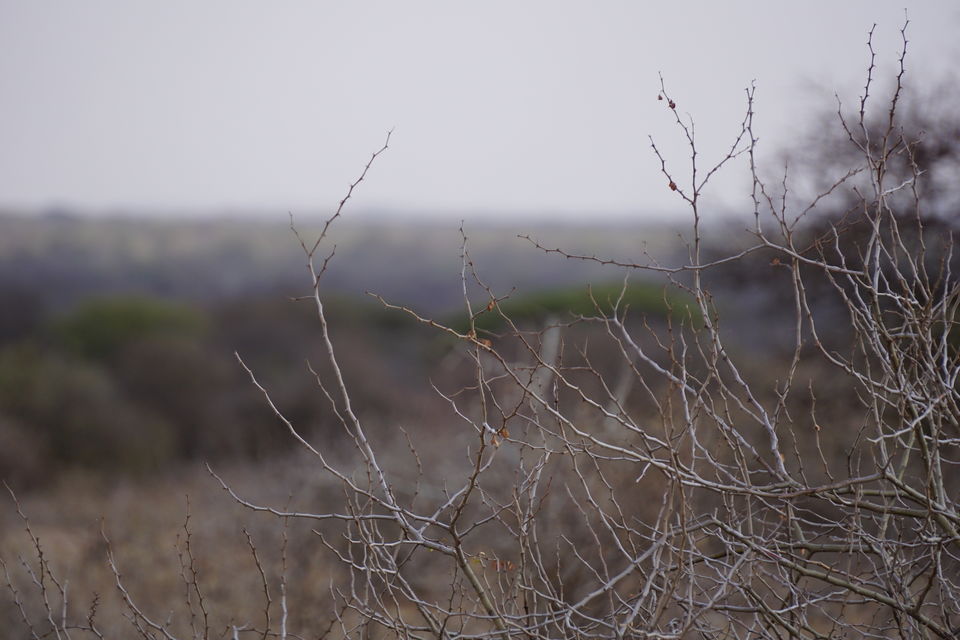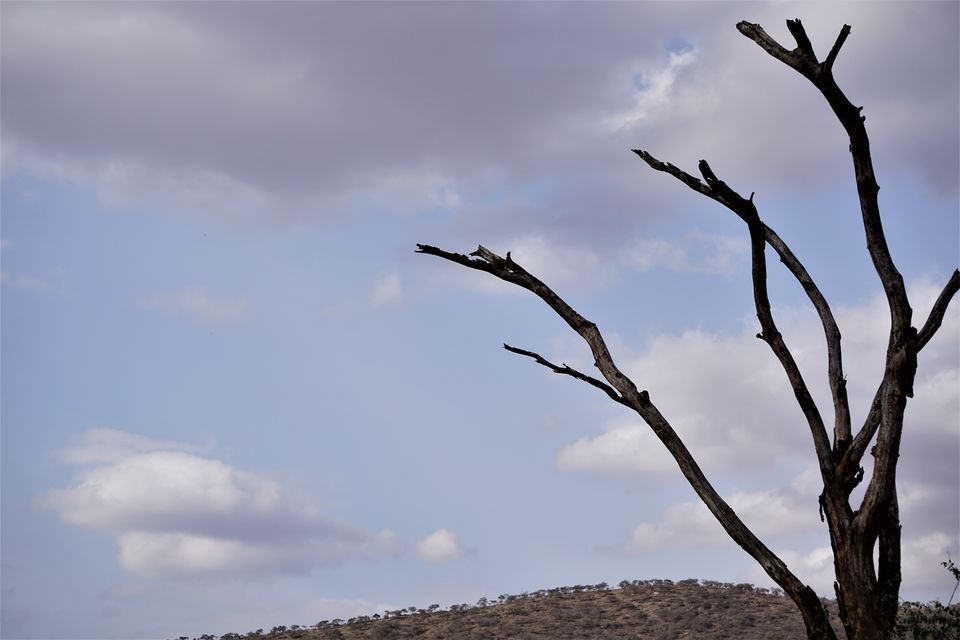 Once the wheel was changed, we were on our way to our first National Park in Kenya – Amboseli national Park.
We were going on a game drive even before we checked in to the Lodge. The game drive was like a trailer to what was to be seen the next day. We saw loads of elephants crossing our path, with their little ones.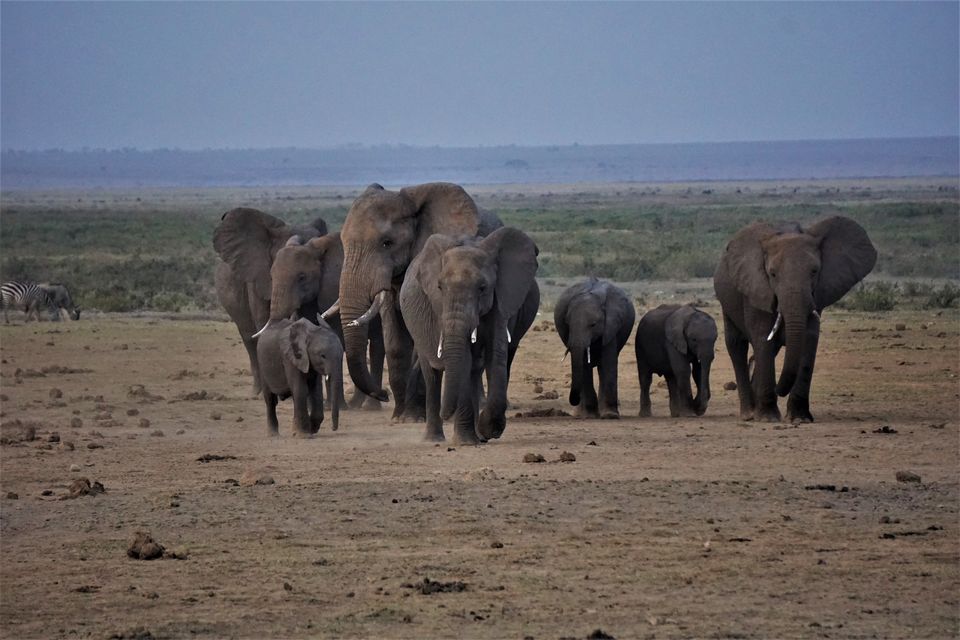 Mt Kilimanjaro peeked out of the clouds and stood out majestically with the acacia trees, zebras and wildebeests dotting the foreground.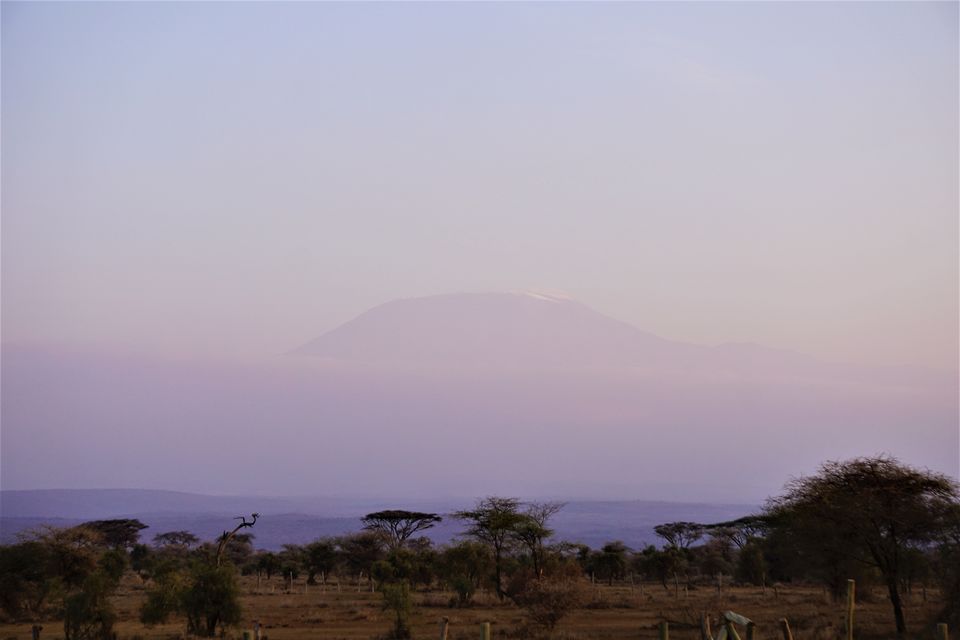 We even witnessed a magnificent sunset, which turned the whole sky orange.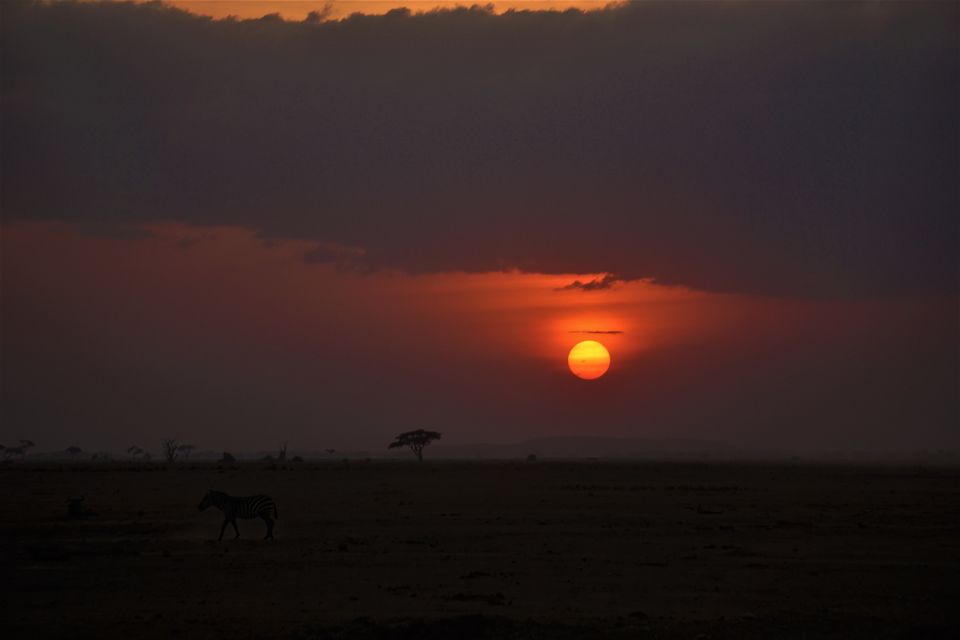 We were then dropped in Sentrim Amboseli lodge. Here we opted for tented accommodation. It was pretty cool.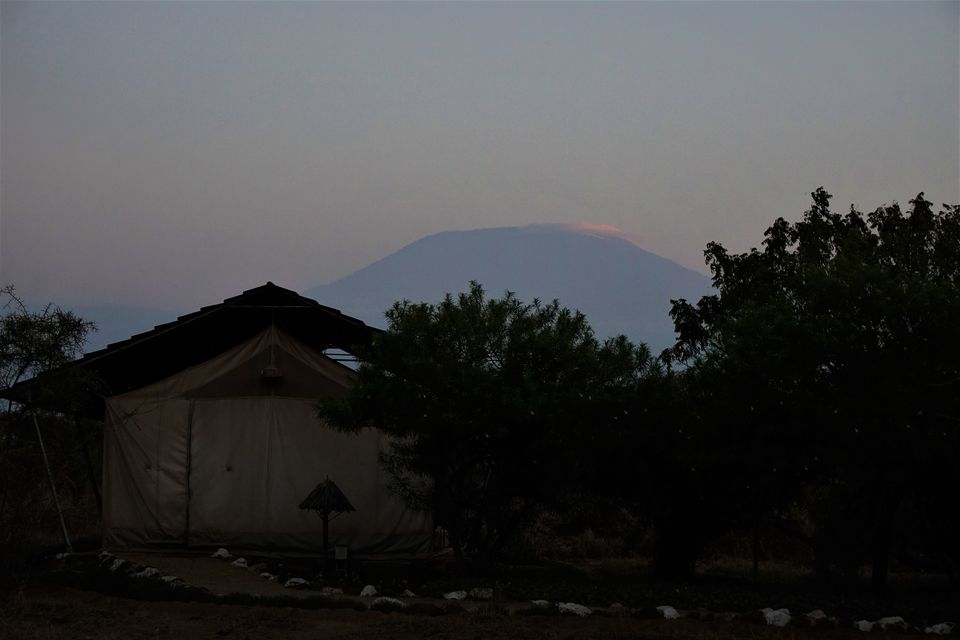 Power could be switched off after 10pm and the whole Lodge was swamped in darkness, except for few lights dotting the paths to the rooms. After an Indian dinner, thanks to Chef Peter,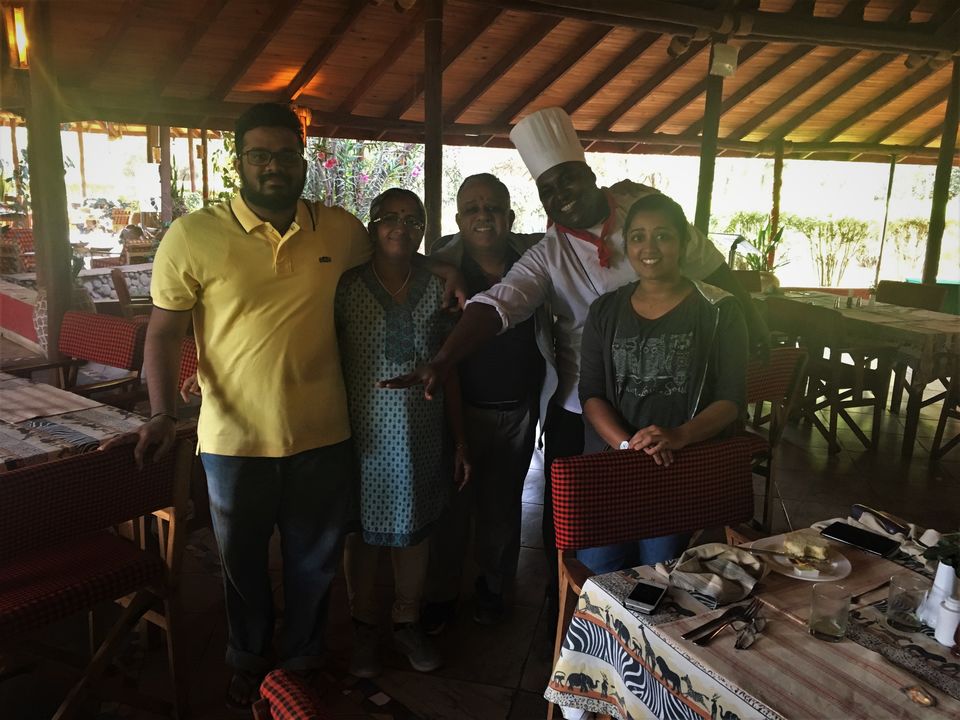 we crashed into our beds, listening to the howling wind outside.
Day 4
Once we finished our breakfast, we started on our full day game drive at Amboseli National Park. It was not as scenic as Ngorongoro Crater and was quite a dusty safari. However, all these comparisons were forgotten, when we saw the numerous elephants,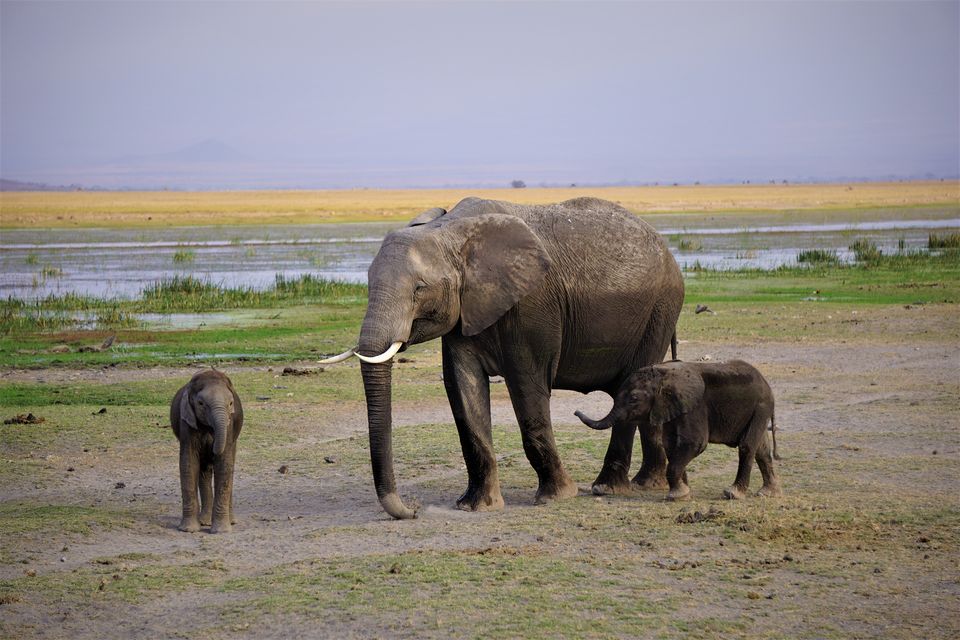 the giraffes looking at us with curiosity,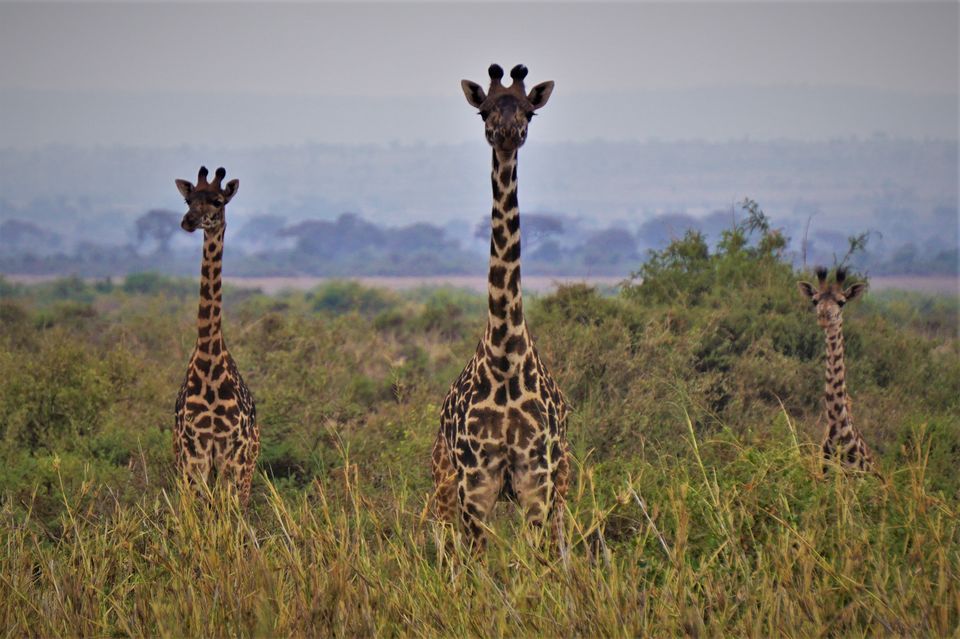 and the umpteen number of birds that were pointed out to us by Sammy.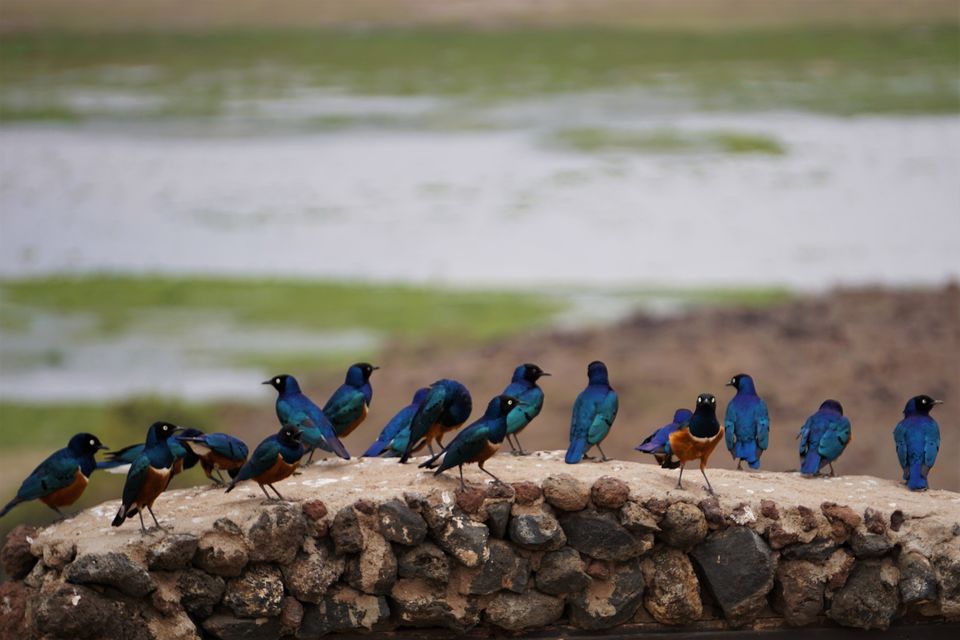 To top it all we could see Mt Kilimanjaro from any area.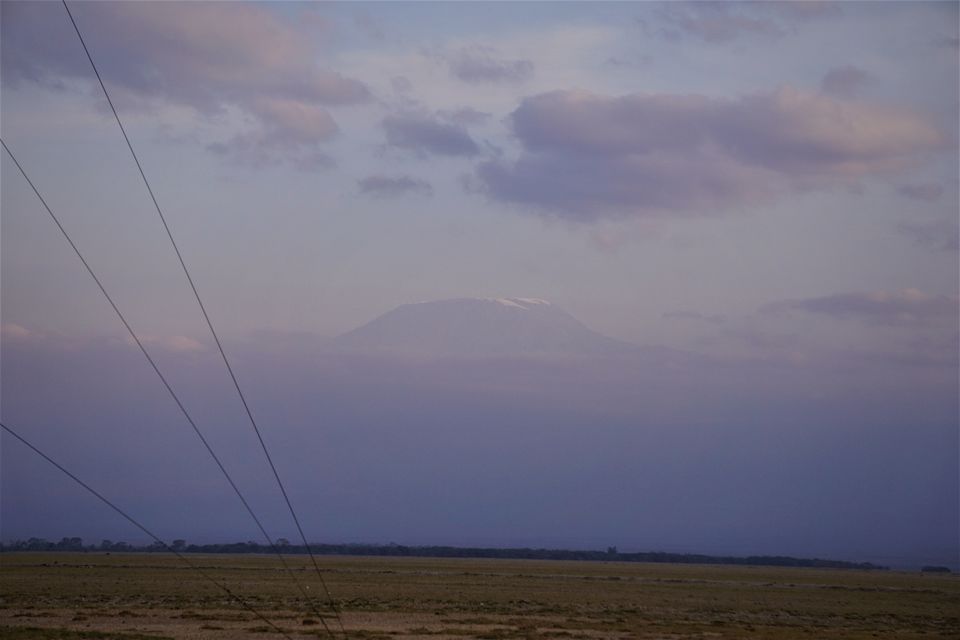 We had our packed lunch atop of a small hill, from which we had an 360 degree view of the whole of Amboseli National Park. It was not just about seeing animals, but seeing them in their natural habitat. They were doing their thing without worrying about who was watching them. We saw a Hyena getting into it's den, a heron fishing for food, a group of elephants playing in the mud and water and giraffes crossing the road – right in front of our vehicle.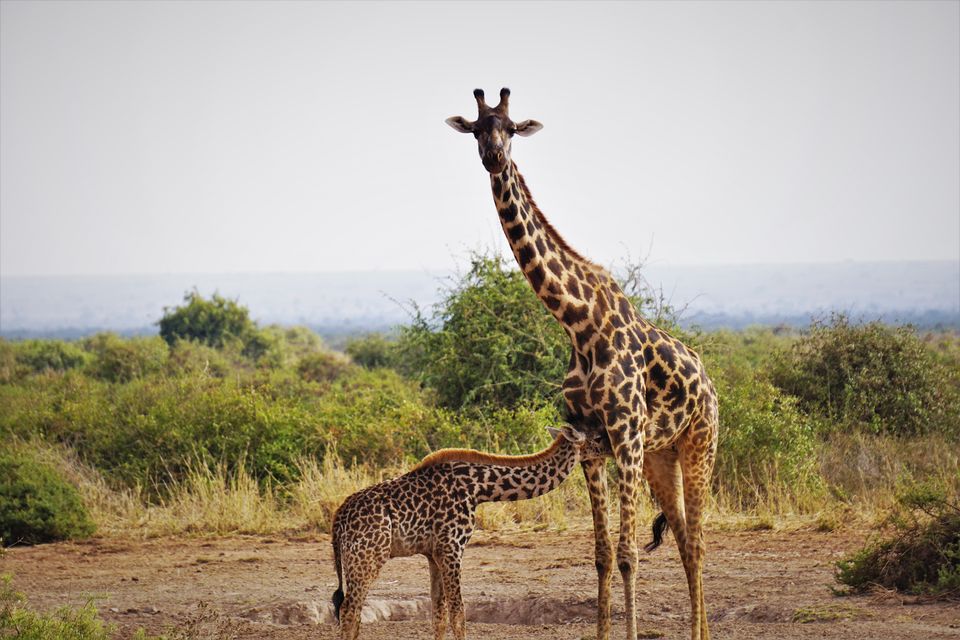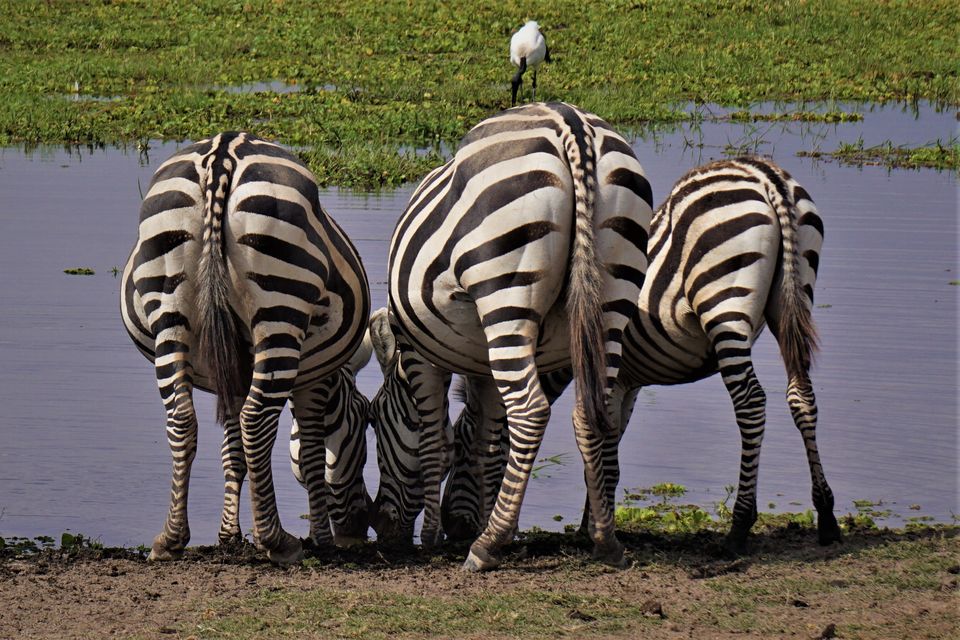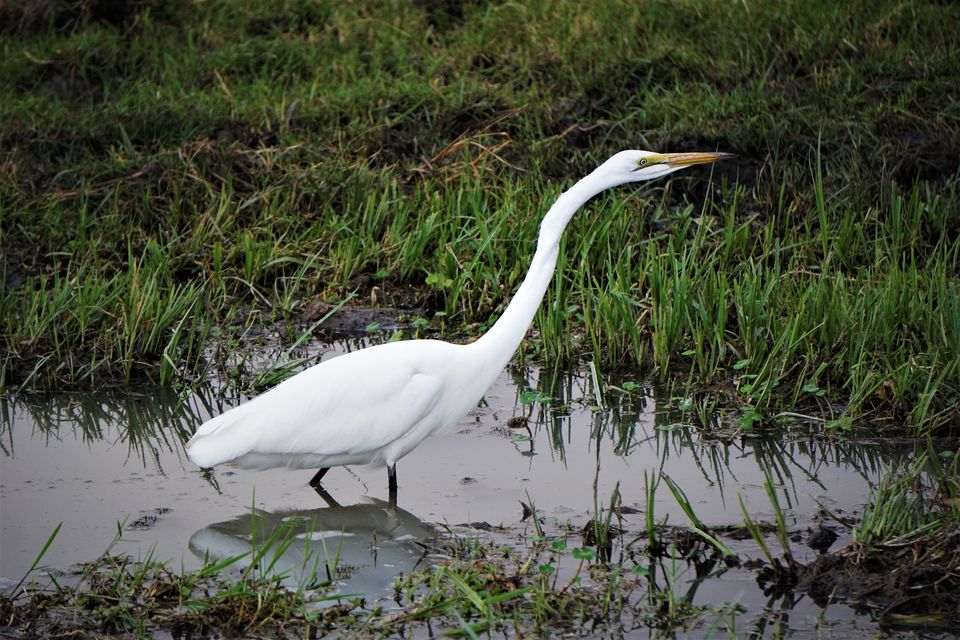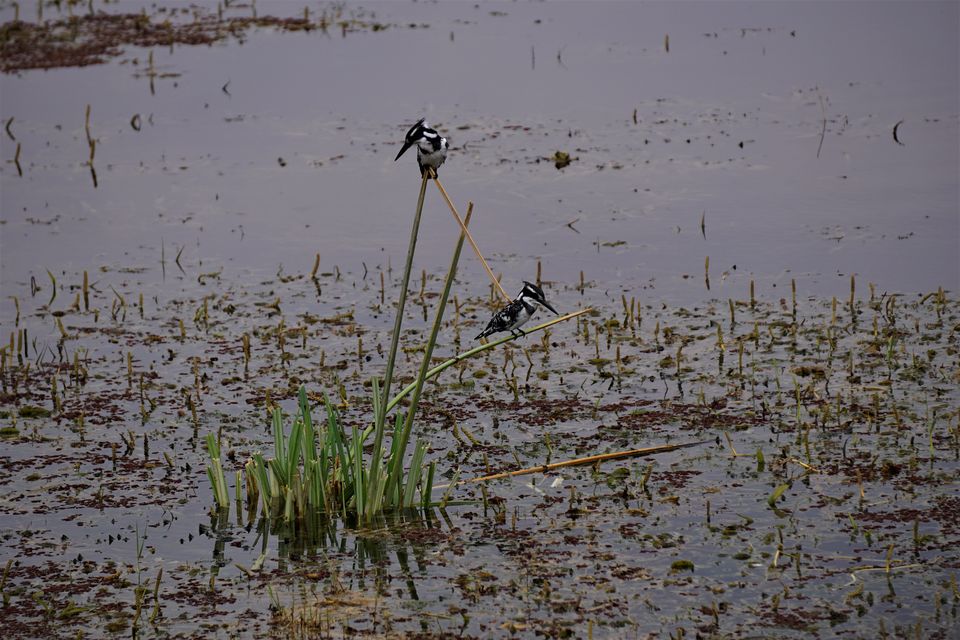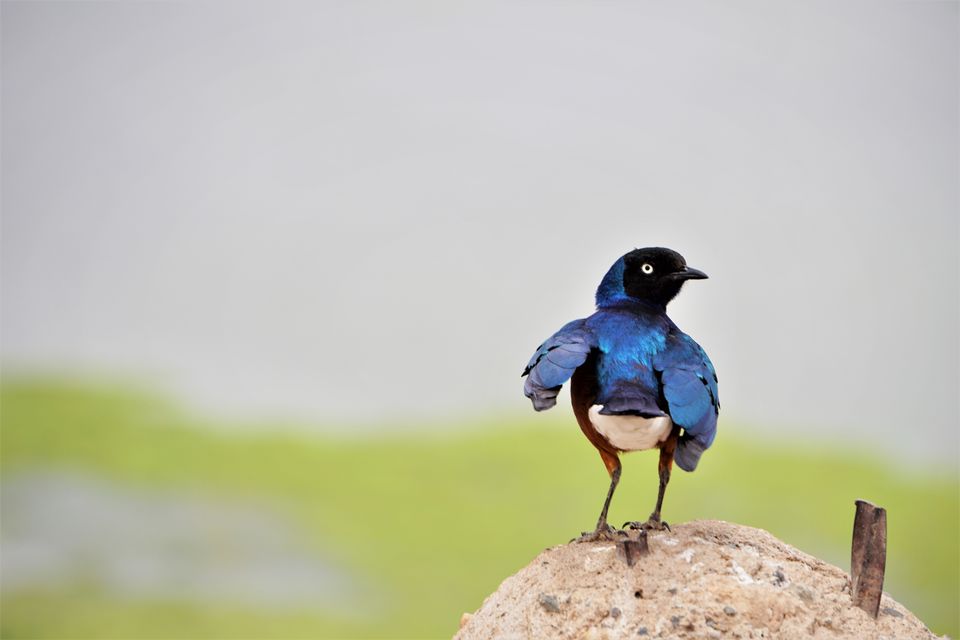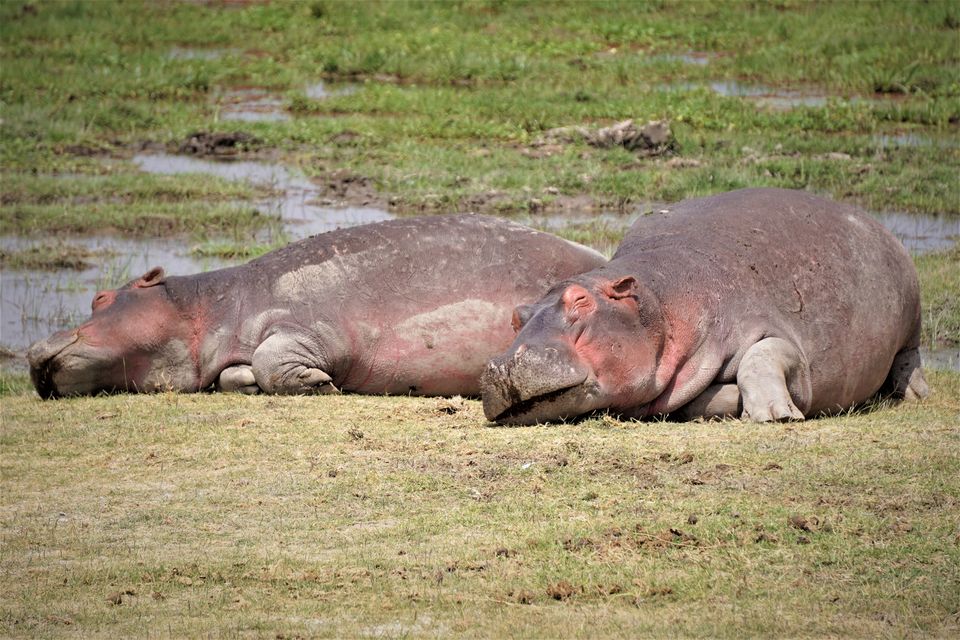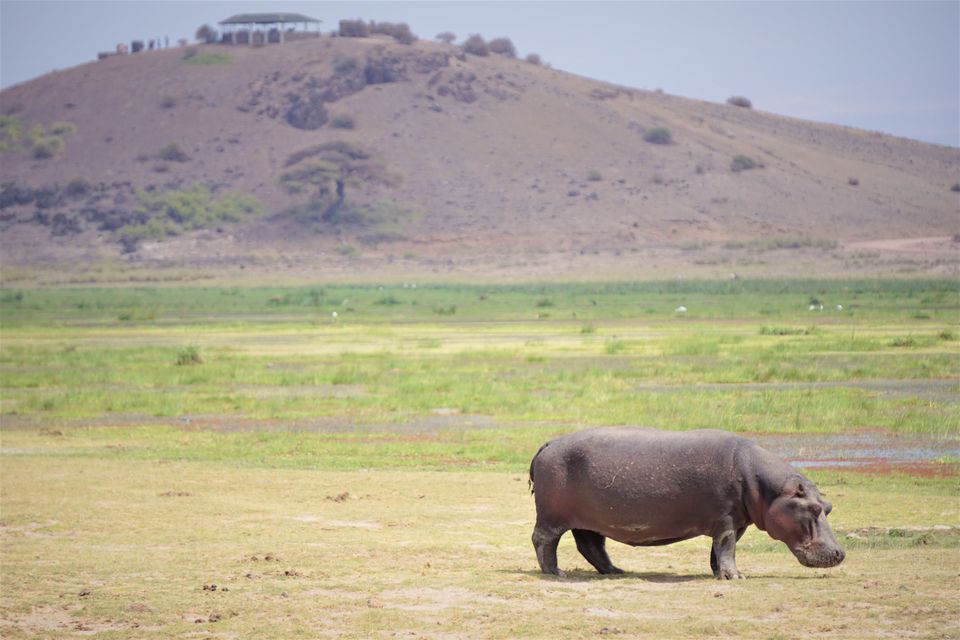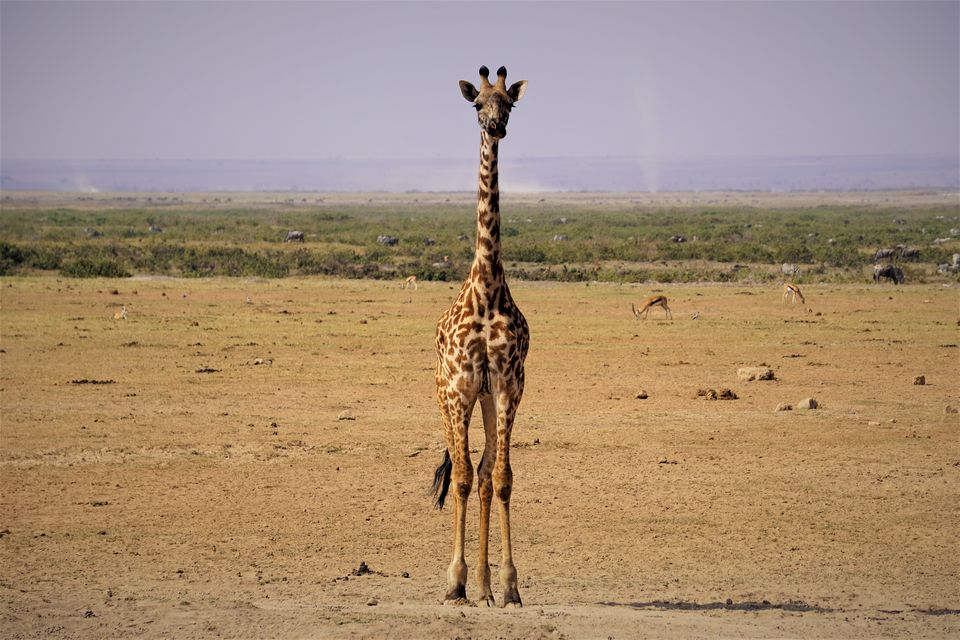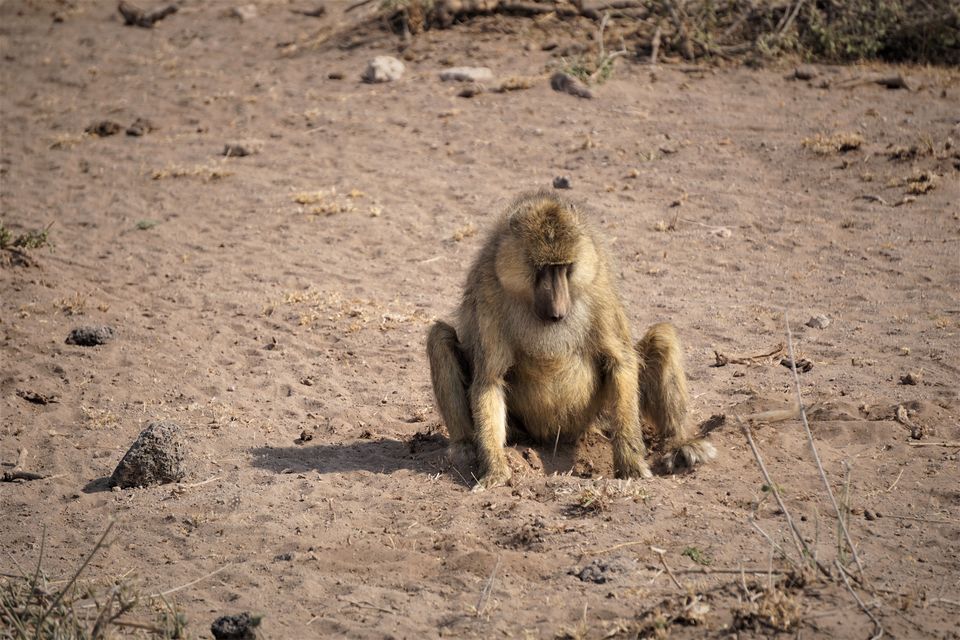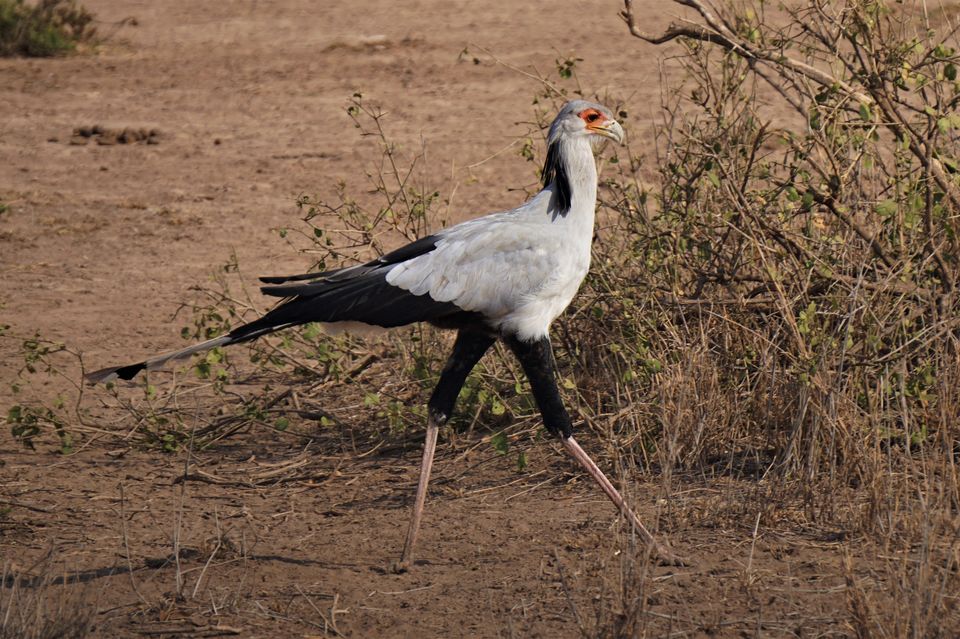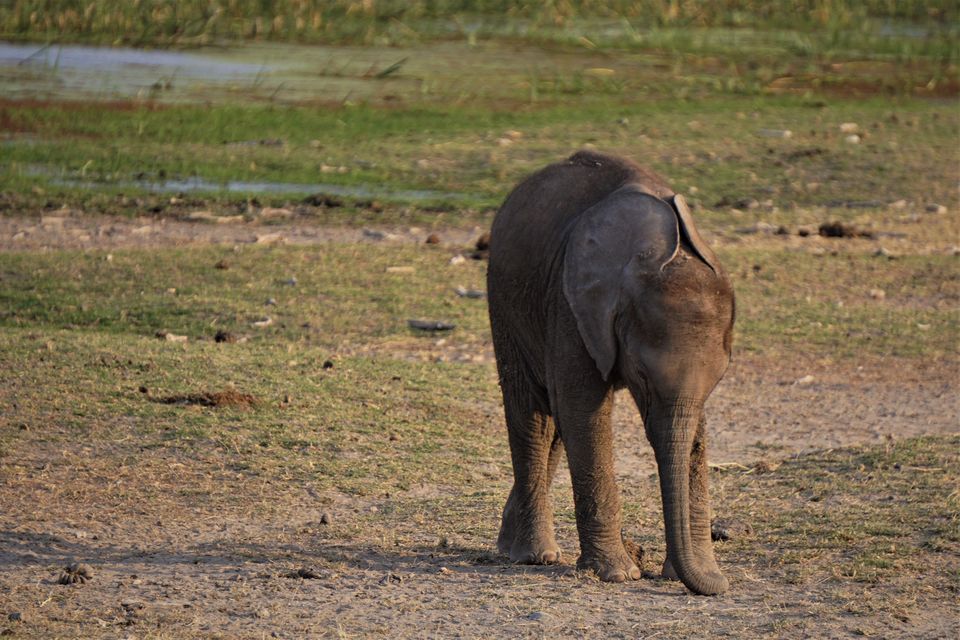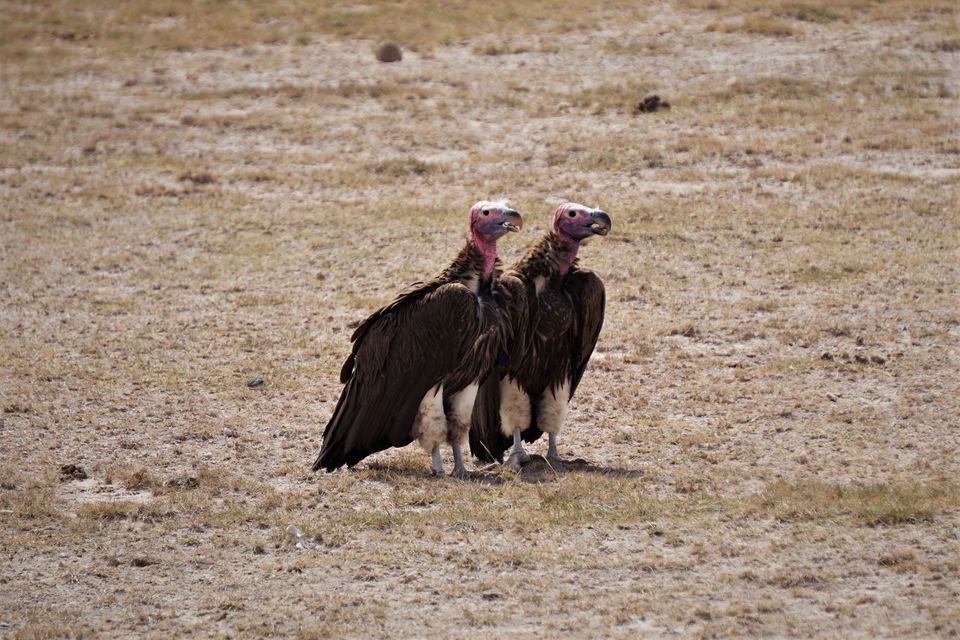 Overall, it was quite an eventful Safari which left us yearning for more. We went to bed that night, after a delicious dinner, thinking about what was in store for the next day.
Day 5
It was time to say goodbye to Amboseli.
Our next destination was Masai Mara, with a stop in Nairobi for the night. We drove to Nairobi and relaxed in Hotel Royal Orchid. We caught up with relatives and friends had a good sleep and re energized ourselves for the the highlight of the trip – Masai Maara.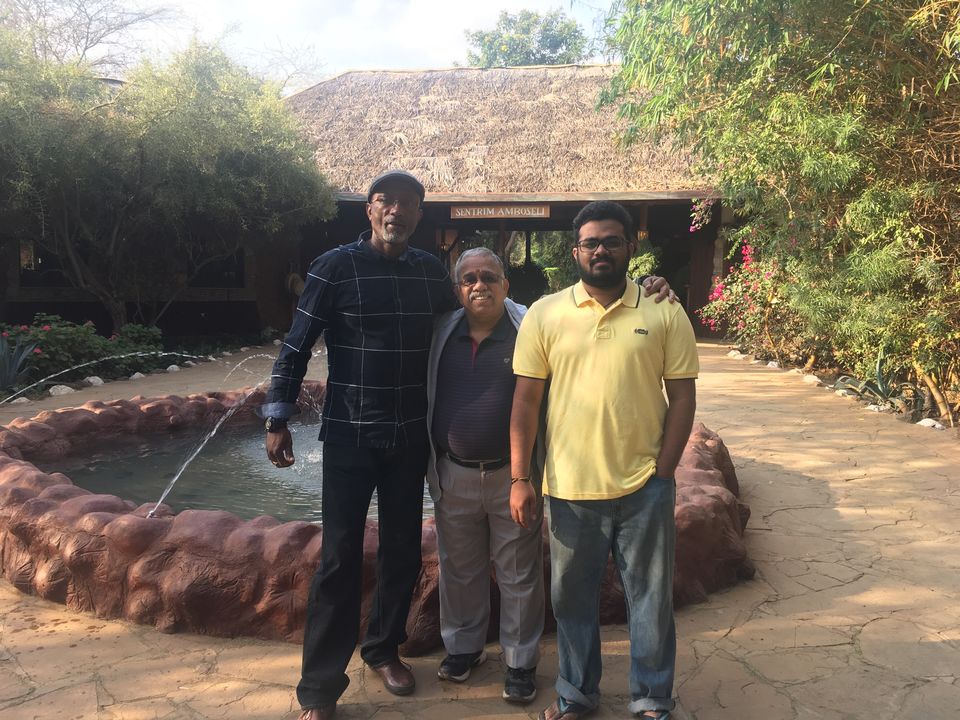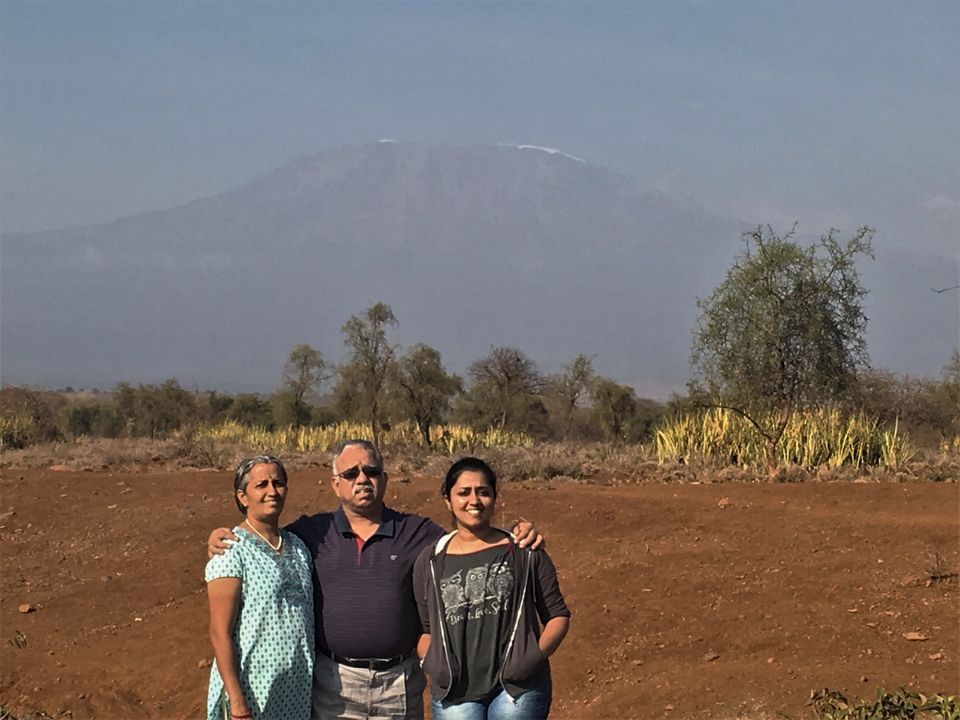 Day 6
We were up, bright and early. After a wonderful South Indian breakfast we started off to Masai Maara. En route, we stopped at one of the viewpoints of the Great Rift Valley.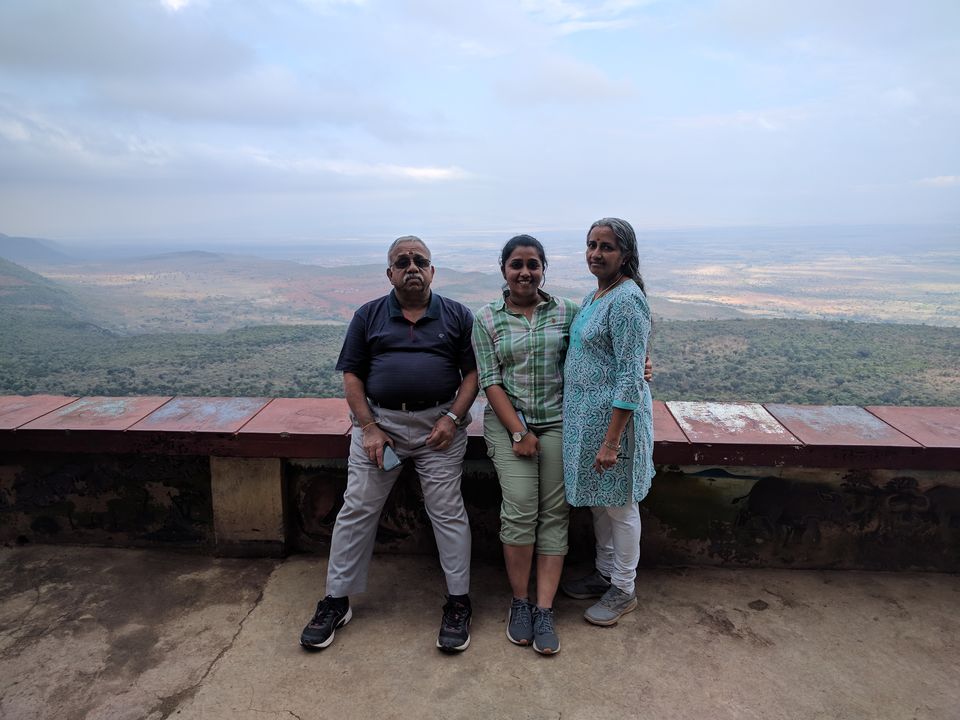 It was quite a bumpy road once we left the highway, upto Masai Maara. We could see the lands being fenced off by individual buyers, and this was affecting the animal migration routes. It was afternoon by the time we reached our lodge – Sentrim Mara. We had our lunch, checked in to a tree house and were ready for our evening Safari.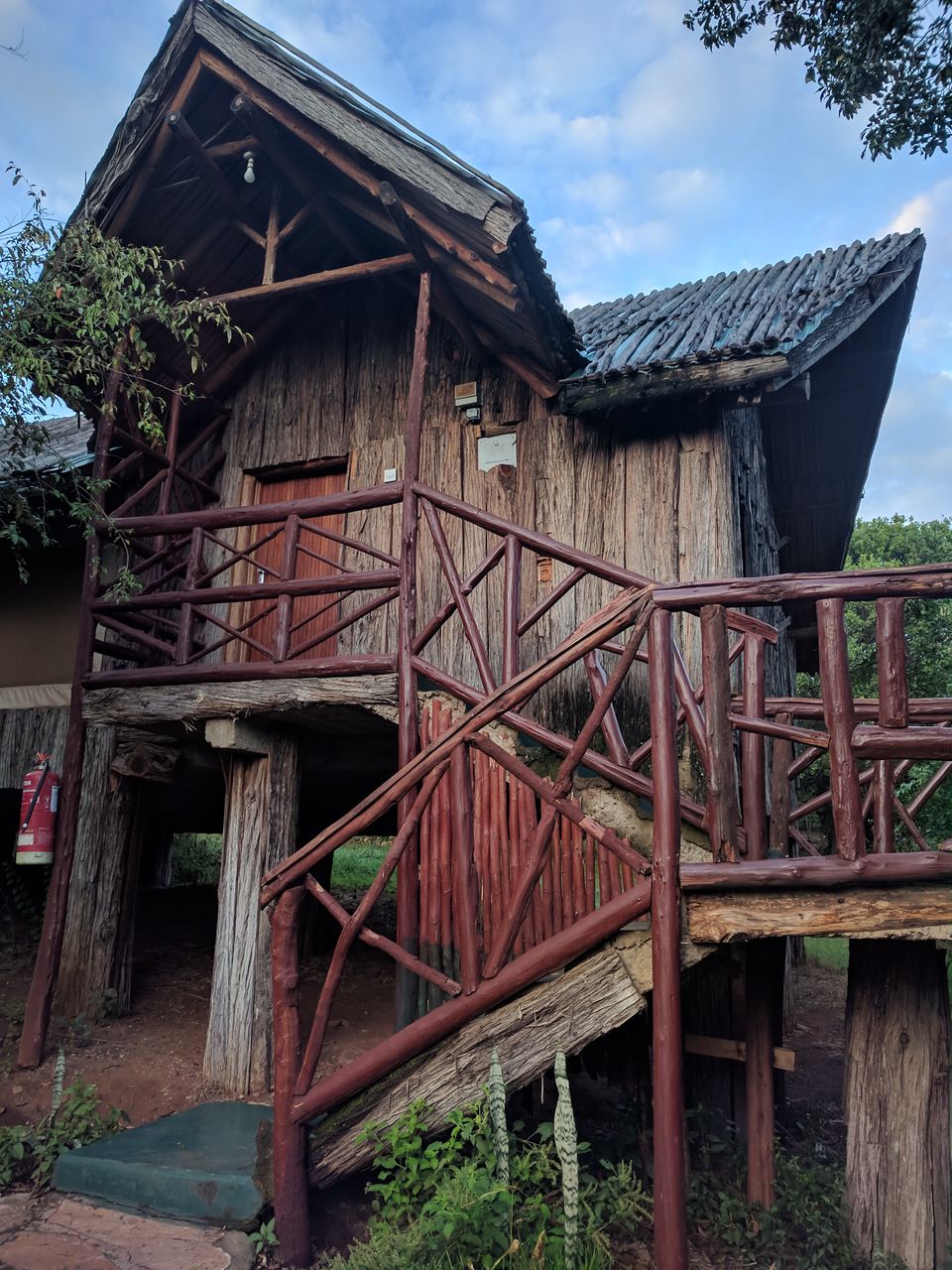 We couldn't believe our eyes, when we saw hordes of wildebeests. What we had seen in other parks was just a drop in the ocean, compared to what we were seeing here.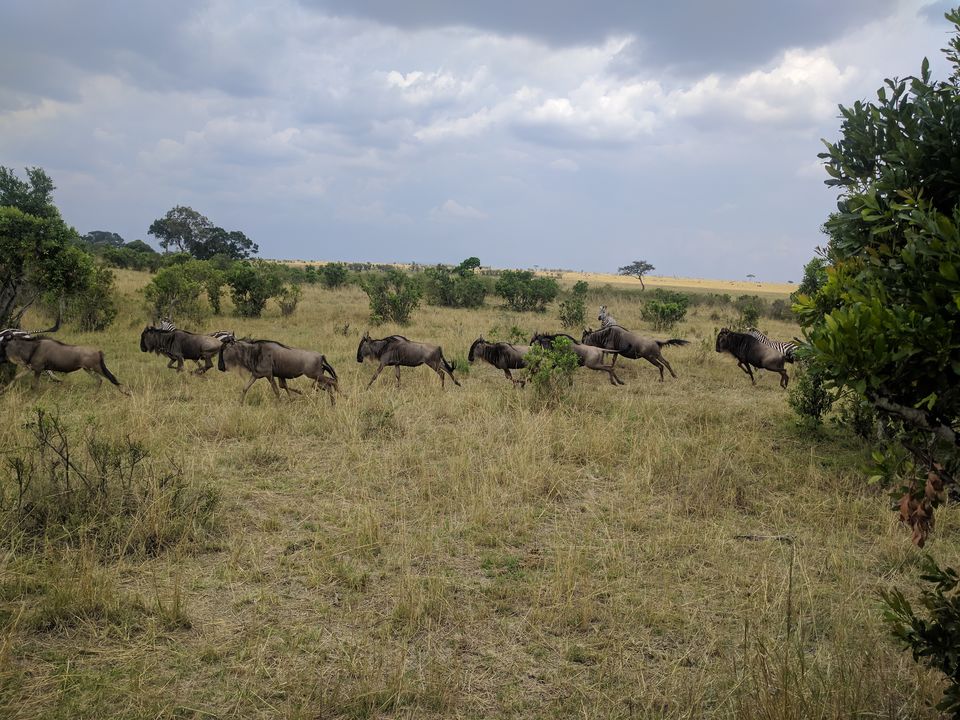 The wildebeests were migrating from Serengeti to Masai Maara in search of greener of pastures. We saw numerous lions – playing with their cubs, hunting wildebeests and just sunbathing. We couldn't get enough of it, seeing these royal animals – so graceful and fierce at the same time.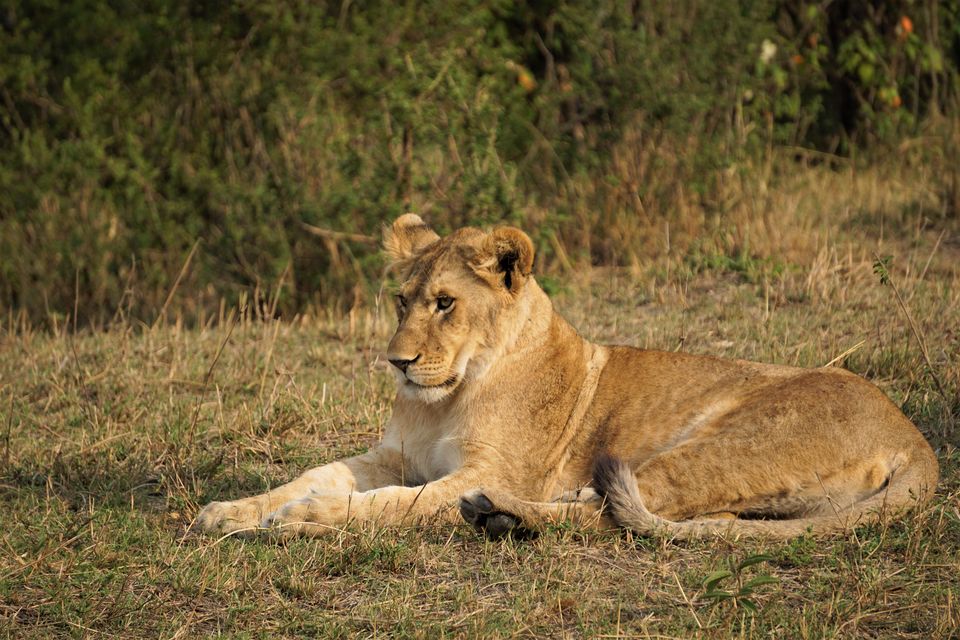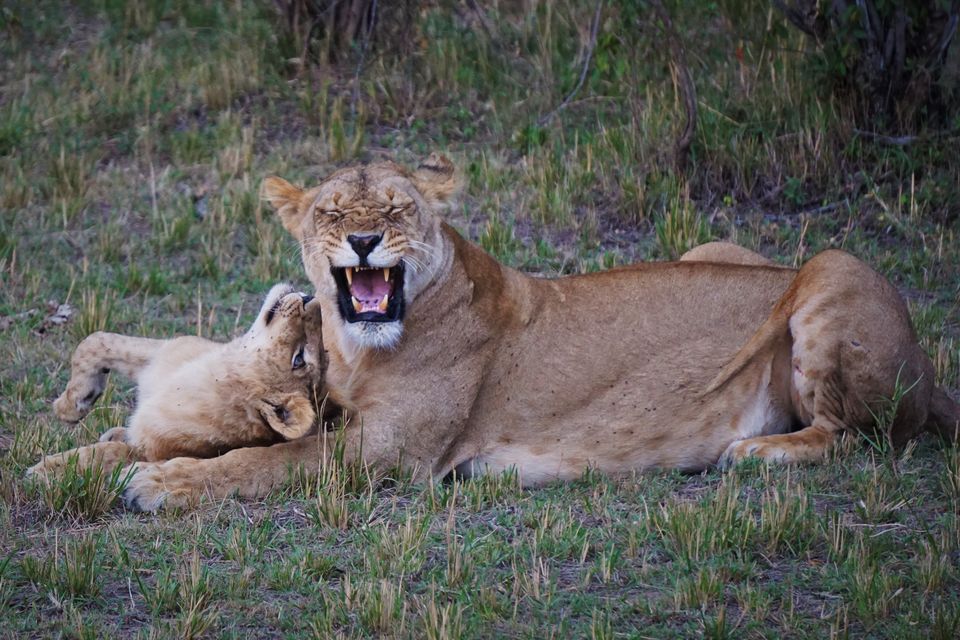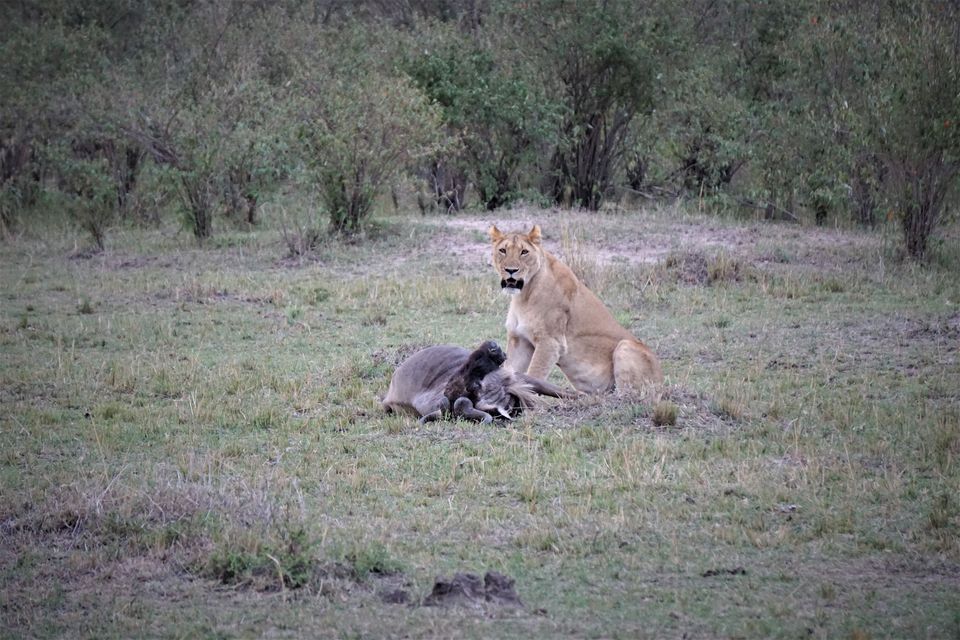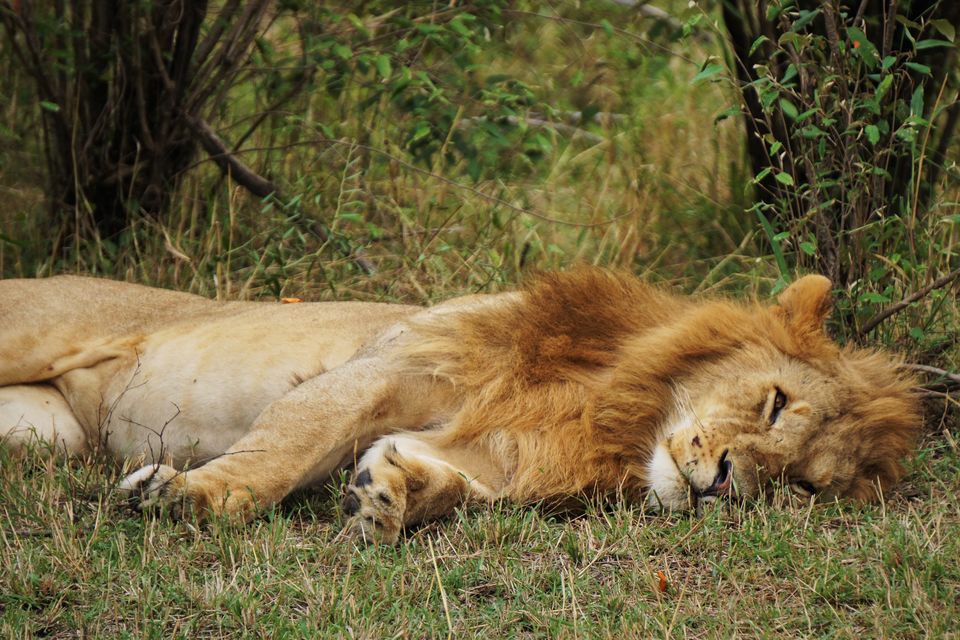 This was just an introduction to what we were to see the next day. We were excited!
Day 7
We were all geared up for the next day, after a quick breakfast we started off on our safari. It was an eventful day indeed. We saw more lions – one of them dragging a kill into hiding,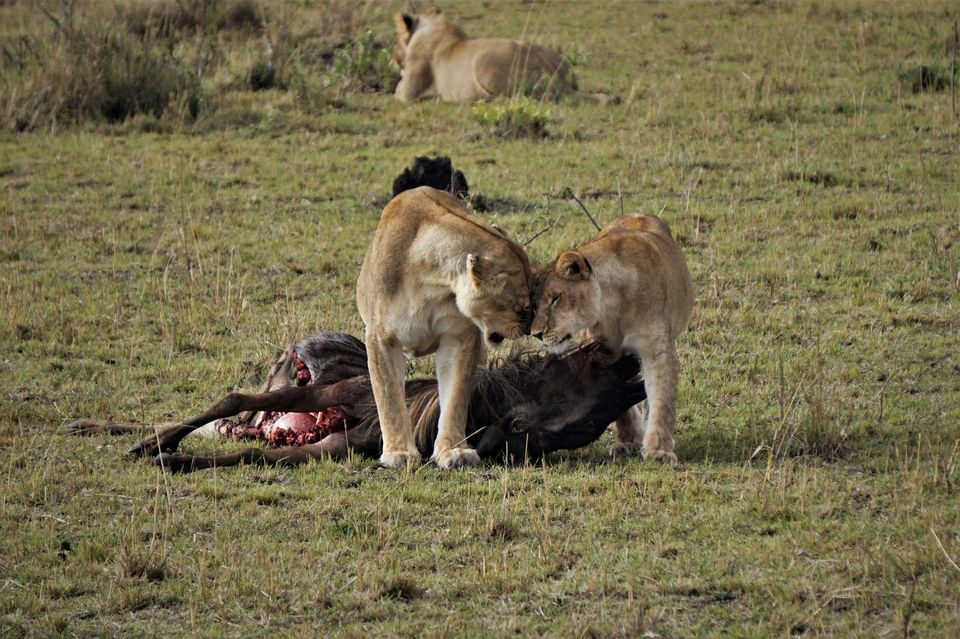 we even managed to see the elusive rhino,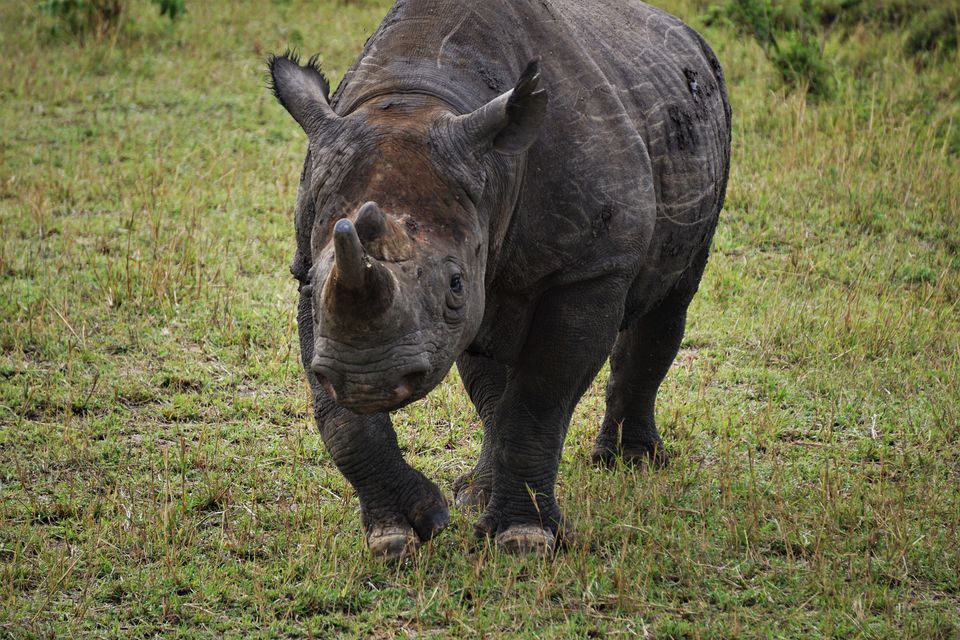 we saw hippos playing in the Mara river,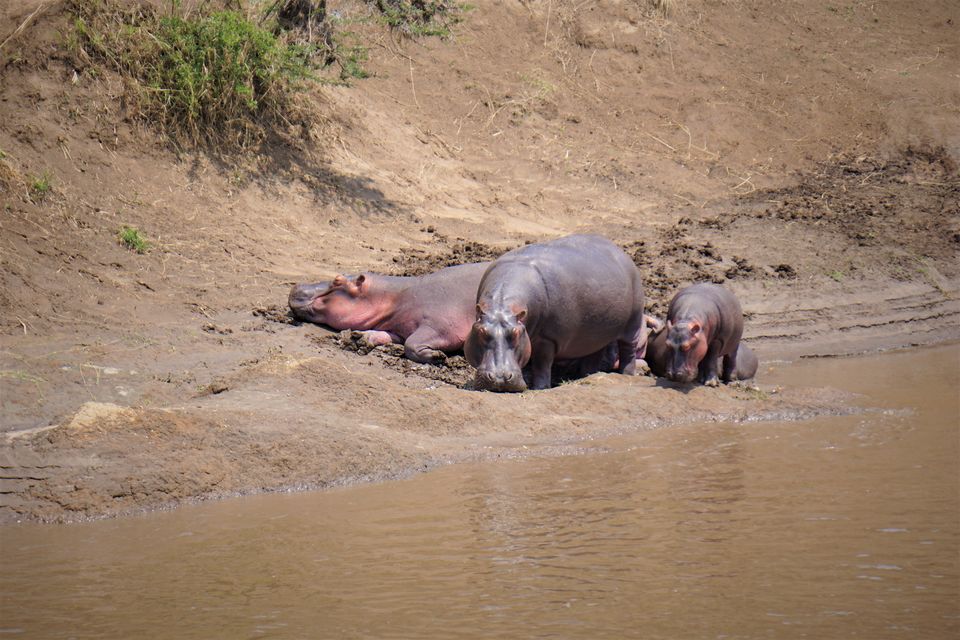 crocodiles snoozing on the river banks,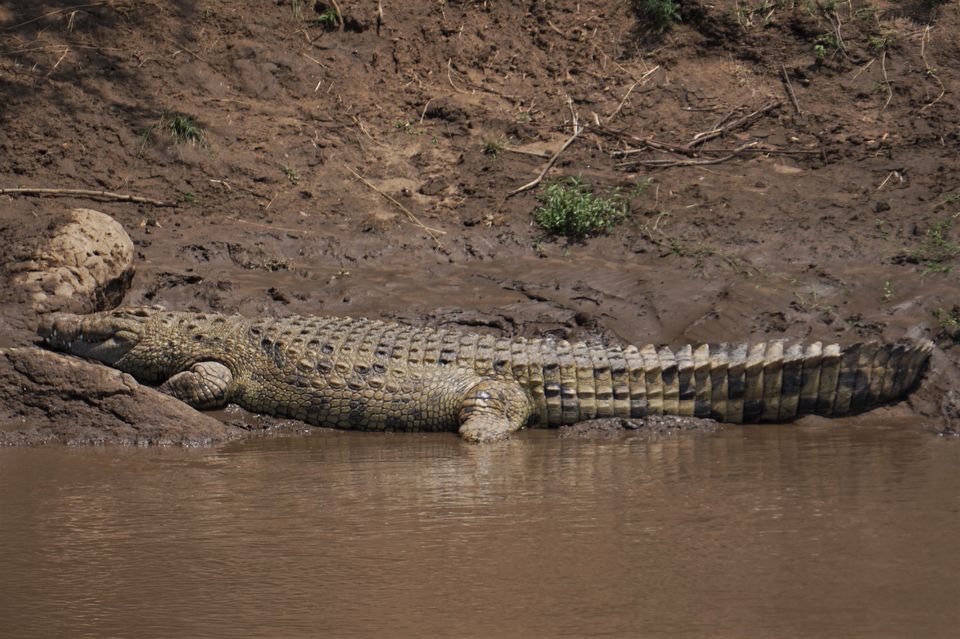 ostriches running,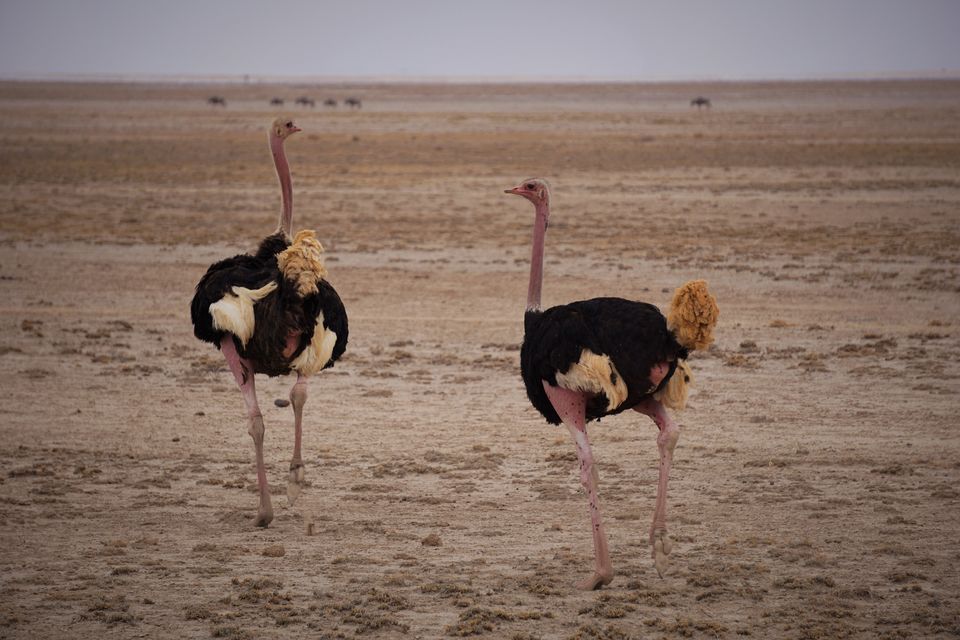 gazelles bounding like springs,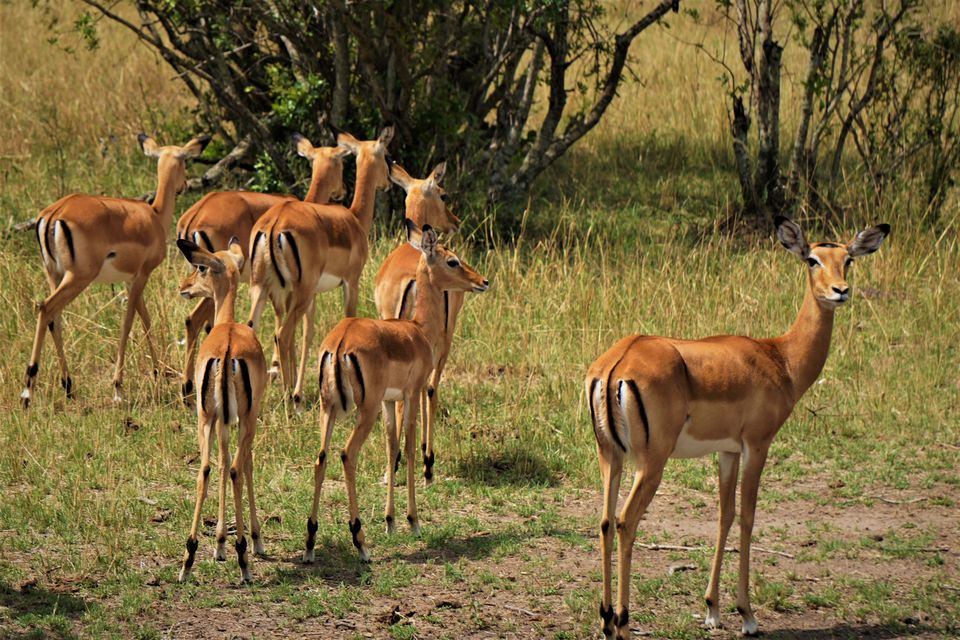 groups of elephants and giraffes,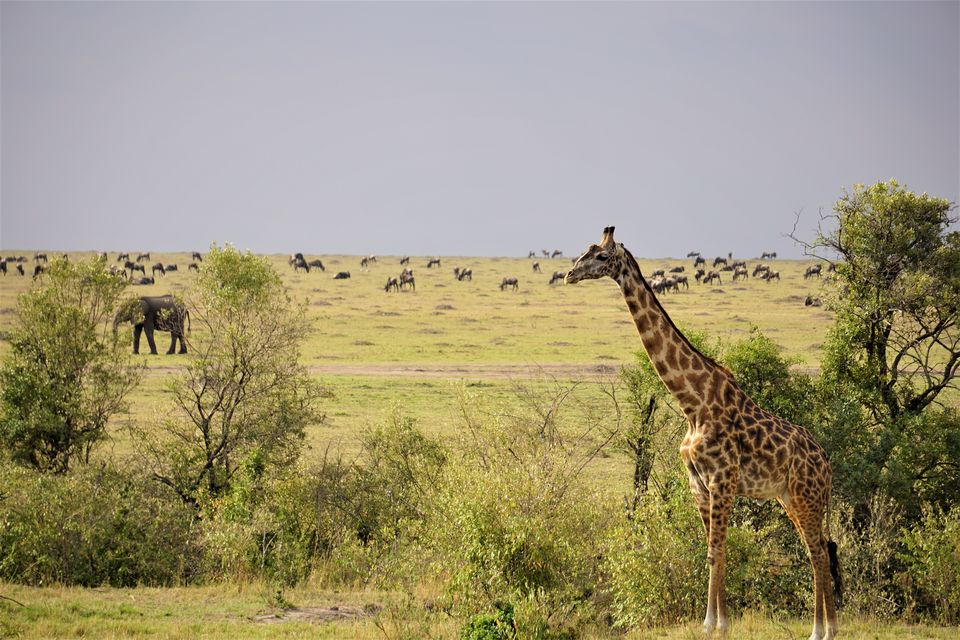 and the highlight of the day – a coalition of cheetahs trying to hunt wildebeests.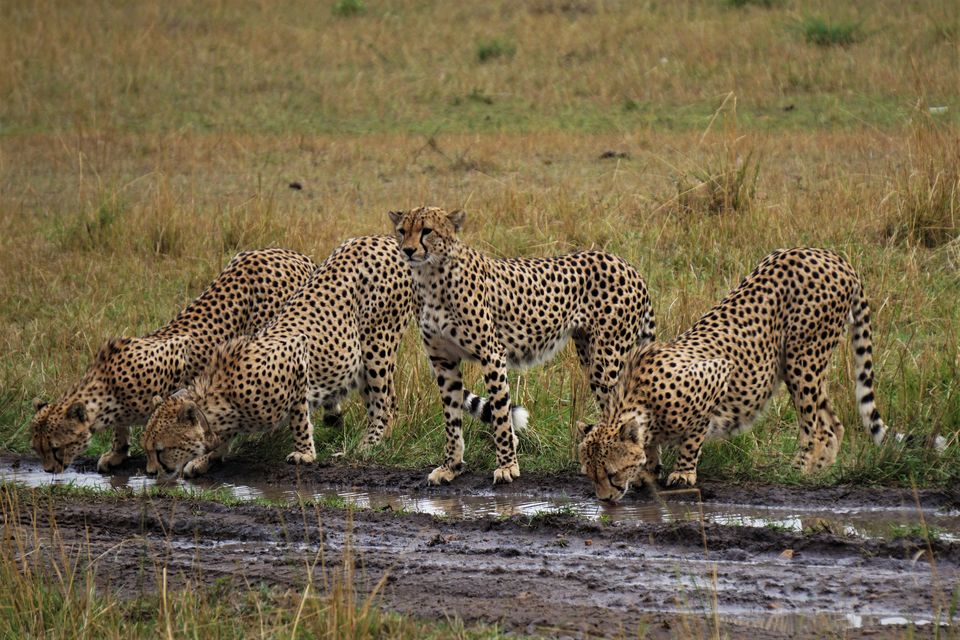 The only animal that we didn't get to see was the shy leopard. However, we did see the remains of its meal – a par of deer legs dangling from a branch. Maybe it was a sign for indicating that we had to return to this wonderful continent to explore more.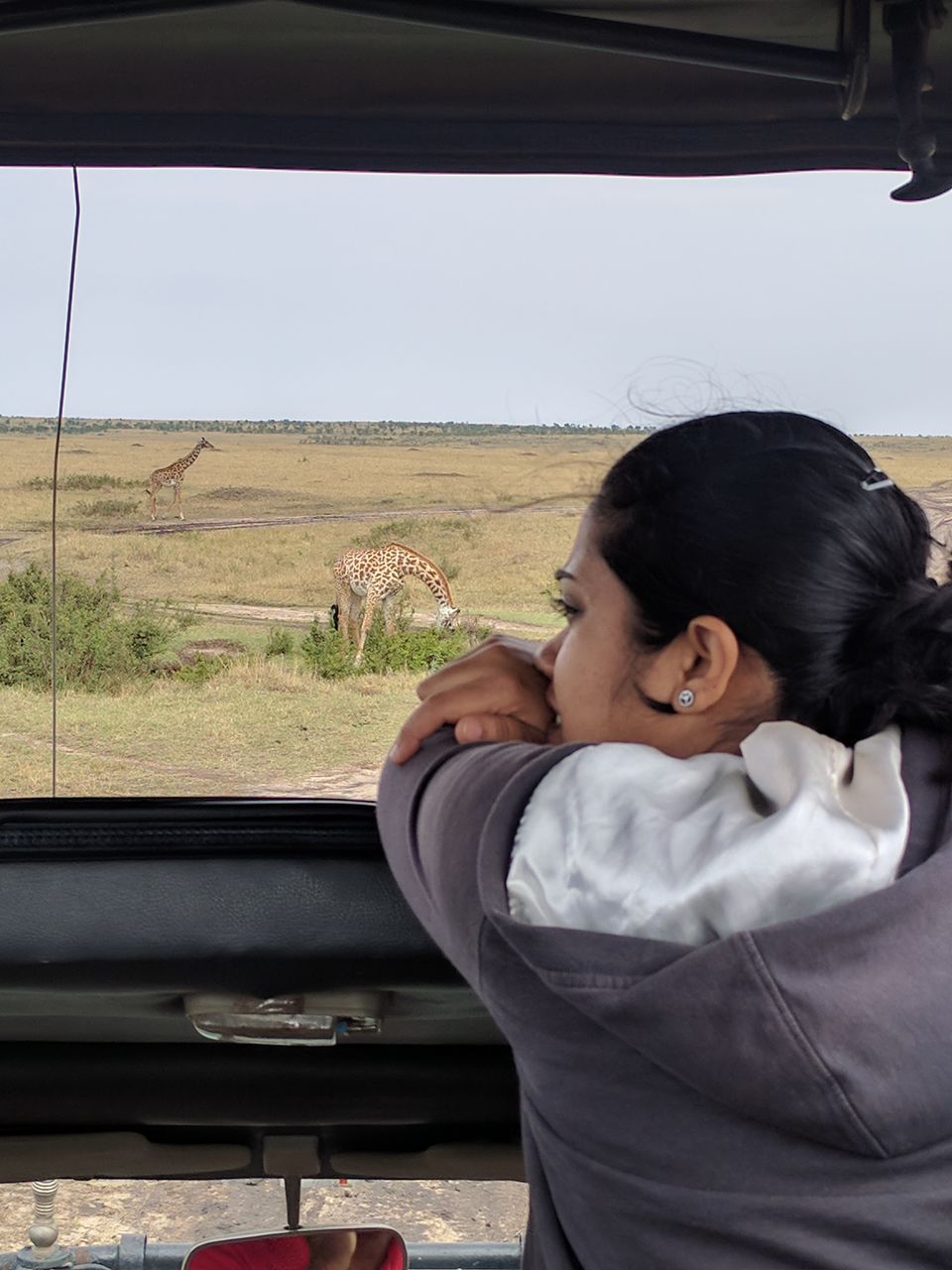 It was not just the animals that fascinated us, even the people impressed us. Right from our guides, the street hawkers, the tribal people, the hotel staff, the chef – everyone had a positive impact on us in some way or the other. That night as we got ready for bed, the thought that our safari had come to an end kept running in our mind.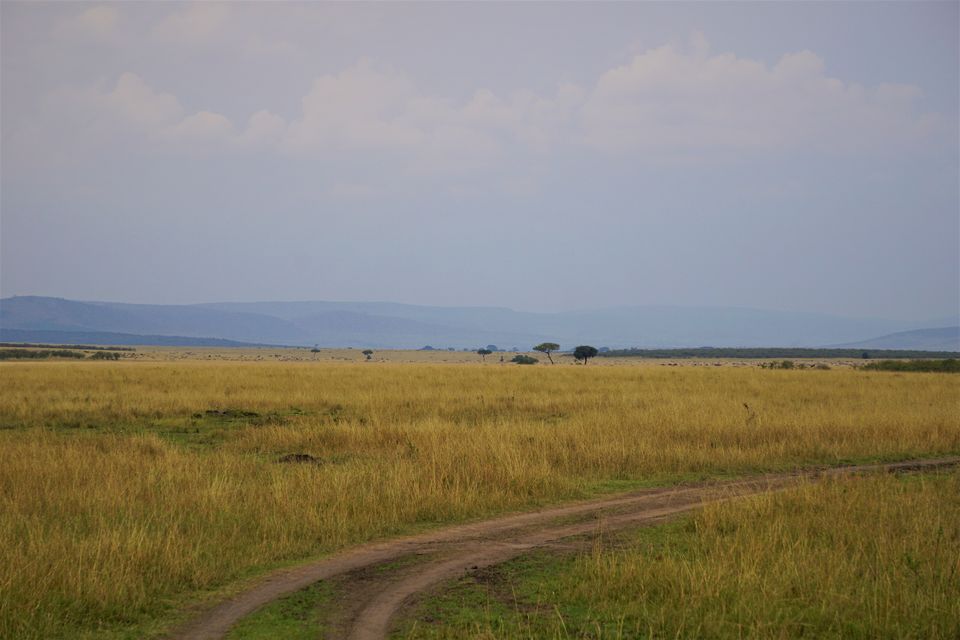 Day 8
It was with a heavy heart, that we started from Masai Maara that day. No one spoke much on our ride back to Nairobi. Spirits were down and we just started out of the window at the passing landscape in silence. Back at the hotel, we connected back to the word, as we had no access to wi fi in Masai Maara. We had a relaxed in room dinner, and peaceful sleep that night.
Day 9
It was the last day of our trip. We made sure that we ended it with a bang. We were going to visit two special places in Nairobi.
The Sheldrick Elephant orphanage: This was one of those heartwarming places that makes your heart melt. Just the sight of those little elephants rushing down the path pushing each other aside to get to their feeding bottles was so cure and funny. The caretakers were playful with these little ones as well. We didn't know how the hour flew by, as we were being amazed by the antics of the baby elephants.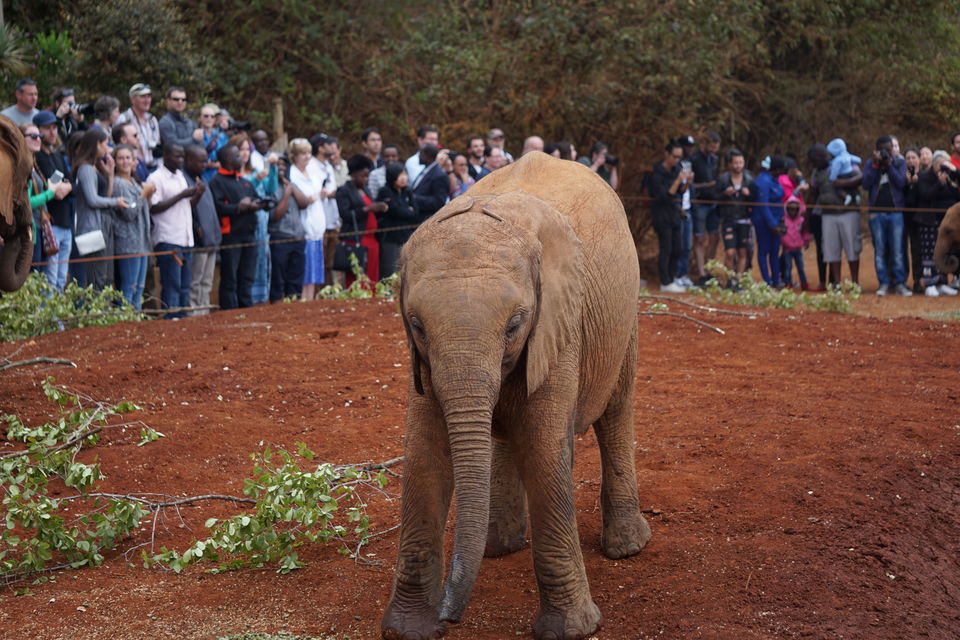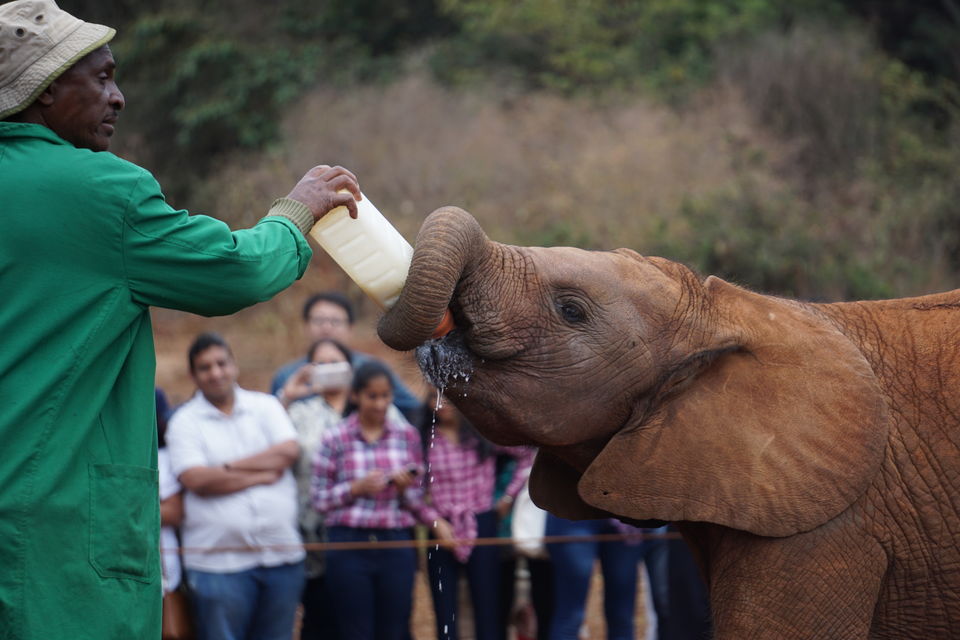 The orphanage had 27 elephants, which had been rescued from different parts of Africa. They were taken care for about three years until they would be released back into the wild. Each of these elephants had been given a name and you would even adopt one of them by donating 50$ per year. The feeding was viewable by the public from 11 to 12 only, and hence was pretty crowded. We even got a chance to pet these little ones when they came close to the crowd.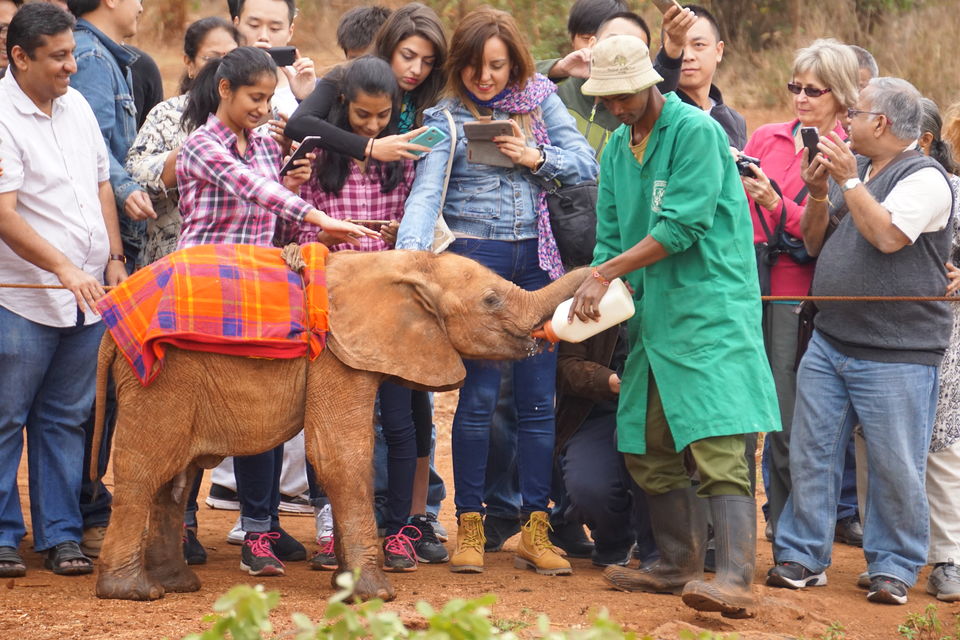 The Giraffe Centre: This was home to several Rothschild Giraffes – which are an endangered species. We could feed them with pellets that were available. We had to place it at the edge of their long tongues. We had a lot of fun with these gentle giants.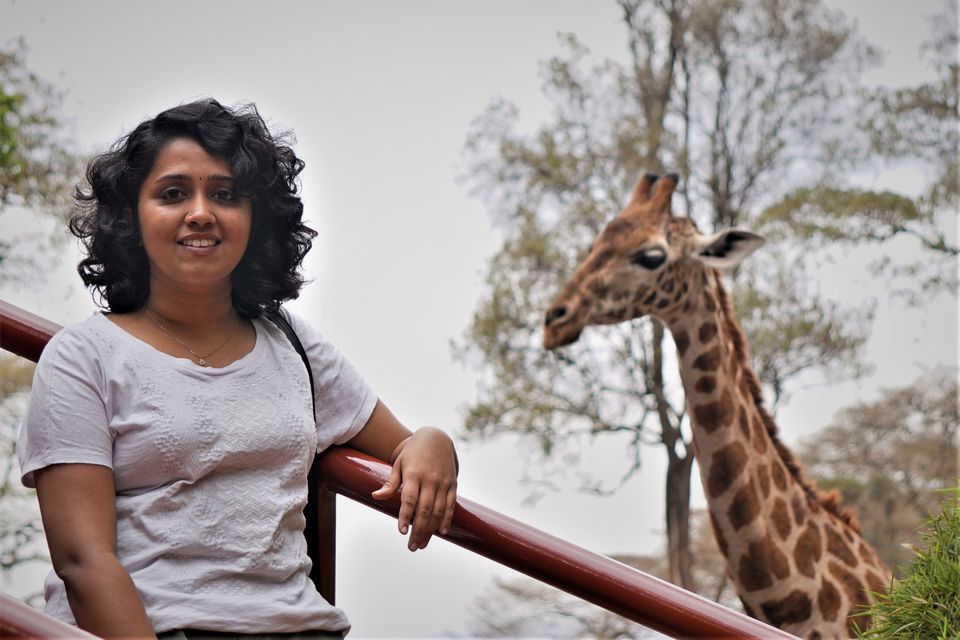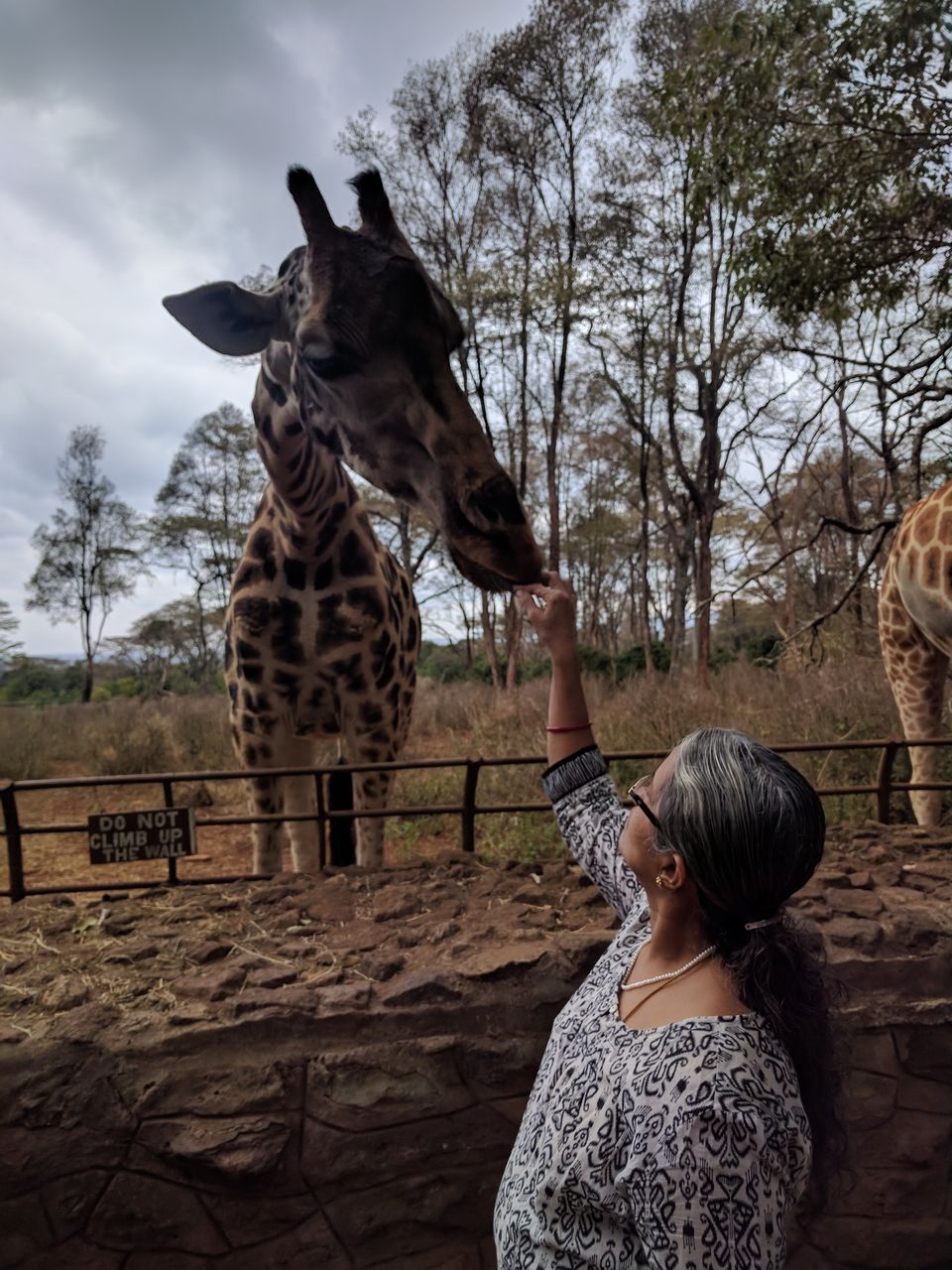 The next thing that we needed to get, was souvenirs for people back home. Our guide took us to the nearby market, where they were selling a lot of handmade stuff. After searching and bargaining we emerged victorious with some wonderful items.
As our flight took off from the tarmac, all the memories we had made in the past week, flashed through our minds, and we drifted off to sleep discussing about each of them.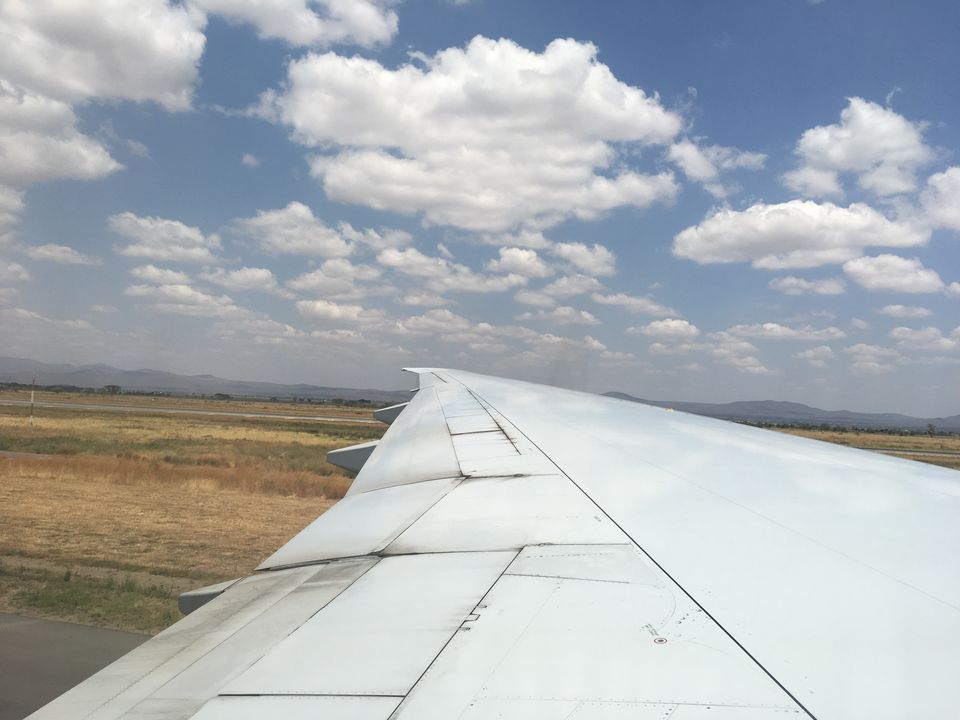 We realized, that we had had the trip of our lifetime and were grateful that we had started out on this wonderful adventure.
Asante Sana Africa! We will miss you!