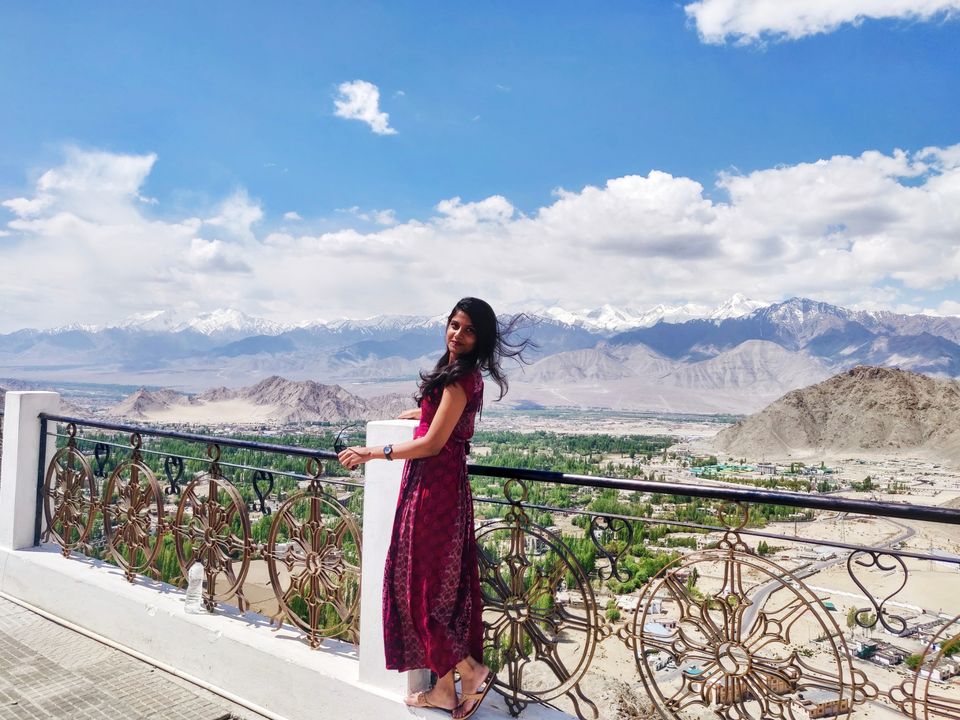 It all started when I had put down my papers after working for 4 years in that company. I was done with the chaos, the extended hours and working weekends with no interest and the constant stress! No I was not up for embracing a Nomad life, I was simply switching to another company with a better profile. But what it meant was me constantly planning for a vacation before joining another corporate.

I was clear with my destination and it had to be Europe this time. 2 months of planning and I picked out the countries I would visit. I had my dates planned out. I had my itinerary planned. I had an advance of 30% paid to the tour operator. The only thing I didn't have was any buffer days between my return and the next date of joining. And that's when the nightmare happened.
Two weeks before the tour, our operator shifted the tour date by one day. One day! And my whole trip was cancelled, due to an overlap and a commitment.
I was shattered! Two weeks were simply not enough for me to plan another international trip.. You'll know why if you have a government employee traveling with you. With my extensive research and obsessive planning of a trip even a domestic tour seemed like just a paper plan.
But... I had to get away!
And the top most, long pending, destination of India for me was only and only LEH! So after another session of extensive Google searches I managed to find a group tour leaving exactly on the last day of my office.
And I knew I had made the right decision, in the flight flying over Leh, the moment I opened my eyes to this view.
You see, it was meant to be... Because what followed were some of the best views I have ever seen in my life.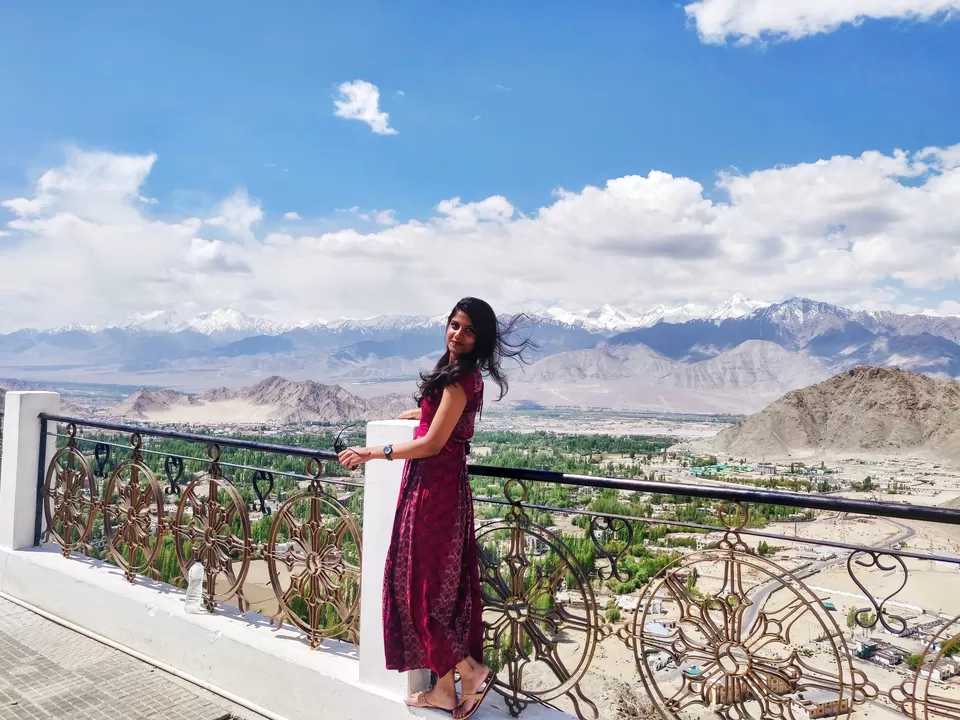 Standing under the scorching Sun with Snow clad mountains in the view and rather cold winds. That's Leh!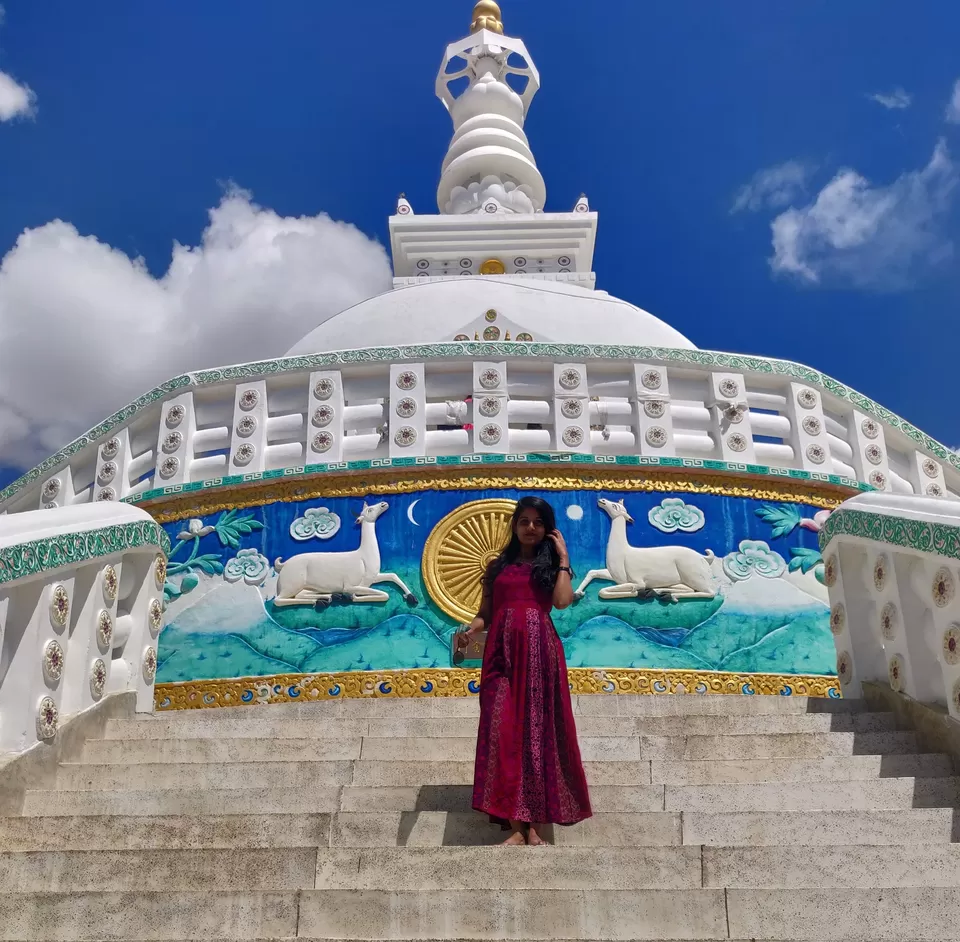 All that patience for a solo pic in the most crowded tourist attraction in Leh. The Stupa is on a hilltop, shining so bright and beautiful that it will make your climb worth it. No, the climb isn't much, but in Leh you feel every step!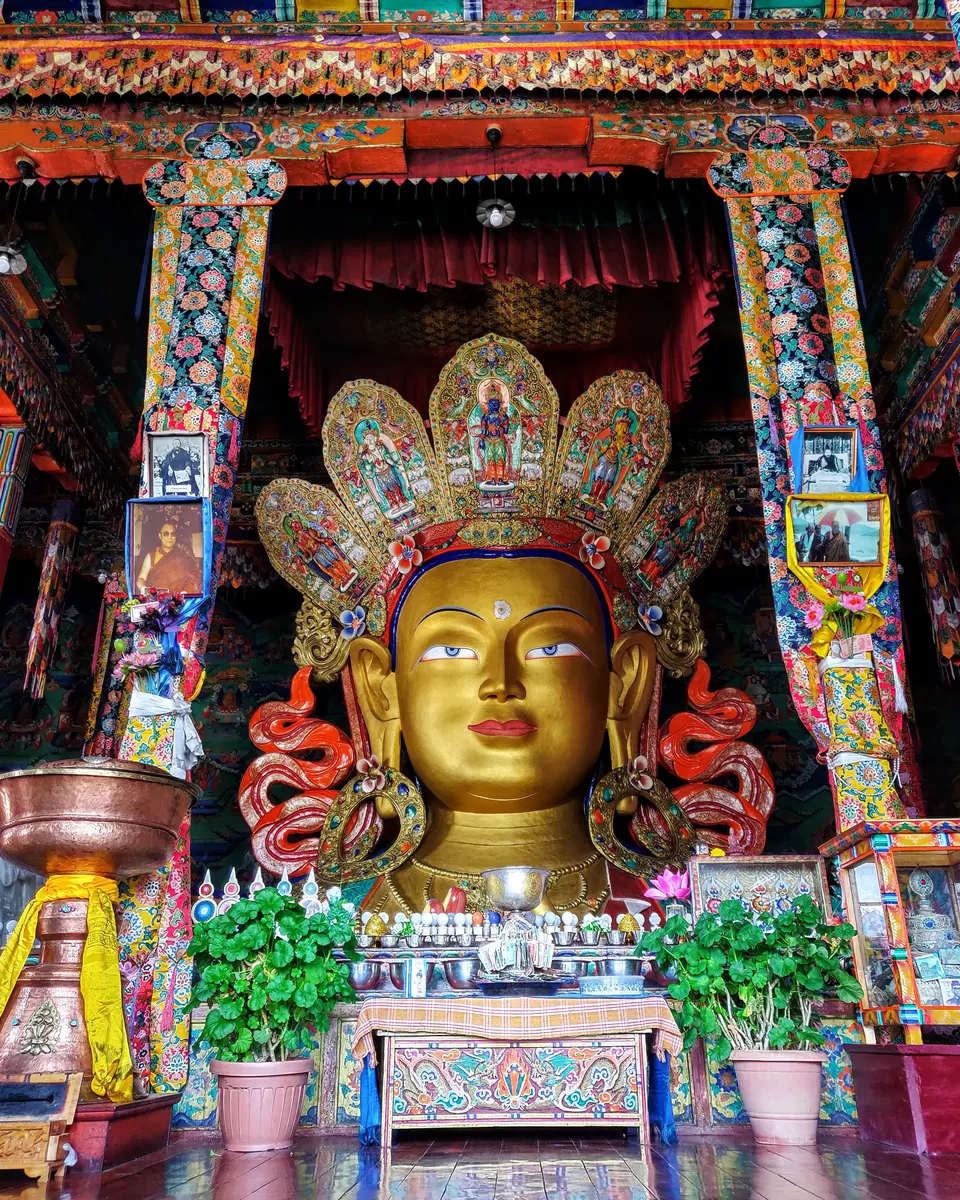 This statue of Maitreya Buddha at Thiksey is actually two storey tall and the top floor is directly accessible by stairs, where I clicked this picture from. Statue is made by local artists and is said to have taken 4 years to complete!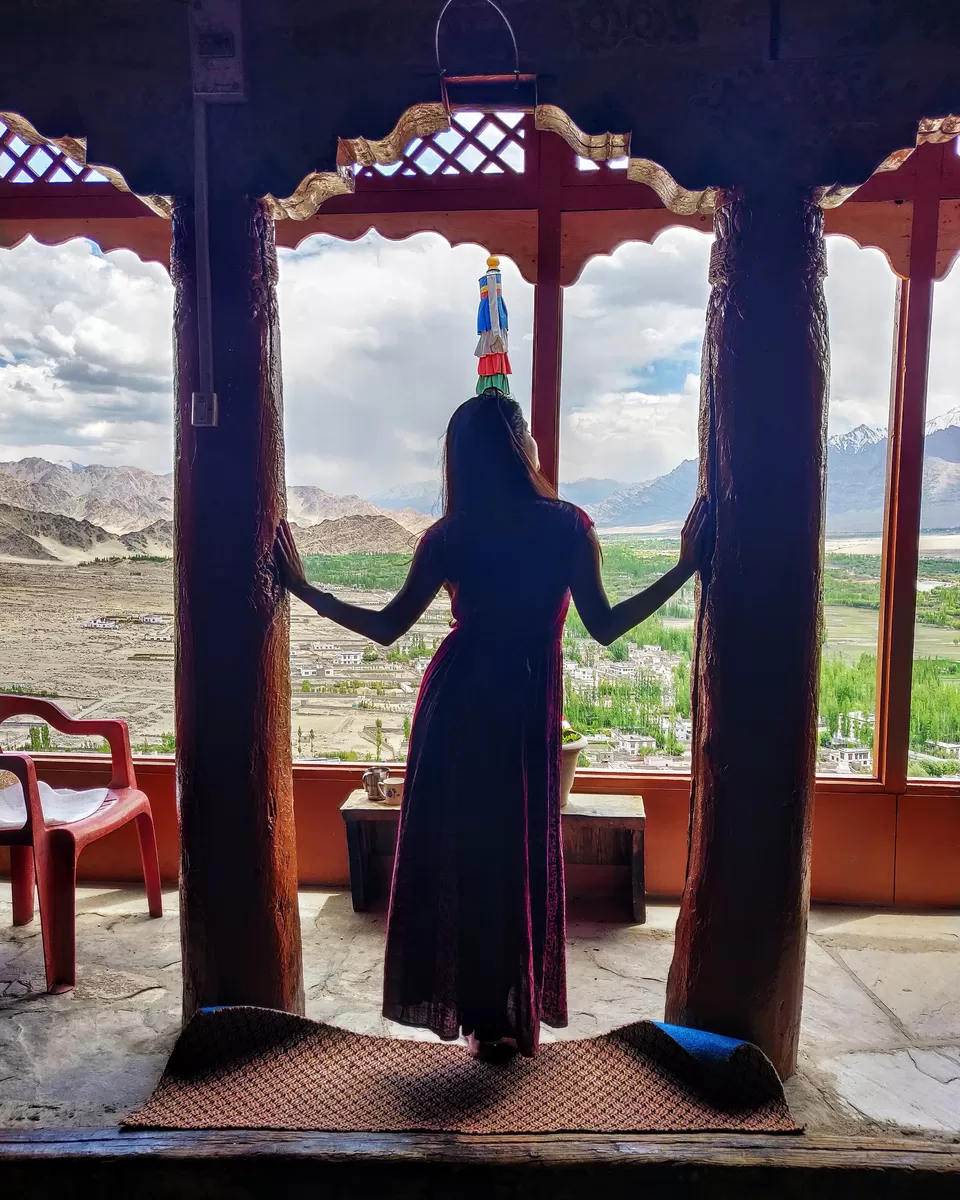 Oh! How the barren desert mountains compliment the snow clad peaks so well. And the town of Leh adding a little green to it!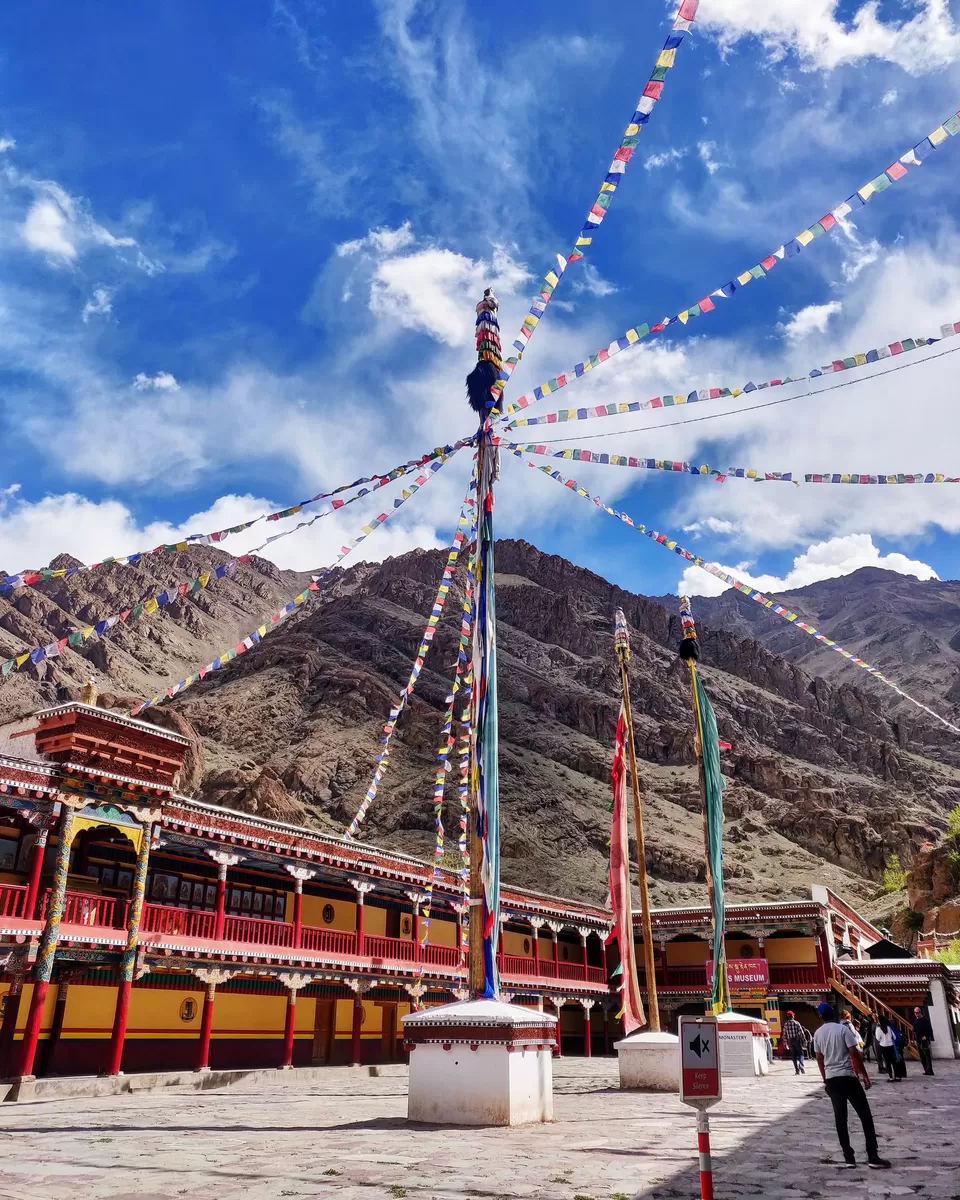 Note : The altitude problem in Leh is Real. You have to be careful with what and how much you eat on Day 1 of acclimatization. By the time we reached Hemis Monastery I had lost 3/4th of my strength and near to collapsing. Not a great idea to start a vacation right? Should not have started with Non-Veg on Day 1 either. Could only hope for a better tomorrow :P
Make sure your permit for Nubra/Pangong is in place and on time with you, otherwise you'll have to kill time at the check point waiting for it like we did.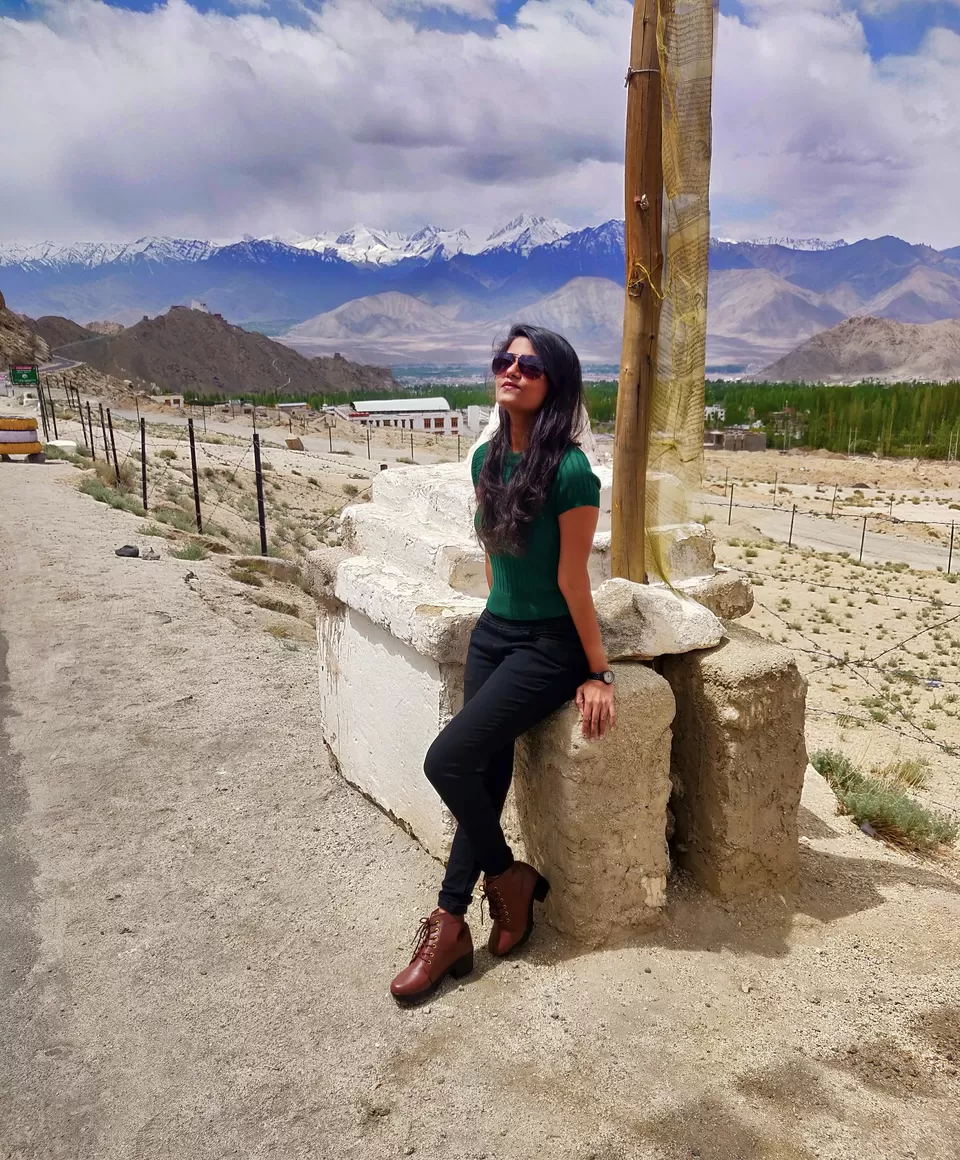 KharDung La pass with an height of 5,602 m (18,379 ft) is the world's highest motorable pass. We could only manage to stay in the shivering cold for just about 15min.
Note : The toilet facility near the famous Khardung la sign board is really bad. So prepare yourself accordingly.
Windy here, windy there, windy everywhere! Don't let the Sun in Leh deceive you. Always, always carry warm clothes with you. This statue itself, as seen from far away, is at a height welcoming winds.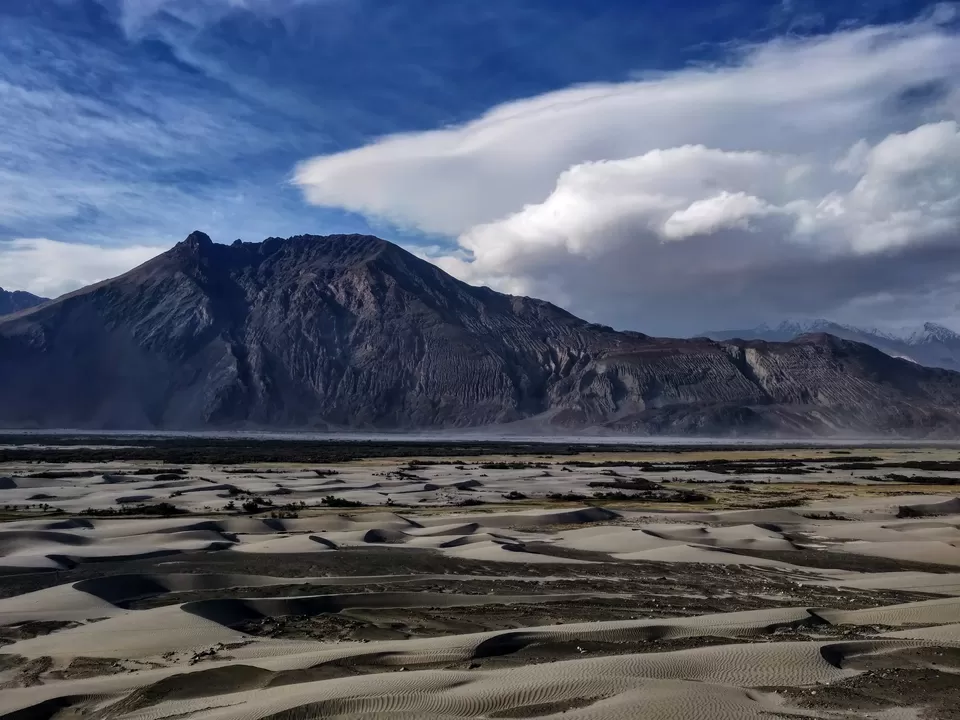 Hands down, The Highlight of my Trip. I couldn't stare enough at this lake.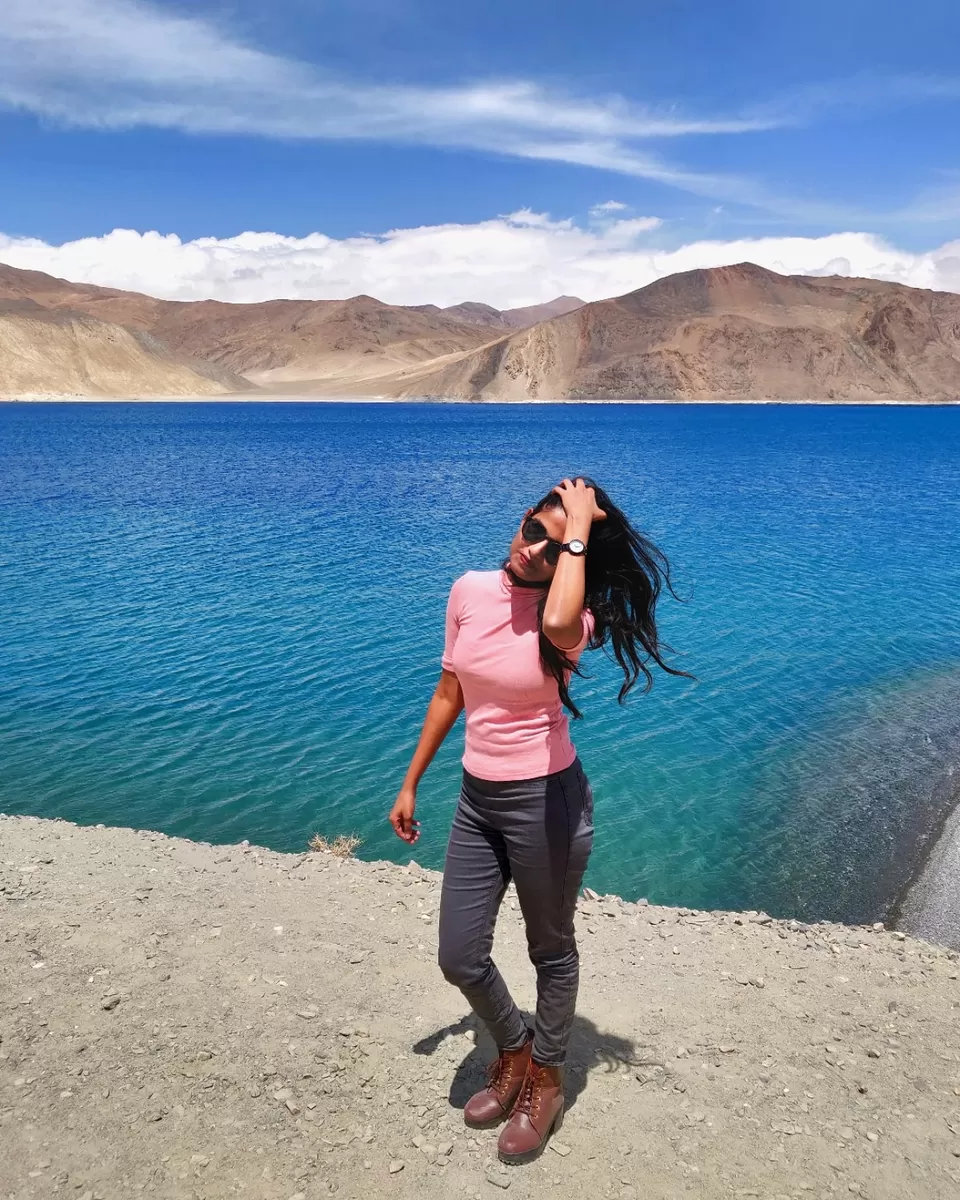 We didn't expect to catch snowfall at Pangong. It was foggy, chilly and numbing. At first I had lost all hope to watch this lake at its best blue. But what you see in this picture is just 15 min later when the skies cleared dramatically. And there it was!
Blue as Saphire!
To head back to Leh today, we took the route via Chang La Pass. Another snow clad pass with teeth clattering cold. Or was it just me?!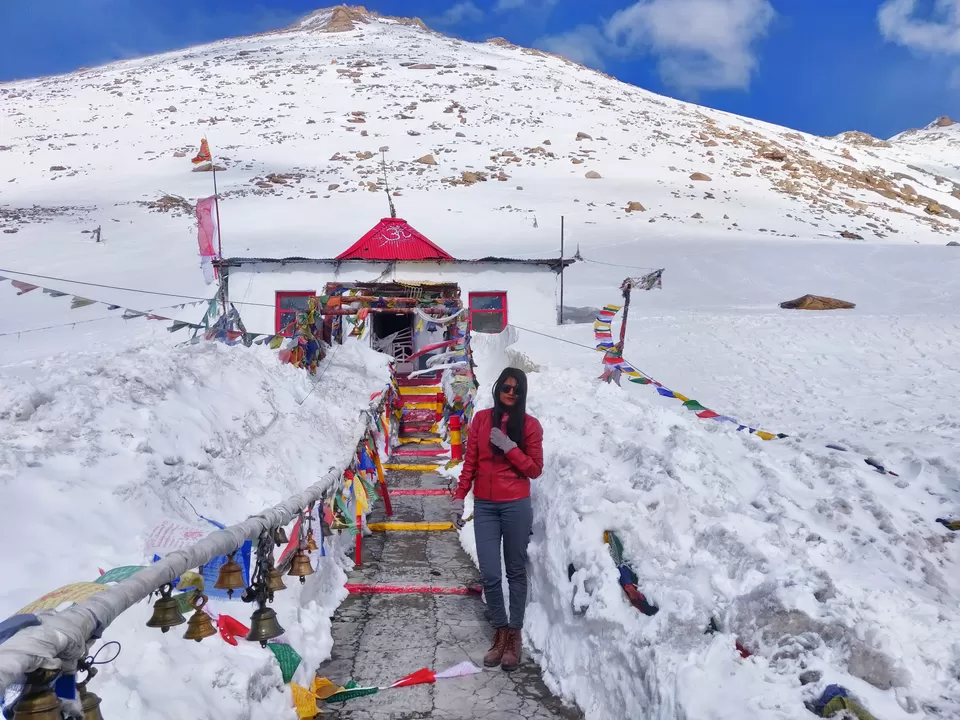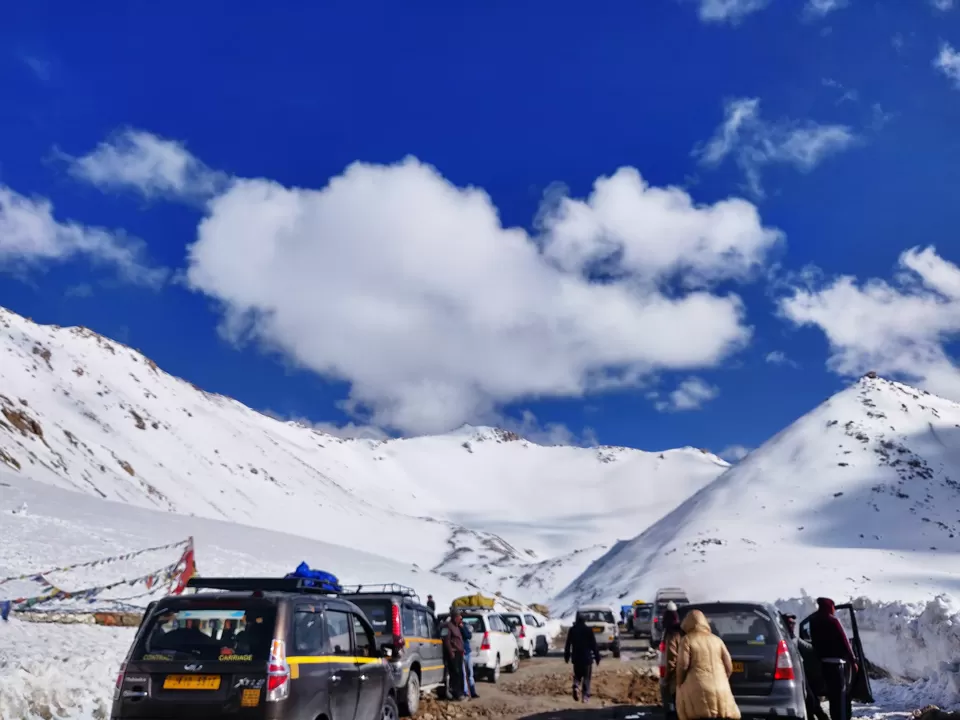 Today, we spent the day in 'Leh'sure. And what better than a cup of coffee in a cozy little cafe? The market is lively and colorful. I would suggest, pay a visit in the evening to really feel the vibes with the market all lit up.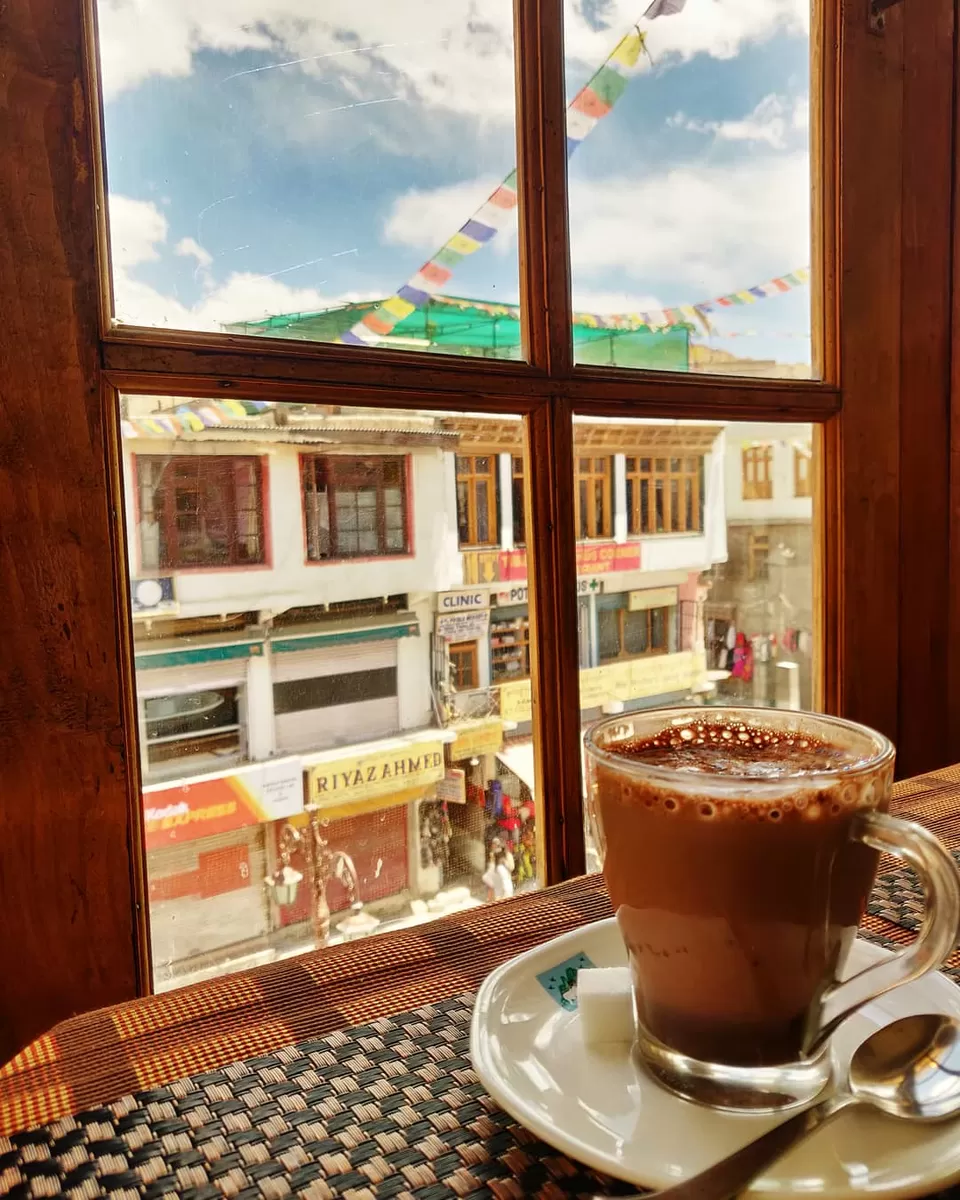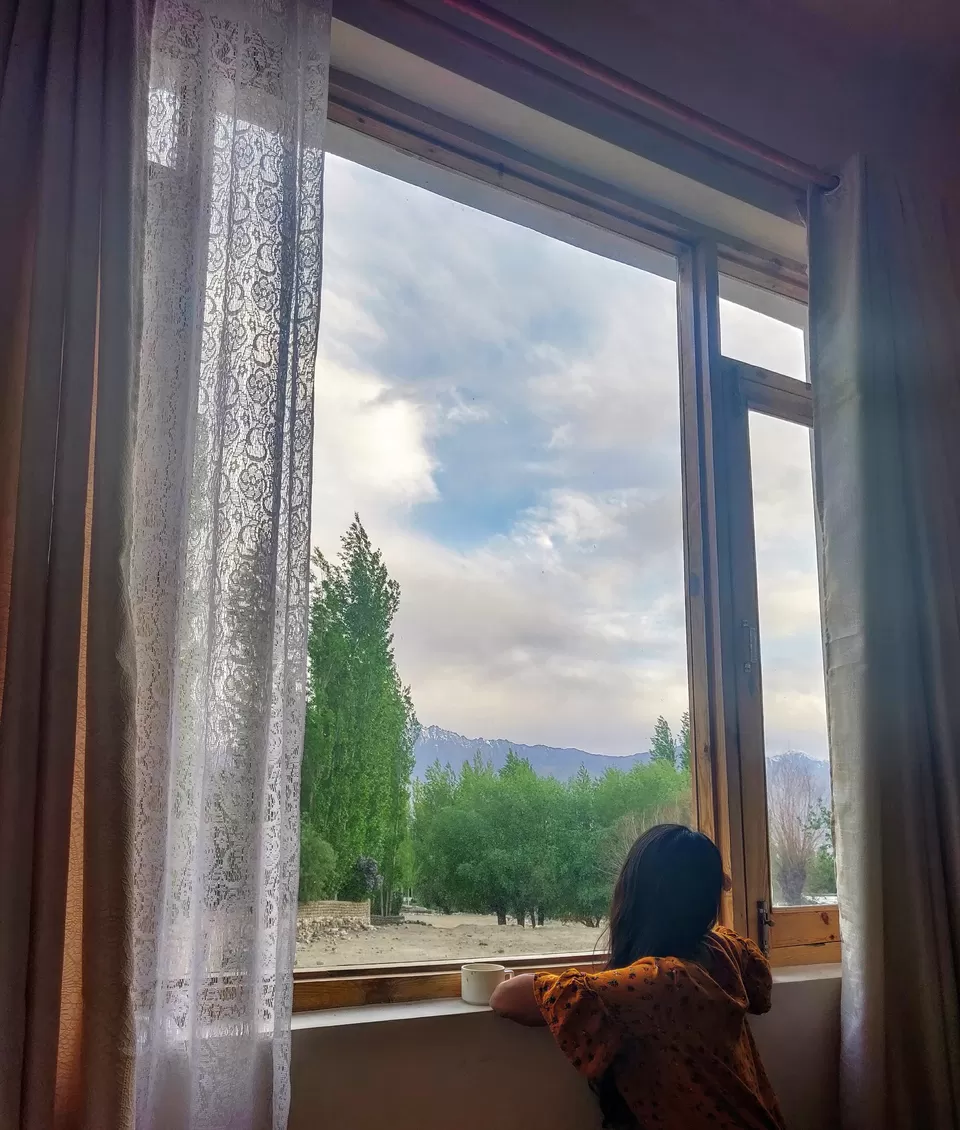 That's how leisure in Leh looks like! Calling it a day.
Today, last day, we were to move from Leh to Kargil. Which means we would cover one of the most famous spots in Ladakh.
I absolutely loved this spot!
This is the confluence of Zanskar and Indus River and its mesmerizing in an obvious kind of way.
Look at those strikingly incompatible rivers trying to merge!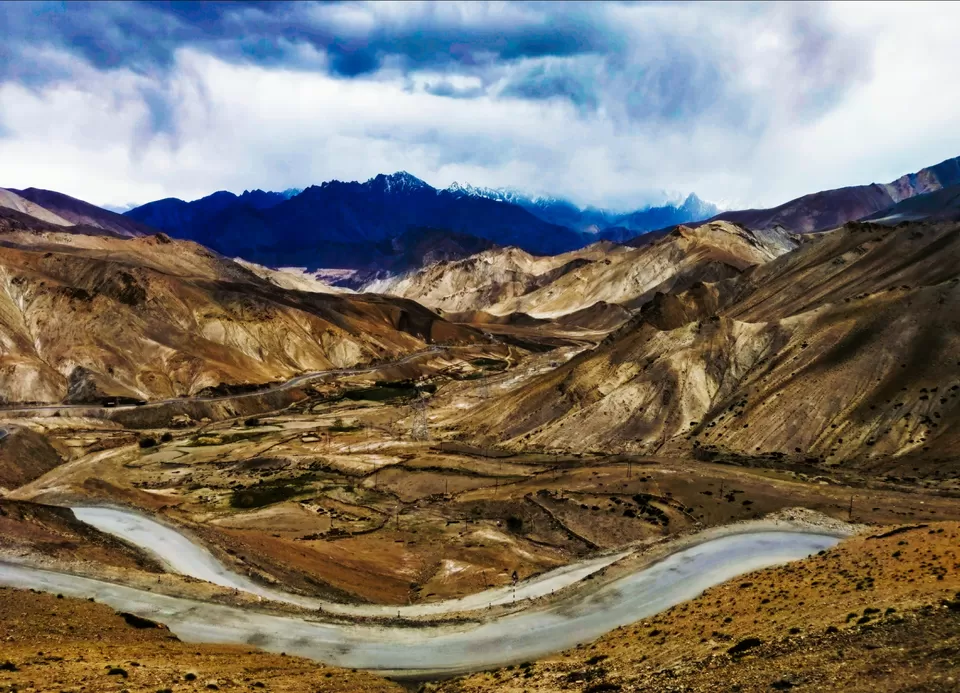 India has been really generous with its diversity and amazing travel destinations which has always soothed my crave for seeing the unseen. Exploring its states for so many years and counting, I still feel I yet have a lot to see.
And LEH proved me right! I had never seen India like this before. A cold desert so raw yet so planned, a side of India so unique from the rest of its states. Leh ❤ An underrated destination every individual must have on their list.