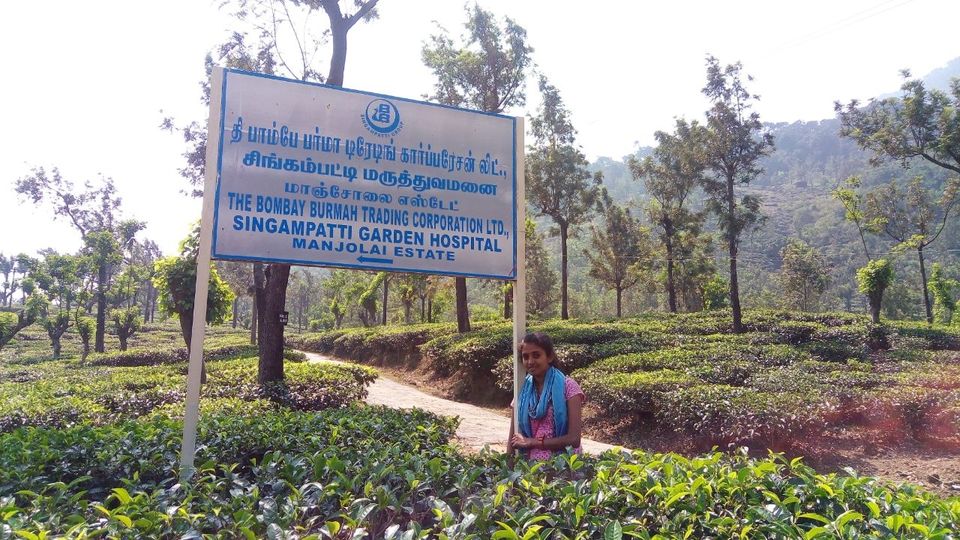 Manjolai Hills is a lovely hill station tucked away deep in the magnificent Kalakad Mundanthurai Tiger Reserve in the Western Ghats. The hills rise to a height of 1000-1500 meters and are covered here with tranquil tea gardens. Manjolai Hills is above the Manimuthar Dam and the picturesque Manimuthar Waterfalls and is 70 Kms from Tirunelveli. Manjolai Hills is famed for its lovely weather, which is such a blessing after the searing heat of the plains. It is also known for its awesome scenic beauty and the serenity of its surroundings.
Manjolai Hills will offer you some well-deserved R&R (rest and relaxation). Just looking out at the panorama of emerald green tea gardens laid out like a welcoming carpet can soothe you. There are some nice viewpoints from where you can relish some stunning views of the surrounding hills and forests. Gushing waterfalls, grassy meadows and dense forest make this a nature lover's dream comes true. Enjoy the serene tranquility and glorious beauty of Manjolai Hills. Take longs walks in the quiet tea gardens or trek into the nearby forests.
Head to Manjolai Hills and savor the peace and quiet and enjoy some great views. You could trek into the forest and spot some wild animals. It's definitely a must-visit destination of you want to recharge and refresh your city-weary batteries. Manjolai is a hill station, at a height of around 1162 m. This place is famous for its tea plantations, amongst which the Bombay Burma Tea Estate is the most prominent. Due to its scenic beauty, this place is compared with Udhagamandalam (Ooty). Other important tourist spots near Manjolai are the Kakkachi and Nalumukku.The area around Manjolai hills comprises tea plantation, Upper Kodayar Dam, a view point named Kuthiravetti and small settlements. One can spot three tea estates within the Manjolai area. A trip to Manjolai is worth the visit. There are many small waterfalls amidst lush greenery all the way to the top. The place has not been, however disturbed by mankind and the birds with their cries and chirps welcome all visitors to the place. Manjolai is also called the poor man's Ooty.
Trekkers can have good time trekking amidst of thick plantations. You should also visit the Manimuthar Falls. A dam was built across the fall and it is named as Manimuthar Dam. One can also catch the breathtaking view from the windy view point called Kuthiravetti. It is essential to get permission from forest department while travelling in private vehicles. Government buses are also available to reach this lovely hillock.
En route to Manjolai from Manimuthar, do stop at the pretty Dasan Pool (called Tarzan Pool by the locals!). The pool has crystal clear fresh water and is surrounded by lush greenery. It is a lovely place to breathe in some chilled, fresh mountain air. Check out both the Manimuthar Dam and Papanasam Dam. Enjoy a boat ride at Vana Theertham. Kalakad Mundanthurai Tiger Reserve is a lovely place and will fascinate wildlife lovers. You may also be lucky to catch a glimpse of elephants, bears, bison, wild boar and Sambar deer. However, do remember that this is a reserved forest so you will need permission from the Forest Department.