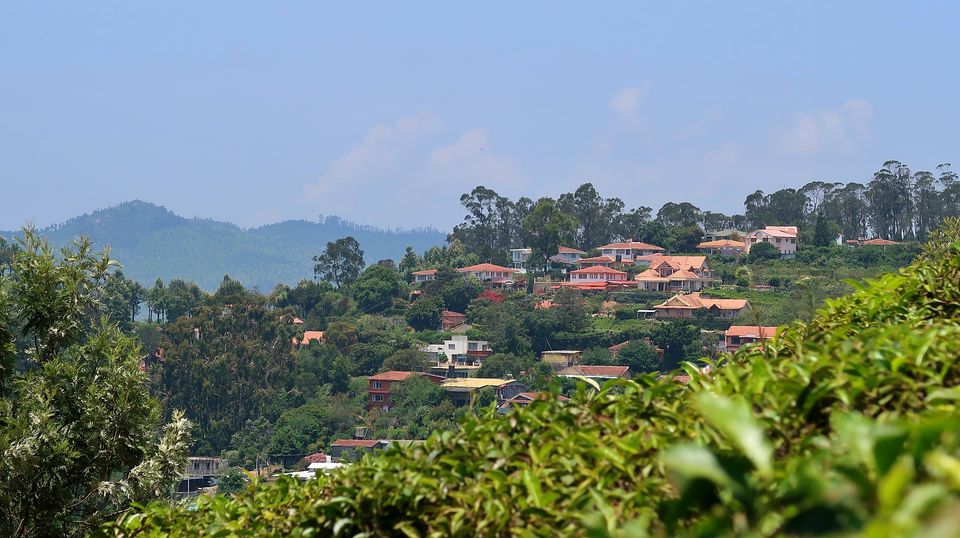 Breathtaking view of hills, rich green colour of tea gardens and pleasant weather.. Ooty indeed is the "Queen" of the Nilgiri hills. I recently spent a weekend here, just before the monsoons, and it has turned out to be a lovely experience! so much of surprises.. forests, lakes with fresh water, tea gardens and green meadows, all at one place and then houses painted with bright colors, factories for needles, army training center and golf courses!
Let me walk you through the spots that left a mark in my head.. meanwhile, for a quicker glimpse, you can watch this YouTube video

1. Beauty of Pykara:
Famous for film shooting area, Pykara is indeed the best spot in Ooty. It starts with ride to Pykara lake, followed by 6th mile and 9th mile and finally waterfalls.
9th mile: The mesmerizing view of green meadows stretching out against the higher peaks, which are covered with floating clouds. The changing colors of sky around sunset, blows off your mind. This is an ideal spot where you can sit down and get washed away with the sweet breeze. (These views are somewhat similar to Switzerland).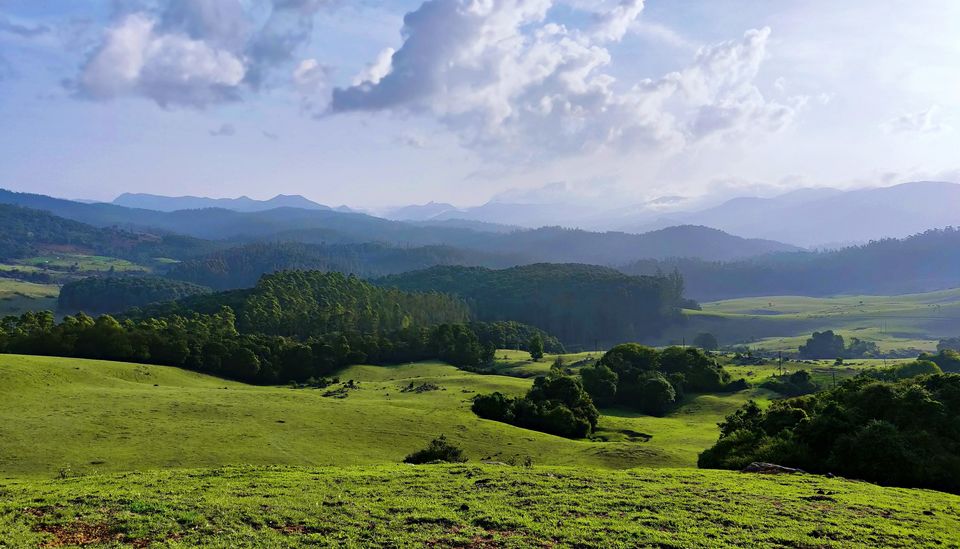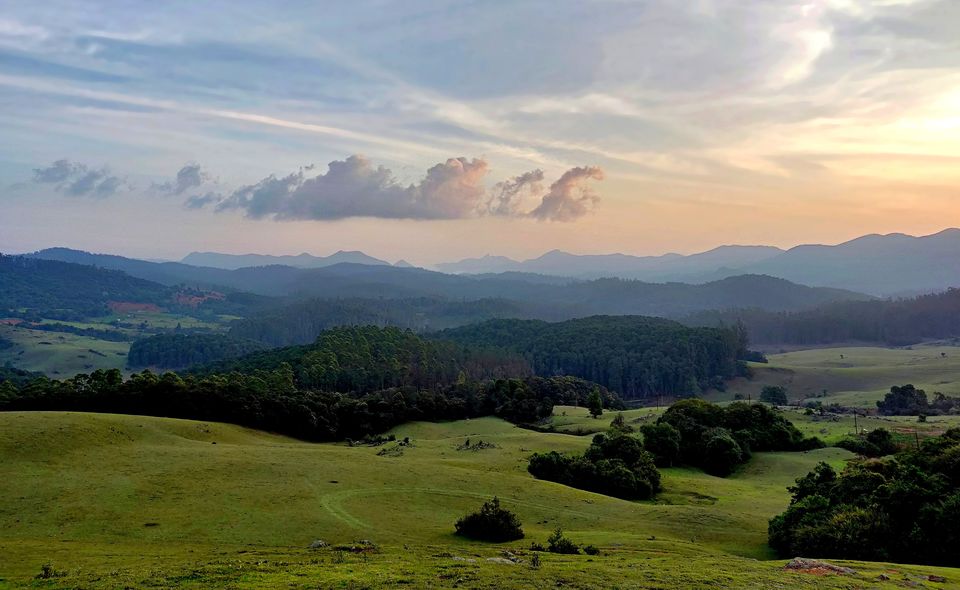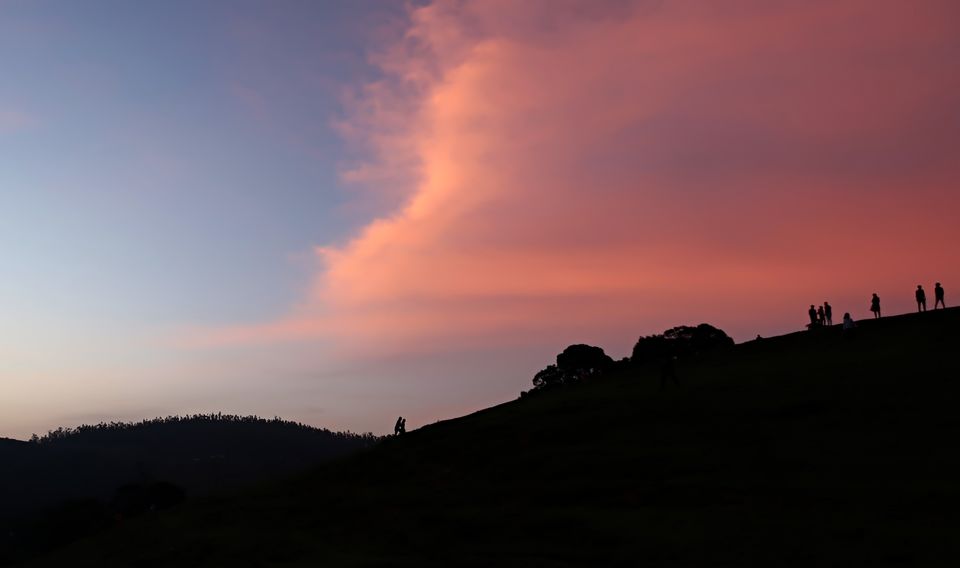 Best timings: sunset
Next is Pykara lake, which is very huge, and very clean. This is famous for boating, and as a perk you get a glorious view of neighboring hills. Apart from this, there is 6th mile area, which is relatively smaller. There you can easily get to do horse-riding (but the path covered is mostly road side, so prefer doing it in 9th mile area.. where you can actually ride it in meadows!).
Pykara waterfalls: Since it was pre-monsoon period, it turned out to be a small stream stepping down on hard rocks.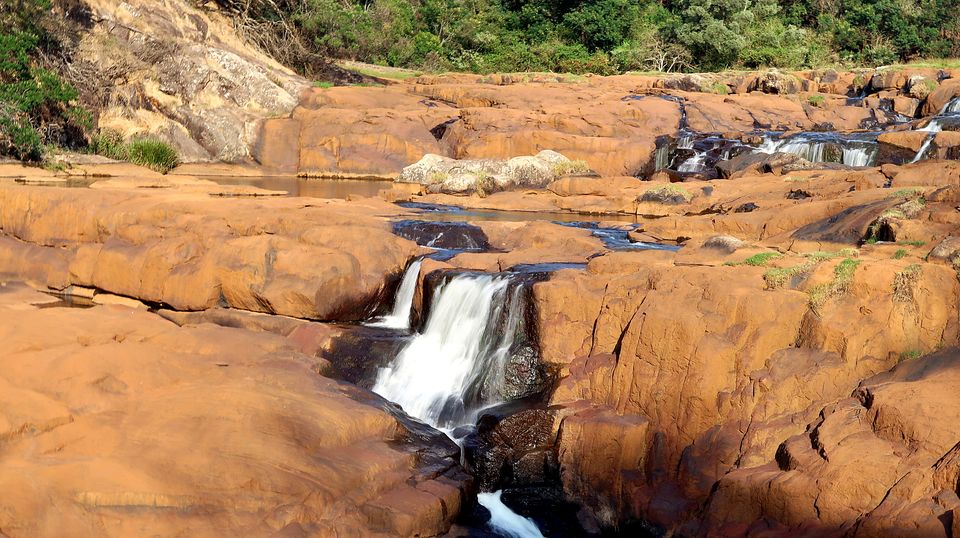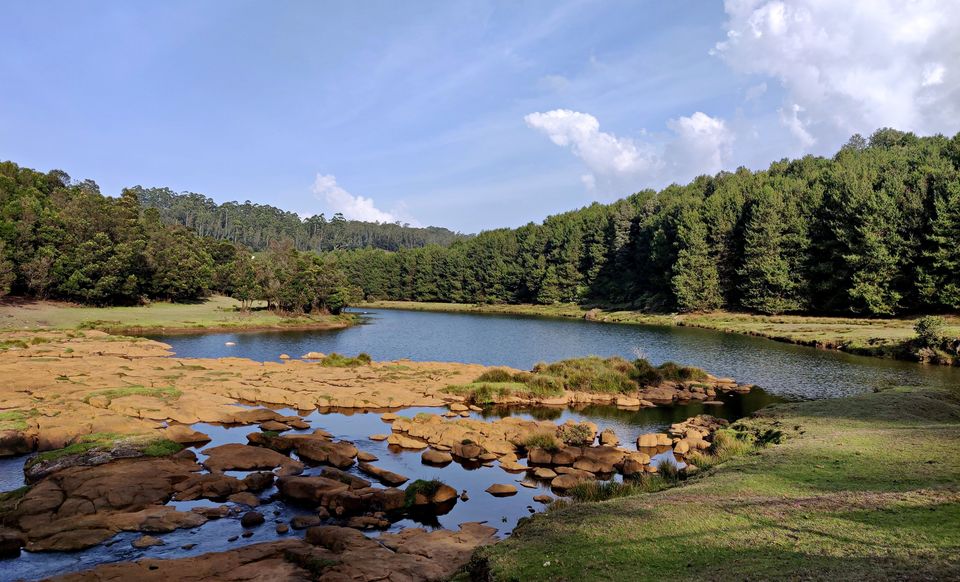 2. Avalanche lake: The forest safari to the Avalanche lake gives you glimpse of wild evergreen forest, there are chains of Eucalyptus, Cyprus and pine trees. You might even spot wild bison here.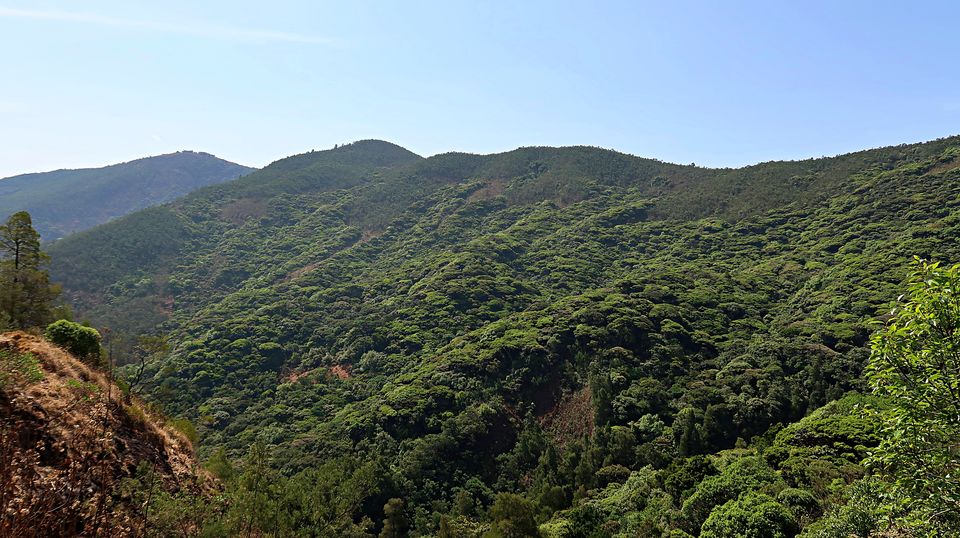 And once you arrive at the spot, its like a wild beast stretching itself against the walls, with crystal-clear blue fresh water. During monsoons, it fills up covering the entire orange sand region you can see in the picture above. This lake was formed by a landslide that occurred in 1823, and hence it's name (and there wasn't any avalanche at all!)
Emerald lake: On the way to the Avalanche, you also get beautiful views of emerald lake. The tea gardens on the surrounding hills provide green color fairly enough to make it very photogenic.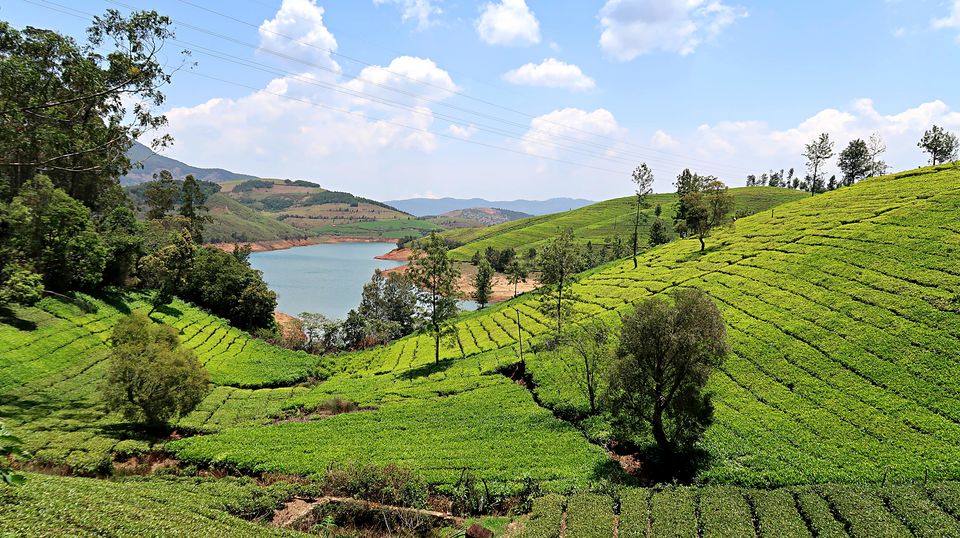 Best timings: first safari begins at around 9 AM in morning (private vehicles not allowed). Try to reach early, since there are limited number of jeeps and shuttles and in case you miss the first slot, you would have to wait for another 2-3 hours.
3. Botanical garden: Here you can find immense variety of trees, flowers, ferns.. many aging more than 100 years. The lower part of the garden is colorful and a busy picnic spot, and you might wish to explore the dense, lush green upper half.
Rose Garden is also a famous tourist attraction in Ooty, with more than 1000 varieties of flowers.
4. Dodabetta peak: This is the highest peak in Nilgiri hills, which gives you complete view of Ooty city, hills, lakes, plains, terrains, surrounding reserved forest and much more.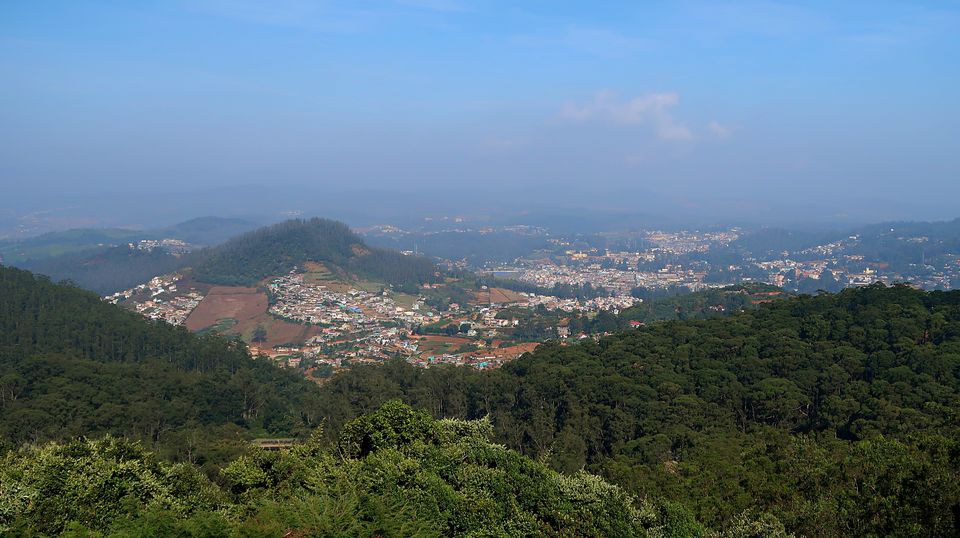 5. Ooty lake: Artificially constructed, it used to be one of the most picturesque lake in the south. Many come here for boating, however the water is now contaminated and it doesn't appear to be clean. It is recommended to do boating in Pykara lake instead, and simply take a walk in morning or evening from the hotel (most of which are close to the lake) to make sure you didin't miss something big.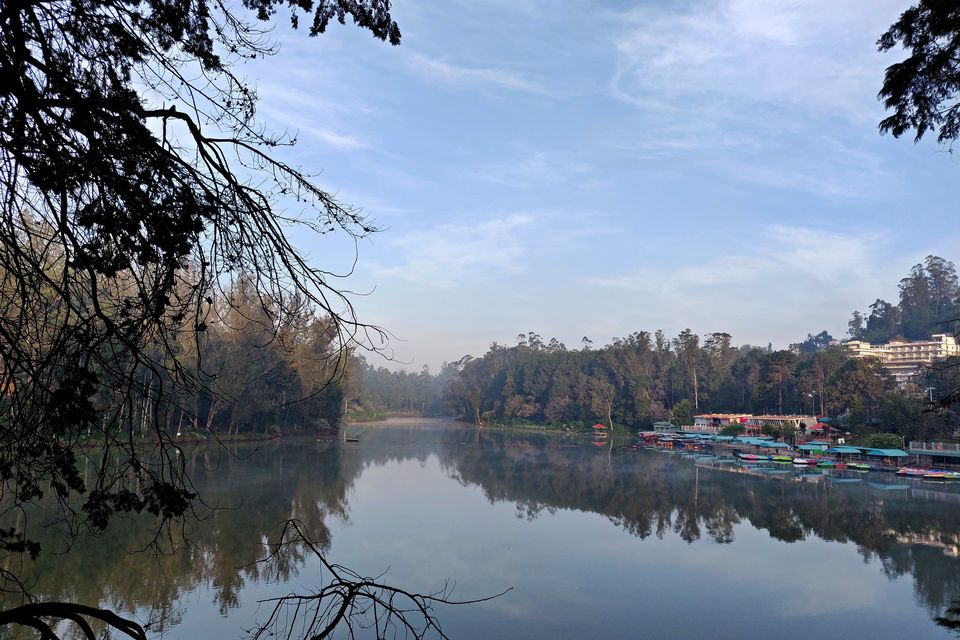 6. Coonoor: known for tea gardens, these hills are a treat to your eyes. The taste of tea is so awesome here, and you surely should buy a packet from a factory outlet. Remember to ask locals how exactly they brew it, or later at home you are going to bang your head. Also on way from Coonoor, there is Wellington Cantonment, a regimental center of Indian Army, with a beautiful golf course.
People in Ooty:
The British discovered the region in around 1890, and found it as a perfect weekend getaway spot, and that is when growth of Ooty begin. Proposals followed for the construction of schools, churches, golf courses (they are so big!), army training centers, factories manufacturing needles and military equipment... Many people migrated from other parts of Tamil Nadu, in search of employment around this time. There are large farms of vegetables, spices, beetroot and carrot.
The hills are well maintained by the government, given that plastic is successfully banned.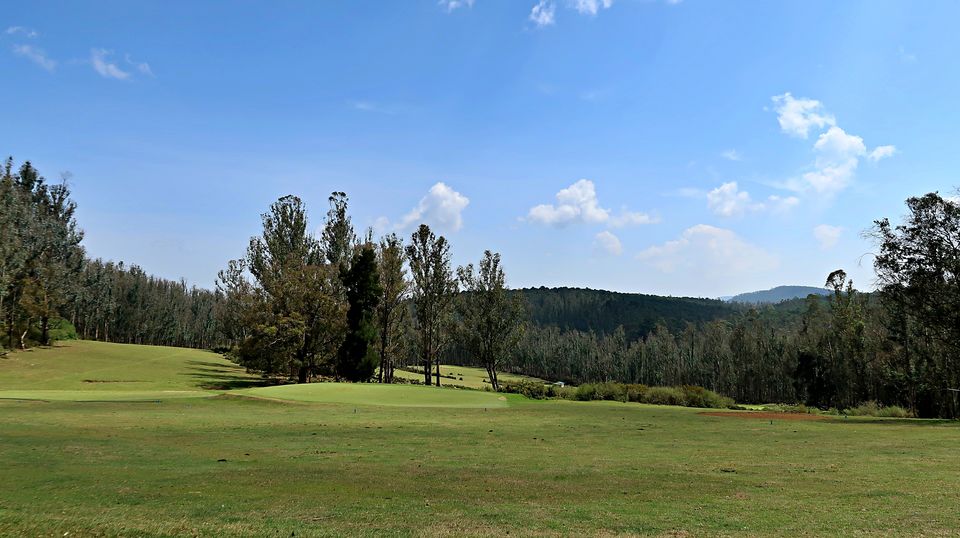 Few notes:
1. Transport: cabs for rent. You can also rent bike for most of tourist spots. For avalanche lake specifically, private vehicles are not allowed inside the forest.
2. Weather: Best time to visit is just after the monsoons, when the waterfalls grow fierce and lakes are full at their capacity.
3. Things you can carry home: homemade chocolate, oils for massage, spices, tea.
4. The tourist spots are charged for camera (10 to 20 Rs).
5. Hotel booked: Hotel City Palace: it was a decent hotel to stay and very near to Ooty lake as well as cab stand. Even Botanical garden and Rose garden are within walking distance, only if you don't consider 2 km as a pain ;)
And few more from our collection: