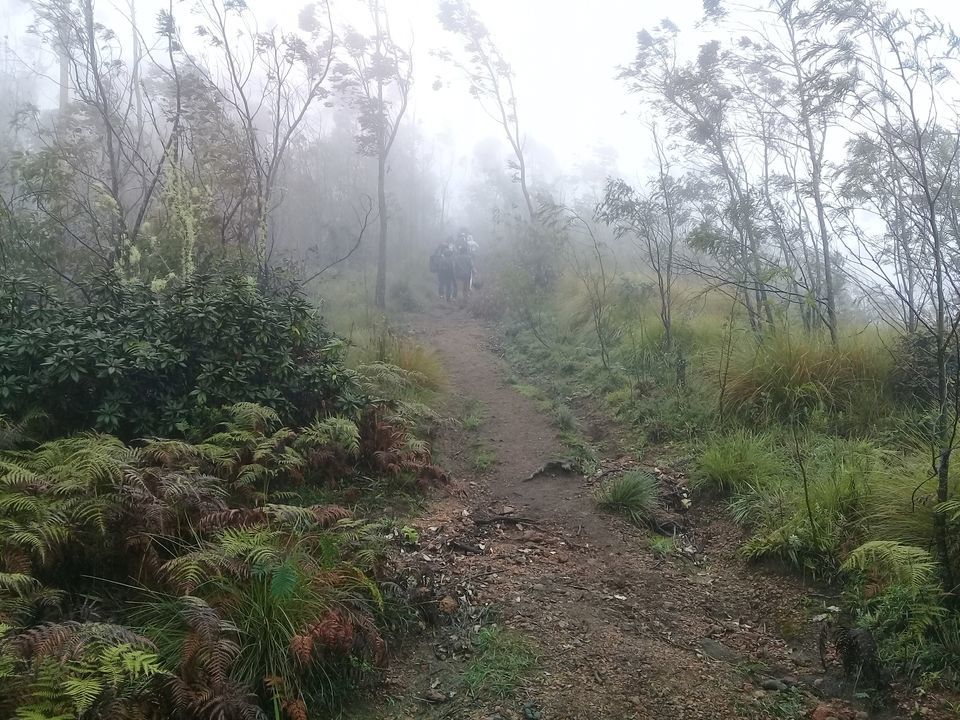 It was the last weekend of September when we, a group of 20 women started off from Kochi to the base camp in Munnar. As I threw my 50L backpack to the luggage boot of our bus, I made sure that all the snack packets were in my hand. Our trek leader enthusiastically took head counts and made phone calls to the ladies who were waiting en-route. We stopped for lunch in Munnar town. Seeing the many shops that sold home-made chocolates, I quickly bought some stuff to gift my son when I return back home. Post lunch, I managed to get everyone into a frame to click the first selfie. The age group was a mix of middle aged women and those who are in their twenties.
The big bunch got split and soon we were in three jeeps off-roading along the winding roads uphill. We watched tea estates and scenic mountains like a fast slide-show. The bumpy ride got us tired (if only we knew what awaited us the next day!) and we exchanged looks wondering how long is this journey! So, we reached the base camp by around 4 PM. The camp invited us with a beautiful garden with plenty of blooms and a chill weather. And the best part - no network coverage. :)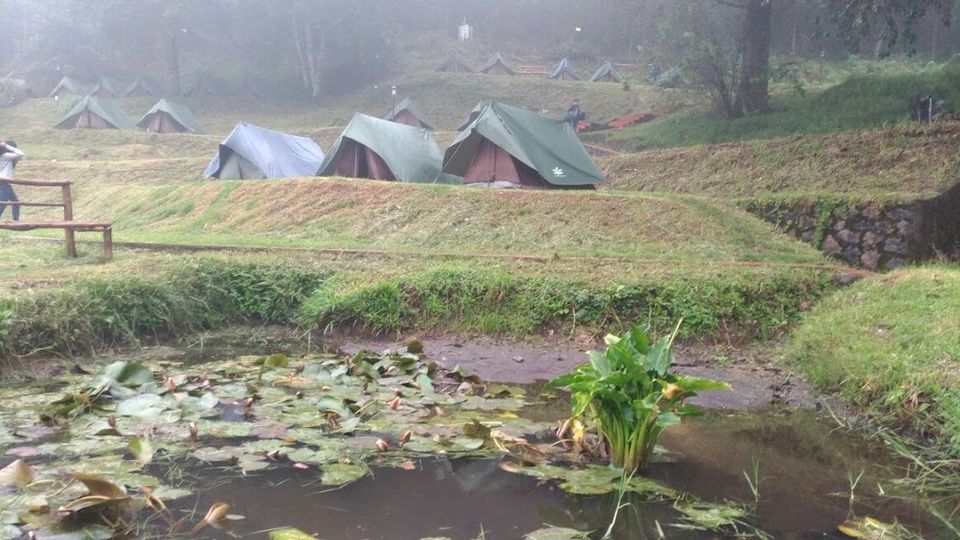 Rows of camping tents were pitched over the hilly side adjacent to the main building. The warden informed that one tent could accommodate two persons. The moment I stepped into the tent with a rolled sleeping bag in hand, I realized this is going to be a crazy venture!
The black tea served with biscuits felt like just the right thing to have in that nippy weather. The shrill noise of cicadas took me to that lost-in-the-woods state of mind.
By this time, we already got introduced to leeches - a constant till the end of journey. Before night fall we had to conclude usage of washroom facilities as there were no lights there.
As darkness creeped in, we gathered near a camp fire for dinner. Songs were sung, laughs were shared until we got a reminder to get back to the tents.
The morning which we looked up to with much eagerness and anticipation had finally arrived. Icy cold water ran through the taps as we attempted to brush. Breakfast was a splendid spread of Puttu+Kadala curry (exclusive Kerala breakfast), Boiled bananas, Bread Omlettes, and Apples. We got our packed lunch and water bottles from the camp staff. Cheerful & excited faces were seen all around me. It started to drizzle - the rain coats that we carried were real saviors. Two guides were to escort us during the expedition.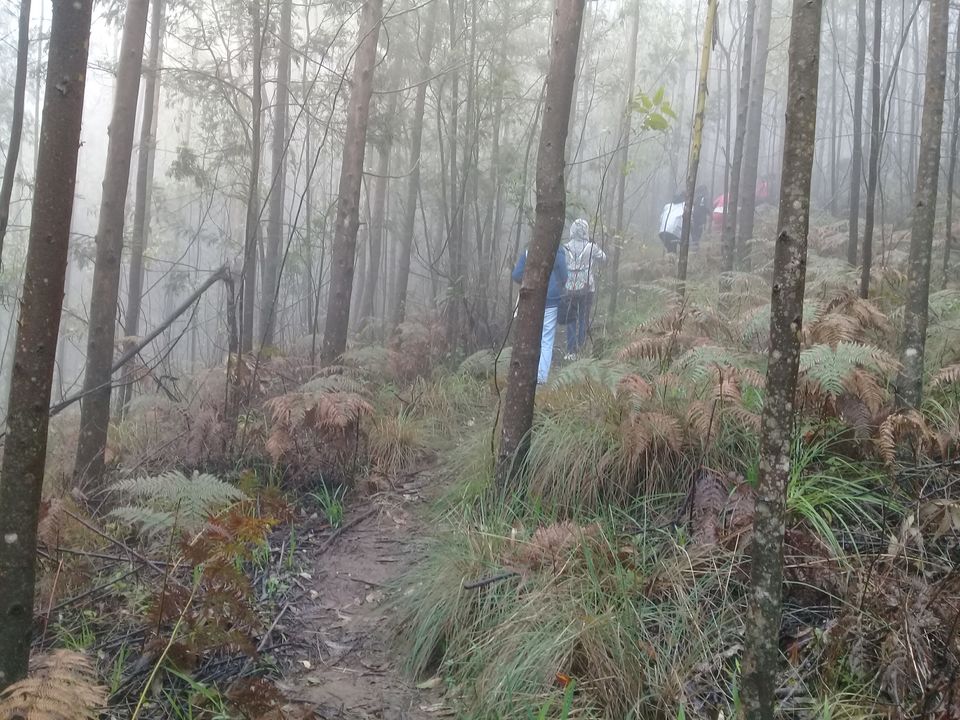 We started off to the woods walking in line like school children taken for an excursion. I tried to capture a picture of water droplets dripping from pine tree needles. We started the ascent and soon we were far from each other trying to catch up with the pace. Tall eucalyptus trees & leafy ferns looked splendid covered in a blanket of morning fog. We took frequent breaks whenever needed - sometimes to catch a breath, sip some water or to click a picture!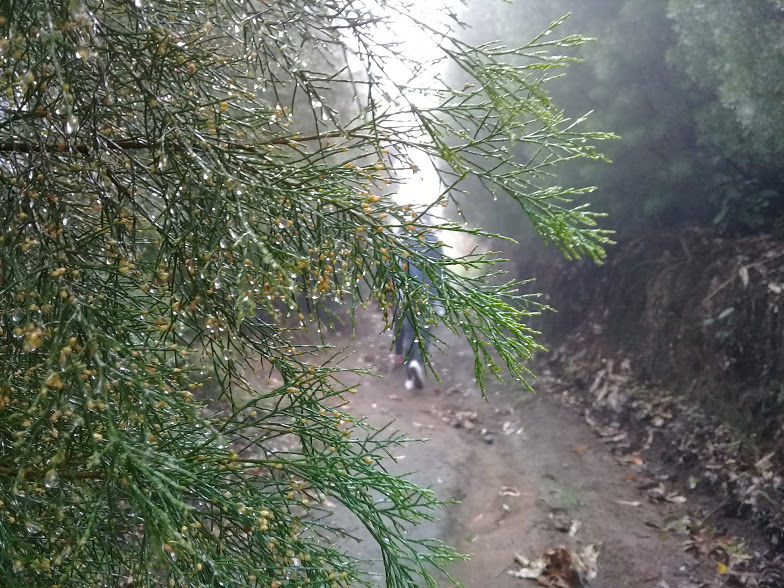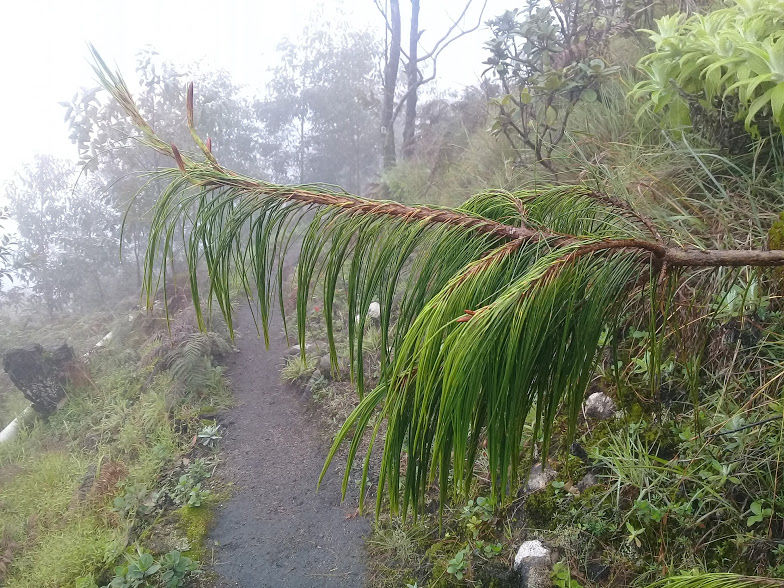 There was a brief halt near Rhodomansion where there is restroom facility. It is an 8kms trek from this point to Meesapulimala peak. We were to cross eight hills to finish the summit. The real feel of adventure gradually unfolded as we crossed pine forests, meadows and waterfalls. I collected pine fruits to keep as memoirs of this journey. The trekking route was sometimes so narrow that we had to be watchful not to slip. At once I was lost alone in that world - I paused to admire the beauty of wild flowers & listened to the gurgling of a waterfall hidden in fog. I looked ahead - the girls were gone. I hurried through the wilderness feeling like a character in fantasy movie. Everything was so Real yet so Unreal for me! Yes, it was that part of the earth which I always missed & yearned to see.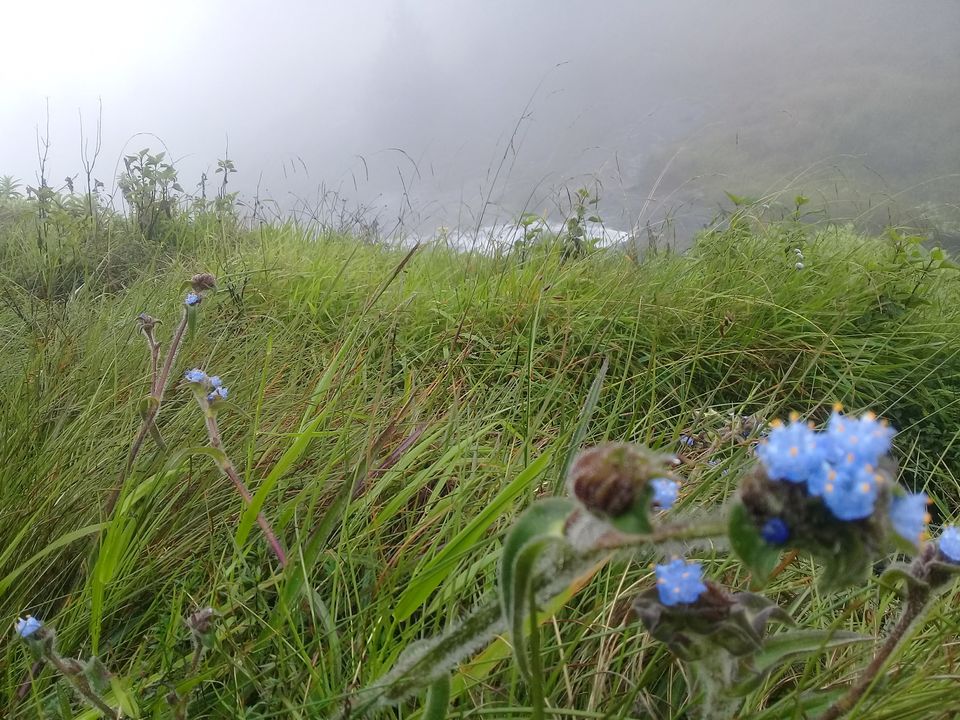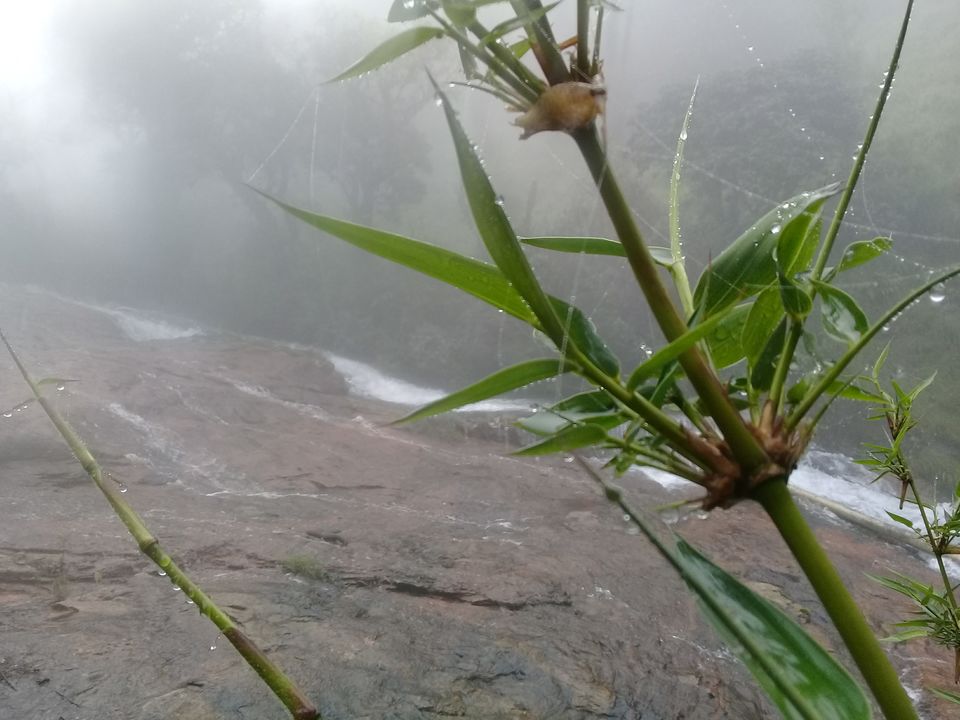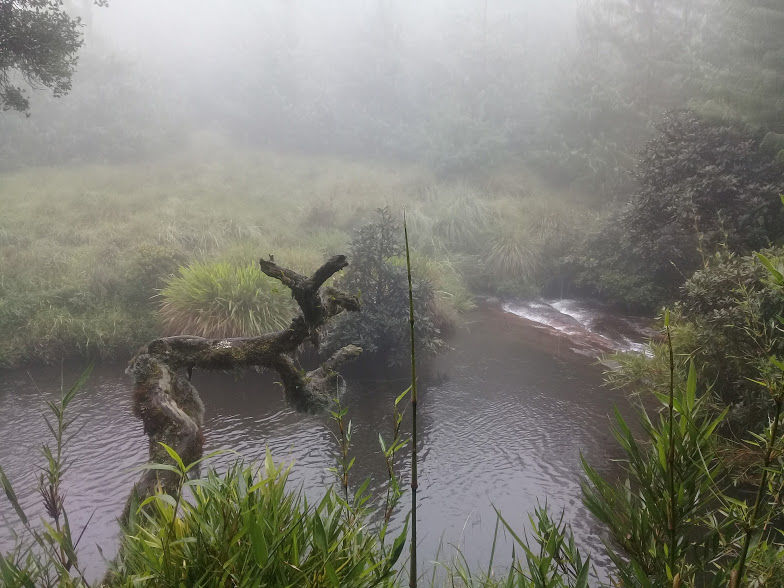 We moved to higher altitudes where the air was so fresh & crisp. That's when I asked our guide about a plant like stuff which clung to the tree barks. He said they are Lichens which grow only in places where there is pure oxygen.
Along the way we kept pulling away leeches from our shoes by putting salt. Boots or knee length socks - they somehow got inside & sucked out our blood. I got kind of accustomed to these organisms. A stream of fresh water flowed along our way & we couldn't resist drinking a mouthful. Hunger pangs had slowly hit everyone but we decided to move until we found a nice place to gather. Little did we know the plan of nature - a sudden drizzle began in no time leaving our bodies numb with cold. However we sat and made attempts to have the packed rotis. Time was ticking and we had to reach the peak by noon so that we can return before it's dark. The last climb was the steepest of all - a real challenge to test our abilities and will power. Many of the ladies felt like they were about to crash but yes if you have the mind you can do anything.
Once again I was away from the pack, all alone in the mountains. As I walked along the narrow path, the grasses played a melody & danced in tune with the heavy wind. The sun & the clouds displayed a bewitching sight that I watched in awe. The grass meadows glittered like gold as sunlight pierced in. For a moment this lasted and then it's gone. This hide & seek game was just beyond words can describe that it made me stop & pray for a few moments. I stood somewhere near the Meesapulimala peak thanking God for all the beautiful things I could see & feel - remembering the track "these are the few of my favourite things".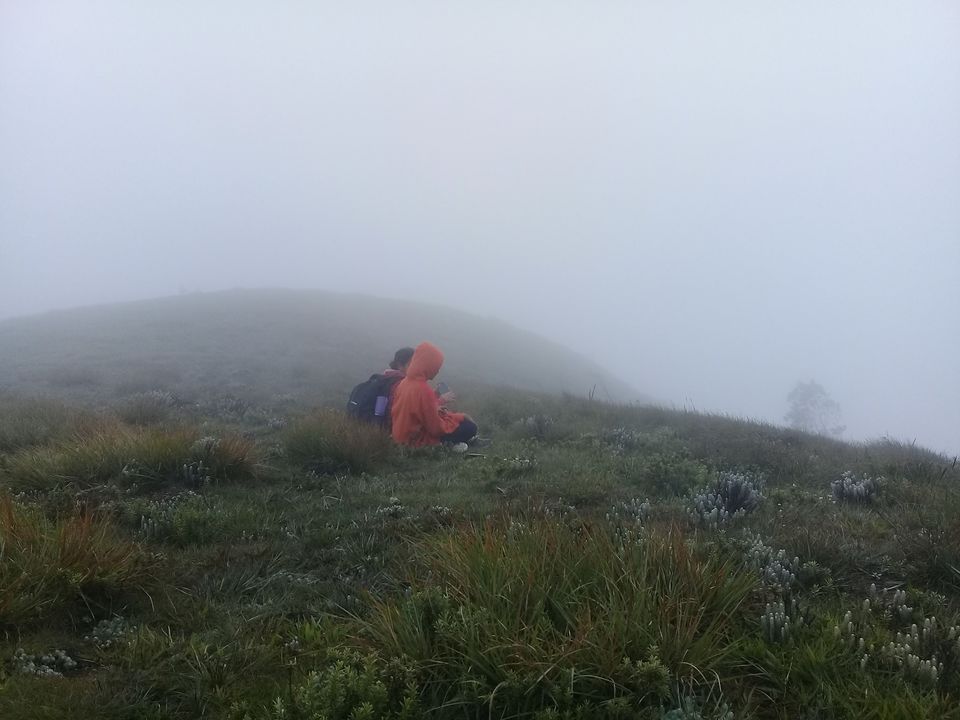 By the time we reached the peak, thick fog had played the trick & we could see nothing around. 10 minutes of contemplation & breathing fresh air sitting on top of that mighty mountain is all that we got. Despite falls and out of breath moments we all made it. We conquered the peak and stood at an altitude of 8661 feet touching the clouds. How true is the quote - It's the journey that matters not the destination!
The descent felt like an endless loop where we all looked emotionless like zombies. It took almost 9 hours for us complete the trek. Seriously what an experience it was - truly moments that will last a lifetime! Women who scream at the sight of a worm - that day we had leeches in our shoes all the way. Back home we never stepped in the backyard fearing that our feet will get dirty, here we walked nonchalantly along muddy marshlands. Although we never let a raindrop fall on our heads, that day we got drenched for hours during the trek. This journey was about how much you can do, how much you will withstand when you are out there in the wild. So why wait, go explore the unexplored.
Visit http://munnar.kfdcecotourism.com/BaseCamp.aspx for booking the camp facilities.
Tips: Carry water, umbrella, caps, raincoats, salt (for leeches), snacks such as dry fruits or chocolates, glucose, necessary medicines. Wear comfortable sports shoes with good grip.