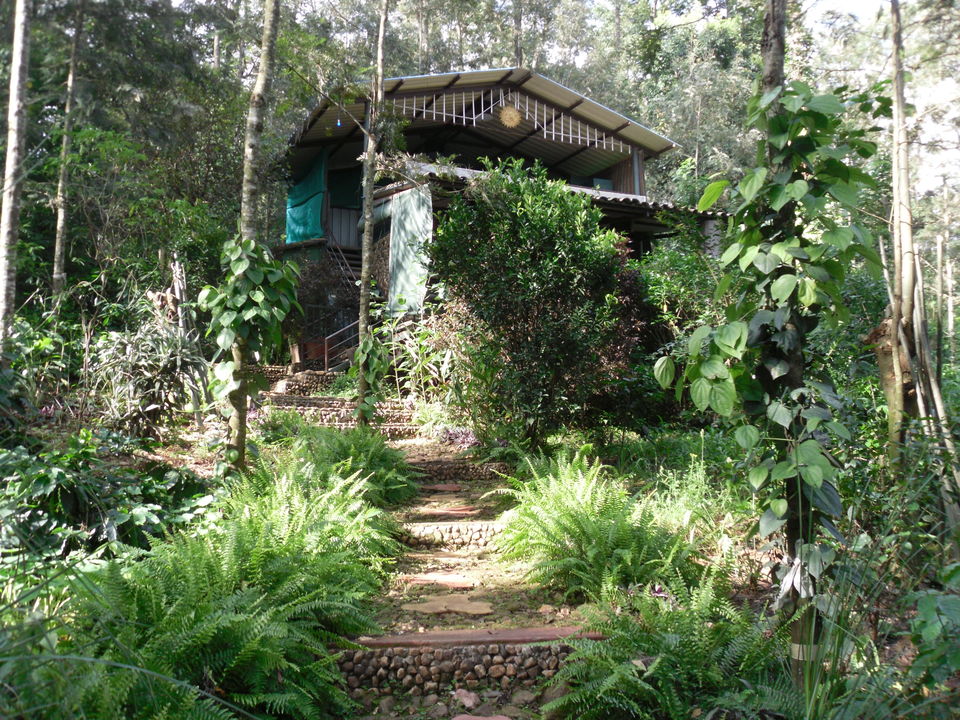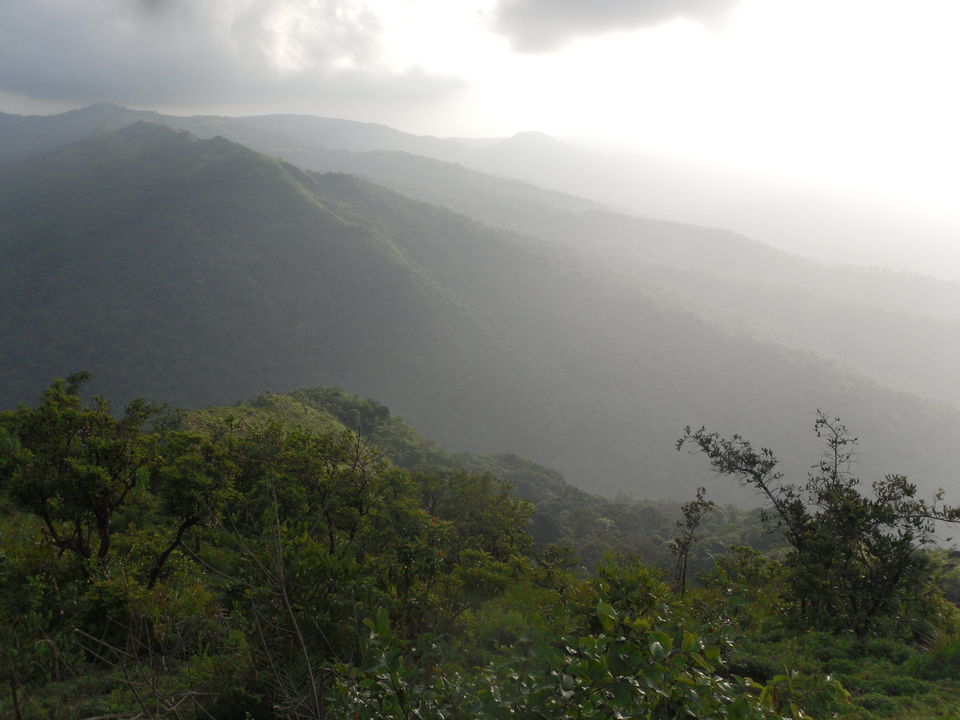 For this write-up with pictures, do refer to my blog post https://radha-travel-prayana.blogspot.com/2015/08/monsoon-in-chikkamagaluru.html
When I was unable to travel for months due to house renovation (which by the way never completes on time), it made me realize how strongly I believe in the phrase "To travel is to live". Ahh…! Finally, amidst of all the work a 4-day travel window popped up. Boy! did it make all the difference!
Since it is monsoon, picked Chikkamagaluru as our travel destination. The name literally means younger daughter's town in Kannada. The story goes: This town was given as dowry to the youngest daughter by Rukmangada, the legendary chief of Sakrepatna. Chikkamagaluru, at 3400 ft, is home to lush green coffee estates, forest, mountain range with highest peak of Karnataka, water bodies & of course Hoysala temples. Talking about coffee estates - In 17th century saint Baba Budan, while on a pilgrimage to Mecca, smuggled seven coffee beans (by tying it around his waist) from Yemen to Mysore in India and planted them on the Chandragiri Hills (6,001 ft), now named after the saint as Baba Budan Giri ('Giri' means "hill") in Chikkamagaluru district. It was considered an illegal act to take green coffee seed out of Arabia. As number seven is a sacrosanct number in Islamic religion, the saint's act of carrying seven coffee beans was considered a religious act. This was the beginning of coffee industry in India, and in particular in Karnataka State. Baba, here is my, a genuine coffee lover's big salute to you! or should I say Coffee rules Baba :-)
Viji & I spent half a day planning – selected "The Coffee Bean Home Stay" for accommodation (thanks to all the reviews on trip advisor on home stay). It cost Rs. 2500/night per person with 3 meals. They are usually sold out over the weekends and since ours was weekdays it worked out just fine for us with a no-crowd bonus. We decided to combine nature & heritage as our theme. We booked one way ticket just in case we wanted to stay back in Hassan for an extra day.
Off we went on 30th June by Airawat KSRTC bus, a mere 4:45 hour journey @ Rs. 445/- with surprisingly great roads with a decent stop for brunch at Swathi! Our home stay in a 100-acre coffee plantation was some 20km from the city. Ride from the bus stop was pre-arranged by Nishchit (host) for Rs. 500/-. Once you leave the city limits, you are surrounded by coffee plantations with silver oak trees, cardamom & pepper. With off & on rain and lovely shades of green… we knew we were going to have great time.
We were greeted by our friendly host and staff with a fresh cup of or like we say in Kannada "steel lota" filter coffee. We were taken for a quick tour of the main bungalow, a heritage building with nice antiques, & a beautiful garden all around including a cool kitchen garden off of the dining area. There is a 100+yr old cactus tree which we were told blooms early morning during this time of the year and my favourite, a big Avocado tree. Nishchit is 6th generation living here and has put a nice genealogy picture which shows the difference in their attire & style as generation and time change. Do check their website for details (http://coffeebeanhomestay.com/contact.html).
It was suggested that we visit the sunset point later that evening at Kavikal mata. We went to our cottage, called Pebbles, to rest for a while. Cottage was cute with tasteful & minimalistic décor, sort of bringing in the nature with wooden pillars & furniture. It had a nice rustic deck overlooking the estate. Around 5:00 pm we left to the sunset point in a 4WD/jeep (cost for rental is Rs. 1000/-). Layers of magnificent green mountain range all the way with dark clouds playing hide & seek. It occurred to me, our own backyard, i.e. Karnataka, has such a Mt. beautiful range but has taken me so many years to come here. Guide pointed us to different hills/mountains (a.k.a betta) on the way. Reached the spot well before sunset. It was very windy at this elevation (around 5500ft). After wondering around a little, we sat at the sunset spot & enjoyed the filter coffee, yet again, from the picnic butte/basket that was sent for us. Drizzle and the cloud was coming & going and yes, at the last minute of sun set, dark thick cloud played spoiled sport… but no complaints! The view was still good with awesome cloud formations and the place so very peaceful! We headed back just in time for some late evening snacks & home-made wine. There was one other family staying in the home stay only for that night. There was a good bonfire and awesome Malnad dinner. We discussed the plan for next day with the host who arranged Jeep tour to cover Muliayangiri, Baba Budangiri, Buttermilk waterfall & couple more places in between. Cost was Rs. 3500/-for the tour in a 4WD. We decided to leave by 9:00 AM after breakfast with packed lunch.
Day-2: Got up early and did some stretches on the deck of our cottage enjoying the fresh air and greenery…We walked up to main bungalow to look at those white cactus flowers; it is beautiful & looks so much like Bhramakamala! We enjoyed the hot coffee served at our cottage around 7:30AM. Got ready & had delicious Neer Dosa, pongal & Jackfruit sweets for b'fast and was ready to bond with Chikkamagaluru nature for rest of the day. Discussed with our guide Krishna on our tour and places we would see. First stop was Mullayanagiri (This is in the Chandra Dhrona Hill Ranges of the Western Ghats. With a height of 6,330 ft, it is the highest peak in Karnataka between the Himalayas and the Nilgiris) we would drive up till Seethalayana Mata and trek up from there to the peak, and then trek down all the way to the base of the mountain via the Sarpadari (snake path). If you choose not to trek, there is also a motor-able option up to a point and then just take 300 steps to the peak. We were asked to carry cotton balls for our ears while climbing the peak due to heavy wind and were warned about low visibility due to fog/mist & in addition, may be, heavy rain & leeches.Off we went with our packed lunch and got very excited to see open safari Jeep. We were told by the guide he would call out to us (sitting at the back) to stand & ride whenever the path becomes steep with no roads :-). We can hurt our back if we decide to sit during these stretches given the bumpiness. After just few kms drive, we were asked to stand – My! My! What an experience! Balancing between steep descends/ascends on slushy winding path & ducking when branches come in your way. Whew! Time to sit again, En route was enjoyable with the views of coffee estates, forests & mountains. There are a couple of huge monolithic rocks as well which we were told are also hot spot for adventure sports. We reached Seethalayana Mata. There is a Shiva temple here and nothing much to talk about.
We got ready to trek from here; our guide drew a map which was more of a line on how to climb up. His instruction was as simple as "just follow the cow path (a narrow path with no grass) & once on top, climb down via Sarpahadi which is next to the bull statue and follow the cow path all the way to the base". For our trek we had carried a backpack for jackets if it rains, cell phone, bottle of water & trekking poles as we were told it takes only about 2:30 hrs. We started around 11:00AM following the cow path. Within 10 min into walking we found two cow paths. We took the widest path available only to find out that it leads to a view point, so we had to return and take the other path. Don't expect any arrows or route sign There was no one else other than the two of us all the way till we anywhere…Weather was good, luckily, no rain or leeches on the way. reached the start of 300 steps to the peak, by now it started to drizzle and was windy. While climbing the steps we encountered few groups of people who had come by vehicles/motor able path. We had to maneuver thro' the groups of current day Indian youths who are usually immersed in themselves and their selfies. It was very foggy and windy at the peak! There is a nice stone structure at the top with a Shiva temple. The view was spectacular from here! There is a cave just below the summit where Mulappa swamy is believed to have meditated & hence the name of the peak.After a short break, we headed towards the path "Sarpadari" as mentioned by our guide (just next to the Nandhi statue), he had told us not to take the path from behind the temple as it can be dangerous. To my amazement, Sarpadari is steep and at times has a 60 degree incline path & is indeed a snake like path – winding all the way. As usual after about 30min there were multiple cow paths and we could see a meadow at the ½ way mark and started to walk in a path what looked like leading to a meadow and it was the widest path, My cell rang but the place we were I could not stop to take out the phone from backpack as the path was winding quite a bit. After a while this path went into thick bushes, we continued thro' the bushes and it ended at a cliff. Oh My! Thank god! No mist or fog and we could see the cliff.
Time to check the cell phone; of course it was our guide trying to call us. I could not return his call as there was no signal. We started walking back and my cell rang again, it was guide/Krishna who apparently was trying to call us since he lost the sight of us after first ½ hr into the trek. He was waiting for us at the base, he was keeping an eye on us. When we told him where we were, he was not able to guide us but insisted there is only one path… :-( after walking for about 1.5hr leading to nowhere, we decided to climb back up as we could see the peak.It started raining but luckily no real thick fog and hence good visibility. Although I tried to tell myself " Not all those who wander are lost" , panic was creeping in as there was not even a single soul around to ask nor did we carry our GPS or any real trekking essentials that we normally take for survival. Viji as always was not stressed. Finally we reached the peak again, this time climbing via tough 60 degree elevation route & walk down 300 steps – our guide had driven near end of the steps! he was very worried saying lucky for us no fog to obstruct visibility, if it had hit, then we would not know the direction nor what is in front of us! We told him, they should recommend a guide who is knowledgeable about the route since there are multiple paths & especially when there are absolutely no marking/arrows anywhere. After we came down we were told it is all tiger belt but none sighted so far :-)) All's well that ends well!
When we drove down to the bottom of the Sarpadari, he showed us where he lost us, we realized watching the mountain; we were actually doing sort of parikrama to the mountain and we were at the backside of the mountain when we got lost .
It was 2:00PM by now, we decided to have lunch near the next spot, a view point called " Kavikalgandi". After climbing about 50 steps there is a fantastic horse shoe view of the Chandradrona mountain range, a very picturesque sight indeed. We had our lunch – Simple but classic chithranna & mosaranna with papads & delicious pickles. One of the really nice thing about this home stay is, they do not pack the food in plastic bag, instead they use big steel carrier with plates in a old fashioned wire basket/butte. After lunch, we drove towards "Buttermilk falls/Dabdabe falls/Sagir Ahmed falls", this route is nothing but scenic. This fall is in a private estate (Sagir Ahmed estate) & you need permission to enter. This route is slushy mud path with lot of ascend/descends. Our 4WD had no problem here, we did :-) as we had to stand all the way & ensure we don't fall or hurt ourselves while ducking from the branches & they were in plenty. It was a short walk after some point but is a leech infested path as it is in shade and full of slush. The very thought of leech makes you feel something is crawling on you (we had our socks tucked into our pants). The water falls & its surroundings was an amazing sight- Fall is pretty wide and water falling from layers of rocks gives it a lovely shape & width. You can walk to the bottom of the fall. It was so pleasant with cool pure water splashing on us! How lucky the estate owners are!
Next, we headed towards "Baba Babudangiri"–known for its shrine to the Sufi saint Baba Budan, a pilgrimage site for both Hindus and Muslims. Main peaks in this range are Mullayanagiri & Bababudangiri, together they are known Chandradrona as they naturally form the shape of a crescent moon. Our guide informed us there is a nice trekking trail called Blade between these two peaks & Kemmangundi. Understand minimum 10 people have to be there to organize such treks.The views from Baba Budangiri are nice but it was disappointing to see commercialization of this area.
Like in many religious places, temp structures are anything but! To control crowd during the religious festivities, there are structures to limit ones movement all the way to the cave shrine. Dattatreya for whom the cave shrine was once named, is considered by some Hindus to be God who is an incarnation of the Divine Trinity Brahma, Vishnu and Maheshwara , in the form of an ascetic in the discipline of Avadhuutha (God intoxicated monk). A Sufi saint known as Baba Budan is believed to have later been in the same cave for some time. Some Hindus have making a claim over the shrine, which is controlled by Muslims. This has led to tension between the two communities. This has now become the place of communal riots on the occasion of the death anniversary of the Sufi saint and during Datta Jayanthi in the month of December.
It was 5:00PM and we were ready to head back after a wonderful and an adventurous day. Made plans for next day with Krishna to see off-the-beaten-road Hoysala temples & parted. After some hot coffee, rest & a nice hot shower, we went to see the documentary on Bhadra wildlife that host had arranged. We got to watch this wonderful well made documentary about wildlife sanctuary in Chikkamagaluru – Bounded by mountain range, this sanctuary which is declared as project tiger reserve spreads across 493 Sq km with Badra reservoir at one end. It has 250+ species of birds & home to many wildlife & reptiles. While watching this documentary, had delicious dinner – Shavige with Kai halu, raw jackfruit/kadee sambar, mango desert. We still had not done the plantation tour & thought of doing it next evening if we come back early. Off to bed now… Wow! after all the jeep ride (standing), no need for ibuprofen… In your face youngsters!! :-)
Day-3: Another lovely morning! The best part is, listening to the birds and gazing at the lovely green surroundings forces you to be in the moment! After an yummy b'fast (shavige bath, guliappa & just plucked Avocados), we left for our Archaeology tour of less travelled Hoysala temples with buthe/packed lunch (On a side note they ask you the previous night what you would like for packed lunch; the cook & the manager/Mahesh were surprised at how low maintenance we were when it comes to food demand, since we were the only 2 guest there except for the first day, they were comparing us with other guests who normally order additional food items) . Today there was no jeep but an Indica L as the places we were going has proper roads. Viji had recently completed reading both the volumes of Pattamahadevi Shantaladevi & the follow-on novels by C K Nagaraja Rao, the first recipient of the Moortidevi Award instituted by Bharatiya Jnanpith (https://en.wikipedia.org/wiki/C.K.Nagaraja_Rao) and from these books she had made a list of the lesser known Hoysala temples & the town it is in/with current names. (Do read this book if you can read Kannada!) Based on her list, our list of temples to see near Chikkamagaluru was: Belavadi, Marla, Hulikere (private pushkarane of Shanthala), Ayyanakere, Angadi, Doddagaddavalli & Koravangala. Our local guide Krishna had not heard/traveled to some of the places. After checking the distance and other things we decided on Hiremagaluru, Belavadi, Marla, Hulikere and Ayyanakere.
Our first stop was Hiremagaluru (about 6km from Chikkamagaluru). It has a Kodandarama temple and we were informed by the priest that it is the oldest Rama idol in south India & is more than 1000yrs old. The current temple is built in 14th century. The uniqueness here is Sita is to the right side of Rama and Lakshmnana to the left. It is believed that temple was built in 3 different times from 14th century to 17th century. We were also told that pooja is performed in Kannada. From here we went to "Marla" – Ruined twin small temples stand side by side dedicated to Chennakeshava and Siddeshwara built in 1120CE. There is a huge "shasana" that stands in the middle of these two temples. When I saw these ruined temples, it reminded of what someone wrote of Marla "This village once spoke of tribal chief Poysala Muruga, one of the earliest founders of the Hoysala dynasty. Yet, today, you barely see a soul around you as you drive/walk along dry fields and patches of land to see the temples virtually lost to the sky and earth". Temples do not have intricate carvings like other Hoysala temples but do have more stone carving on the exterior wall as compared to the interior. Archaeology dept's restoration work is in full fledge but, looked like a long way to go! Although everyday pooja is performed, quality of temple upkeep is extremely poor & it's interior very dirty.We proceeded to Belavadi (29km from Chikkamagaluru). As per the legend this was the town known as Ekachakranagara in Mahabharatha where Bheema killed the demon Bakasurin. There is an annual fair even today to celebrate this. Veeranarayana temple complex here is fantastic and
well maintained. Built in 1200CE, temple is a trikuta having Veeranarayana in the center facing East, Venugopala facing North and Yoganarasimha facing south. Each of the idols has a complete superstructure (tower on top of idol) the idols are marvelous and very pretty in jet black! It is no surprise that Archaeological Survey of India has certified this Venugopala as the most beautiful idol of Krishna in all of India. The Nagamandala in the ceiling is quite unique, it is sort of impossible to find the end of the Naga. The ceiling itself is superb, depicting various stories from Bhagavatha. We were told "If one lies down at the main entrance of the Garbhagriha and look straight towards the East direction, you will find that the entire length of the temple/270 feet is flawlessly leveled to such accuracy that you can also see the horizon about 3 kms away without any disturbance in the level. Priest also informed us on Summer Solstice, direct Sunlight enters the Garbhagriha of Veeranarayana during sunrise (something to note if one plans to travel during this time). This temple is said to have been built in phases, which you can see in the design as you walk around the temple. Priest took time to explain in detail to us. There is hardly anyone around these temples as most of the tourists only visit Belur & Halebedu :-( When we told him our next stop was Hulikere, he said yes! we must see the beautiful pushkarane there.
Krishna told us he knows the route to Hulikere and off we went.Once we reached the village, locals knew nothing about any Pushkarane or any old temple in this area. The board did say Hulikere :-( finally one person said there is one old Pushkarane full of weeds and may be that is it! So went there and what a sad sight - Pushkarane was indeed completely filled with weeds and plants grown from all sides.
There was a shasana and few sculptures thrown on road side and was almost fully covered with garbage. I was telling Viji we should take this home :-) at least we will care for it or take it to the home stay. By now, another passerby told us there is one very old Krishna temple in an alley and he can show us the way. Off we went with him; he took us to what looked like a room (no temple structure) with a new Krishna idol – at the back of that very dark room was an ancient Krishna idol which was disfigured. This place was so very dirty :-(. Felt really sad. It is no wonder having this type of mindset towards our heritage, why only 400 out of the 1500 shrines Hoysala dynasty built are known/discovered! Even today when it comes to Hoysala dynasty, only 3 of its well known temples (Belur, Halebeedu and Somnathpur) are promoted. We told Krishna there must be something wrong as even the priest in Belavadi had mentioned about the beautiful pushkarane/tank in Hulikere. (After I came back to Bangalore, I found that the Hulikere with Pushkarane is different & is closer to Halebedu... Hmm! There is always a next time).
From here we headed towards Ayyanakere Lake. This ancient lake was constructed by Rukmangada Raya, a chief of Sakrepatna, & later rennovated in 1156 CE by Hoysala and has never gone dry! Lake is very pristine and calm with the conical hill Shakunagiri rising to 4,600 ft forming a picturesque backdrop. I understand you can trek this mountain as well! Perfect place for lunch & lunch it was: Lemon rice+curd rice+ yummy tomato halwa + dry mango, mouth watering pickle & papad (I can still taste the sweets) although they pack way too much for 3 people, you always have local folks to share with, which is nice!
We were all set to return when Krishna said he wanted to show us a lesser known place near Chikkamagaluru & took us to Ukundha Lake. It is so beautiful and right in the backyard of the Chikkamagaluru town. There was quite a bit of water now but apparently dries up during summer time. By now it was 5:00PM and back to the cottage, we went. Forgot to mention – cost of today's tour was Rs. 2500/-. It was late and we were too tired to do the plantation walk and decided to do it next morning. That night yet again, we had a relaxing evening and a great dinner! Since we had told the cook we loved her halwa, she had specially made jackfruit halwa for us. We decided to take afternoon bus the next day to Bangalore, so planned for plantation walk by 7:30AM
Day 4: Last day of our trip! It had rained quite a bit previous night and Nishchit told us to be prepared for Leeches during plantation tour since the waking path was all slushy. Psychology in full swing again…itching/scratching/checking! Walking in the estate can be a relaxing trek by itself and nice with all of Nishchit's dogs accompanying us. I must say, leeches did not allow us to enjoy the walk to the fullest as we were busy concentrating where we put our foot, especially after seeing some of them making it to host's boots. Viji & I could have easily advertised for EMS Gortex hiking boots as none climbed on our boots :-) There is a big pond in the estate as well! After we came back, we ensured no leeches will accompany us to Bangalore… got ready and had sumptuous b'fast – Set dosa & Avacados. Around 12:00 we left and stopped by Panduranga Coffee works near bus stop for some local pure filter coffee powder, cardamom and peppers.
What a wonderful 3N/4D trip to Chikkamagaluru for a cost of Rs.12,500/person. It can work out cheaper if you have more people as 4WD rentals are for the vehicle which can accommodate 6-7 people. I give this beautiful Chikkamagaluru trip with stunning nature & heritage temples plus our awesome accommodation at Coffee Bean home stay a "5 star" rating. If you have not been to Chikkamagaluru go ahead and add this to your travel bucket list, you will definitely enjoy!