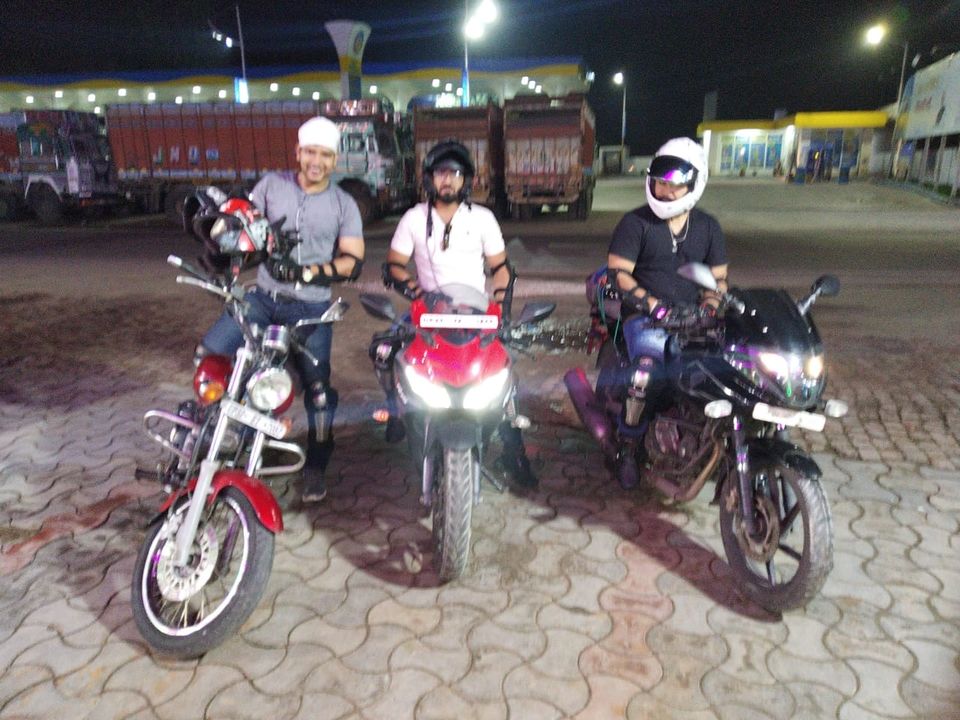 *Find the cost of the trip at the very end.
It was 15th September when heard about the plan to M.P. via bikes. Got exited and jumped in when asked to join. The initial plan being travel from lucknow to M.P. (Khajuraho) visiting places like Raneh fall, Temples,tiger reserves, panna etc. Via Bikes for different experience.
The plan was all set, biking gears, shoes, new helmets etc were bought in order to feel the riding.
Me and My colleagues cum friends Mohd Atif, Yakshan Moin and Jafri were all set for a thrilling experience.
The day came it was 22 September. We all gatherd @Hcl Lucknow office which was the starting point of our journey. The excitement level was way too high so noone slept a night before... We were all awake for a day journey which was approximately 365 kms up and 365kms down. A total travel of 730kms including off road riding for few kms taking the Kanpur-Hamipir route. The plan came in motion the gears were all set, the bike engines warming up with a single self and few accelerations for the voice bhoommm bhoomm(just for the feel off course).
The bike gear was set to 1, the cluches were loosen slowly and it all started. 3 bikes ( R1 , Avenger 220, Pulsar 220)
6 wheels rotated and it all began @3a.m. It was dark so we agreed to limit the speed @80km/h max untill we don't see the sunshine. Not even in the dreams did we think that our stop will be just after 50kms. What?? Everyone gets the natures call ... but the stop was short just for 5 min. And then we resumed the journey... After approx 50 kms. We took a pause again for 5-10 mins just for a lil chit chat, then finally after another 50kms. We took our first break for tea break at a so called dhaba... The chai was good and so were the khasta of that place dont really remember the name of the place i highly doubt that place even had a name.
The road was smooth and the minds were young so with time the acceleration exceeded and the speeds crossed 140km/h at moments. Mostly we maintained the speed to 100-120 km/h depending on the road. We met yamuna river which was exploded with water. And other ponds/rivers in between. And then finally after the travel of 365kms we reached Khajuraho Raneh Fall.
The place was good smoothing the fall was superb,i bet you will feel like staying there for long time but due to lack of time we had to move. Seeing the amazing place the water felt like wow, the scene , the beauty cant be described in words. Will post the pictures in blog and rest you can visit youtube where we will upload the video of the trip, link will be attached later. There we met few lovely people had maggi and aloo k parathe(advice you not to eat image we didn't even like the maggi forget about parathas). We were hell tired just needed a bed to crash obviously we didn't get that so we fell on the cemented benches of the canteen. After half an hour pause we again took the bikes and turned them toward the western temples of the place. The temples were one of a kind. Beautiful and most importantly maintained. In India its hard to see things maintained. Yea you will see my frustrations about maintenance of the Indian government later in the blog.
It was 3p.m. soo according to our initial plan we had to visit panna fall too and then take a stay and return from same route but our dear love Yakshan the traveler had something else in mind. A request for the change in plan was made, we all were hell tired and sleepy but our excitement was still at peak, the request was for the change of route and to return lko at that very moment. Accepted and acknowledged by all we bikes were once again started. It was our biggest mistake. Had we stuck to our plan the things might have turned out differently but as we say what is supposed to happen will happen.
We took Banda-Fatepur route( an advise here : i beg you never ever take that route.. its a nightmare the most disgusting road i have ever seen in my life)
The whole route starting from Khajuraho till Fatehpur is a big disaster. It takes approx 1 hour even more to cross 20kms on that road. Having no idea we took that route. We took a pause at banda at a dhaba had some chai and paneer parathas and keot moving. It was dark the highway having no bloody street lights. The road being as disgusting as they could.
We were about to reach the city Fatehpur when suddenly on a busy highway there came a pit soo called ghaddha in desi bhasga which was way too deep. Having no idea about it I just crashed in it. The tire got stuck in it and bike threw us away. I and Mohd Atif(sitting behind me) sweeped the road. Instead of wearing all the gears was badly hurt. The knees the elbow all got scratched. At a nearby petrol pump we say on a charpai. We had a first aid kit which helped us to wipe out our wounds at the very moment but the pain was unbearable. The petrol pump guys were having their food when we crashed there, having a helpng nature they just stopped everything there were doing and jumped in to help us. I from the bottom of my heart wanna thank them for same.
The plan changed again we had to call a chota hathi which was made available by Yakshan requesting a alcohol ower(he too was way too helpful) , we dumped to of our bikes in it. I and Atif crashed in that. Reaching lko we went to HCL Health care for further aid and finally was dropped to home by Jatin (a colleague cum friend).
And soo a day of journey ended with a so called different experience/ never expected ending.
Cost of Trip:
Petrol for avenger : Rs.2000
Petrol for pulsar 220 : Rs.1400
Petrol for R1: Rs 1500
Entry fees Raneh : Rs 200/bike
Entry fees of temple : Rs 40/person
Khana peena @dhaba : Rs. 1500 approx.
Extra coZ of thukna and calling chota hathi : Rs. 5000