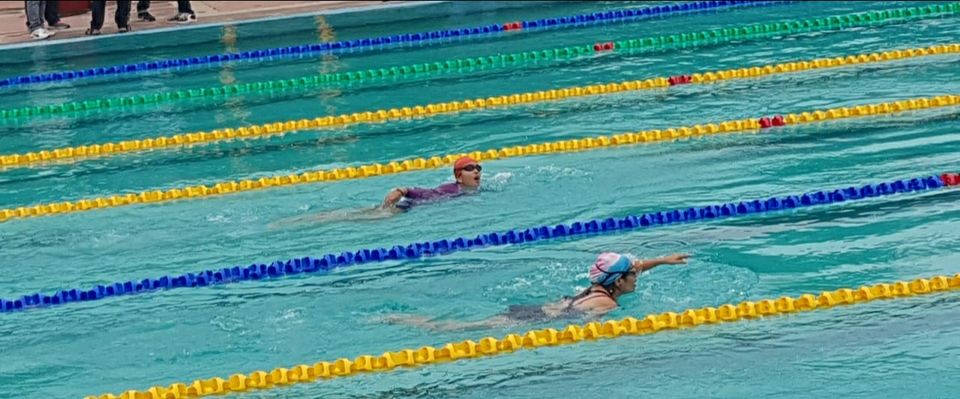 And when it comes to swimming it might be so fearful for some people where it might prove to be the best thing for others.
So swimming... Is not just a sport , is not just the pool and water and is not just how to be fit.
Swimming basically became that part of my life where I can heal myself the most. The only one hour of the day where I can be real, think not of mobile and calls and any other office tensions or college and frndz tensions and all. The relaxation and peace that water in the pool gives.
Friends am not THE SWIMMER, but has started learning swimming since a couple of months and can totally feel the change, the change not only in fitness terms but it has been a meditation for me.
I truly remember the first day : I was just asked to walk through the corners of the entire swimming pool and how tuff it has been to walk yourself in water. And the day when I had to leave the corners and to swim in the middle of the pool, was so damn scared, but believe me, the joy you get after comming successfully out of the water.
And the best part of my swimming life was : The DIVES.
There are multiple ways of just junping into the pool and start swimming.
It can be underwater dive or twirl in the air and dive and just stand backward and give urself to water dive. The dives have always been my favourite part. As it helps me .. the way you fall and the better way you swim : Similar things happen in life.
Swimming also gave me fitness benefits but it was definitely not just a sport for me. You can swim slowly with complete calm or you can be as fast as the waves rushing in the water.
Also, when you learn to back crawl is the utmost fun. Just imagine you are on the waterbed moving the way you want and sky above you.
When you learn under water stroke is that you learn to explore the deepest of the boundaries.
That's all my friends. Never miss a chance to swim.
As by any chance we enter the college of St. XAVIER'S, we will be one step closer to the STUDENT OF THE YEAR trophy.🤭