After 10 years of my 10am-6pm boring corporate job and spending uncountable hours in the cubicle, I decided to take a forceful break for few days. I was longing for this holiday since ages where I can be away from this plastic world and can be myself, where I can follow my heart and can breathe to live. Without any specific plan I left for Chennai as I was getting the lowest airfare from Kolkata. While flying high in the clouds I decided to travel to the French Colony, Pondicherry.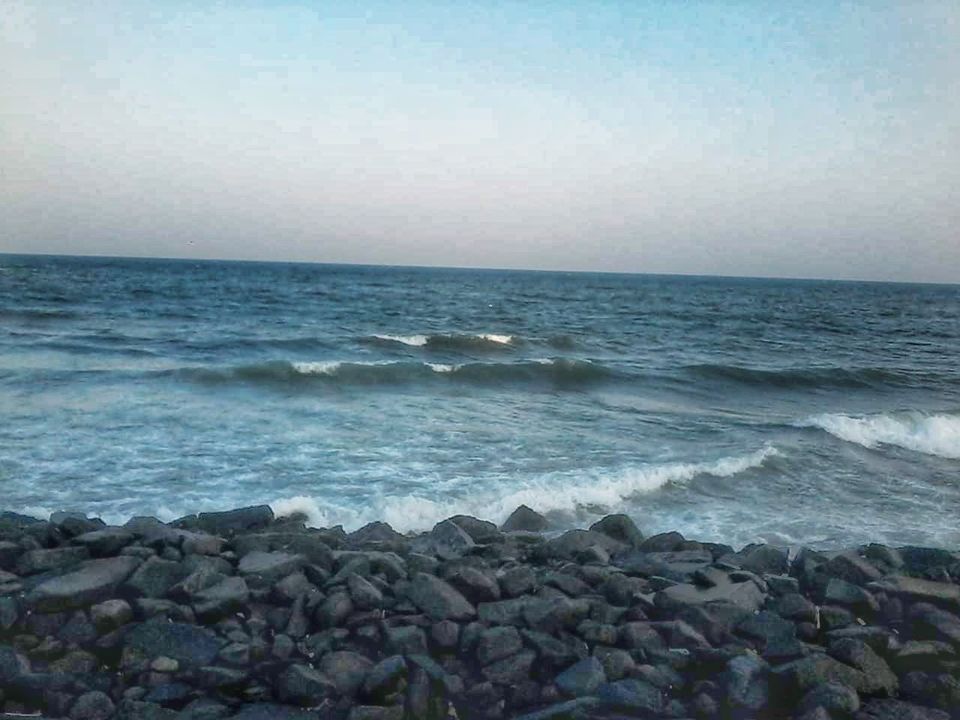 Upon arrival at Chennai airport, an auto driver named Bashir guided me to take the East Coast road coach to Pondicherry which took approximately 5 hours to take me to the Union territory. The journey was indeed a memorable one passing the coastal line. By the evening I reached Pondy and checked into a hotel. As this was my first solo trip I was getting bored easily and was thinking how to make this trip a memorable one. I went for a walk at night by the beach and I saw few couple of people were cheering on some of their achievement. My excitement soared high and the next moment I made few friends for life. They are none other than divers.
Yes, you heard me right. They are Deep Sea Divers.
As a Piscean I always have a deep love for water and hell lot of curiosity to invade the other world i.e., The Underwater World. I quickly made up my mind to learn something new and to make my trip a memorable one which I can cherish thru out my entire life. I enroll myself for the entry level Certificate Course "Open Water Diver" from Temple Adventures rather than just to have a glance of the underwater. It was normally a 4 day course followed by a examination, if passed then one will be rewarded a certification card and a legal permission to invade the ocean. I could not sleep the entire night and was the first person to be present in the class before the given time. Schedule was somehow like Day 01 & 02 will be theory and pool session. Day 03 & 04 will be 4 open water dives in the ocean followed by a written exam.
Introduction class and theory and Knowledge reviews. There was a video class entirely on underwater. It was all about how to breath underwater, how to swim, about the apparatus, about the diving suit, mask, BCD and many more. My curiosity and interest was at peak, lot of question in my tummy was making noise. I was asked to get a sound sleep and get up early by 6am.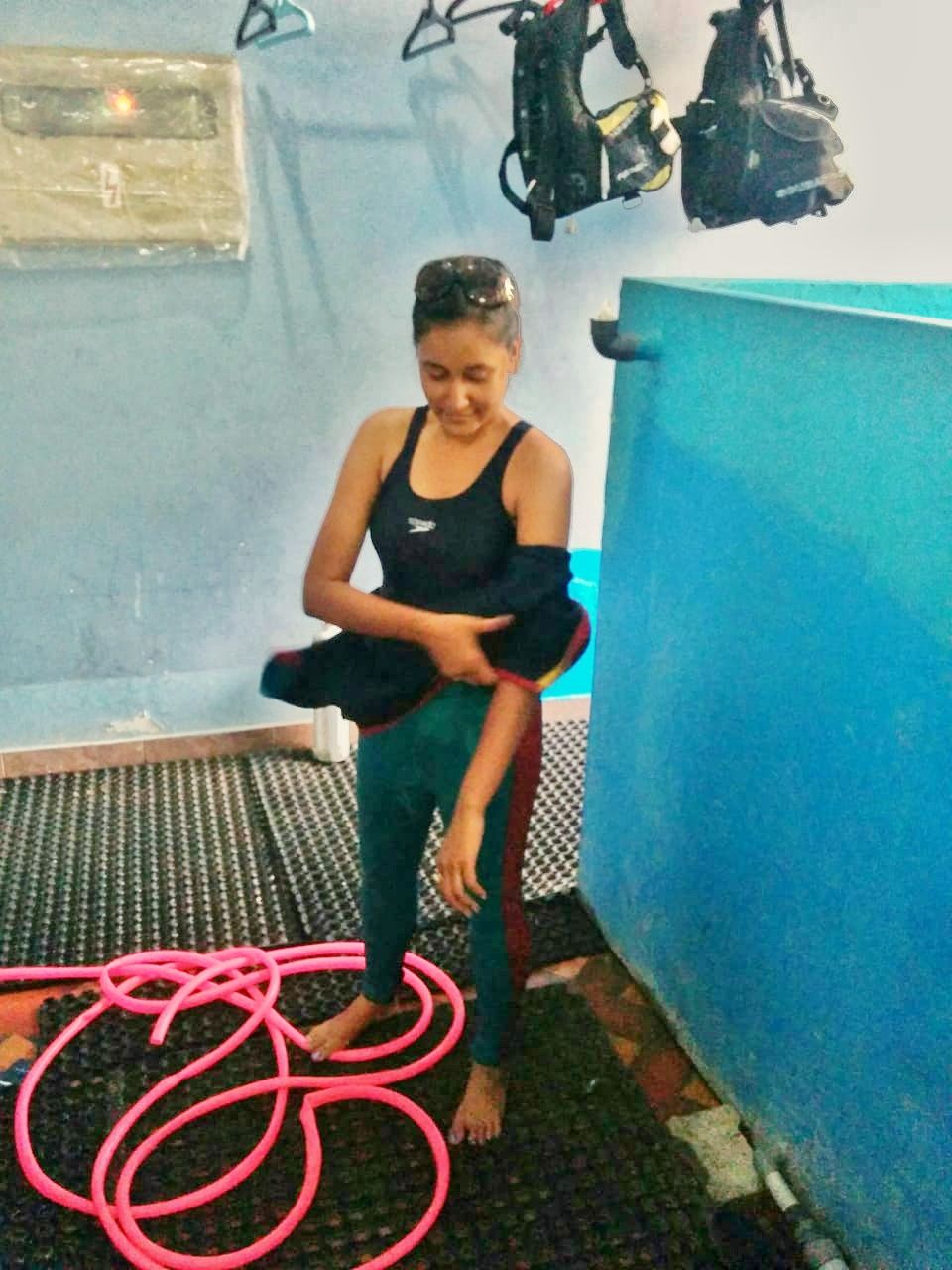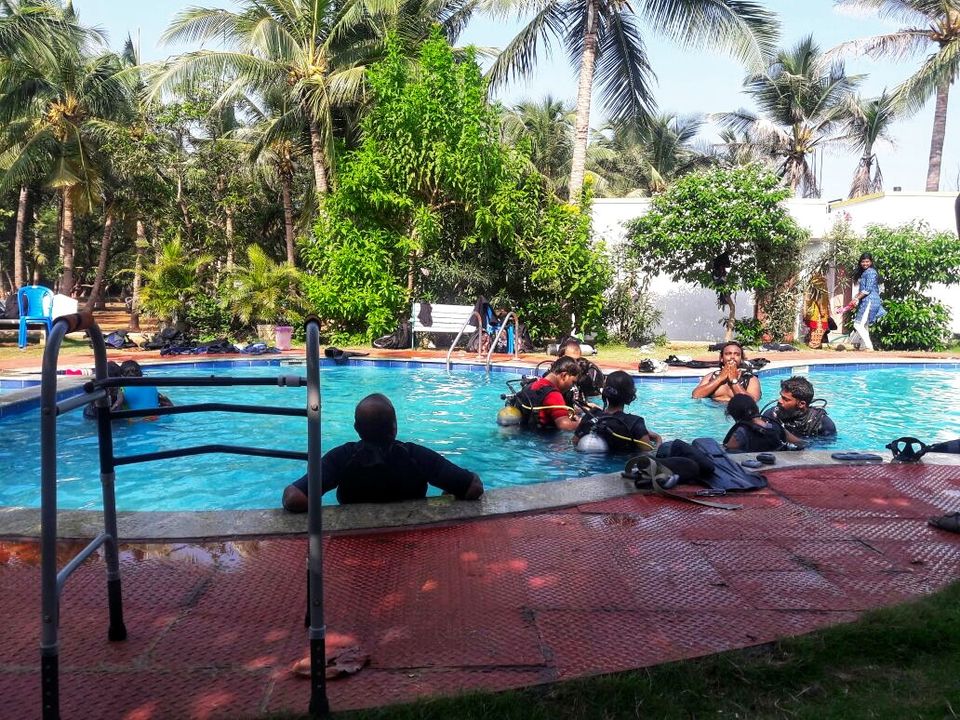 Got ready by 6 am as asked, I was told that I will be having my first breath underwater today. Though I was super excited but at the same time I was bit nervous on my question like how n what. I was given a dive suit to wear for my first pool dive. It was out of the world experience when I took my first breathe underwater. I could hear my heartbeat and can count every breath of mine and felt how precious is to breath to live. Day went well as I learnt many tricks on how to swim, breath, draining water from mask, to keep buoyancy under control m etc. By the evening we met new friends who will be joining the next day's dive. I celebrated my first underwater breathing with a beer and with them.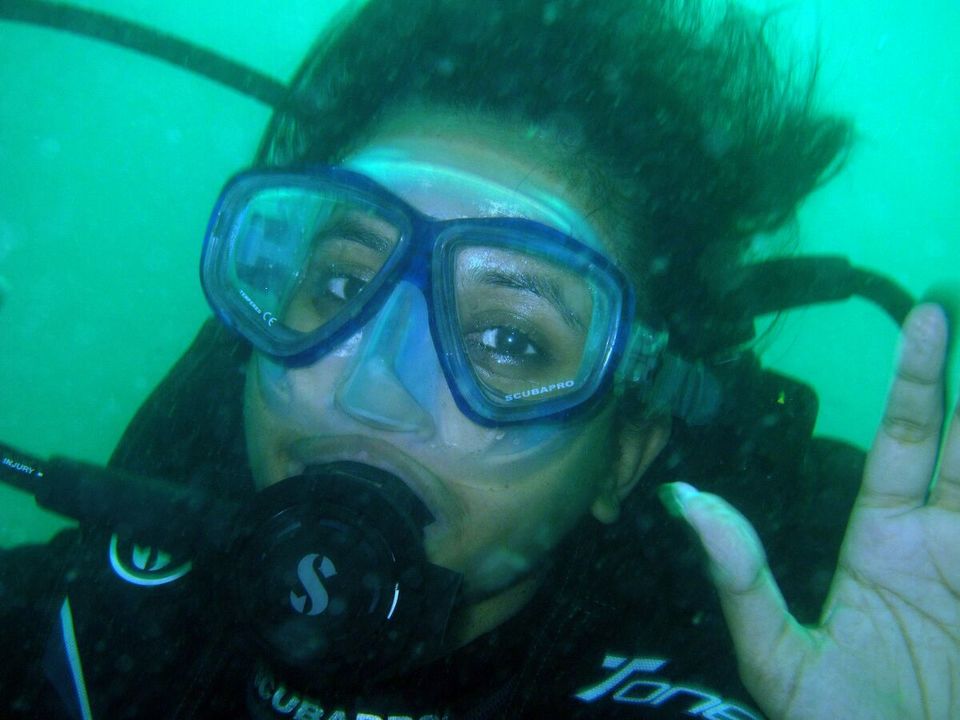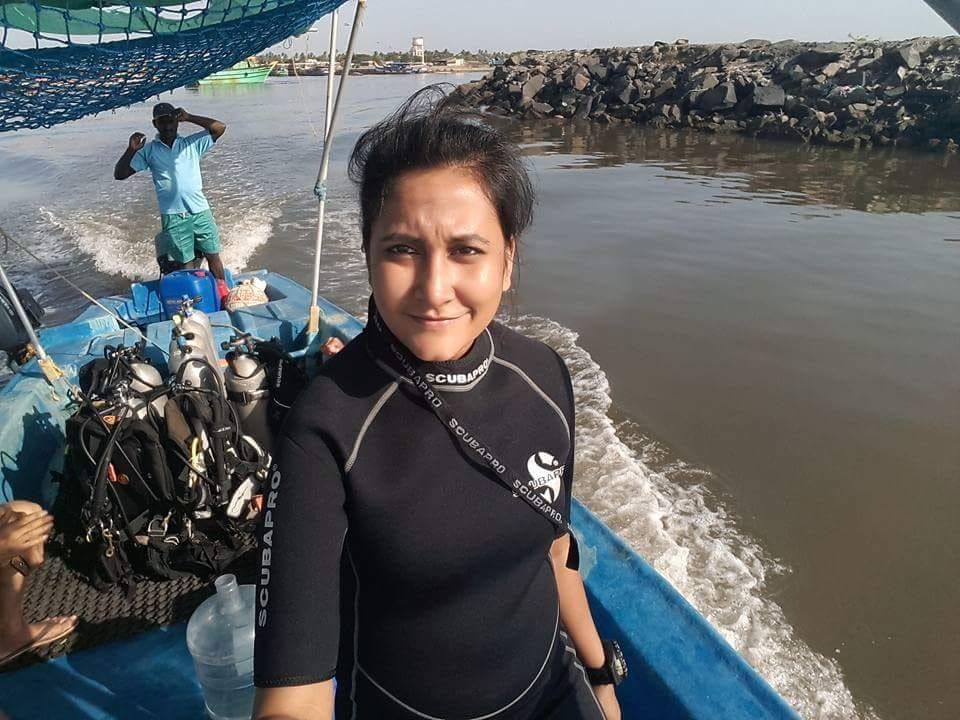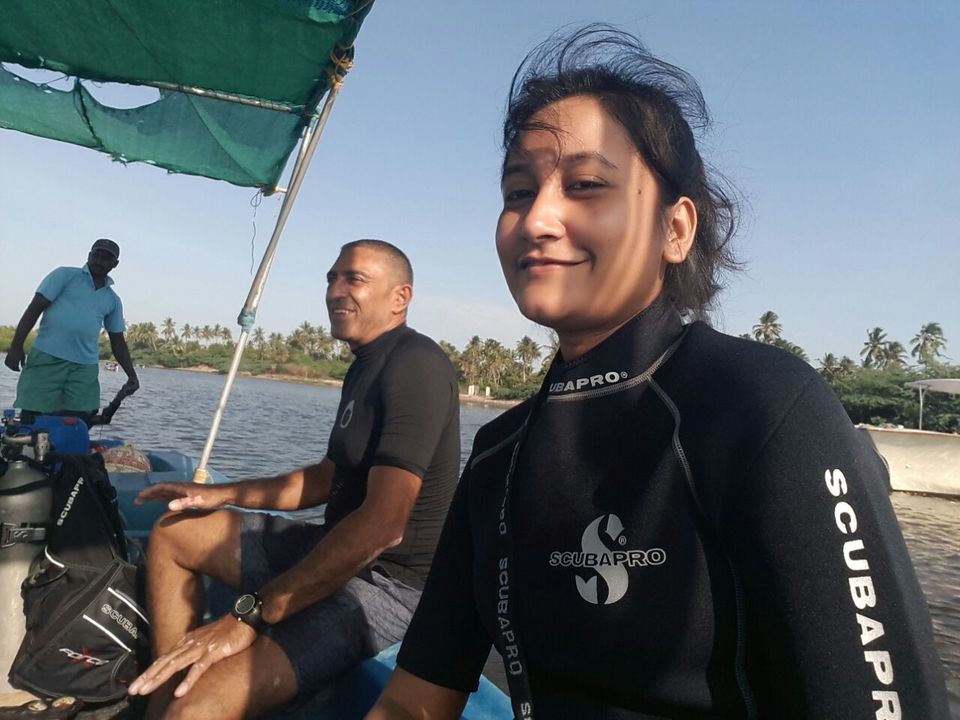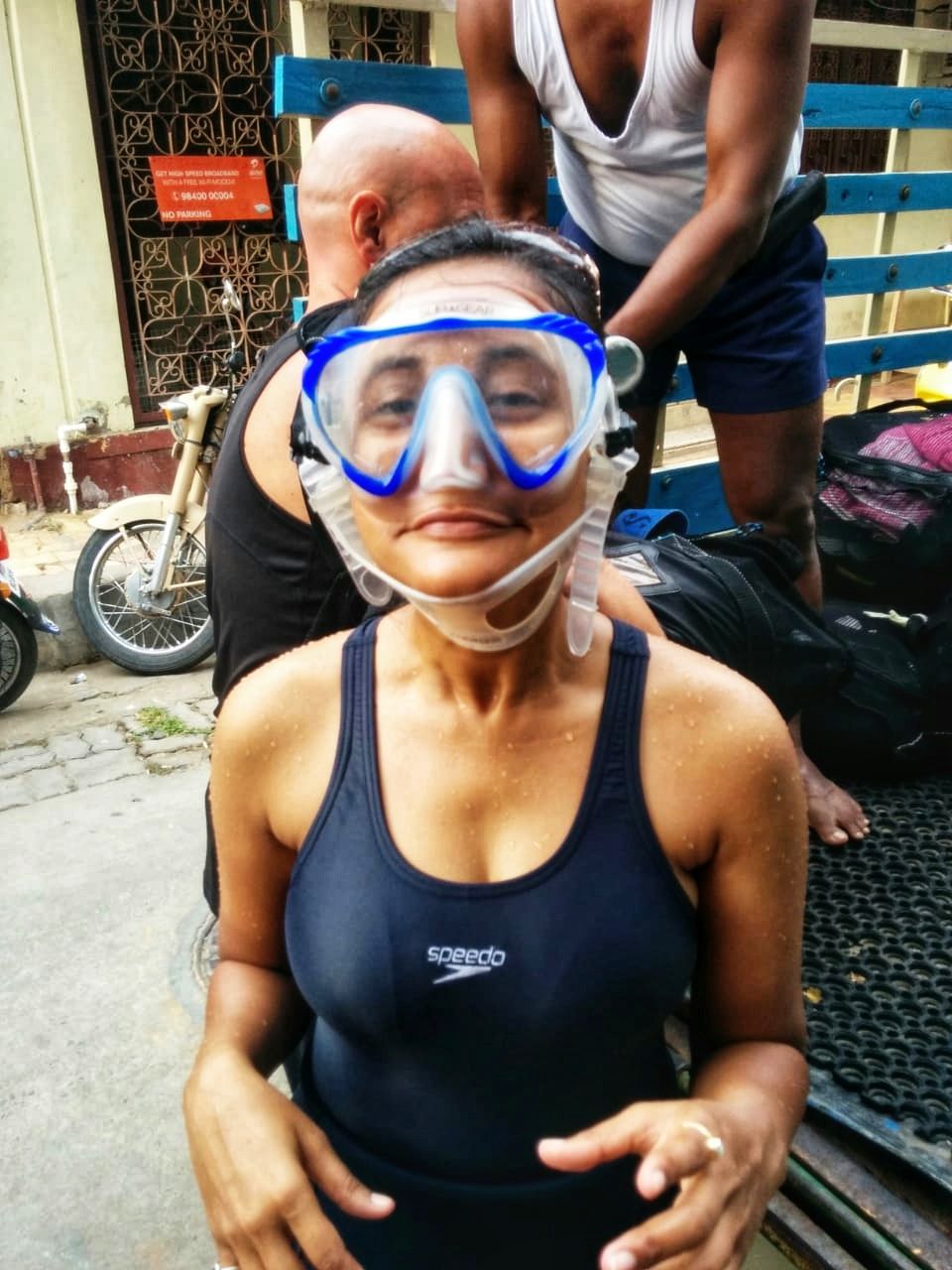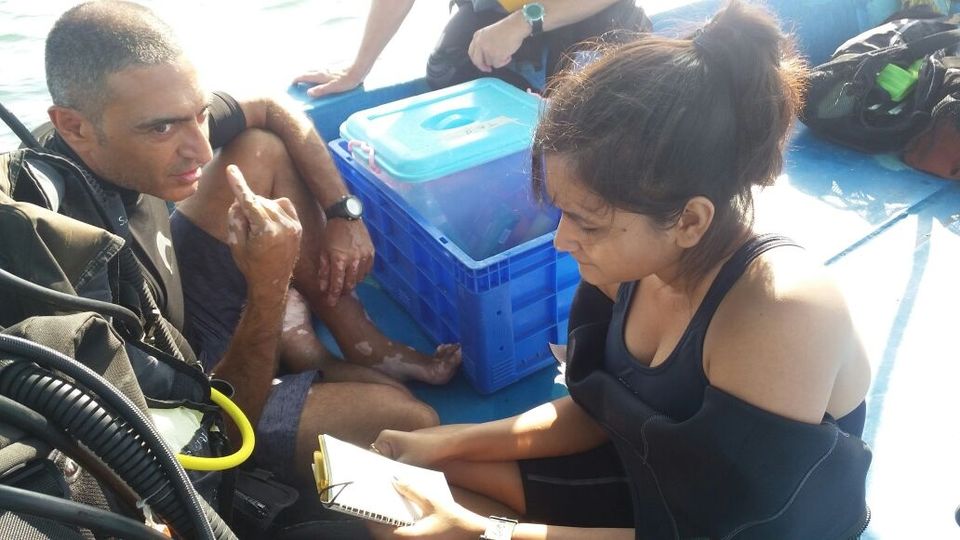 At 6 am we had light breakfast and we headed towards the Ocean. My brain almost stopped working and my heart started beating at its high. Sea was rough and deep blue in colour. Our instructor kept on motivating us not to get afraid of as they will all be there. But frankly I was not at all afraid of anything rather I got speechless thinking I was living my dream life. It was a feeling of a Piscean like I am going back to my home.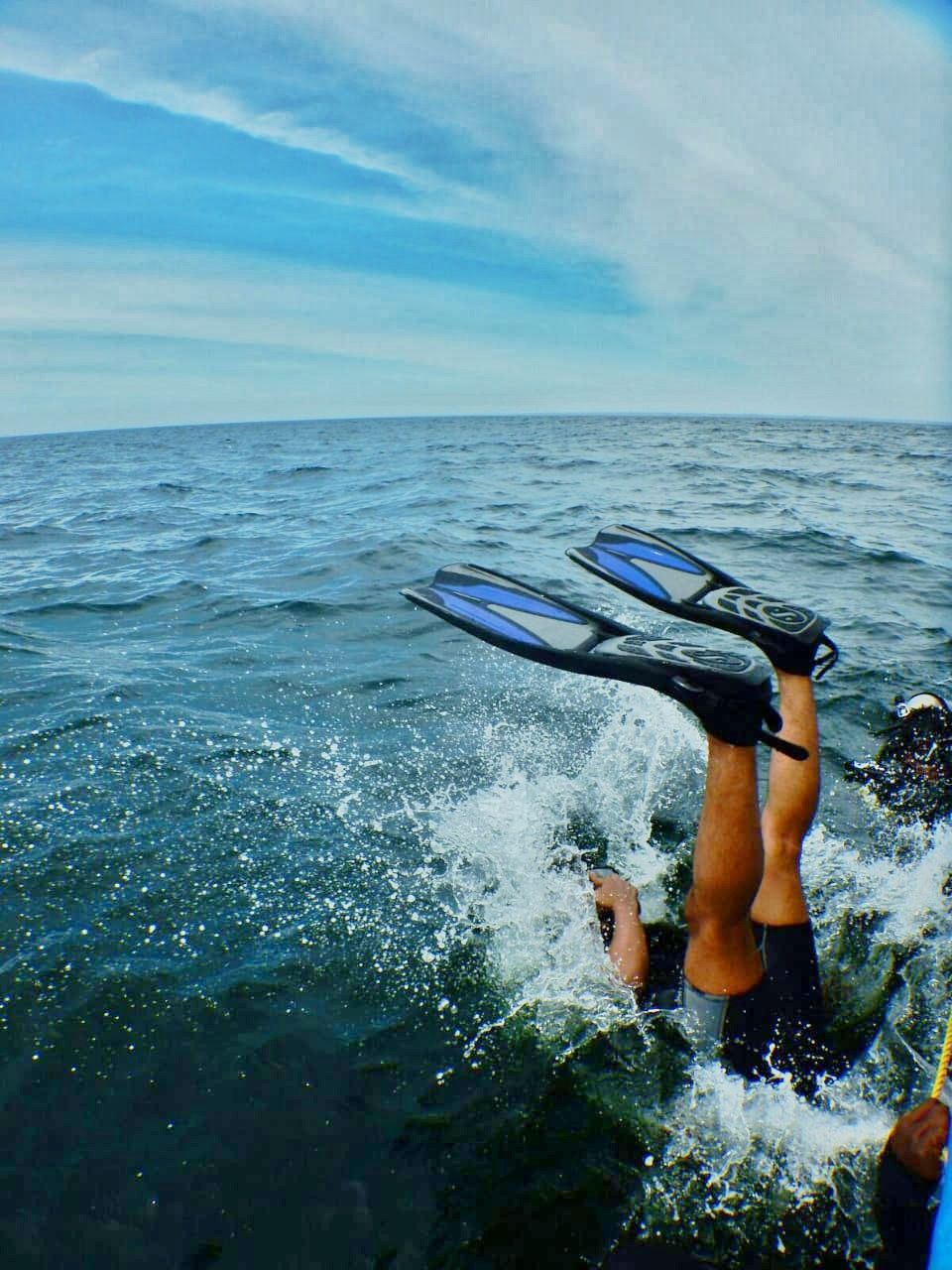 My first jump into the blue water with my heart pounding high was not at all good as I closed my eyes. I just knew only one thing that I was breathing. The moment I opened my eyes and looked down its another world. Calm-quiet-beautiful. We followed our instructor and stayed underwater for 1 hour or more. We did back to back 2 ocean dives in 2 different place to get different dive situations. Learnt all the techniques to be safe underwater and saw corals and many fishes. Time passed by like anything. Life before the dive and after the dive was too different. Learnt many things, seen the other world which is much more beautiful and interesting. We came back with lot of memories and got ample of topics to chat on.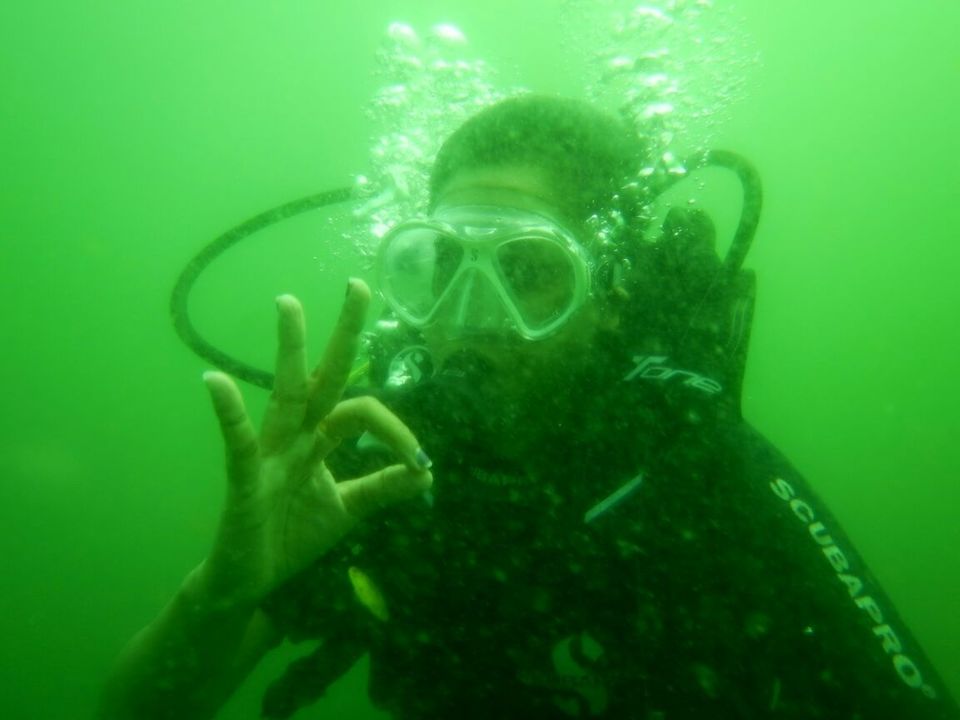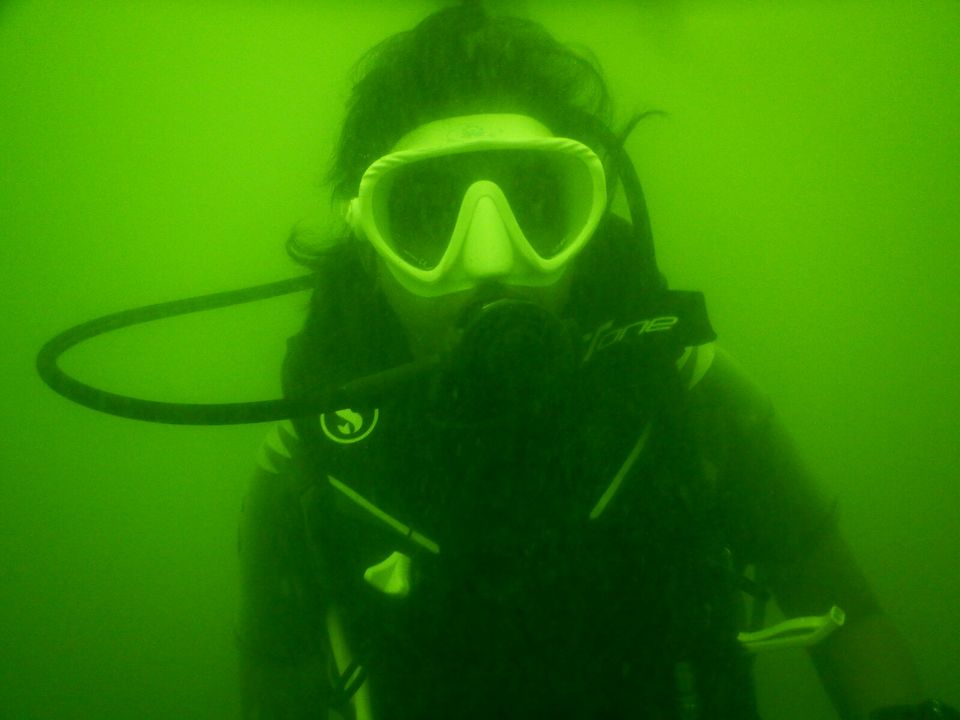 As this was the last day we got 2 dives left along with the exam. We were excited for our next dives. On our next dives we saw artificial reefs and many Groupers, Jelly fish, Lion fish, King fish, Moral Eels, Bannerfish, Butterfly Fishes and etc.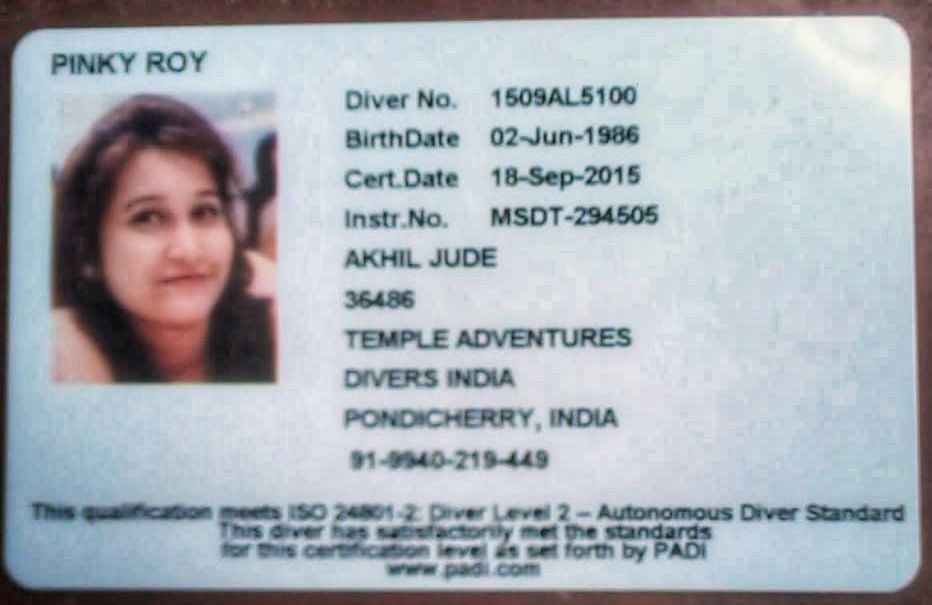 We got our certificate as we got thru the exam. We tossed with some bottle of beers and celebrated our entry to the new world of diving.
I had never thought that my solo trip to Pondicherry will give me my life time experience which I had someday dreamt of. We all knew Pondicherry as a place famous for Sri Aurobindo Ashram, Rocky beaches, Churches, War Memorial, Matrimandir. But Scuba in Pondicherry was totally a surprise to me. We all have heard about diving in Goa but had never knew that the French Colony can also gift me such an amazing experience. I can bet my diving in Pondicherry was the best because I got the best of the best instructors and unlike Goa it is not that crowded. They take proper safety measures and assure the best of the services. They have taught me not to just breath in life but to live the life. To name a few diving friends and instructors I can blindly count on are Khush, John Curtis, Akhil, Ashwin, Jay, Andy. They have become a part of my life now and have made me a better person. I went on getting my 2nd certificate by next year on Advance Open Water Diving.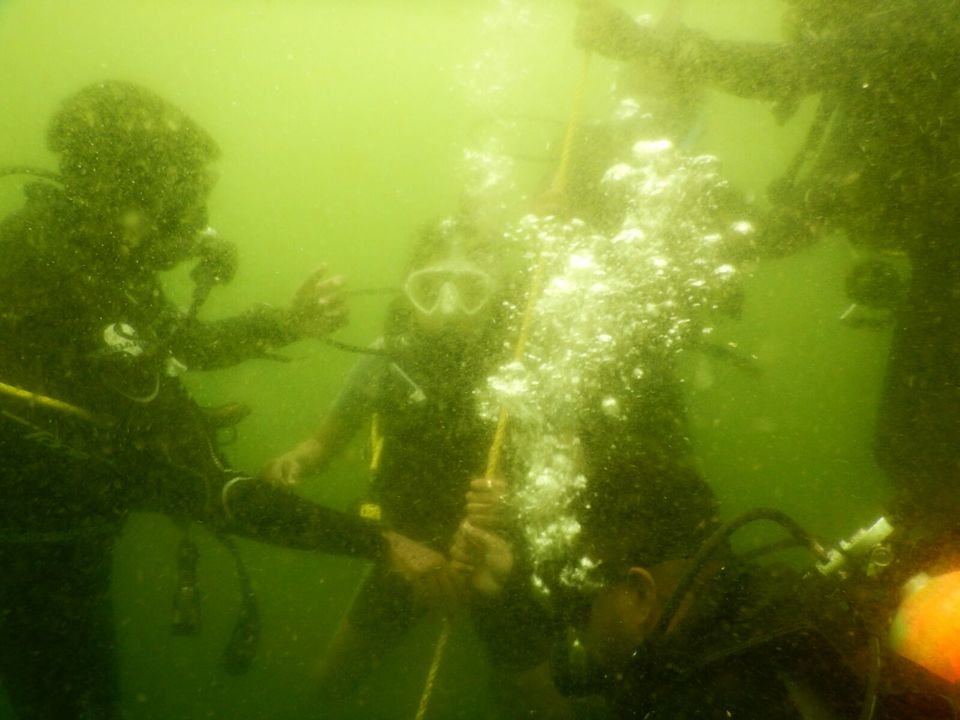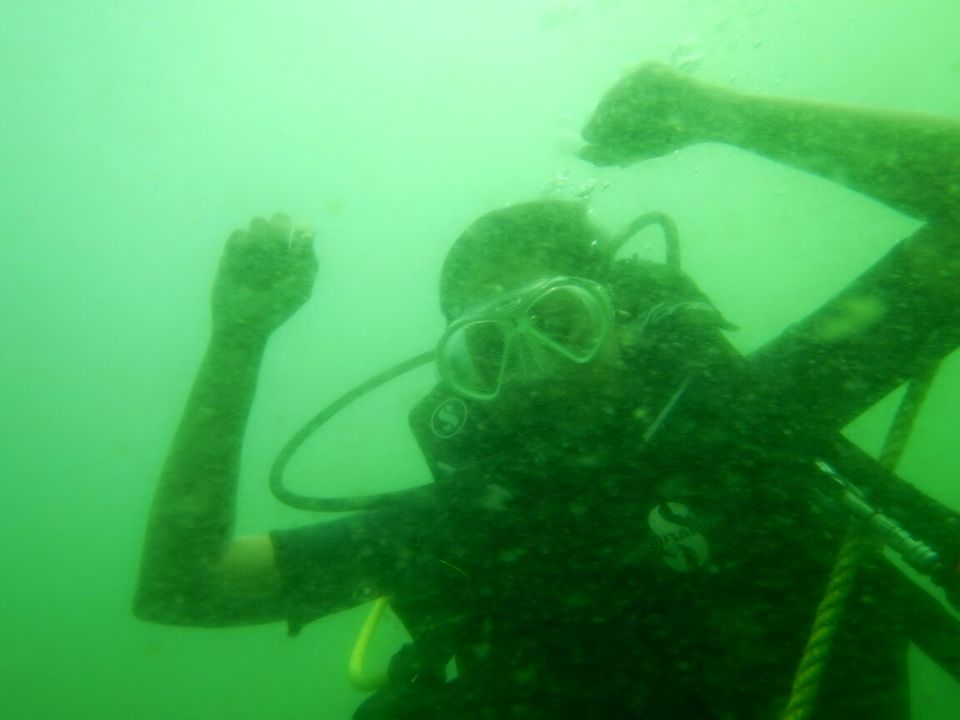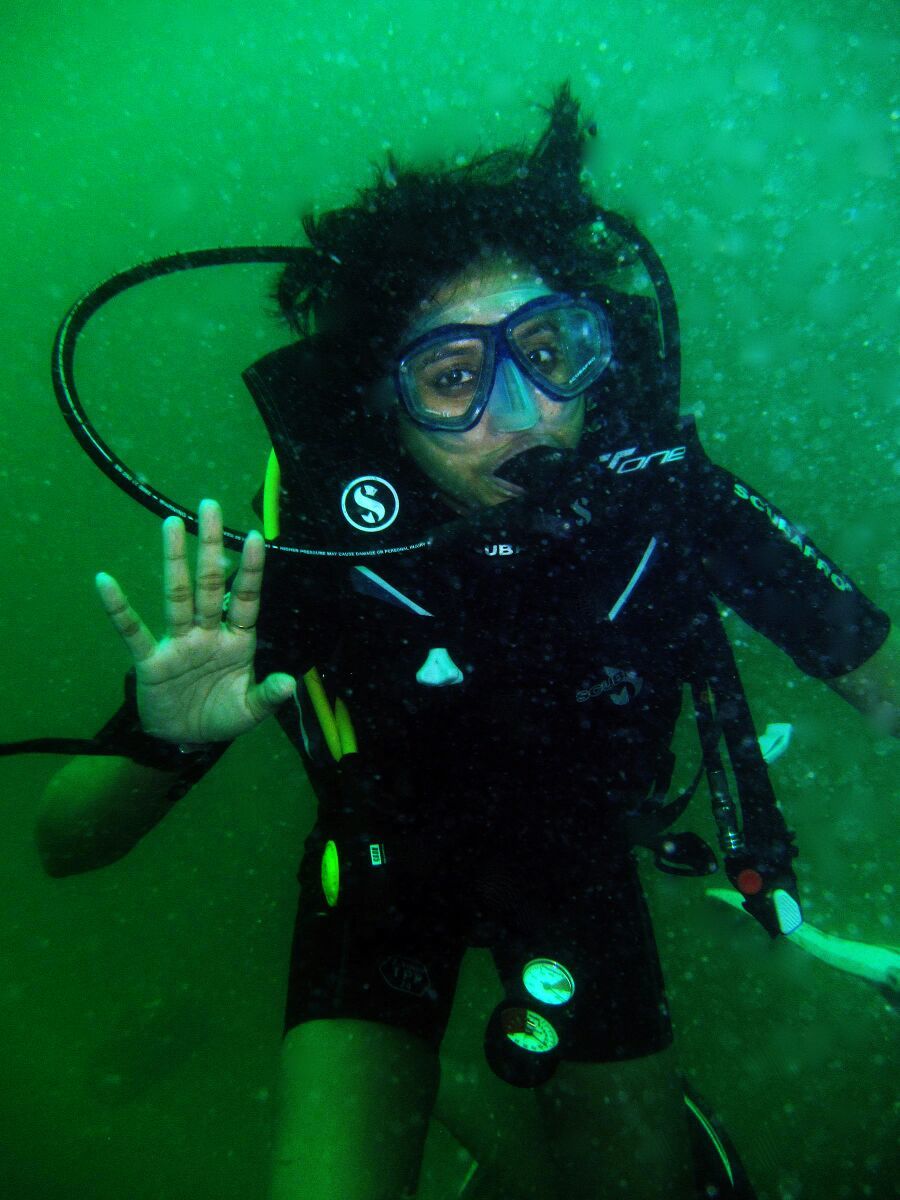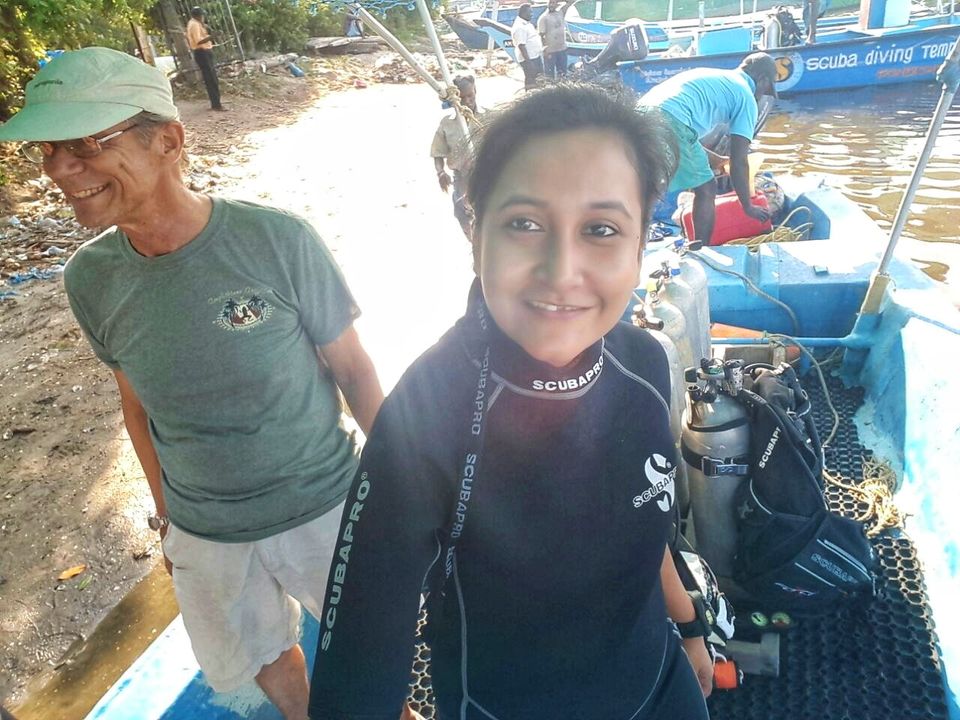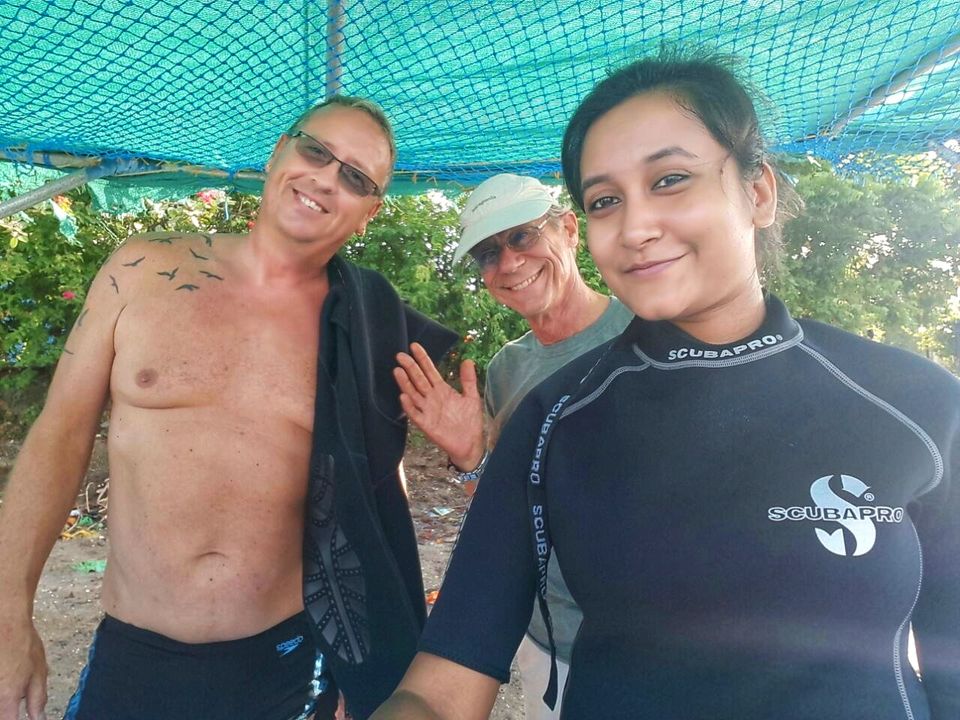 I have not only learnt diving but also learnt to live every moments of my life. My trip to Pondicherry gave me a scope to meet my lost life once again when I stopped living it. I was just breathing and I was given a chance to breath truely to live life. The calmness which I found there underwater I have treasured that in my heart forever.
Link - https://www.templeadventures.com/diving/scuba-diving-india
Address - 9, A. Gandhi St., Opposite Indira Gandhi Stadium, Colas Nagar, Pondicherry
Email - dive@templeadventures.com
All pictures have been clicked by me and shouldn't be used without my permission.