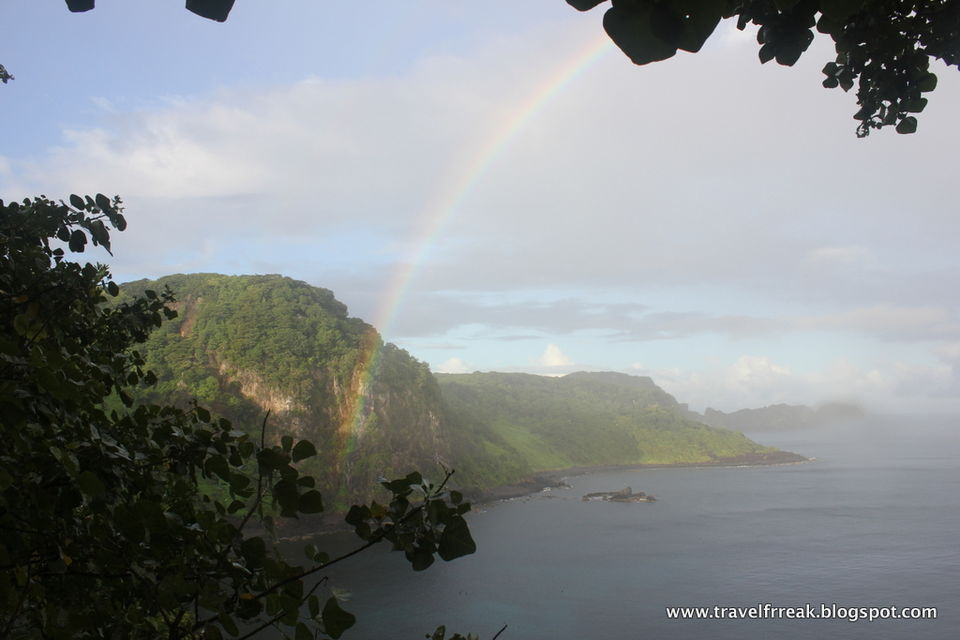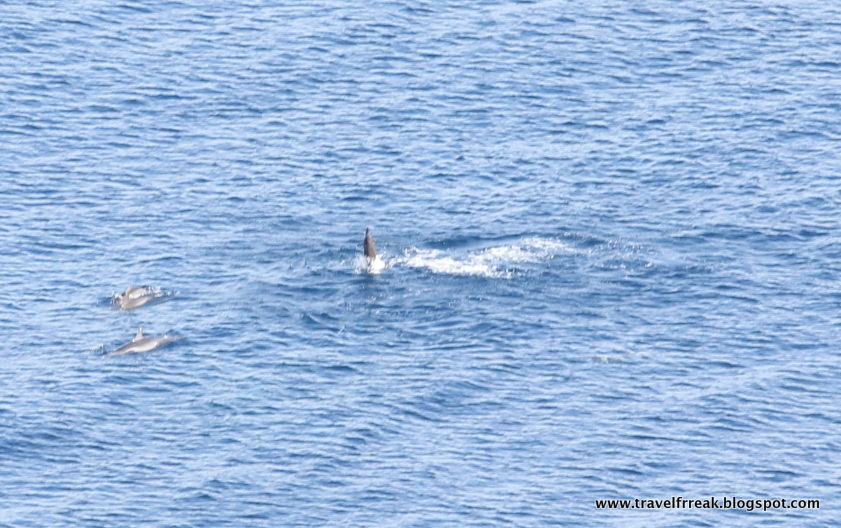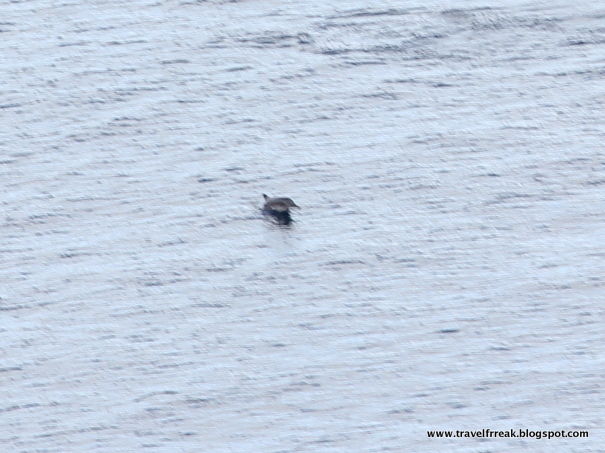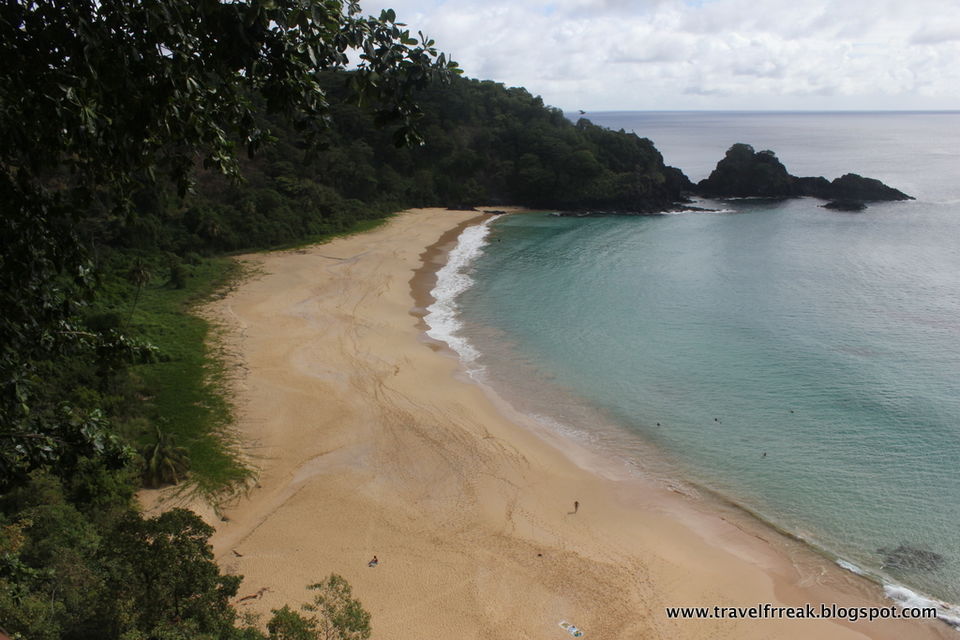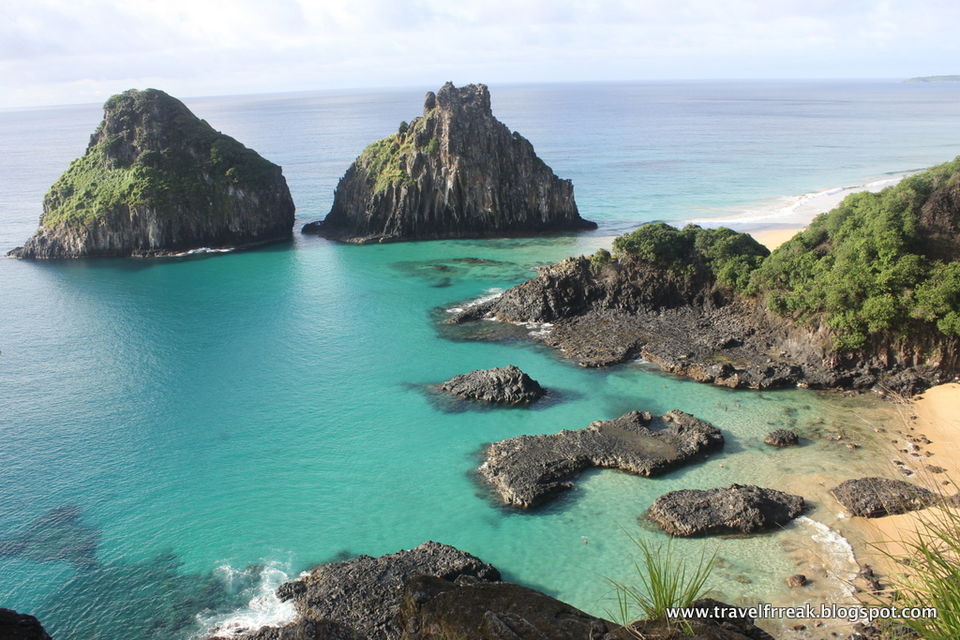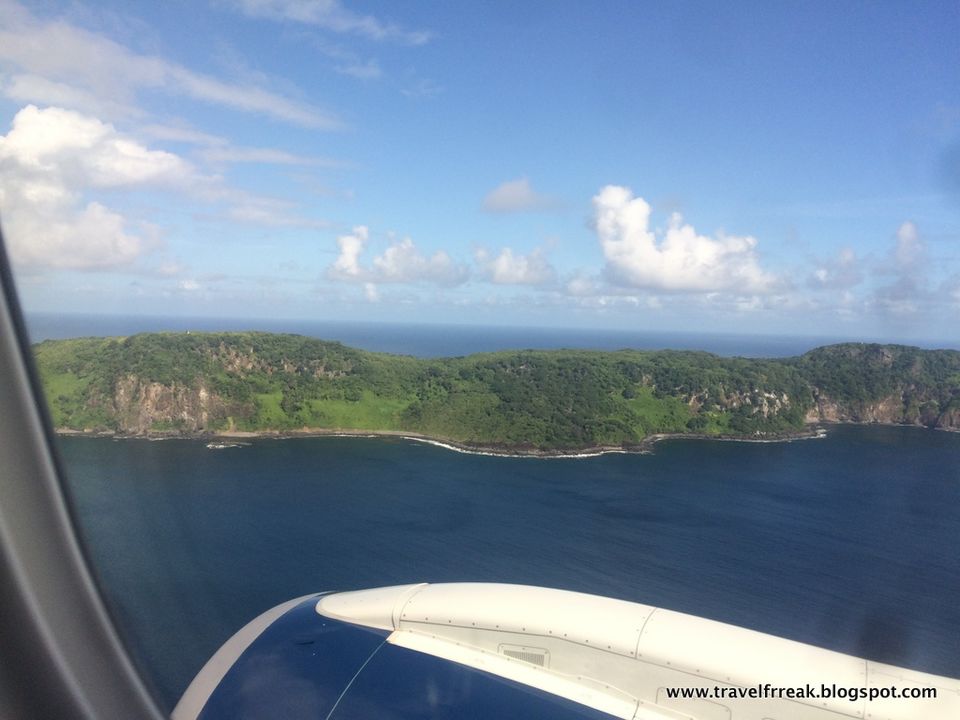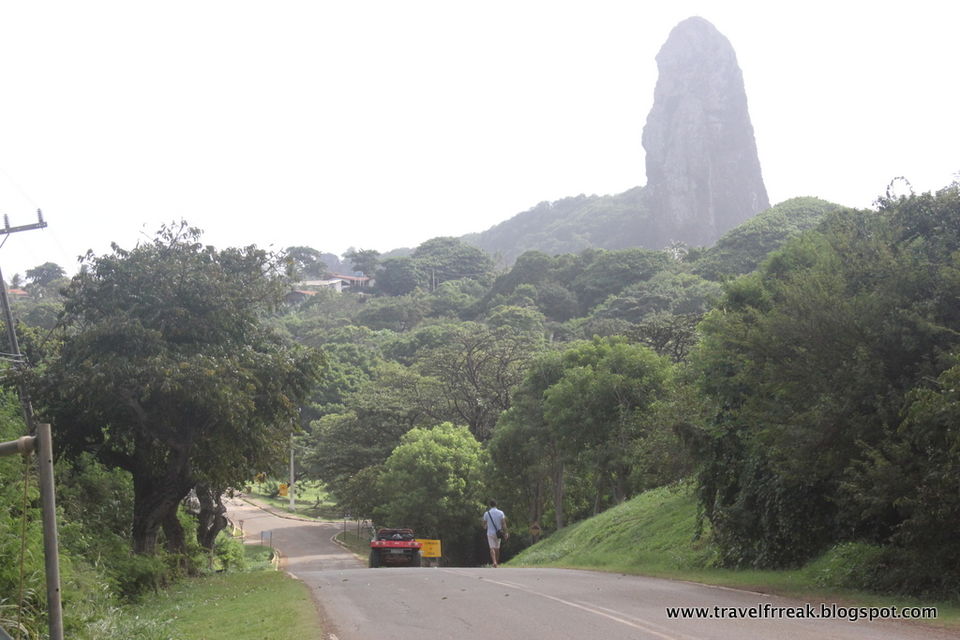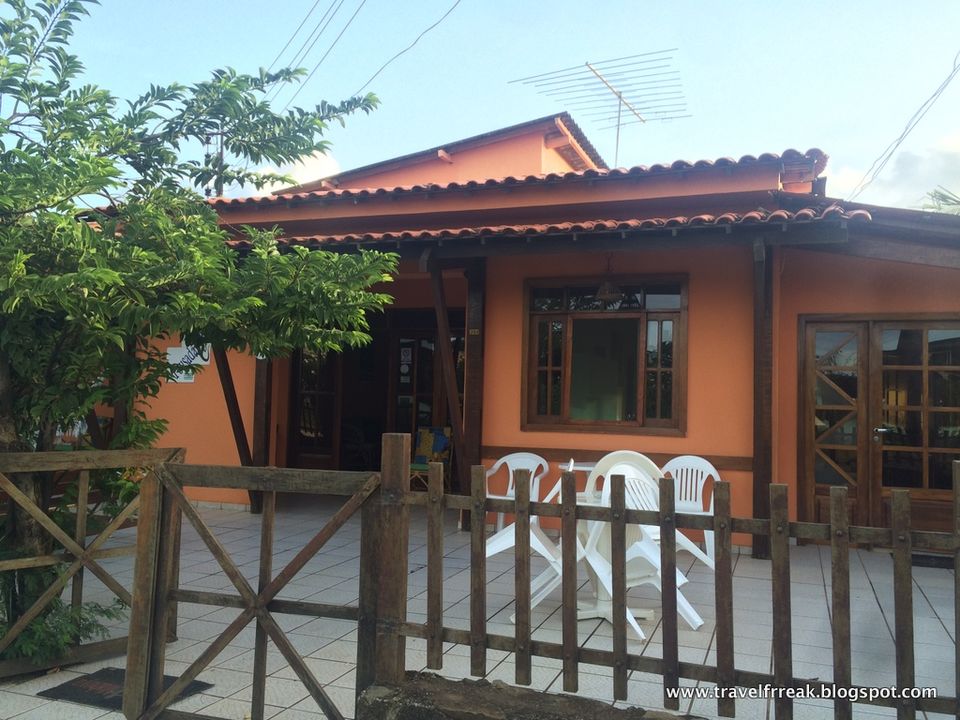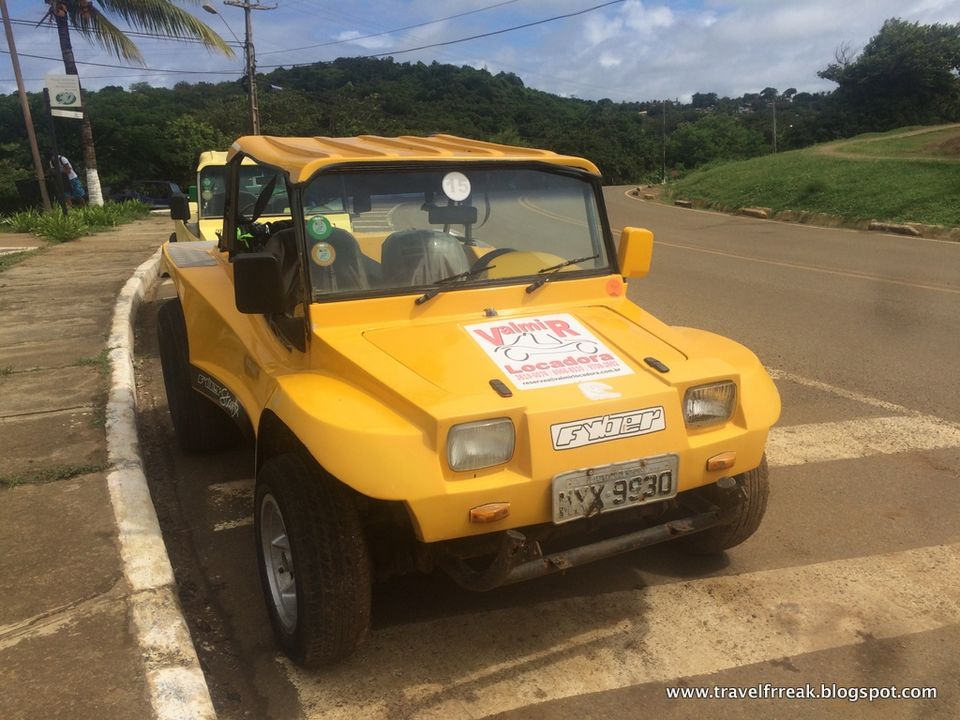 This trip was originally published on travelfreak

Fernando de Noronha (FDN) is a small island near the equator, located in the Atlantic ocean about 200 miles from the north-east coast of Brazil. Its actually the largest of some 21 very small islets around it, about 10 kms long by 3.5 kms wide. Its the only one of the 21 which is inhabited while the rest are very small and uninhabited. All these islands were created during volcanic eruptions, and hence are quite hilly and uneven.

FDN was discovered by Amerigo Vespucci (the same guy after whom America is named) but it was named after a Portuguese trader called Fernao de Loronha. It was owned by him for sometime, then turned into a Portuguese fort, then was a prison, an American base and now has become a major tourist destination. The island is not that well visited though - no one I know has ever been there and a lot of people in Brazil who we asked had not been there either(though all had heard about it!).

On FDN, the total population is only about 2500 people and it has a very rural otherworldly kind of feel to it. It has been designated a national marine reserve and offers a huge variety of sea life. Hence even though it could be a popular tourist destination, its not - because the number of tourists on the island is controlled (not more than 420 are allowed at a time) and travelling there is expensive. You have to pay 52 Real for each day you stay at the island, plus 162 Real for visiting the marine park side of the island (which is about 70% of the island and includes all the diving sites and most of the beaches).

We stayed in FDN for about 5 days and spent all our time diving or swimming, relaxing on the beaches or the villages, or looking for vegetarian food. We stayed in a Pousada (local inn) called Pousada Mabuya in the village of Vila do Trinta. It was barely a village with about 20-30 houses, but so be it. We woke up early everyday and finished early too as after sunset, which was around 6pm, there wasn't much to do.
The island as I said was very small. There were 2-3 very small villages - Vila de Remedios, Vila do Trinta and some more. All around there were sand beaches and diving sites. The island was very very green and lush with forests. There was a single road from one end to another, with small red mud tracks going towards the beaches. Most of the tourists stayed in the Pousadas in the villages as there were not really any big hotels. And thats it - thats all the island was!

Diving

Diving is what everyone goes to FDN for! Over our 5 days, we went for a total of 4 dives, all through Atlantis Divers (there are two more on the island as we had researched). Atlantis is located next to the church of Vila do Remedios, on a cliff and just in front of the old palace and the sole bank on the island! The first evening we were in FDN, we walked till the island and I was completely smitten by how different life on the island was! It felt so quiet and calm and pretty - its very tough to explain how it was.

Overall, Atlantis Divers were quite relaxed, though very expensive. Two dives costed about 450 Real per person. It was quite convenient though, they picked you up at the appointed hour, had two boats going out everyday for dives and always had at least one English speaking dive instructor (thankfully). With each of the dives, an underwater photographer also accompanied us - she would take photos during the dive and give them later the same evening (again expensive of course!). Overall the experience with them was positive and I would definitely recommend them.

We went to 4 diving spots in total - Laje Dois Irmaos (Site of two brothers), Caverna da Sapata (Sapata cave) Buraco do Inferno (Hells Hole) and Cabritos (which means goats!). Of these, the last dive at Cabritos was the best of the lot. On all the dives, we saw multiple sting rays, manta rays, moray eels, sharks (3 reef sharks and 1 nurse shark), blue and purple lobsters, one octopus and the usual fishes like frade, grouper, barracudas, pink linguida, sogars etc.. Overall, there were loads of fishes everywhere, many big and colourful ones too, but limited corals. And on our first day when we were coming back from the dives, we spotted two turtles swimming in the open sea, paddling away - was a cute sight. Sometimes the dolphins follow the boats, jumping and dancing next to them. It did not happen on our dives but one of our fellow tourist did see them on one of hers.

However, the highlight of the dives was the last day at Cabritos where other than all of the above, we also spotted a turtle!! It was a huge green one and we swam with it for a couple of minutes! In fact I think I came too close to it and tried to swim away, but it was too fast a swimmer for me and kept getting closer. Finally I was able to swim above it, which felt amazing. The dive at Cabritos was a drift dive, we had to do nothing and the current just took us all around! To be honest this one dive was the best and worth more than the other three put together.

I should mention though, on our dive the last day, some of the fellow divers were quite aggressive which spoilt the experience. They would aggressively swim towards anything that was spotted, pushing all other people in the way. It turned out to be quite a pain, and I have not witnessed it ever in so many of my other dives. Was quite sad!

Beaches

There are many beaches and bays on the island which are a must-do. Here is a list of the ones we went to and our impressions:
Beaches on North side of the island
Baia dos Goldfinhos (Dolphin Bay) - You cannot swim in the Dolphin Bay but can visit a viewpoint high up in the cliffs which gives you a great view of the huge Dolphin Bay. Apparently, dolphins visit this Bay almost everyday (and 94% days every year to be precise) and this spot can give you a view of the dolphins when they come dancing. The best time to view them is early morning around 6:30 am but they come and go during the day as they please. So there is no guarantee when they appear and you do need a lot of patience if you want to see them.

There are generally a couple of people from the Spinner Dolphin project who sit there the whole day, counting the dolphins that there And they do it everyday! It might be interesting to chat with them and learn more about the dolphins. Given that they get bored sitting all by themselves all day, am sure they would love to chat - we however couldn't as we didn't know any Portuguese.
We went to the Bay twice, both times early morning. The first day we were late and missed the dolphins. We stayed on for two more hours but no dolphins showed up. We did see a manta ray and a turtle down below plus a beautiful rainbow after the rains. The second day again we waited for 1.5 hours and just when we were about to leave, they came! In 3 groups of about 80 dolphins! What a sight that was, to see these graceful creatures playing and dancing in the water. The view is still from far off, but enough for you to see and enjoy what they were doing. We tried to capture the dolphins jumping up and down, but the real thing was definitely better than what the camera captured!
Baia dos Sancho - Sancho beach is a smaller beach than the others, surrounded by cliffs on one side and the sea on the other. Getting there is a bit tough though as you need to climb down narrow ladders and this can get tricky after dark. The beach is pretty, plus you can snorkel along the right side next to the rocks. We spent almost an hour there, snorkelled and spotted loads of fishes but nothing too interesting.

Also, Sancho is supposedly the prettiest beach in Brazil but I wouldn't agree. I would rate it as the second best, after Baia dos Porcos.

Baia dos Porcos (Bay of Pigs) - We got our first view of this beach from a viewpoint near Sancho beach - it looked just like a picture in a postcard!! Yellow sand, emerald green water, reefs to snorkel around, stones to sit on and beautiful rock formations just next to it. What else can you ask for? Though that day it had got late, we went back to the beach again the next day to experience from close what we had seen from far.
And loved it totally! We walked in the water, on the sand, and just relaxed. We did not get a chance to snorkel there, but I can bet it would be amazing. But guess what, even without doing much, we saw a sting ray floating in the water, just next to the beach!! We also saw loads of crabs here - interestingly, the ones on the rocks took the same colour as the rocks while the ones on the ground were a bright red colour (random titbit!).

Getting to this beach is a bit tricky too, you need to get to the Americano beach and then walk over the rocks to get to Porco Bay. Also the access gets blocked during high tide, so you need to be careful when you go and when you leave.

Beaches on South side of the island

Praia de Leos - Leos beach is famous as being the site where turtles come the same time of the year, every year to lay eggs (around May I think). I have heard that during this period, tourists can book a cabin at night and watch the turtles come in from the sea to lay eggs. When we were there, the egg hatching season was already over though.

We just went there to get a view, and it was a pretty long beach with yellow sand. Nothing much otherwise to write home about though, since the turtles weren't there.

Sueste beach - Next to the Leos beach is the Sueste beach which is the only beach located on the main paved road, and is easy to get to without having to walk through mud tracks! Its a dirty beach though with lots of seaweeds cluttering the sand. The snorkelling there however is good. There is a restricted area where you can swim only with a lifejacket as the water is shallow and fishes can come very near you.

We snorkelled on the beach for about 2 hours and saw lots of small and big fishes. Also, a shark swam by very close to my husband's leg! That was a bit scary and we swam as fast as we could back to the beach. I would rate this beach as a must-go for snorkelling. It might be a good idea to get a guide from the beach itself to take you around the area, to spot fishes easily as well as avoid sharks. Also, apparently you can spot maximum fishes either in the morning or late evening, so thats the best time to go there.

Atalaia beach - There is a natural tidal pool at the beach where you can snorkel and spot great sealife very easily. However, its not open to public access, and you need to book ahead with the ICMBio divers as they allow only a limited number of people at specified times to snorkel on this beach. We did not book in time and could not go there, but I have read that this is worth going to.

Other beaches on North side of Island (and not within the Marine Park)

All the beaches mentioned above are part of the Marine Park and you need to show the Park entry card before going there (costs about 160 Real for 10 days). However, there are 4 beaches on the Northern side of the island which are free to visit. They are all connected along one long white sandy stretch - the Americanos, Boldro and Padre beaches. All have amazing yellow sand, emerald green water and loads of sun to enjoy. They also provide a view of Dois Irmaos, also know as the Two Brothers mountains. We went to these beaches twice - they are a good place to relax and enjoy the sun, or swim in the water. A lot of people also surf here as the waves are good.
This trip was originally published on TRAVELFREAK.