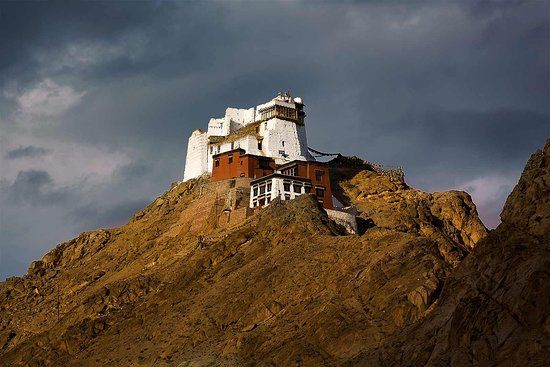 The Namgyal Tsemo is one of the most famous tourist sites in Leh District and was founded in 1430C.E by King Tashi Namgyal. Situated at the summit of Namgyal Hill, the monastery is best famed for its three-storey high solid Maitreya Buddha statue of gold, also known as Namgyal Tsemo Gompa. The monastery offers a panorama of the flowing river Indus, snowy Zanskar, and surrounding farmland views.
The king had the gompa erected over his palace as a sign of respect for Buddha and Buddhism. In addition to the gold statue, there is also a meeting hall and temple with murals, paintings and Buddha sculptures. Here you can find some antique texts of considerable religious and historical value. This area is unspoilt and picturesque, which increases its attractiveness.
The monks of Shankar Gompa come every day to Namgyal Tsemo to worship the idol, to light a butter lamp in the gompa and to see it as a wonderful sight.