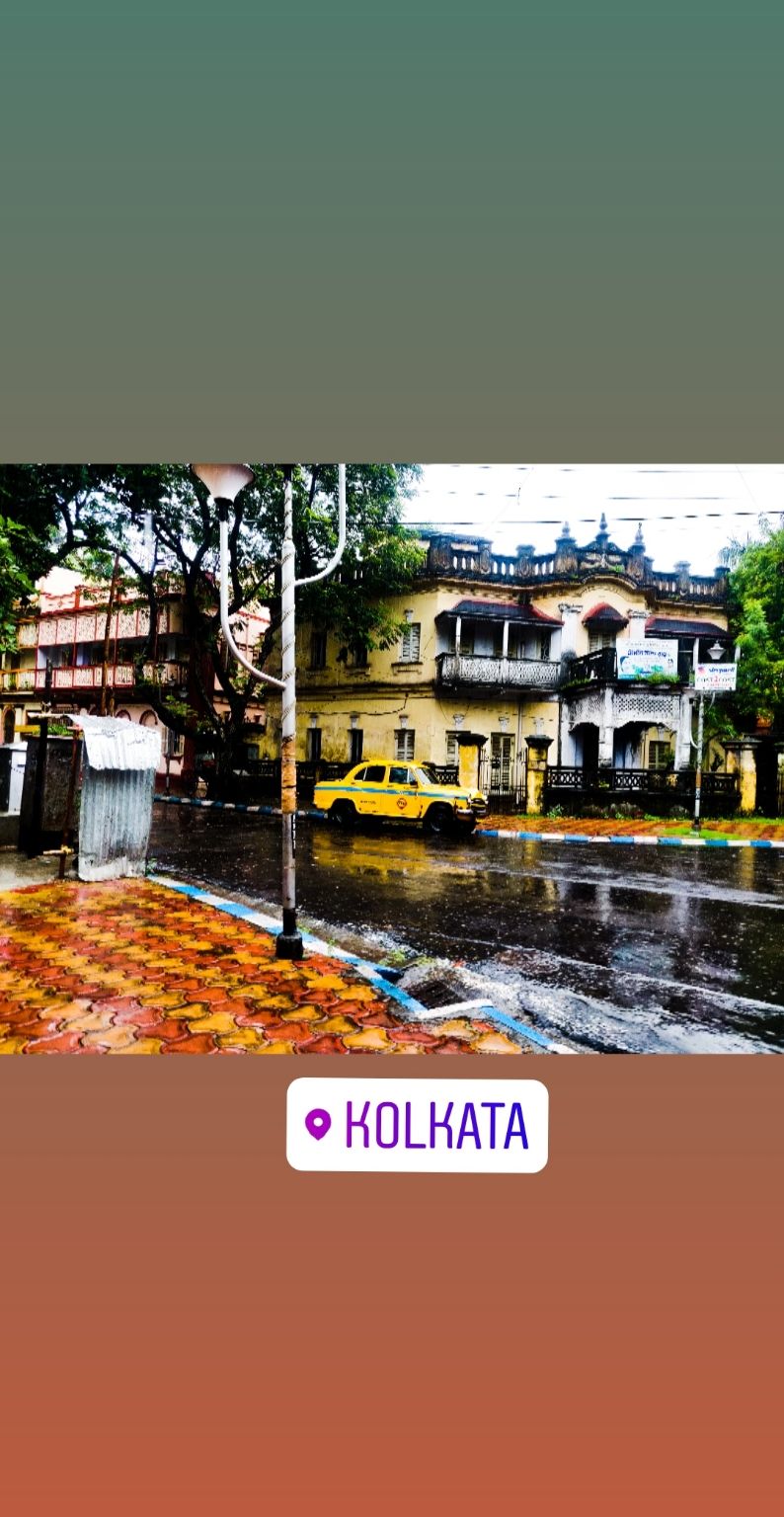 I took the 4:30 AM flight from Delhi and reached Calcutta at around 6:30. Took a taxi to The Corner Courtyard (at Lansdowne Road) and soaked in the vibes of the city on the way. Coming from Noida, the yellow taxis, buses and the prominent public transport system was fascinating to observe. Also, I have always been in awe of cities which have their own 'culture' for the lack of a better word (which I am gradually realising, every city does, duh!).
The Hotel I was staying in (The Corner Courtyard at Lansdowne Road) was a pretty, quaint and cozy home turned into a boutique hotel located at the main road and very close to Ballygunj, Bhowanipore and Gariaghat Market. The staff was super helpful and accommodating. The rooms have fancy names and themes (such as Crimson, Cadmium and Viridium – the one I stayed in had green décor with a wall of portraits and a balcony overlooking the street). The ground floor of this place has a pretty café, which is very popular amongst the locals.
After a quick shower, I decided to explore the area solo on foot (because that is how you get to know the place the best, I think) and that remains the most beautiful moments of the trip. Walking through relatively narrow lanes of Bhowanipore, I noticed a lot of things – the vintage architecture of homes which replicated the image of Calcutta painted by cinema and books, the morning hustle of people going through their daily routines – buying flowers for pooja, pot-bellied men bathing on the streets, fish and bhaaji being sold and negotiated, nameplates bearing a long list of academic degrees emphasising on the importance of education to the city and most importantly, I noticed an inner sense of safety in this solo of around 5 kilometres. Not once did I feel I was being stared at or made to feel uncomfortable, which to our utter misfortune is a given in most parts of India now. Further, the city has similarities to Mumbai, but everyone seems relaxed and in no hurry to rush to other places.
Also, what I concluded - again, my personal opinion and not a factual representation at all, was that this is a city of people who have worked really hard. The lives people from this place have built for themselves is not endowment but a product of their choices and toil.
The weather was cloudy as I was in midst of my deep thought process and soon, the pitter-patter commenced (to not end the whole day and get harsher within the next few hours).
*Sharma Tea Stall, Bhawanipore (opp. Gurudwara)*
Decided to deal with my hunger pangs at this place, which was recommended by friends from Cal and this was a gastronomical delight! This is a very tiny shop with barely any place to sit but serves the yummiest Club Kachories (mini kachories) and aloo subzi, amongst other things. Do not forget to order their kesar chai to wash the kachories off.
I took a taxi back to the Hotel to pick up my prettily decked-up friend to formally begin our trip. The taxis here go by meter, the minimum fare being Rs. 30 but the taxi drivers very notoriously would want something additional to the fare. Tip here would be to confirm with them that you will pay only as per the meter and also carry change with you or else, they would casually deny having the change to return to you.
*Marble Palace*
Our next stop was the Marble Palace which was a private property – a 19th century mansion belonging to Raja Rajendra Mullick. The palace is pure magnificence – made of multiple types of marbles, amalgamated together, is a home to several original artefacts and paintings by eminent personalities like Peter Paul Rubens. There are exotic birds and mirrors and regal artefacts and what not. I am sure that my description does not do justice to the beauty this place holds, but this is a must visit place which should not be missed at any cost.
There is no entry fees but photography is strictly prohibited. A guide is provided to you to accompany you. This place is still a home to the royal family.
*Victoria Memorial Hall*
After walking through puddles and knee-deep water, we took a taxi and reached the Victoria Memorial and the first sight of it was breathtakingly beautiful. The palace was built to commemorate Queen Victoria but was never actually visited by her. The majestic architecture – the interiors, the building, the gardens and the lake surrounding it – everything is a treat to eyes.
Inside the Hall is an exhibition of paintings and artefacts of Mughal and Victorian history – a delight for history lovers.
*College Street*
We then decided to give a visit to the College Street – the place where you can find any book in the world. However, due to the Ayodhya Judgment and the cyclone arriving the same day, the market was largely closed and we had to move on from with place with just a sigh and no books.
*Howrah Bridge*
We then took a cab to the Howrah Bridge – which is the first picture which comes to mind when one thinks of Calcutta and it is huge! The iron work and the banks of Hooghly were a mesmerising sight to gaze at. The bridge is a one way and the Howrah train station is located at one end of the bridge.
After having been drenched to our bones, we decided to call it a day and start over the next day.
Fortunately, the cyclone had moved away from Calcutta in the night, leaving us smiling with a bright and sunny day to venture through the city and collect some happy memories!
*Experiencing the Tram*
This was a priority on my to-do list since I wanted to fully experience the 'Cal' thing. So, we reached the Esplanade Tram station and waited for the tram. We waited and waited and were told by the authorities that the tram has no fixed time and might be arriving now or in an hour. We gave up and started walking on the opposite side of the tram station. Had chai, went to KC Das and gorged on their roshogullas and mishti doi (this place is supremely famous across the nation for Bengali sweets).
While walking leisurely, we suddenly spotted the tram and a wave of childlike happiness crashed inside us as we ran to the tram and boarded it just in the nick of time!
The trams here are wooden and super slow. We were joking how we would be able to walk faster than it but it was a unique and fun experience! Another must do, if I may have to expressly add.
*National Museum*
We, thereafter, visited the National Museum which is right at Esplanade and is a home to a lot of interesting things – paintings, sculptures, textile, carcasses, coins, masks and what not from different time periods. If you are a museum enthusiast, then this place is just for you!
*Princep Ghat*
Named after James Princep, this place is at another riverside of Hooghly. You can take a boat and sail through the river, or as we did, just dreamily look at the skies and the Hooghly bridge for hours. Next to the ghat is a railway track, (which was being used for a wedding photoshoot by a couple), crossing which there is a white memorial building having several pillars. This is the place where Vidya Balan sang Piya Bole with Saif Ali Khan in Parineeta.
Since my friend was leaving in the evening, we went back to the Hotel for her to leave and I went shopping to Gariaghat Market thereafter.

*Dakshineshwar Kali Temple and Belur Math*
Since a trip to Calcutta cannot be considered complete without seeking Kali Maa's blessings, I decided to go for a temple run at 6 am in the morning. The arti takes place at 6:30 AM and I was clearly late for that. The temple is further from the Howrah Bridge and again, located at the river bank.
You are not allowed to take your phone inside the temple premises (which I realised was a really good thing) and are just with yourself and the divine as you seek blessings and have a conversation with yourselves. The beautiful temple isn't very crowded at this hour (except on Tuesdays and Saturdays, I was told) and is a good place to introspect.
From here you can either take a boat (called Launch) to Belur Math or a 10-minute long drive and reach Belur Math which is the headquarters for the Rama Krishna Mission.
While you can google the history on your own, the place is at the Hooghly banks and you can sense peace and calm flowing through the air when you sit on the steps of the ghat, watching people take a dip in the holy water.
While preparing your iternery, you may also decide to drop by the following places:
Shopping:
Gariaghat Market and New Market – These are road side markets where you can score Sarees, dupattas and local handloom at reasonable prices. And ladies, pull up your bargaining socks here!
Food:
Sharma Tea Stall – Go for the kachoris, singara (samosa) and the kesar tea.
Bhojohari Manna – This is where you can indulge in some homely Bengali food.
Shrikrishna - For luchi (maida poori) and sabzi.
Haldi Rama Prabhuji – Similar to other parts of India, this chain of restaurants has multiple food options. Try their chonar dal (sweetened chana dal) and lucchi.
Ballygunj – This place has a lot of fine dining places (including Ballygunj 6 Palace). We skipped going here due to paucity of time though we were advised to.
Tiretti Bazar – For Chinese food. I skipped it being a vegetarian, as advised.
and of course, Puchkas – From everywhere! We tried so many places and it tasted different everywhere. Honestly, do not try to find the 'perfect puchka', like my friend did, because it does not exist. All of them were finger-licking good!
Mishti:
Get sweets packed/have them there at KC Das, Balaram Malik, Ganguram or Putiram.
Overall, I went back from this city with warm, fuzzy memories, some intimate conversations and conclusions with myself, a huge grin and a bag full of handloom and mishti!
Calcutta (for the sake of the old charm the name holds) had been on my wish-list for an inexplicable reason and November 2019 was finally the time to realise it.
Co-incidentally (still cannot decide on using 'unfortunately') the cyclone 'Bulbul' also decided to make a landfall on the same weekend but that did not deter me and my friend (we were two girls on an extended weekend trip) from altering our plans and we went ahead with slightly lowered expectations.