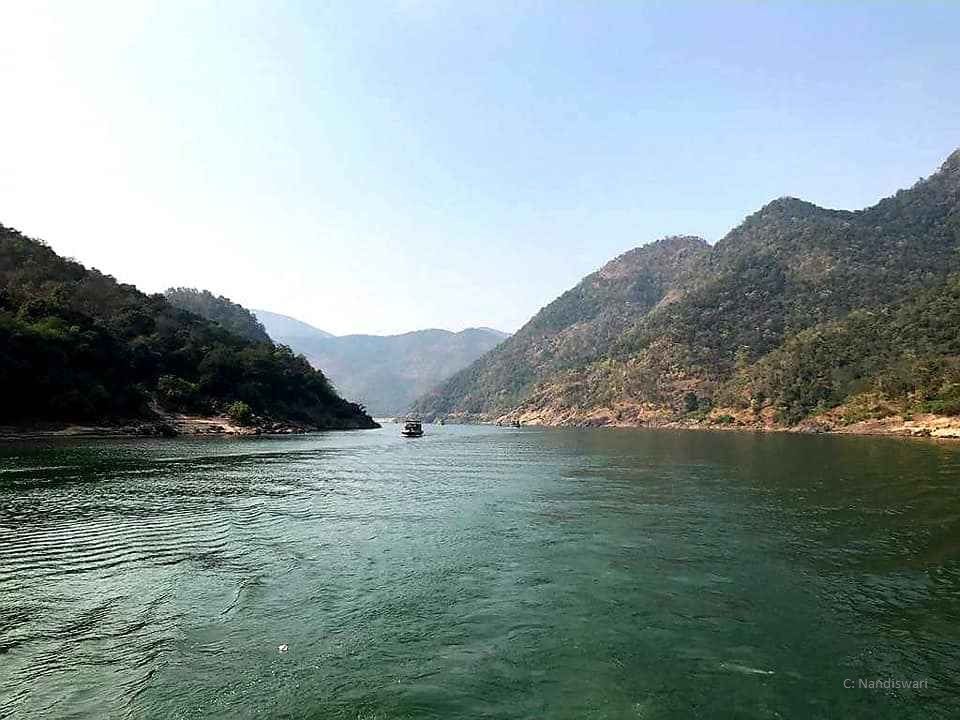 Tired of your routine chaotic life.....want a peaceful and relaxing break but don't have much time in your hand for leisure, and yeah, do you stay in the surroundings of Hyderabad? Papikondalu serves you best!!
Around 350 km from Hyderabad, a mountain range in West Godavari, between Rajamundry and Bhadrachalam, this place has its own beauty and is truly a feast to your eyes. It gives you a sense of serenity.
You can plan anywhere from 1 to 3 days to stay here as per your possibility, you can just do a boat ride which almost takes 5 to 6 hours through out Papikondalu, or stay at huts arranged by the local tourism for a day or 2, Kolluru Huts being one of the known arrangement of such kind....don't expect much amenities....you have the basic, like food and shelter.....but yes, the stay is worthy of your time.
Let me share my experience which would be helpful in planning your next trip to Papikondalu.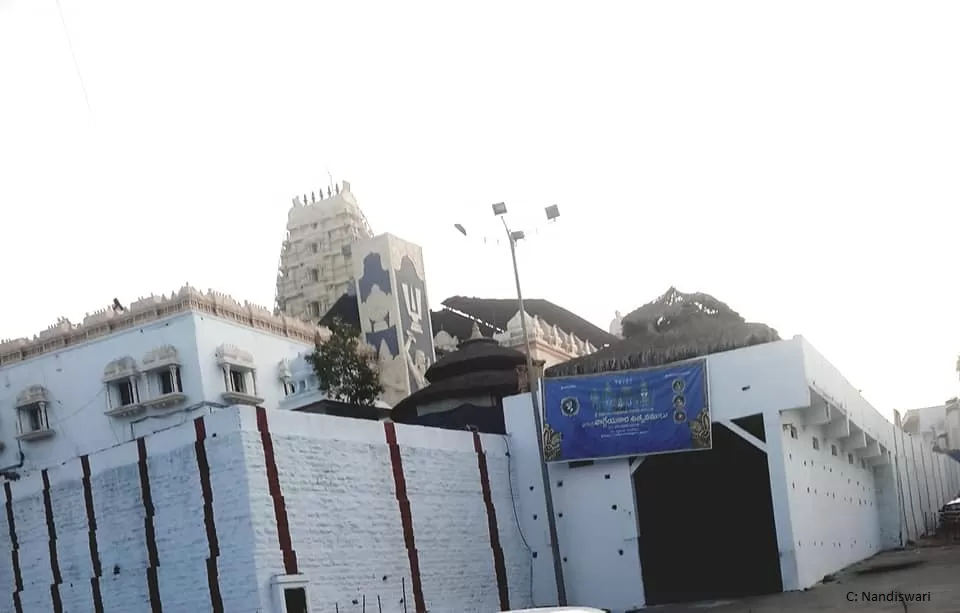 My trip along with my sweet hubby was planned to be a 3 day trip......We started from Hyderabad to Bhadrachalam, taking a bus in the night after dinner at home which started around 10:30 and reached Bhadrachalam around 4:30 in the morning. Many private travels run buses from Hyderabad.
Our plan was a 3 day trip, one night being a stay at the hut arrangements amidst Papikondalu on the banks of the river Godavari, which gradually decreased to one day trip due to many reasons.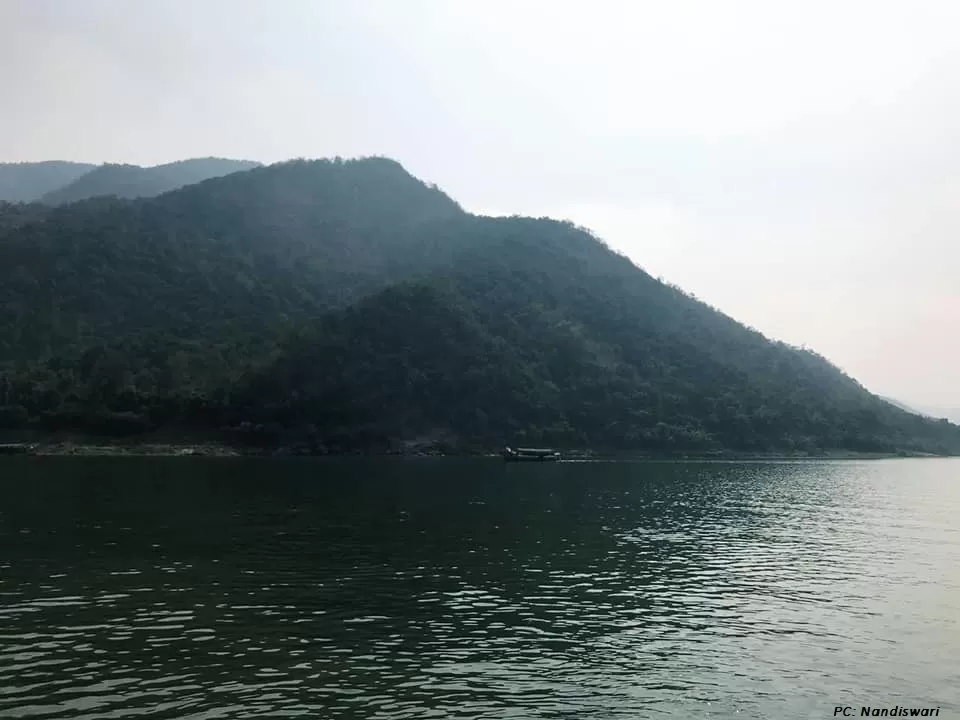 As we reached early, wanted to visit the Shri Ramachandra Swamy temple first. The temple is one of the most known piligrimages of the deity Sri Rama, with lot of history and also story of Sri Ramadasu being related to it. First we took a room to freshen up, while we wanted to go to temple, enquired with the locals about the hut accommodation, heard different things from different people. We could get hold of a person who arranges boat ride and the hut accommodation, who informed us very clearly that it is not safe for couples to stay at night in that area, because, it being a weekend, you have a lot of youngsters who come over here just to booze and only two cannot be given a single hut and you have to share it with 4 to 5 other members due to the demand.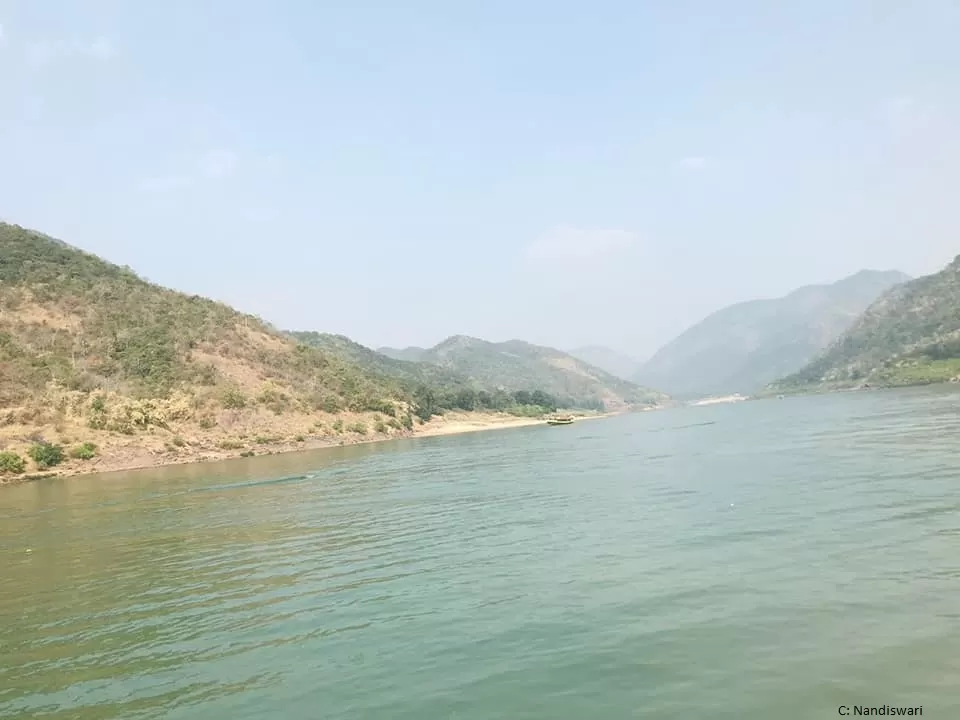 So here is the thing, everyone'The Papikondalu Tourism' agents works as a syndicate in the Bhadrachalam area, you get tickets from any agent, all will be for the same boat, if one is full, you get to go in the other one, yes there are exceptions...you have some govt. run boats, which would be pre-booked very early.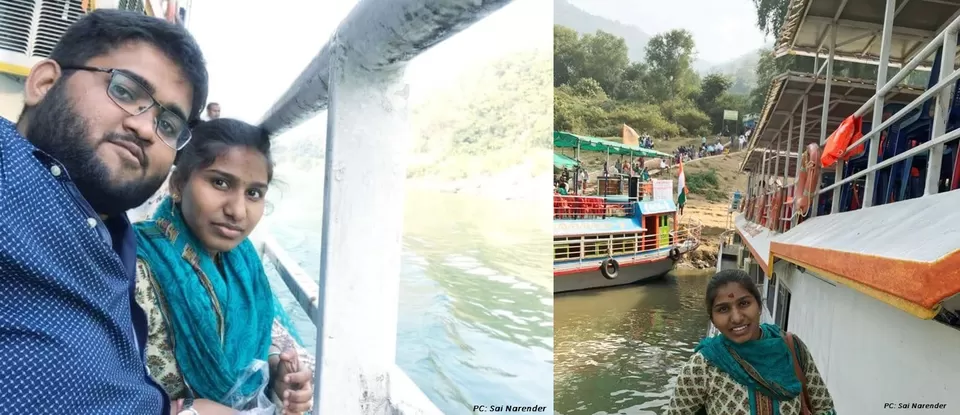 So as we did not get the huts, we decided to go for a boat ride. During the course, we wasted a couple of hours in this and didn't had time to go to the temple, as we might also miss the boat ride if we don't start from Bhadrachalam. So we just had our breakfast, grabbed some snacks from a local store and moved to the starting point in the auto provided. Normally you have transport like 7 seater autos from the temple complex to the starting point of the boat ride, which would be arranged by the agents who take care of your boat ride. The starting point, most probably a village some where around 30 to 40 kms varies according to the amount of water in the river bed in that area..from where you are taken across the river and also lunch is provided. The food is average but filling when you are hungry.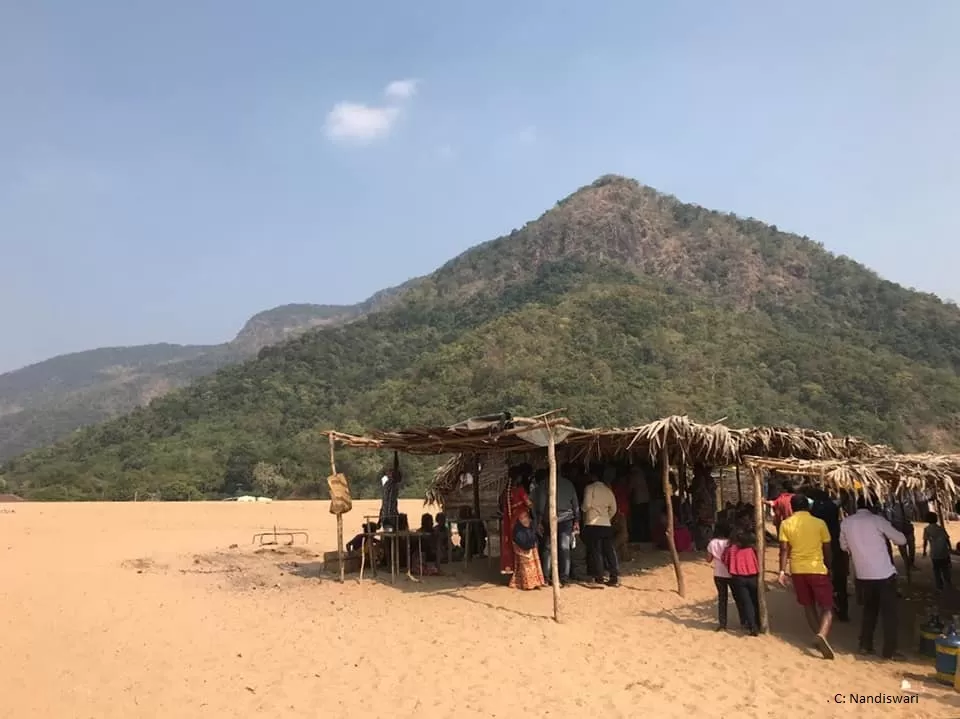 Now let me tell you the positive side of the trip...the boat ride was so soothing and peaceful, the boat management also arranged some activities on the deck, providing entertainment. We had two stops during the boat ride, one was a visit to a small village called Perantalapalli, and the other was to have our lunch.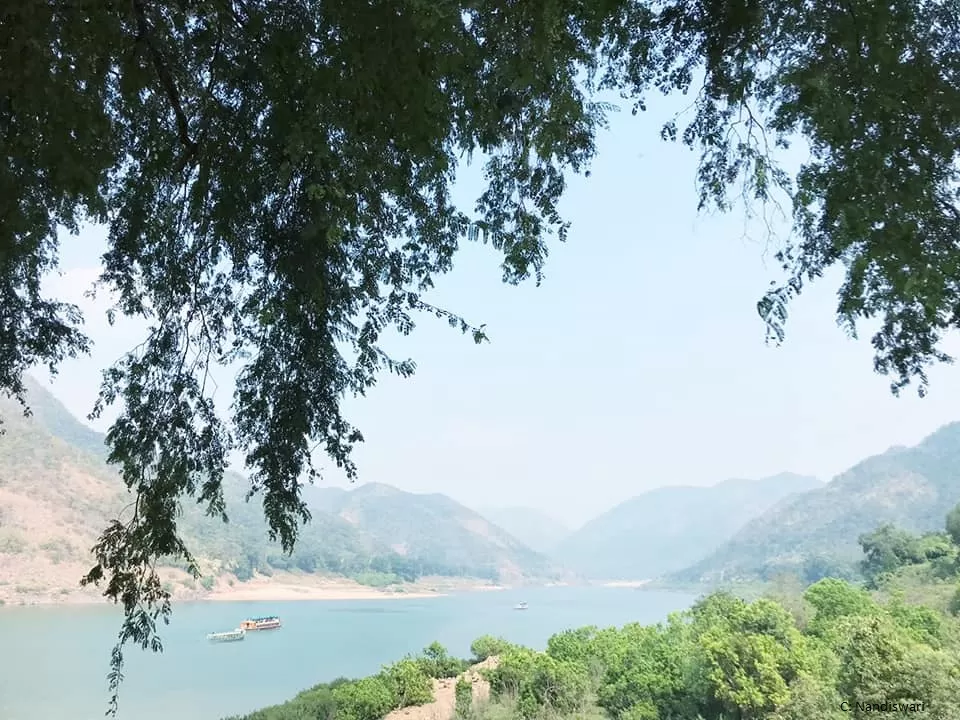 Perantalapalli is a very small village at a tiny hill top known for a temple with a small waterfall gushing in the temple premises. This place holds its significance with a Shiv Temple constructed by a muni and is populary known as Shri Krishna muni vatam. The difference here is that there are no priests who perform any pooja, rather the devotees bathe in the water fall and offer their prayers directly, and utmost silence is requested here while doing your prayers. Also this place is the junction of Sabri and Godavari. This is a very peaceful place amidst the lush greens. Also you can buy handicrafts from the local tribes here.
Later we stopped at a place amidst the mountains where food was arranged near Kolluru huts.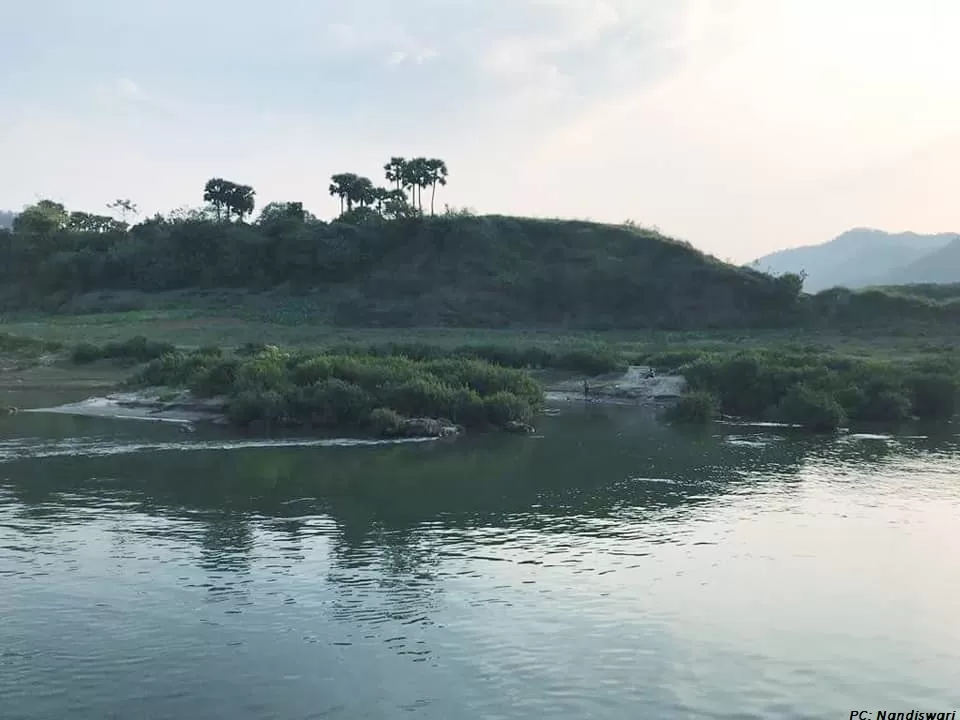 While returning back it was already evening. With the sun's effect lessening and the river flowing, very heavy at some points, and the sceneries provided by near by villages, I just felt like staying back for the night but ALAS! we couldn't get the hut accommodation which is the only source to stay here. After the ride we came back to Bhadrachalam, went to the temple, the temple premises were giving a feel of the powerful phrase " Jai Jai Ram, Janaki Ram" everywhere. Later we started back to Hyderabad by a 10:30 bus for which we already booked the tickets during the boat ride. Anyways it was a great one day trip for me.....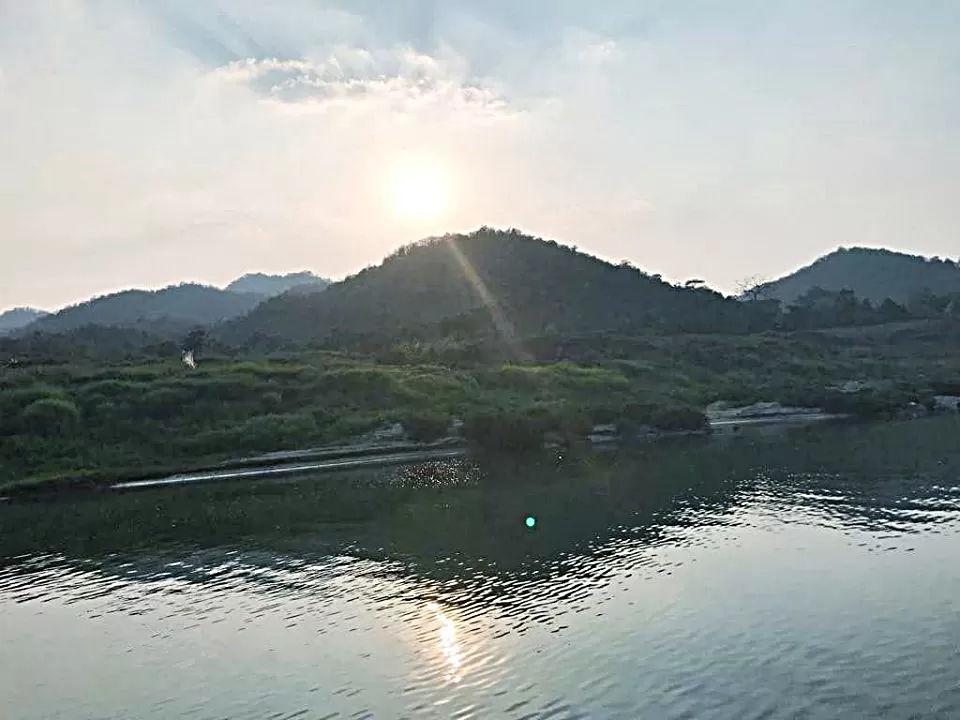 The other attractions in Bhadrachalam are Parnasala, Abhaya Anjaneya Swamy temple and Sabari river.
Suggestions: If you want to stay in huts and if you are a group of people, it would be easier for you to get accommodation, and one more very important thing, Avoid long weekends, public holidays, you have a plenty of inflow of tourists, which would give you a tough time in getting huts, also the costs vary very dratsically regarding everything, stay to boat ride to food...
If you can drive your own through a car or a bike....you will enjoy the trip more with a lot of picturesque spots throughout the trip, you can just book tickets for the boat ride, park your vehicles and go for the boat ride....The other way is from Rajamundry. I am not sure if camping is allowed here, but yes if it is, you can just camp at a spot near by to the river as it flows through many small villages and spend a night...I m sure it would be amazing.
Will be back soon with another travel experience, until then,
Happy Travelling!!