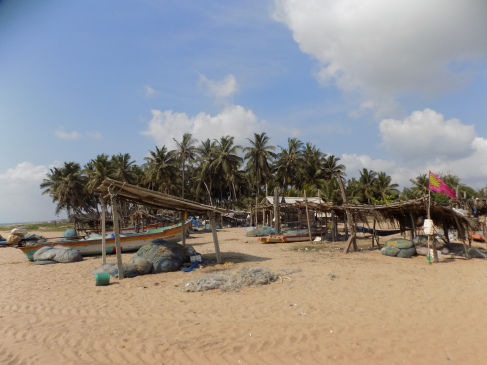 The ocean stirs the heart, inspires the imagination and brings eternal joy to the soul.
I am a beach enthusiast and that's why my next trip was to Pondicherry. Well I always wanted to go there. It was always in my bucket list. So without any jibber jabber let me tell you about my trip. Also you can do this trip under 5k (excluding scuba diving). So if you are on a tight budget this is an ideal choice :)
We reached Villupuram station by train on 11th March at about 12 noon. From there we took a local bus it took 1 hour to reach Pondi. After reaching there we hired a bike (you could get a scooty for Rs.300 or even less if you have good bargaining skills) and checked in a hotel. In the evening we went to Promenade beach, It was about 2 kms from out hotel. Since it was weekend the place was a bit crowded. Well I must say among all the beaches I have seen in India, this was the best, it was clean and very well maintained. We sat there till 11 P.M.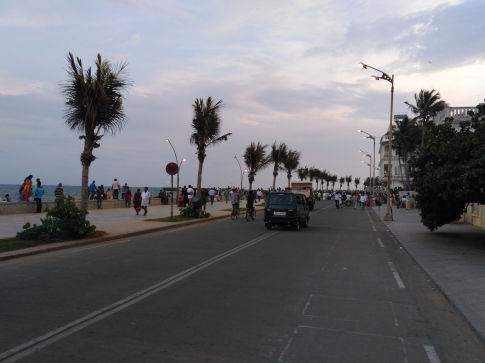 We started our tour early morning. At 5 AM we went to Promenade beach to see the beautiful sunrise. After that we went to Paradise beach which was about 14 Kms from White Town. The roads are nice and clean, you can find almost any place in google maps easily. Paradise Beach is also very clean and maintained. It is also known as " paradiso island ". After getting down at the sea, one can clearly see the point where the sea and the backwaters meet each other. This point is said to be the perfect fishing ground because in these backwaters sometimes, fishes from the sea venture out. After spending an hour at Paradise beach we left for French Colony.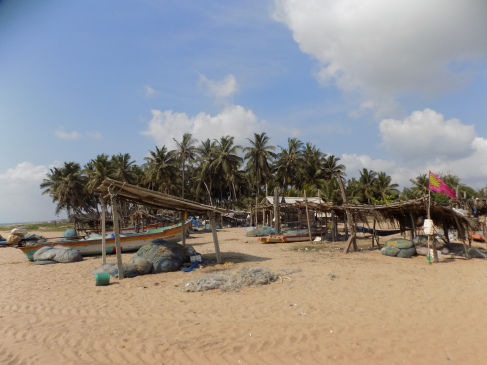 French Colony is the perfect spot to explore Pondicherry's fascinating cultural sights and attractions. An array of attractions, including French War Memorial, Bharahti Park, is a must-see while visiting the neighborhood. French Colony has a lot to offer: famous sites, great restaurants and a range of exciting entertainment. I just loved seeing all the nicely preserved colonial buildings with its columns and verandas, it was remarkable.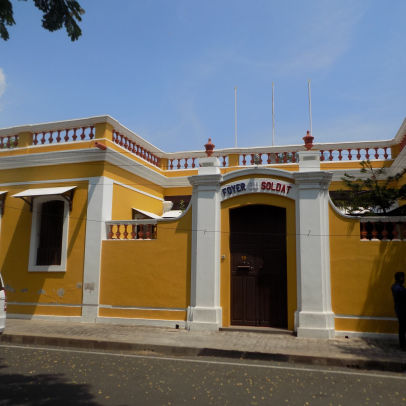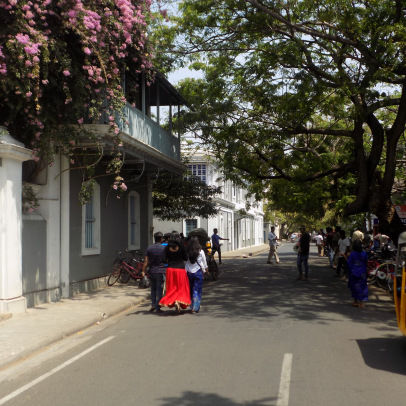 Then we went to Sri Aurobindo Ashram. Ashram has fixed visiting hours and follows very strict discipline. There is a Samadhi inside the Ashram. Visitors are warned about keeping silence. Some people sit on the ground near Samadhi and meditate for hours, some slowly pass around the Samadhi, some kneel near it. It was very peaceful. It has its own library where you can sit and read or buy books and stuffs.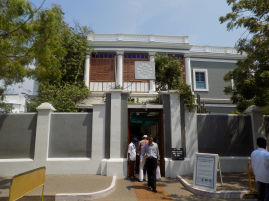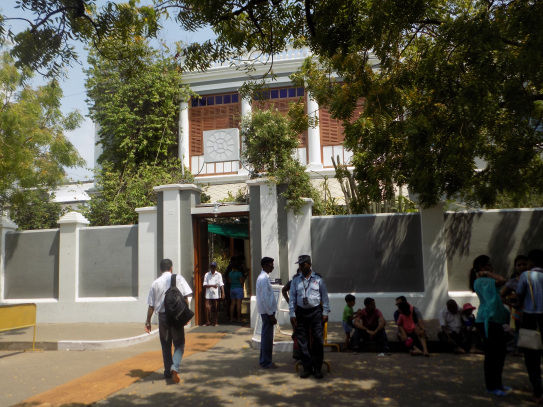 It was 1 PM, we went for lunch and then it was time for our Scuba Diving session 😀 , the most exciting part of the trip. We reached "Temple Adventure" the Scuba-Diving school, at about 3 PM. we did all the payments and filled the required forms. Then there was a short briefing where we were told about Do's and Dont's. After that we were given our diving suits. We went for the pool session where the instructor taught us all the necessary techniques to breathe under water and how to use all the equipment attached to the suit. It was a 1hour session after which we left. It was 6 PM. We decided to go to the beach and hangout for a while.
Today was our Ocean Dive. I was very nervous because i haven't been under water ever in my life. We reached Temple Adventure's Location at about 6:00 AM, there were 12 other divers with us. From there we went to the dockyard, after reaching there a short briefing was given and then we headed toward the boat. We sailed for about 10 kms where we had to dive.There was water everywhere, no sign of land, It was terrifyingly awesome :D. We were going four divers at a time. Finally when my number came it was like a nightmare. But trust me, once you jump into the sea all your fear vanishes, I went 60 ft deep and stayed inside for 45 minutes. You will love the under-water view. Witnessing a whole lot of different species of fish is mesmerizing. But you don't wanna touch those fish, they sting very bad and it hurts a lot, just watch the fishes and coral reefs. It will be the best moment of your life.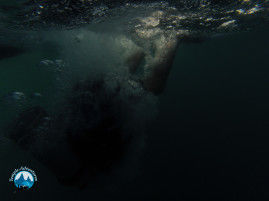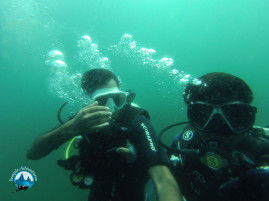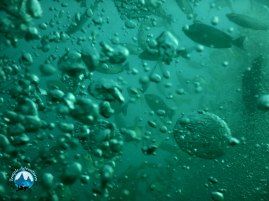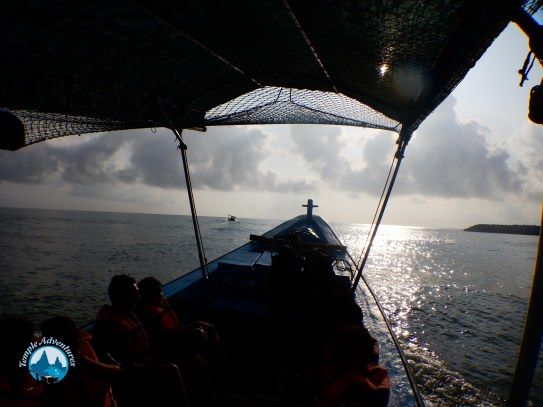 We came back to the shore at about 12 noon. After that we went to our hotel restedt for a while and then left of Auroville.
Those who don't know about Auroville, here's something you want to know 'Auroville is a universal town where men and women of all countries are able to live in peace and progressive harmony, above all creeds, all politics and all nationalities. The purpose of Auroville is to realize human unity.' In the middle of town is the Matrimandir, which was conceived by Alfassa as "a symbol of the Divine's answer to man's aspiration for perfection". Silence is maintained inside the Matrimandir to ensure the tranquility of the space and entire area surrounding the Matrimandir is called Peace area.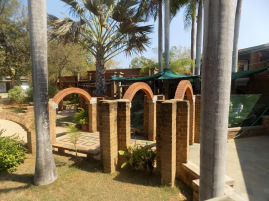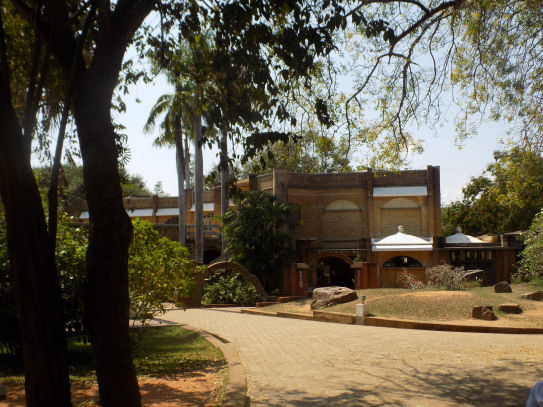 Inside the Matrimandir, a spiraling ramp leads upwards to an air-conditioned chamber of polished white marble referred to as "a place to find one's consciousness". Matrimandir is equipped with a solar power plant and is surrounded by manicured gardens. When there is no sun or after the sunset, the sunray on the globe is replaced by a beam from a solar powered light.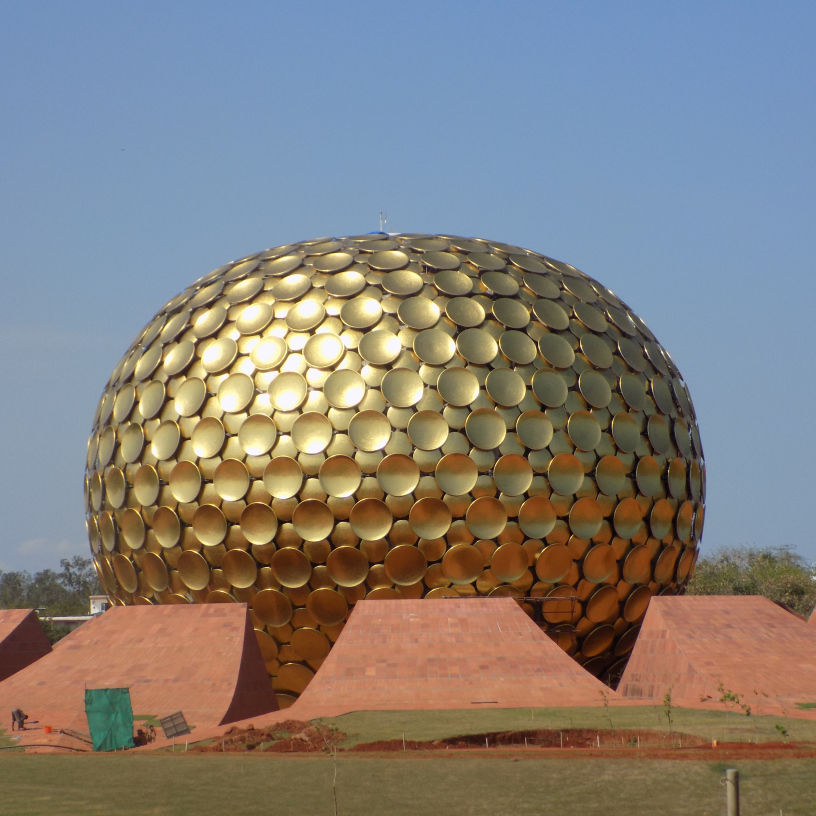 Auroville has a very calm and soothing atmosphere. You can just sit there for hours and feel the silence and i bet you won't be bored.
It was 5 PM and we had to head back to our hotel. It was our last day in Pondi. We returned the bike and boarded our train from Pondicherry junction to Villupuram. From Villupuram we went to Chennai and then from there boarded a train to Bhubaneswar.
It was an awesome trip. Scuba Diving was just the cherry on the cake. I would suggest you guys to plan a trip to Pondi, you will defiantly enjoy it.
If you want any other details regarding cost/itinerary please drop a comment or send me an email (vishal.ujjain516@gmail.com). I will be happy to help :)
Happy Travelling.