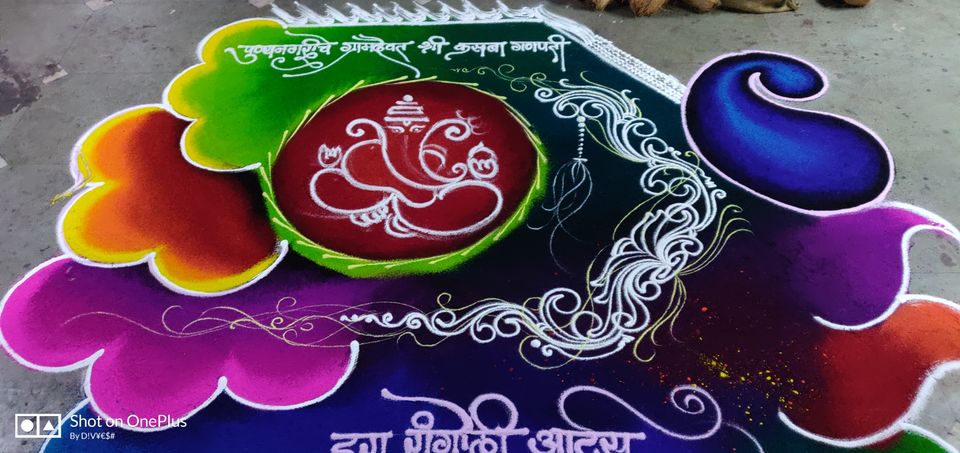 "Calm,Cool,Composed & Cosy" these 4 words you  utter & experience the moment you step into the "PESHVAI " nagari "PUNE" _cosmopolitan crowd with heart filled with happiness.  "Peace" &"Pune" goes hand in hand that's the impression this city has left in my mind  during my excursion. City being a   lush green location in itself offers you places you can't resist but must visit.
Just penning down my excursion experience.
¥Book the Backpacker:
As a solo traveller you mostly want  to  figure out a pocket friendly & people friendly place. It is suggested to zeroed in on the concept of capsule beds !.e. the backpacker, where you can meet chalk & cheese people & let your tongue to get tired with conversation.
There are few decent backpackers such as Jugglers, Backpacker's Panda,Backpacker's hive etc. which offer shorter or longer accommodation  in koregaon vicinity.  I had to  book  backpacker's hive  but suggestion is to go for  " Jugglers"as it offers hygienic room with an adequate facilities (like  working shower, reading lamp,Charging plug,Clean Mattress,not sheded rug & open to sky terrace etc ). This place mostly packed with "FIRANGIS", with whom you can have colloquial conversation &  meaningless dialogues simultaneously . Meaningless is when you attain high octane after puffing a weed  joint, as such  places are  rich source of  cannabis consumption. It's an absolutely Individual's choice where to invest an energy, in conversation or on cannabis.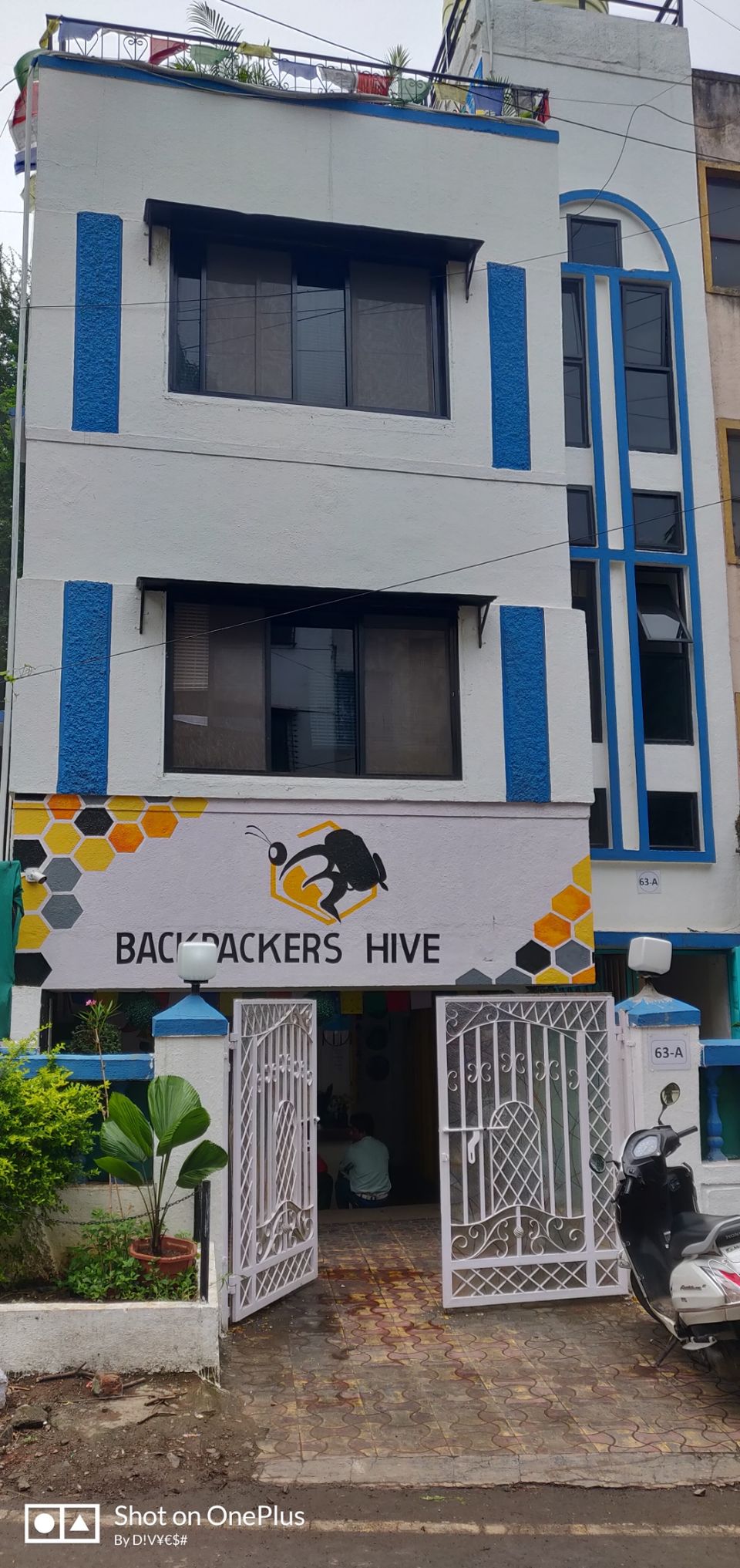 ¥Dagadu Sheth Halwai Ganapati Temple (DSHG) : "શ્રીમંત" serene shrine"
Start your day with  Bappa's blessings.
"Dagadu Ganesh" is one of the few  temples of Lord Vinayaka where worshipers can't resist to visit. The idol is insanely an epitome of  beauty & the serenity of the place fills the heart with sheer calmness. The Almighty's aura is such dazzling bright that you don't not have to use your camera's brightness.
                                Out of many, most noticeable things  about this house of blessings is, first the authorities give you an ample  amount of time to get the glimpse of "BAPPA" & offer prayer. And second they allow you to  click as many pic & selfies  as you want with prior permission. Don't miss the "Naralwadi" which is given as a "PRASADAM" it's surgery delight.
Hint: From the upstairs you can have  balcony view of "BAPPA" & can quench your thirst of capturing him in camera.
After replenishing your heart with blessings spare sometime to relish your belly with the 
crispy  " साबुदाणा वडा & crunchy   शेंगदाना चिक्की " in a dark  corner place @ the backside of the temple. The smell of  piping hot "साबुदाणा वडा" ( Tapioca Sago balls) surely will tempt you, stop yourself & relish the taste while on your way to  next station of blessing, which is "Tulsibaug Ganapati".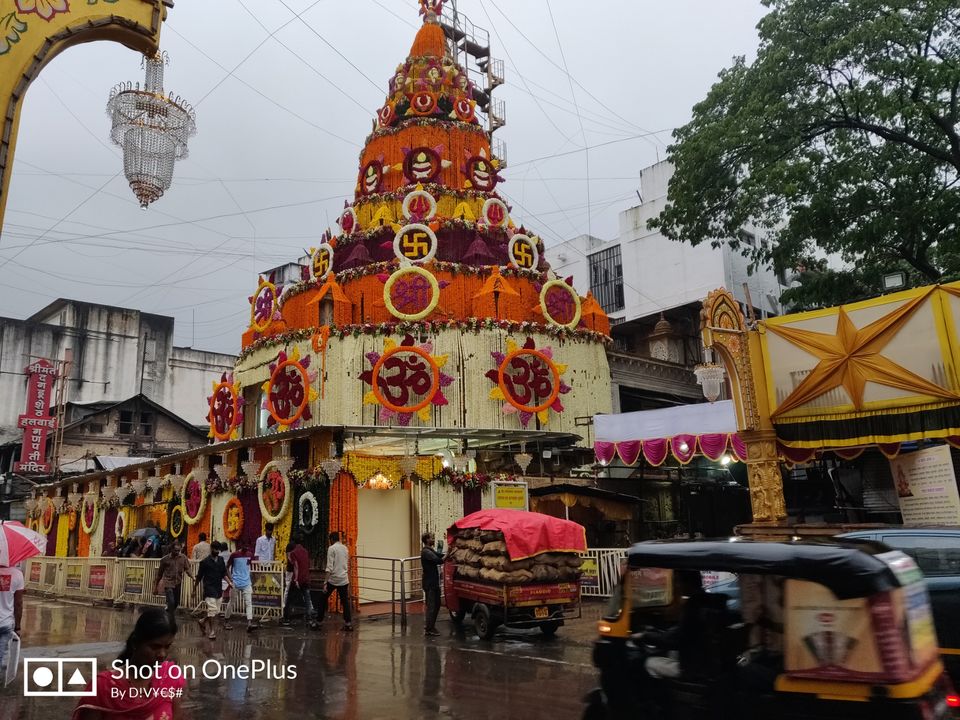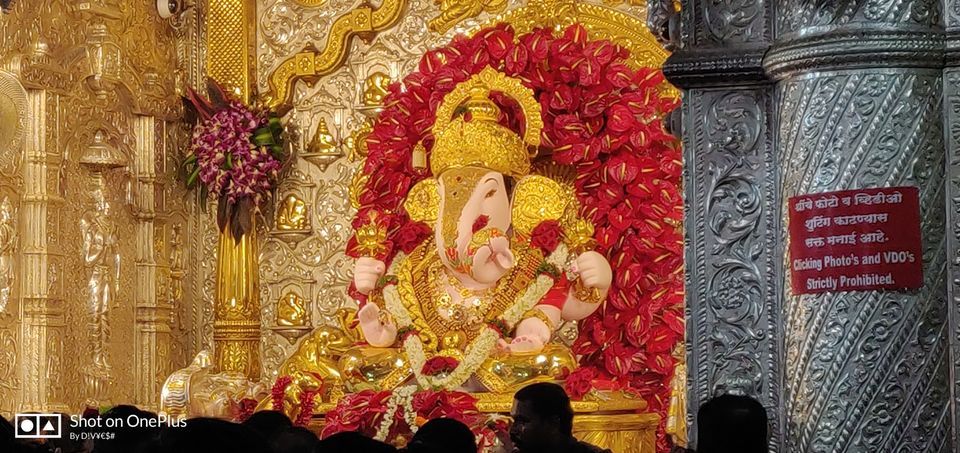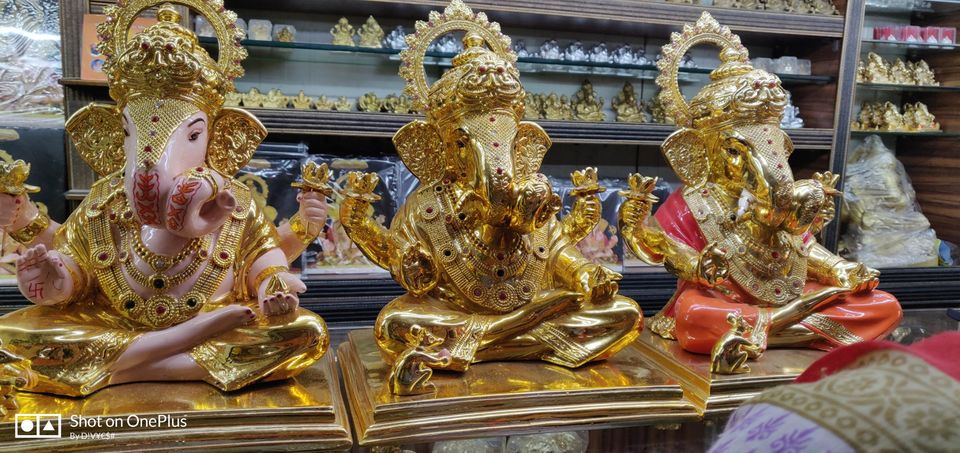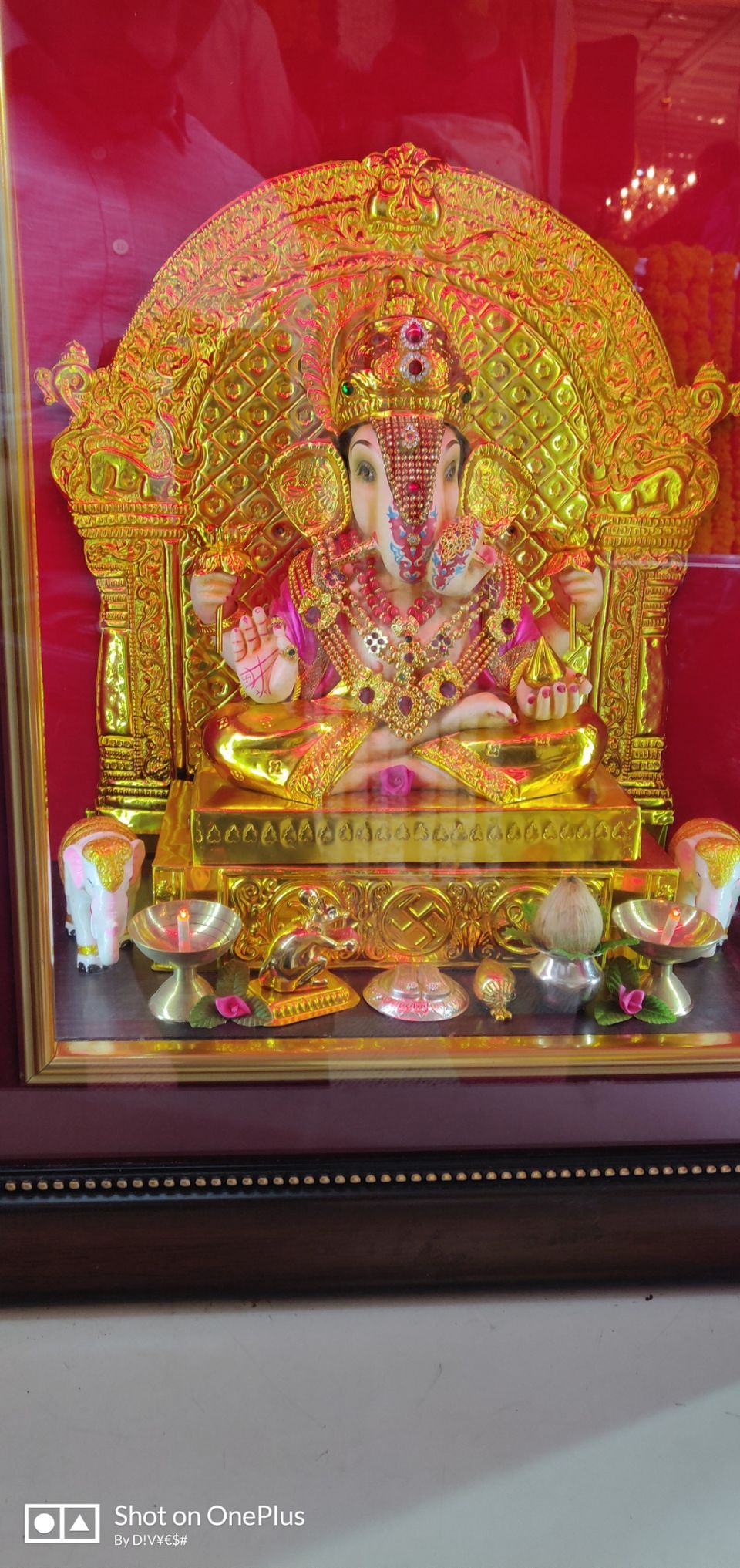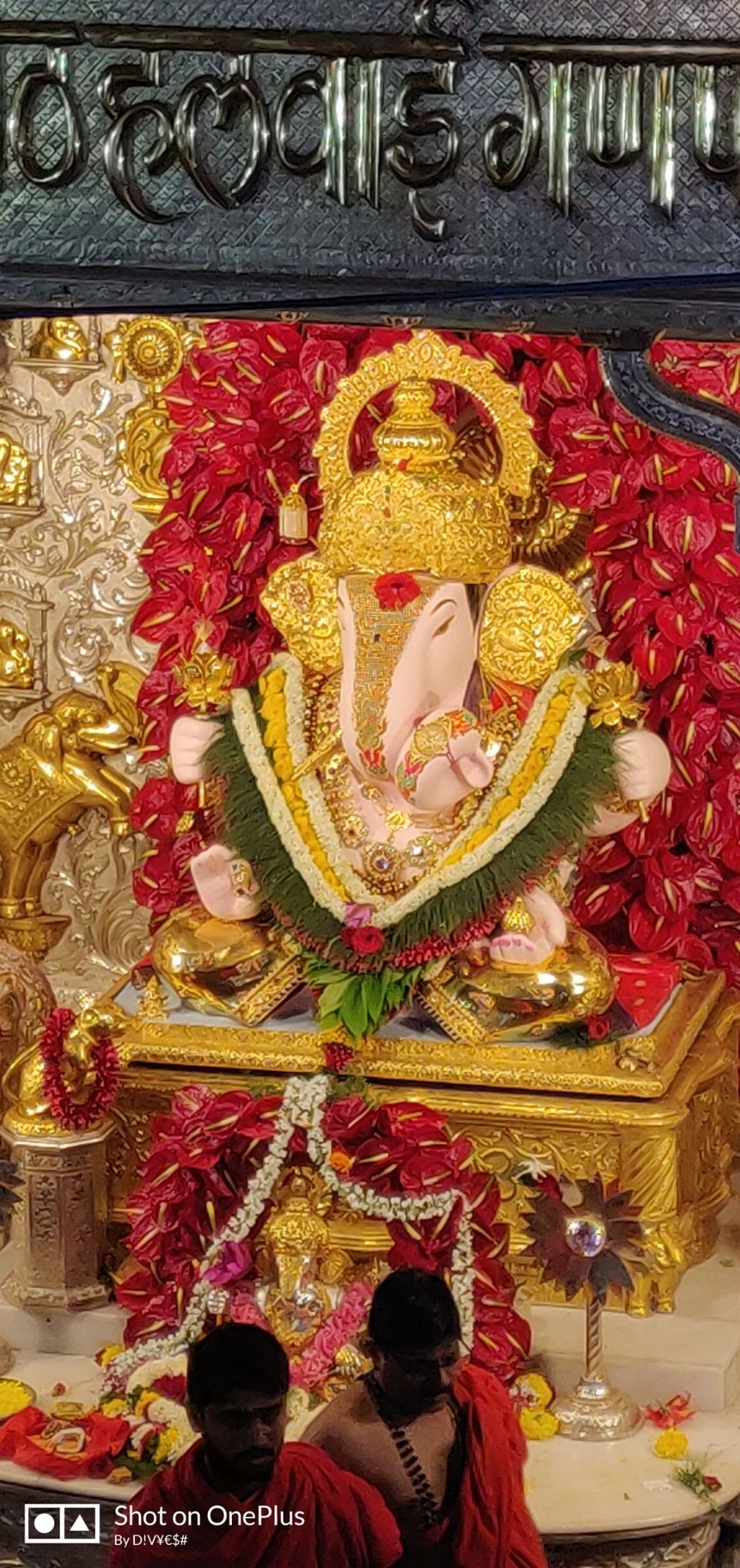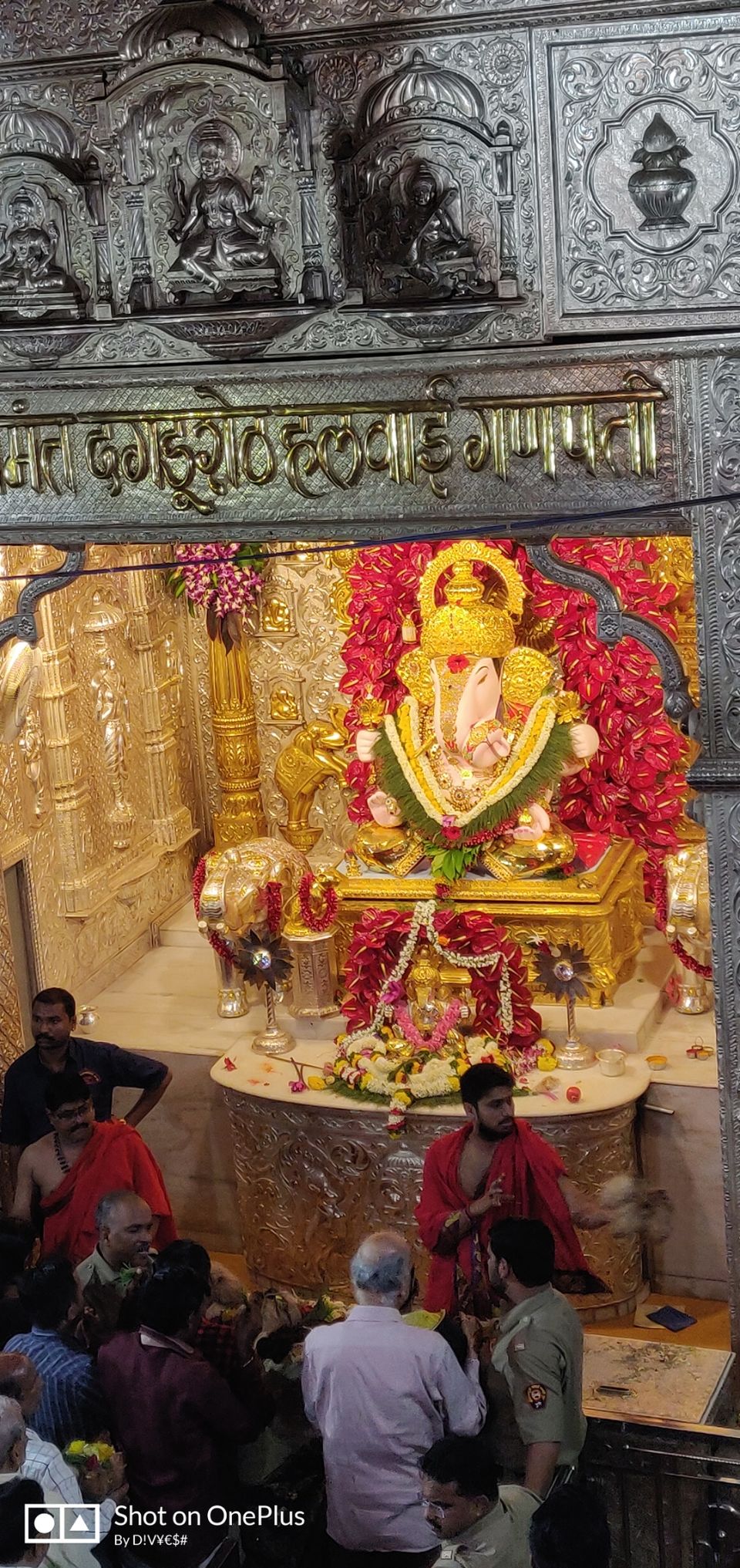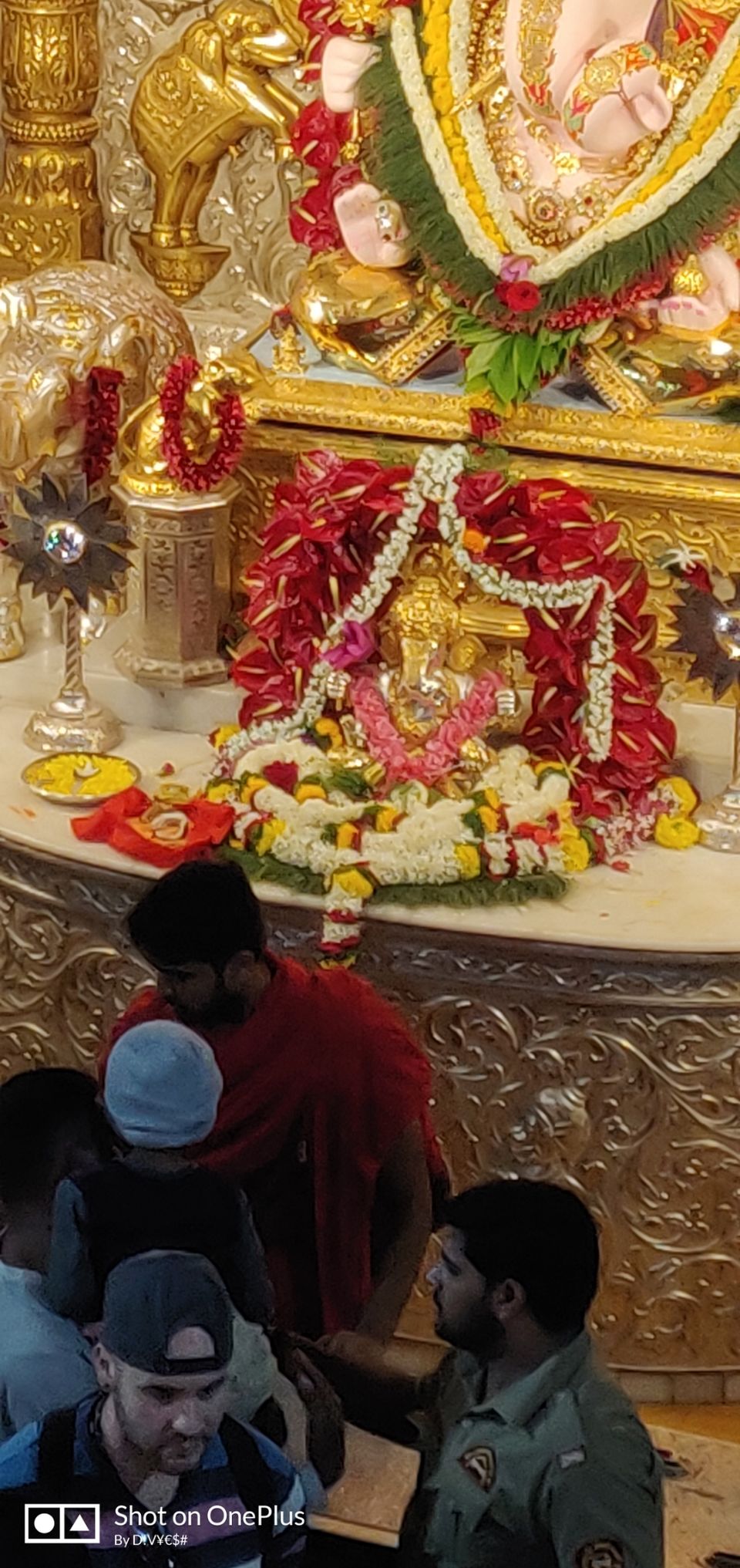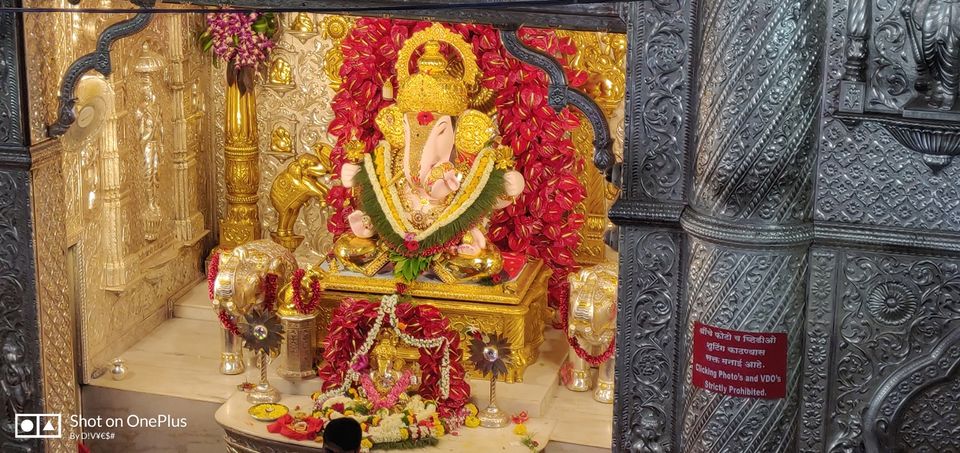 ¥Tulsibaug Ganapati_"मानाचा  चौथा गणपति ".
It is situated in the back side of  DSHG, merely 5 minutes of walking distance. There are total 5
" मानाचे गणपति" (Wish Fulfillment)  across pune. Tulsibaug is   "मानाचा  चौथा गणपति ". The idol  is  mainly dressed up with silver from forehead to feet, be it  crown or  ear or throne. Whisper in the Wish carrying "MOOSHAKA" positioned there.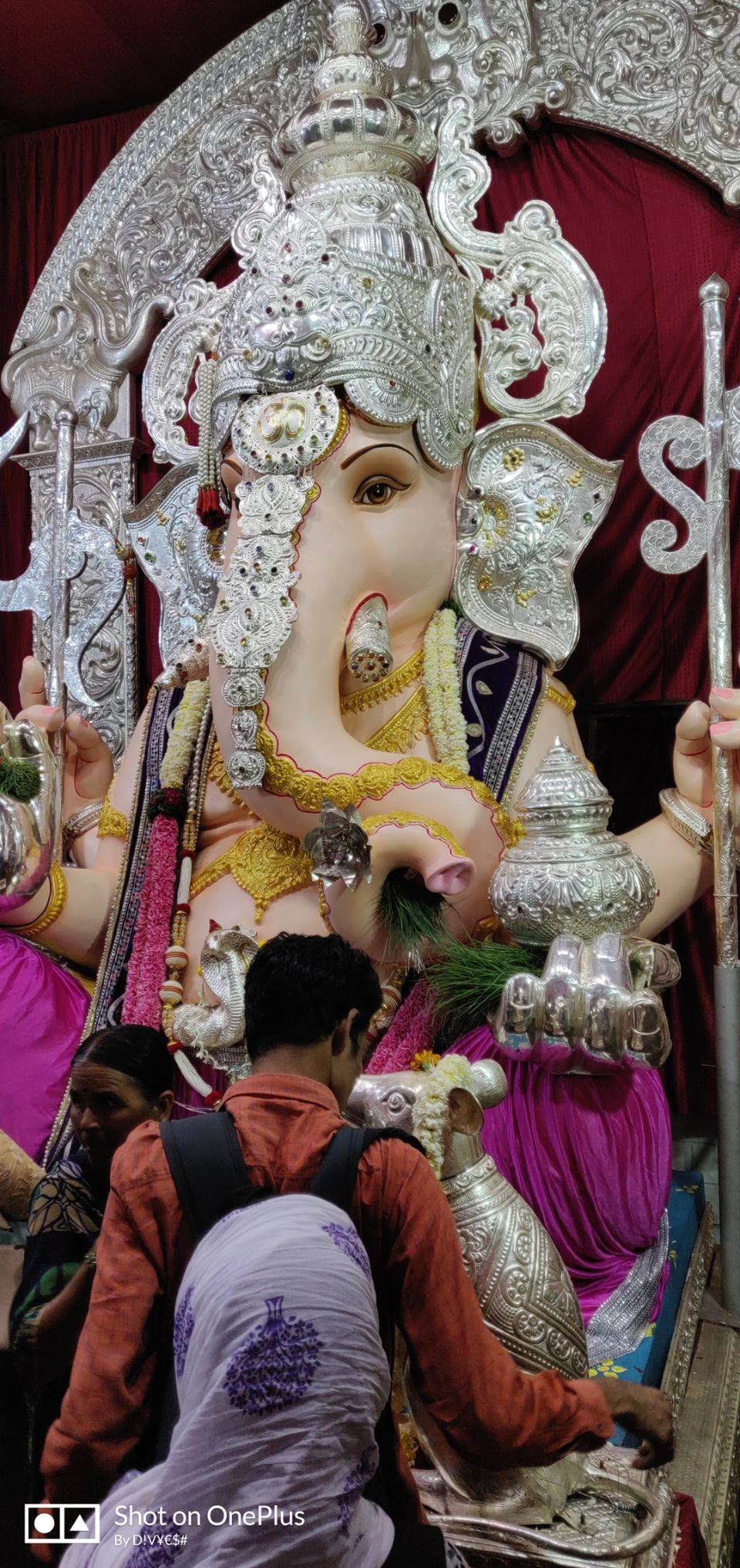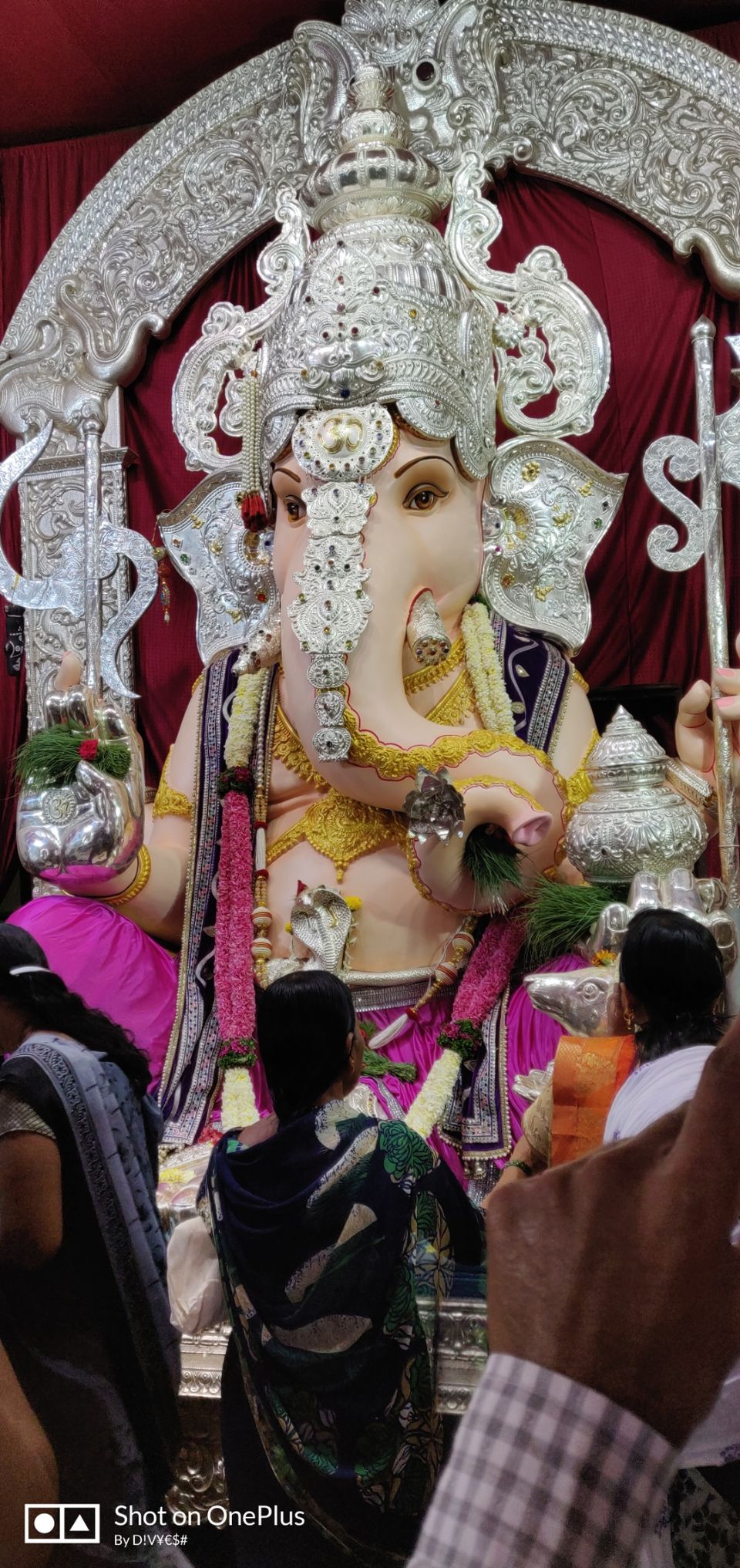 ¥Mandai Ganapati_Love Couple
Before heading towards the next station of blessing, replenish your stomach with " Batatawada" from the famous "जोशी वडेवाले " (situated opposite to main entrance of DSHG temple). With this crispy & crunchy shots of potato in your hand,  before you could gulp them you'll reach to  "Mandai Ganapti".
     "Mandai Ganapati" is basically christened the name due to its geographic location. "Market" means 
" मंडई"  in marathi. This is one of the beautiful idol of Bappa with his wife "Siddhi". The husband wife duo looking into each other's eye is a pleasure for eyes. You can  see standing "MOOSHAK" here  in service of "BAPPA".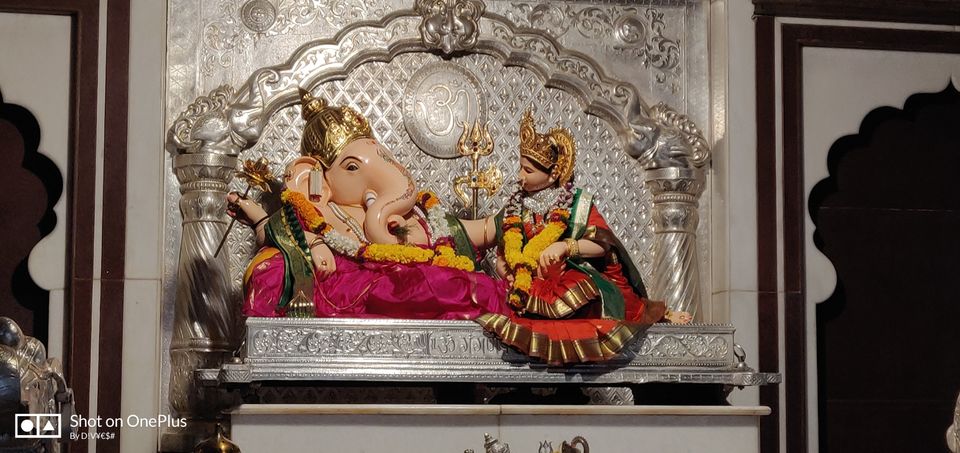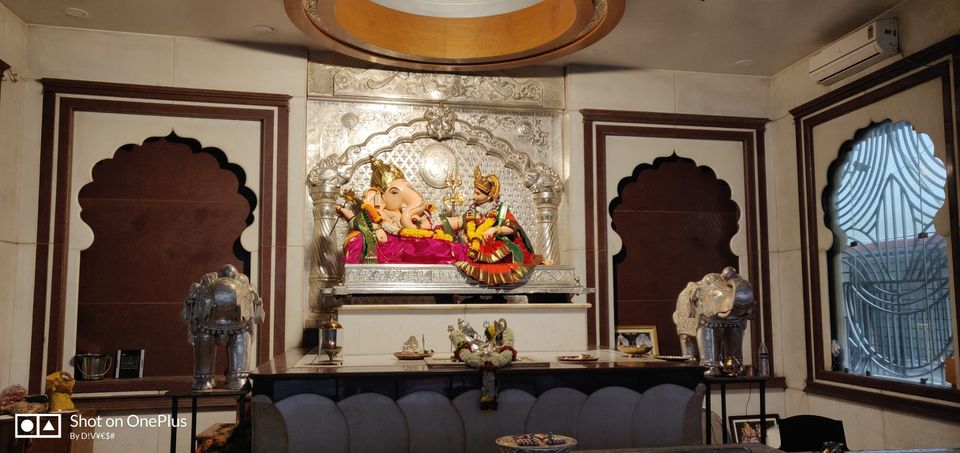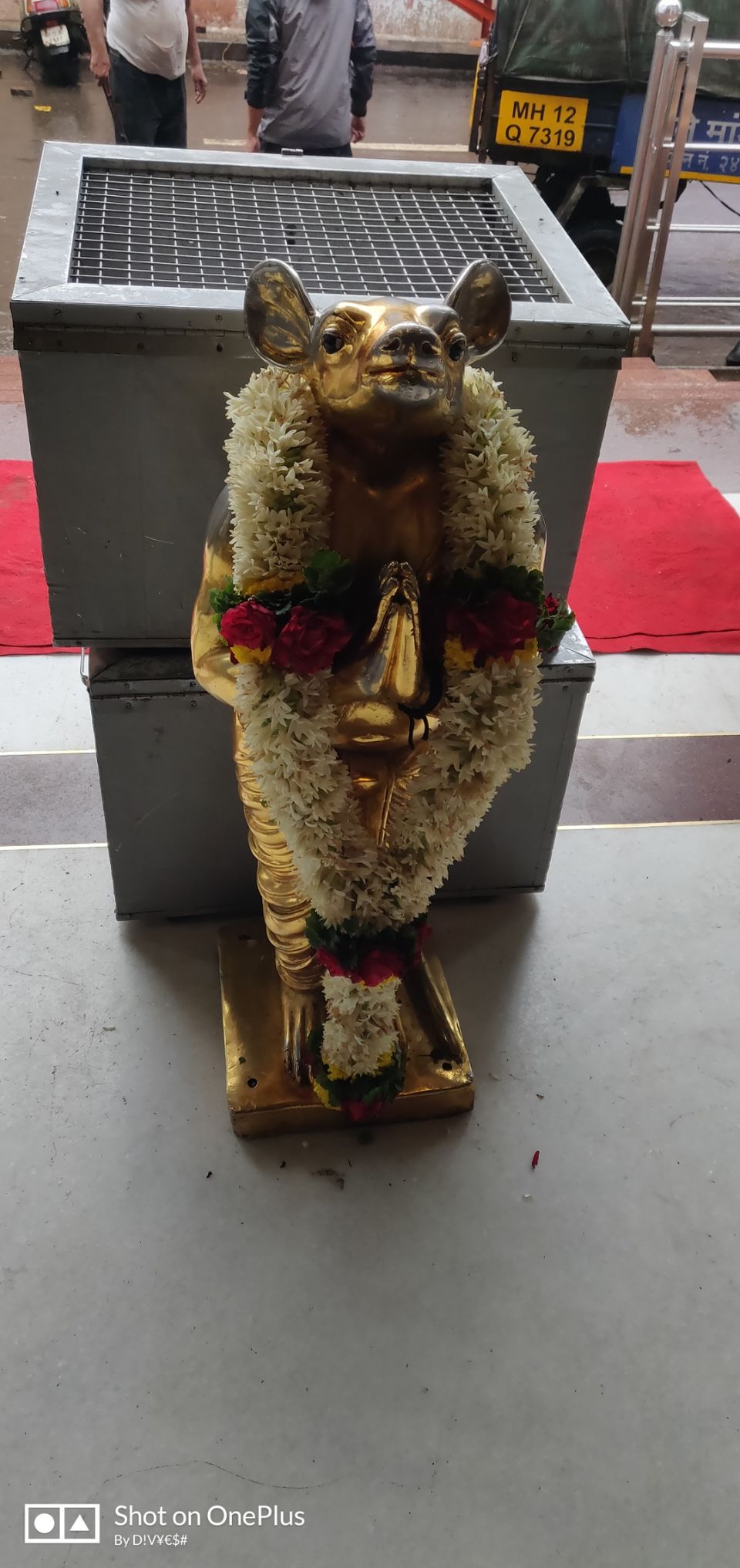 ¥Raja Dinakar Kelkar Museum (RDKM) :पुणे चा अभिमान .
@20 minutes of walking distance from "Mandai Ganapati" you can spot the heritage building of red colour with flaking walls converted  in the museum that's the RDKM.
Four story building with a vast &  antique collection of  Utensils, Clothes,Lamps , Musical Instruments & sculptures of previous rulers of Peshvas make this place worth visiting.  Musical instruments gallery surely  grabs  eye balls as it showcases more than 500 distinct  instruments of an indian subcontinent   like Vinas, Sarangis,  Sarods, Sitars, mridangs, Tablas ,Tamburas, flute, harmoniums & ancient music  accompaniment like Khanjari, Manjira, khartal, Damaru, Chimta etc. Adjacent to this there is an  another attraction " House of Diyas' _ the lamp gallery that features varieties of  hanging lamp, standing lamp, lamp trees, holding lamps, pole with thousand diyas  etc. Bajirao's "Mastani Mahal" is the cynosure of all eyes in this museum.
This art gallery is unequivocally a " Pride for punekar" & one of the  flagship museum of an ancient Indian cultural heritage that witnesses the talent & calibre of our ancient artists.
Entree Fee: 60rs /px (PL. tender exact change)
Photo/Video Charge: 100 bucks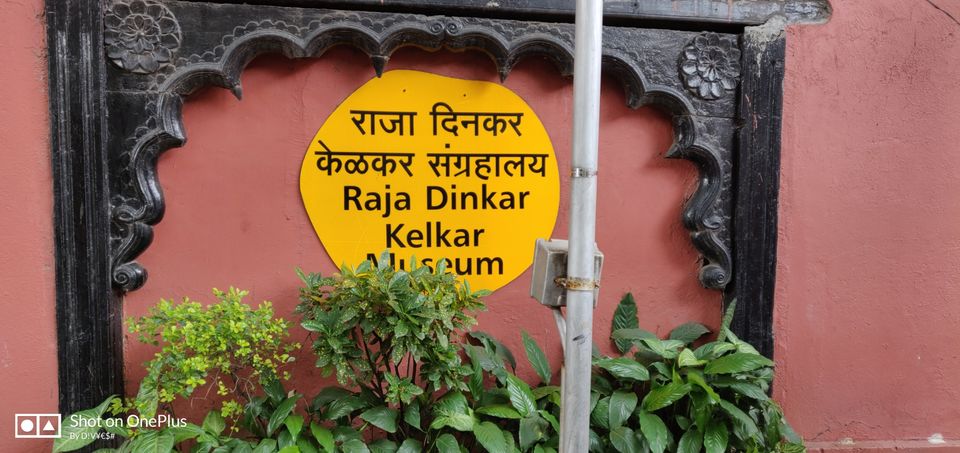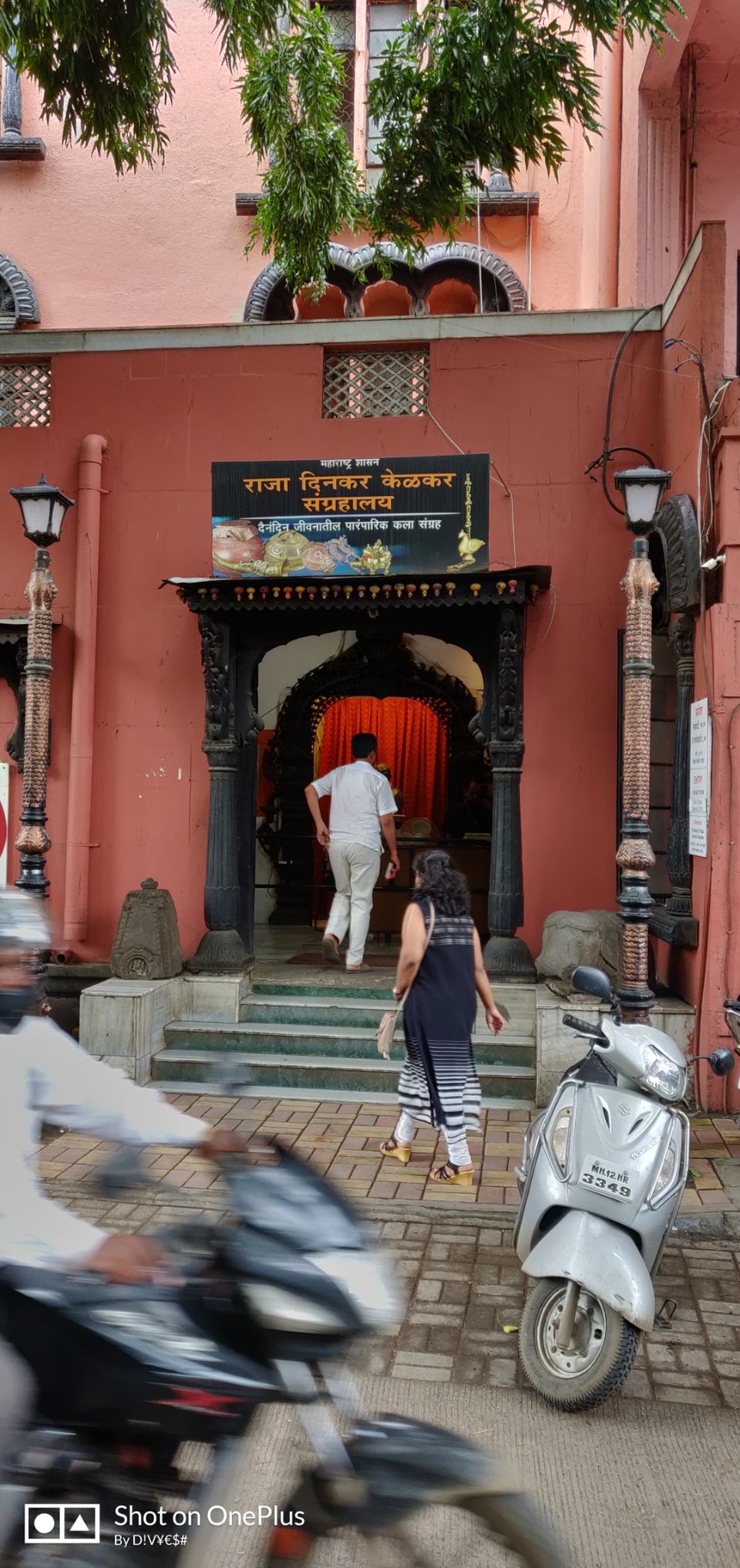 ¥Bedekar Misalpav
By the time,  you'll exit the exhibition you'll be impressed with the indian cultural heritage & to impress your tongue with "tobesco taste"there is lip smacking & mouthwatering snack would be awaiting for  you.!.e
"The Puneri Misal Pav" The Bedekar is one of  the oldest food joint in the city which started serving misal pav for punekar's taste buds. The place is narrow with just 8 tables facing each other but mostly crowded. The misal here is tasty,tangy &  spicy.Unlike, other misal in which" Pav' accompanied the misal this place serves the" Bread". Restaurant waiter call it as "Slice".
In owner's word , " The specialty is the "Rassa" the gravy made of vegetables different from one which generally uses sprouts as prime ingredient. It is good  for digestion & most imp next morning it won't be a troublemaker 😀" I've absolutely enjoyed it & skipped my lunch. I hope you'll also.
Price: 150 bucks for full belly
Taste : heavenly.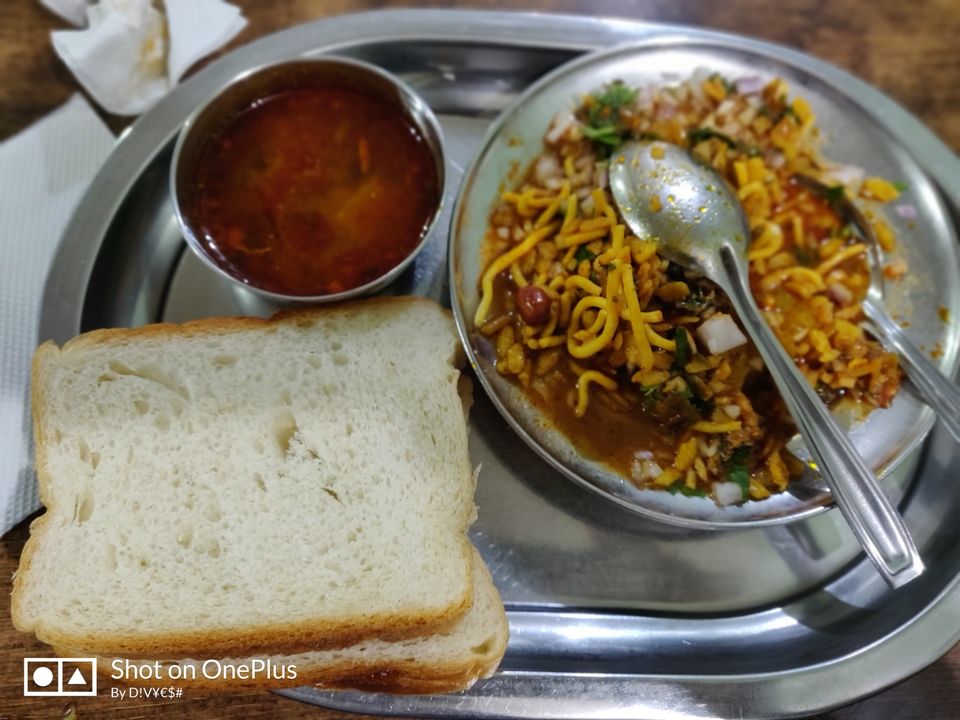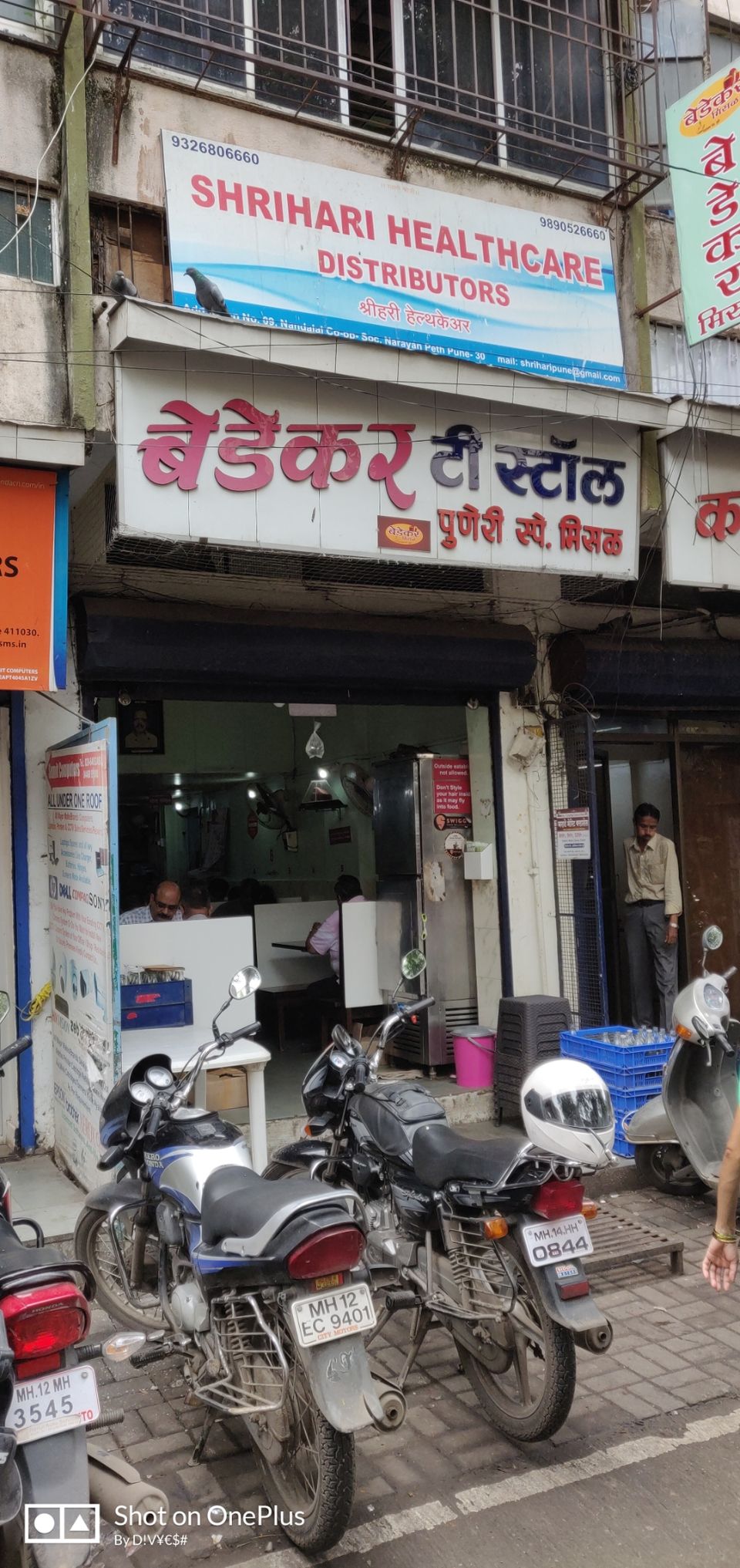 "PARVATI"Hillview Temple
Done with your lunch let's hit the hillview temple_ "PARVATI". It is quite far,  almost half an hour from the Bedekar snacks, advised to take an auto & go by meter instead of going for negotiation. otherwise you'll feel cheated & looted. "PARVATI" is basically a temple of Goddess parvati built by peshavai ruler. You can  exercise yourself as you got to climb up nearly 💯 steps to reach to the temple. Picturesque  hillview  of the city amidst the cloudy & murky climate  from this place is a feast  for eyes. Mind-blowing.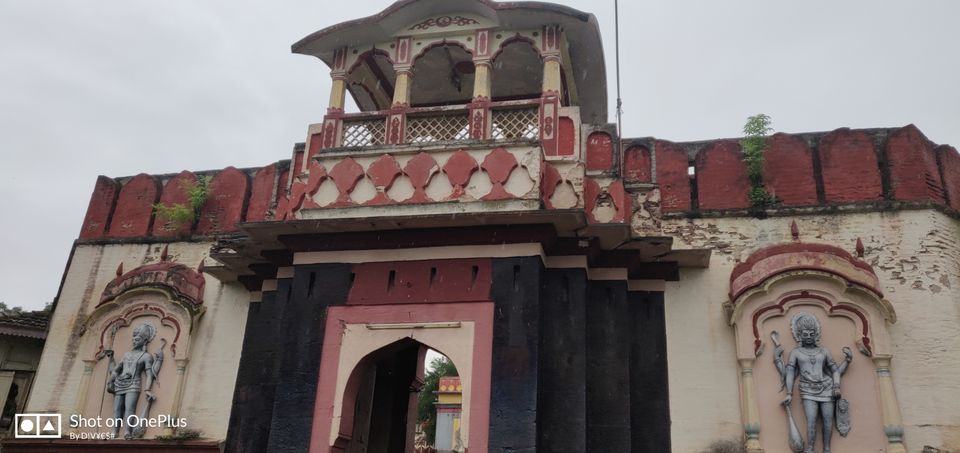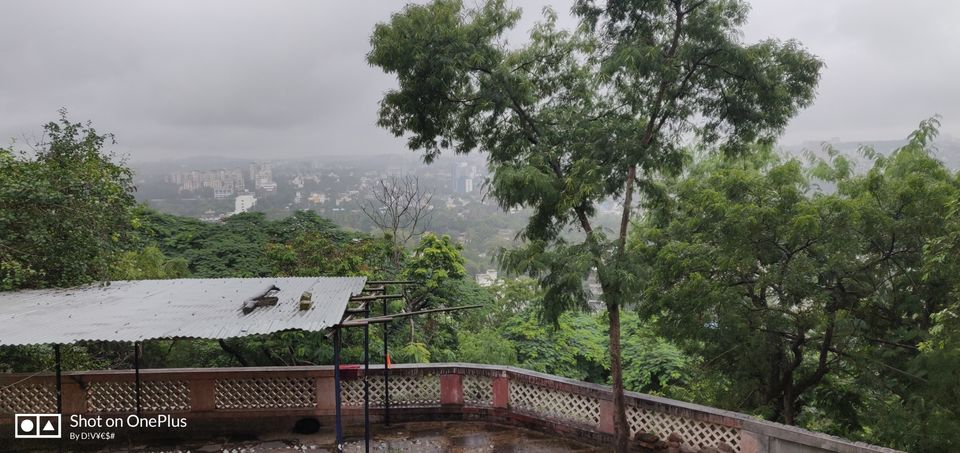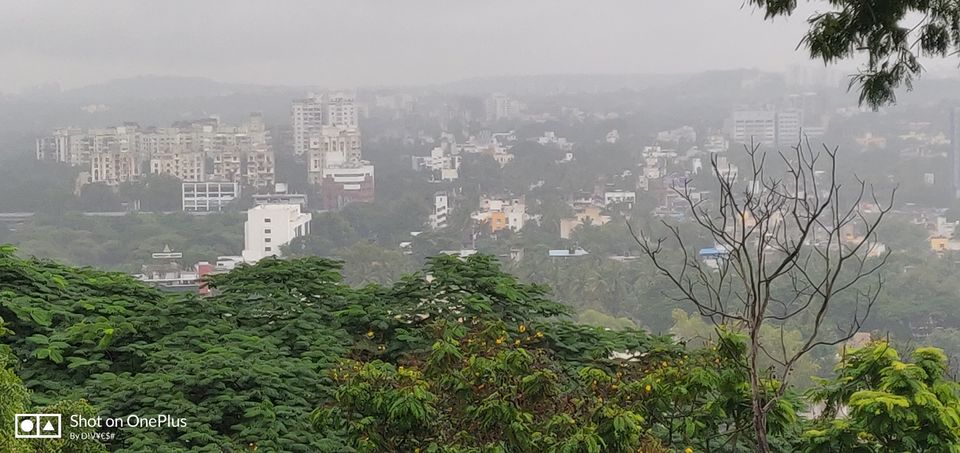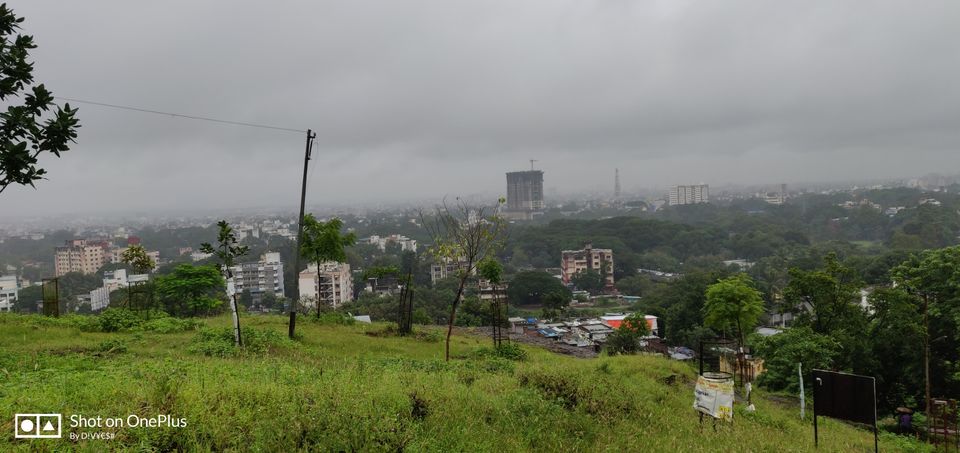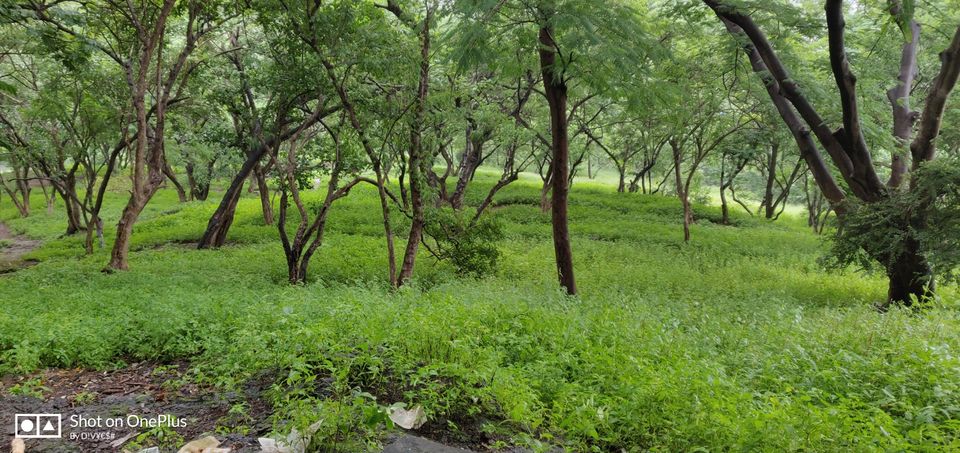 ¥ Sarasbug: _A usual Park
While returning from "PARVATI", on your way towards left side there is a park called "Sarasbaug". It's just a normal park with jogging track in it's inside periphery & food joints in it's outside periphery. In the centre of the baug there is a  " Siddhivinyak Ganapati". This is yet another example of Peshvai ruler's "PREM" for Lord Vinayaka. You can  spot an "Atharva shirsham"  written on the ceiling.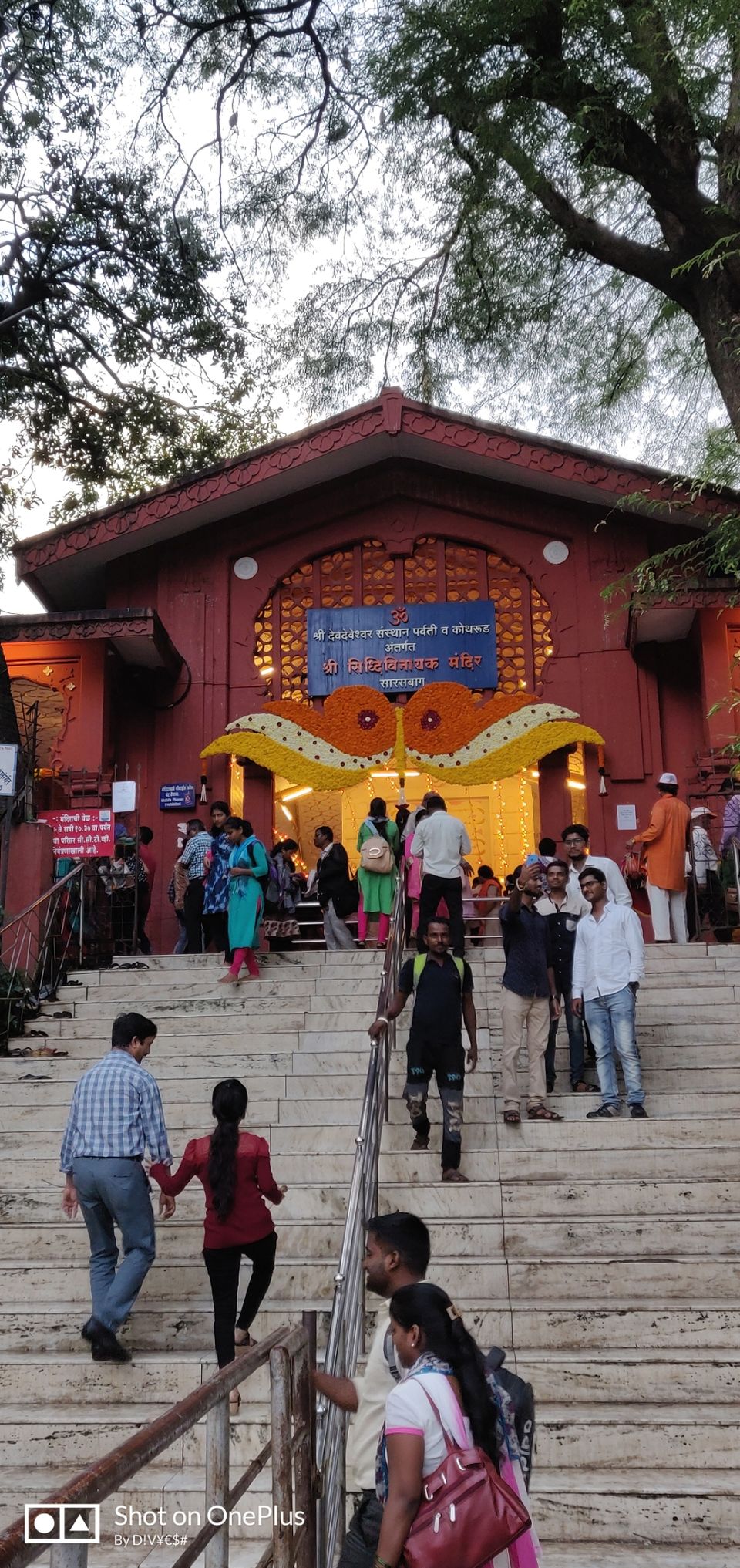 After sarasbaugh the next place to visit is the  "Shanivarwada" the historical Peshvai fort. On your way to shanivarwada ask locals about the famous
" चितले बंधु" shop. Go inside &  buy some "Bhakharwadi"  " & gobble up  this little munchkins  on your way to shaniwarwada. Needless to say the shop  sells the best "Bhakharwadi" in the universe.
PS: If you are barodian don't make mistake of comparing "Jagdeesh Bhakharwadi" with
" चितले बंधु" Bhakharwadi" reason being
" चितले बंधु"Bhakharwadi" is more crisp & brittle compared to Jagdeesh saunf & coconut soft filling. Both are poles apart in terms of  size, shape, texture  & taste both are unique at their respective places.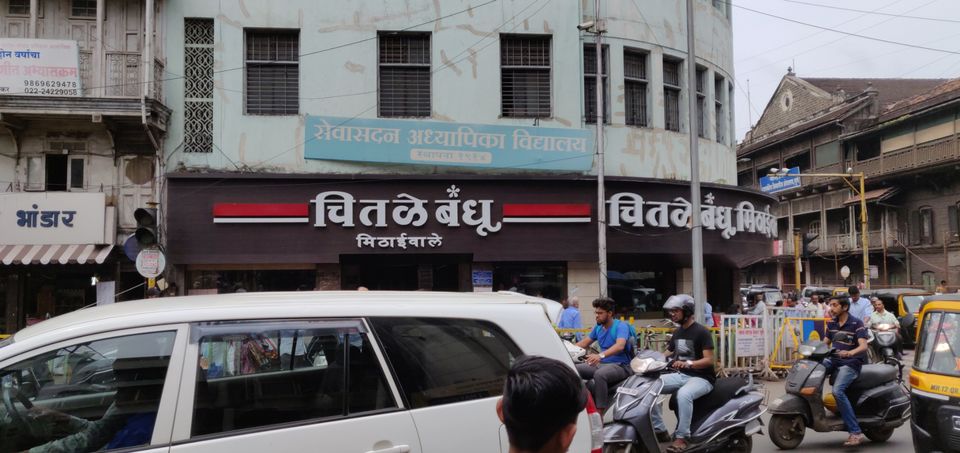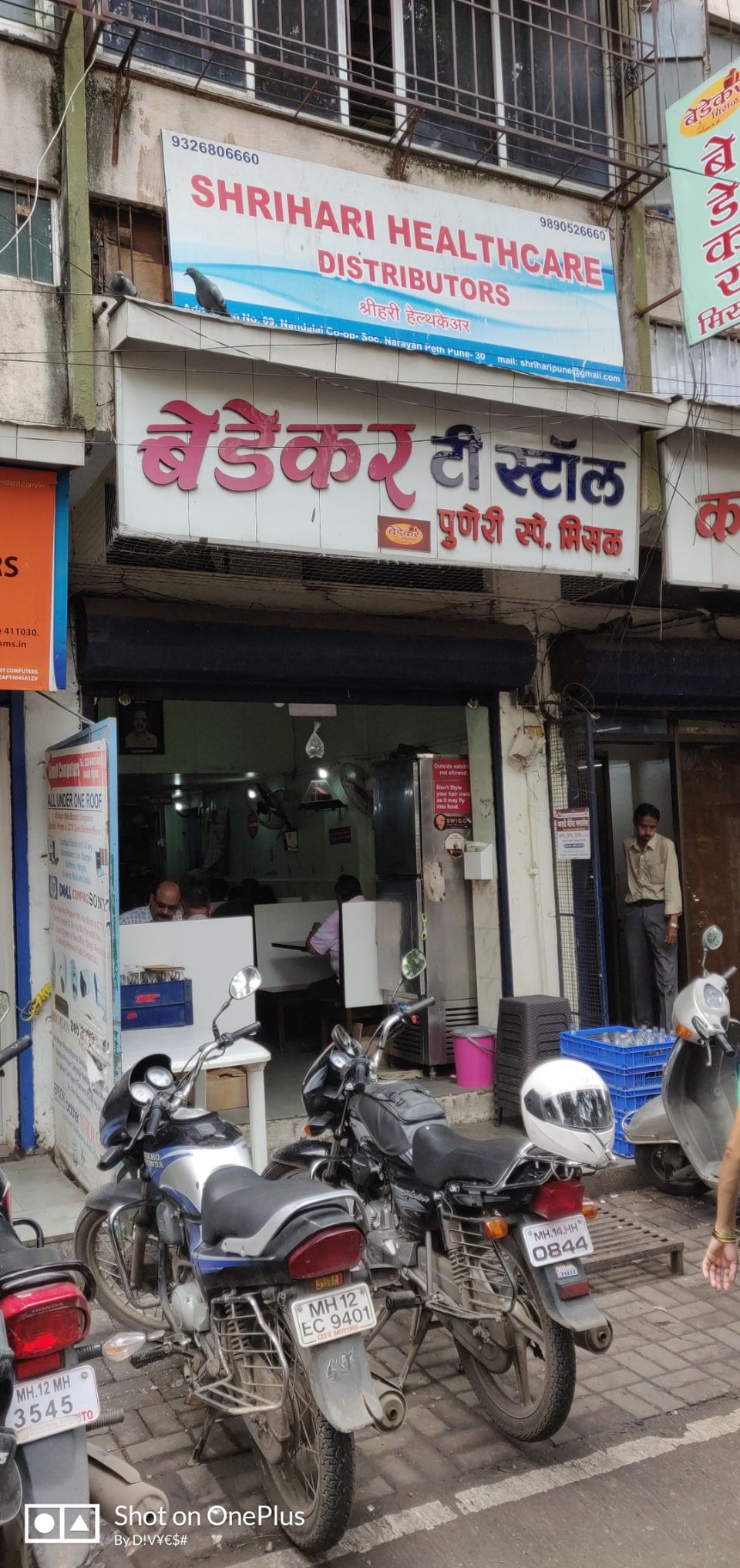 ¥Shaniwar Wada:  Historical Fortification. As the foundation laid on"Saturday i.e. शनिवार it is christened it's name. The main attraction is Dilli Darwaja, Jharukhas, Fountains. Even Though the place itself has historical stories to tell about it's worth but after  engulfed in fire, nowadays frankly speaking it's just a ruin. The monuments are in damaged condition be it thevfountain or  the doors.  The best view is from the "Jharukhas". Click the "Panorama" picture of this place from here.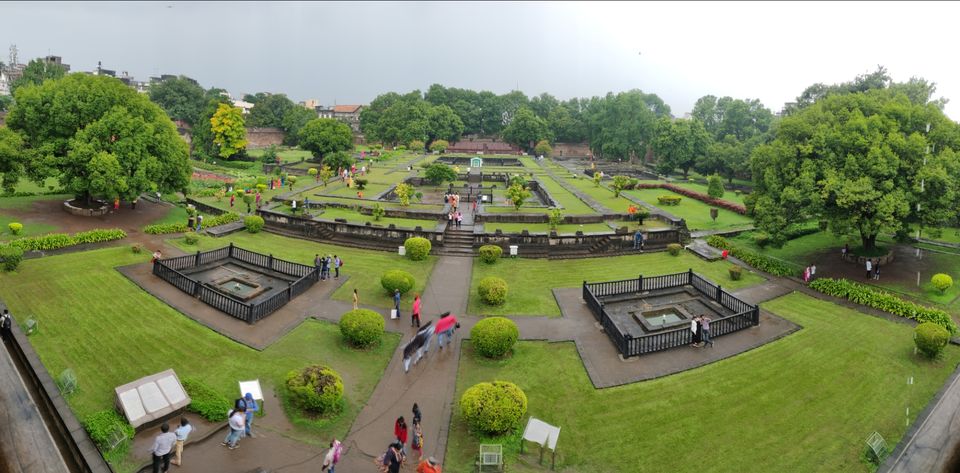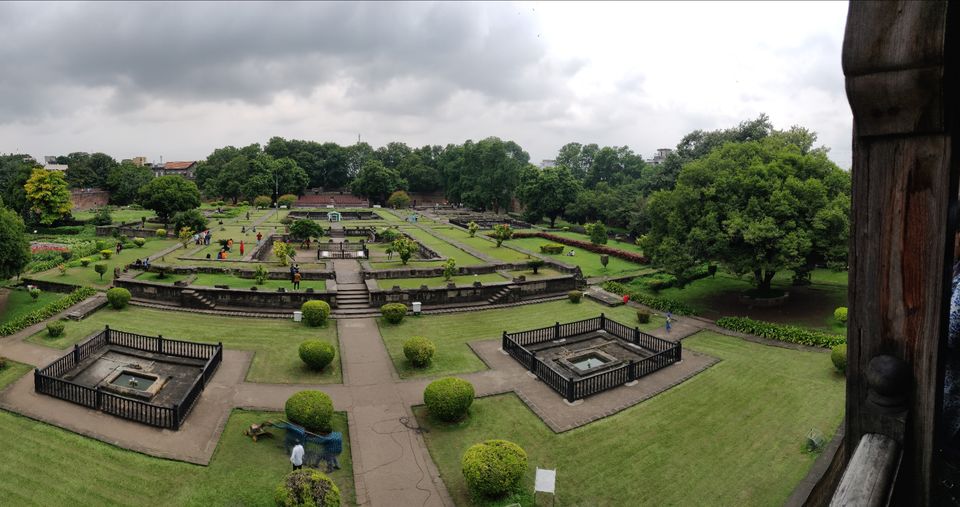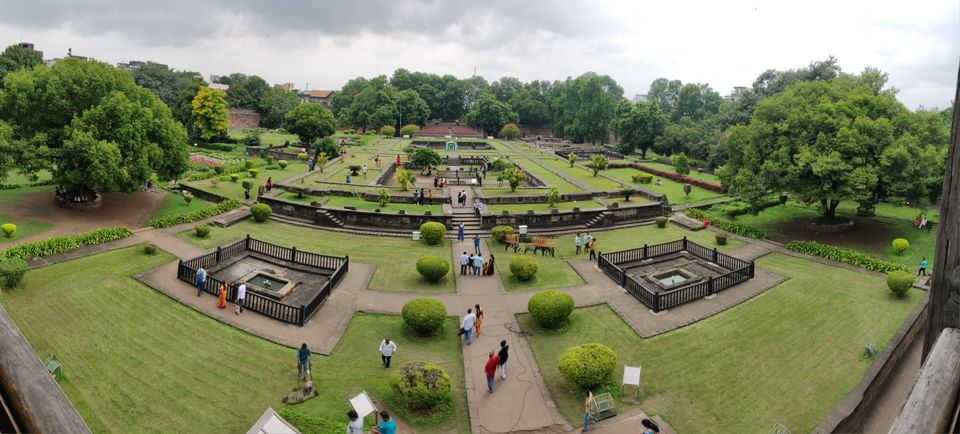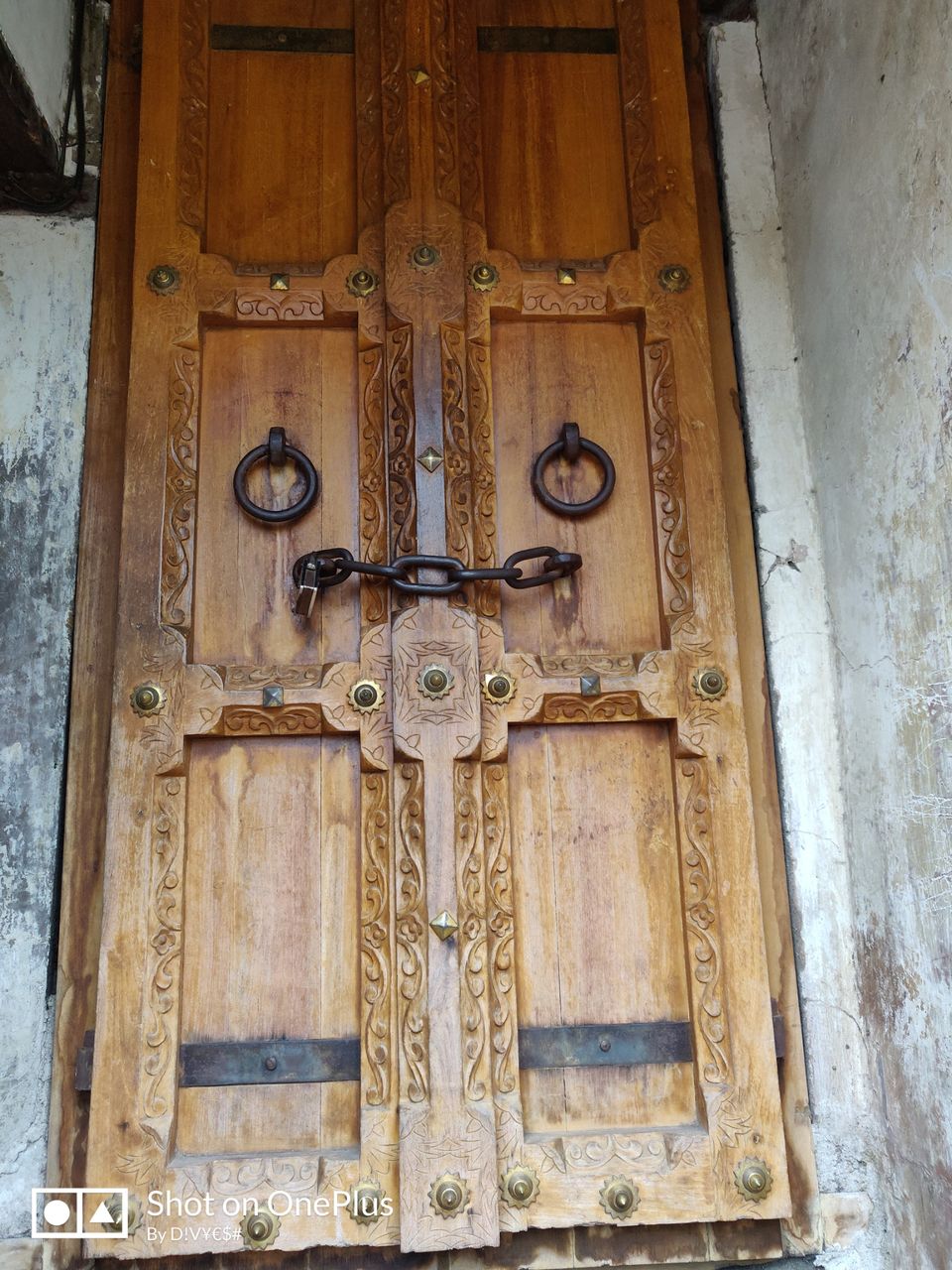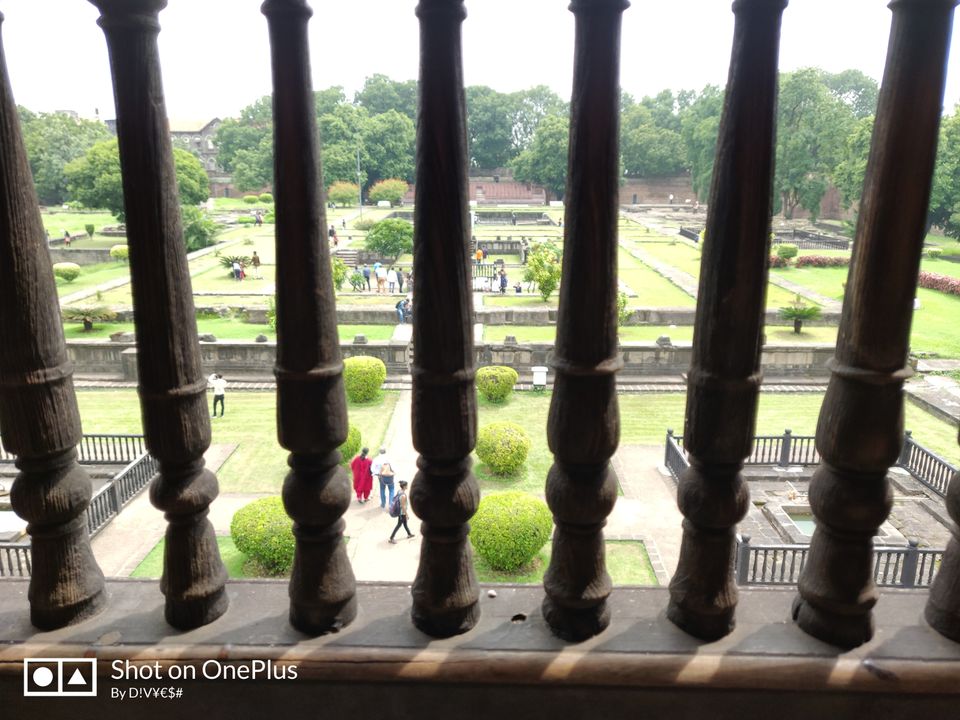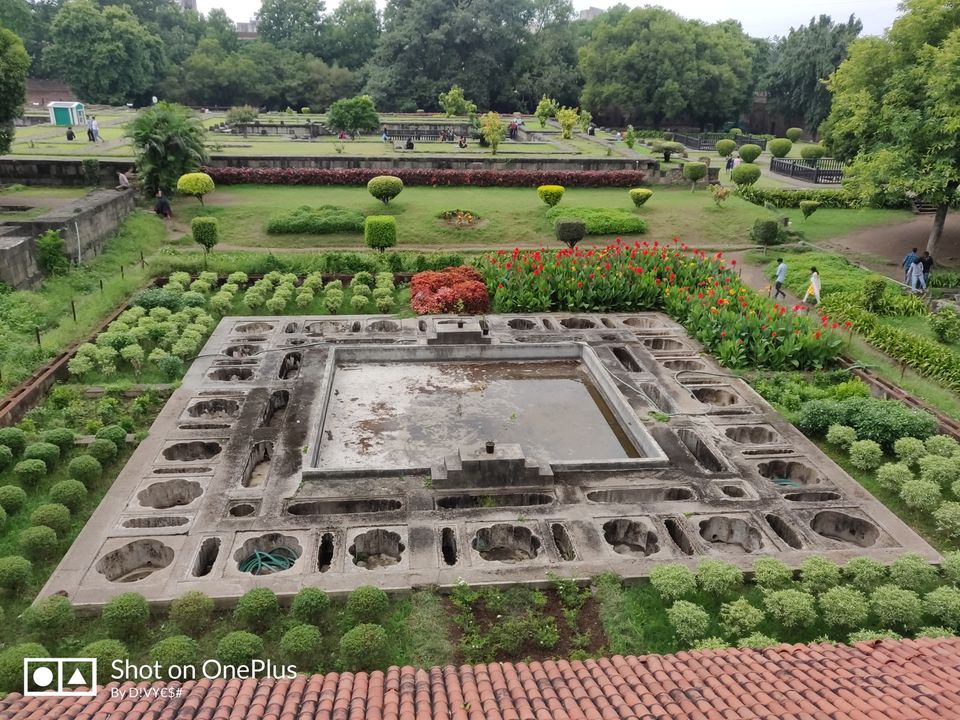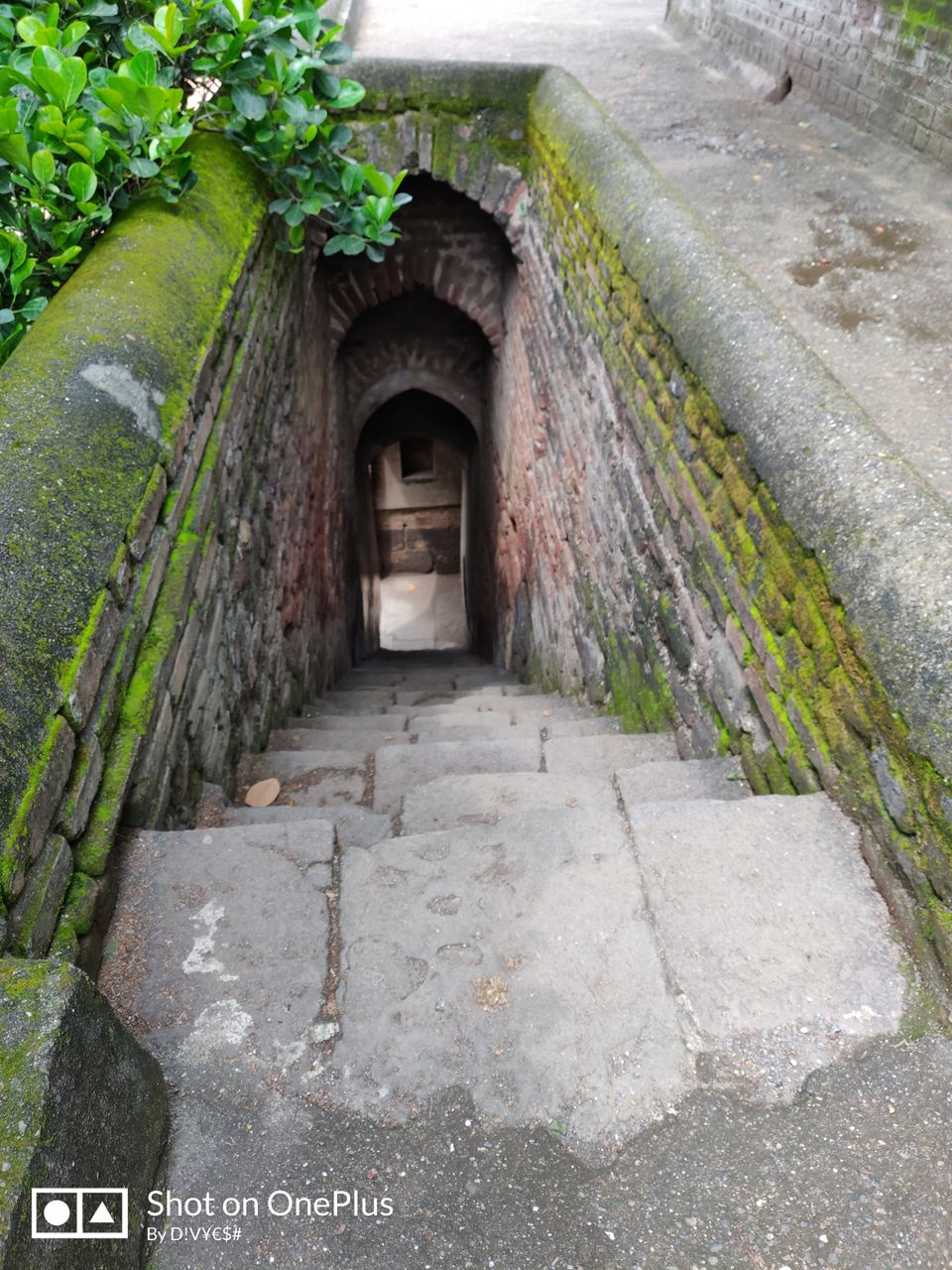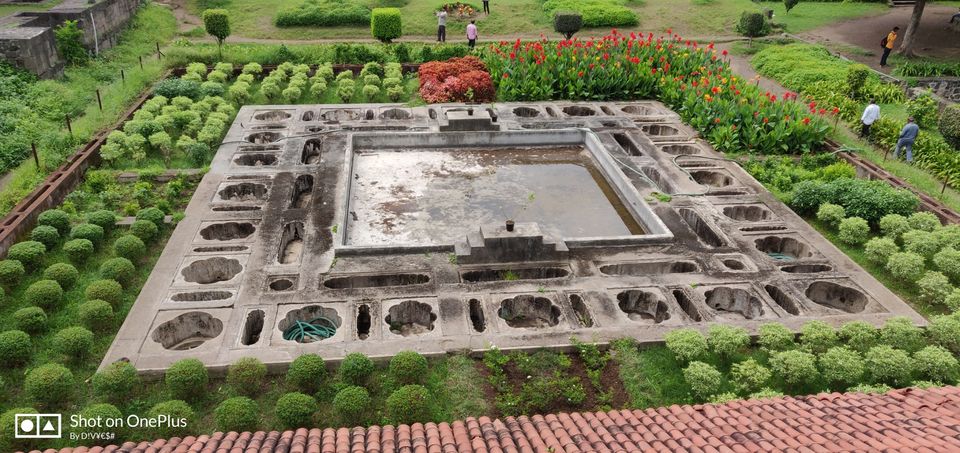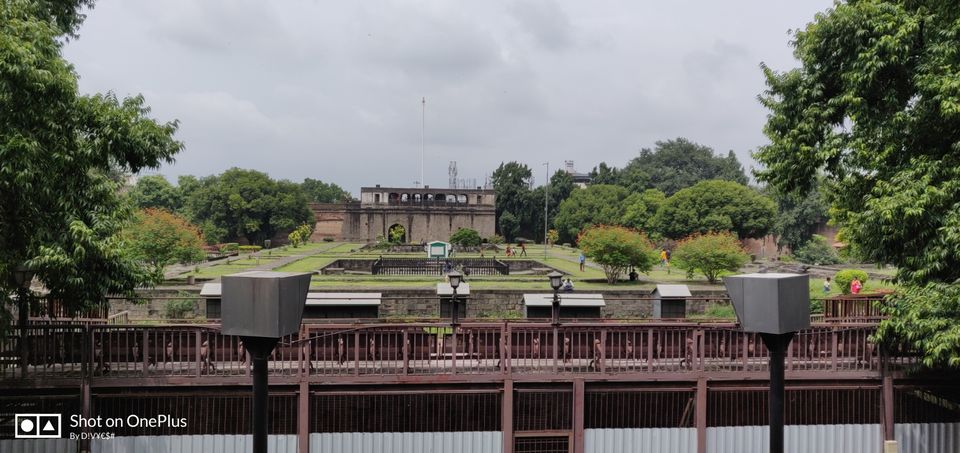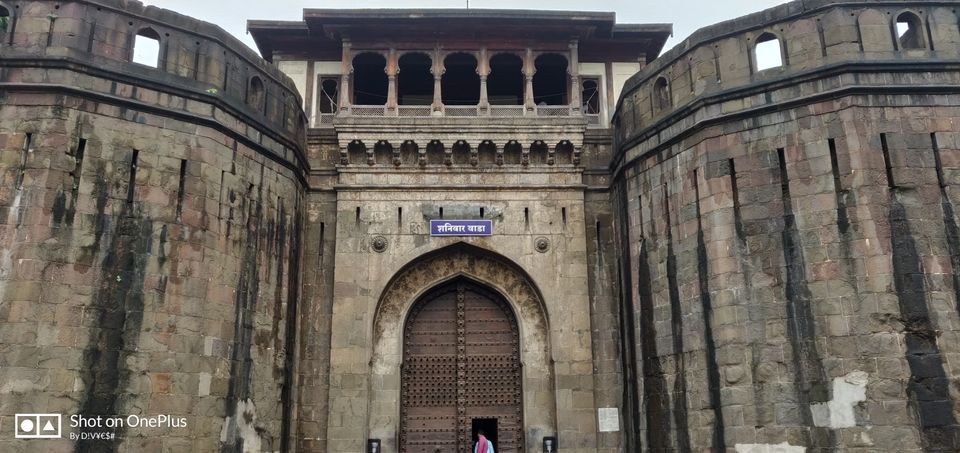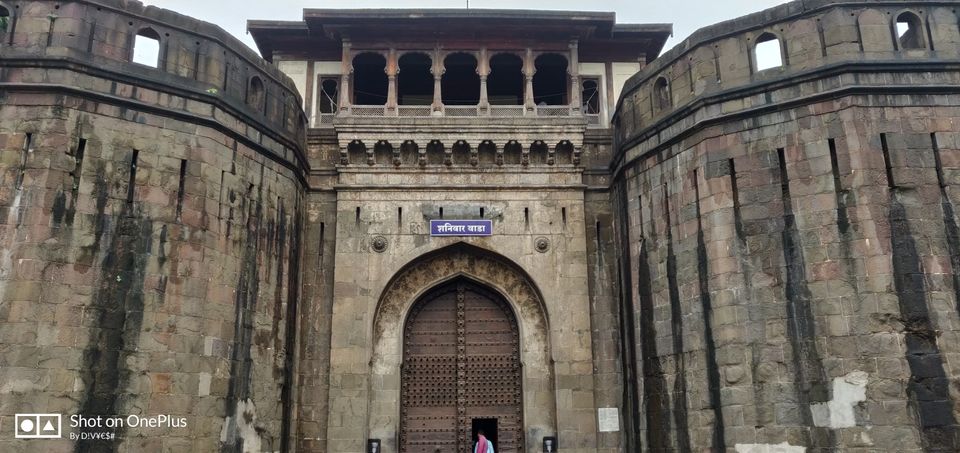 #Kasba Ganapati_ ग्रामदैवत मानाचा प्रथम गणपती" .
Opposite to shanivarwada  oldest & ancient Ganapti seats name of the this Ganapati  is "Kasba Ganapati". This temple has a prime significance as it is the first one to Worship during Ganesh Mahotsav before any other idol being worshipped  in town. Your blessings are incomplete without the worship of "Shindoor" coated oldest Idol of Ganapati seated in typical "Peshvai wooden house"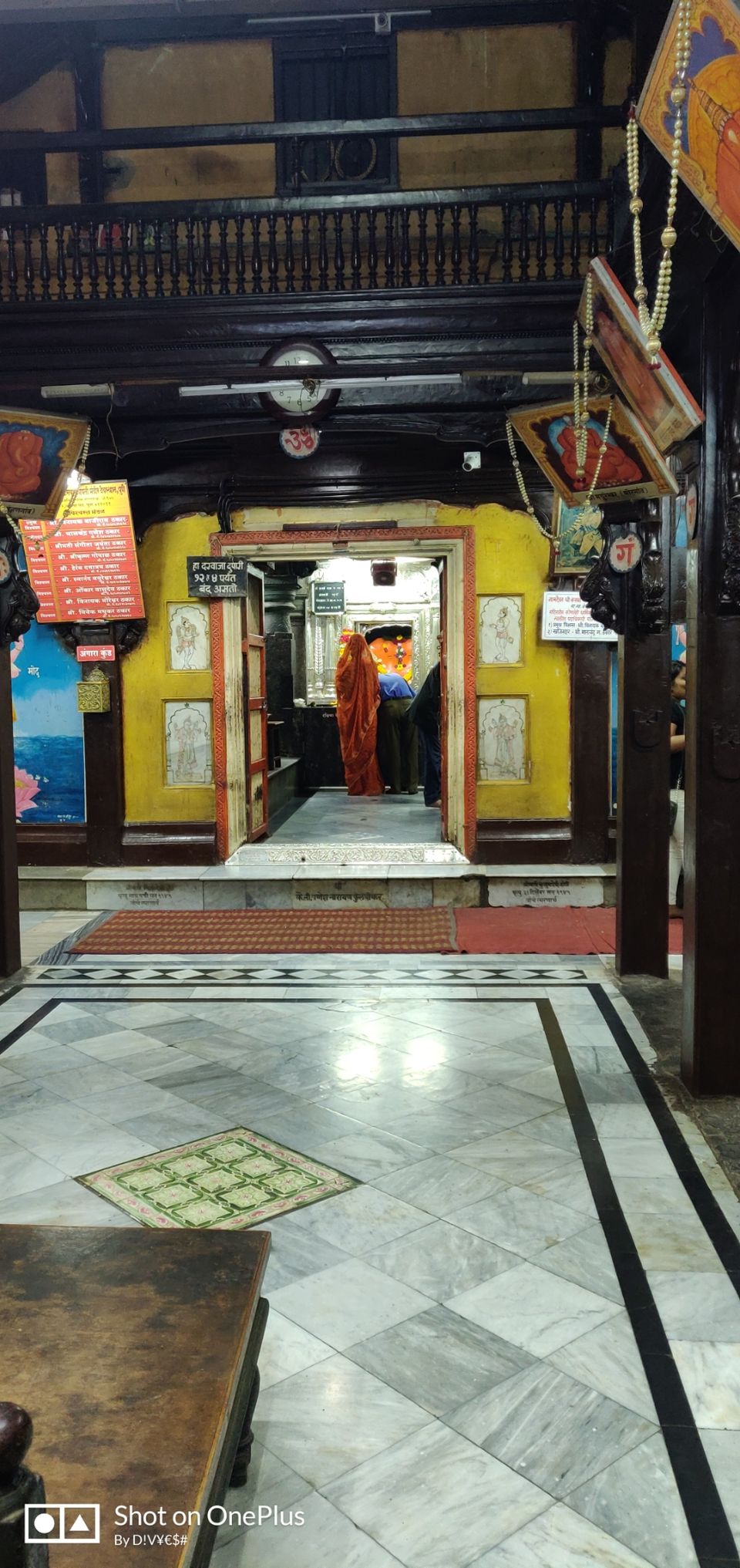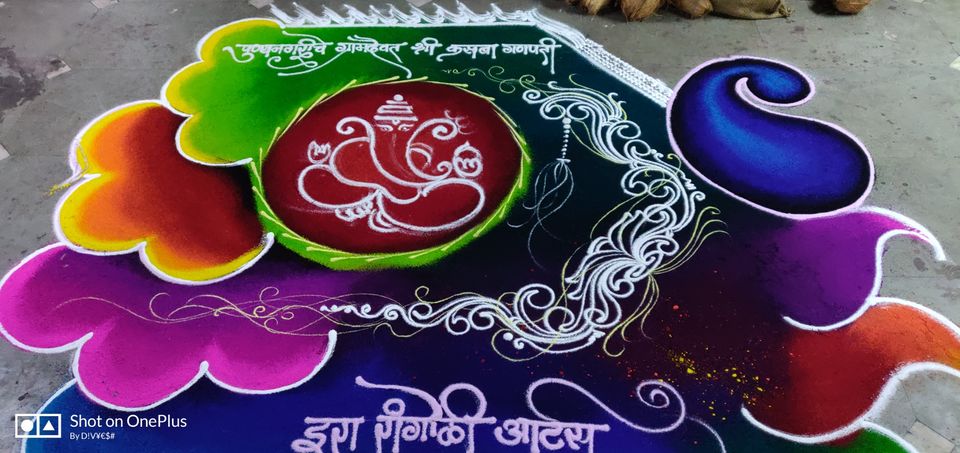 ¥Lalmahal & Agakhan Palace: Both this royal palace of peshvai dynasty are of great historic importance but unfortunately due to restoration couldn't visit.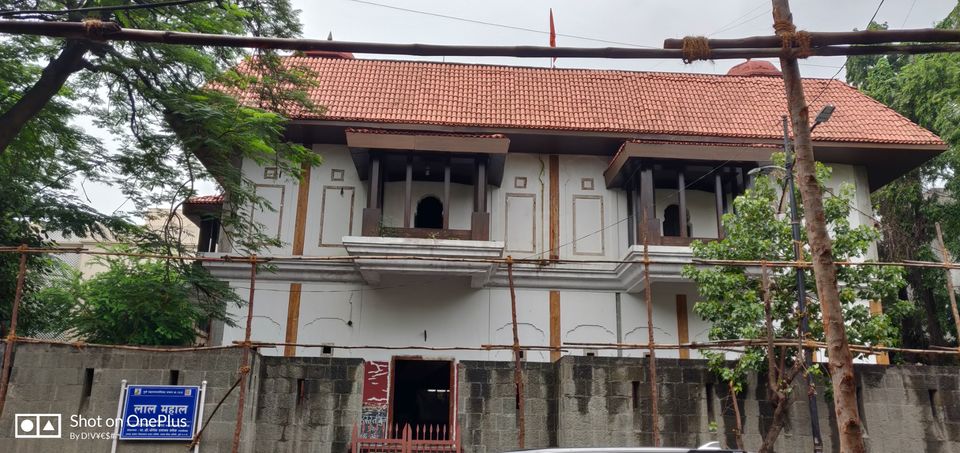 ¥Janglee Maharaj & Pataleshwar Temple:
From shanivarwada catch the bus & get down  @shimla house of shivaji nagar & on the 2nd cross road left side opposite to Petrol Pump you'll see the "Junglee Maharaj " it's a "Samadhi" of the saint. There is a cave temple adjacent to it known as "pataleshwar" Patal (Cave)+ Ishwar (GOD). It's dwelling of Lord Shiva with his family in the cave. You can click the drone view of the cave by climbing few step upwards.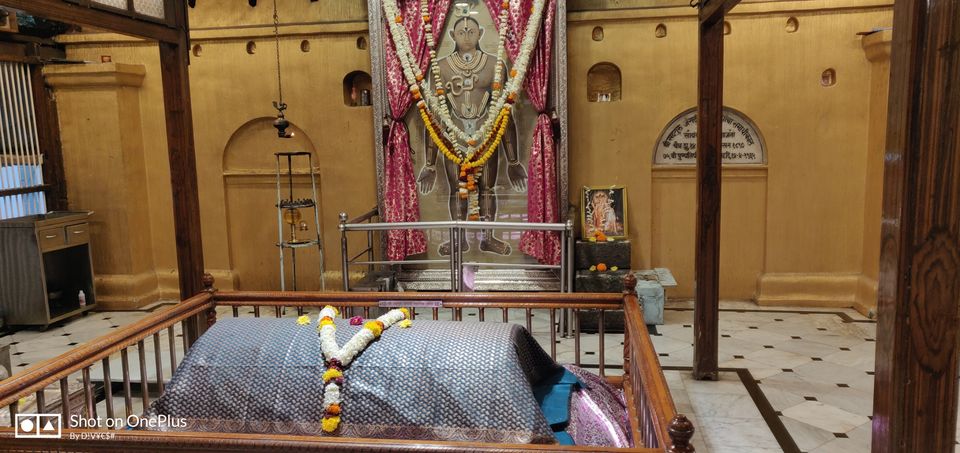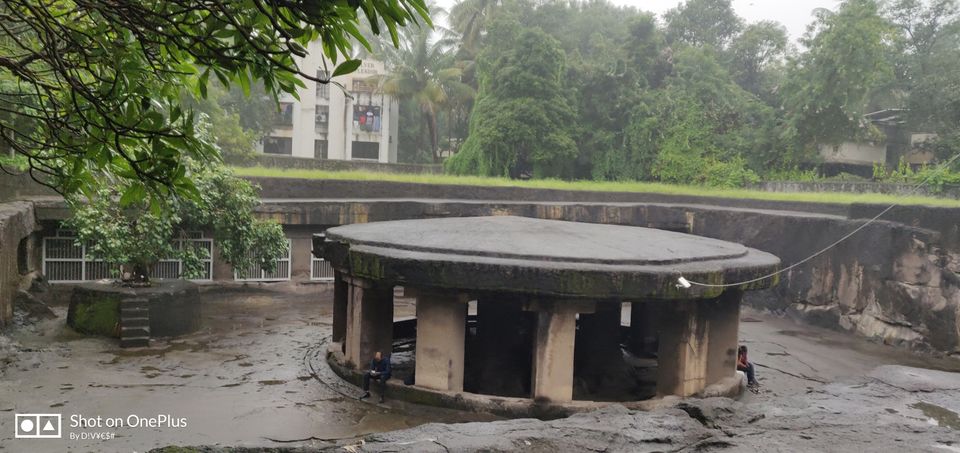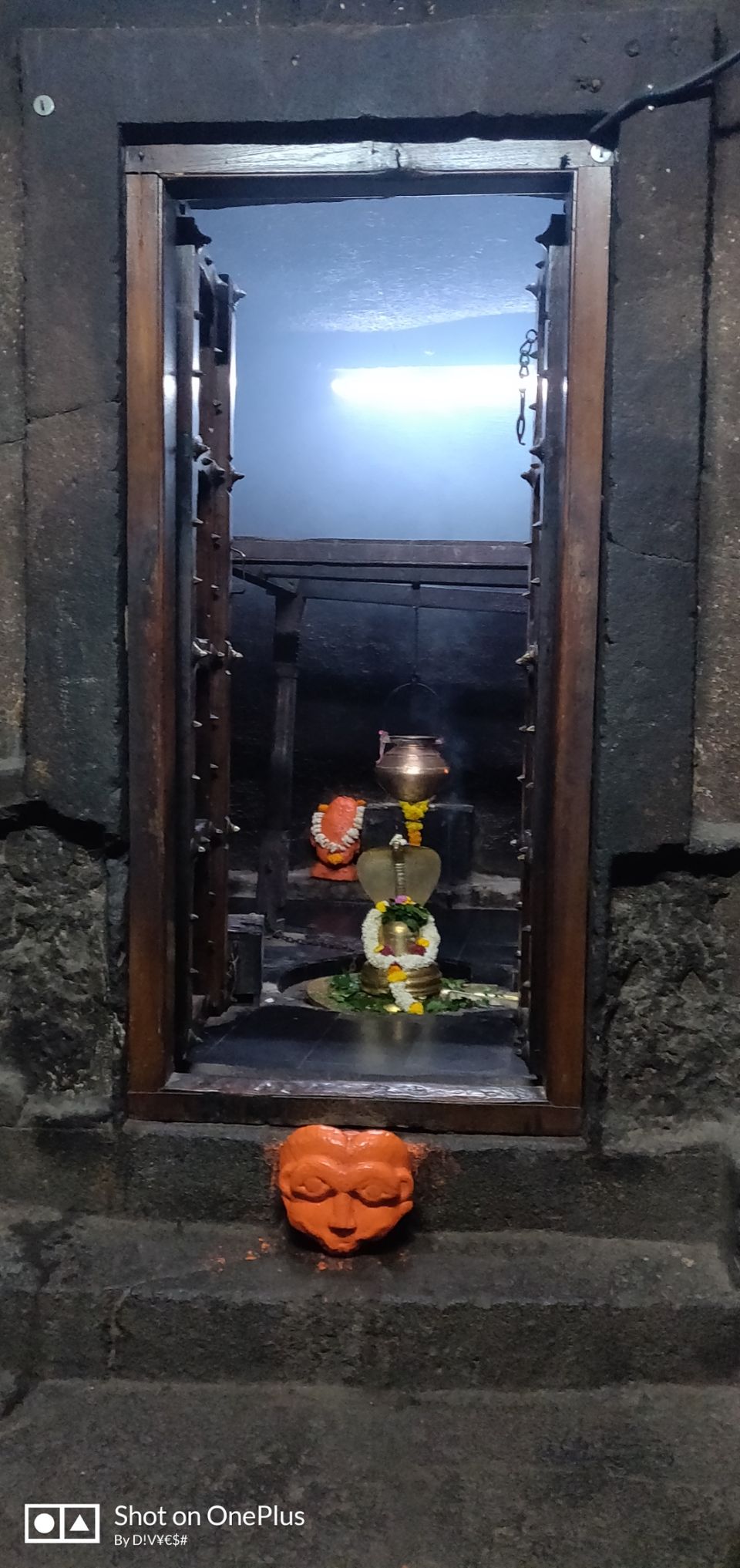 Things to consider:  
• The best way to explore this "Misal" city is by walking because the auto walas loot you (typical mentally of banking on lack of information) even if you want to take go by meter. Ola uber can come to your rescue.
 • Browny points if you know Marathi_Makes thing easy. 
• "Walk the talk" to the locals is the key. Let's keep the google map inside the phone for a moment.
Well  this is how I've explored the city.