25 th March 2016
7.20 am: I drowsily peeked at my phone, wondering why the alarm hadn't rung yet. My eyes widened in horror, and I jumped out of the bed like a freaking ninja. Luckily I remembered packing all the important stuff the night before. Switching on the WiFi router, I scoured my wardrobe for suitable clothes. I saw a host of messages on my phone from the newly created WhatsApp group, the last one being from my buddy Adwait, telling me to stop lazing and rush to the meeting point - Borivali station.
Kanheri Caves had been one of the places on my wishlist for a while and I was looking for someone to go there with. After planning the visit to the caves a week in advance (and seeing the plans fall through) my friend Adwait decided that a last minute plan will be the best way to ensure its occurrence. Considering that most of the people back out in the last moment of the trip, we managed to achieve a record: roping in 4 others - my classmate Neeti, Adwait's classmates Dhairyashil (or Dhairya, as we called him) and Aishwarya, Aishwarya's flatmate Milky tagged along as well. The impromptu-planning-phase for the trip turned to be a lot more successful than we thought... A WhatsApp group and a couple of hours of trolling each other later, we decided to rent a bicycle each and cycle to the caves.
As almost everyone found travelling by trains pretty convenient, we decided to meet up at Borivali station at 7.45am and take rickshaws to the entrance of the park together. But as I was running late, I decided to join all of them at the main entrance of Sanjay Gandhi National Park (SGNP). My dad was sweet enough to offer me a ride, and mom didn't mind an early morning drive either. My sister was the awesomest of the lot - with completely dishevelled hair she was the first one out the door, in her pyjamas, a half-drunk mug of coffee in her hand. The weather was just perfect for trekking, or at least it appeared so in the beginning - partially cloudy and windy. Most importantly, it wasn't too hot. Although we missed a turn and had to take a longer route, we reached just in time, at about 8am.
Well, Kanheri Caves lie in the interior of SGNP. One can either choose to cycle, or trek or take the bus which goes right up to the base of the caves. The route from the entrance of SGNP is about 5.5 kilometres long.
"Kumbhkaran" Adwait smirked at me as we walked to the bicycle rack. We found that the bicycles enough for only half of us. Sighing, we decided to walk instead. The walk felt lengthy - even though we walked for about an hour, we barely made it halfway. Taking a short water break, we resumed our journey. On our journey we came across people selling chana chaat (boiled chickpeas with vegetables and spices), fruits and vegetables. Briefly stopping to grab a little bit of chaat and a few slices of kairi (raw mango), we resumed our journey. We talked about everything under the sun - CGPAs, placements, crazy experiences, ideas for future treks and what not. We came across a Jain temple on the way and decided to pay it a visit on our way back. We did see quite a few people ditching their bicycles for a short walk or for selfies.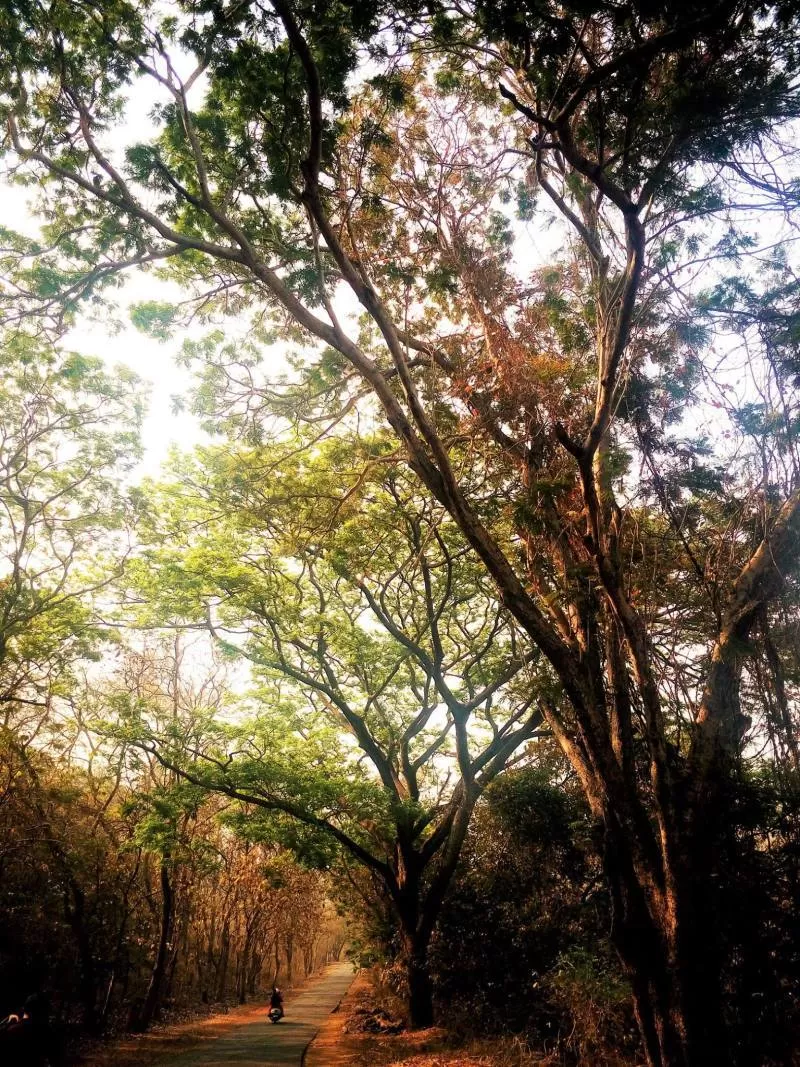 We did see a few cars and buses pass us as well. "We are definitely taking the bus on our way back," Neeti muttered. It was kinda sunny now and had slowly become tiring for all of us. We however cheered up and started walking with renewed vigour as we saw the main entrance leading to the caves in the distance. After resting a while, we purchased tickets to the caves and went in.
Well, the caves are under the care of the Archaeological Survey of India (ASI), and they have done a decent job of maintaining them. The cool caves were definitely a sharp contrast to the sultry afternoon weather. Initially we just came across small caves which we guessed were the places where the monks resided - or Viharas as they are called. I hoped there was something really interesting ahead, and my prayers were surprisingly answered in the next quarter-hour that followed.
We saw a chaityagriha - a prayer house as well. It was beautiful, in all its ancientness. The stupa, the sculptures, and a sense of satisfaction (on being able to walk so far) gave us a goody-goody feeling of peace. The caves got us more and more intrigued about the life the monks led, and about our history in general. After spending a few moments sitting and chatting there, we moved on to the other caves. We came across a huge hall with two long rock benches - I guessed it must have been the place the monks had their meals. Well, I found out from the ASI website that it is called "Darbar Hall." Close enough!
We rested at the Darbar Hall for about an hour, yapping about everything under the sun - the weather, our colleges - the upcoming exams, internships, graduation, getting posted in different cities, and the amazing journey that lies ahead of us. It was almost noon, but we didn't want to go out - the cool cave and the good company (and the creeping laziness) was getting the better of us.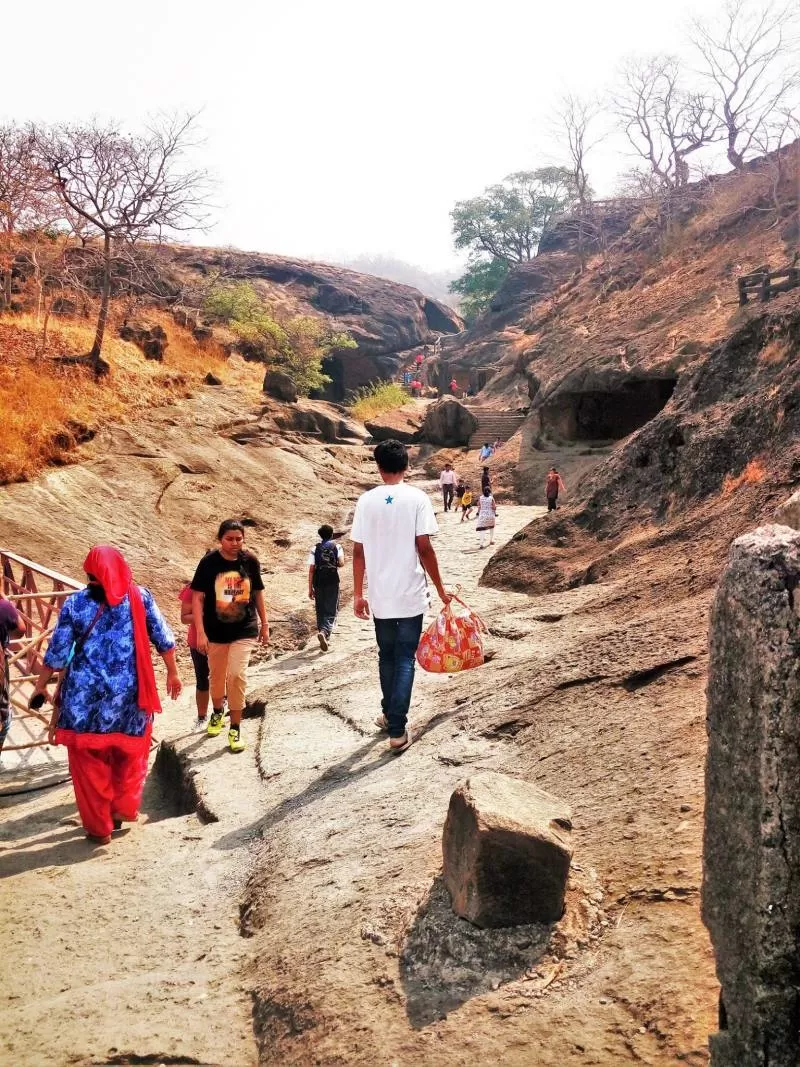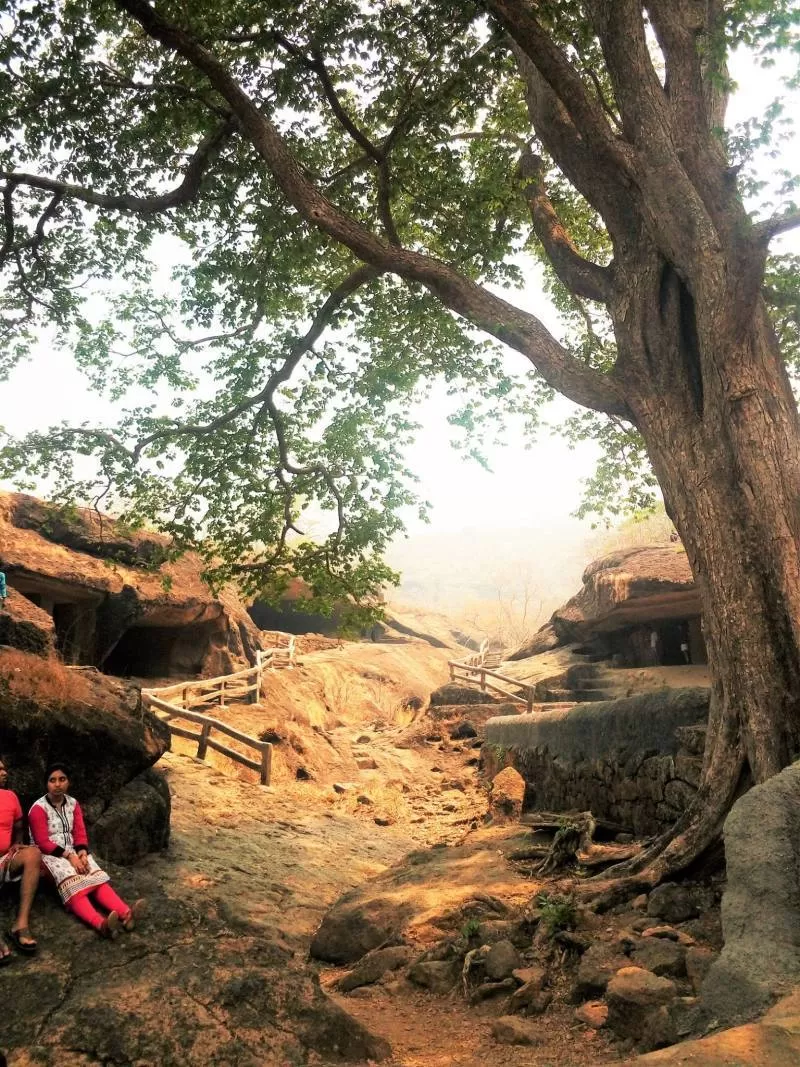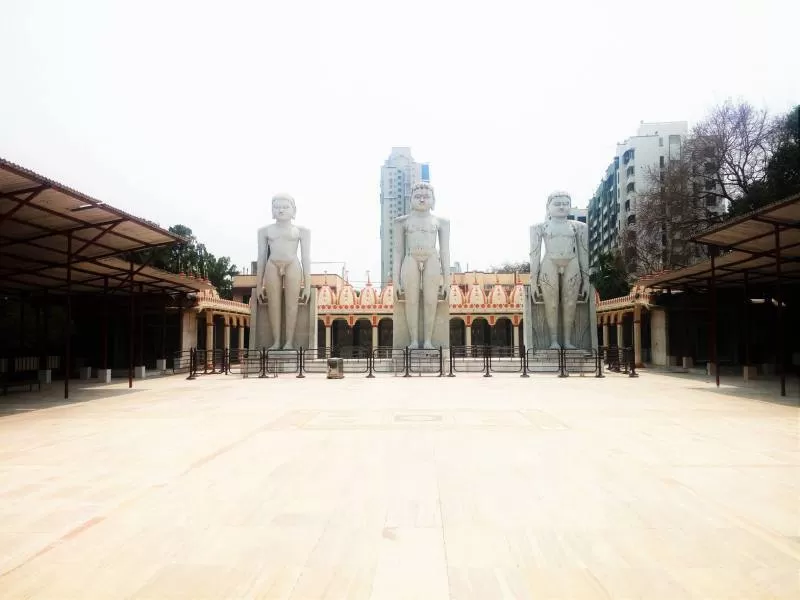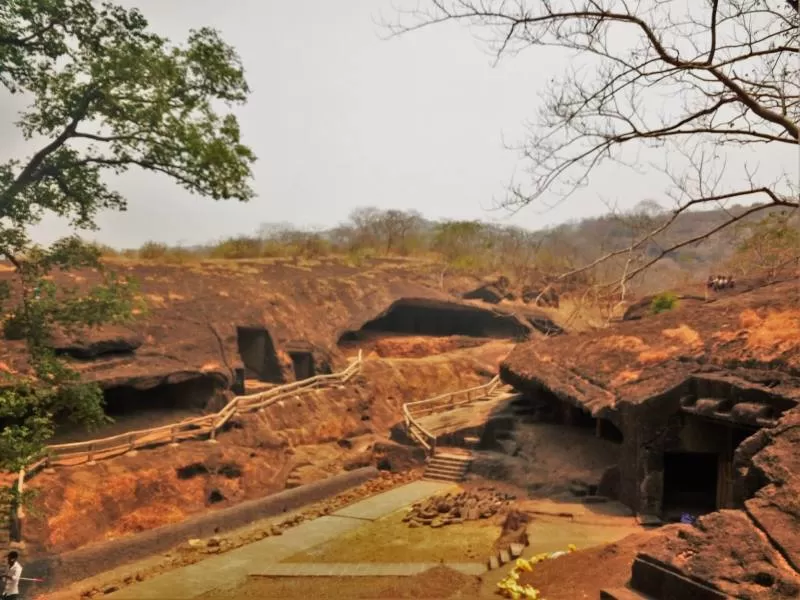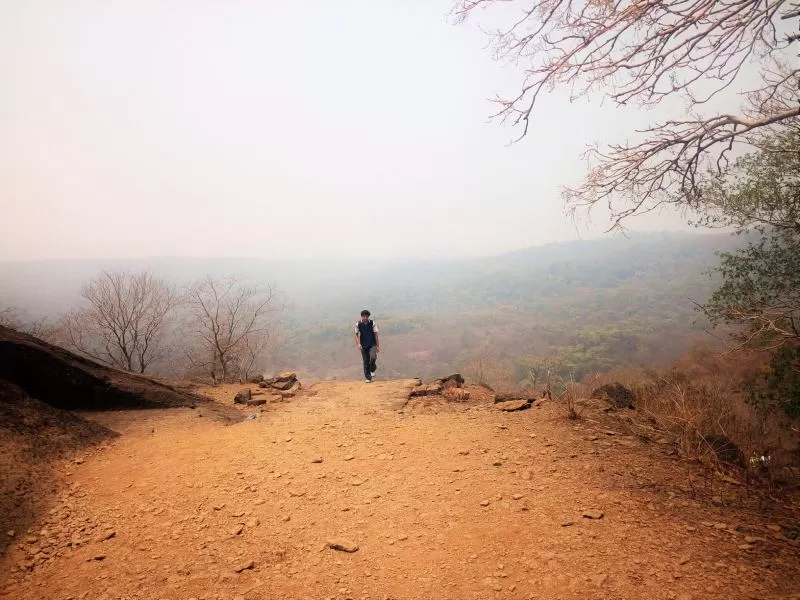 We climbed to the top of the hillock and caught a 360 degree view of the place. It looked splendid - although the mid-day sun wasn't exactly forgiving. Munching on snacks, clicking selfies and teasing each other, we had our share of fun. We left the caves as per our plan - 2pm. Being kinda lazy to walk back all the way, we decided to take the bus to SGNP main gate.
Adwait, Dhairya, Neeti and I got off at the stop closest to the temple and spent about 15 minutes there. The temple was just beautiful - definitely worth a visit. We walked back to the main gate after that - where Aishwarya and Milky awaited us. We made lunch plans en route to Borivali railway station and decided to ultimately eat at this restaurant called Sai Veg a couple of stations away.
After a nice sumptuous lunch and a chocolate cake later at Monginis, we bade each other bye. Sometimes, all it takes to have crazy amount of fun is an impromptu plan and a crazier bunch of people.
PS: Photo Credits - Neeti ????
Well, if you wish to visit Kanheri Caves in the near future, here are a few tips that would be helpful.
It would be helpful to have a look at the ASI website so as to appreciate it better.
Speaking of Sanjay Gandhi National Park, the park timings are 7.30am to 6pm. There is quite a LOT to explore. Check out the website to check out what event or attraction interests you.
The entry to the park cost around ₹45 (Parking for vehicles extra). Additionally, the entry to the caves for Indian nationals costs about ₹5 and about ₹100 for foreign nationals.
There are a multitude of options to get there from the main gate. One can choose to walk the road, rent a bicycle, take a bus or even trek to the caves.
Bicycles can be rented at about ₹60 an hour. It is a pretty good way to explore the place, but if you are going as a group, it's better to reach early as most of the bicycles will be booked otherwise.
In case you are carrying disposable plastic items (bottles, packaged snacks etc.) it will be necessary to pay a security deposit at the time of entry to the park. The security deposit is refundable.
Carry enough water in case you plan to trek or walk to the Caves. 1.5 litres per person should suffice. Carry a cap with you, keeping the weather in mind. Fresh fruits are also advisable to prevent dehydration and tiredness.
If you plan to walk to the caves, you can purchase fruits and chaat along the way. The raw mango sprinkled with chilli powder tastes pretty good, and so does the chana chaat.
Weekends are more-or-less crowded, so it's best to plan a trip on a not-so-busy day of the week
This post was originally published on A Roller Coaster Called Life.