It was a lazy Saturday morning for me, but I jumped in joy when I saw a mail from Tripoto. They were gifting me a surprise gift in the form of a New Year Trip. Being a contributor on Tripoto surely has its advantages. And this was one of them.
Now here's something about me. As much as I love travelling and exploring new places, I love to work towards making other people's travel dreams come true. This is the reason why I started #BucketList (an initiative where I asked people to share their bucket list with me, and in return I gave them a trip to one place on their Bucket List) in March 2018, and #TravelPot recently (an initiative that sponsors / partly sponsors travels for people).
So a thought crossed my mind. How about making someone else's New Year truly happy this time by passing on the free trip to them? And who could be better than the lovely Instagram family I have.
Immediately I spoke to the team at Tripoto, shared about my giveaway idea and requested them if I could transfer my gift to someone. They are a wonderful bunch of people and they agreed.
So I posted the below story on my Instagram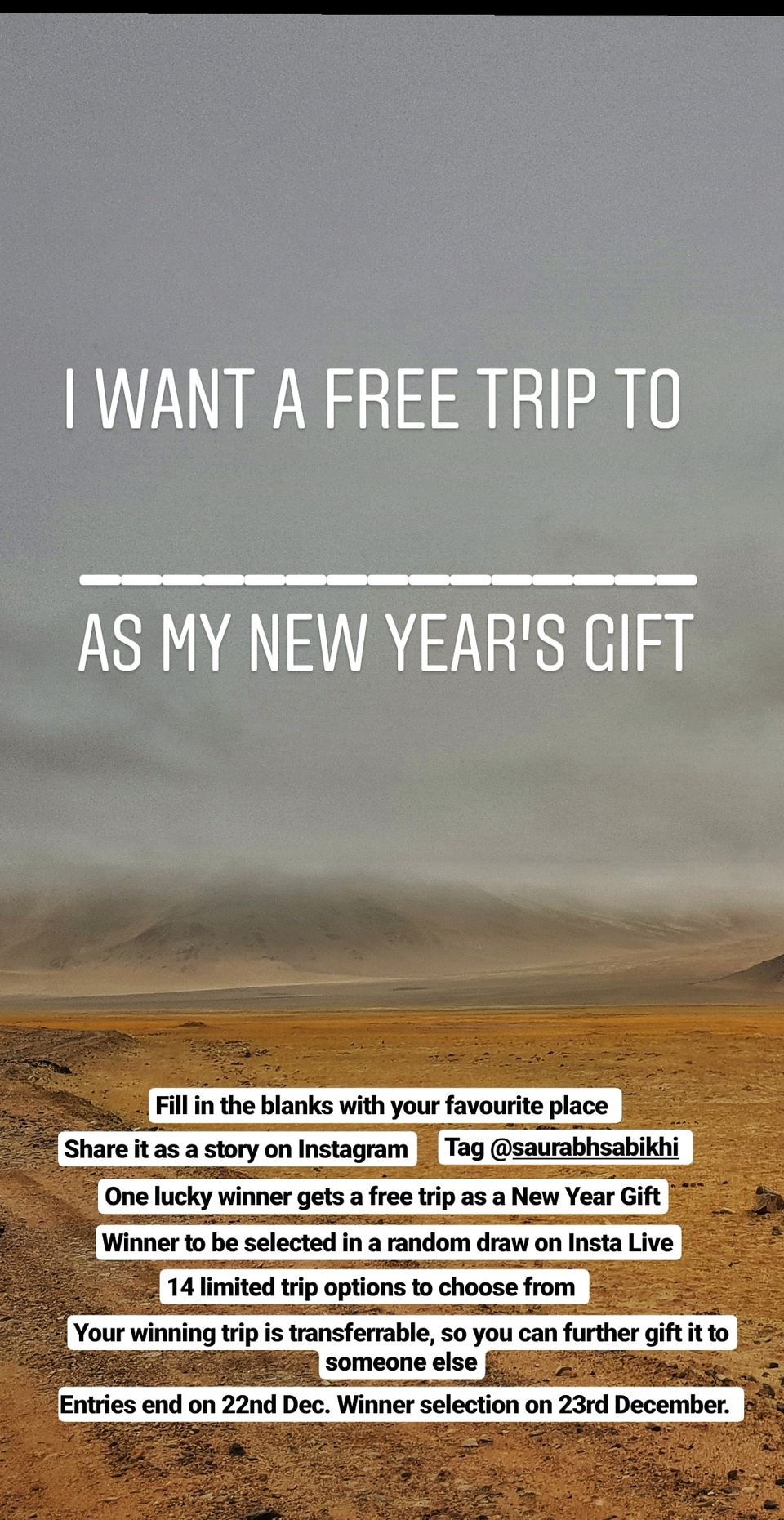 And well, the response to the story was overwhelming. Responses started flowing within minutes of posting this. Below are some of the responses.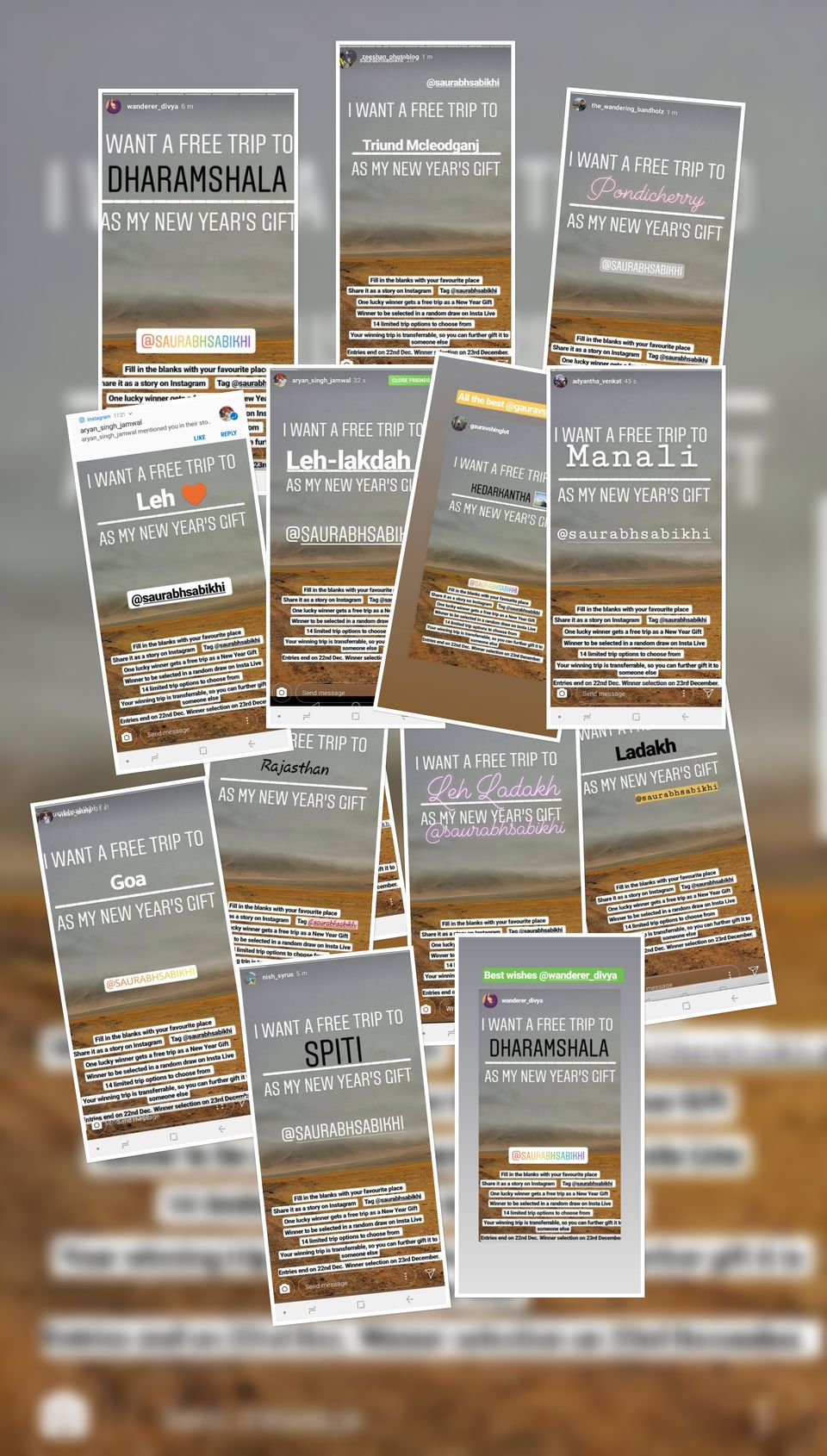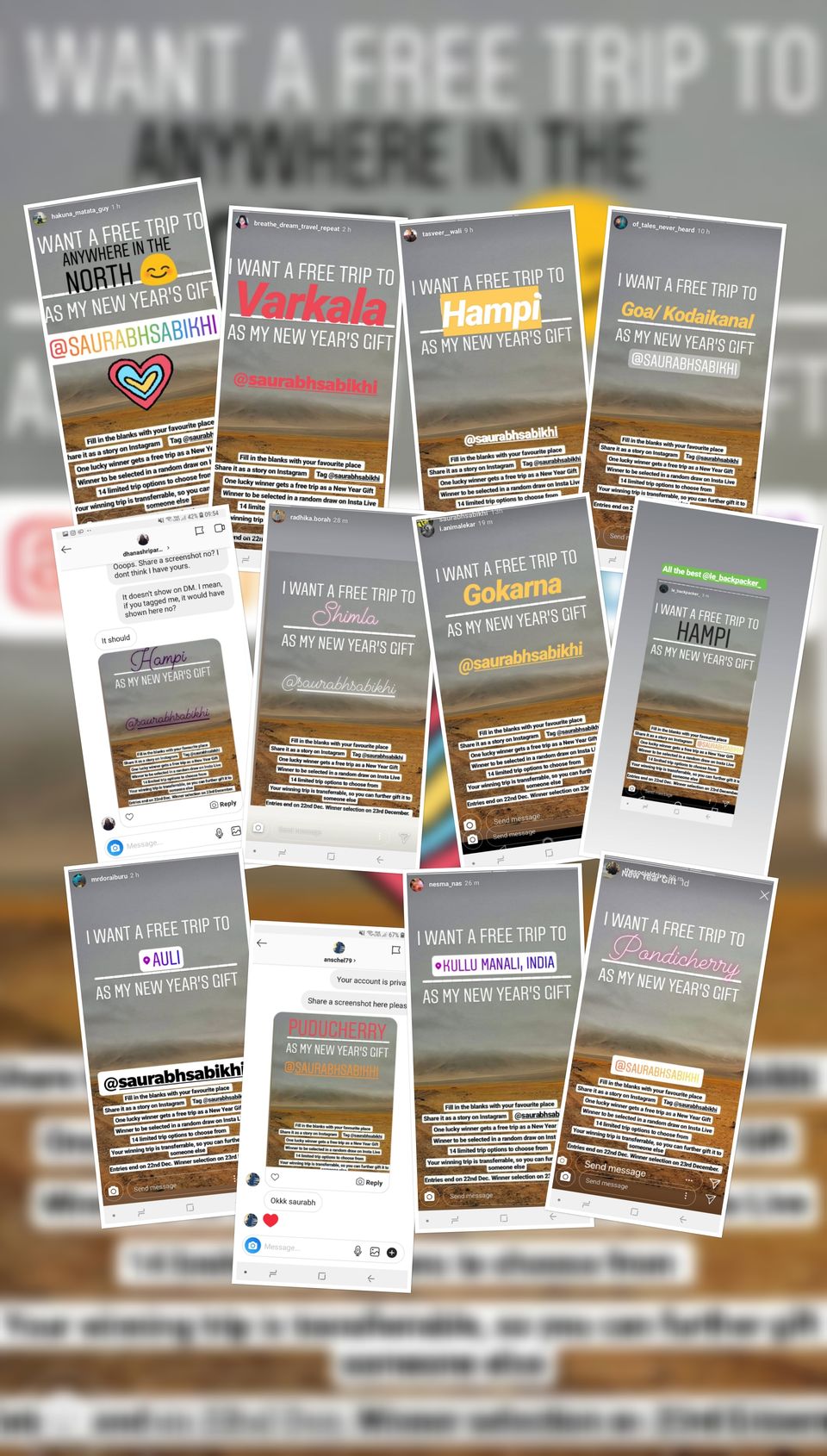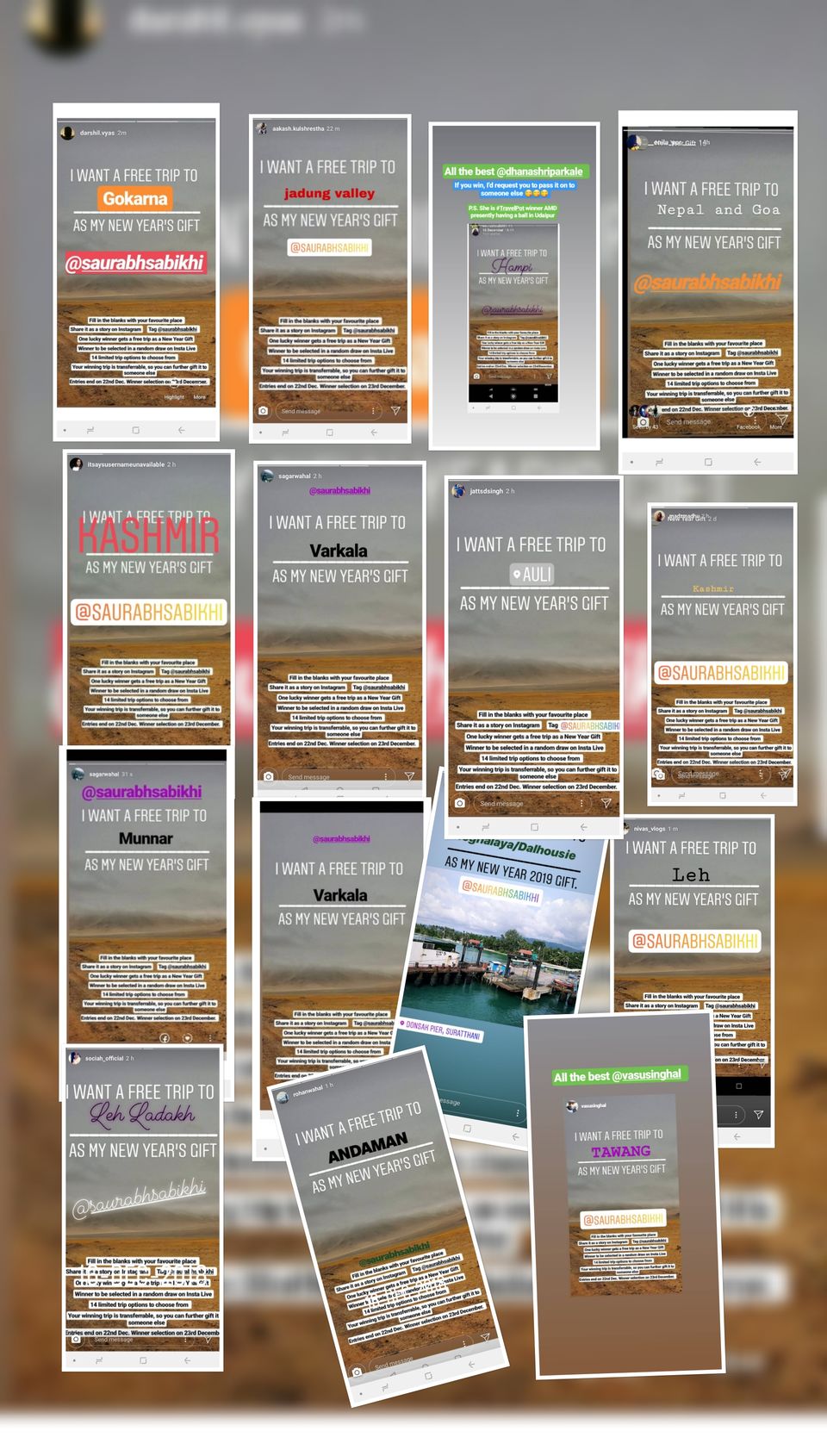 Some people even had eyes on the #TravelPot ;)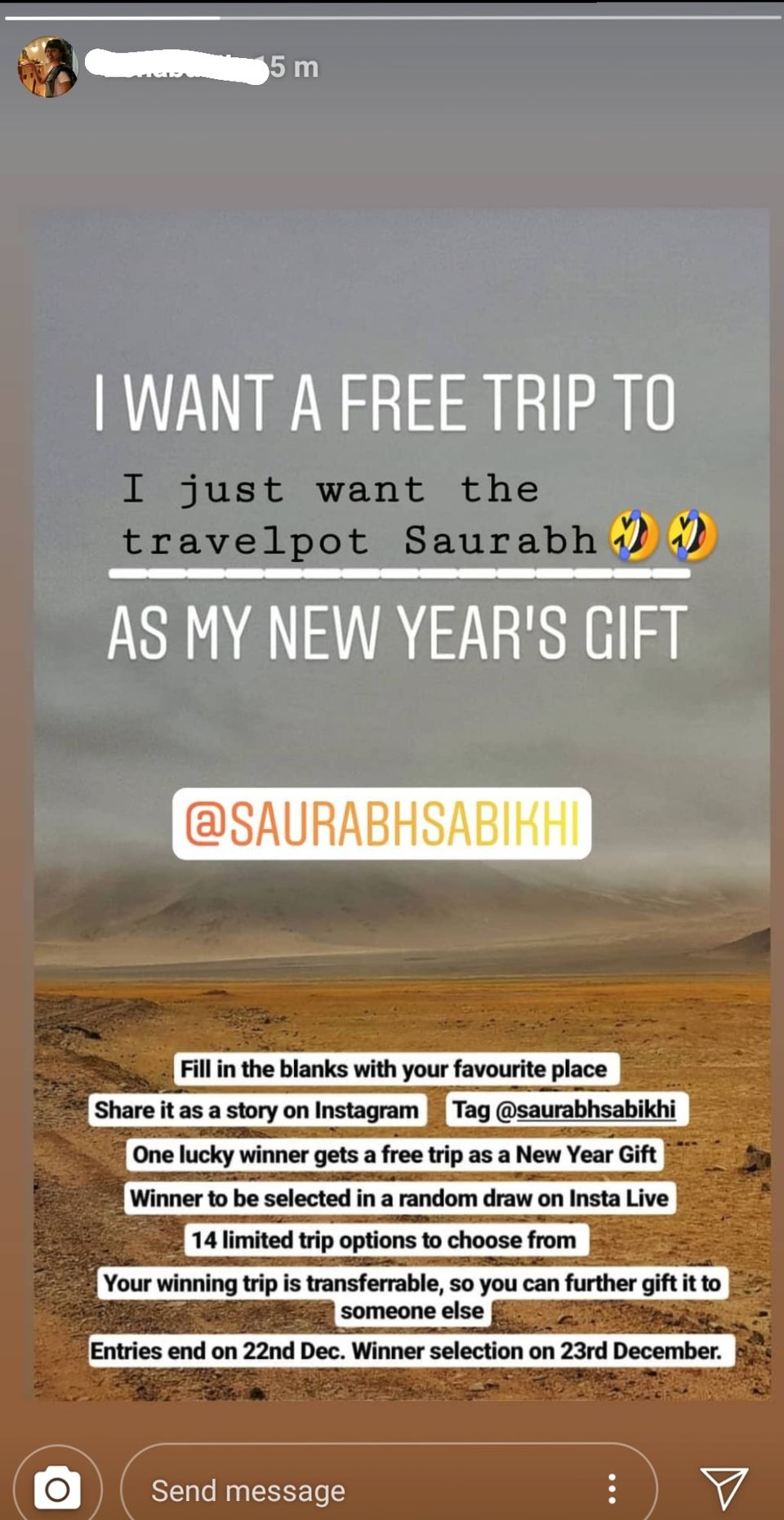 So if you haven't participated in the giveaway, go ahead and do it right now and you could celebrate your New Year's in one of the exotic destinations (links below). Not only this, there are some more exciting developments on this giveaway -
Runner's Up Prizes
A travel startup - Gullivers Travels came forward to collaborate on the giveaway and is offering 5 branded Mugs to 5 runners up in this.
Additional Travel Prize
Looking at the wonderful response, and love from all parts of the country, I have now decided to extend this New Year Giveaway to 1 more person.
So, now would be picking up 2 winners for the New Year's Giveaway.
Here are the 14 exciting options to choose from -

To see the list of available places for the giveaway check the below links

Trending New Year's Camping Experiences In South India
Offbeat Experiences In South India For A Remarkable New Year Bash
Start Your New Year Amidst Nature At These Stunning South Indian Hideouts
Go ahead and checkout the amazing places above.
Connect with me on my Social Media handles (am most active on Instagram) to see my journeys, giveaways and initiatives towards making other people's travel dreams come true.

A very very Happy New Year to everyone in advance. My New year would be happier if you connect and drop me a message on my Instagram.