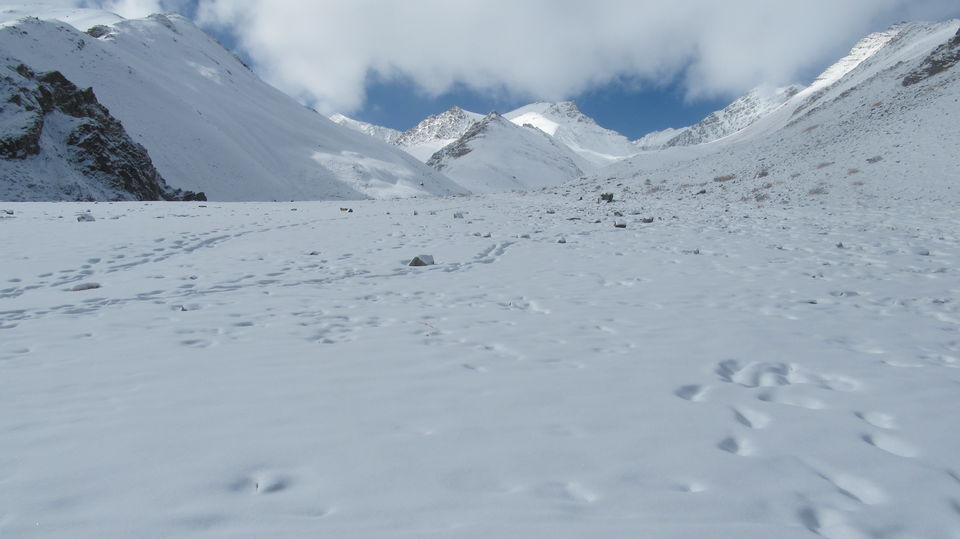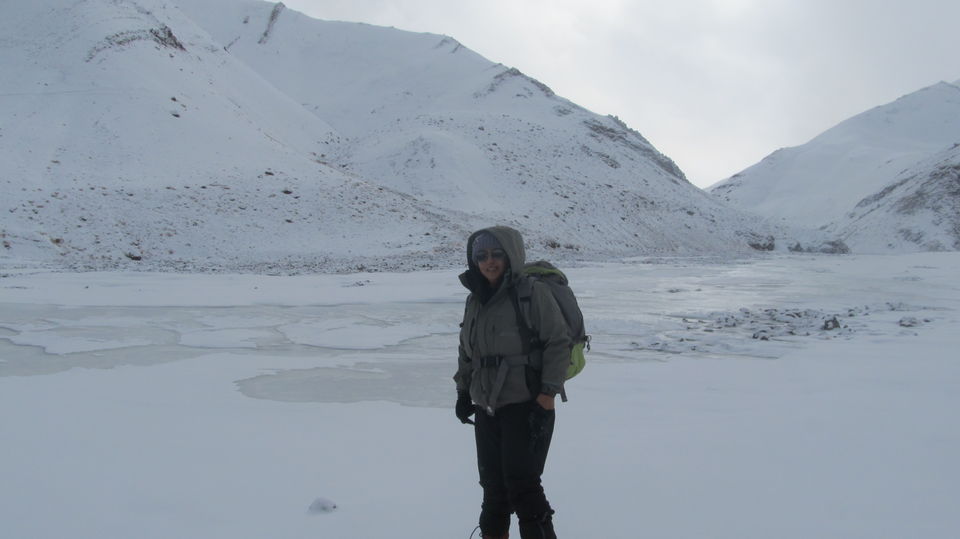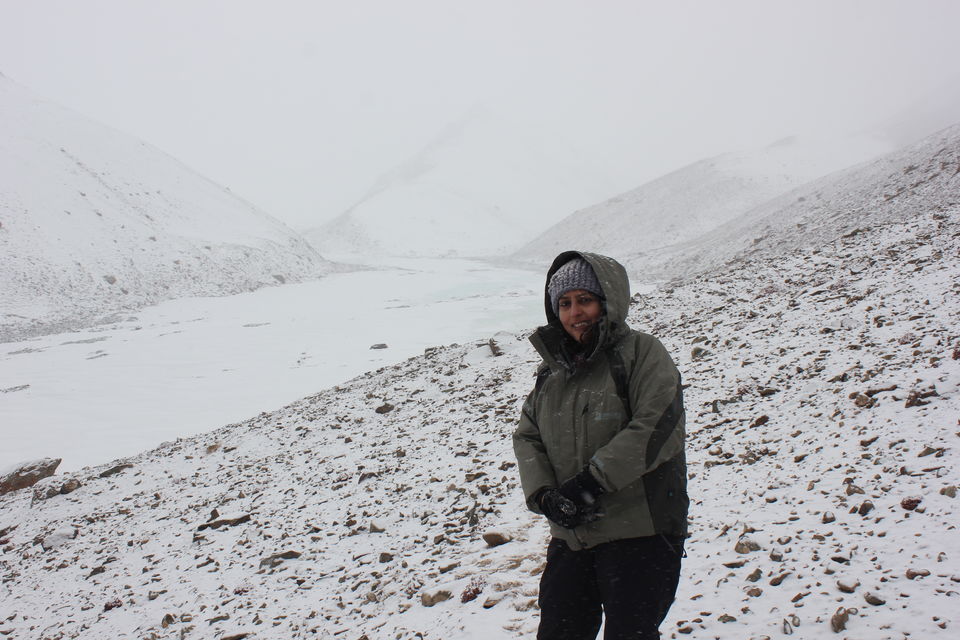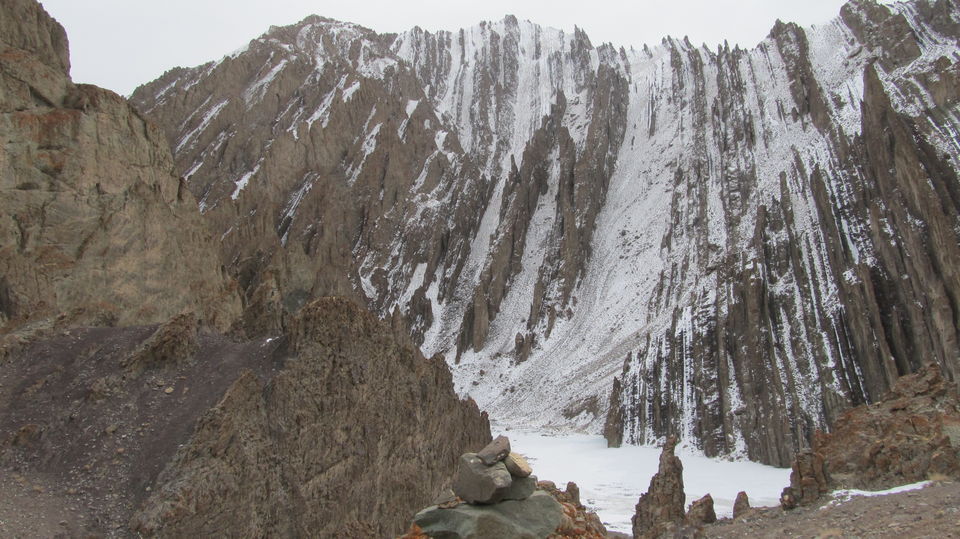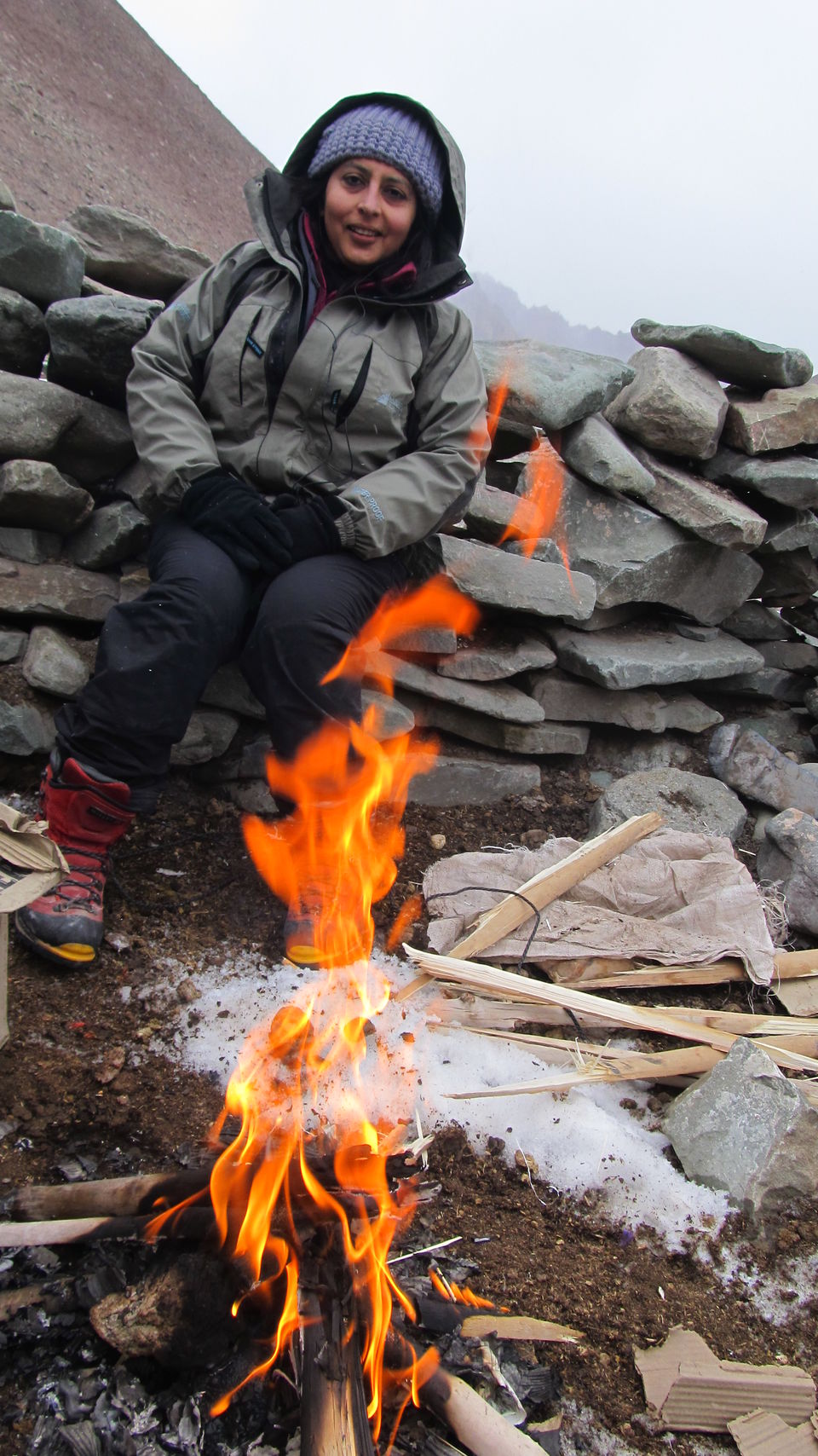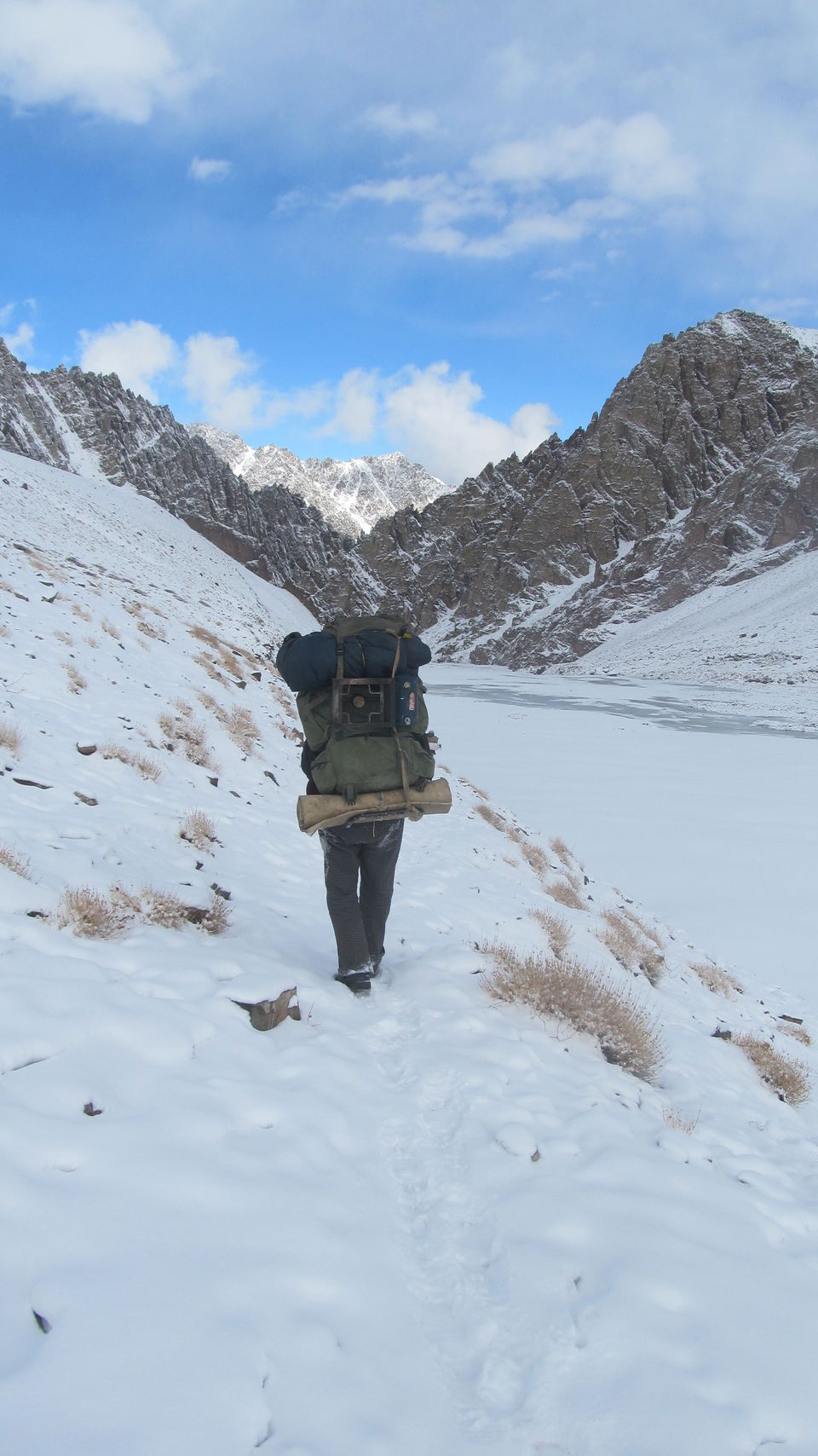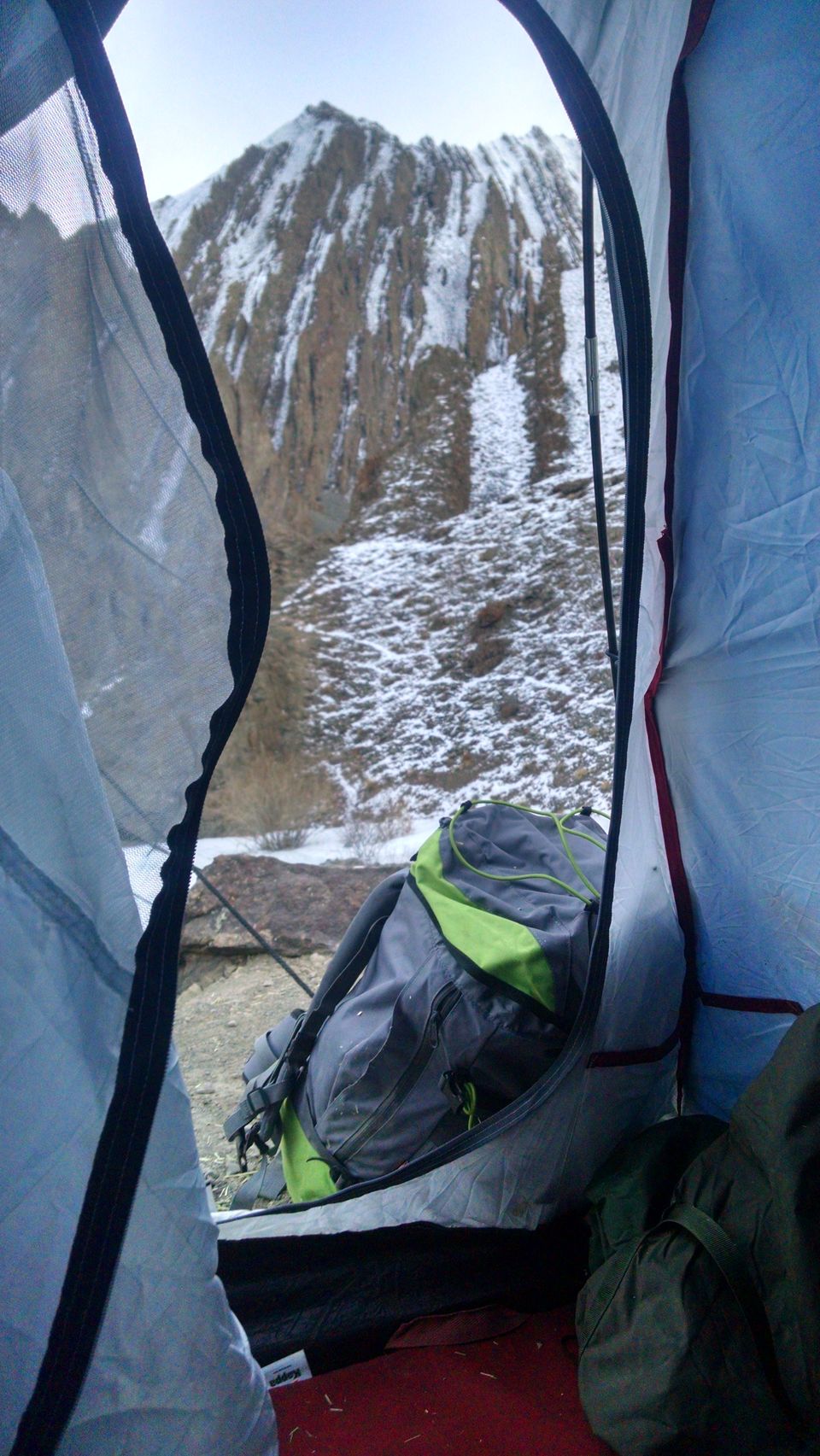 Stok Kangri is a beautiful snowcapped peak  in the  Ladakh region of the  north  western  Indian Himalayas, being the highest peak seen from Leh at an altitude of 6153 m and is a well known and a very sort after summer expedition by all mountain climbers.
After having done treks such as the month long Kailash Mansarovar yatra from the Indian side and Chandrashila peak in the winters, Stok Kangri was something I was eying for quite some time but never felt I was physically upto the mark to actually take the plunge. So I planned to do the Frozen River Trek ( another glamourous trek famously known as the Chader trek on the frozen Zanskar river ) in Ladakh in the month of Jan'15 and started the physically preparing for it three months prior. Knowing the temperatures would drop to a crazy -35 degrees I primarily focused on building my core strength, lung capacity and my calf muscles for the strenuous walk.
A day prior to my flight to Leh, got the bad news that Chader trek had been stalled due to a mountain slide blocking the river. Still I landed up in Leh ( altitude 3500 metres ), hoping against hope that Chader trek  would happen but the local administration had  put a complete ban on the same.  And as destiny would have it, The Stok Kangri dream began to culminate into reality and with my persistence the local guide Ali Khan who incidentally inaugurates Stock summer expeditions every year agreed to proceed for the Stok Kangri Winter Expedition. Since I was traveling alone and had not opted to go with any trek organizer I found it convenient to make random changes in plans and preparations. After obtaining a fresh official permission from the DM's office and with three Zanskari porters plus a guide there started a strenuous and arduous trek, the start point being stok village, 14kms from Leh city covered  in a van with our tents, food items and sleeping bags. Enroute we stopped at a small town called Zampa just before Stok village, to pick up water bottles, which was an uphill task as all the water bottles were frozen as the temperatures even in the day sunshine was -6 degrees. In another fifteen minutes we reached Stok village.
( A funny incidence, just before we set course for Stok village, thought I would quickly bathe as all of that would not be possible during the trek,  getting greedy, i opted for a head bath not realizing that just after the lovely little hot bath, my wet hair turned into icicles and I suddenly had all my hair strands standing out like well made spikes and to my horror my towel  too was like a crisp pappad. The local lady from the guest house was bemused to see me, making me realize what a fool I had been.)
Day 1-The trek was to begin from Stok Village ( altitude 3650 metres ) and the taxi was to drop us here and return to Leh, so we quickly  assembled our things , the porters were to carry the kitchen tent, my tent, food items, gas stove, sleeping bags, crampons, ice axe and so on, while I was to only carry my back pack weighing around 9 kgs, which for me was quite a load, consisting mainly of food and thermal essentials, medicines, batteries etc.
We had decided to camp at  Changma (that day because otherwise a easy trek in summers, this being deep winters, we had to walk on a few patches of frozen river and some rocky terrain, but an easier walk so far. The landscape was amazing with huge brown and grey mountains with snow slopes. The ascend was gradual. We reached the campsite in  3 hours. My tent was set up right next to a frozen river and the temperatures started to dip drastically as the sun set. The cook was finding it difficult to find water to cook as everything around was frozen, he would not use the ice axe to break the river as it could cause the river to break open, finally he found some chunks of ice to melt and cook dinner for me and the fellow porters. I had  an early dinner and hurried into my tent as the temperature had dropped rapidly all evening and was close to -35 degrees and me with my two sleeping bags which were supposed to handle -10 to -15 degrees each, were of no use. Though I suffered no acclimatization hurdles yet I realized I had completely lost my sleep and appetite both. The constant bone jarring shivers were exhausting !
Day-2- We moved ahead after tea and a light breakfast, we were to reach ManKarmo ( altitude 4328 metres ) the trek was slightly steeper and with a complete frozen river walk. The frozen river which seemed fun earlier started getting difficult gradually due to its sheer texture, which was pure ice, don't even remember the number of times I fell. Some where my desire of doing the Chader Trek was also being fulfilled. At a point the guide pointed out that we would have to use the crampons else we could barely walk. The weather was getting bad, clouds were coming in and it began to snow. We pitched our tents well in time before snow came slithering in. ManKarmo, during the season time is very crowded and had a restaurant built out of rocks. It was serene and deathly silent. You could hear the peaks call out to you, welcoming yet elusive. The serenity was beyond words. The silence was only broken by my heavy breathing which was getting heavier with the dropping temperatures. It snowed throughout the night, the precipitation was falling inside the tent.
Day-3 Had to shake my tent to throw off the snow atop the tent to step out else I was trapped within. The view outside was breathtaking, ManKarmo river was completely covered with fresh snow, the mountain peaks wreaked of their majestic presence. Along with the morning tea, I realized that Ali had gone ahead to check the terrain ahead to ensure safety. The weather continued to be the same with the snow silently falling around. The porters lit up a small bon fireWe were to make it to the base camp that day, but decided to leave mid noon. Had the first glimpse of Stok Kangri from ManKarmo, standing proud up amonst its peers.
The trek to the Base camp  ( 5900 metres ) was arduous and strenuous as the snow fall was relentless. On reaching the base camp I realized that we were to put up our tents way before the actual base camp as the snow there was way too deep. As we could see the peak towering up into the white sky, pluming as if it was breathing, the thought that we had reached this far was satisfying and fulfilling although no one showed any emotion as that too needed energy and we were trained to conserve every quantum of it. This was a different world, complete in it's own and symbolic of so many things that it kicked off, from avalanches to the rivulets and the chilly winds blowing in gusts and swirls ! Ali described how different the place was in summers. He was now getting really worked up on the weather as there seemed to be no respite from the falling snow and the bone chilling cold. The night was eventful as while gasping for breath the most part, I could hear the silence and feel the desolate outside trying to get inside the tent. All of it added upto testing my grit beyond words and I spent the whole night shivering, panting for breath, warding off panic by closing and shutting my cold eyes.
Day-4 & 5- We were to leave at 4am for the summit but the guide announced that the summit with this weather was way to dicey and could prove to be fatal to proceed as the otherwise lush meadows amidst the daunting peaks was covered with a deep snow blanket ready to eat up who ever dared to tread upon and we decided to return as weather was predictably not to improve for quite a while.
The way back seemed like a different route altogether as the consistent snowfall had changed the complete Topography. We had to take each step carefully, slipping innumerably and make a fresh trail in the fresh snow. We descended, exhausted and numb and yet exhilarated to have been with  nature in it's most scenic and extreme form, with a longing to stay there and yet return, hoping to reach back to Stok village as soon as we could.