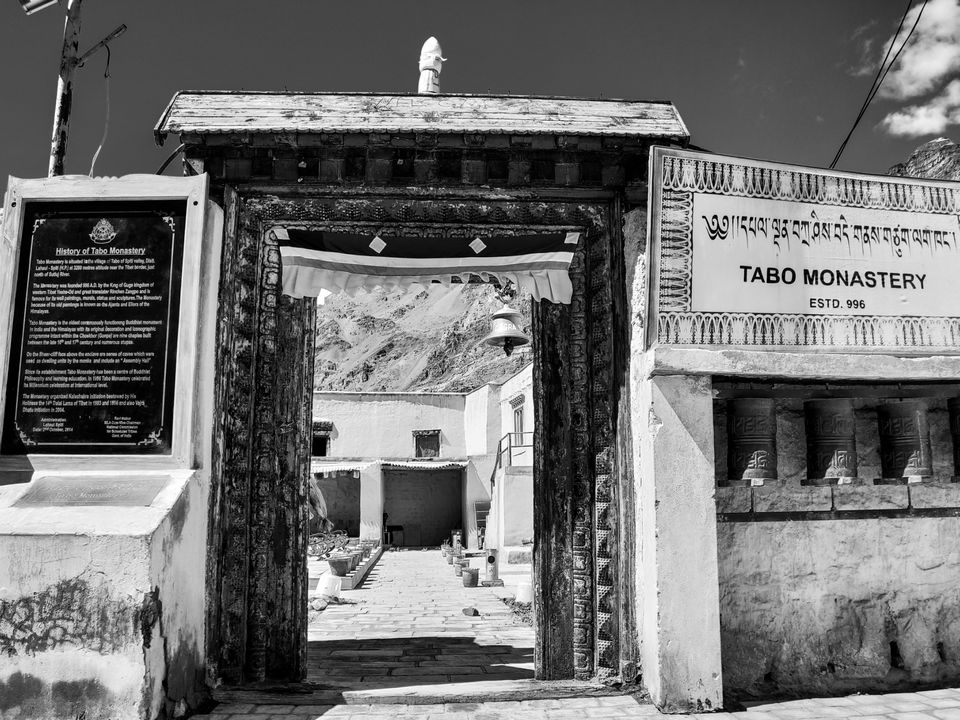 Finally, the day arrived when I was going to Spiti Valley.  The bus was rescheduled to leave at 8'00 AM instead of 5'30 AM due to landslides ahead on the highway.  I left my room at 7'00 AM and to my strange, it was a beautiful morning with a clear blue sky. I went early to the bus stop to get the tickets which are given half an hour before the bus leaves.
We left from Reckong Peo at 8'00 AM. The ride was filled with adventures ( life risk ) and with some of the most beautiful views. As the bus was moving towards Spiti, the terrain was becoming more deserted, stony. And everyone knows that the Reckong Peo to Kaza road is one of the most treacherous roads in the world.
ROUTE -If I talk about the road conditions, the road from reckong peo to pooh is in really bad shape as work of road widening is going on. After Pooh, the roads are pretty good.
NOTE -
1. Watch out for the shooting stones board. Yeah, you read it right -/Shooting Stones board.
2. If you are not habitual of traveling in high altitude, then take Diamox or any other medicine by consulting your doctor.
3. Eat lot of carbs and avoid eating Fats. ( Rice, Chocolates are good )
4. Keep extra chocolates while traveling there.
5. Keep lot of warm clothes
Ticket to Tabo cost me Rs - 270
Bus Halts at Spello ( for breakfast and you can get BSNL SIM card ) and at Nako ( for lunch ).
Nako is also a place of interest in Spiti Valley with some history of its own. I hadn't planned for Nako this time, may be next time.
After 10 hours ( landslides and bad road, delayed by 2-3 hours) of journey, I finally reached to Tabo. This 8 journey was one of the best journey of my life. It was filled with lot of beautiful memories. There was a moment when was edge of cliff and it was 300 meters gorge. I was able to see the river and no road beside tyres. But I was travelling in HRTC, so I was out of any kind of tension.
I reached to Tabo at 6'30 PM, It was getting dark, I quickly went to search for room, then found this place called Trozan homestay. He charged me Rs 800 including meals for one night.
Usually this bus reaches Tabo at 3 PM, so, I had planned to explore Tabo before getting dark but that was not possible then. I decided to sleep early and wake up early and explore Tabo next day. As Tabo is between two mountain and with river flowing beside, it gets much colder as compared to other places. After having dinner, I called it a day and slept.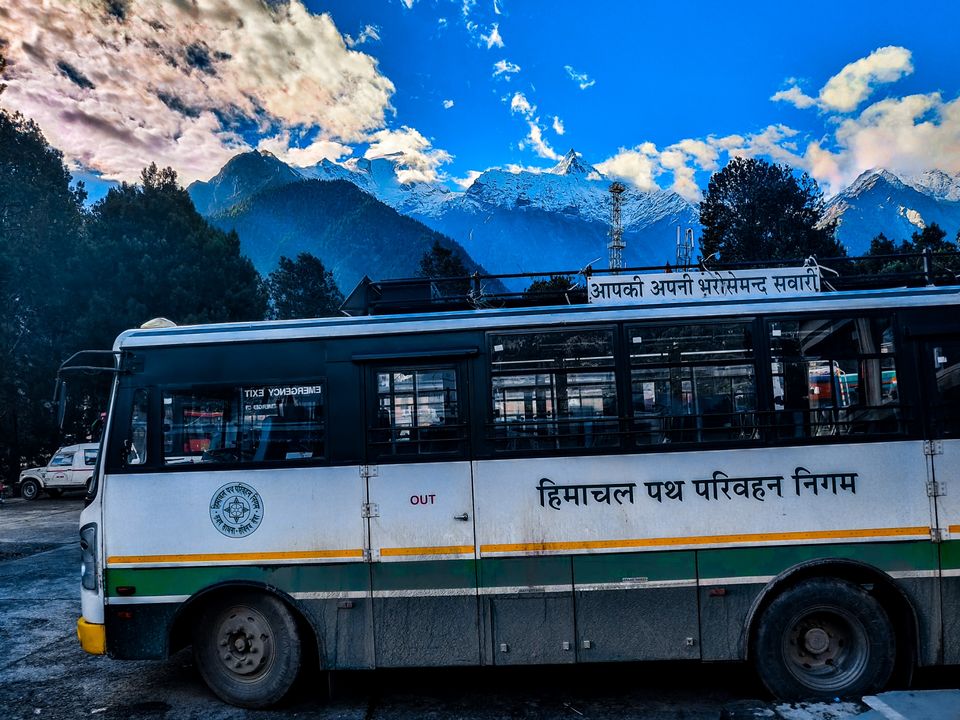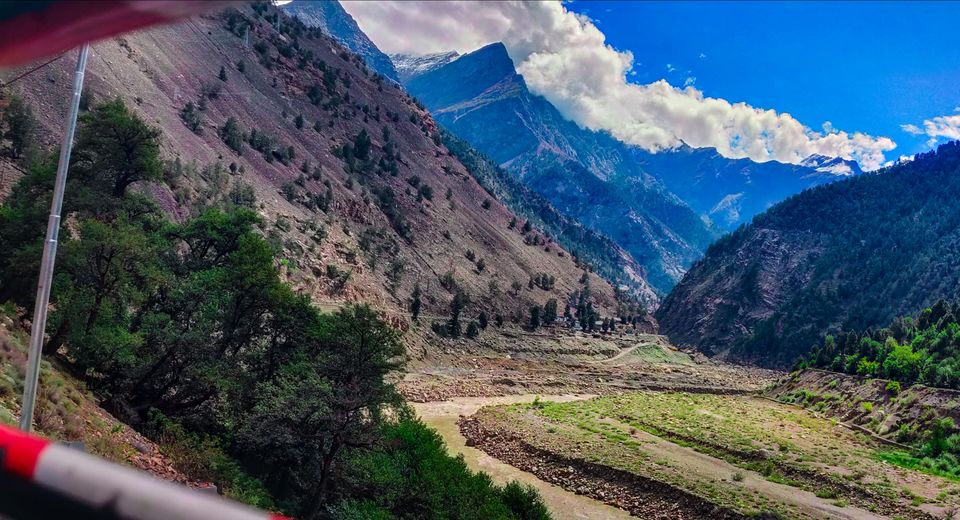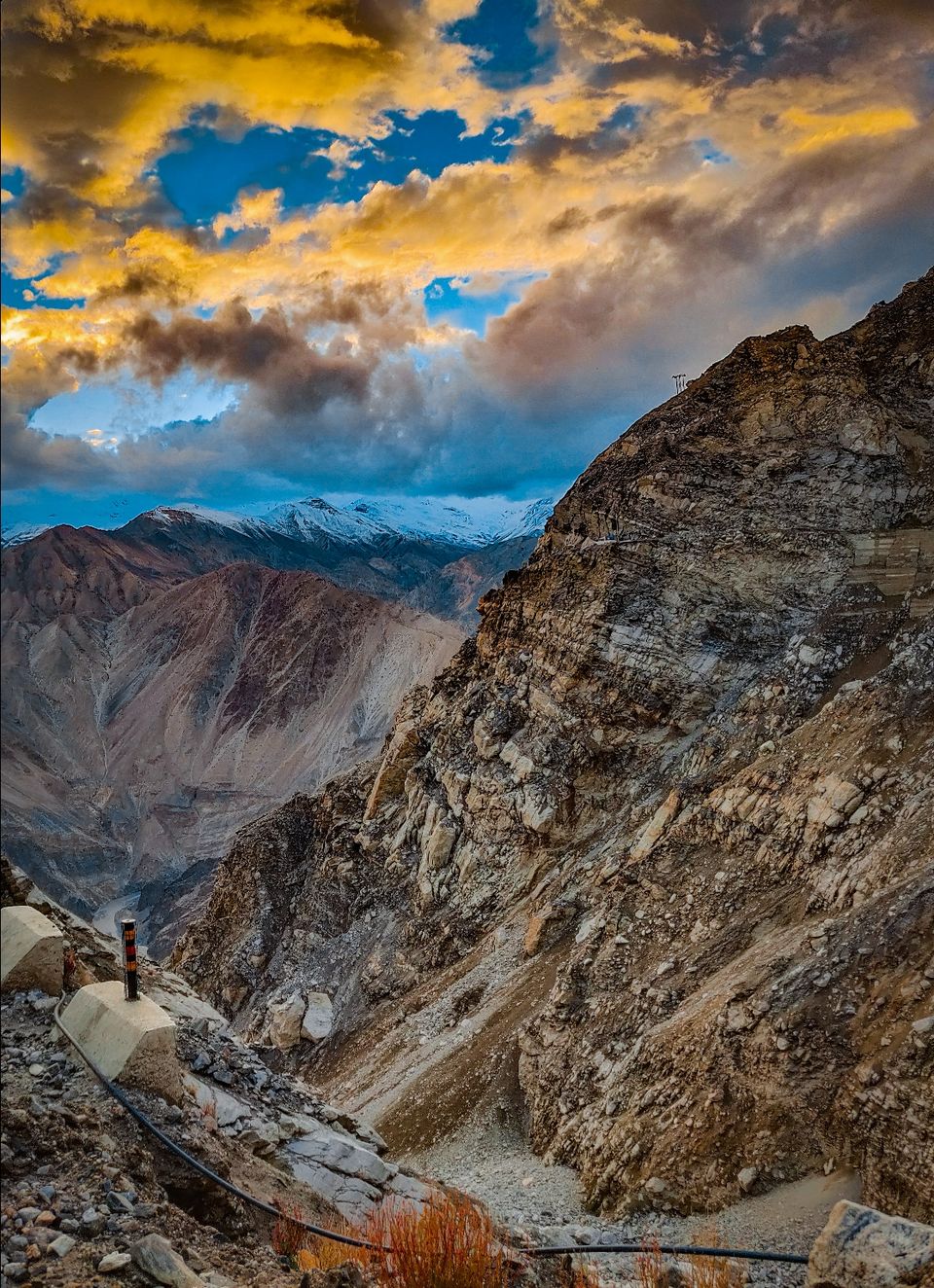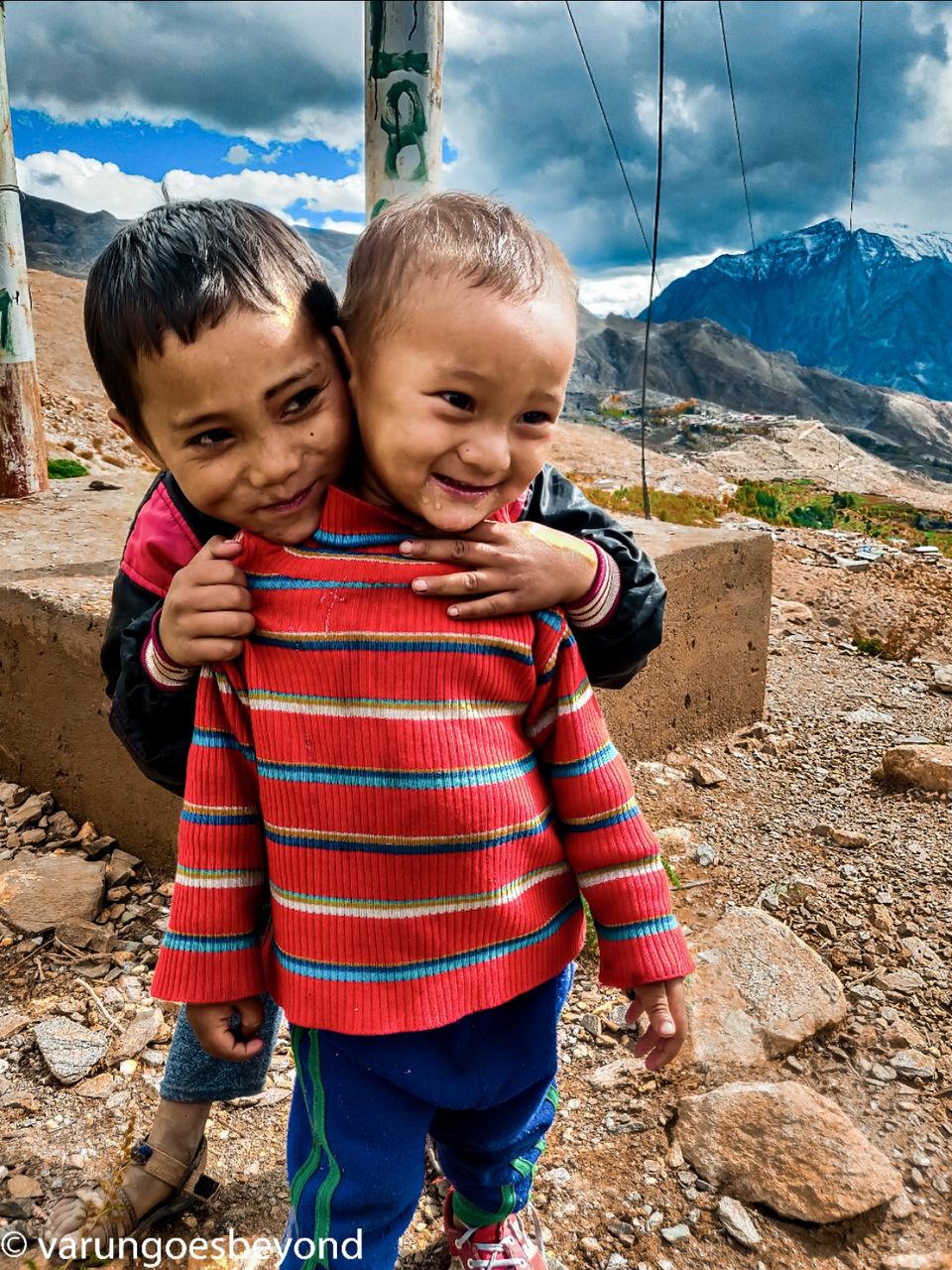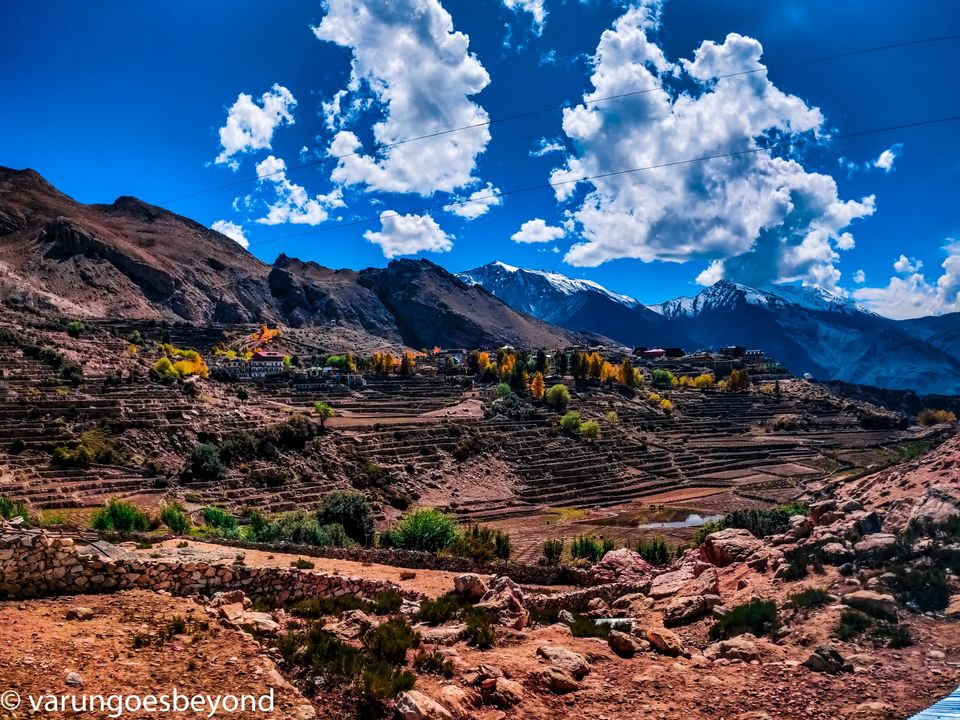 Tabo is a village in a lower part of Spiti valley in Himachal Pradesh, at an altitude of 3265 meters. The town lies on the road between Rekong Peo and Kaza, the sub-divisional headquarters of Spiti. As it lies on the banks of Spiti River and in the lower region ( valley ), it gets much colder as a comparison to other places. Tabo is about 152 KMs from Reckong Peo.
I woke up at 6 AM in the morning and asked about the bus timings. They told 9'30 which comes from Chango and another at 2 PM which was the same in which I came. I decided to explore Tabo to the fullest and take this 2 PM bus which will reach Kaza by 4 or 5 PM.
New Tabo Monastery - It is located just beside the Tabo old monastery which is the oldest monastery in India.
Ajanta of the Himalayas", as the Tabo Chos-Khor Monastery is popularly known, was founded more than a millennium back in 996 A.D. The Year of the Fire Ape by the Tibetan Calendar. It is also quoted as the oldest monastery in India. It stands on the barren, arid, snow covered, cold and rocky desert of the Tabo valley at a dizzying height of 3050 m. Untouched by the tribulations of humanity, a heaven in its own sense, it has preserved the glorious heritage, traditions and culture of Buddhism through the passage of centuries, withholding its institution with utter purity.
It is known that the Chos-Khor at Tabo commanded great importance, and hosted for a considerable period, many great scholars and translators in the Buddhist history studies. The monastery complex holds 9 temples, 23 chortens, a monk's chamber and an extension that houses the nuns chamber.
1. The Temple of the Enlightened Gods (gTug-Lha-khang)
2. The Golden Temple (gSer-khang)
3. The Mystic Mandala Temple / Initiation Temple (dKyil-kHor- khang)
4. The Bodhisattva Maitreya Temple (Byams-Pa Chen-po Lha-khang)
5. The Temple of Dromton (Brom-ston Lha khang)
6. The Mahakala Vajra Bhairava Temple (Gon-Khang)
7. The Chamber of Picture Treasures (Z'al-ma)
8. The Large Temple of Dromton (Brom-ston Lha Khang)
9. The White Temple (dKar-abyum Lha-Khang)
TABO CAVES -
After getting the monastery, I went to Tabo Caves. A place where monks used to come in winters or generally for meditation and prayers. After 5-10 min Hike, I reached the Caves. It was just an empty, secluded place nothing more than that but Tabo caves offer a beautiful view of the whole town and the valley.
TABO HELIPAD -
After spending an hour at Tabo Caves, I went to my homestay took my bag and went to the bus stop. But still, I had an hour to kill. So, I saw one road which was going towards the big mountain. I followed that road and after 5 minutes, I found myself at a helipad. It was empty ground with a most beautiful view. I could hear the sound of the river flowing there. It was windy and as that mountain was blocking the sunlight,  the wind was too cold. 
Tabo held me with its amazing beauty, mesmerizing scenes, and its history. After spending a good time at Tabo, I boarded the Kaza bus at 3 PM and left for Kaza.