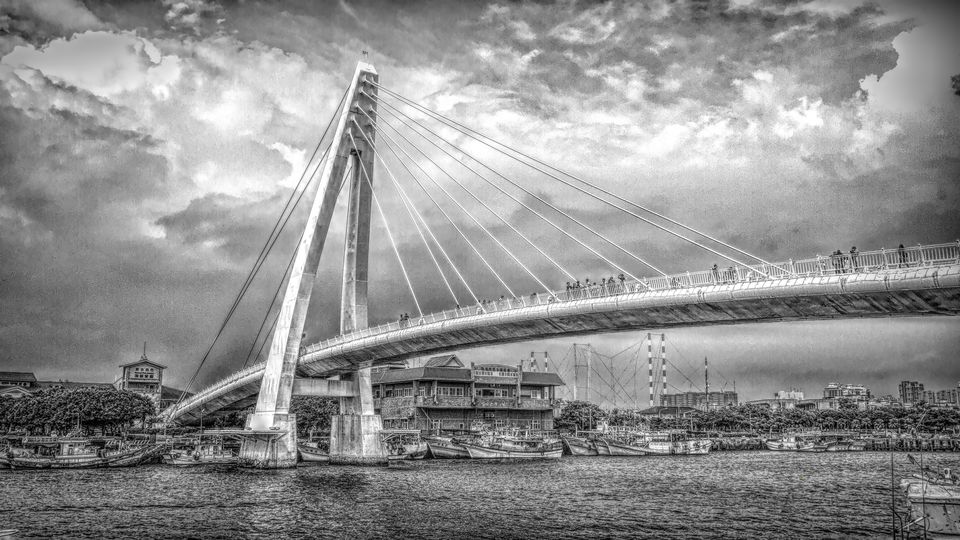 Our last full day in Taipei would finish with viewing Taipei 101, the tallest landmark in the city. Since we were going to see Taipei 101 in the evening, we still had a day ahead of us. We decided to check out a different area of the city, Huashan 1914 Creative Park. This is an industrial area turned modern creative center, something that occurs often in the United States.
The center began as a winery in 1914. It produced wine and later included a camphor refinery. At one point the Japanese took over the businesses, and later the Taiwanese government did the same when the Japanese left. By 1987 the camphor refinery had shut down, and the winery was moved to a different location. The property languished. Interest in creating an arts park at the location began in 1997. Ten years later in 2007 the park began operation.
The park is intended to spark creativity in a number of the arts. We went thinking we would see more traditional art forms. Instead we encountered more current art forms from virtual reality type games to computer generated art. What was most unexpected was the influence from abroad. One surprise was a pop-up Starbucks Reserve store. Being from Seattle we are well versed in Starbucks. There are very few Reserve stores around so seeing it in Taipei was a surprise.
Another fascinating place to see was a big Mr. Potato Head store. Mr. Potato Head is not particularly popular anymore in the United States although the Toy Story movies have boosted his profile. This store was very popular with a line out the door. Inside you could buy lots of items representing the toy. My daughter bought some sweet buns made to look like Mr. Potato Head. She just couldn't resist.
There were some other stores that offered a little more of what we expected, but they were fairly expensive stores. Out in the front lawn booths were set up representing Momo, which is apparently a Taiwanese company that sells products on TV, on the internet, and through a catalogue.
Momo Event
My Lunch
We did have lunch there, and I enjoyed my sandwich. We were kind of squeezed in and told that we could only stay a limited time, which was odd, but it was fine. At least it was a place to get out of the heat. We also had some ice cream at an ice cream stand which helped with the heat.
Walking back to the subway we walked through a typical business area. It is amazing to us how crowded and busy these places are. The signs for all the stores also create a lot of visual busyness which we are not used to in the United States. We have adopted many more rules and regulations that keep signs more limited. It also keeps things more subdued and perhaps less interesting.
That evening it was time to see Taipei 101. Once the tallest building in the world, it is still an impressive sight to see. It is possible, of course, to go inside to the top of Taipei 101. In fact you can visit a Starbucks there on a lower floor, but that requires a reservation. Too complicated for us. We also didn't want to spend the money to go to the top so we just decided to see it from the outside. One of the best places to view the building at sunset is on Elephant Mountain. Here you will have a view of Taipei as the sun sets.
Highest Point for Pictures
To get to the top of the mountain, one has to walk up quite a few stairs. It's not a particularly difficult hike, but it is constantly up so it is tiring. Since it was hot and humid we took it slowly. We reached a platform where many people were taking photos, and that was good enough for me. There was, however, a point a little higher up, and my wife and daughter kept going. I stayed put.
There was color in the sunset because unfortunately it was a smoggy evening. I watched the orange sun set, and it was headed right for a building so I tried to time a photo for when it hit the top of the building between two structures. It was also fun to include all those around me taking photos.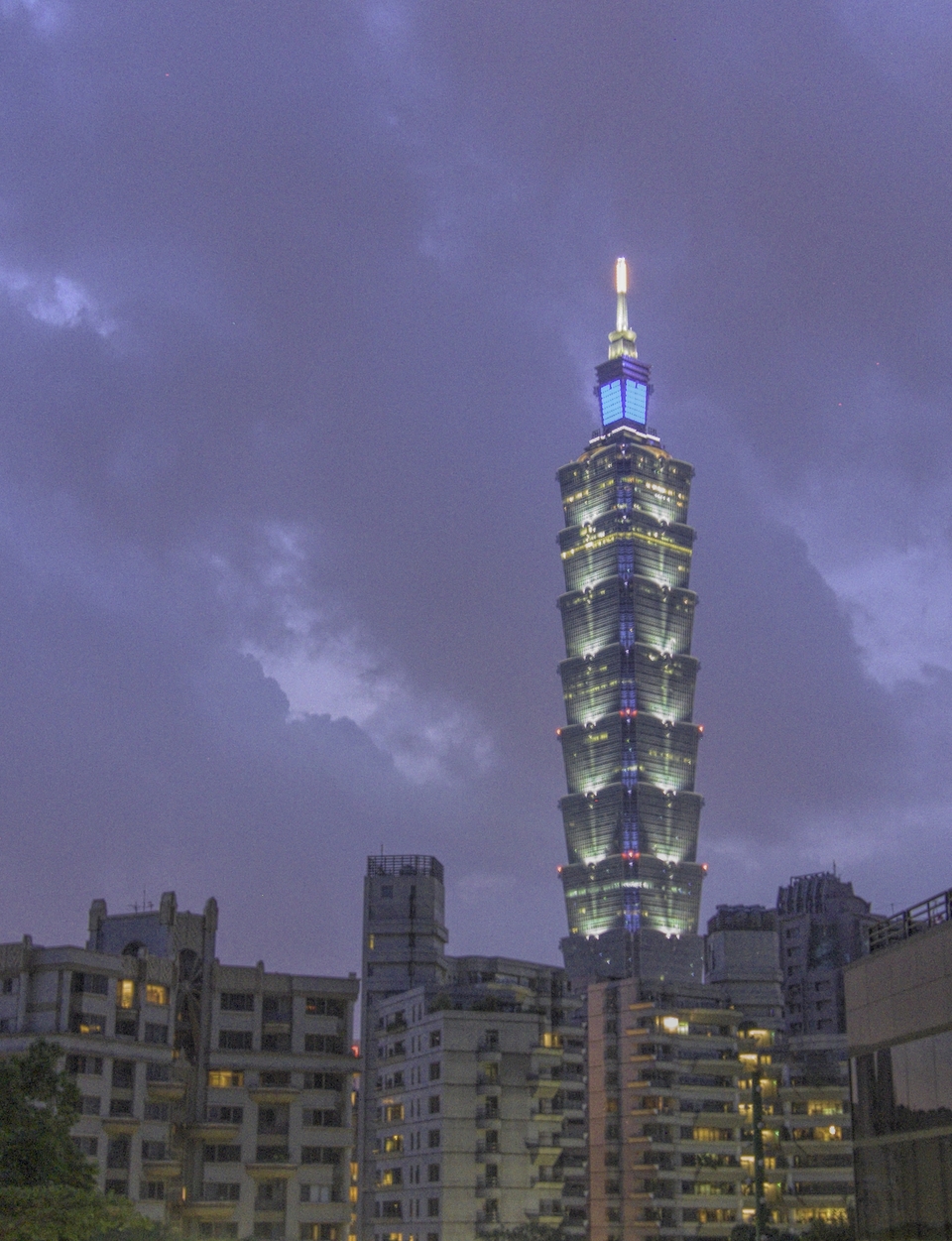 Once the sun had finally set, we walked over to the Taipei 101 building. We weren't sure we could get inside, but the lower floor has a food court, and we were able to wander around it, but that was as far as we got. Not finding anything there we particularly wanted to eat, we left and found a TGIF Friday's restaurant nearby. The restaurant was full, and we had no reservation, but they were willing to seat us outside. Unfortunately we were somewhat forgotten out there, but we eventually did get some good food. Thankfully we also got some attention when it started to rain. They moved us to a covered space which we appreciated. Finally, despite the rain, we had one last look at Taipei 101 and took the subway back to our hotel.
The next day was our last day in Taiwan. In the morning we said good bye to our daughter who had an earlier flight to her home in California. Then my wife and I set off to the resort town of Tamsui. The hotel had agreed to delay our check out time for a fee so it gave us a chance to explore further. We took the red line of the subway to Tamsui which is the very last stop.
Tamsui is a busy place, especially on the weekends as it is considered a get-away place for people in Taipei. There are a lot of shops and businesses that line the main streets as well as the promenade that goes along the Tamsui River. There is a fisherman's wharf at the end of the river. It is a popular destination, and the best way to get there is to take a boat. It's easy to get tickets along the promenade. The ride out can be bumpy, but it is a fun ride as they go pretty fast, and you can see sites and buildings along the river.
The Fisherman's Wharf area was a bit of a disappointment. The main claim to fame is the Lovers Bridge which is a pedestrian only bridge that goes over the waterway. It is a beautiful and unique bridge, but that's about all there is. There are a few shops around, but we didn't find them very interesting. Your boat ticket allows you to go back anytime you want so you can wander for as long or as little as you want. We returned and walked along the water front, and then decided we needed to get back to our hotel to check out. We realized we would have liked more time in Tamsui, but we missed the opportunity.
Since our departure time was in the evening, we figured we had nothing better to do than to go out to the airport since we were carrying our luggage around. However, we discovered that at the the central train terminal there is a luggage drop off for the airport. There were no other passengers there so the staff was very friendly and helped us through the process and whisked our bags away. If we had been aware of that in the morning, we might have sent our bags over and spent more time in Tamsui. As it was, we were kind of at a loss as to what to do with our time so in the end we wandered around some in Taipei, but ended up going out to the airport early anyway.
We had enjoyed our stay in Taiwan except for one thing, the weather. It was hot and humid the entire time we were there. The heat drained us of our energy quickly so it was tiring to travel around. I would think that visiting in the spring or fall would give one a better travel experience, but Taiwan is definitely worth visiting. As for us, we will be off on our next adventure soon.
If you would like to see the original post that has more pictures, check it out at Batteredsuitcase.net