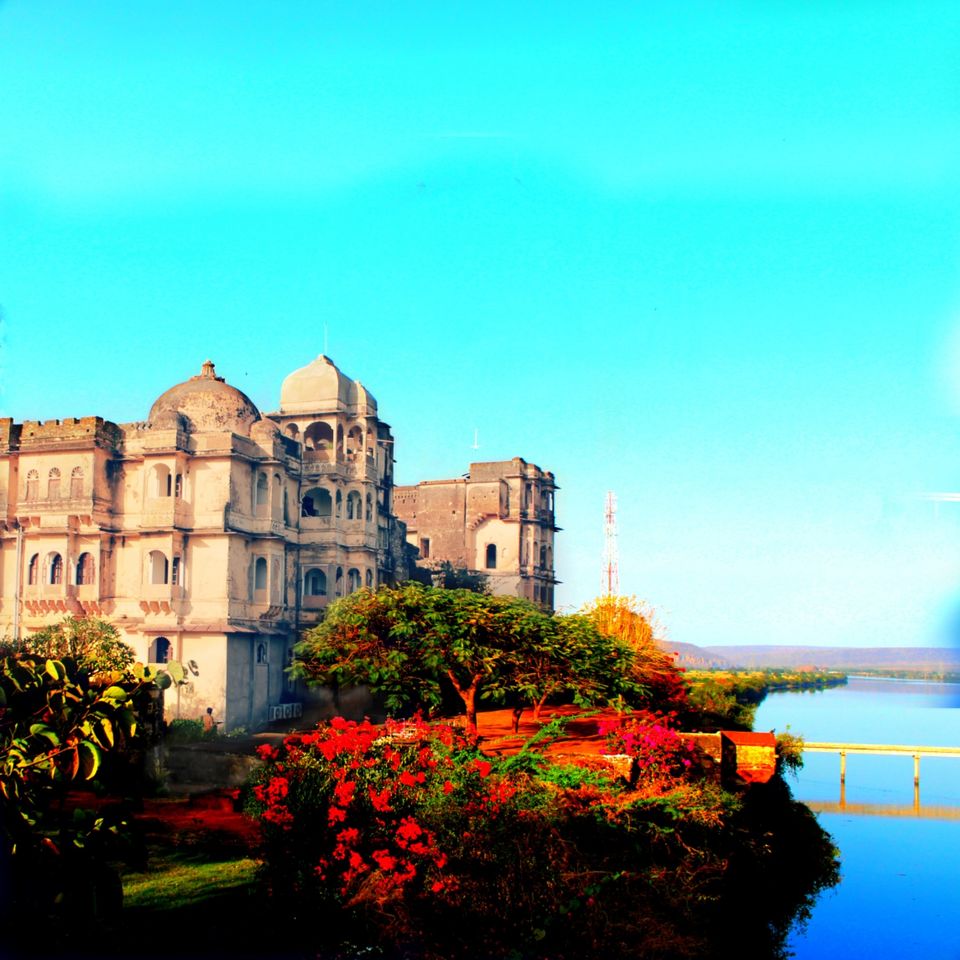 This is my 6th blog under "capture rajasthan". Capture rajasthan is basically a project that I'm doing for Indian film and TV industry to provide them beautiful and unexplored locations for shooting purposes.
After experiencing the magical ambience and view of khimsar dunes we came back to jaipur for a day. I met some travellers from Britain, while exchanging our travelling stories , I got to know about a heritage fort which has been rated as the Best Heritage Hotel in India by Tatler Travel Guide, UK. ( 2008, 2009 ) and the next morning we were on the way to this heritage fort "BHAINSRORGADH".
WHY BHAINSRORGADH ?
Experience the scenic beauty which is about 200 ft high on the edge of river chambal amidst of wildlife sanctuary. The scenic location is a perfect attraction for nature lovers and photographers and if you are a nature lover and avoid crowded places ,then this royal heritage fort is a perfect destination for you.
IT'S FIRST GLIMPSE
As we were almost to our destination I saw a glimpse which instantly made me crazy. I saw a steep slate ridge which is about 200 ft high on river chambal and on top of that ridge was this beautiful fort "bhainsrorgadh fort"!! Mind blowing scenery. After a while we entered the bhainsrorgadh village and the roads starts to become narrower inside the village. The village was very neat, clean and colorful , children's were playing on the roads ,men were sitting on charpai with their hookah , women either sitting in their lobby chatting and doing their household work or running behind their children who were on the road, suddenly I stopped my car. In front of me was a dead end and a gate .
ENTRY OF RAMU KAKA INTO THE SCENE.
We were like, where is this fort , even we assumed we took some wrong road untill a bhootia haveli (haunted house) type ramu kaka (security guard) covered with a old brown blanket arrived and asked us 'babuji Kahan jana hai? (Where do you want to go?). The way he asked us was very scary and with courage I told him 'bhainsrorgadh fort'. He started staring at us in a very creepy way and after some pause asked us "rawat sa se poocha kya?" (Do you have permission from the owner?) , I replied No. This time he looked deep into my eyes in a more creepy way and spoke in a very low pitched and daravani voice "rawat sa bin bulaye mehemaan ko goli maar dete hai, vaise ye bhainsrorgadh ka he gate hai ,aap ander jana chahoge?" (owner don't like trespassers, he shoots them), suddenly my heart starts pounding and my crew took two steps back and in a fraction of second all were in their car. With all my courage I asked him how do I have words with rawat sa and he replied 'I don't know' , again I asked him gimme his phone number he replied I don't have. I Googled phone number and dialed his number and after some ring a very heavy voice asked me 'hello , who is speaking?" I told him about myself and like always to get access to these palaces, hotels ,forts conned him by telling that we are a crew from prabhudeva sir production house and looking for a location for a film starring akshay Kumar and sonakshi sinha (after all 2 years of experience of acting in 2 TV serials made me a good impersonator😉). This trick always put us in win win situation either we are offered a huge discount on our stay and food and sometimes even it's all free 😉. Coming back to Rawat sa, after a short pause told me to give my cell phone to ramu kaka (haunted security guard) and instructed him some thing and he then gave my cell phone back with a mysterious smile and opened the gate and asked to follow him.
ENTRY OF RAWAT SA INTO THE SCENE
As we entered there was a very lonely road going upside with well maintained greenery both side. While following him we all were thinking whether rawat sa caught our lie and instructed his security guard to lead us to a place where he can shoot us easily. We then reached the fort and for a while we were lost in the beauty of the fort untill very heavy voice interrupted our thoughts. There was 6'3" tall man standing in front of us having a gun hanging on his shoulder and suddenly we all were terrified that our time has come. After all rawat sa is ready with his gun. Rawat sa was staring at us and started asking some questions like from where we are, for what reason, and some more questions like this, and after a long session of interrogation (😂😂) with a big smile said "khambha ghani" (welcome), please come inside and be my guest. At that moment we all were thanking God for saving us ( Ha Ha ). After ramu kaka went back, i told rawat sa about his strange and creepy behavior and rawat sa started laughing loudly and told us, to get rid from trespassers from village he instructed his guard to act like this and had scripted a false story that rawat sa shoot anyone if found unauthorized entry. We were like these guys (rawat sa and ramu kaka) are real actors and writers and I swear we were missing Oscars trophy to award them. Withing 10 minutes we were very comfortable with rawat sa ,laughing, cracking jokes , exchanging stories.
REPORT FROM GROUND ZERO
Rawat sa told us this fort was built by Rawat Lal Singh, Bhainsrorgarh was granted as a jagir ( fiefdom ) by Maharana Jagat Singh II of Mewar in 1741 A.D. and from the moment I entered the fort, I was wondering how come someone maintained this heritage fort so beautifully. He then escorted us to rooftop and as we reached on the edge, we were on the top of a steep slate ridge which was about 200 ft high on river chambal!! and on one side was this beautiful colorful garden flooded with flowers and on other side the colorful village. What a landscape. Mesmerizing view and scenery. Then we enjoyed the delicious snacks with some tea on rooftop. He then showed his beautiful fort, royal suites , garden, photograph of his royal ancestors, his vintage jeep and a car , collection of royal vintage weapons and guns.
We then went to bhainsrorgadh wildlife sanctuary which is one of the most important and world-renowned wildlife sanctuaries in the state. The wildlife sanctuary is home to a varied species of animals and birds that attracts wildlife and nature enthusiasts from the world over.The best time to explore the wildlife sanctuary is in the mornings as the tourists get the entire day to observe the surroundings leisurely.
The royal family-in-residence welcomes you to experience a stay in this incredible fort ! The atmosphere, views , personal service and beautifully laid out gourmet meals have enchanted many visitors since the fort opened to guests in 2006.
HOW TO REACH?
Bhainsrorgadh is 50 kilometers south of kota and is a part of Chittorgarh clan.
How do you find this travel story blog?
If you want me to continue my blogs in this type of masala format please do lemme know by commenting and liking.
P.S - please you guys don't try my prabhudeva filmi trick as I'm a professional from film industry, so if anyhow something goes wrong ,have thousands of ways to prove my identity and my stories true. I don't want some rawat sa will shoot you 😉