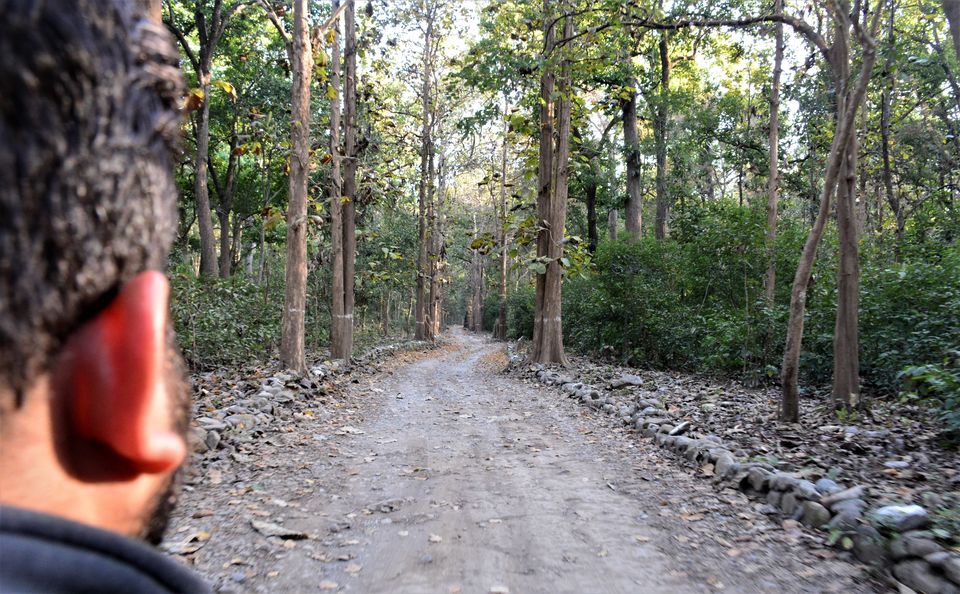 With all the excitement, I reached Jaipur at night. It was February and the weather was soothing. I have never been to Rajasthan before. I ended up with the Airbnb home that I had booked. On arrival I found out that it is the residence of a retired Army Major, who lives with his wife and she is a professor. I met Major and found out that he has a fascination for antiques. His sitting room is like a small museum and the rooms were decorated in a very simple and tasteful Rajasthan style.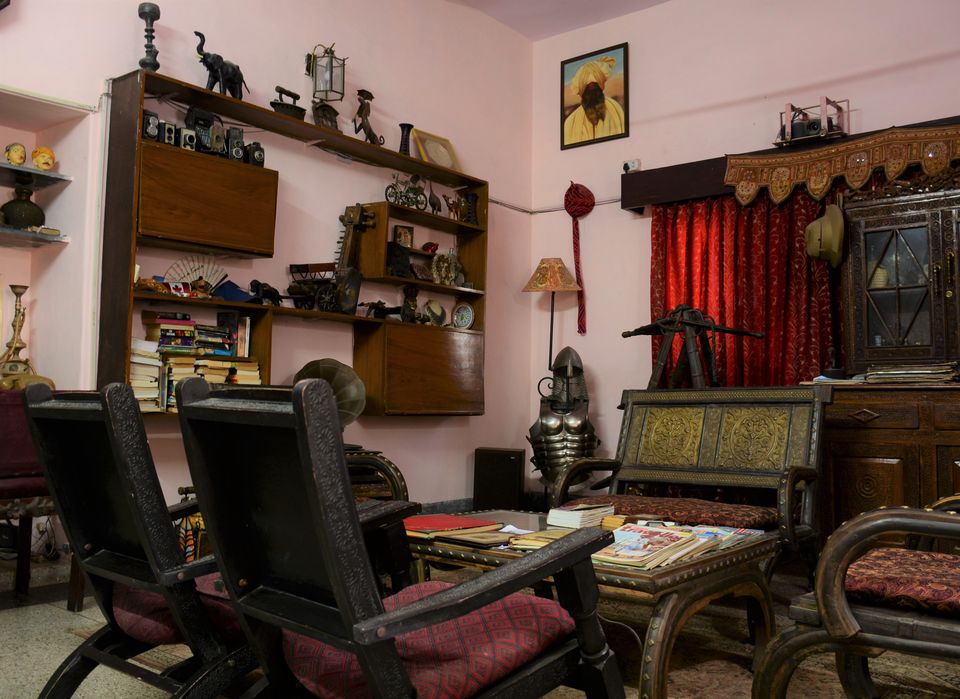 Follow on : https://www.instagram.com/soumik_neo/
My first solo trip was a 2 day trip to Bandipur National forest. Both the days were filled with activities, so there was little time to really understand if I would feel uneasy with idle time at my disposal.
Before my first solo trip my mind confronted me with the questions like "What will you do with all your idle time?" - But I had planned the first trip in way that there was little idle time. I had deliberately set that question aside as I knew that for me it was important to go out alone first, than answering all difficult questions that my mind would pose.
Now it was time for another solo trip and this time I planned for 7 days around North India. I planned to visit Jaipur and then Jim Corbett National Park. Now this was a different ballgame for me altogether. I had seven days in my hand and my schedule was not so busy.
The morning of the travel arrived and sitting on my bed with a cup of coffee, so many thoughts crossed my mind to overwhelm me. I felt anxious, doubtful, scared - possibly all negative thoughts that can bring me down and push me to cancel my tickets at the last moment.
I thought -
"Maybe I should do some shorter trips before jumping towards a 7 day trip"
"I never thought I have to travel alone! Why am I travelling alone on the first place?"
"Why don't I have friends who are like minded and want to explore like I do?"
"What if I feel extremely bored and then have to return back?"
After a point I realized that, it was my mind which was trying to test my patience and determination. I thought that I have never gone beyond these thoughts and it's the fear of the unknown that is trying to bring me down. Later after a few cups of coffee and cigarettes, I decided to let go of these feelings and leave for my trip.
Every step that I took thereafter evoked a sense of awe and fascination for own self. It was something that I had never experienced before – Why did I not try this before? I felt I had never experienced freedom before – Freedom is not being outside jail or in a country which celebrates Independence Day. Freedom is being free of fear, being mentally free of dependence of others to support you. It does not mean that one stops enjoying company of others, rather I felt that as long as I am dependent on others I actually truly cannot enjoy their company.
Jim Corbett National Park
After Jaipur, it was time for me to head towards Jim Corbett national park. I boarded a bus from Jaipur to Delhi and then took a train from Delhi to Ramnagar. Ramnagar is a small and charming town and is the closest place to stay near Jim Corbett National park. I had booked Club Mahindra - my office provides for it. The apartment was fabulous and was extremely comfortable.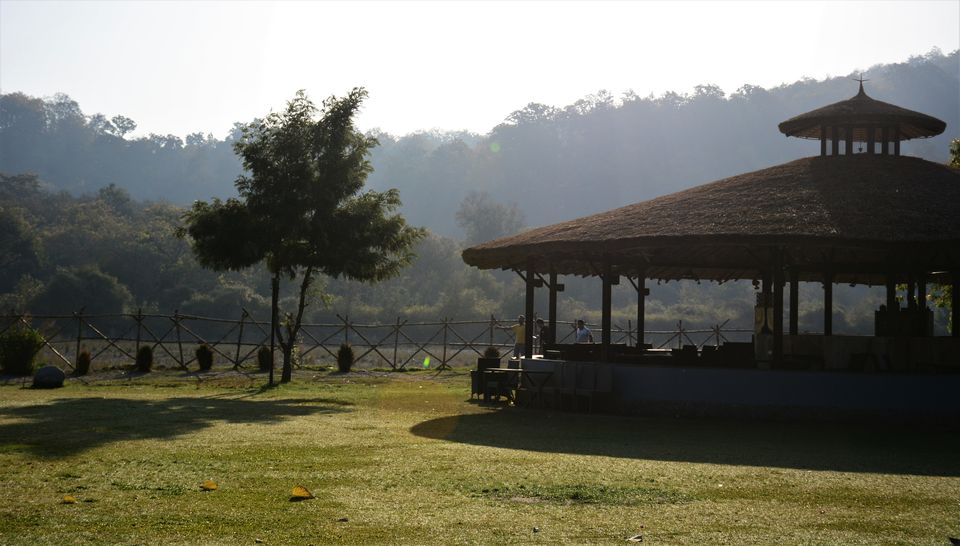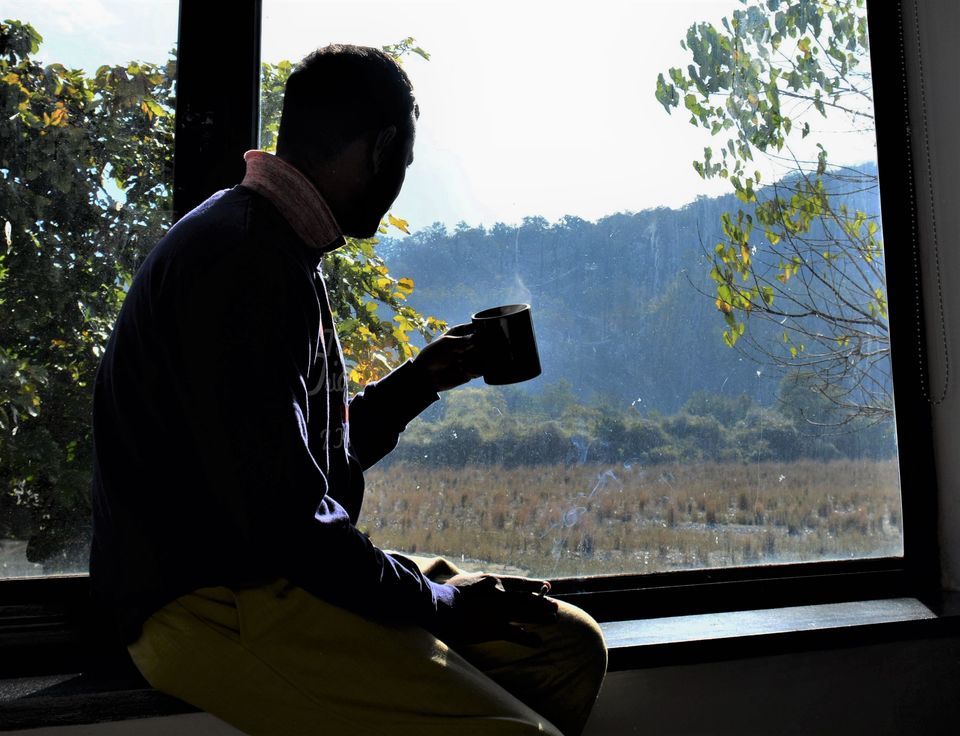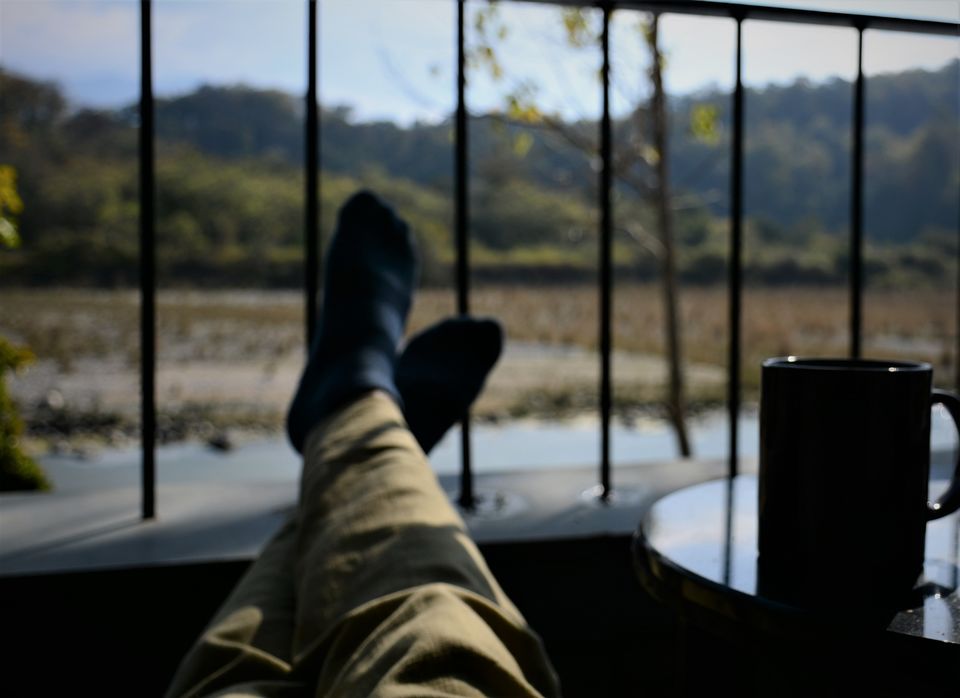 I woke up in the morning and explored the house a bit. The house was full of plants, trees and birds all around. I was served tea in the morning and while having tea I noticed that I was sharing the place with two other fellows. They invited me to join them at the terrace for tea. As I reached the rooftop I could see the Nahargarh fort at a distance. These two fellows are friends and have been in Jaipur for a few days. We talked a lot and they offered me to smoke with them as well. They also told me about their travel experiences from Ladakh and Sikkim, which would eventually inspire me to take my next solo trip to Ladakh.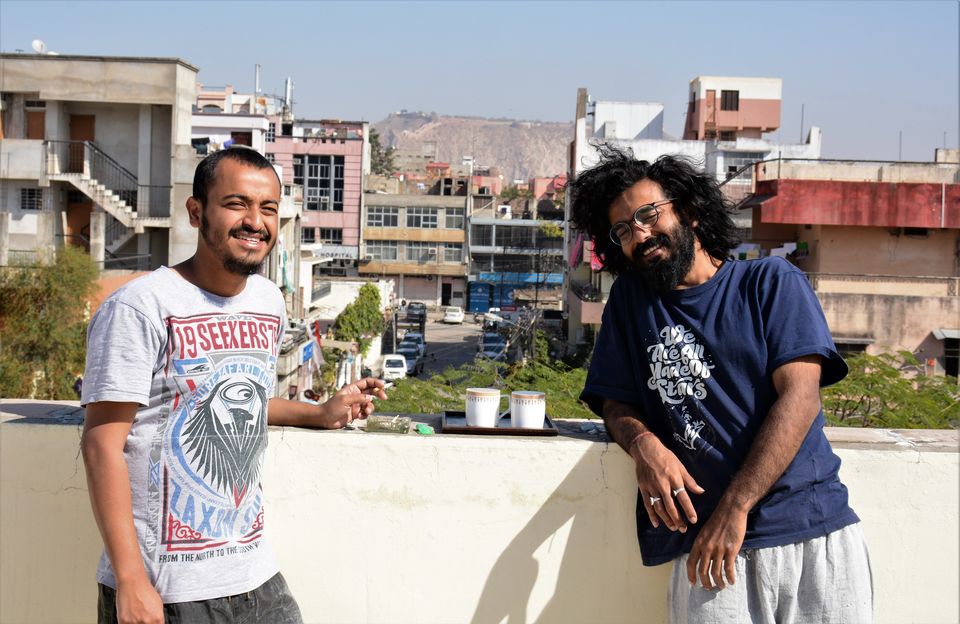 After some time they were planning to leave for an art exhibition and I thought of exploring the Pink City. As I was coming down from the terrace, my host was heading back from grocery shopping. I sat again for a cup of tea with him and I told him that I met these wonderful people who were also staying with us. His eyes lit up immediately and he told me how much he spends time in investigating the social media and making sure that like minded people come and stay with him. He explained that he does not accept invitation from anybody and everybody, though he did not tell me how he does that. He then advised me to not take any cabs but explore the city on foot. I took his advice and went out.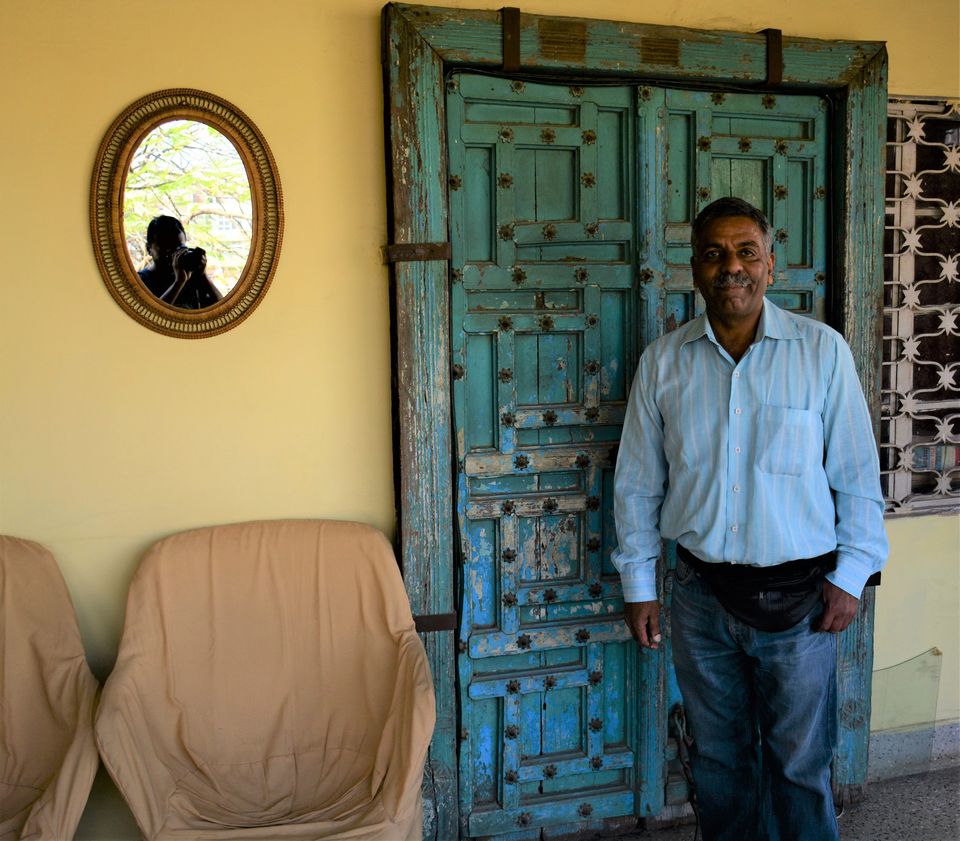 I was happy that I had already started interacting with people and it seemed very interesting. The city is beautiful and I explored the Amber fort. The fort was tiring to climb and every bit worth it. One has to experience the architecture of the past era and how meticulously everything was planned.
Amber Fort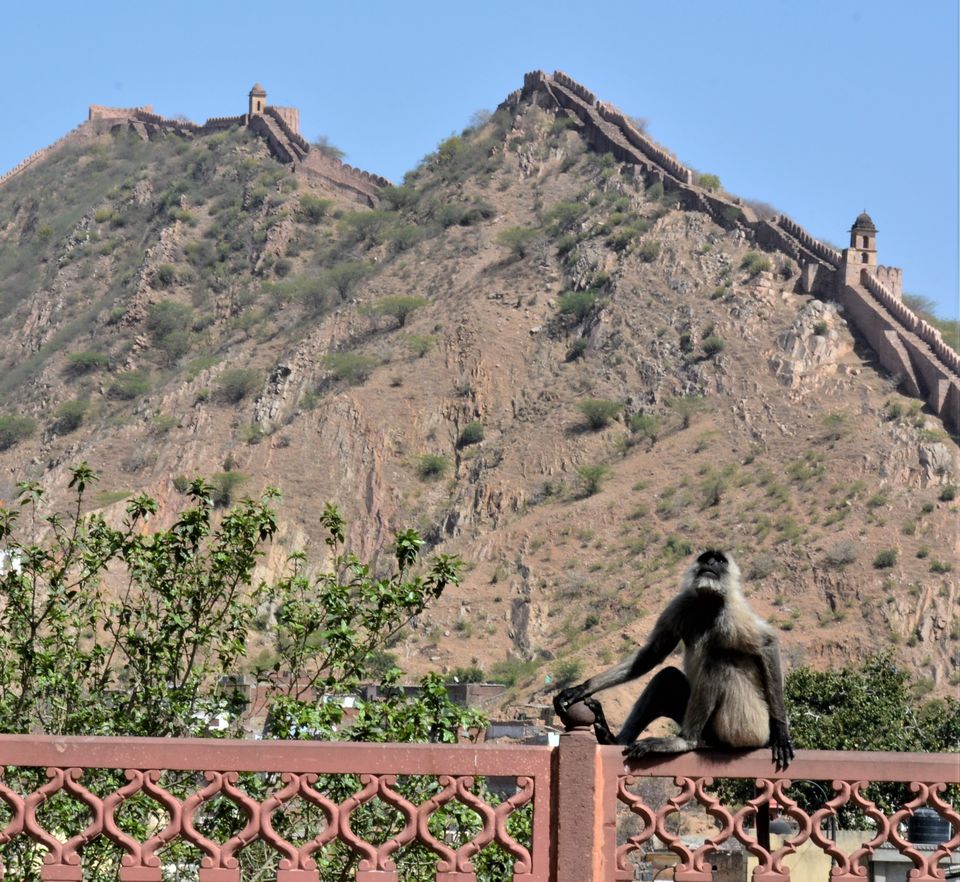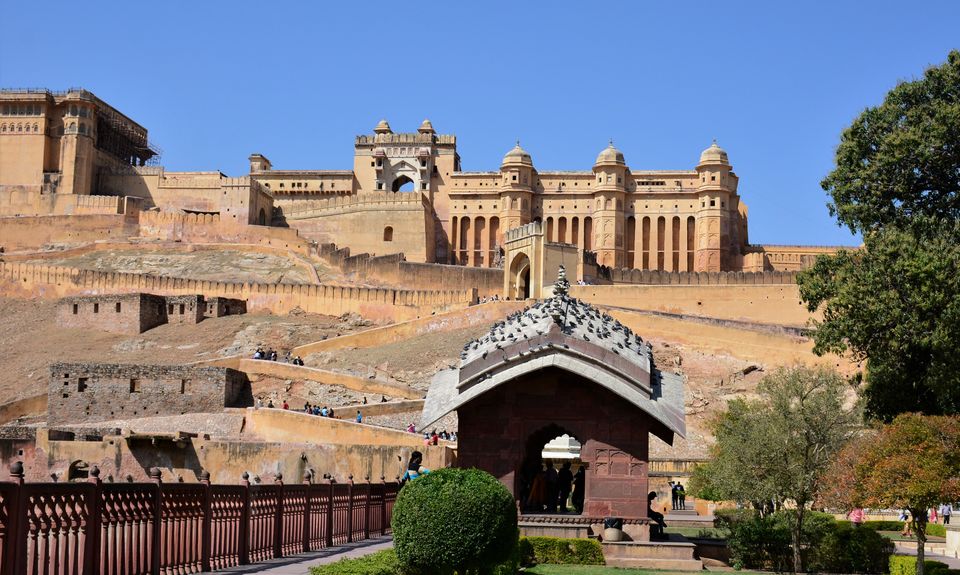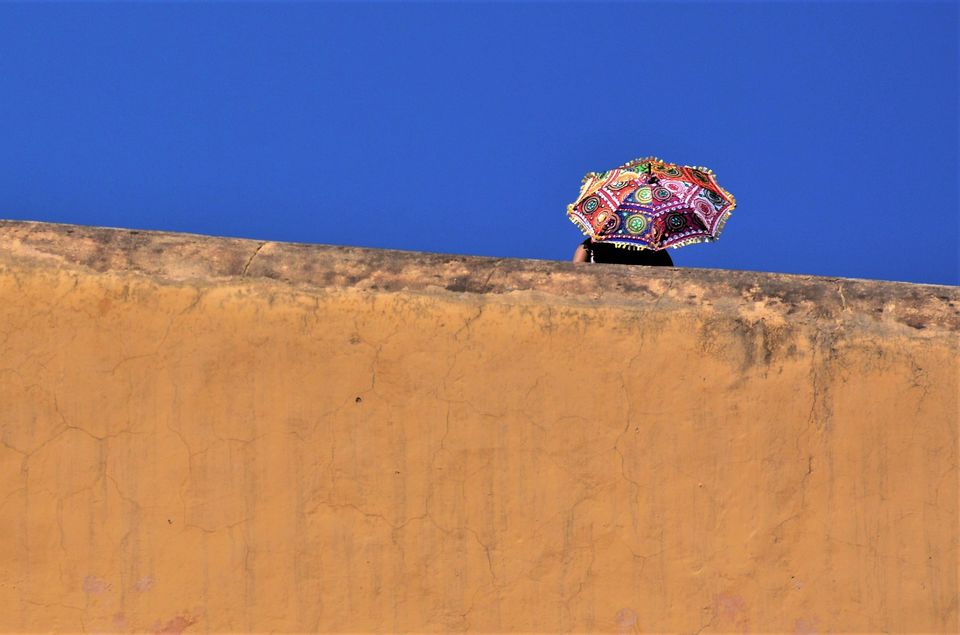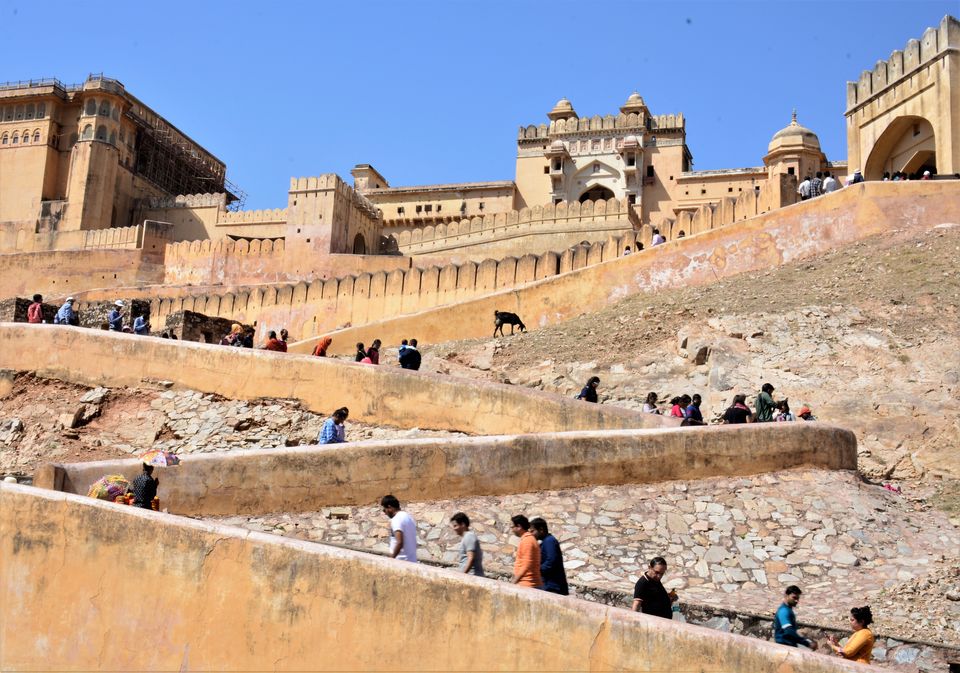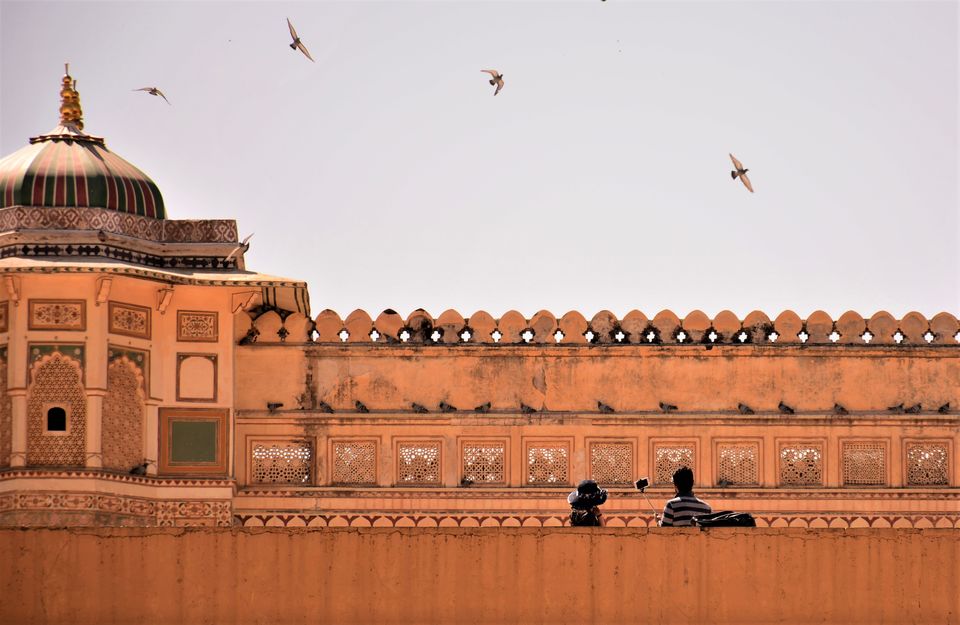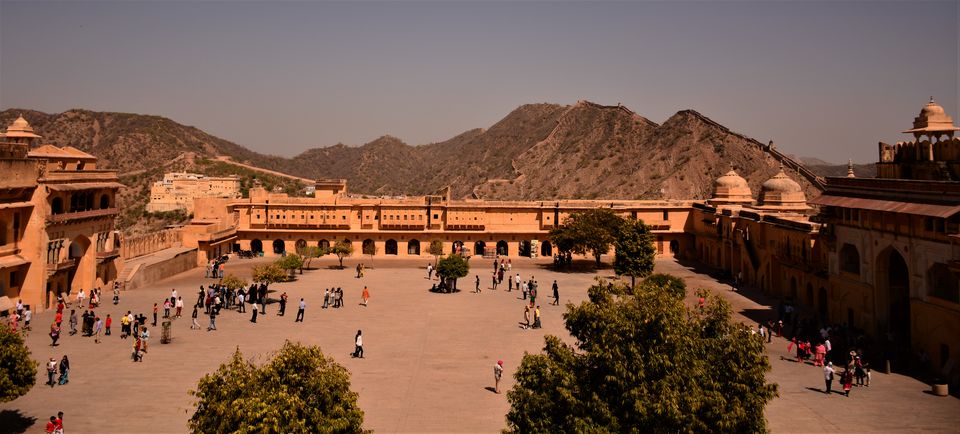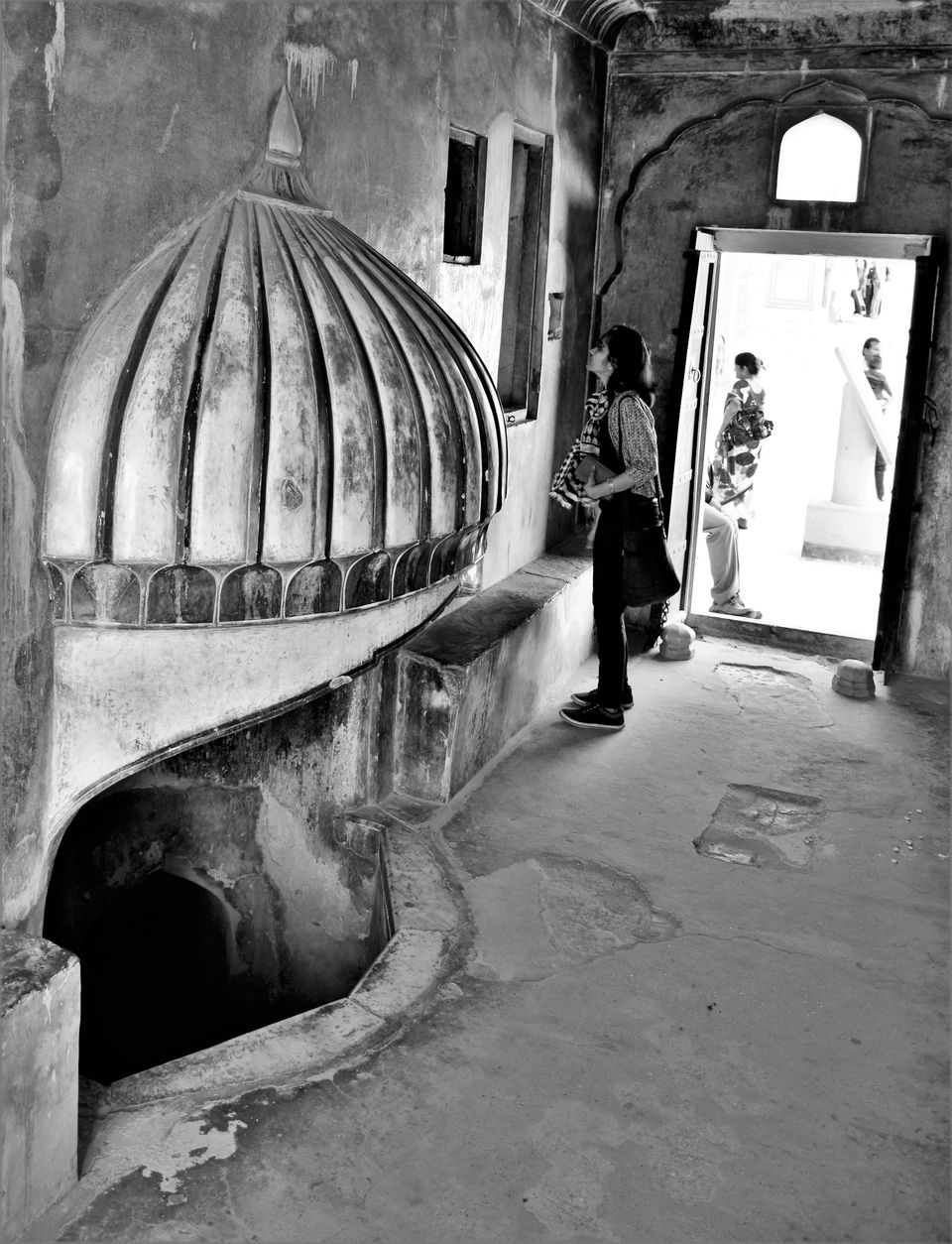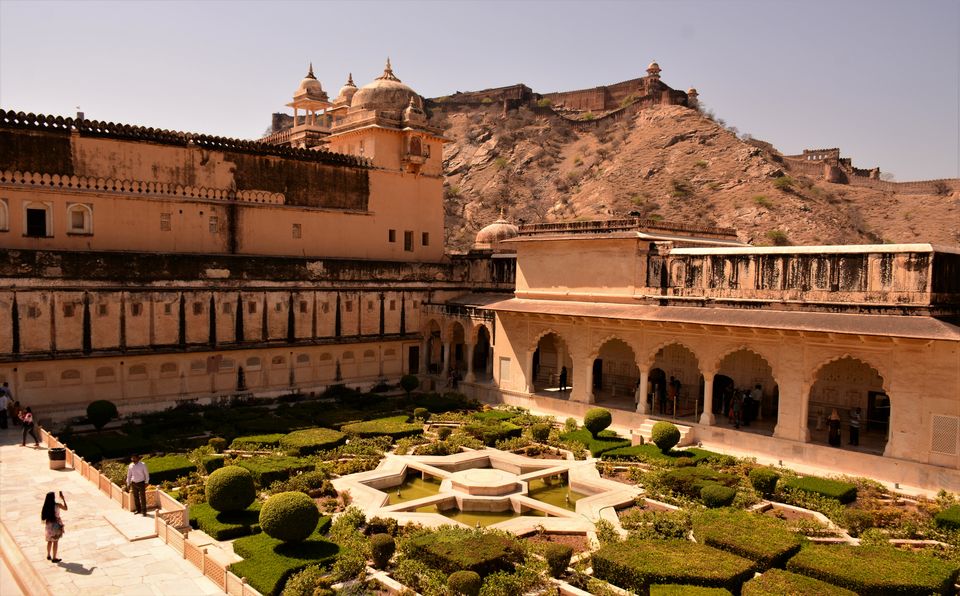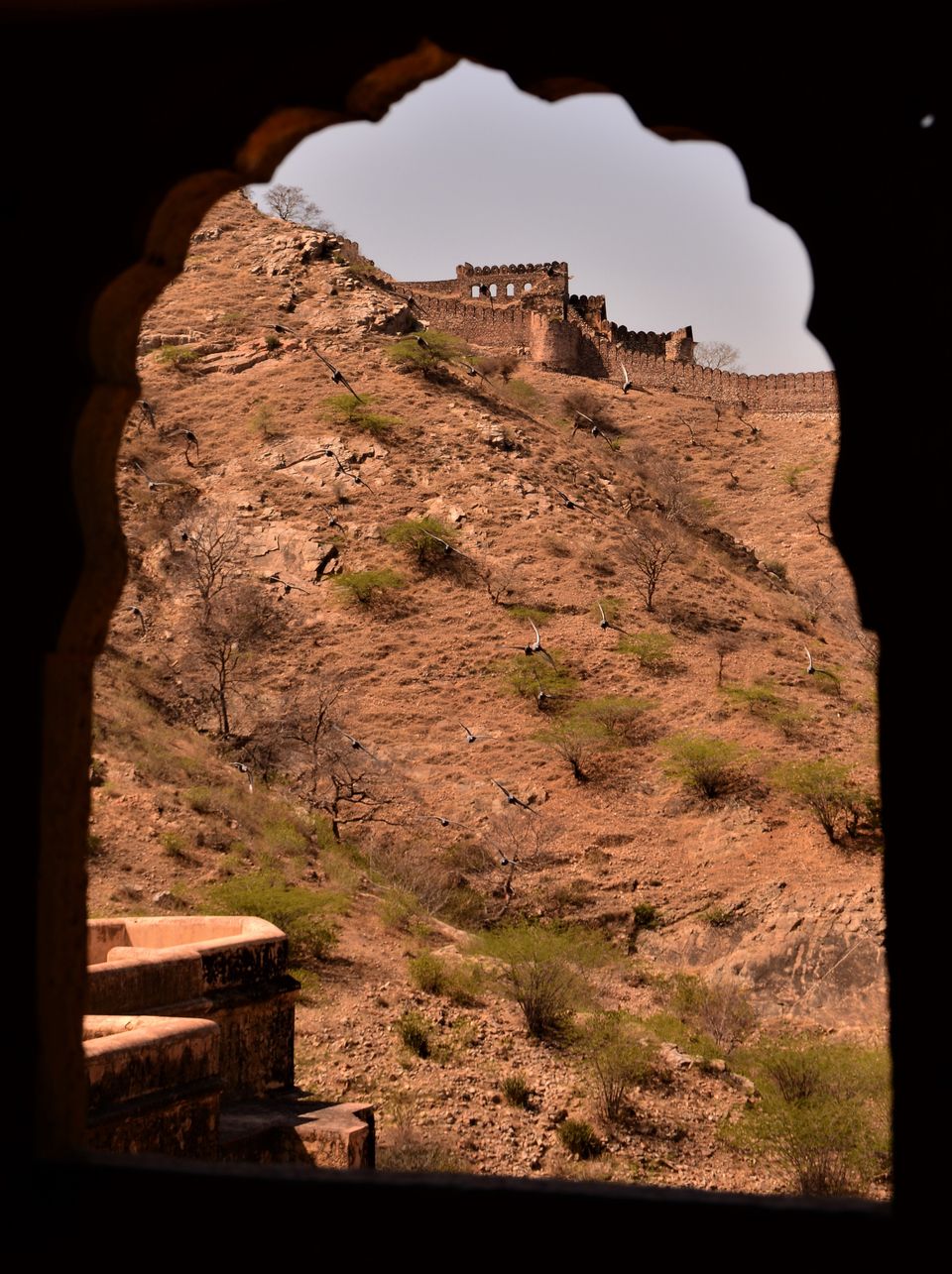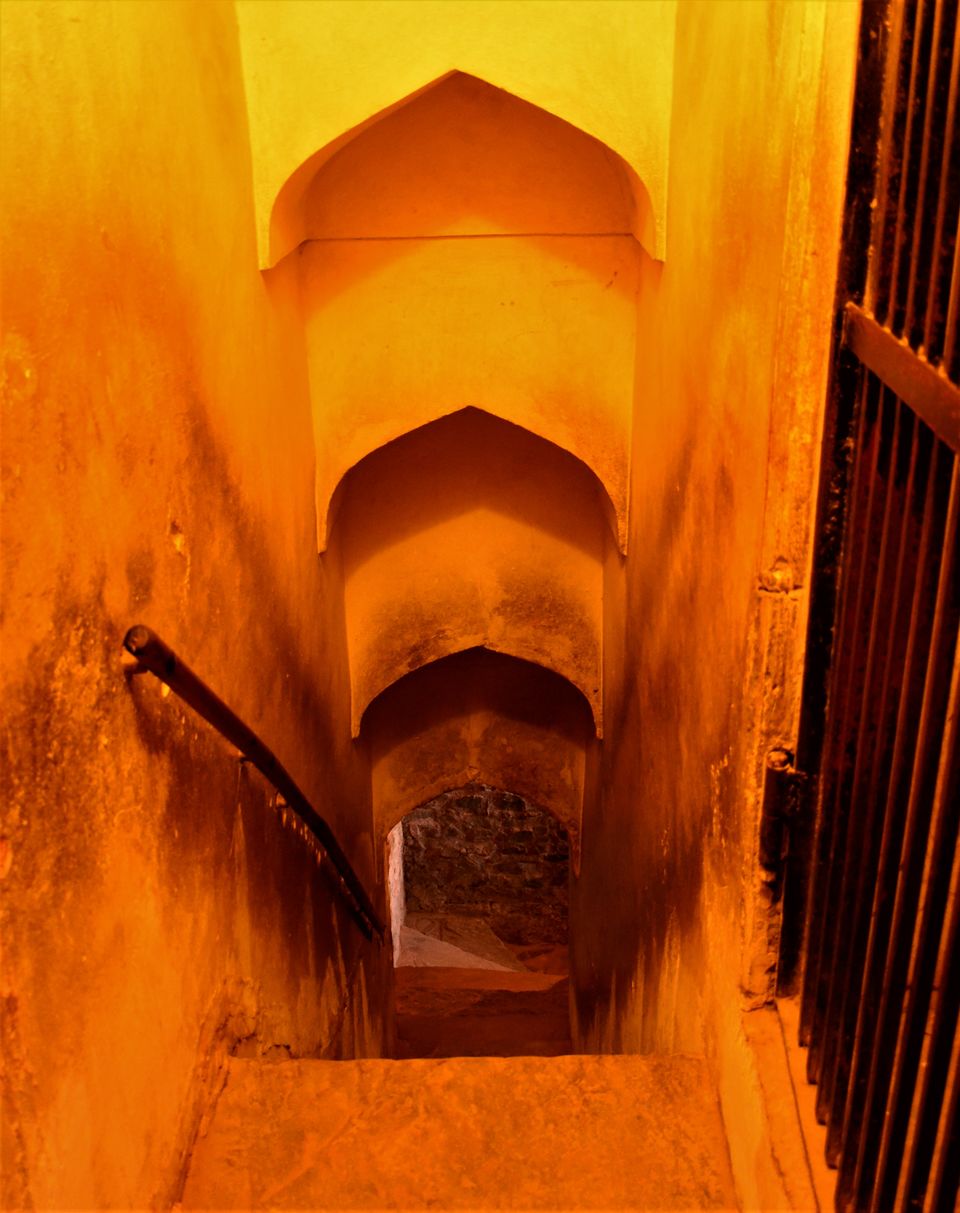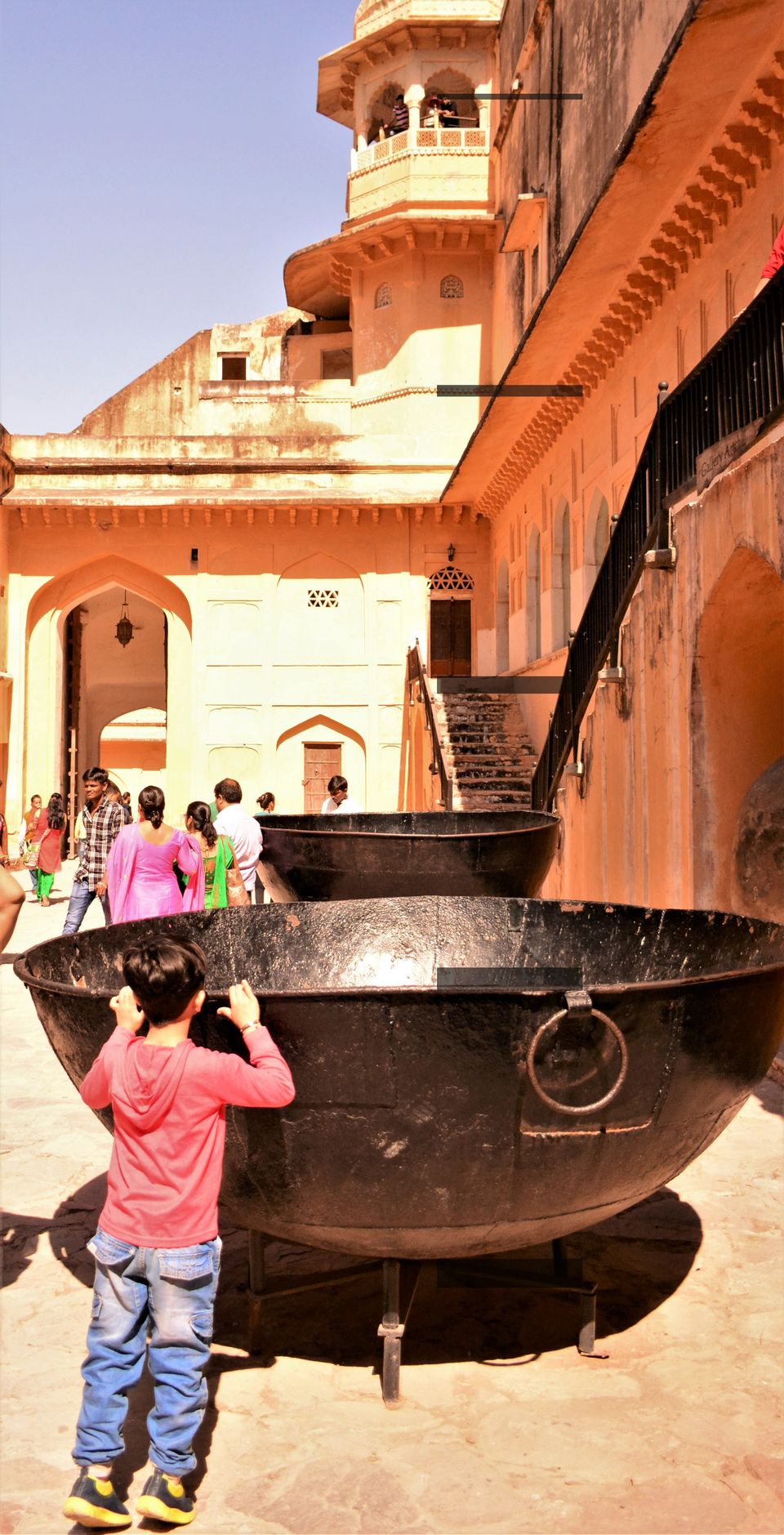 In the evening I spend time at the Lake palace. The lake is a bird haven as there are a lot of migratory birds that visit India in winter to avoid the cold of Northern hemisphere. I spent a lot of time taking pictures of the birds as birds have always fascinated me.
Lake Palace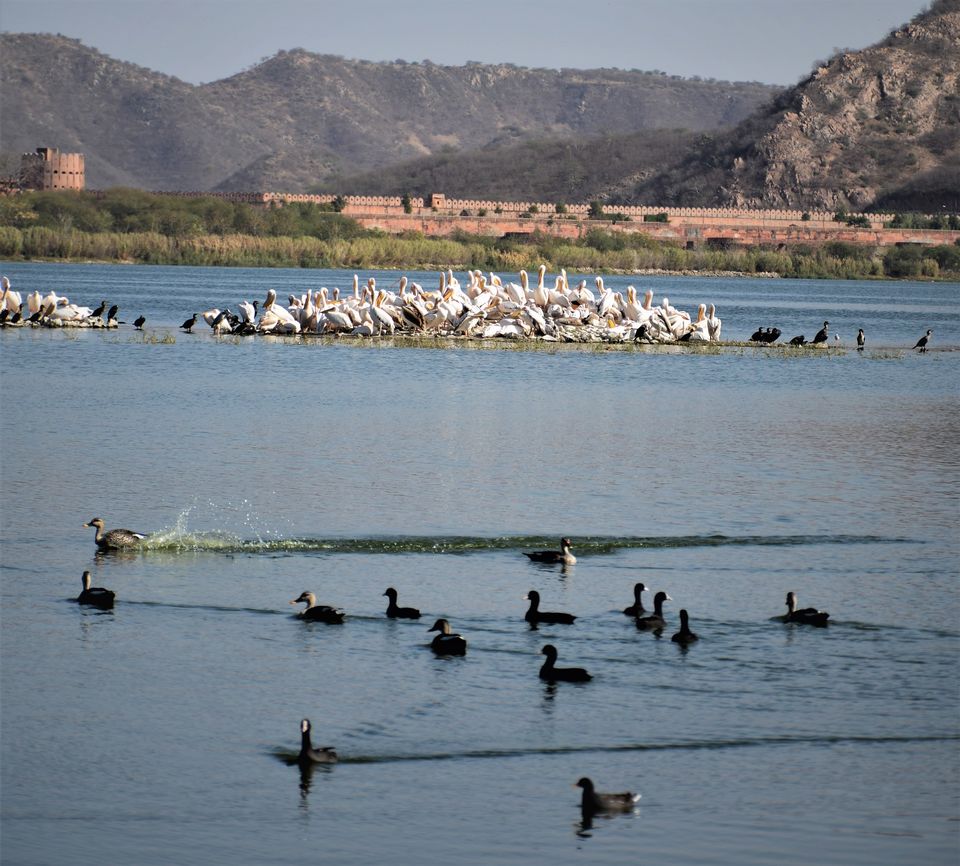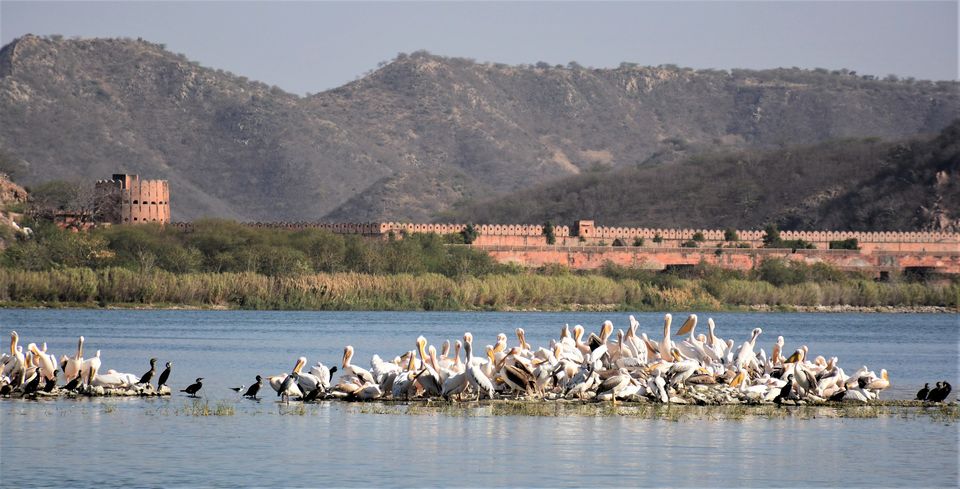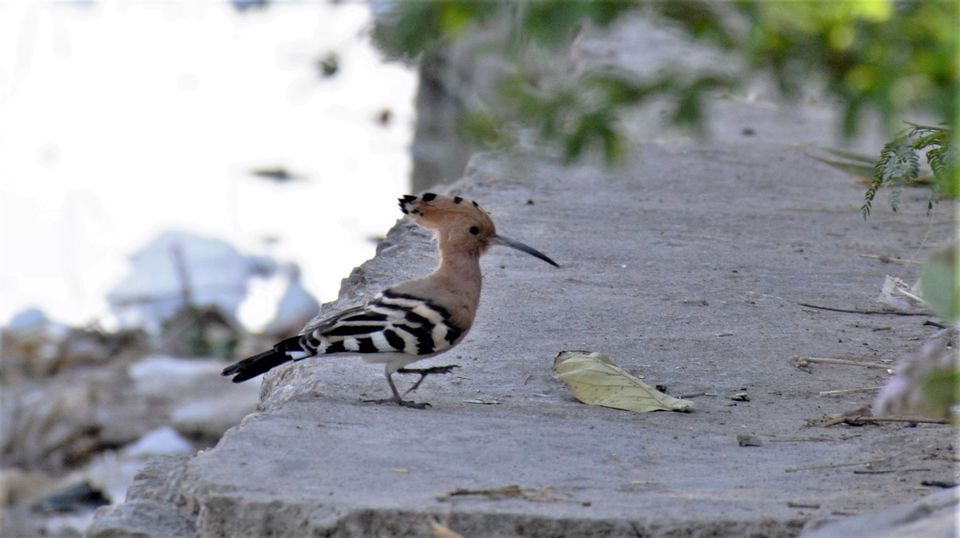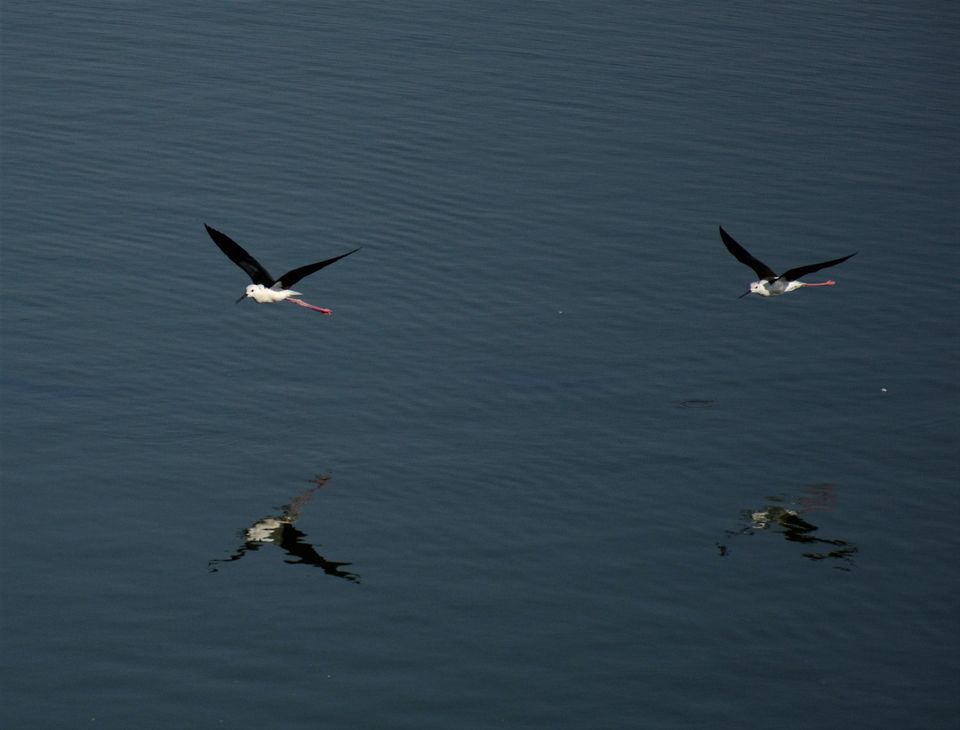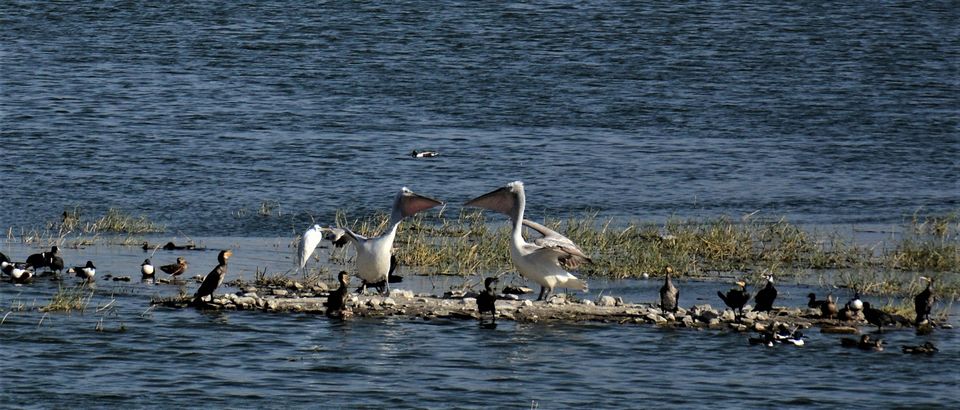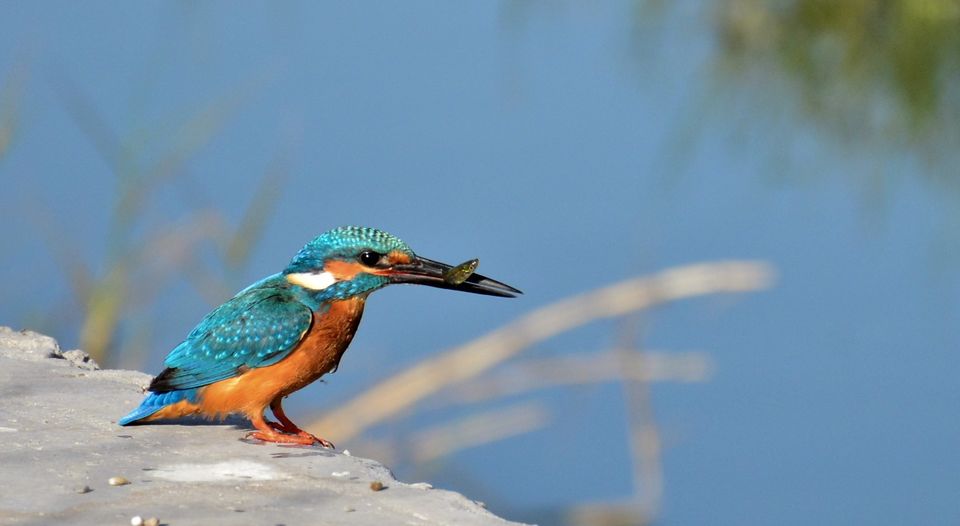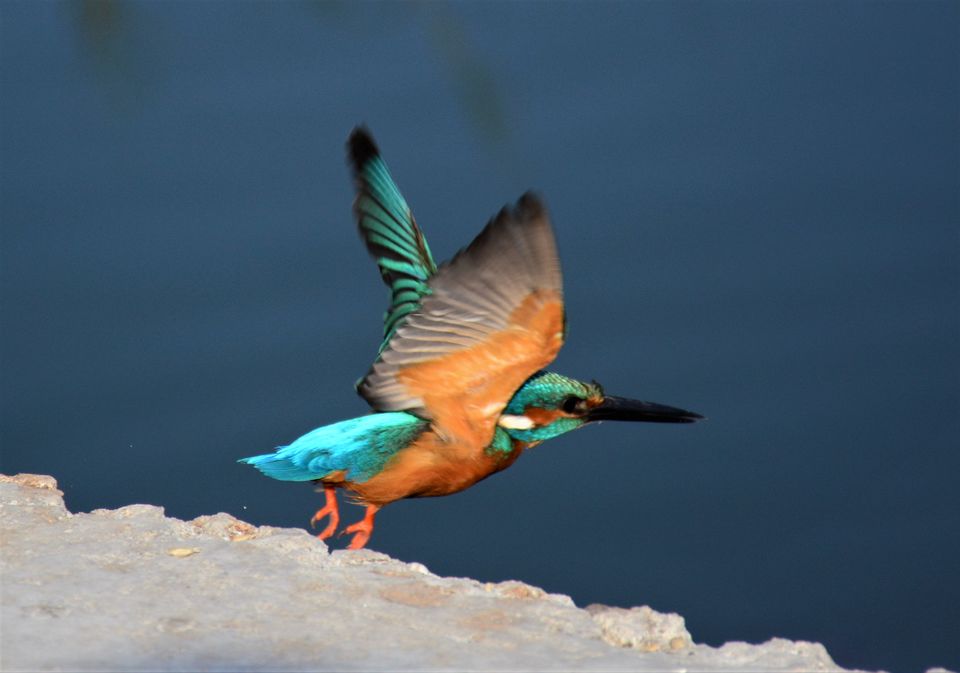 Now there is a promenade that the City authorities have built around the lake and it is filled with people. Here I saw a hermit sitting quietly within all the rush. As I approached him he smiled at me and asked my name in Bengali. I was surprised how he recognized that I was a Bengali, but with his experience of people he might. He then told me that he lives in Varanasi and is now touring North India mainly on foot. I greedily asked him about my life and he politely said that he focuses on meditation and is not a fortune teller.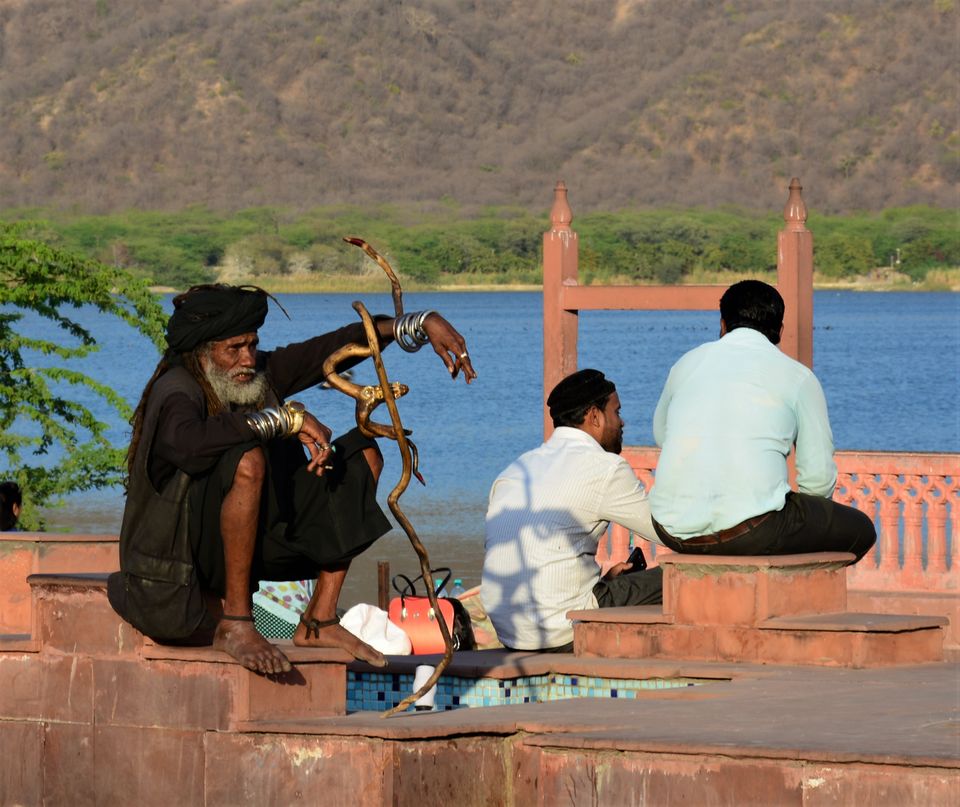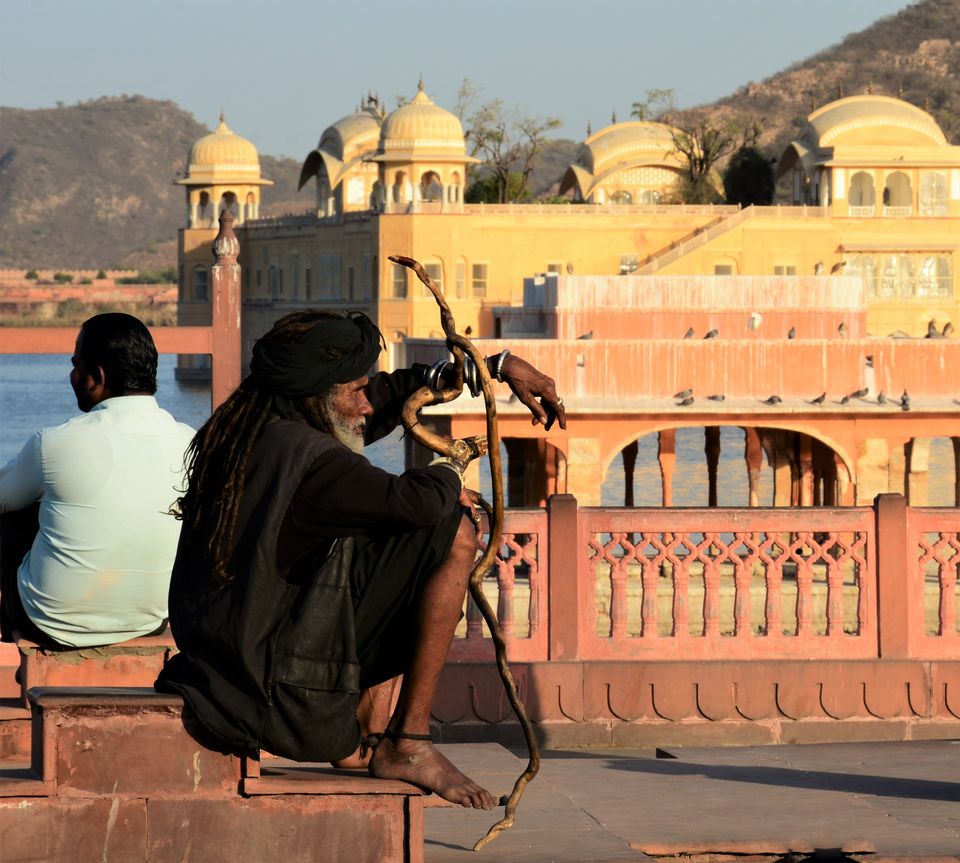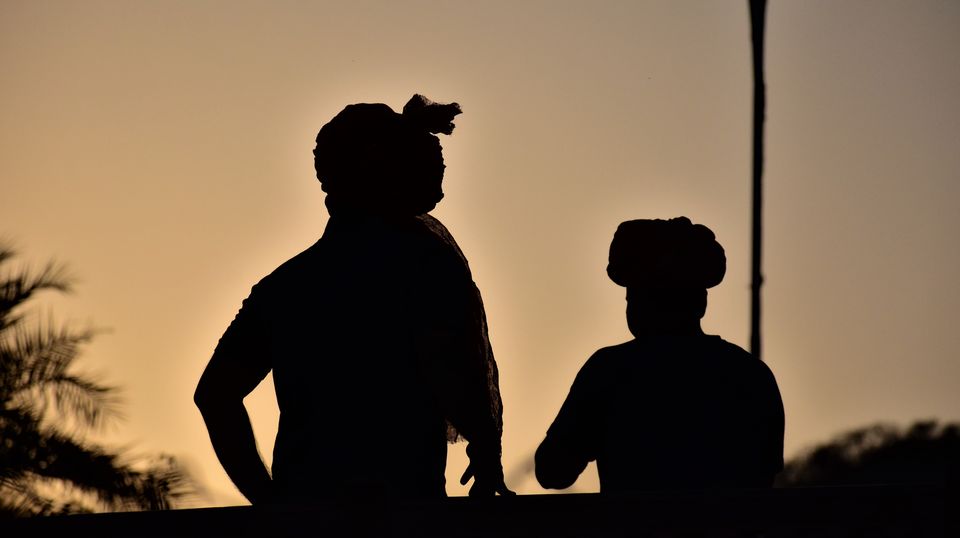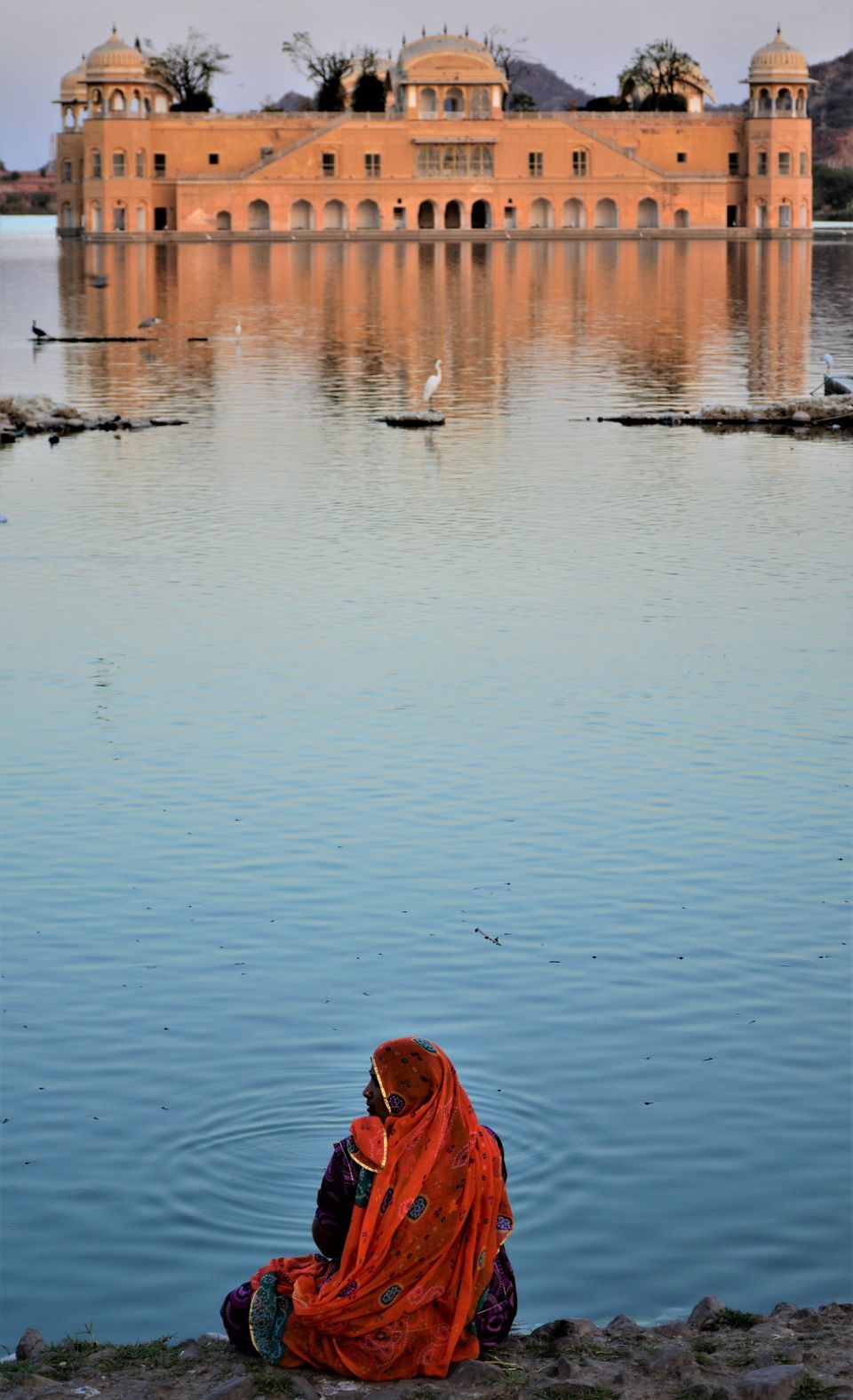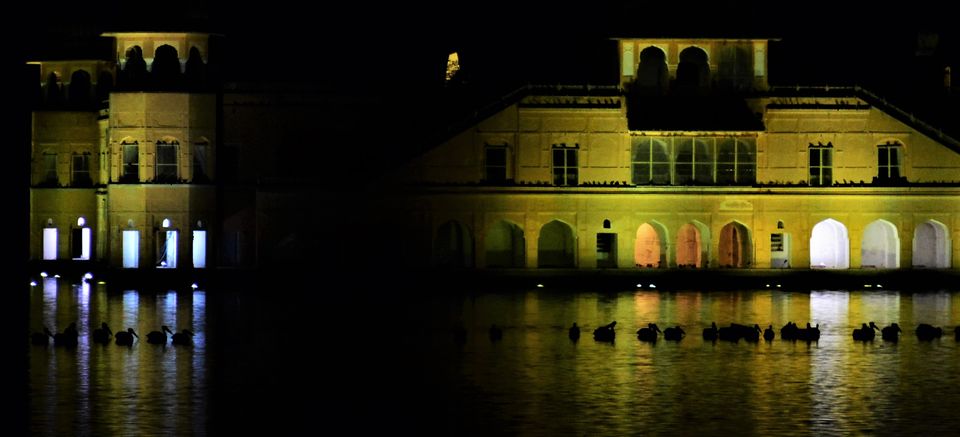 With his blessings I moved on and spend the evening in the terrace again with my newly found friends.
Next day I started early and visited Hawa Mahal, City Palace and Nahargarh Fort but all in haste as this was my last day in the city.
Hawa Mahal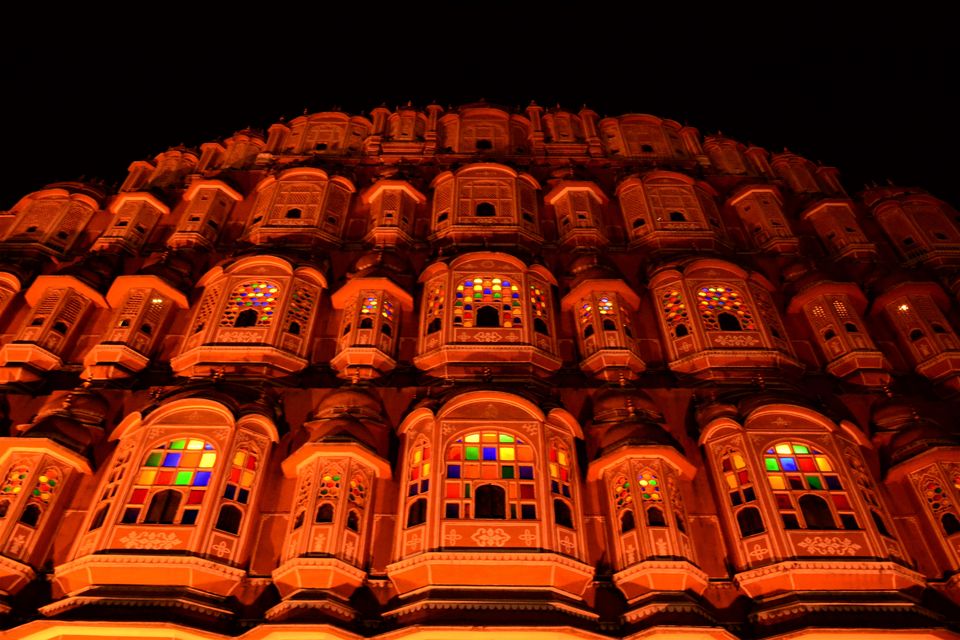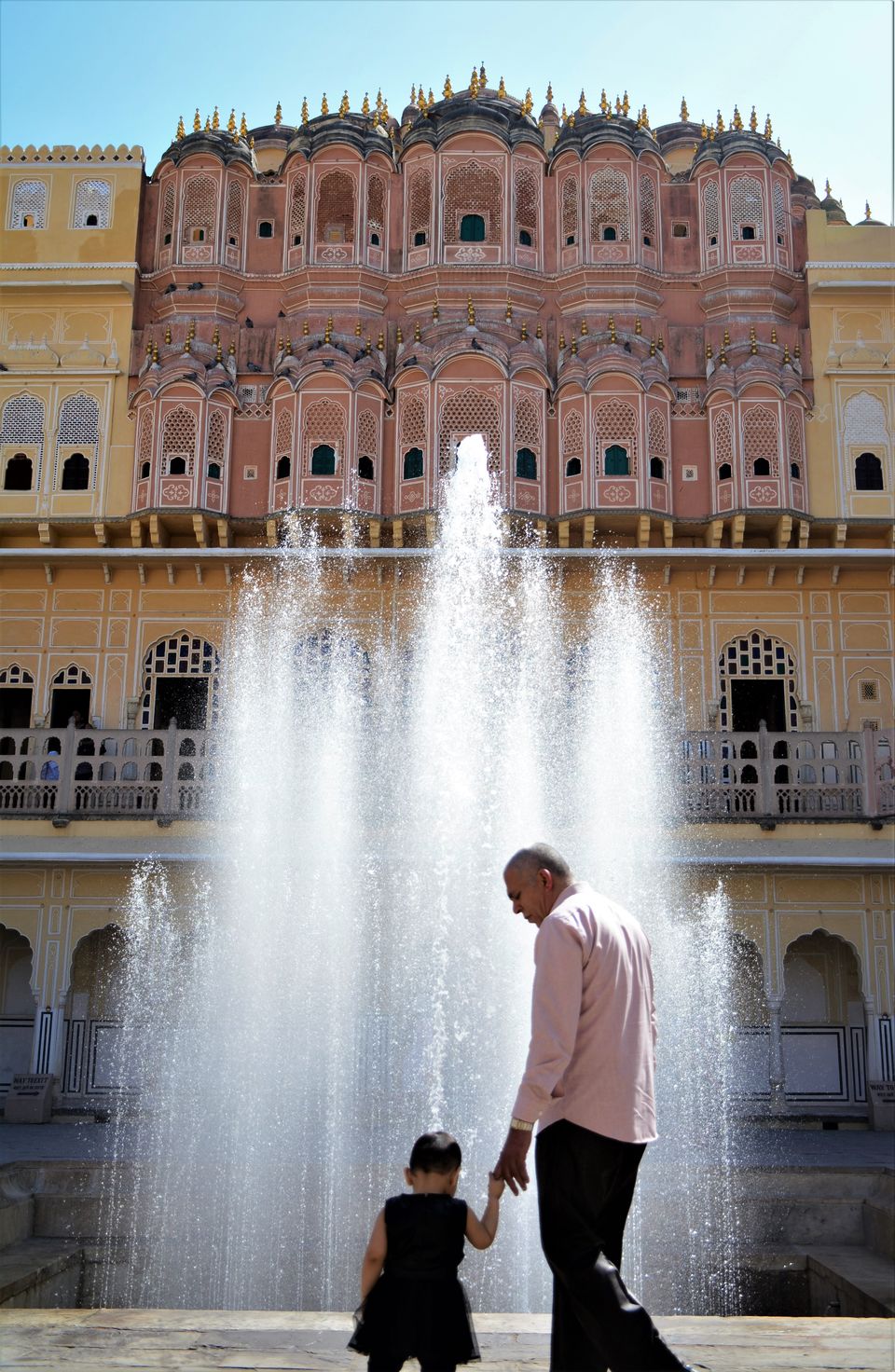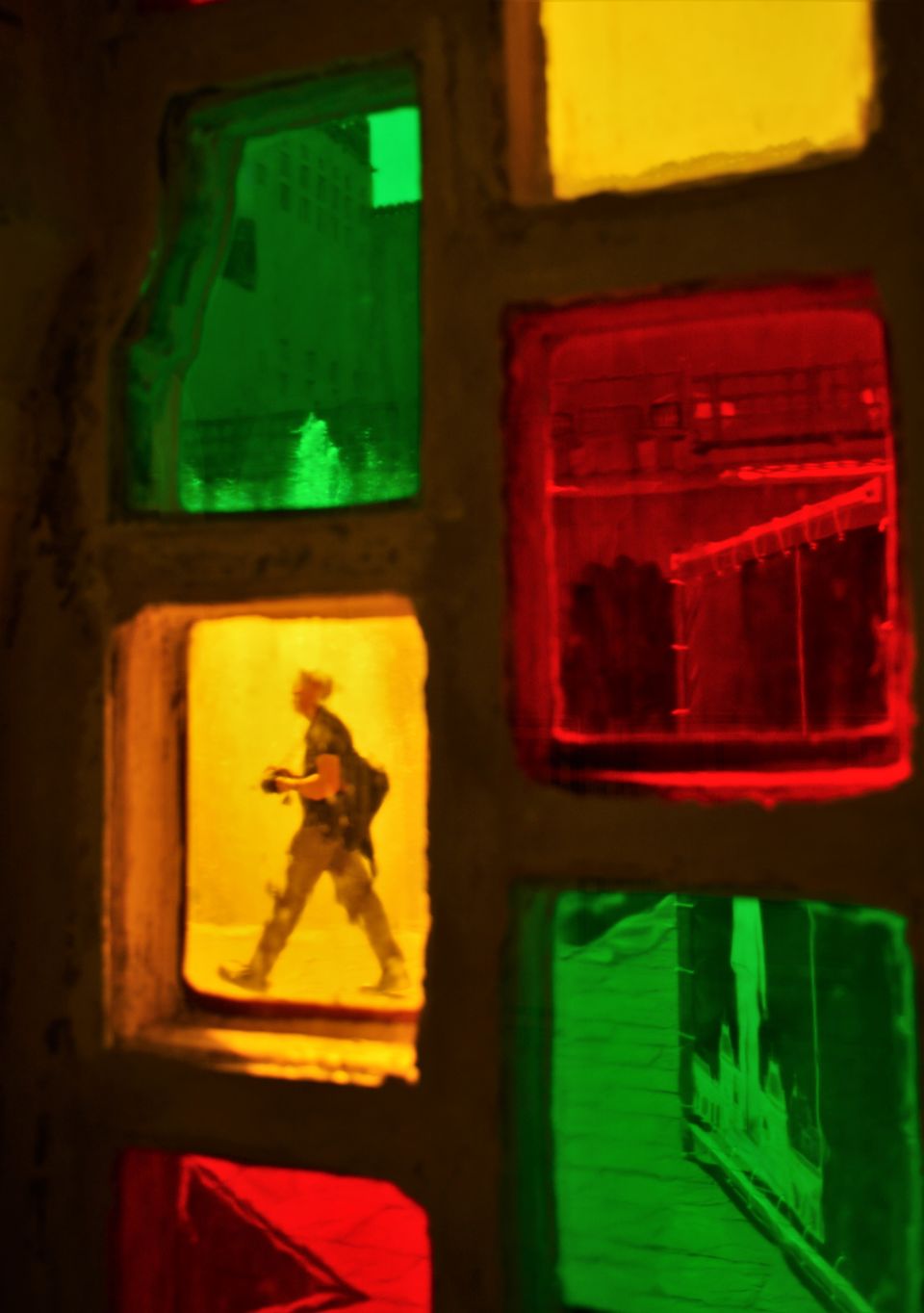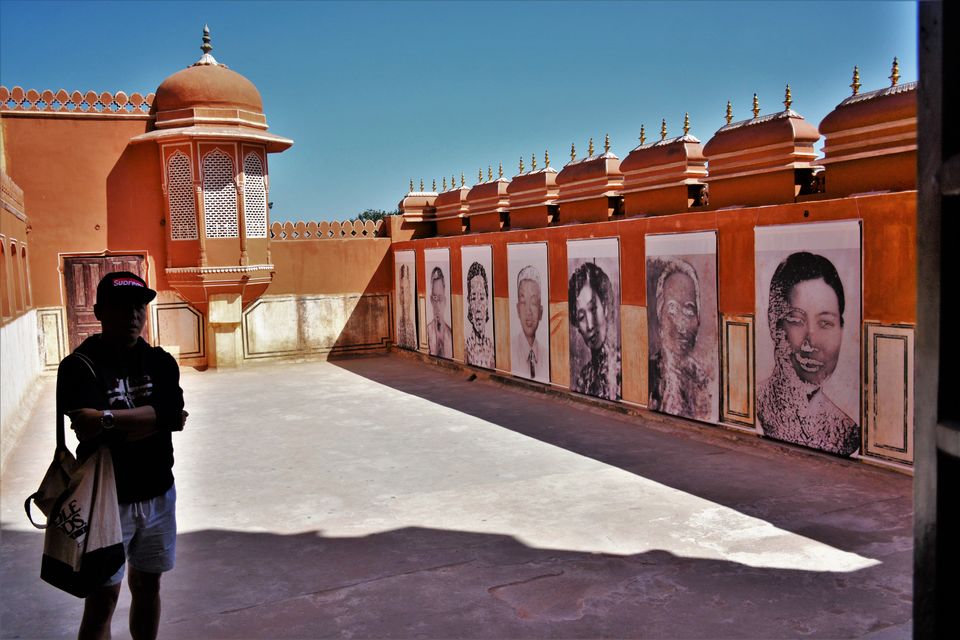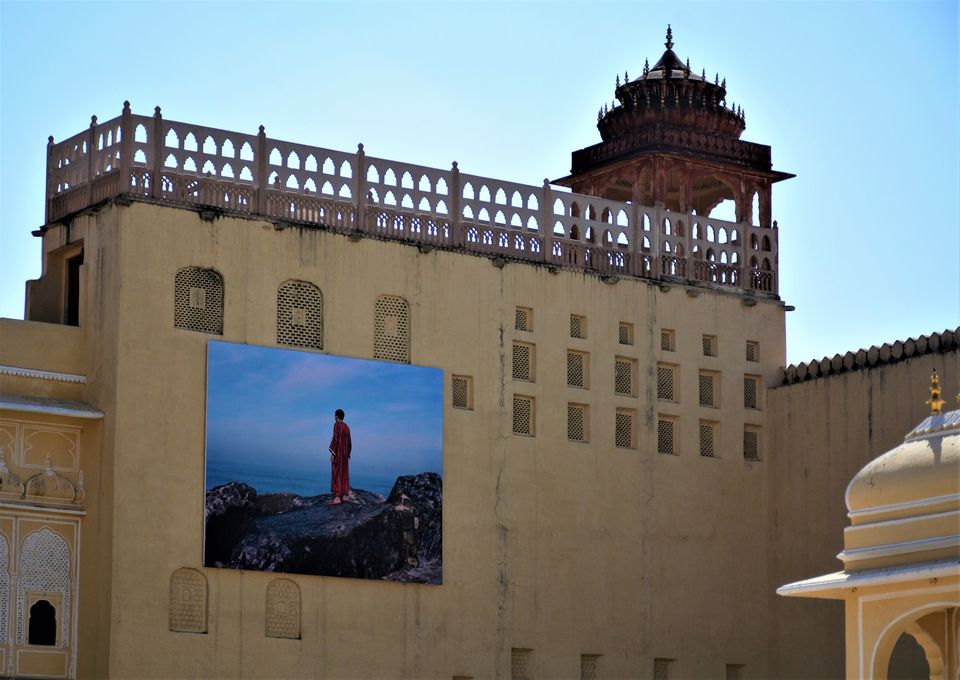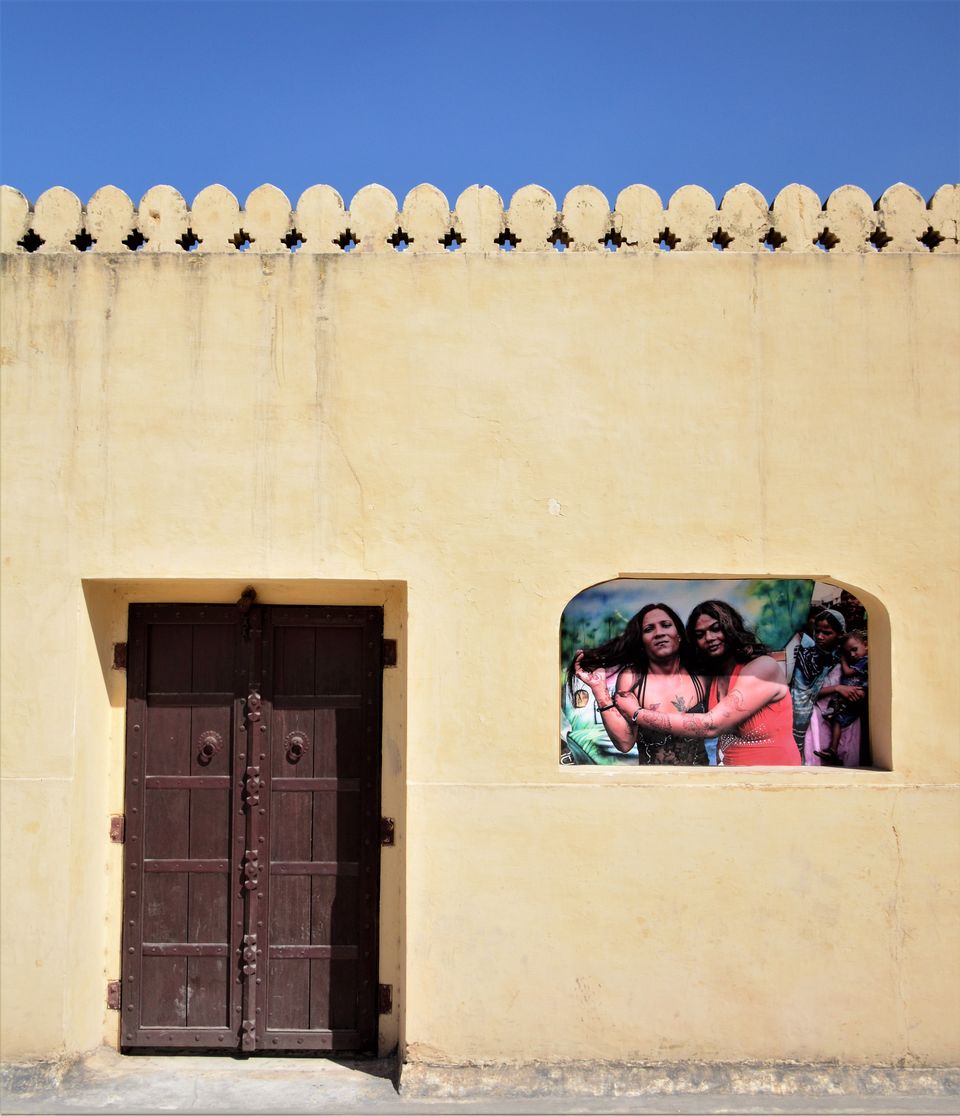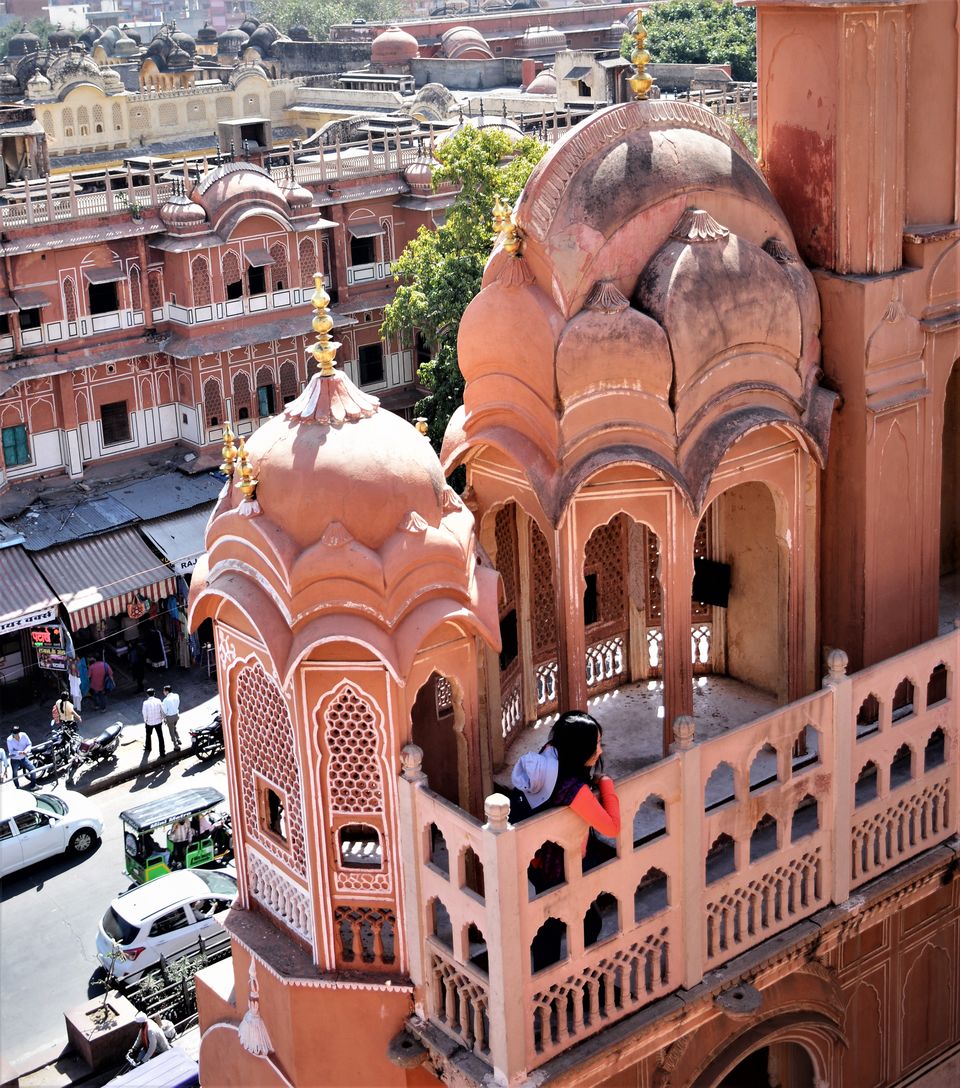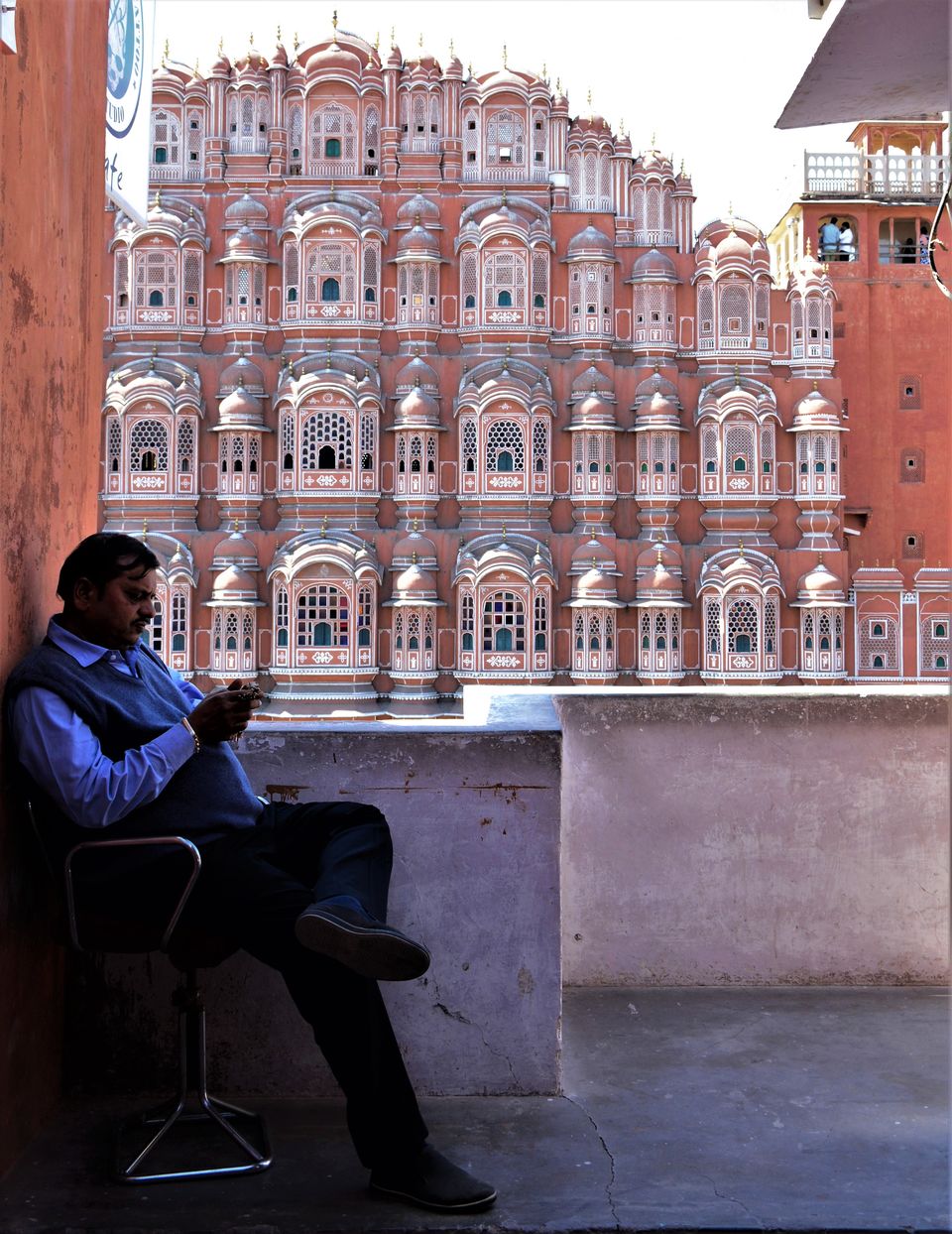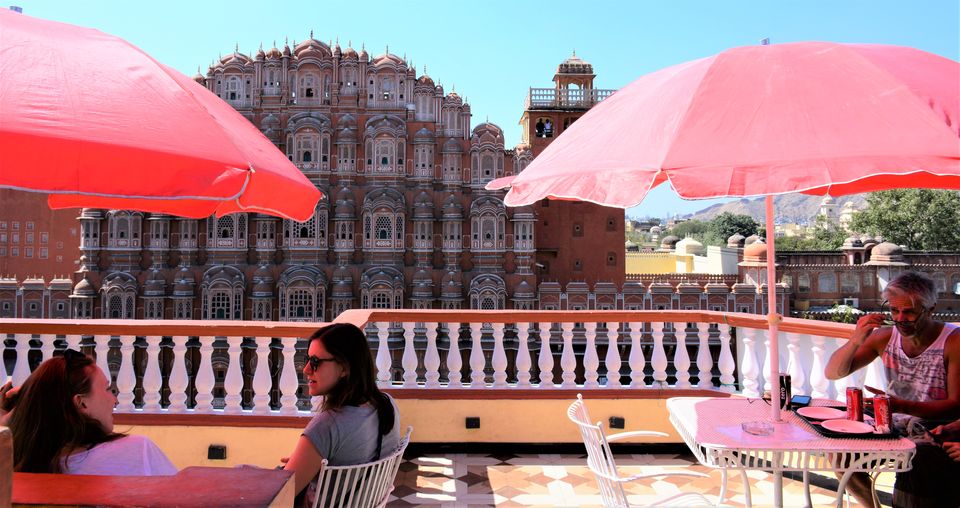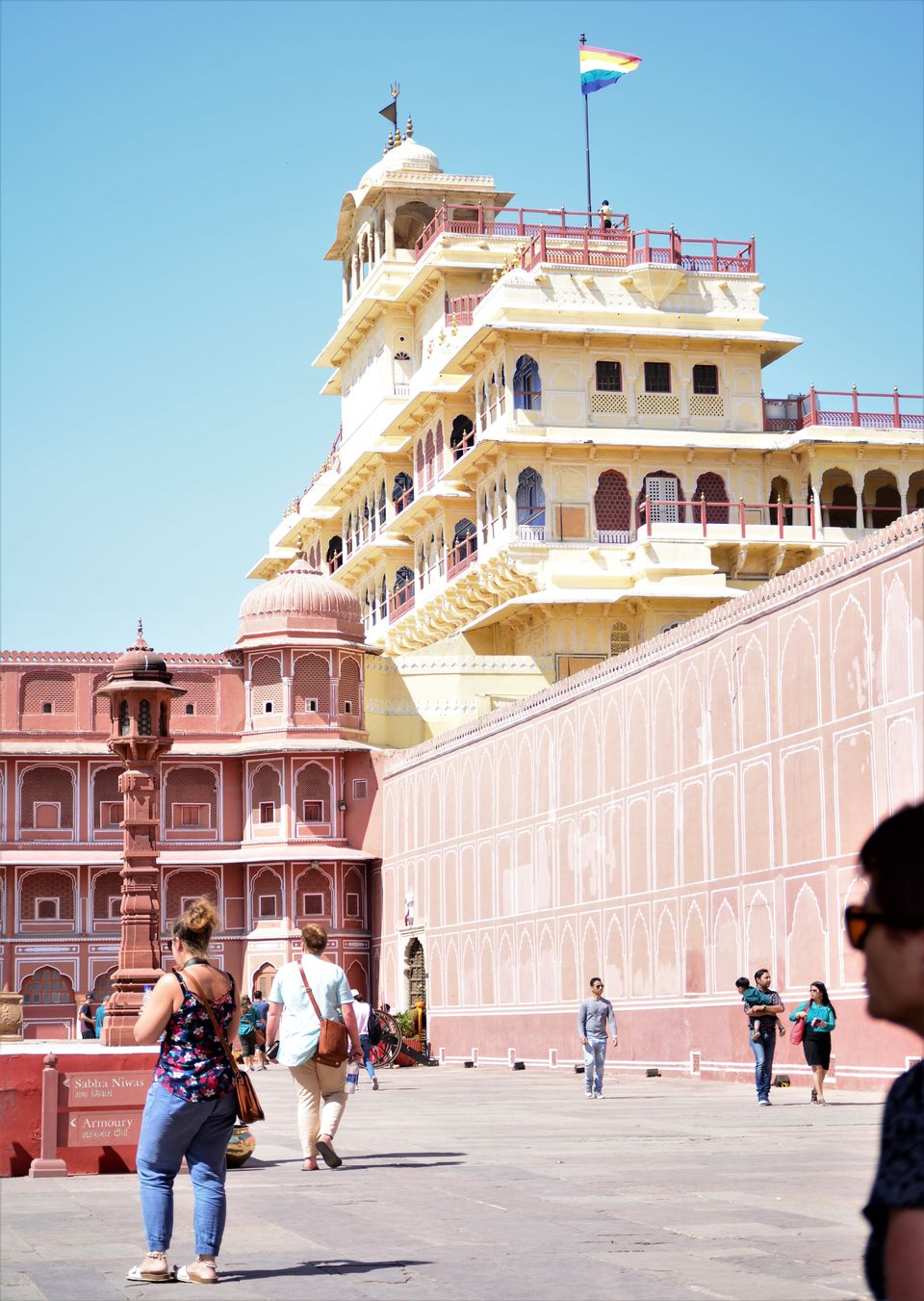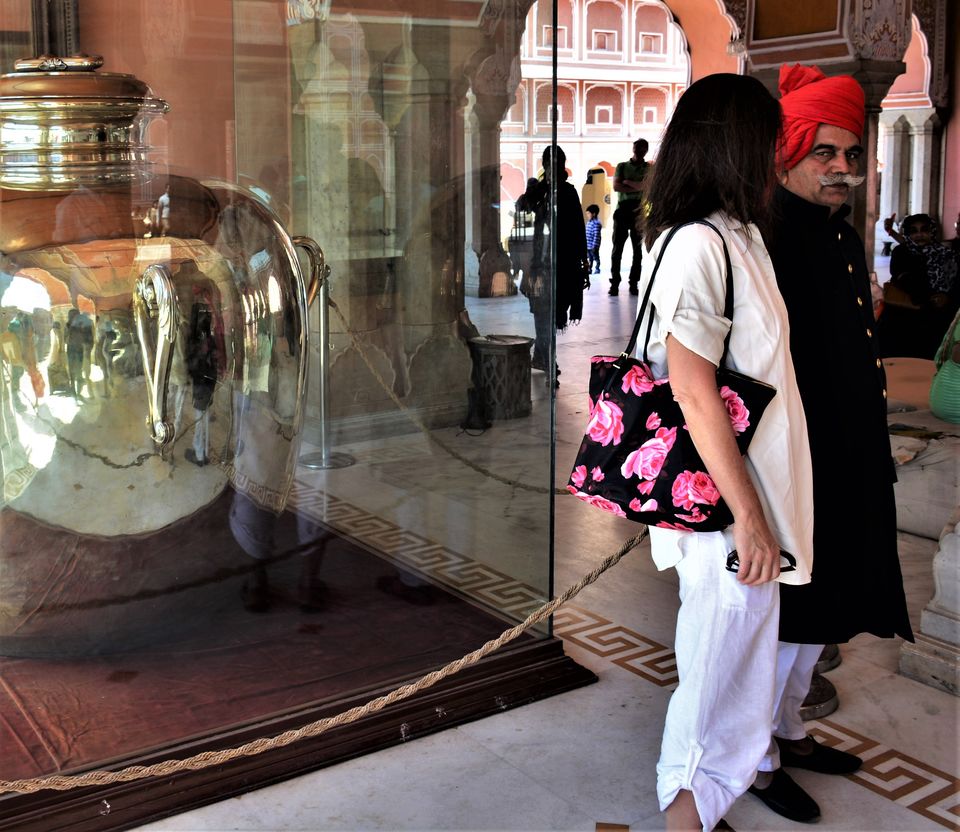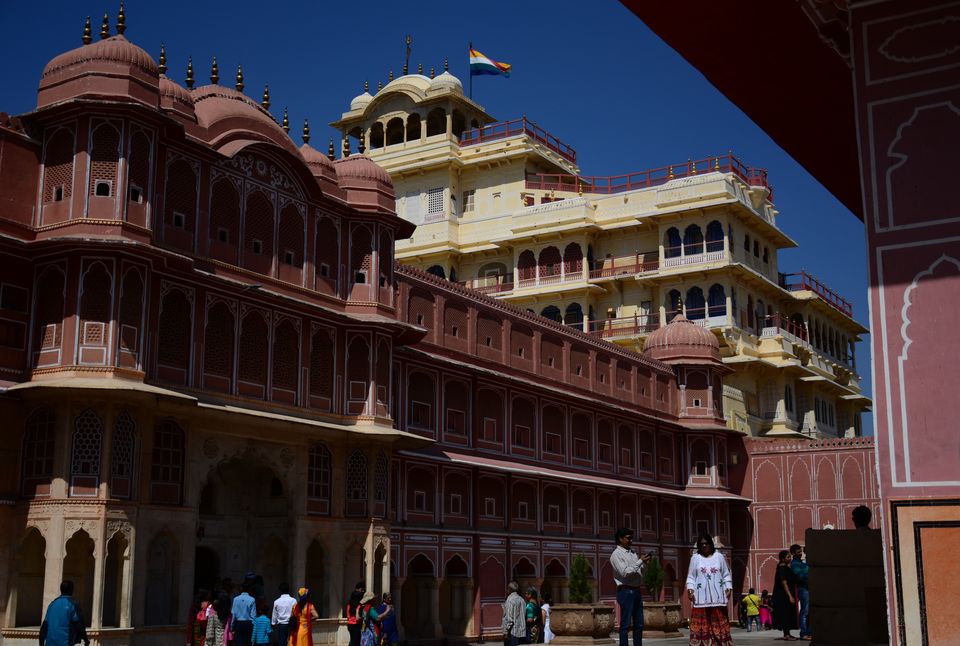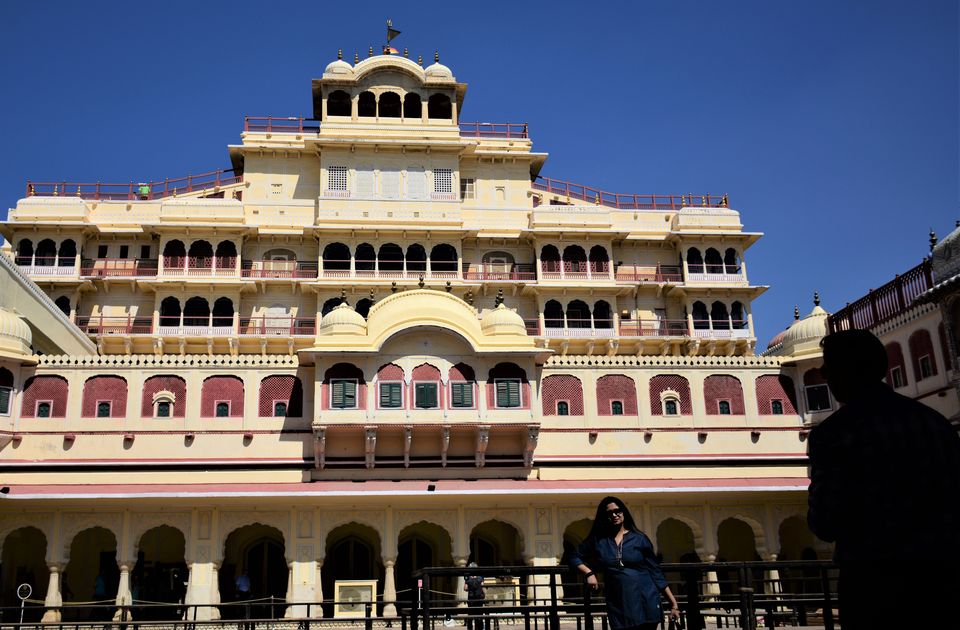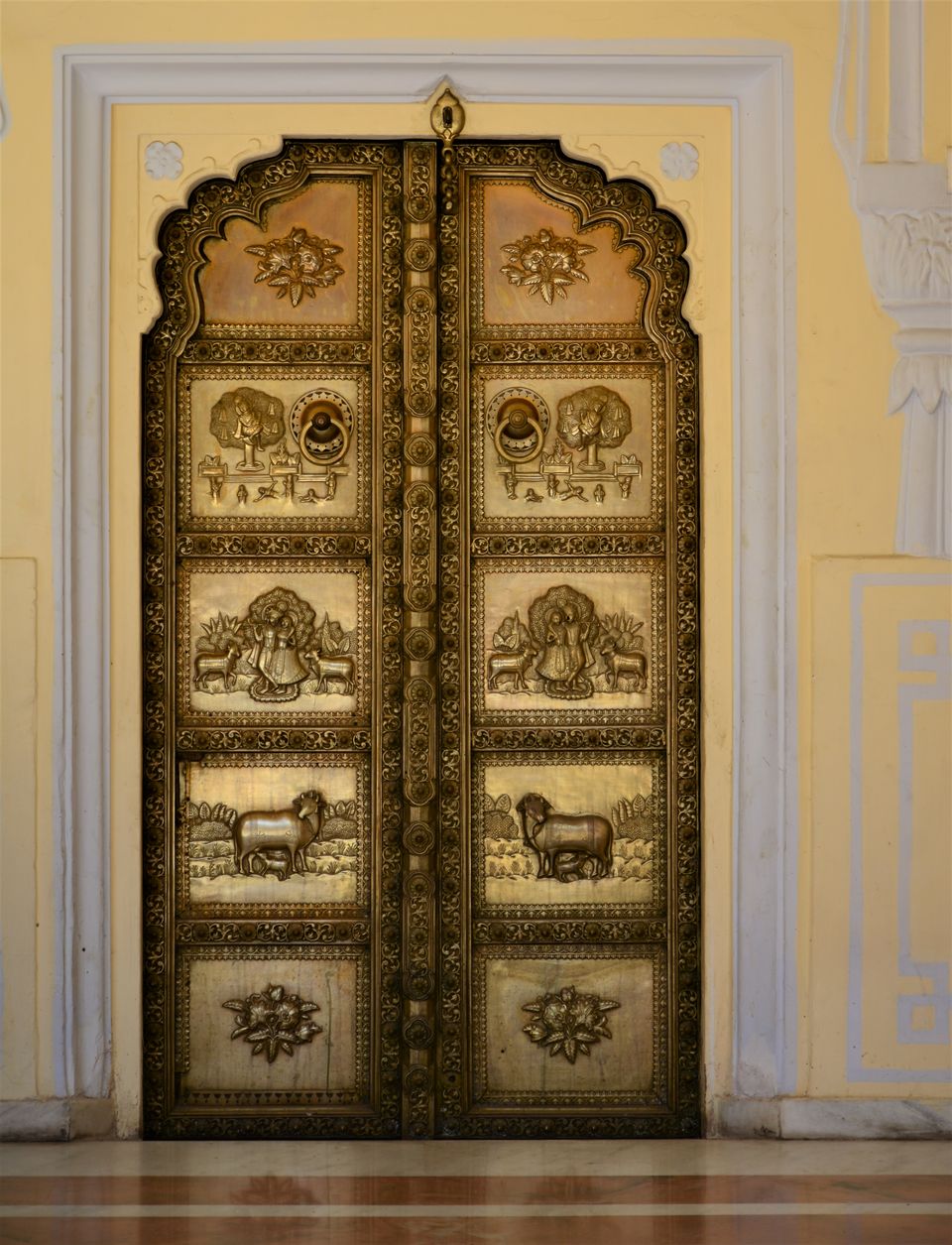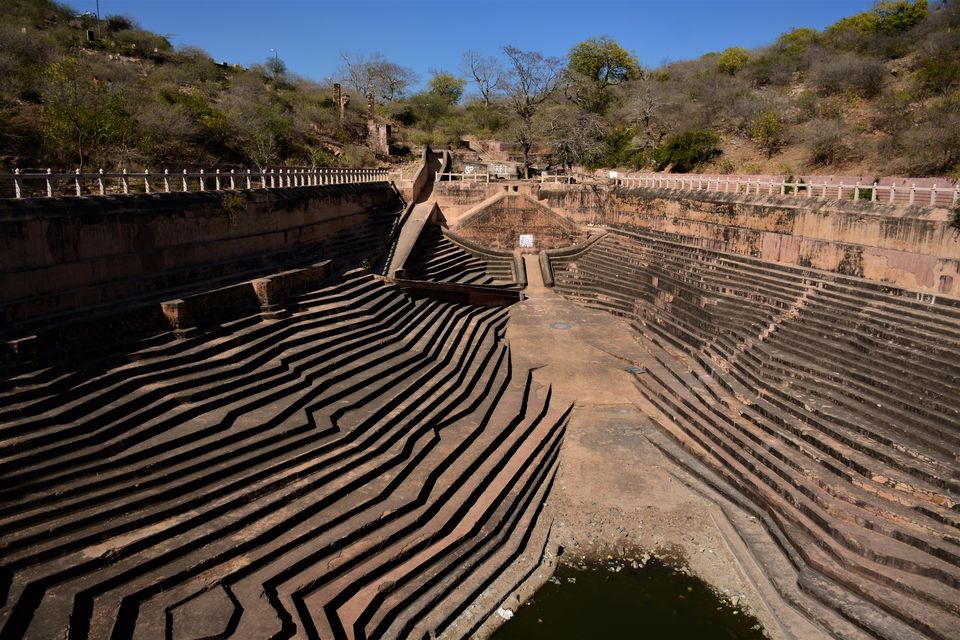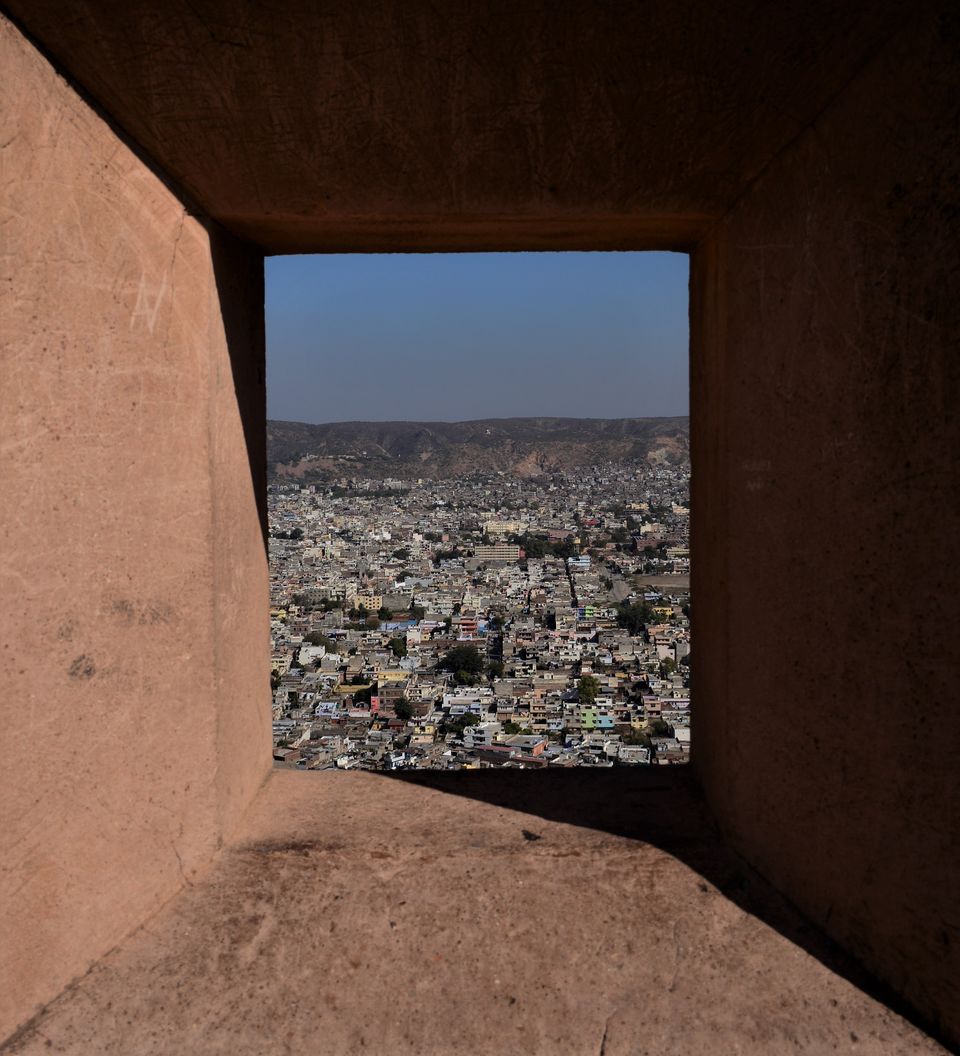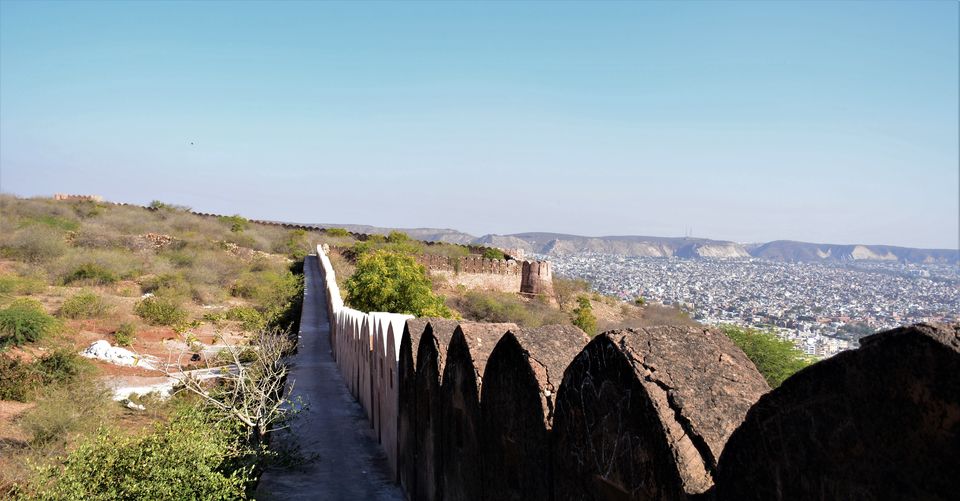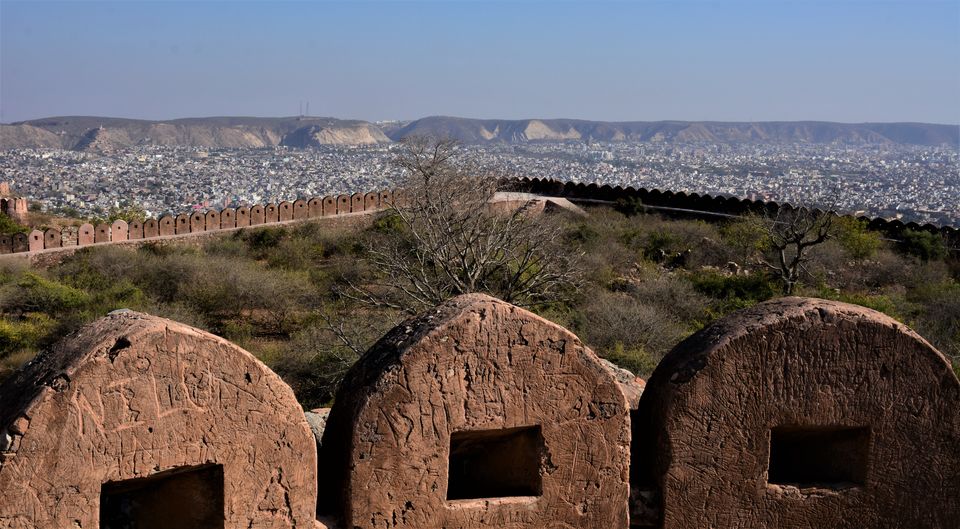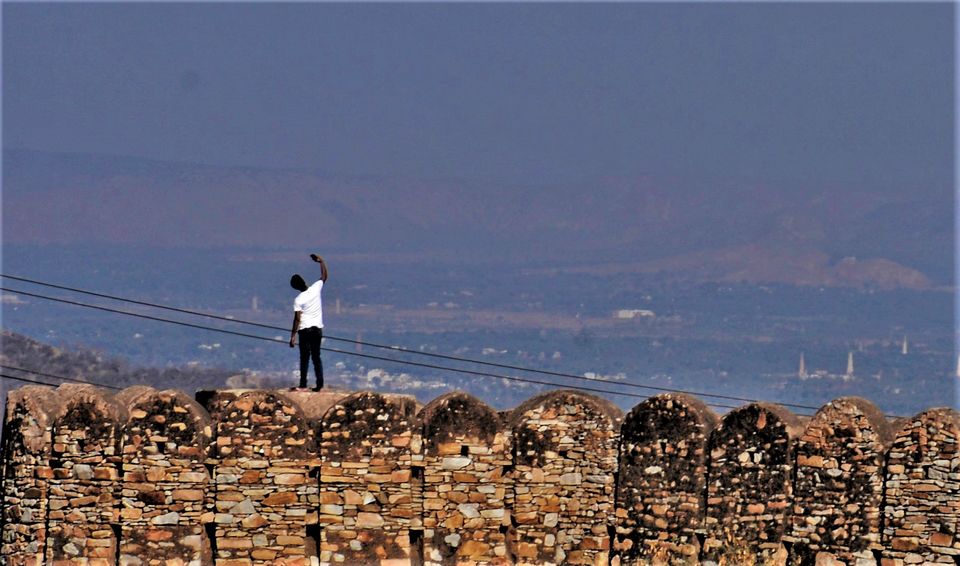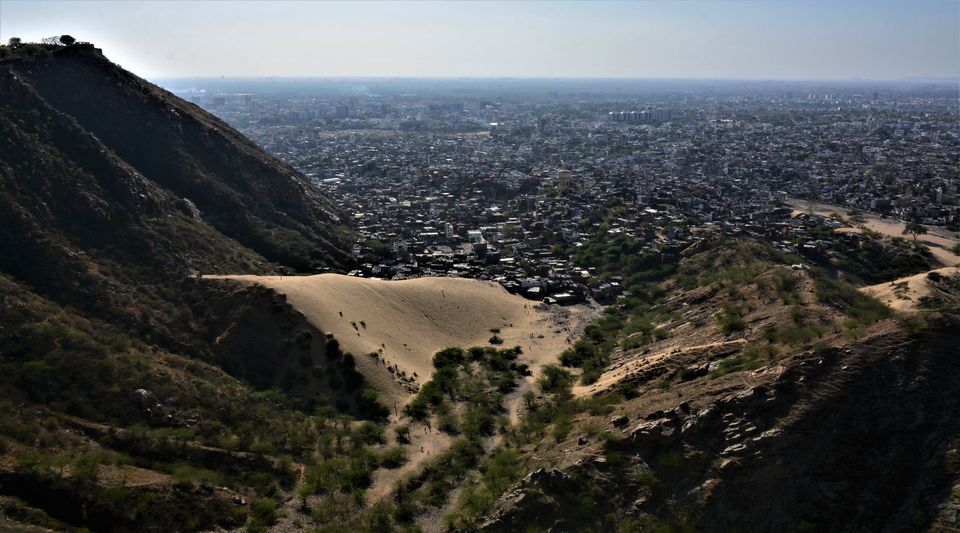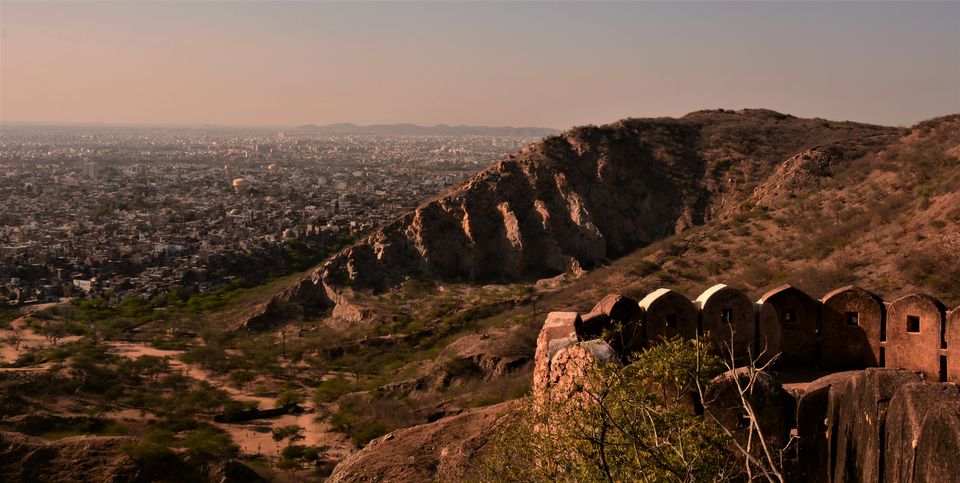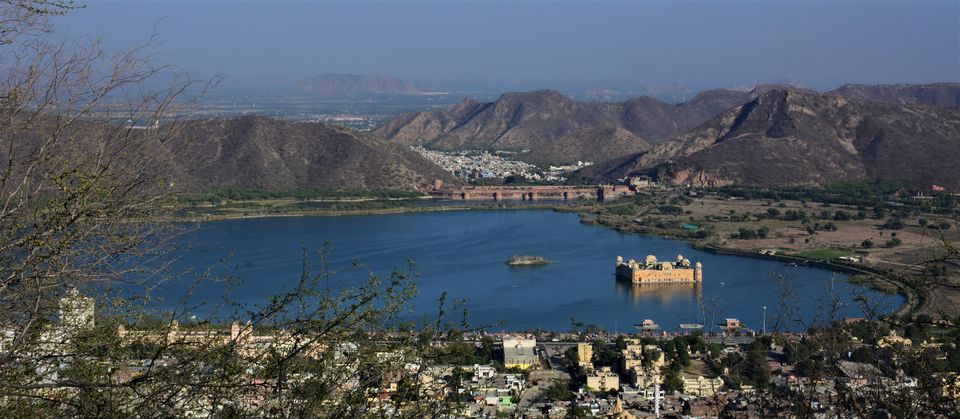 I had booked a canter safari for the Dhikala zone as jeep safari for this zone is only available for guests who stay with the forest lodge. While I booked online, I saw that the canter safari takes 6 hours to complete while all other jeep safari took 3 hours. I was quick to book the canter and then realized during the safari that the canter takes 3 hours to reach the Dhikala zone. So though I had booked another safari next day, I did not turn up and instead thought of exploring Ramangar. But here are some moments from the safari.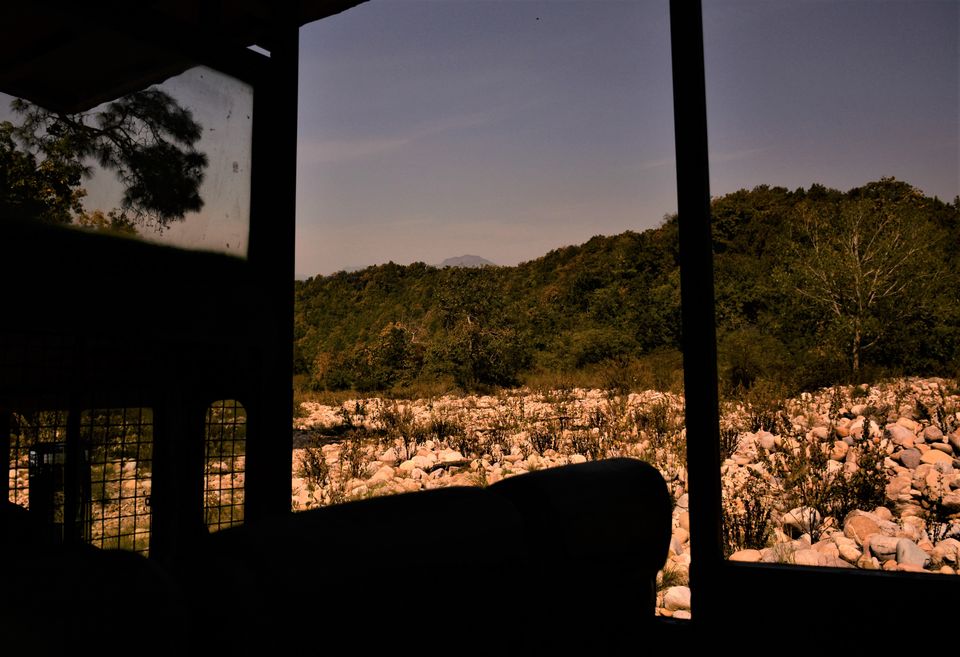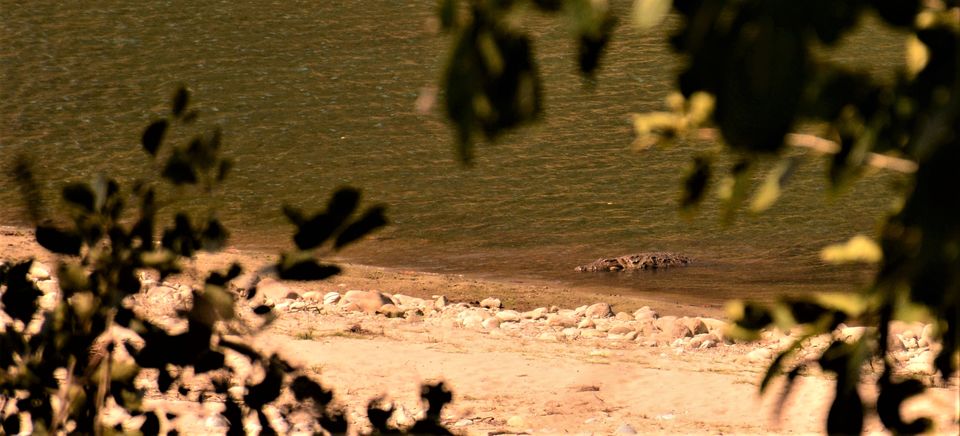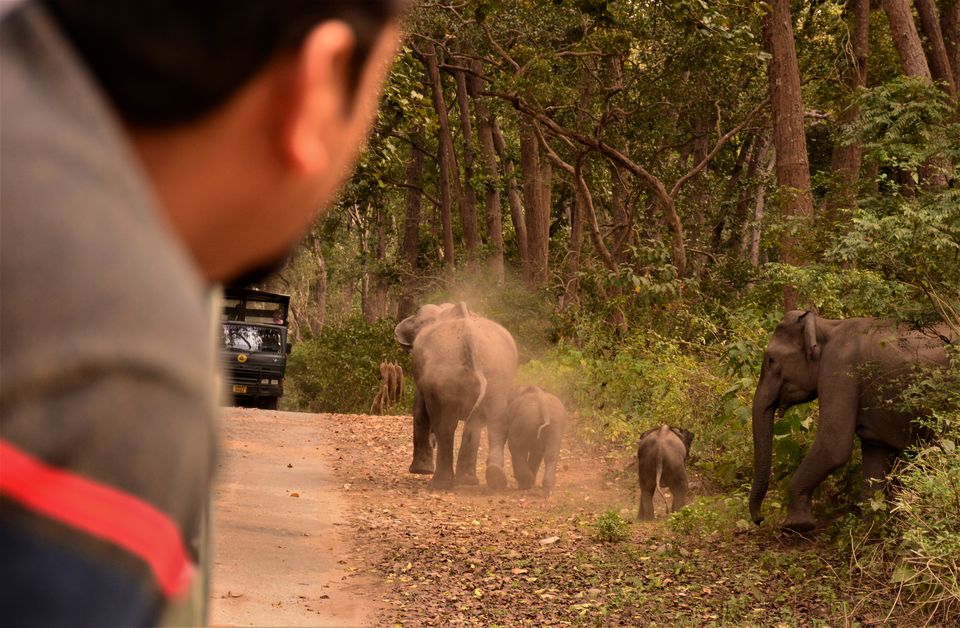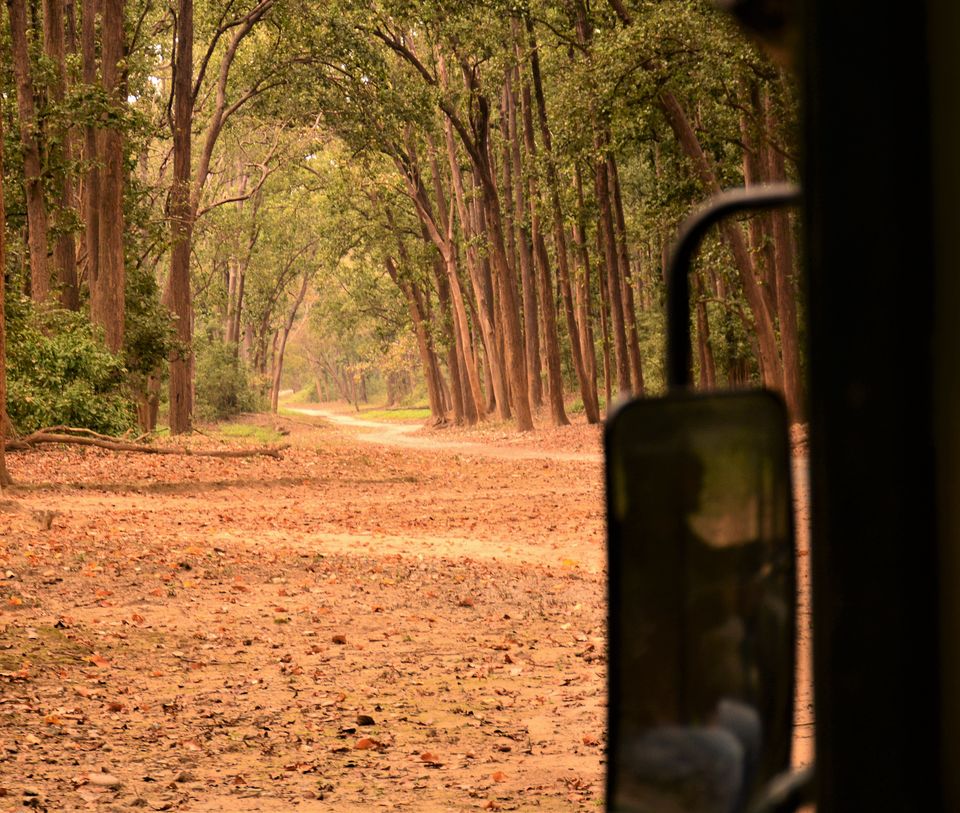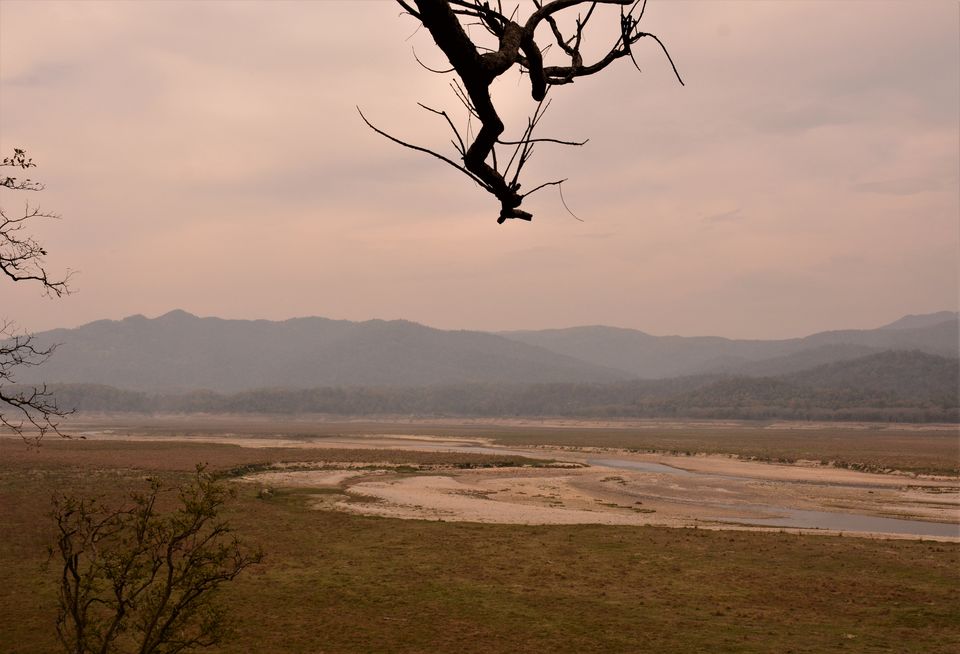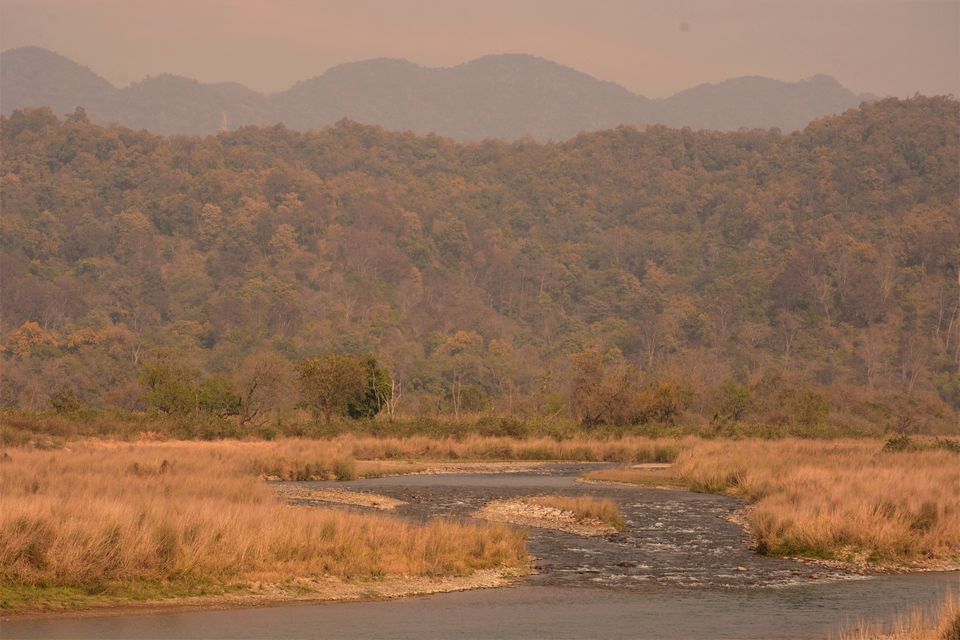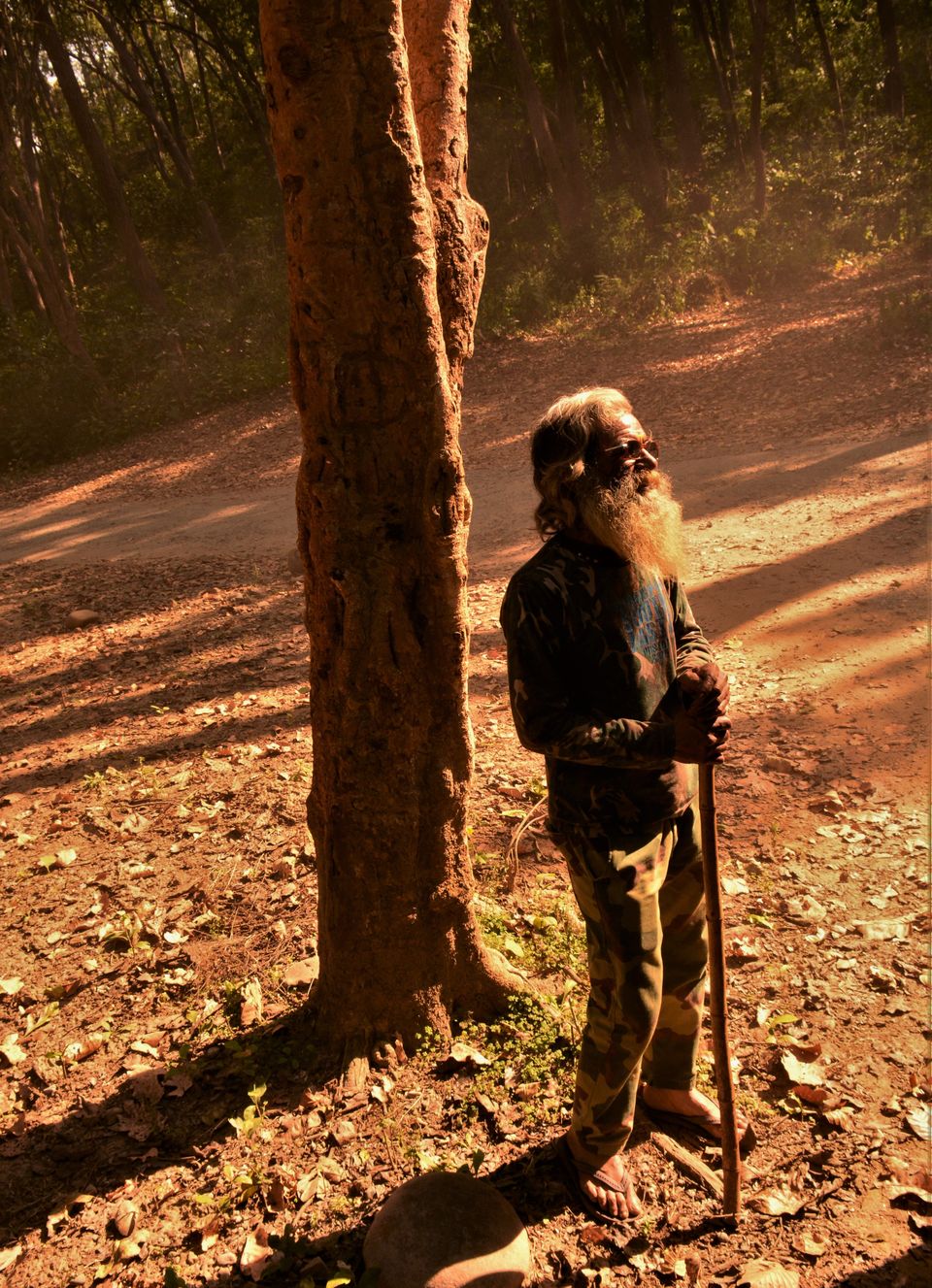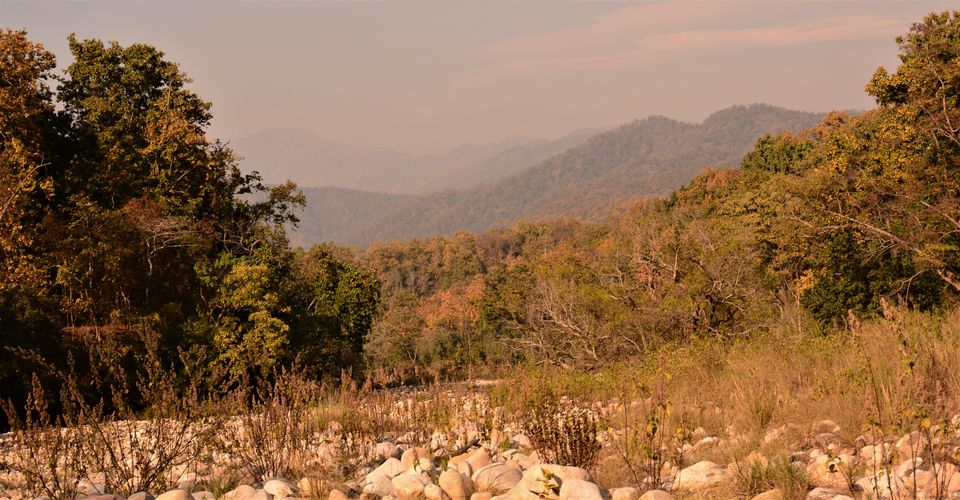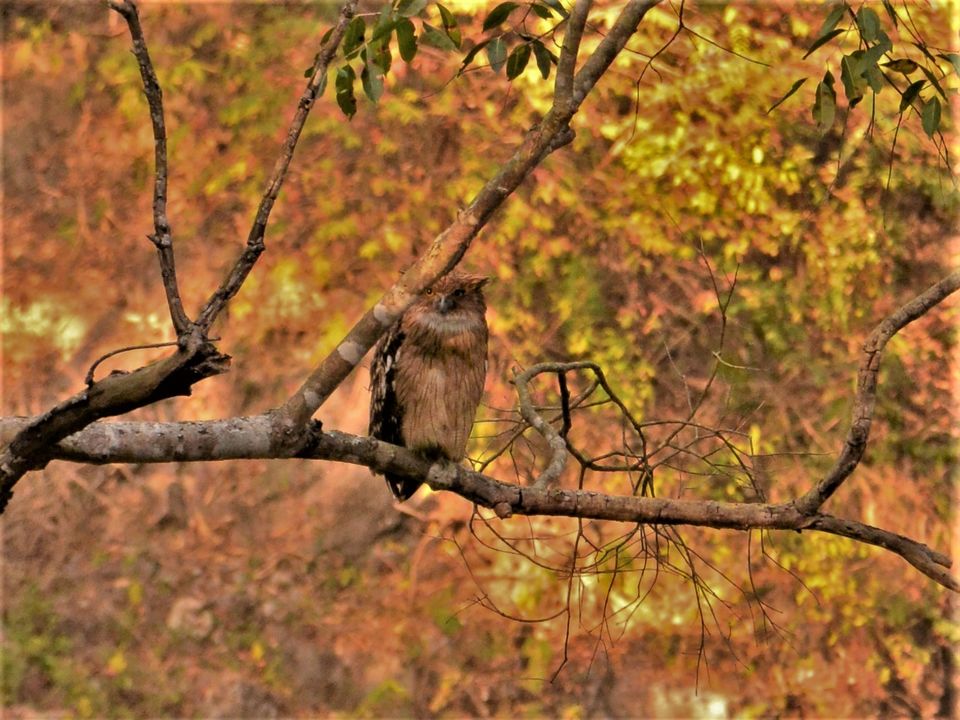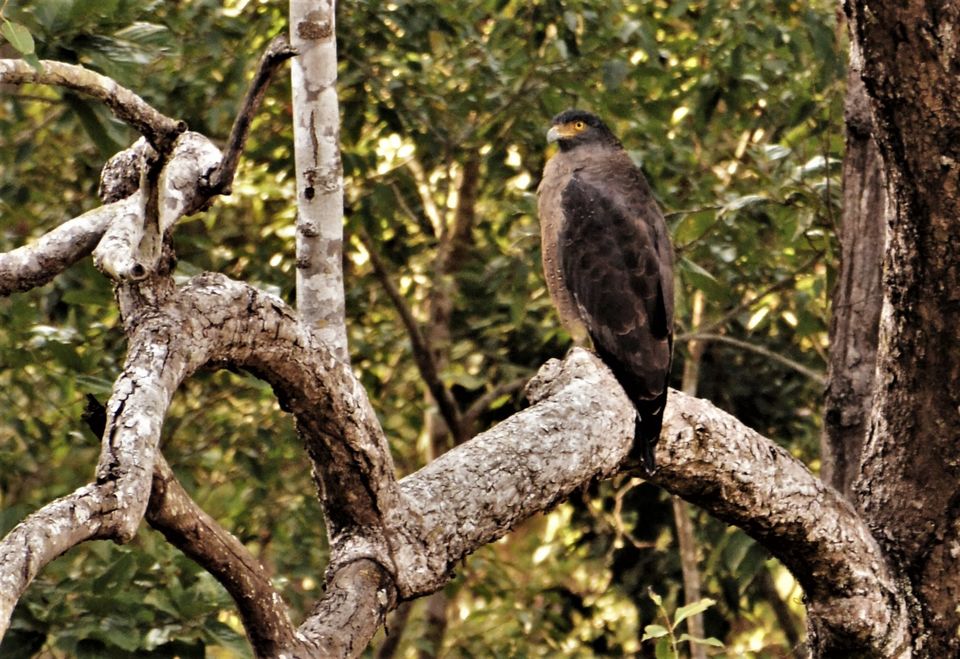 Next day, I first thought of visiting the museum dedicated to Jim Corbett. Unfortunately the museum was closed and I was disappointed to have travelled a long distance. I decided to have some tea outside the gate. There I met Harish. He is a local and he was smoking up with his friends there. Noticing that I was staring he came ahead and offered me as well. I took a few puffs and we started chatting. He seemed friendly and honest. He told me that there is an ancient temple inside the forest called Sitabani temple and he can take me there in his bike, if I have time, just that I have to get his petrol. I said that I have to visit another sopt and then we can start in the afternoon. He asked me to call him, when I am ready. I wanted to check out the Garjiya Devi temple in Ramnagar, not that I am very religious but the legend of the temple fascinated me.
They say that ages back a disastrous flood washed the entire land around the temple but only the temple stood at the end of it. There are temporary settlements around the temple.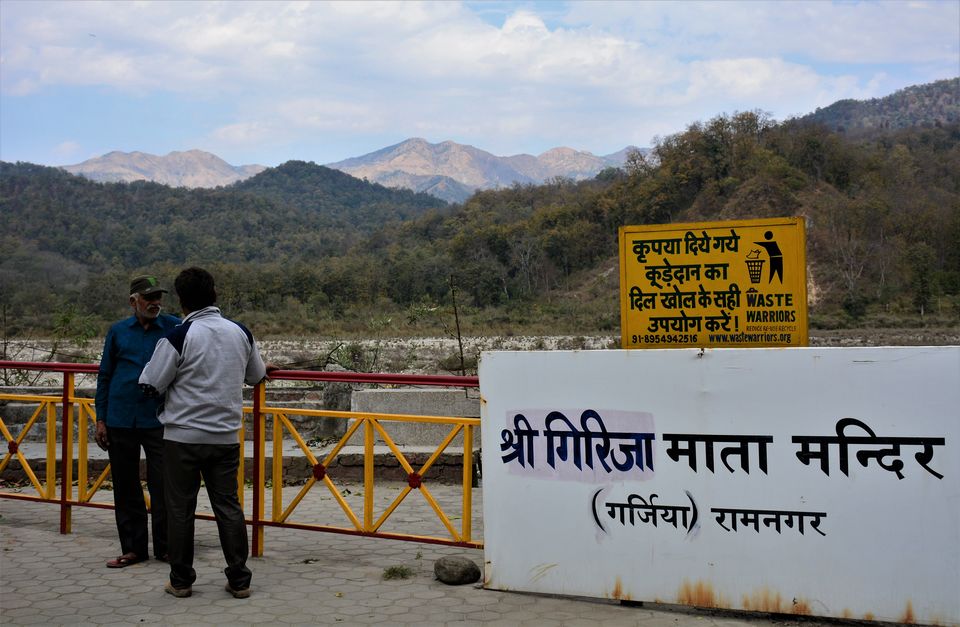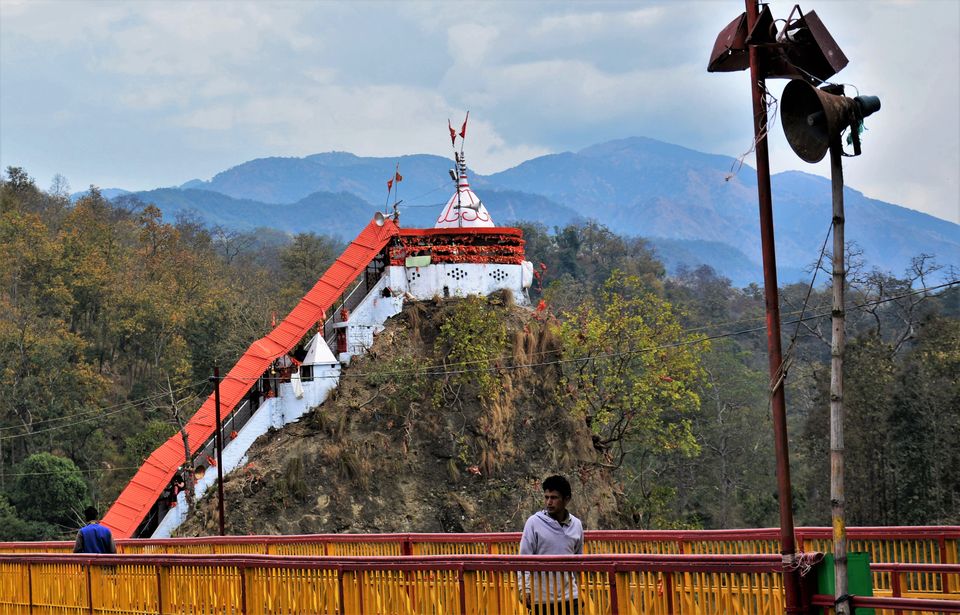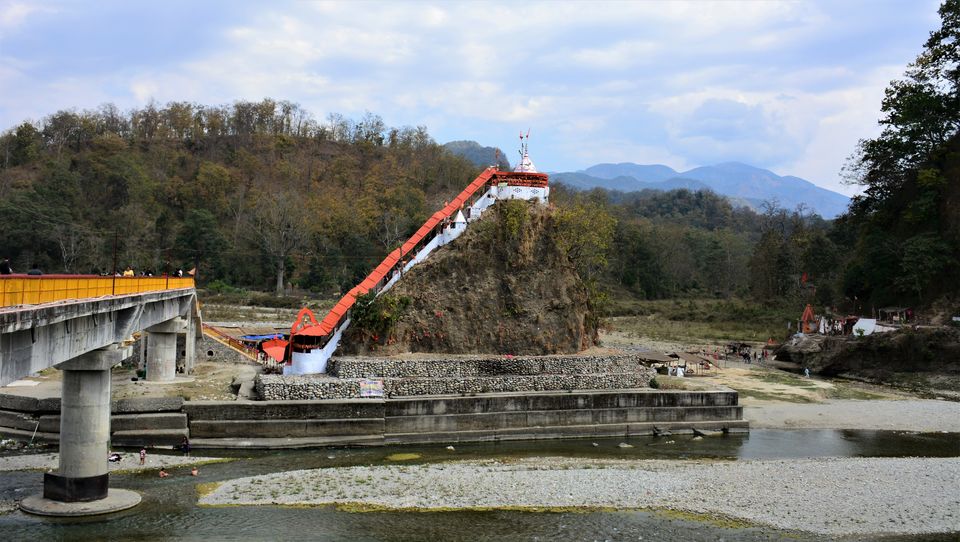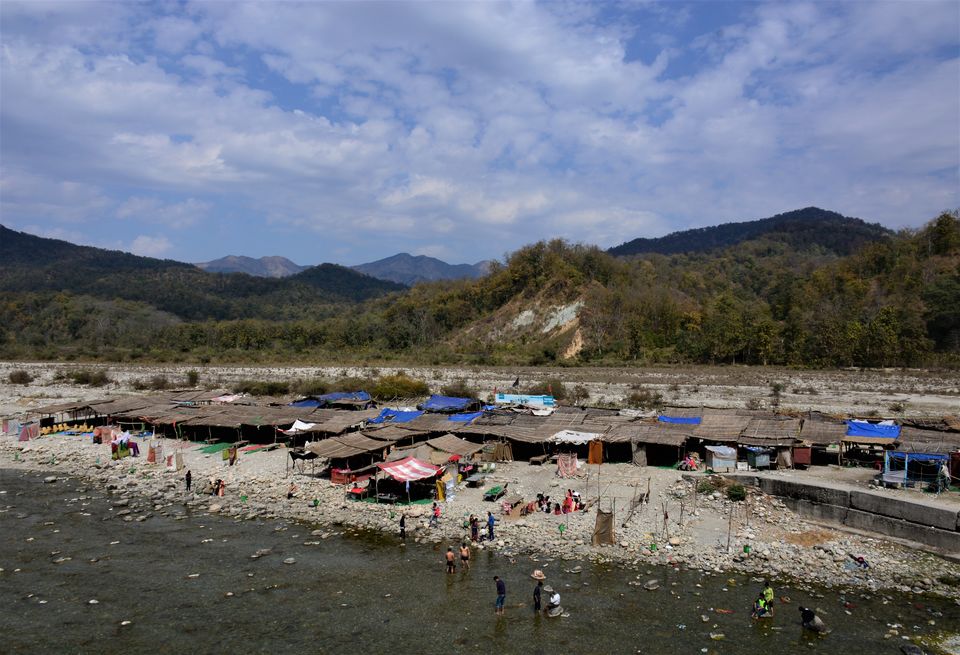 After visiting the temple, I called Harish. He came quickly and we went to the Sitabani temple. I had no idea how deep inside the jungle it was. After a point I was scared as the forest road narrowed and I constantly feared that elephants can come any time and trample us.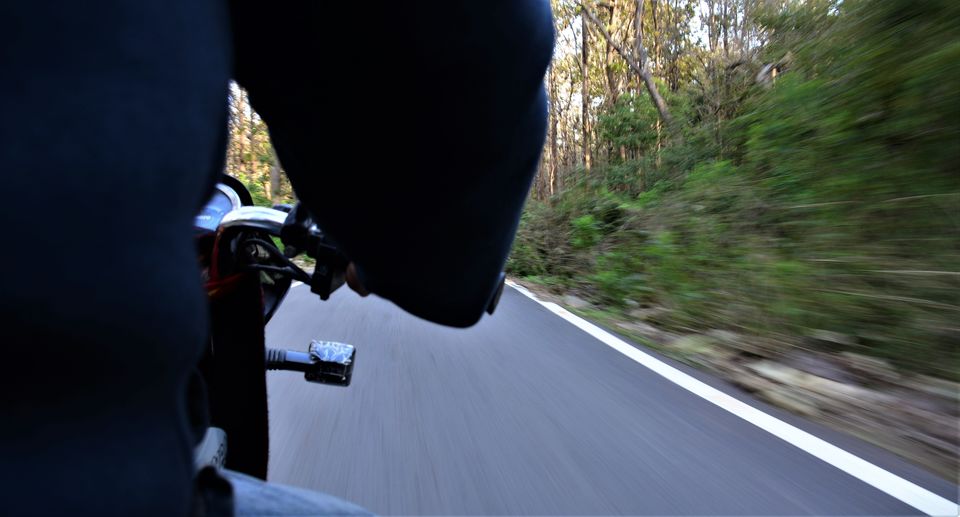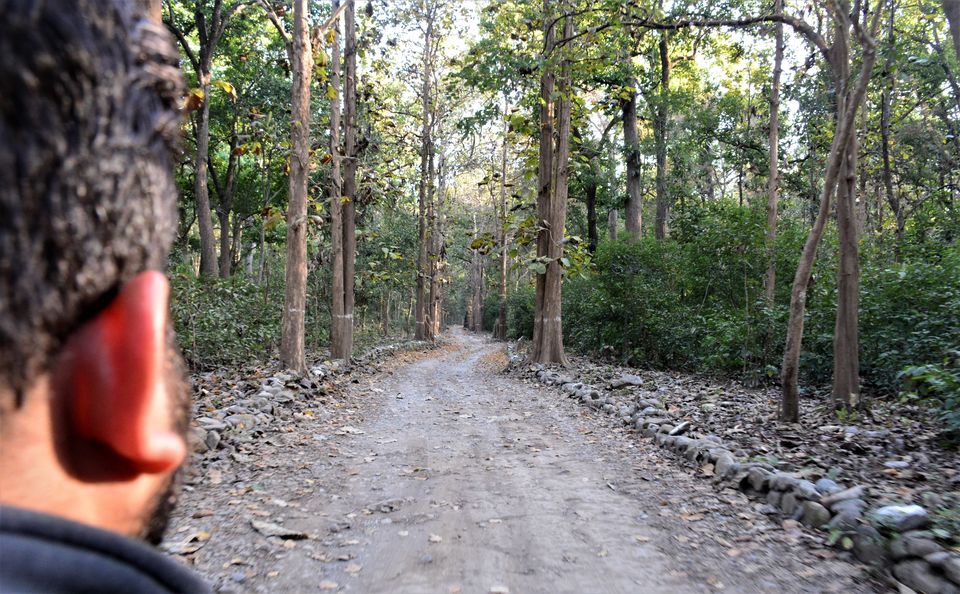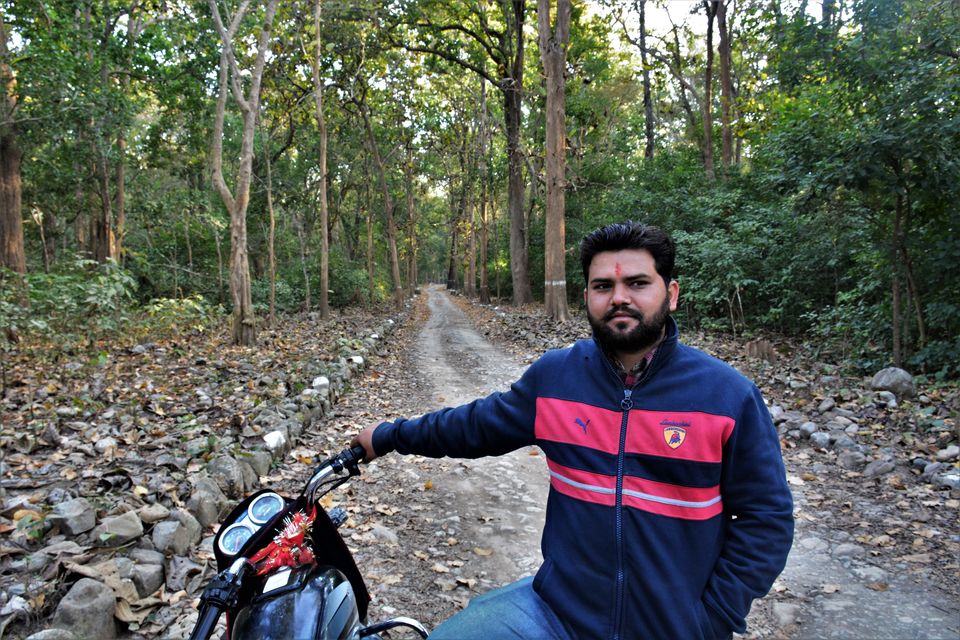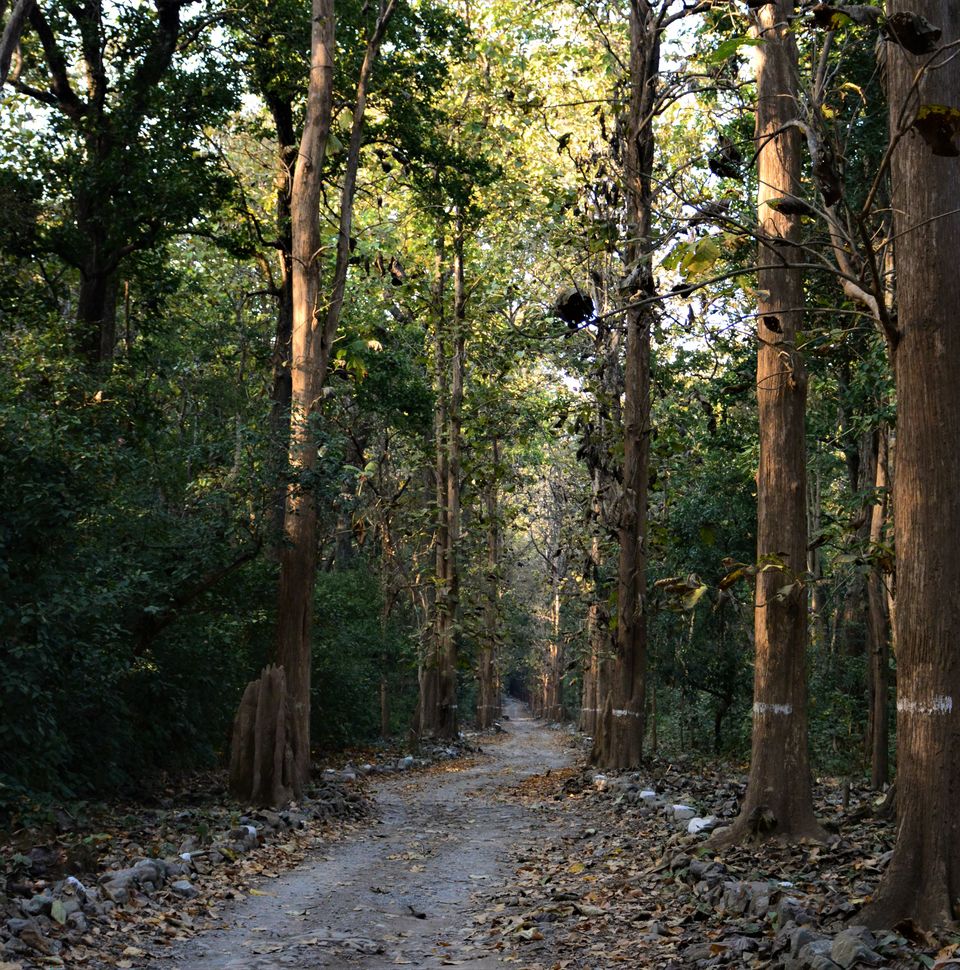 But fortunately nothing of that sort happened and we went alive to the temple. This temple is also legendary and locals say that Sita stayed here during the exile. The priest told me that the hills nearby the temple has the temple where the ancient sage Valmiki used to live but now we cannot go there as there were reported deaths from tiger attack. He also told us that the temple is frequented by tigers and elephants and they live in fear.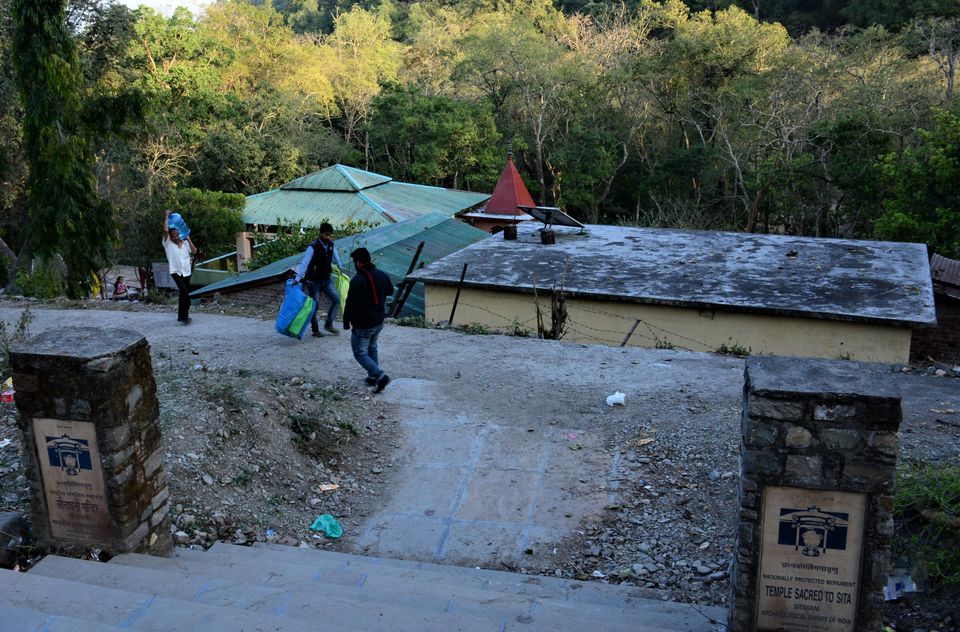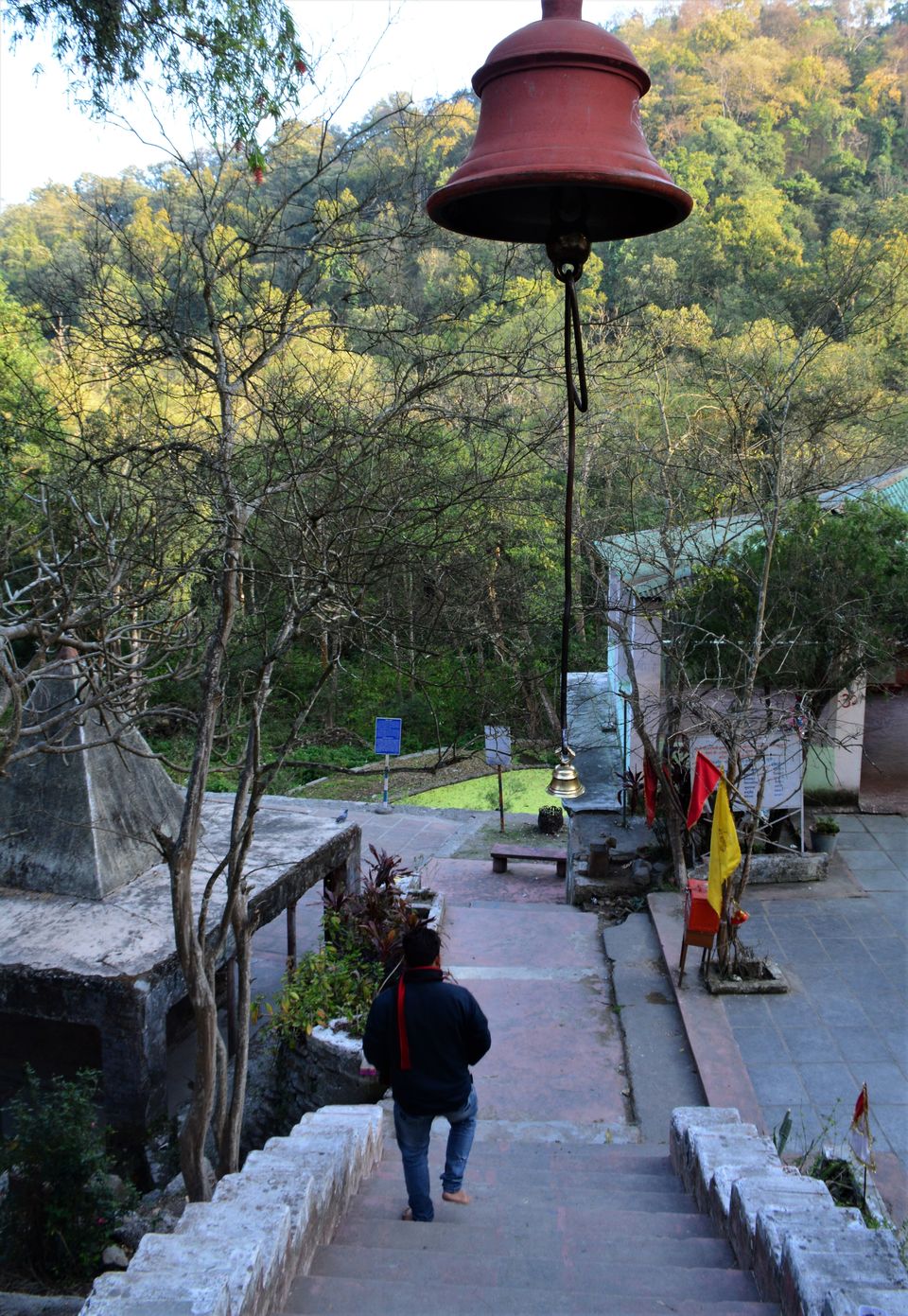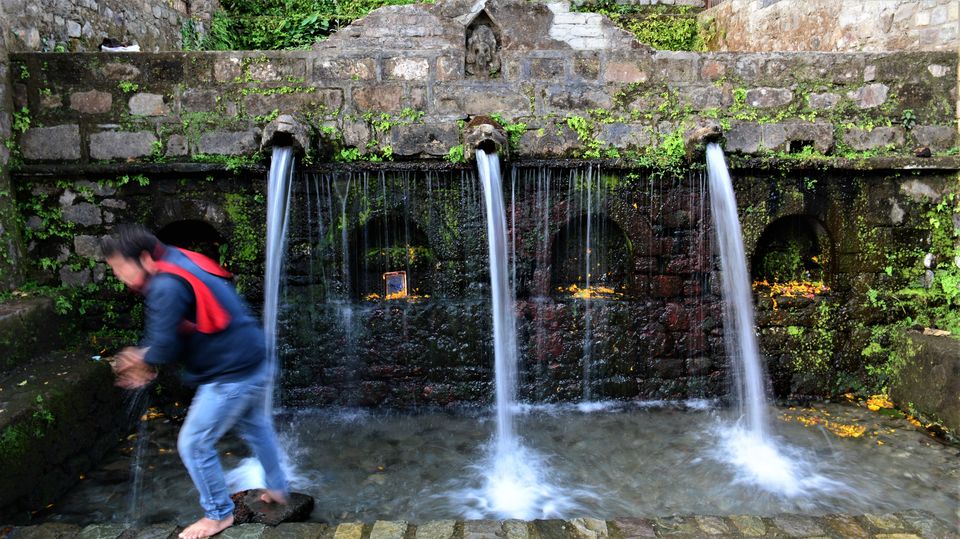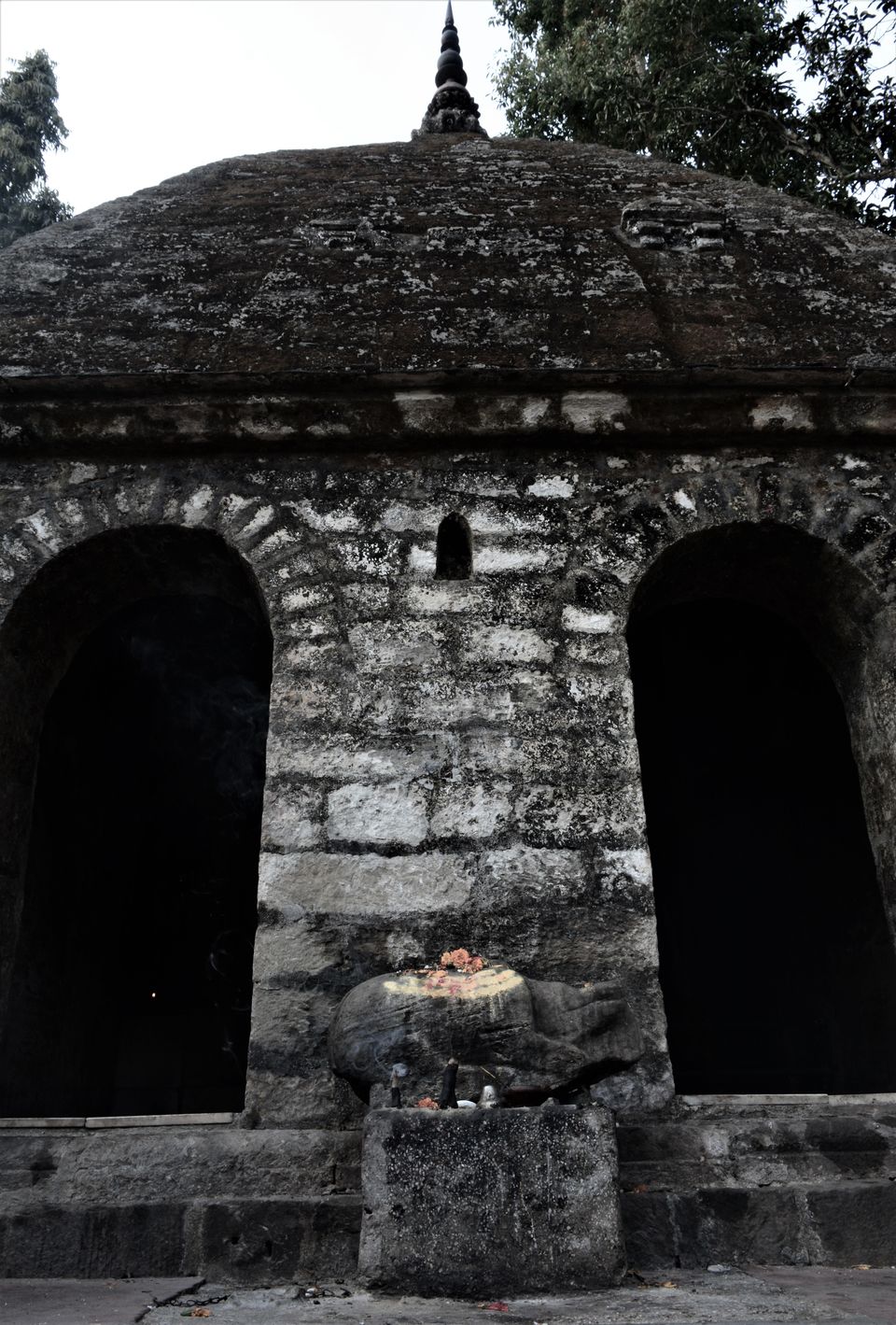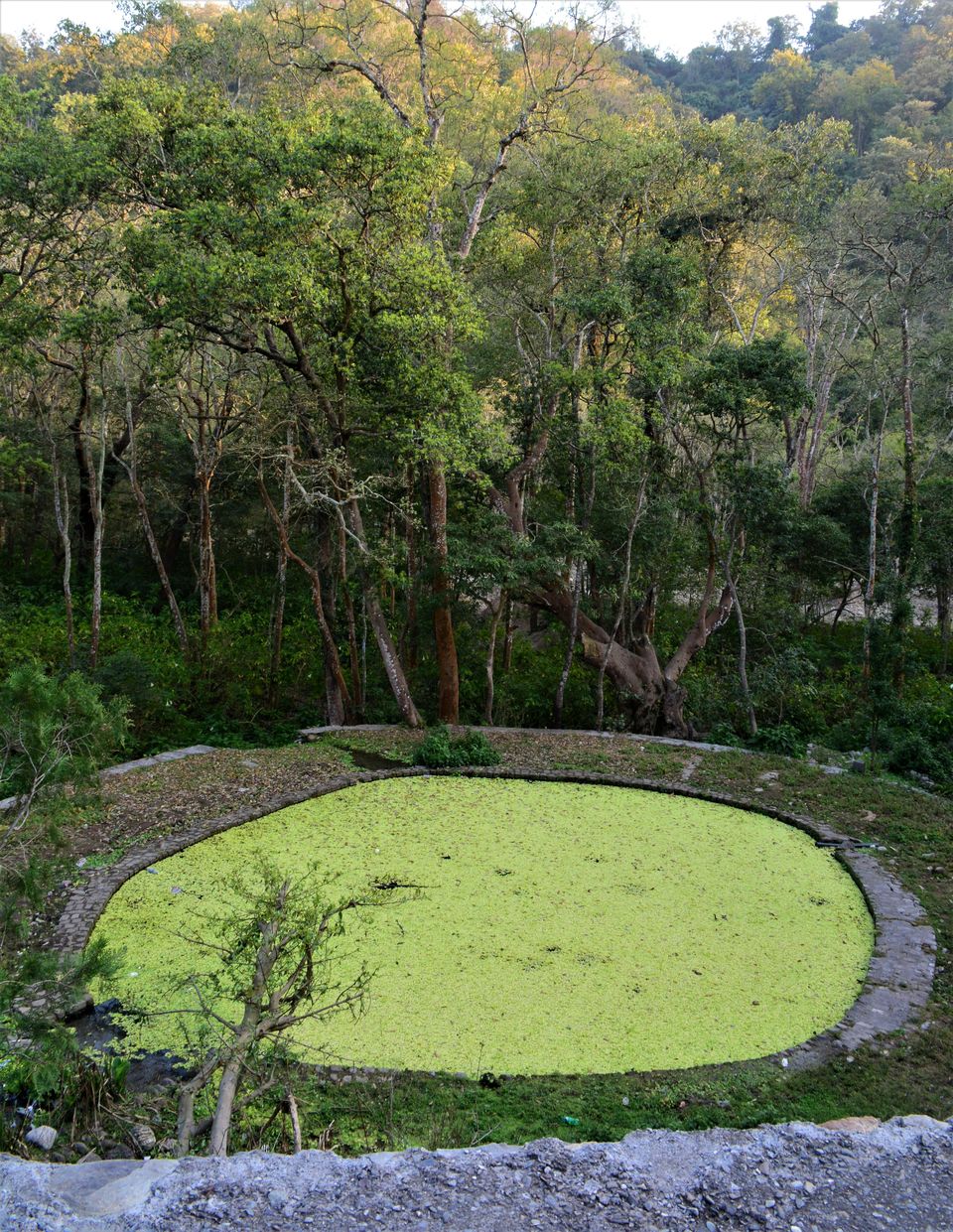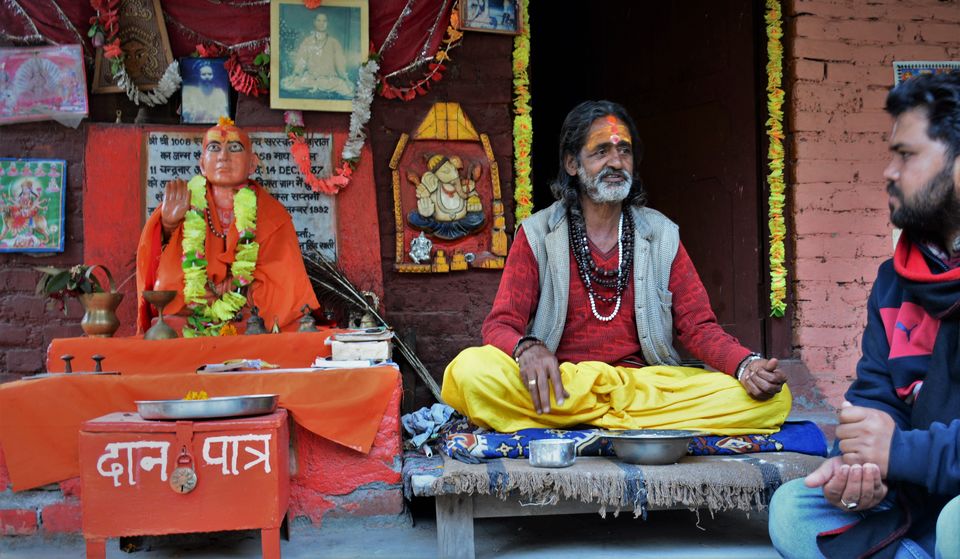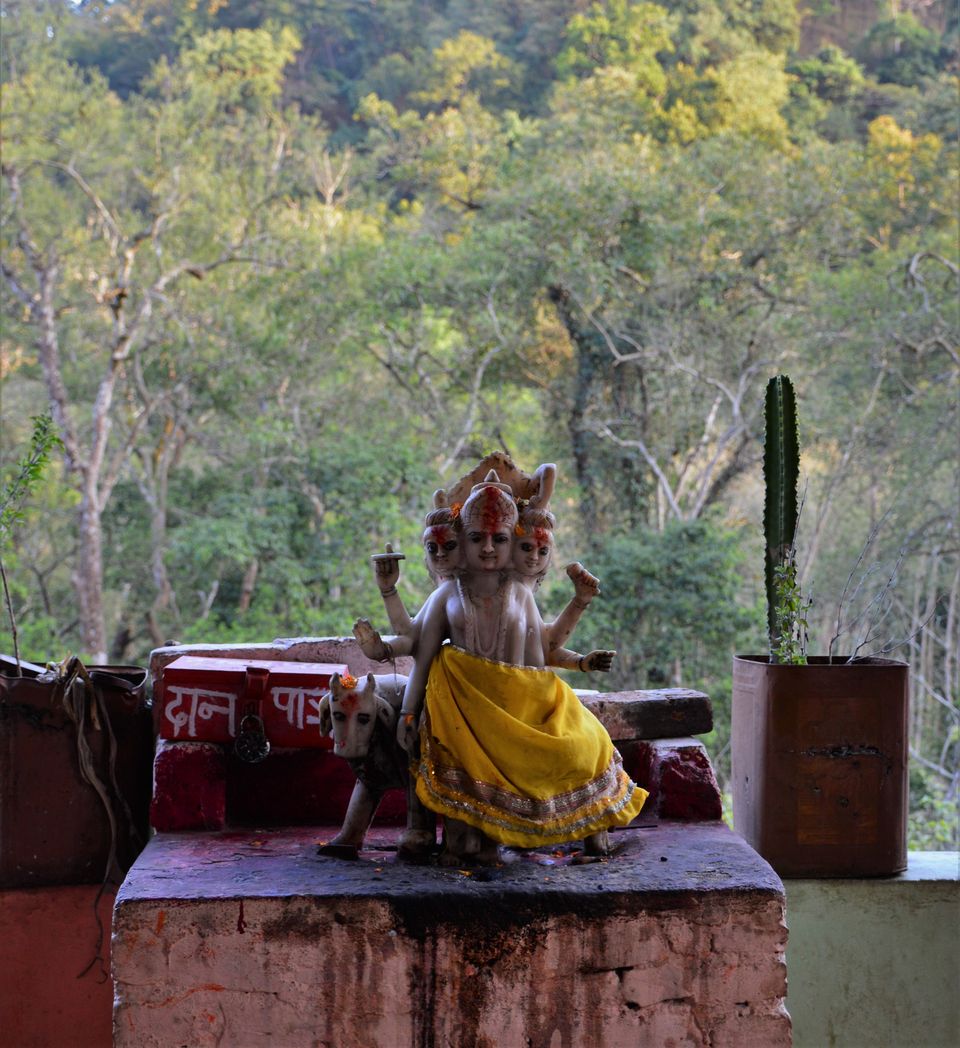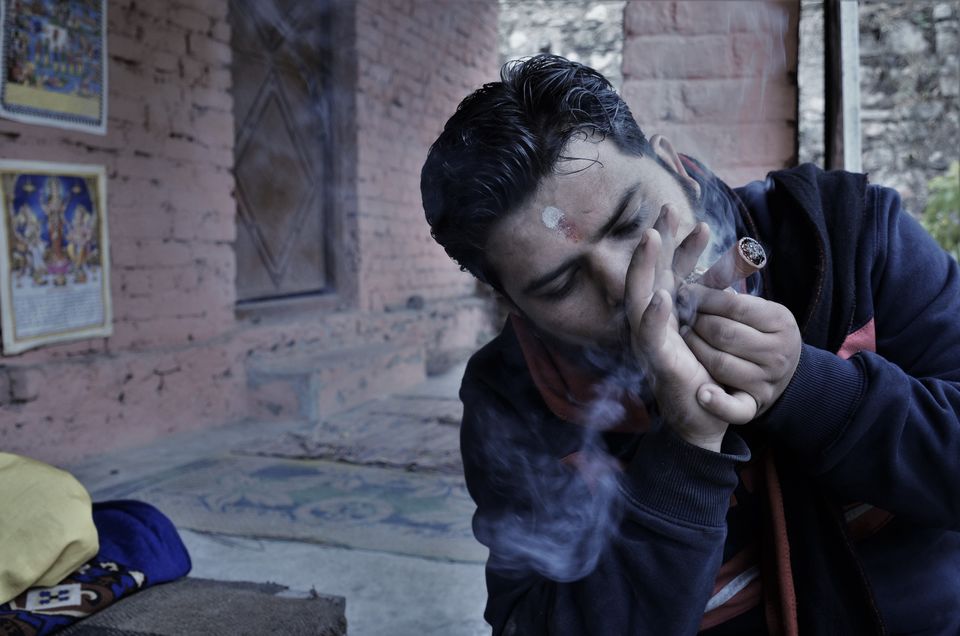 As all the tales unfolded, sun was almost down and I feared for my life while returning through the deep jungle after sunset. But as I live to write this story I feel very fortunate to have experienced it and treasure this as a beautiful and exciting memory.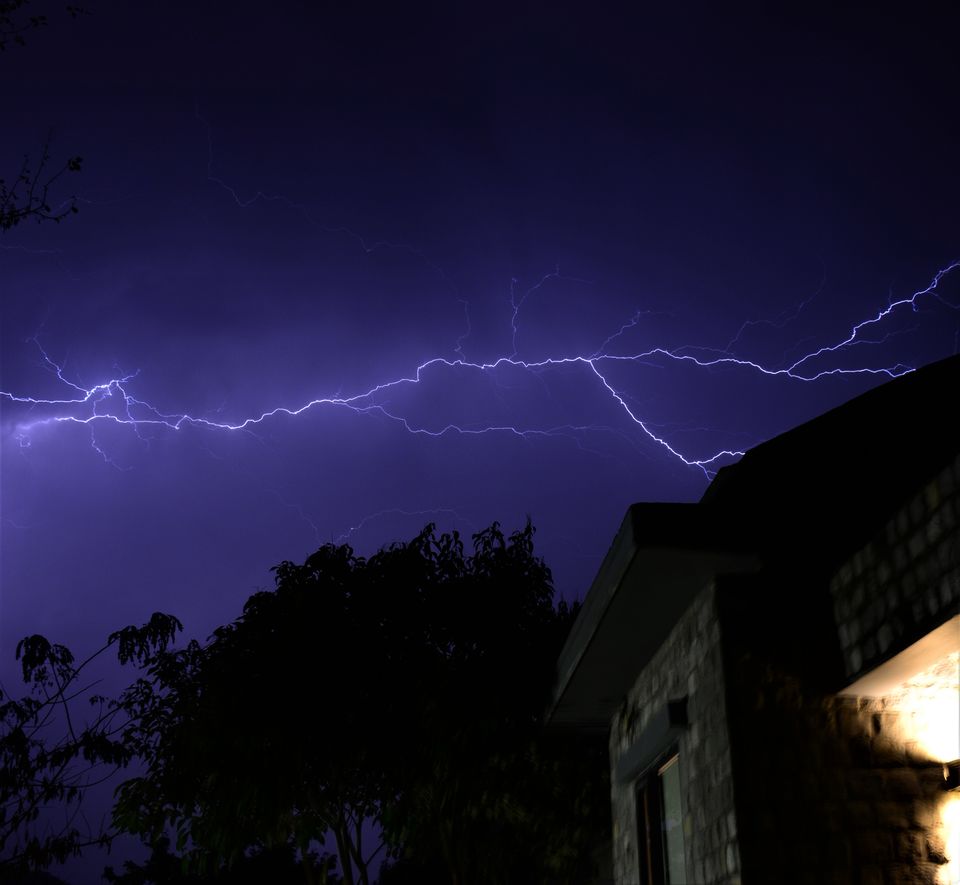 I came back from the trip a changed person. Now I am comfortable with myself going on long trips and making friends along the way. All these led to great experiences in my life. I learnt to trust people and make friends anywhere I go. I am no more bound to the concept of getting bored without known people.