It was mid March 2016, when I got free from the fashion week. While most of the people in my fraternity feel excited about the new trends in fashion and what a grand statement they make each time, I feel excited about the 2 day break that I get after closure of each fashion week (which I tend to extend till a week to get to travel and explore as my heart desires). This is a crucial choice I make like many others in order to feel alive and see life the real way. So I urged my best friend that it's time we plan a road trip. He being as excited and crazy as I am, made a plan. It was something both of us had our eyes on for quite some time. A mystic place in Rajasthan - Garadiya Mahadev.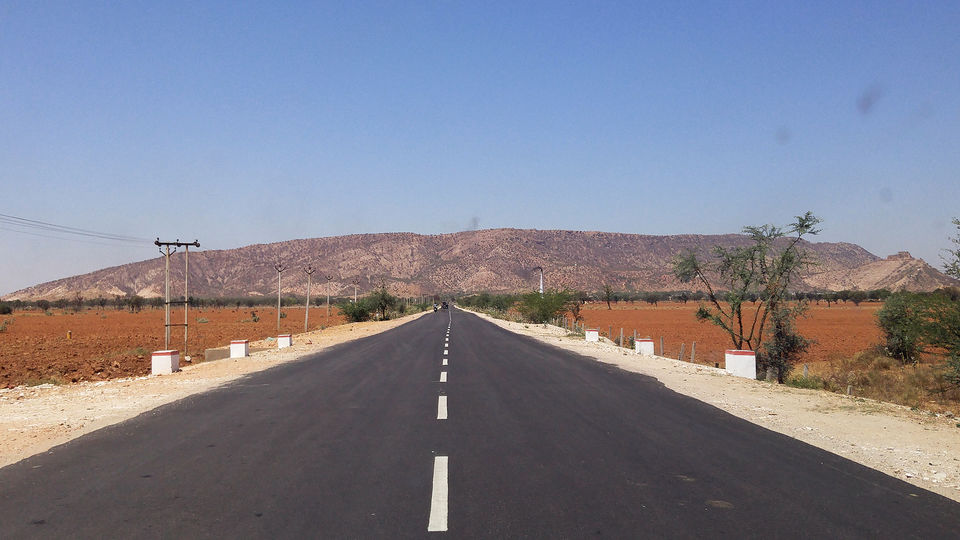 We had both seen this place in the Rajasthan Tourism TVC and were very fascinated by the looks of it. Turquoise blue water flowing at a 180 degree bent across a tiny piece of abandoned forest. We were both not sure if the spectacular image that we saw on the TV and internet was true or a result of editing. Not worried about the end result, we both started our journey on 21st March 2016 after several google map views and some agreement. We decided to go till Chittorgarh which is about 580 kms from Delhi and starting for Garadiya Mahadev the next day. We both are highway drivers and this time we were driving my i10 which was another reason to feel excited. The thrill of doing a long distance journey in a small car gives one an incomparable feeling of accomplishment that we were striving. After crossing all the city chaos and going a few miles ahead on the NH8, we took a slight detour towards Sambhar Lake as the mile stones tempted us to visit it and we were in no rush. Having read about it in Geography books in school, we were both clueless what was coming our way...

For a minute, I felt I was in Rann of Kutch but no that's the beauty of this unexplored place that produces salt too. Bhanu told me that he had read about a railway station and several rail tracks built by Britishers that were used to transport Salt to the nearby factories and process it. We were so intrigued by the first view that we wanted to go further ahead...which eventually we did.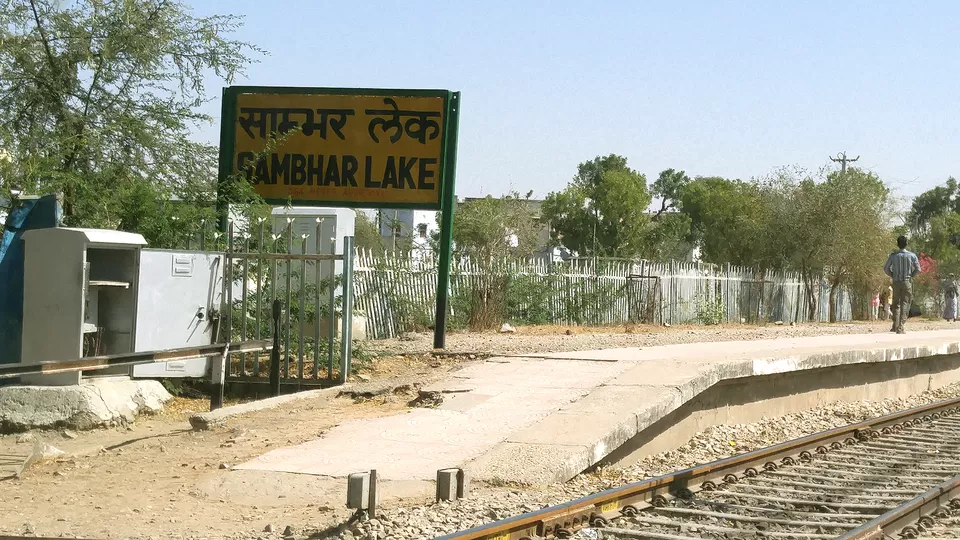 As we went ahead, we crossed a railway crossing after which the road ahead was closed and on the left a road of mud and brick went till infinity by the side of the railway track. We were also keen to see the Lake that we could see at a distance not knowing that we were being fooled by mirage that one often sees in Rajasthan. We asked a local where that road led, he said nowhere but we can take it and keep following the railway track so as to not get lost and find our way back. So we did as he advised.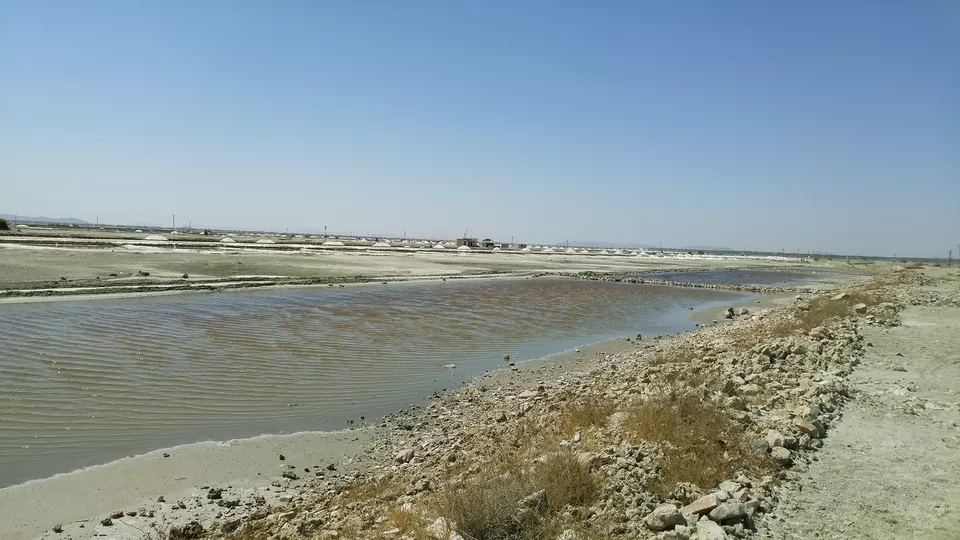 We reached a point where we did not want to go further as the place showed us its true colours. We stopped the car, stepped out and breathed the saline air of the region, felt the soil and salt particles fill our hair by the fast blowing wind, dipped our feet in the little trace of water that was real and not a mirage, saw the tiny salt hills at a distance ready to be transported on the train and after we had fully absorbed the vibe of the place, we decided to take a U-turn and get back to follow our destination for the night- Chittorgarh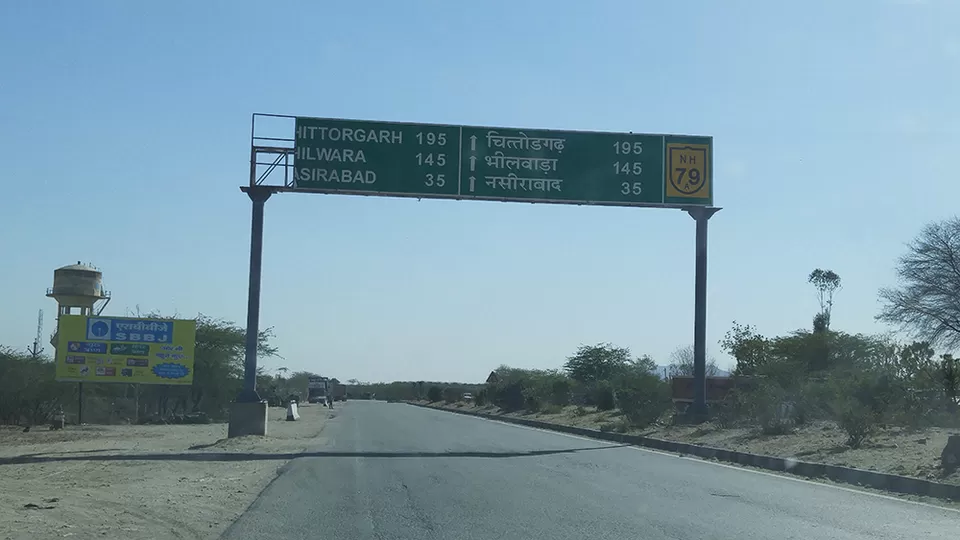 We reached Chittorgarh by late evening and were faced by another adventure. The hotel that we had pre-booked and claimed to be a heritage site, was quite spooky. It was located at the outskirts of Chittorgarh, about 15 kms away. We crossed a small town with narrow lanes through which only my i10 could have sailed through. We reached a big royal door of an ancient looking castle which had no trace of anybody but us. To add more to the spookiness, there were 2 Peepal trees standing tall in front of each other, scaring the hell out of me. We all have heard stories about it. Haven't we? On meeting the caretakers, we found that there were no guests that night and that the hotel was absolutely vacant. They then opened one of the royal rooms to show us a place to stay and I freaked out more as there was a large sized painting of a Mughal emperor on the wall right behind the bed that I almost imagined blinking eyes as I slept there that night. While I was all reluctant and hesitant about staying there, Bhanu was neutral. I then made several attempts by poking him, giving him clues and signs that no this is definitely not the place to be in to which he adhered. It could all be a figment of my imagination, but there was something about this place that told every bit of me to not stay there the night. I didn't even let Bhanu tell the caretakers that we were leaving, we just went to the car and then rushed out in full speed laughing till about 4 kms on our way back to the city. Chi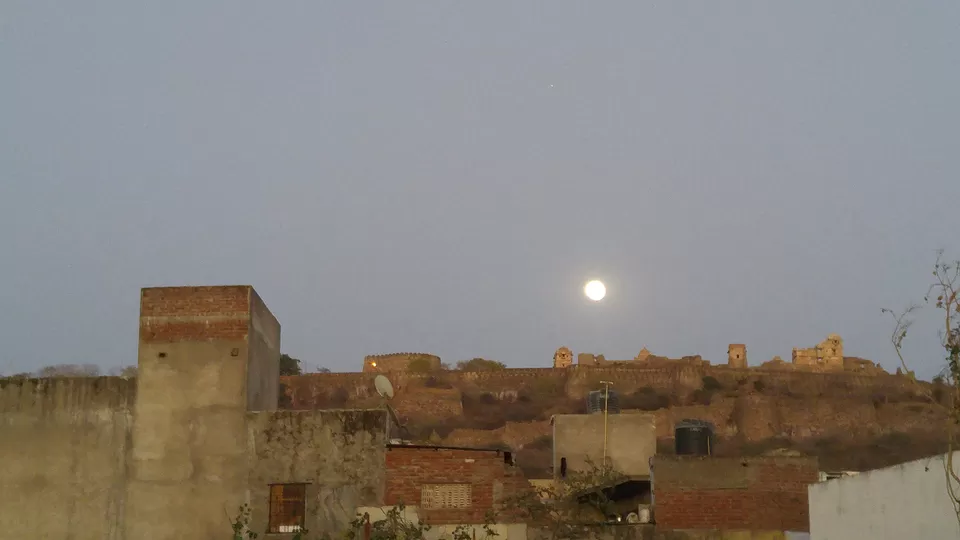 As we reached Chittorgarh city, we found a place to spend the night. The hotel manager was very hospitable and even made us join his son's birthday party on the roof as he served us left over food. As the son's friends performed dance rather stunts on extraordinarily innovative local songs, we managed to swallow the not so good food. We were exhausted and done for the day. From reaching Sambhar Lake to the haunted looking hotel to this was quite an experience for one day. But couldn't have crashed without finding out the one last detail for the day from our Hotel Manager - how do we reach Garadiya Mahadev from there. He was clueless about the place and did mention a temple by the name but no signs of water around it. We then mentioned Chambal river to him and he told us it flows through Kota in Rajasthan. Having never visited Kota both of us felt a little lost and immediately opened our map to check the route to Kota which is about 170 kms from Chittorgarh. This built some hope within us for the next day and we crashed.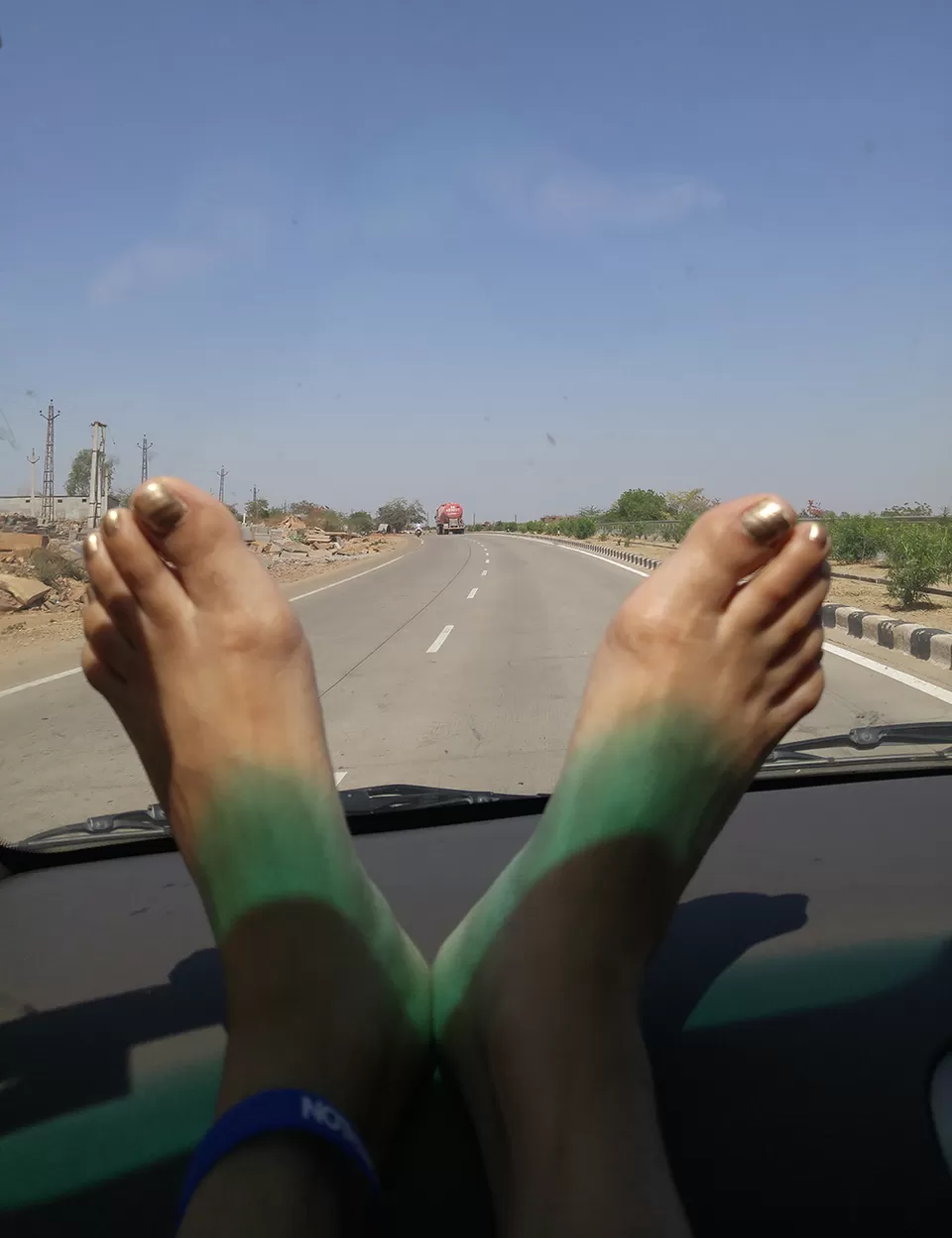 Next day was the D day when we started our journey to the final destination that we had set in mind when we started. We both had several questions and doubts in our mind, what if we don't find the place, how will we pacify ourselves if we don't, etc. etc. But not being pulled back by these thoughts we hit the NH27 that led to Kota. Roads in Rajasthan are terrific and the drive becomes a beautiful experience. I let Bhanu drive this patch as I looked outside the window. We didn't speak to each other for quite some time as somewhere we were stressed about not finding the place, about not accomplishing our target. But then suddenly, on the left hand side of the highway, what did we notice! I almost screamed, "STOP!". 'It couldn't be Garadiya, no...it just can't be. Maybe its the other side. I don't see the Chambal river taking a curved path here. Wait! Is it even Chambal? It is so damn beautiful. How can it be in Rajasthan, isn't this place supposed to be extremely dry?'. Several such conversations happened between me and Bhanu for about a minute or 2.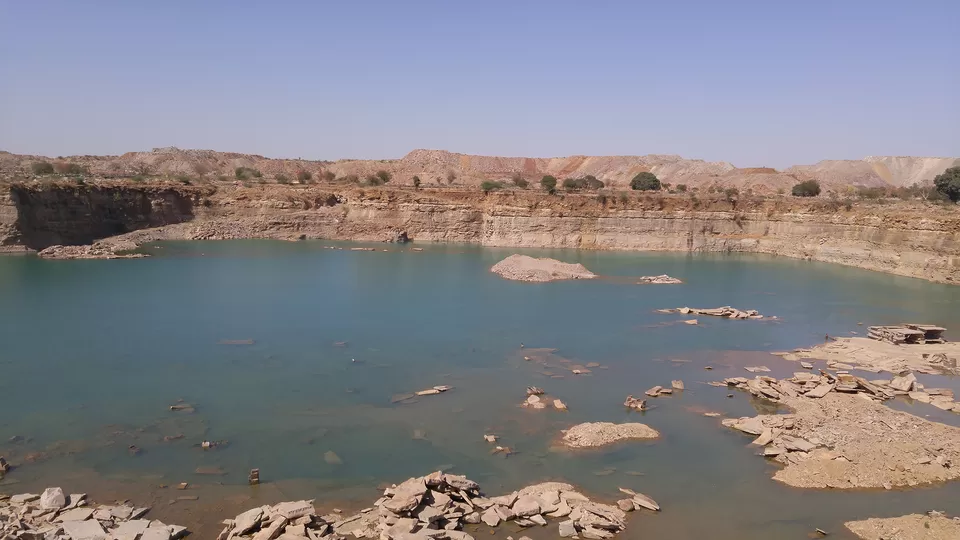 What we saw, was a large water body with turquoise blue water (like the one we had imagined it to be). We jumped with excitement as the place was extremely mesmerising but didn't know if it was the place we were looking for. By now, both of us were content that at least we have seen something as spectacular as this and won't go home disappointed. We then found a way to reach closer to this water body and spent some time being lost in the tranquility of the place. There were no living organisms in the water and it didn't take us long to realise that the water had collected as a result of rain over a period of time. We asked a few construction workers in the area and they told us the same. We were very happy and thought of this as the perfect exploration. To find a place which doesn't even have a name and is so innocent and precious in every way.

With this thought, we left the place and headed straight to our final destination. We tried to look for signs and mile stones on the way but found none. We then stopped and started asking locals of shepherds that we spotted on the highway. To our surprise, one of them knew about the place which was a little ahead from where we were. After about 20 kms we got off the highway to take a rocky road that soon led us inside a dense forest. The forest was full of dry trees placed densely with no sign of a civilisation. We still didn't know what was to come our way. And just when my spooky thoughts had begun to enter my mind, Bhanu screamed at the sight of something. It was nothing else but our very own destination - GARADIYA MAHADEV.
There was something in the serenity of the place, that made us want to cry and feel its pristine beauty to the very last bit. Destination planned = Destination accomplished. Both of us felt proud of each other and the fact that We Did It!
And the rest is history...
Frequent Searches Leading To This Page:-
best tour packages in rajasthan, rajasthan family tour packages, rajasthan travel packages, rajasthan trip packages, rajasthan tour package for family, honeymoon packages in rajasthan