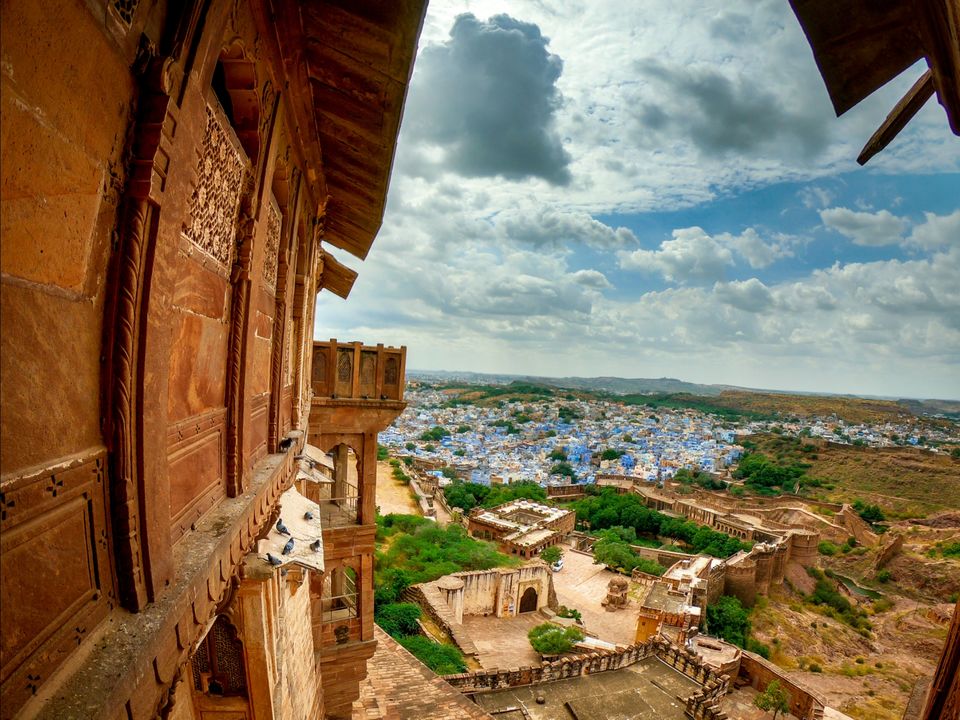 Being a spontaneous travel planner, whenever there is a weekend, I prefer to be out for some weekend getaway than being at room. So this time when my buddy came to my place, I planned for Jodhpur as that part of Rajasthan was still unexplored. We booked the tatkal train sleeper tickets and left from Gurugram friday night around 10:20pm and arrived at jodhpur around 8:15a.m. in the morning.
As we were feeling very hungry we decided to have a quick breakfast before doing the hostel search.
We had poha, chai & kachori nearby Railway station then we booked the auto for the market. We decided to stay nearby market area as after some googling we found the famous fort is nearby Sardar Market and there are many pocket friendly hostel options too.Main market is at some 3-4kms distance from railway station so auto will take some 50-60rs after little bargaining.
Now we reached the Sardar Market Entrance gate and there is a big clock tower beyond that entrance gate known as "Ghanta Ghar Bazaar" too. We entered the market and started looking for the hostel. Once the market area ends, there are some narrow lanes which leads to some village type area and we found out some old blue painted houses, most of them were renovated to hotel/hostels. One of them was "Yogi guest house" and the place where we decided to stay. So we went there that place was very authentic as the ambience was so cultural with blue walls and old paintings. The guesthouse staff showed us both rooms and dormitories and we booked two beds in dormitories which costs us 399 per bed. For dormitory stay , one has to carry their own lock as you have to lock your stuff before leaving the room.
Now, we freshen up quickly and left for sightseeing around 10:45 a.m. around.
We decided to rent a scooty rather than booking a cab. So we asked the guest house owner for the same , she told us that there are many bike/scooty rental shops nearby railway station then, we found one shop contact no "Jodhpur travels" and he told us that we can collect the scooty from his shop and the charges were 300 per day. So we went to his shop and gave him 1000 Rs security which is refundable and get the scooty. We started our sightseeing from Umaid bhawan palace as it was nearer from the scooty rental shop compared to the Mehrangarh fort and other places.
We put the location on Google map and started off and reach the Umaid bhawan palace within 15-20mins .The entrance road to the palace was very wide with the city view from the other sides.
Now we parked our scooty and bought 2 entry tikits cost 30INR for indian tourists and entered the palace. The palace was very beautiful with the greenery all around . There are many vintage cars placed for display purpose for tourists and many antiques, artilleries, variety of royal outfits , paintings inside the palace and are well maintained.
Next we moved to the Great Mehrangarh fort its nearby the guest house area where we were staying.
Its one of the beautiful architectural fort i have ever seen. Some local guys were sitting near the fort entrance and were playing music and singing Rajasthani song "padharo mhare des" to welcome guests and that was too good.
There is an entry ticket office when you enter the fort and the ticket cost is 100INR for indian tourists.The fort is very large and there is a museum inside the fort .Once you enter there are many doors which leads you to many different areas where you will different antiques from varieties of field. Inside the fort, there are many souvenir shops and one cafe and restaurant also. One can spend more than 1hour in this fort as the museum and the architectural design of the fort is very attractive.
Next in our list and the last was Jaswant Thada and its just few meters away from Mehrangarh fort.
The Jaswant Thada is a Cenotaph and was built in memory of Maharaja Jaswant Singh II.
This is a place with the most serene view and peaceful ambience. There is also a lake inside the Jaswant Thada where one can find the rare Blue lotus. There is also a view of Umaid Bhawan from here.
So,after spending some time at Jaswant Thada, we left for lunch as we were damn hungry so one of our acquaintance suggested us Gypsy restaurant for lunch as they serve some famous Rajasthani thali . But as it was already 4pm and that restaurant was closed for lunch. So we had our lunch at some sweet house food court near market and return back to our guest house. Then, rest for a while at room after that went for some local shopping , bought some lark bangles and gotta patti fabrics for ourselves as Rajasthan is famous for lark bangles and gotta patti, bandhej fabric.
Then we decided to return our scooty back and came back to the room and went to the rooftop restaurant for dinner. The food was damn expensive and was not that worth so we decided to went out to check some other restaurant and we found out Kesar Heritage hotel it was just at 1 min walk from our hostel. We had our dinner at their restaurant and ordered some Rajasthani dish . The food we had was delicious in taste and also reasonable. And we both were really happy that before ending this trip we finally had good Rajasthani food.. :)
Trip cost per person
Tickets to & fro - 650 INR(sleeper class)
Breakfast - 40 INR
Auto (total cost) - 150 INR
hostel stay - 399 INR
forts/palaces entry tikits(total cost) - 160 INR
parking fees total - 30 INR
lunch - 150 INR
dinner - 200 INR
Scooty Rent -300
Total trip cost - 2030 INR approx.