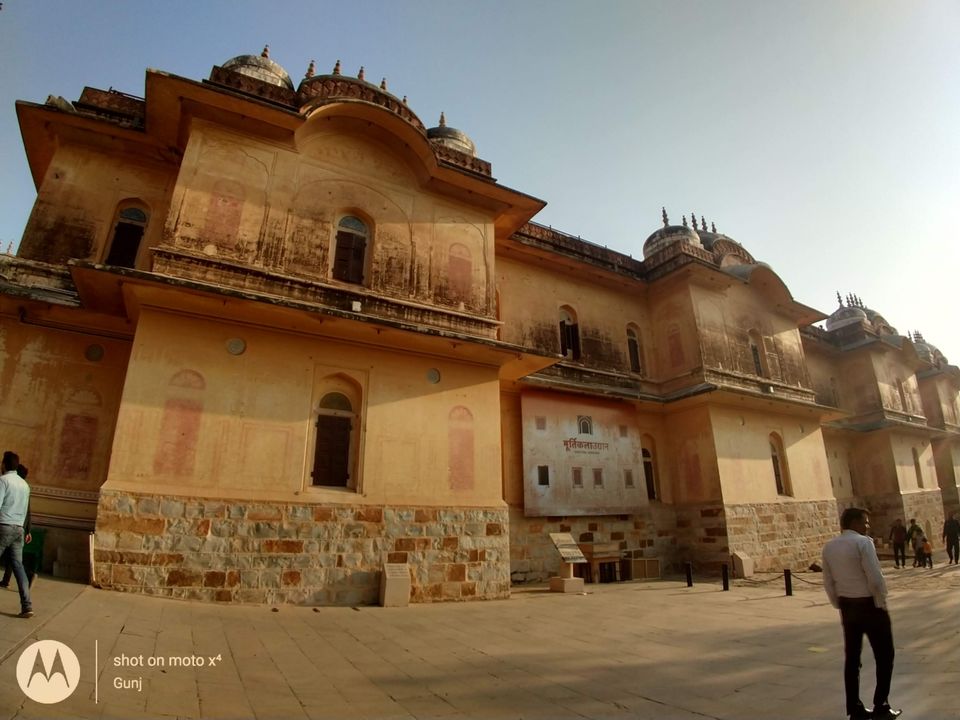 Nahargarh Fort.
Let's dig in some history and folk stories.
This fort was constructed between 1734-1868. There's a folk story behind it's construction. They say that when the fort was made, it was haunted. The ghost of dead prince Nahar Singh was roaming here and used to destroy all the development of construction in nights. When people realized his presence,they prayed to him to let them finish the work. He placed a condition in front of them that this fort should be named after him. They agreed and named it behind his name. That's why the fort is called Nahargarh Fort. Isn't it interesting.
If you are an admirer and have passion for wildlife you should come here. If you are fond of beer,you should come here. The main focus of this fort are:- Sheesh Mahal, Wax Museum, Open Theater, The Staired Bauli, Modern Art Collections, and Nature.
The outer boundary wall of this fort is very vast and spread all around where your eyes can see. You can witness the hills of Aravali, the valleys, and Jaipur City from these walls and also from the rooftop. It's like you can have the 360° aerial view of the city from the rooftop. The hills peeping from the back of other hills will definitely hold your breath and you with them. The evening and the hills covered in fog is just breathtaking and mesmerizing.
One thing to consider is you have to need lots of stamina to visit the fort from A point to Z point. And what you need for this is food. So here's the good news. You will get some classy restaurants here like Once Upon a Time at NaharGarh and Padav. Apart from these costly restaurant there are some local food stalls also outside the fort with fruits, Chips, Papads, Chats, Cold Drinks, Water, and Tea. So you can go with your family here for picnic also.
My personal favorite attractions here are the Staired Bauli. It's amazingly beautiful. Other is the Water storage wales. Here we knew that our ancestors were aware of the value of rain water and they used to store it. Next is the modern art gallery. Not exactly gallery,they are placed and decorated in rooms of the fort. Two of them were my favorite. First is Chromatophobia (fear of money) by L.N. Tallur consist of a granite Buddha made in Korea that has been cut in 2 parts. One side is marked as made in China and other made in America. A big wooden log is placed on the head of Buddha that contain coins of almost 160 countries. These coins were hammered by the viewers on the first exhibition of this artwork as an ritual of making wishes. The second work is Mark Prime's Interference. Prime is an accomplished musician. Rhythm, Repetition and Synchronized patterns are visible in all his works. I truly recommend you to see this. Here while going out of the fort palace,you can see a River model madel of red pink sand stones.
After witnessing all of them,we left the fort and went to the stretched boundary wall of the fort. We stayed there and relaxed for a while. We found soothing relief in the view of beautiful Aravali Hills and Valleys.
I have not mentioned here about Sheesh Mahal and Wax Museum because we didn't go inside of them as we have already been to Wax Museum of other place and Sheesh Mahals are like same at all the palaces and most importantly they were cost fee apart from the fort ticket fee.
Well this place does not have much things to explore but atleast carry 2-3 hours in bag to spend here.