As soon as the winters gets high in its time, people drop the idea of not going to the mountains only because they can't bear the cold of the mountains.
And this is where they are losing something very great in their life.
Because,
At the same time, some people dream of walking through the dense forest and on snow paved paths only to witness the beautiful sunset or sunrise which becomes more beautiful when you see it from the top.
This is where Brahmatal trek defines this dream of many travelers.
When we went through the ups and downs of life , we took a long drive to lohajung and started our trek to Brahmatal on our own. Only three friends carrying their own equipments and food were strolling on the trekking route and went through the opulent village and soon the dense forest started . The water pipeline also transverses throughout the road till a point after which it diverges somewhere towards the source of water. The moderate ascent was not getting hard on our stamina and fitness and we marched smoothly towards our first campsite.
So after a great 4 hours walk and covering around 6 kms, we reached our first campsite which is "Bekaltal". On walking further for about 500 mtrs. , we got the frozen lake which looks like the great well which shadows out the reflection of a beautiful forest covering it on all sides. We might have pitched the tent near the lake but decided to remain close to other campsites. The amazing view that scoped out from our camps literally geared us with enthusiasm and pure peace of mind.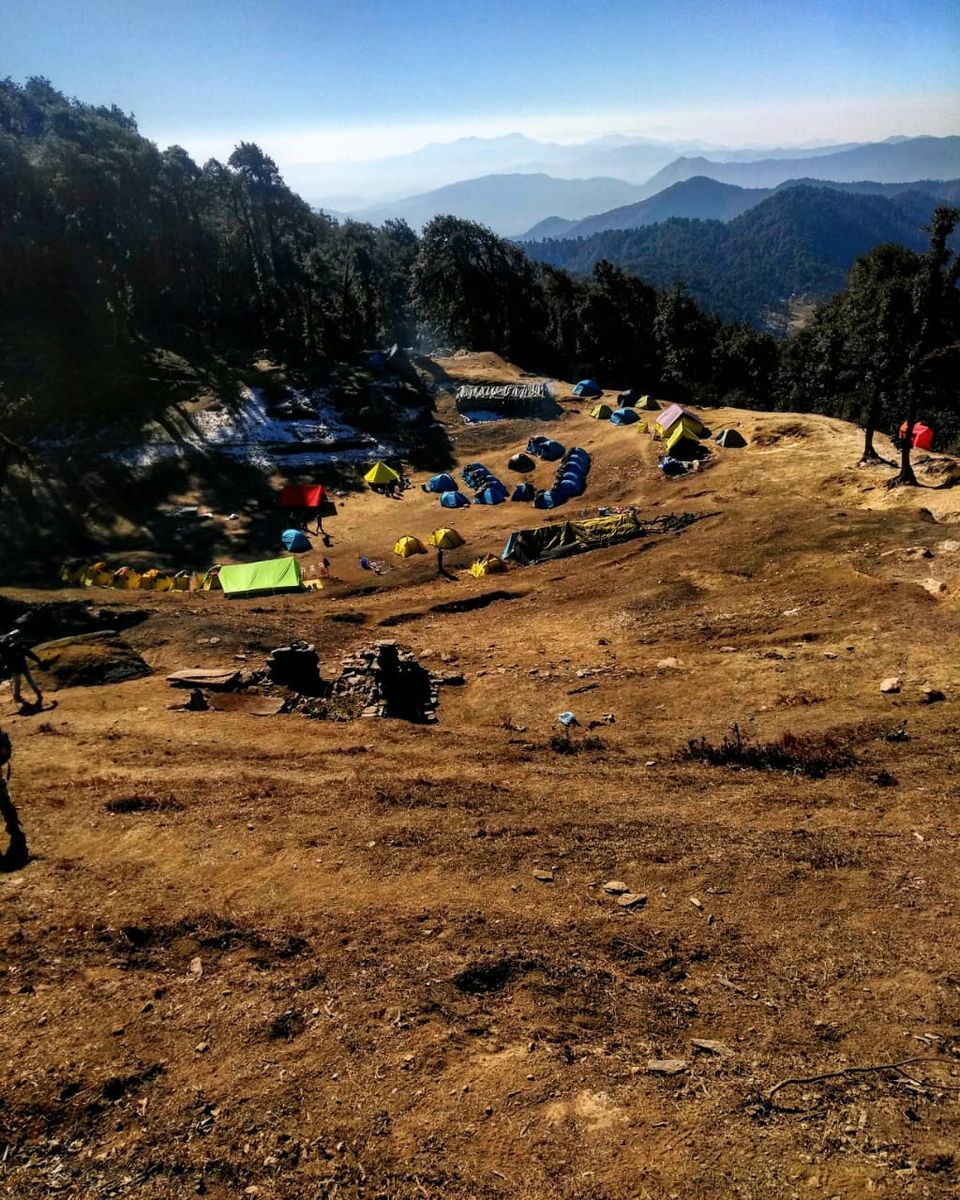 Next day, we woke up around 8 and missed the sunrise but confessed to our own self that sunrise is still best. But the golden crust sunshine made us to rest outside our camps while having out tea, sip by sip. After realizing that it is getting too late, we left our campsite at 11 am and started walking for our next campsite for which people told that it will take around 4 hours to reach .But it took us complete 6 hours to cover 7 kms and reach the Brahmatal campsite. Actually, as soon as we came out of the oak forest (which I forget to mention earlier that we were walking through the oak and rhodendron forest throughout our journey) and were walking on the steep gradient, we had a complete and serene view of great Mt. Trishul and on walking further over the ridge, the mountain range started approaching us and we got ourselves covered with the mountain ranges once we made it to the Jhandi top.
We had a view of Mt. Trishul on one side and Mt. Nanda Ghunti on the other. We went along the ridge and soon discovered a 3d pattern of mountain ranges in layers. The view is too soothing and makes one to stay at the top for long and click many photographs. Further we descended down to reach the Brahmatal campsite where we settled up our camp for the night. We took a walk to Brahmatal Lake which is about 500 mtrs from the campsite and gives a perfect reflection to the sunset golden rays. We stayed near the Lake till the sky went little dark. Then we had our dinner and went to sleep.
Next morning , again a lazy day started and we kept on basking in the morning sun having our tea , sip by sip. And finally we wrapped our tents and left at about 10:30. After walking on a steep ascent for about 4 hours and having an illusion of top at many ascent top , we reached the Brahmatal pass and got a prime spot to have our lunch(which we got packed from the campsite). The 360 degree view of mountains is mesmerizing and worth remembering. The 180 degree is the Great Himalayas and the rest is Shivalik ranges. We witnessed Chaukhambha, Mandi, Mana, Nilgiri, Neelkanth, Trishul, Nanda Ghunti and Maitoli.
After having a fatigue rest and a warm lunch, we started descending to reach Tilbudi campsite and were able to see the complete view of valley which is wide open and looks too cool. After walking for another 1.5 hours , we reached our tilbudi campsite where we rested for the night and enjoyed bonfire with a little music.
Another morning but this time we woke up little early because of the excitement and the peace of mind we experienced throughout the journey. After having a healthy breakfast and our favorite tea, we begin walking on the path which took us directly to our memories, we were again covered with oak and rhodendron forest . On the way, we found shepherd houses which is called "chawani". The place has a bright sunny view and hot tea added more stars to the moment. Wow! I can exclaim on any day.
Now after walking for few more moments , we got the drone view of wan village. God would have made this peace in little messy time. What a peace! And walking on the path ,with the view of a recluse village , and finally after walking for around 3.5 hours we reached our stay for the night. We spent our night at the guest house in wan. We had a great dinner at bisht hotel run by Lakshman , who is now a good friend of us.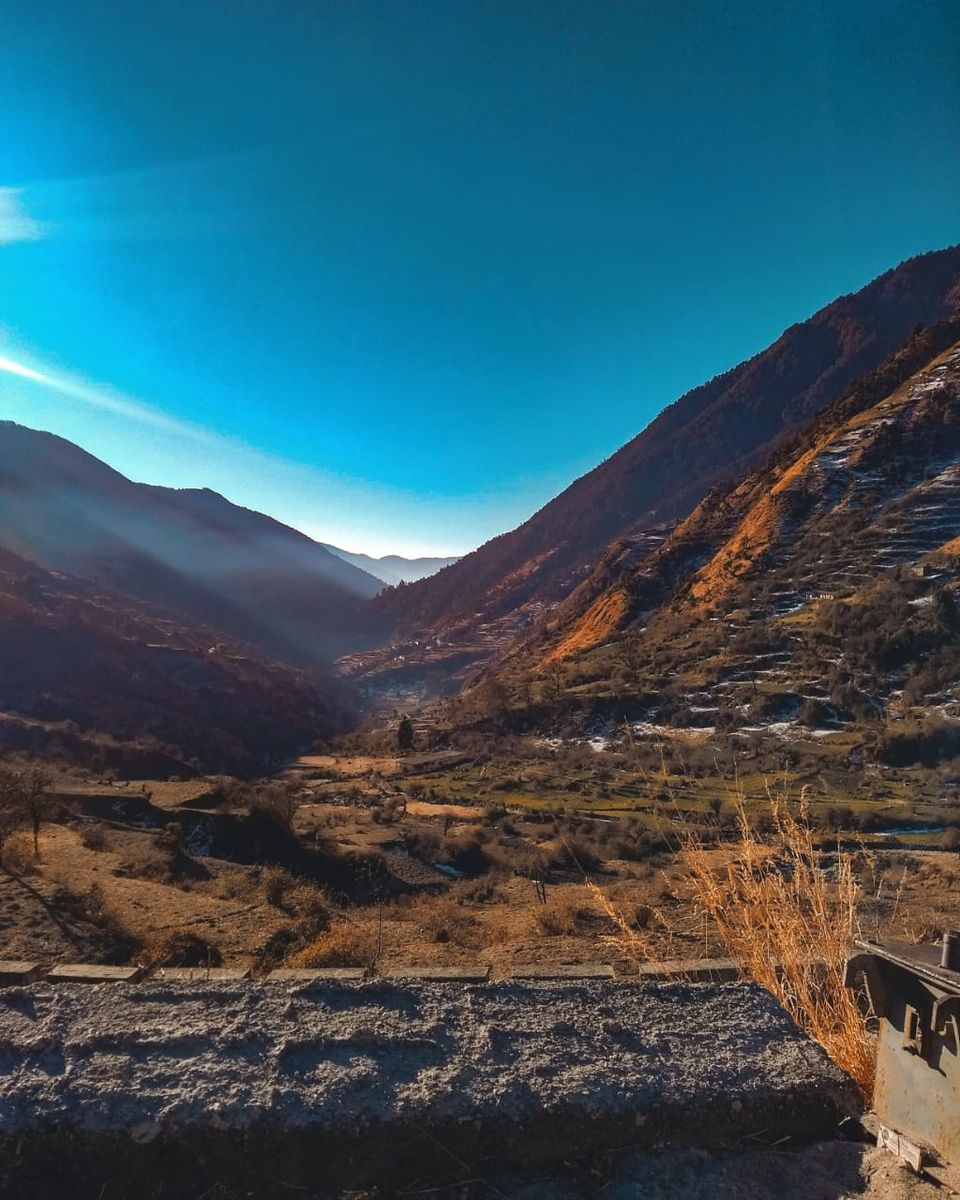 Next morning , we took our ride back to Kathgodam with great part of life filled with great moments . That morning we had to woke up at 5 so that we don't miss the bus.
The moments in life needs to get change every now and then to avoid the stillness in life, so travel becomes an essential part of the change and thatswhy you see me at different places at different time of year.

#countdown2021