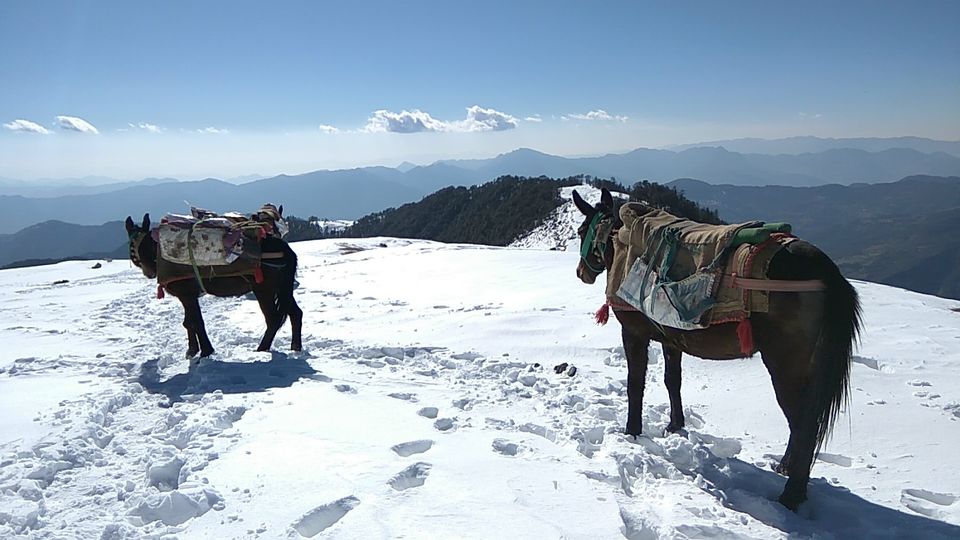 If you are looking for a trek with gorgeous, spectacular winter views, then Brahmatal lake is the next trek you should be planning. One of the rare winter treks accessible even in the peak winter months of December through March, Brahmatal lake trek is a divine splendor in Uttarakhand with easy to moderate difficulty level. I left for this trek with a friend on the 25th of January 2018 with minimal preparations and it ended up becoming an enthralling and memorable experience.
Best time to visit: December to March (if you don't like to trek in snow, Apr- Jun and Sep - Nov are equally beautiful, just avoid monsoon season)
Maximum height: 12,100 ft above sea level

Trekking distance: Approx. 24km in total
How to Reach/Journey:

We took a bus from Anand Vihar ISBT, Delhi for an overnight travel till Kathgodam on a Nainital bound bus. Alternate option is to take the Ranikhet Express train that runs from Delhi at 10.40pm to reach Kathgodam at 5.30am. From Kathgodam, shared taxis generally run early morning till Lohajung, which is the base point of our trek and the famous Roopkund trek. Our bus was very delayed (I suggest taking train or government buses, ours was a privately-run bus and we had to wait for a long time before the bus finally took off!), and we reached around 10am to find that all shared taxis had already left, and we had to book a separate taxi (quite pricey!). It took another 8-10 hours to reach Lohajung after several changes of taxis (since Lohajung is very far from Kathgodam, the taxi drivers try to start for their return journey at the earliest to reach their homes before it's dark and for this they made us change taxis to get onto any taxi plying to Lohajung or closer village stops like Gwaldam and Dewal).
We met a solo traveler on one such shared jeep and we three decided to trek together. Reaching Lohajung, it was chilling -6 degrees and we hurriedly found a guest house and let go our rucksacks. This basepoint has shops with hiking and camping equipment, sunglasses, gloves, packed stuff to carry for the trek and freshly cooked tasty food and everything at reasonable prices. It was so great to find everything there and we managed to equip ourselves well for this chilling adventure that we were looking forward to so eagerly. Early next morning, we met another solo traveler in the guest house and four of us started for the trek after having a good, healthy breakfast.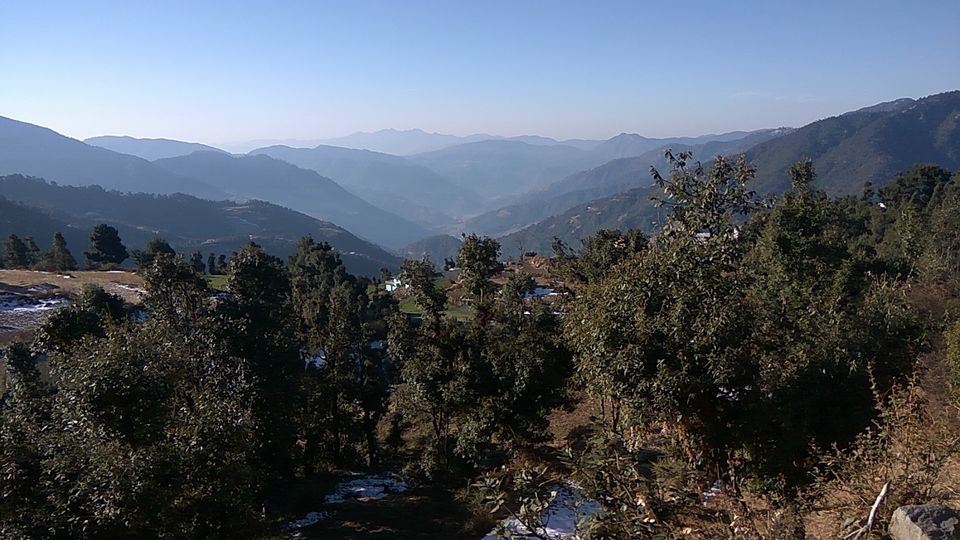 The Trek:
It is an approx. 12 km hike to reach Brahma Tal campsite, beginning with a steep ascent from the Lohajung market. You need to take a permit from the Forest Department for this trek. Most part of the trail was well laid and covered with snow, interspersed with paths through forests followed by those surrounded by valleys. There can be two paths to reach Brahmatal – one via Bekaltal (you can trek to the Bekaltal lake and spend the night at Bekaltal) and the other directly leading to Brahmatal. We chose the latter as we planned to spend the night at Brahmatal and finish the entire onward trek in a single day. Reaching closer to the destination, there comes a point where you find a Trishul pitched in the snow and you are surrounded by humongous 360 degrees views of numerous mountain peaks. We could spot Mt. Trishul and Nandi Ghunti peaks clearly. This is an open space (locally called Jhandi top) where you should spend some time to enjoy the mesmerizing views, capture them and hail yourself for the path you accomplished. After some time, we could feel ourselves freezing from the snow flying around due to strong wind and we started forward. From here, it is a gradual descent for more than a kilometer to reach the camping point where several independent tents were already pitched near a wooden hut and a few others of Trek the Himalayas and Indiahikes groups could be spotted at a distance.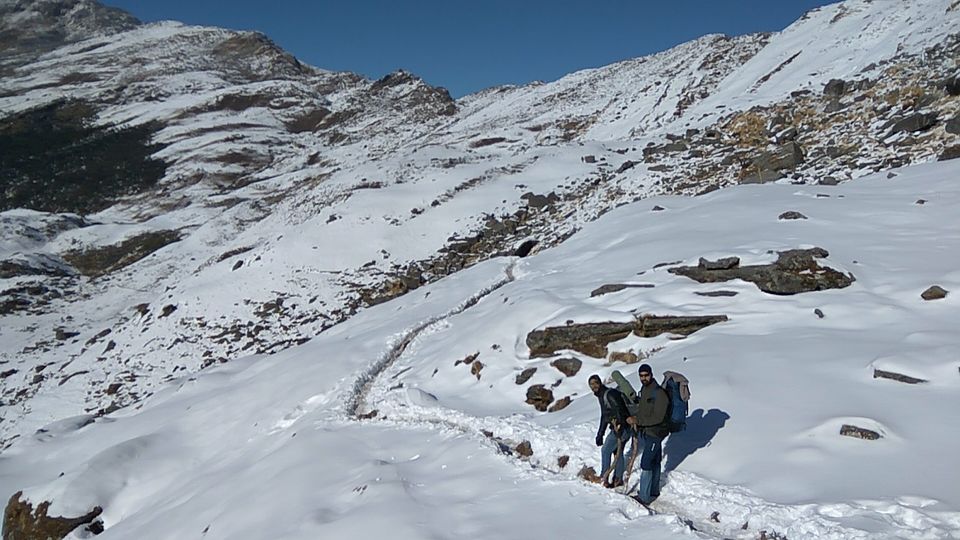 The Campsite:
The locals running the hut had made hot coffee and tea along with sizzling maggi, parathas and omelets. We ate to our hearts full and set up our camps on snow. From there, we trekked about 500 meters to see the fascinating wonder in the snow– the dream-like, semi-frozen Brahmatal lake. What a magnificent view! We spent some time admiring the lovely lake, clicked a lot of pictures and then headed back to our tents witnessing a splendid sunset.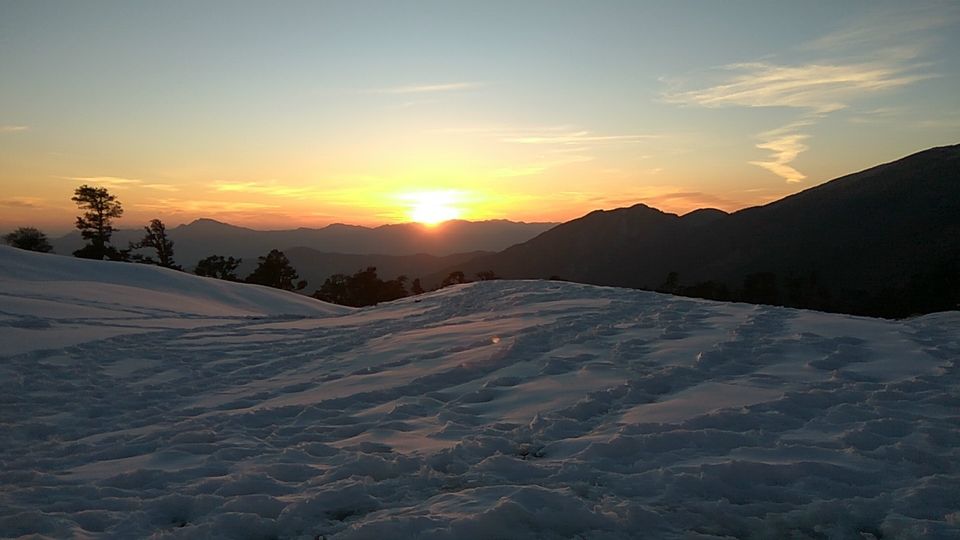 At night, the people at the hut cooked delicious food for us and even made us a mouthwatering "Sooji ka halwa" dessert. This was far beyond our expectations of dinner, considering how trekkers generally must rely on maggi or self-cooked food on such alienated treks. It was a numbing -10 degree or lower at our campsite and these people lit fire for themselves and let us keep warm inside their hut for some time.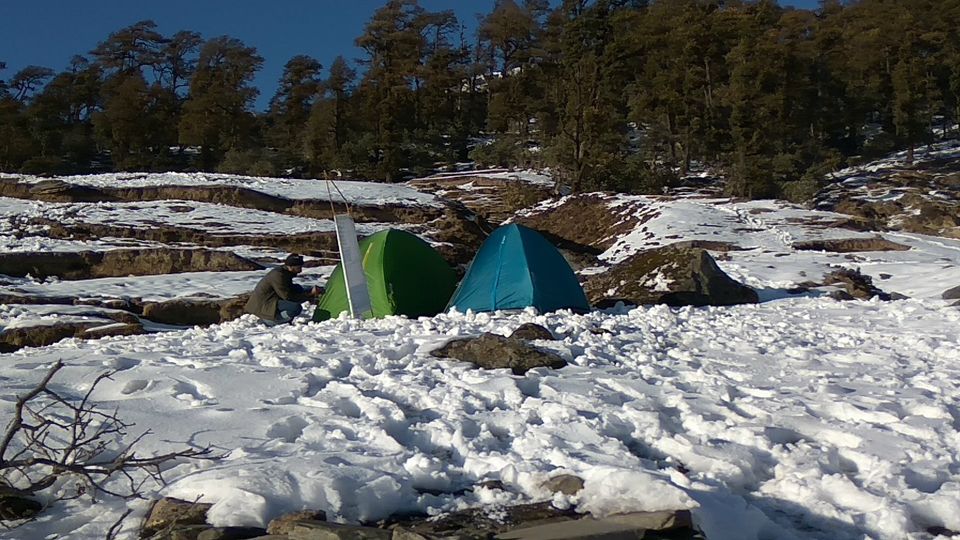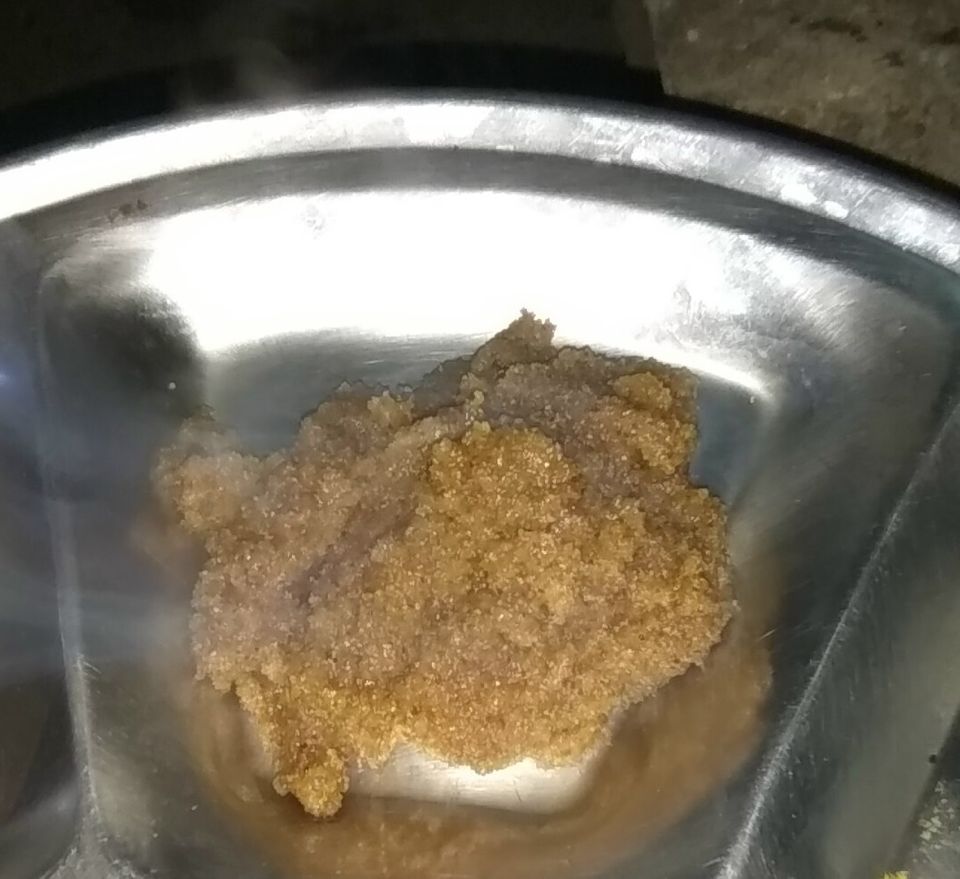 For early morning, two of us had decided to reach the peak top (from there you can see the mighty peaks of Trishul, Nanda Ghunti as well as Nilgiri, Neelkhanth among others from a closer distance) with a local at 4am. It was spine-chilling cold, dark and steep. We started uphill, but I began feeling hard to catch my breath and decided to return to the campsite. I sat outside my tent to see a glittering night sky lit with zillion stars, something I really love. I stared at that beauty for quite some time and treated myself with the sight of several shooting stars before getting back into the tent.

Both of them came back from the strenuous hike (it was way too cold than we had imagined) after watching a beautiful sunrise amidst snow bashing on them but it was a view to store in their hearts.
Return day:
We woke up early to leave at the earliest for the downward trek as the descent becomes harder once the sun is up, melting the snow. We had a hearty breakfast, thanked the locals for the great hospitality and started for Lohajung at around 10am. I particularly find descents scary, with all the risks of slipping and falling. Somehow, we all managed and reached Lohajung to be informed that there were no taxis plying towards Haldwani/ Nainital/ Kathgodam (none after 2pm). So, we had a sumptuous lunch and waited for any vehicle going in that direction. Finally, we got a lift till a neighboring village where we rested for the night, talked and shared pictures. Next morning, 4 of us left for Delhi with a lot of wonderful memories to behold for a lifetime.
Some General Tips:
Do carry a sunscreen and sunglasses to protect you from the strong UV rays on every high-altitude trek and extra pair of socks. Make sure you are wearing good trekking shoes, else it might become a grueling experience. Woolen/fleece lightweight gloves and woolen cap/balaclava are a must. Snow gaiters are a good to have to avoid snow from getting into your shoes and a must if snow cover is high. You can get all this equipment along with sleeping bags and tents on rent from the shops at Lohajung but to be on the safe side, it is better to have them beforehand to avoid last minute rush and limited stock issues. Carry chocolates, dry fruits and fruits along with 1-2 liters of water since you won't find any shops or water sources on the trek route. It is really important to have energy-filled food items and keep yourself hydrated on the way (on winter treks too!).