The Footslog to Brahmatal #offbeatuttarakhand

Trekking! There is hardly any other thing in my life that can keep me as high and excited as trekking. Brahmatal(Himalayas), one of the most beautiful and challenging treks I've ever ventured, it takes one through the beautiful valleys, streams, conifers and oak forests of the Himalayas. This time, as a young adult I decided to do solo backpacking for the next 10 days. I wanted to travel with strangers, meet new people from different places and yes, of course, the food undeniably!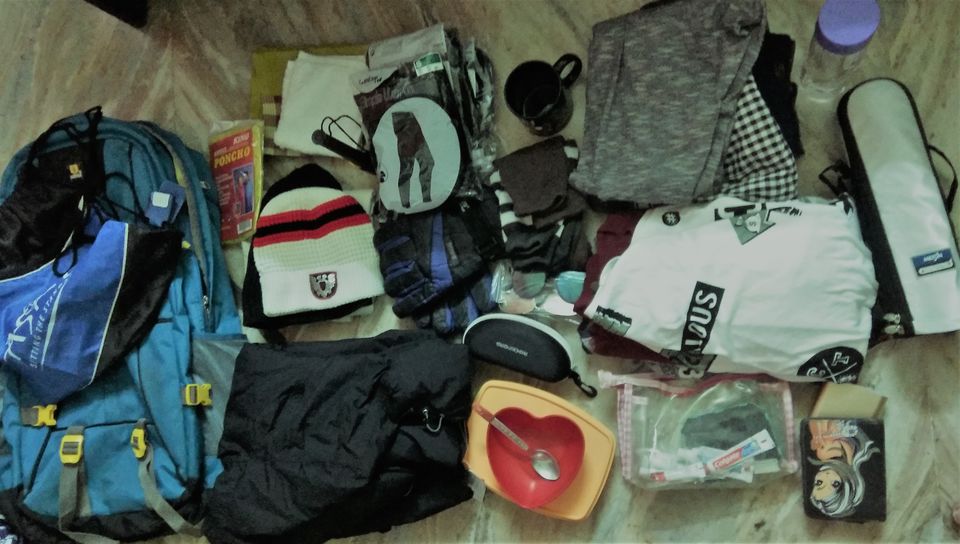 My trek gears, backpack, and necessary warm clothes
It all started on 11th January (2 days after my b'day :p) I landed in Delhi by mid noon. My train to Kathgodam was around 11oclock where I would have 5 hours of layover time. Guess what? Who would miss chole bhature, dhai bhalle and my fav golgappe when you're In Delhi. Sadly, I had no space for Jealabi. Had a pleasant sleep in train, though it was freezing cold!
Day 2- Kathgodam to Lohajung
As soon as I reached kathgodam, I saw a group of enthusiastic trekkers with their backpacks and trekking gears on. A glance at them told me they would become my new friends for the next few days. There were a total of 21 trekkers in my batch from all over India. We had vehicles picked us at kathgodam station to take us to the base camp Lohajung which is around 250kms/12 hours away. The route to our destination unveiled the splendor of the Himalayas and its elegance. The Pindar river on one side and the sprawling snowy mountains on the other was a visual delight. As though a hospitable host ushering in the guests and showing around her place, this endearing vision ensued us all the way to end of our base camp. You come across beautiful villages Almora, Kausani, and Dhewal to reach Lohajung. We reached around 9pm and we were welcomed with energy drinks and had an Induction session by our trek leader Bhupender Sir. He briefed us the various aspects of safety, medical issues, etiquettes and mainly how to stay hydrated.
Day 3- Basecamp(7600ft) to Bekaltal(9684ft)
After a healthy breakfast, we packed our lunches and started our trek to Bekaltal via Mandoli village. The trek takes around 5-6hours and will pass through the beautiful lake and bridges. After a 45-minutes-walk, we halted for a few minutes for some refreshments. I swear I even could've survived without food but had it not been for my DSLR camera, I doubt this trekking would've gone wasted!
Such a vista to behold for a whole lifetime! So there we were stealing these vistas into our camera rolls. Bupendar, our camp leader, advised we could start with a very steep trail to some moderate steep trails. Around 3pm in the afternoon we got a glimpse of our first campsite which laid 500mts away. As soon as we reached the 1st camp, we all gathered for stretching exercise which turned out hilarious and followed by lunch. Around 5 we went for a trail walk where you will come across a High altitude frozen lake surrounded by alpine trees. One of the best spots for boomerang but you ought to be careful as the surface is slippery and dangerous.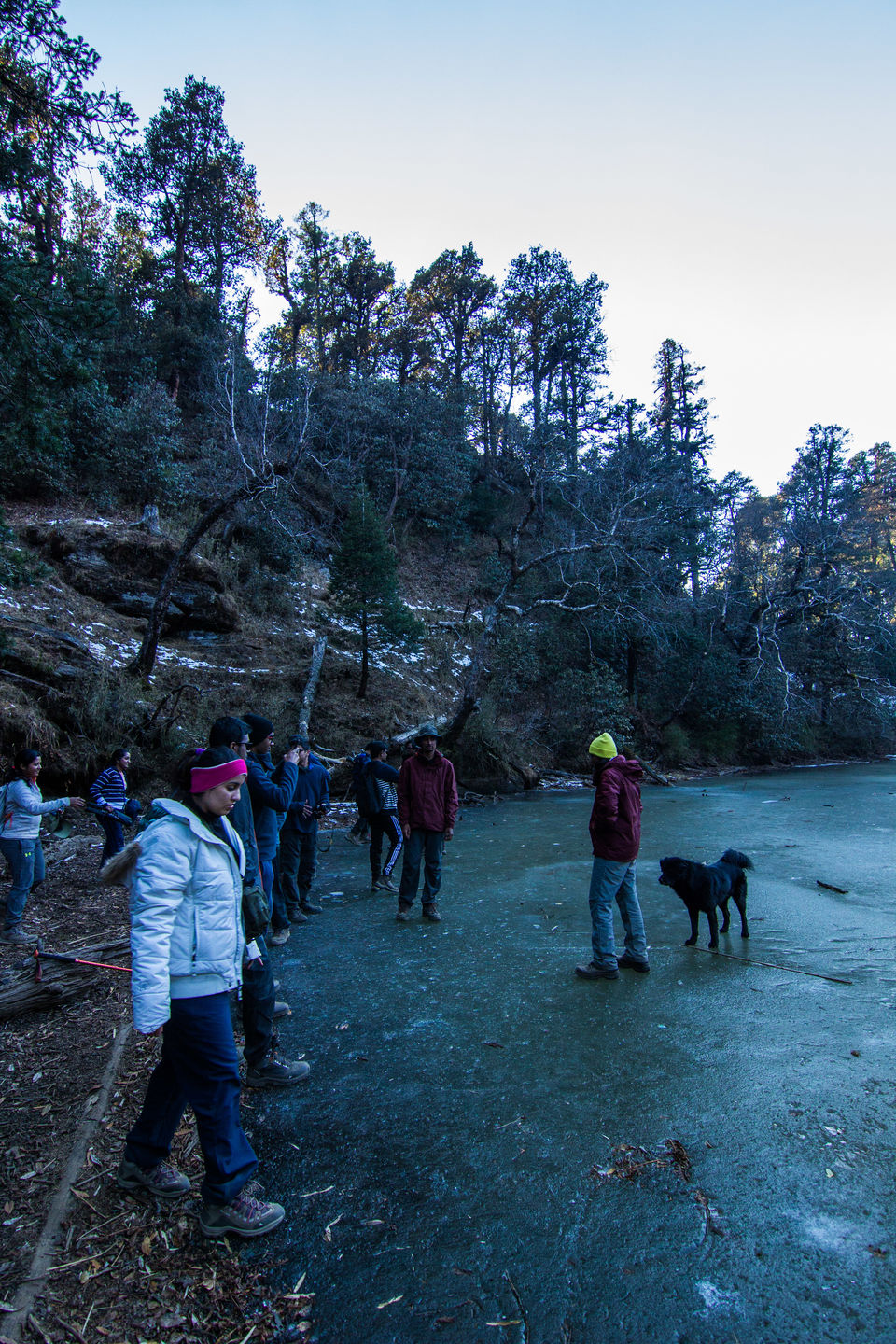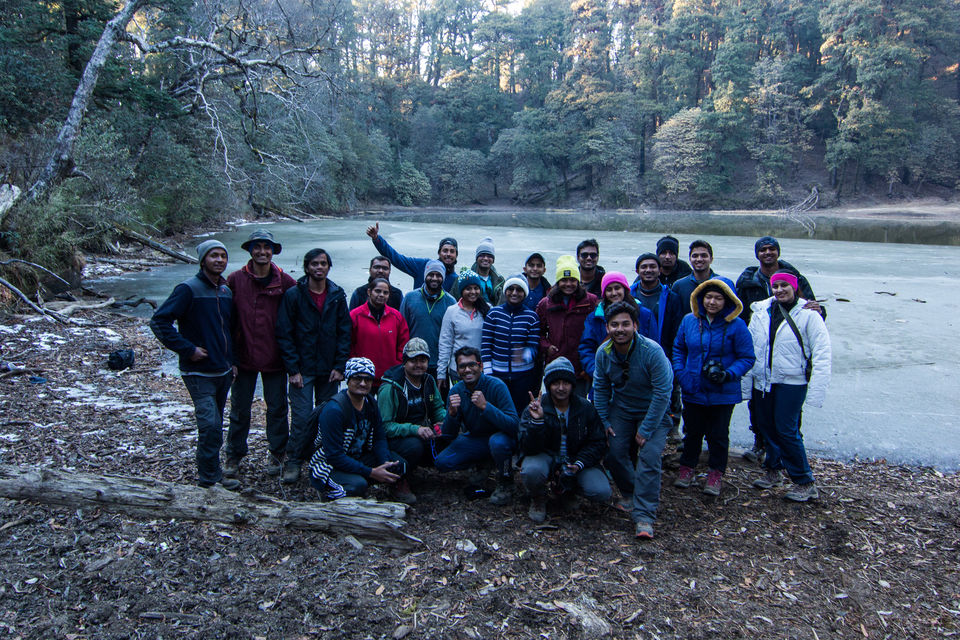 Frozen lake(Left) and Oak trees on the way to Camp 2 (Right)
Day 4- Bekaltal – Brahmatal Basecamp (10,760ft)
We cleaned up our tents, packed up our gears and headed towards Brahmatal which is around 5hours trail. Trail climbs steeply into the beautiful Oak and Rhododendron forest trees with snow patches (Million-dollar View). We took a break and posed to take some photos and memories that would cherish throughout our lives. Meadow (Jhandi top) is basically an open vast land in mountains carpeted with green grass that is usually seen at the edges or at the top of mountains.
My favorite companion throughout the journey!
One of the best moments in my life, we had our lunch at the peak of Jhandi top surrounded by mountains and breath-taking views. 2kms before the Camp 3, we had to descend which was a scary experience. Just imagine descending step by step with your heavy backpacks and trek gear on! This zone was, beyond a speck of doubt, the most challenging part in our trek. An hour later we reached the 3rd Camp and had a hot soup as the climate was freezing. We also drank lime water to boost up energy. Guess what?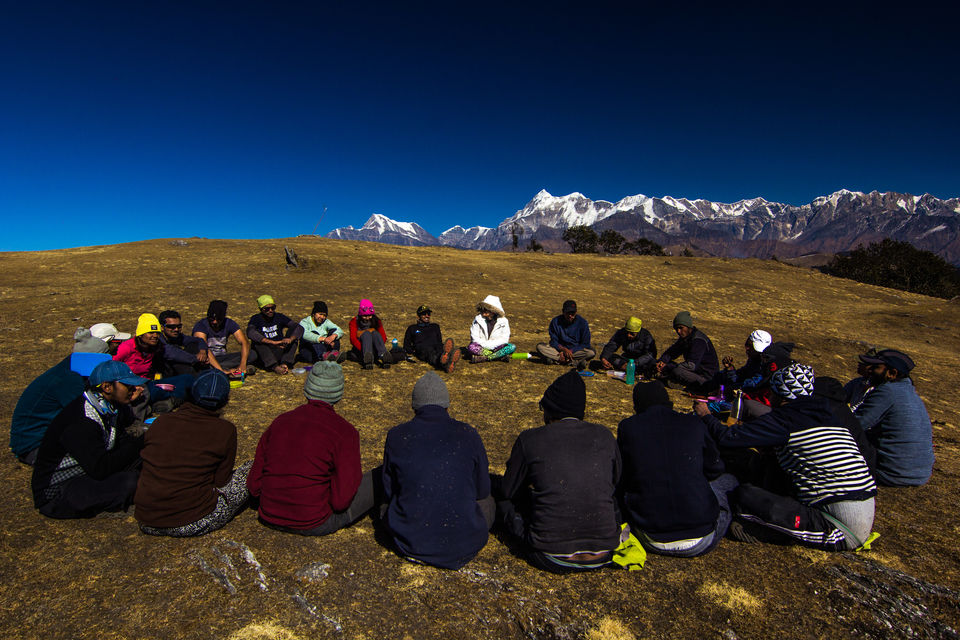 Lunch time at Jhandi top
We played cricket for an hour at 10,760 ft! Sounds surreal but true! Following dinner, we all gathered up for campfire and started sharing horror stories. Last but not the least for the day a beautiful GALAXY so mesmerizing to eyes uncovered itself and I think I kept on staring the galaxy for the rest of the night.
I kept on staring the galaxy for the whole night. I would never ever wanted to leave this place. In fact, I started Imaging and drawing a few cartoons and alphabets connecting those beautiful tiny stars in the sky.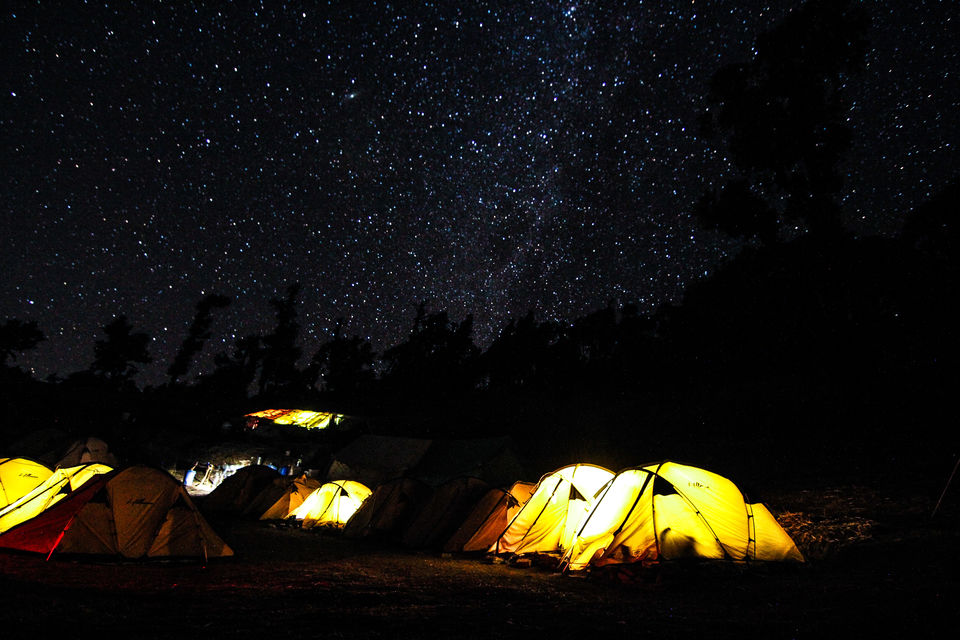 Beautiful view of the galaxy during the night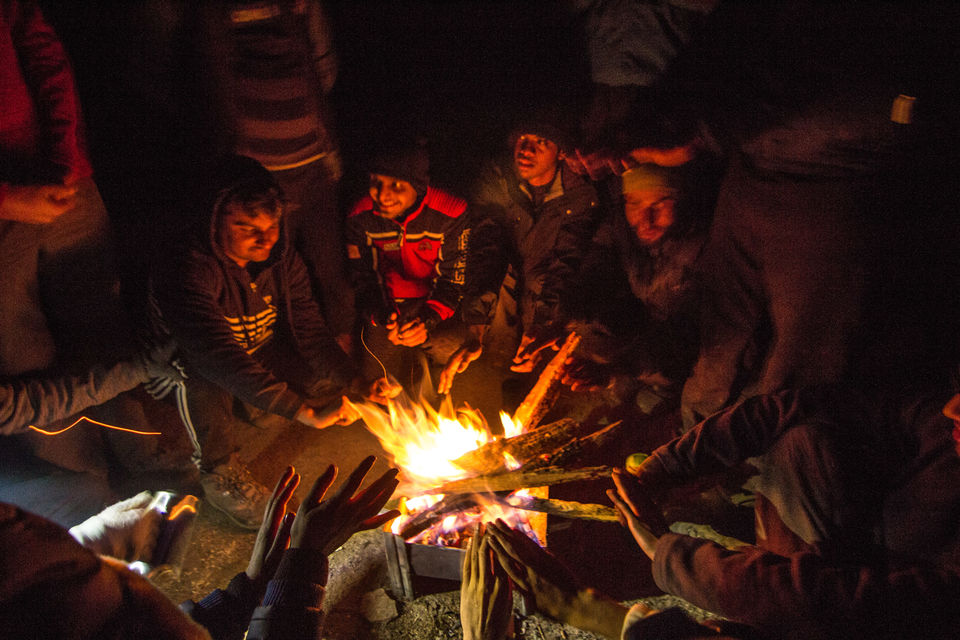 It's time for the campfire and Horror stories
Day 5- Brahmatal Base camp – Brahmatal(13,000ft) – Brahmatal Basecamp
We started for the summit at early morning. Despite it being recklessly windy and cold at the same time, we ascended all the way to the summit. We all were so excited as the big day, the moment that we all were waiting for so long was only an axe away. Head torch is must when you summit as trail was bit steep and dark. After a long ascend, that moment arrived! We were at the top of Brahmatal, surrounded by the picturesque views of Mt.Kamet (India's 3rd highest peak) in the extreme left corner, Mt.Trishul, and Nandaghunti right in front and also India's largest meadow, Ali and Bedni Bugyal. We took a lot of photos and hugged each other with full of happiness and love. Thanks to the kitchen staff for always making sure we were never hungry. To top it all, at the conclusion of our summit we had hot gulab jamun at 10,000 feet! What else would you expect for?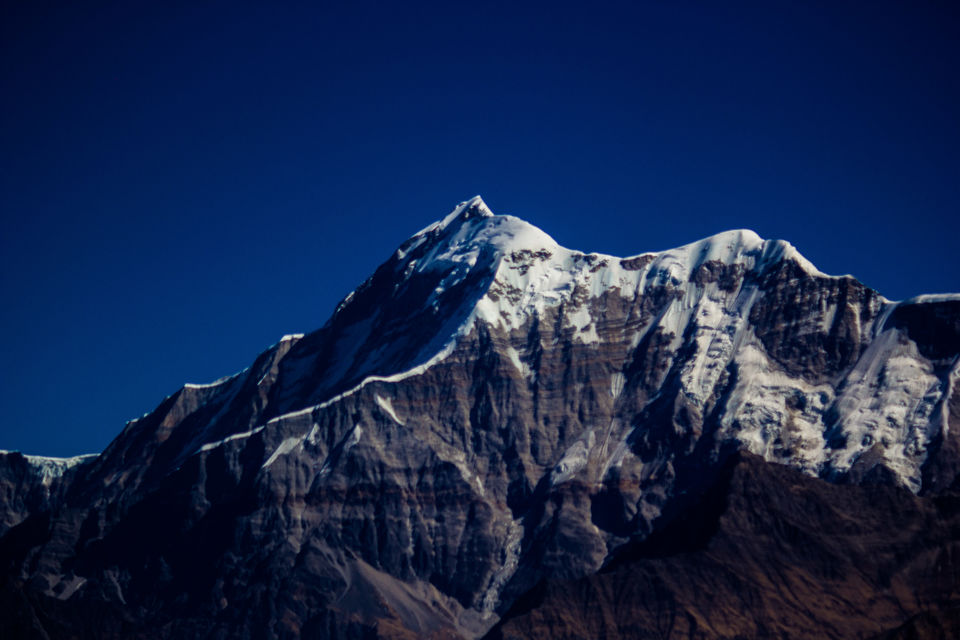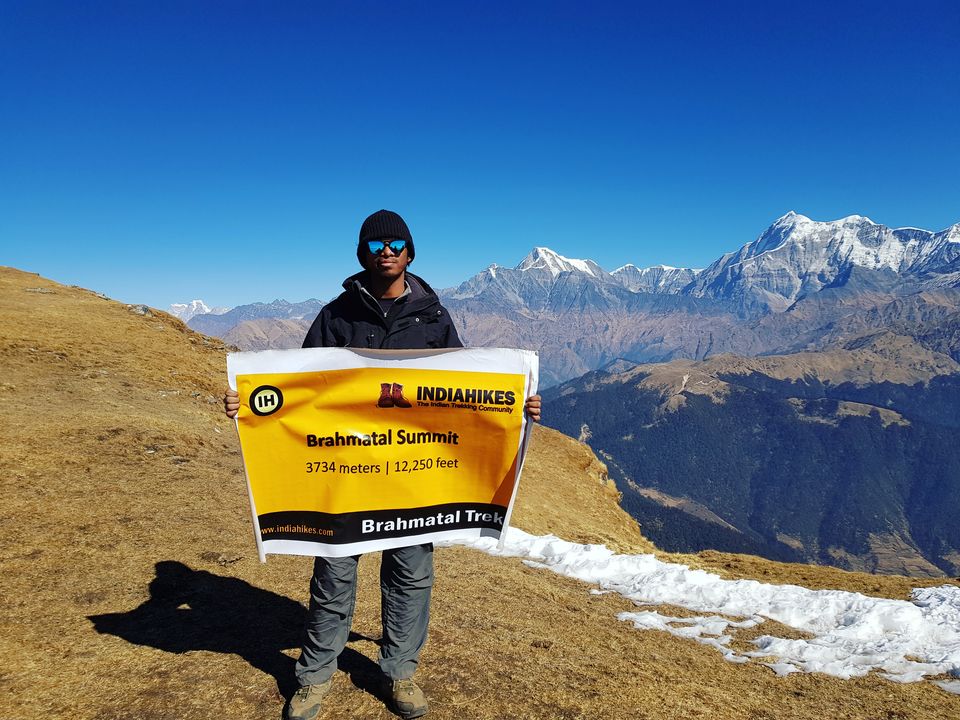 At the summit! 13,000 ft!

Day 6- Brahmatal to Lohajung
Time to return! And at once we started a long descend where our legs were punished by heavy winds, sand all over you.
On the way down, each and every moment just ran through my mind. Realizing how it all started, the journey and the things that I earned there-team effort, self-belief, strength, confidence, ability and socializing- the trip improved me as a person holistically. Amidst Pure O2, no mobiles no pollution stands a chance- this might be what like heaven looks like.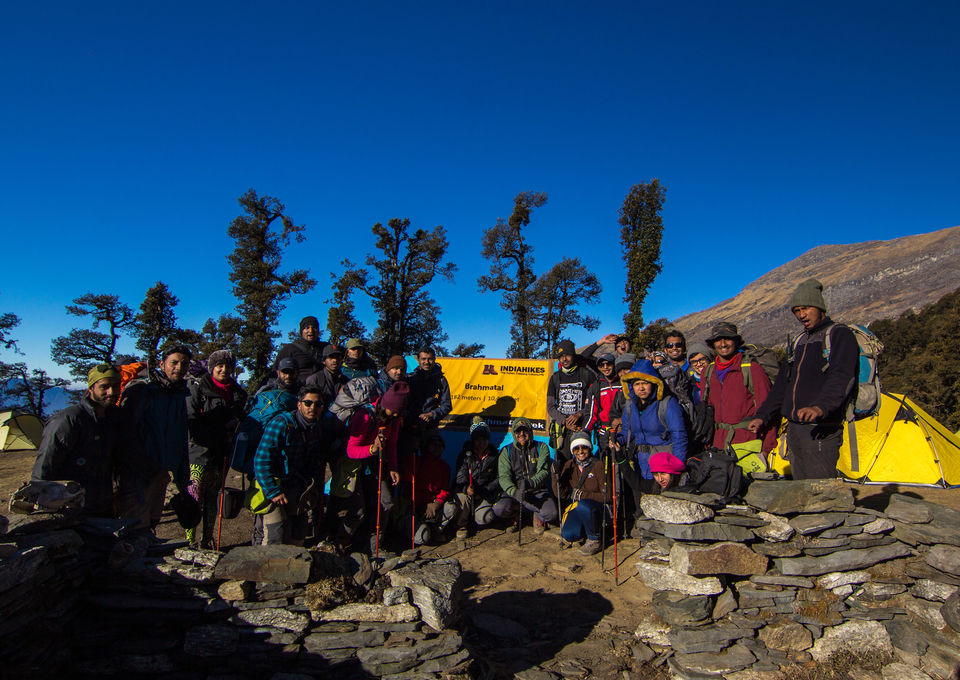 Importantly there won't be any artificial washrooms and you can't shrug off your regular activities as keeping your body hydrated is very necessary, you do need to pee a lot on the open mountains and guess what? there will be a couple of tents at the campsites to loo and you need to reach exactly the digged up hole :p when you're done just cover up with the dry sand.
We were singing dancing all our way back. During the final night, we had a certificate and speech ceremony where everyone shared their views and perspectives of this amazing trail.
Day 7&8- Lohajung to Kathgodam
Next day morning we all knew we had to part our ways. It was a lovely experience with my trek mates. They became close friends, we helped each other in different ways, we had wonderful evenings together, and many more. This is how you learn and live every moment in your life.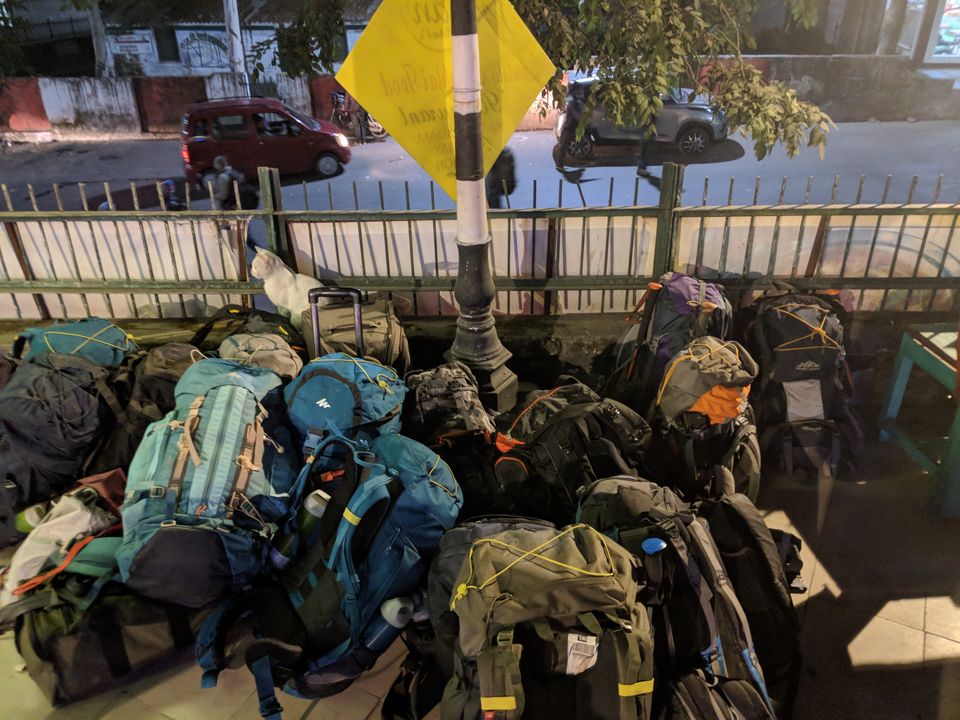 The train to Delhi from kathgodam was delayed due to fog, however, the train journey to Delhi was so amazing as we all had our moments for one last night.
As Delhi was so cold and foggy, I was worried that my flight to Chennai would be cancelled or delayed. Fortunately nothing happened and I reached Chennai around 10 pm with a beautiful mosaic of memories. So here ends my adventure!
Travel! Trek!! Smile!!! Love!!!!
Each and every moment is valuable, explore the beauty of mother nature.
- Asish Krishna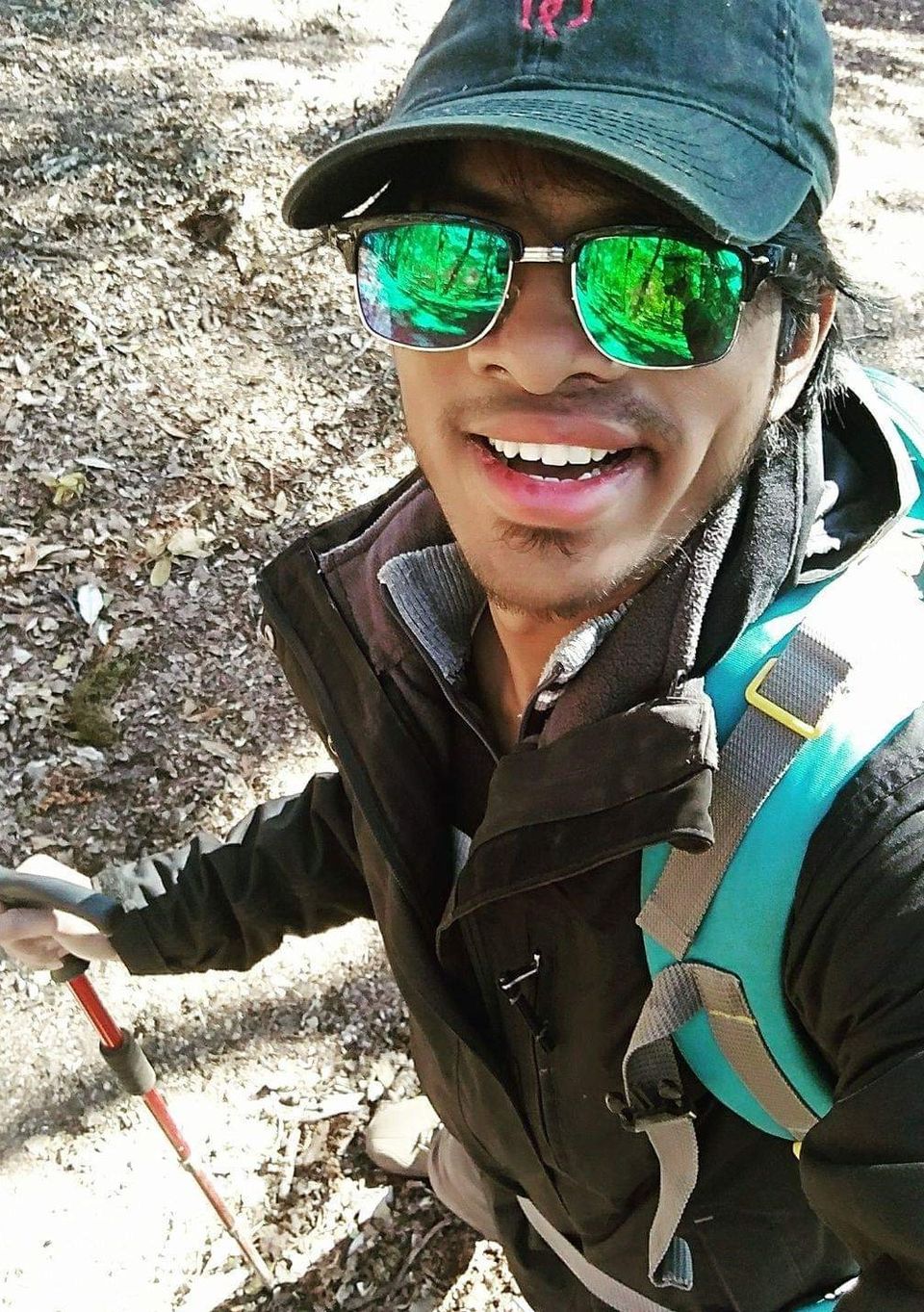 Thanks for reading my blog! do click Follow me for my upcoming post!
Also, my next blog would be on necessary things (thermals, trekking gears) to take for a winter trek (Himalayas) and the estimated budget for trekking and travelling in India.
Please do check the below video for the Happy sign-off! :-)